16 Best Places to Travel as a Vegetarian (or Vegan)
Written by Becca
•
Updated on November 27th, 2023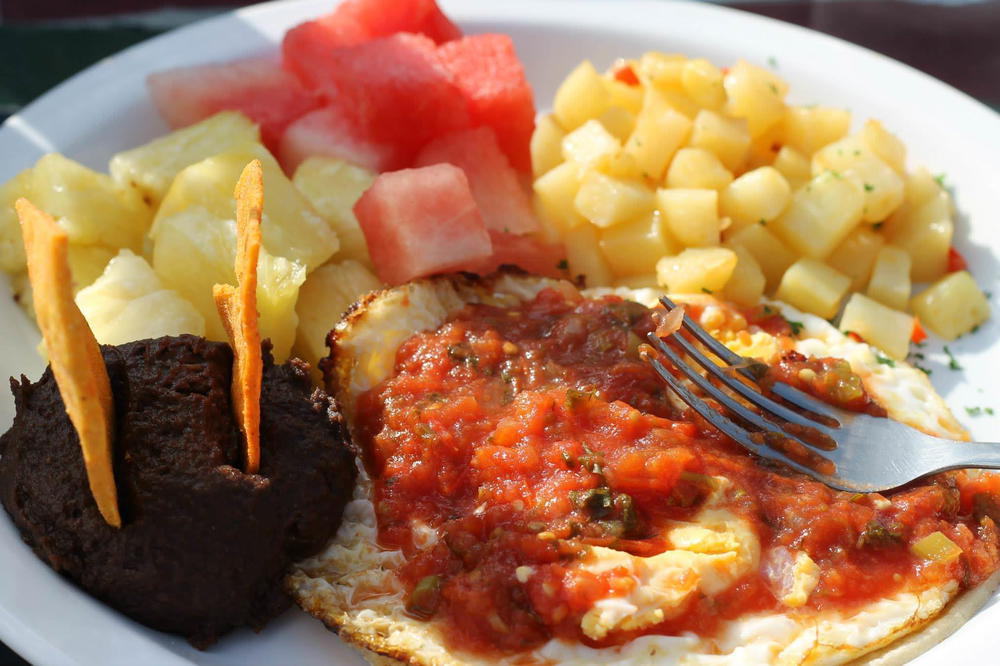 Where are the best places to travel as a vegetarian or vegan? Discover the countries that are most friendly to plant-based diets for vegetarian travelers.
This article may contain affiliate links. We earn a small commissions when you purchase via those links — and it's free for you. It's only us (Becca & Dan) working on this website, so we value your support! Read our privacy policy and learn more about us.
Table of contents
Close table of contents
In our travels around the world, it has always been nice to appreciate the countries that turn out to be the best for vegetarians.
Throughout our experiences on five continents, there's definitely something to be said about being able to have an enjoyable vegetarian or vegan meal without stress or hesitation.
Whether you've been a vegetarian since you were a kid, or if you've recently adopted a vegetarian/vegan (or "flexitarian") lifestyle, traveling as a vegetarian is more exciting and more liberating when it's in a country with delicious plant-based food.
What are the best countries for vegetarian or vegan diets? Check out where we've enjoyed plant-based meals around the globe.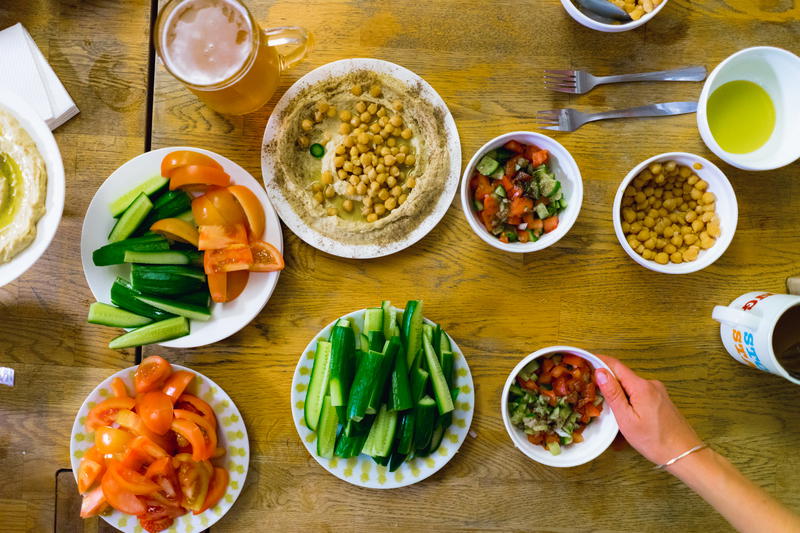 Mentions of "Vegetarian" and "Vegan" in this guide
In our list of the best countries for vegetarian and vegan travel, we will make a few notes pertaining to the following:
We'll use the term "vegetarian" to encompass diets that exclude red meat, non-fish seafood, game meats and poultry. "Vegetarian" will also refer to diets that include eggs, fish and dairy.
"Vegan" will refer to foods that do not contain any animal products (no meat, eggs, fish, dairy, poultry or products that come from animals).
The Israeli cuisine is one of our favorites. It's a mix of Middle Eastern, Mediterranean, European and Northern African flavors and treats that make our mouth water whenever we think of it.
Israel is big on meat, for sure, but in recent years, major cities like Tel Aviv and Jerusalem cater directly to vegetarians and vegans, and a wide assortment of restaurants are available for these diets.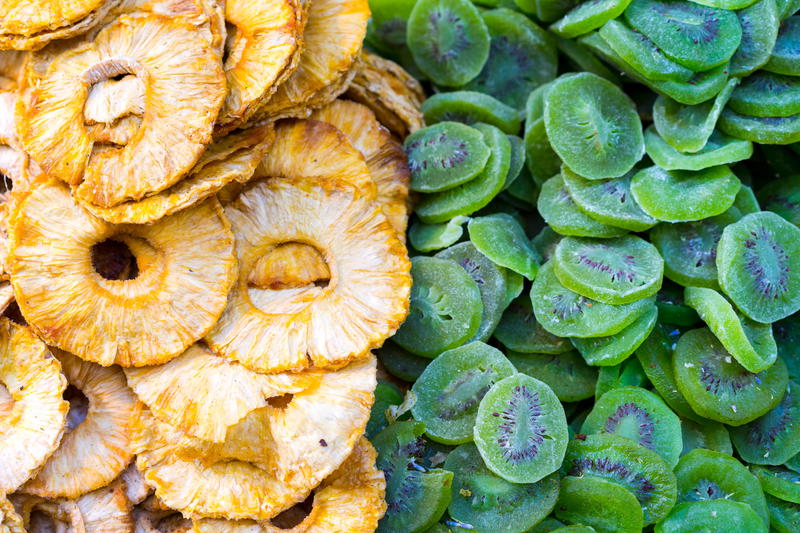 One of the biggest highlights of eating as a vegetarian or vegan in Israel is the salads.
I don't mean a salad made of spinach with some toppings mixed in, no, certainly not. Israeli cuisine means eating a meal with small bowls of everything from matbucha (a vegan mix of tomato, eggplant, peppers and spices), cucumber salad, Israeli salad, fresh olives and more.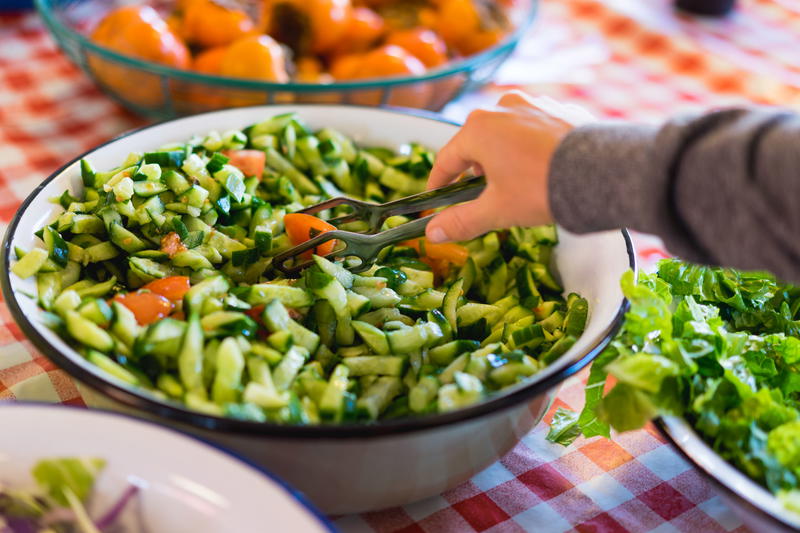 Aside from the salads, there'll certainly be fish and lots of dairy in Mediterranean coast locations.
In fact, back when I ate dairy (Dan eats dairy, and I prefer to take it out of my diet completely), I fell in love with the fresh mozzarella-style balls I'd find in Israeli breakfast buffets at hotels like the Savoy, and I never forgot to load up on those incredible fries at lunchtime restaurant buffets.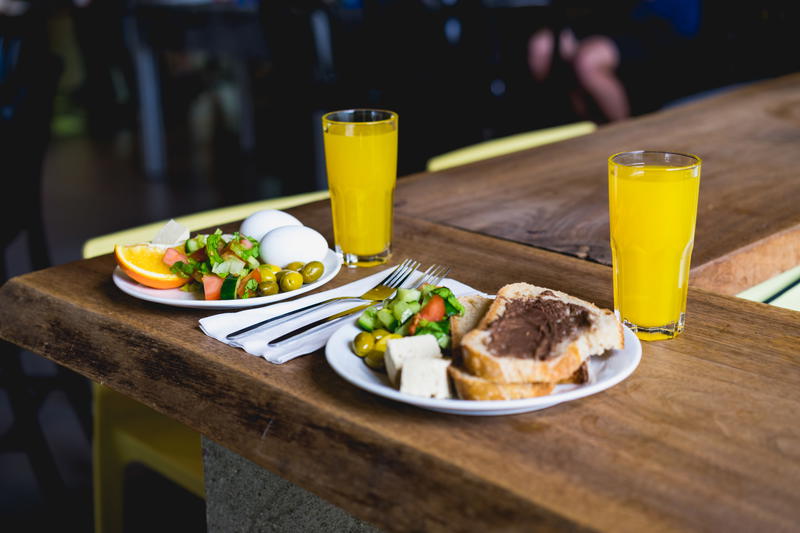 Of all the vegetarian dishes to focus on is Shakshuka. Most countries in the Middle East claim origins of this beautiful vegetarian dish, but we'll give it to Israel for the moment.
Shakshuka is made of a tomato base, and can have additions of anything from eggplant to bell peppers to cheese on top of the eggs that are based in the flavorful goodness.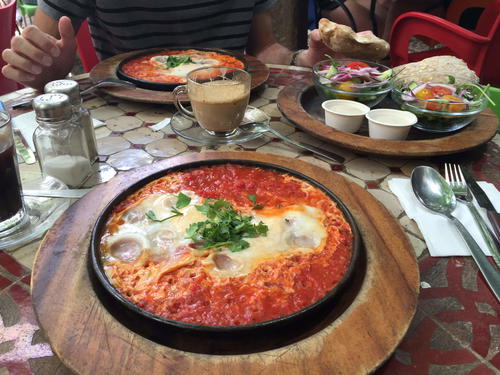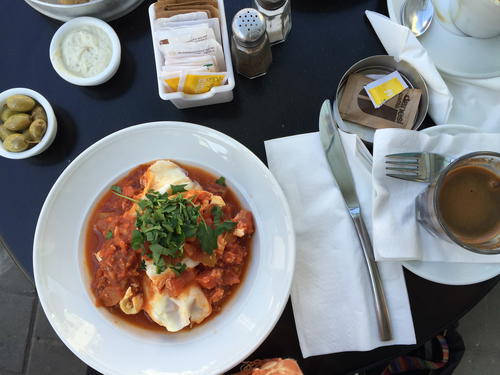 When traveling as a vegetarian in Israel, you can find it in most traditional-style Israeli brunch or lunch establishments, and I've had it for dinner as well. It will typically come with bread on the side.
I've had such lovely experiences eating shakshuka and staying vegetarian in both Jerusalem and Tel Aviv.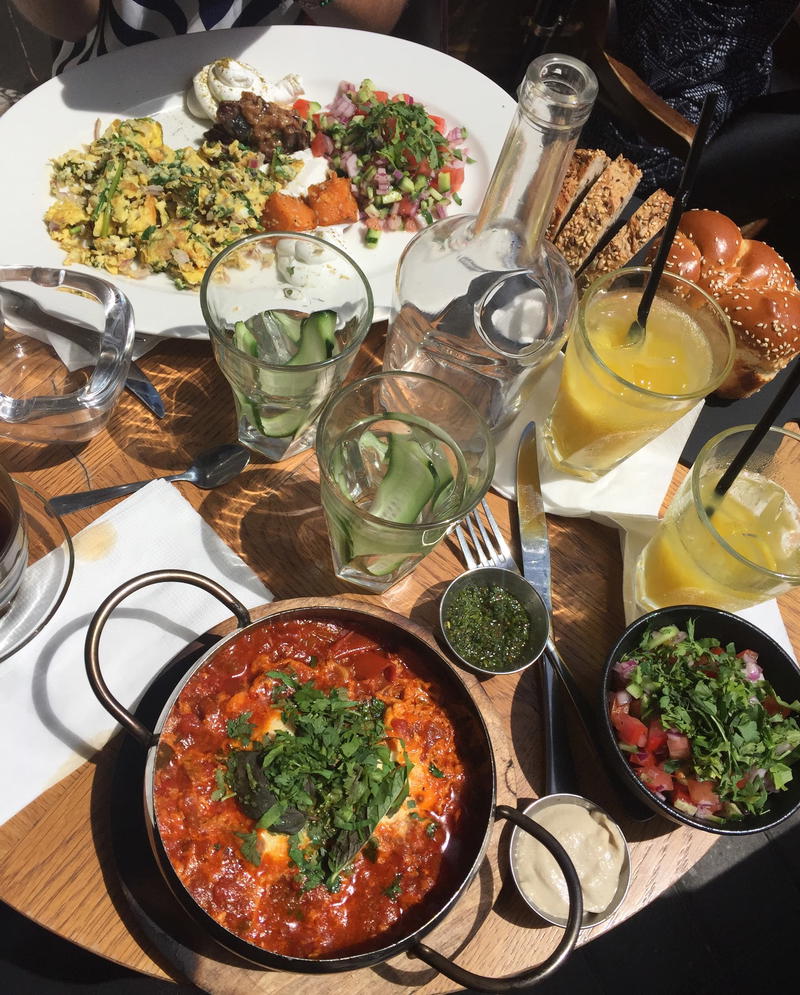 You may be wondering why the Baltic nation of Estonia is on this list. For the purposes of this guide to the best countries for vegetarians, we'll be focusing on our experience as travelers in the capital of this country, which is Tallinn.
Tallinn, for its size, has an impressive list of health food locations that whip up vegan and vegetarian-friendly options made with local ingredients.
The country of Estonia, which is located on the North Sea, has a cold climate, giving its cuisine a hearty and healthy feel. It's full of potatoes, carrots, beets, root vegetables and seasonings like onions and dill, and new age chefs have been putting a spin on tradition.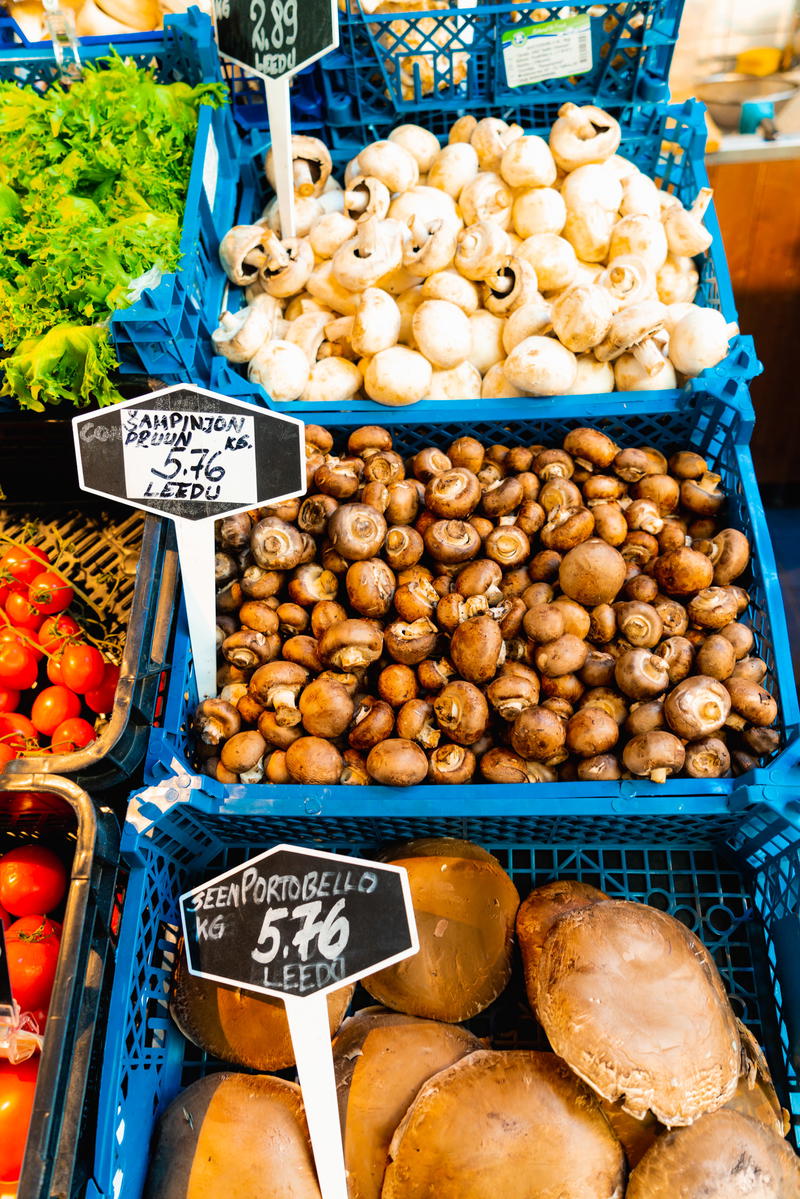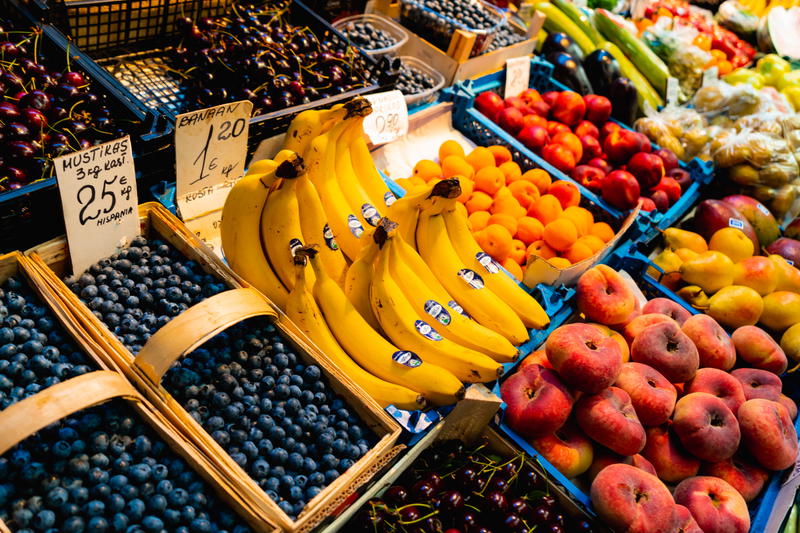 With a vegetarian diet, Tallinn's eateries will get you quite far. For one thing, the tiny historic center has no shortage of cafes with lovely baked goods that will please any veggie traveler with a sweet tooth.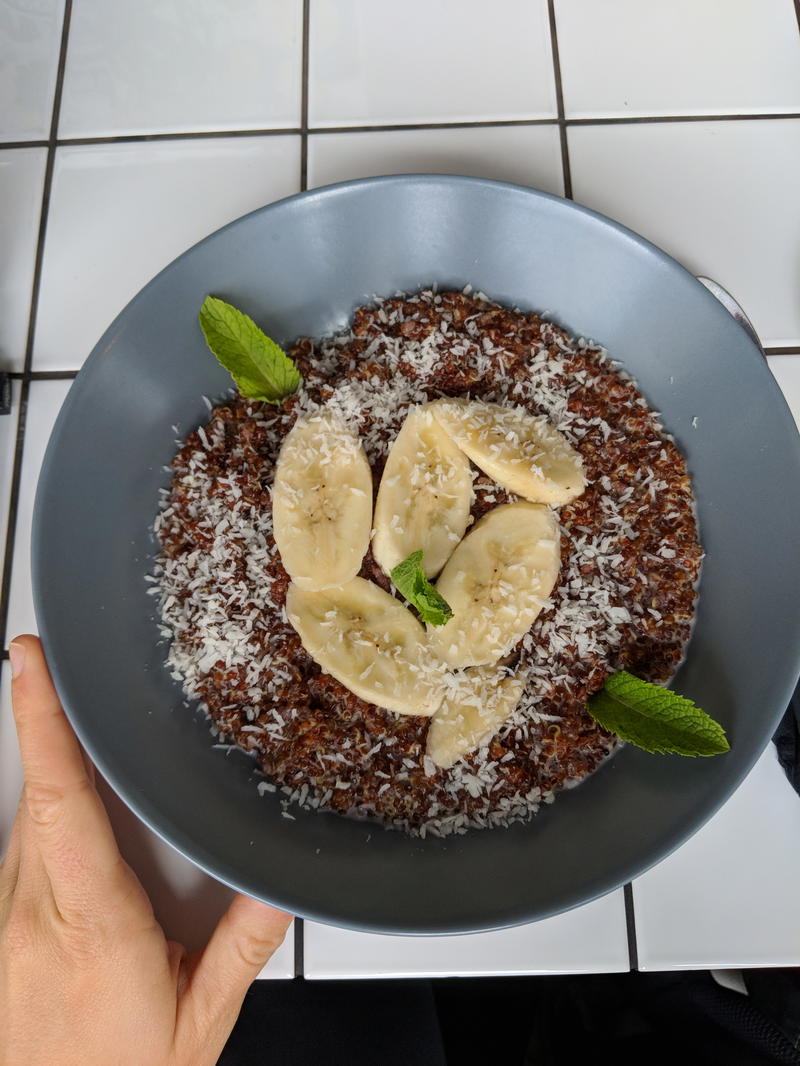 Next, Tallinn's cafes like Must Puudel and NOP will have gluten-free, dairy-free and vegan-friendly options on their menus, which have plant-based lunches and dinners to make you feel right at home.
And lastly, shopping at local grocery stores like Rimi is easy, as you can shop local, cook on your own or enjoy a smattering of food products from other parts of the EU as well. We included this in our list of what to do in Tallinn!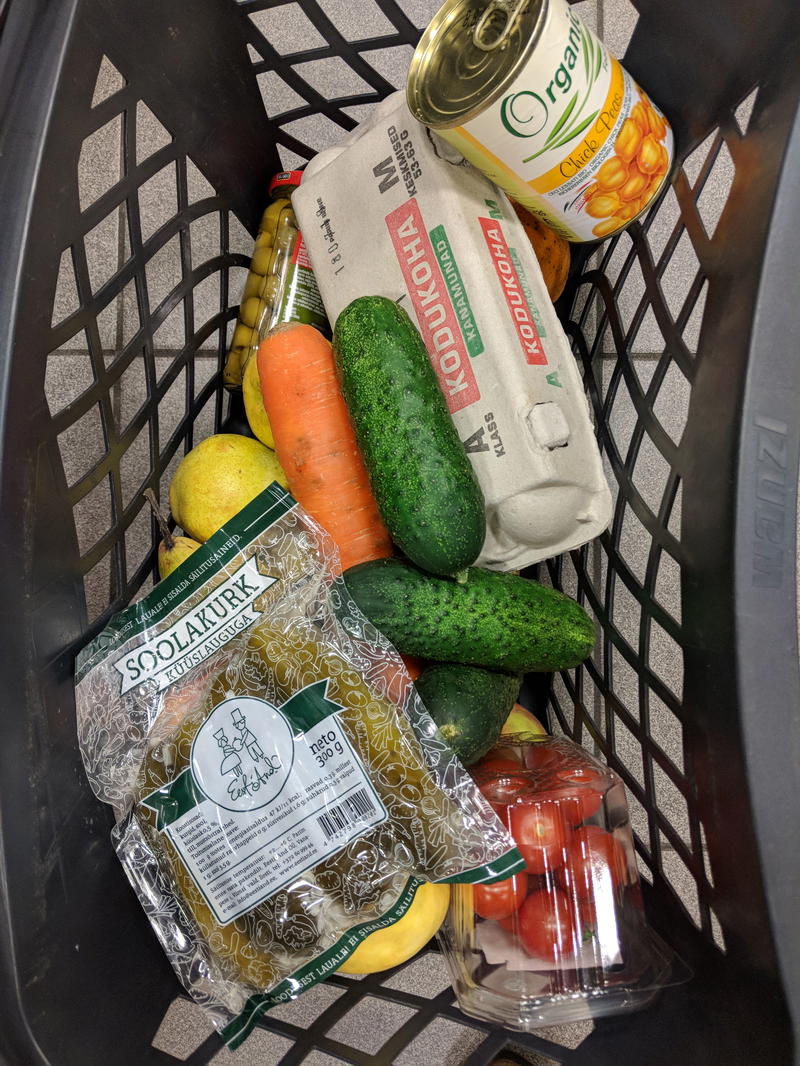 If you think Mexico, you may think of tacos filled with simmered meat, but think again.
Dan's favorite Mexican meal is the "torta de huevo," and this is a bread sandwich from the streets of Mexico City with fried eggs in the middle. If you speak a dab of Spanish, be sure to say, "Yo no como la carne" (I don't eat meat), to specify that you don't want any meat products mixed into the sandwich.
Mexico is one of our absolute favorite destinations for travel, and yes: it is a foodie paradise. Take for example, chilaquiles! You can get this meal of tortilla chips bathed in salsa, with eggs, rather than chicken.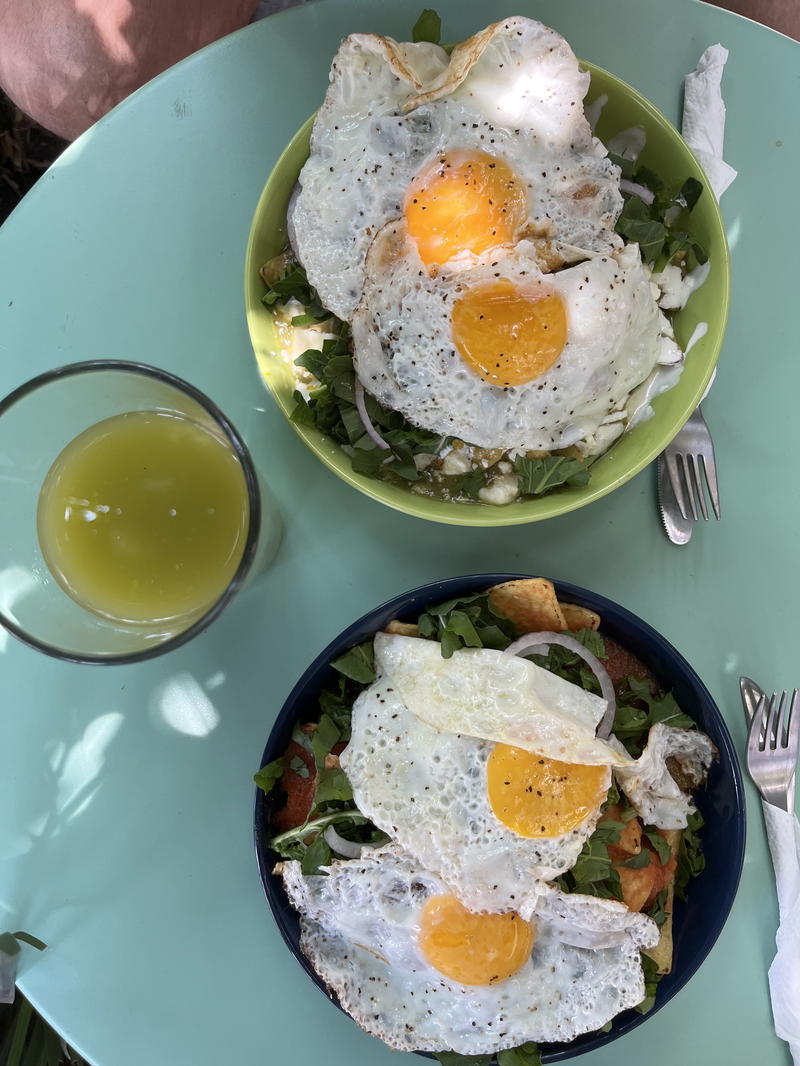 But what about vegetarians and vegans? For one thing, between the two of us, Dan doesn't eat meat, poultry or seafood, and I don't eat dairy or gluten or soy. Finding food for both of us to enjoy happens to occur in Mexico, a place with incredible culinary diversity.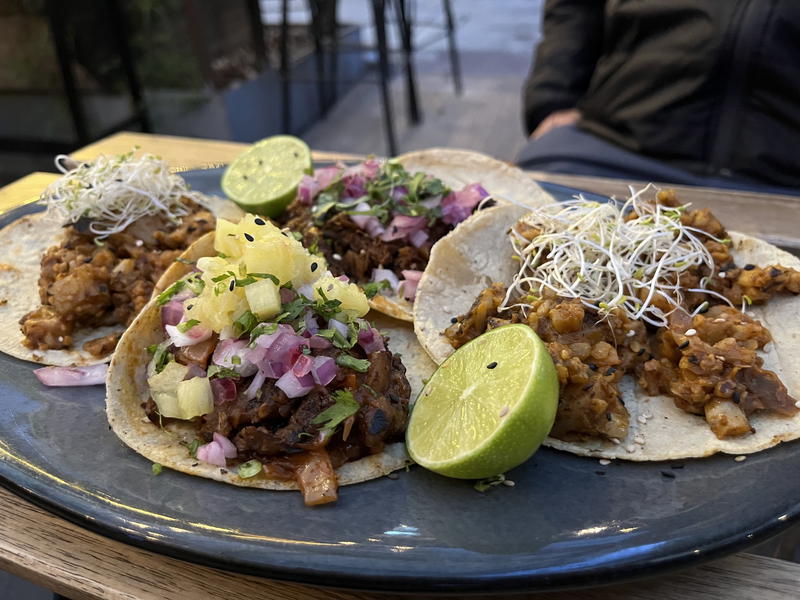 While rural towns and small villages may have their traditional dishes that use pork or other meats as bases, larger cities like Mexico City, Merida, Tulum and Cancun will absolutely have you covered.
Among our favorite vegetarian restaurants in Mexico are:
Che Che Juice Bar in Cancun Downtown for smoothies, grain bowls and coffee
La Choco, Chocolateria Café in Merida for vegetarian chilaquiles, juices and desserts
Veguisima in Mexico City for creative vegetarian tacos, Beyond Beef burgers and falafel
Maikai Poke Condesa in Mexico City for a range of vegan (tofu) and vegetarian (fish) poke bowls.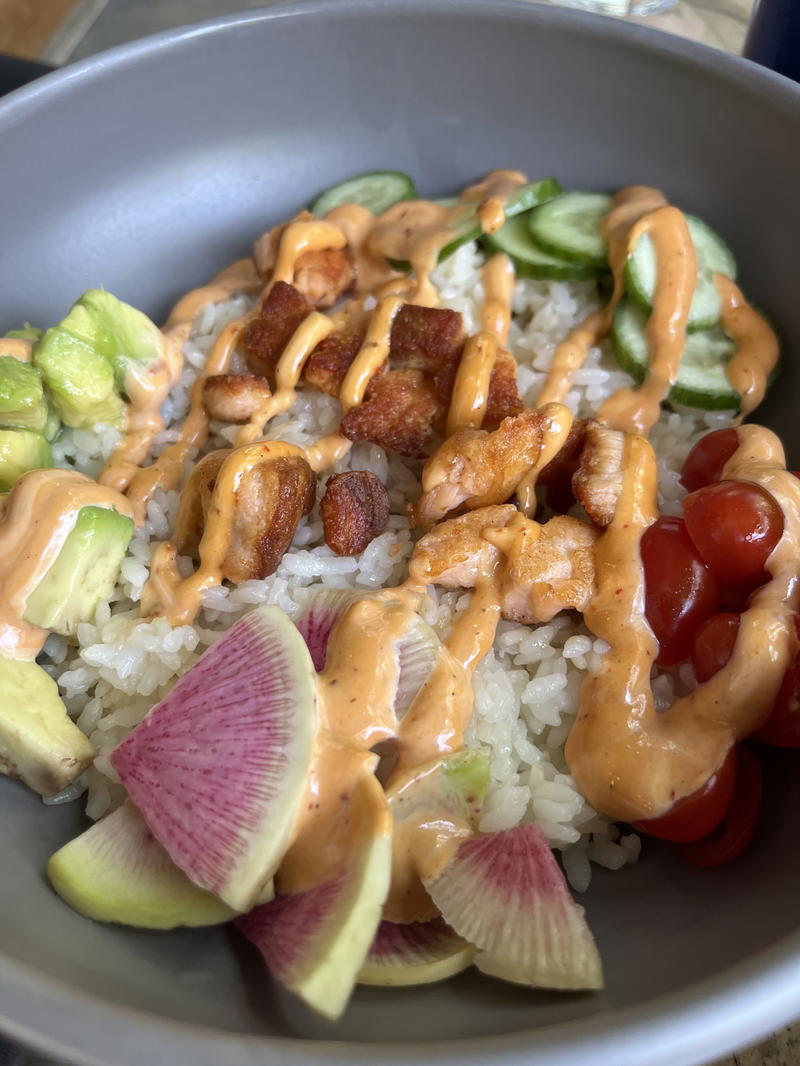 It should go without saying that a country as large as Canada is a good vegetarian travel destination, but why? Much of Canada prizes game meats and coastal seafood for sure, but in the cities, you'll find vegetarian and vegan havens. Take for example our trip to Halifax, where we were able to always eat something vegetarian (vegan, even!) at so many great restaurants, like these:
Great spots for vegetarian and vegan food in Halifax, Nova Scotia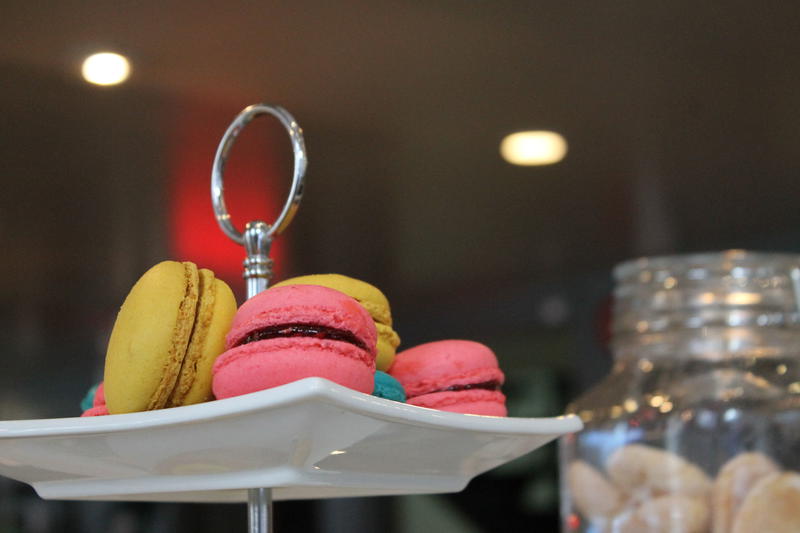 I was in Banff, in the Canadian Rockies, in 2015, when I tried vegetarian poutine over French Fries and was totally sold. This was a veggie-style take on one of Canada's most famous dishes that comes from the French Canadian tradition, and it was a great hint to me that there's a lot of plant-based options when it comes to eating great food in Canada.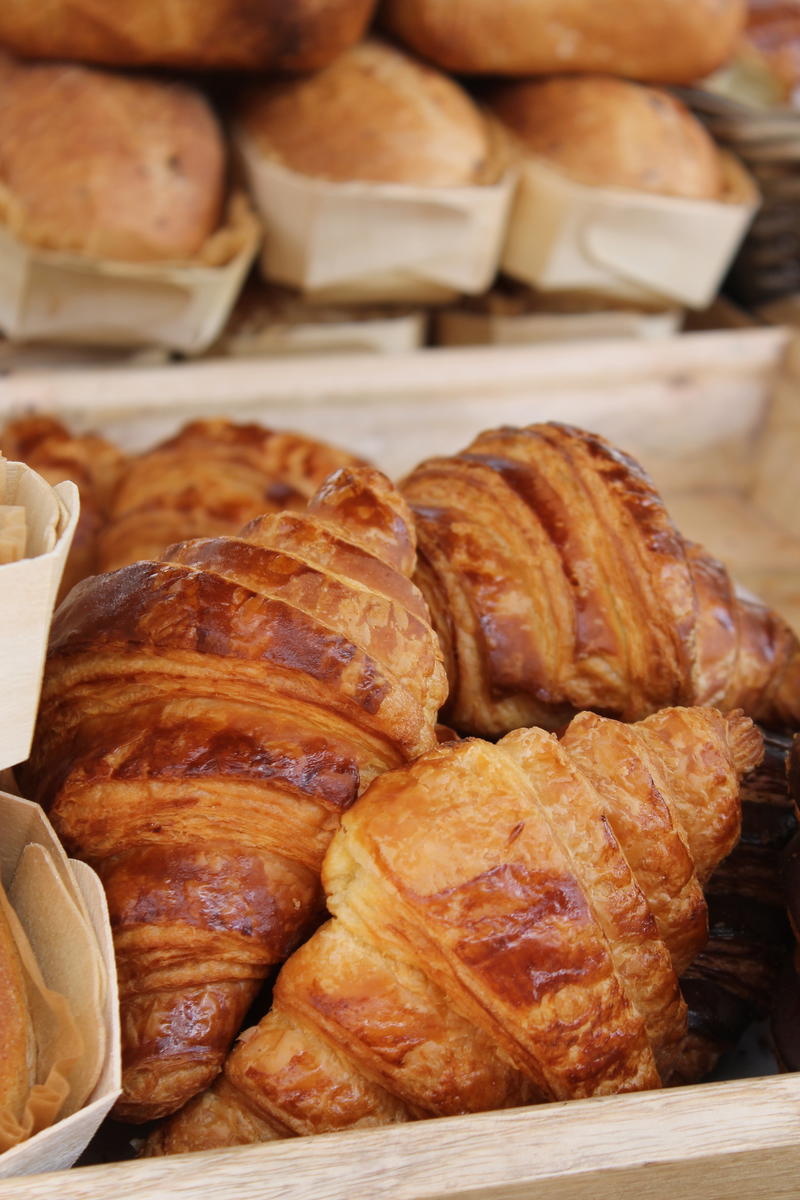 In cities like Montreal (also one of the safest cities for first-time travel), Quebec City, Toronto and Vancouver, you'll find all sorts of new cafes, coffee shops and restaurants that cater to the vegetarian, if not vegan-only, diets.
For starters, try these:
Sham, Montreal
PLANTA Queen, Toronto
Copper Branch, Quebec City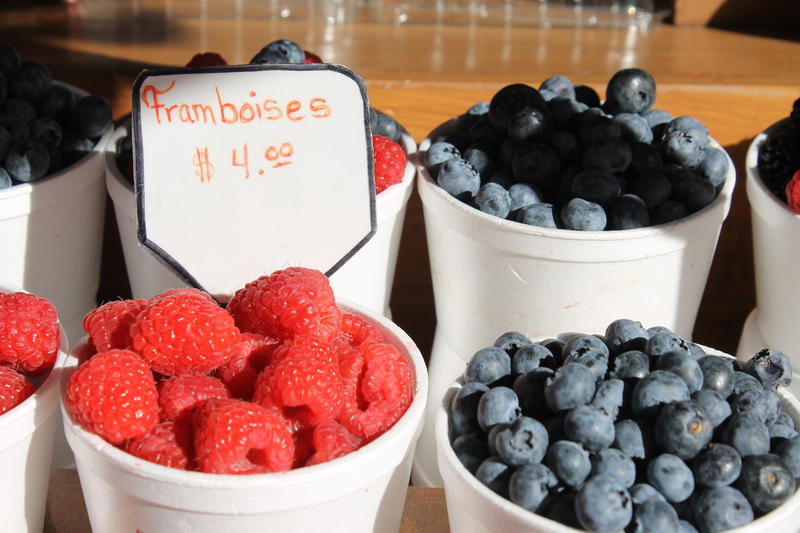 United States
The United States is big and intimidating for many travelers who either want to go big and drive cross-country or hone in on several bucket list destinations like New York City, Las Vegas, the Grand Canyon and Miami.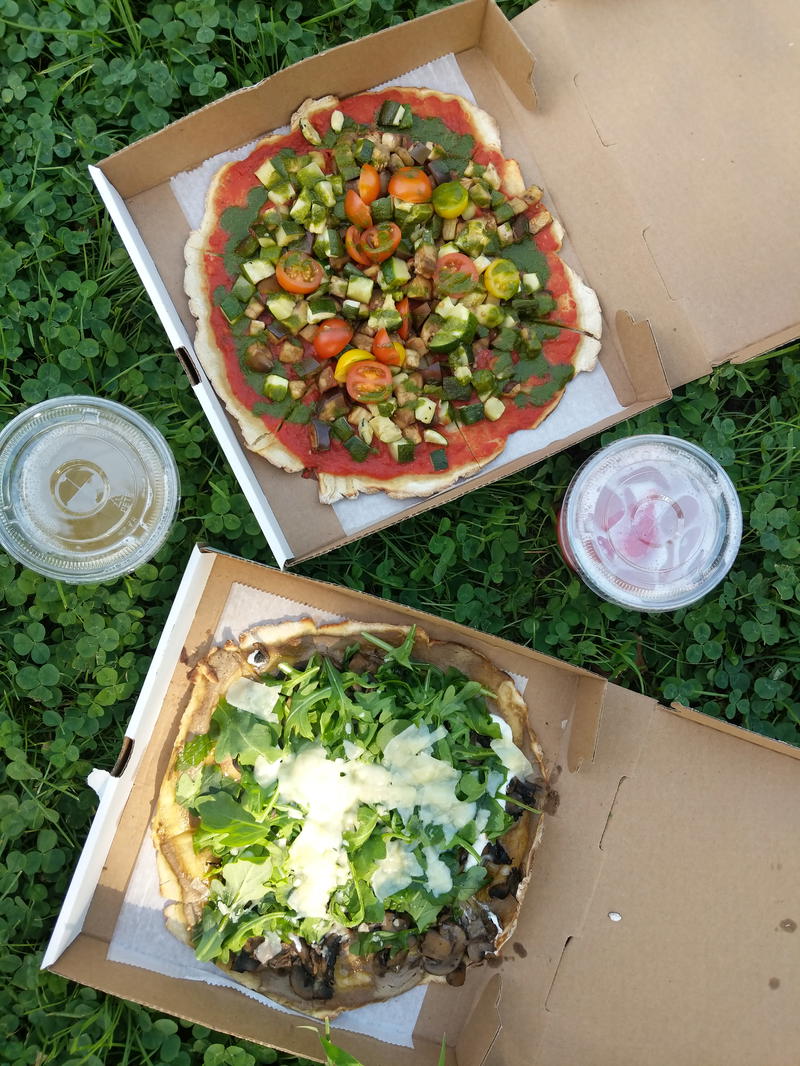 When you look beyond the tourist hype though, go to the US as a vegetarian looking for the best veggie or vegan food that money can buy. You will be quite pleased.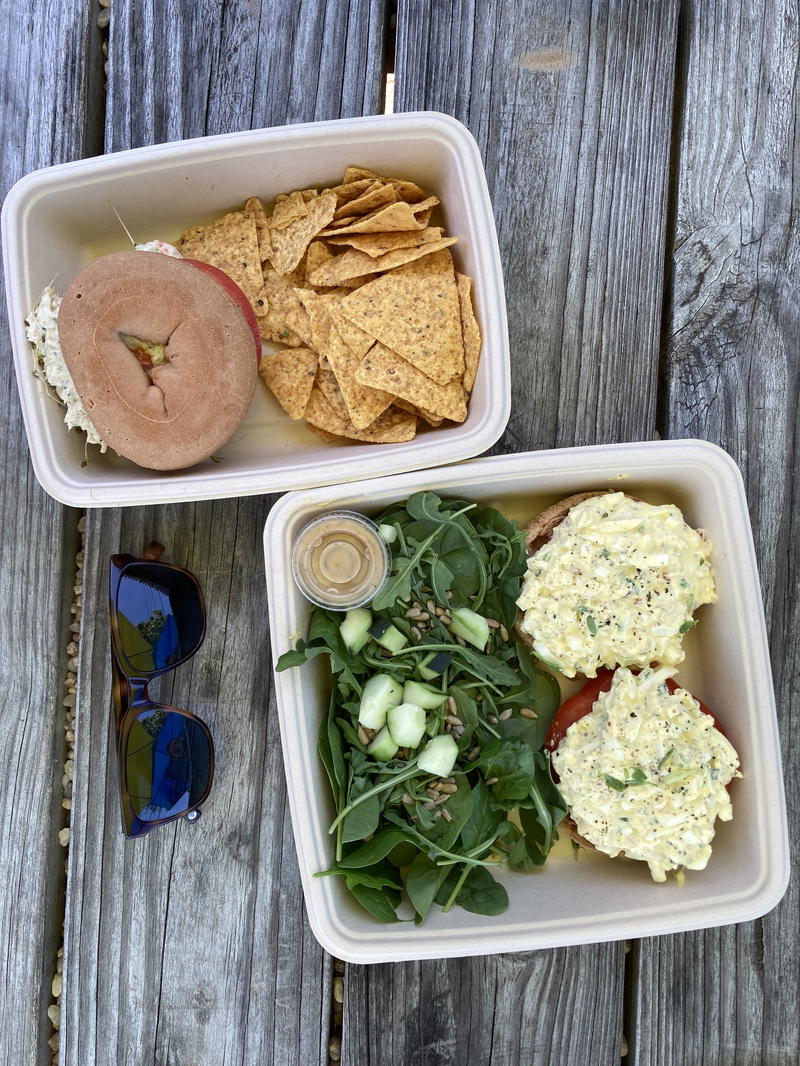 The best vegetarian and vegan places to travel in the US are undoubtedly the big cities, but consider the following destination ideas, which all have a plethora of vegan-only or plant-based food experiences for you to try.
Brooklyn, NY
Austin, TX
Boston, MA
San Francisco, CA
Los Angeles, CA
Miami, FL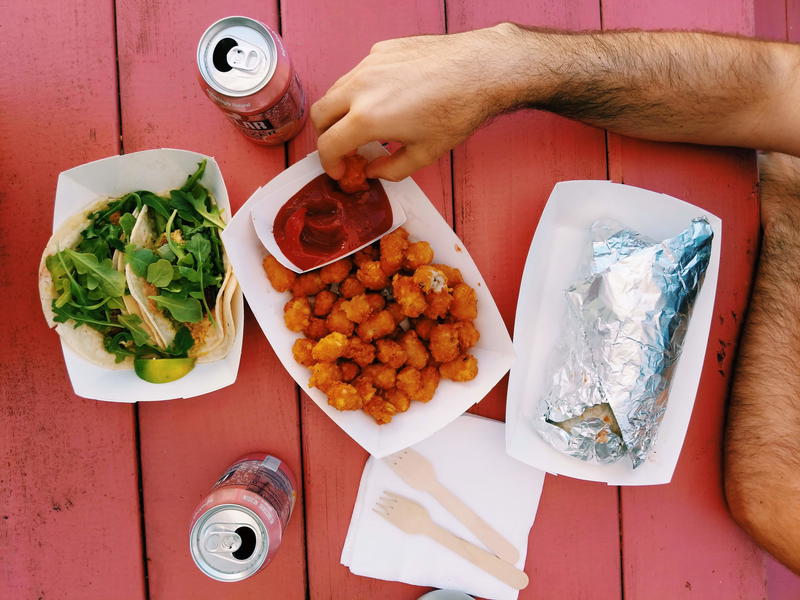 India
Of course, you may know India as one of the most affordable places to travel.
I went to India with the crazy diet that I am on (no gluten, dairy or soy!) and I don't presume you'll have close to as many restrictions as I did. As someone who doesn't eat any of the restrictive food groups on my list, I couldn't partake in most of the food that gets served in India, but I sure know a whole lot about it!
My favorite, beyond favorite dish in India, that is luckily served all over the country, is Baigan Bharta. It is a beautiful mix of eggplant mixed with tomato, onion and usually peas, and a delightful array of spices. I've had it on the mild side, and on the mouth-tingling side, and I could eat an entire pot of it.
In the US, I've seen this dish on menus under the "vegan" section, and also under the "vegetarian" section. It depends if the chef makes it with oil or with ghee (so I recommend that you ask).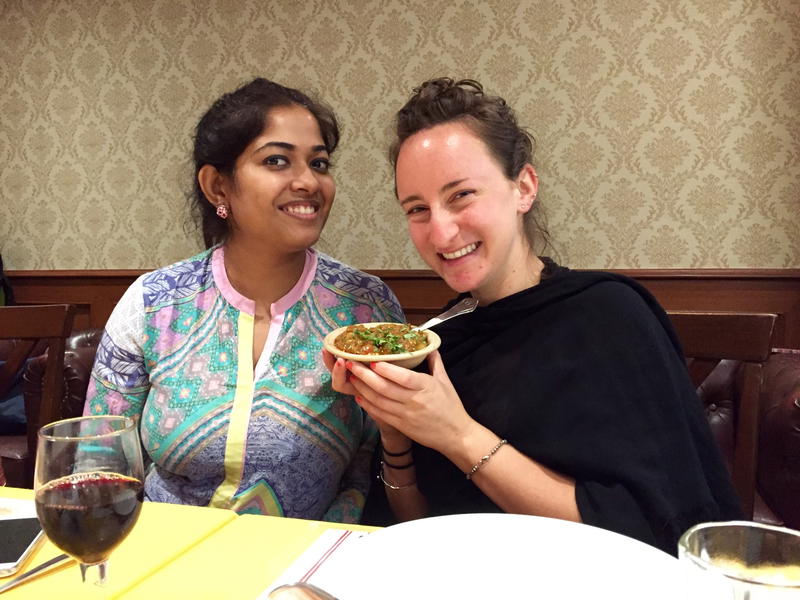 For the rest of the vegetarian and vegan cuisine in India, there's lots. From naan and garlic naan to vegetable samosas, and then hearty dishes like Bhindi Masala (okra with spices), Chana Masala (chickpeas with spices) and Aloo Gobi (potatoes, peas and cauliflower, cooked in spices), this only outlines one region of the country's cuisine.
As you travel throughout India, a place as gigantic as, well, a really big country, you'll notice variations in food. In the south of India, rice is more prevalent than wheat, and coconut milk replaces cow's milk in curries.
In the north, wheat will be king, and dairy will be plentiful as you get closer to the Himalayas. On the coast, in locations like Goa, seafood and fish will be omnipresent.
Sri Lanka was one of the most eye-opening foodie destinations for me, and for us honing in on our vegetarian travel, it was a fun place to be when avoiding meat, chicken and pork. It was also a great place to be a fruit lover.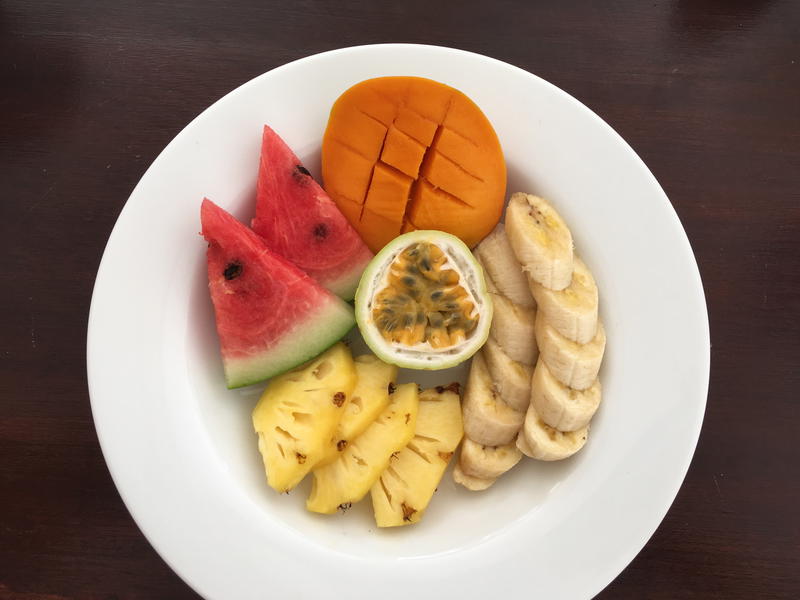 Sri Lanka is an island to the southeast of India, and its cuisine shares a lot in common with the southern provinces of India that also capitalize on coconut milk and coconut parts as a big part of the cuisine.
In fact, buying a coconut on the street in Sri Lanka and having a vendor slice it open with a machete is the way to go! They'll stick in a straw, and you've got a way to cool off and hydrate.
Sri Lanka's food is very rice-based (which I appreciated), and we found ways to eat great meals that did not center around meat.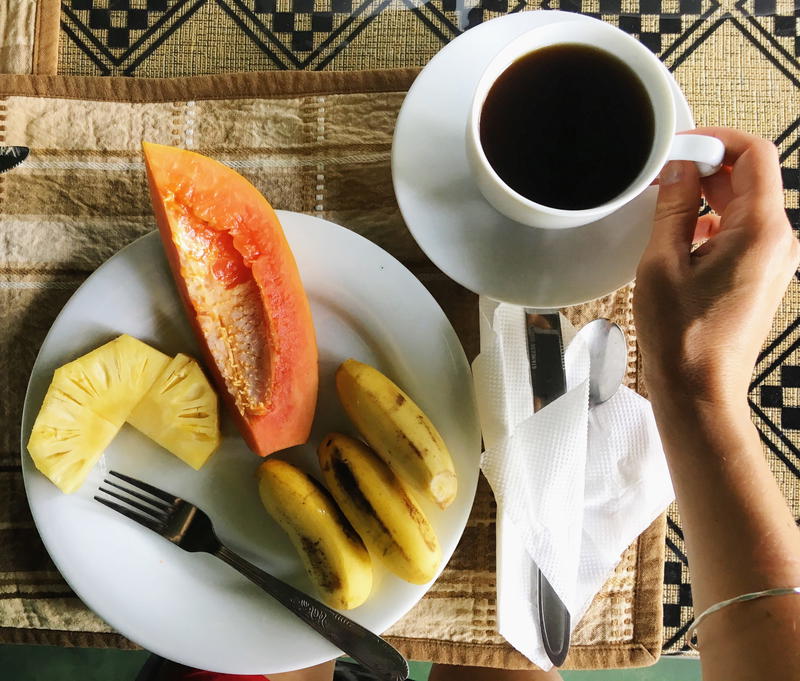 One of our most memorable meals was at a home-cooking restaurant by the beach in Mirissa, in the south. We enjoyed a plate of rice, sautéed green vegetables, fried eggs, and carrot-coconut salad, all with incredible flavors we had never witnessed before. We also went out for nice Chinese food in the town of Galle.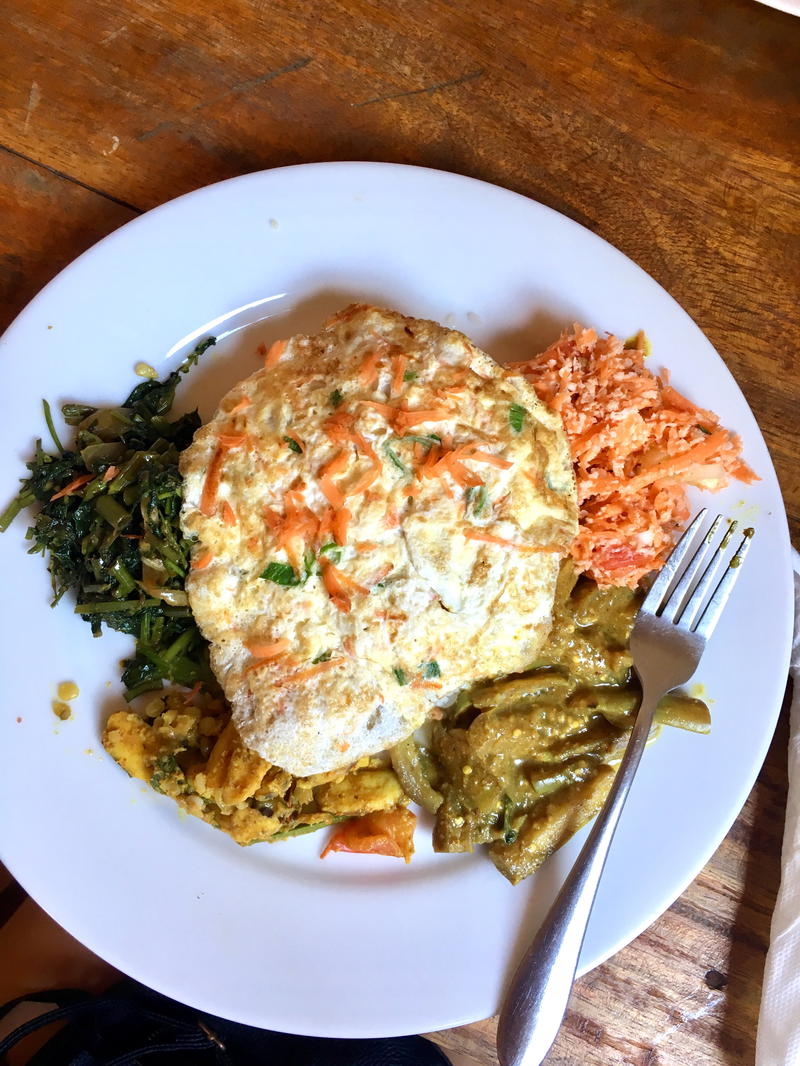 Sri Lankan breakfasts are also what you'll want to write home about. With fresh fruit daily, local Ceylon tea, rice hoppers and coconut sambal, these spreads were what we wanted to replicate at home.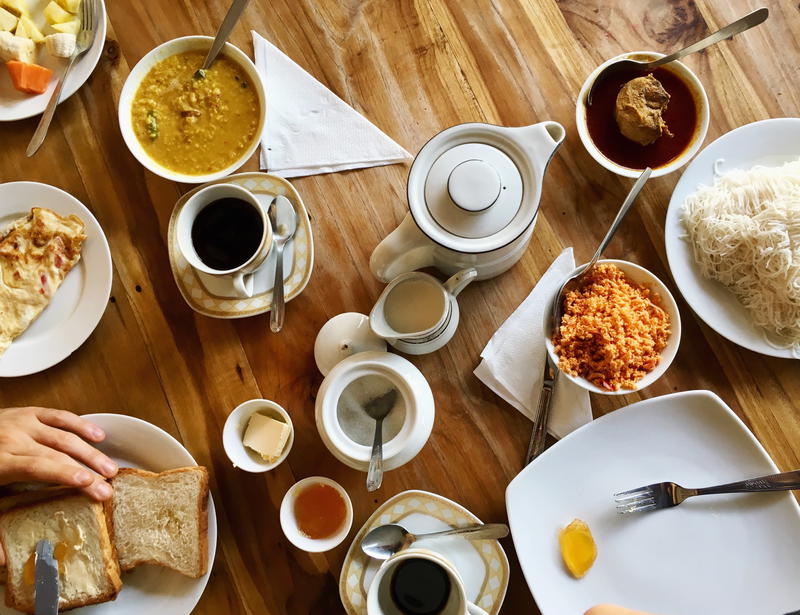 For more information on traveling in Sri Lanka, check out our Sri Lanka travel tips (or sneak a peak at all of the green nature), in which we touch on what the food is like, overall.
We will not lie to you: Colombia as a country is big on meat, BUT, as a vegetarian or vegan in this South American nation, you can have a really nice time.
One of the best parts (in our opinion) about Colombia is the arepa. This is a thick pancake of a sort made of corn, and they're hugely plentiful in markets, supermarkets and restaurants, topped with an assortment of things.
The other thing we love about Colombia is the incredible assortment of fruit. Truly, when we think about our (various) trips to Colombia, we remember the sweet and juicy fruits like the pitahaya, citrus, mangoes, bananas and more.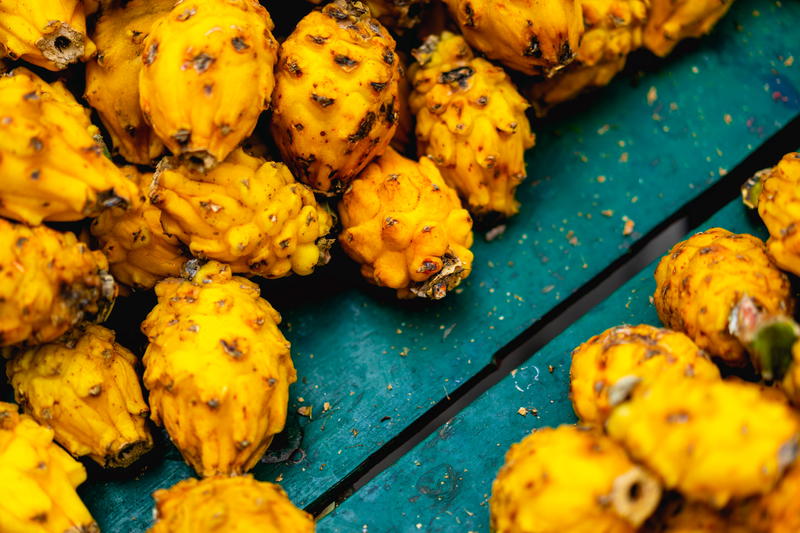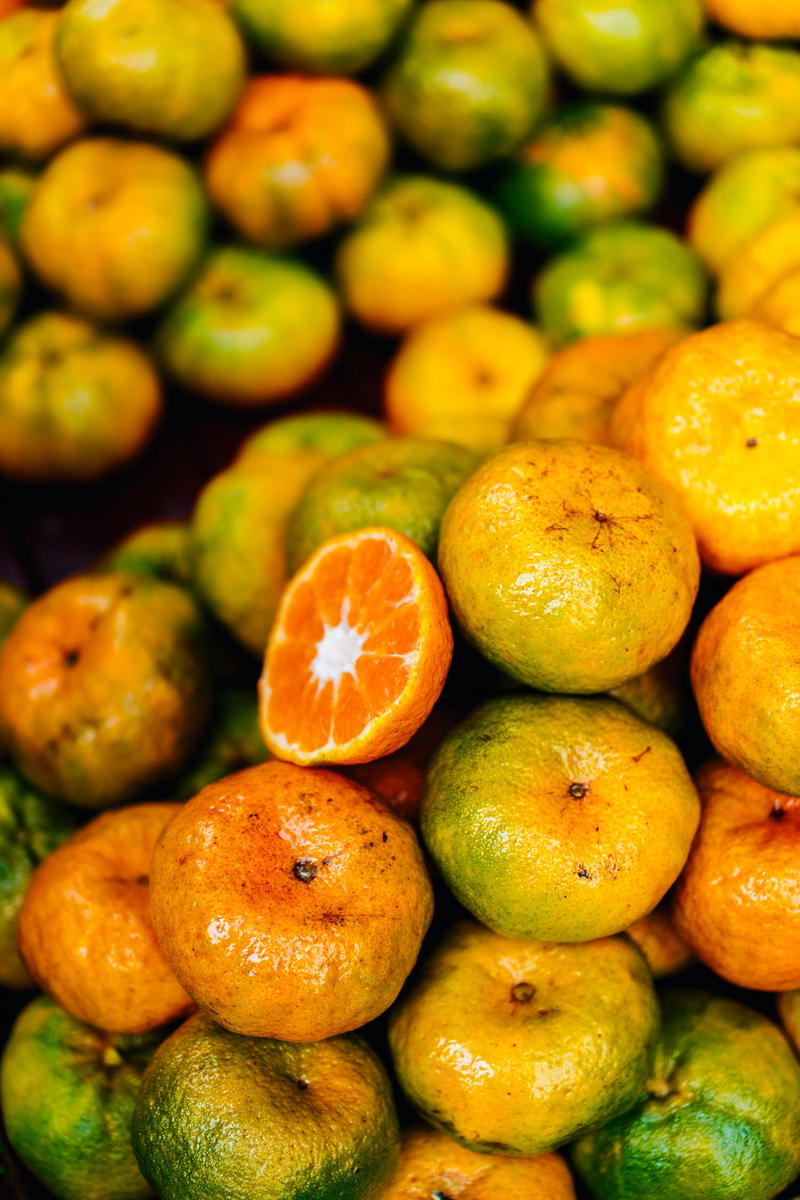 In the Medellin region, a dish called the Bandeja Paisa is king. The great news though, is that you can get a vegetarian version of this, with rice, fried plantains, a fried egg, avocado, an arepa and sometimes a salad or beans. It covers every food group and it will leave you full.
Street food may also be vegetarian, so don't discount the fact that vendors may serve up fruit, fried delights or little potato poppers like these!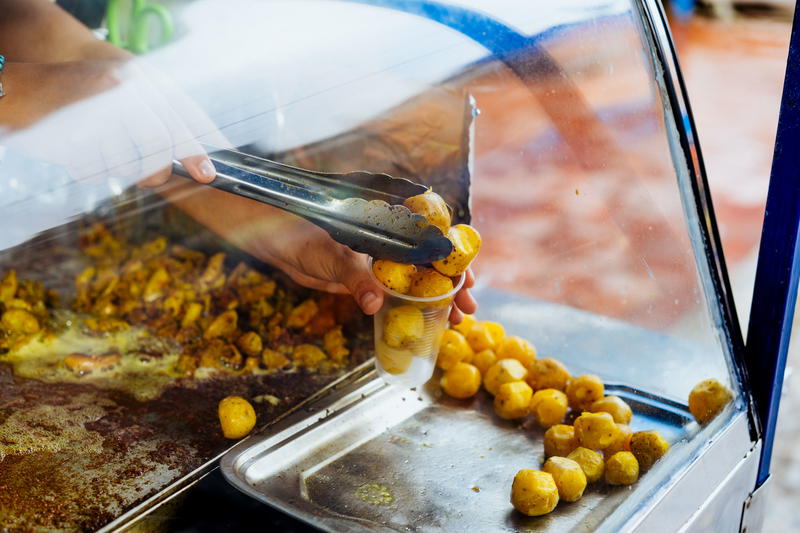 That's for traditional cuisine, though. In recent years, the big metropolises of Cartagena, Santa Marta, Bogota and Medellin have had modern vegan and vegetarian restaurants pop up as the plant-based diet gains popularity.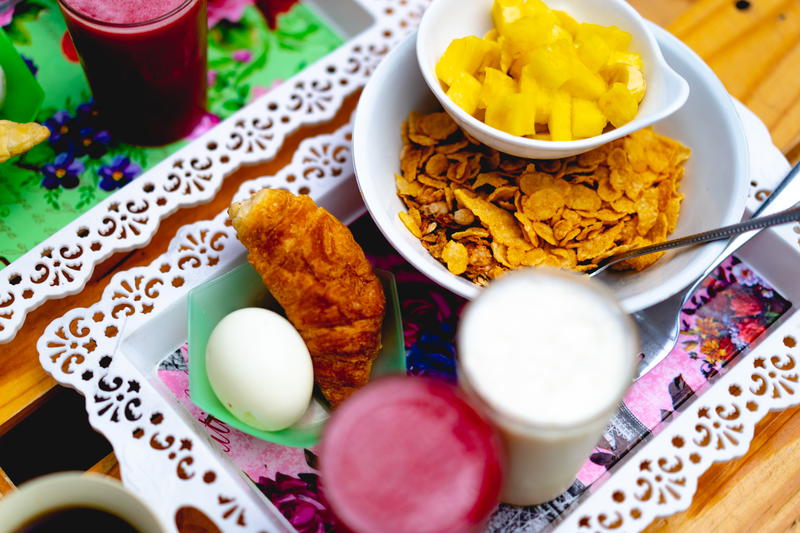 Medellin has a large number of cafes that specialize in health food, and you'll find many in El Poblado. Cartagena has lots of ways to enjoy fish, and so does Santa Marta. And in Bogota, cool areas like Zona T will have veggie-friendly cafes for the young and hip crowd.
Eat at these places:
Medellin: Veg Station
Bogota: Naturalmente
Cartagena: Agua De Leon
Santa Marta: Ikaro Cafe
Guatemala is also a Central American country located in the Rice and Beans Belt, but with a ton of internal variety.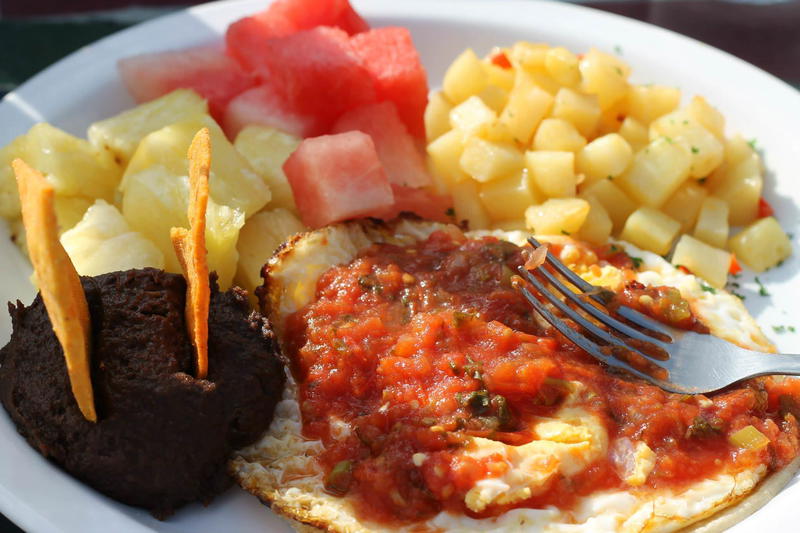 Guatemala is one of the larger countries in Central America, aside from Mexico, and within its borders, it has jungle, mountains, coastline and volcanoes. Given the diversity of the land, Guatemala has lots of food to enjoy, namely… avocados.
Just kidding, there's so much more to this country than its avocados, but they certainly are a highlight. For vegetarians, there's lots to eat with eggs, once you go inland, as well as soy products (while not inherently local) at the cafes and health food restaurants of Antigua, one of the country's most popular destinations.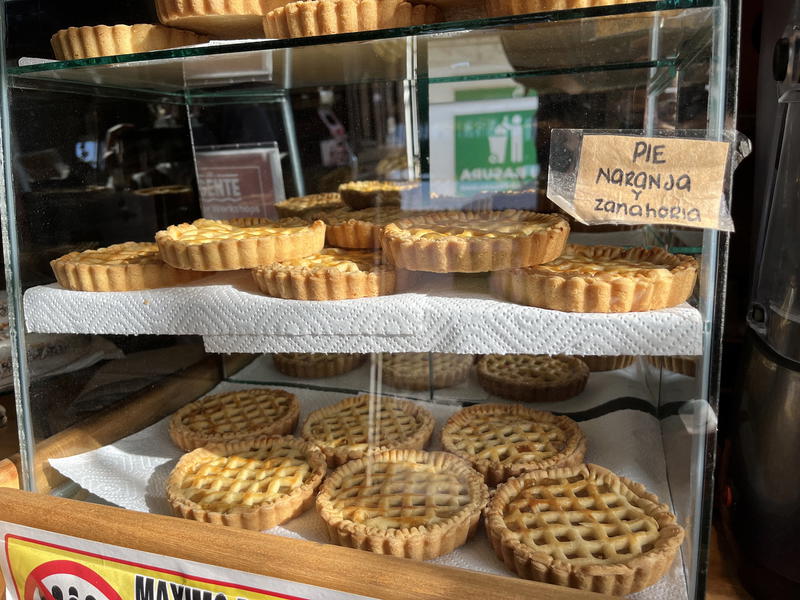 Antigua is the place in Guatemala where I have been to twice, and from my first visit in 2015 when I ate a vegetarian diet (black beans and eggs, every day!) to this year when I went with my vegetarian sibling, there were few issues to encounter.
Aside from one Antigua luncheonette mainstay that doesn't sport any vegetarian offerings, every other sort of traditional cafe, coffee shop or restaurant had a vegetarian egg option, if not a vegan-friendly brunch choice like avo toast. Check out this list for starters.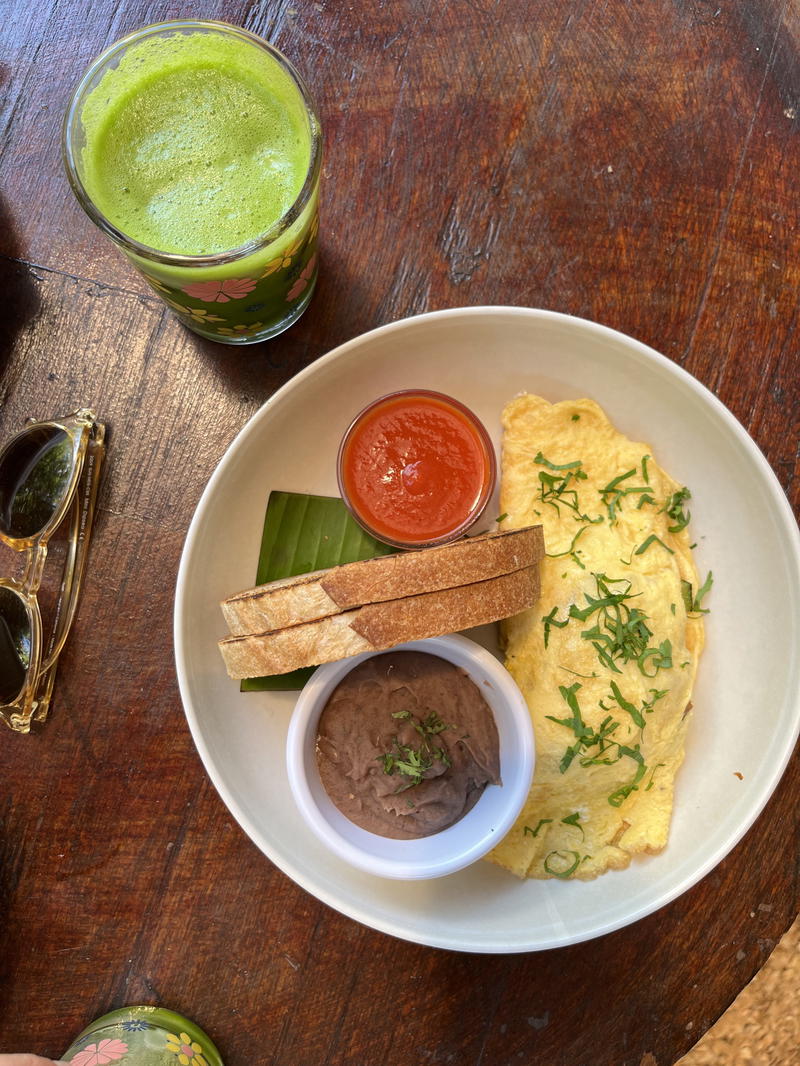 My absolute favorite thing to eat in Guatemala is a breakfast, brunch and lunch dish of two eggs, doused in salsa and served on a thick Guatemalan corn tortilla right out of the kitchen. It's served with coffee and a fruit salad, and it simply can't be beat. There's also many ways to enjoy Guatemala's scenery with some vegan food, at the same time: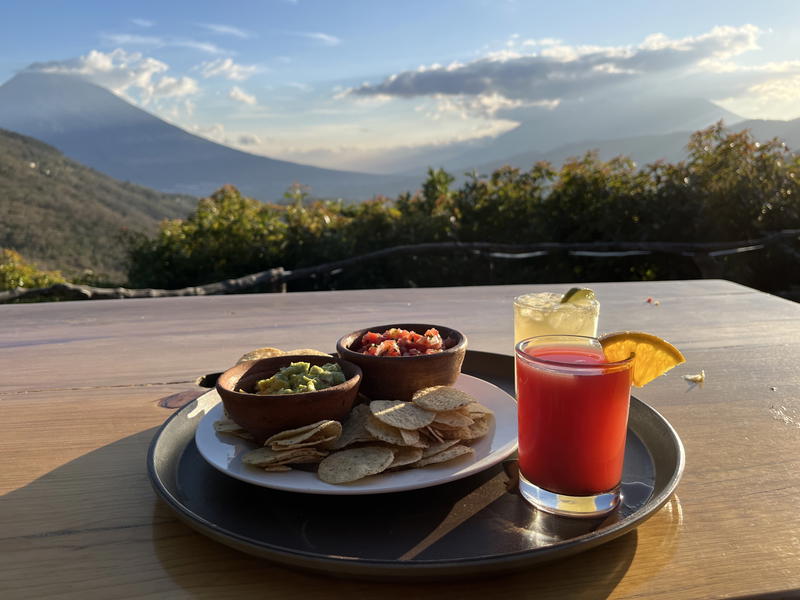 A few veggie-friendly cafes in Antigua are:
12 Onzas
Artista de café
Cafe Estudio
Alegria Cafe
The Netherlands is a very vegetarian-friendly country, and it's one where English is incredibly widely spoken as well.
On our first morning in Amsterdam we went to a charming brunch cafe called Anne & Max, where we both had trouble choosing from so many vegetarian options on the menu.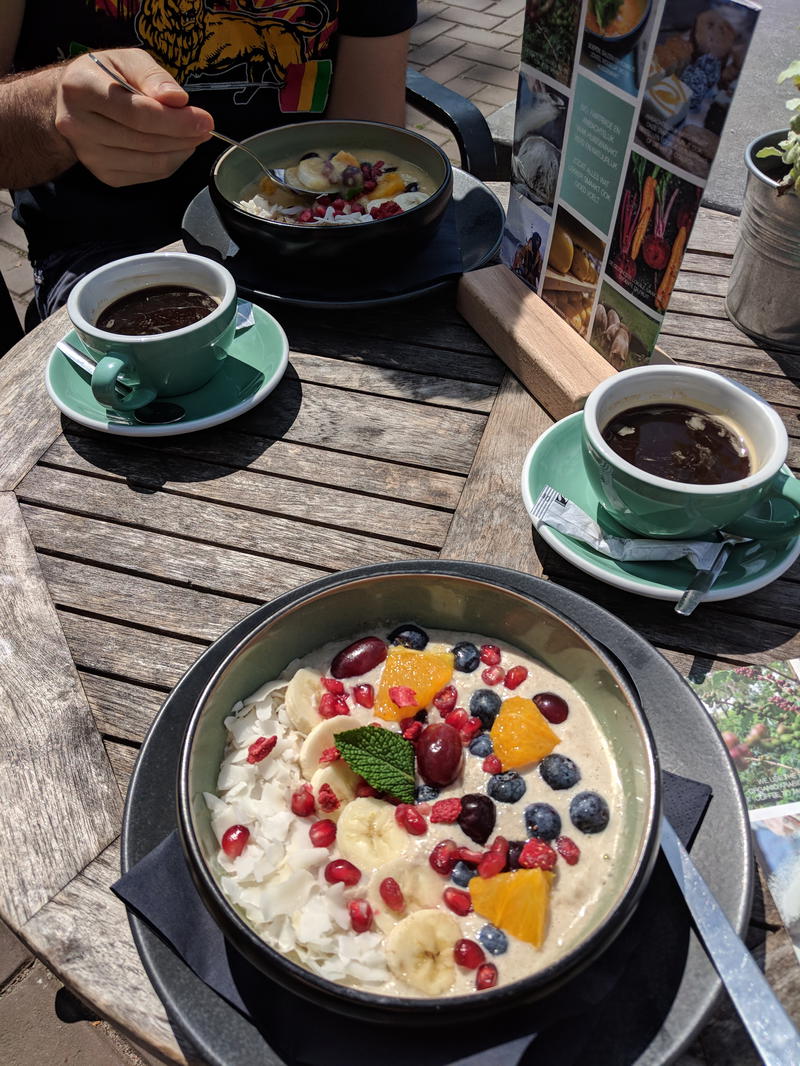 Later on, we met up with a friend for vegetarian Middle Eastern food, and this was after enjoying a gorgeous vegetarian- and vegan-friendly buffet breakfast at our hotel, the Lloyd Hotel.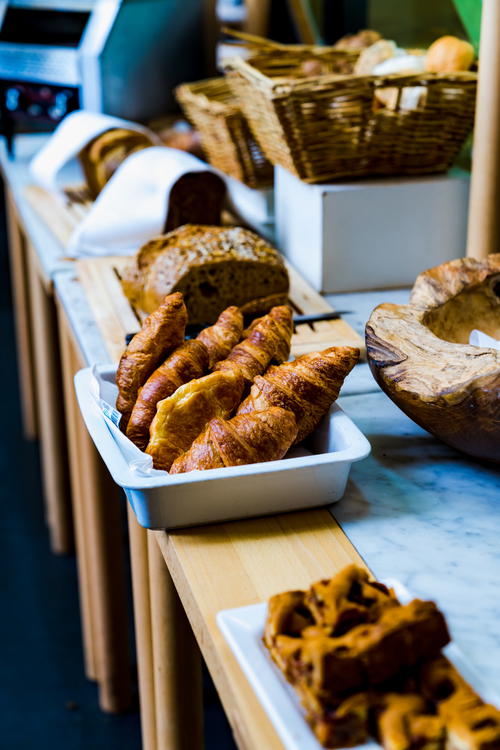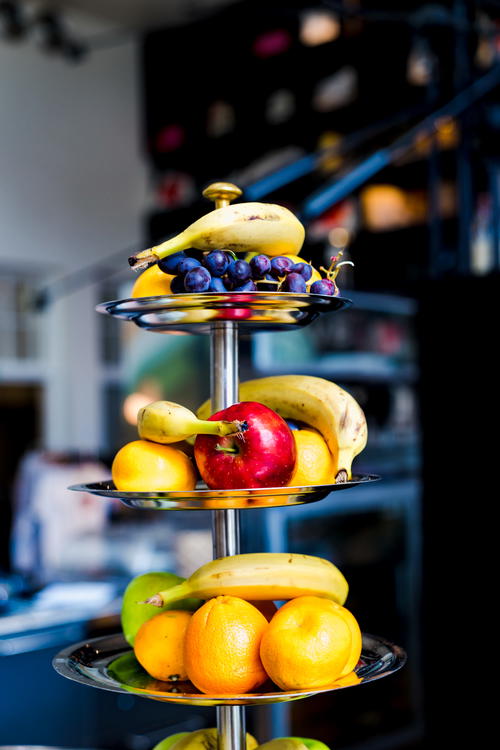 Dutch food itself includes a fair share of meat, but when you cast it aside, the cuisine is healthy and varied. In The Netherlands, you'll typically find lots of great local bread and cheese.
As much of the country has a coastline, fish is a popular protein to have with meals, and so are eggs. At health food cafes and shops like STACH, you'll be able to include staples like nuts, seeds and other vegan proteins in meals. Salads are also popular.
If you're over Dutch food, fear not: the Netherlands also has lots of international food to choose from at restaurants, from Israeli to Indian to Italian. There's also markets, for fresh vegetables, eggs and produce.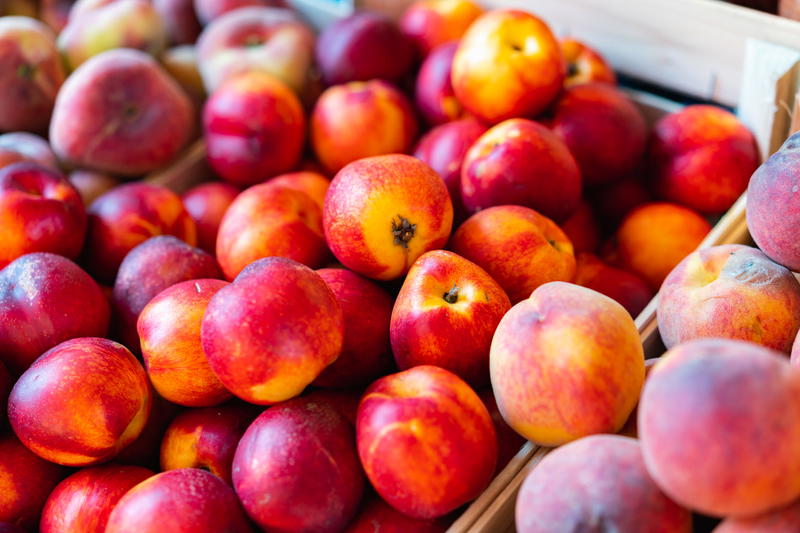 The Netherlands supports a healthy culture, like their dedication to bicycling, parks and healthy eating. It makes a great destination for everyone!
Would you believe the best vegetarian food I had in all of Ireland was in a restaurant called Bollywood, in the town of Shannon? It's true.
And while Shannon only has about two hands' worth of restaurants because it's so small, you'll probably have to head to Dublin for the real scene in Ireland's vegetarian and vegan scene.
To be honest, though, Ireland was a place where Dan and I road tripped along the Western Coast and then drove to the East, and the mainstay of our diets that week was from supermarkets. This was simply because we were driving and hiking so much, and weren't sure when we'd have time in the day to stop by a proper restaurant.
With that being said, we had a nice time exploring supermarkets in Ireland when we could find them, picking up breads, crackers, dips, vegetables and fruits to take with us from day to day.
When we got to Dublin, we cooked in our Airbnb and also explored cafes and the restaurant area of Trinity College and Temple Bar, where today, you'll find the largest assortment of Dublin's plant-based places to eat.
Three things that are for sure in Ireland: coffee, beer and hard cider are all vegan.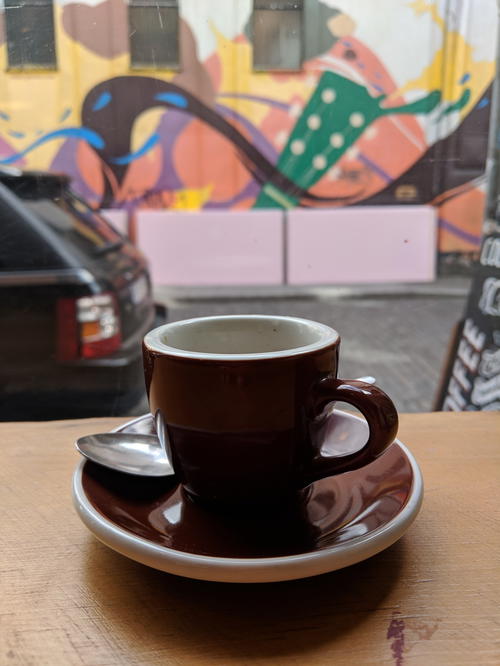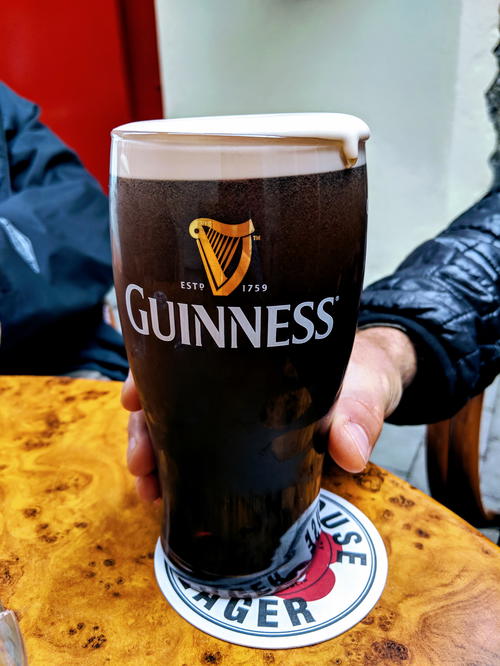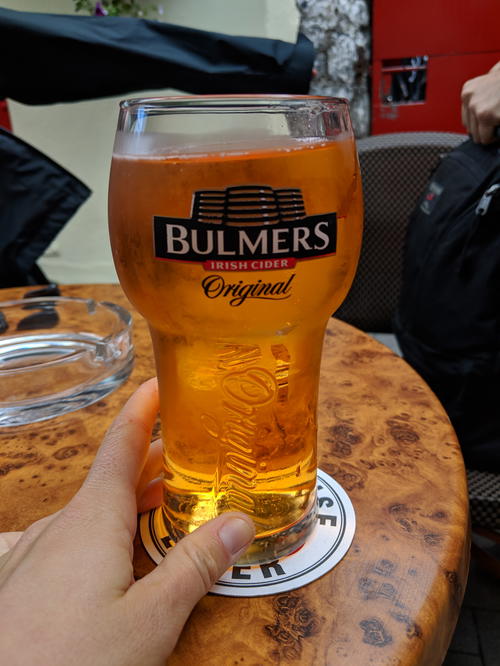 Peru could make you think of red meat, cuy (guinea pig) from the highlands and other non-vegetarian friendly foods, but in reality, Peru is a great place to travel and be a vegetarian.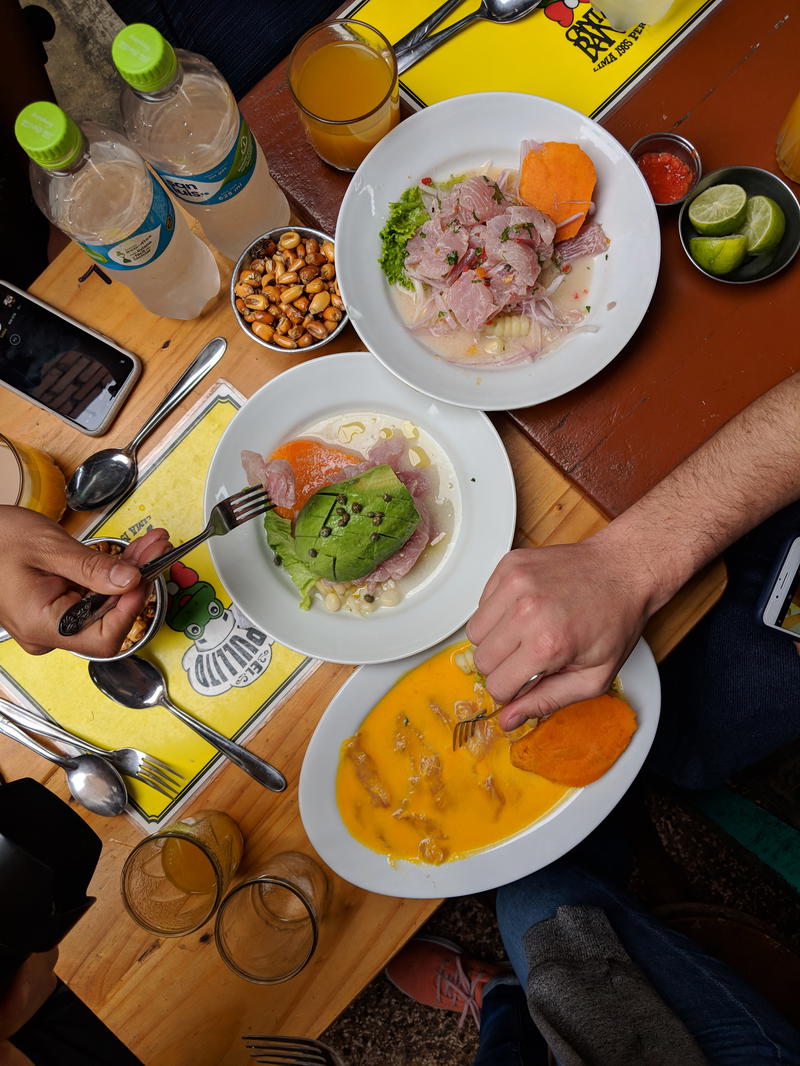 My most memorable meals in Peru have been in Lima, and involved fish. Peruvian cuisine has an incredible way of marinating fish in citrus juice and turning it into ceviche with perfect additions of choclo (big corn), camote (sweet potato) and red onion. The flavors are to die for, and pescatarians will never want to leave.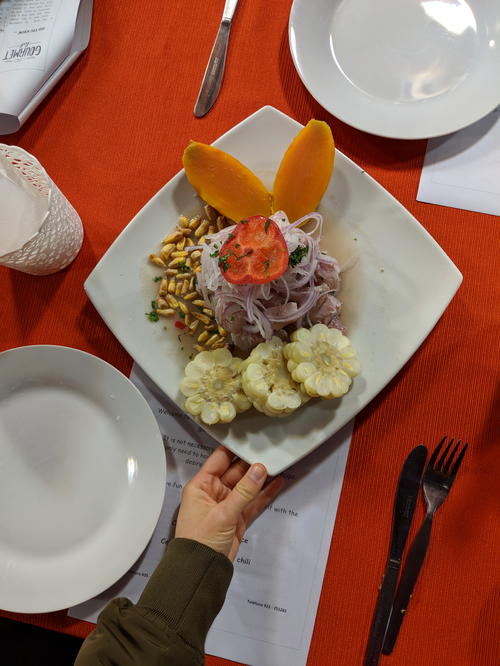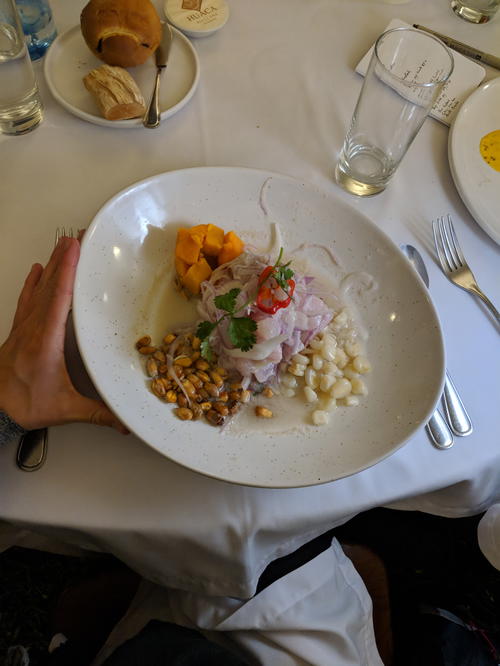 For vegans, or anyone, Peru's fruits are fantastic. Try maracuya (passionfruit), aguaymanto and granadilla, and for vegetables, don't miss the tomatoes, potatoes (hundreds of kinds!) and beware of the spicy heat of the rocoto chile!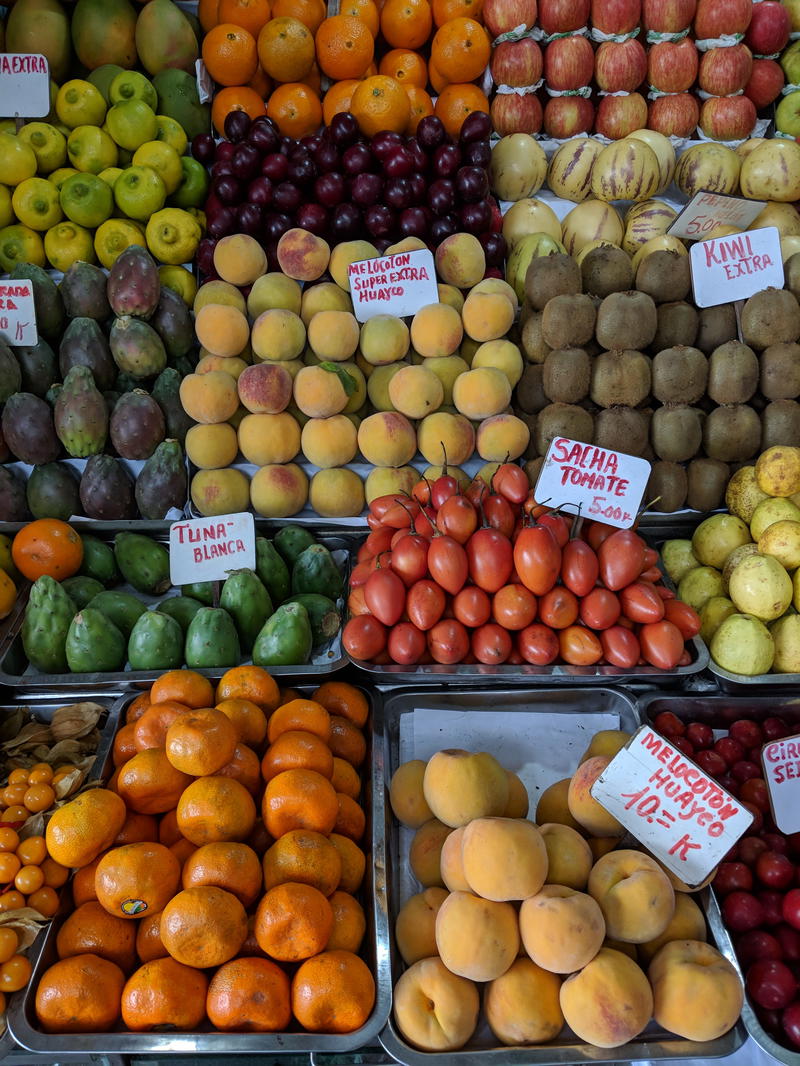 Another vegan element of Peruvian cuisine is the plethora of types of potatoes. Rumor has it there may be more than 4,000 species of potatoes, grown all over the country. In addition, bakeries carry delicious treats, and there's never a shortage of corn.
The best cities for vegetarian and vegan places to eat in Peru are in Lima, Cusco, Mancora and Paracas. Try these favorite spots in Lima:
Raw Cafe - Independencia
Veda Restaurante
Seitan Urban Bistro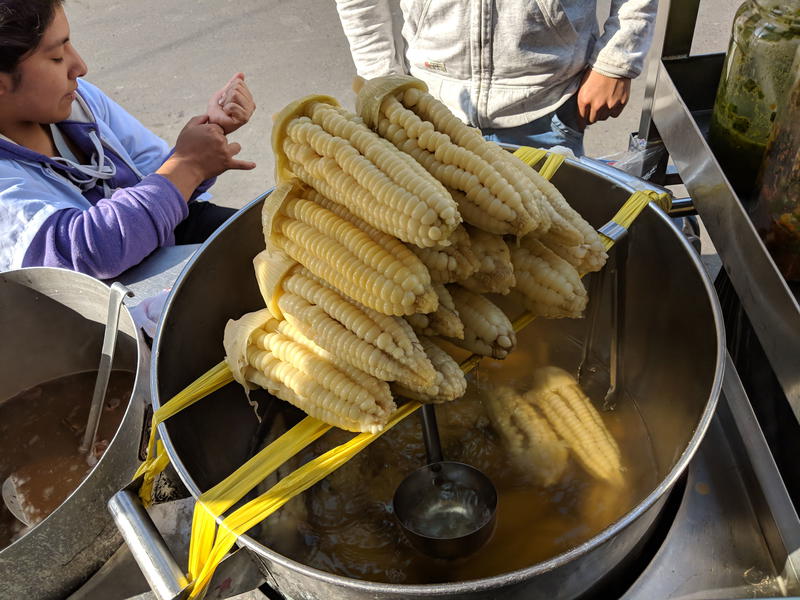 Costa Rica
As a vegetarian traveling in Costa Rica, I didn't even eye anything containing meat on a menu, and luckily, I didn't have to.
I had a ton of luck eating at the "sodas" of Costa Rica. These small establishments are family-run mom-and-pop eateries with set menus that are usually vegetarian to begin with.
Costa Rica sits in the lower half of the part of Central American "funnel" (that's what it looks like to me, at least!) and it's in the "Rice and Beans Belt," a moniker that many backpackers endearingly use to refer to the region and its food.
A meal I'd eat in Costa Rica with no problem as a vegetarian was a set lunch of rice, beans, eggs and a small salad, and if you need more food, order a second! This makes Costa Rica also a fine destination for traveling while gluten-free.
Nowadays, with the traveler influx from the Americas, backpacker and luxury tourism destinations like Tamarindo, Monteverde and Manuel Antonio have vegetarian and vegan cafes that promote health food and plant-based meals where any vegetarian or vegan can eat with peace of mind.
Nicaragua
Sure, Nicaragua is a great destination for escaping winter cold, but it's also where I went traveling when I was vegan. As you can guess, I survived with flying colors (and a lot of beans).
I went with my friend Joe, who is also a long-time vegan, and as he had been traveling in Central America for several months beforehand, he knew exactly what was up.
The morning I arrived, we went to a market and sat down at a restaurant stall to have a breakfast-brunch of black beans, rice and avocado, for about $1.50. This was when I learned that eating vegan around the world is not only healthy, but it can save you a heap of money when traveling!
With a newfound surge in tourism since the mid 2010s, Nicaragua now welcomes travelers from around the world and has burgeoning surf scenes on the Western coast, along with new developments in luxury tourism.
The best places to eat vegan and vegetarian in Nicaragua (if you want to avoid crowded markets) are in San Juan del Sur, Granada, Leon and Isla Ometepe. Try these spots:
Gaia Forest Cafe, Granada
Café de los Sueños, Granada
Coco Calala, Leon
Tacubaya Latin Food, Leon
Thailand
Thailand: the land of peanuts, noodles, eggs and tofu! As a vegetarian in Thailand, I was eating my weight in curries, Pad Thai, noodles and soups.
Thailand is one of my favorite destinations, and if I am counting correctly, I have been there three times. What's great to know about Thailand is that, many will say, the Thai food you find at restaurants in the US is astonishingly close to what you'll find in the country itself (with some exceptions).
If you'd like to practice with Thai cuisine before you leave home for your trip, head to any Thai restaurant, and speak with the owner or with a server about which dishes are completely vegetarian or vegan, or which can be made that way.
Here's my hint, though: ask about shrimp paste (if you're a vegetarian) and fish sauce (if vegan). These two hidden ingredients add lots of flavor in Thai food, and plant-based eaters will have a strong preference for a dish to not include one or both.
Thailand is a "rice country," and what's amazing about that is that so many Thai foods are perfectly chewy, fried and quite addictive. To avoid meat and poultry, go for the tofu or egg alternative, both of which are easy to find and available in common eateries.
Of course, as Thailand continues to open up to travelers from around the world (did you know that Thailand has Southeast Asia's oldest tourism infrastructure?), you'll find more plant-based and vegan-centric locales in the travel-heavy areas of Chiang Mai, Bangkok and Koh Samui and Koh Phangan.
South Africa
While South Africa is certainly the land of game meats, heading into its cities for vegetarian finds is possible and not difficult.
Take Cape Town, for example. This is where you'll find most travelers hitting the beautiful harbor and the awesome nightlife of the city. In cafes like Truth Coffee, you'll be able to score a vegetarian or vegan brunch, together with an incredible cup of joe.
Try creative vegetarian South African cuisines in cities like Johannesburg and Pretoria as well, as the vegan culture of these growing destinations is up to par.
While vegetarians in South Africa won't be pairing a steak with South African wine, what's to say there aren't other foods to try with the incredible fruits of the vineries in South Africa's wine country? Plus, with a country so large and spanning so many climate zones, there's always fresh vegetables to find in markets, as well as fun cuisines from around the continent.
Enjoyed our article?
Consider supporting us! We're a 2-person team (learn more about us here) and your support enables us to create quality content. Thank you!