12 Best Destinations for Gluten-Free Travel (and Where to Eat)
Written by Becca
•
Updated on November 27th, 2023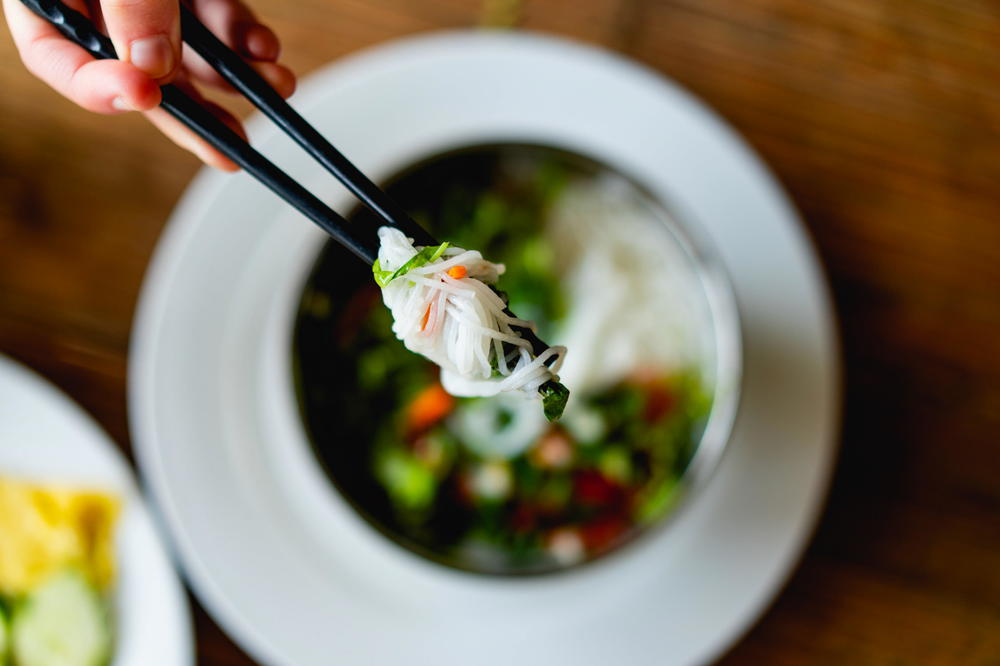 Is it easy to find gluten free places to eat when you travel? We have a list of some of the best and worst countries for celiacs and eating gluten-free food.
This article may contain affiliate links. We earn a small commissions when you purchase via those links — and it's free for you. It's only us (Becca & Dan) working on this website, so we value your support! Read our privacy policy and learn more about us.
I found out that I had celiac disease in 2005. While not being able to eat gluten is hard, I did not let it stop me from seeing the world. I've been traveling on six continents on my own since 2009, and I've eaten a lot of amazing GF foods!
I've had a few challenges while traveling around the world in some countries that were not at all friendly to gluten-free travelers. But I've had some excellent experiences in countries that were awesome for gluten-free travel, and I want to tell you about those.
Let's see the travel destinations that have been easiest for eating gluten-free. I'll tell you about where I ate, too. Read on!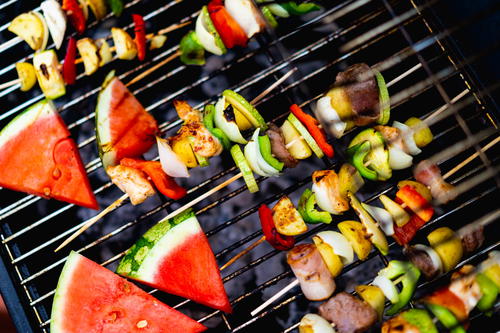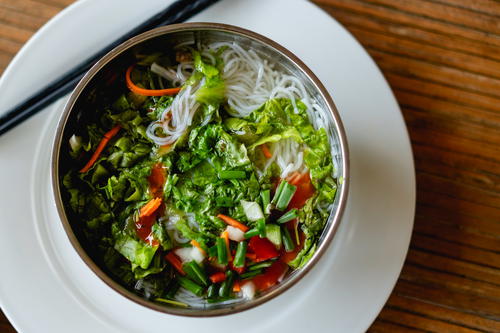 Key takeaways for gluten-free travel around the world:
Latin American countries that have corn-based cuisines like Mexico and Guatemala are good for gluten-free travel.
Countries in Western Europe often have well-marked menus and English is widely spoken.
Rice-based cuisines in Vietnam, the south of India and Sri Lanka are good for gluten-free diets.
Mediterranean countries like Israel have food with lots of fresh vegetables, dairy and meat.
Mexico (Mexico City and more)
Mexico is the best gluten-free destination for my travels as a celiac. Visitors to CDMX should visit my guide to eating gluten-free in Mexico City to check out the specifics!
The gluten-free nature of Mexican cuisine allows me to order great food from an authentic restaurant and be pretty sure that I don't have to ask for any alterations or substitutions to the meal. The food in Mexico is based on a lot of corn products (tortillas, tamales, tostadas and totopos). For this reason, I eat so much in Mexico!
If you're interested in going around Mexico City with a local guide, a food tour is great for that. We took one of CDMX's best food tours, and our guide double-checked with every vendor on the tour to make sure something gluten-free could be made for me. It was so kind! To learn more, you can visit my review of the Eat Like a Local Food Tour.
Here are my favorite things to eat in Mexico: I look for all of these items on a menu to determine if I can eat a restaurant I see!
Tacos al pastor These tacos are made with corn tortillas (it helps to check, as, on rare occasions, tacos might be made with wheat tortillas) and have meat and sometimes pineapple. They're always served with cilantro and raw onions. They're typically dairy-free as well.
Enchiladas: Enchiladas are corn tortillas bathed in salsa and have a filling of chicken, beef or cheese. I usually add extra hot sauce.
Chilaquiles: Chilaquiles, which I 'discovered' in Mexico, are strips of corn tortillas in a bath of salsa (my dream come true!) and have either chicken or cheese on top.
Tacos de canasta These are tiny little tacos that sit in a 'canasta,' or basket, all day until they're sold. Typically these will be sold from breakfast time until after lunch, or whenever the vendor sells his entire supply of tacos de canasta. They're usually served cold and filled with potato, beans or meat.
Tamales: Tamales are corn flour steamed in big leaves and usually have a small filling of chicken, beef or cheese. To find out the filling, you have to ask the vendor, so speaking some Spanish or using Google Translate will be crucial!
Totopos: This is the way to say "tortilla chips" in Mexico. They are served in many restaurants, just like you'd find them at home, with salsa or guacamole.
Tostadas: I ate the famous tostadas at the Mercado de Coyoacan's tostada vendors. Tostadas are toasted (rather than fried) thin corn tortillas, and will have toppings on them for a complete meal.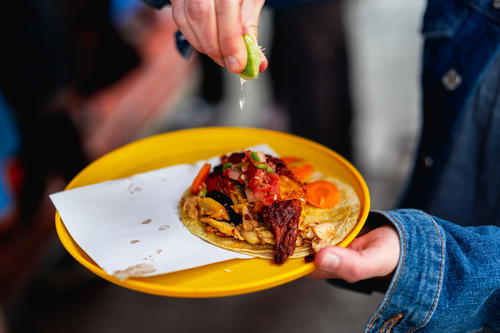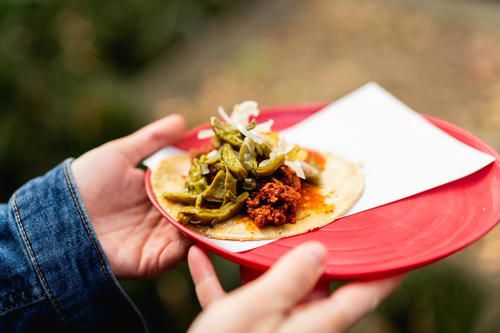 If you don't speak Spanish, I suggest getting a pocket-size Spanish-English travel dictionary for your trip, like this Lonely Planet phrasebook to help point out your allergies and learn about food words.
New York City
I can't believe the best answer for a gluten-free travel destination was right under my nose, this whole time! As someone who has lived in NYC for a decade, I always recommend NYC to friends who have gluten-free diets.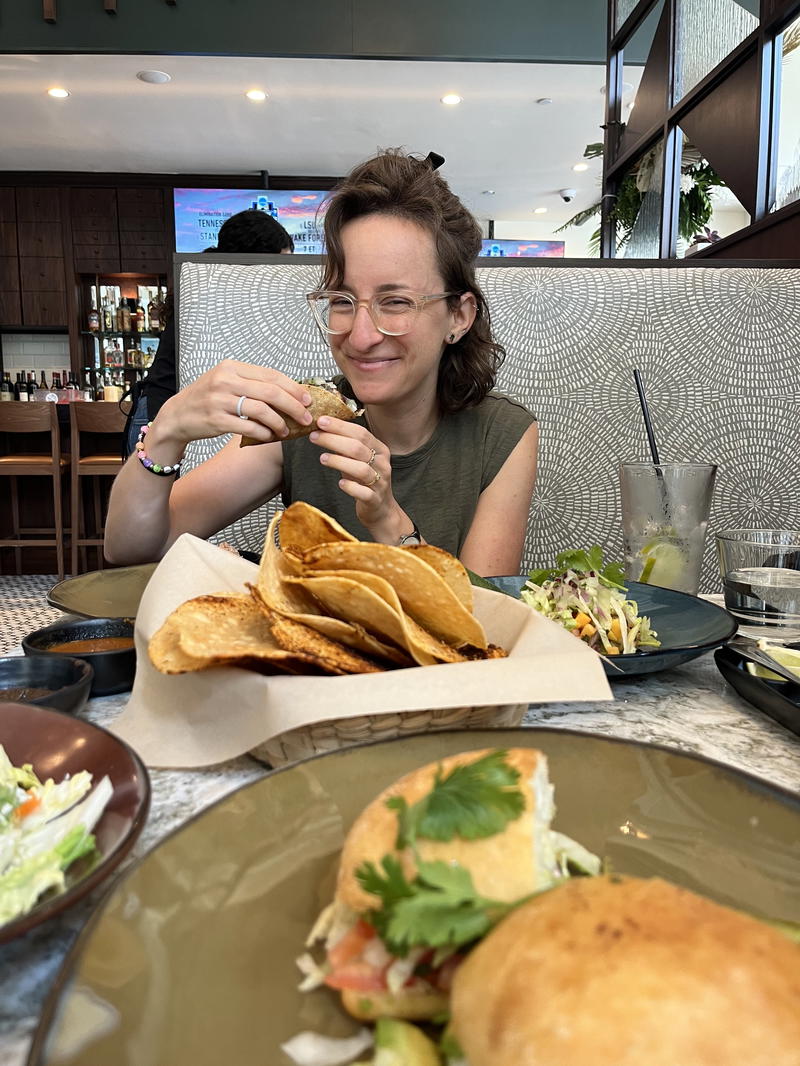 I think what makes NYC such a great gluten-free eating place to go is that you can find any type of food in the world in NYC. When I go out to eat, I typically opt for Thai, Mexican, Vietnamese, Middle Eastern, Indian or salad/health food. NYC is also home to several 100% gluten-free restaurants that are attractive for celiac travelers.
I would call NYC the #1 most gluten-free-friendly destination in the entire country, due to the sheer amount of restaurants. There are so many restaurants in NYC that I typically don't have to go far to get something gluten-free, whether street food (Halal cart!), fast casual (CAVA!) or a sit-down restaurant.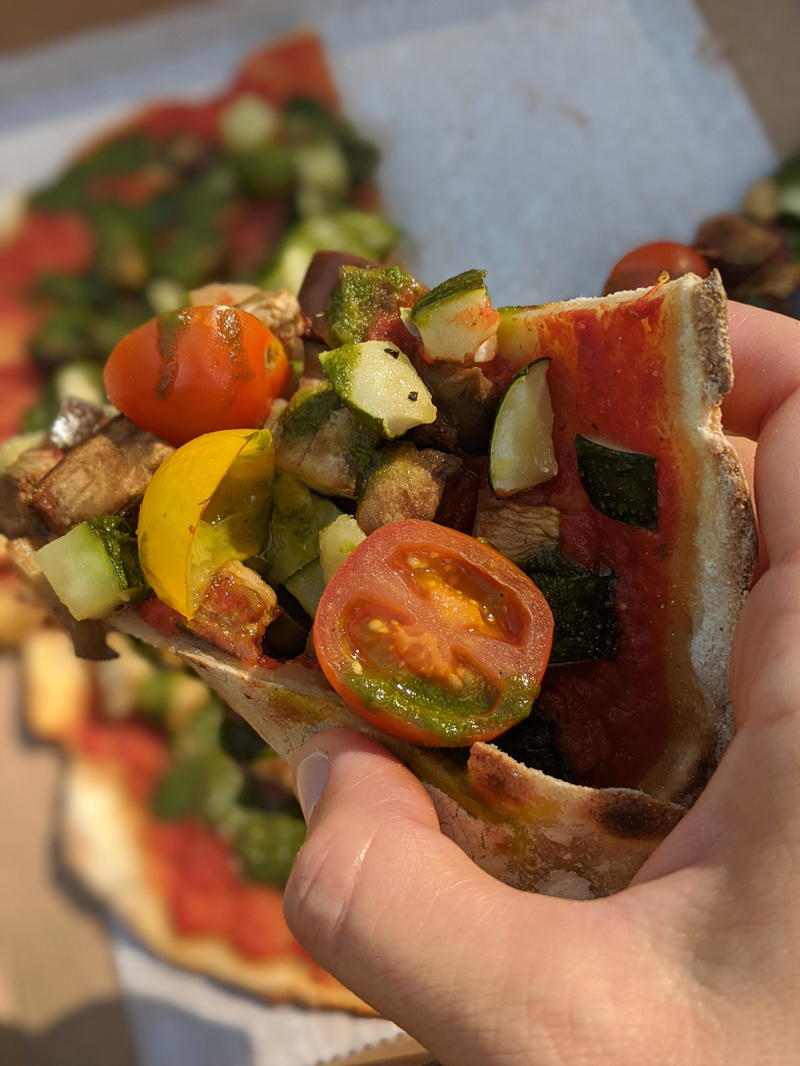 While there are of course many, many places to dine out with gluten-free food in NYC, here are a few of my personal favorite restaurants:
CAVA: I recommend CAVA a lot of the time in Facebook forums for gluten-free travel groups. CAVA has clear menu markings in regard to gluten and dairy, and I always get a "grains & greens" bowl with chicken, spicy harissa, olives, Israeli salad and more. There are several locations throughout Manhattan and Brooklyn. Find the NYC locations.
By the Way Bakery: My old roommate once got me a birthday cake from By the Way Bakery and it was one of the best things I've ever eaten. It's a totally gluten-free and dairy-free establishment in the NY area. Amazing! See the goodies at the website.
The Little Beet: I'm into the fast-casual dining scene, as you can tell (I'm always on the go!) and The Little Beet makes some delicious food for sitting down or takeaway. You can see a "full ingredient list" which helps find out what exactly is in a dish before you order.
Tacombi: Dan and I used to go to the Fort Greene location of Tacombi while living in Brooklyn! I'd always get tacos, and never had any issues with glutening at this location or others. There are quite a few locations of Tacombi, so check out the website.
National: This Thai restaurant (a sister restaurant to Joya) never failed me for gluten-free curry or Pad Thai. A lot of Thai restaurants in NYC can do a gluten-free curry. Either the menu will be labeled, or you can ask! Here's the website menu.
WILD: This Park Slope (Brooklyn) restaurant is 100% gluten-free and they make pizzas to die for! I like sitting down for a cocktail, too. Follow the Instagram.
Bakeries at "Greenmarkets": I've had gluten-free baked goods from vendors at the "greenmarkets" in Fort Greene, Brooklyn, as well as on the Upper West Side. Just keep your eyes peeled and look at ingredient labels! You may find hidden gems.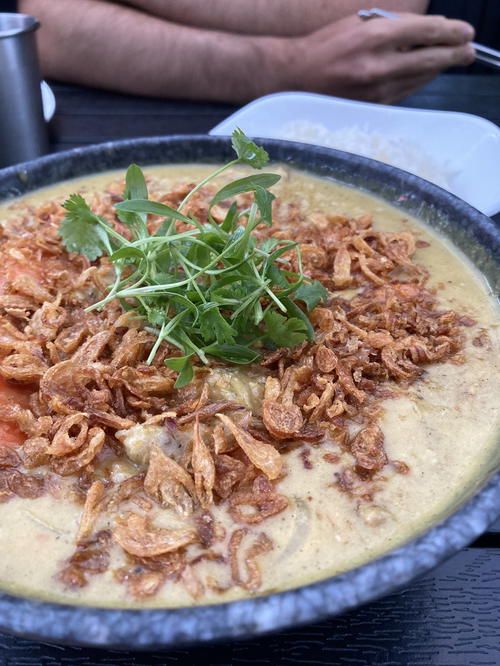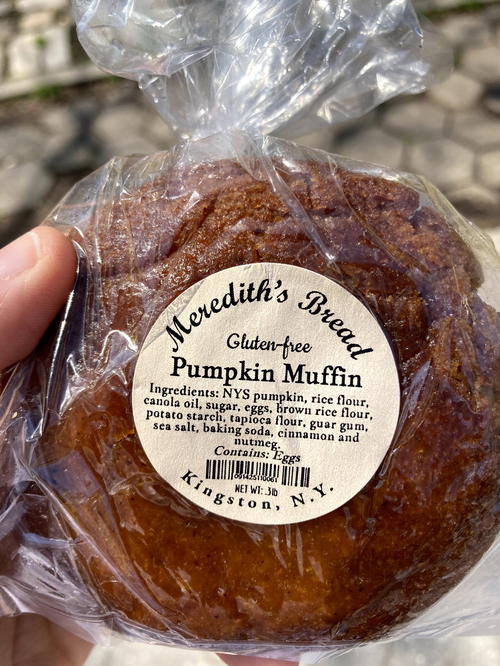 Vietnam (Hanoi, Ho Chi Minh City & Hoi An)
Vietnam is the easiest place for gluten-free travel in Asia. I would be the expert to tell you that, as a gluten-free person who lived in Asia for 2.5 years! I've traveled to 15 countries in Asia, and Vietnam is the best for being gluten-free.
As a gluten-free traveler both my times in Vietnam, I ate a LOT of pho. Pho is Vietnamese noodle soup, and it is delicious, fragrant and filling, as well as gluten-free. The pho noodle is made completely of rice!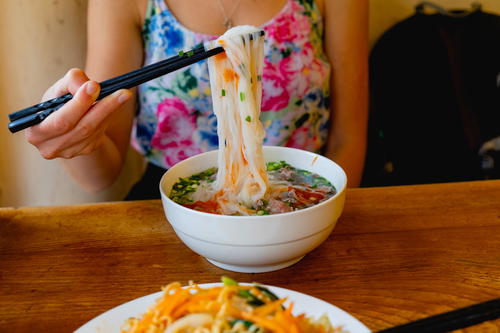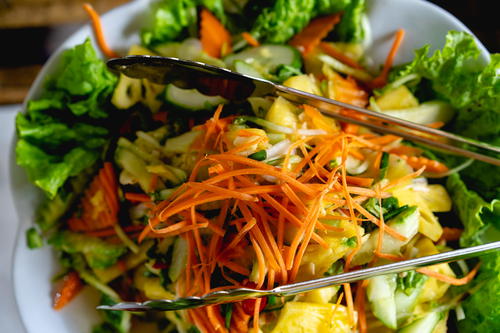 If you are a gluten-free traveler and you happen to love pho (note that it's hard to get the vegan type, as most of the broths will be beef-based), you can try it from a ton of restaurants in Hanoi. It's great to try the different flavors and styles at all the restaurants if you love it like I do.
More celiac-safe gluten-free foods in Vietnamese cuisine are vermicelli (round tubular thin rice noodles), 'bun' noodles (wider rice noodles) and noodles made of mung bean (glass noodles). Things to note are that the yellow noodles ("mee") are made of wheat. Avoid those!
Other gluten enemies in Vietnam soy sauce and banh mi (baguette sandwiches). But, fish sauce and shrimp paste (two items that tend to give Vietnamese food its flavors) are OK. To see where I ate in Vietnam, check my Hanoi travel guide for starters.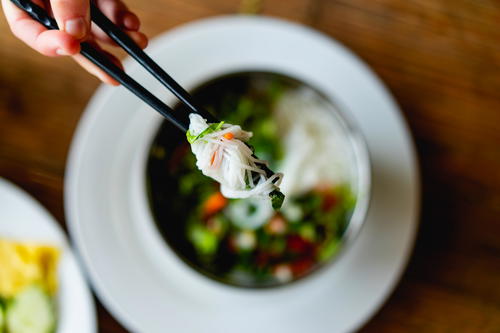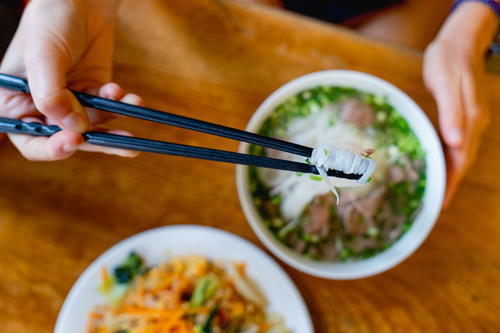 My favorite Vietnamese dishes for a gluten-free diet are:
pho ga (chicken pho)
pho bo (beef pho)
bun bo (cold bun noodles with beef)
bun cha (rice noodles with pork. It's still debatable how it's made, but by looking up authentic recipes, few called for soy sauce.)
If you're serious about traveling to this part of Asia, see my tips on how to plan a trip to Vietnam. My last tip is to get a pocket-size Vietnamese phrasebook, which I had on my first trip to Vietnam. It helped me point out foods in markets and talk to restaurant staff.
Guatemala (Antigua)
I've been to Guatemala twice, and having done it gluten-free the first time, I was not worried about going back again.
Guatemalan cuisine is heavy on corn, as well as eggs, chiles, salsas, meat and avocados. (I should note that the coffee is also excellent, and it's why I wrote this Antigua coffeeshop guide.
I think what you'll like about traveling in Guatemala as a gluten-free traveler is that the tortillas are not like Mexican tortillas (the tortillas you'd find in stores all over the world). Guatemalan tortillas (made of corn, and gluten-free!) are dense, thick and chewy. I think they are delightful.
In cities like Antigua, which is very much on the "tourist map" and very hospitable to foreigners, you'll find some international food in addition to Guatemalan food. I enjoyed going to a taco restaurant (twice) and I liked getting a salad for takeout (with some modifications) from the cafe 12 Onzas.
Keep in mind that my options are more limited than the regular gluten-free traveler because I am also dairy-free and soy/bean-free.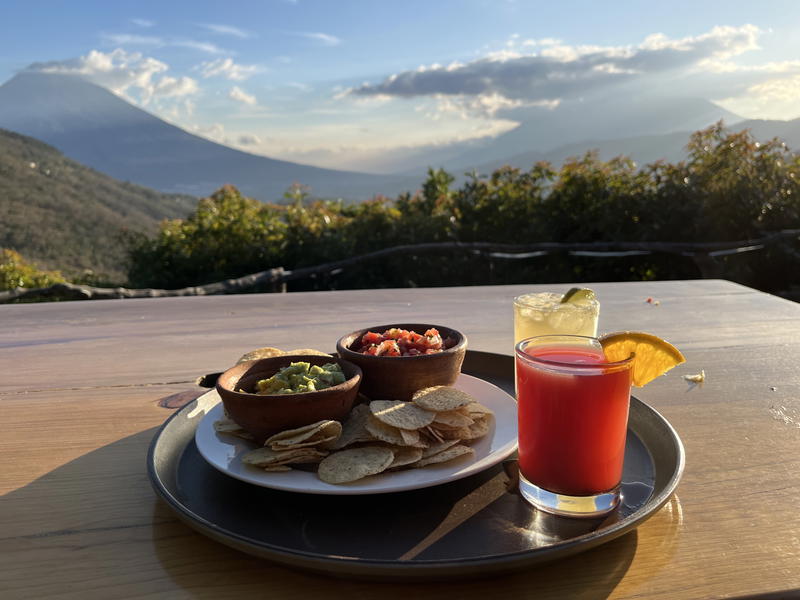 Here's where I ate in Antigua, and where you should try if you book a trip to this great gluten-free travel destination:
If you're interested in a trip to Guatemala for your next gluten-free vacation, head to my Antigua, Guatemala, travel guide.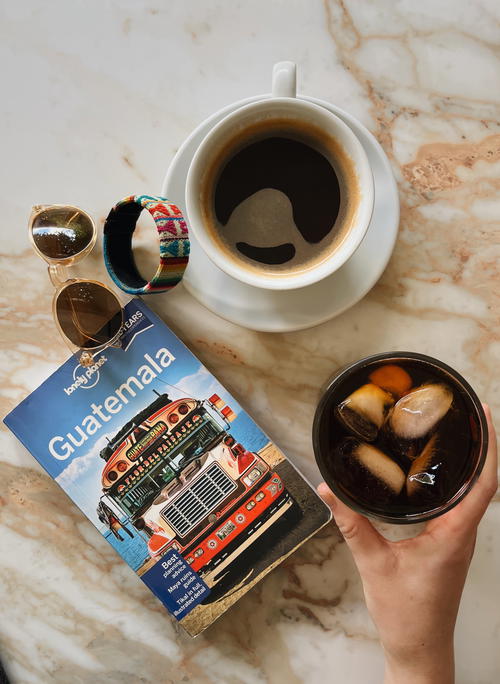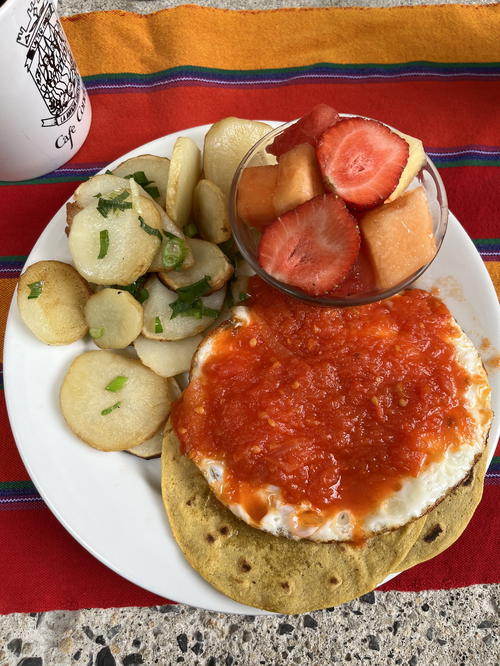 Canada (Vancouver & Nova Scotia)
Canada on the whole is hard to generalize, but chances are that you're traveling to a few Canadian travel hot spots: Vancouver, Banff National Park, Toronto, Montreal or Halifax, Nova Scotia.
During my trip to Halifax and some other nearby parts of Nova Scotia, I was blown away by how gluten-free-friendly the restaurants downtown were! Every server knew about gluten allergies, and I was able to look at menus from my phone before sitting down anywhere, choosing to opt for restaurants with clear labels of GF as well as DF, for my dairy intolerance.
For traveling to Toronto, Montreal, Banff and Vancouver: these cities rate highly in terms of being friendly for gluten-free travelers and celiacs alike!
Keep in mind that in coastal Canadian cities like Vancouver and Halifax, there is a lot of seafood. Watch out for menu items like fried fish, fries, battered fish or fish that may have come into contact with breadcrumbs or Panko. If you eat shrimp, seafood, lobster, mussels and oysters, you're probably in luck because these are typically prepared without breading.
I enjoyed a GF shrimp gazpacho and GF shrimp pasta, and there were usually options for adding baked salmon or smoked salmon to any salad.
As an example of how many restaurants in major Canadian cities cater to gluten-free diets, you can see these recommendations I have for a trip to Halifax:
Estonia (Tallinn)
Estonia is a relaxing place to travel, and English is widely spoken in the cities.
While Estonia's cuisine is indeed true to the Northern Europe types, focused on breads of wheat and rye, meat and game, dairy products and cold-water fishes, I was delighted to find that Tallinn (the capital city) has a very health-first approach in many new coffee shops and cafes, along with restaurants.
Asking for something vegetarian, vegan or gluten-free is almost normal, which was impressive. There are lots of new healthy cafes offering modern takes on traditional Estonian food, and farm-to-table goodness.
Here are a few places to eat, where staff speaks great English and where veganism and gluten-free-ism are welcomed:
Rock, Paper, Scissors (Kivi Paber Käärid)

This funky gluten-free restaurant is located in Telliskivi and it's the first (and "best," according to the website) gluten-free restaurant in the country. All food items on the menu at this restaurant is also labeled with vegan options, casein-free options and lactose-free options. Dishes on the menu like salmon tartare, creamy chorizo pasta, slow-cooked beef cheeks and a spicy rice noodle salad may make you want to eat here twice. Visit the Instagram.

Must Puudel: Known for gluten-free-friendly meals, along with lactose-free, vegan, vegetarian and health food in a cool retro atmosphere. Also laptop-friendly, although the WiFi was not super strong. Check out their Facebook page.
NOP: Take one look at NOP's photos of food and you'll be sold on this farm-to-table health-conscious eatery that also has a small health food market inside. Every item is marked with vegan/gluten-free/lactose-free markings so that you can eat with no stress. See the website.
For cafe lovers, I put together a list of the best cafes in Tallinn, and for any visitor, check out my list of what to do in Tallinn on your trip.
Israel (Tel Aviv & Jerusalem)
On my four trips to Israel, I've been delighted to see that servers in restaurants 'get it' when it comes to allergies and food intolerances. Many Israeli foods (not all, but many) are naturally gluten-free, and the Mediterranean cuisine is to thank.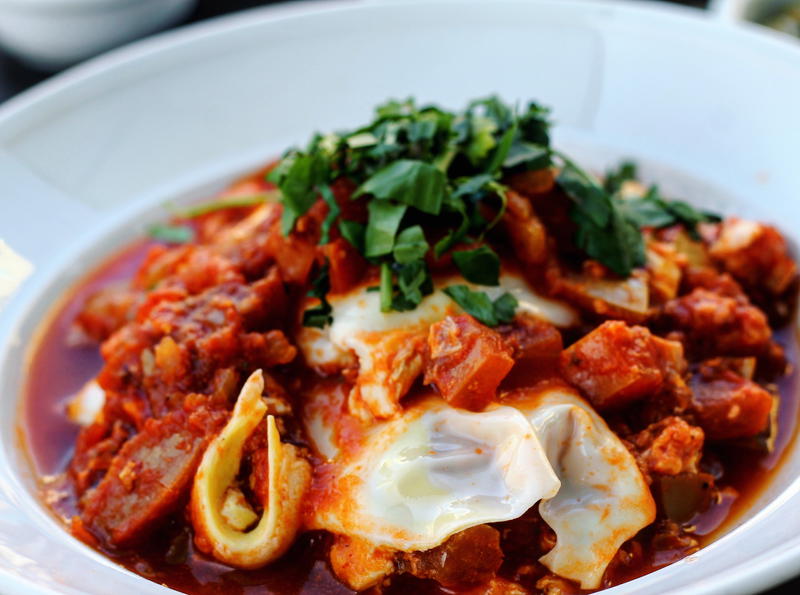 A few excellent gluten-free Israeli foods to try are…
Shawarma: Shawarma is meat that is fired on a rotating rotisserie, and it'll be either lamb, beef or shawarma. Sometimes you can order 'Shawarma mix' which will be a combo of the designated meats that the restaurant has. If you get 'chips,' this is French fries, but you can ask if they're fried alone (if fried with other items, the fries are likely glutened.)
Shakshuka: This Middle-Eastern delicacy is a stew of spiced tomatoes and onions with baked eggs on top. Often, there's a beautiful garnish of herbs. Shakshuka is usually served with bread, but you can ask for no bread, and note that you are gluten-free. Maybe the restaurant has gluten-free bread!
Salads: Israel is famous for salads, which are all kinds of pickled vegetables or fresh vegetables with herbs. My favorites are anything pickled, as well as Israeli salad (cucumbers and tomatoes with herbs).
Dairy: If you eat dairy, try Israeli yogurts and cheeses! Before I went dairy-free, these were some great things I liked in Israel.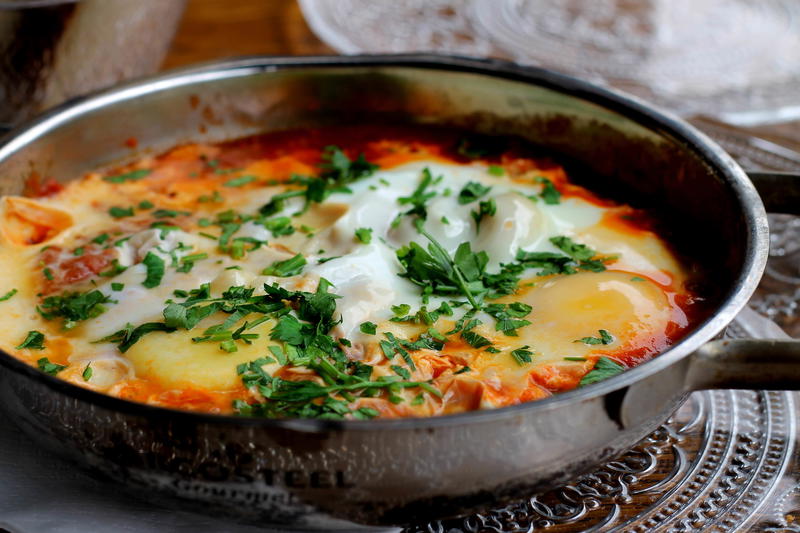 At most shawarma and falafel eateries, you can treat yourself to a whole buffet of pickled vegetable toppings… all included in what you paid. This is one of the best parts about dining in Israel!
If you're thinking of an Israel trip, start with my Tel Aviv city guide and Jerusalem local travel guide.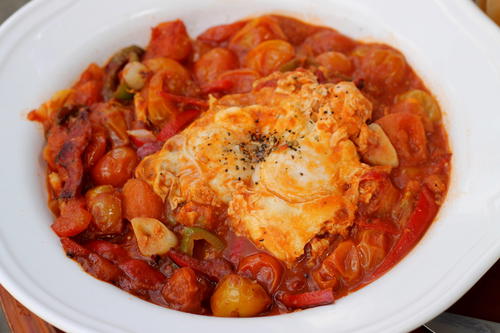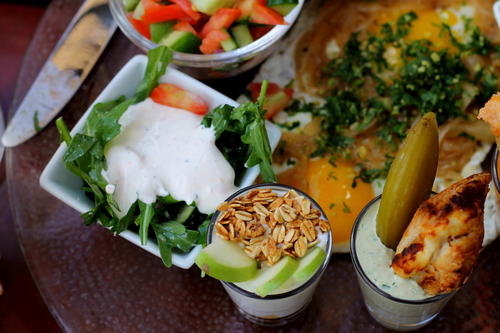 Colombia
Travel in Colombia is enlightening and exciting, which is why I've gone there three times! Colombia has many types of cuisines due to being so large. When I think of eating gluten-free in Colombia, I think of 'bandeja paisa' and arepas, and all the tropical fruits and smoothies.
Arepas are the national hot cake of Colombia, and they're always made of corn by definition. Curious about how arepas are made? Check out this recipe from My Colombian Recipes.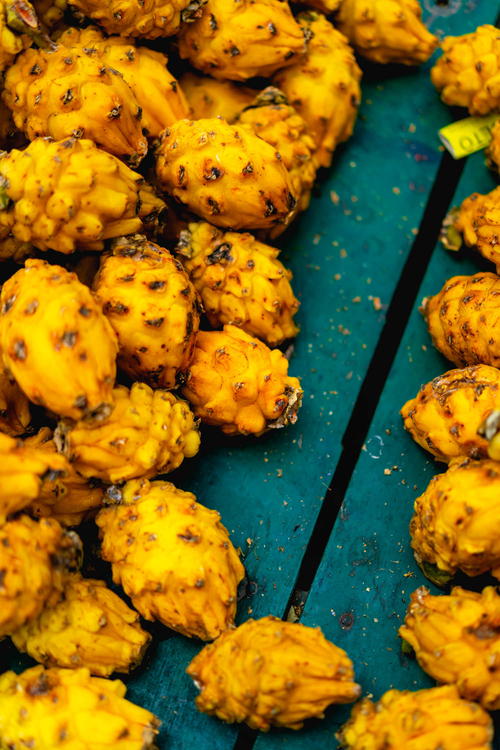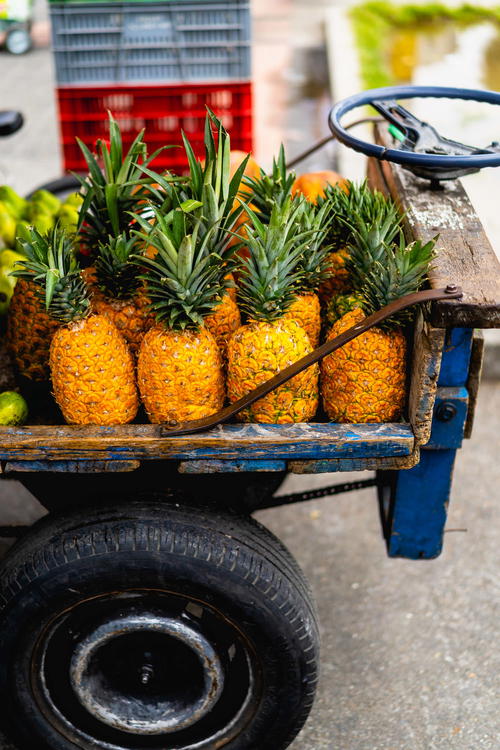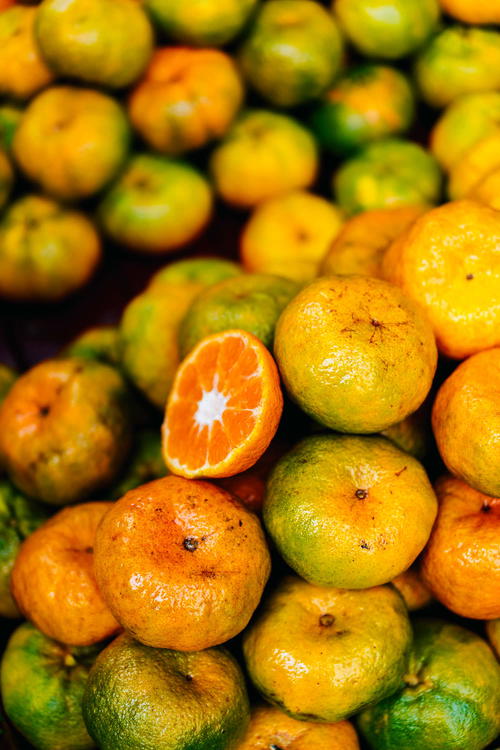 Even though no one in Colombia really knew what gluten was (and I don't expect people around the world to have heard the word), I was able to explain in Colombia that I had an allergy to 'productos de trigo' (wheat products). I stuck to safe foods made of rice and corn.
Finally, on my third trip to Colombia, I learned that empanadas in Colombia can be made from 100% corn (delicious… but do try to check as best you can by asking the vendor in Spanish or finding out from the restaurant kitchen if it's completely corn-based, or not).
In the Cartagena region, you can enjoy ceviche or other seafood dishes like grilled fish. Due to Cartagena being so popular with North American tourists these days, gluten-free food is increasingly easier to come by.
In the Medellin region, opt for the famous 'bandeja paisa,' which will present you with a loaded plate of things like avocado, grilled plantain, white rice, a fried egg, sausage (maybe not GF), a thin piece of steak or chicken (depending on which bandeja you ordered) and an arepa, which will be a dry corn cake (gluten-free!).
For a trip to Medellin, gluten-free travelers can eat at: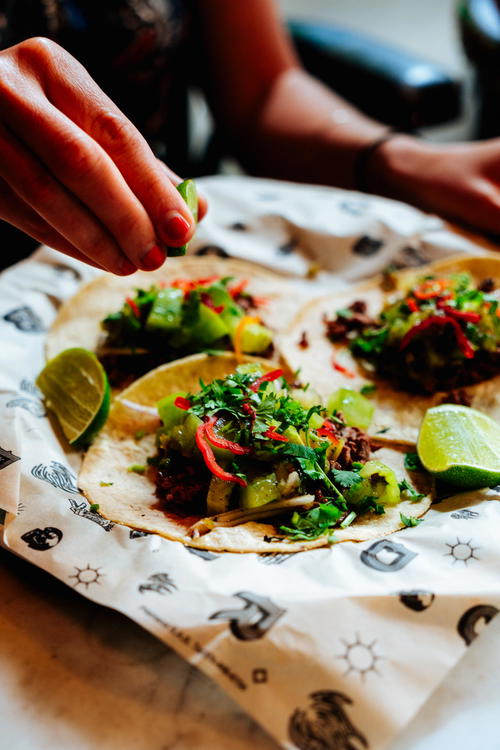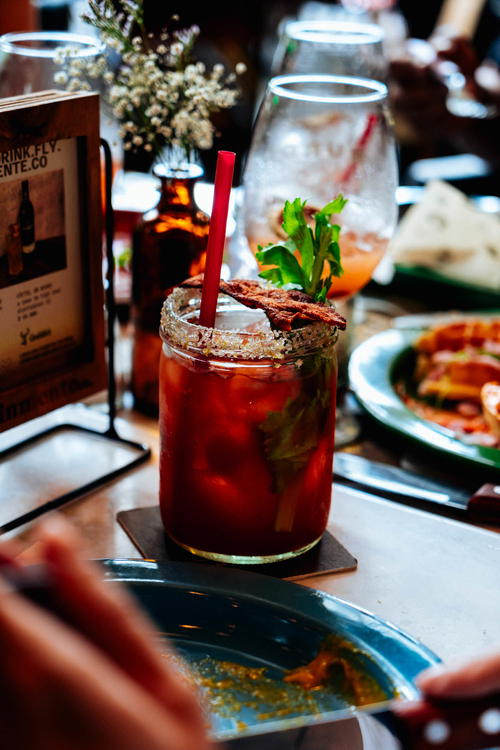 If you plan to visit Medellin, look no further than my Medellin travel guide for some tips.
Sri Lanka
Traveling in Sri Lanka is such a great surprise. I knew some things about tropical and coconut-based food, but the true pleasure was eating Sri Lankan food all over the country.
Sri Lankan cuisine focuses on rice, and that is a great thing for me as a gluten-free traveler. This is a gluten-free destination that I highly recommend!
Most foods in Sri Lankan cuisine have rice and coconut oil (great for lactose intolerance). Curries are made with coconut milk and coconut oil, and served with rice.
The best Sri Lankan gluten-free foods I found were:
String hoppers: flat pancakes made from rice noodles
Pittu: rice flour mixed with coconut and served in a conical shape
Curry: Sri Lankan curry usually has chicken as its protein, and no gluten nor dairy ingredients among the spices, coconut milk, oil and vegetables.
Tropical fruit: The best treat for breakfast and dessert was juicy pineapple, mangoes, passion fruit, watermelon and bananas.
Sambol: This is a special side dish and comfort food made of coconut, onion, lime and chilis. Wow, it's perfect! (Want to see how it's made? Check out this recipe.)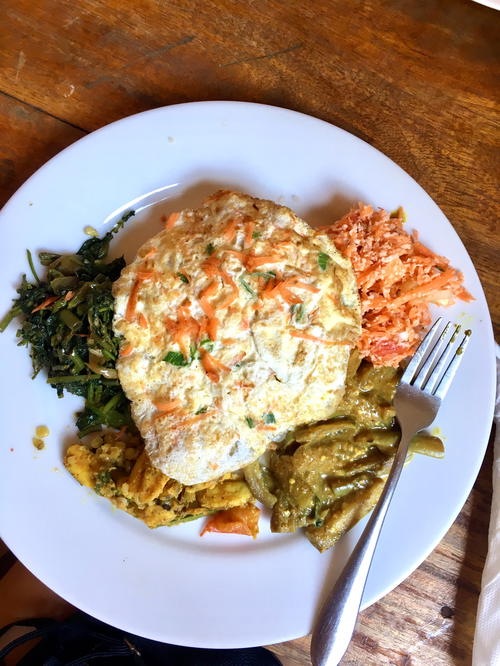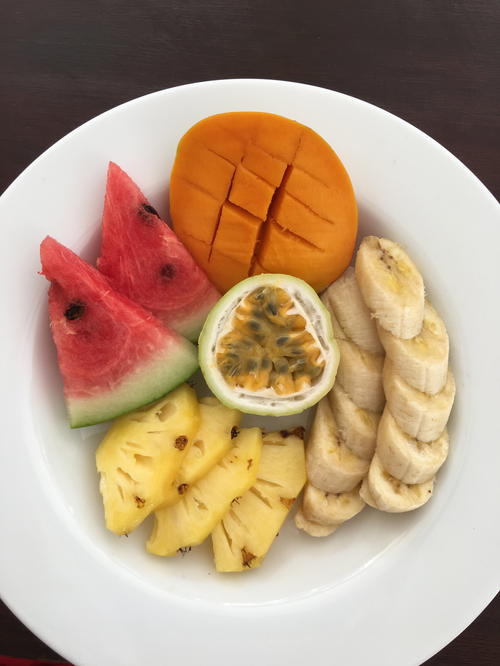 There are some things to watch out for, though: roti (Indian bead) and kottu (chopped wheat noodles, stir-fried). These are not gluten-free in Sri Lankan cuisine. I think it is also worth noting that in smaller establishments, minimal English is spoken, and it will be important to have a translation in the Sinhala language for "I cannot eat wheat/flour ingredients."
If you don't get a translation card, you can use your phone.
The Netherlands
As a health-first and forward-thinking modern European nation, the Netherlands is a great place to be gluten-free.
It's not because the cuisine itself is gluten-friendly, as it's not (heavy on bread), but it's because people will understand what you want and there's a wide range of international cuisines available, along with health-conscious shops and eateries, at least in Amsterdam and Rotterdam.
In nicer restaurants (figure a sit-down establishment rather than a grab'n'go), main dishes will consist of poultry, meat or fish, with sides of vegetables, and this is the route I took in order to have some grilled or roasted GF protein.
Eat gluten-free food in Amsterdam and Rotterdam at these places I tried!
Fenix Food Factory, Rotterdam: A Rotterdam staple for locals and visitors, this revamped space is now a trendy indoor market with vendors selling international cuisine, health food, cheese, cider and coffee. Visit the Facebook page.
STACH Food, Amsterdam: This Amsterdam-prepared goods store has several locations in the city and is a spot for picking up coffee, gluten-free snacks and healthy drinks. Visit the website.
Anne & Max, Amsterdam: This fresh and health-focused brunch restaurant has a full menu of breakfast and lunch foods. Make sure to check out the menu, which notes gluten-free dessert options! See the website and menu.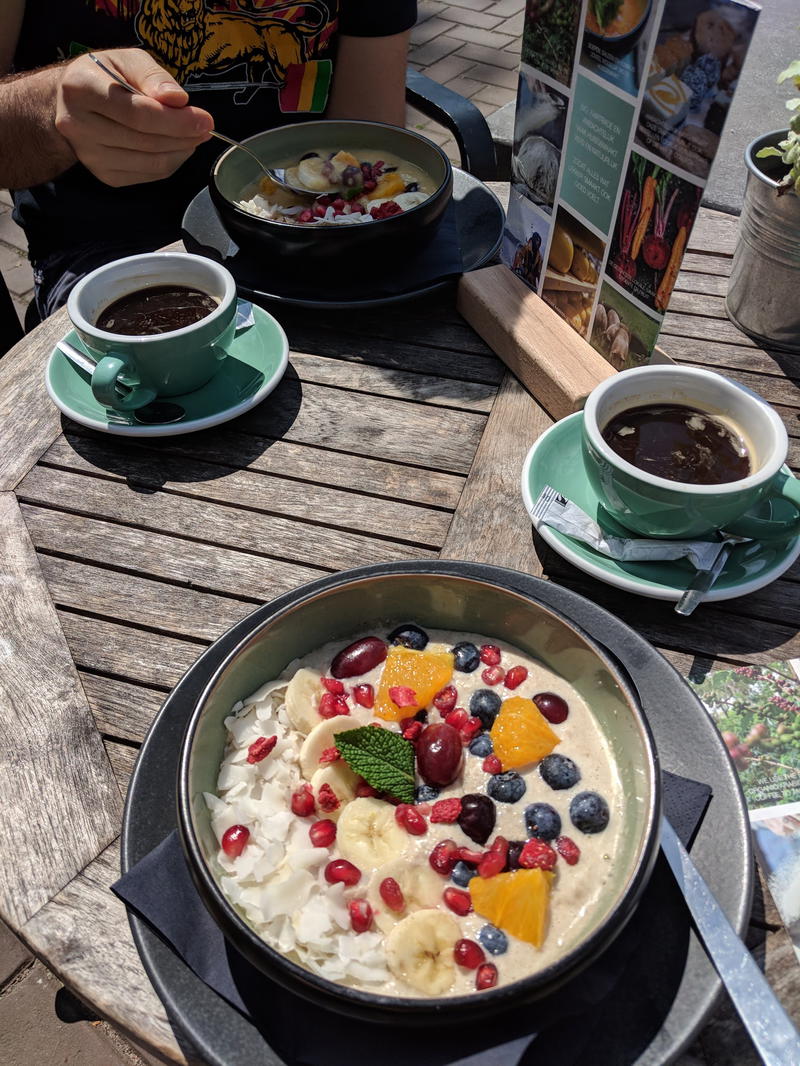 Costa Rica
Costa Rican food is Central American, so it's pretty simple and focused on rice and beans. At a 'soda,' or a Costa Rican bodega/diner, you can get "casados:" rice, beans, fried egg, corn tortilla, plantain and sour cream or cheese. This is a typical meal in Costa Rica and it's great for my gluten-free diet! Unless there's a wheat tortilla, you'll almost always be in the clear for gluten sensitivities.
If you have questions, you can say, "Tengo alergia grave de harina y productos de trigo." ("I have a grave allergy to flour and wheat products.")
In Costa Rica, I also recommend trying the local fruits. One thing you can count on to be gluten-free during your travels is amazing fruits and vegetables! In Costa Rica, a few I recommend for being wonderful and sweet are: pitahaya (dragonfruit), guayaba (guava), mango, papaya, passion fruit and granadilla, starfruit and bananas!
India
India is a massive country, and I've been to two distinct regions there (the Mumbai area, and Kerala province, in the southwest). As India is diverse, some regions are better for eating GF than others. In general, India stretches from the very northern and 'wheaty' region near the Himalayas and closer to Everest, all the way to the tropical 'rice-based' areas that get tropical in the south.
Which region of India is best for gluten-free?
In general, cuisines in the tropics have more rice, due to how it grows best. Regions closer to higher altitudes will have more wheat and cheese. This is what my experience has shown me all over the world!
Foods in the south of India (Kerala province) are pretty gluten-free friendly, similar to Sri Lanka. Rice is served at most meals, or at least always an option. Curries are made from coconut milk and heavier curries have dairy milk.
In the middle of the country, food options will mostly always be vegetables simmered in curries or sauces or yogurts. You will usually be able to eat rice wherever you go.
Is street food in India gluten-free?
The danger for gluten-free diets undoubtedly lies in street foods, which will be very exciting because there are so many of them. It's hard to ask a vendor if something is 100% rice from how it looks, depending on what it is. With street vendors, limited English may be available.
As with traveling anywhere, it pays to have a way of translating into local languages (Malayalam in Kerala and Marathi in Mumbai, for instance) or having a guide for the day. For a severe gluten intolerance, I would NOT advise eating street food in India under any circumstances.
Gluten-free foods in India
My favorite gluten-free traditional Indian food that I tried to eat as many places as I could was Baigan Bharta. It's also the Indian dish I tend to eat the most often if I go out for Indian food at home, because it's gluten-free by default (I've even tried to cook it)! Baigan bharta is a vegetable-based dish made of eggplant, tomato, onion and spices. It is served with rice. If you're feeling doubtful at a restaurant, try to seek out foods you know from home, like a curry with vegetables or boiled meat, or sauteed vegetable dishes with rice.
For more resources on how to eat gluten-free in India, check out this gluten-free guide to Goa, this gluten-free Mumbai guide, which recommends upscale dining there, and Find Me Gluten-Free can help out with New Delhi.
This gluten-free adventure blog has a gluten-free dining card available, translated into Hindi.
Enjoyed our article?
Consider supporting us! We're a 2-person team (learn more about us here) and your support enables us to create quality content. Thank you!