Travel Tips for Backpacking Sri Lanka
Updated on September 6th, 2023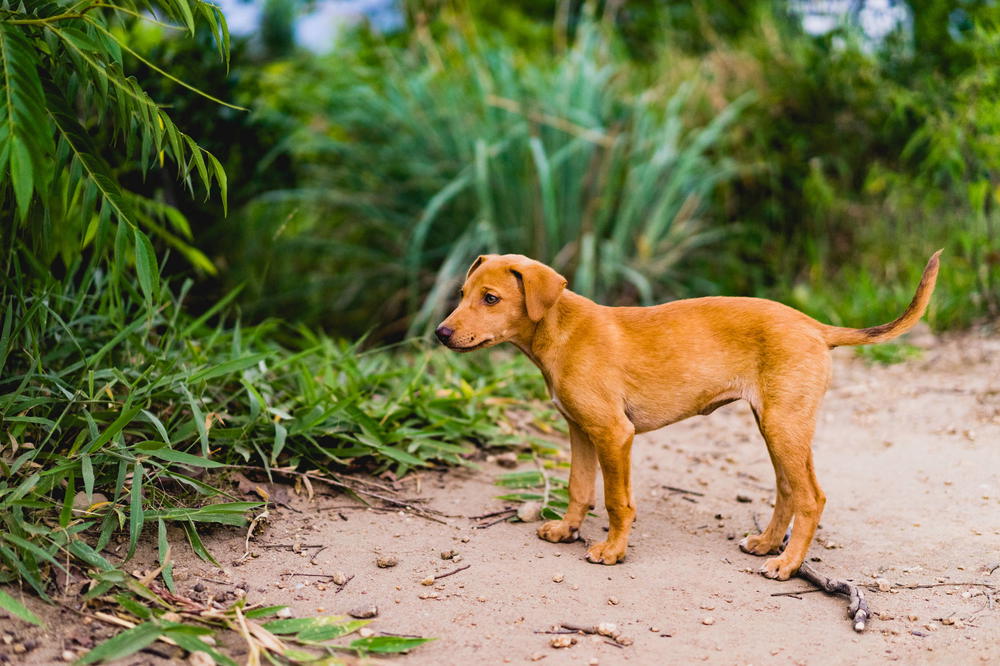 What is the best way to travel Sri Lanka? Find out what to know before you travel to Sri Lanka, from where to stay in Sri Lanka, to seeing if Sri Lanka is a safe place to travel.
This article may contain affiliate links. We earn a small commissions when you purchase via those links — and it's free for you. It's only us (Becca & Dan) working on this website, so we value your support! Read our privacy policy and learn more about us.
Table of contents
Close table of contents
Sri Lanka is a wonderful and eye-opening country to visit. Sri Lanka is great if you're planning a solo trip or a trip with a partner.
Due to its small size, Sri Lanka doesn't get half as much attention in travel news as nearby and giant India, and we found that this was a reason for a lot of its charm.
Sri Lanka is home to excellent cuisine, with much of it catering to Becca's gluten-free diet, and we loved that everyone we met was eager to help us and make sure that we enjoyed the country.
In fact, we did a lot of research on how to pick the best gluten-free travel destination before going.
Sri Lanka is a developing country and is somewhat newer in the world of tourism, which is why we liked it for being able to avoid the crowds while we travel and also enjoy this super affordable destination.
Helpful Tip
As a disclaimer for 2022, please note that Sri Lanka is currently experiencing an economic disaster, with extreme shortages of fuel and food across the country. Sources say non-essential travel to Sri Lanka should be avoided at all costs until further notice. We re choosing to keep the below info here for your reference.
We have a list of important tips to help you out with trip planning, so read on!
How to get the Sri Lanka tourist visa
For us, as United States passport holders, we needed an electronic visa. We presented our visa upon arrival and it was a simple process.
You can learn more about the Sri Lanka travel visa on the national website.
What is the food like in Sri Lanka?
Sri Lankan food is like Indian food and rich in spices, but with more flavors and notes of coconut. In fact, there is so much coconut in Sri Lankan food that you'll soon get used to it. Try the coconuts from vendors on the street, who will saw off the top and stick a straw in, so that you can drink the fresh juice!
Hostels and guesthouses will usually offer breakfast, which will be home-cooked and is sometimes included in the price of your room. Guesthouse breakfast can be either buffet-style with toast and fruit from 7 - 9 am, for example, or might be a set breakfast.
If the breakfast is set and pre-arranged, the guesthouse owner or person speaking English will ask you what time you want breakfast (and it'll be prompt!) and dinner (needs to be pre-arranged about four hours ahead).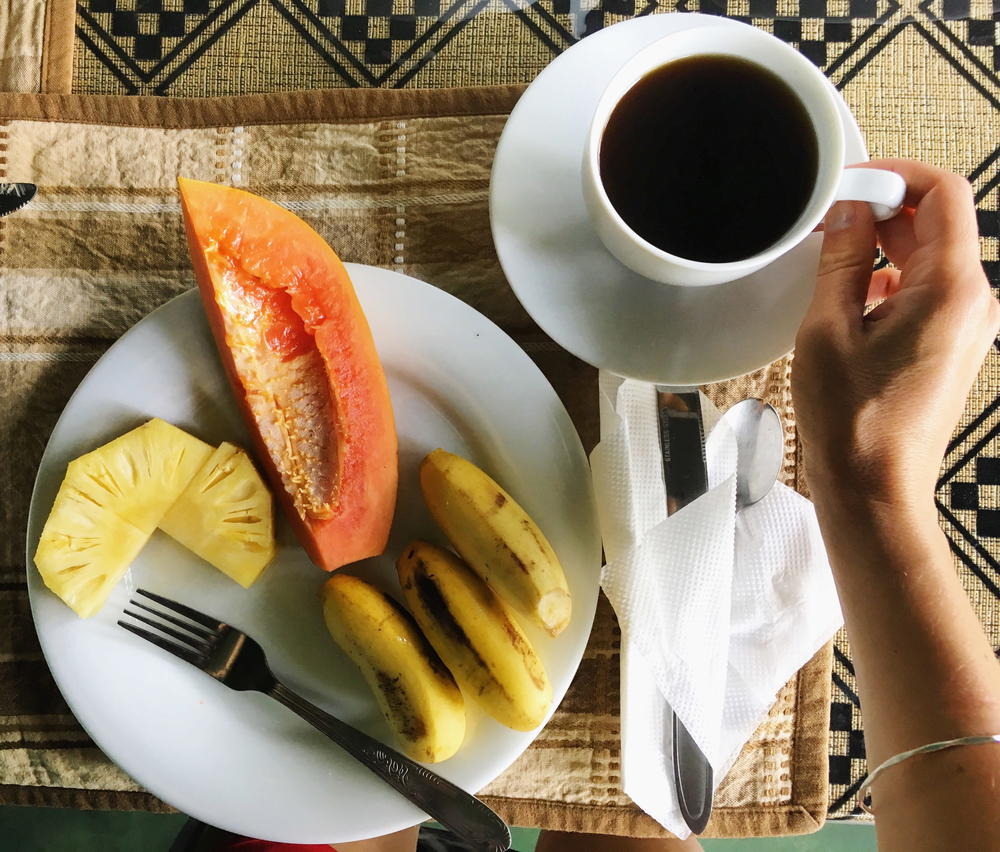 Just like when you'd travel in India or elsewhere in Asia, it is smart to avoid drinking the tap water. Luckily, bottled water is very cheap and you can buy it at any store or restaurant.
If you have the chance to shop in a Sri Lankan supermarkets, check out the snacks and fresh produce that is native to the region. Supermarkets will also have water, milk and many kind of sugary juices and sodas.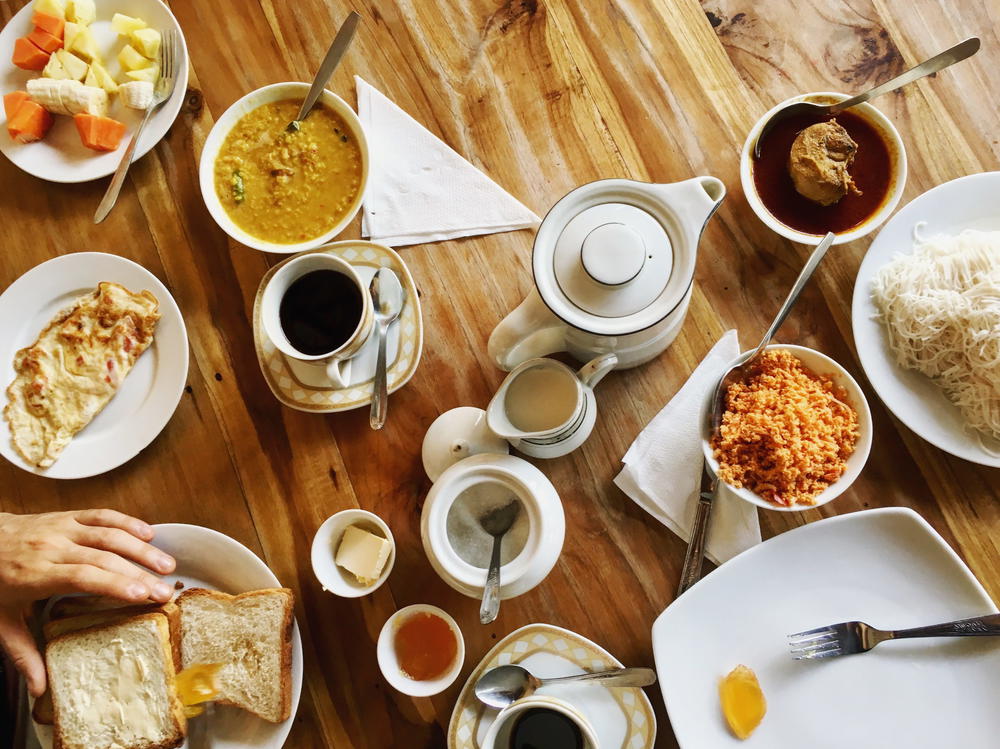 We loved trying all the foods that were new to us, namely string hoppers (rice noodles in rolls or pancakes), Sri Lankan curries, kotthu (chopped noodles with a sauce and onions/egg/chicken) and roti (sometimes spelled rotti), which are breads.
It soon became clear that Sri Lankans do not have a strong preference for eating out, and that restaurants in non-touristy areas are sometimes hard to find. They also may close early, before 9 pm, for the evening.
We found that alcohol is not very widespread, and we did not find alcohol offered to us nor available on menus until we arrived in to Ella, which is kind of like backpacker central.
Here, beers go for around 300-350 rupees and cocktails go for 400-900 rupees. Try Cafe Chill, the main spot for nightlife in Ella. Wine is not so popular.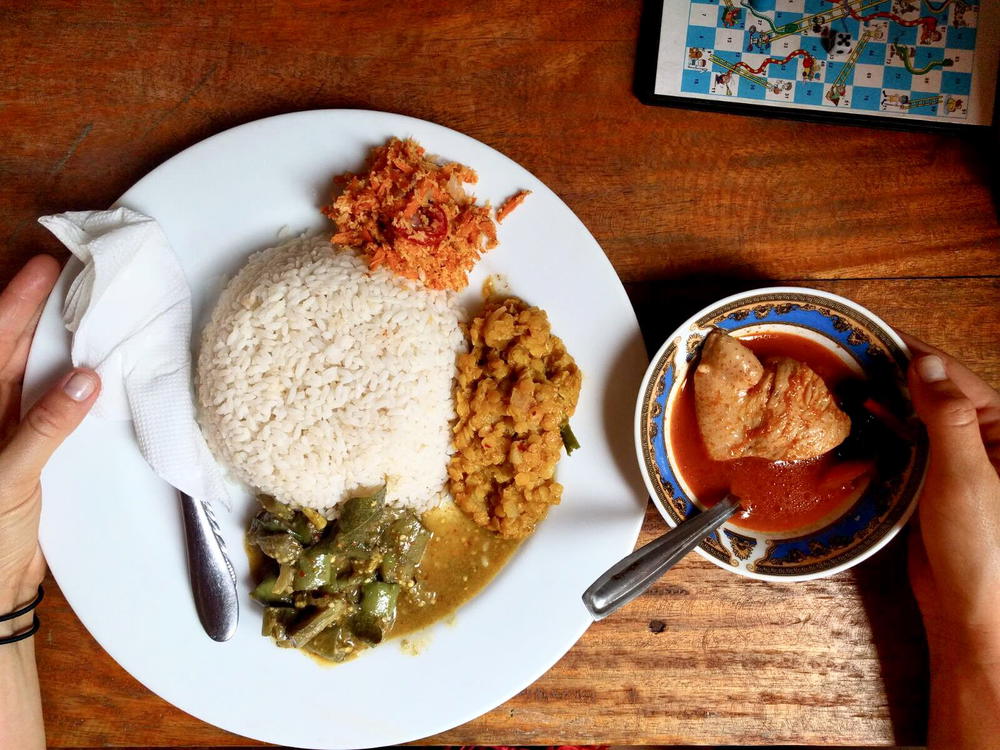 Is Sri Lanka a safe place to travel?
Sri Lanka is very safe. Most people are helpful and don't want to cheat you. Locals will say hello and you can talk to most people who want to practice English. Just like with travel anywhere, keep an eye on your bag. Theft seems rare, but it pays to not be an easy target.
Waking alone at night seems fine, but staying in groups or with a travel buddy is always better.
We only read one TripAdvisor story of a solo girl getting harmed by locals on a hike, so we'd suggest not hiking alone, as most hikes are not marked (except for Little Adam's Peak, which is wildly popular and has a fair amount of clear signage).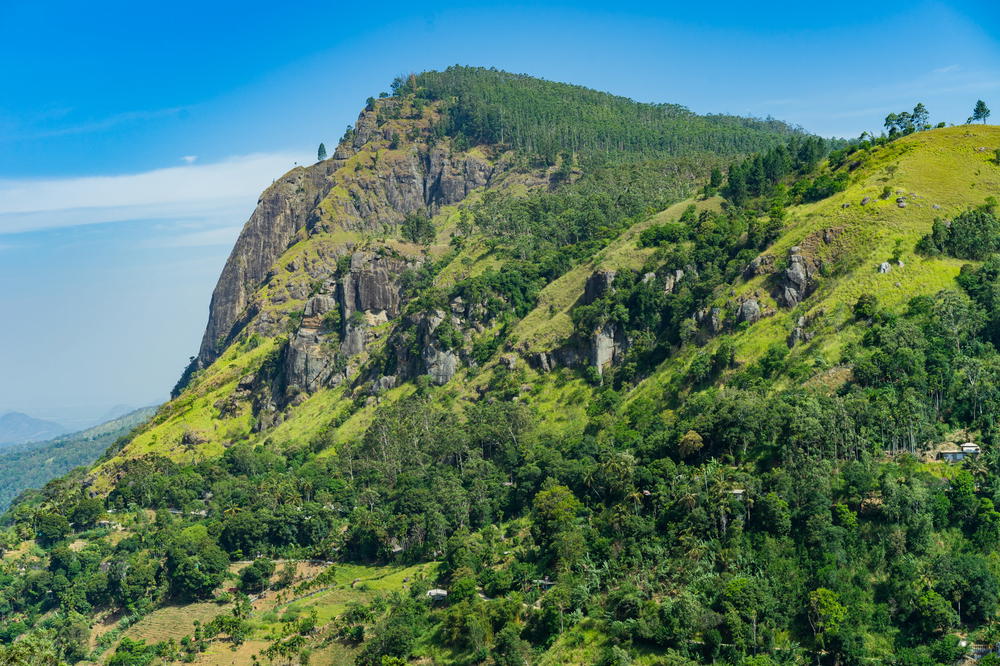 Restrooms in Sri Lanka may be western-style or squat style. It's always good to bring your own paper and hand sanitizer.
Sometimes bathroom use comes at a fee, but usually this charge is only around 20-100 rupees. If someone tells you that the WC has "no water," it could mean that the sinks are turned off, in our experience.
How to get around Sri Lanka
Sri Lanka has plentiful transportation for travelers, including rail trains, buses, minibuses and tuk-tuks. Rail trains have to be reserved in advance at the station for reserved seats (not standing room).
First class seems to sell out early, but you can book in advance in person at a station from the ticketing window.
Sri Lankan trains
First class cars have air conditioning and TVs. This was pretty nice!
Second class has regular seats and fewer frills than first class, but makes for a fine ride. We actually sat most of the ride in second class because it was easier to take photos out of the windows.
Third class means you may be standing, and the tickets are very affordable. This is for the adventurous type, as it is not a level of train ticket that exists in western nations.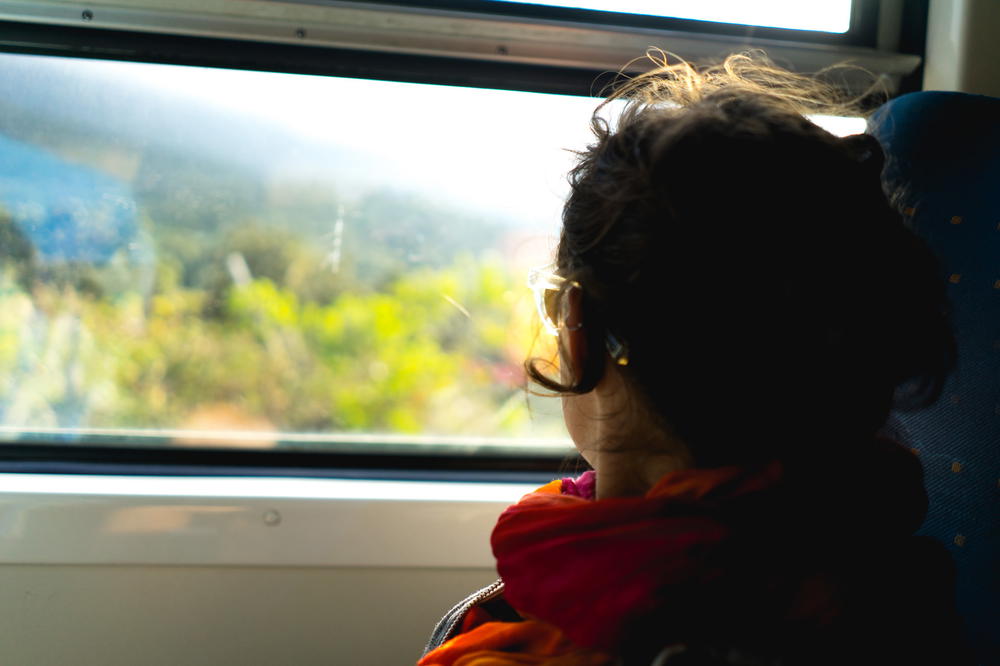 Sri Lankan buses
The standard bus has no air conditioning and you do not need an advance ticket purchase. Buses are very cheap and sometimes we took them for as little as USD$0.50 per person.
Even though it seemed like the driver charged us whatever price he felt like, it seemed we were paying the same prices as locals. Buses can be between $1-3 USD per person for a long ride, even between 3-6 hours.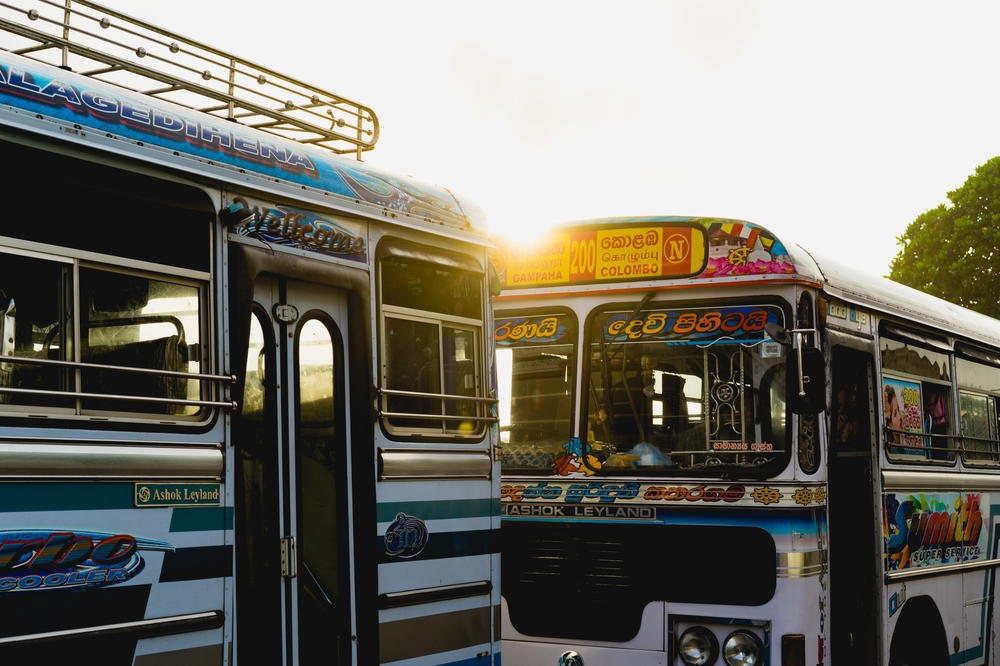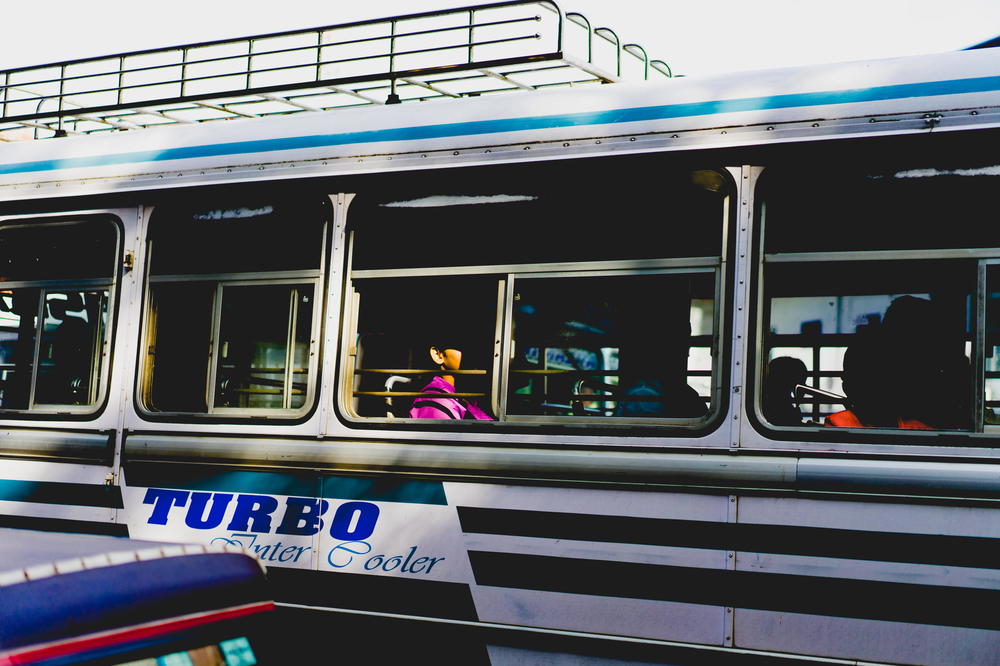 Minibuses are a dab more money, around $2-4 USD. These smaller buses have air conditioning for comfort, unless the drive is in a cold climate, like the ascent to Nuwara Eliya. Minibuses do not have standing room and sit approximately 20 people.
Sri Lankan Tuk-tuks
For tuk-tuks, it's time to haggle! Tuk-tuks are privately-owned small metal cabs that have small motors. Tuk-tuks can drive you far, and we met travelers who hired tuk-tuks for a three-hour drive.
We aren't sure that we'd recommend that, as the fumes from everything else passing by in your face can get irritating. We took tuk-tuks mostly short distances, but we took a tuk-tuk for one hour from Galle to Mirissa, at night, to save time.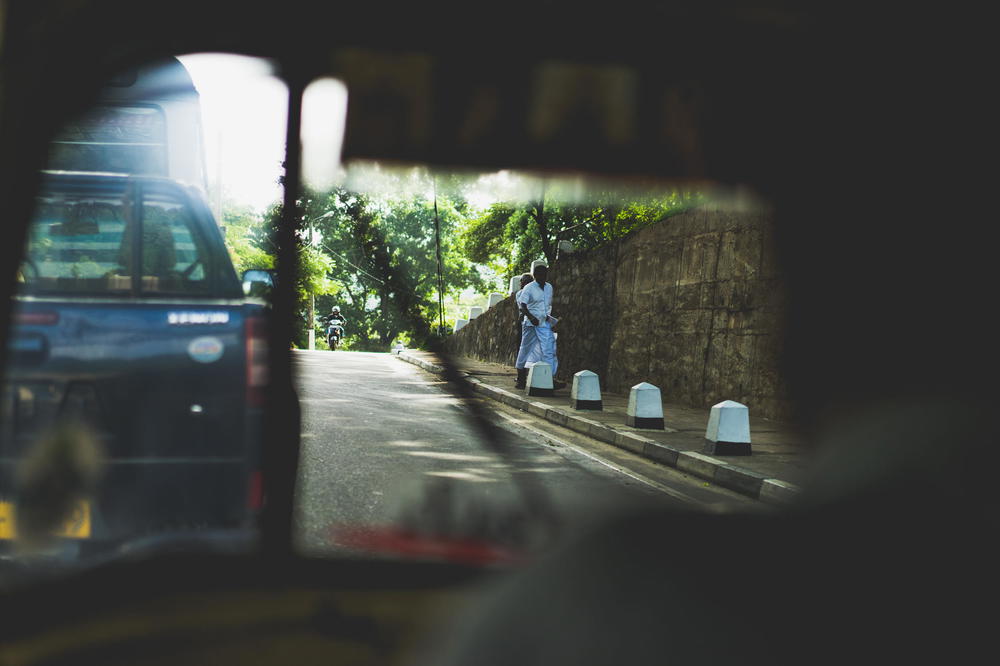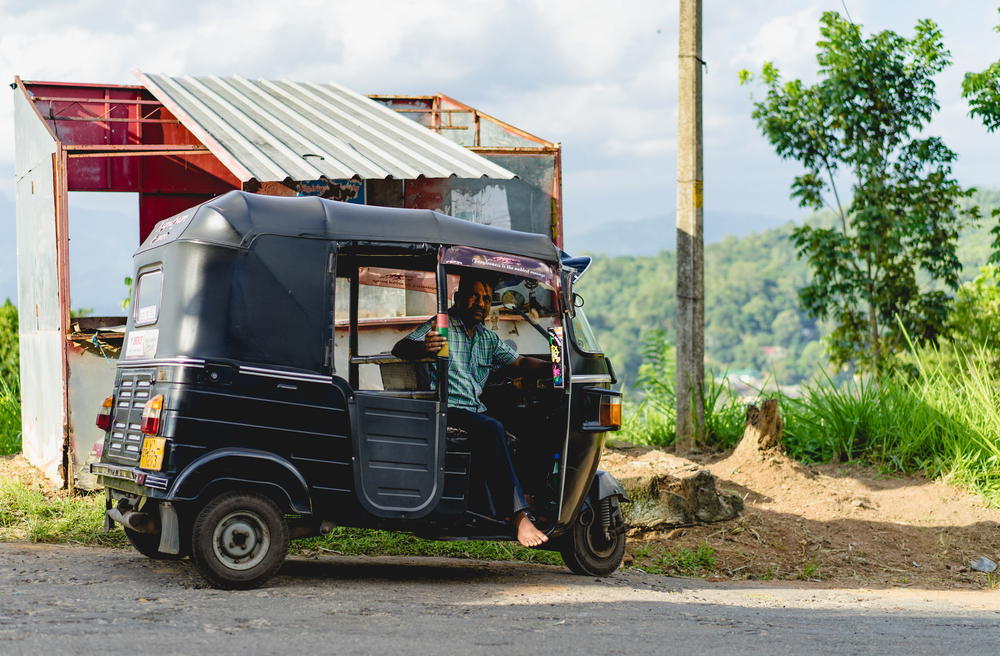 Where to stay in Sri Lanka
We always go through quite some thought when choosing where to stay during travel.
Accommodations in Sri Lanka come in a range, and you will get what you pay for. Hostels are less popular than guest houses, but they exist in some popular destinations. Some guesthouses are tiny, and we stayed in a guesthouse that was a house that some locals turned into a bed-and-breakfast.
We stayed in several hotels that we booked with Booking.com and this was a great idea. Booking.com has heaps of reviews and you can compare rates and see all the features. We stayed in hotels in Nuwara Eliya and Ella.
What's important to note is the difference in price charged for a Fan Room versus an A/C Room. If you see online 'basic' vs 'deluxe' room, this is usually language meaning the basic room has a fan and the deluxe has A/C.
In Kandy, Nuwara Eliya and Ella, you actually don't need A/C at night due to lower and more moderate nighttime temperatures, and you probably won't be in your room during the day when it is hotter.
From Negombo to the Mirissa region and anything coastal, A/C will save your life if you are like us and can't sleep while overheated. Dish out the $10 USD additional for it! The south and coastal areas are also incredibly humid, and A/C will be a big treat.
What language do they speak in Sri Lanka?
English is widely spoken in Sri Lanka due to a past of British colonization. The two main native languages of Sri Lanka are Sinhalese (looks like curly noodles and ribbons) and Tamil (spoken more in the north and east).
We learned that the Tamil language came from India during the days of the tea trade, as tea plantation workers came from the Tamil Nadu province in India. Tamil looks like square noodles. You'll see trilingual signs that contain all three languages. Our favorite Sinhalese word to use is "eh-stoo-tee" for "thanks."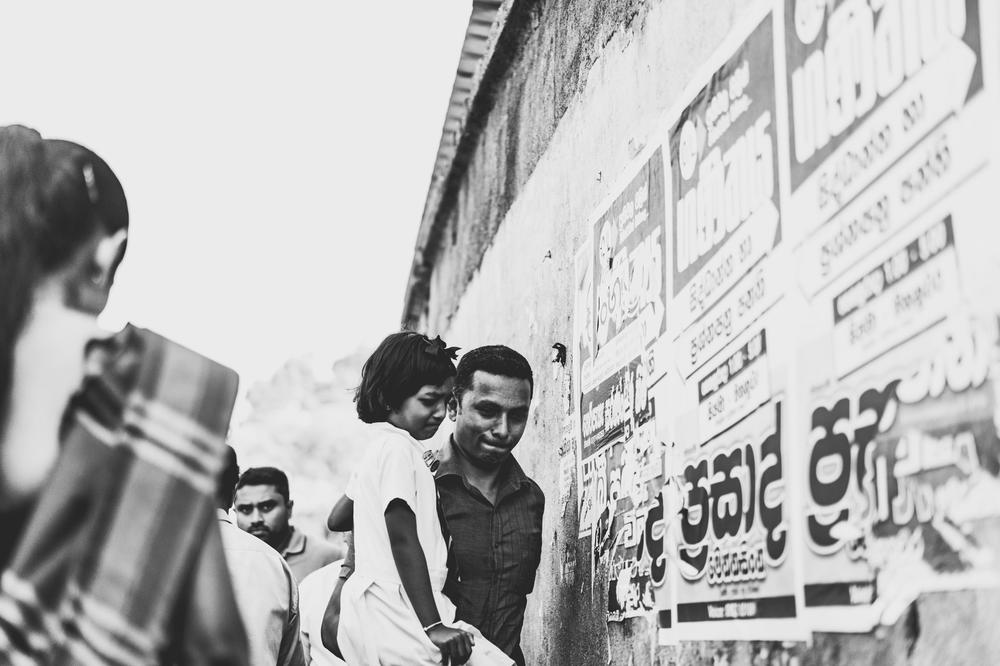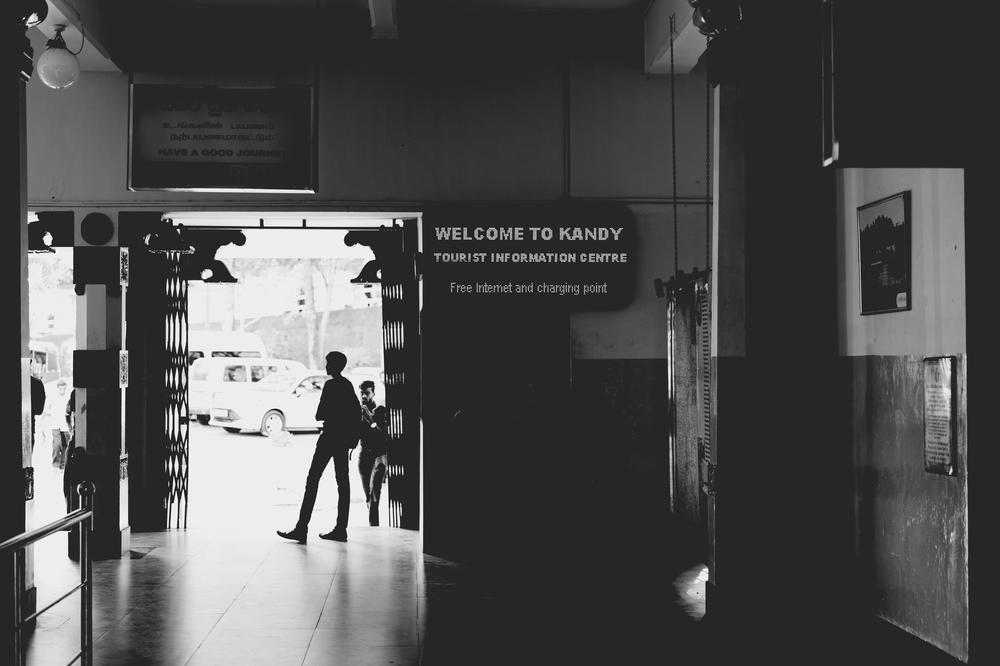 What are the local Sri Lankan people like?
Locals are very friendly, helpful and usually wanted to say hello and start a conversation about where we were from.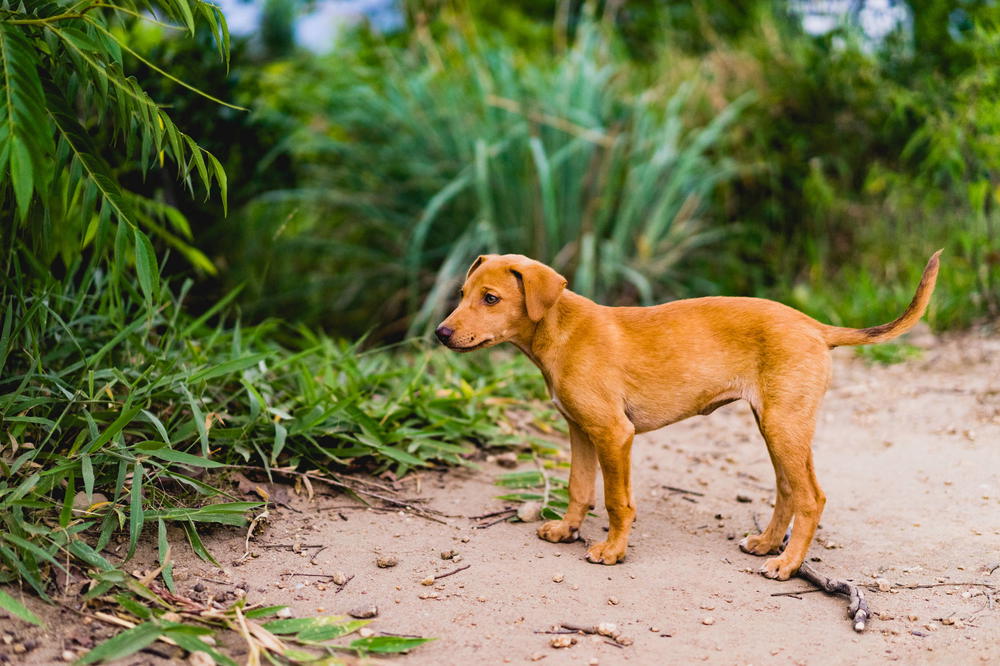 In fact, we have a favorite local Sri Lankan — it's our driver and guide, Gayan, owner of Goldi Land Travels. We recommend him to EVERYONE going to Sri Lanka.
He took us from Mirissa to Negombo (Colombo International Airport) in his air-conditioned car (you'll see what a luxury this is) and for a fair price. He also stopped along the south coast for us to see the sunset and see some local fishermen and their shops during our journey.
If you're looking for a driver in Sri Lanka, Gayan is your guy! You can contact him on TripAdvisor and see that he also can take you on a multi-day tour.
What is the currency in Sri Lanka?
The currency in Sri Lanka is the LKR. The LKR is also called the Sri Lankan Rupee. In early 2020, this rate is 1 USD = 181.49 LKR.
Find out if you should exchange money before you travel.
What is the conversion rate from LKR to USD?
1500 LKR is around $7.50
1000 LKR is around $5.
450 LKR is around $2.30
100 LKR is a common figure to be charged for 2 waters or for a bus ride in the south for around 20 minutes. This is $0.50.
You'll soon find yourself haggling down from 200 LKR to 150, and then you'll realize that it's a save of $0.33. Let the locals have your spare change, as the appreciation goes very far.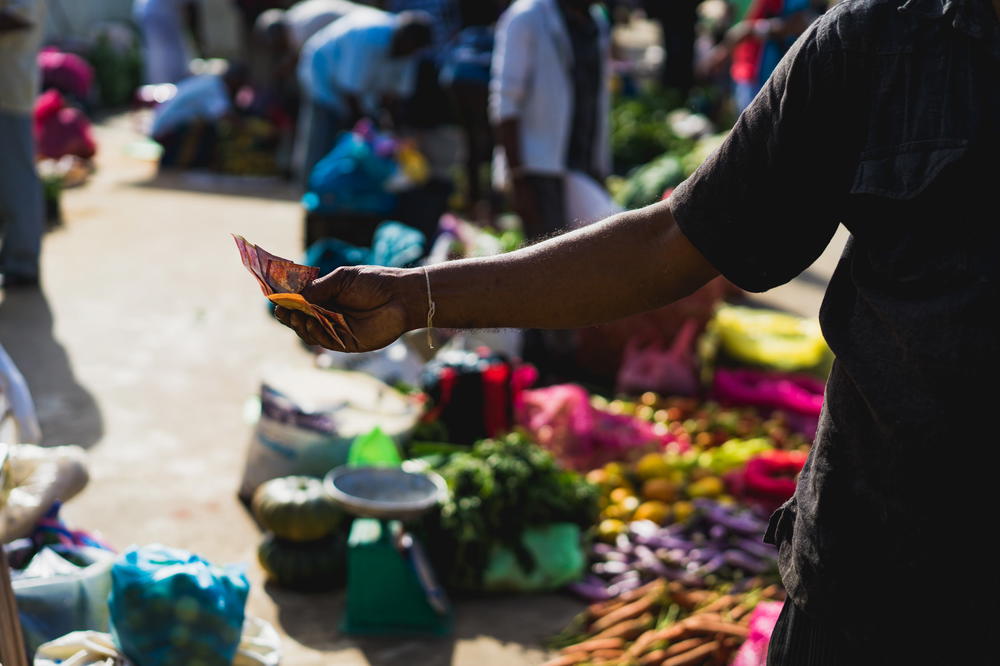 Where are the most beautiful places in Sri Lanka?
Oh gosh, we have a lot of beautiful places we saw. Among them…
Mackwoods Tea Plantation
The Mackwoods Tea Plantation is a very green and caffeinated way to spend an afternoon when you're in Nuwara Eliya. We hired a tuk-tuk to take us there and back, from our hotel.
Ella Rock Hike, Ella
This was a rather adventurous hike for us, given the heat of the mid-day sun. It was beautiful when we got to the peak of this hike, and could look down at a gorgeous green valley.
Mirissa Beach, South Coast
We thought tropical Mirissa was very pretty. While the waves were too strong for swimming, it was a great beach to relax on, with a smoothie in hand.
Galle Fort and Galle Colonial Town
Ah, we wished we had more time in Galle, as watching the sun set on the fort was one of our memorable moments. In addition to the incredible mix of cultures all living inside the fortified Old Town, we liked the rich cultural smells, sounds, tastes and vibes.
---
We hope you enjoy your trip to Sri Lanka! It is a country that has great weather all year round, and it's also a great idea for a warm destination to visit in winter.
Before you leave, have you seen our tips for packing and how to travel sustainably?
Enjoyed our article?
Consider supporting us! We're a 2-person team (learn more about us here) and your support enables us to create quality content. Thank you!
Find the Best Things to Do In Sri Lanka