20 Tips for Staying in a Hotel with a Baby (Experienced Parents)
Written by Becca
•
Updated on September 23rd, 2023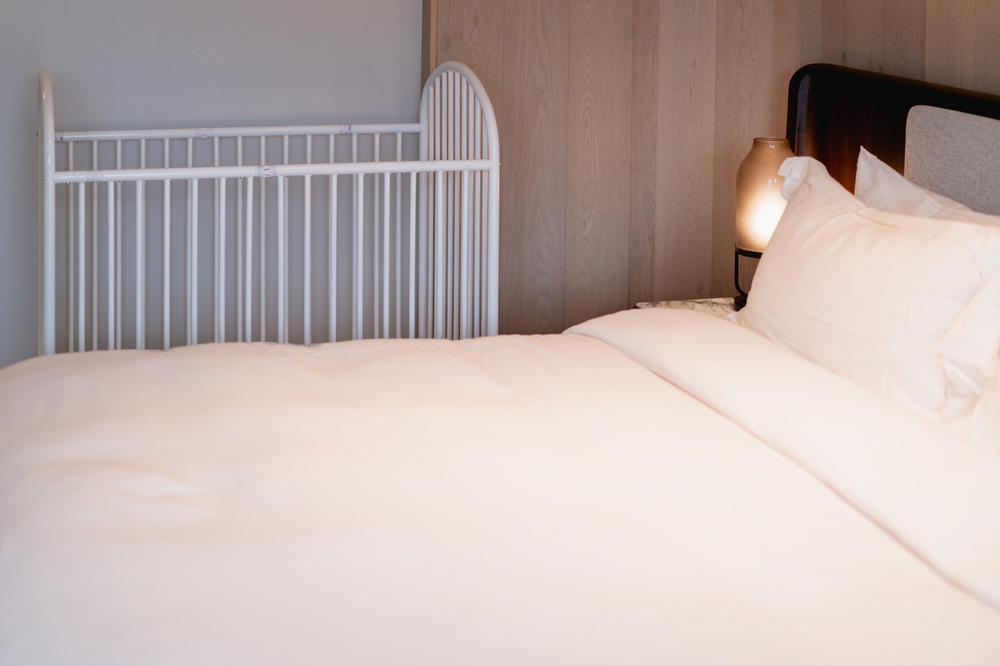 How do you survive staying in a hotel room with a baby? From my experience, I list the top tips and tricks for sharing a hotel room with an infant on a vacation.
This article may contain affiliate links. We earn a small commissions when you purchase via those links — and it's free for you. It's only us (Becca & Dan) working on this website, so we value your support! Read our privacy policy and learn more about us.
If you're reading this, it means you booked a vacation and you have a baby! I'm glad to hear you're going to travel, even with the challenge of leaving home with an infant.
In our daughter's first eight months, we took four trips to Airbnbs and hotels for some travel, starting when she was five months. Three were road trips and one was a vacation with flying. Traveling with a baby is still something we are getting used to as first-time parents, and staying in a hotel with a baby can seem like an obstacle.
My initial concerns about staying in the same hotel room as our baby were how we'd possibly stay quiet enough to not wake her, would she wake us, would it be dark enough for her to sleep and what if she didn't like the hotel crib? I did a bunch of deep research like reading other parents' tips, and basically, I just got more nervous.
I learned more about the experience of staying in a hotel with a young baby once we actually did it. We even stayed in two different hotels in a single trip. Did we survive? Yes.
All the tips below are from my personal experience. I hope they help you prepare and make the best of sharing a hotel room with your infant on your upcoming vacation.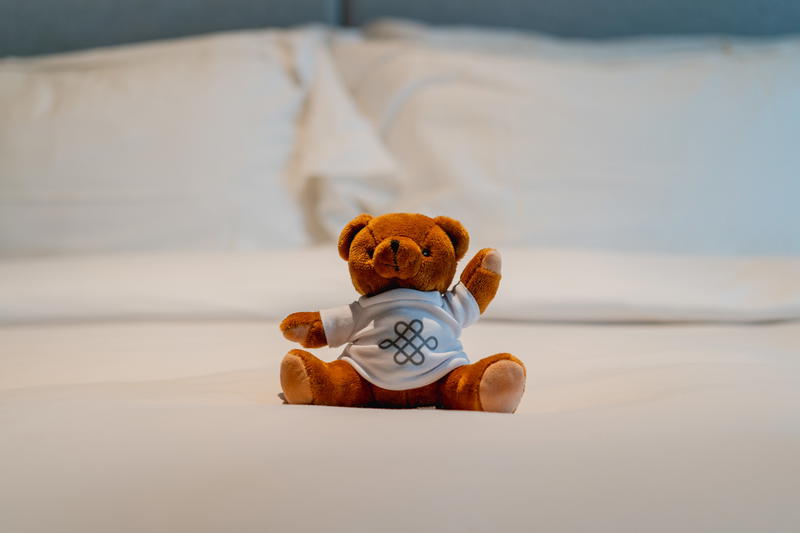 Double-check with the hotel beforehand about the crib reservation
This is one of the simplest things you can do to help ensure that the hotel will get you the crib for your baby.
When you make your hotel reservation initially, be sure to add on a crib. When it's a few days before your stay, call the hotel to speak with a "human" and reiterate the name on the reservation as well as the dates for when your crib was requested. Make sure they confirm!
The reason for this is that hotels usually only have a few cribs, and they're certainly on a first-come first-served basis. I'm not sure how this could go wrong, but there's a chance of error at every step when you have special requests.
With our most recent trip, I got in touch with both hotels to confirm a crib for our daughter during all nights of our stays. Hopefully the hotel will confirm your crib request, and it'll be there when you arrive!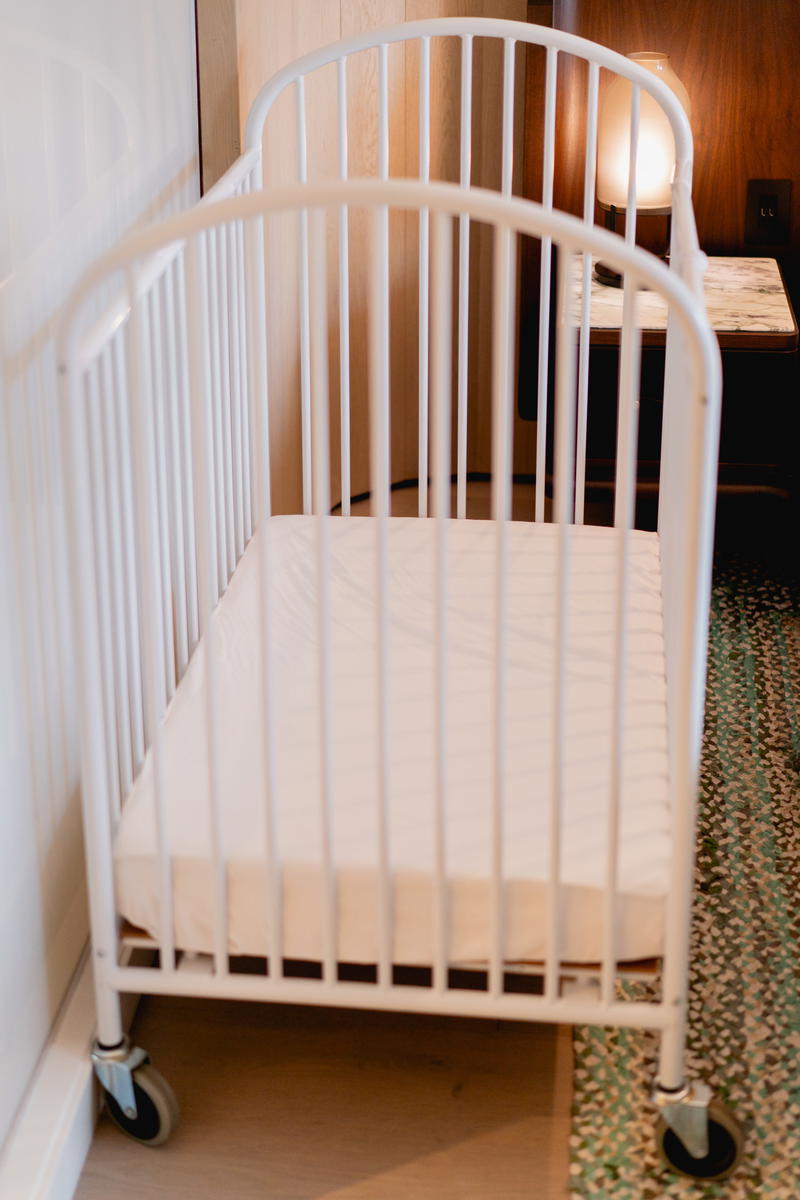 Bring a crib sheet from home
I saw that some friends and parents in Facebook groups mentioned that the smell of their "home crib sheets" made a difference in the sleep of their babies.
We packed the crib sheet right off our daughter's crib for our most recent trip in two hotels, and then we just wound up using the ones on the hotel cribs because they fit perfectly.
Our baby couldn't care less about crib sheets, apparently, but yours might! We were still happy to bring a crib sheet of our own because we knew that it wasn't washed with anything harsh.
Set up a bottle-cleaning station
Yes, this is something we've done several times now! The OXO travel-sized bottle brush and drying rack has been a true lifesaver. We even flew with this item because it folds up into about the size of a book, and in it, there's a full bottle brush with a nested bottle nipple brush, and the whole thing expands into a bottle and cup drying stand.
We set this up either in the Airbnb kitchen or in the hotel bathroom, and this is what it looks like (below). It's smart to also designate one of the parents to be the bottle-washer, so that this person is familiar with which items are dirty, which are drying and which are clean and ready to use again.
Even if your baby is totally on solids (and you can read more tips in my guide to feeding a baby while traveling), having this type of cleaning setup is great for spoons and bibs, too.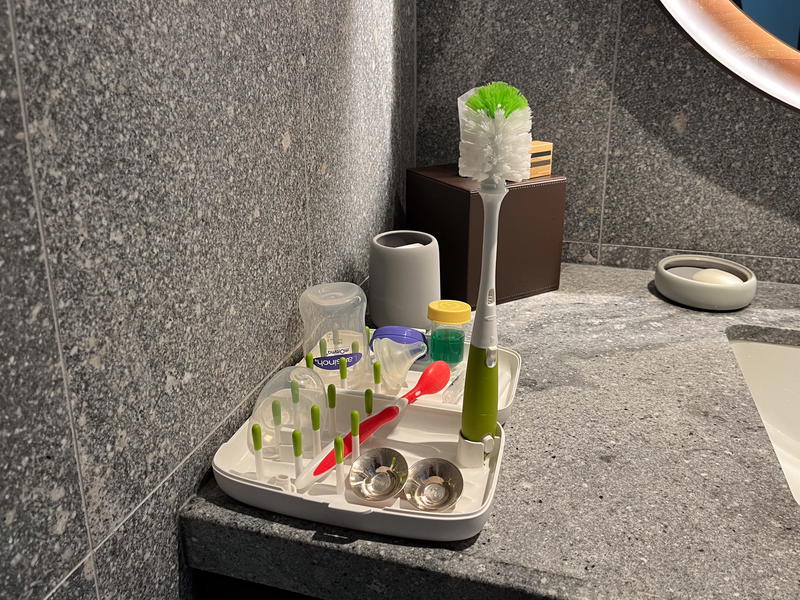 Set up a diaper changing station
This is one of the first things I do now when we stay in a hotel. Hopefully your hotel room has a couch, but some don't (or only have a big armchair).
Twice now, we have set up our diaper-changing station on a couch-style futon or lounger. This works great.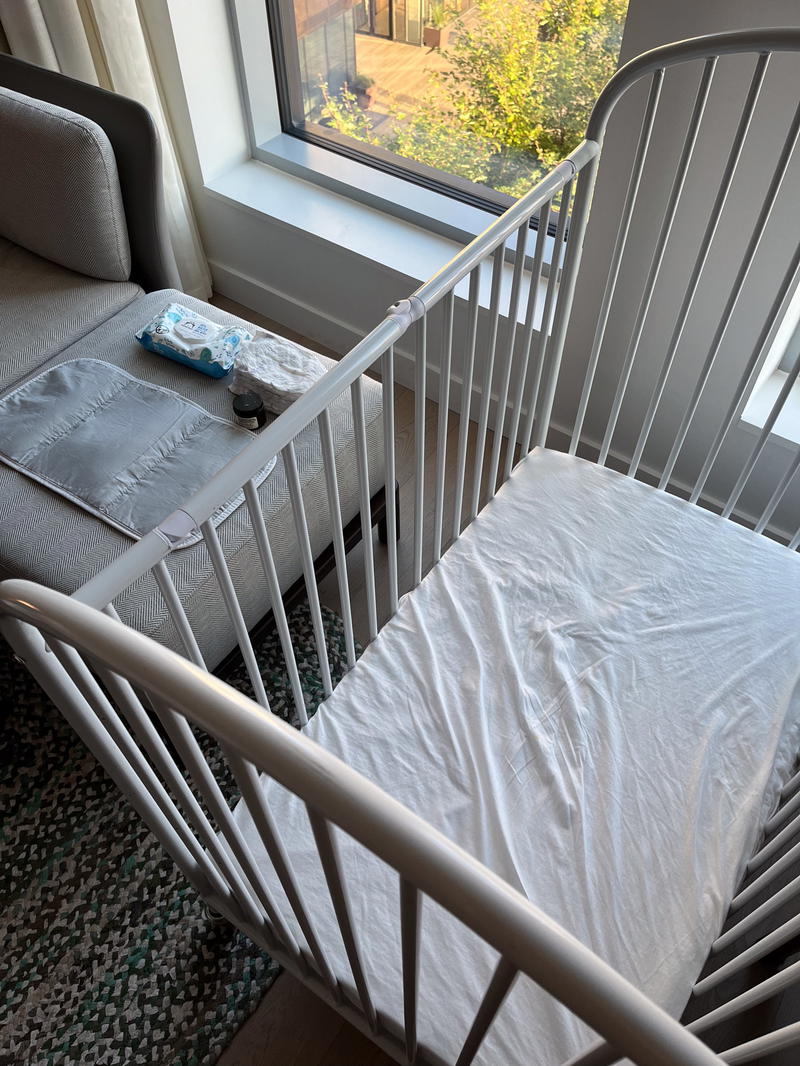 The reason for doing this is to make somewhat of a resemblance of home, where you have your changing table and changing pad. Also, having a designated diaper changing spot means that if the baby has a surprise middle-of-the-night wakeup and needs a change, you'll know where to go, maybe even only with the flashlight on your phone or a dim lamp at that moment.
We set up our travel changing pad, a stack of wipes, a few diapers and travel-sized diaper balm.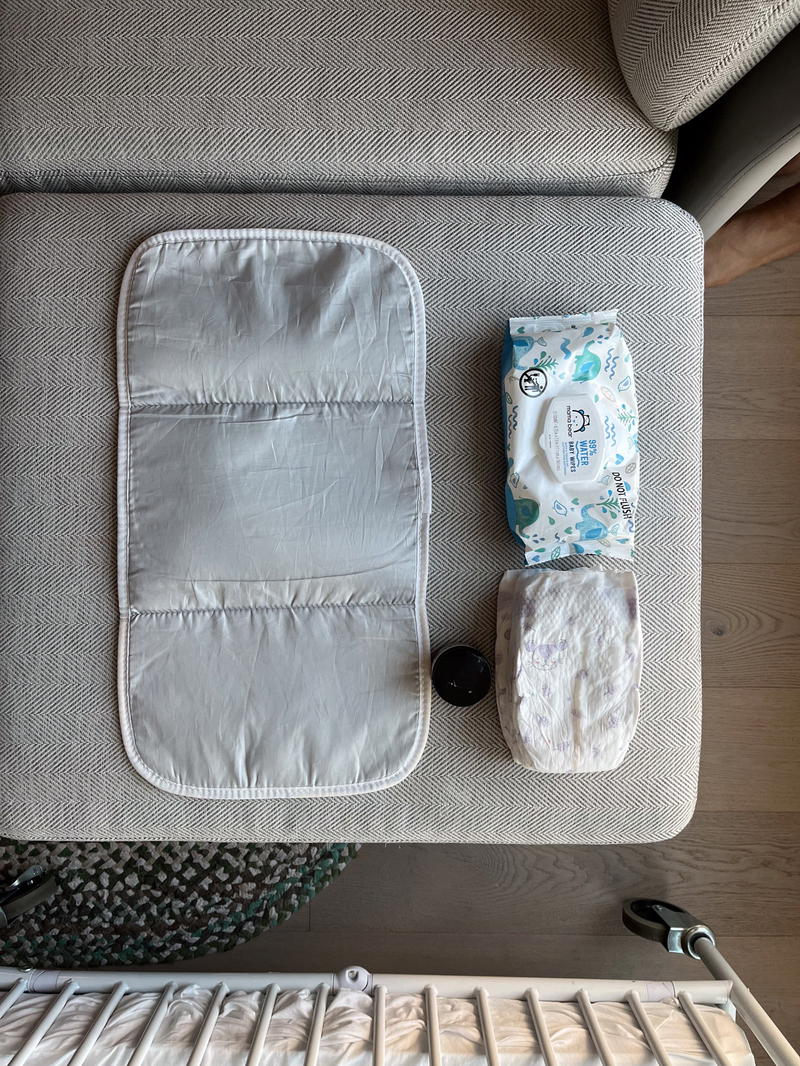 Helpful Tip
My helpful tip is to remember to take the changing pad and diaper cream with you the next day when you're out and about, if you don't have seconds of each of these items. Or, try bringing a Kibou diaper-changing fanny pack, which is what I do!
Consider that your hotel might not have a freezer
Our hotel in the Catskills had a full fridge and freezer, which was amazing for storing our frozen breastmilk. Meanwhile, the Muir Hotel only had a drink fridge, and no freezer. We arrived with frozen milk from home (it survived our flight in my Medela cooler), and knew that there was a chance we'd have to use it that day.
My tip here is to either call the hotel beforehand to find out if your room will have a fridge and/or freezer, and plan accordingly regarding breastmilk and baby food.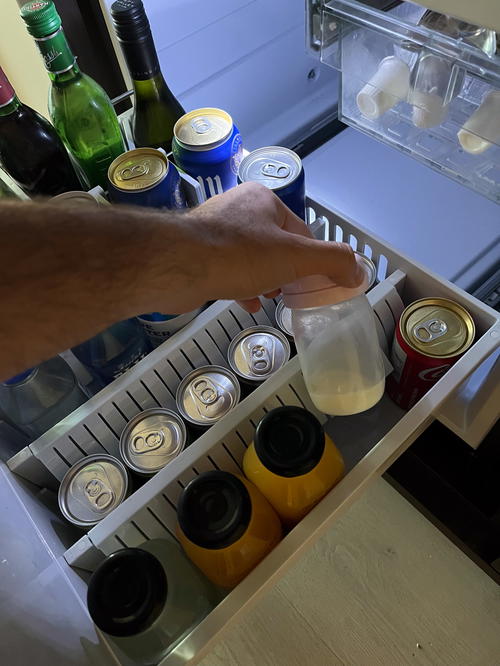 Helpful Tip
Are you taking a flight with your infant, or looking for more tricks on how to make it survive-able? See my list of tips for flying with a baby to employ before and during the plane ride.
Bring a travel-sized sound machine
The Yogasleep sound machine is the best thing we bought for trips away from home! We looked at a lot of reviews before we purchased a travel-sized sound machine, and landed on the Yogasleep one because it's small, plugs in with a USB-C cord and has a ring clip that you can even clip onto a baby carrier or backpack.
We find that it has a good sound level, a solid battery life and a great quality of sound. We set this one up near wherever our baby will be sleeping in a hotel room, to be like the one we have at home (which is the Hatch sound machine, and we like this one a lot, too).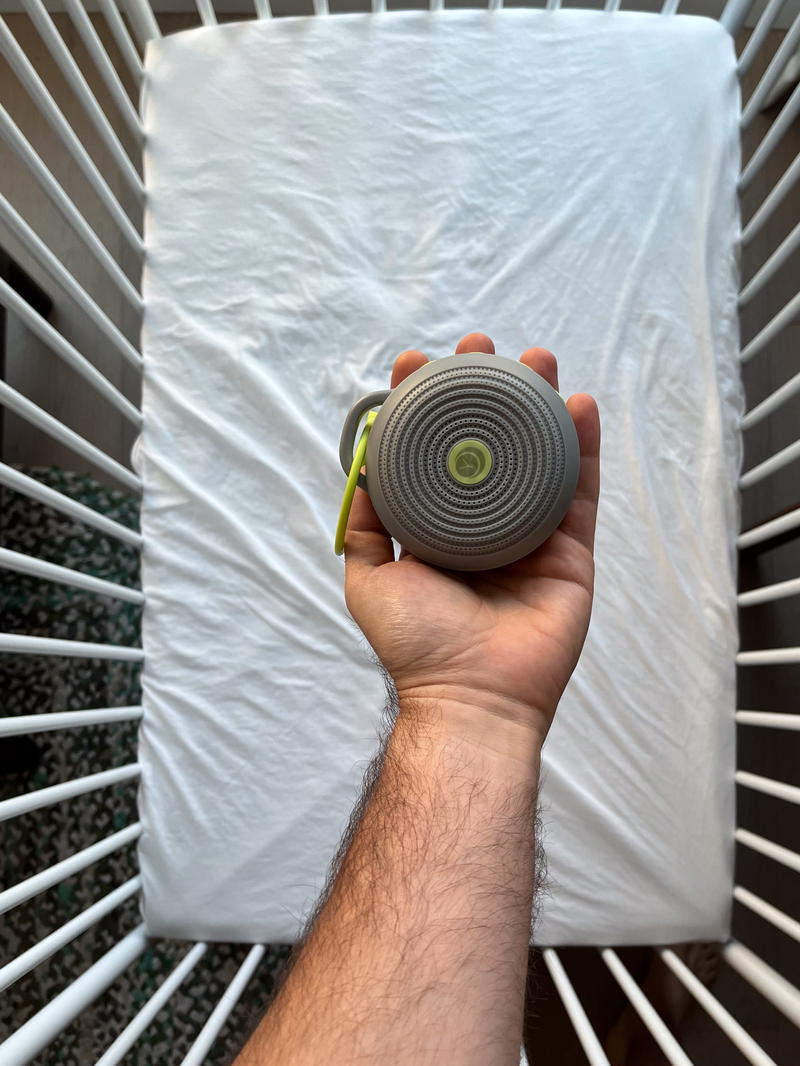 Keep the hotel room dim at bedtime
Keeping the room dim and then pretty solidly dark was a little challenging in one of the hotels that we stayed in, because some of the lights were on proximity sensors (at least we thought that, at first).
We eventually figured out that we could turn on one vanity light in the bathroom and keep the rest of the lights turned off. This room, as gorgeous as it was, was not made for having a baby sleeping, because the bathroom had a fancy frosted glass wall instead of a real wall. This made it both noisier if someone was in the bathroom during the night, as well as hard to keep it totally dark.
Every hotel has different lighting, so find what works best for you and the hotel room you're in.
If you need light during the night, use the bathroom
This is what worked for us during our trip to the Catskills, as well as to Litchfield, CT, so it's being added as a tip!
This also worked for us during our Canada trip because the bathroom had frosted glass that snuck into the main room area. If the bathroom has some sort of window into the main room, this could work.
If the bathroom doesn't have any type of light facing the room, this might not really make any difference. Once you get to the room, you can close all of the curtains and see how the bathroom light changes the overall light in the living space.
In another hotel we stayed at, we kept the bathroom light on all night as a sort of night light, and kept the door cracked a tiny bit.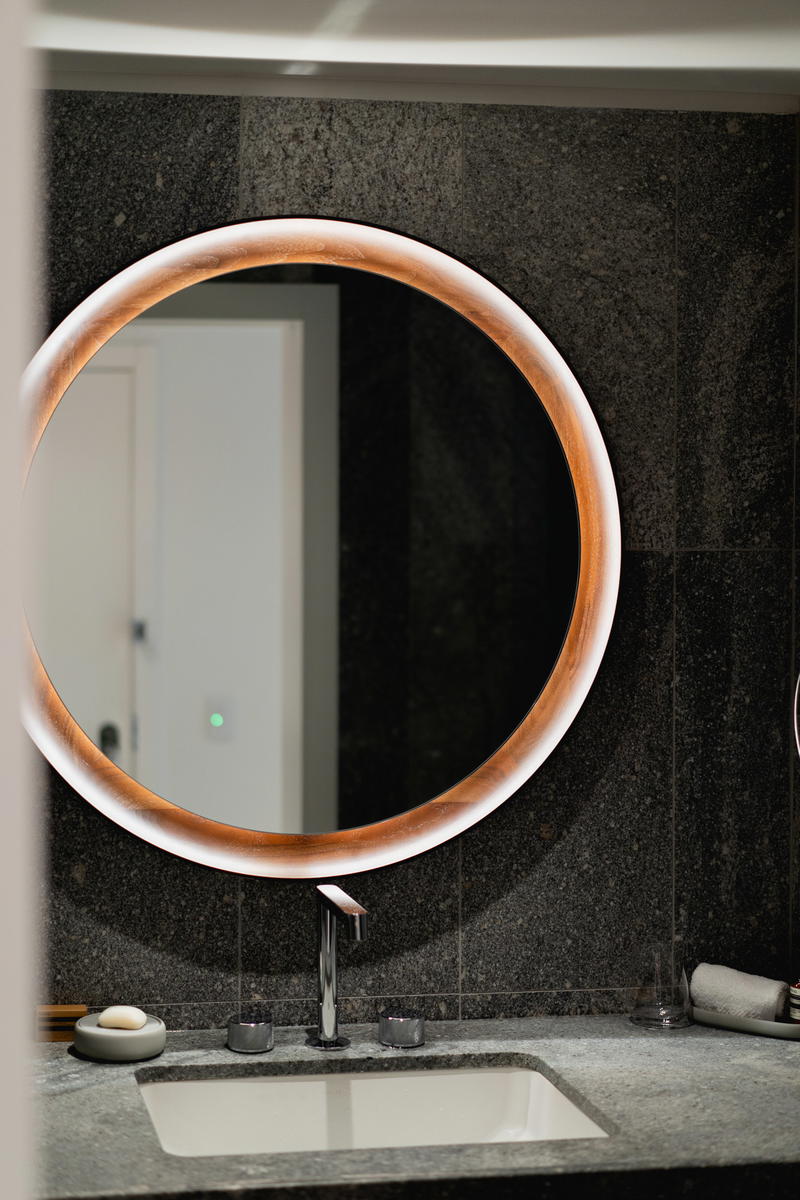 Keep the hotel room dark after putting baby down
This is the real challenge. Keeping the room dark past 7 or 8 pm when there are two adults who are not yet tired is, for lack of better words, difficult and slightly frustrating.
If your baby is used to a blacked-out room at home to help with sleep, you'll likely want to replicate that at the hotel. You'll especially want to do this to make the baby forget that they are somewhere new and that it's okay, and "we need to sleep."
What we have done several times now is keep all the lights off, except for the bathroom light, like we mention above. We do things with flashlights from our phones, and we have eaten takeout for dinner in the dark, in the bed or at a desk.
One parent could also leave the room to go eat or to go to the hotel gym, and we have done this as well.
Prepare to go to bed shortly after baby
This one is the hardest, especially if you're a night owl (and if you're still going to bed late and waking up late while parenting a young baby, that's awesome!).
After having our daughter, I started going to bed early… really early. This was to compensate for night wakings, as well as "good nights" versus "bad nights," and surprise early-morning wake-ups (like 4:45am).
With a baby in our hotel room, we tried to go to bed within an hour or so of the baby. This was to account for her potentially having a bad night in the hotel, or waking up super early because she was in a new environment.
Both of these happened, and I was glad I went to bed as soon as I could after we put our baby down for the night in the hotel crib.
Try the SlumberPod for blackout conditions
Many parents nowadays condition their children to a blacked-out bedroom or nursery for sleep. There's nothing wrong with this! A blacked-out nursery has helped our daughter sleep some good nights as she has grown older in her babyhood.
What's new is replicating this condition in a hotel. Luckily, if you're road tripping with your baby, or if you're flying and you have some spare room, bring a SlumberPod. It's like a small pop-up tent that will create the baby's own dark space, and this works great for a lot of parents and babies or toddlers.
In fact, my friend Daniela went on a trip in California to an Airbnb that had skylights in the bedrooms. Sky lights can't be blacked out! She knew it would be a super early morning for her toddler if she hadn't brought along a SlumberPod on their road trip. She said it worked like magic, and their toddler thinks it's fun!
My friend Ariella, a mom who loves to travel, called the SlumberPod a "game-changer." She hated staying in a hotel room with her baby until they got the SlumberPod.
In fact, she borrowed one for her family's recent trip to test it, because she "didn't want to buy another $200 product that we would barely use." But, she loved how it worked, so she bought one on Amazon Prime Day.
To quote her, "The SlumberPod literally allowed us to 'not hide' from our baby after 6:30 pm." They also were considering putting her to bed in a Pack'n'Play in the bathroom, and the SlumberPod let them avoid that idea completely.
Helpful Tip
My friend Daniela has also flown with her SlumberPod and has put it in the car seat travel bag when she checked it as luggage, to save space! Brilliant!
Use the bed(s) as a docking area
For babies who are pre-crawling, you may be used to using a bouncer, a Dock-a-tot, a swing, a baby seat or a play mat as a "docking area" at home. A docking area is simply a place to put the baby when you're not holding them, and when they're not sleeping.
With going on a road trip or flying to my destination, my opportunities for bringing along something of this size is few to none! So, we have put our baby on a big bed as a docking spot, and we have even done some fun photos of her sitting on the big bed.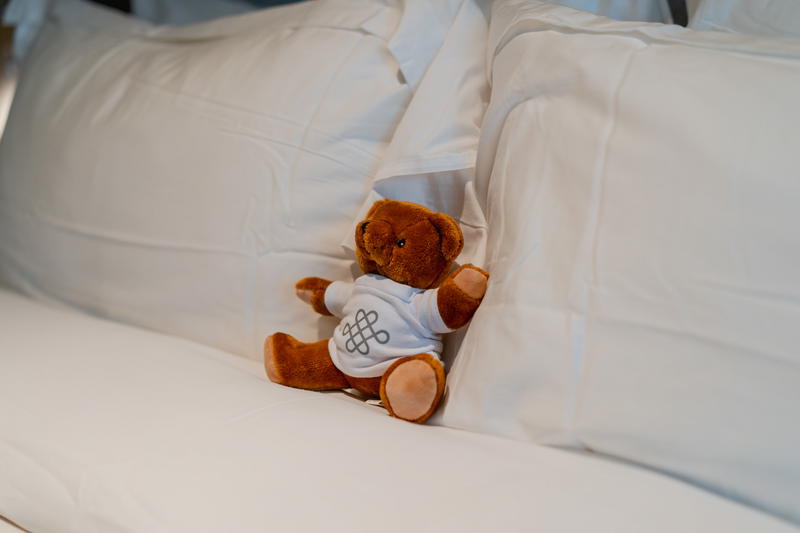 Consider booking a room close to the amenities
When you book the hotel, you can call and get a sense of the layout. One of you might be able to do things like work out in the gym, or work remotely in the business center or lobby, close by.
If one of you can spend time in the hotel common spaces while still using an audio baby monitor, or a video baby monitor, then you don't have to be confined to the room.
Bring a baby monitor that works over WiFi
If you don't mind having your baby monitor connect to public (hotel) WiFi, you could consider hanging out in the common areas of the hotel while you keep an eye on your baby via the monitor.
We didn't do this because we want to keep our baby monitor on a closed network, so we give up range with this option. As first time parents, we also don't want to be too far away!
Everyone's comfort and situation is different, so consider this an option if you feel comfortable doing so.
Helpful Tip
Big tip here for parents figuring out their monitor: Monitors like the Nanit Pro Smart Baby Monitor (and various others) will not connect to a public or hotel WiFi network unless there is a password. My friend was in Portugal recently and met a couple who brought their Nanit, and they couldn't use it! The same applies if you're at an Airbnb with your Snoo: the app works over WiFi, and you can turn it on and off without WiFi, but it doesn't log sleep or allow for manual level changes (except to increase speed).
See how far the baby monitor reaches
Apparently our hotel had a baby monitor that we could borrow. It wouldn't have mattered, though, because our room was in the center of the hallway. Plus, we don't want to connect the monitor to WiFi or be too far away.
If, let's say, we booked a room next to the gym, we might have felt comfortable both going as long as one of us was keeping an eye on the monitor.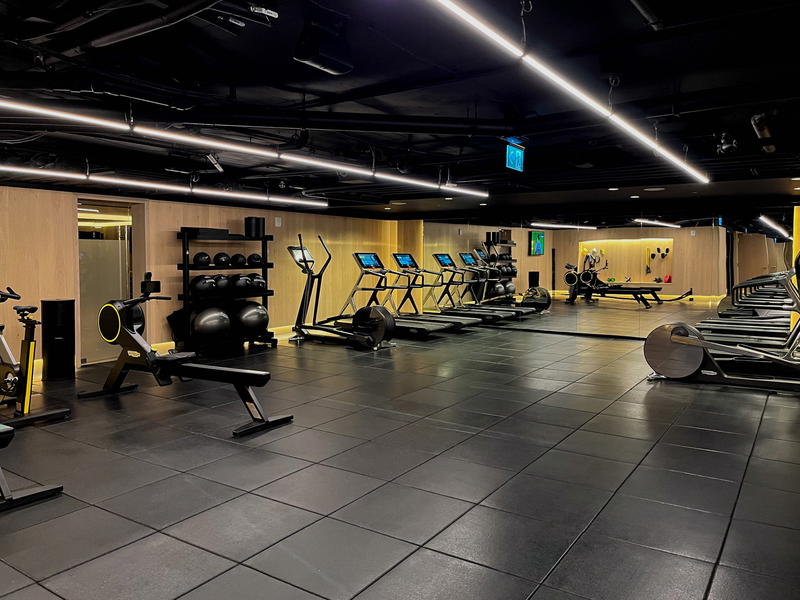 Hang out on a balcony while baby naps
This tip works for hotels and some select cruise ship rooms as well! When your baby naps or sleeps, spend time on the balcony if you have access to one. It's a good way to separate yourself from the baby. You may want to bring a travel-sized video monitor or audio monitor in case the balcony door is very thick (and it should be).
If your room doesn't have a balcony, see below for the tip about one parent hanging out in some hotel amenity spaces or lobby.
Decide where to feed baby during nighttime wake-ups
Our most recent trip to Halifax, Nova Scotia, was when our baby was eight months and was sleeping through the night like a pro.
However, I knew that the first night away from home can be tough, and it's also strange for the baby to know they're sleeping in the same room as mom and dad, if they're used to sleeping alone in their room at home.
So… in our hotel in Halifax, as well as our trip up to Livingston Manor, NY, when our daughter was six months old, I designated an armchair to be the nighttime feeding spot. I set up some feeding essentials and it was worth it both times for unexpected night feeds.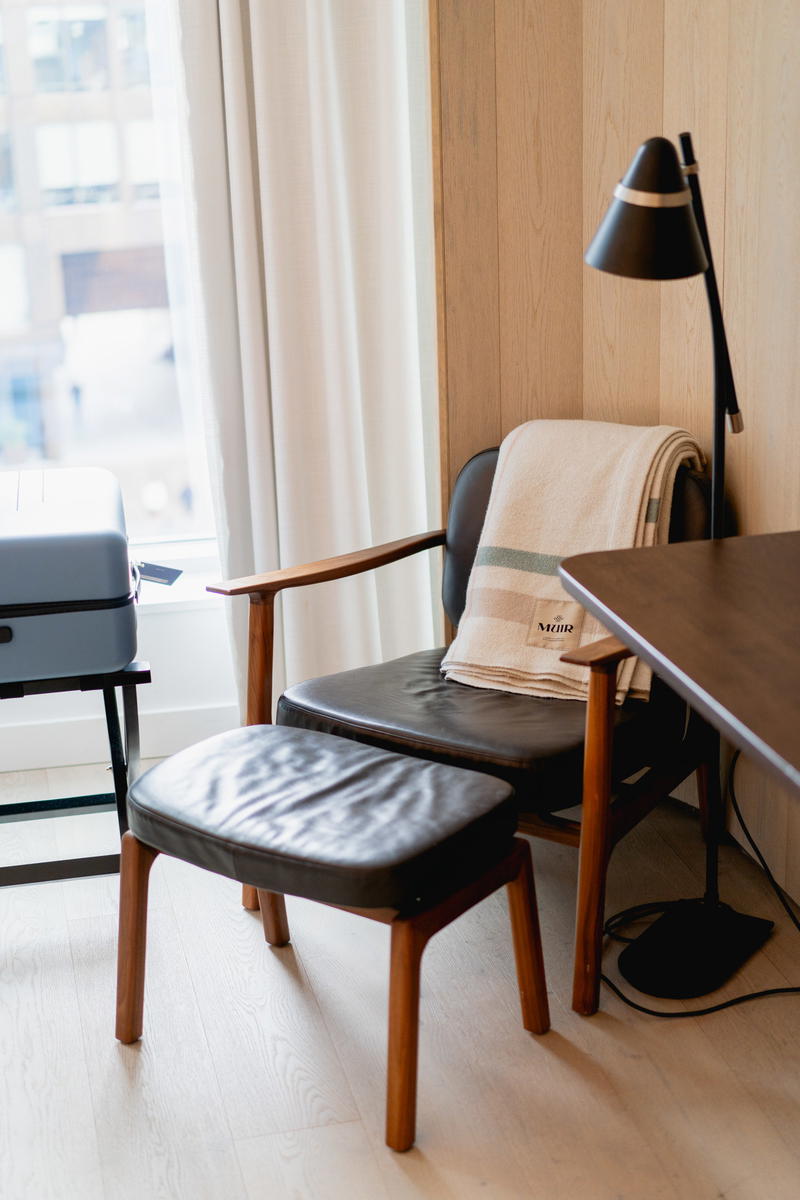 Form a tentative plan around super early waking
When we stayed at Antrim Streamside, in a studio apartment-style hotel cabin, we were all in one room and our baby woke up at 5am both days. When she did that, around that age, I knew she was kind of up for the day, but might cat-nap on my lap for 30 min.
Sure enough, she did, and I had gone to bed early to compensate for it. Dan was able to sleep a little bit more, but by 6am we knew our day had begun.
In Halifax, our baby woke up around 6am (which was 5am in our home time zone — ouch!) and wouldn't go back to sleep. This time, the sun had come up already and we decided to seize the day and go take beautiful photos in morning light at the waterfront around 7:00!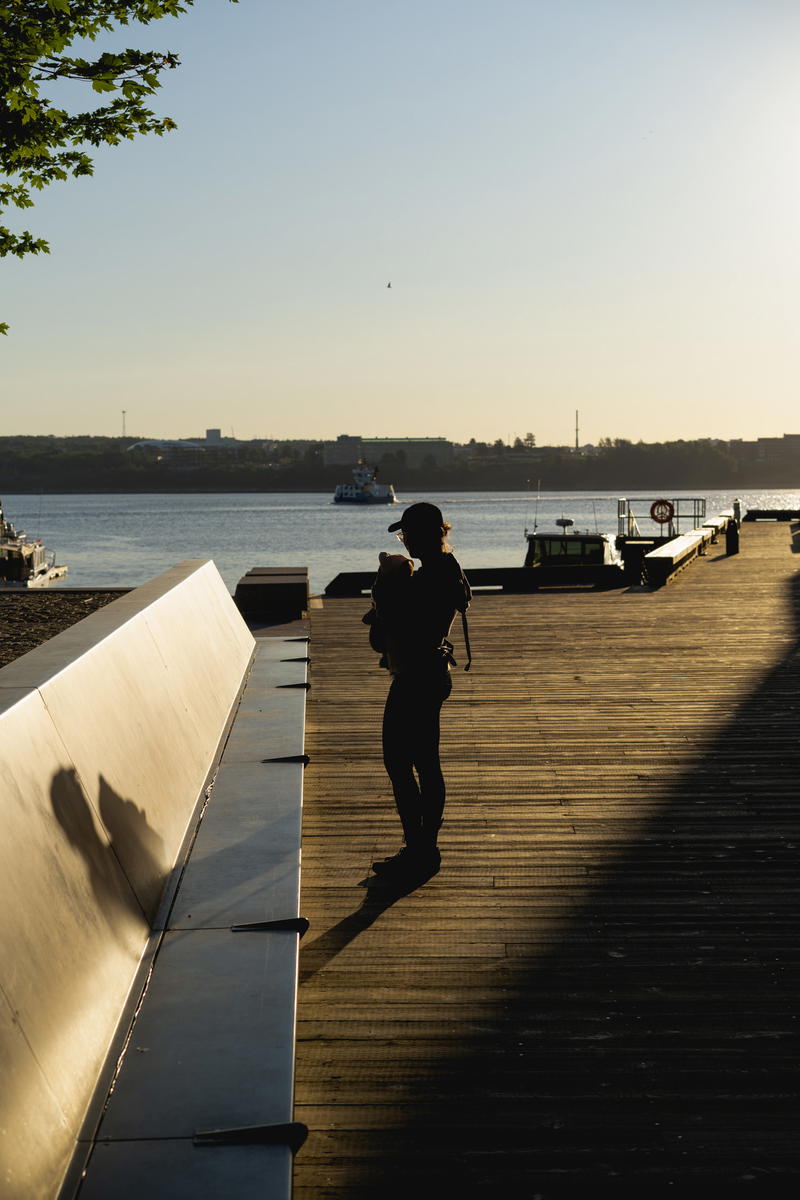 Put the crib in a walk-in closet
We stayed in an Airbnb and tried this. We ended up not doing it for a few reasons. For one, there was limited air flow and we didn't want that to become an issue with temperature and lack of air! Another reason was the outlet. The house we stayed in only had a few outlets and we couldn't get our sound machine and a fan close enough to the travel crib.
With a hotel, you may have a room that had a generous closet or an out-cove that might fit a crib. In this situation, you can eliminate a lot of the issue that you have with light and making noise.
I have chatted with a few friends about this though, and depending on the size of the walk-in closet, and the air flow or temperature in it, many parents consider this a valid option for placement of a Pack 'n Play or a crib!
Keep the same bedtime routine from home
Bring a few items that help to mimic bedtime at home. For us, this was having a very lightweight baby book that I kept in our diaper bag, and our baby's bedtime bottle. We put on her pajamas, and sleep sack, and hoped for the best (and the third night was better than the other two).
One thing to keep in mind that might make your brain ache a little bit is time zones. Our most recent trip was in a destination only one hour ahead of our home time zone in the NY area. Originally, I thought: "Great! She'll go to bed an hour later and wake up an hour later! It'll be perfect."
Did things go to plan? Not so much, but we survived. I think blacking out the room to get nighttime conditions is a great start to the time zones challenge.
Opt for a suite if it's in the budget
In speaking with other parents, I learned about more hacks and tricks for surviving sharing a hotel room with an infant (or toddler!). A mom I met recently said that when their family travels, they'll opt for a budget-friendly hotel and book a two-room suite.
The idea is to have a room with at least a separate room with a door closing in between the parents and baby, even if the parents are on a pull-out couch in the suite's living room or common area. This can help the entire family a lot, and can help separate two babies, or an infant and a toddler, with wall and door separation.
Be flexible and go with the flow
Most importantly, remember a few things: you are a great parent, and staying in a hotel is not forever. Be flexible (if bedtime happens at 8, not 7, it's not the worst thing!) and go with the flow (if you'd like to stay out at dinner because you're having so much fun on the first night, do it!).
As we travel more and more, I try to remember that we're going to remember the fun things and we'll try to forget the not-so-great moments (like our baby coming down with a fever, being upset at 2am and other things).
As we look back on our photos, I consider that the nights in the hotel are in the past, and the vacation memories are forever.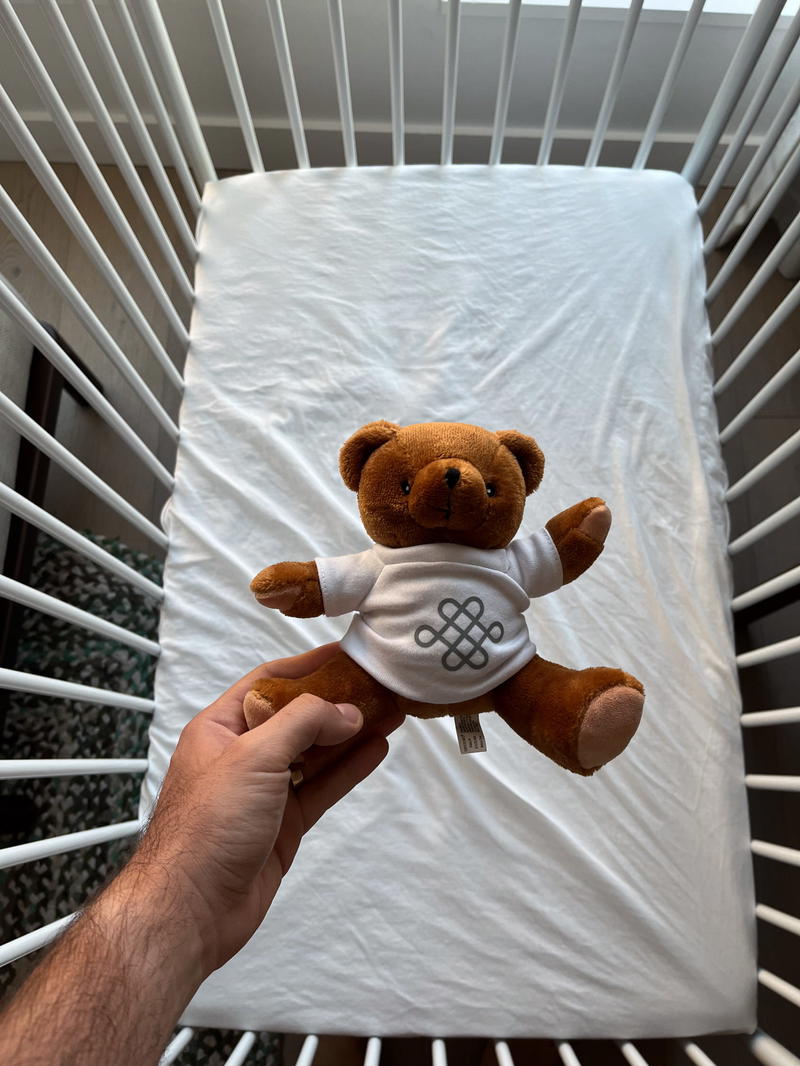 Traveling with a baby is hard! We've had to learn and after you do it for the first time, you'll start to become an expert and learn things that will work for you and your family. You got this!
Enjoyed our article?
Consider supporting us! We're a 2-person team (learn more about us here) and your support enables us to create quality content. Thank you!