Vancouver Travel Guide: Essential Budget-friendly Tips
Written by Becca
•
Updated on October 27th, 2023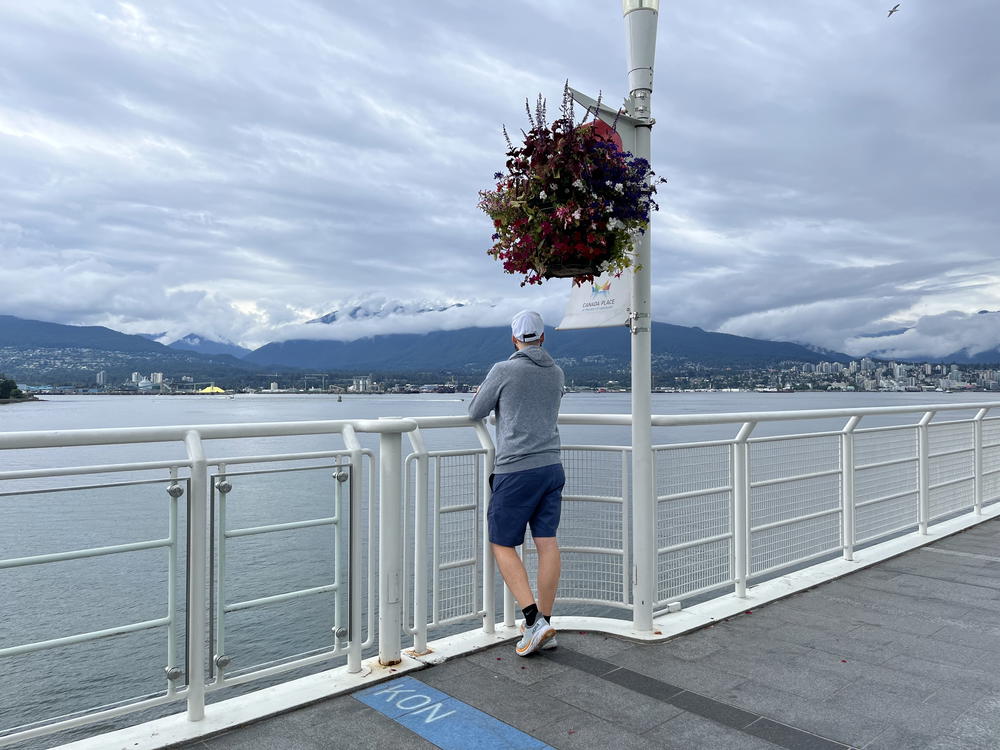 Is it possible to travel in Vancouver on a budget? With some research and realistic expectations, a trip to Vancouver can be inexpensive, and fun! See our guide.
This article may contain affiliate links. We earn a small commissions when you purchase via those links — and it's free for you. It's only us (Becca & Dan) working on this website, so we value your support! Read our privacy policy and learn more about us.
I was excited when I booked a trip to Vancouver! I couldn't wait to see what it was all about.
But I had heard that Vancouver was the #1 most expensive city in Canada, and that made me groan. Typically, I like to escape my home in (very expensive) NYC to get out to cheaper places where my US Dollar goes further.
If you've read our travel guides within this website, you'll know I don't seek out expensive places to travel. So when we got invited to a good friend's wedding in Vancouver, I knew it was my opportunity to visit Van City. I knew it was really cool from all my friends who had been.
One lucky thing about traveling to Canada as an American right now is that the exchange rate fortunately makes the prices in Canada a lot more bearable. And so does learning how you can take a budget trip to Vancouver!
When we had our flights booked, I started Googling right away what we could do in Vancouver that was budget-friendly, inexpensive and even cheap. In this guide, I'll detail everything we got around to doing, and how it worked out! I hope your trip to "Raincouver" (it really did rain a lot there) is fun and memorable!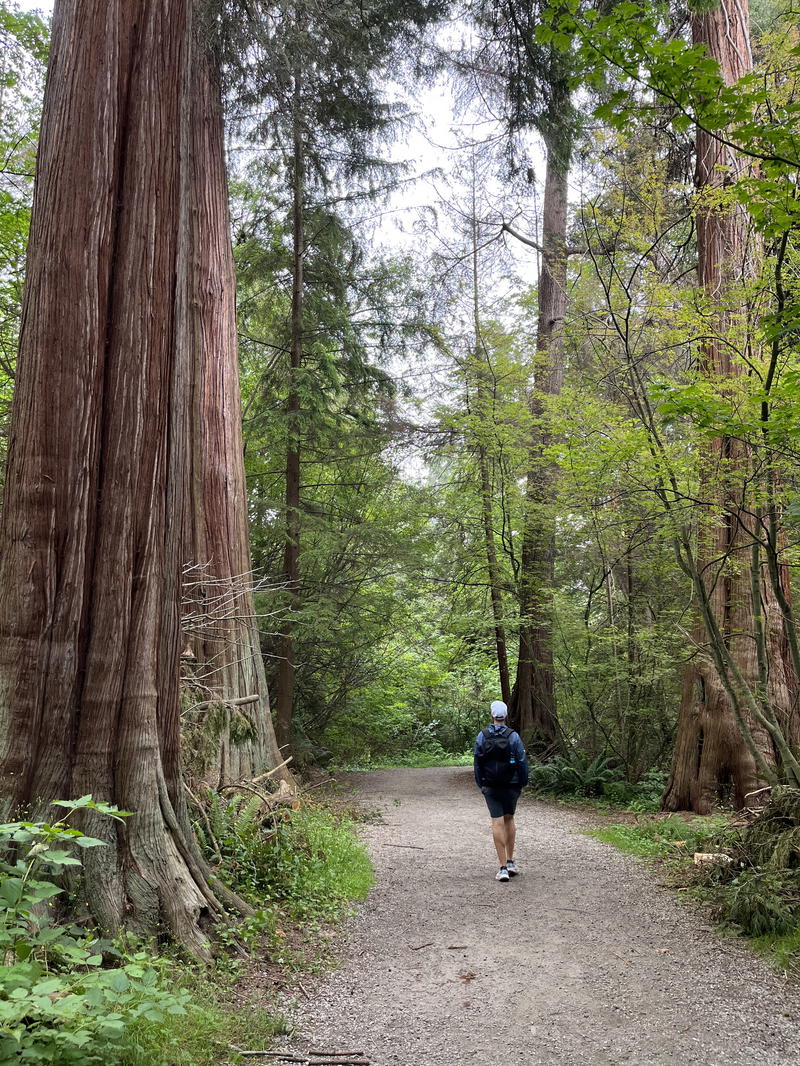 Our top picks for Vancouver on a budget:
How can you travel to Vancouver on a budget?
For us, there were a few key tips that kept our Vancouver trip costs down. First, we walked a LOT… even if it rained (and it rained a lot)! Dan went running on the waterfront, and I went out for a walk to see new neighborhoods while he was working out.
Next, we didn't eat at the Michelin-starred restaurants or upscale "musts." We did our own food research and ate at restaurants that we came across when we were feeling hungry. I knew I wanted to travel to Vancouver for Asian food, so I sought out Vietnamese food and sushi at little places that wouldn't break the bank.
Third, we took Uber! I have to say, I was surprised that most Uber trips were under $10 for going a few miles within the city. I had been scared off by so many reports of Vancouver being expensive, and taking Uber was an economical thing to do in the end.
Last, we used points and miles (the ultimate travel hacking move). We flew to Vancouver, and back, in two separate one-way transactions. For flights from NYC to Vancouver, we used all our United miles, pooled together. For the return flight, we used our Capital One Venture X credit card points. We used the rest of those points for our hotel (which was a budget hotel).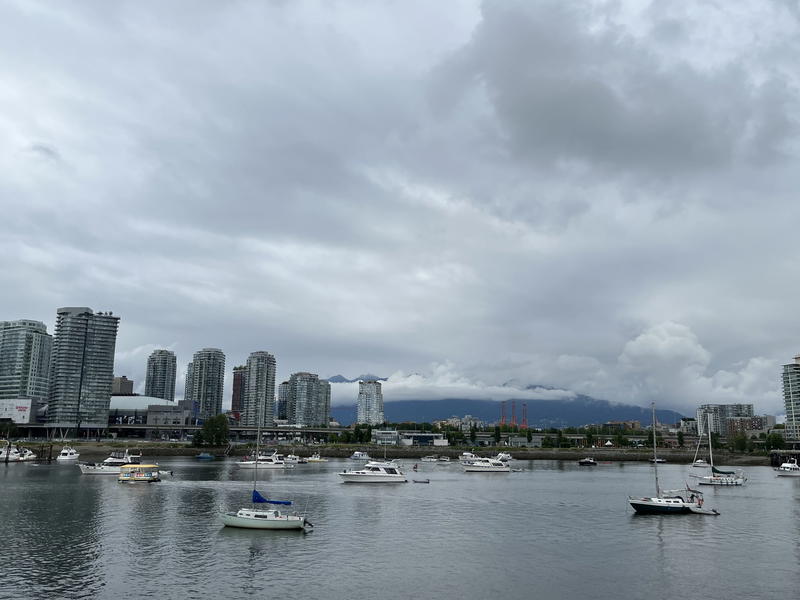 Where to stay in Vancouver on a budget
When I started looking into accommodation in Vancouver that wouldn't break the bank, the pickings were somewhat slim. After all, we were going in high season (middle of summer), which is supposed to be the best time to go to Vancouver! Everyone wants to go to western Canada in the summer months.
I usually weigh my options among hotels, Airbnbs and hostels, as I talk about in my guide to booking accommodations. We wound up staying at a budget hotel that turned out to be really nice, for the bargain it was. I'll detail that here, along with other inexpensive accommodation options in Vancouver to consider.
I think the Victorian Hotel was the top winner in this trip. I always like to stay in a good part of a city where we can walk to lots of things to do, and luckily, the Victorian Hotel was located a few blocks from Gastown, and walking distance to the waterfront. I couldn't ask for much more.
Our room was teeny tiny (as in, there was just a few square feet of walking space around the bed), but there was a sink (no bathroom), a closet, an A/C unit in the window and a desk. The only sacrifice we made by staying at the Victorian was that bathrooms (for the room we chose, to stick to the budget with our hotel points) were shared.
This may come as a shock to some, but the thing is, the Victorian Hotel is a historic building, and en-suite bathrooms for each guest room just isn't a possibility. When I went to Banff several years prior, I remember staying in a hotel that had this shared bathroom aspect.
It reminded me of staying in a hostel, except it was a hotel for adults and maybe some families. I was glad that I was completely briefed on what sharing a bathroom is like at a hotel, because I was prepared with my own flip-flops to wear from the shower back to our room.
The good news is that the shared bathrooms were about one bathroom to every three or four rooms, and they were cleaned VERY frequently by housekeeping staff.
Overall, I gave the Victorian Hotel a five-star review, and I think if you do enough searching for budget hotels in downtown Vancouver, you won't come up with many more options! This is a great one that I recommend from our experience staying three nights there.
The YWCA Hotel Vancouver is the other option I was eyeing for our dates. This is a budget option in the downtown Vancouver area where you can get a clean room, private parking and access to a gym. You won't find any other hotel in the immediate area with a location nearly as good for a price like the nightly prices at the YWCA.
Although it's not trendy, chic nor much to write home about, the YWCA Hotel is a good choice if you are looking to save money during your trip. There are rooms with double beds as well as queen-sized beds. If you are trying to avoid shared bathrooms, note that some rooms will have the shared bathroom aspect, and some may have private en-suite bathrooms.
Some bonuses that you won't find at all hotels are that some rooms have refrigerators and desks. Overall, this budget accommodation is a Vancouver mainstay for travelers seeking inexpensive places to stay. I recommend booking at Booking.com to see all the amenities clearly for each type of room.
When I search for hostels in Vancouver on Hostelworld, I get five results, and one of them is already the YWCA Hotel, which I wrote about above!
The other hostels in Vancouver worth recommending are:
That's it. It looks as though Samesun Hostel Vancouver has temporarily closed, according to listings for it that have been taken down as of 2023, and the Vancouver Backpacker House has poor reviews on Hostelworld (and beware: it is a "boarding house"), so I'd stay away from that.
None of the hostels in Vancouver have overwhelming ratings, so I'd honestly point you back to the Victorian Hotel or the YWCA, above.
Airbnbs in farther-out neighborhoods
Airbnbs were what I originally thought we'd wind up going with for our trip. After all, we'd get a local experience in a local neighborhood, even if we did a private room in someone's home, right?
I started searching for Airbnbs in downtown Vancouver. Everything was pretty expensive, even for private rooms within a home, as opposed to "Entire home." Then I expanded my search and kept expanding it until we would've been staying so far from everywhere we would've wanted to see, that it wouldn't have made sense.
If you are sold on staying at an Airbnb (private or shared room) in order to save money while visiting Vancouver, I think it's worth stating that you won't be staying in any of the "downtown Vancovuer" areas (and this is a big area: basically the entire area from West End to Gastown).
Where you'll see prices start to go down for either an "entire place" or a "private room," are in the neighborhoods of Kitsilano (which is residential and has a beach!), Mt. Pleasant, Strathcona and East Vancouver. There are options for under $100 a night in these areas. For us, it would've been too far of a stretch from where all our friends were staying during the weekend we visited.
Helpful Tip
If you wind up filtering your accommodation search for "A/C" because you're traveling to Vancouver as a destination to escape the summer heat, consider that nights in Vancouver during summer are in the mid-50s to mid-60s (Fahrenheit), so you may not need AC after all. This may expand your search results a bit!
Ways to get around Vancouver on a budget
We went to Vancouver and saved by choosing to not rent a car! In fact, a trip to Vancouver is totally doable without renting a car. You may be a dab limited by the day trips you can take, but you can always take Ubers, public transit or walk.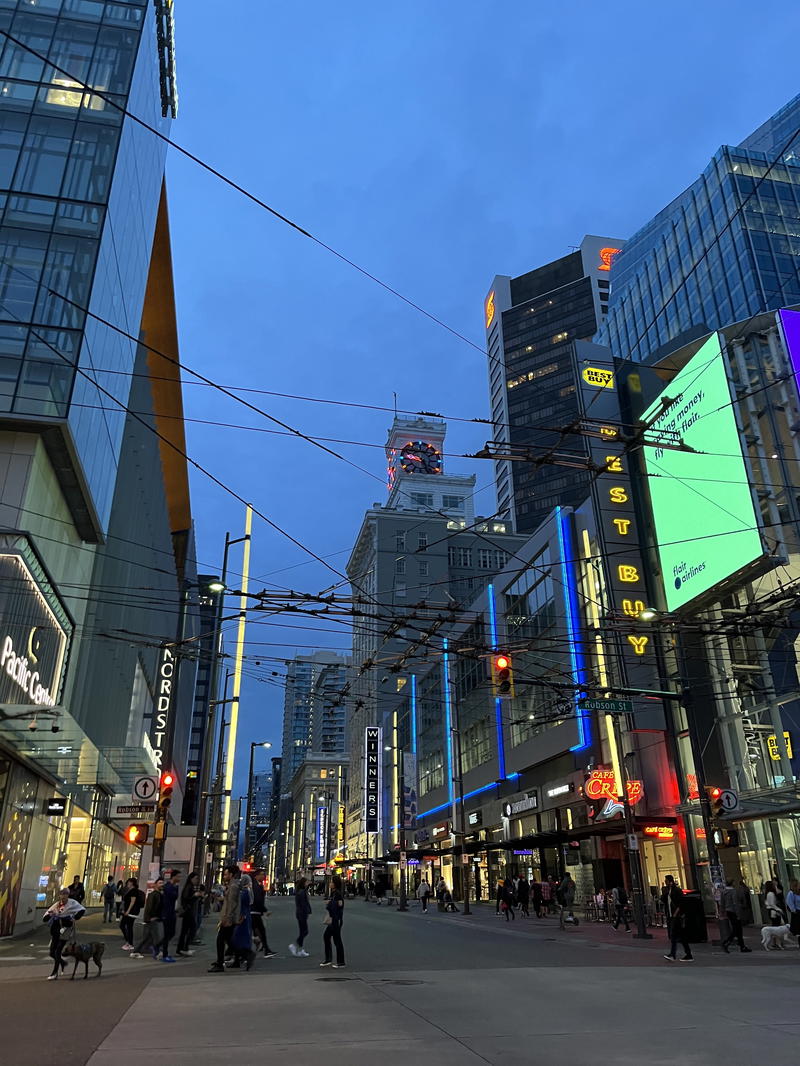 Airport train
I was very, and I repeat very excited to find out that Vancouver had a metro train line that connects the airport (YVR) to downtown Vancouver. It reminded me a lot of Hong Kong. When we landed at YVR, we were sure we wanted to check out the Airport SkyTrain instead of taking an expensive taxi.
Just like the rest of the locals, we followed signs to the SkyTrain and got tickets at machines. It was only around 4 Canadian Dollars! I mapped our route to the Victorian Hotel, and we didn't even have to transfer train lines.
We were able to take the SkyTrain because our flight got in around 9 pm. Note that the SkyTrain runs on the Canada Line, and the last train is around 12:45/1am, while the first one is around 4:45/5am. If your flight is delayed and gets in when SkyTrain is closed, you'll have to take a taxi, or wait. You can see all about SkyTrain at the Translink website.
Learn more about all the ways to get to and from YVR.
Uber
We were so surprised to take Uber within downtown Vancouver and have the rides cost under $10. With the prices of Uber in NYC, this was unimaginable, and we thought it would be similar! We were wrong.
With how much it rained in Vancouver, we took Uber a few times to avoid getting wet (and wetter). We also took Uber if we were running late to some of the wedding festivities during the weekend.
Walk
We walked SO much in Vancouver. Our days walking around Vancouver took the cake for my huge numbers of step counts the month that we traveled there.
I liked walking from our hotel through the various neighborhoods, to learn about the city. We walked to Chinatown, and to Olympic Village from Granville Market, and we walked out to Stanley Park. We almost walked back from Stanley Park, but the rain was too heavy.
Take public transit around Vancouver
Vancouver has a very good public transit system, and it is the sure budget way to get around if you would like to avoid regular taxis or if you can't do too much walking. The metro system works with "zones," which are priced differently (but are not expensive), depending on how far you are going. Single fares can be as low as 3 Canadian Dollars (US$2.20).
There is a LOT to learn about Vancouver's public transit, and you can read about it at the City of Vancouver website. Aside from the metro, there's buses, "SeaBuses" and the "West Coast Express." A bus ride costs around 3 Canadian Dollars.
What are the best budget things to do in Vancouver?
In this section, I'll tell you everywhere we ate, hiked, walked and drank. This is basically a list of everything we did, so that you can see what a great time we had by keeping things inexpensive!
Stanley Park
Stanley Park is really one of the most lovely parks in the world. There is so much to do, and it covers so much land with so much biodiversity. Could you tell that I wish I had more time to explore Stanley Park?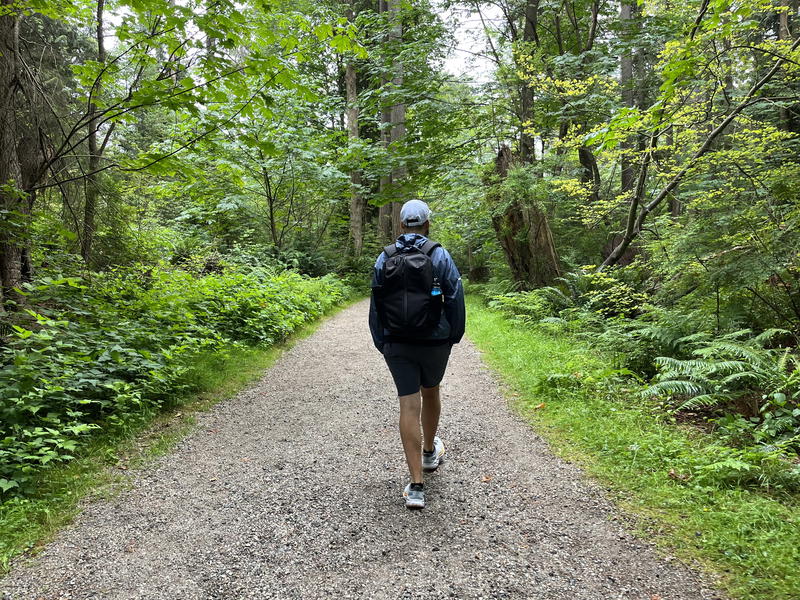 Visiting the park is free, and there's no shortage of things to do for solo travelers, couples, families and kids. We passed by friends of ours who had rented bikes, as we were on the way to the Rose and Perennial Garden.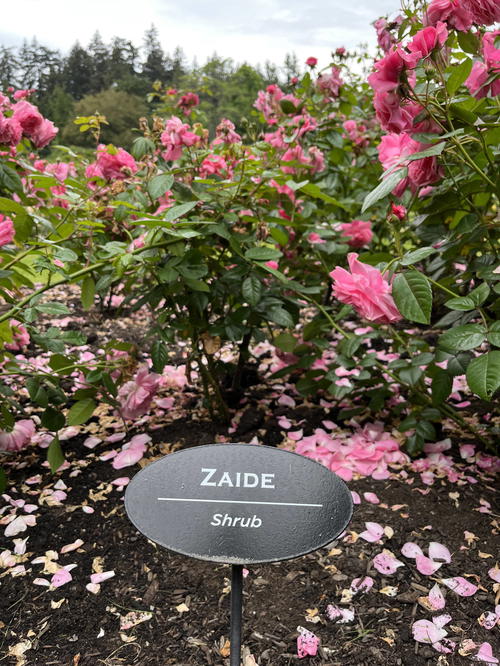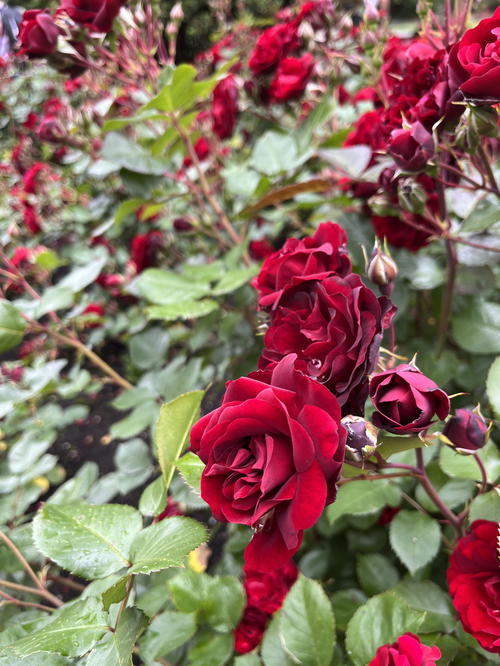 After visiting the famous Totem Poles, we took a flat hike through tall trees that made us feel like we were miles and miles from a major city! We walked back to our hotel via the Stanley Park Harbourfront Seawall, and covered a ton of ground. Here's more of what to do in Stanley Park.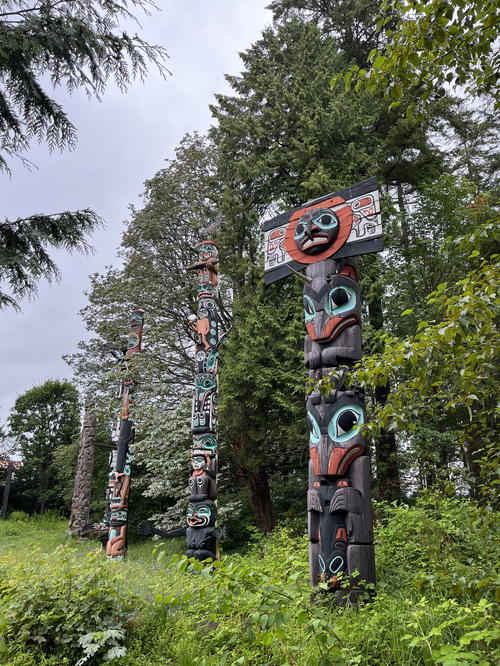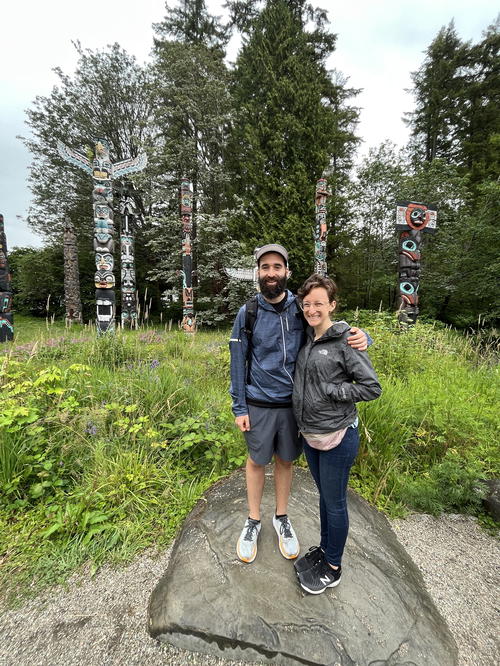 Inexpensive guided tours to take in Vancouver
If you're the type who likes to go on a guided or themed tour, there are quite a few interesting tours and activities that won't break the budget!
Walk the Seaside Greenway (Seawall) Path
What Dan and I both really like about Vancouver is that you can walk a lot, and walking is free! Here is a PDF map of the Seaside Greenway (Seawall) Path, which will let you walk (or run) for miles along the waterfront and toward Stanley Park. This is a beautiful place to be walking at sunrise, or sunset.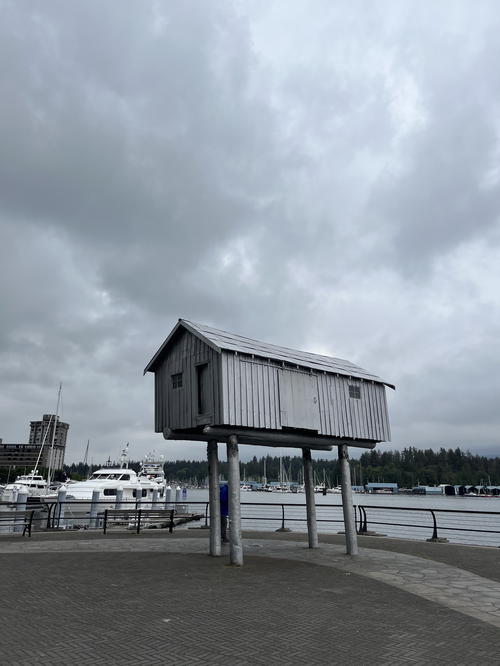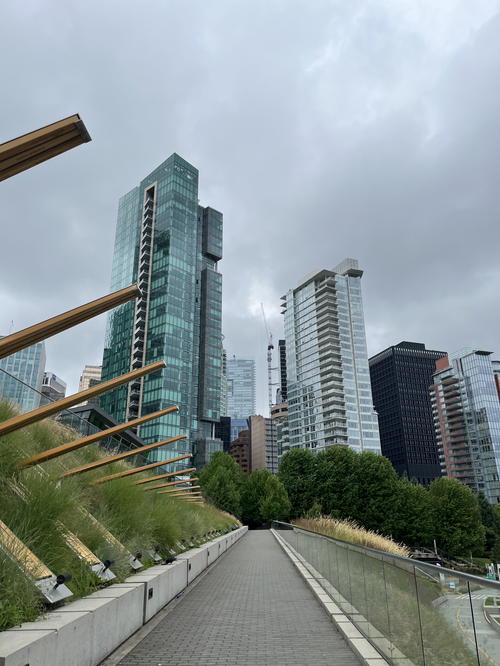 Grouse Grind, and the BEARS at the top
Hiking Grouse Mountain was the one thing I knew we were going to do, before even setting foot in Vancouver. I was a little bewildered because I heard it was a HARD hike!
Was it? YES! Was it worth it? Also yes! The Grouse Grind is an "uphill the whole way" hike that basically does not let you take any breaks! We did it with a group of friends, and we even got lost finding the top, so we did some extra hiking. I would recommend bringing a LOT of water, and snacks, in case you feel winded! I'm pretty sure locals do this hike like it's nothing, so maybe I'm just out of shape. Here's more about the hike.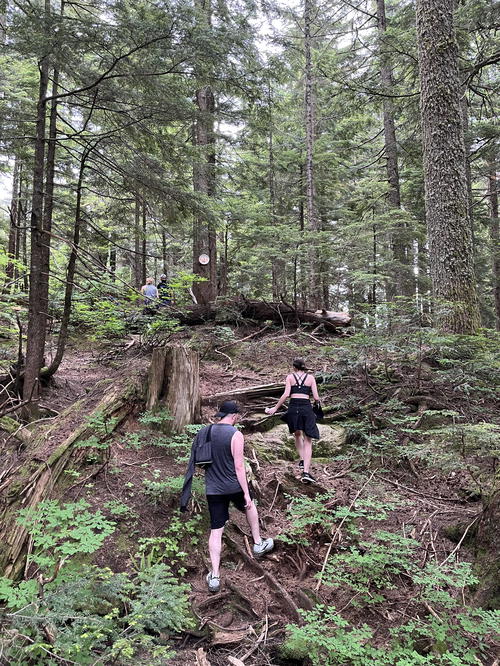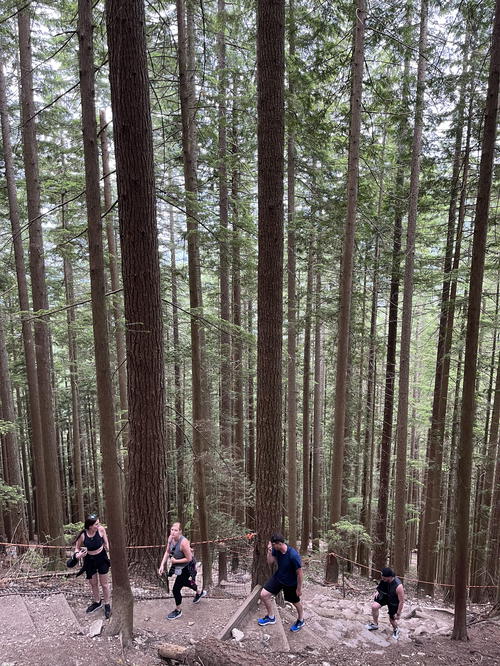 The most surprising (and cool) thing was that there is a bear enclosure at the top, along with an entire tourism village. The Grouse Mountain Wildlife Refuge was pretty impressive, considering I did not expect to see large animals at the top of the hike. There's more information online about the wildlife refuge.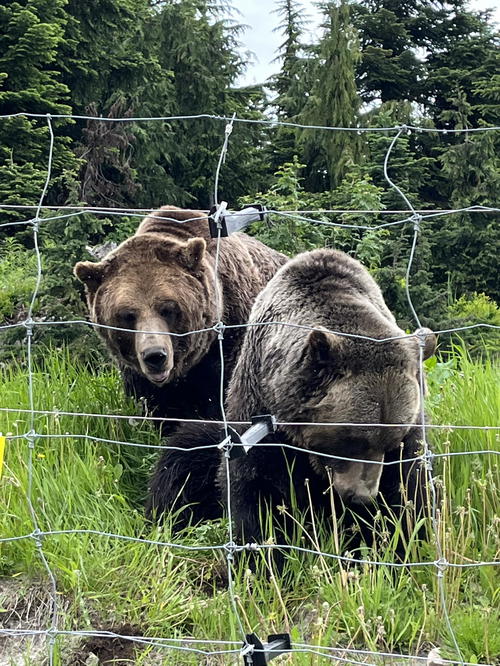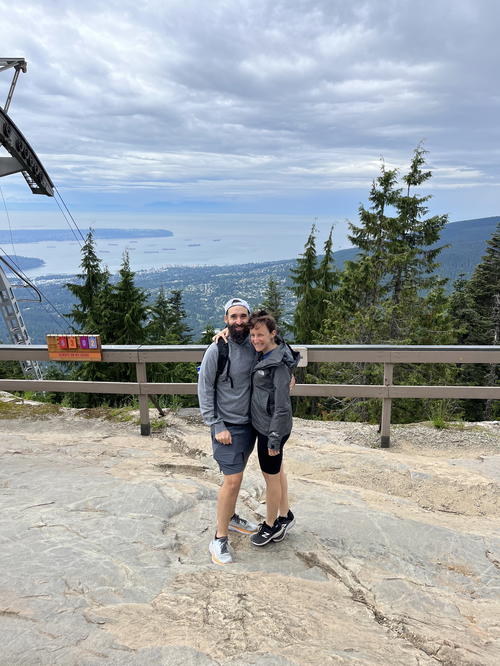 Helpful Tip
From experience, our tip is that getting an Uber from the bottom of the Grouse Hike was challenging, to get back to downtown Vancouver. Either try to arrange a ride in advance, or be prepared for several cars to cancel on you before you have some luck. For getting there, taking Uber was not a problem, and there's also a bus from Gastown.
Granville Island and Granville Island Public Market
So, so many friends recommended to us that we take a morning to go to Granville Island and Granville Island Public Market. Granville Island is an island within the city of Vancouver, and it's small! You can also walk off one side of it back to the city's mainland. As for crossing the water to get to the island, you can take a tiny ferry!
We walked to the Aquabus David Lam Park Dock to get the ferry, and wow: this is the smallest ferry I've ever been on. It felt like being in a cartoon.
Once on the island, there's a lot to do, among visiting art galleries, seeing the market itself and checking out the boutiques and stores.
We left via the bridge and walked to Olympic Village (which wasn't so interesting, and I'd say you can skip this if you only have a few days).
Robson Street
Robson Street is a big street, and a big deal in Vancouver! If you're looking for a free activity to do in Vancouver, walk for miles on Robson Street! It starts (or ends) at BC Place (the big stadium) and ends all the way at Stanley Park! In fact, if you have a ton of time on your hands and you're looking for a great way to see a lot of Vancouver, you can walk the whole thing.
We went to Sushi Bros on Robson toward the east end, and we stopped for snacks at Whole Foods Market on Robson (near Bidwell St.) at the total opposite end on a different day.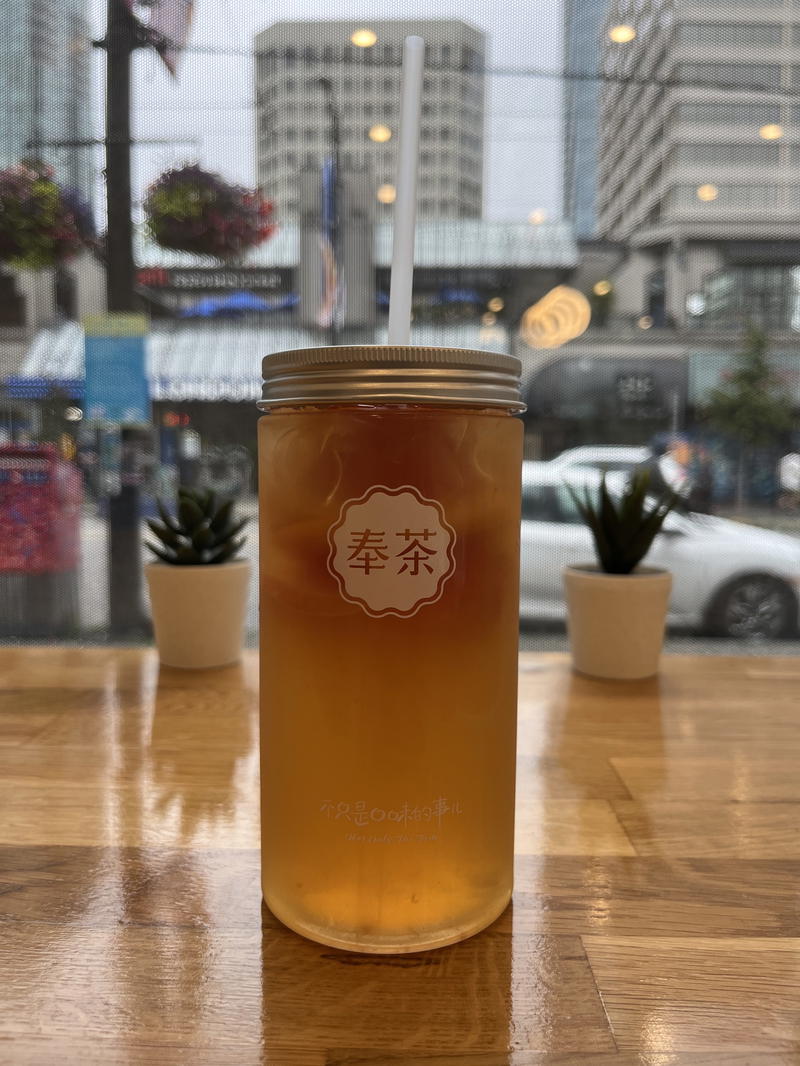 Chinatown
I like to visit Chinatowns everywhere I travel: San Francisco, Costa Rica, Vietnam and "Barrio Chino" in Lima, Peru. We did a BIG walk on our final day in Vancouver, and wandered from Olympic Village all the way to Chinatown, to see what it was all about.
Chinatown in Vancouver has a lot of history, for sure, but all in all, I was let down with how it didn't feel entirely safe. At the time, Chinatown was next to an area that had turned into an encampment and some storefronts were deserted. I'd only recommend going to Chinatown if you're with a local friend who knows what to do and where to eat.
Gastown
Gastown is a cool neighborhood with a famous photo spot and landmark, the Gastown Steam Clock (grab a photo)! We walked around and window-shopped the boutiques and restaurants. I wish I could say I was a Gastown expert, but for real detailed info, I'll direct you to this guide.
Where to eat in Vancouver on a budget
We didn't eat anywhere fancy in Vancouver! Like I wrote above, we're not the types to check famous restaurants off a list. We'd rather see what we come across. As it is, we're already a little picky, as I'm a gluten-free traveler and Dan is a vegetarian. As it turns out, Vancouver was an excellent place for gluten-free travel as well as a perfect vegetarian destination.
Cardero Bottega / Cafe
I came upon Cardero because I was looking for a coffee spot where Dan and I could sit outside and enjoy a local neighborhood. Not only did we get that, but at Cardero, it's also a Latin American food shop! There is a fridge with authentic imported food products, as well as lots of snack products from abroad.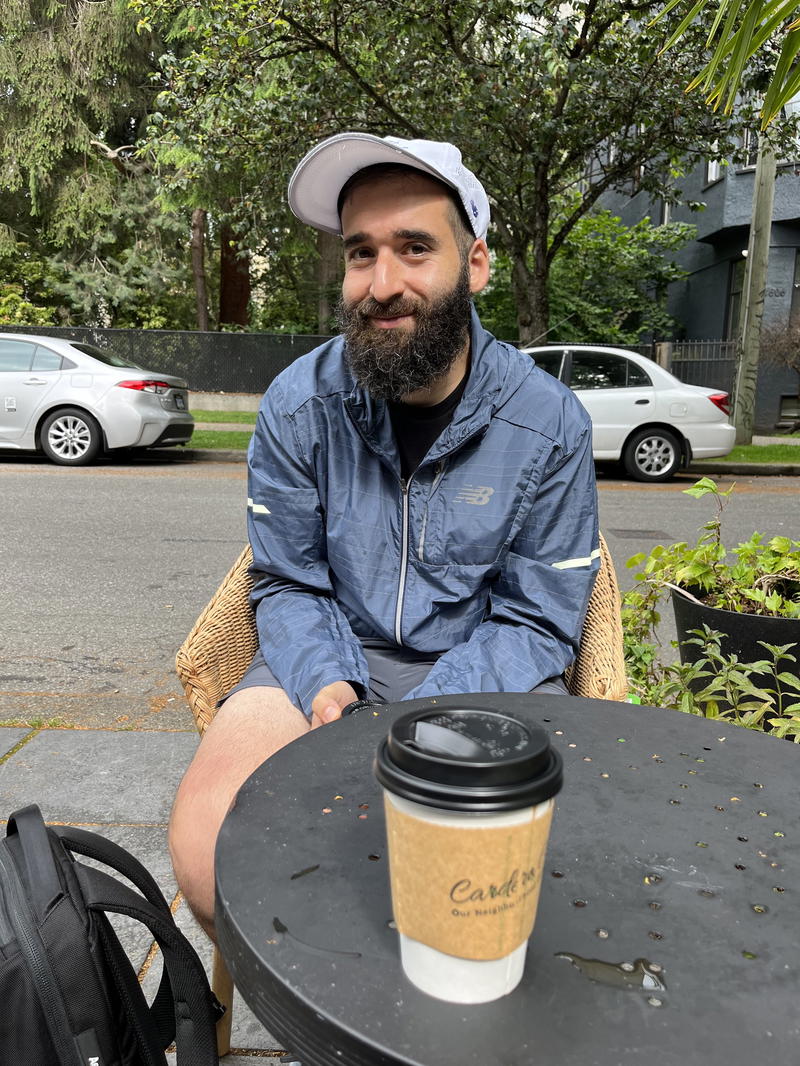 Sushi Bros
This small sushi joint is very moderately priced, and that's why we went there! Every sushi roll we got was delicious.
MoMo Sushi
We ate at MoMo Sushi in Gastown, and, having been to Japan, it felt really authentic!
Sen Pad Thai
While not the cheapest, Sen Pad Thai was an OK bang for the buck at Granville Public Market, where nothing is really too cheap. Also, the curry was delightful.
Pholicious
This was probably my favorite restaurant in Vancouver, and it's a totally casual pho restaurant where the owners are from Vietnam and our food was awesome. It was a great budget find, and I would've gone twice, if we hadn't had other neighborhoods to see and explore.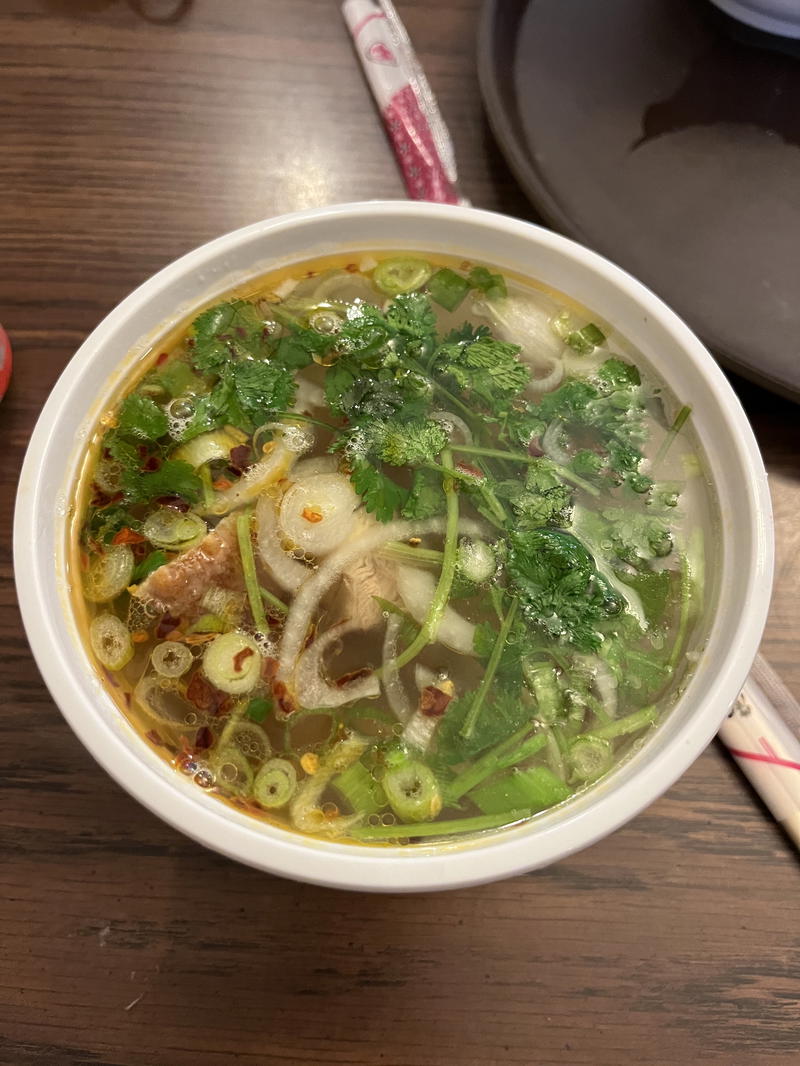 Holy Guacamole
This moderately-priced Mexican place is a fun colorful spot and we left full! We got to talk to the owner, who was from Mexico. It's located on Denman Street, which is a good walking street with lots of restaurants.
Enjoyed our article?
Consider supporting us! We're a 2-person team (learn more about us here) and your support enables us to create quality content. Thank you!