16 Best Coffee Shops and Cafes in Antigua, Guatemala
Written by Becca
•
Updated on October 30th, 2023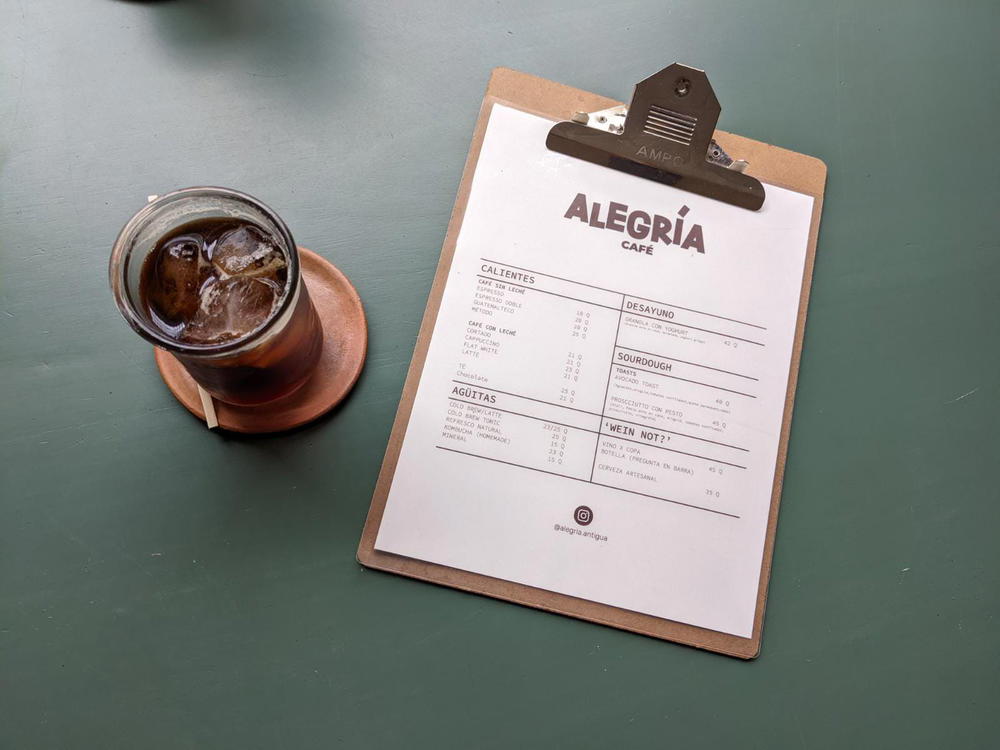 With so much coffee in Antigua, Guatemala, here's an Antigua cafe guide to find the most picturesque coffee shops, cafes for working remotely, and the best rooftop views.
This article may contain affiliate links. We earn a small commissions when you purchase via those links — and it's free for you. It's only us (Becca & Dan) working on this website, so we value your support! Read our privacy policy and learn more about us.
Do you love coffee? I do.
I also love cool coffee shops, cafes with delicious menus, beautiful rooftops and awesome ambiance where I can relax while I'm traveling.
Antigua, Guatemala is a wonderful destination for all these things, in the best type of way. In fact, you could spend a week in Antigua and start your morning with an espresso or americano on a different cafe, even on a different rooftop terrace, each day.
This gorgeous Latin American destination has had a quickly-growing cafe scene that is attracting locals, travelers, expats and coffee lovers. The cafe scene is diversifying, taking price in local Guatemalan coffees and capitalizing on incredible rooftops with volcano views.
I like Antigua so much that I've gone twice, and gotten to see how the city changed in seven years' time. Remember to bookmark this guide of the best things to do in Antigua as you begin your trip!
What I do want to emphasize is that the cafes you find other guides online may have closed, so tread carefully on guides that have not been updated since 2017, 2018 and 2019. The info you'll find here is updated for 2023.
I'd also like to thank Emma, founder and owner of ECS Ceramics, who helped take coffee photos for this cafe guide to Antigua!
12 Onzas
Find it here! 4a Calle Ote. 5, Antigua, Guatemala
12 Onzas is the one cafe that we tried because we walked by the entrance on the street and thought the interior looked cool. This cafe didn't come up in my Google Maps search for 'coffee,' and it could be because the place is too new!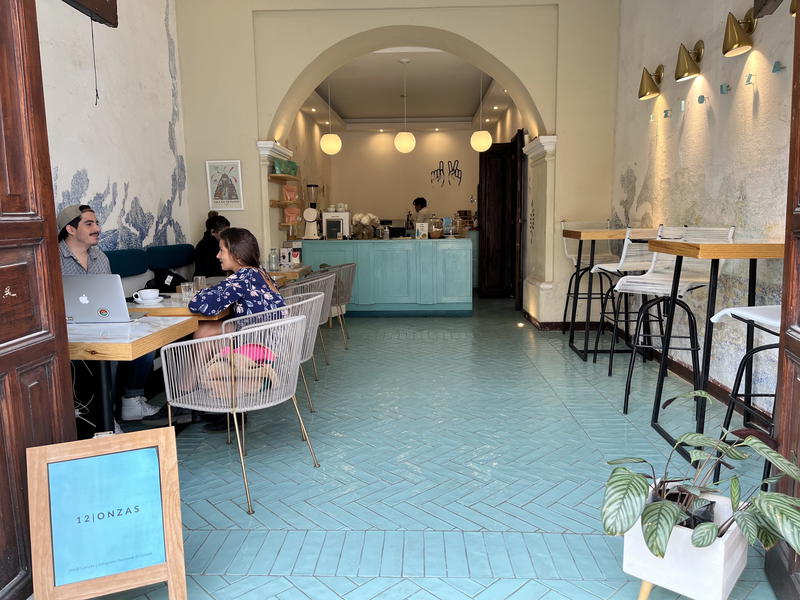 After spending a morning drinking cold brew and trying the brunch at 12 Onzas, we were hooked. This is the kind of place you can go to three times in two days and eat all your meals there if you want to. Their coffee is direct from their farm, and they sell it on the shelves next to the counter!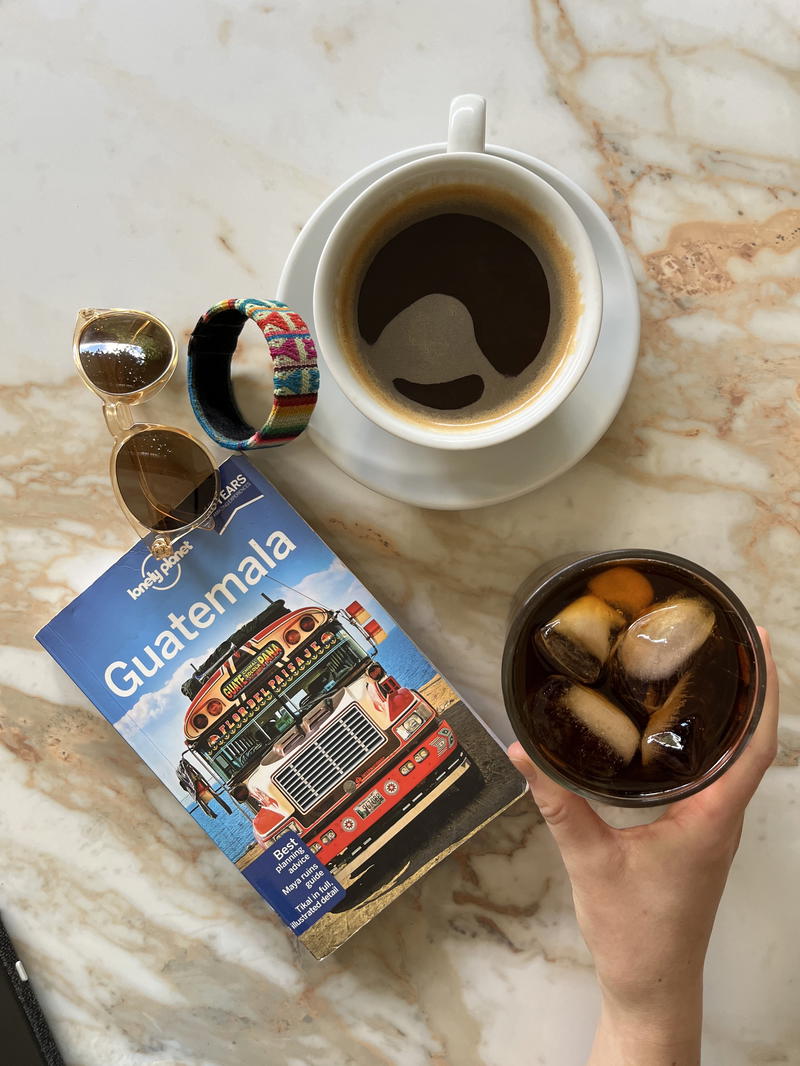 We tried the lunch salads, the avocado toast, the cold brew, the omelets and the americano. The staff is so friendly and helpful, especially because I have a list of food allergies. They made everything so that I could eat it!
12 Onzas has indoor seating, and it's bright and modern, with great colors and nice lighting. You may come by in the late morning or afternoon and see every seat taken up by digital nomads working remotely, and this is welcomed there.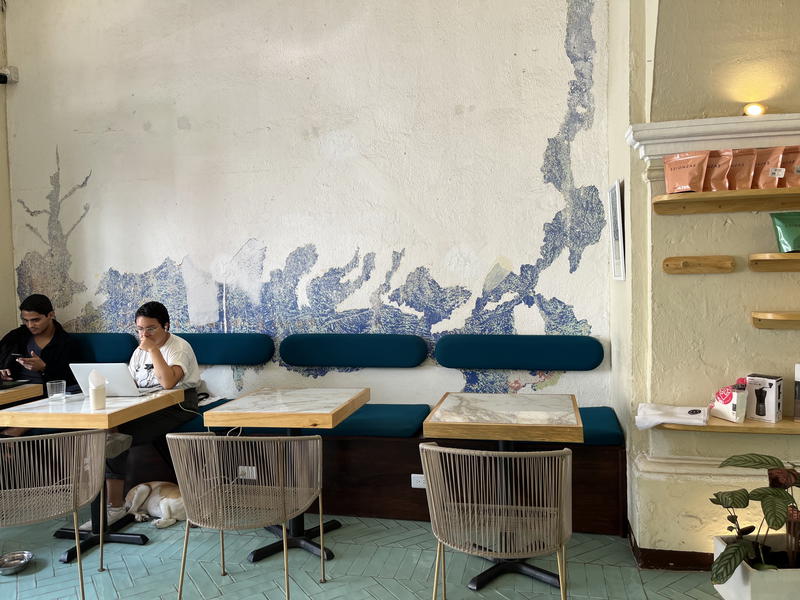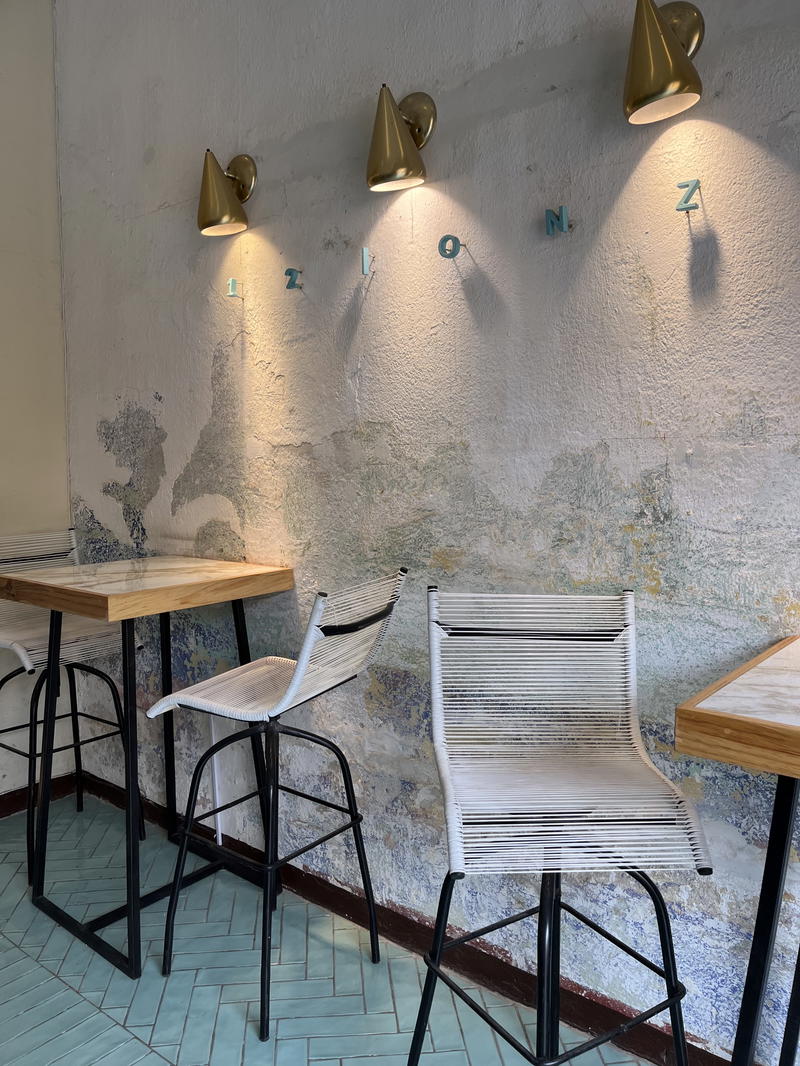 My suggestion is to go early and get seating at one of the cafe's three or four tables that they have in the shared courtyard of the complex that also houses a store and another restaurant. Hope you enjoy 12 Onzas, and check out their cool Instagram.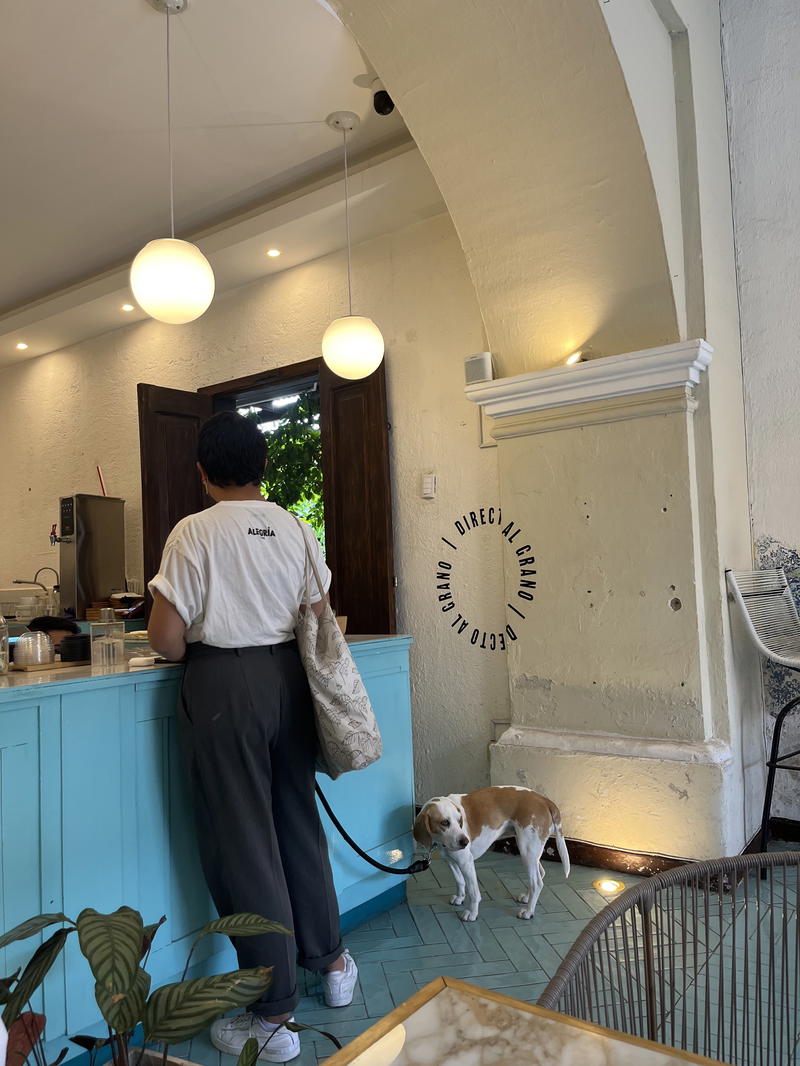 El Gran Cafe
Find it here! 5a Calle Poniente 3B, Antigua, Guatemala
This little cafe near Antigua's Parque Central is also one we stumbled upon while looking for coffee to buy, and we lucked out.
In perusing the entire wall of coffee bags for purchase, the barista let us have a taste of the coffee that was already brewing, so we could decide what we wanted to take home with us.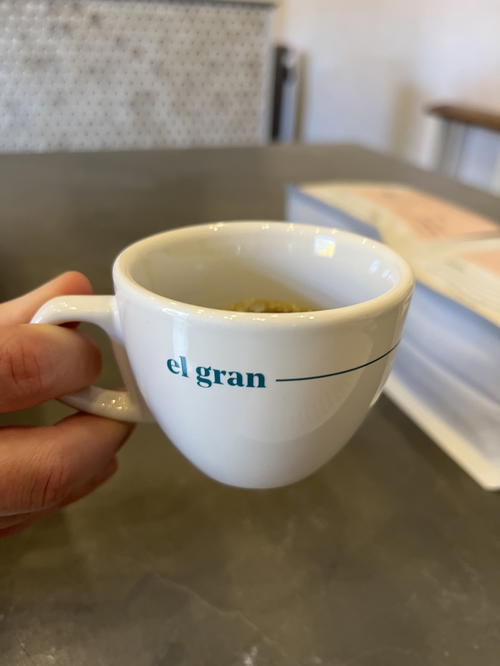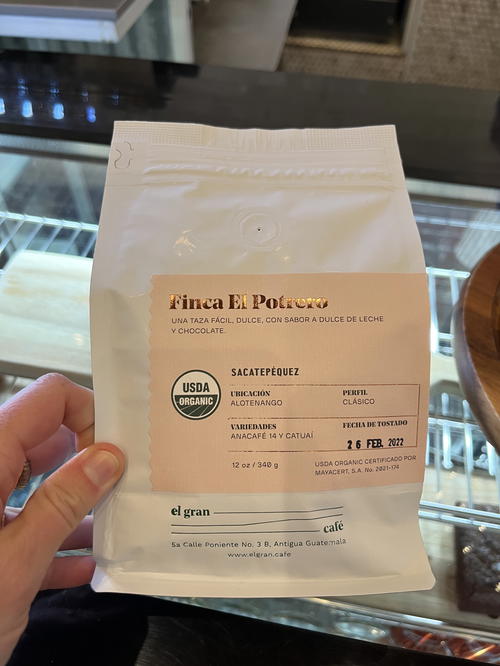 What drew me in to El Gran Cafe was the adorable minimalist sign on the wall outside, and then the interior was a surprise as well with its white tiles, signature dried roses, traditional colonial windows and patterned tile floor.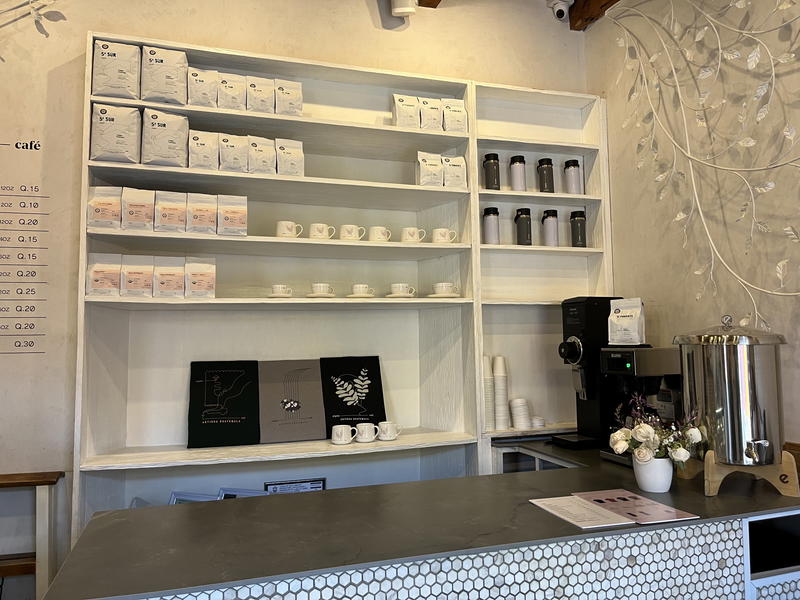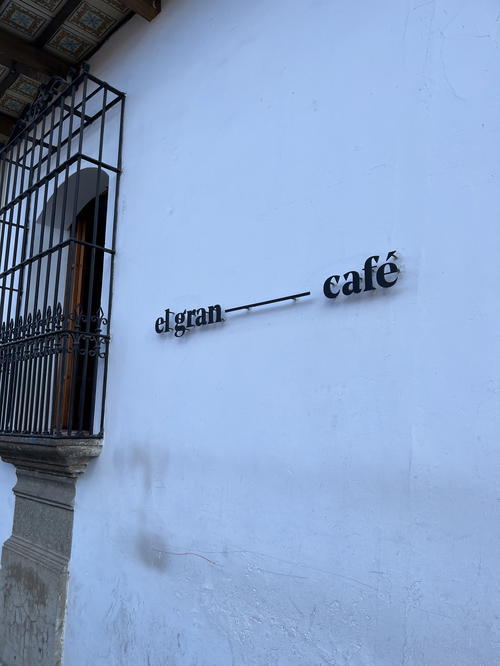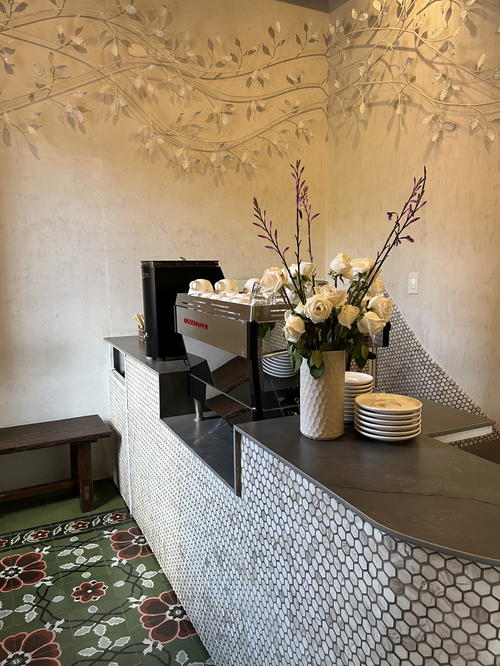 This cafe is too small to sit in for an extended period of time, but you can stop in to have a coffee beverage, buy a bag of their coffees and check out their merch while you're at it!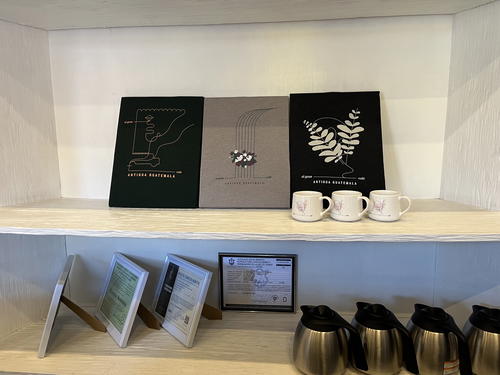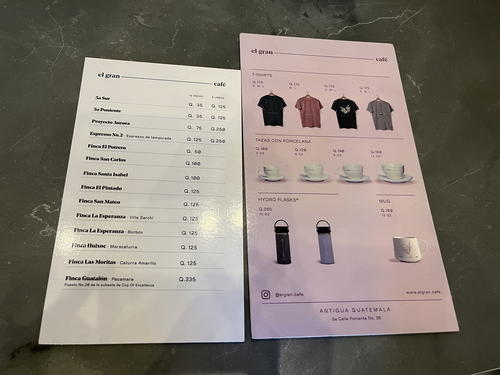 Cafe Estudio
Find it here! 2 Calle Poniente 2 A Antigua Guatemala
This cute cafe has one of the best rooftop views in town, and they have a variety of coffee drinks as well.
Actually, their rooftop is huge, and the views are panoramic. I think this is for sure my favorite aspect of Cafe Estudio.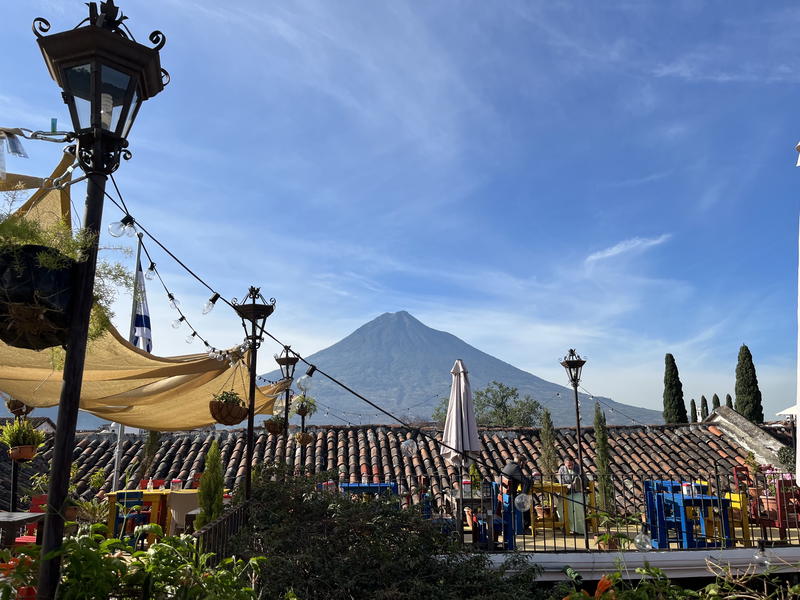 For food, there is a breakfast of the day, so if you're into fewer options, this could be your kind of place. The downstairs interior is small, and you probably wouldn't want to spend too long there because it's also the coffee bar and the food kitchen, but head up the staircase in the courtyard to the roof and you will be wow-ed like I was.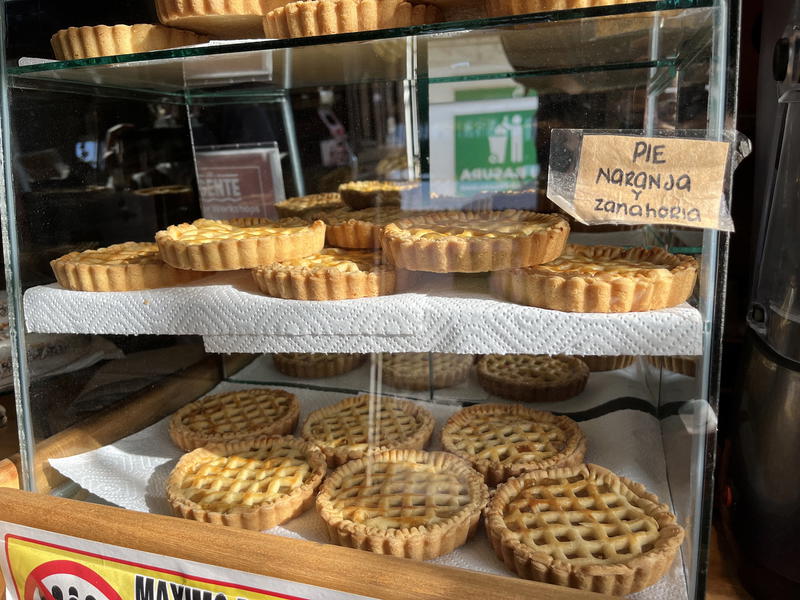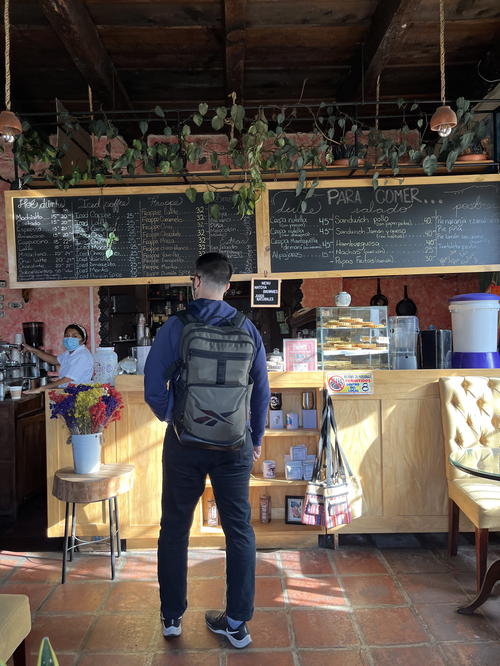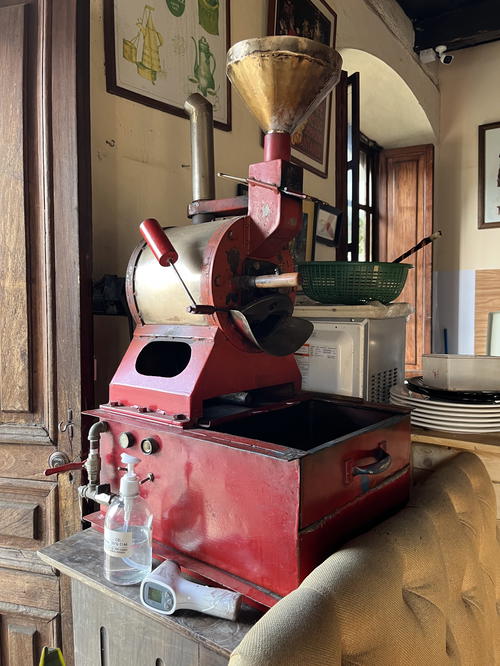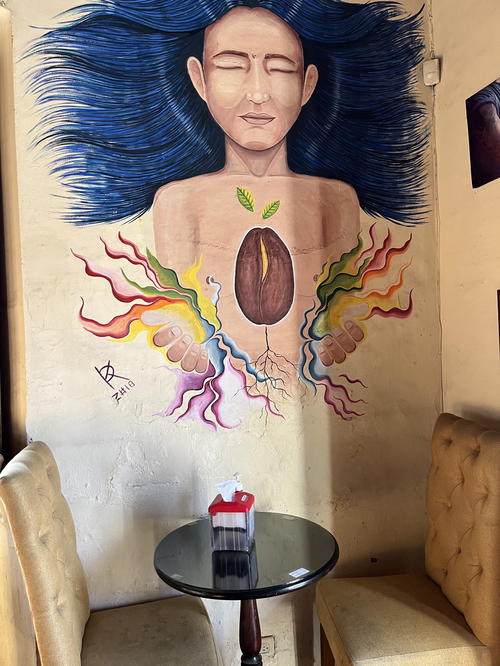 We tried both the espresso and the americano, along with the breakfast of the day, which was not as fancy or Insta-friendly as other cafes in town. If you're seeking the perfect photo, don't count on their food being plated for the 'gram.
If you want great rooftop photos though, I think our shots speak for themselves.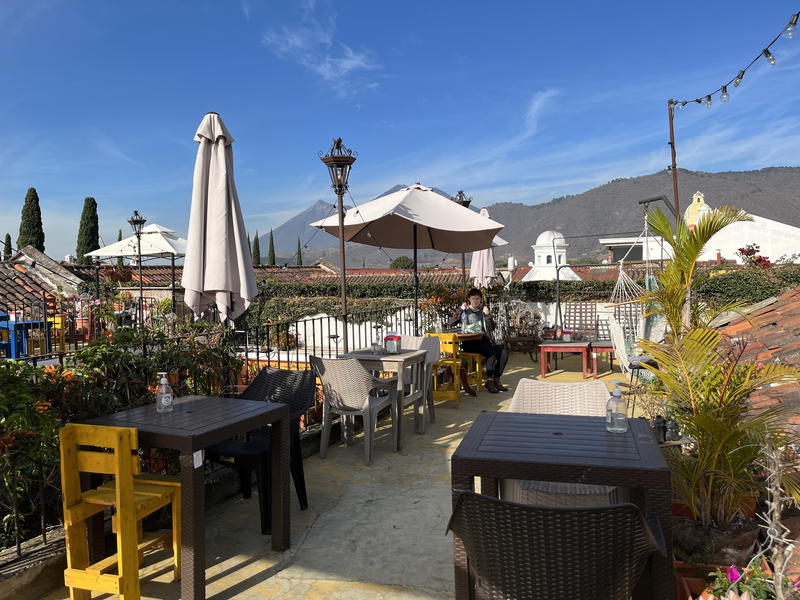 Artista de café
Find it here! 5ta avenida sur no. 34B, Antigua, Guatemala
Artista del Cafe is an adorable place only four blocks south of Parque Central in downtown Antigua. If you're into Insta-perfect places to sip on your morning caffeine, this could be the spot for you in Antigua.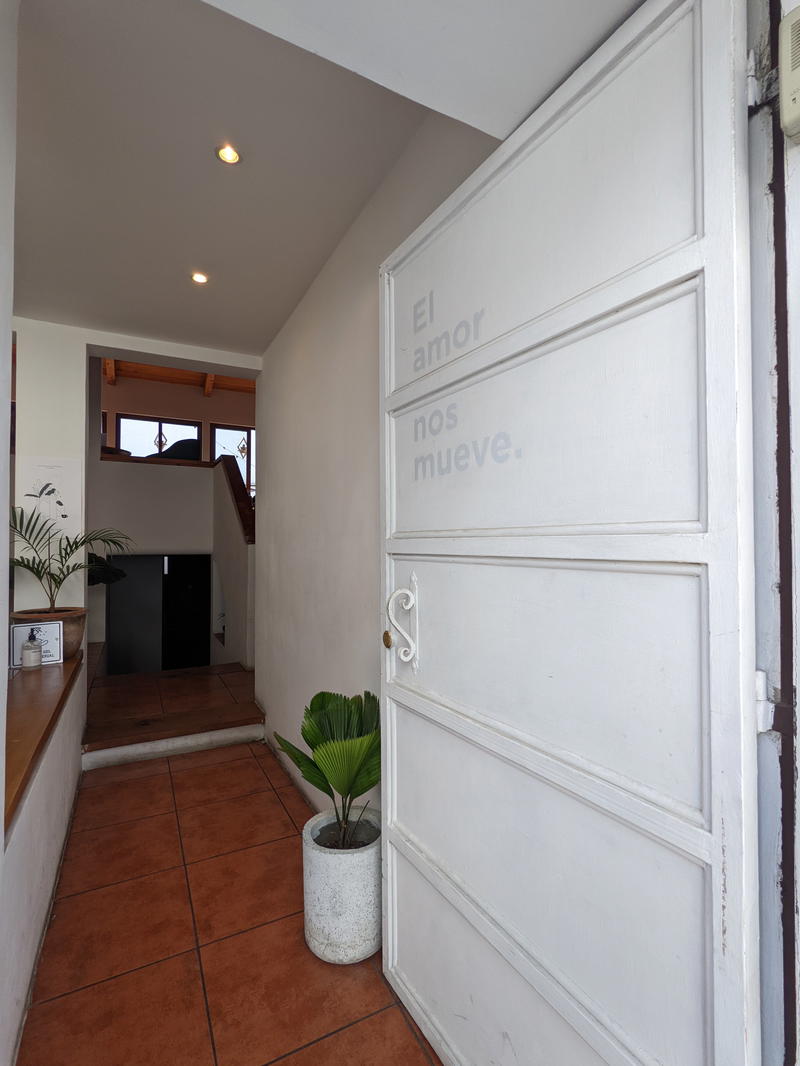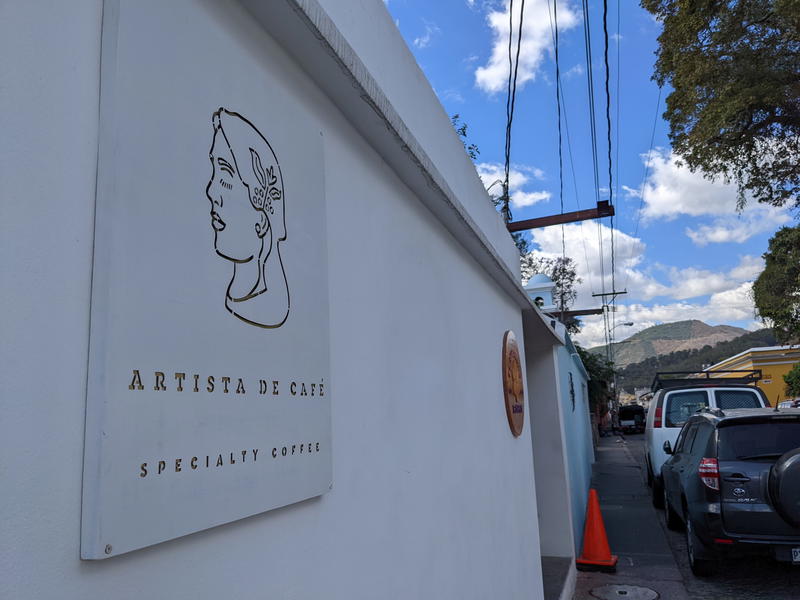 With its airy whites, wood tones, plants and cool branding, this third wave coffee shop is a hub for cool folks who want to chill and enjoy great design.
On the menu is everything from your regular flat white to a dirty chai, and then there's a set of cold drinks (called "Amantes del Hielo," or, "Lovers of Ice") including a cold brew single origin and Shakerato.
Come hungry, because they do bagels, avocado toast, a variety of pastries and a breakfast bowl of yogurt and fresh fruit.
What's not to like about this Antigua cafe? It's beautiful, with great vibes, clean lines, amazing drinks and colonial charm. Check out their website here.
Alegria Cafe
Find it here! 5 Calle Poniente 2, Antigua, Guatemala
This new and lovable cafe has awesome interior design (see it on their Instagram) and features art from local designers. With a friendly and welcoming owner, this is a warm cafe with cool-hued walls and a great vibe.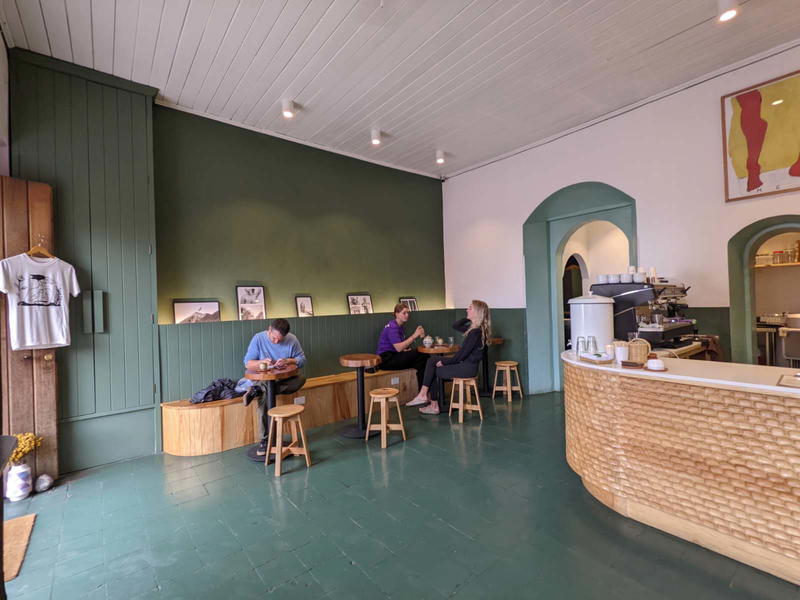 Alegria Cafe sells coffee, T-shirts and exclusive limited-release merchandise that you can take home and enjoy. Also, they serve drinks and food on cool plates and glassware, so you'll want to take photos. Level up your photos with our guide to learn how to take pictures in cafes.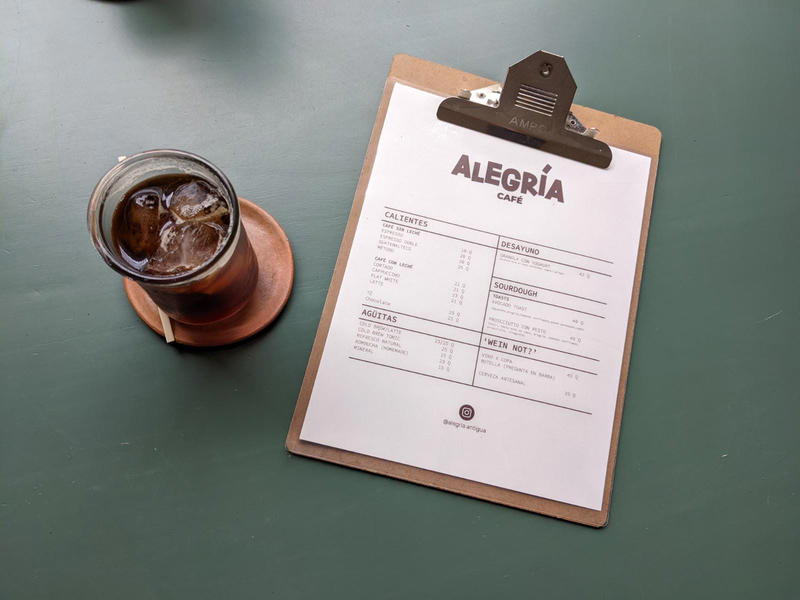 Travelers comment that this coffee shop has some of the best specialty coffee in all of Antigua, and that their cookies are delicious too.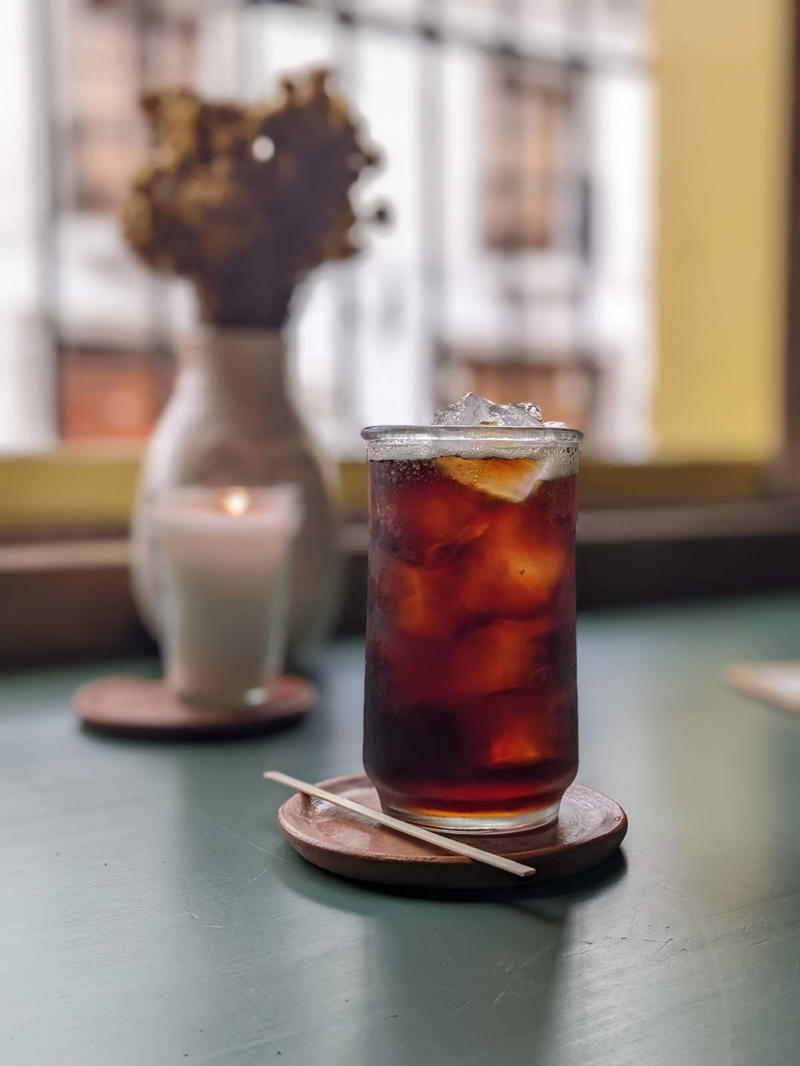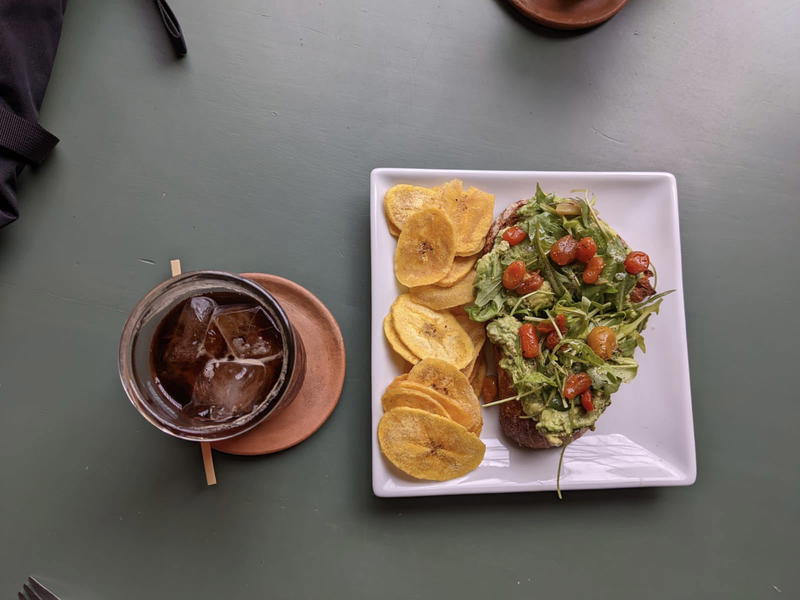 Cafe Condesa
Find it here! La Casa del Conde, Avenida Norte 5a, Antigua, Guatemala
Cafe Condesa is a bit more of a traditional spot located right on the main square of Parque Central in the heart of Antigua. I liked the name because it reminded me of the Condesa neighborhood in Mexico City.
Yes, this is the type of place that attracts "tourists," the type that don't venture too far from the exact center of the city, but that doesn't mean it's not a good place to eat and drink.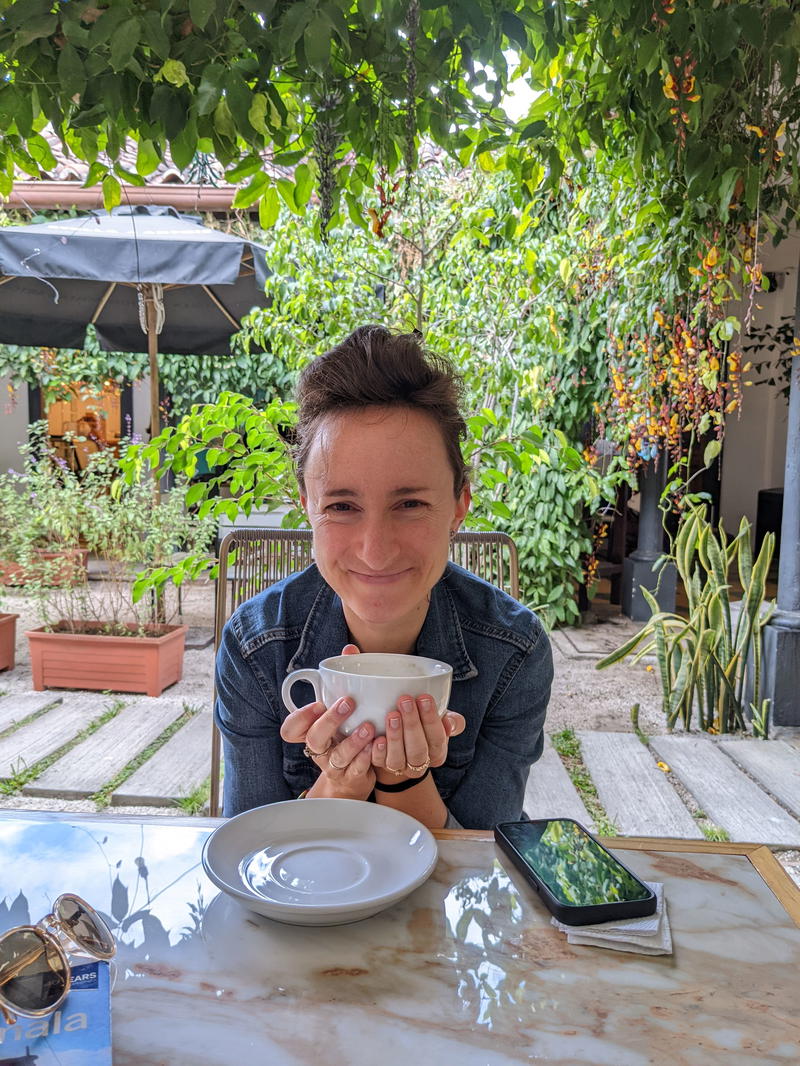 In visiting Cafe Condesa mid-day on a weekday, we were surprised to find out that it was not too crowded, and there were plenty of seats.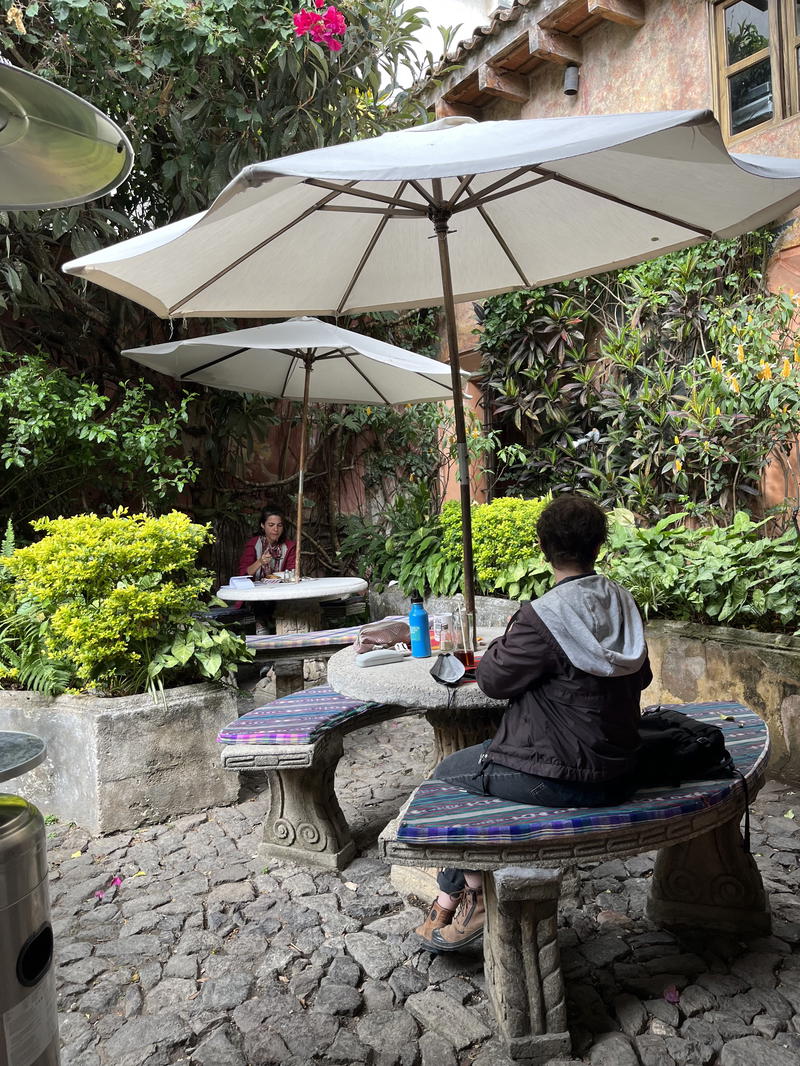 Service is by waitstaff only, so make yourself comfortable and make sure to talk to a hostess about which table you'd like to sit at, whether in the indoor part (if you'd like to try working remotely), or in the two airy gardens at stone tables under umbrellas.
Cafe Condesa was one of the first meals I had in Antigua during my second trip to Guatemala, and once I bit into the freshly-made corn tortilla loaded with fried eggs and salsa, I was in my own little heaven.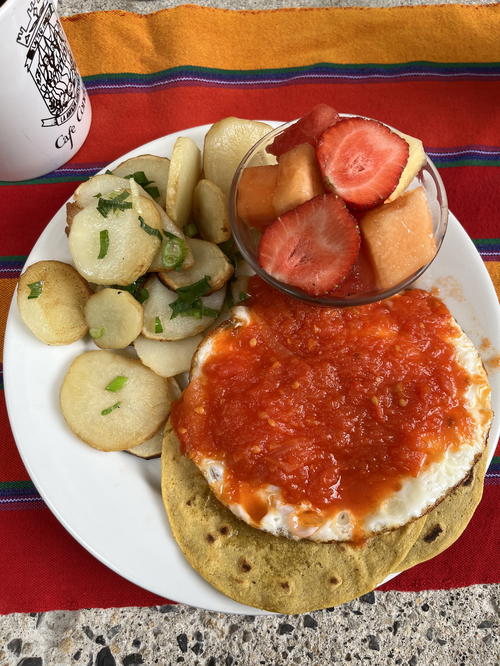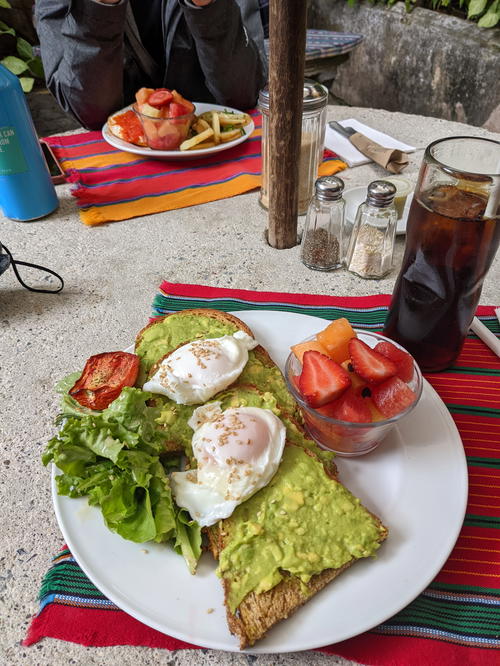 Note: if you'd like an iced coffee, try to be extra clear about it in Spanish, as coffees come hot by default (well, naturally). If you want to brush up on Spanish, try a few tips from my learning languages for travel guide.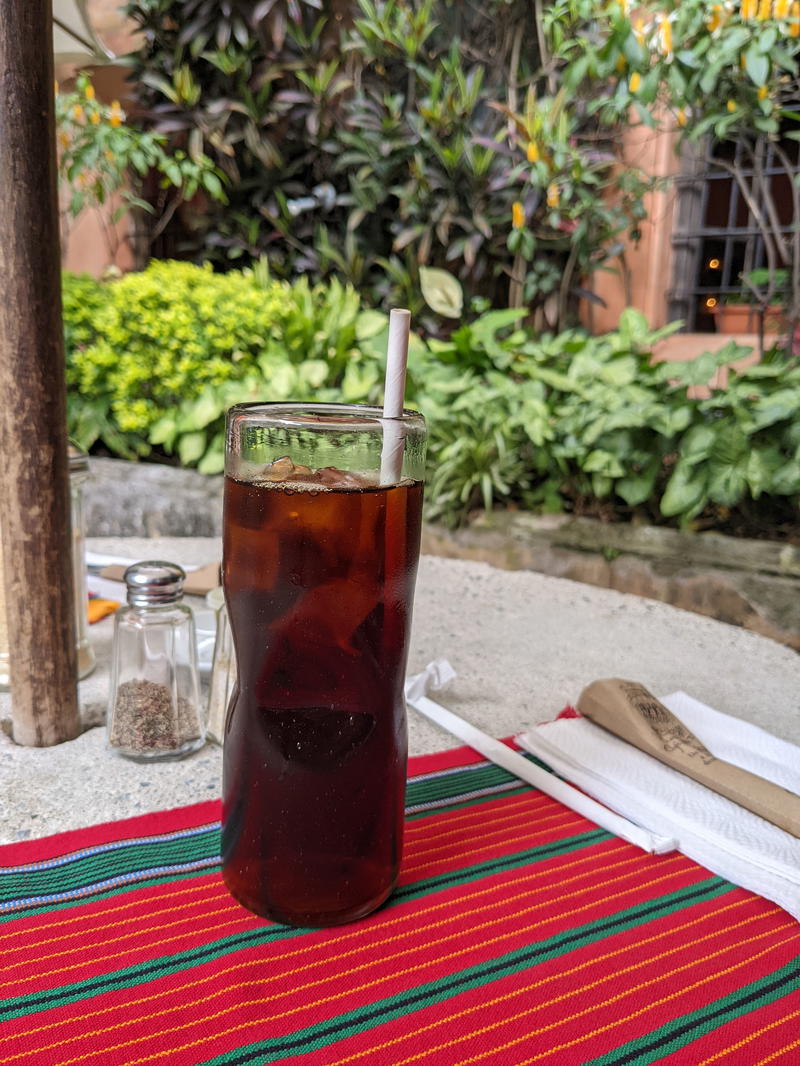 Cafe Condesa is a traditional cafe experience, rather than a third-wave specialty cafe of any sort. The cafe has been open since 1993 and they are VERY proud of their location right on the main square that makes this cafe an integral part of food and coffee culture in Antigua, a UNESCO Heritage City.
See more on the story of Cafe Condesa and the cafe's updates, at the Cafe Condesa website.
Cafe Condesa Express
And wait! Cafe Condesa has a takeaway cafe located right next door, so that (according to the website) you can take your drink to go, and sit in the beautiful ambiance of Parque Central.
Also, they said it (it wasn't me!) that if you're headed out to Guatemala City, you should get a coffee to-go from Cafe Condesa Express. Good marketing!
See the website here.
Pastelería "La Cenicienta" Garden
Find it here! 1 avenida norte 39, Antigua, Guatemala
I discovered La Cenicienta while walking back from a small afternoon hike up Cerro de la Cruz, the 10-minute step-walk up to the hill that overlooks Antigua (and I recommend this very much).
To get to Cerro de la Cruz, up and back, you'll have to walk up and down Antigua's 1st Avenue North (in Spanish, 1a Avenida Nte).
If you're on the way to your hike, maybe you'll want to grab a cold drink, a hot coffee or a snack. And if you're coming back, well you'll either want a drink or snack, or you might want to sit in this picture-perfect colonial garden at golden hour.
I was about to walk into La Cenicienta for a cold seltzer ("agua mineral," in Spanish) when I was immediately drawn in by a leafy garden and an old house in the courtyard off of which the sun was shining elegantly.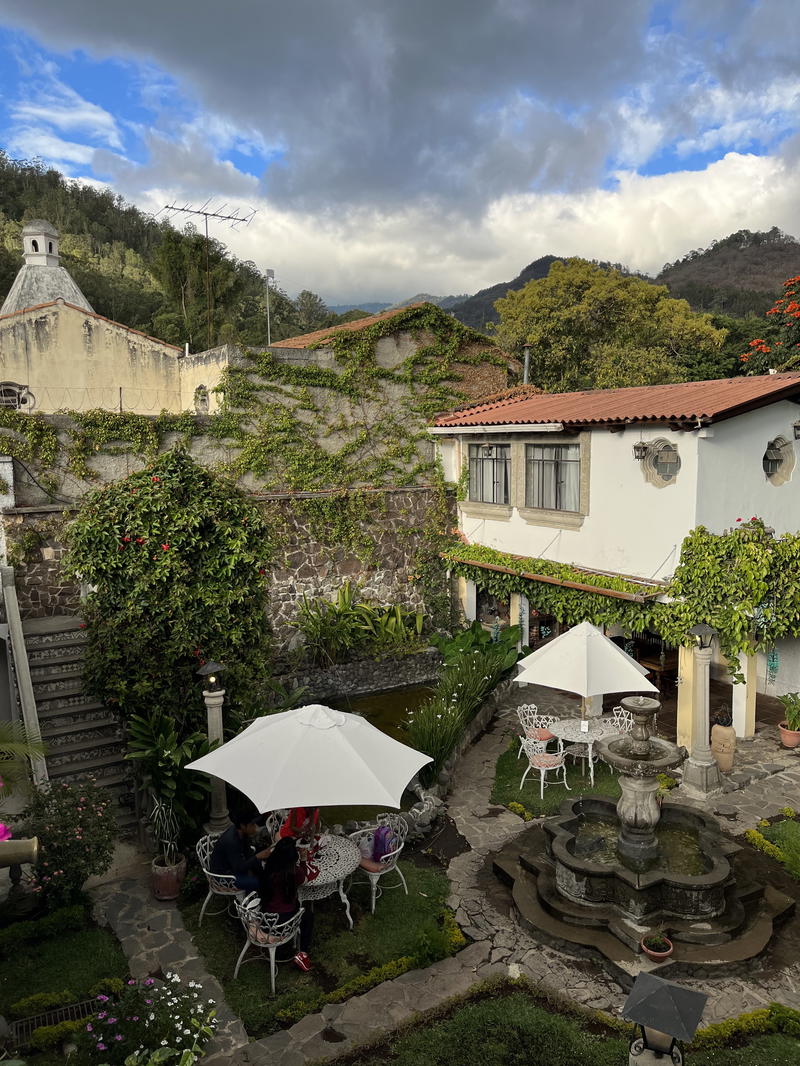 Was there a roof? Yes, there was, and I had to go see it.
La Cenicienta is a charming place where you can sit in any of the many locations (courtyard overhang, courtyard garden, or rooftop) and yes, they also have a bathroom (you may need this as you're coming down from your Cerro de la Cruz walk).
I should be honest: La Cenicienta is really a specialty bakery and pasteleria, and the great surprise is that they have three locations, which you can check out at the website.
The other two locations are "La Cenicienta El Arco" right near the emblematic Arco de Santa Catalina, and the third is La Cenicienta Centro, one block northwest of Parque Central!
With these three La Cenicienta locations, you'll never be far from delightful baked goods in Antigua.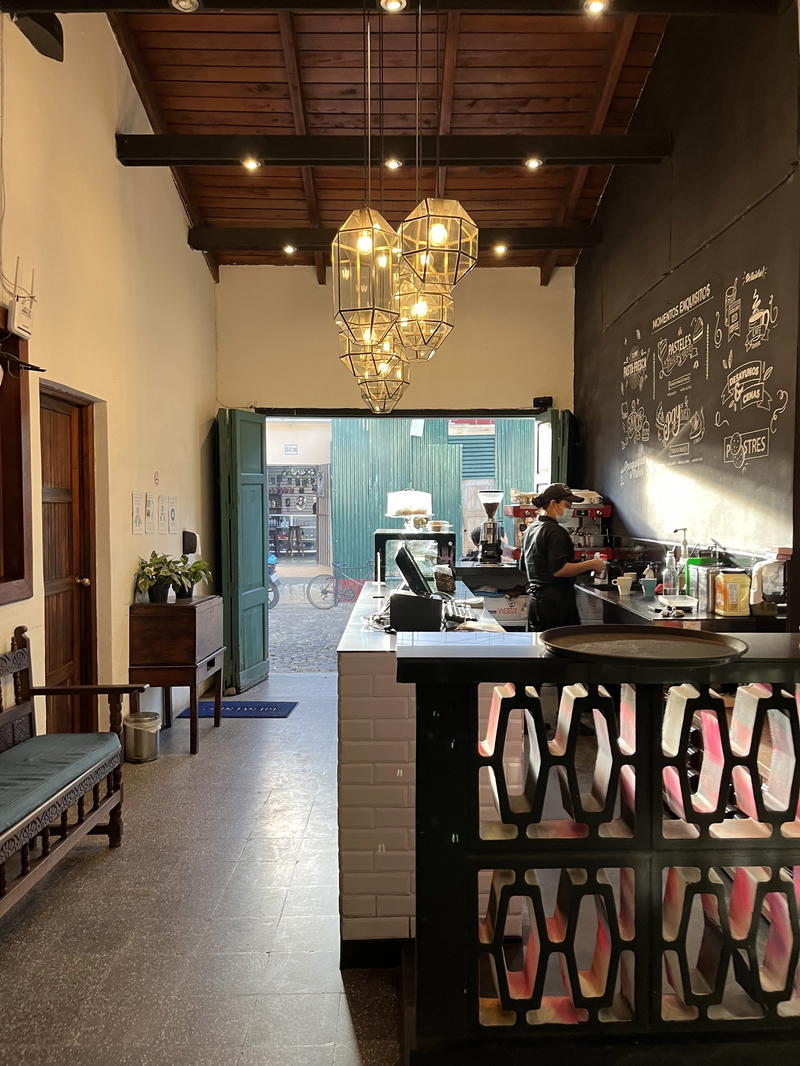 Cafe Boheme
Find it here! 5, 5a Calle Poniente #12B, Antigua
This is a cafe where (yes!) you can work remotely. Cafe Boheme is located super close to Parque Central and has a great location for travelers and digital nomads.
On this earthy rooftop above Antigua, you will find a haven where the WiFi works and you can sit among several others tapping away on laptops overlooking the volcanoes. (The local Antigua city guide at Remote Year also recommends this cafe as a place to get work done, so you know the suggestion is legit!)
Plus, there's lots of plants, and plants are good for the soul.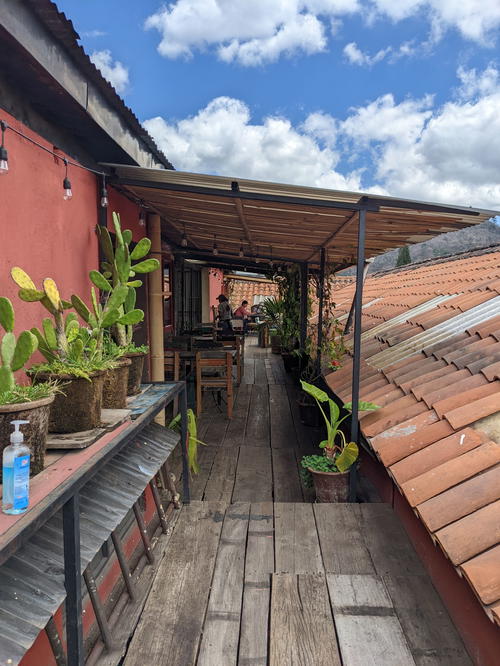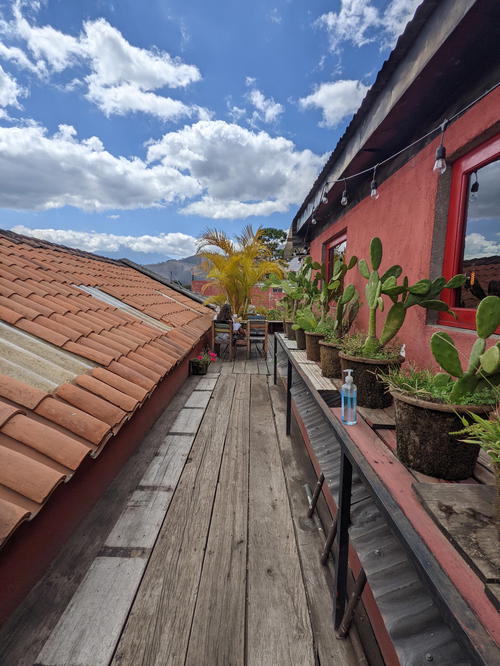 Cafe Boheme is a down-to-earth cafe and coffee shop where there's a big coffee menu, along with tea, for tea lovers, and a great assortment of food accompanies the drinks.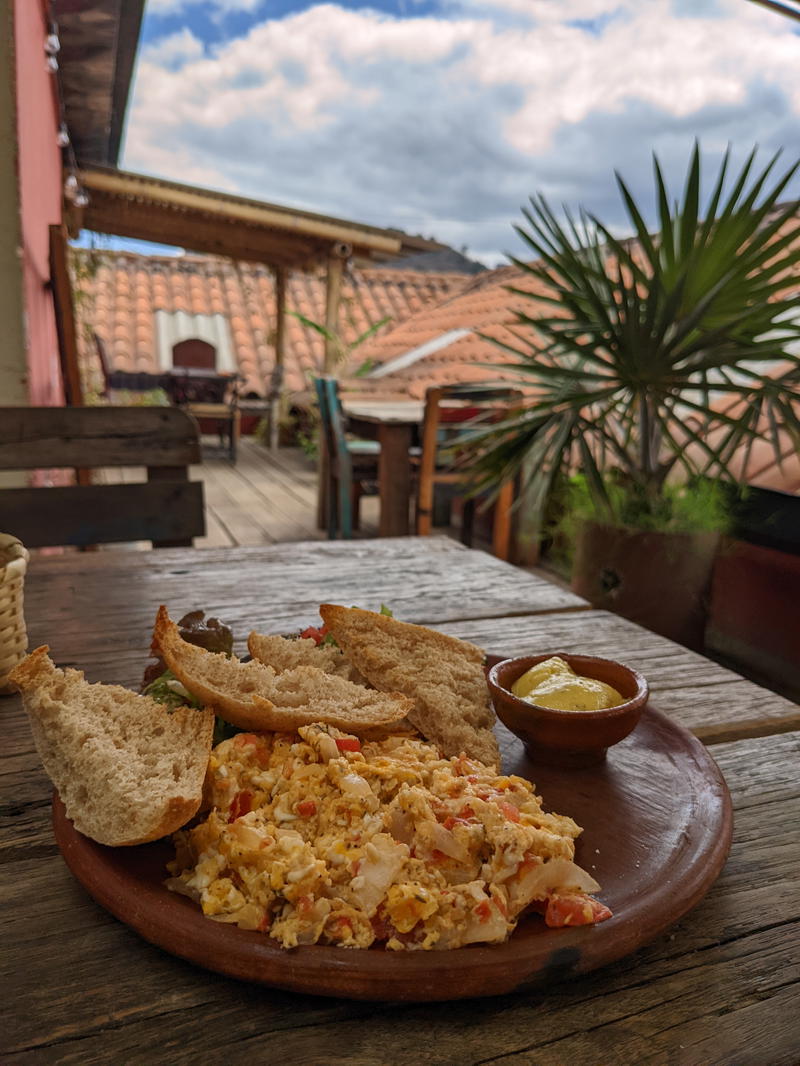 Staff is super chill, friendly and kind, and there's a luxe-style sort of covered cabana at the end of the roof where you can bring your friends for some plant-inspired photo moments.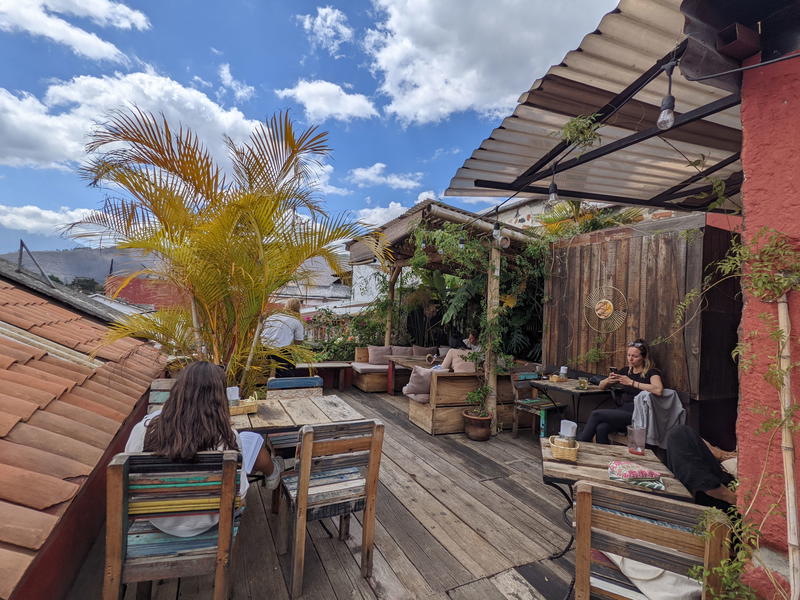 Check out Cafe Boheme on Facebook.
Rooftop Antigua
Find it here! 6 Avenida Norte No. 1, Antigua, Guatemala
Rooftop Antigua has a name that's not lyin.' This rooftop with stellar views of Antigua and the surrounding volcanoes pretty much can't be beat, unless you're at Antigua Brewery Company for a beer at sunset (but then you wouldn't be drinking coffee).
With cold brew, smoothies and delicious coffee (Chemex brews), can you beat all that this rooftop cafe and restaurant has to offer?
As if the rooftops and terraces in Antigua weren't overwhelming enough since businesses started capitalizing on available rooftop space in the past decade, this coffee shop also snagged the name that says it all.
It's also a good cafe for working remotely at, and with the unobstructed view of Antigua's volcanic landscape, you may forget you're working at all.
Rooftop Antigua also serves beer and wine, and you can check out more on their website.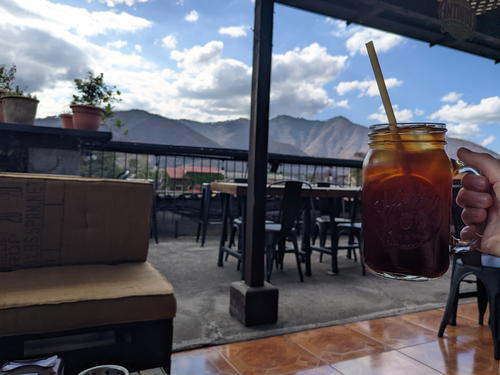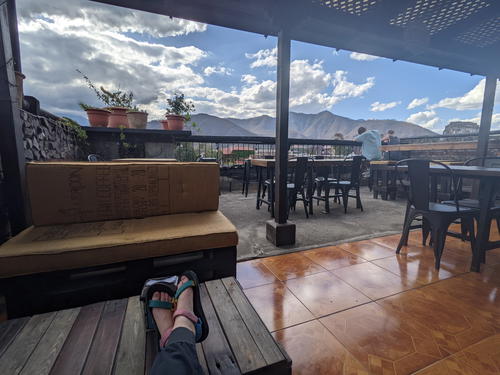 Fat Cat Coffee House
Find it here! No. 14 A, 4a Calle Oriente, Antigua, Guatemala
This small coffeehouse on a busy street is not messing around (also, they have bagels?). A full coffee menu includes regular coffee items like lattes, cappucinos and americanos. As you continue reading the chalkboard, you may be interested in trying a cubanito, macchiato or flat white.
That's not it though, because Fat Cat Coffee House is one of the top specialty cafes in Antigua. Are you into brewing technique? Choose from siphon, V60, Chemex, French Press, AeroPress and Kalita pourovers. This is more than we're able to do by simply making coffee on our own when we travel.
Aside from straight caffeine, there's a breakfast menu of 'desayunos' along with sandwiches.
This places takes coffee very seriously, though, so come for the experience!
Also, they do have WiFi, but given that the place is small, you likely won't want to spend too long here if you're trying to concentrate and work or take any sort of phone calls. If you're looking to really get some work done, consider a remote work membership at the Impact Hub Antigua coworking space for that!
Note: Fat Cat Coffee House does not have outdoor dining, nor any gardens or terrace rooftops.
Fernando's Kaffee
Find it here! 7a Avenida Norte, Antigua, Guatemala
Fernando's is a well-known cafe in Antigua for coffee, chocolate and meals. They take pride in single-origin Guatemalan products like, well, coffee and chocolate. This is a great thing.
The cafe considers itself a 'headquarters' of sorts for travelers and locals to feel energized through their roastery and factory, and you can feel free to treat yourself to the finest espressos, drinking chocolate (think: the base of hot cocoa) and natural coffee-based products.
Looking for a chocolate workshop? Many visitors to Antigua are seeking out this sort of interesting experience that you can only engage in at a limited number of locations on Earth. Check out the Fernando's chocolate workshops along with their menu, which might just convert you from a coffee drinker to a chocolate drinker.
The River Coffee House
Find it here! 7ma Calle Oriente, NO. 16, Antigua, Guatemala
This cool and minimalist coffee shop at the edge of town is serious about their branding, informative website and photos of coffee.
As one of Antigua's third wave specialty cafes, the River Coffee House likes to think big.
A diverse menu of coffee drinks, along with teas like chai and matcha, is followed by three smoothies. No food here! Enjoy your coffee and read about the founders, who are a Guatemalan-American couple: he's Guatemalan of Mayan descent, and she's a native of Wisconsin, USA.
We learned that the founders and staff are devoted to their religion and how it keeps them grounded, devoted to their mission for passion and hope.
Union Cafe
Find it here! 6 Calle Oriente # 6, Antigua, Guatemala
Union Cafe in Antigua sports the motto 'happy, healthy, active lifestyle,' which shines through in their vegan- and vegetarian-friendly breakfasts and brunch items.
A major perk here is all-day breakfast, along with coffee and smoothies in a garden setting. What's really nice is that the food at Union Cafe is full of the rainbow of colors, meaning you can pack in your veggies, fruits and vitamins by sitting down for a meal here.
After dark (or before dark, as it's really up to you) they serve cocktails, including mojitos, micheladas, bloody marys and sangria.
They do promote their WiFi, so this is a cafe where you could probably work remotely while traveling.
Macinare Caffe
Macinare Caffe is located near Antigua's Parque Central, so you can imagine it gets lots of passersby from the tourist and traveler crowd.
No fear, though, as they serve up cold brew, iced americanos, smoothies, fruit juices ("licuados") and fine coffees brewed via French Press, Clever dripper, V60 pourover and Chemex methods.
What I'll mention here is that they do latte art, and who doesn't love latte art?
For food, they have a heavier and heartier restaurant menu than other cafes in the area, so you'll find fuller plates, more meat and sandwich choices than other joints nearby serving specialty coffees.
The cafe serves coffees from five regions of Guatemala, and if you read Spanish, you can read the updates on the cafe's Facebook page, here.
Café Raiz
Find it here! 7a Avenida Sur & 6a Calle Poniente, Antigua, Guatemala
Cafe Raiz is located southwest of Parque Central, and it's a newer coffee shop on the Antigua third-wave coffee scene.
Open as early as 7 am on weekdays (and 8 am on Sunday), this spot is a good bet for anyone leaving for the airport early who wants to make sure you get one last coffee in town before leaving.
The cafe has an adorable Instagram that showcases their waffles, smoothies, ginger shots and kombucha. They're open for sitting down to dine in, or for takeaway if you've got to jet.
One perk of Cafe Raiz is that you can sit in the window on this cobblestone street across from pastel-washed buildings, and people-watch as the city wakes up.
The breakfast toasts and cookies come highly recommended!
Café Sol
Find it here! Callejón del Sol #11, Antigua, Guatemala
This charming low-key rooftop cafe is located off to the east of town, five blocks eastbound from Parque Central, but don't be discouraged: this is not that far!
Located on a small street that you'd never otherwise pass by unless you were staying there, Cafe Sol comes highly reviewed and they have this great Instagram to look at.
Originally the cafe only wanted to focus on coffee, but as the founders got hungrier and more "curious," according to their Insta, they opened a kitchen as well.
Now, you can go to Cafe Sol and eat beautiful Insta-worthy food, from omelets to buttermilk pancakes (or, "panqueques") and enjoy their Chemex brews, latte art and kombucha. The "sándwich de pan brioche" has become one of their classic menu items.
Taking pride in Guatemalan coffees as well, they feature a revolving seasonal assortment of roasts to try.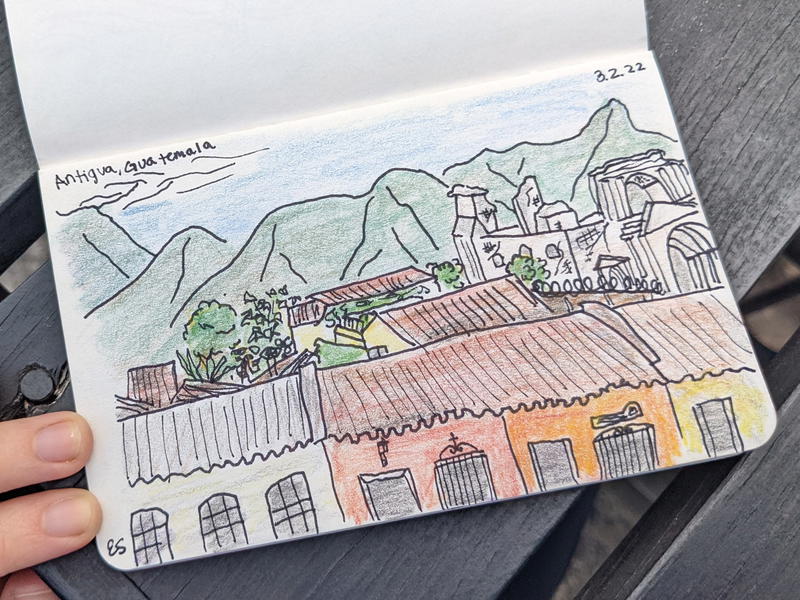 Very lastly, please enjoy this color pencil sketch of one of Antigua's fines rooftop views, via my sibling Emma!
Enjoyed our article?
Consider supporting us! We're a 2-person team (learn more about us here) and your support enables us to create quality content. Thank you!