Must-Have Travel Accessories for Long Flights
Written by Dan
•
Updated on November 21st, 2023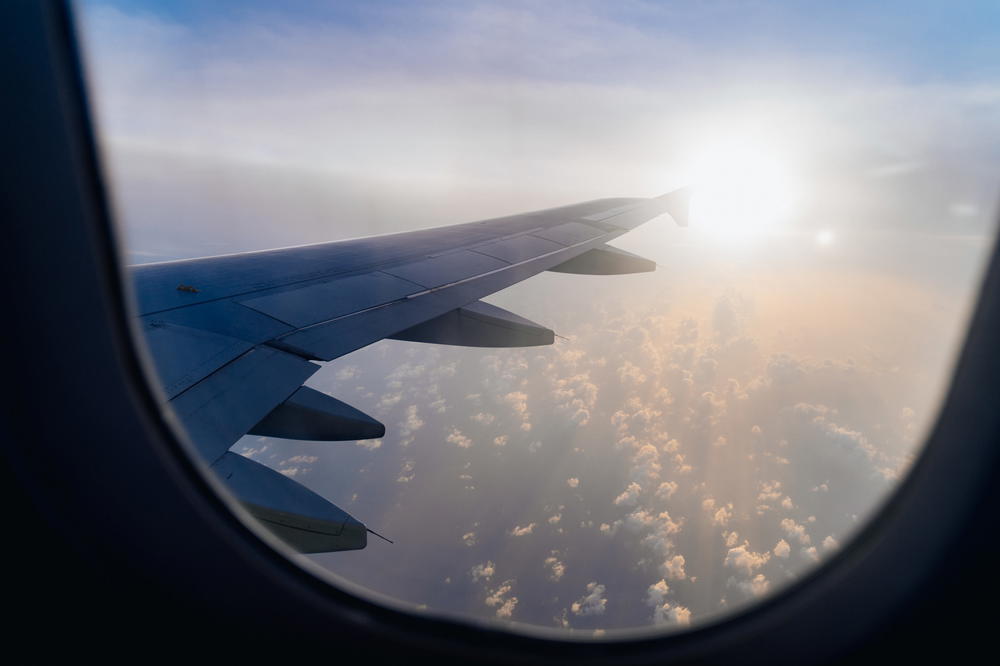 What are the best travel gadgets for long flights? Survive a long flight with these carry-on essentials and airplane travel accessories.
This article may contain affiliate links. We earn a small commissions when you purchase via those links — and it's free for you. It's only us (Becca & Dan) working on this website, so we value your support! Read our privacy policy and learn more about us.
Table of contents
Close table of contents
Long flights can be especially rough because you're trapped for hours and probably not so comfortable. We've had various experiences on long-haul flights up to 16.5 hours (NYC to Hong Kong!).
A flight experience is definitely what you make of it and how prepared you are to not lose your sanity. I'm excited to share all of my favorite flight accessoriesthat have helped me stay comfortable and entertained on long flights.
Let's get started with the travel accessory essentials that could make or break your long-haul international flight experience. A lot of these gadgets and gear are also great for gifts for your favorite traveler!
Also, make sure to check out our Black Friday deals for travelers to get the most up-to-date deals!
The Cabeau travel pillow has been traveling with us since 2017. Becca wears it during all of the flights and long bus rides that we take together. She's much better at being able to sleep on flights than I am.
We like this pillow because you can wash the zippered fabric cover, and the design is much more sturdy than any of the other pillows that we've used before. It's also one of Becca's recommended travel products for women.
I don't know how Becca (or I) would travel without her fanny pack. Because Becca has quite a few that she likes and uses them during our travel days, I'll usually keep important things like my passport and maybe some money with her.
Check out the best-selling lululemon Everywhere Belt Bag 1L, which is a great choice for a travel day waist pack.
Becca keeps everything in her fanny pack, like tissues, pens (for filling customs forms), plastic silverware (this has come in SO handy), her phone, her (and my) passport and a tiny bottle of hand cream for curing the dry hands you get when you fly. She has tried quite a few fanny packs throughout the years, and listed the best fanny packs for travel, here.
Fanny packs, or waist packs/hip packs/belt bags (whatever you want to call them) help give you quick access to your most important and valuable items so you don't have to have them too far from you, like under the seat in front of you or overhead.
This is crucial because you can have the fanny pack on your person during an entire long-haul flight (just loosen the strap around your waist), and have all your top valuables in plain sight.
Because I travel with a lot of cords, cables and dongles, something like the Peak Design field pouch or the Peak Design tech pouch is a great way to stay organized and have quick access to everything that you need. I recommend both in my list of my favorite tech pouches for travelers.
Instead of throwing my phone cable, headphone wires, audio splitter, power bank, pens, my passport (when Becca doesn't have it in her travel fanny pack) and everything else into the bottom of my bag, I'll organize it all with a tech pouch.
Some flights now make you pay for blankets, and having one of your own is a great way to save money while traveling. A blanket is a nice way to help keep you more comfortable as you try to sleep on a long-haul flight.
Also, I'm pretty sure that airlines don't wash those blankets (ew) and that they reseal them (can someone let me know if this is true?). Traveling with our own blanket ensures that it's our blanket, and we know where it came from.
Traveling with my own travel blanket can also be useful for the travels at my final destination; it can be a better option than using comforters at hotels, or better than guest blankets (these are definitely never washed) anywhere else.
If you're looking for other options, I would look into this travel blanket and this one from Cabeau.
I learned that compression socks, when worn on flights, increase comfort when flying. On a flight, you don't move around much and your circulation naturally slows down. So, it's helpful that compression socks help transport blood from extremities to your heart and help you avoid blood clots when you're sitting in a cramped space.
A solid pair of travel compression socks can be preventative for post-flight swelling as well. Becca tried a pair during our flight from New York to Vancouver. She thought they were so comfy.
They're also ideal if you're doing something like traveling while pregnant, like Becca was.
I started bringing a travel hoodie with me, and it's been a good way to stay comfortable in cold airports and on cold flights.
During all times of the year, airports are typically cold. Flights can be really cold, too. Having a lightweight hoodie that packs away in your carry-on is a perfect addition to your flight kit, and the Aviator travel hoodie that I have has cool features like an oversized hood that helps become a sleep mask. Becca and I have both worn the Aviator travel hoodies, and they became our favorite travel sweatshirts. See more at our Aviator hoodie review.
Priority Pass membership
We've mentioned this must-have in other parts of our site like all about our lounge experience in our airport lounge how-to guide. Our Priority Pass memberships have pretty much changed our travel experiences from "not so great" to "pretty awesome."
If you have a long flight, and then if you have anywhere from a two-hour to a twenty-hour layover (also, don't confuse these two, because that's how I wound up with an unexpected night in Japan….) you will want airport lounge access.
For us, gone are the days when we sit around looking for outlets with which to charge our phones next to uncomfortable chairs near the gate of a departing flight. Also gone are the days when we buy a $5 water bottle and a $15 egg sandwich because we're desperate for some food.
Priority Pass is a membership that gets us into airport lounges all over the world. We've enjoyed Priority Pass lounges during layovers in Lisbon en route to the Canary Islands, and in Hong Kong before the longest flight we've ever taken, which is HKG to NYC (16.5 hours — that is a LONG flight!).
Eating well, charging up and relaxing at an airport lounge puts us in a good mood before stepping on a flight. It also helps us reset in between long flights. Again, Priority Pass is not quite a physical accessory, but it's something you may like to have in your stock of "long flight essentials" in order to have the best trip.
For times when you want to sleep on flights, but the lights are still on, a good sleep mask is crucial. Becca is obsessed with them and sleeps with one every single night.
I like this sleep mask because it has memory foam and doesn't put any pressure on your eyes. It creates a solid seal to let in as little light as possible.
These Sony noise-canceling headphones are currently my top pick for headphones. On flights, they are the best because they block out a lot of noise from the airplane and other passengers.
When you have them on with the noise cancellation mode, it's truly amazing how much of the plane's white noise the headphones will block out. And, what's the opposite of white noise? Is it black noise? These headphones help me block out the sounds of people snoring next to me, people having loud conversations, people who insist on talking on the phone before the flight takes off and more.
They come with a convenient carrying case, so you can make sure they stay in great shape while you transport them and take them in and out of your carry-on luggage.
One thing that we wish we had much sooner was the Twelve South AirFly. It's a device that you can plug into the headphone hack on the airplane media console and pair your own bluetooth headphones to it. This is amazing, for anyone whose flight experience could be elevated with this!
This is great for times when you have your AirPods, but don't have a way to connect them to the airplane media console. We have it and we're always excited to take it on flights with us!
If you're traveling with a significant other, family member or friend, a headphone splitter is one of the best and smallest things that you can carry with you to enhance your trip.
You can plug a headphone splitter into the arm rest to watch a movie with someone. You can also split the audio out of an iPad or a phone to watch something downloaded on any of your favorite streaming services. iPhone users will need this dongle and most other phones can use this dongle.
A good pair of ear plugs will help most people sleep for a few uninterrupted hours on flights. At least for me, I can't seem to fall asleep on flights (nor anywhere) without blocking out annoying noises, conversations and any sounds that aren't ambient.
When the flight staff turns down the lights to try to simulate nighttime, it's a perfect time to put in your ear plugs to block out any noise from other passengers.
I'm newly into the brand Flare Audio for my ear plug needs. All the ear plugs from Flare are infinitely better quality than the former simple foam ones I used to use. I'm currently using the Flare Calmer ear plugs, which reduce annoying sounds, but also don't block everything completely so that you're only blocking out what bothers you.
The "Calmer" ear plugs are great for busy places (while traveling), audio annoyances during flights or transport and any sounds that may trigger you in a stressful way. For smaller ears, there's the Flare Calmer Pro Mini! And for all my Flare products, I have the Flare Audio Aluminum Capsule, which is a keychain container for them so they don't collect dust in my bag.
You can check them out on Amazon or directly on the Flare Audio website.
Some of the newer airplanes have power chargers under the seats. Aside from them being super hard to locate, your plug can often fall out, especially when you're least expecting it.
It's more on the rare side that the flights I've taken recently have these power outlets.
I like traveling with a power bank on long flights because I can charge my phone, iPad or headphones before they run out of batteries. For flights over the five-hour mark, this is important so that I can arrive at my destination with a fully-charged phone.
Water bottles are a must for me while being in an airport and on an airplane for an extended amount of time.
Airport water is expensive, and can sometimes be $4 or $5! It seems crazy to spend that when almost every airport I've been to has a water refilling station. But the catch is, you need your own bottle. I've sometimes bought the cheapest bottle of water so that I can reuse the plastic bottle!
To be a sustainable traveler, ask the flight attendants on your flight to fill your bottle instead of drinking several of those tiny water cups. You also want to make sure you're drinking a lot of water, because it's easy to get dehydrated on flights. We like to stay healthy while traveling!
I realized that the day after traveling a long distance, I never felt great, and I think that is because I never drank enough water on longer flights.
These days, I like to sit on the aisle so that I can get up, stretch my legs and have an easy exit to the bathroom if I need one.
It's typical for some types of airplanes to not have any entertainment on the backs of the seats. Or, if you get really unlucky, your entertainment center might not work.
On a recent flight that I took, the touch capability on the in-flight entertainment screen stopped working, and I couldn't change the brightness of the screen. When my movie finished, I wasn't able to watch anything new!
Luckily, I had my phone, and I was able to watch something on it because I had downloaded some videos. I wish I traveled with my iPad because it would have been much more enjoyable to watch something on a larger screen.
Also, if you are traveling with toddlers or kids, an iPad is a great way to keep them entertained. For times when flights do have entertainment on the seats, having an iPad with kids is still a good idea so that children aren't bumping and tapping too hard on the seat neighbor.
I've found that this iPad stand is the best lightweight stand to travel with and prop a tablet or phone on the airplane tray table.
For the readers in the group, a Kindle is a great way to travel with all of your books, but without carrying any of the weight.
On my most recent flight, I opted not to bring a book because I had no room in my carry-on. I did have room for a Kindle, though.
If you travel with a Kindle, be sure not to bring it to the beach during your trip and sit on it. I had a friend who did that, and she was pretty upset. Kindles do happen to be more 'breakable' than paperback books.
Audiobooks with Audible are great. I am not a big text reader, but I really do enjoy listening to audiobooks as much as I can. Long flights are the perfect opportunity to catch up on all of your books and make a big dent into your queue.
As a free alternative, look into how you can rent books from your local library!
We just got Apple's AirTags (the 4 pack) for putting on our checked baggage. For those who don't know, Apple AirTags are like tracking devices for your things. While traveling, they're nice to attach to your overhead or checked bag, as well as backpacks (which will also save your day if something gets stolen). They work by using other iPhones to help locate your bag, so they work the best in crowded areas where other iPhones are around.
In the rare event that there is a mix-up with your bag and someone else takes it by accident, you can see and track where your bag is, using your AirTags. A lot of friends have recommended putting AirTags on checked luggage, backpacks and the like.
For crowded flights, where your bag might be stored in a different part of the airplane, this can give you peace of mind that you can track down who took your bag in the event of that rare occurrence.
Regardless of whether you checked bags or not, having Apple AirTags can help put your mind at ease about being able to track your belongings and luggage. Take it from me: I once had my favorite book stolen from under my nose during a flight that wasn't even so long. What I'm saying is even if you doze off for 15 minutes and if there are dishonest passengers lurking in your plane, anything from your water bottle to your wallet could get quietly snatched.
It took me a while to figure out that something as simple as comfy socks could make a huge difference in your flight experience.
Because you can be sitting for a long period of time, a good pair of socks can help your feet breathe, keep them warm and keep them cozy during those "nighttime" flight hours when people are supposed to be sleeping.
I've gotten to know the Swiftwick brand and recommend them for this reason! Check out the collection here.
When traveling to different parts of the world, keeping an extra eye on your things is always a good idea. Becca once had a Lonely Planet China book stolen during a flight because she got up to go to the bathroom, and that's pretty crazy.
If I am traveling with my camera and my laptop, I like to put a small lock on my bag to give me extra security that no one can easily open and snoop around my bags, getting into all my mildly-expensive camera accessories.
If you're sleeping, or if you're not near your bags on a flight, it's really easy for someone to open the overhead and grab something from your bag. Locks make it hard for someone to get in there without you knowing.
After so many flights, I really wish I was wearing something more comfortable than jeans or shorts. Sitting for a long period of time isn't always the most comfortable. Finding a good pair of pants to wear during a flight can make a huge difference in your comfort levels.
We have an article that talks in much more detail about the best travel pants.
We recommend joggers, as they have pockets, and look decent, but they feel soft, comfy and stretchy like savvy sweatpants.
Passport holders (case or pouch)
A passport case doesn't really help you travel, but it does help protect your passport from spills or accidents that happen inside of your bag or around you while you have your passport out.
Having a passport case is also a great way to stay organized and keep any additional travel documents, like connection flight tickets, visa information and other IDs all in one place. We keep entry papers, vaccine cards, boarding passes and other documents all inside a shared passport case.
Fun story: Becca was once in Laos during the spring new year festival when everyone throws water on each other, and her passport almost got soaked. A passport case or protective sleeve would've helped out with the stress of the constant water everywhere.
We started using the Tortuga Passport Pouch, which is made of durable waterproof material and has an L-shaped zipper you can see here.
If you want to really keep your passport dry and secure, opt for this one.
I actually have trouble with travel neck pillows. I've tried Becca's Cabeau and never sleep comfortably with it. I usually want a real pillow and try to scrunch up whatever neck pillow I have to make it into a real pillow. Or, I'll end up using a jacket or sweatshirt.
A pillow is generally a good idea to travel with. It comes in handy if you have any type of bus travel the roads are smooth enough to take a nap. Also, having a spare pillow is great if your accommodation has really flat pillows.
I would take a look at some of the camping pillows that Sea to Summit makes. They have a selection of inflatable and packable pillows that will pair nicely with travel as well.
I'm always really sore after long flights and I'll typically stretch, to try and stay loose. It's been really nice to have access to a travel-sized massage gun to help with stubborn knots that are hard to get to with stretching.
I run a lot when I travel and this mini version of the original massage gun has been a great addition to help reduce injury. You can see above how the size compares to a passport. It can even fit in my personal item on the flight.
I started bringing my own food to the airport, and it's been a game-changer.
Living in New York City has a lot of perks. One of my favorite perks is being able to get a sandwich basically at any time. Typically, within a five-block radius, you can probably find a sandwich. It's delightful.
One time, I brought a sandwich to the airport to bypass needing to spend a lot of money on airport food. I put the sandwich inside of my bag, and lucky me, the sandwich got a little soggy and got my hoodie a little wet. Yikes.
I wish I had a sandwich box or some other more secure bags to keep my sandwich in, and something collapsible and foldable would've been amazing.
Becca brought one of our Tupperware containers from home with some nuts and dried fruit. She had a great experience with that, except once the snack was over, the empty Tupperware took up a bit of room in her bag.
Collapsible Tupperware and dining storage is a great solution for being able to bring your own food without needing to carry a lot of bulky food containers with you.
Nesting stainless steel snack containers might also work well if you want something more sturdy. We like the EcoLunchbox nesting snack containers because they have no-leak lids and are impossible to break.
Why should you trust us?
We've been traveling the world, both separately and apart, and that has involved some VERY long flights!
Both Becca and I have been on flights from NYC to Hong Kong (that is a really long flight) as well as flights to Africa, India, the Middle East and Argentina, between the two of us. Having trusty gear to get you through those types of flights is crucial.
Becca prioritizes accessories that help her sleep, whereas I prioritize accessories that help me listen to and watch entertainment. Different aspects of flying are important to each of us, which is why this list reflects our preferences. Maybe you enjoy a little bit of both these ends of the spectrum!
For us both, we like flying to feel like an experience, even though the flight is simply the journey that gets you from "here" to "there." Whether you plan to pack in as many movies as you can, or as many hours of sleep as humanly possible, we hope this list of travel accessories for long flights does the trick!
Enjoyed our article?
Consider supporting us! We're a 2-person team (learn more about us here) and your support enables us to create quality content. Thank you!