16 Best Family-Friendly Places to Travel in 2023 (from Real Parents)
Written by Becca
•
Updated on November 6th, 2023
Looking for vetted vacation ideas for family-friendly trips this year? Look no further than my list of destination ideas from some very travel-savvy parents I know!
This article may contain affiliate links. We earn a small commissions when you purchase via those links — and it's free for you. It's only us (Becca & Dan) working on this website, so we value your support! Read our privacy policy and learn more about us.
Table of contents
Close table of contents
Figuring out where to take your family for a vacation is no easy feat when you have a baby or young kids. If you're like me, you're thinking about the "family-friendly" factor, and if it will be easy to bring a stroller around.
I've looked into where to travel as a young family, and the answers are varied. So, what better way to figure out the best family-friendly travel destinations than to ask my friends?
The list that follows comes from the real experiences of some awesome parents I know. Their travels started as early as when their babies were a few months old. Some of them continue to travel with kids, up to three of them!
I hope you get some great ideas for trip destinations by reading about these real trips that range from US towns and regions to international cities that require a flight.
Let's jump right in!
Halifax, Nova Scotia (Canada)
Halifax, Nova Scotia, blew away our expectations for a family-friendly travel destination just up north in Eastern Canada. It was our first time flying with a baby as well as our first time traveling in the Canadian Maritime region.
A few family-friendly things we were able to do were eat at restaurants that offered us high chairs, feed our baby anywhere on the Halifax Waterfront without anyone batting an eye, visit the Discovery Centre (science museum geared toward children) and mostly always find a restroom with a changing table (especially public washrooms).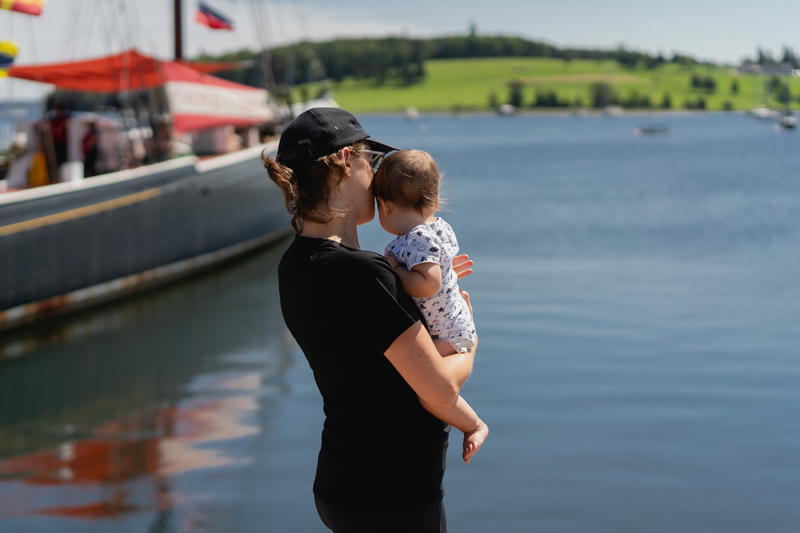 While our hotel wasn't necessarily a family-friendly hotel, we were delighted with the thoughtful touches for coming with a young child. Reception presented us with a hotel teddy bear upon arrival for our baby, as well as a baby toiletries set. It was so sweet. For more on that, see my review of the Muir Hotel.
You can see all our trip photos, as well as the exact places we went in our family-friendly guide to travel in Halifax. For more inspiration, check out the list of day trips to take from Halifax in Nova Scotia, Canada.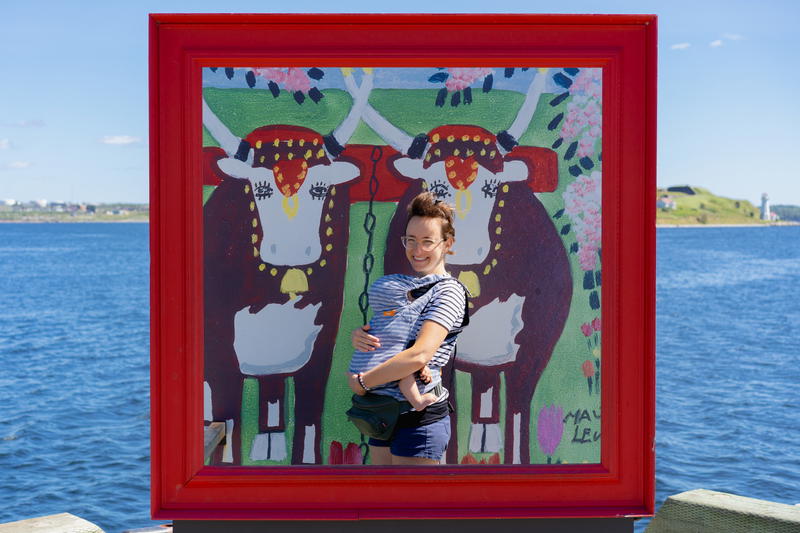 Litchfield Hills, Connecticut
Neither Dan nor I knew much about the Litchfield County region of Connecticut, despite having grown up within a two-hour drive of the area. In my Googling of Litchfield when we decided to go, I found mostly upscale hotels, wedding information, girls' weekend inspiration and dining guides.
After a three-day long weekend in Litchfield, though, Dan and I realized we had taken the best family-friendly trip we'd taken all summer. We saw lots of families with kids eating ice cream at Arethusa Farm Dairy, walked easy nature trails in the White Monument Nature Reserve with our baby in the baby carrier, visited Kent Falls State Park (older kids can go toward the water or up the steps near the waterfall) and took our stroller all around little towns like Kent.
One relaxing thing we did that children might like is the flower farm at White Flower Farm Store & Gardens. It's a great place to teach kids about different types of flowers and plants.
For a full list of what to do on a family trip, see our travel guide for the Litchfield County region.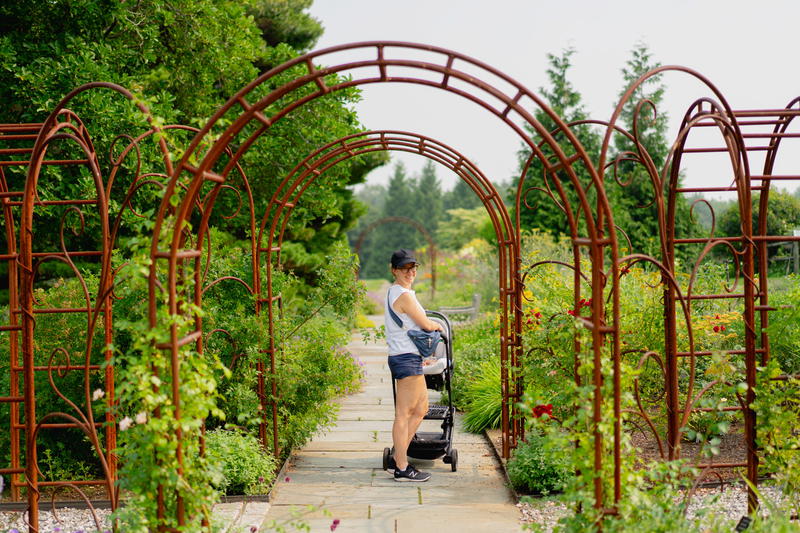 New York City (+ Brooklyn)
NYC is an intensely exciting place for travel. Based on our experience going into NYC with our child, we wrote a guide on how to plan a trip to NYC with a baby to show you!
I think you'll get lots of different opinions on this, and I'd say it depends how you "do" a trip to NYC. The downsides of a family trip to NYC are limited space when it comes to accommodation, LOTS of walking, lots of traffic and subway stations that have LOTS of stairs and might lack elevators.
Aside from these (very crucial) aspects, NYC has loads of activities, sights and landmarks that kids will love. Just take it from my friends who traveled all the way from Dublin, Ireland, to check NYC off their bucket lists, with their toddler! They stopped at every playground in every park, marveled at the skyline with him and walked for miles (and were very good sports about it) with their stroller.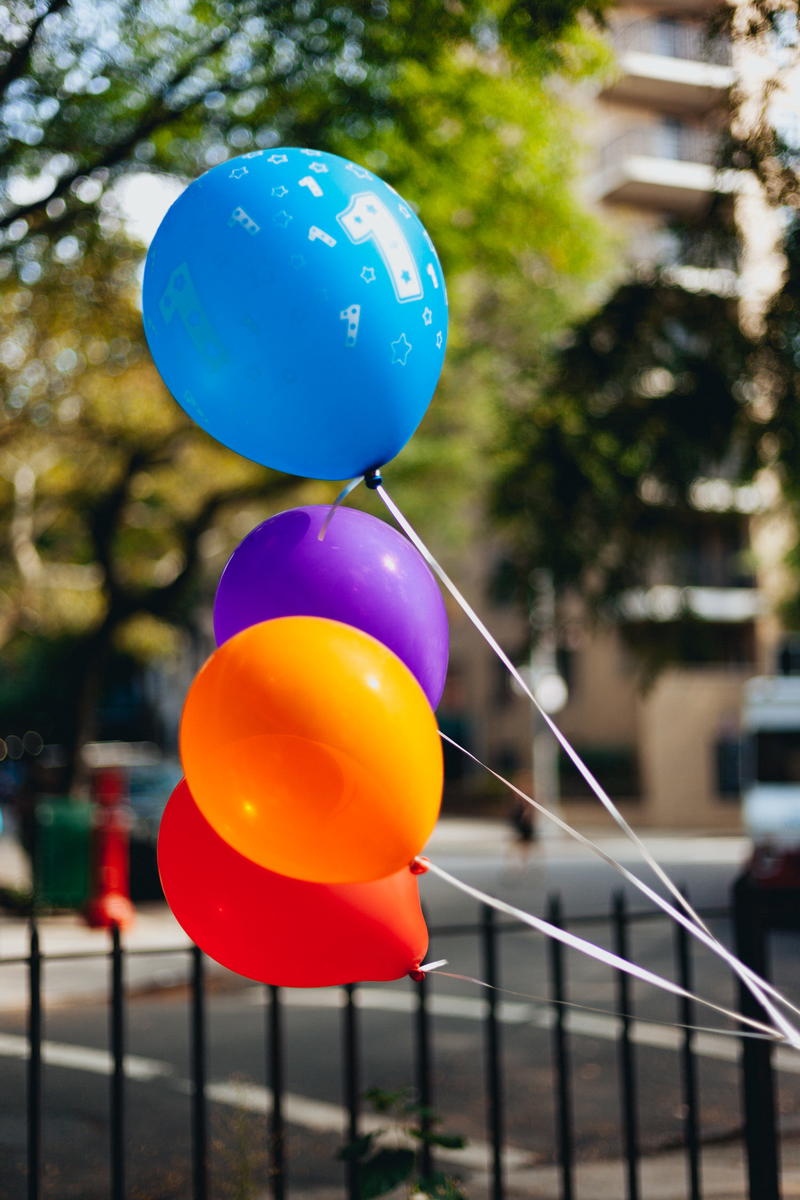 As someone who grew up as a kid in NYC (that's me!), I can tell you that my favorite things to do as a kid in the city were visit the Bronx Zoo, the New York Hall of Science (where I had my fifth birthday party) and the New York Aquarium (an absolute must).
Other incredible things to take small kids to in NYC are the Central Park Zoo (I'm quoted in this Best Life article about one secret thing to see there) and the Brooklyn Children's Museum. If your child is into playgrounds like I was as a kid, check out all the places to play at Brooklyn Bridge Park (there are 9 in total!).
If you'll be going to NYC soon for your first trip, see my guide to what to know about NYC travel for first-timers.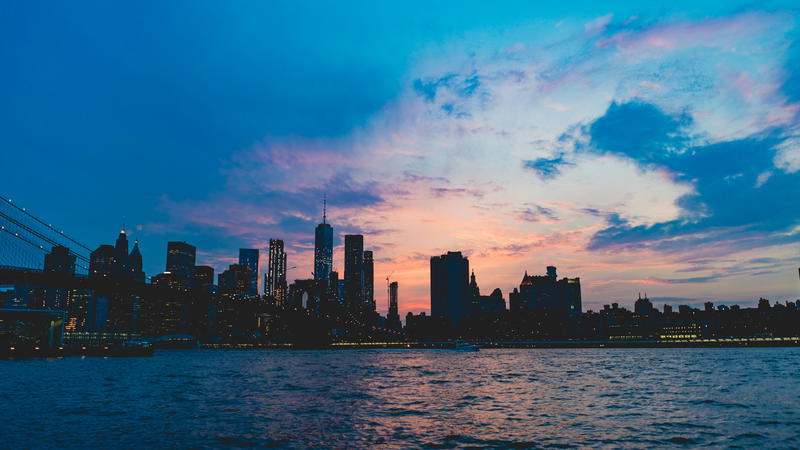 Northern New Jersey (Essex County and Jersey City)
Now that we live in Northern New Jersey and have chosen to raise our daughter here, all the child-friendly things to do stand out to us. For starters, we know that if there's a nice day out, we have a heap of choices of family-friendly things to do nearby.
As we mention in our list of the best day trips from NYC, a cute kid-friendly hiking path near us is the Fairy Trail at South Mountain Reservation (Millburn entrance). This easy hiking route is short, mostly flat and lined with tiny "fairy houses" made mostly by children!
For a place the whole family will enjoy, check out the Essex County Turtle Back Zoo. Parents from far and wide bring their kids out for a day at "Turtle Back," and the highlights for us are the train ride, the giraffes, the bears and the small sea life pavilion.
Venturing closer to NYC will get you to Jersey City and the locally famous Liberty Science Center. This impressive museum has everything to amuse and entertain kids in an educational environment. There's a planetarium, 3D films, rotating exhibitions and tons of cool things to see, hear and get your hands on.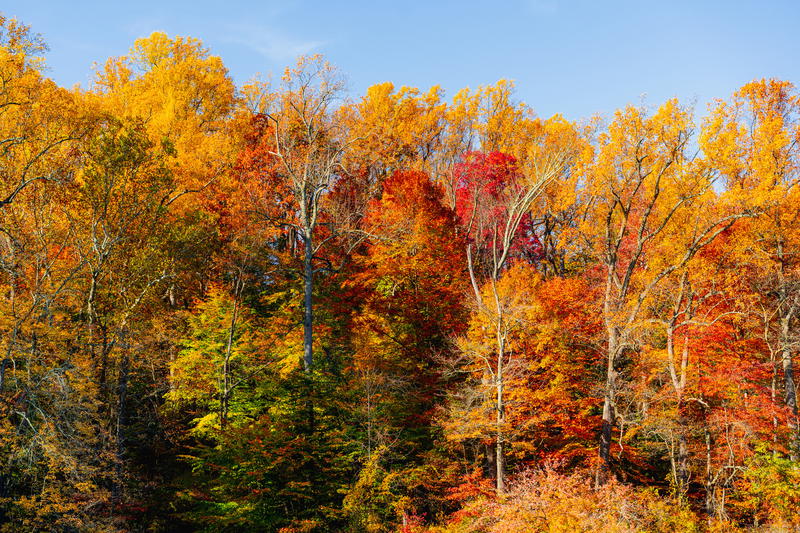 Point Pleasant Beach, NJ & the Jersey Shore
For a lot of parents (and a lot of friends of mine), a beach vacation is where it's at. Point Pleasant Beach in New Jersey comes recommended by my friend Jamie AND my friend Jordan.
Jordan told me, "We rent a house down there every year. Jenkinson's Boardwalk is amazing for kids, and the beach is clean."
When Jamie and her family rented a house at Point Pleasant, she came in from out of state with a 20-month-old and her three-year-old toddler. We came down for a day to visit with our seven-month-old baby! The beach is wide, the boardwalk has kids everywhere and for kids who like mini golf, there's no shortage of that.
The Jersey Shore is where most families in the Philly-NJ-NY area choose to vacation for the summer, and you'll see why.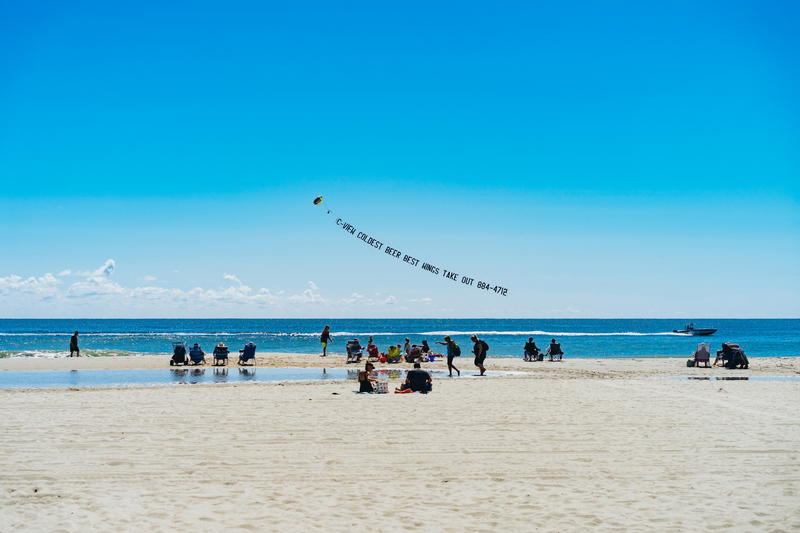 Cancún, Mexico (Yucatán Peninsula)
Cancun and the Yucatan (where we've been to Valladolid and Mérida as a couple) is always going to be a travel favorite for American families. There are lots of resorts that cater to families with children of all ages, and quite a few friends of mine have made this part of Mexico their winter escape vacation destinations.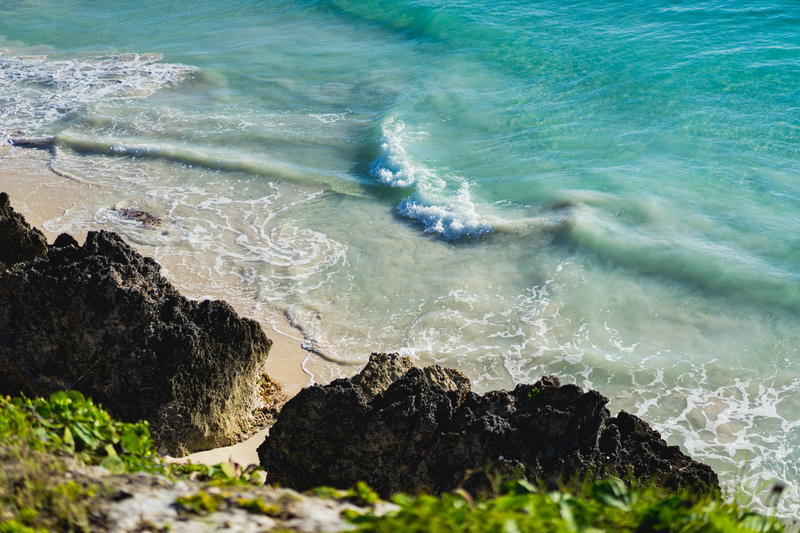 My friend Lauren stayed at Villa del Palmar in Cancun, and it also has a location in Cabo. Lauren rated this vacation by saying, "It's a great kid-friendly place, and fantastic for kids with their water slides, and free kids clubs from 9-4!"
As for the "kids clubs," Lauren said it was a "great escape for the kids from the sun, and for me, (an escape) from them! These resorts have babysitters so you can go out at night."
Cancun was also the first vacation my friend Kruti took with her young baby. Her family went to Cancun and stayed at The Grand at Moon Palace, an all-inclusive resort that they definitely found to be family-friendly!
Kruti said that the resort had "something for everyone, with lots of activities for kids, and it's stroller-friendly." Their baby was only three months, at the time (they are all-star travelers!), so they kept her in her bassinet most of the time with a stroller fan, and she was able to kind of "lounge and hang out alongside us." The resort also had an amazing kids club and water park.
Last year before the baby, Kruti and her husband went to a different all-inclusive resort in Cancun, with her sister's two kids (ages 6 and 3, at the time). They stayed at Finest (part of the Excellence collection) and found that it was an awesome resort for having little ones!
At the Finest in Cancun, Kruti says the food was great and always easily accessible with room service options, too. The hotel was super accommodating to allergies and dietary restrictions, which is helpful for children who are eating the hotel food.
Her family also had a swim-up suite (great idea!), which was brilliant for toddler naps: "The kids could be sleeping inside the room, and we'd be right outside with a monitor, hanging poolside!"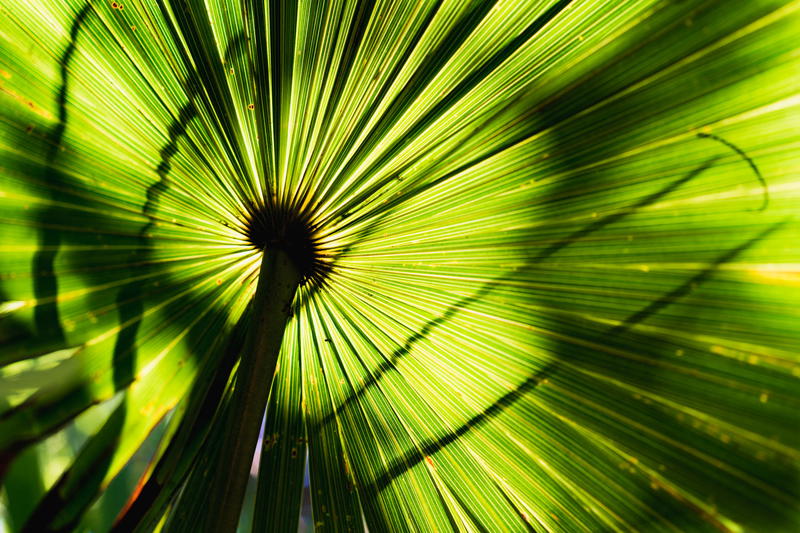 Lisbon, Portugal (and other parts of Portugal)
Lisbon is one of my favorite European travel destinations, and Dan and I stayed in Lisbon before road tripping to villages in the south of Portugal. We went back a second time a few years later because we love it so much, and have dreamed of going there as a family one day.
My friend Bona beat me to, it though, and went to Portugal as a family of three with her husband and their baby. They went to Portugal because doing a longer trip is more budget-friendly than the same amount of time in neighboring European countries. Bona said that of all the European countries, Portugal seemed to be the most affordable. I agree!
Additionally, Bona reminded me that there's very little language barrier in major cities in Portugal: English is widely spoken, so it's easy for American travelers to get around. Especially with having a baby or children, I think one of the greatest fears for traveling is having an unexpected situation and not being able to communicate about it.
Starting in Lisbon, they took my recommendation for accommodation and stayed at the Lisboans Apartments. Bona detailed all about how it was great for having a baby, which you can read in my review of the Lisboans Apartment-Hotel.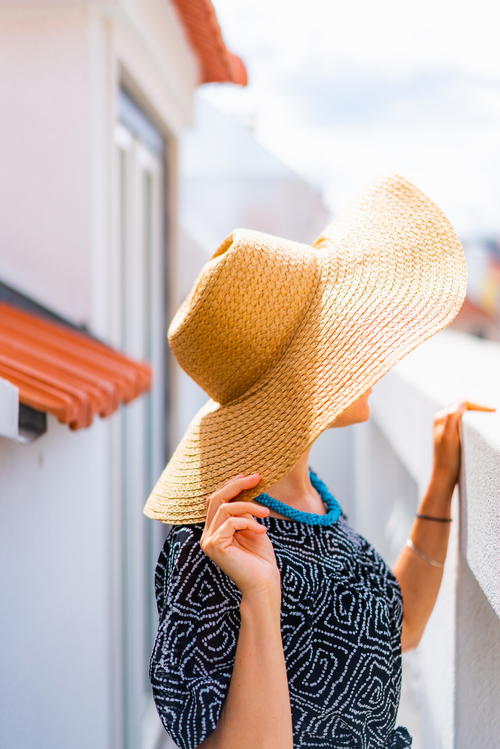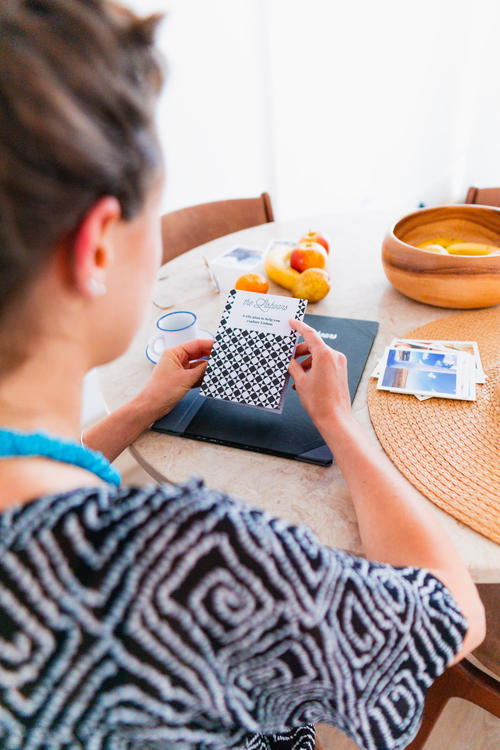 At the Lisboans, Bona and family stayed at a large one-bedroom apartment for about $250 a night. As the Lisboans is located right next to the Alfama District, it was central to nearly everything in Lisbon.
Hotel accommodation in Portugal with a baby
Bona said that regarding hotels in Portugal, "Every place we stayed provided a clean high chair, baby bathtub, and Pack'N'Play. There's also a service called Let's Go Baby where you can rent baby gear and they will deliver it to your hotel or Airbnb. They SAVED us when we were looking for a specific baby bottle brand after our baby was rejecting the one we had switched to, just weeks before!" Sounds like she chose right and did her research!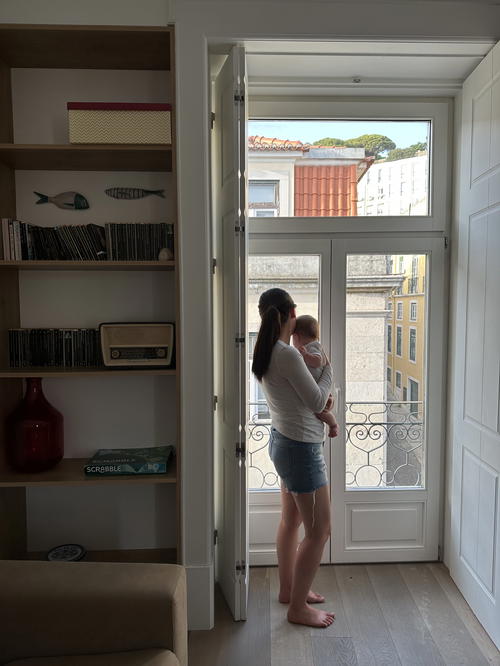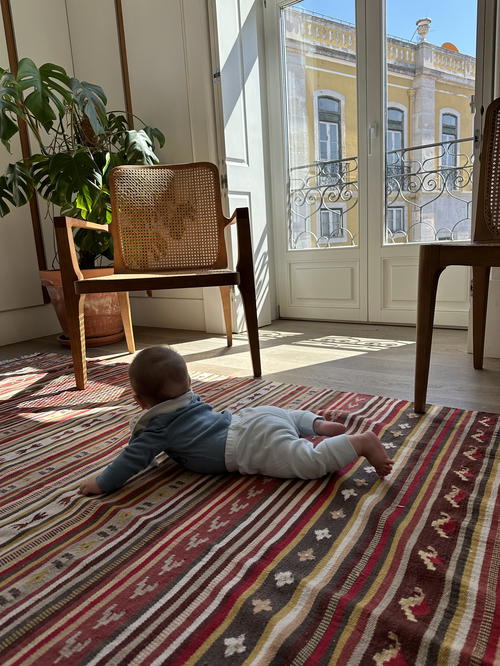 Priority service in Portugal for young families
In Bona's experience, families with babies can cut the line for any tourist attraction or government facility.
"As soon as we landed in Lisbon, there was an employee pointing young families (including those with toddlers) to an expedited customs line. Then for sightseeing with our child, we got priority for the Belem Monastery, Peña Palace and more!"
Getting around with a baby in Portugal
When I was in Lisbon, it was soon apparent that public transport was plentiful and easy to figure out. Dan and I rented a car in Lisbon to drive to the Algarve, and that was pretty straightforward. Bona and her husband rented a car and noted that they could keep a car seat in the vehicle.
"It's worth noting that Lisbon is mostly cobblestone and hills, so it's tough for littles, but a good way to wear them out!" she says.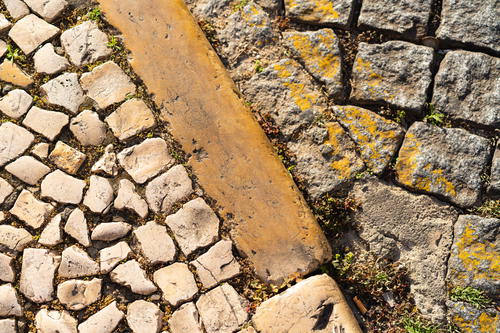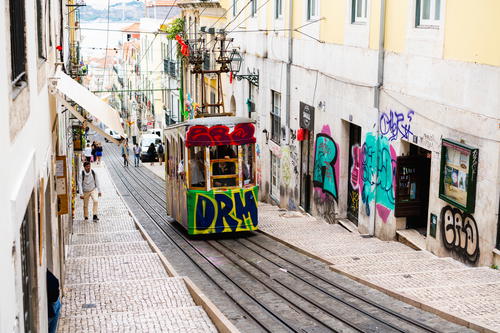 Restaurants in Portugal if you have kids
Bona said that after dining in restaurants in various parts of Portugal, "They literally don't care if you have a kid. We went to a nice restaurant, and our table had a high chair waiting for us. We did not expect that! And all the wait staff came to say hi to our baby!"
A few more child-friendly places in Portugal
A couple more places that Bona traveled to in Portugal with her baby were:
Sintra
This is a historic town outside Lisbon with castles. She did a day trip, but noted that you can easily go longer. Her favorite was the Quinta de Regaleira, "as there was more nature and places for kids to run around (versus Peña Palace, where it's an indoor guided museum, so there's lots of standing around and feeling stuffy)."
This is a vineyard (and also a hotel to stay at) in the Algarve. The restaurant does a lunch with wine pairings on the vineyard under a 2000-year-old tree. "We actually met another couple with a baby who was born the day before our baby!" Bona says.
Chicago, Illinois
While I haven't gone to Chicago yet as a parent, my friend Marisa from The Neon Tea Party sure has, with her toddler! She cited the Shedd Aquarium and going to a Cubs game as the top things to do with a little kid in tote.
Marisa told me, "The Field Museum and Shedd Aquarium are next to each other, so you can do them back to back! And, the Cubs game was a blast." If you're into baseball, you can bookmark the Cubs games schedule.
Chicago also is home to lots of kid-friendly food options for families, like the places with kids menus in this list of kid-friendly restaurants in Chicago from Eater.
Like many big cities in the US, Chicago makes a great spot for taking your kids. Just make sure to go in spring, summer or fall, unless you have a love for the bitter Chicago winter!
If you're walking around Chicago and looking for things the parents may enjoy too, be sure to see our guide to the coolest spots for photos in Chicago.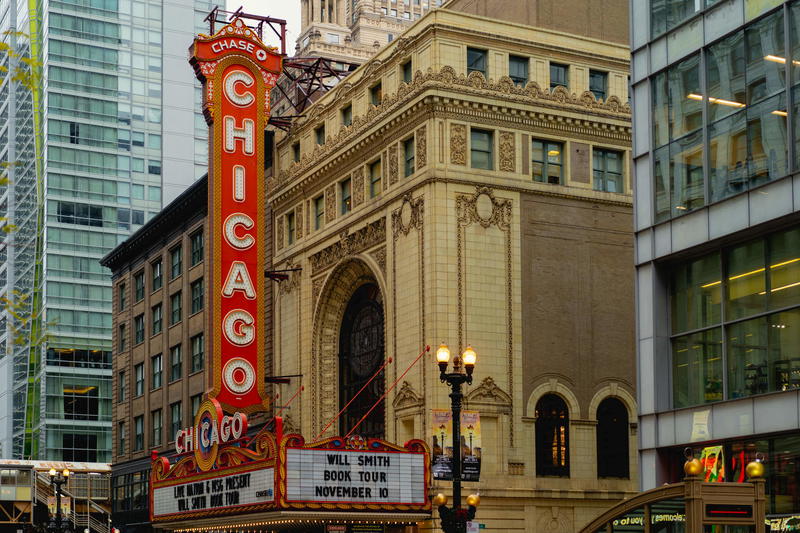 Medellin, Colombia
I know what you're thinking: Medellin? Colombia? Our friends Alex and Ryan are American expats living in Medellin, Colombia, with their toddler daughter and have all the kid-friendly recommendations!
For couples who want to experience South America safely and in a family-friendly way, Medellin is a cool choice. The city is a growing hotspot for international expats and nothing is stopping families with young kids from calling it home!
According to Alex, there are lots of child-friendly things to do in Medellin, and for that reason, it's an adventurous (yet also safe) place to travel once you have a growing family. Things to do with your littles include visiting the Sunday Ciclovía (closed roads for walking, running and biking), Chocolate Tour, Botanical Gardens & Parque Explora, Plaza Mayorista market and taking day trips to the countryside, like to Guatape.
For where to stay with a baby or kids in Medellin, Alex has expertly recommended the Hotel Dann Carlton Medellin as well as the Intercontinental Medellin (an IHG Hotel). The Intercontinental specifically has great amenities for kids, from tennis courts to two swimming pools.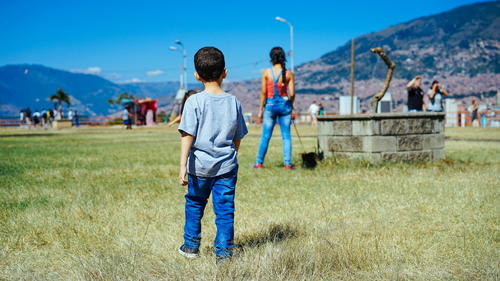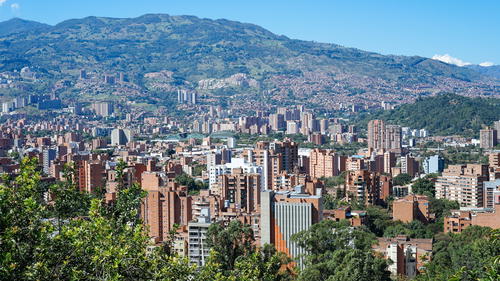 Boston, Massachusetts
In collecting this list of kid-friendly vacation destinations, my friend Sarah reminded me about Boston! Boston is somewhere my family went when I was a kid, and we'd stop on the way when we'd visit my cousins in New Hampshire.
From Sarah's experience visiting Boston with her toddler and baby, she says that, "Boston has a nice children's museum and aquarium!" Other family-friendly ideas include a whale watching tour, walking in Boston Common and Boston Public Garden, and visiting the cute Make Way for Ducklings sculpture. For older children, follow the "Freedom Trail" walking path through the city. It leads to all the great historic landmarks.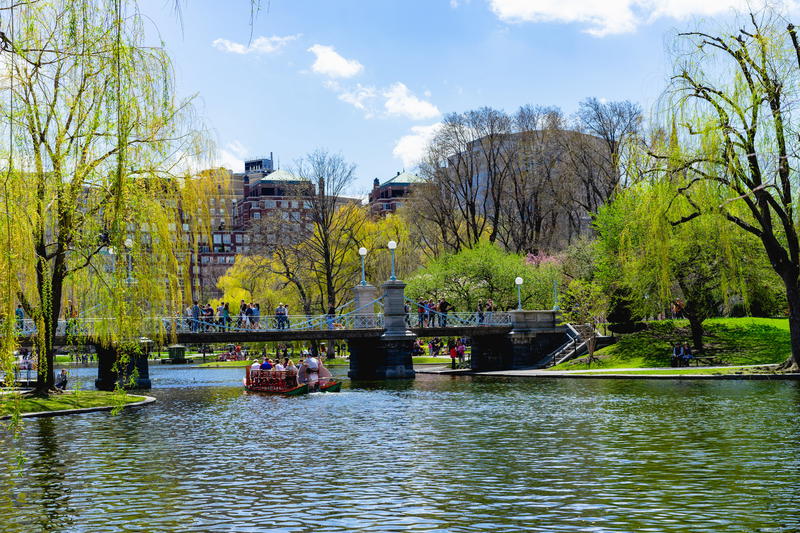 I have two friends (Ariella and Masha) who live in Boston with babies and toddlers, too. My friend Ariella noted that, "Things are relatively close by in Boston, which is nice!"
Masha said families visiting Boston for vacation should check out the Boston Children's Museum, The New England Aquarium in Boston, beautiful towns north of Boston (with lots of ice cream shops!), local coastal beaches and farms all over the greater Boston region. She recommends Connor's Farm in Danvers, MA, and next to it is the (seasonal) Topsfield Fair, which is really fun for kids.
"We also just went to a whale watch," Masha said. "I wouldn't take my "non-chill toddler" there again until he's older, but if he was chill, it'd be more fun!" To top off her suggestions, Masha said that, "Southwick's Zoo is amazing for kids."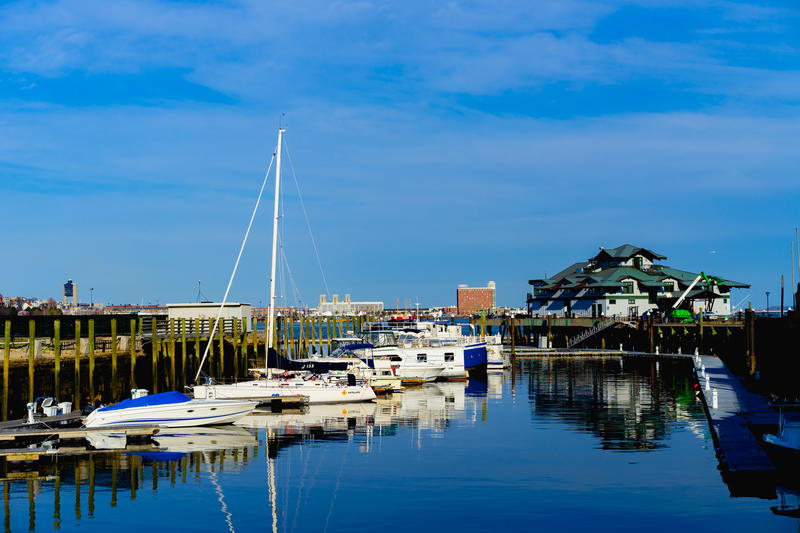 York, Maine (Southern Maine)
Maine is a lovely destination for vacations of any type, but my friend Breanne has the suggestion of York, Maine, as a family-friendly travel idea. York is only 10 miles into Maine from the border with New Hampshire, and if you were to keep driving, you could take the family onward to Portland, where I've gone on vacation!
"I grew up going to York, ME, and it was natural that was one of my daughter's first trips. It has beaches, outdoor restaurants, candy and taffy-making stores and picturesque walks," Bre says.
As a few highlights or sights to visit, Bre's list of where to go with her baby or kids near York, Maine, includes candy shop Goldenrods, the easy ocean-side walking trail Marginal Way, Long Sands Beach, Chauncey's Lobster Pound and the famous Nubble Lighthouse (which has a Just for Kids part of its website)!
Lastly, Breanne's infant daughter really liked visiting York's Wild Kingdom, a zoo and amusement park that also has a mini golf course.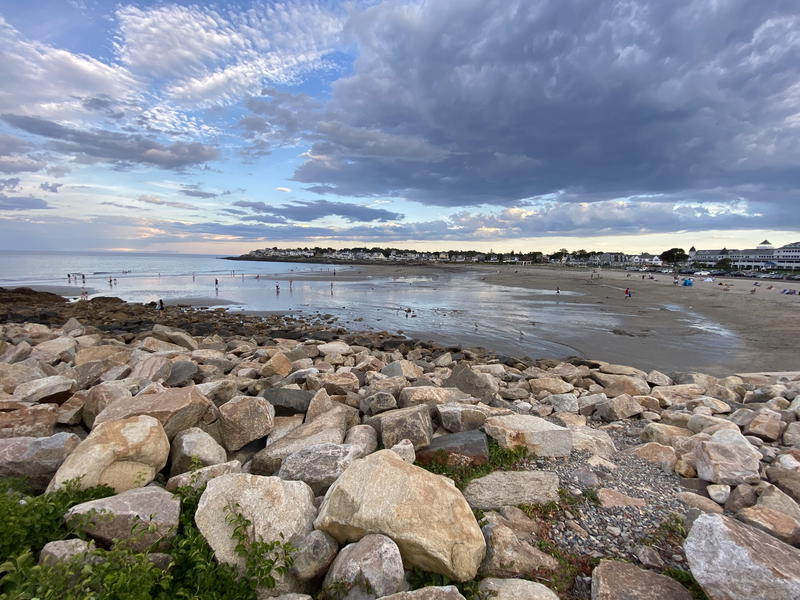 The Dominican Republic
Every winter, the white beaches and blue ocean waters of the DR beckon me. And for some of my friends, they chose a family-friendly resort vacation in Punta Cana!
My friend Alex and her husband took their toddler to Finest Punta Cana, an all-inclusive resort also by the Excellence Collection. Traveling with a toddler is far from easy, and staying at a proven place for families like a kid-friendly hotel is key.
Alex's resort had quite a few specifics just for little kids, from the Imagine Kids Club to three different pool areas, including a splash pool for the smallest children, to mini water parks for older kids. A "Stay & Play" area is the indoor-outdoor location for small kids to play while adults can supervise and stay safe.
There's also a naptime room, and the "Imagine Lounge" where childcare is available if parents want to soak up some alone time.
We went to the North Coast of The Dominican Republic before we had our daughter. We'd totally go back with her and show her everything we liked about our trip.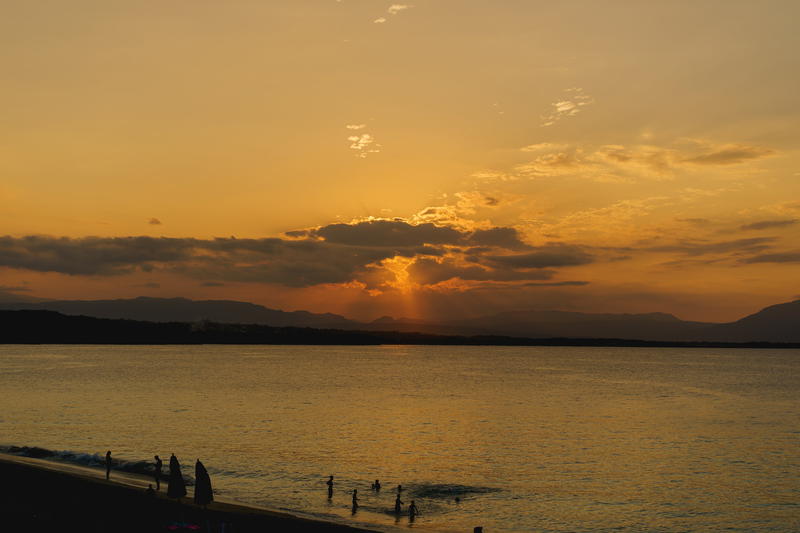 Costa Rica
My friend Becca and her husband Jacob, who we know from the Remote Year traveling community, went away with their infant daughter for a month, to work remotely and travel in the warm sun of Costa Rica.
They stayed in Playas del Coco, which is a family-friendly area of Costa Rica's coastline where families with a baby or young kids can hop into a range of tropical activities. To learn more, I'd guide you to this list of family activities to do in Playas del Coco from Letstravelcostarica.com.
But wait, my friend Ariella went to Costa Rica with her baby and her husband around the same time, for more than two weeks! They were looking forward to this family vacation for months, ever since their baby was born.
"We went to Costa Rica partially based on stability, the medical system and the weather," Ariella told me. "Then, we did not do much while there, which was what we wanted. I would say it was baby-friendly other than the non-major roads, but our daughter seemed cool with bouncing around in her car seat!"
French Riviera & South of France
My world-traveling friend and mom friend Kruti said her and her husband's France trip with their 9-month-old to St. Tropez and Cannes was great.
"Overall, we felt that France was super baby-friendly!" she said. "There were clean changing facilities everywhere, high chairs at every single restaurant, and baby food options were available at every restaurant and hotel."
In true European style, she said it felt like kids were encouraged to join so many "seemingly adult activities." They were able to bring the baby on wine tours, and even to a bunch of day clubs in Cannes and St. Tropez.
"We brought her to Nikki Beach, but a friend of ours went to Gigi, a day club that has a section of their venue called Gigi Circus, a whimsical play area just for kids of all ages!"
Montego Bay, Jamaica
My friend Becca (yes, I have a friend Becca!) went on a family vacation with her young toddler daughter to Palladium in Montego Bay. Jamaica is another favorite for getting away from cold parts of the US during the cooler months of October to March!
Like other resorts, the Palladium has a kids' club that offers theater shows, face painting, arts and crafts and a baby club for children between ages 1-3. There is supervision from caretaker staff so that parents can get some alone time at the beach or pool.
Atlanta, Georgia
I probably would not have considered Atlanta as a family-friendly city until my friend Melissa mentioned it. She highlighted the walkable areas and spacious restaurants you'll find in Atlanta that make bringing her three kids there a treat!
Atlanta has "tons of playgrounds, the Georgia Aquarium, Coca-Cola Museum, sports museums and the zoo," she said. "Plus, it's dog-friendly!"
"We had a great day once doing pottery, having lunch and then going to a playground," Melissa concluded, about a visit to Atlanta with three kids under 10 years old, including a toddler.
What makes a destination "family-friendly"?
I asked myself this as well, as I was writing this list and interviewing my friends (who are very good travelers). What comes to mind for me, as a parent with an infant, are things like restaurants that don't mind babies, restrooms that have changing tables and being able to freely feed a baby on the go in various spots.
For a toddler, my friend Ariella reminded me that children who can walk will be curious, and will always want to stop and play! "Family-friendly" for having a toddler means factoring that into car trips to stop at kid-friendly places where there are playgrounds.
With older kids (who have opinions), they will want to be part of the vacation planning, and will groan if something isn't exciting enough. Traveling with older toddlers or elementary-school-aged kids means lots of action, fun and engaging activities.
To "resort" or not "resort?
One thing is for sure and that is that traveling with a baby, a toddler or kids is hard. While Dan and I are not the "resort types" of travelers, we know that a lot of parents want their first (or second or third) trip with a baby or kids to be at a resort because it can be simple. At a resort, especially an all-inclusive, your room ate already includes everything, and there are even kids clubs and babysitting options!
Going to a resort can also be great for traveling with extended family, so that everyone can relax, be near the beach and hit the pool, too.
If you're not a traveler who books resorts, don't worry. This list includes big US cities for family-friendly travel ideas, as well as smaller and lesser-known destinations that will keep kids happy and will be easier with a baby.
Domestic or international?
Deciding to travel domestically within your home country or internationally is ultimately up to parents, when looking for a family-friendly vacation! Dan and I love traveling internationally and seeing other parts of the world. We also like staying within the US and visiting friends and family, while doing things that are new for us in those places.
If you choose to take one of your first family trips outside the US, see our guide on how to get your baby a passport.
Enjoyed our article?
Consider supporting us! We're a 2-person team (learn more about us here) and your support enables us to create quality content. Thank you!