45 of the Best Gifts for Travelers (Updated for 2023)
Written by Dan
•
Updated on September 21st, 2023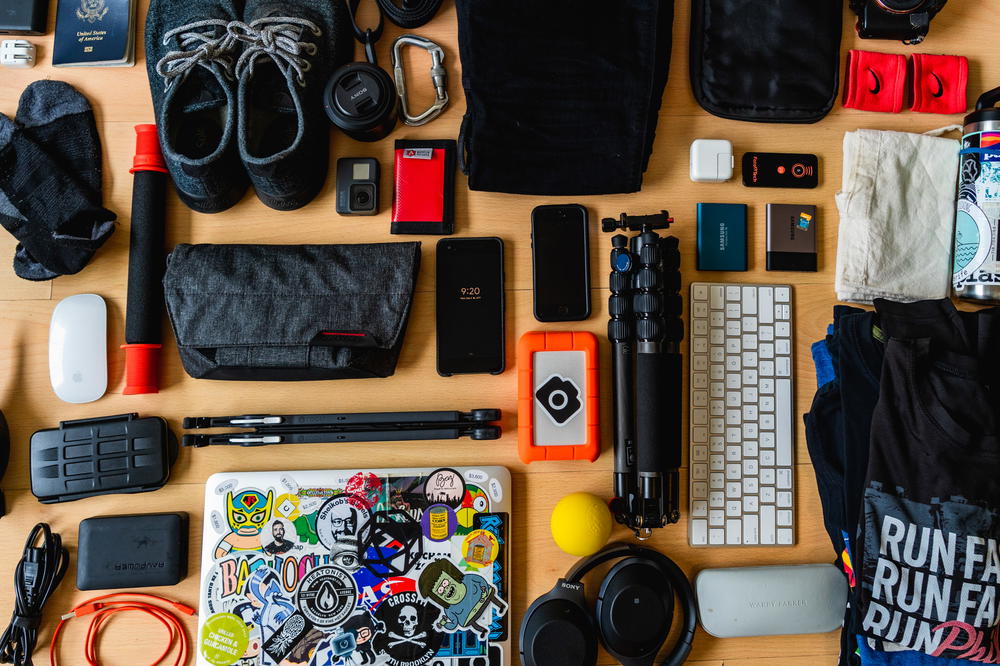 Our 2023 unique travel gift ideas for the holidays are all useful travel gifts that are lightweight for taking abroad on trips! Some even double as gifts for people who travel for work.
This article may contain affiliate links. We earn a small commissions when you purchase via those links — and it's free for you. It's only us (Becca & Dan) working on this website, so we value your support! Read our privacy policy and learn more about us.
Table of contents
Close table of contents
Over the past few years, we've gotten the opportunity to work with a lot of different travel brands and have gotten a deep understanding of what makes a good travel product.
We want to share our opinions on the great travel gear that we've tested to help provide a quality travel gift guide for you to use this holiday season.
In this gift guide, we recommend some of our personal favorites, items we have our eyes on and some products that have stood the test of time in our travel packs.
Let's get started with the best gifts for travel this year!
Backpacks and Luggage
A backpack or good luggage can be everything, and we've learned this by having good luggage, and bad luggage. Below, find some of the awesome bags that make great gifts. These bags are all something special, whether for business travel or travel for fun.
The Troubadour Bivy Tote is Becca's new favorite business travel backpack. You can see a ton of the details in her product review, where there are also lots of photos of this backpack!
This backpack is a gift for travelers who need a stylish and decent-looking laptop bag. You might even want to gift it to yourself!
If you're looking for a genuinely affordable rolling suitcase, the luggage from Quince is an amazing option. All the suitcases have TSA approved combination locks, 360 degree wheels, compression panels inside and are ultra lightweight.
Becca has been using this suitcase as her default carry-on and it's been a great flexible option for all types of trips. Read our Quince Carry-On review here!
The Quince Carry-On will make a great gift for anyone looking for a lightweight and durable rolling suitcase.
Do you have a loved one taking a bigggg trip this year? Check with them first to see if they've been looking at backpacks and have an idea of what they want, and then tell them to hold off: you've got this gift in the works.
The Deuter Aircontact Core 60 + 10 SL Pack is an excellent expandable backpacker's backpack, great for a romp around Southeast Asia, South America or Europe, whether for two weeks or ten. It's got a sturdy frame, loads of pockets, superb-quality zippers and compression straps for every backpacking scenario on the road.
You can see more about this backpack in our list of the best backpacks for women.
This backpack has become our go-to "weekend away bag," and we've used it for overnight trips. It has a pleasing and elevated style for a travel bag of this size, and a laptop compartment that really keeps your computer safe.
Overall, it handles weight very well and will satisfy the minimalist traveler who's picky about travel bags. One point to hammer home is that it comes in several different sizes, from 20 to 38 liters. We also recommend it in our list of the best travel backpacks.
Filson bags are timeless and if you're looking for material quality, consider gifting a travel bag from Filson. We're pretty sure people keep their Filson bags for about 80 years, and if you gift one, it's a gift for a lifetime.
We hope to have the one we have forever! Becca has used it to commute to work, and also as a daypack while we're on a road trip. In the future, we might even plan to use it as a diaper bag when we expand our family, so we're keeping it around because the quality is fantastic.
I've had my Peak Design Travel Backpack since the beginning of the product line (it was originally a Kickstarter). It's done exceptionally well as a travel bag and photography bag.
I've quite literally sat on the bag and tried to zip it up and the zippers haven't broken. With that said, the quality is unlike most other bags that I've tried.
You can fit a surprising amount of stuff inside and there are plenty of compartments for everything! For these reasons, the PD travel backpack is a stellar travel gift this year.
If you're curious, I have a review of the Peak Design Travel Backpack if you want to learn more about its features!
The Black Hole Duffel is still one of my favorite duffel bags on the market. It's great because it folds into itself. This is practical for times when you want to bring home more than you came with. The folding capabilities are also useful for storage.
If you know someone who tends to go shopping on trips, this is an ideal foldable duffel to have within luggage. It can be carried-on, or checked, for a flight.
There aren't too many pockets in this duffel bag, but there are compression straps that help keep everything nice and tight. The material is durable and even with many year of wear and tear, my Patagonia duffel bag still looks brand new!
Clothes for Travel
Travel clothes is a category of apparel that has always stumped us. We look for features in travel clothes like versatility, breathability, ability to pair with other clothes we've brought along and ease of washing. Get ready and get set to see the travel clothes we recommend this year for gifts.
I don't get the opportunity to dress up a lot. When I do, I'm glad I have my Bluffworks Gramercy Suit. It fits pretty much right off the shelf. Suits are a personal thing, so you might want to get it tailored.
The jackets do fit true to size. I wore the 38 regular for a year, and then switched to a 38 short and I am much happier with this size.
The Gramercy travel suit has all of the characteristics of Bluffworks products, which are durable, practical and well thought-out. I haven't run a marathon in my suit (maybe I should?), but I have noticed it is more forgiving than some of the other suits that I own. I think this would make an awesome gift for someone who's not expecting it; just keep in mind that suits usually require tailoring (but not always!).
There are also tons of hidden pockets everywhere. The hidden pockets are super helpful on suits, because you can carry a small amount of cards and zip safely through different parts of the suit. You can see just how well it packs up into a backpack or suitcase in our guide to how to pack a suit for travel.
When it starts getting cold out, I usually put on my DUER Fireside jeans, reviewed here. They have a thin layer of fleecey insulation that makes them nice and cozy for the colder days and nights in winter.
From the outside, no one would ever know that your jeans are far more superior than the rest. Jeans do have a tendency to get cold because denim isn't known for its ability to hold in heat. And that's why these Fireside Jeans from DUER are the best, especially for cold trips where you may be out sightseeing for hours, or standing in outdoor lines to get into attractions.
Know someone heading to an ice festival this season? Gift them the Fireside jeans, available for both men and women!
The Fireside jeans are available in Men's and Women's styles.
This merino wool hooded sweatshirt from Aviator caught us by surprise, and now we consider it one of the best travel gifts for frequent jet-setters in our lives.
What's nifty about it is its thoughtful travel-specific features, like the fold-down mitten cuffs for cold flights, an oversized hood that turns into an eye mask, zippered pockets to keep anything from falling out mid-flight and soft odor-wicking merino wool material. See all the photos we took of this product in our detailed review.
The Aviator First Class Hoodie is available in Men's and Women's styles.
The Resistor Chino pants from KÜHL are the perfect gift for anyone who loves to look stylish and feel comfortable. They are made from soft and lightweight fabric and are designed for maximum comfort and mobility.
The modern styling will ensure your loved one stands out in the crowd! With multiple pockets (like the signature KÜHL phone pocket) and a stylish tapered fit, these pants are the perfect addition to any wardrobe this holiday season.
Is someone on your gift list pregnant and planning a babymoon? Compression socks from NxtStop make a great gift for plane rides and road trips.
They're not just for pregnant women and athletes, though. Compression socks are comfy, and they're nice for any traveler to have during a long travel day, as they help with circulation of the blood while sitting for long periods of time.
They're also a very easy gift to give, coming in only two sizes (M and L), and simple colors that match all your travel clothes.
Becca is always at a loss of what kind of underwear to get, especially for travel, when you might be sleeping on a plane, or a train or a bus, and you want to stay fresh. She recently learned about WAMA Underwear, which makes undergarments for both men and women, and all the products are made out of sustainably-made organic hemp.
WAMA products are breathable and lightweight, and the company hopes to bring awareness to everyone, especially travelers, about the benefits of hemp as a new natural fabric.
Becca tried the bikini and hipster undies and looks forward to bringing them on a trip soon. For men, WAMA makes boxer briefs, boxers and briefs.
This sweatshirt quickly became a favorite of mine, for having a perfect fit and a perfect feel. Between the cotton and merino wool blend, this sweatshirt is both lightweight and warm, making it versatile and kind of like a "goes-with-anything" piece to have in my bag on a trip.
Merino wool is one of the most popular materials for travel clothes these days, and this sweatshirt is the type of staple I'd have on a trip to somewhere with cool weather, or simply for wearing while in transit.
For men, the Kennicott Crew from Toad & Co. is a pleasing gift that comes in neutral colors and it's like an elevated sweatshirt for that person who prefers to lounge around and work from home with no pants on.
It's made from recycled content (for a sustainability-minded gift!) and is moisture-wicking (ideal for a travel experience). Despite its wool content, it's easily machine-washed, so it's a nice choice for taking on a winter trip like skiing or cozying up in a cabin.
This women's vest from Toad & Co. is a no-brainer gift for winter! Becca likes the timeless colors and the teddy-bear-like texture that's both fuzzy and warm, but not bulky. A vest is a great item to have on a travel day, as it keeps your core warm, while keeping your arms free of, well, the bulk you'd have from a jacket. Just make sure to layer properly underneath!
I've had my Public Rec Joggers for a few cold seasons now. They were my first pair of joggers, and they've been given some quality time throughout the short winter days.
They fit me really nicely and are a little bit thicker than some of the other travel joggers on the market.
I like the Public Rec joggers because of the amount of space that the pockets have and the quality of the material. They feel nice, and they haven't shown too many signs of wear after extended use. For these reasons, they're a cool athleisure gift for someone you're close to.
Becca has them in the Women's All Day Jogger and gave them a test run on her flights to Guatemala this year. If it hadn't turned out well, we wouldn't be recommending these for both women and men as great gifts this season.
Mott & Bow Cashmere Sweaters
A cashmere sweater feels like an elevated gift to receive and it's true. From Mott & Bow, cashmere is both attainable and easy to shop for. In this review of Mott & Bow products, Becca reviewed the Women's 100% Cashmere Turtleneck sweater. Note that it's an oversized fit, so it makes a good gift because it doesn't have to fit the gift receiver perfectly. It's like a relaxed cashmere sweater that won't go out of style.
We've also both tried the Mott & Bow crew neck cashmere sweaters: the Cashmere Raglan Crew Cambridge Sweater for women and the Classic Cashmere Crew Bergen Sweater for men. Both have more of a fitted style and are gifts for someone who likes to show off their physique during winter rather than hang out in a looser sweater.
Swiftwick is somewhat of a new discovery for me this year. I first heard about the brand when I was doing research for bright socks to wear when I run at night.
I was quickly impressed with the quality and wanted to try something new going into winter. The Vision Winter Collection seems like a perfect fit to have some nice socks to wear when hiking during the colder days while keeping my feet warm.
Socks tend to be an easy and quick gift, but if you're giving them for a reason like for all the features of these socks, then they're well appreciated!
With so many great travel pants options for men, it can be easy to overlook a belt that can be flexible and comfortable. This is where Arcade belts excel as gifts.
For any bouldering, challenging hikes, long camping trips or even long travel days, a quality and comfortable belt can go a long way.
My trusty belt (that I think I must have gotten seven years ago) has been good, but it can start to get uncomfortable on some of the longer flights that I've taken. Arcade belts are designed to move with you and stretch, and one of these would be awesome for the traveler in your life who always forgets to pack a belt (that person might be me).
I was a skeptical about trying this belt, but after wearing it for some time I actually really like it. It's really comfortable, where you don't feel that you have a belt on. It's low profile enough that it never gets in the way.
And, you can easily loosen or tighten the belt based on what you're doing or if you need extra support.
Outerwear for Travel
For fall, winter and early spring months, outerwear for travel is essential! When it comes to gifting, who wouldn't want a trendy or stylish new type of outerwear for holiday trips?
I wear my Public Rec Brave The Elements Shell when the weather falls below 60 degrees. This windbreaker runs a little "warmer" than other similarly styled jackets.
It has become one of my favorite lightweight jackets that I own. I like it because it packs really well (it folds up super tiny in luggage), keeps you very warm, fits well and looks great.
It's a nice gift idea for someone always on the go who would appreciate having a foldable and packable windbreaker to fit in a small backpack. Do you have that person on your gift list? I think we do.
This half (or is it quarter?) zip-up fleece from Jack Wolfskin comes in both men's and women's, so naturally, it's a cool his-and-hers gift for a couple you may be thinking about this season. In the past, we've also reviewed the Jack Wolfskin Ultralight packable jackets for men and women!
For the Baiselberg Half-Zip, we both got the colors we liked, for our own specific reasons: Becca got Graphite, in order to go with all the black leggings she wears, and I opted for bright orange, seeing as I'd be wearing this fleece for working out outside at night.
This winter piece is a winter gift that I don't think any traveler would turn down, especially because the Jack Wolfskin brand is known for outdoor durability and is favored among skiiers and hikers.
If you want some style while you travel, Bluffworks has you covered. The Presidio Bomber Jacket for men is a versatile jacket that you can bring with you during a variety of trips.
This jacket doesn't have to be exclusively for travel, though. It makes a nice jacket to grab before you've leaving the house on a brisk day. It's nice and lightweight, but still does a good job of keeping you warm.
Like most of the products from Bluffworks, there is a surprising amount of pockets. This is nice to be able to stash away a light pair of gloves or anything else you need quick access to. A Bluffworks outerwear piece is always good news when you're the one receiving gifts.
Accessories for Travel
Travel accessories often get overlooked, but for us, they really make or break the trip! Check out the list of travel accessory gift ideas below, and you'll see exactly what we mean.
While I'm the one who can't sleep on flights, Becca certainly gives it a shot. We were recommended the Cabeau neck pillow by Becca's cousin, years ago back in 2017, and since then it has been Becca's favorite "firm" travel pillow. By that, I mean that this travel pillow doesn't break your neck when you doze off during a flight, like those other blow-up travel neck pillows or the ones filled with beads.
This one's a great gift for a frequent flyer on your list! It also comes with a neat carrying sack that can attach to luggage. It's absolutely a necessary accessory for long flights.
Every traveler should have packing cubes, and if you're going to buy some, why not get the best ones around? I've been using Peak Design's packing cubes for quite a few years now, and I like a few things about them: the zippers that don't snag, the washability and the smooth and lightweight material.
If you know that a loved one on your list could travel a big more suavely, consider packing cubes as a gift this year.
The JBL Flip Bluetooth Speaker is something we use at home, and it also converts into a handy wireless travel accessory we take on the road if we want to be able to play our tunes and podcasts on something other than an iPhone. This speaker packs quite a punch, and we're using it right now, as we are writing this list for you. What do you think we're listening to?
We'd recommend a bluetooth speaker for travel, like this one, if you know someone who could have their travel experience elevated by some good audio, whether in a hotel or camping out in the wild.
Becca recommends this AirPods "leather edition" case with a strap for anyone who's always dropping their AirPods case.
A case like this one is also great for travel, like when you're fumbling for your AirPods on a flight. She really likes the tiny strap handle, and the perfect fit of this leather case. Know a techie traveler? This might be the best gift for them.
I'm a fan of this handheld flashlight that's great for quite a few things, from night running to camping to just having a backup light source if you experience a blackout (these can sometimes be common in developing nations).
If you know a traveler who's into hight hiking, night safaris or climbing/caving, this is also a thoughtful gift because of the hands-free grip design.
New to the world of coffee products for travel is the Jogo, based on the idea of the Argentine "bombilla," which filters tea through a straw.
The Jogo coffee filter straw serves as a way to make your favorite coffee on the go when you're at an Airbnb, camping or even staying at a friend's house and they don't have a coffee maker. We think this product is a super cool gift for the person in your life who's into coffee gadgets and new ways to brew their caffeine.
For people who travel internationally where the wall plugs are different, a universal travel adapter is key. We've traveled to so many countries and have always had this adapter with us.
They are usually affordable and the one we've had has lasted well over five years. One of these makes a great gift because it's one of those things that people didn't think they needed until they have it. If you know a newer traveler who's setting off on an adventure this season, a universal travel adapter is great for this trip and all the ones in the future.
We've recommended a power USB hub probably 1000 times on this website. The reason is because it's so practical and also makes a great gift for someone who travels a lot.
The purpose of this product is to be able to charge everything at once. You only need one outlet, and then you can charge your phone, tablet, kindle, battery backup, watch or whatever else needs charging.
This is perfect to stack with an international universal travel adapter because you don't need to cycle through charging something one at a time.
A battery pack has gotten me out of more jams than I can count. Long flight and nowhere to charge your phone? Battery backup. No outlet close by? Battery backup. Don't trust some weird plug in a restaurant or Airbnb? Battery backup.
Even now, we use the battery backup to charge our iPad on the coffee table because there isn't a plug close by while we're using it.
Do you know someone who wants to feel like a true hiker, or go on a safari at the nature reserve right near home? We recently tried out the NOCS Waterproof Binoculars and they are the real deal!
We took these cool and handy binoculars on a hike and got to zoom in on a turtle hanging out on a log. What's also cool is that the boxing material that the NOCS come in gives you tips on how to line up your smartphone with the binocular lens, to get an instantly-shareable binocular photo!
These binoculars would also be useful at sporting events, concerts and just for fun while sightseeing on a trip.
For traveling on long flights, a massage gun can really help get knots out of tight muscles. When I travel, I usually run in new destinations. Having a massage gun can be really useful in quickly warming up before and after my runs.
I enjoy my Q2 Mini from Bob and Brad because it's really small, fits in my luggage and is actually useful!
This makes a great gift for any traveler on any activity scale.
Travel Shoes
Having shoes for travel is one thing, and gifting travel shoes is another! Luckily, we're recommending these travel shoes as gifts because the return policies are super easy.
Becca and I both have the Allbirds Pipers, for men and women, and what we like about them is that they are machine-washable cozy walking shoes that are great for travel days. Gift these to someone who's had their eye on owning Allbirds, as these are some of the coziest shoes for colder months.
See our full review of the Allbirds Pipers sneakers for men and women to see if this is the right gift to give this year!
For taking trips to escape the winter cold, your favorite traveler needs some brand new Birkenstocks. We like this brand of sandals because they're durable (I've had mine since fall 2017!), have good arch support and also good ankle support, in so many different styles.
Teva sandals are a winner for travelers who are cool with sandals, and who like having their feet in the type of shoe that you can walk in for hours, but also get caught in the rain in, and not care! We recommend the unisex universal sandal from Teva for a gift.
Travel Photography Gifts
As two people who really love documenting their trips through photography, take it from us: photography gifts for travelers are huge this year. See what our top picks are, below!
For photographers, the amount of little items you accumulate seems to grow, day by day. The Peak Design Tech Pouch helps wrangle all of your items together into a neat little package.
When I travel with mine, I always have my memory cards, charging cables, battery charger, adapters, dongles and more.
It's been a lifesaver to have and in which to keep everything I bring with me. Any traveling photography enthusiast will appreciate this accessory as a gift.
How exciting would it be to receive the gift of photography classes online? Moment is offering topics in photography from documentary photography to filmmaking to photo storytelling. We like the idea of giving the gift of learning!
This waterproof 360-degree action camera is a thrilling gift for travelers who've been wanting to document their trips in a unique way. It's the perfect excuse to give someone the gift of unleashing their creativity through photo and video.
The Fujifilm X-T30 II is a really good small camera. It's good for any purpose and really shines during occasions when you don't want to lug around a heavy camera and too many lenses.
Fujifilm cameras are known for their ability to emulate various film stocks. You can get a picture out of these cameras print ready with low to minimal editing. There's something really special about that!
If you have the budget for a gift, or know someone who loves photography and you can chip in with others, the Fujifilm X-T30 II will be an outstanding gift this holiday season.
Looking for a lens to pair with the camera? I recommend the 35mm f/1.2. It's one of those lenses that you can keep on the camera and never take it off. It's really nice!
One last thing, with any digital camera, you'll need a memory card. This 128GB memory card will work well for any photography camera.
Don't forget a lens and a memory card!
Camera cleaning kit
Camera cleaning kits make great gifts for people who are into photography and have DSLR or mirrorless cameras. Or, really any camera with a sensor. Cleaning your sensor is scary, but without doing so, you may have dust spots on your camera sensor that can get in the way of your photos.
I have a guide and video talking all about how to clean your camera sensor. I recommend these products as a way to effectively clean your sensor the right way.
Here's everything you might want to complete the set
Travel Books
Oftentimes, we groan about books, but now that we have a proper coffee table (finally) at home, we can appreciate books that we really want to look at. And, we love to look at travel books, both to leaf through for fun, and to prep before a trip!
Our friends Alex and Ryan of Alex & Ryan Duo Life wrote this book for adventurous couples who want to hit their goals and create memories! It's for travel, and also milestones in your adventure together through marriage. What a fun way to grow together! Makes a great gift for newlywed travelers.
A series of books we swear by are the Lonely Planet guidebooks. You will see the mentioned all over this website, from our travels on our Portugal Road Trip to Chichen Itza in Mexico. We think that an LP guide for a traveler you know is a good gift, especially if they haven't had time to properly plan an upcoming vacation.
This beautiful and down-to-earth coffee table book about traveling in North America is an inspiring gift for a loved one who either wants to get to know the US, Canada and Central America better, or doesn't have the desire to head too far away for adventuring. This book is one we really enjoy leafing through, because there are so many places in North America we have yet to visit.
Enjoyed our article?
Consider supporting us! We're a 2-person team (learn more about us here) and your support enables us to create quality content. Thank you!