Best Things to Do in Jerusalem (Local Travel Tips)
Updated on September 20th, 2023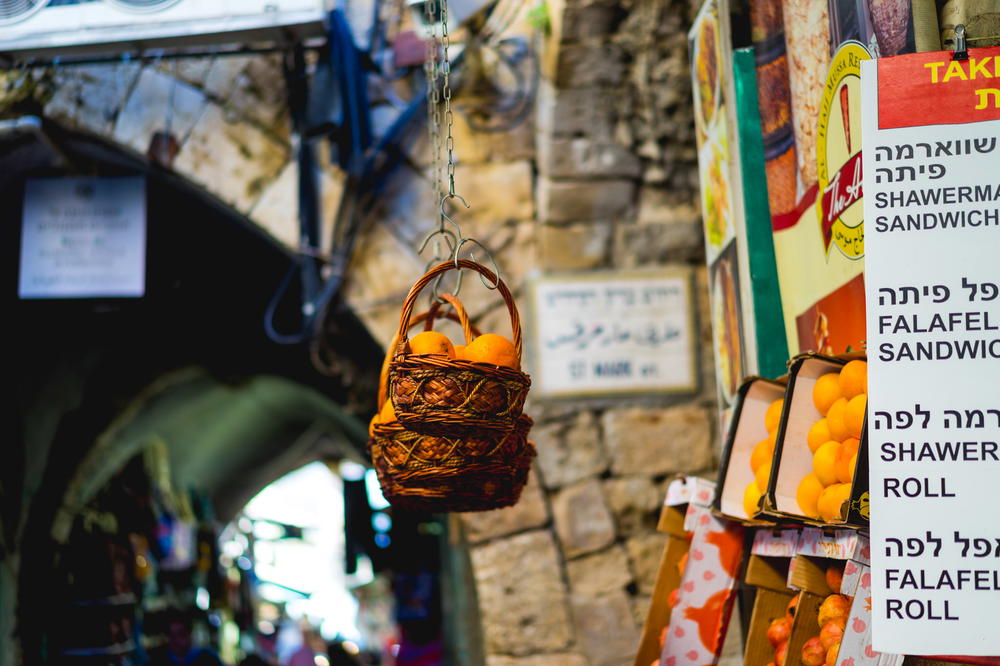 Looking for how to visit Jerusalem for the first time? Check out this travel guide for our best non-religious things to do in Jerusalem, for any culture-savvy traveler.
This article may contain affiliate links. We earn a small commissions when you purchase via those links — and it's free for you. It's only us (Becca & Dan) working on this website, so we value your support! Read our privacy policy and learn more about us.
Table of contents
Close table of contents
Jerusalem is a magical city for so many reasons. It's historic, it's full of culture, it's surprising to most, and what we like about it from our most recent visit is that Jerusalem has lots of personalities.
At the mention of "Jerusalem," you may think of the Western Wall, lots of religions in one spot and a city from your history book, but maybe that's because you haven't seen the murals of the Mahane Yehuda Shuk during its nightlife hours, the hidden speakeasies that only locals know and the best spots for hummus.
No trip to Israel is complete without a few days or even a week, spent in Jerusalem, after you see sights in Tel Aviv and Haifa, and nature at Masada and the Dead Sea.
If you came to our Jerusalem to learn about famous spots from the Bible, politics or history, that's great, and you're sure to have an excellent time. Conversely, if you plan to visit Jerusalem to see what's under the dusty artifacts and stone walls, come with us, as we show you local tips and the best things to see for the fun-loving traveler.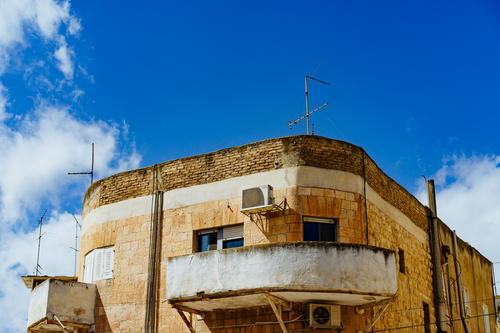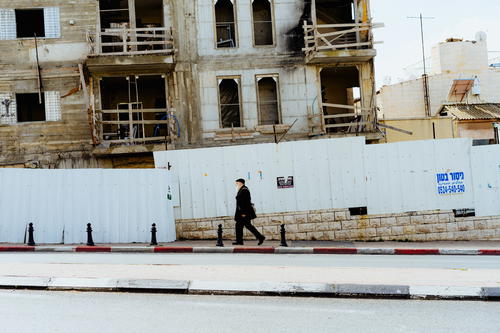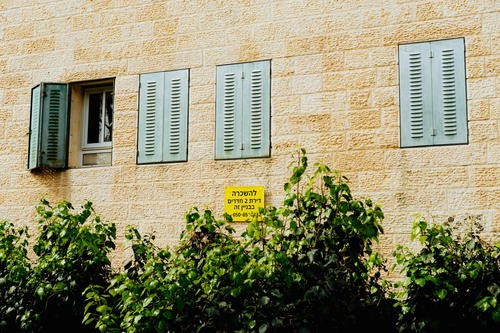 What to know before visiting Jerusalem (for non-religious trips)
Most people think of Jerusalem and think of a highly-religious city full of places of worship, dusty layers of history and maybe some conflict.
Okay, ready? Brush all of that aside and wipe your slate clean. Jerusalem is a vibrant city with a fascinating mix of cultures and people, and cool surprises around every bend.
For example, the city's central market turns into the center of nightlife after dark, and it's where you'll find poetry slams, beer bars, late-night eats, colorful murals and music. Say what!
Is Jerusalem safe to visit?
Yes, totally. We didn't experience any crime while traveling in Jerusalem. Israel presents low crime rates for tourists and locals are friendly.
The biggest threat you'd face is potentially getting ripped off in a taxi or in a market. As goes for traveling anywhere away from home, watch your bag, especially in markets and in the Jerusalem Old City (it can be crowded in the narrow alleys) and watch your pockets.
There are on and off periods of tension in Israel overall between various parties, but as a tourist, if you stick to popular attractions and the things in this guide/other blogs, you will likely not get into any type of trouble.
What's a good packing list for traveling to Israel?
We recommend several packing lists for you to go by, and in addition, we'll make a few recommendations below.
For Israel additionally, we recommend a few things…
Bathing suit! For swimming in the Dead Sea.
A travel lock, for using at a rental locker (maybe at the Dead Sea)
A scarf or shawl, for women, to use when visiting religious sites where shoulders must be covered (synagogues, Dome of the Rock, mosques, churches, memorial sites)
One pair of travel pants for men and travel pants for women, as shorts are also not allowed at major religious sites, memorials and some national monuments
If you are Jewish and own your own kippah (skullcap), we also suggest bringing it so that you do not have to borrow or buy one when visiting the Western Wall and other sites of worship
Women may also benefit from packing one skirt or maxi dress for the same reasons above
Do I need a visa to travel to Israel?
You probably don't need a visa to travel to Israel.
Passport holders of 99 major countries do not require travel visas to enter Israel, so if you are reading this and you're not from Indonesia, Malaysia or a list of Middle-Eastern countries, you do not need a confirmation of a visa.
Should I worry about things being closed on the Sabbath (Shabbat) in Jerusalem?
Shabbat, which is Hebrew for the Sabbath, or day of rest, takes place every Friday evening at sundown until Saturday also at sundown. Shabbat is a peaceful time for Jewish Israelis who observe this day of rest, and so many businesses will be closed.
You'll notice that Tel Aviv overall observes less of the Shabbat tradition of closing stores, but in Jerusalem it's a different story. Things like trains will not run, the average business will be closed for the day on Saturday and will close Friday afternoon and many people will attend religious services.
Don't be scared! As a traveler in Israel on Shabbat, you'll have heaps to do.
A local tip is that the "monit sherut" (small buss) from the Central Bus Station in Tel Aviv runs to Jerusalem, on a somewhat limited schedule. So, ask your hotel or hostel in Tel Aviv about it, and you can make your way to Jerusalem even while other forms of transit are on their day off.
Helpful Tip
Download Moovit, as it's a really helpful travel app and it'll really help you with transportation specifically in Israel.
General first-time travel tips for Jerusalem
Here are a few helpful things to know about Jerusalem, to prepare you for your visit:
"Do"s and "Don't"s in Israel
Do:
Try all the amazing food: falafel, shawarma (with toppings), shakshuka, sabich, Turkish coffee, arak, local craft beer
Go exploring: in the Old City, around Nachlaot, in the Mahane Yehuda Market (Shuk)
Take a tour, in order to learn more in-depth about where you are. You can book some tours or day outings with hostels like Abraham Hostel or with operators like Tourist Israel.
Be respectful: of various religions, ethnicities, customs, cultures and languages. Israel has a very diverse array of people, and everyone has a story. Try not to judge, and instead, choose to learn.
Don't:
Do not go unprepared to holy sites like the Western Wall, famous synagogues or mosques, the Temple Mount (see below for our guide) or national monuments and cemeteries. Most will have a modest dress code.
Do not get frustrated when someone does not speak any English. Israeli people speak a multitude of languages, from Russian to French to Arabic to Hebrew, and learning English has come as a second thought, for some.
Do not expect everything to be open on Friday nights and Saturdays, and do be patient about it. It's incredible to see a country that comes to 'full stop' for one day a week, so appreciate it!
Do not leave Israel without learning a few helpful phrases like 'todah rabah' (thank you), 'shalom' (hi/peace) and, 'ayfo ha sherutim?' (where's the bathroom?).
Old City tourist pricing
Helpful Tip
Avoid getting your falafel and hummus inside the old city (especially the Jewish Quarter). It's overpriced and not as good as it'll be in the more local areas (try the market).
Jerusalem signage and languages
Signs in Jerusalem are usually in three languages: Hebrew, English and Arabic. You'll also find taxi drivers who speak Russian, shop-owners who speak French, restaurant servers who speak Amharic (from Ethiopia) and expats who speak Spanish. There's a bit of everyone here.
Learn some Hebrew with our travel language-learning tips!
Taking a Jerusalem city tour can be helpful
Taking a tour around Jerusalem can be helpful, as it's really easy to get lost — much more so than in the city of Tel Aviv. The streets wind around a lot because the city is so hilly. The bright side of this is that there are lots of viewpoints to see!
Try the Jerusalem public bus system
Jerusalem's buses run very regularly during the week (aside from Friday evenings and Saturdays during the day) and are a great way to get from neighborhood to neighborhood. Rides are rarely long and they're pretty affordable. Our tip is to always have change, in Shekels.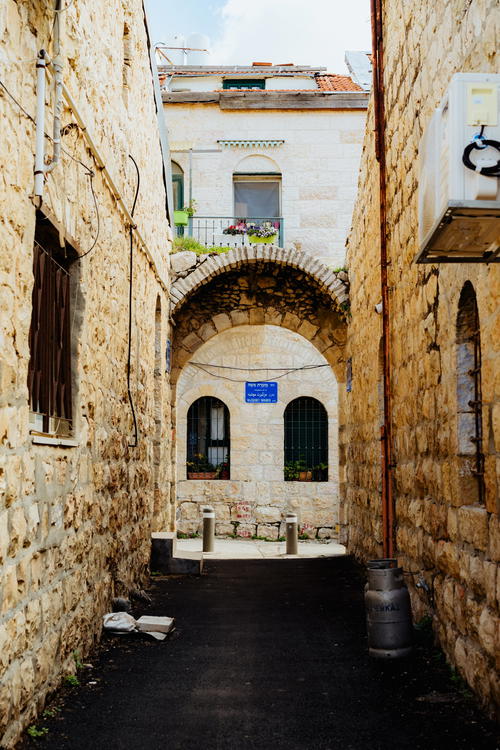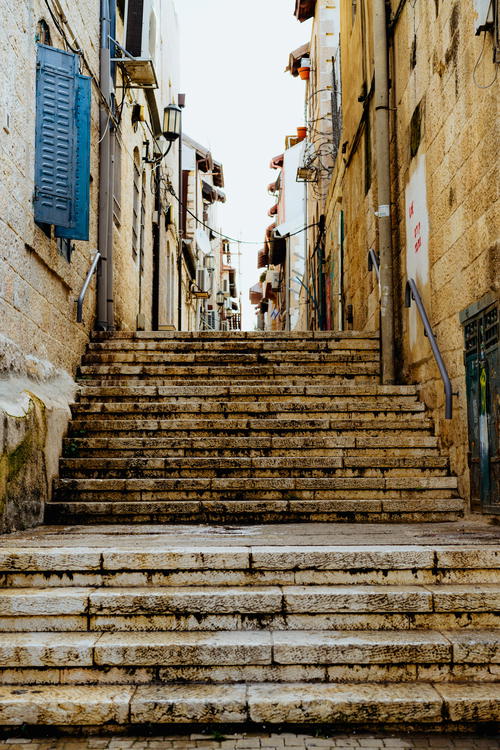 ---
Where to stay in Jerusalem, for backpackers
Abraham Hostel Jerusalem
Abraham Hostel Jerusalem is a great downtown hostel for travelers of all types, especially backpackers! Given that Israel is so (relatively) expensive for many travelers, with the exchange rate to the USD and other currencies, you may be looking into budget accommodation during your trip.
There's an Abraham Hostel in Tel Aviv as well, and we equally enjoyed our stay there (it was awesome). Abraham Hostels really have the traveler experience down to a science.
Starting with the common area, there's a bar, where you can grab happy hour and get to meet other travelers. The demographic here is pretty wide, from college students to travelers in groups in the 50-60 age range from Europe. Seriously, no one stands out here and everyone is welcome.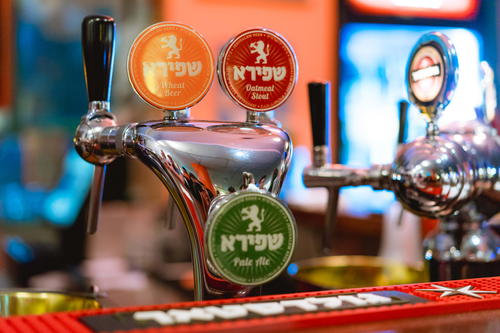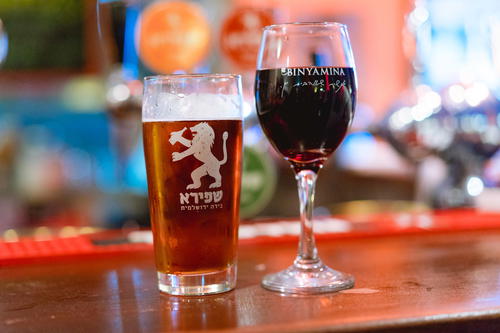 The hostel has a variety of different rooms, ranging from dorms to privates! The dorm rooms are great for those looking to try solo travel and are a nice way to be social.
In the morning, there's a big spread of Israeli breakfast, included, so you definitely won't go hungry and can start your day off with the delicious fresh foods that are part of the Israeli diet — vegetables, fruits and more. We love Israeli breakfasts for staying healthy during travel.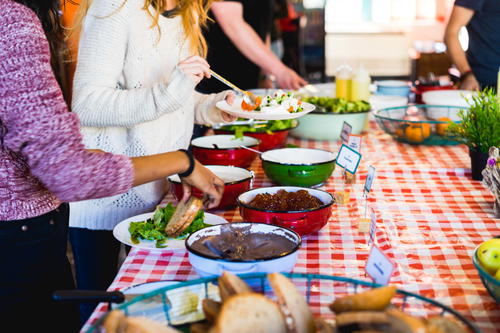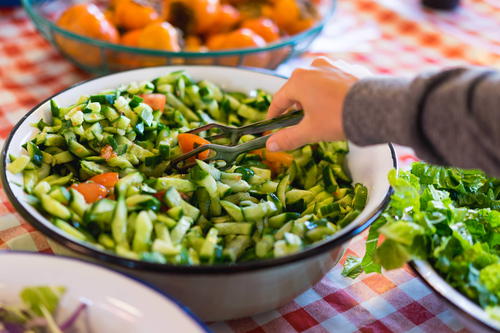 What we like most about Abraham Hostels both in Tel Aviv and Jerusalem is that they offer so many events, every day of the week. Literally every day, there is something going on, whether you're looking for an open mic night, a performance from a local band, a hummus-making class or a city tour you can join. They also offer Abraham Tours to other parts of Israel, like Eilat, Haifa and Bethlehem.
Where to eat in Jerusalem (local spots)
Tmol Shilshom
Tmol Shilshom is a great place for starting your Jerusalem journey, as it's a popular place for young people and cultured travelers who want to eat fresh Mediterranean food in a beautiful old alley of a quiet neighborhood. It's a bookstore-cafe in an old garden, where you can combine food with culture. Have some Israeli wine and try the shakshuka or salmon fillet. End with cheesecake.
Aricha Sabich
Hailed as some of the best sabich, and some of the best food, in all of Jerusalem, Aricha Sabich will not leave you disappointed. Not sure what sabich is? Add this to your vocabulary fast, as sabich is an Iraqi and now Israeli breakfast dish that you can eat any time of day. It consists of eggplant, hard-boiled eggs, tahini sauce and salads, all crammed into fresh pita bread.
Marzipan Bakery and Pastry
Marzipan Bakery is a popular spot for rugelach cookies (drool!), donuts, decorated cakes and chocolate pastries. You might go twice.
Dwiny Pita Bar
This little pita bar is only two minutes away from the Mahane Yehuda Market (the Shuk) and it'll be great for anyone looking for some of the best vegetarian options, along with creative pita fillings that amount to some "gorgeous vegetarian food" and a hip crowd.
Cafe Yehoshua
Cafe Yehoshua, located at Azza St 17, is highly-rated for healthy breakfast options and a nice Mediterranean cuisine menu. Bonus: grilled cheese sandwiches.
Sushi Rehavia
With four locations in Jerusalem, this is a great option if you want some high-quality kosher sushi. It's well-known throughout town, and while it's more than what you'd pay to fill up your stomach than having a falafel pita, for example, it's delicious.
Jerusalem Steakhouse
Not to be confused with an actual steakhouse (it's not), nor the Brooklyn joint of exactly the same name (ha), this fast casual restaurant is located at 101 Agripas and is good for a 'real authentic loud Israel experience.' It's not too expensive, and it is super crazy delicious for shawarma and falafel.
Cafe Rimon
Cafe Rimon is a local chain with four locations in Jerusalem and is popular for "dairy" and fish. It's vegetarian- and vegan-friendly, and also has an assortment of gluten-free options. If you go with a group, you can order family-style.
Pasta Basta
Located in Mahane Yehuda Market, AKA "The Shuk," Pasta Basta is not only fun to say, but has delicious pasta and is relatively inexpensive, considering the cost of many other things in Israel. Travelers say it is worth the wait (there may be one), but a good deal and highly recommended.
Bagel Cafe
If you're down on Emek Refaim, the main thoroughfare of the "German Colony" neighborhood, Bagel Cafe is your stop for an "American-style bagel" and a coffee. Takeaway is fine here, if not expected and there's also a catering menu in case you need food for … a ton of people. Kosher.
Station 9
Located at David Remez St 4, Station 9 is one of Jerusalem's best Asian fusion restaurants for when you want to get fancy and treat yourself. The eclectic menu mixes flavors from China, Vietnam and more, all under kosher supervision.
Where to grab coffee, Israel-style
Israelis love coffee, and if you're like us, hunting down cafes wherever you go (and how to take photos of it), you'll want to know where locals get their coffee in Jerusalem.
Aroma
Aroma is a coffee shop and cafe now found in many places in Israel, in addition to places like NYC and LA. The first one opened up in Jerusalem in 2006, and now it's synonymous with starting your morning.
In addition to having your coffee, you can get fresh and healthy items like sandwiches, beads, pastries, vegan breakfast, gluten-free staples like shakshuka, a complete Israeli breakfast and more. Needless to say, you'll probably go to Aroma a whole bunch during your stay in Israel.
The Coffee Mill
The Coffee Mill is a hidden gem of a cafe, owned by two Americans who created its unique atmosphere. They have coffee from all over the world, and there's breakfast, lunch and dinner as well.
Cafe Nadi
Cafe Nadi, at Hillel St 39, is one of the most well-known spots for morning coffee and breakfast in Jerusalem. It's cozy and charming, known for excellent fresh food and outdoor seating.
Coolest local trendy bars in Jerusalem
We know what you're thinking: cool bars? In Jerusalem? Yes, it's true. Jerusalem has its own bar and night scene, and it's exactly where you wouldn't expect it to be.
To set the scene, picture a big Israeli-style market, lined with vendors selling pomegranates, vegetables, spices, teas and nuts every day (except Shabbat), mixed in with eateries and other market stalls. Now picture the time dinner time rolls around, and the vendors start packing up and leaving.
And the market turns into Jerusalem's best bar scene.
Now you see why everyone talks about the reinvented "shuk" scene going on at night in Jerusalem, most days of the week. It's here that you can have craft beer, a cocktail, delicious food and see a Hebrew poetry slam, all while admiring the hand-painted wall murals of famous faces colored across closed stall grates. Don't forget your camera!
Freddy Lemon
One of the coolest bars in the Mahane Yehuda Shuk, Freddy Lemon is the spot where you'll see indie musicians take the stage. Happy hour is til 9:30 pm and there's outdoor (patio) seating. It's open til 5 am.
Yudale
Yudale is a tapas bar with a cool and energetic atmosphere. It's also a two-minute walk from the Shuk, with great drinks, so you can go in the beginning or at the end of your evening out in Jeru.
HaTaklit
HaTaklit is a divey bar with some outdoor seating on a quiet uphill street. Happy hour lasts for five hours, staff is friendly and helpful and there's a performance space. HaTaklit means "the record" (the music kind), and you'll see why our next listing is its neighbor.
Video Pub
Video Pub, or simply, "Video," is the official gay bar of Jerusalem. It's quirky and casual and welcomes everyone. Video is open til 3 am.
Gatsby Cocktail Room
Gatsby Cocktail Room is where you may want to get a bit more dressed up, as opposed to shuffling in from your day in your regular walking shoes and hoodie or tank top. One of Jerusalem's best speakeasies, it does not disappoint. The menu is grand, with photos and descriptions, all in art deco style and flavor. Note: it's not cheap, but a special experience like this comes with a special price tag.
Birman
Located at Dorot Rishonim St 8, Birma is a laid-back piano bar where you can appreciate some jazz. There's Middle-Eastern bar food (delicious) and a lovely array of drinks.
Biratenu - Jerusalem Beer Center
Visiting Biratenu is a unique thing to do when you visit Jerusalem. Based in Hillel St 6, you can see hundreds of Israeli craft beers here and speak with the owner, who is very passionate about his work. Beer-lovers, beware! You might want to stay a while here.
Rooftop" (rooftop bar in Jerusalem)
It's rare to find a rooftop bar in Jerusalem, but if you visit Rooftop, at Shlomo ha-Melekh St 11, it's a great way to appreciate the city a bit from above, especially when it is warm out.
Beer Bazaar
Beer Bazaar will be your craft beer spot in Israel if you want to "finally get something other than Goldstar or Maccabi beer," according to our friend Allie. Located in the Mahane Yehuda Market, you'll see heaps of beers lining the walls and you can speak with knowledgeable and expert beer store staff.
Historic and interesting places to see in Jerusalem
We're not experts in Jerusalem's history by any means, but we do appreciate all the unique things you can see that exist nowhere else in the world. For example, where can you see the mix of cultures that takes place in the Old City, in such close proximity?
Mahane Yehuda Market
This is one of our favorite Israeli markets. Debatably the most famous in Israel, you'll see why, once you get semi-lost among the vendors and travelers from every corner of the Earth who come here to shop and see what's up.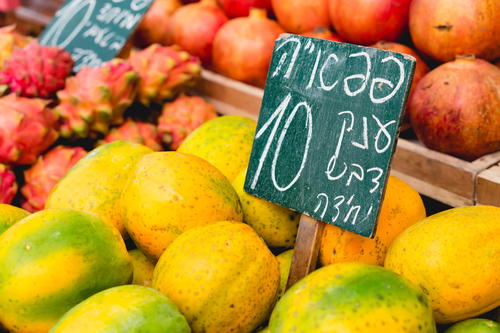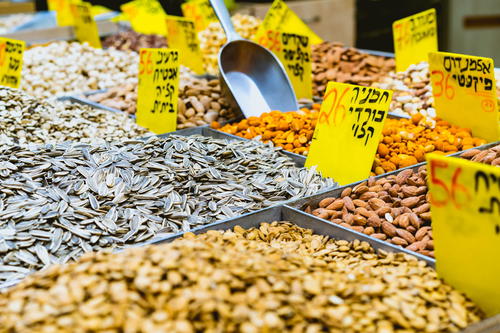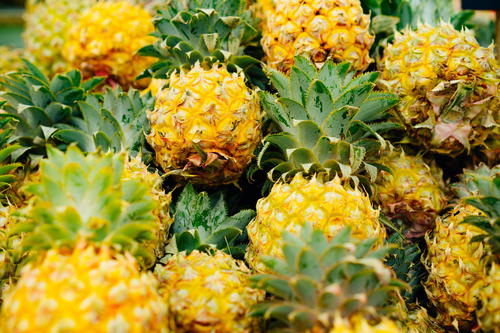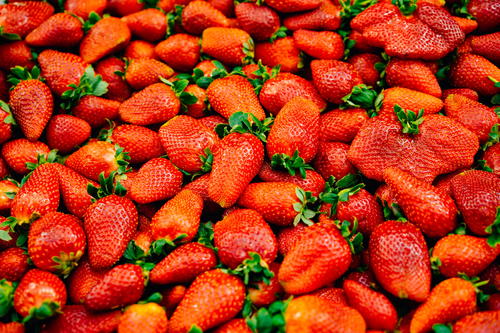 Nachlaot
Once a historic neighborhood, Nachlaot has turned kind of hipster. Lose the map, as it's not worth bringing one — Nachlaot's white stone alleys will charm you and you'll wind up walking in circles no matter what you do.
The neighborhood has rather short buildings, which adds to its charm. Among them, you'll see galleries, flowers peeking out of gardens, courtyards and centuries-old synagogues with fading signs.
Cameras are welcome!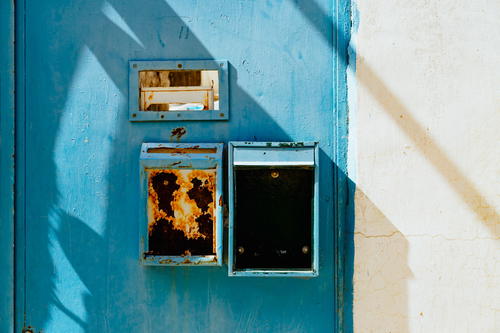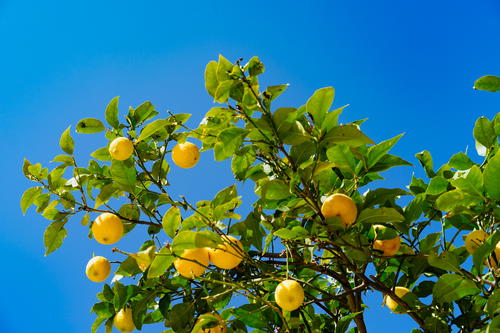 Ben Yehuda Street
Ben Yehuda Street is a major street and more or less a Jerusalem landmark when it comes to saying, Meet me at Ben Yehuda. This street is closed off for pedestrians, and it's here that you'll find stores that cater to tourists, but you may see street performers, groups of off-duty Israeli soldiers and travelers stopping at cafes. This is also where things happen on fun holidays like Purim and Simchat Torah.
Temple Mount
The Temple Mount is a hill in the Jerusalem Old City that is sacred to several religions. It is now part of the "Muslim part," so it's where you will find the Dome of the Rock and famous mosques.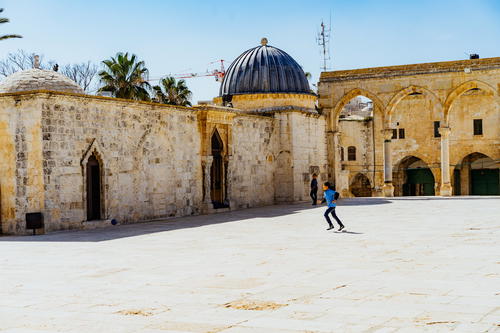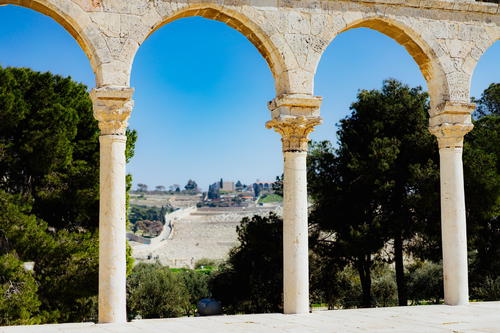 Dome of the Rock
The Dome of the Rock is one of the most holy places in the Muslim religion and it's a beautiful example of Islamic architecture. We went there to see the architecture. It truly is beautiful. The catch is that it is a tough place in terms of being a tourist — well, not for everyone, but there are a bunch of rules to go by in order to prepare for your visit.
See our complete Dome of the Rock visit guide.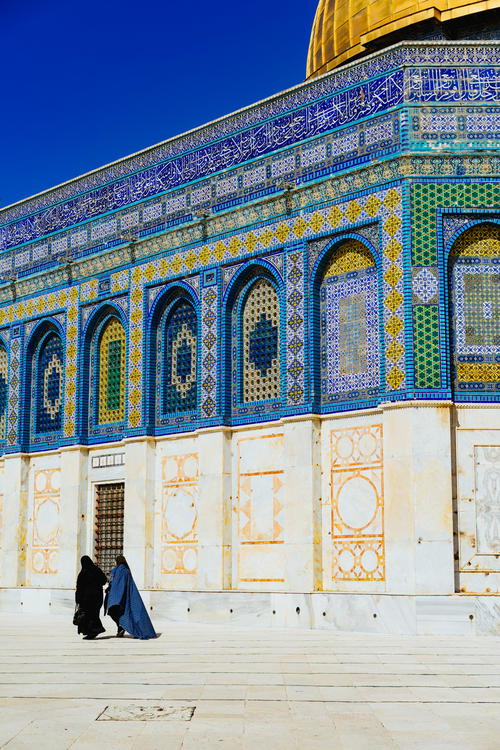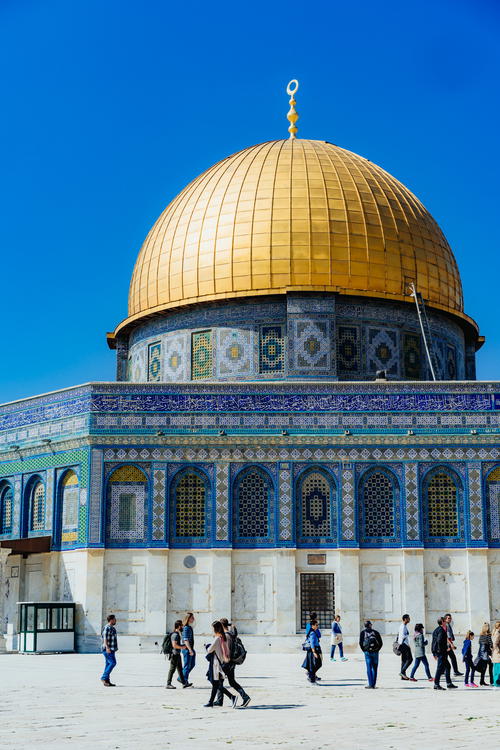 Helpful Tip
One more thing: Non-Muslims can't go into the Dome of the Rock itself. So, you have to walk around and quietly appreciate your surroundings without going into any of the buildings.
Wilson's Arch
If you're really into history and architecture, check out Wilson's Arch, which was named for the explorer who 'found' (re-found) it in the 1800s. It's near the Western Wall.
Jewish Quarter (Rova Yehudi)
The Jewish Quarter is one of the four 'quarters' (they're not exactly all the same size) in Jerusalem's Old City. Again, without touching too much on religion, this is the Jewish cultural section where you'll find the Western Wall at its border, lots of shops, market stalls, religious (okay, we touched on religion) sites and even people who call this neighborhood home.
It's totally safe, so there's no need to worry about safety. If you love feeling like an explorer, you'll enjoy the stone alleys, old stairwells, accessible rooftops (keep wandering!) and underground labyrinths.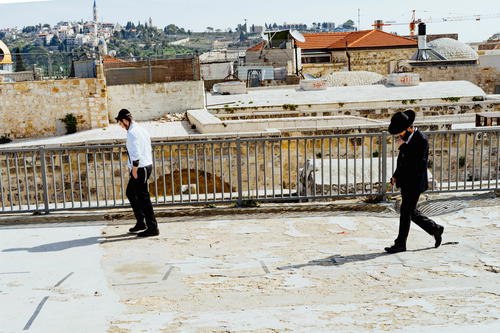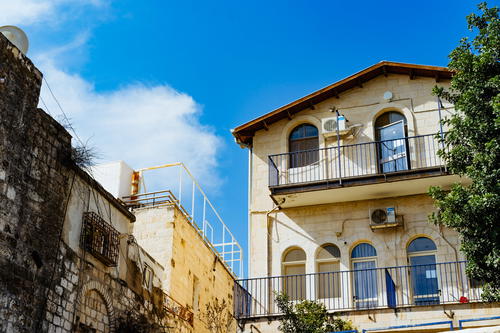 Western Wall
This wall (it's massive) is one of the most holy places in the Jewish religion and it is called "The Kotel" (Ha Kotel) in Hebrew. Note: to visit — well, to get close to it — women must cover their shoulders and be wearing a skirt or bottoms that fall below the knee, and men must wear the traditional skullcap called a 'kippah.'
If you'd like to engage in going up close to it, note that most visitors take their visit very seriously, even by backing away from it without turning their back to the wall, and will stick a note of prayer or hope into the cracks of the massive white stones.
Note, again, that to get your note in, you'll have to cram it in among the thousands (millions?) of notes that have been left there since the beginning of time (or so it seems). A lot of them fall to the ground. To be respectful, avoid touching any note that is not your own.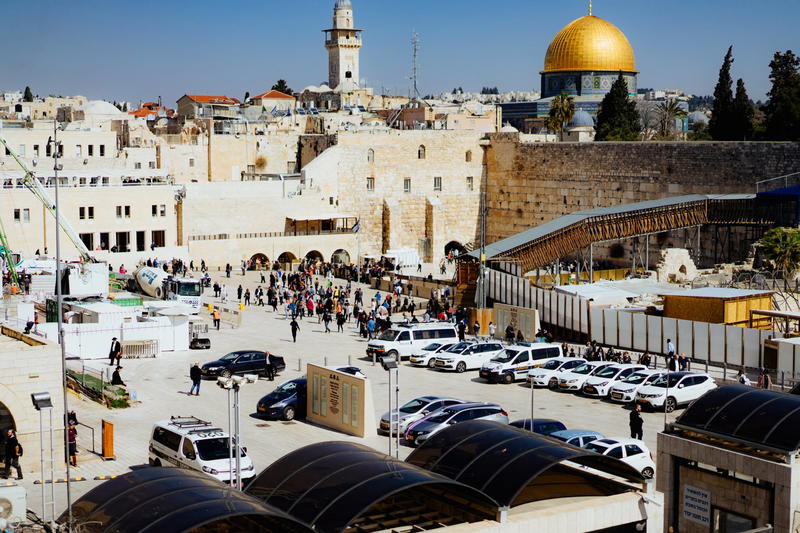 Yad Vashem
Yad Vashem is The World Holocaust Remembrance Center in Jerusalem. It is an incredible and moving testament to the Jews who perished in the Holocaust and also the Gentiles who helped save them and risked their lives doing so.
It is customary to act very respectful here, as the topics are very heavy. The museum is incredibly well-done and it is worth a visit for everyone who goes there.
We recommend avoiding taking photos. It is also customary to not talk much while visiting in order to maintain respect and remembrance.
Mount Herzl (Har Herzl)
Rather than being an actual mountain, Mount Herzl (Har Herzl in Hebrew) is actually the Mount Herzl National Cemetery. It's here that major Israeli figures are buried, like Yitzhak Rabin and Golda Meir.
The Herzl Museum, which is also on-site, has a movie about the life of Theodore Herzl, the founder of modern Zionims. Also here is the cemetery with the final resting places of fallen soldiers throughout Israel's various wars.
Please maintain utmost respect when visiting.
If you want to find Mount Herzl, the address is, fittingly, "Mount Herzl, Jerusalem."
Arab Quarter
The Arab, or Muslim Quarter, is one of the quadrants of Jerusalem's Old City within the old city walls. The main point of entry is Damascus Gate, which is a landmark on any map.
The main market is the cotton market, and it is in the style of a shuk, where you can buy all the things you need (rather than souvenirs).
Armenian Quarter
The Armenian Quarter in Jerusalem's Old City is the smallest 'quarter' (again, they're not perfect quarters). Between one and two thousands Armenians live in this region.
You can enter through Zion Gate and Jaffa Gate, so look for those gates on your map. Things to do in the Armenian quarter include having coffee, visit Armenian ceramic and pottery shops and trying Armenian food at the Armenian restaurants. There are a few religious sites as well (remember, we're not experts on religion during this article, so we're not going to mention much more detail because we don't feel qualified to do so!).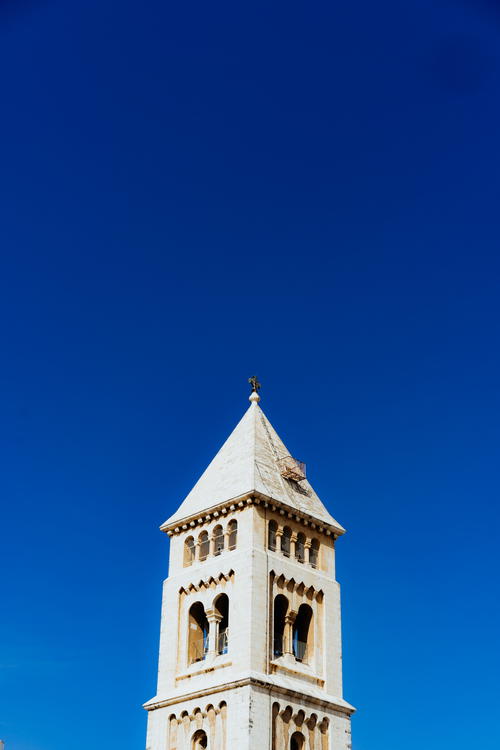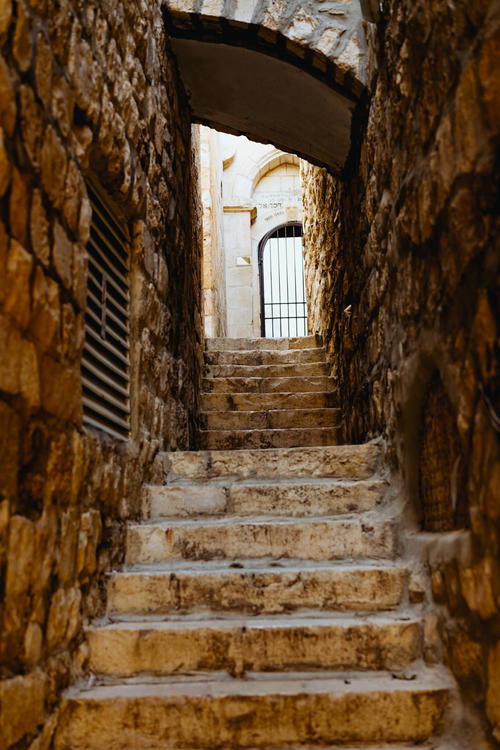 Hebrew Music Museum
Visitors say this Jerusalem museum is a real gem, and that's because in addition to musical instruments, the museum helps depict the periods of time that shaped music in Israel and how music is intertwined with culture.
There are interactive exhibits all around, and it's recommended to take a guided tour in order to not miss anything crucial. This is a great museum for music lovers, music fans, musicians or anyone who wants to learn something completely new while discovering Israel.
Tax Museum
If you're into unique and off-the-beaten-track museums, you'll want to say you've been to the Jerusalem Tax Museum.
This museum exists to show people the importance of tax collection! We could use a few pointers about that every year!
Even more than exhibiting tax in Israel, the museum demonstrates how tax is collected all over the world. Worth a visit, if you're a CPA, accounting or finance student, or if you want to learn a ton of new things!
Transit options in Jerusalem (how to get around Jerusalem)
Most of Jerusalem is walkable, as it's not a big city, compared with other major cities in the world. While Jerusalem is not actually big, it's very hilly and therefore, lots of streets wind around hills. There's no real city grid, and lots of streets turn into others and are windy. There are a few transit options to help you out.
Jerusalem public bus
For getting around on a day to day, taking the public bus is very helpful. You'll see people lining up to get on buses, especially at rush hour in the morning and later in the day. Within our week in Jerusalem, we got pretty familiar with the buses that stopped at our hostel and the other places we went. We rarely took taxis!
Taxis in Jerusalem
You can take taxis in Jerusalem, but note that the drivers sometimes don't speak English (most will speak Hebrew, Russian or maybe Arabic a bit). Also, you will probably wind up paying a lot for a taxi as a non-Hebrew speaker. This can get frustrating. We advise taking a taxi if you can't figure out the bus or light rail route to get to your destination.
Jerusalem Central Bus Station
As Israel is a compact country, the best way to get around is by bus, if you're not renting a car. We got around between Tel Aviv and Jerusalem, and back again, via public bus. Buses to lots of major cities leave very often, and you'll rarely have to wait.
Around the bus station, everyone is pretty helpful, especially if you're going somewhere major (Tel Aviv, Haifa, Beersheva, Eilat).
In Jerusalem, the bus station is a pretty popular place, and people on the light rail or on the street will be hopefully pretty helpful in getting you there. The light rail (details below) has a stop at the bus station. Leave some time when taking the light rail in case there's any sort of delay.
A good thing to know is that buses to Tel Aviv run every 15-20 minutes.
Helpful Tip
Be aware of Shabbat (Friday night into Saturday) service for all transportation options. Things tend to stop and get slower a few hours before Shabbat begins (it depends on the time of year). Ask your hotel or hostel staff for the most up-to-date details on when Shabbat starts and how it will affect transport options in Jerusalem.
Jerusalem light rail
Jerusalem has a fairly new system that's reminiscent of a small above-ground metro, and it is called Harakevet Hakala. It mostly connects the main thoroughfares of the city (which is not huge) and can take you from the Central Bus Station to places like the square outside Abraham Hostel Jerusalem.
Tel Aviv-Jerusalem speed train
The "Tel Aviv–Jerusalem railway," also referred to as the "high-speed railway to Jerusalem," is Israel's newest hi-tech transport option.
During our last trip to Israel, this speed train was not even finished yet, but everyone was very excited about its completion.
With this rail line now done, you can reach the Tel Aviv International Airport (Ben Gurion Airport) in around 25 minutes from Jerusalem city. That's incredible!
Tickets are around 10 USD and you can pay for them at a machine with cash or credit. The trains are like European-style railway trains.
Taking the high-speed rail is a great new way to have a mass transit option in getting from the airport to Jerusalem and avoiding (sorry, taxi drivers) the high prices that taxis usually cost in getting anywhere from city to city.
Day trip ideas out of Jerusalem
Israel is a relatively compact country (many say it's the size of the US state of New Jersey), so taking a day trip is never a huge schlep, so to speak.
Many tour operators like Tourist Israel can help you take all sorts of day trips to Masada, Ein Gedi, Caesarea and the Dead Sea. Check out how we took a Tourist Israel trip to the Dead Sea, as follows.
Take a day trip tour to the Dead Sea
Dan and I both took trips to the Dead Sea when we went on Birthright Israel trips in our late teens-early twenties (separately) and were excited to go back. Due to the heaviest rains in years during our most recent trip to Israel, we went to a different part of the Dead Sea than previous times.
This was interesting because it was not as we had remembered, and it was good for us to see another "Dead Sea region." Our trip with Tourist Israel took an alternate route because the Dead Sea resorts near Ein Gedi, the most famous and most beautiful Dead Sea location, was closed due to mudslides the day we went.
Instead, we had an interesting time visiting Qasr el Yahud, or, the spot where Jesus was baptized. We probably would not have made our way here otherwise, so it was a kind of once-in-a-lifetime experience for us to see a famous Christian site in Israel, whereas we typically visit Jewish ones.
Leaving Jerusalem and going through the desert is a quintessential Israeli experience that everyone should have. Hopefully your tour will stop at a monument to Sea Level, as it all goes downhill from there… so to speak (ha).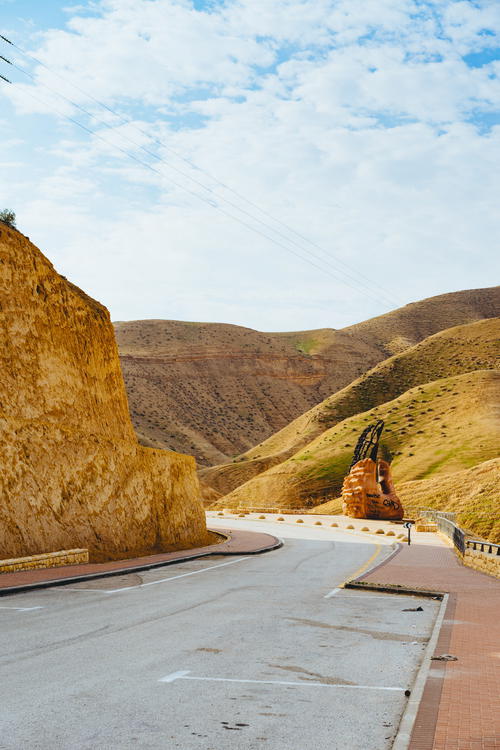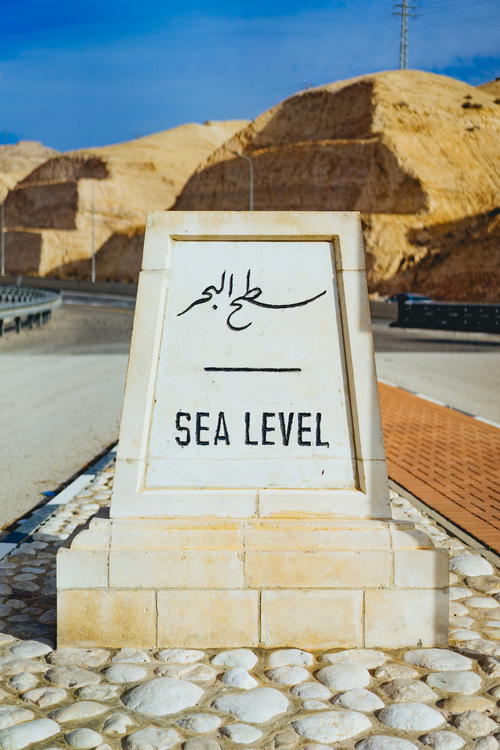 At the Dead Sea itself, you have to prepare to get very salty. The water in the Dead Sea is like nothing you've ever floated in — it's basically hard to sink!
Bathing in water in such a high concentration of salt will leave your skin smooth and can be pretty therapeutic. Be sure to rub the mineral-rich mud all over yourself, and of course, all over your friends.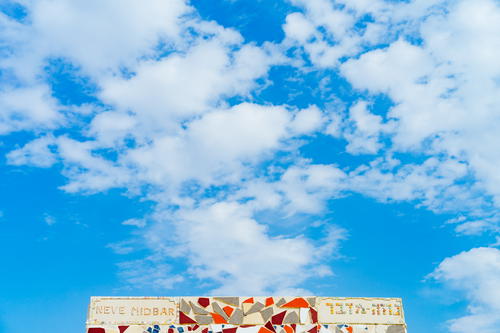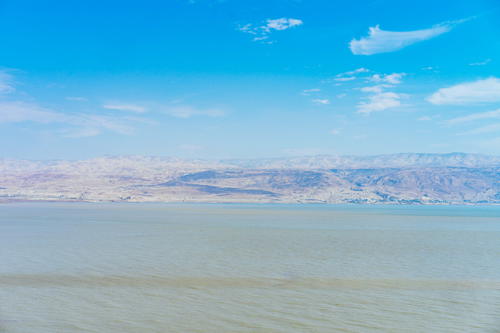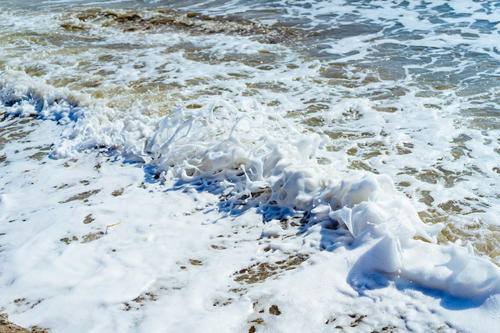 One thing to remember is to be careful of if you have any open cuts (even a paper cut), because the high salt content of the Dead Sea water can magnify the stinging feeling.
---
Ready to explore more of Israel? Explore Tel Aviv and the Dead Sea with us!
Enjoyed our article?
Consider supporting us! We're a 2-person team (learn more about us here) and your support enables us to create quality content. Thank you!