How to Plan a Trip to NYC with a Baby (What to Know)
Written by Becca
•
Updated on November 22nd, 2023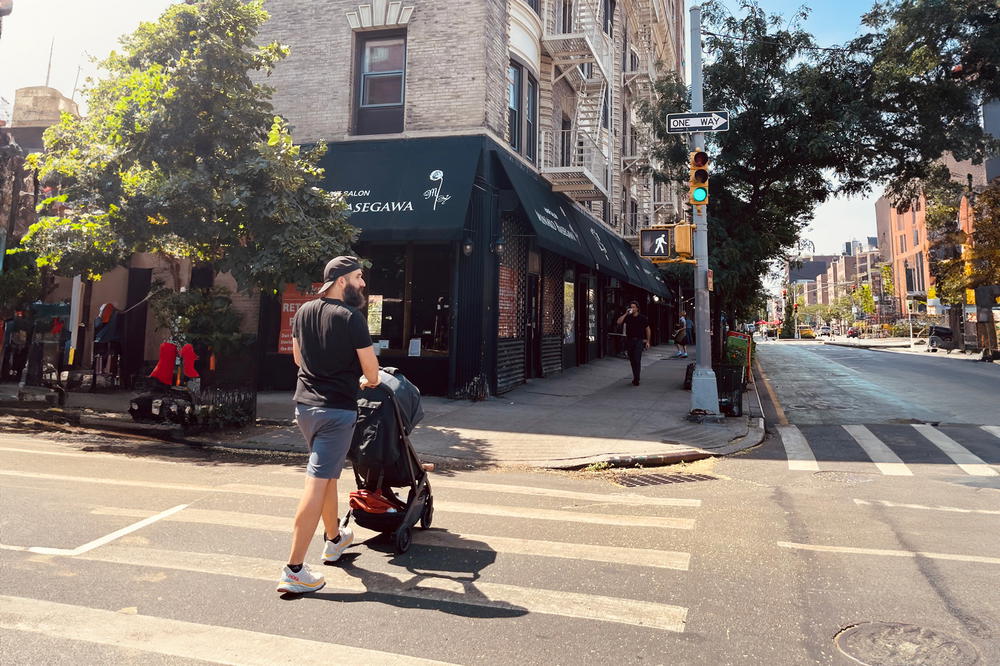 Going to NYC with a baby for the first time doesn't have to be hard! In our list of local tips, find out what to do and see with your baby in New York City to make the visit easy.
This article may contain affiliate links. We earn a small commissions when you purchase via those links — and it's free for you. It's only us (Becca & Dan) working on this website, so we value your support! Read our privacy policy and learn more about us.
When we go to NYC with our baby, we remember that the trip is still about us, and she's coming along. If your baby is still small, and you want to take that big city trip, I'll let you in on a few local secrets!
There are some challenges with taking a trip to NYC with a baby, whether for a week or for half a day. Things like taking a stroller on the subway, navigating crowded streets and doing diaper changes in really cramped spaces are just a few.
But on the whole, a trip to NYC with your little one is going to be so memorable! In fact, there are so many things to keep a baby occupied and an equal number of things for you, the parents, to enjoy!
Let's get into my local tips for having your baby with you in NYC.
Quick tips & main takeaways
Pack light! Pare down your diaper bag to the essentials for convenience in tight bathrooms.
Have a backup plan: the elevator might be closed for repairs in a subway station you arrive at. Consider that you may need help from a stranger with a stroller going up the steps.
Be flexible! Babies are unpredictable and so is NYC.
Bring a travel baby carrier! If you want to ditch the stroller, wearing your baby is convenient.
Seek out memorable experiences: NYC has a plethora of parks, landmarks and museums for parents with a baby to enjoy.
Before heading into my list of tips further, bookmark my general guide to what to know before traveling to NYC for your first time!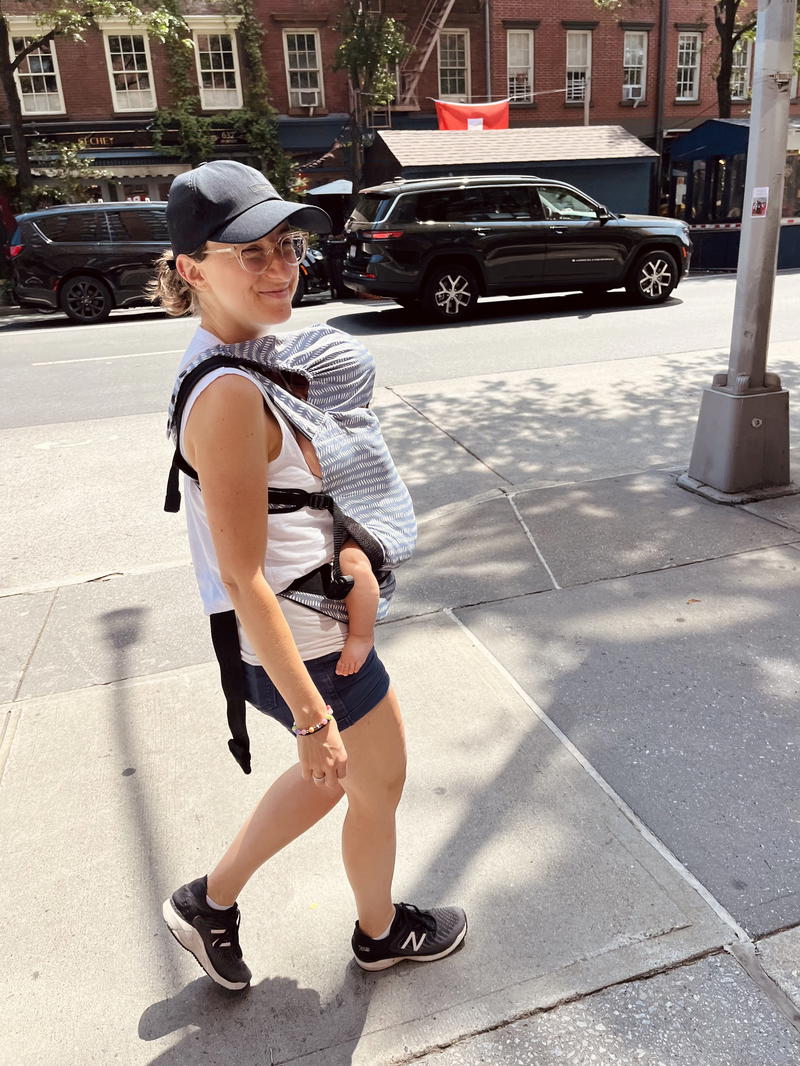 Plan how to get around NYC with a baby
New York City is known for its incredible public transportation and walkability. Walking, driving, taxis/Ubers, subways and buses are options I use for getting around. But with a baby, things get a little complicated. Check out some specific tips for each way to get your family around NYC safely.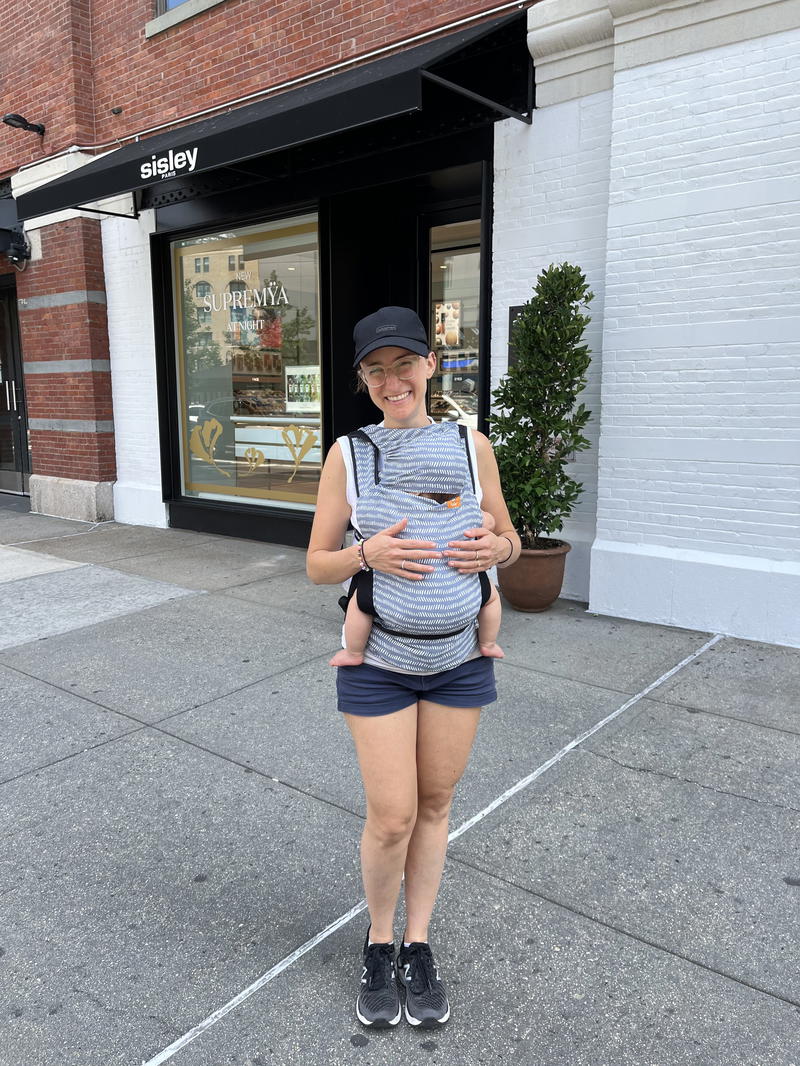 Walking
I like to walk EVERYWHERE in NYC. The last time we went to NYC with our baby, we walked 8 miles. Having grown up in NYC as a kid and having lived in Manhattan and Brooklyn as an adult, I know that walking around town is a way of life!
My tip is make sure to bring a compact and lightweight stroller and a good pair of shoes for yourself. Most sidewalks are wide, free of big bumps (on major avenues) and safe.
The more walking you do, the more you avoid folding up your stroller for the subway. I like using a compact stroller in the city, and I use a travel-sized baby carrier. You can see all the photos at my Baby Tula Carrier Lite review.
To see more about our travel stroller of choice, check my UPPAbaby Minu review.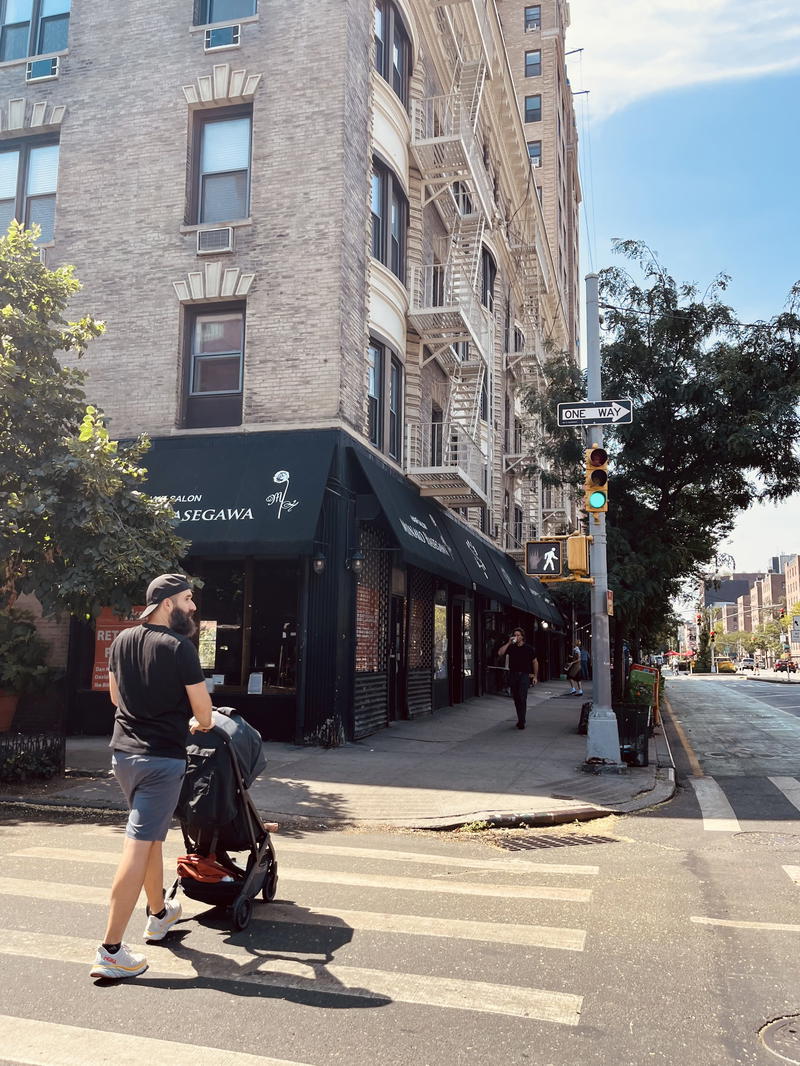 Driving
You can drive around NYC if that's part of your plan. Parking isn't going to be easy, though. Spots are tight, there are lots of parking rules like "alternate side parking" (ASP) during street cleaning.
Any time we've had to drive into the city, we try and find a spot or garage right away to avoid waiting in traffic or stressing out over aggressive drivers. When we went to Coney Island with our baby, we used the Spot Hero app to reserve a spot in a garage (and then met our friends at a brewery with her!).
When we go to Brooklyn, we take our car from New Jersey. If we go to Manhattan, we take the train because of convenience. If you want to drive in from a nearby city in the NY metro area, and or other places on your itinerary, parking garage fees will may expensive and finding a spot can take forever! (Take it from us.)
Taxis and Ubers
If walking, subway or bus does not serve your needs nor destination, check out these details on how to take a rideshare or cab in NYC with a baby.
Taking Uber with a car seat
If you plan to take a taxi or Uber with your infant, note that a car seat is the only thing that would protect your baby from a crash. According to the Uber Blog, UberX can now be hailed in NYC with a car seat for a child 12 months/1 year or older. There is a $10 surcharge for a car seat.
Taking a yellow cab with a car seat
Jumping in a yellow cab with a baby probably isn't the best idea in NYC, unless you have a ultra-lightweight folding travel stroller (with a car seat) like a Doona. I'm not saying that taxis won't stop if they see you with a stroller, but something to note is some drivers want quick and fast trips.
If you need 20 minutes to put your stroller in the trunk, and set up the car seat, the driver might not be so happy because they're losing time to book more rides. Run through how to install a car seat quickly, before you leave home!
NYC yellow taxis are NOT required to have car seats. This is bizarre to me, because a crash can happen anywhere. According to Provost Law Firm, NYC does NOT legally require car seats for children in yellow cabs, so taking a taxi with a baby and without a car seat is at your own risk (I do not recommend it!).
Subway
In NYC, the subway can be overwhelming. The challenge is that NOT every station has an accessible elevator. In fact, only the largest stations tend to certainly have elevators, and some smaller stations do, nowadays. "Local stations," especially those that don't connect underground from the uptown to the downtown side, will likely only have stairs.
Consider looking for accessible stations with elevators, to plan your trip with a stroller. Or, figure out your game plan for walking up or down the subway stairs with the stroller.
Because we travel together with our daughter, one of us will have her in the baby carrier, while the other one takes our folded travel stroller down the stairs. We like our travel stroller because it can easily fold up and expand without much effort. It makes putting our baby back in the stroller a breeze. You can see more at my UPPAbaby Minu stroller review.
Buses
Buses in NYC are wheelchair-accessible, meaning you could take in a stroller that's too heavy to fold up and lift. All buses in NYC have a lift that would allow a stroller to come up, but that is "IF" the bus is not at capacity.
While taking a baby in a stroller on an NYC city bus is commonplace, you might want to evaluate the risk. The buses are safe, but accidents can happen. In my experience, NYC city buses never go too fast on the roads and stop frequently, which is the positive in terms of safety.
Check out this NYC MTA press release to see more about the "designated stroller areas" debuted in March 2023. It states that a stroller must be in the brake position and the bus aisle must be kept as clear as possible. The program avoids parents or caregivers having to fold their stroller to board the bus, so this is a nice update.
Ferry
NYC has several different types of ferries, and they're fun to take with a baby! The Staten Island Ferry is the "best deal in New York" for being free. It only runs from the Whitehall Ferry Terminal (South Ferry) at the tip of Manhattan, to St. George in Staten Island, and back.
Once you get off in Staten Island, I'll note that there's not a ton to do, so you'll want to turn back around and take the ferry the other way; however, the ferry has amazing views of the Statue of Liberty the family will love!
The Staten Island Ferry is wheelchair and stroller-accessible with ramps. Strollers do not have to be folded up! Here's the ferry schedule.
Things to do in New York City with a baby
If you thought hanging out just the two of you in the city was fun, try it with a baby! Even just sitting down with our baby at our favorite coffeeshop in Chelsea meant people walking by asking how old our baby was. See these best things to do in NYC with your baby.
Hang out in NYC's parks
NYC's parks are the city's green spaces, and I love them so much! My favorite family-friendly parks are Central Park and Riverside Park in Manhattan, and Fort Greene Park and Prospect Park in Brooklyn.
Part of having a baby in NYC means lots of walking and having places to stop and feed, or do a diaper change. In between these baby needs, I like to be somewhere beautiful! NYC parks are open year-round and have everything from ponds and reservoirs, to nature walks, fountains, dog parks and historic landmarks. I recommend laying out a blanket and having some toys to play with while you sit under a tree!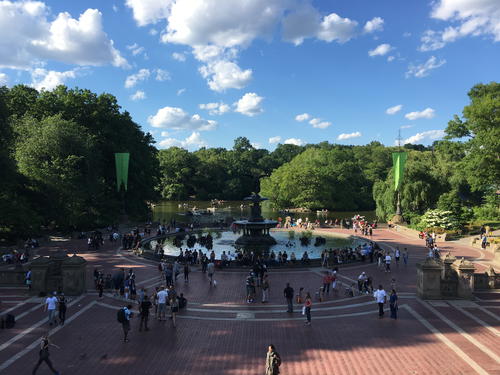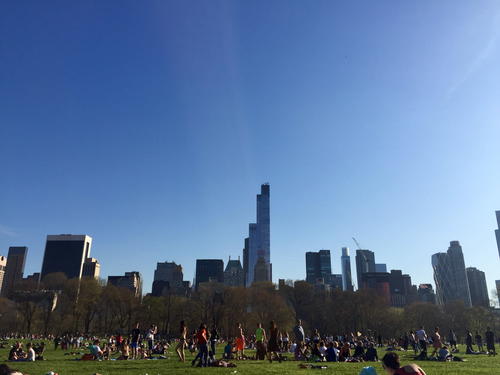 Visit playgrounds
For babies who have started walking or like to play on swings, don't miss NYC's playgrounds. You can find playgrounds everywhere! For example, there are 9 playgrounds in Brooklyn Bridge Park alone.
Whether it's your first or 100th time visiting NYC, your child is always changing, and playgrounds are always exciting. Visit this incredible list of playgrounds at the NYC Parks website. I also enjoyed reading Time Out New York's list of the best playgrounds in NYC.
Walk around beautiful neighborhoods (West Village)
The West Village is my #1 favorite neighborhood in Manhattan because it is absolutely gorgeous, with its perfect architecture and old streets. We visited street markets with our baby while out walking, and enjoyed shade from all the trees.
The West Village has lots of cafes, restaurants and bars to stop at, as well as boutique shopping. There's no shortage of families that hang out in the area for all these reasons!
Keep in mind that several historic streets in the area remain paved in cobblestone, which is rough on strollers. Opt for using a baby carrier (and feel free to use my list of the best baby carriers for travel!). The sidewalks are fine, though (you can see them in this photo)!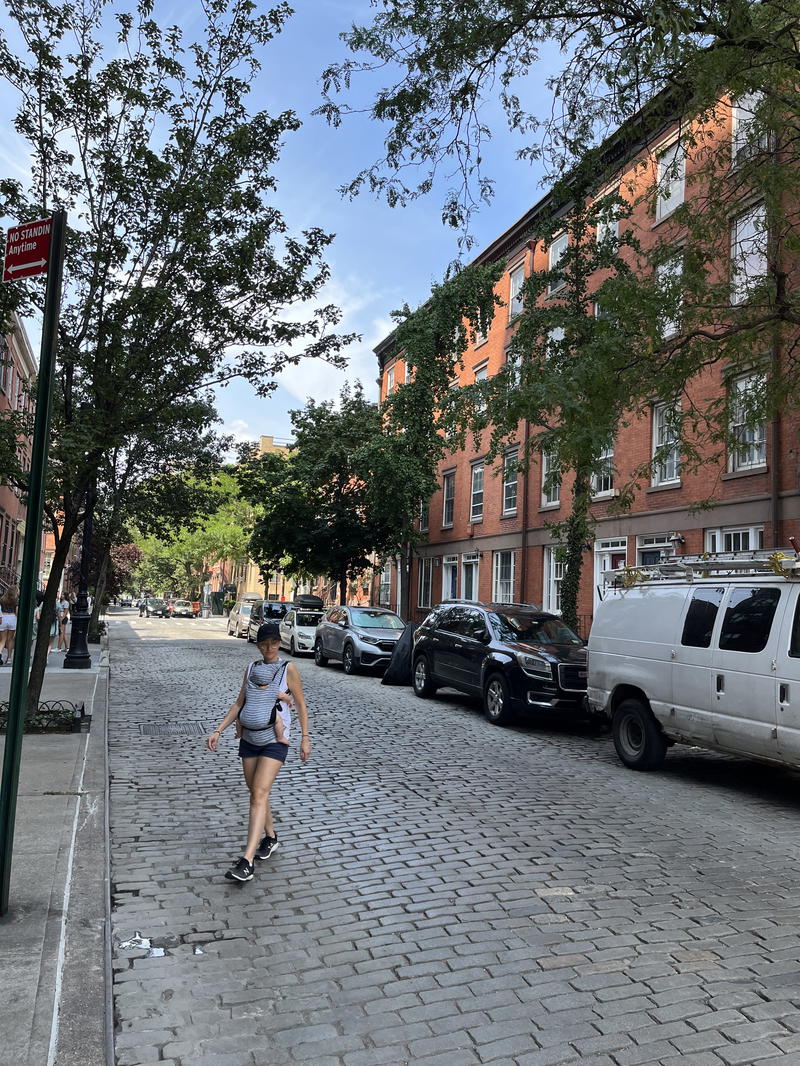 Visit the High Line
The High Line is a dream for visitors to NYC! It is an elevated green space and park for walking on Manhattan's West side. We took the elevator up at one of the Meatpacking District entrances, and strolled our baby in her stroller all the way north to 28th Street, where we exited.
You can see which entrances/exits have elevators for your stroller at the High Line website within NYC Parks. Another resource to check out before you visit is the Visit page at The High Line website. The entire High Line is stroller-accessible and has flat paths and ramps.
My tip for visiting the High Line is to go early in the morning on a weekday so that you don't wind up among the shuffles of crowds like we did (below) on a gorgeous day in the middle of the afternoon.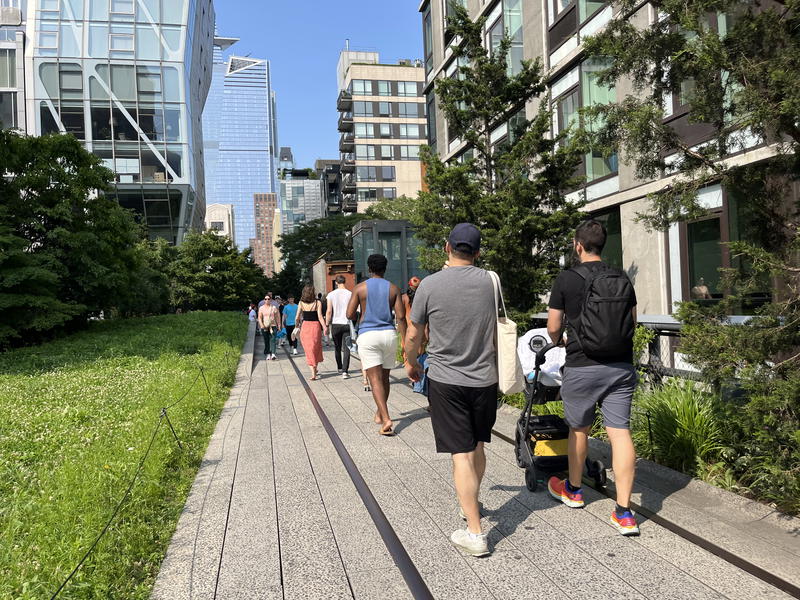 Central Park Zoo
I called it one of the best zoos in the US to add to your bucket list in this article in Best Life Online! The Central Park Zoo is not overwhelmingly big, and it's the perfect way to start a NYC day trip or bigger trip as a family.
It's perfectly child-friendly, with its Children's Zoo, and children under 2 get free admission. At the Plan Your Visit page from the CPZ website, you can see when the daily penguin and sea lion feedings are!
Coney Island
Coney Island is Brooklyn's playground, with its wide sand beach, swimmable ocean in summer, Nathan's Famous Hot Dogs and Luna Park for amusements!
We went to Coney Island with our baby when she was 9 months old, to meet up with friends! This time, we drove (rather than take the train) in from New Jersey. We knew that we didn't have time to spare to be circling for spots, so we used SpotHero app, which I recommend because it worked out seamlessly.
We walked around Coney Island with our travel stroller and had luck with being able to feed our baby at the Starbucks on Surf Avenue. We spent the rest of the afternoon at Coney Island Brewery, which was baby-friendly! We met another baby the same age during the afternoon hours. It's a child-friendly place until the night hours begin.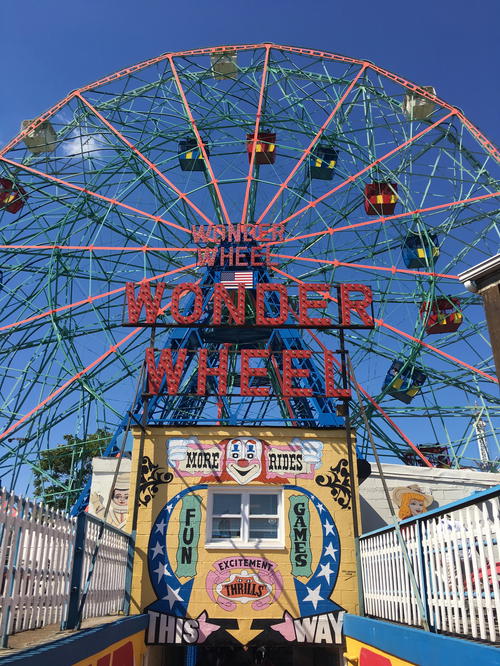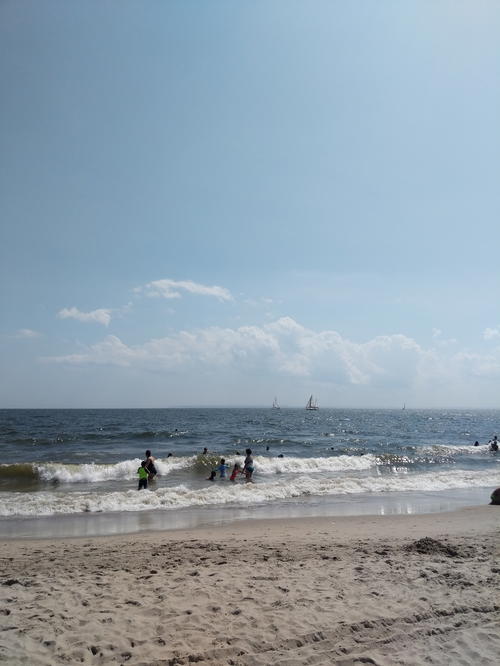 Chelsea Market
Chelsea Market is a large shopping and food hall in Chelsea near the Meatpacking District. It's a good place to duck into if it is too hot, too cold or raining! There's excellent food, flat walkways and an elevator to the lower level.
There is a "fancy" changing table in the bathroom in the basement level of Chelsea Market! After a day of having had changing tables and spacious restrooms hard to come by, this one was great. See more at the Visit page at ChelseaMarket.com.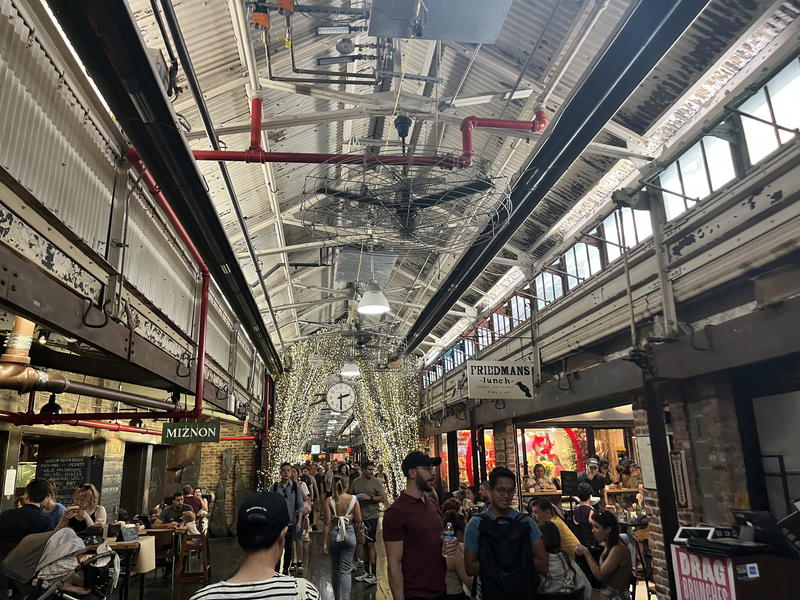 Even more things to do in NYC with a baby
When your baby is young enough to be toted, you can bring your baby mostly anywhere! Check out my list of the best free things to do in NYC to find something for every parent's taste.
Tips to help you navigate being in the city with your baby
We were pretty scared to bring our daughter to the city, even after living there for so long! A lot of the fear comes from not knowing what to bring or feeling like we wouldn't be prepared in the event of something unpredictable happening.
Here are some of the tips that I recommend for parents coming in to NYC with an infant.
Keep your essentials close by
If NYC is a trip far from home for you, it's important to have your baby's essentials in case of an emergency. Make sure to bring things like prescriptions or hard-to-replace items (loveys or special toys) with a backup, in case one gets lost in a city as big as NYC.
Where to do diaper changes
I find that many "big places" in NYC, especially those large enough to have a wheelchair-sized restroom stall, will have a changing table available. The one time I had trouble was in a restaurant in Chelsea that had tiny bathrooms, and no space in them to change our baby.
Given that it was an off-hour and after the lunch rush, the restaurant let us put two chairs together and changed our baby in a quiet part of the table area. I'm not sure that every restaurant, bar or cafe would let you do this.
Where to stay
My first recommendation for where to stay with a baby in NYC is to stay in an area that's already very child-friendly. Three local-feeling neighborhoods come to mind: the Upper West Side, Upper East Side and Park Slope (Brooklyn). These are neighborhoods where strollers are common and are popular with young families!
For staying in a hotel, request a crib ahead of time, which is a tip you'll find in my list of tips for hotel stays with a baby. Keep in mind that hotel rooms in NYC are small, and I mean REALLY small. Most visitors from out of town can't believe how tight NYC hotel rooms are. They're just as compact as NYC apartments!
You can bring a travel crib like the compact Baby Bjorn Travel Crib Lite, if you feel like your baby is the most comfortable sleeping in something they know. You can also bring a sheet from home. That's what we did during a hotel stay with our baby. We put the sheet from home on crib the hotel provided.
For more on NYC's many neighborhoods, see my ultimate NYC neighborhood guide to avoid those neighborhoods that are loud, crowded or a bit wild on weekends with young folks.
What to pack
I recommend packing light for a day out in NYC. Typically I bring a whole diaper bag with me, but if you can, try a minimalist changing bag like the Kibou. I talk about it more in my Kibou diaper bag/fanny pack review! Make sure you have the diaper-changing essentials, one spare outfit and some snacks, depending on your child's age. Going into a tight NYC-sized bathroom with just this little changing bag has been a save.
I have a good packing list at my guide to how to road trip with a baby, and hopefully this helps with some ideas of what to take along for a bigger trip.
What about unexpected needs?
You can find corner stores and a lot of drug stores in every neighborhood in NYC. If you need anything, you're almost never more than five minutes away from getting it.
When we were in Halifax (Canada), we needed to get a baby thermometer and Dan walked to a drugstore and found it easily. It took less than 30 minutes, and that was a lot by our standards. If you look on a map of Manhattan, there are a ton of Duane Reade (owned by Walgreens) stores. Doing the same thing would take 5-10 minutes at most.
And there are also plenty of CVS, Rite Aid and Walgreens pharmacies as well!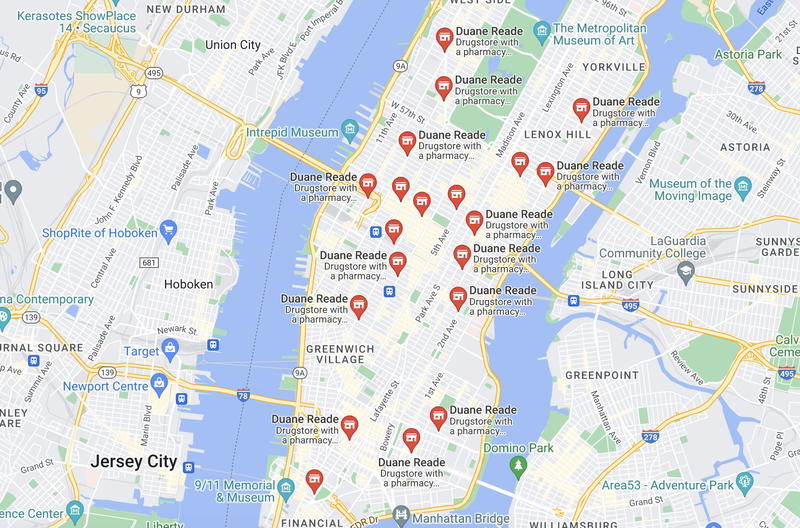 Day trips
For a day trip, bring along your whole diaper bag! Bring along some layers for the baby in case the seasons are changing. I've been using Nike's Diaper Bag, which you can peruse the features of in my Nike Diaper Bag review.
For a day trip, we'll always have both our UPPAbaby Minu stroller and our Baby Tula Carrier Lite.
If you're taking a family trip to NYC and looking for a day trip escape from the city, you can go as close as the "outer boroughs" or as far as New Jersey, Westchester or Long Island. If you flew to NYC and you don't have a car rental, look for a day trip that you can get to by train or subway!
I recommend The Rockaways (beach areas of Queens), city views in the parks of Jersey City & Hoboken, a Hudson River escape to Beacon (upstate NY) or hitting the sand at Long Beach, Long Island.
If your baby is small, take them wherever YOU want to go! If your baby is older and has some opinions, going somewhere with things to see is fun. I'd recommend one of the nearby beaches or hiking areas, if it's summer. If it's winter, check out a nearby town with cafes and restaurants to dip into, along with some scenic spots nearby.
You can see all the choices in my list of the best day trip ideas from NYC.
Safety concerns for going with a baby to NYC
"Is it safe to bring my baby to NYC?" This might be a question for many parents who have not visited NYC before.
Yes, of course NYC is safe! In fact, I discuss safety for families in my list of safety tips for NYC.
With a baby who is not yet walking, you know where they are at all times, so that part is easy! Regarding emergencies, call 9-1-1. I've had to do it several times while living in NYC, as there can be unexpected scenarios you come across. The good thing about being in NYC is that there are always people around to help out, if you should have a health emergency or an accident.
For the most part, NYC is a wonderful place for me to be with my baby, and I love seeing and visiting all the places I recommended above. Just look at how relaxed I am in the photos I've shared!
Should you bother going to NYC with a baby?
I think the answer for this question is a solid "YES!" There is so much for a baby to see in NYC, and our baby has been so happy during the times we take her in. There's a lot for a little one's senses, from the smells, sounds and sights.
Having a baby with you should not stop you as a parent from going to NYC. You will see so many families on the streets, in the parks and of course, at child-friendly things to do.
My biggest recommendation is to keep realistic expectations in check: things always take longer with a baby, no matter where you go. NYC is no different. Make sure you have your compact stroller ready to go, as well as your baby carrier, and have fun!
Enjoyed our article?
Consider supporting us! We're a 2-person team (learn more about us here) and your support enables us to create quality content. Thank you!