Our Favorite Things to Do in Lima, Peru
Updated on October 27th, 2023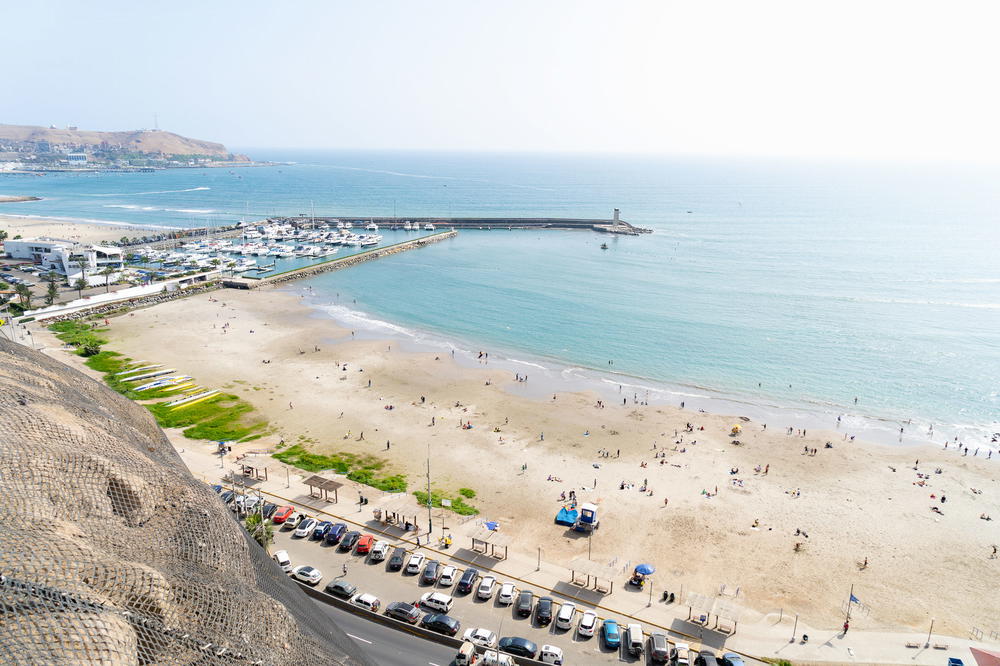 We've created a list of the best things to do in Lima! We put together a list of how to travel in Lima after our second visit to Lima.
This article may contain affiliate links. We earn a small commissions when you purchase via those links — and it's free for you. It's only us (Becca & Dan) working on this website, so we value your support! Read our privacy policy and learn more about us.
Lima is an essential part of a Peru itinerary, and it's worth spending a few days there to enjoy the start and end to your Peruvian adventure.
The first time I went to Lima in April, I was blessed with Lima's "autumn," which meant pleasant days of sun. I have memories of sightseeing in the Centro Historico, taking a walking tour with my friend Daniela, eating ceviche and seeing the sunsets. The second time I went to Peru, I spent a month in Lima! This time I was able to get deeper into the culture in the city, by spending time walking in Barranco, experiencing the nightlife and seeing local art.
A lot of what I like about Lima is that it's a cool weather destination for summer and it's temperate all year round. When you travel to other parts of Peru, you'll see the variation in climate zones and the diversity of the geography.
This list for the things to do in Lima is a combination of my favorites from all those trips. This list has tasty food, cool sights, and fun stuff to try. There's no particular order, so we hope you check out everything!
By the way, some of these ideas are sponsored by Peru Hop. We used their service when we visited Peru and liked it a lot for getting around easily and in a fun way!
Check out our top picks for having a great time in Lima. We hope you enjoy them, too!
Eat Ceviche at Canta Ranita
Canta Ranita has a sister restaurant called Canta Rana, which is across the street and a bit fancier, so make sure you head to the more casual one. This indoor-outdoor back-of-a-market eatery always has a wait, but it's worth it! You can watch the chefs prepare the food, FAST, and everything on the menu is great. We went three times.
We had the ceviche apaltado, the arroz de mariscos and some other types of ceviches. The fish is incredible. You also get unlimited little silver bowls of crunch corn that are addicting.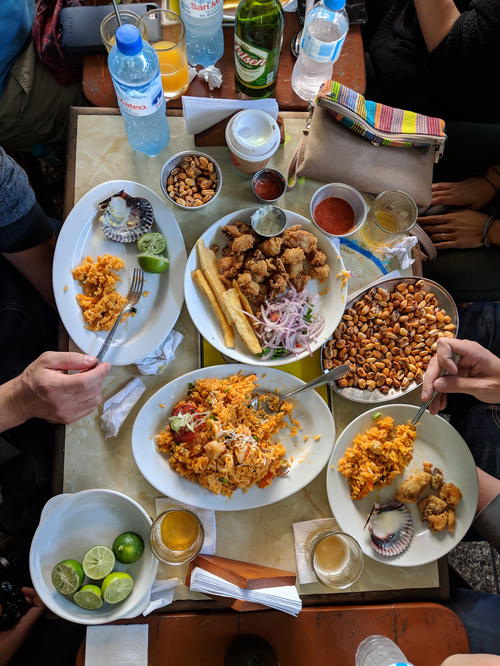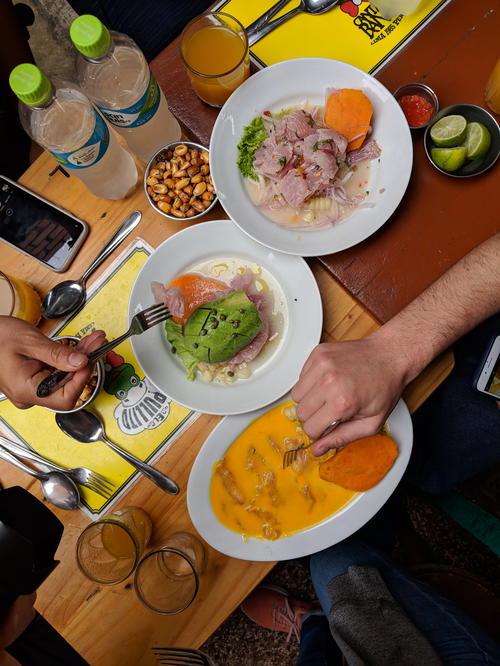 Go to Parque de la Reserva to see the rainbow fountains at night
Parque de la Reserva is a park (that costs less than 1 USD for entry) in central Lima where you'll find fountains and lots of families hanging out. At night, the fountains are lit up in rainbow colors. This is pretty wild! The park has two sides, and to access one from the other, there's a tunnel that goes under a road.
Parque de la Reserva is also where you can see the heart-shaped tunnel of flowers that has become a popular photo spot.
The fountains attraction itself is called "Circuito Mágico del Agua - Parque de la Reserva," so if you want to ask locals about it, you can use this name for it.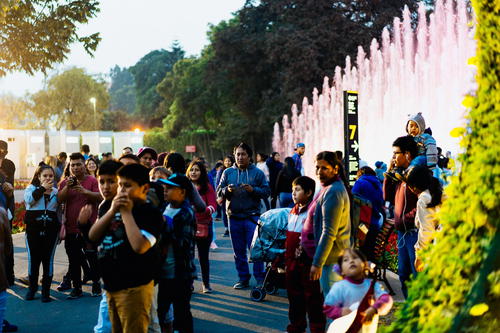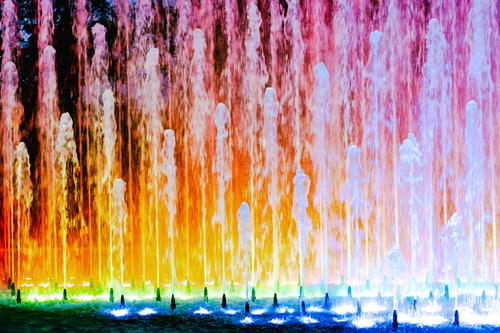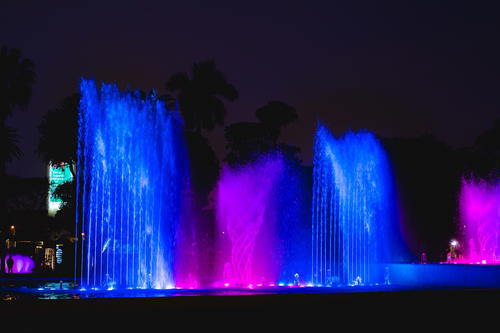 Take Peru Hop from Lima to other destinations
I tried Peru Hop in 2015 and was delighted with the experience of seeing more of Peru than I had ever hoped to, in the most convenient way.
Peru Hop is a transport service that not only gets you from place to place within Peru, but lets you avoid flying, if you're on a budget. In addition, you'll have a fun local Peruvian guide on your bus who will answer all your questions and even become your friend, like my guide Stephanie!
I wound up taking Peru Hop from Cusco to Arequipa, and from Arequipa to Lima, with stops at the Nazca Lines and Huacachina for sand surfing and dune buggying. My first trip to Peru wouldn't have been anywhere as awesome without Peru Hop.
Interested in seeing how Peru Hop can help out your travels around Peru once you get to Lima? Check out the website and destination routes to learnmore.
Explore Barrio Chino and walk down Calle Capón
We like Chinatown (Barrio Chino) in Lima because it's a bit off the beaten tourist path. After touring museums and eating ceviche, isn't it time to try 'tallarines' (noodles) and some 'chaufa' (fried rice)?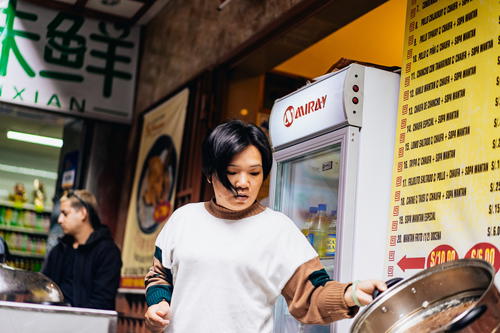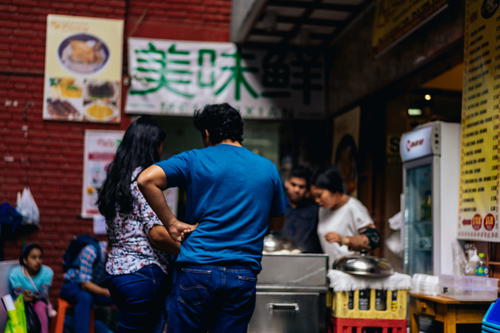 You might be surprised at the size of East Asian communities in Peru, but the truth is that they have a long history, starting with waves of immigration a century ago. While Lima's Barrio Chino may remind you a bit of Chinatowns in North America or elsewhere, there are some quirky Peruvian flavors scattered throughout.
For example, have you seen Chinese restaurant menus in Spanish before? We tried some local dishes and enjoyed the cultural fusion.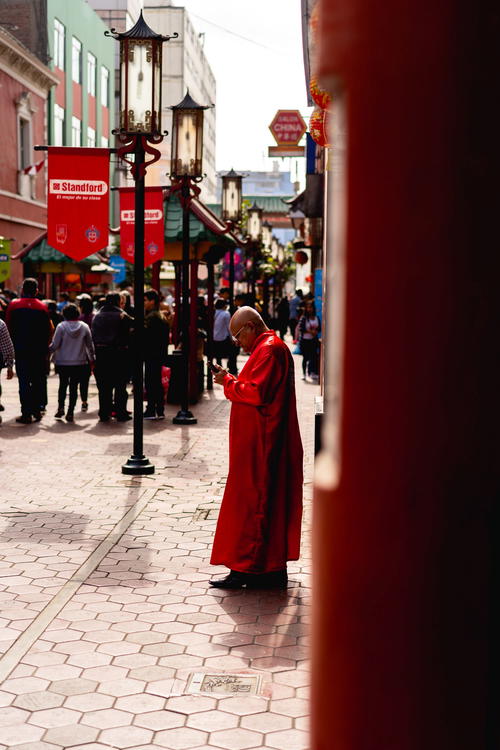 Check out the lighthouse and watch the paragliders at Faro de la Marina
Faro de la Marina, the way to say the lighthouse of the marina in Spanish, is quite a scene on weekends and on nice days. From this point on the cliffside Malecon, you can get a full view of the paragliders in the sky.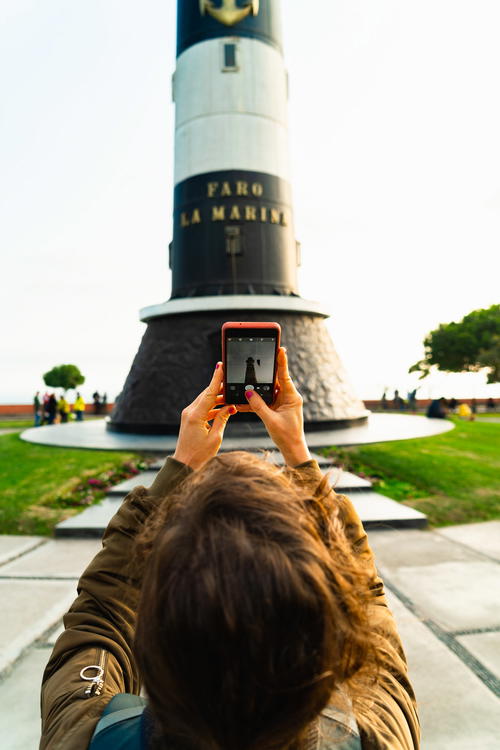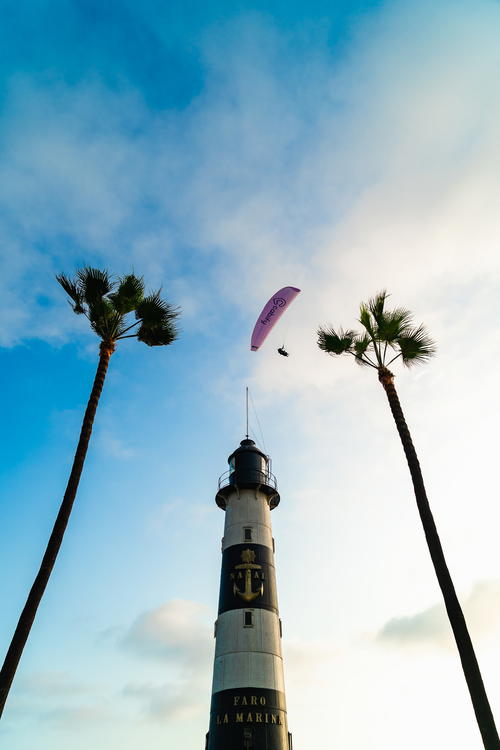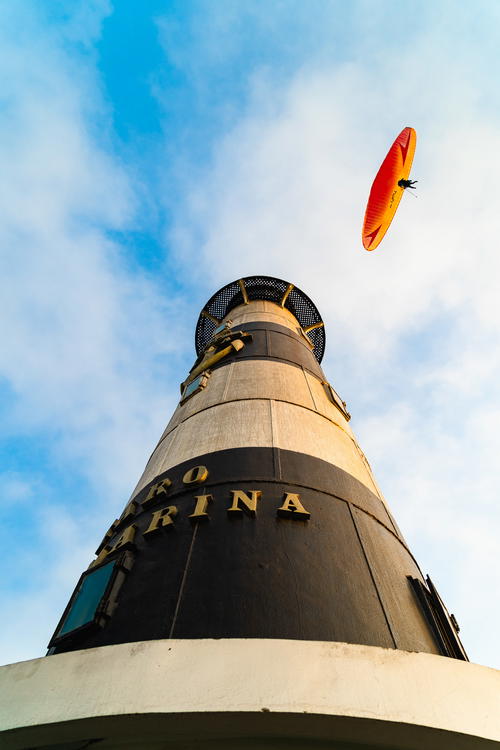 Meet the cats in Kennedy Park
At Kennedy Park, you can find some feline friends. The park has a bunch of inhabitants, and they are all cats. Somehow, they stay there and don't leave. It's hard to believe, so we had to see it for ourselves.
Try some craft beer at Lúpulo Draft Bar and BarBarian in Miraflores
We were introduced to Lupulo Draft Bar and BarBarian Bar by some friends of Becca's family who are Lima natives! At both these bars, you'll find yourself among the craft beer-loving Lima local (and traveler) crowds.
Lupulo has really cool neon art on the walls, and BarBarian has beer bottles from all over the world on its walls. Both are great ideas for a night out!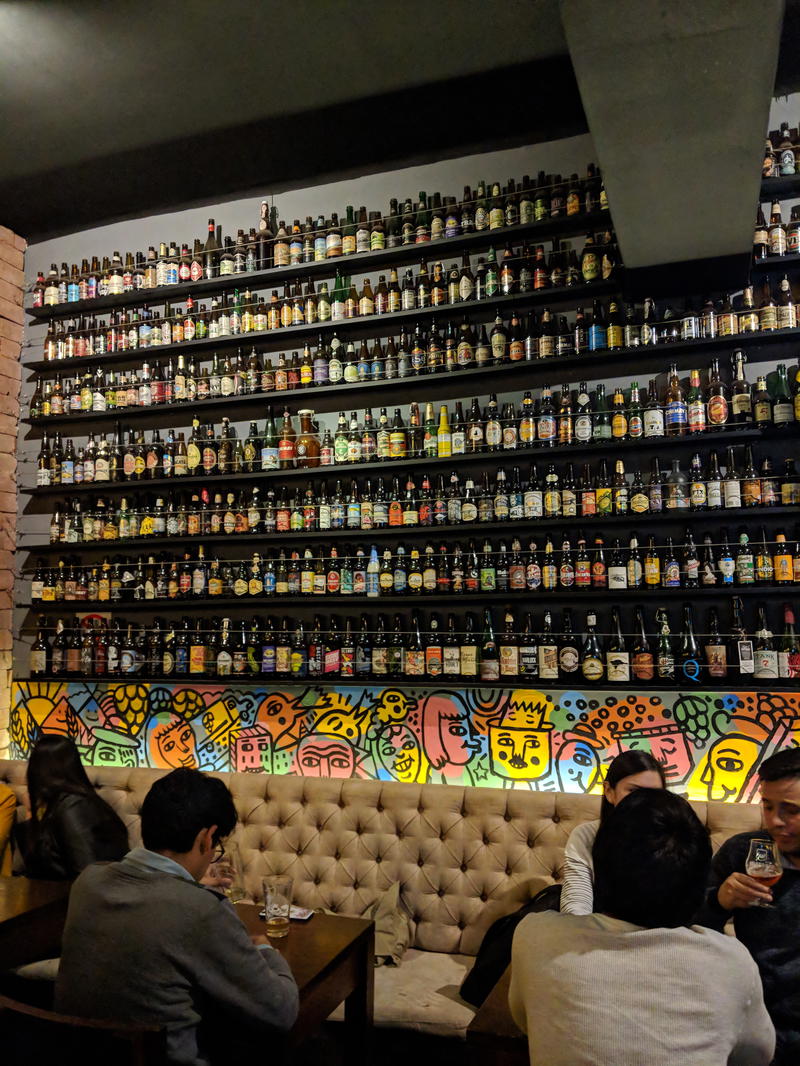 Take a bike tour through Miraflores and Barranco
We recommend Lima Bike Tour Miraflores, with which we did a bike tour of the city during our first week there in 2018. We had English-speaking guides, proper equipment like helmets and stopped at all kinds of great sights. It was a great way to get introduced to Lima!
We enjoyed making use of the bike paths in the parks along the Malecon. We stopped in Parque de Amor, Barranco and Larcomar.
Where's the best bike tour in Lima?
See the neighborhoods of Barranco and Miraflores by bike with a guided tour that's a can't-miss!
Grab some coffee at KULcafé
A trip to Lima is not complete without exploring the developing cafe culture, so have a seat at KULcafe and order one of their americanos or fruit smoothies.
KULcafé is a great place to get some work done if you need a place to sit with your laptop. They have comfortable couches, chairs and a few tables. You'll find plenty of outlets around the cafe!
Grab brunch at El Pan de la Chola in San Isidro
If you have time to explore the San Isidro area, we recommend El Pan de la Chola, which we happened to stumble upon, but it turns out to be one of the most popular and well-known cafes for croissants, avocado toast and brunch as well.
Plan your two-day trip to Huacachina
Most people plan trips to Peru with plans to fly into Lima and explore from there. The truth is that Peru is so giant, that getting to other major places of interest (Cusco, Machu Picchu, Huaraz, Arequipa and Puno) are going to require a flight or a very, very long bus ride.
Helpful Tip
Looking for new proven ways to save money on flights and airfare? The easy solution is to sign up for Going, the leading way to find flight deals and mistake fares, directly to your inbox. Use HALFHALF20 to get 20% off!
For a fun two-day trip that will present a drastic difference to the cityscape of Lima, consider a desert experience in Huacachina and Ica. This destination is known for two things: dune-buggying and sandboarding. Why not try both?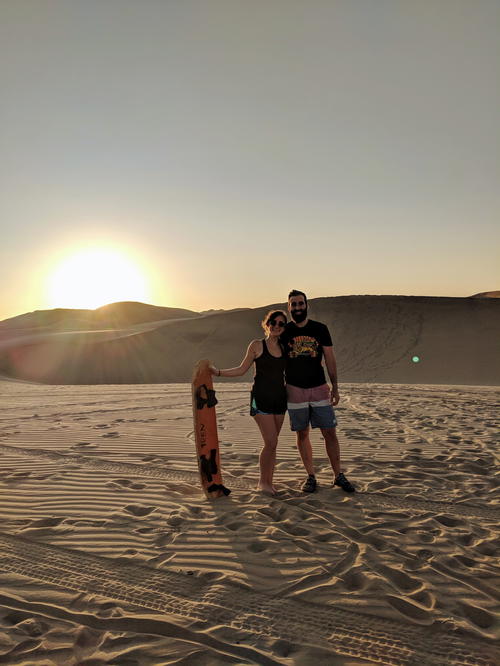 Need an easy way to Paracas & Huacachina?
Going with a guided tour to these excursions from Lima will be fun in the sun, and certifiably safe.
Helpful Tip
Another thing to know is that Huacachina is a desert, so it gets HOT during the day, and immediately gets cold past dark.
Go for a jog or a walk on the Malecon
The Malecon is the cliffside boardwalk and walking path of Lima. It is lined with gardens, parks and playgrounds. It's a favorite among locals, expats and travelers for running, biking and dog-walking. Go at sunset to see the sky turn colors against the backdrop of the Pacific Ocean and some outlying islands!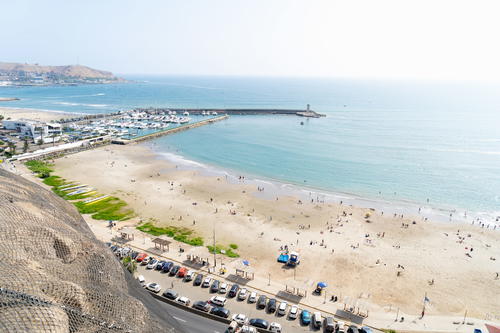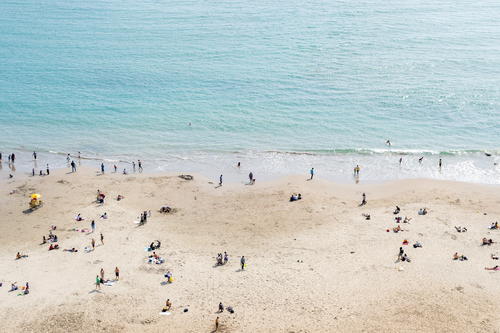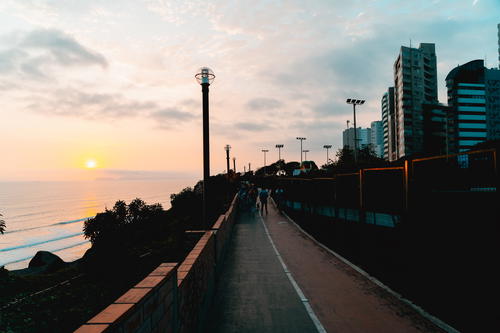 Trying to see all Lima's sights in one day?
Learn the history and fascinating facts about Lima with your private guide during this top-rated city tour.
Grab a cocktail at the Saha Restaurant rooftop
Finding your ideal dining experience in Lima can really make a trip memorable. Saha Restaurant is a rooftop cocktail bar and restaurant in Lima that'll elevate your taste buds in Lima's dining experiences!
Do you love trying local craft cocktails and gastronomy with locally-sourced ingredients? Start with a pisco sour, or if you're feeling adventurous, try the pisco punch and then a Chilcano. For food, there's ceviche (my favorite), lomo saltado and an array of fresh Lima seafood dishes.
Saha is easily accessible in the Miraflores neighborhood, where travelers often stay and hang out, so it's simple to get there from your accommodation.
Explore nightlife at Larcomar
Larcomar is a trendy spot on the Malecon that was developed as a shopping mall with fashion, entertainment and "gastronomy," according to its website. Here, you can find around 100 stores on a shopping trip.
At night, Larcomar is home to Lima Bar, an upscale bar and club, where Lima's party crowds go for big nights out. Expect higher prices and a dress code.
Wander in the Centro Historico (Historic Center) and check out the famous iglesias
Lima is surprisingly big, and depending on whether you stay in Miraflores, Barranco or the Historic Center, you'll have to travel a big in Uber or taxi to see other regions of the city. If you're not staying in accommodation in the Centro Historico, plan to spend an afternoon or morning with a small trip to Lima's Historic Center. This is the real original Lima, and you'll feel transported in time.
Start with the Main Square of Lima, also called Plaza de Armas, and check out the Municipal Palace, Archbishop's Palace and Catedral de Lima.
Next, head over to the brightly yellow-colored Basílica y Convento de San Francisco de Lima, where people gather in the small square, and see the Government Palace of Peru (Palacio de Gobierno del Perú), where there is a daily changing of the guard ceremony.
Continue to the Iglesia de La Merced with its big stone facade and finish by resting for a few minutes at Plaza San Martin, surrounded by eateries and hotels.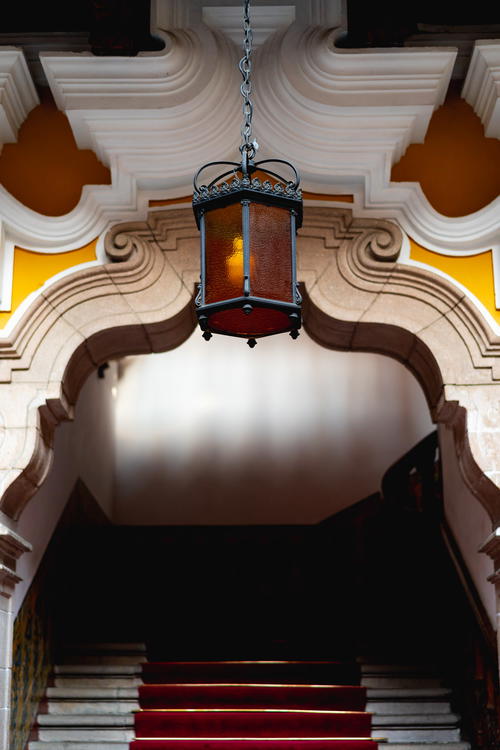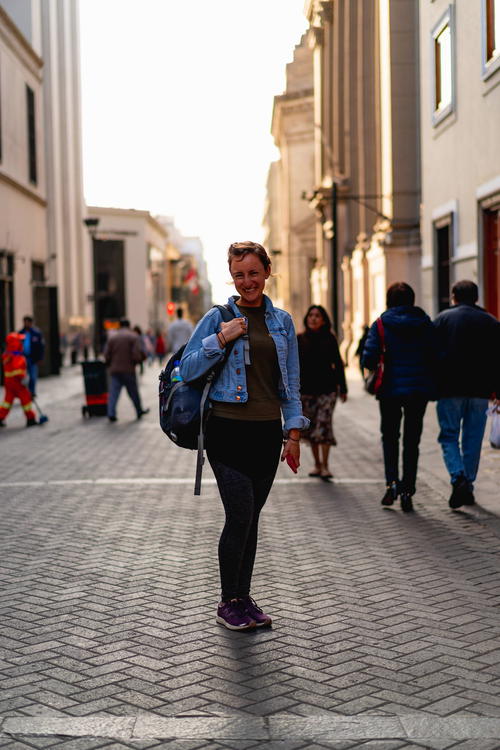 See the art in Barranco
Barranco is a neighborhood that is next to Miraflores, but quite a bit different. Buildings are lower and older, and here, you can find the city's street art. Walk around until you've had your fill, because there is so much, and by a variety of different artists. We visited the studio of Jade Rivera, where you can see a lot of his work and learn about the meanings of his murals around the world.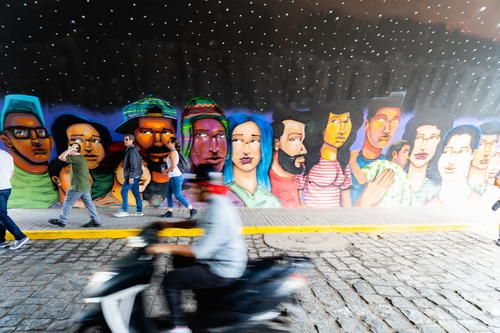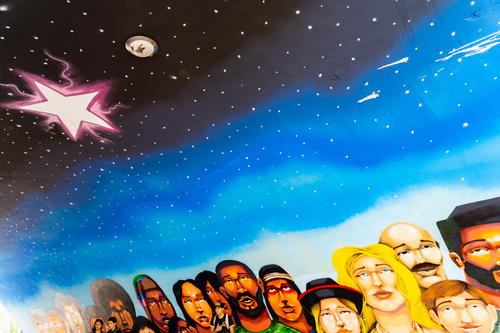 Enjoy ice cream in the flavor of Peruvian fruits at Bosco Magico
Aside from being cutely decorated, this gelato boutique is where you can try flavors like chirimoya-flavored sorbet. Only in Peru!
See an acrobatics performance in the butterfly sanctuary of Barra Verde
This was probably one of the surprises in Lima that we loved more than others - where else can you go to a beautiful garden-themed bar and then see a free acrobatics show in a butterfly sanctuary? The experience was like an escape from the city.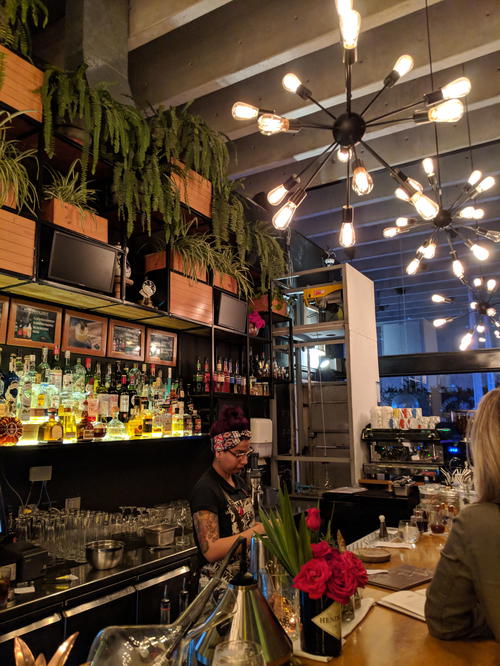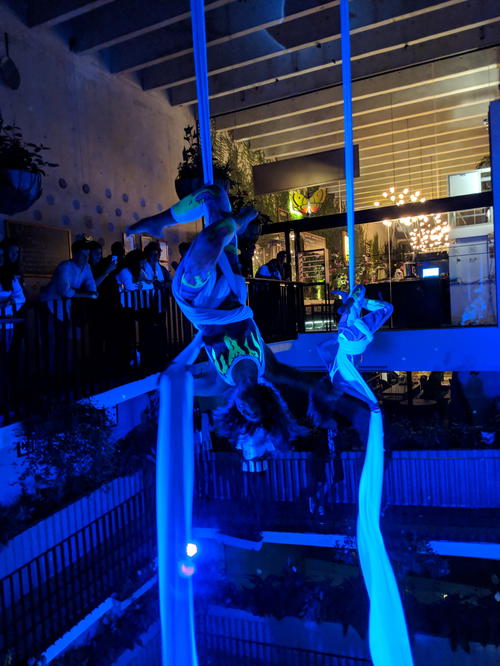 Breathe easier with Airport Express Lima for your flight
Finding transport to and from airports in new countries can be daunting and stressful, but in Lima there's a solution. Airport Express Lima is a highly affordable option to consider for safe transport to Lima's international airport, when compared with taking a local city taxi. Plus, there's Wifi, air conditioning and no baggage limit!
Coming out to approximately 4 USD, it's a great idea for a solo traveler for getting to or from the airport in Lima. You can quickly glance at the timetables here and also view all the possible stops located throughout Lima.
Taste the delicious and exotic Peruvian fruits like chirimoya, granadilla and aguaymanto
You might know that we absolutely love fruit, and we liked getting fruits like these from our local fruit guy on the corner, the big city produce markets and the supermarkets like Tottus and Wong.
At any chance we get, we buy local fruit, and we especially like to try new things. A few favorites of ours are chirimoya (but don't eat the skin nor the seeds, as they're kind of poisonous!), granadilla (related to the passionfruit with such a fresh flavor!) and aguaymanto (kind of like sweet and tart tomato-like fruits, which are called 'uchuva' in Colombia - it's the same thing!).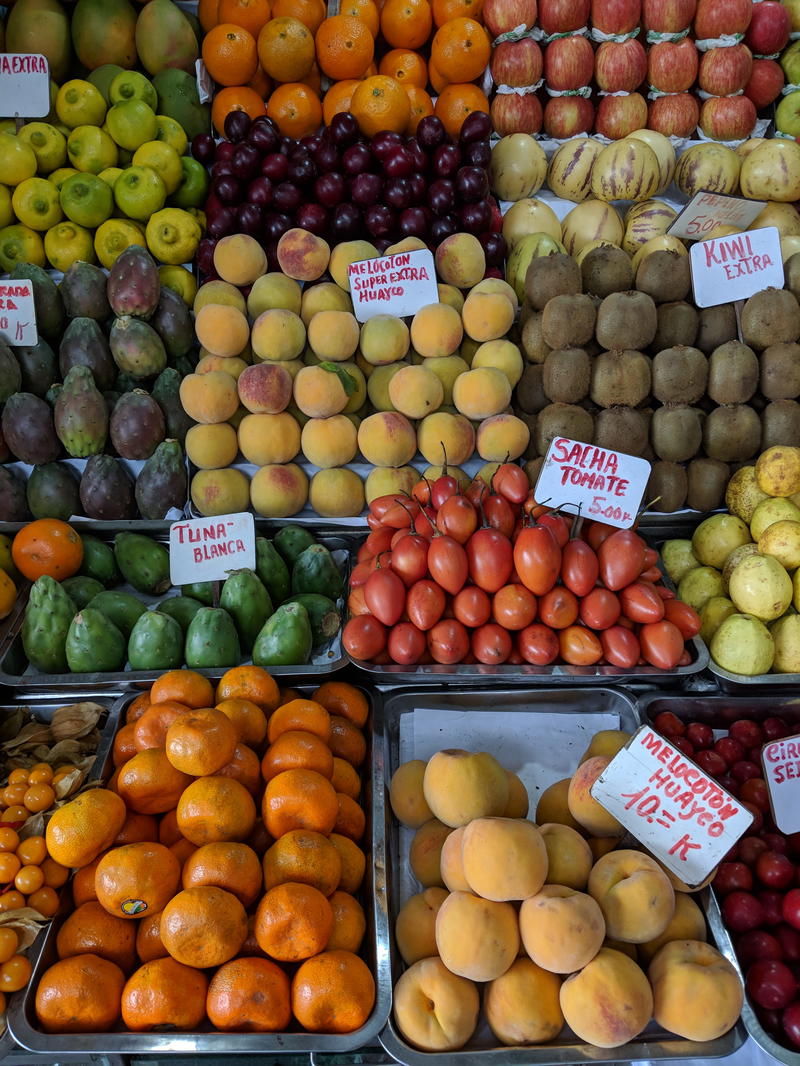 Watch the sunset near the Park of Love (Parque de Amor)
Parque de Amor is for lovers! It also has a cool mosaic wall that reminds us of Parque Guell in Barcelona. This is a stop for every Lima itinerary, and if you can't find it, ask any local for Parque de Amor, and they'll point you in the correct direction.
Once you see the big statue of two lovers embracing (you'll see what we mean), it's clear you're in the right place. Also, if you're using Google Maps, the location is here.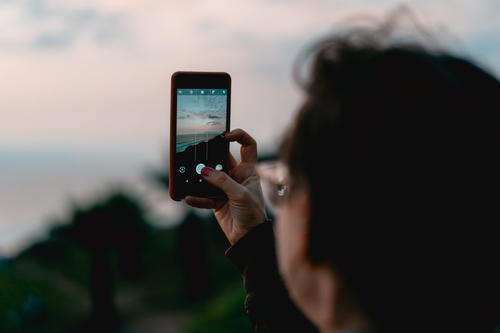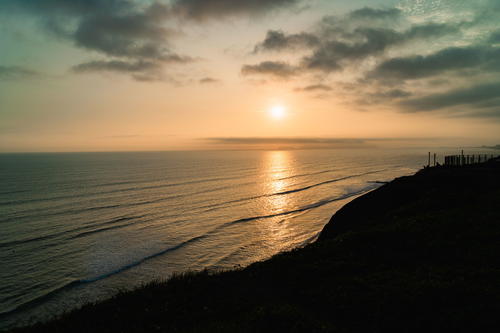 Buy your produce at Surquillo Mercado #1 and test your bargaining skills
On the surface, it's overwhelming to find an authentic big local market in Lima. Thankfully, Dan knew about Surquillo Mercado #1 and we had a chance to go there to pick up super fresh fruits and vegetables during our first week living in Lima.
This market is an authentic Peruvian experience, where you can haggle, see all the types of produce and eat in the market food stalls that line the exterior of the market. This is a place for sights, sounds and smells!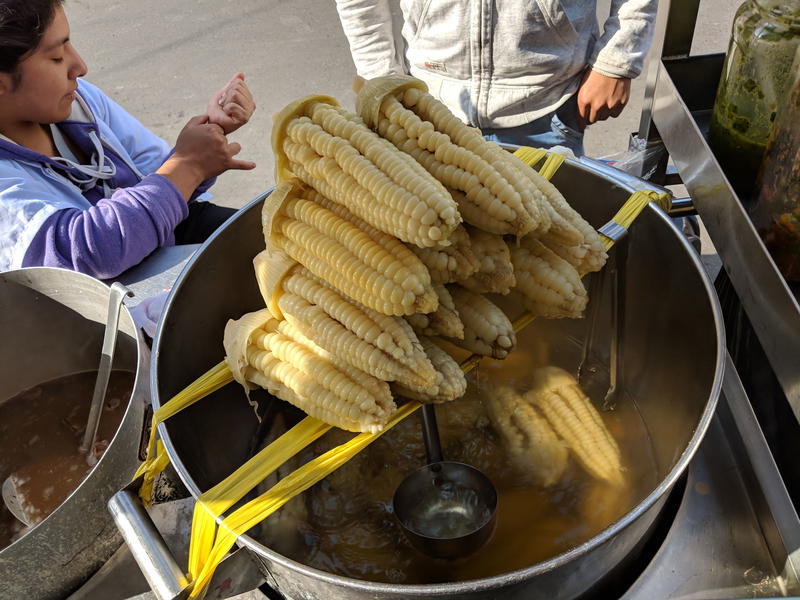 Explore food from all over Peru with the vendors at Mercado 28
Mercado 28 is a great trendy food market in Miraflores, and young people go here to start their nights on the weekends. The place is indoor-outdoor, so in the Peruvian winter (June to September), they provide blankets and heat lamps so that you can warm up.
What we like about Mercado 28 is that you can 'try the flavors of Peru.' Basically, you can try lots of types of Peruvian cuisines, and there are many! There's Peruvian poke at Oli Oli, Amazonian cuisine at La Patarashkita, Peruvian tapas at Aima and ceviche at Agallas.
The variation is incredible. There's a central wine and beer bar as well. The most fun part is buying several things from different vendors, getting some friends together and trying each other's foods.
Become a chef in Luchito's cooking class
If you traveled to Peru for the food, you'll love learning how to make it in a cooking class with a local chef and teacher. Cooking classes were some of the most special things I did while in Peru, especially because I have some unique dietary preferences, so I love being in control of what I eat while I travel!
Luchito's Cooking Class is a hands-on cooking experience for travelers and is an excellent way to discover Peru through a culinary lens. One of my favorite things about cooking classes while traveling the world is learning about the history of famous dishes, the ingredients they contain, and the cooking methods for how they're made to perfection.
Luchito's classes can be reserved as shared or privately, and are in English. Even if you can't cook anything more than a sandwich at home, a class like this one will turn you into a pro at Peruvian food. Yum!
Spend the evening at the wacky bar DaDA and see some live music
DaDA is instantly a favorite among travelers, expats and locals, and that's because it's hard to not like. DaDA is set in an old mansion in the cool Barranco neighborhood, and we got lucky to see some chill live music there.
The bar sells drinks and pizza, and there's outdoor space. The place is also decorated really eclectically, with bicycles hanging from the ceiling and some unique art. DaDA seems to be a place you can go most times of day or night.
Eat at Central
Do you call yourself a foodie? Have you already met someone who said, "Oh, you're going to Lima? Are you going to eat at Central?"
Central is the absolute swankiest place to eat and be seen eating in Lima. It's an experience you'll always remember from your trip.
Eating at Central is one of the top foodie travel experiences in all of South America, and it's for travelers who have cash to burn (when compared to the average cost of eating elsewhere in the city). The price is for the experience, though; the "Experiencia territorio en desnivel" features 12 small dishes, each featuring one of the 12 ecosystems of the country. If you speak Spanish, you'll enjoy seeing this PDF menu as a preview.
Make a reservation at the website.
Contemporary Art Museum (MAC Lima)
The MAC Lima (Museo de Arte Contemporáneo de Lima) is Lima's contemporary art museum, and hosts fascinating exhibitions from both emerging artists and those whose careers are more solidified. From murals to grafiti, and sculpture to painting, the museum is very well-done and caters to educating and enlightening visitors. Find it at Av. Grau 1511, Barranco, Lima.
Huaca Pucllana Ruins
If you are into seeing ruins, don't miss Huaca Pucllana, which is located here, right in the city of Lima. While not extraordinary like Machu Pichu or restored ruins like Mexico's Chichen Itza, it's unique and pretty convenient if you are pressed for time in Lima.
What's most fascinating about these ruins is that they're stacks of beige bricks from the Lima civilization of 200-700 AD, and they're right up against the modern city of Lima. It's also recommended to visit the small museum of relics on site. We suggest going with a guided group, so that you have access to an informational expert guide, in English.
Parque Chino de Miraflores (Chinese Immigrant Park)
For a mesh of cultures, check out the Miraflores Chinese Park (Parque Chino de Miraflores), which has a small red pagoda and Chinese-inspired sculpted figures like Buddhas and dragons. There's more information to read about it on LimaEasy.
You can find it at this location, right near Itzhak Rabin Park and not far from Faro de la Marina (the Marine Lighthouse).
Larco Museum
For those who are into history, artifacts and lots of ancient art, head to the Larco Museum in Lima. The permanent exhibitions like small hand-sculpted figures help teach museum visitors all about the Pre-Columbian heritage of the region, and 5000 years of history.
If you want to have access to 30,000 super old museum pieces, this is the place! It's located at Av. Simón Bolívar 1515, Pueblo Libre, with the entrance on Navarra Street.
As a bonus, don't miss the gorgeous one-of-a-kind on-site restaurant and cafe, which even has a vegan and gluten-free menu (!!!).
End your trip with a delicious pisco sour
The pisco sour is Peru's national cocktail, and if you are into drinks of the world, we suggest having one during your stay! Pisco is Peru's famous alcohol and it's like brandy. Careful, though: Chile also claims this as its national alcohol, so keep that in mind!
The pisco sour itself is made from pisco, lime juice, sugar syrup, and egg white in a cocktail shaker. Add it over ice and put a drop of Angostura bitters on top of the foam, and ta-da, you have Peru's most famous cocktail.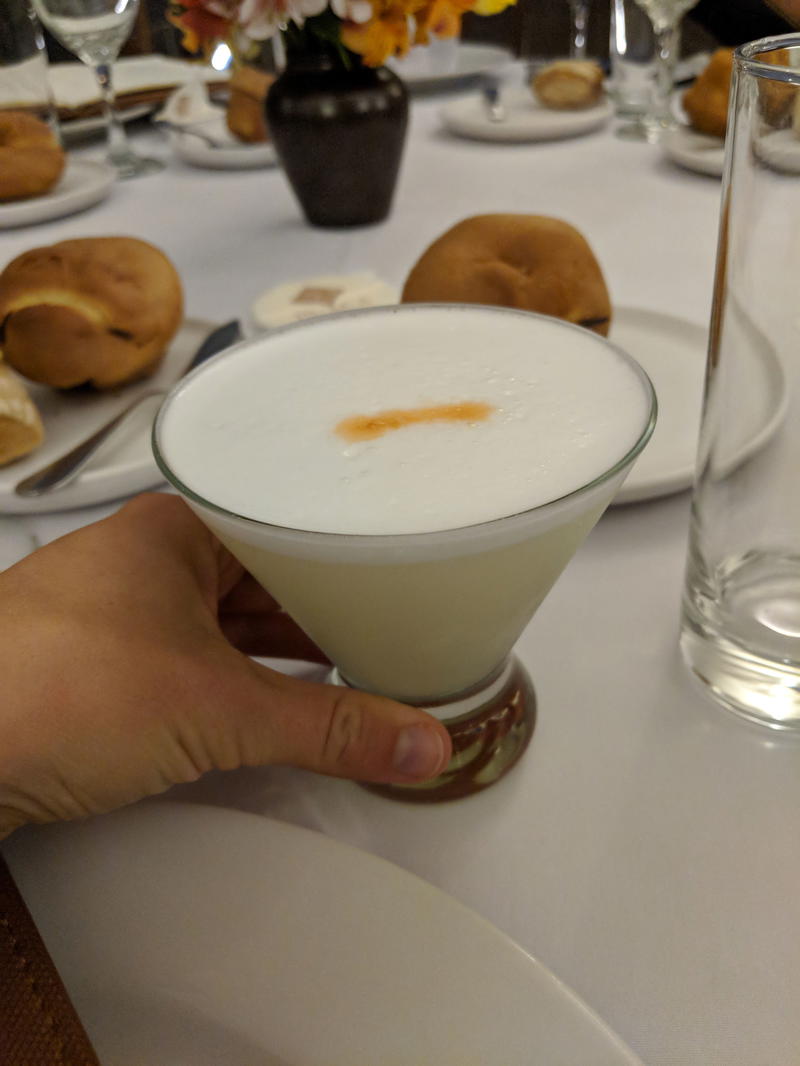 We also suggest having a pisco sour within the borders of Peru, as they truly do it best. Becca tried one in Colombia and it was not the same!
We hope you enjoy Lima as much as we did, because while the city is huge, there's lots of diversity and things to see at all times of year.
Enjoyed our article?
Consider supporting us! We're a 2-person team (learn more about us here) and your support enables us to create quality content. Thank you!