30 Things to Do in Bogota: Travel Guide & Itinerary
Written by Becca
•
Updated on October 27th, 2023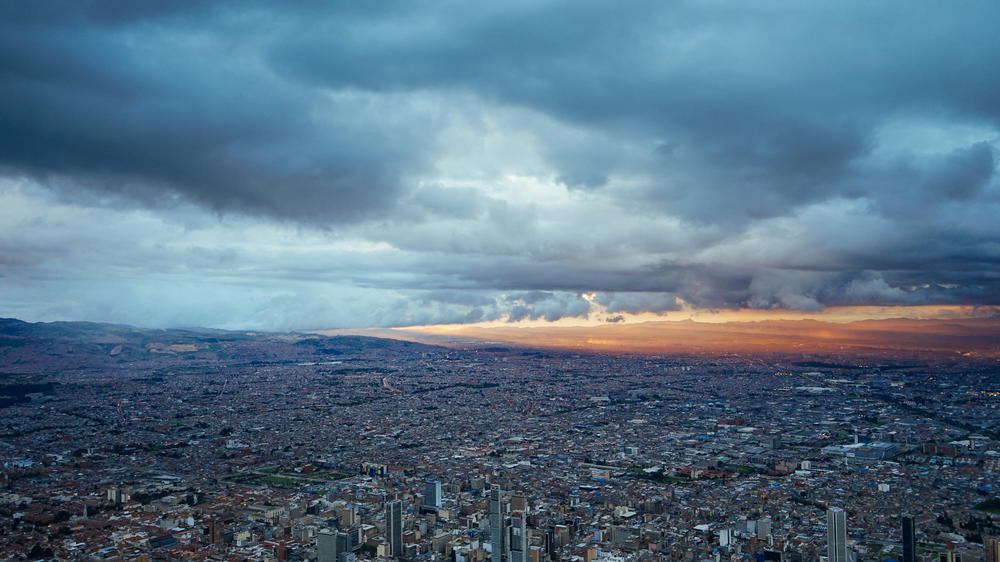 What's best to do on a trip to Bogota, and is Bogota safe? See our unique things to do in Bogota, where to stay, what to see in Bogota and the best cafes for Colombian coffee.
This article may contain affiliate links. We earn a small commissions when you purchase via those links — and it's free for you. It's only us (Becca & Dan) working on this website, so we value your support! Read our privacy policy and learn more about us.
Table of contents
Close table of contents
It's no wonder every traveler headed to Colombia is asking these questions, because Bogota is a big cosmopolitan city with a lot of questions surrounding it as a South American destination.
For two people (us) who've collectively spent a whole bunch of time in Colombia relative to other countries we've traveled in, we're finally ready with our guide to Bogota for backpackers, digital nomads and travelers.
And we're excited for you, as you head to Bogota to see Colombian history, eat Colombian food, climb Colombian mountains and take in Colombian art and culture.
In the travel guide that follows, we're answering popular questions about Bogota as a travel destination for a Colombia itinerary, especially because many flights stop through Bogota and many travelers use Bogota as a point for seeing other regions of the country or the South American continent.
What are you waiting for? Let's see all about Bogota and places to visit in this cool city.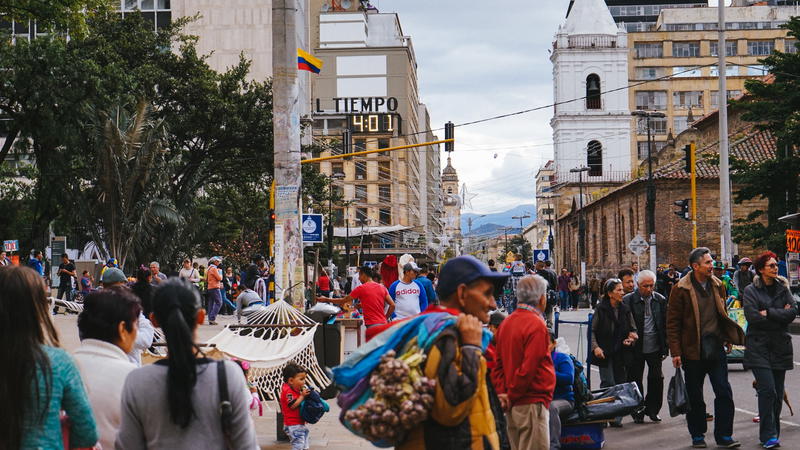 How many days do you need in Bogota?
Most people would say three days is ideal for seeing any city, and for Bogota, it remains the same. With three days, you can divvy up your time engaging in city hikes, a bike tour, visiting several museums, experiencing several neighborhoods, dining at trendy restaurants, trying street food AND sitting down to Colombian coffee at some great cafes.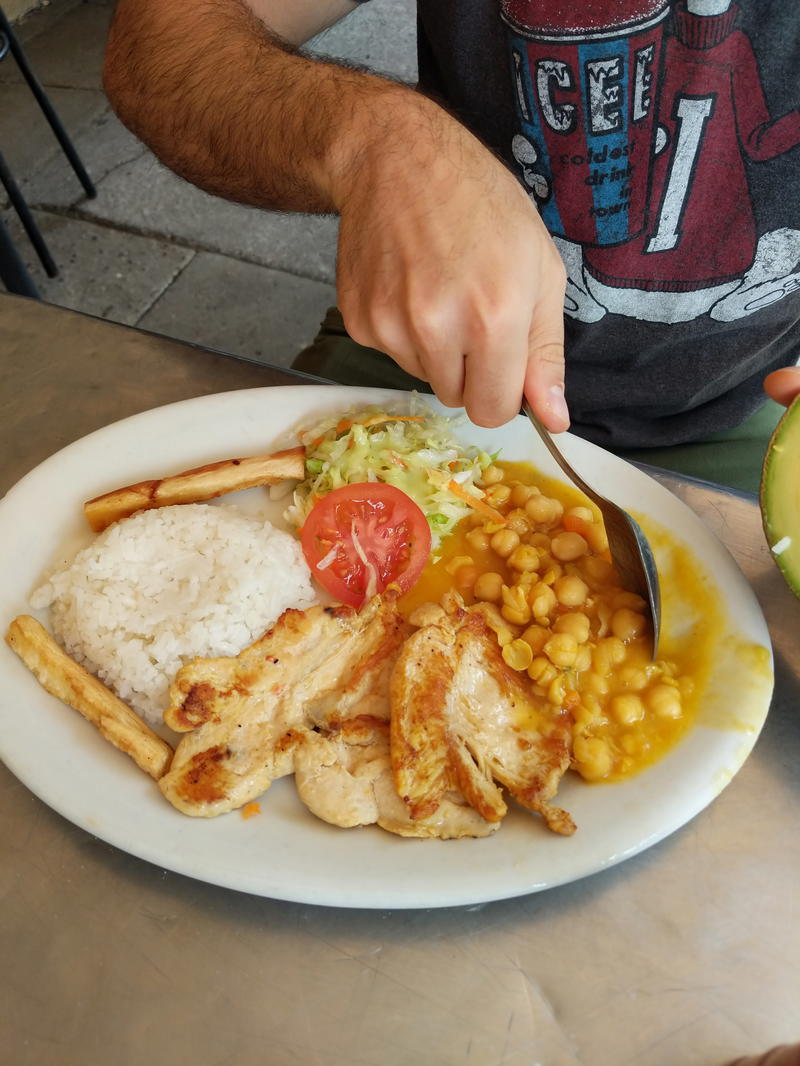 With a two-day itinerary in Bogota, figure that you'll just have to pick and choose from the above, in order to pack it all in.
If you have five days or more in Bogota, then you can really check out some neighborhoods in depth. You could even stay in two different neighborhoods, trying a lively hostel in La Candelaria and then a quieter Airbnb in Usaquen or Chapinero.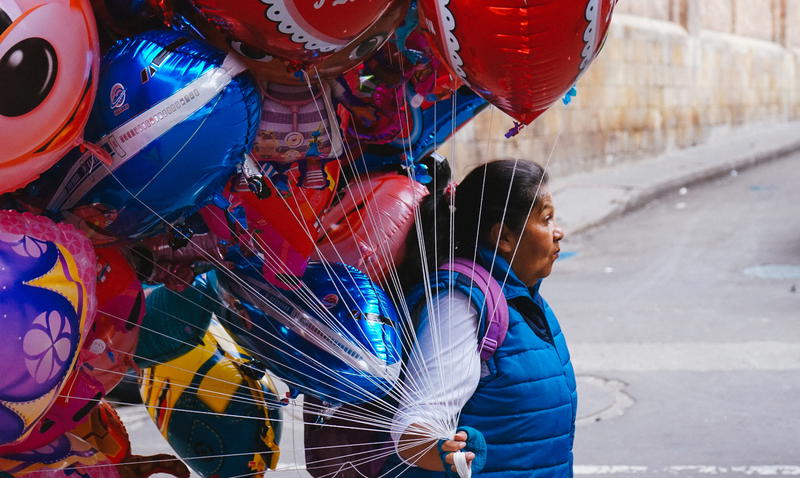 Is Bogota safe for solo travelers?
Yes, for the most part! By this I mean that we met many solo travelers spending long amounts of time (or short stints) in Bogota, and no one had any hesitations about safety.
If you mind your business, do not flash your phone or valuables, and minimize your time walking alone at night, you should be very fine.
As a solo woman, I would walk alone at night home from a restaurant, bar or supermarket run, near Parque la 93 and would see other women alone and doing the same thing.
The only hesitations about safety I would have are if you are not completely with all your wits about you very late at night, looking lost, engaging in trouble or being flashing with expensive valuables that would make you a target. But, this would go for any city around the world, even my hometown of NYC!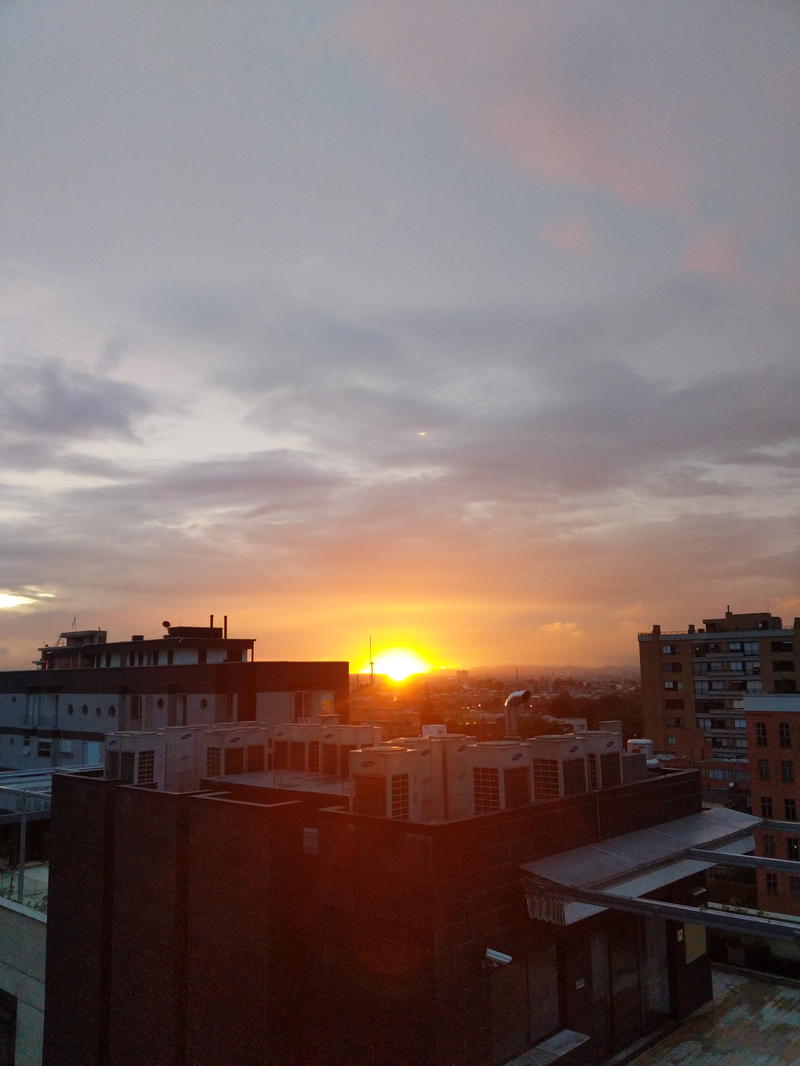 What's the weather like in Bogota?
Bogota has an interesting annual climate which I can only really compare to San Francisco or another place that's temperate and moderate, never too hot and never too cold. Bogota has historically been a great idea for a cool place to travel in summer.
Bogota's annual average weather stays between highs of 66 and 68 degrees Fahrenheit, daily, with nights between 43 and 48 F, depending on the time of year.
The highest months of rainfall are April and May, and October and November, and I can certainly attest to the autumn rainfall, because the week I arrived in Bogota, it rained every day at about 3 pm and it also hailed. Talk about needing a travel-sized umbrella in your bag at all times!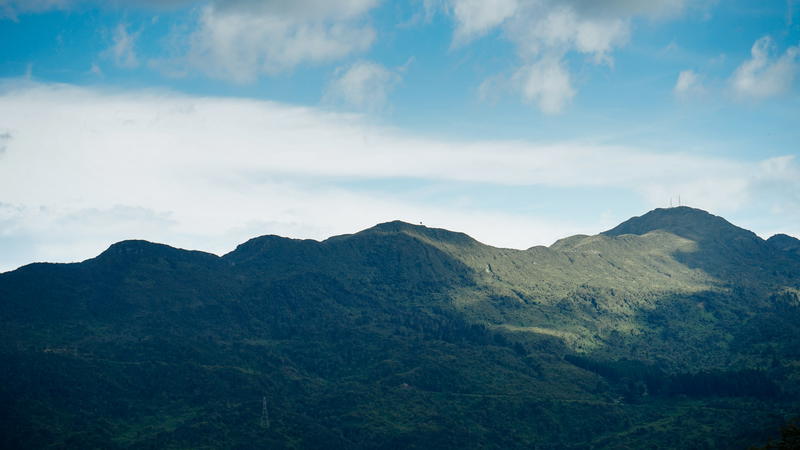 A Bogota itinerary for 3 days
With a Bogota itinerary for a three-day trip, there are some things I will immediately recommend without hesitation:
Try a trendy Bogota coffee shop like Azahar Cafe, Coffee House Cultor or Colo Coffee
Get out and join a city biking tour
Experience an assortment of Bogota's neighborhoods to feel out all their personalities
Visit Bogota's famous set of cultural and historical museums
Put on your hiking shoes for one of Bogota's city hikes, to get a sunset view (Bogota's cliffs face west, so you always get a sunset if the weather is nice!)
Try local Colombian street food from peddlers and vendors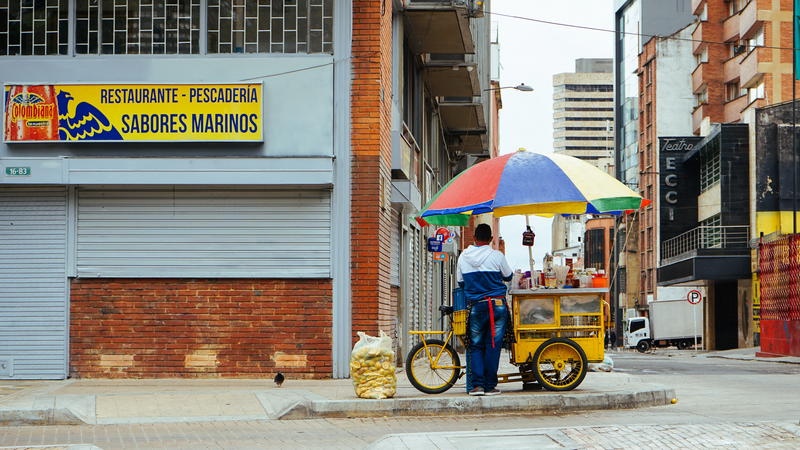 How to get from Medellin or Cartagena to Bogota
If you've looked into your Colombia trip yet, you may start to get a gist of how big Colombia is. This country is about 1.7 times bigger than Texas, and if you live in Texas,you may know how big this is! (I don't live in Texas, but I have a fair idea that it is very large).
If you want to take a bus from Bogota to Medellin or Medellin to Bogota, expect the journey to take around 10 hours, to cover 415 km, or 260 miles, but with roads that wind through mountains and valleys.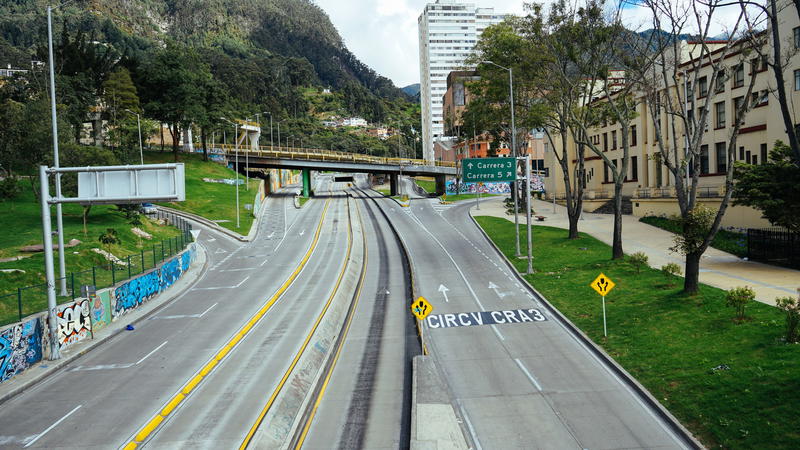 The best way to get from Medellin to Bogota or Bogota to Medellin is (undeniably) to fly. For those who love buses, thereby being able to "see everything in between two destinations," you can still choose to take a bus if you have a LOT of time.
For most travelers, flying makes the most sense, and there are heaps of flights per day from one city to the other, sometimes as low as $28 USD for a one-way trip!
The same goes for flying from Cartagena to Bogota or from Bogota to Cartagena: that's because these two destinations in Colombia are more than 1000 km (645 miles) away from each other, and taking a bus (do these exist?) would take 18-20 hours. That would certainly kill off a day of your trip! We suggest flying from Bogota to Cartagena, for about $55-68 one-way nonstop.
Helpful Tip
Looking for cheap flights to Colombia or within Colombia? The best solution is to sign up for Going, the ideal way to find flight deals and mistake fares, directly to your inbox. Use HALFHALF20 to get 20% off!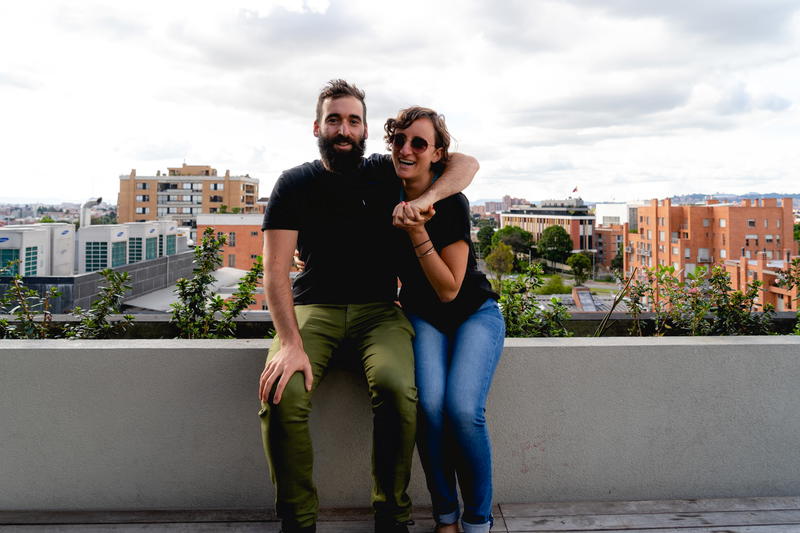 Best Neighborhoods to See in Bogota
Bogota has quite a few neighborhoods to visit, each with their own attractions or reasons to go there. Here is a rundown of a few, and things to do in each.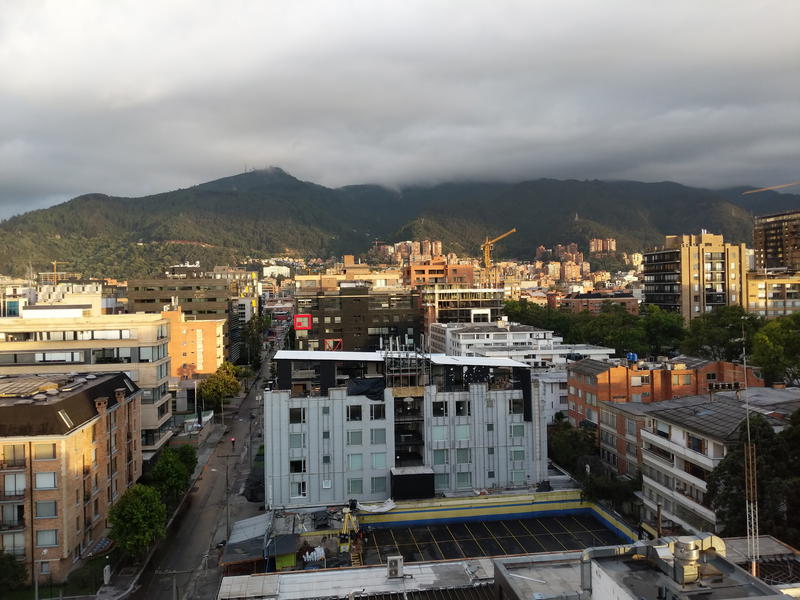 La Candelaria
La Candelaria is the most popular area with travelers because it's picturesque, it'll have all your popular photo spots for Instagram and it is where most of the great museums are located. It is also one of the best areas of Bogota for finding a hostel.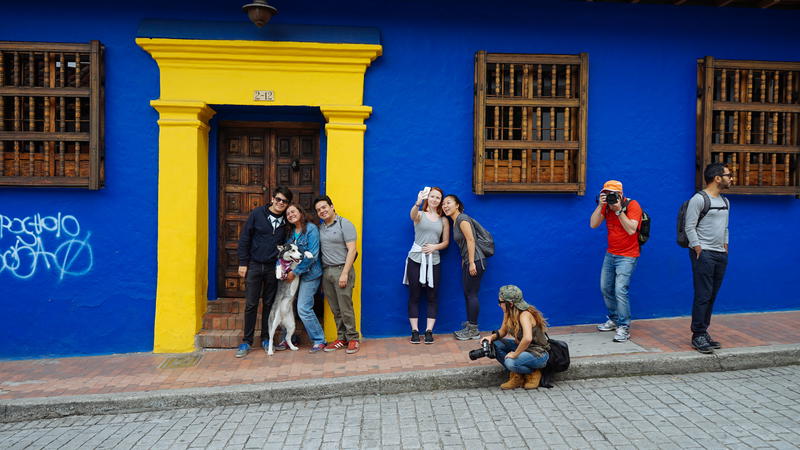 La Candelaria Graffiti Tour
Many travelers recommend taking a graffiti tour in La Candelaria. There are a few 'best tours' that come recommended by the Internet and by guidebooks, but you can also take a free tour where it will only cost you gratuity (recommended as $10 USD approximately).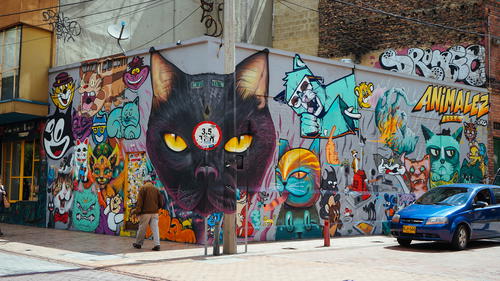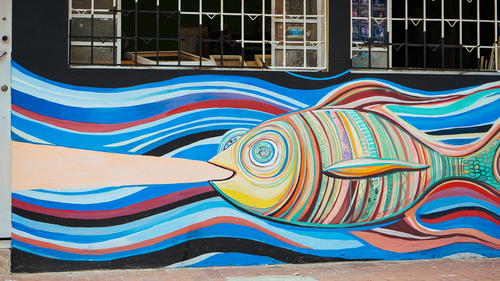 Zona T Nightlife & Parque La 93 Expat Area
Zona T is the area of Bogota known for a bar and club section. Are you ready to party? Come to this part of town on the weekend.
Most travelers tend to stay in La Candelaria for its central location near all the museums and famous historical sights, but if you'd like to have a more local experience or if you're seeking accommodation as an expat, staying in the Parque la 93 area is nice.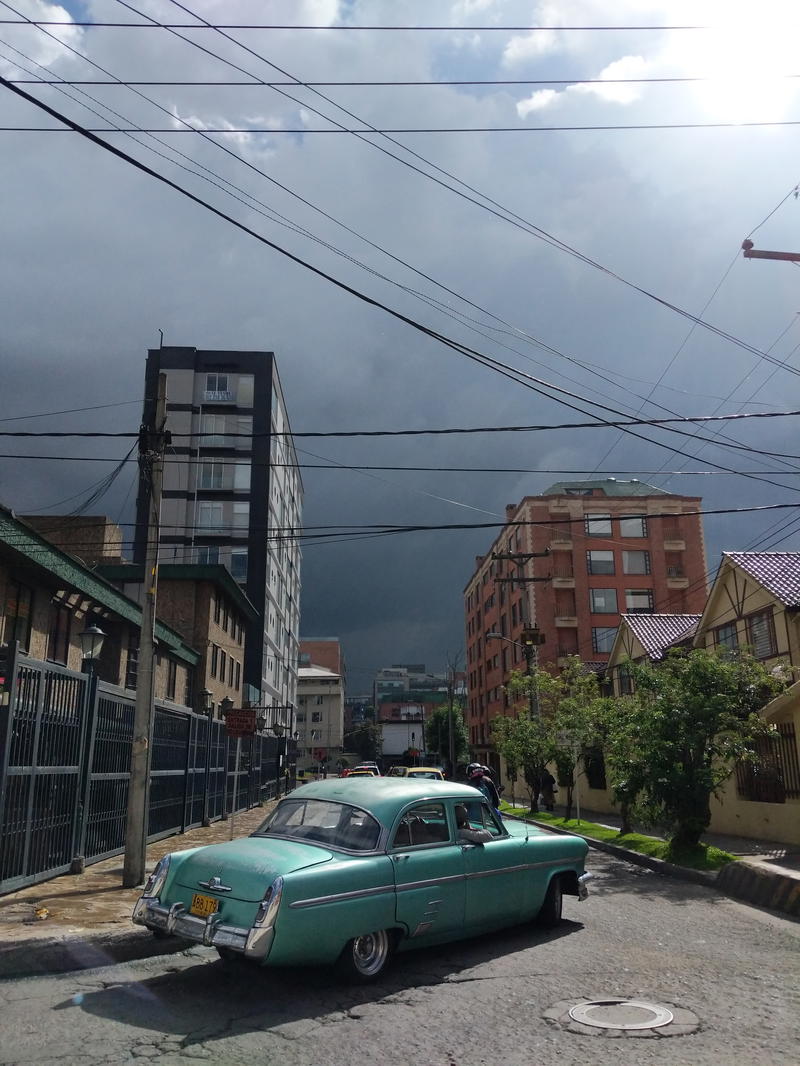 Best Cafes & Coffee shops in Bogota
During our month (my first month in Bogota, and Dan's second!) we made it our mission to learn about Colombian coffee, support Colombian third wave coffee shops and use what we had learned several years before on our trip to Salento in Colombia's coffee region.
What we enjoyed about Bogota was its blossoming coffee scene, where "third wave cafes" have popularized authentic Colombian coffees and harnessed their goodness before they are exported to foreign countries.
These cafes are making it so that Colombians can enjoy the fruits of their country, and they look pretty great in our Bogota cafe photo gallery.
Here are a few of the best coffee shops and cafes in Bogota that we really hope you get to visit!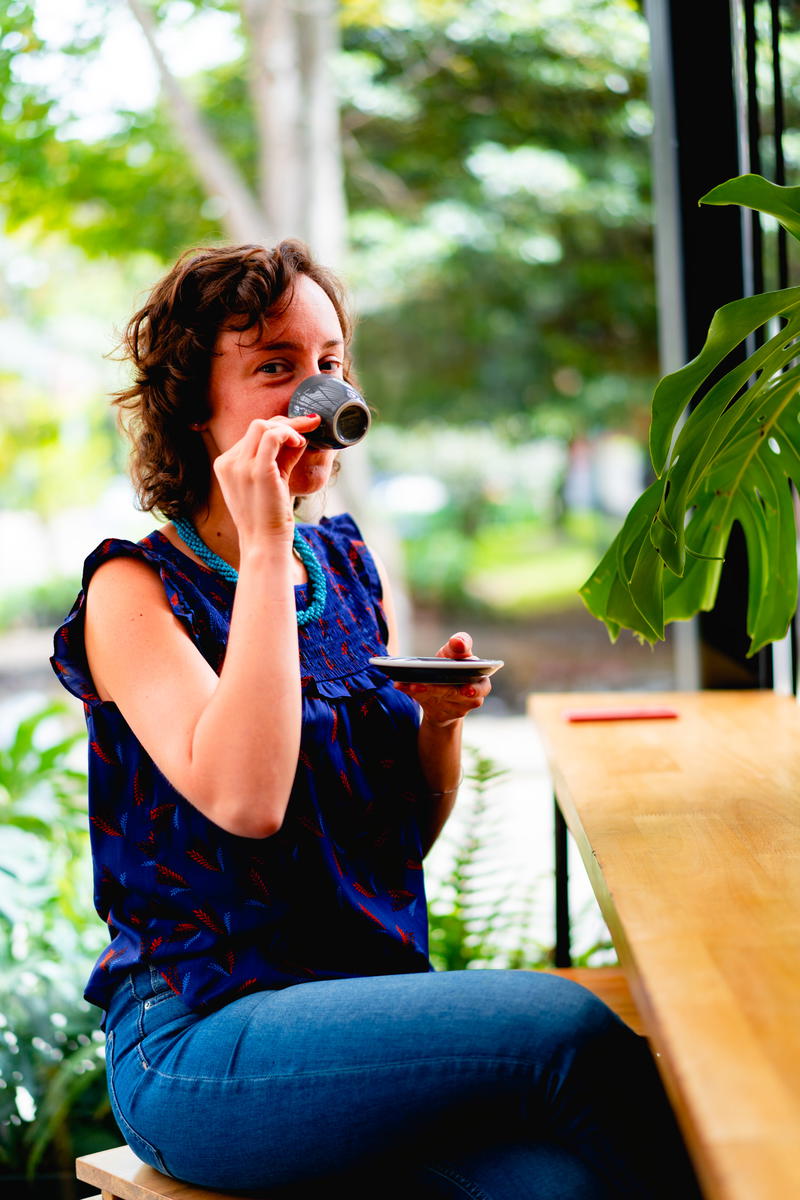 Cafe Cultor
In our review of Cafe Cultor, we talk about this nice coffee shop in a brick row house on a beautiful street in Bogota. With a spacious ambiance and a nice backyard garden, this is a cool spot to come work remotely in Bogota with the cafe WiFi.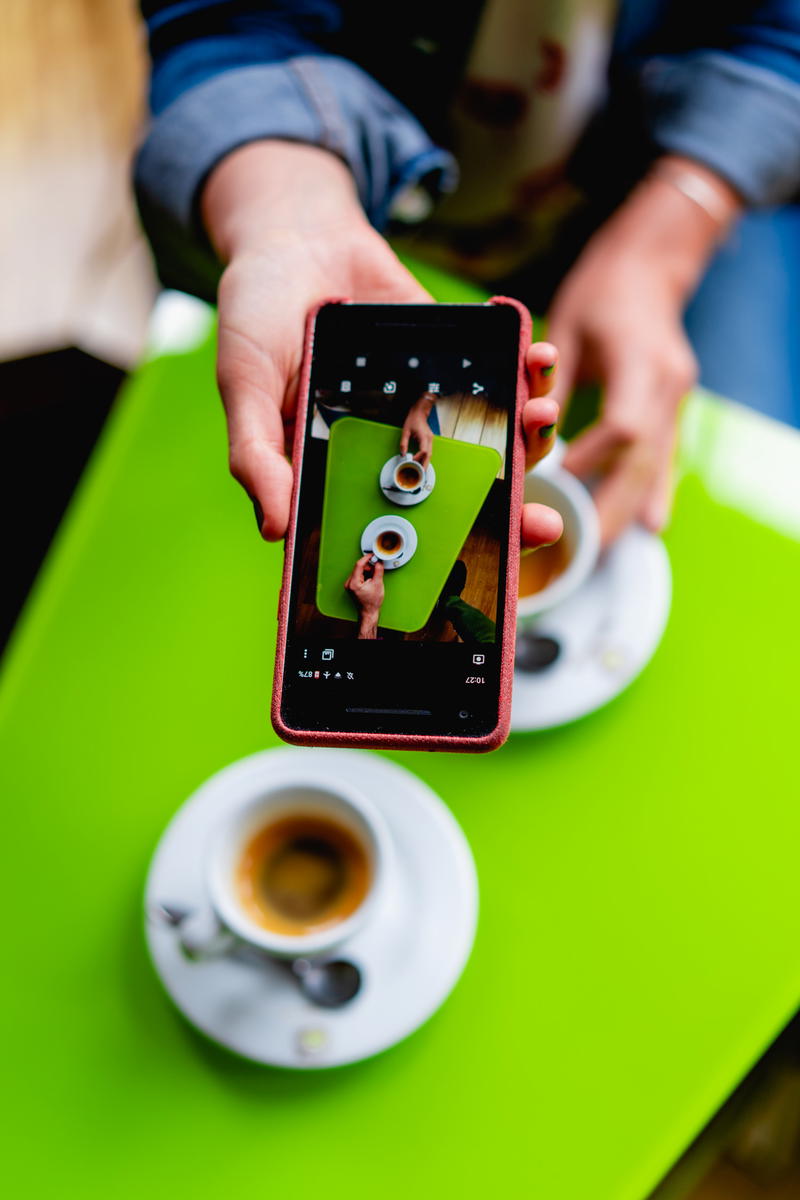 Cafe Cultor is ironically one of the more under-the-radar coffee shops in Bogota, and we don't know why. With a nitro brew that'll zing some caffeine into your brain and a breakfast menu that has cakes and salads, this is a great cafe at which to meet a friend or have a coworking session.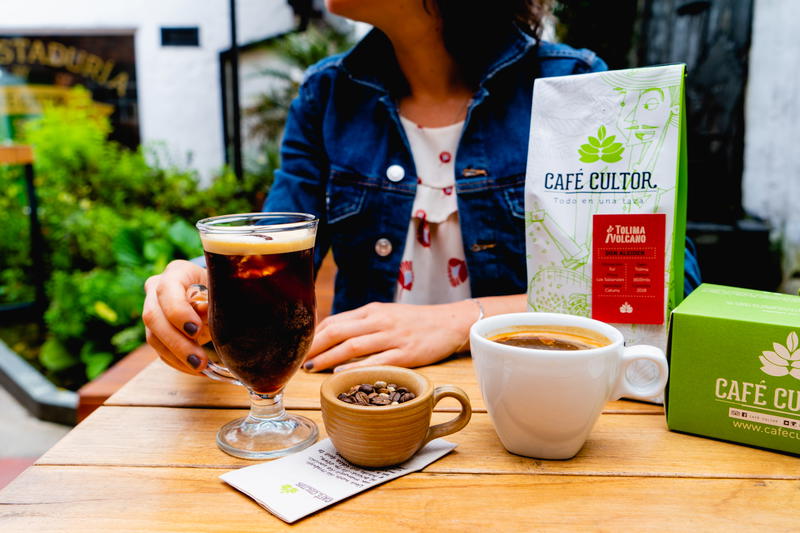 Azahar Cafe
Azahar is like the "it" coffee shop that'll come recommended from coffee-enthusiast travelers who pass this recommendation on to newcomers.
One of the things we liked best about Azahar Cafe 93 (okay, there are two main things) are the natural light aesthetic with lots of plants and a great color palette, and the fact that the cafe has relationships with its coffee farmers down in the Zona Cafetera of the country.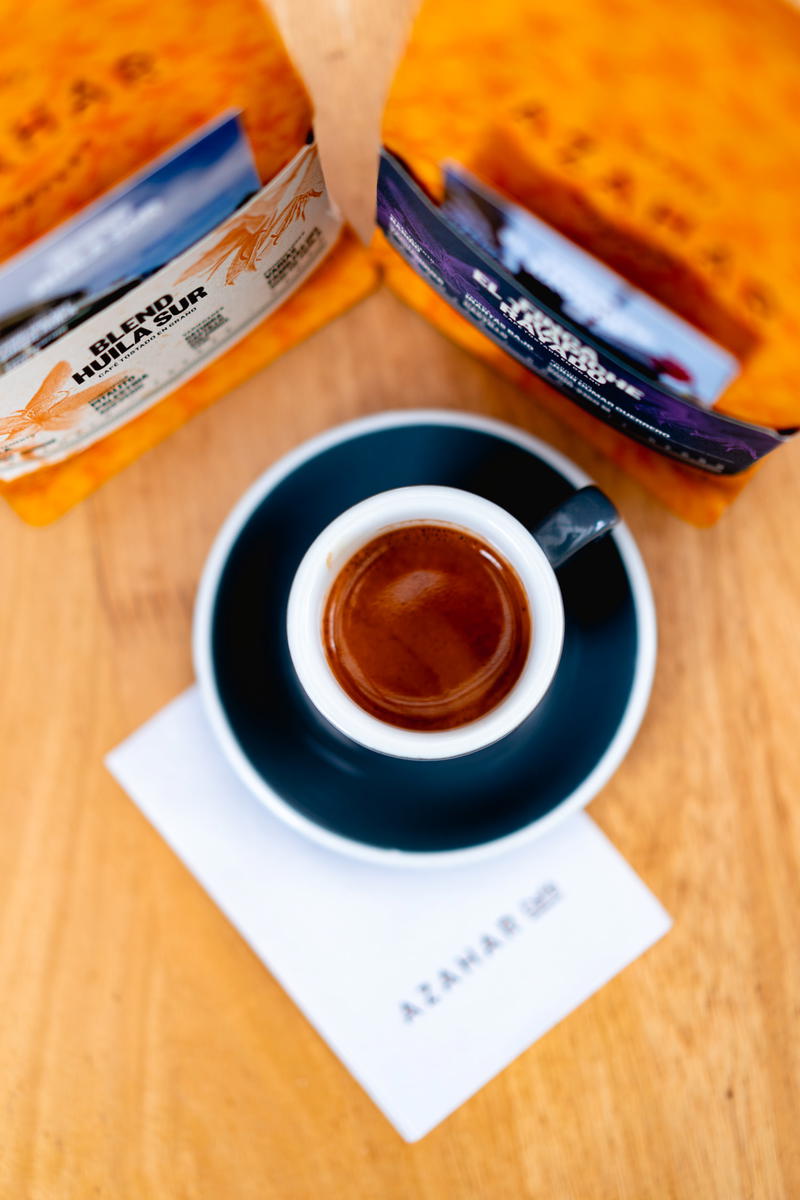 This means that they're creating fair selling and buying price points with the farmers and making sure they are supported. They have great branding that's apparent in the bags of coffee you can pick up and take home. Can you tell we couldn't stop taking photos? See our full cafe review here.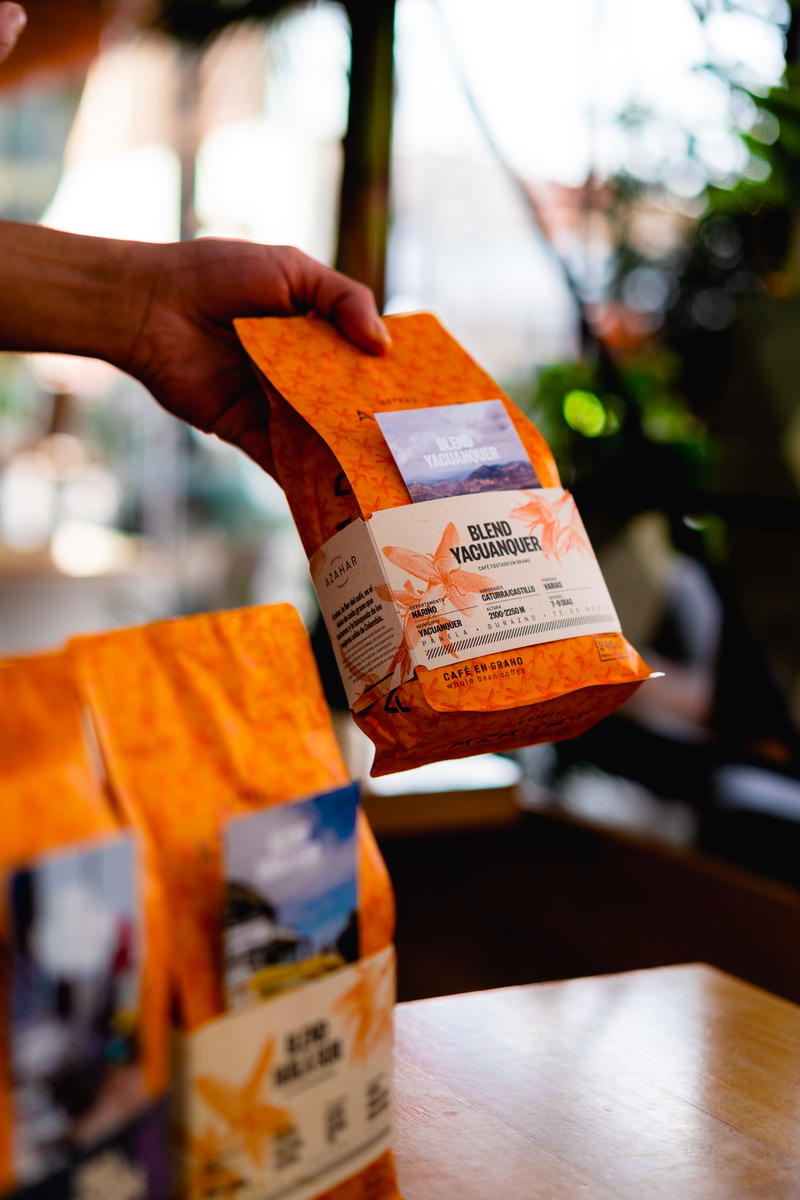 Colo Coffee
Colo Coffee is an excellent cafe with a modern chic cement look. There's cool staff, a full coffee counter where you can see each drink being made, and walls of their bagged Colombian coffee for sale.
We tried the espresso (wow!) and the pour over, and especially liked the natural light in the skylight tables section at the Zona T location. If you're not staying in Zona T, don't worry, because Colo Coffee also has locations in Usaquen and Quinta Camacho.
Check out our full review with more photos.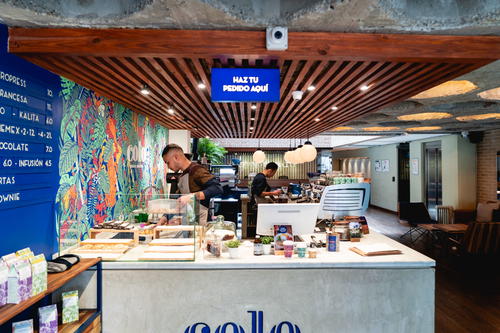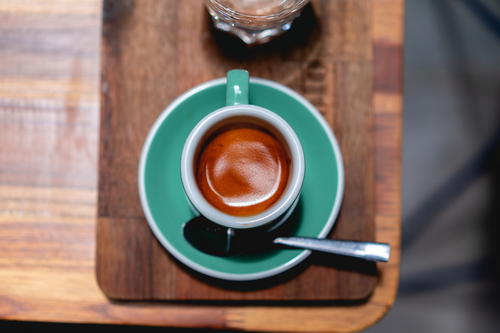 Juan Valdez Cafe
If you come all the way to Colombia for a trip, you may get a kick out of having coffee at a Juan Valdez that is actually in Colombia. Well, know this: Juan Valdez, originally the embodiment of Colombian coffee as a character developed for marketing, was a real person.
However, as time went on, Juan Valdez became so ubiquitous in Colombia and around the world that most locations now feel like Starbucks franchises.
Nevertheless, going to a Juan Valdez Cafe feels like sipping on some Colombian culture as you take your trip to Colombia, because without Juan Valdez, Colombia's economy might be quite different.
We'd recommend learning more about Juan Valdez and the history of the brand, at the Juan Valdez website, which says that the company has provided work for 540,000 coffee-producing families.
Where to Eat & Drink in Bogota
Given that Bogota is a big city that also draws Colombians from all over the country (which is huge), there is a wide range of cuisines and types of regional Colombian food in Bogota.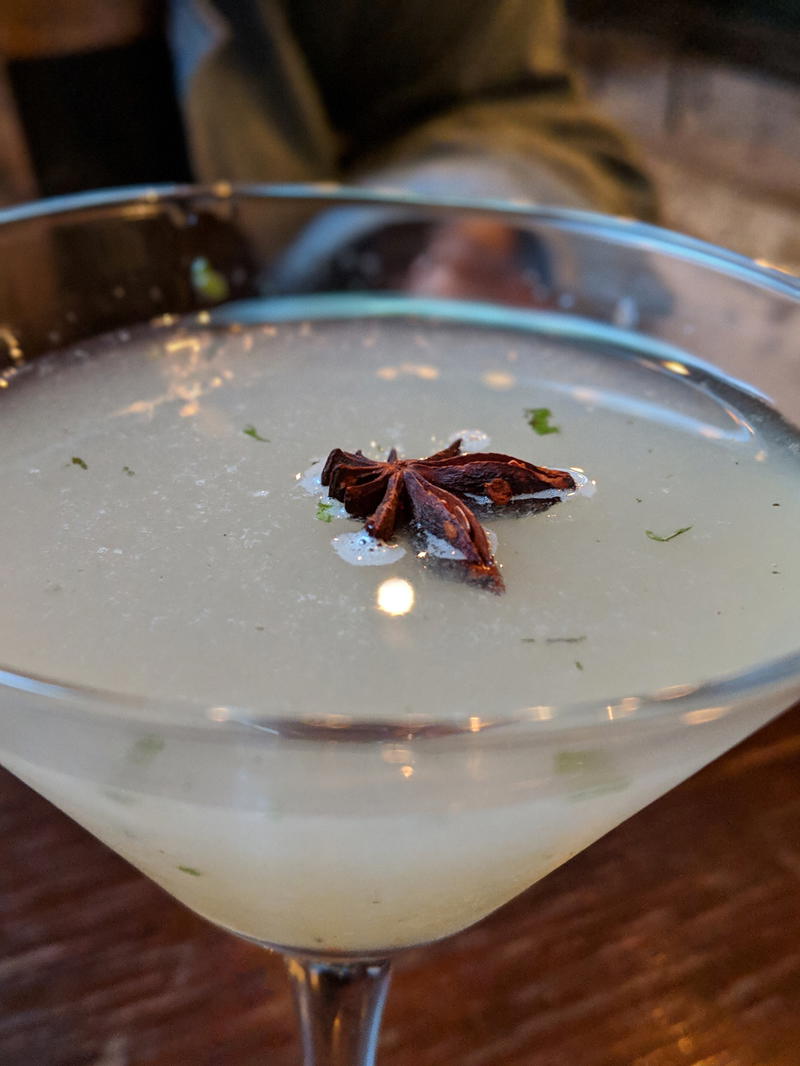 La Taqueria
This Mexican taqueria dine-in restaurant has exceptional ratings and is a great stop for tacos and cocktails. It really can't be beat. I went several times, and each time was consistent and delicious.
BBC La Bodega - Santa Barbara
If you're into beer in a casual environment, check out the BBC La Bodega locations throughout the city. While they seem to not have a working website, you can see the location we went to (Sta Barbara) on Untappd.
Andres DC
Andres DC is like "the place" to go for dinner if you have a few days in Bogota, or if you live there full-time. The experience is eclectic, loud, fun, funky, big, slightly over-the-top and festive. Andres has locations in a few cities in Colombia, and in Bogota, the location is right in Zona T, at Cl. 82 ## 12 -21.
BOHO food market in Usaquen
This new food market in Usaquen goes by the name "BOHO" and serves up everything from Mexican food to croissants to pastries. It's a trendy food hall that has its own Instagram.
Bogota Colombian street food
Ay, ay, ay! If you're always in the mood for a snack like I am, try whichever Bogota street foods you see first, whether it's fresh juices, tamales, arepas or empanadas.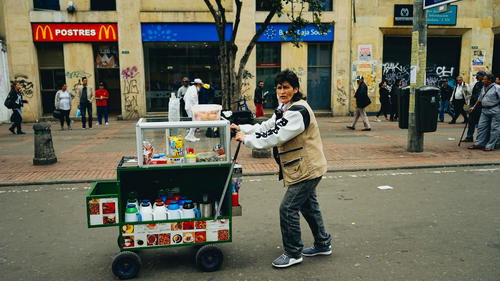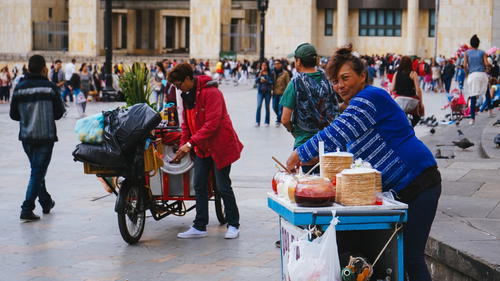 If you've been to other parts of Colombia by this point in your trip, you may notice a difference in ingredients.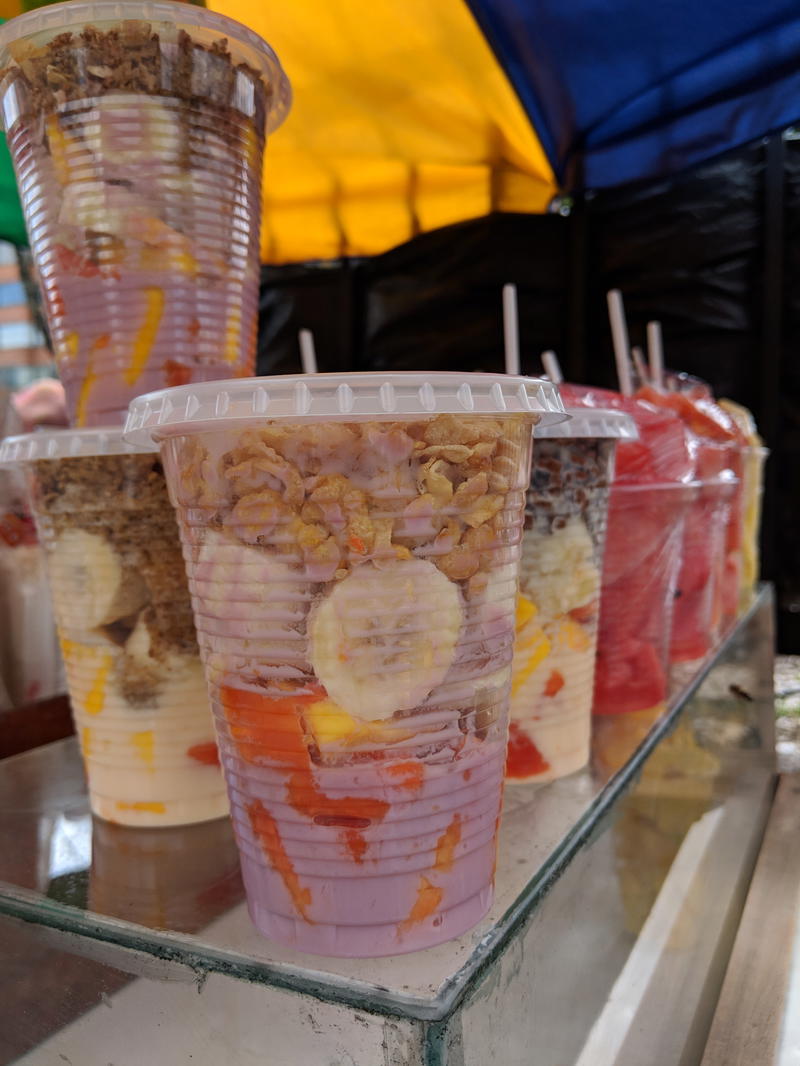 Little restaurants where locals are eating
We can never pass up an opportunity to eat at a place filled with locals. In Bogota, we sat on a patio eating traditional foods like a filling meal of fried plantains, meat, rice, arepas, salads, avocado slices and eggs. Ay dios mio!
Best Parks and Museums in Bogota
Bogota is not a tropical city where you'll be laying on a beach by any means, so it's a chance to see Colombia's culture and history before (or after) you jet off to Medellin or Cartagena during your Colombia trip itinerary.
Seriously, Bogota has no shortage of museums and they are very well-kept and well-done. As for parks, there are lots of little urban oases to visit, like Parque la 93.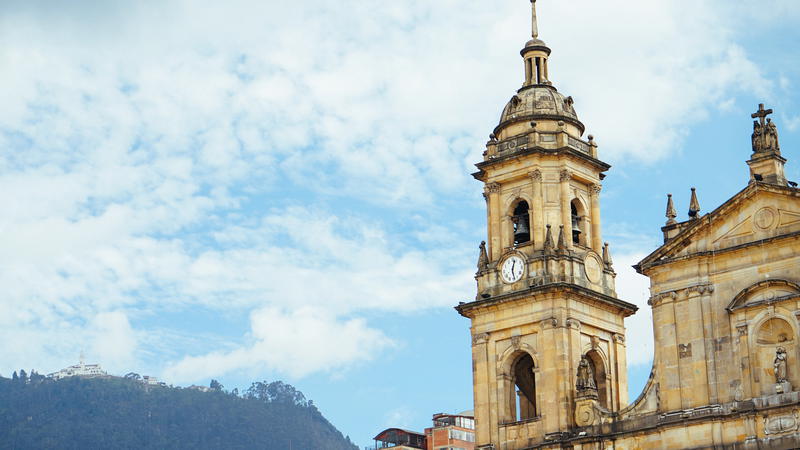 Parque El Virrey
This is a nice park in between the area called Parque La 93 and Zona T. The neighborhood itself is known as a good area for walking, with the park as a central point, and it's a place where you can walk on the paved paths, people-watch or admire people's dogs.
Funicular or Cable Car at Monserrate
Both of these methods are the fun rides that'll take you up to Monserrate (or down). Both exist solely for the enjoyment of tourists (or locals who are out for a touristy day).
The funicular is a tram that goes very steeply up the mountain, and the cable car is referred to as a 'teleferico' in Spanish. Both are for anyone who does not want to do the hike up or down the Monserrate city mountain.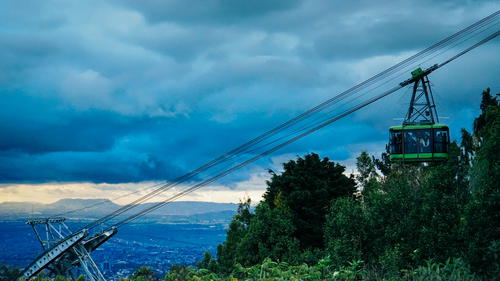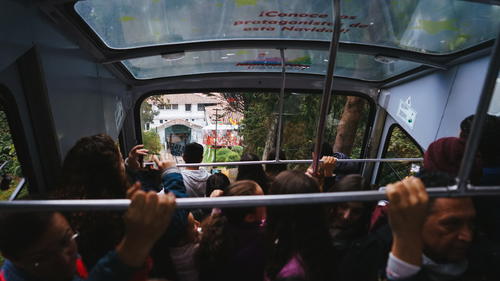 Botero Museum & Museo de Arte Miguel Urrutia - MAMU
If you love art, or if you just want to learn more about Colombia from the comfort of somewhere dry on a rainy Bogota day, the Botero Museum is the #1 choice for admiring the famous art works of Fernando Botero and more.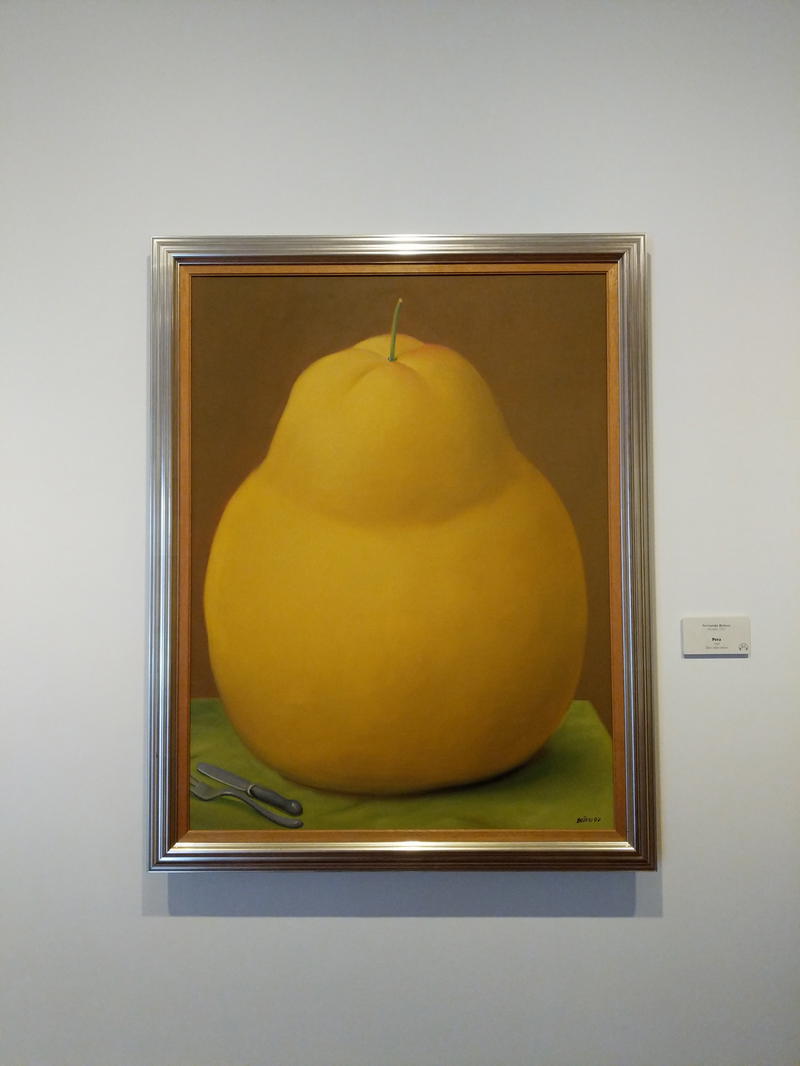 Colección de Arte del Banco de la República
This art museum in La Candelaria is where you can visit 6,000 works of art at this famous cultural institution.
Bogotá Museum - Casa Sámano
This small museum in La Candelaria is where you can go to learn about Bogota's urban development with "historic memories" of the city. Here's the website.
Military Museum of Colombia
For learning about 200 years of Colombian military history, this is the spot. See the museum website to decide if this is a good thing to do on your Bogota itinerary.
Museo de Trajes
This museum about clothing and textiles is so interesting! For anyone who wants to see some exhibitions on European styles, or the production of textiles, head to this unique museum.
Santuario Nuestra Señora de El Carmen
This striped church is a good idea for a photo spot in Bogota. Built in gothic style, it is certainly one of a kind. It's located in La Candelaria as well.
Museo de Oro
Do you like shiny things? The Museum of Gold (Museo de Oro) is one of the highlights of Colombia for many visitors who like to see history combined with art and culture.
Best hikes & activities in Bogota
Bogota is unique in that it's a temperate city built at the foot of an elevated mountain ridge. If you look at your map and zoom out, you'll see how the city is built right up until when the land starts elevating and elevating. This is why you can do so much hiking in the city limits of Bogota itself, and why the city has invested in making hiking fun and accessible.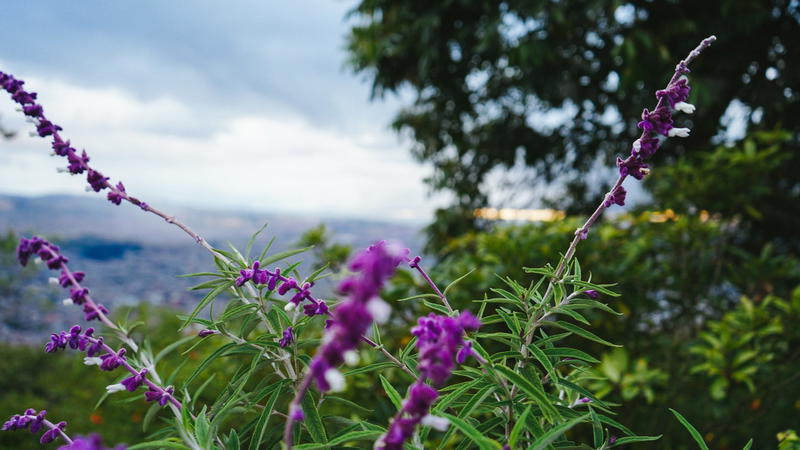 Sendero La Aguadora - Santa Ana
This is a pretty challenging hike for first thing in the morning (recommended) that will get you sweating even if it's 60 degrees out at 8 am. Here's a map pin. This hike begins in Usaquen, which is worth a visit on its own as a nice neighborhood to see in Bogota.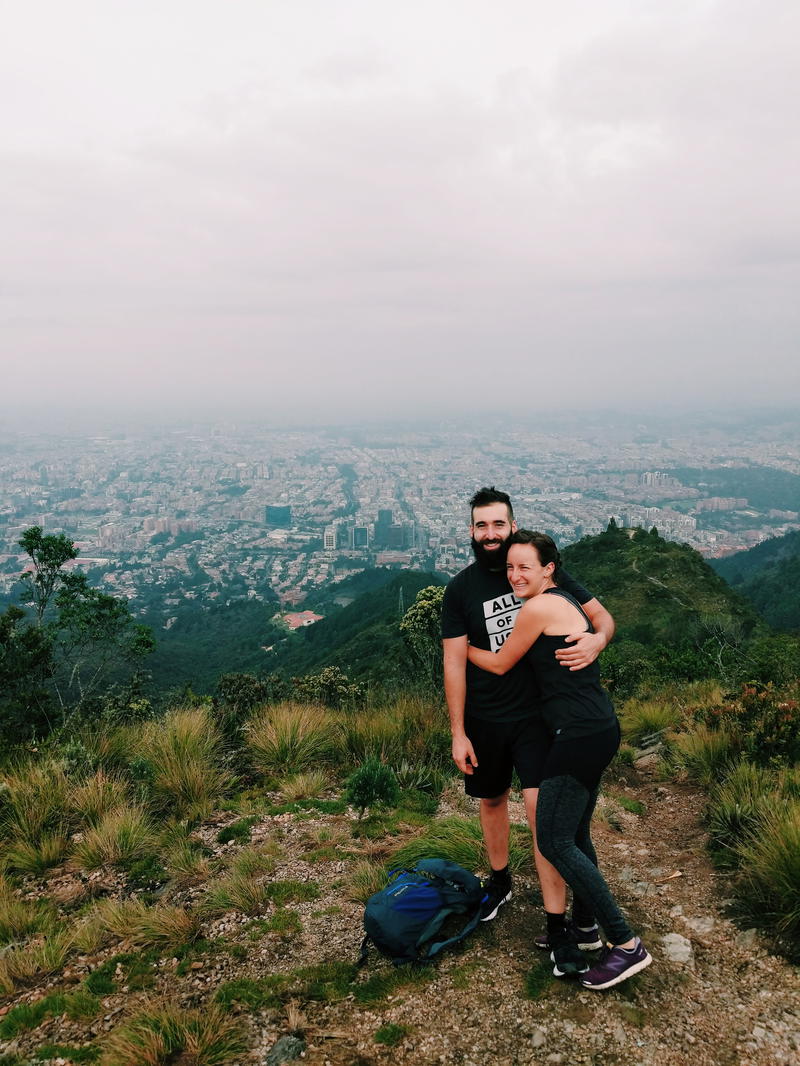 Monserrate City Hike
Probably the most famous of the Bogota city hikes, this hike will take you up lots of stairs and then up to the top of a cliff where you can see the city. To get down, you can take the funicular.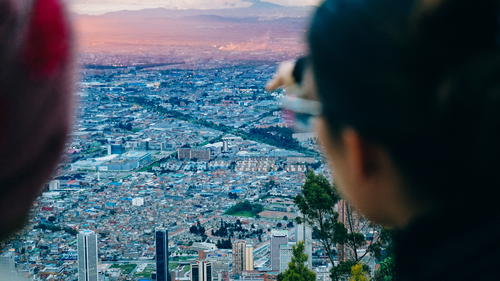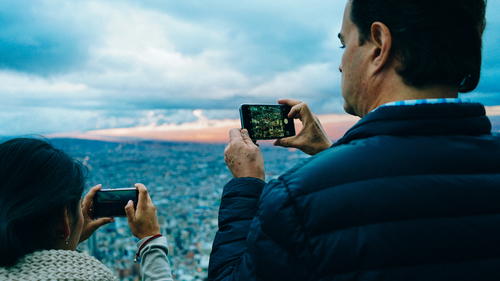 Ciclovia Sundays
Many visitors to both Medellin and Bogota who get to experience Ciclovia Sundays can't help but rave about the experience. Ciclovia translates to "Cycle road," and means that major roads are closed off for bikers, walkers, runners and anyone who wants to be out on the street (be mindful that many bikes will whiz by).
In Bogota, this means 127km of closed roads! What a cool way to spend a day each weekend!
You can read about it in Spanish, here.
Bogota Bike Tours
If you prefer active ways to see a city when you travel and you want to get a workout in during your sightseeing, check out Bogota Bike Tours. Choose from private tours ranging from a graffiti bike tour, mountain bike tour or the "Daily Bike Tour" that hits all the top city sights.
Day trips and side trips from Bogota
Use Bogota as a home base during your trip to explore the surrounding region. Given that Bogota is situated in the middle of the Northern Andes Mountains, known as the "Cordillera Oriental" (Eastern Mountain Range, in English).
Zipaquirá
Zipaquirá is a Colombian mountain village known for its "salt cathedral," the Catedral de Sal. Not sure what this is? You may have to hop a bus (it's 30 miles away) and see for yourself during your stay in Bogota.
Suesca
Known as Colombia's capital of rock climbing, this is where climbers go for cliffs and adrenaline rushes! You can also go on softer hikes that will take you through small rivers, into cafes, and across cliffs with pretty views of mountains and open green spaces.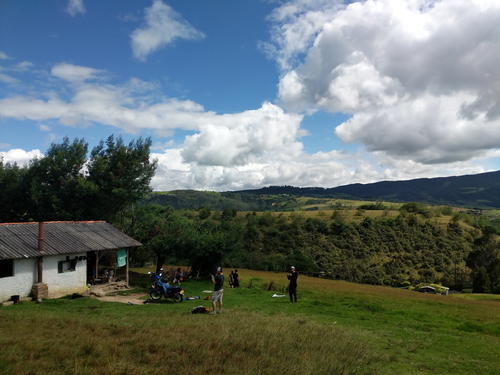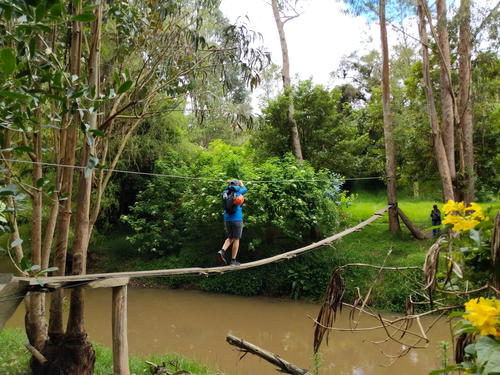 Parque Nacional Natural Chingaza
Not exactly a day trip at all, but worthy of a few days is this stunning natural national park that doesn't get the hype it deserves.
Once you Google photos of "Parque Nacional Natural Chingaza," you may be sold, especially if you are a hiker. For stunning vistas (and maybe bear sightings??), start planning your trip to this Andean mountain reserve as soon as you can.
Chicaque Natural Park
This totally underrated natural park (not national park status) is a gorgeous scenic area right outside the city limits of Bogota. Here, you can find hiking trails, horseback riding, cliffs and mountainous views.
This area is favored by locals, so as a foreigner, you're basically in for a local secret. Visiting this natural area can be a day trip if you leave early, or, you can stay in nearby lodging. Check out the location, here in Google Maps.
Where to stay in Bogota
You have lots of options when it comes to where to stay in Bogota. For most travelers, we'd recommend staying in La Candelaria for a top experience. If you want something big quieter or more of a residential neighborhood feel, Usaquen and
Here's a list of the best hostels in Bogota.
Botanico Hostel Bogota (La Candelaria)
Pretty crazy that Botanico Hostel Bogota has the perfect matrix of lots of reviews that are also great reviews. It's located in La Candelaria and has a fantastic rooftop with city views that should not be passed up.
Book this hostel here.
Usaquen Station Hostel (Usaquen)
If you want to stay in the up and coming trendy and quieter neighborhood of Usaquen, there's a hostel for that! Usaquen is described as one of the newest cool hoods in Bogota, with award-winning eaters and a vibrant scene.
Try out the hostel Usaquen Station to be in the middle of it all.
Selina (La Candelaria)
If you've seen our other reviews of Selina locations in Mexico City and Chicago, you may well be aware now that Selina hostels are conducive to digital nomads.
For a Selina in Bogota that we've visited (and it's where we met our friend Kanacia!), check out Selina La Candelaria Hostel.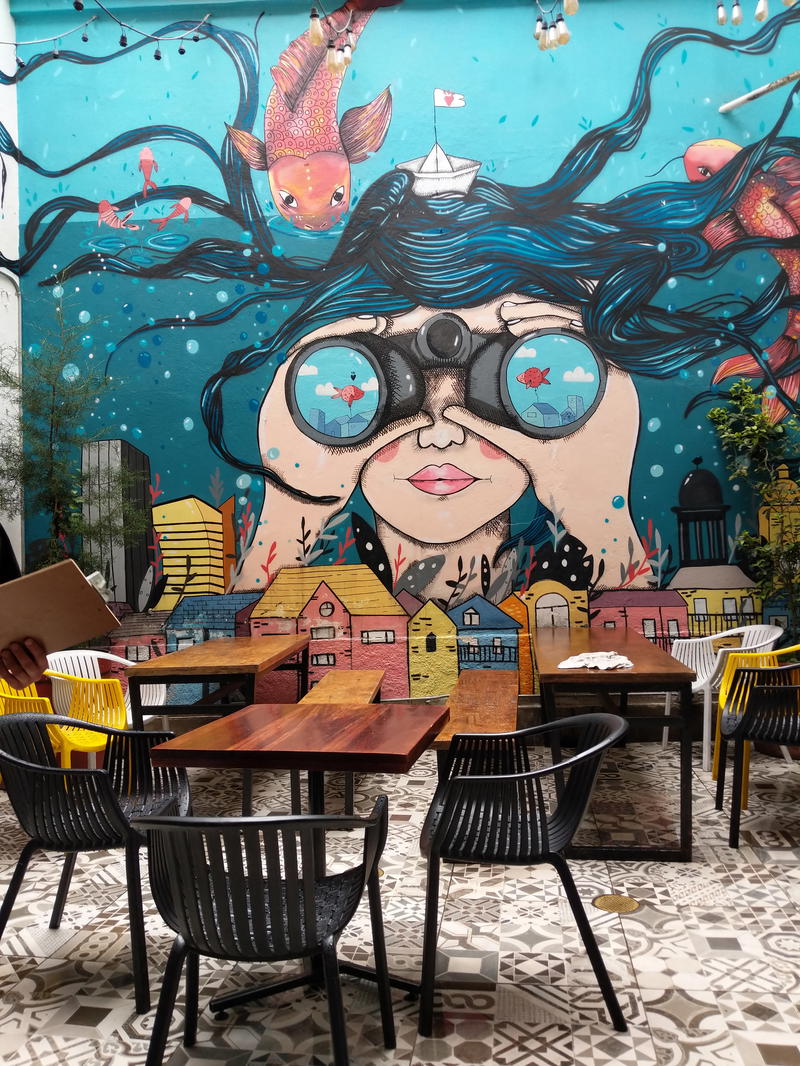 Where to work remotely in Bogota
Bogota sports various coworking spaces, cafes with WiFi and digital nomad hostels that make it possible to work remotely and travel in this Colombian metropolis.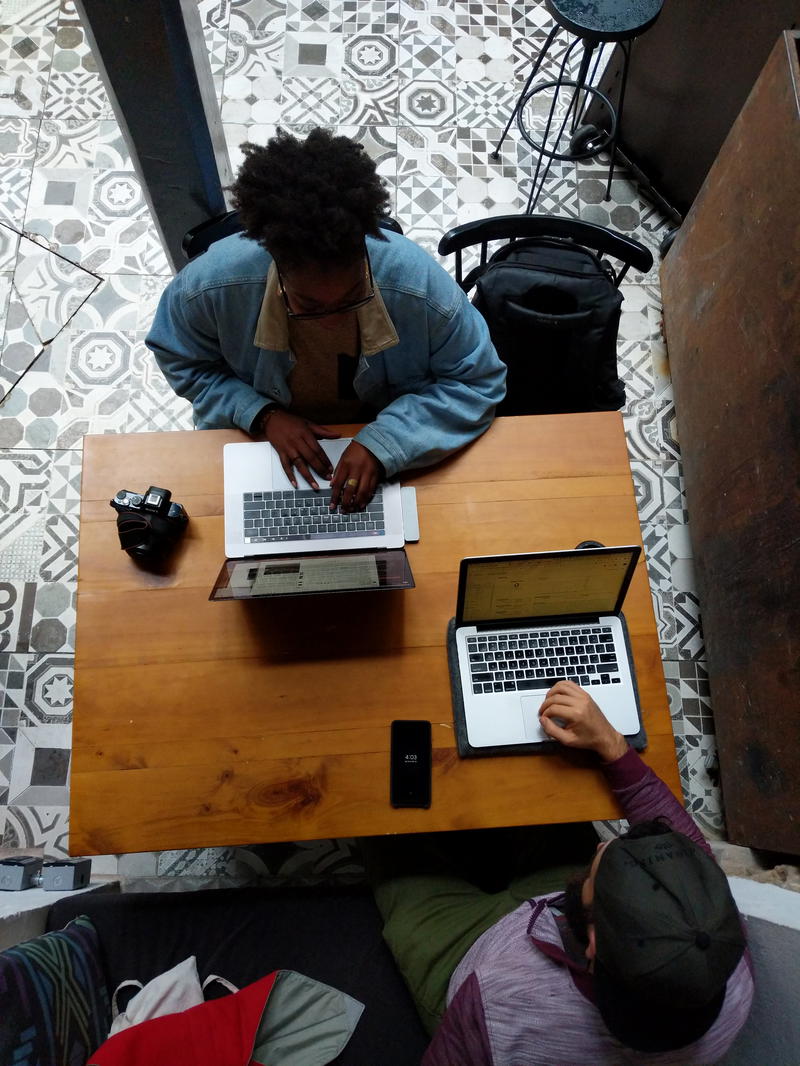 Dan and I have both spent about a month in Bogota (and Dan has done this twice) with Remote Year. Dan worked at Work & Go, and we both had a month-long membership to WeWork La 93 with our Remote Year program.
If you're interested in coffee shops with WiFi for getting work done, see above, where we recommend Bogota's best cafes.
If you're more into the benefits of coworking spaces, check out this list of coworking spaces in Bogota that has already laid out the information for you.
Enjoyed our article?
Consider supporting us! We're a 2-person team (learn more about us here) and your support enables us to create quality content. Thank you!
Find the Best Things to Do In Bogota