A Perfect Weekend in Tulum, Mexico
Written by Becca
•
Updated on October 30th, 2023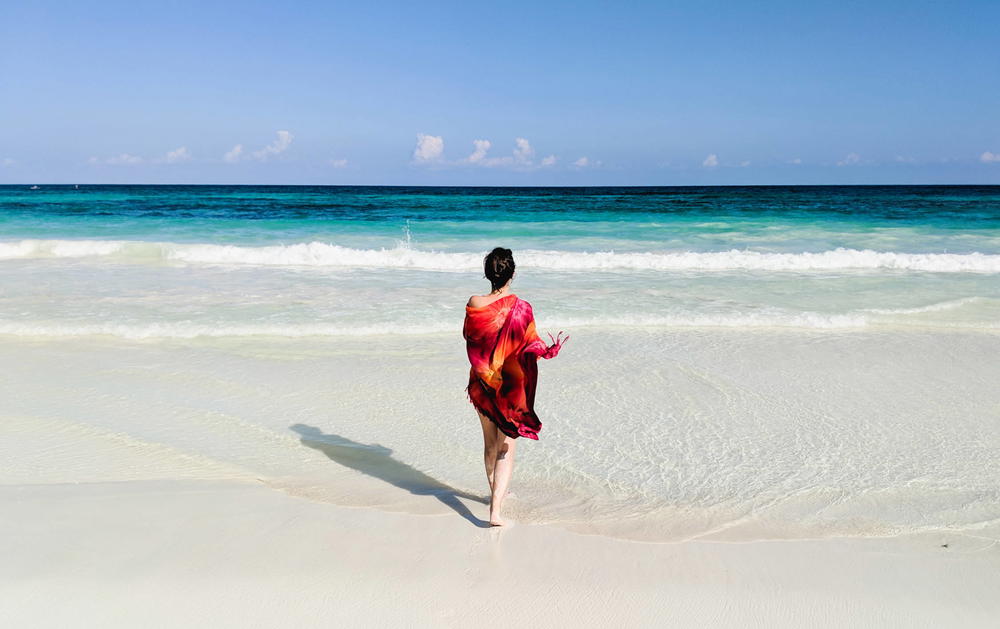 See our perfect itinerary for a 2-day or 3-day weekend trip to Tulum, Mexico. Find the best time to visit, where to stay, where to eat and what to do, in our backpacker travel guide.
This article may contain affiliate links. We earn a small commissions when you purchase via those links — and it's free for you. It's only us (Becca & Dan) working on this website, so we value your support! Read our privacy policy and learn more about us.
Looking for ancient Mayan ruins, white sand beaches and crystal-clear cenotes in Mexico? That's why you booked a trip to Tulum.
Tulum is a really cool place in southern Mexico for these attractions, and it's a part of any Yucatan itinerary these days for some great reasons.
We've traveled during several different years in Mexico, from Mexico City to the Yucatan. We think it's so important to get a taste of the different regions and incredible things to do in different parts of Mexico!
Since we've been back from Tulum, we've kept in touch with other friends and people from digital nomad groups who've gone there either for vacation or for living there as an expat. It seems things keep changing, so we're keeping that in mind for this travel guide.
For a perfect itinerary in Tulum, we've put together this list of what to see and things to do for the traveler who likes doing things, as there's a lot to do in Tulum if you like to get active and take photos!
We'll tell you how to beat the crowds in this popular Yucatan destination, and where to get the best tacos. Let's begin!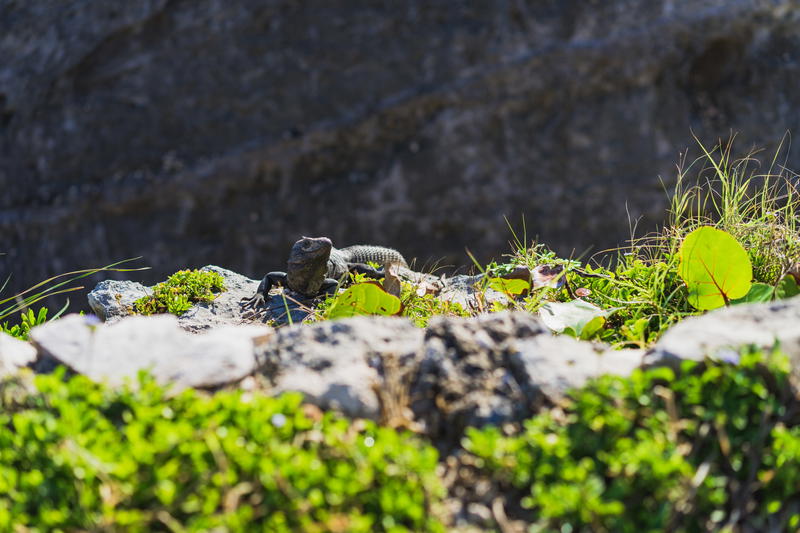 What's Tulum like and why should I go?
Tulum used to be a dot on the map of the Mayan Riviera. Tulum is now a beach town on what's called the Mayan Riviera, meaning the coast of the Yucatan Peninsula.
This is the eastern and southern region of Mexico and it sits on the Gulf of Mexico, closer to Belize and to Cuba.
Due to over-development in nearby Cancun and Playa del Carmen, Tulum caught on as a developing destination with white sand beaches, an indie vibe and some laid-back places to stay.
Between 2017 and 2020, Tulum's popularity absolutely exploded. Tulum is now a destination for millennial travelers, destination weddings, weekend getaways for Americans and visitors who want to escape the Cancun crowds.
Is there anything left in Tulum that's not over-touristed? You may have to see for yourself!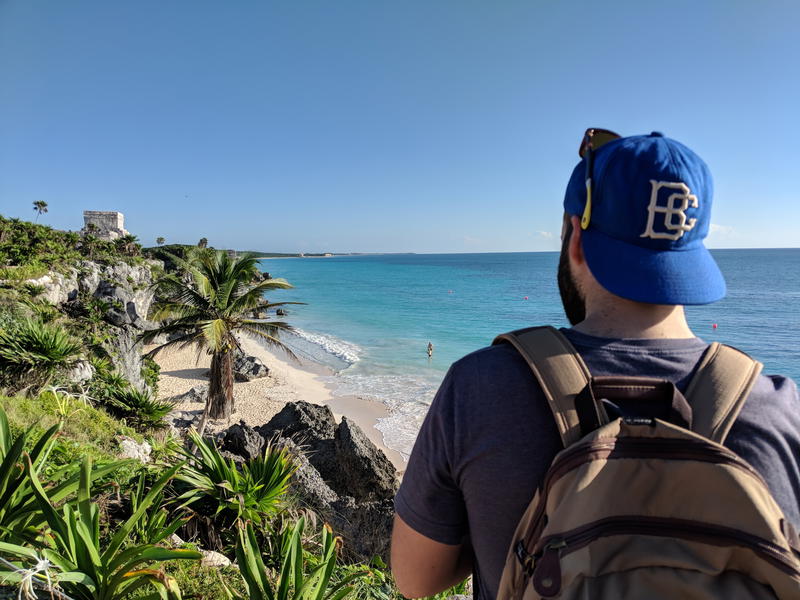 Go to Tulum for Yucatan and Mayan culture
The culture in Tulum is different from Mexico City, from Baja California and from Acapulco and from Oaxaca. The Yucatan Peninsula gets its culture from the Maya and their descendants, who still live in the region today.
In fact, you may hear locals speaking Mayan languages. This language has nothing to do with Spanish, as it's a native American language spoken by the indigenous peoples who lived in this region before the Spanish took control and colonized.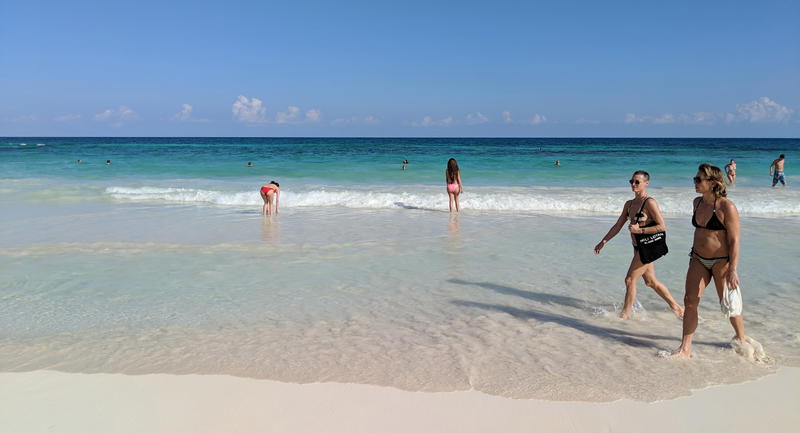 Where is Tulum?
Tulum is about two hours southwest of Cancun on the Yucatan Peninsula, home to the Mayan Riviera, as many vacationers refer to this region of Mexico.
Tulum is a beach destination on the Caribbean Sea, several hundred miles north of Belize and only a short flight from Florida, Cuba or other parts of Mexico and Central America.
How to get to Tulum from Cancun
You can get to Tulum from Cancun easily by ADO bus. ADO buses are the main form of transport in the Yucatan. They are "VIP buses," which in Mexico means you will have a great ride with AC, reclining seats and movies.
The fact that you'd have to fly into Cancun to get to Tulum is important to know. This is because many travelers think there may be an airport in Tulum, but no, you have to fly into Cancun International Airport (airport code CUN).
Tulum is also a cool weekend trip from Cancun or Playa del Carmen, if either of these Maya Riviera cities are your origin point.
How to get to Tulum from Mexico City
If you're staying in Mexico City for a while and you want to travel to Tulum, remember: you have to book a flight from CDMX to Cancun.
If you have a lot of time, you could rent a car and drive all the way to Tulum! It would take you 20 hours or more. That's far!
You could take a bus from Mexico City to Tulum, but given that it is 1,550 km away, this would be messy and probably very, very long.
From there, do the same as above: take the ADO buses from either Cancun airport or Cancun Downtown ADO station. A bus to Tulum will take around two hours.
How to get to Tulum from Merida
To get to Tulum from Merida, or vice versa - again, ADO bus will be your best bet. The journey could be 4-6 hours.
How to get to Tulum from Valladolid
If you're already in the Yucatan region, maybe you're coming from Valladolid. If you want to know how to get to Tulum from Valladolid, it's easy: take the ADO bus. We liked having both these places in our 5-day Yucatan itinerary.
Check out more maps!
Unlock more maps like this with your email address! You'll automatically be signed up for more map and location related things from us in the future.
Tulum Itinerary: Things to do in Tulum that aren't super touristy!
Tulum is more or less a town along a highway. It consists of a main strip of shops, its bus station (ADO), restaurants and souvenir shops along a main road with a barrier in the middle, and it's not much of a picturesque place to be.
But .. there are some great things to do in Tulum if you can get in a colectivo, taxi, car rental or bicycle. Here's what to do during your itinerary.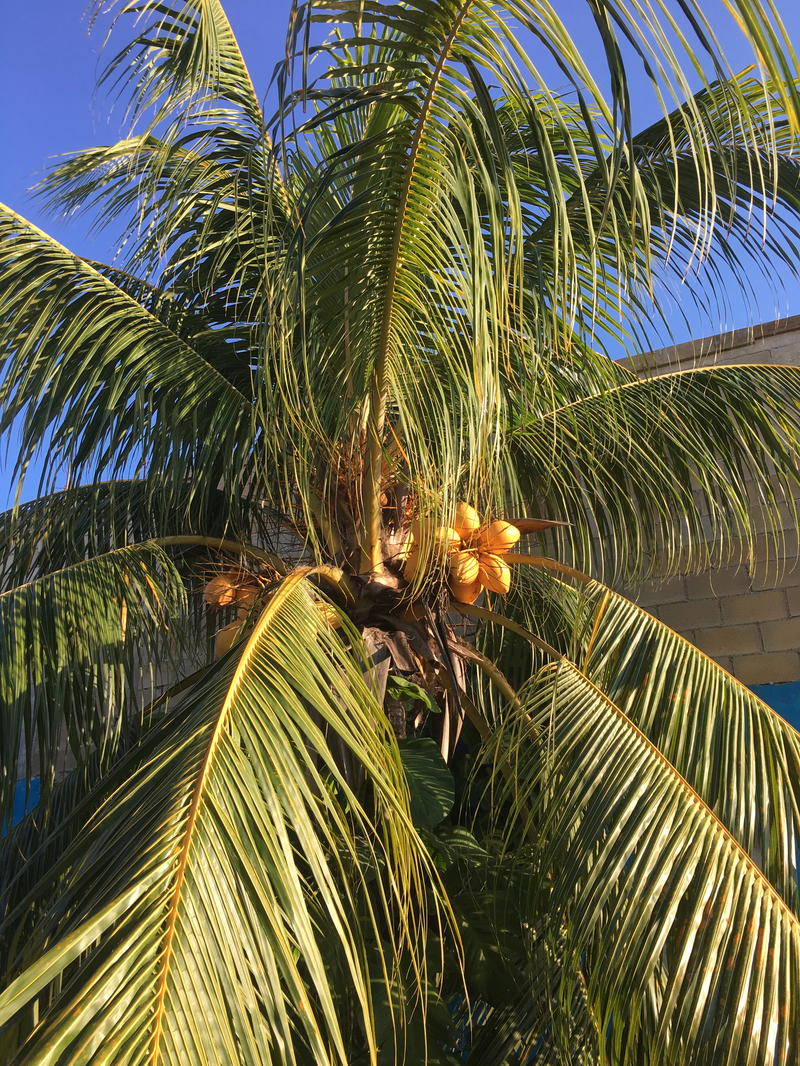 Go to Tulum Beach
The action is at the beach in Tulum! No wonder there are so many destination weddings and bachelorette parties here.
But, the beach is located about a 15-minute colectivo ride from most places in the town near the highway.
If you are staying at a beach resort in Tulum during your trip, then you'll ace this part: the beach will be at your doorstep.
If you're not staying at a beach resort, you won't have the white sands at your fingertips and you'll have to walk, bike, take a colectivo van or a taxi (with taxi being the most expensive method of transport among these).
There was once a hack to get onto Tulum Beach for anyone who is not staying at a resort. It was a place called La Eufemia. By purchasing food or drink here, you could sit on the beach.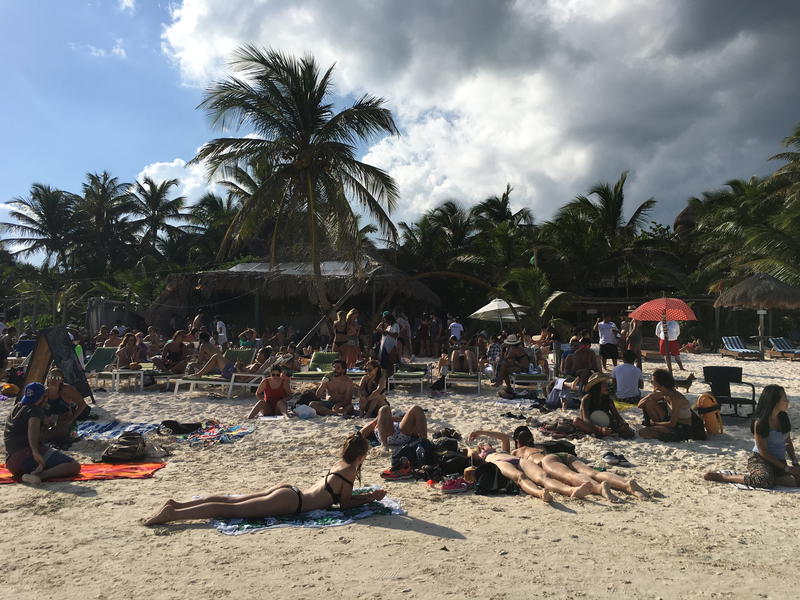 Unfortunately, it has since closed. Luckily, there are other beachside restaurants, mostly at resorts, that can do the same job of getting you to the beach in Tulum.
Helpful Tip
One tip is for when you are in a colectivo or car approaching Tulum beach, watch for the specific name or a map marker of any resort that can act as a point of reference. There is one road (Ruta 15) that lines the resorts that hug the coastline. If you miss your stop, there may not be a place to turn around just so soon.
You can also get a book to help you navigate unique spots in Tulum. We always get a book for the destination or region where we are visiting. It helps us learn local phrases, understand history about where we are and find unique things to do. Check out this guide by Moon.
Bike to the cenotes and go snorkeling
What's a cenote? Everyone will be saying this word when you get to Tulum and meet other travelers who want to see these natural crystal pools of water that sometimes have tropical fish and wildlife living in them.
You have to get to some cenotes! If you want to rent a snorkel, go to Iguana Bike.
Located just across from Taqueria Honorio, this place will rent you a snorkel (for cenotes) and a bicycle. The owner speaks English, and all you have to remember is to bring a real ID like a driver's license or a passport.
Helpful Tip
If you bring a paper copy of either of these, the owner will tell you that he can only give you a paper copy of a bike (true story).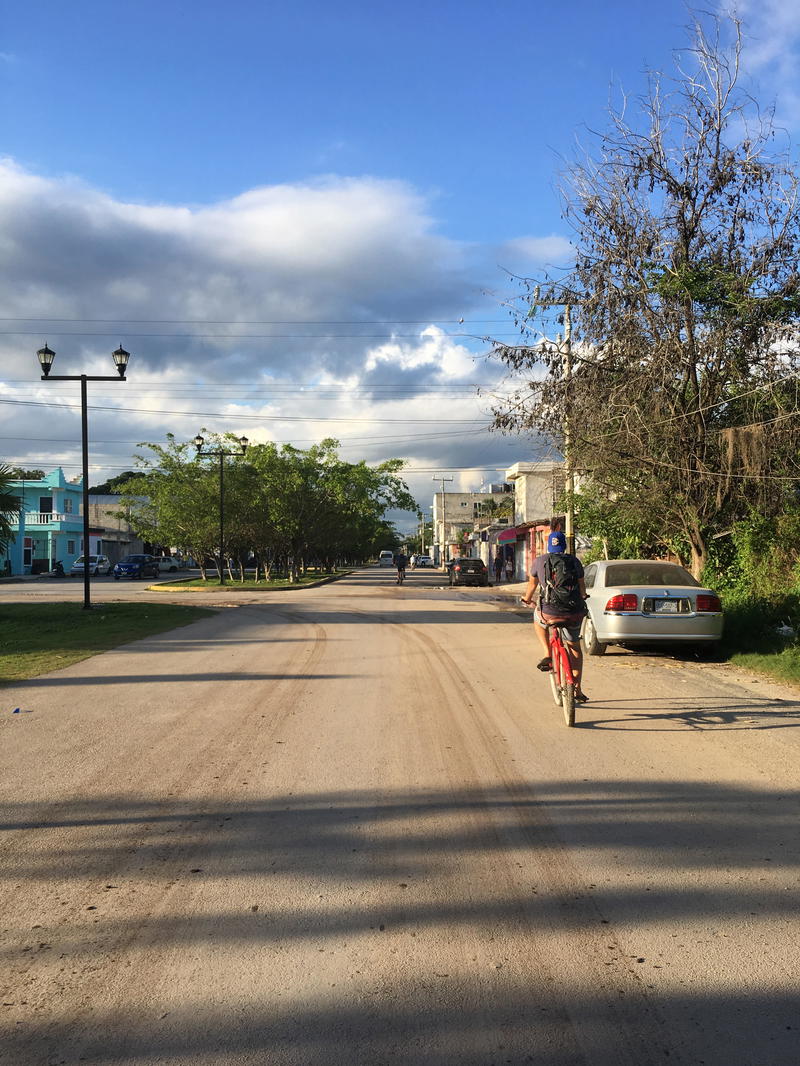 Which cenotes are the best for beating the crowds?
We chose to go off the beaten path down to Cenote Cristal and Cenote Escondido, where you can buy an entrance ticket that allows you to visit both.
We biked down the highway to the south, and after about 30 minutes had to keep our eyes peeled for signs.
Cenote Escondido will be to your right, if coming from Tulum, and Cenote Cristal will be on your left. Both were not crowded, had docks for jumping, and not many people at all! This was an awesome way to cool off after biking in the heat.
Alternatively, you could take a taxi from town.
One thing to note is that, at the time of our visit, there were no lockers or anything of the sort at either cenote. It's smart to refrain from bringing many valuables, as you have to take your chances with your stuff if you go swimming (which you will, because it's HOT).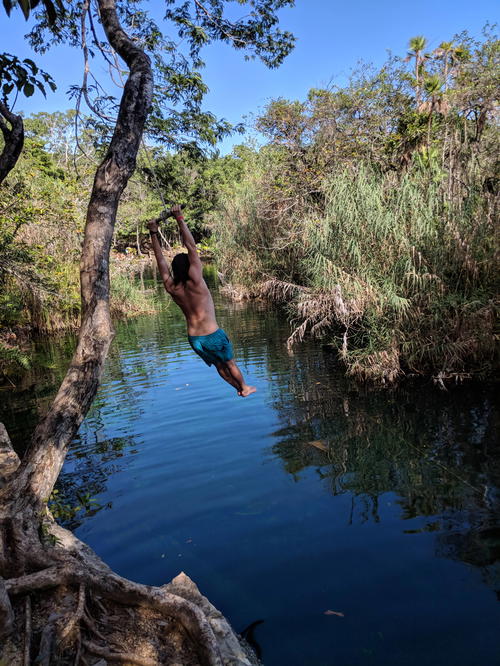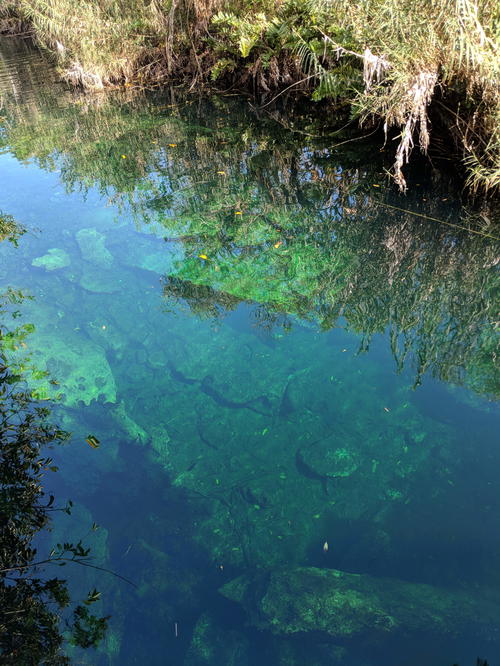 Which other cenotes are there near Tulum?
There are many other cenotes you can visit near Tulum and they are beautiful!
All are very different, whether inside caves, underground, or out in the open like the two we went to, which weren't in caves at all. .
A few famous ones to which you can arrange drivers or day tours are Cenote Azul or Cenote Dos Ojos.
Try the best Mexican food in Tulum
Tulum has no shortage of great food to eat for all its travelers. Here's a list of what we like and recommend.
Best lunch tacos in Tulum: Taqueria Honorio
We're obsessed with this fun taqueria. This place is perfect for afternoon/brunch/lunch tacos, tortas and agua frescas.
It opens early (6 am) and it closes early (by 1:30/2 pm). See the reviews to learn more!
We also went there twice. Everything on the menu is perfect, and the agua frescas are delightful. Go early if you want to get there before they run out of ingredients for the day.
We went twice around 1 pm and they were already out of some types of tacos.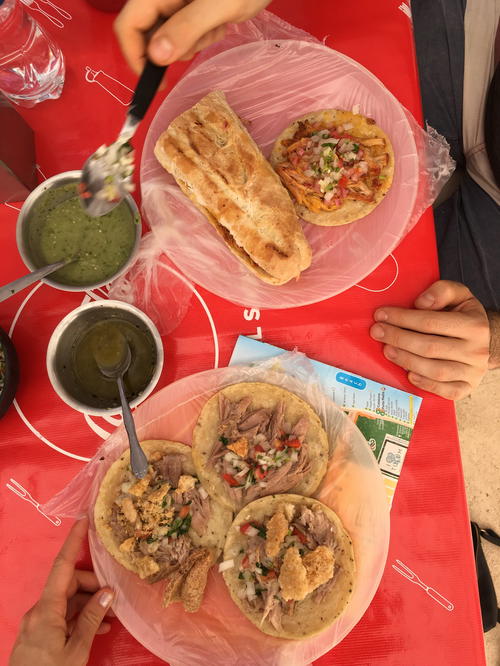 The best all-day tacos in Tulum: Antojitos la Chiapaneca
This is the taqueria of all taquerias: Antojitos la Chiapaneca.
If you'd like tacos that cost $0.40 (USD) each and you can stand for a 20-minute line before you get seated, go here around dinnertime for late-night.
It's in a location near the ADO bus station, and you can find it by looking for the line of people on the street waiting for a table.
Recommendation: Try the horchata.
Second recommendation: Beware of the salsa picante - that is some serious stuff.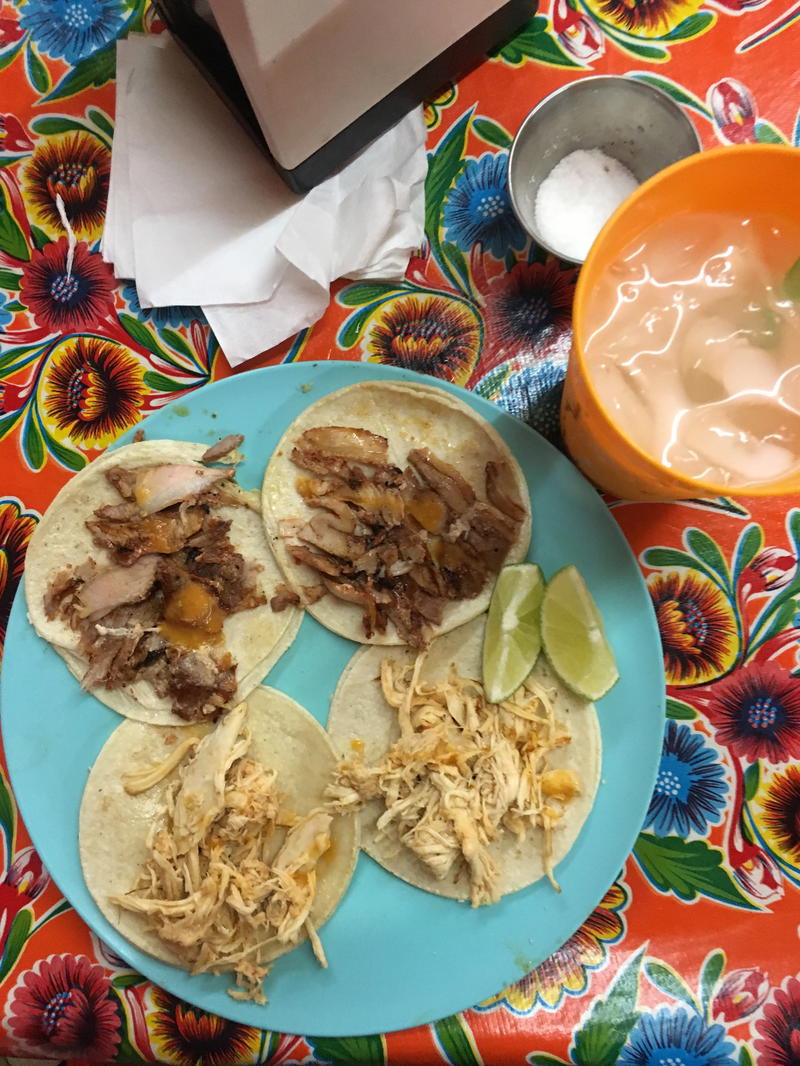 Best vegan & gluten-free dining in Tulum
We're always on the lookout for gluten-free travel spots and without even trying, we found this great cafe in Tulum to cater to Becca's diet and Dan's vegetarian travel style.
This little restaurant and cafe,La Hoja Verde, had nice vegetarian food and good smoothies/juices. There's an English/Spanish menu available.
We ordered smoothies, which were delicious, and staff brought us complimentary sweet potato chips with a homemade salsa. There's also WiFi available! It's places like this that give us confidence in destinations for vegan and vegetarian travel.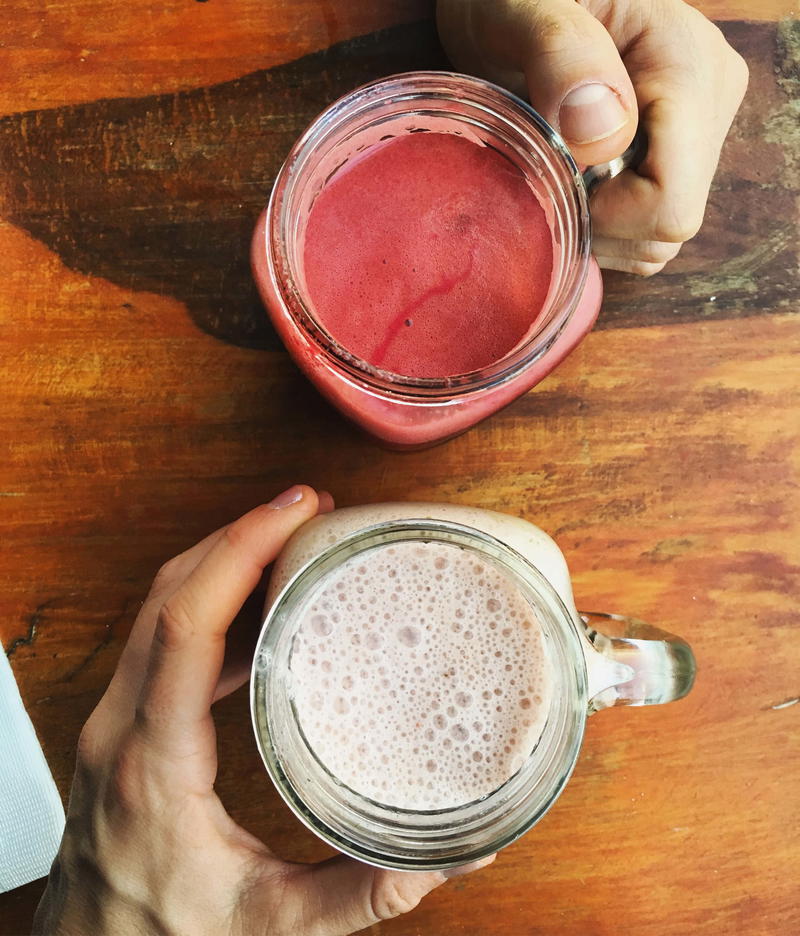 Try the coffee in Tulum
What would vacation be without coffee? Tulum certainly has a few places for coffee and some caffeine.
You can try Hello Sweet Tulum, CERAMIC SHOP & COFFEE, Mochiart Cafe, Long Time Coffee, Brew Tulum Specialty Coffee Experience and Prieto Tulum. All of these options are located in the town, on or near the main road of Rt. 307.
Hit Tulum's bar scene at night
If you aren't already at a resort or trying a cocktail or beer at one of the beach clubs along the beach, try any of the bars in Tulum's downtown near the main road.
Among the best bars in the downtown area of Tulum are: Xibalbar, Mistico Shisha bar Tulum, Caribe Swing, El Grifo Tulum and Batey Mojito and Guarapo Bar.
Where to stay in Tulum
There's something for everyone in Tulum when it comes to accommodation. There are super luxury resorts, and backpacker hostels, thankfully. We tested out a fun backpacker hostel with an amazing breakfast.
Backpacker budget: Mama's Home Hostel
Mama's Home gets a 10 out of 10 from us for budget accommodation in Tulum.
Located on Calle Orion, in between the centers of all the action in Tulum (the main strip and the bar street), the location is ideal.
When we went in 2017, a private room with an ensuite bath ran us around $40 USD per night for a private 2-room suite. However, things have changed. The same room is now $116 USD with a refundable cancellation policy, and $106 with no cancellation policy.
Don't be worried, though: if you are a backpacker traveling solo or looking for a super budget place to stay in Tulum, the dorm beds are very economical. Starting at $18 USD and going up to about $28 USD, you can stay in an 8-bed, 5-bed or 4-bed dorm room.
Upon arriving, we were told not to miss the amazing breakfast, which lived up to expectation and was included, along with coffee. we recall someone saying to us, "You'll want to Instagram this."
In addition to the colorful wall art, great tunes, long tables in the main social area that are great for meeting other travelers and good security, the staff is truly awesome and wants you to have a memorable time in Tulum.
Staff recommended where to rent bikes, where to rent snorkels, which cenotes to visit, where to get the ultimate cheapest tacos in town and more.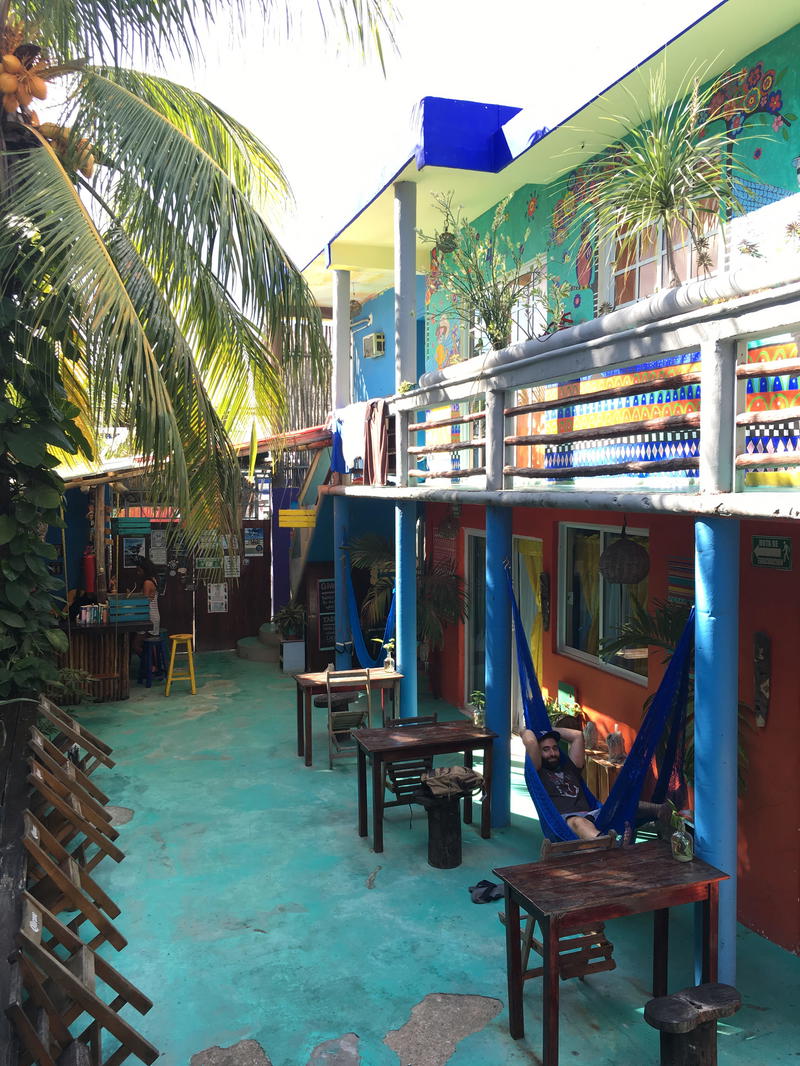 Helpful Tip
We like to bring travel locks with us when we visit hostels. Check out our favorite pick for travel locks on Amazon.
Tulum Mayan Ruins: How to beat the crowds
Next on the Tulum itinerary for any traveler is to go learn about the history of the Maya in their beach-side past home on the shores of Tulum.
What makes these ruins different from Chichen Itza is that they're more modest in size, and the beach-side location makes for gorgeous scenery.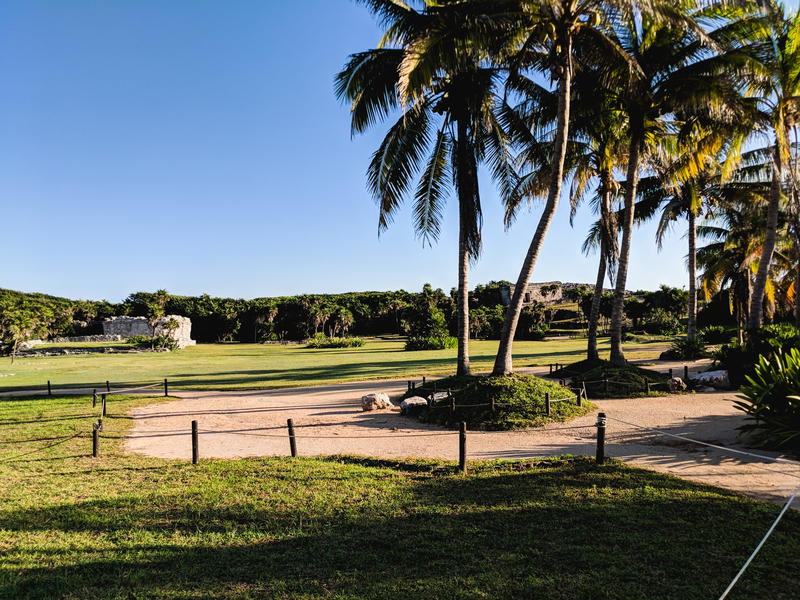 Go early (8 am) to beat the crowds, and wait on the line in order to be one of the first tickets sold for early morning entry. This is very important.
You will not regret arriving early, as tour groups start coming in bus-loads by 9 am and it starts getting hot as well.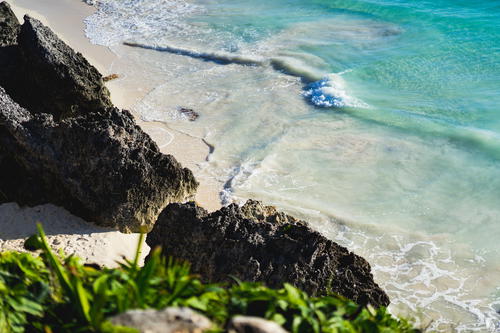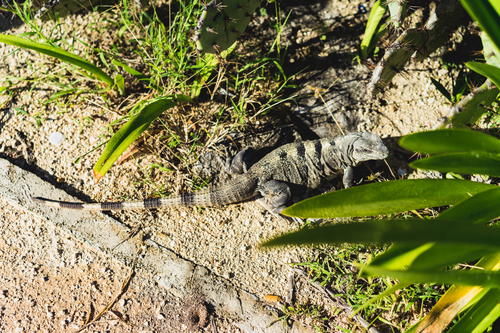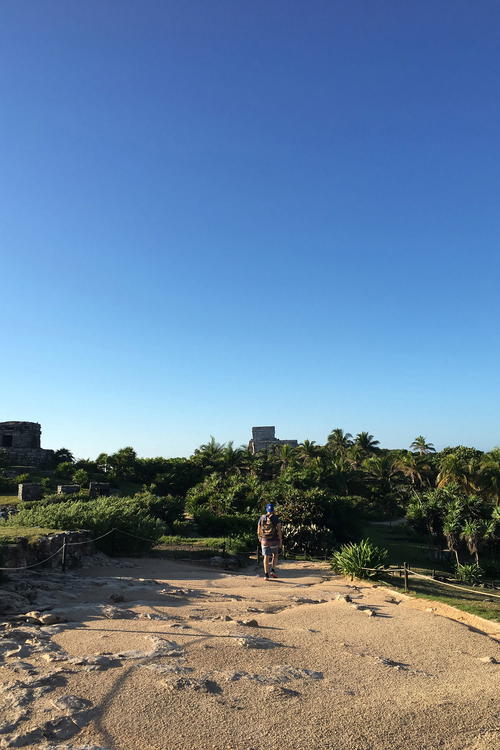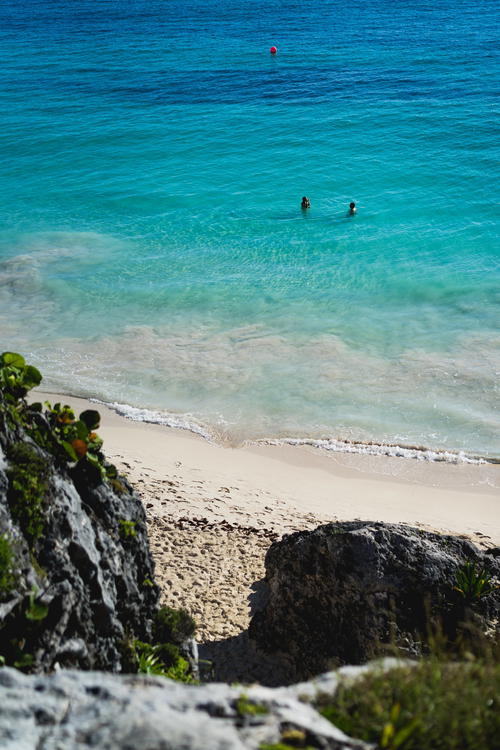 Helpful Tip
Bring swimsuits so that you can take the stairs down to the water and go for an early swim to cool off! The water is perfect there. We wish we had done this.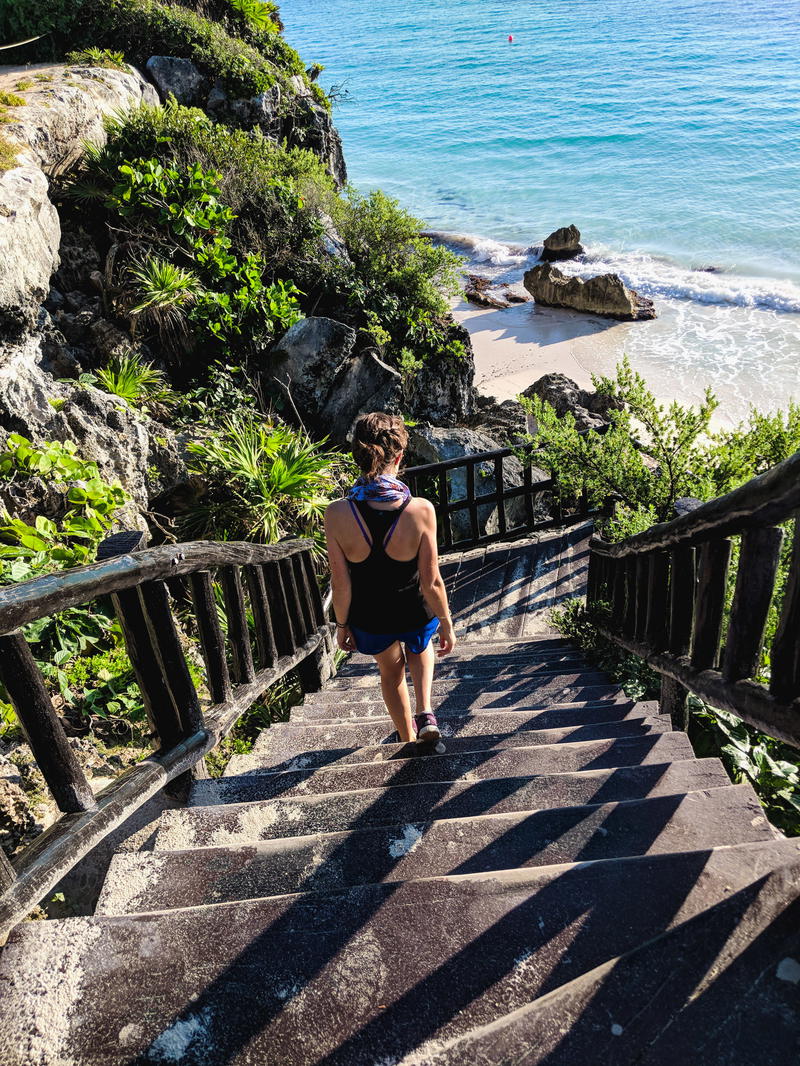 Leaving Tulum: How to get to Cancun airport from Tulum
We left on an ADO bus direct to Cancun airport for $12 USD per person, or around 225 Pesos per person.
Helpful Tip
If you plan to take an ADO bus, buy tickets a day or two beforehand, as soon as you can, because they do sell out and seats are assigned. The airport bus only runs three times per day from Tulum and takes two hours.
Taking the bus to the airport from Tulum is seriously the best way to get there, as you will get some space, a movie and frigid air conditioning. The price can't be beat, per person.
As mentioned above, do make sure that you get your bus ticket as far in advance as possible so that you don't have to take a private taxi or private shuttle the entire way there. It's two hours, and if you flew into Cancun, you'll have an idea of how far it is (but not really so far from Tulum, relatively).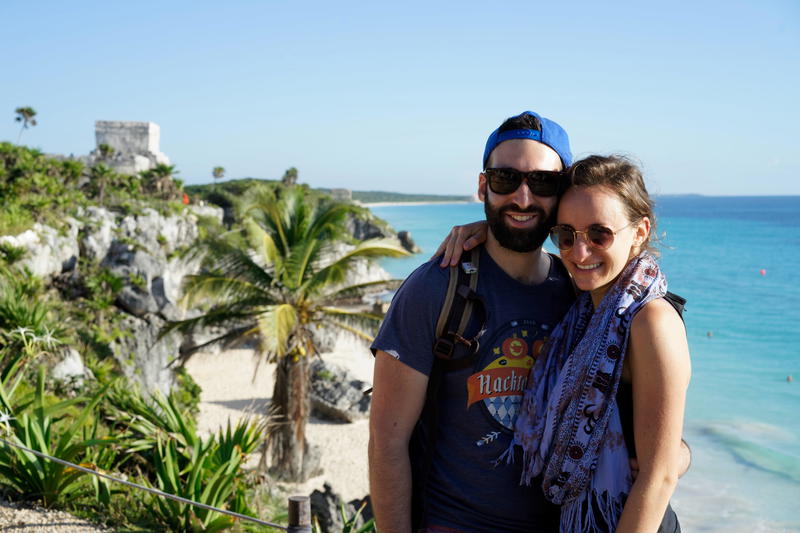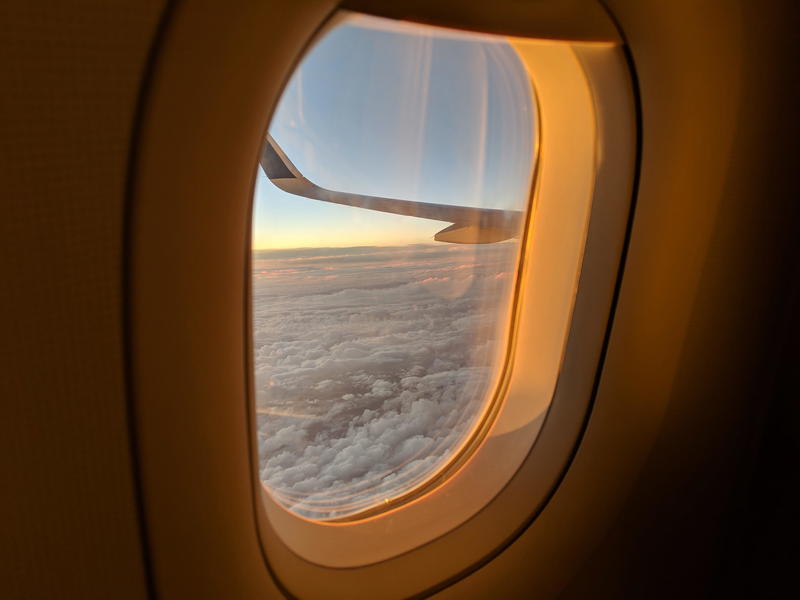 Is Tulum worth going to in my Mexico itinerary?
That's a great question, and to be honest, we thought the Tulum beach was one of the best we've been to … in the world! Yes, that says a lot!
The Tulum beach did not disappoint at all, whereas lots of beaches around the world that are 'hyped' kind of don't live up to the expectation created online (or their Instagram reputation… yikes).
We also liked that there's a lot of 'things to do' in Tulum while being based there, from physical activity like biking down to the cenotes and then going swimming in them, to walking along the beach-side ruins (*as early as possible in the day).
Lastly, it's Mexico, after all, so the value is great for the USD, the hostels are fun and the tacos were excellent.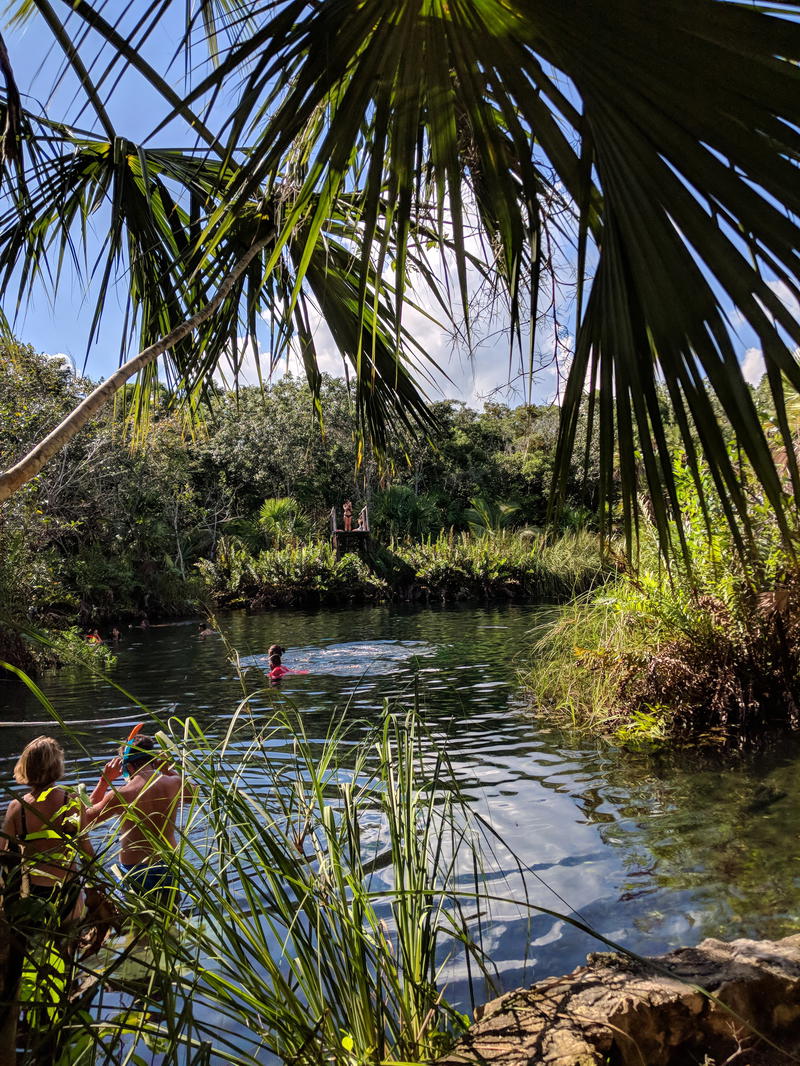 Should you go to Tulum even in the high season?
That's up to you. We went to Tulum in the low season, which was a great choice. In November, the weather was not too hot (pants at night!) and we didn't get any rain.
In high season, you can expect most places to be booked up, or really have slim pickings if you arrive with no plans and no reservations.
Is Tulum overrated?
That's also a good question, and it's ultimately going to be one that you answer for yourself. The benefits to a Tulum trip are, as we mentioned above, that there's a lot to do within the Tulum region on its own. For this region, we thought it was a great destination for a couples trip.
If you're looking for somewhere totally off traveler radar, somewhere off-the-beaten-path and somewhere that's not yet frequented by the mainstream crowd, then I think you know the answer — Tulum (or its main "must-see attractions") is going to feel a bit overrated for you.
But if you want a trip that's pretty straightforward, Tulum seems like a good bet. The beach is beautiful, the array of things to do for every type of traveler was solid in our book and we enjoyed our stay.
Helpful resources for a trip to Tulum
Our Yucatán Peninsula Lonely Planet book helped us navigate the area. Get yours on Amazon or Bookshop.org!
Can I work remotely in Tulum?
Yep, you sure can! Tulum has become a popular destination for people to travel to and work remotely. You can find lots of cafes that offer WiFi. While you're enjoying breakfast or a coffee, you can sit down for a few hours and catch up on some work.
If you're staying at a hostel, you can usually find common tables to sit at while you get your work done if you want to get outside and socialize.
Most Airbnb's will have solid WiFi and you should look at the reviews to confirm the internet speed before you book.
How to be a sustainable traveler in Tulum
The fact is that with people and popularity comes ecological challenges, and this goes for any tourist destination.
Tulum started out small, and as it grew, it started facing problems like where to put trash, how to keep the beach clean, how to properly cope with the need for additional plumbing, where to source clean water and how to protect wildlife.
If you're interested in being a sustainable and eco-friendly 'green' traveler and we hope you are, check out these awesome tips for helping Tulum stay environmentally safe and being mindful of the nature while you are there.
Maintain respect for the culture in Tulum
Remember that Tulum started as an important Mayan landmark with its ancient ruins from the ancient civilization. It's easy to consider that you're on vacation to party, enjoy yourself and forget everything else.
For locals, Tulum is a place that's suffering from a fast influx of travelers, and the key is to protect places especially like the Ruinas de Tulum (Mayan archeological site at Tulum National Park).
Should you buy drugs in Tulum?
No, ten times no! Never! Buying drugs abroad is always a risk, as you never truly know if your 'dealer' has connections to the police or worse, a cartel of sorts.
Buying drugs abroad also supports the deadly drug trade that has wreaked havoc in countries like Mexico and also Colombia, and has turned the lives of many into tragedy. Gangs, while you don't really 'see' them in Mexico, are still part of the facts of life in Mexico, and it's best to avoid being a part of this trade completely.
Remember also that mezcal is what to try in Mexico, from Mexico City to the Yucatan, and by drinking Mexican mezcal you are, on the contrary from the above, supporting the economy.
Be mindful of what you consume and throw away
For some "zero-waste" alternatives to shopping elsewhere, shop at La Minimal and CoCon Amor. These are some local recommendations of sustainable shops. There's also ByeBye Plastic, which is working hard to help the transition of eliminating single-use plastics from events.
Next, Proyecto Refill supplies water stations and there are already several throughout the area, so be sure to have your reusable water bottle nearby.
If you're planning on sticking around Tulum for a while as an expat or digital nomad, check out Tulum Recycles. This organization provides a pick-up service for recyclables, but you have to sign up.
Avoid and say no to jungle raves in Tulum
"Jungle parties" put an unnecessary stress on nature, and are something that has been becoming popular in the last few decades for travelers, as a 'unique experience' to have abroad and far away from home. In having these parties deep in nature, we're disrupting the rhythms of nature, which harms wildlife and affects their home.
With noise and light from humans, animals lose their sense of where they are, and may head toward the highway or urban areas. This in turn, harms people, because lost animals can wind up near your hotel. Last year, several jaguars and pumas were killed because they left the jungle.
You can party in places that are man-made and in the towns like Tulum's bar street, or the hotel bars along the ocean.
Be conscious with your spending in Tulum
Choose to support businesses that are doing good things for the environment. Many businesses do not recycle, for example. If you find out about a business that is doing things well for sustainability, choose to support them, and spread the word!
Support locally-grown food at Farm to Table Tulum
This eco-friendly business has a compost system to support other businesses, and they also have local drop-offs called Woolis Solutions. This is all carried out by Farm to Table's owner, Mauricio, and he is leading a great movement to support.
Follow the beach cleaning promoters #Makers Tulum
Give them a follow on Instagram. This group promotes positive social impact and making a difference. Keep an eye out for their beach clean-up initiatives!
We've done beach clean-ups in the Dominican Republic, where it was a feel-good activity and it was a difference that we could feel a part of.
Where to go before or after Tulum
Another part of a Yucatan itinerary is seeing Chichen Itza, the famous Mayan ruins and grand pyramids of the region. After seeing this landmark, you can head to Tulum for some fun in the sun.
Heading onward to Mexico City or Valladolid? See all our Mexico guides here.
Enjoyed our article?
Consider supporting us! We're a 2-person team (learn more about us here) and your support enables us to create quality content. Thank you!
Find the Best Things to Do In Tulum