Experience Luxury at the Savoy Hotel, Tel Aviv
Updated on November 21st, 2023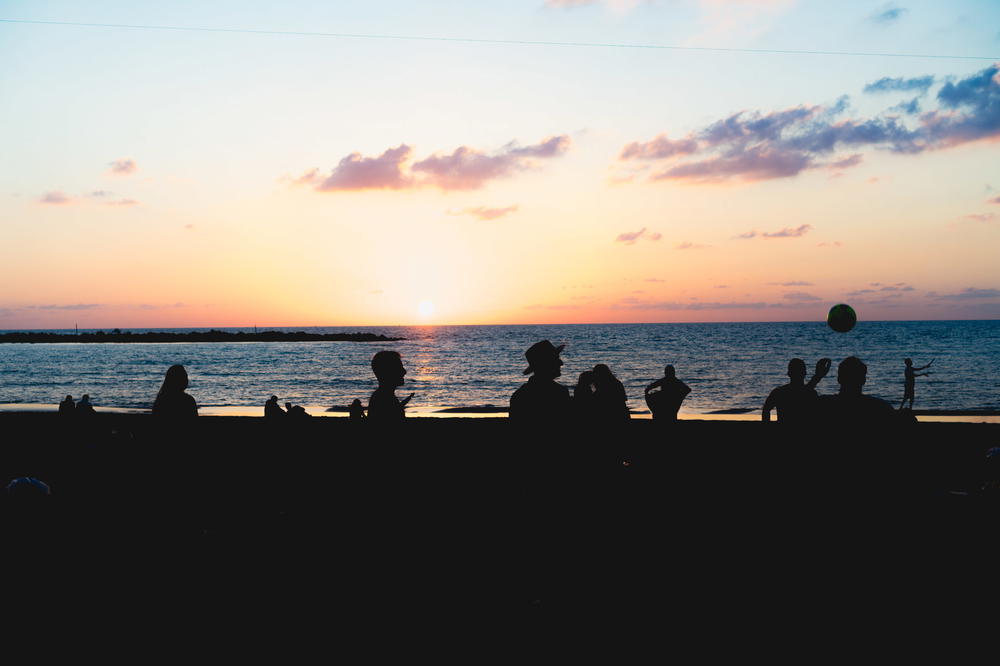 Read our review of the Savoy Hotel in Tel Aviv, where we experienced luxury accommodations and world-class service during our stay.
This article may contain affiliate links. We earn a small commissions when you purchase via those links — and it's free for you. It's only us (Becca & Dan) working on this website, so we value your support! Read our privacy policy and learn more about us.
As per a Travel Advisory update posted by the US Department of State on October 14, 2023, Israel has been marked a Level 3 Country: "Reconsider travel" due to the ongoing armed conflict, civil unrest and terrorism from "Hamas, a U.S. government-designated foreign terrorist organization." Please visit the travel.state.gov page for Israel to learn more and stay informed.
In looking for the best places to stay when we travel, we factor in a few things: location, style, reviews and amenities.
The Savoy Hotel Tel Aviv is a great deal, considering the price of travel in Israel and its perfect location for your vacation time in this world-class city.
Helpful Tip
We traveled to Israel in the off-season (February), which is one of our favorite ways to stay within budget during trips.
The Savoy Hotel is located walking distance from the bustling Dizengoff Center, Allenby Street, Carmel Market ("the shuk") and Tel Aviv's beach boardwalk. We gave it a 5-star review.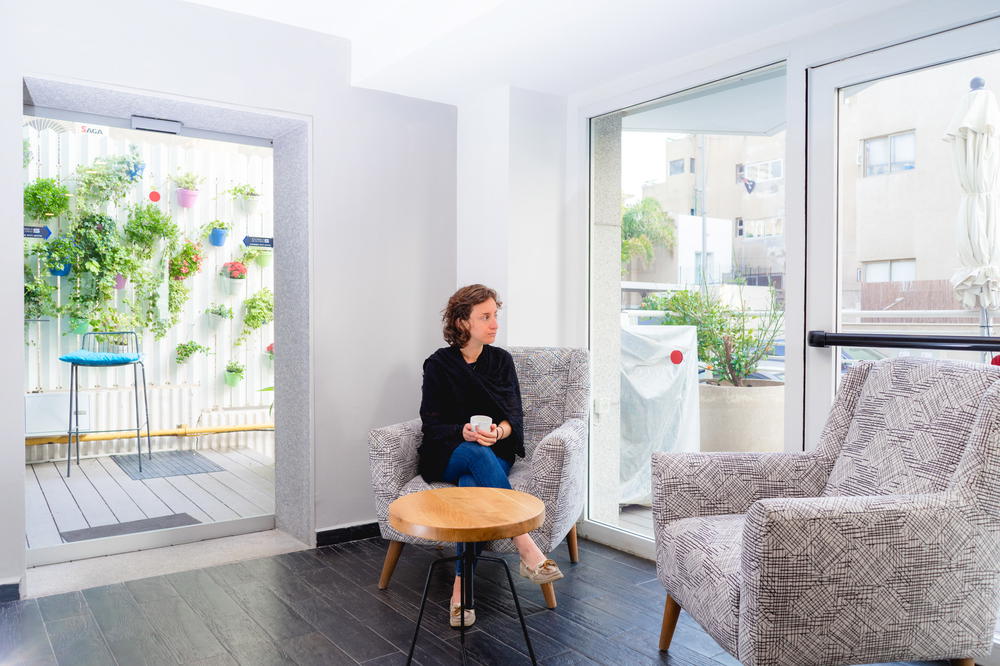 Rooms at the Savoy Hotel Tel Aviv
Our room had floor-to-ceiling windows and sliding doors for access to the balcony, from where we could hear the echo of beach-goers playing matkot, Israeli beach handball.
A full bathroom had a window that reminded us of being on a cruise ship, fulfilling the idea of being at a nautical beach-front hotel property.
We really liked the comfort of the room, and mostly the natural light during the day, and privacy at night. The hotel has elevators, so this is surely a place you can stay if you need guest accessibility.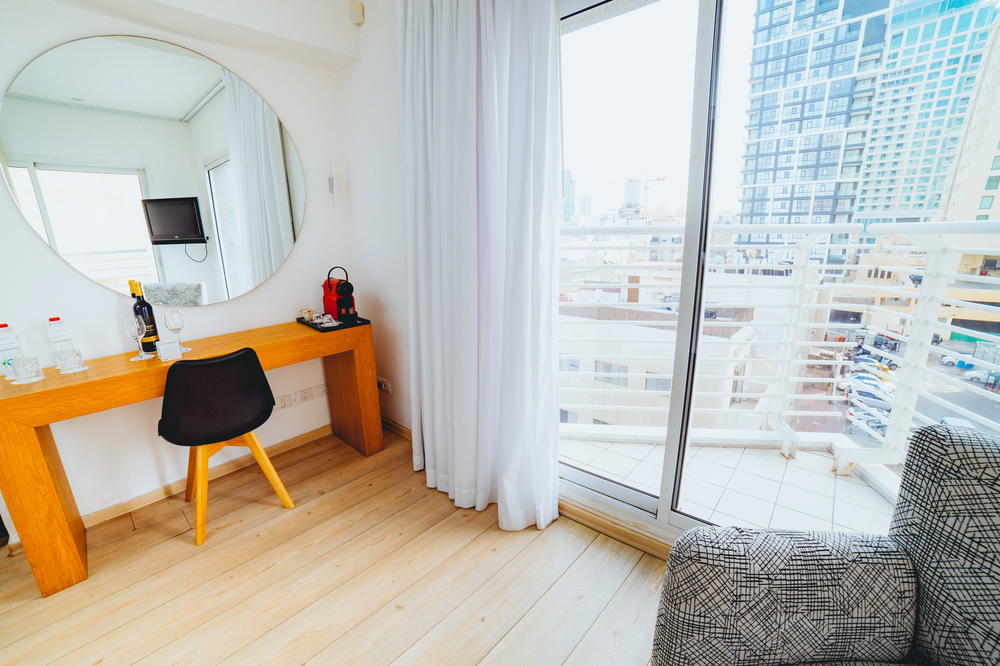 Beachfront hotel amenities at the Savoy Hotel Tel Aviv
The hotel incorporates a city stay and a beachfront experience, with helpful staff and outdoor space.
The lobby has a side patio where you can enjoy a coffee in nice weather, and the panoramic views from the rooftop deck are great at sunset. In fact, even during the Israel winter, this was a cool (and windy) place to hang out. From the top, you can glimpse the Mediterranean Sea, the city's famous buildings and more.
The Savoy hosts a rooftop happy hour every weekday, so stick around during the week on the rooftop and check their Facebook page, Instagram and concierge desk for info.
Up at rooftop level is a chic library that is a nice place to relax if you're checked out and waiting for a transfer to the airport, relaxing after a long day of walking around TLV, or if you arrived early before your room is ready. The library has a wide range of books in different languages, and is thoughtfully designed to welcome light from the rooftop. Nice perk!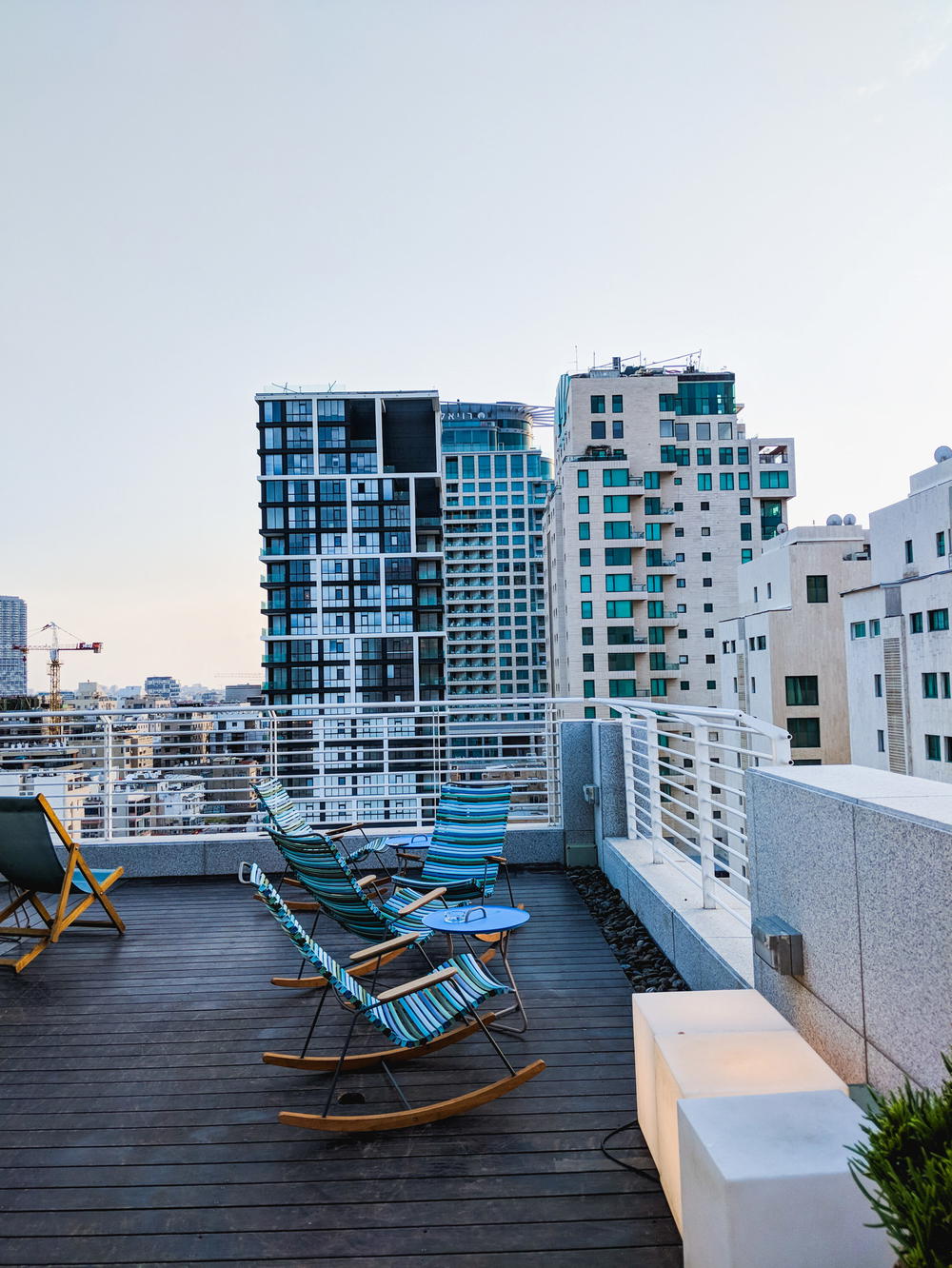 What's the Israeli breakfast like at the Savoy Hotel?
For breakfast, we enjoyed a spread of Israeli salads, yogurts, breads and pastries, fruit and coffee. The fact that Becca could enjoy so much food and in such a variety is why we think Israel is one of the best countries for gluten-free travelers.
Israeli buffet breakfasts are our absolute favorite way to start a morning!
At any time of day, you can also stop by the lobby kitchen for a coffee, tea or sweet treat. We actually love halva and it never lasted long when there was some in the kitchen. Can we stay here forever, please?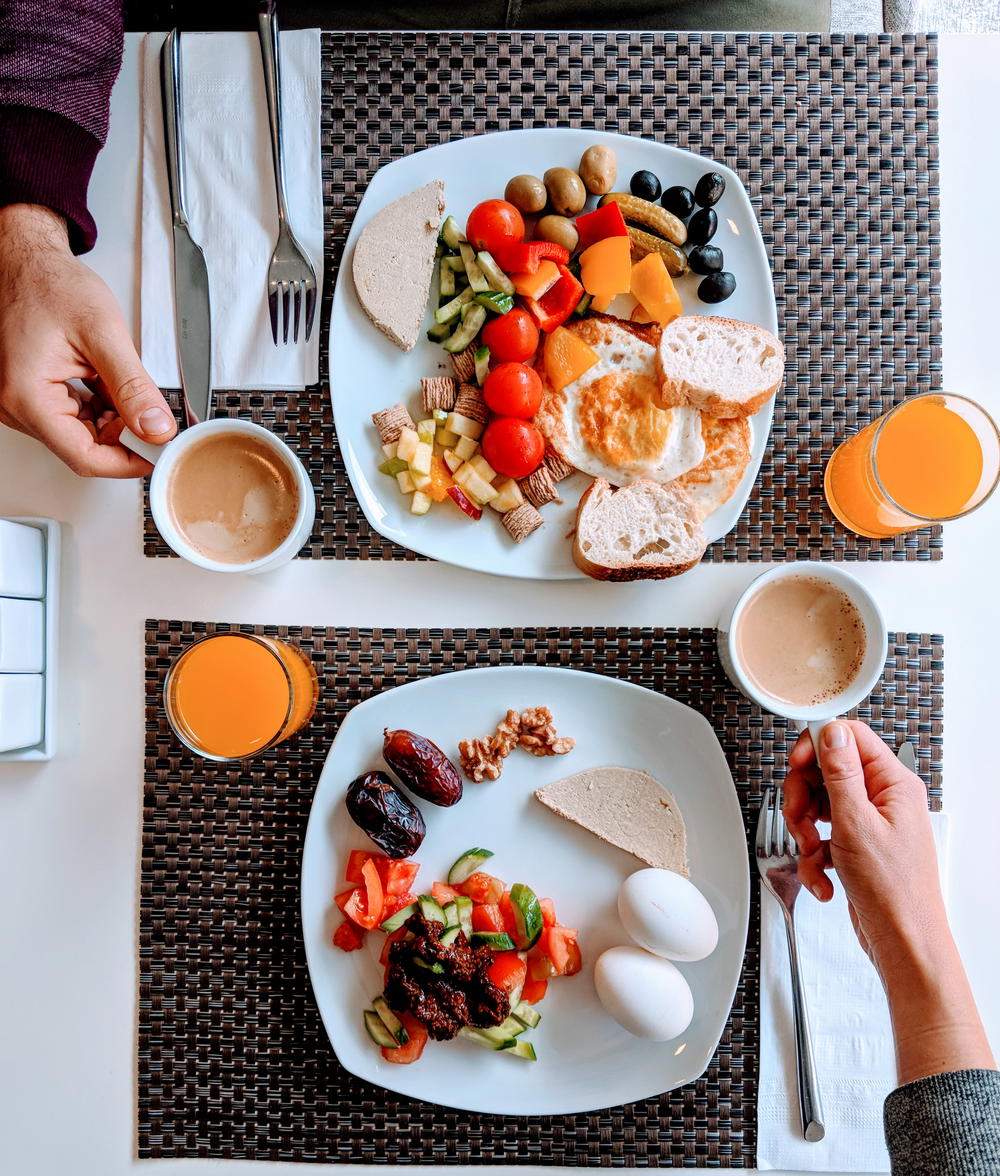 Thank you to all the staff at The Savoy Hotel Sea Side Tel-Aviv for the Israeli hospitality in Tel Aviv. If you want to plan a trip to Israel, make sure to check out The Savoy.
You can book on Booking.com.
Heading to Jerusalem? We can help you out with where to stay on a trip to Jerusalem.
More exciting places in Israel
Check out our guide to visiting the Dome of the Rock and how to get to the Dead Sea with a tour.
Enjoyed our article?
Consider supporting us! We're a 2-person team (learn more about us here) and your support enables us to create quality content. Thank you!