The Aviator First Class Hoodie & Red Eye Merino Hoodie Review
Written by Becca
•
Updated on November 9th, 2023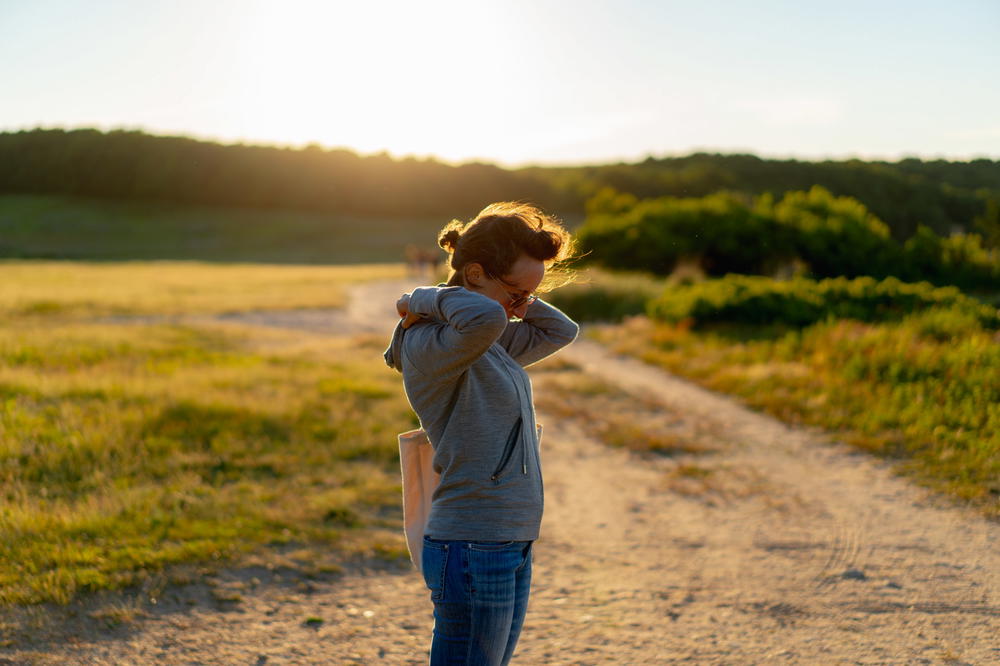 Looking for a merino wool zip hoodie for travel? Our review of the Aviator First Class and Red Eye Merino Hoodies discusses if these unisex men's and women's travel hoodies are worth the money.
This article may contain affiliate links. We earn a small commissions when you purchase via those links — and it's free for you. It's only us (Becca & Dan) working on this website, so we value your support! Read our privacy policy and learn more about us.
Packing and choosing what to wear on a trip is always something that we've tried to improve upon through the years, and a lot of what's important during travel is the arsenal of travel clothes you brought.
In recent years, we've been interested in the merino wool trend for travel clothes. What's all the hype about merino wool? What's merino wool like? Could it be good enough for making a zip-up hoodie to wear on a plane or a long car ride?
When we pack for a trip, we consider the versatility of every article of clothing. We think about if it's something that can be worn for several types of occasions and with several outfits.
That's why we review lots of travel gear, showing how we put new and cool travel products to the test while we're on the road. We think a lot about things we can wear and pack for when we're working remotely and traveling.
It's what brought us to reviewing the First Class Merino Hoodie and Red Eye Hoodie from Aviator.
Up to 30% off!
The Aviator deals are still live! Get up to 30% off storewide & use code TRAVEL30 to get your deal.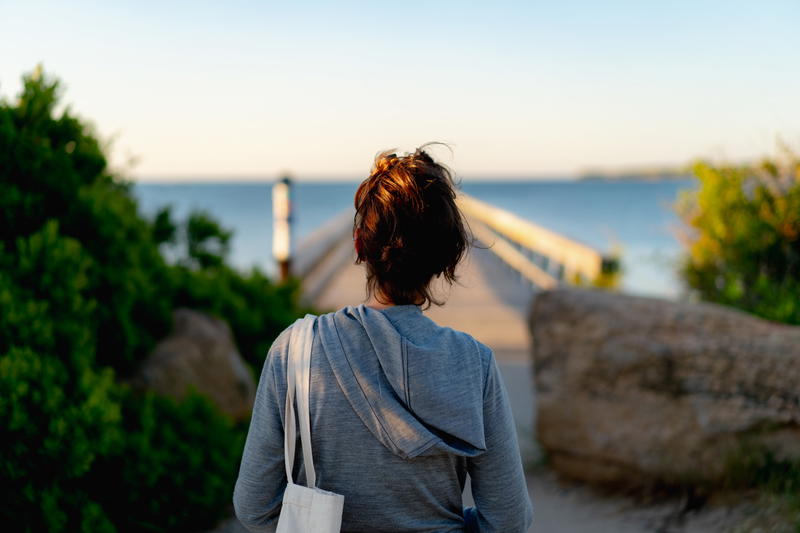 Why we're reviewing Aviator merino wool hoodies
In the past, we've made lots of mentions of Aviator's products in our roster of the best travel pants for men, as well as the best travel dresses for women, featuring the Aviator Chambray Travel Dress.
Aviator is a brand that takes the needs of travel into account when they design their products. Aviator's founder started the company with one idea in mind: how to make travel clothing that had a lot of function. If you're interested in learning about the brand story, read into my interview with Aviator's founder Colby Kane.
Having known about Aviator jeans, we were eager to explore Aviator's additional products, and something we ALWAYS have with us on a trip is a zip-up hoodie.
Aviator designed their two hoodie products with style and function, so at first glance, both look like cool and chill garments that don't look doofy or goofy, and won't dress down an outfit too much.
As we get into the specifics about the two Aviator merino hoodies for both women and men, check out these main questions that we're answering, so that you can learn more about these important pieces of essential travel gear.
As a start, there are two hoodies we'll be talking about, and they both come in men's and women's versions. The versions are exactly the same, except for sizing. Between the men's and women's models, there are no changes in the product features themselves.
The Men's First Class Hoodie and Women's First Class Hoodie are the zip-up merino wool hoodie.
Second, the Men's Red Eye Hoodie and the Women's Red Eye Hoodie are the pullover sweatshirt/sweater designed as a merino wool jersey, and it was the company's original merino wool sweatshirt layer product for travelers. Could it have been inspired by the comfort you need on a red-eye flight? We're not sure, but we'll keep wondering.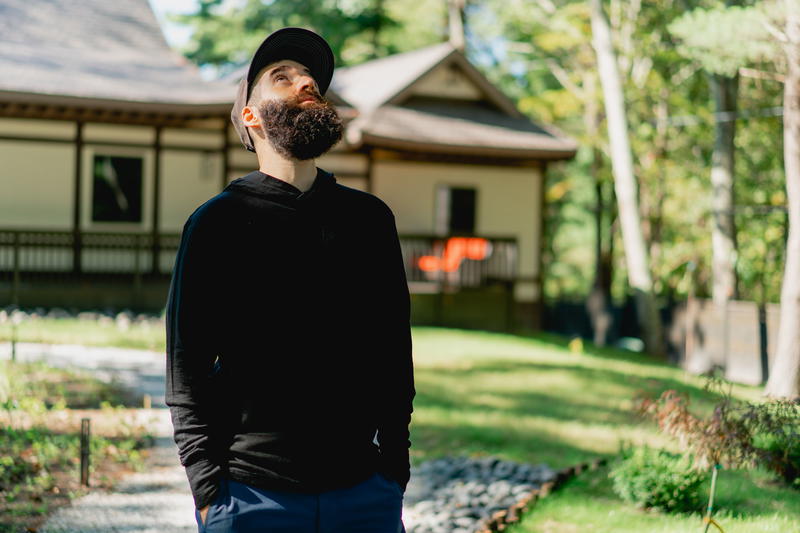 What does the Aviator travel hoodie feel like? (Is it soft?)
Both the First Class and Red Eye Hoodies are soft. They're so soft that we've both fallen asleep in them!
These merino wool travel hoodies are 100% merino wool, and this fabric is regarded as breathable and ultra-soft. It isn't itchy at all, it feels pretty smooth, as far as fabrics go, and it's not terribly heavy or bulky.
Aviator is proud of sourcing its merino wool from New Zealand. This is because the wool is ethically-sourced, as New Zealand has strict rules surrounding the protection of sheep and any harmful practices of sourcing sheep's wool.
Other types of wool might be scratchy or rough. This is the perception of wool I had from childhood, saying no to wool sweaters and wool socks.
Merino wool is different. It's more delicate and soft to the touch, tightly-woven and natural-feeling.
It also dries very fast and is moisture-wicking.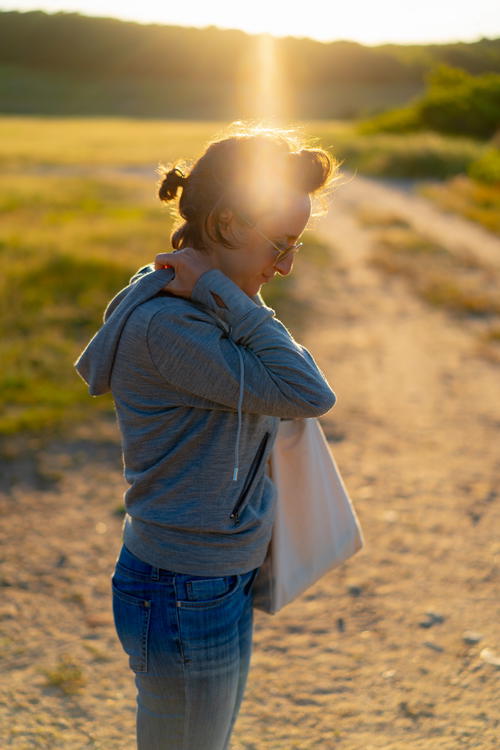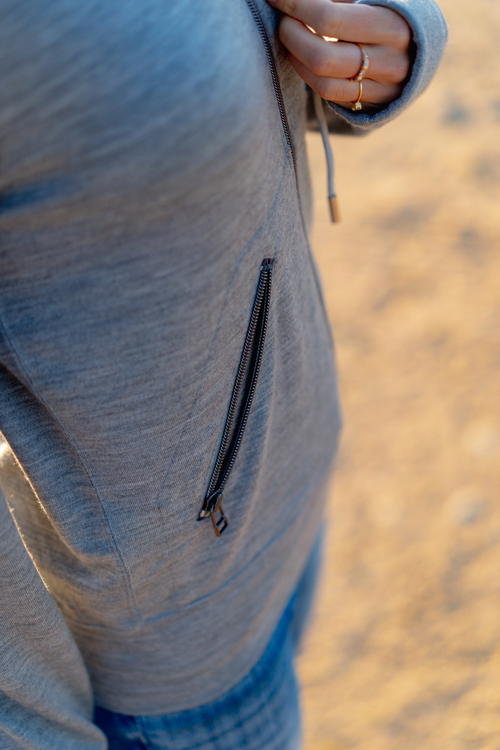 Is a merino wool sweatshirt or hoodie worth it?
A merino wool sweatshirt is not like a regular cotton sweatshirt.
Because of how it has more weight, yet is also more delicate, it looks a bit more put-together than a regular cotton sweatshirt like the ones we have from H&M or American Apparel.
Cotton sweatshirts look like you can wear them to the gym, but the First Class merino wool sweatshirt looks like I can wear it out to dinner with a blouse underneath and it's okay. It has a more narrow fit at the hips, and this is the fit I've been looking for in a slim-fit flattering zip-up sweatshirt for trips.
The Red Eye Hoodie is a bit more casual (in our opinion), because it's a merino wool jersey pull-over and doesn't have the zipper down the front, nor the zippered pockets. It has a looser feel and fit.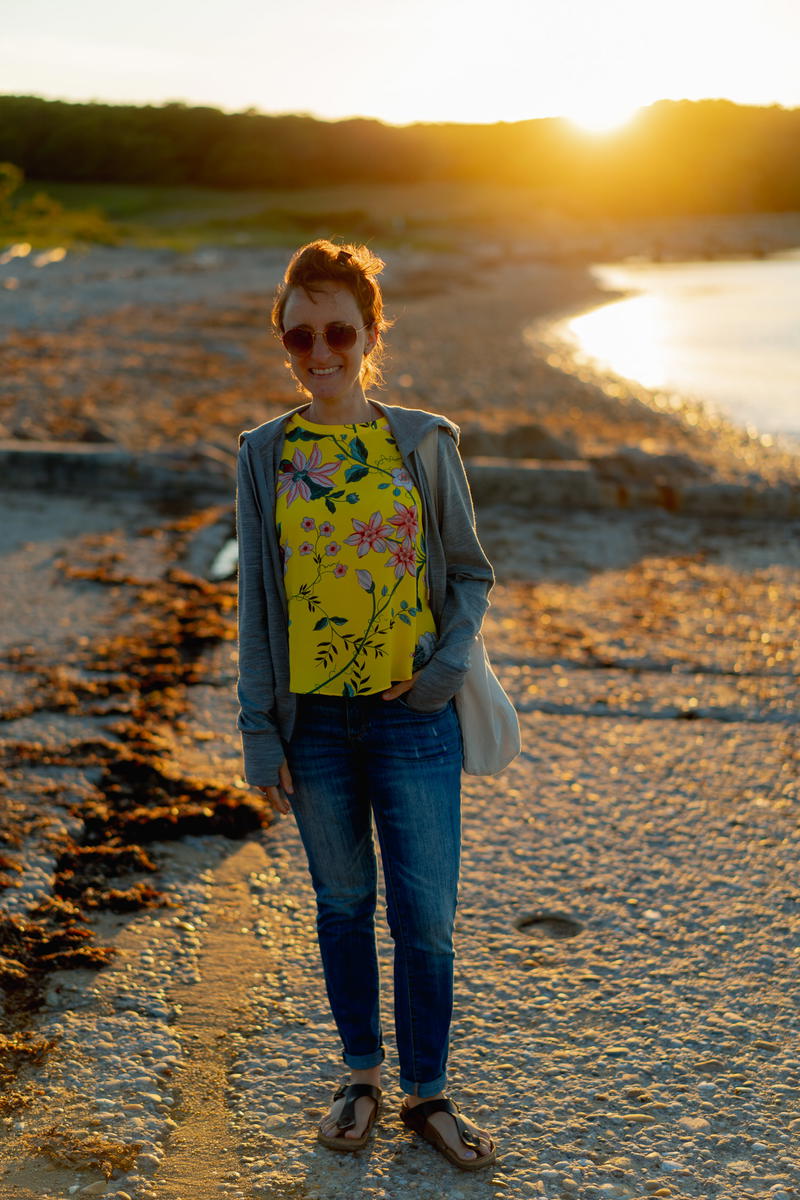 So, having a merino wool sweatshirt is like a classy travel sweatshirt. It can be kind of dressed up, and completely dressed down.
I would wear the First Class Hoodie or Red Eye Hoodie sweatshirt on a plane. I'd wear the First Class Hoodie out to a casual bar while on a trip, and I'd wear the Red Eye Hoodie on a car ride or as a layer while out for a day sightseeing.
Each hoodie is worth it if you're looking for a unique material that will be antimicrobial, moisture-wicking, temperature-regulating and very soft.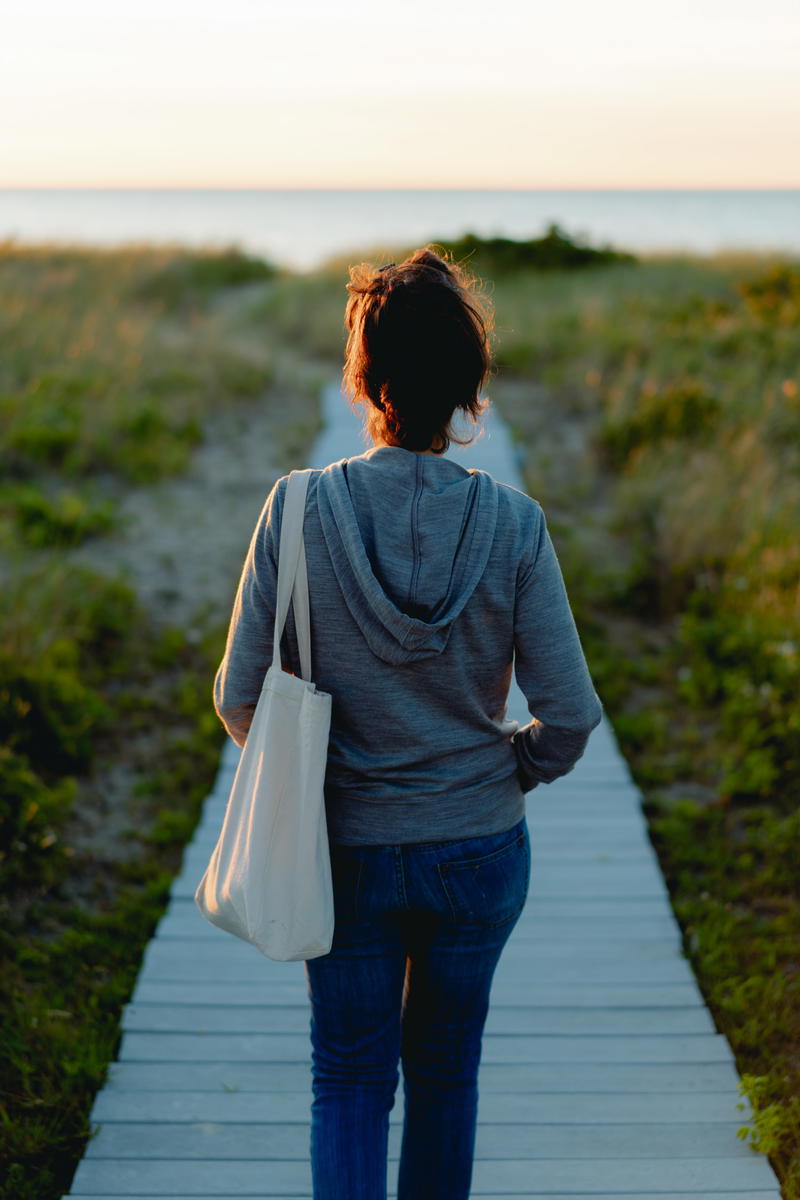 Are these hoodies nice-looking travel sweatshirts?
Yes, for sure. We both like how they look and feel for both women and men.
Between us, I have the Women's Aviator First Class merino hoodie in gray, along with the Women's Red Eye Hoodie in charcoal. Dan has both the Men's First Class Hoodie and the Men's Red Eye hoodie in black.
Each hoodie is a very agreeable article of clothing that we like to have in both our bags during travel. In fact, we both just took our Aviator hoodies on a trip and what we feel compelled to comment on is that they pack up small and densely.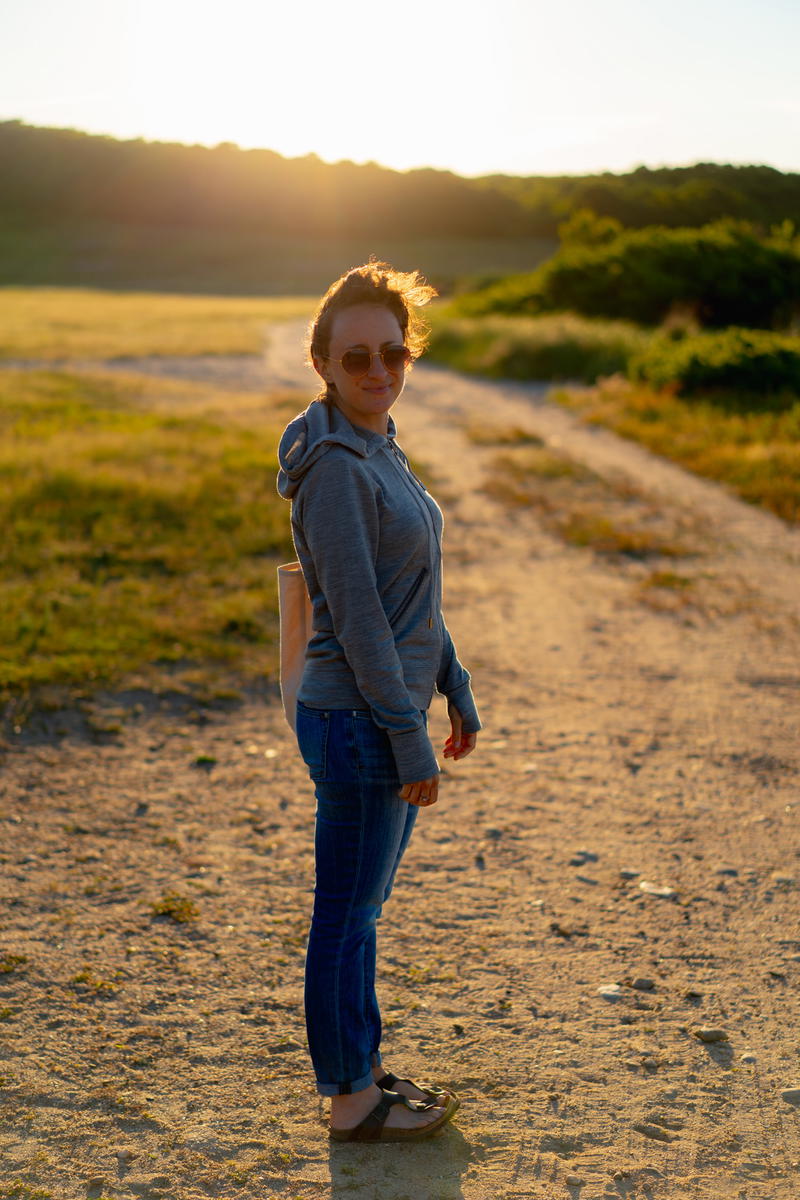 Here I am in the First Class merino wool hoodie on a summer night out in the Hamptons.
What are the cool travel comfort features of the Aviator travel hoodies?
I was surprised to find that for both women and men, the Aviator hoodies have a few unique features that I haven't seen in other sweatshirts.
For one thing, each has a built-in face mask in case you want to have your eyes covered during a snooze on an airplane, car, train, bus or boat ride. By this I mean that the hood is oversized and doubles as a face mask by pulling it down over your eyes.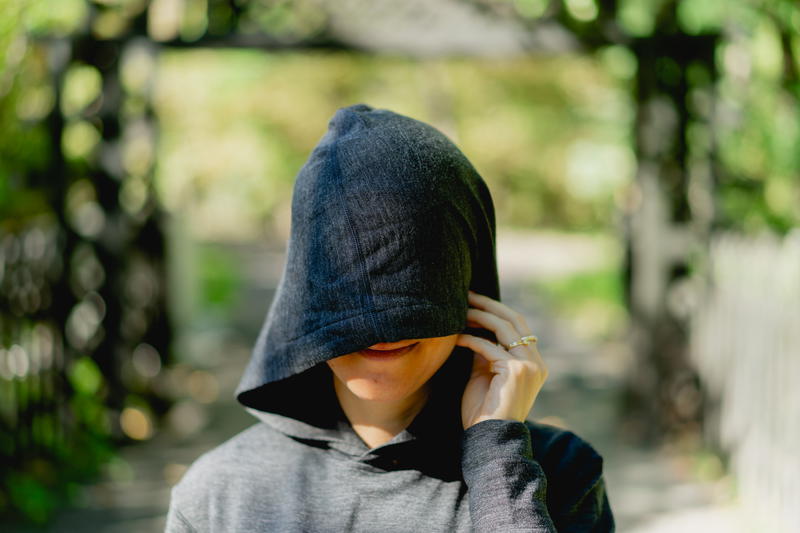 There's also a mitten feature, and I was surprised to find this in both the men's and women's versions (which are the same, aside from the sizes and fits, in each model of the First Class and the Red Eye).
With a fold-over mitten, you can keep your hands warm during a cold flight, or cover your hand in case you don't want to touch a doorknob somewhere dodgy.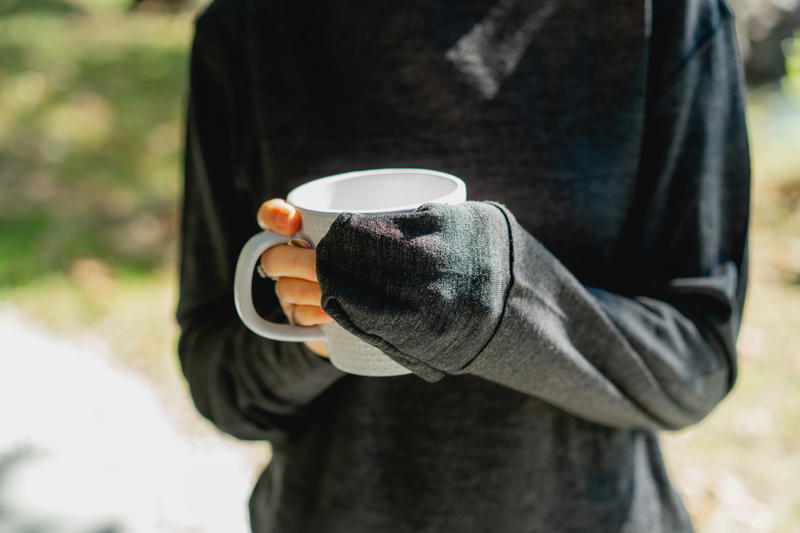 Helpful Tip
Looking for new proven ways to save money on flights and airfare? The easy solution is to sign up for Going, the leading way to find flight deals and mistake fares, directly to your inbox. Use HALFHALF20 to get 20% off!
There's also a thumb hole for pulling the cuff down over your hand. Some people like this look. It can keep you warmer if you're spending time somewhere a little bit chilly. Both hoodie models have this.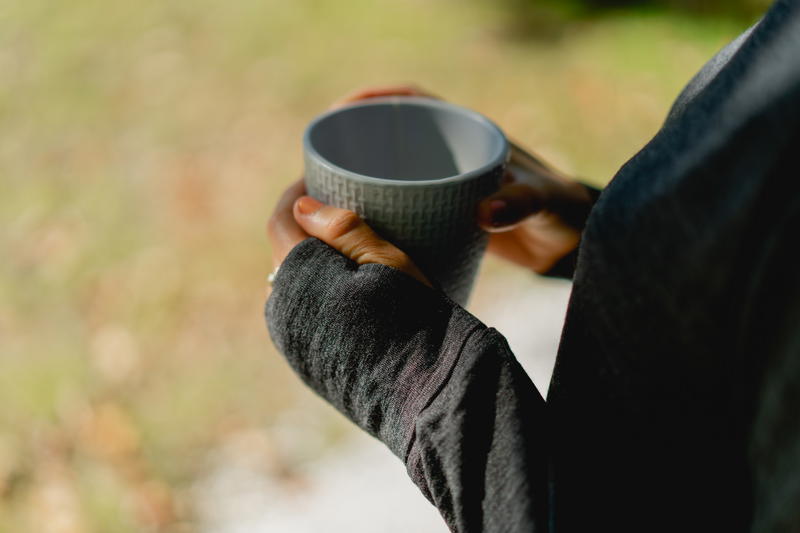 Lastly, for the First Class Hoodie only, the exterior pockets have durable zippers. This is a nice feature on a zip-up sweatshirt, especially during travel, when you never know what you'll need to keep in your pockets (tissues, a credit card, a hotel room key, you name it).
Typical hoodies don't have zipper pockets, so this is added value for convenience and security in your clothes when you're on the road.
We suggest checking out all these surprising functions in the photos on the product page at Aviator's website.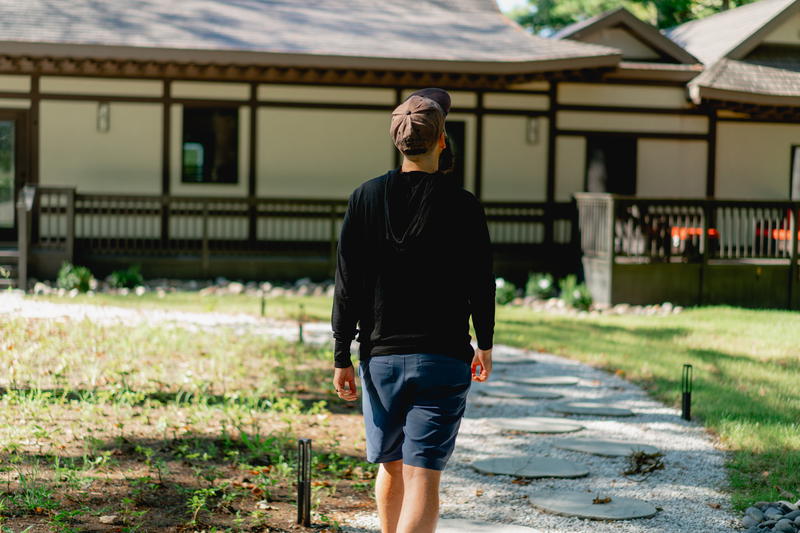 Is the Aviator travel hoodie packable and compressible for packing?
Yup! Both are easily packable, compressible and foldable for packing, and because it's a slimmer material than cotton, it packs down pretty small.
When folded, each hoodie is probably half the volume of a regular American Apparel cotton-poly blend sweatshirt of the same size. This means more room for other stuff in your luggage.
It's also nice that the hood on each is not bulky like those big college sweatshirts that are thick and never seem to compress enough.
Given, the material weight is very different, but if I want to have a lightweight travel hoodie in my pack, the Aviator Red Eye or First Class hoodie is going to fit nicely in a packing cube.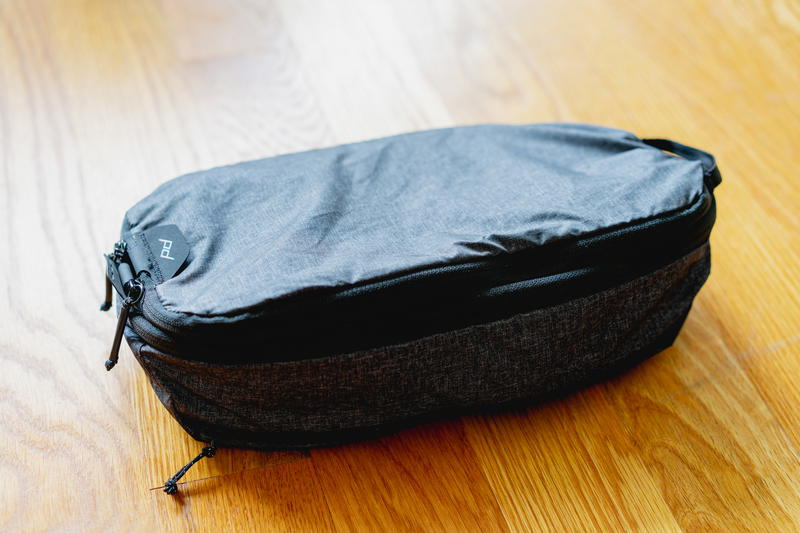 What kind of washing care does each Aviator merino wool hoodie require?
This is where you'll probably want to take note that merino wool requires different care than your regular cotton socks.
For garments made of merino wool, the way to care for them is to wash them in cool water in a washing machine, and if you're uber picky, put your hoodie in a separate delicates bag for the wash cycle.
Then, lay it flat on a drying rack or air dry it on a hanger. You won't want to machine dry a merino wool garment, as it may shrink in strange spots, or wind up with holes.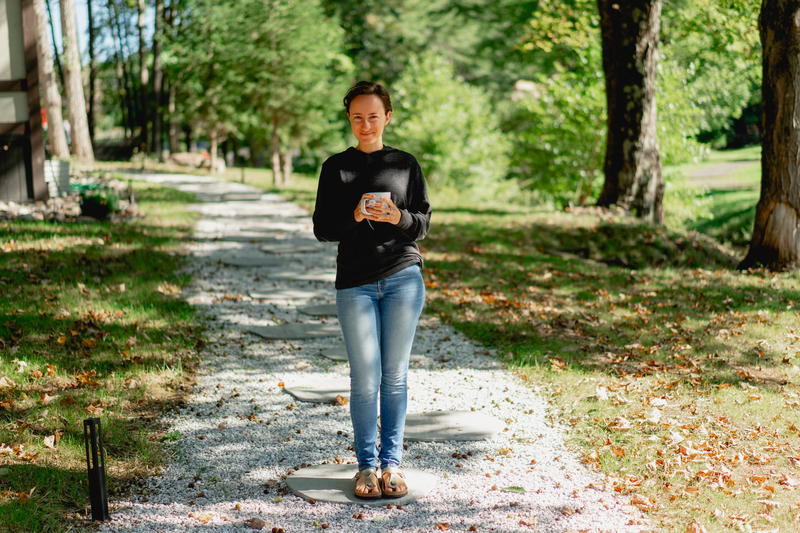 Any downfalls of this merino wool travel hoodie?
The only pitfall of the Aviator First Class Merino wool hoodie is that Aviator intended for it to be a heavier weight of merino wool when compared to their original hoodie (the Red Eye hoodie), but it's not all too warm.
I was wearing my Aviator First Class hoodie on a breezy dock during our trip to Montauk, NY, in the Hamptons and I was feeling the wind come through the build of this hoodie.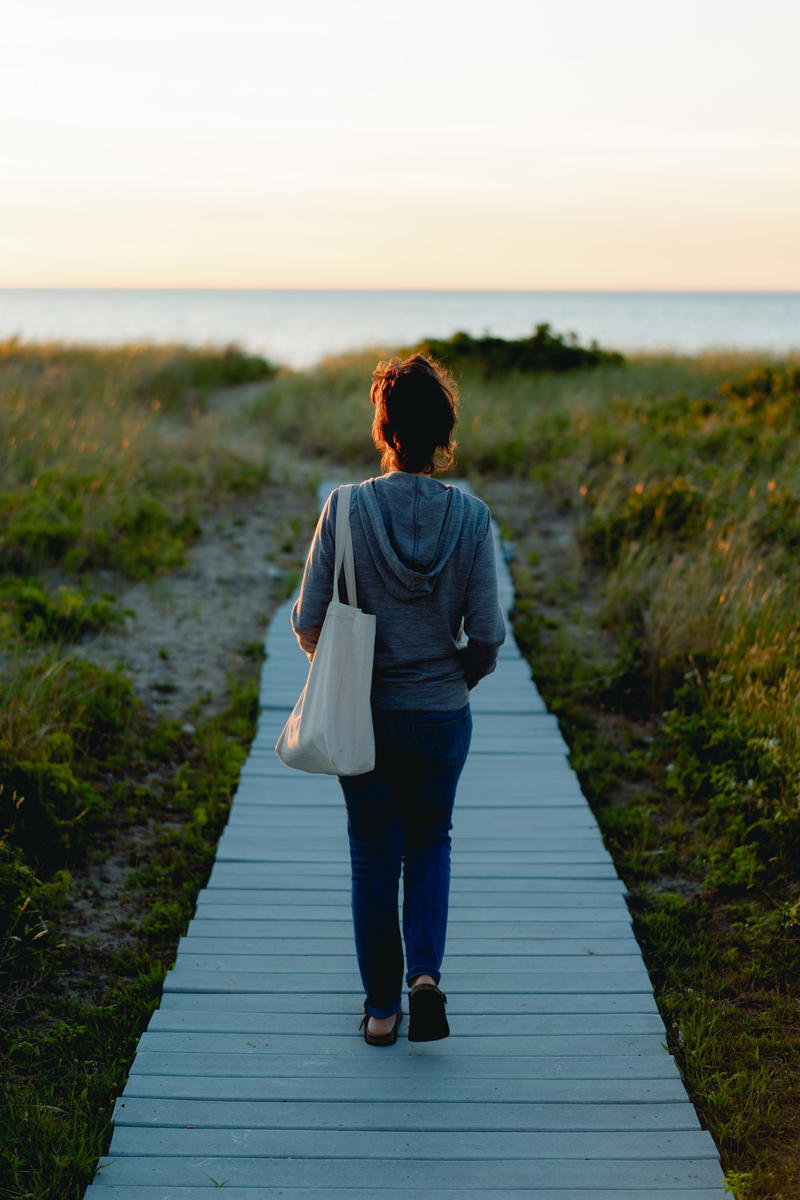 However, while wearing the Women's Red Eye Hoodie around our Airbnb during our trip to the Catskills and Hudson Valley, I felt that the fabric seemed lighter and thinner, much like a layer for a good fall or spring day.
What I would say is a good use case for the First Class Hoodie as a travel garment is to consider it also like a light layer, or a layer to build into a windbreaker or coat.
What I do like about it is that the arms on each hoodie aren't too tight, so you can fit another shirt under these hoodies, despite both feeling quite slim and lightweight. You won't have to get annoyed by your sleeves ruffling up in your armpits. I appreciate this!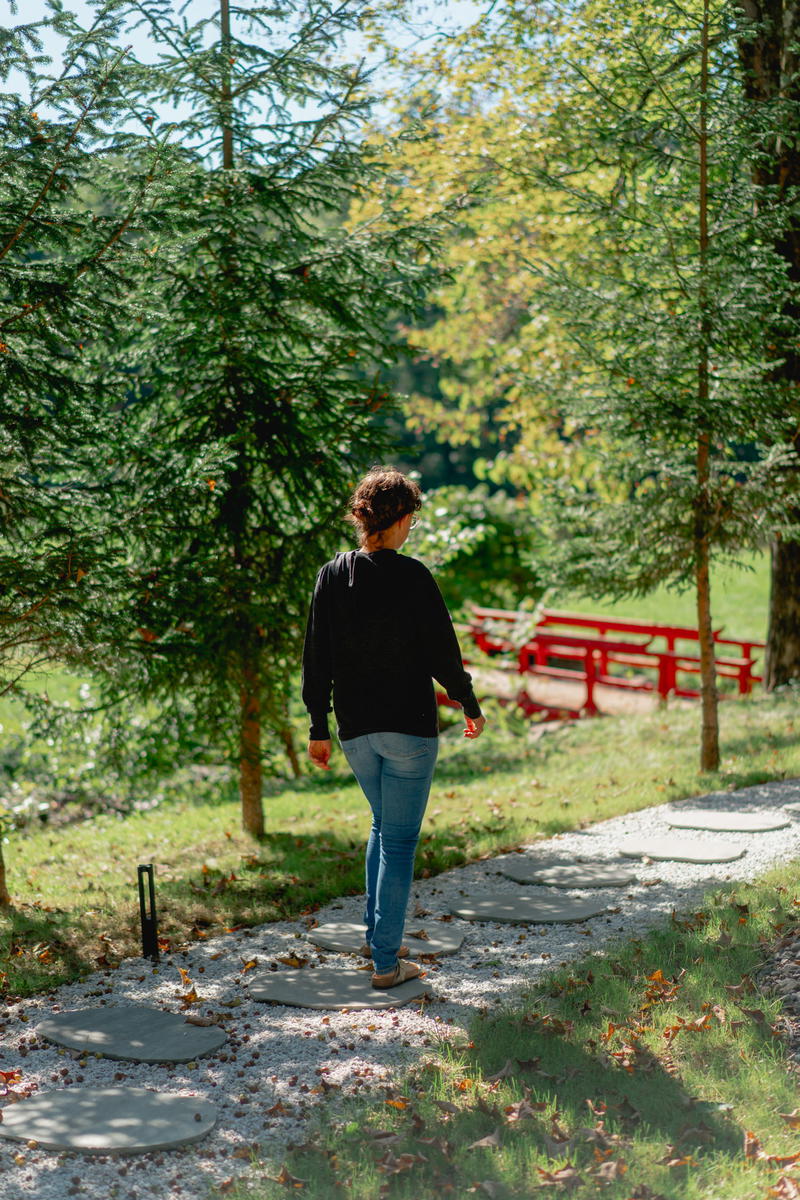 How to get the Men's or Women's Aviator First Class or Red Eye Merino Hoodie
Easy! Shop Men's or Shop Women's to get started.
Don't forget to join the Aviator brand mailing list and get an easy-peasy 20% off your first purchase.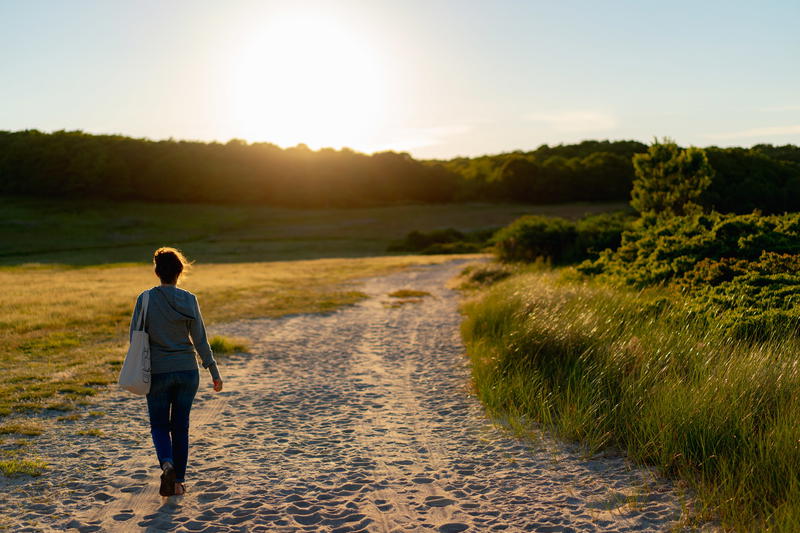 Enjoyed our article?
Consider supporting us! We're a 2-person team (learn more about us here) and your support enables us to create quality content. Thank you!