Patagonia Black Hole Duffel Review: The Only Duffel You'll Need
Written by Dan
•
Updated on October 26th, 2023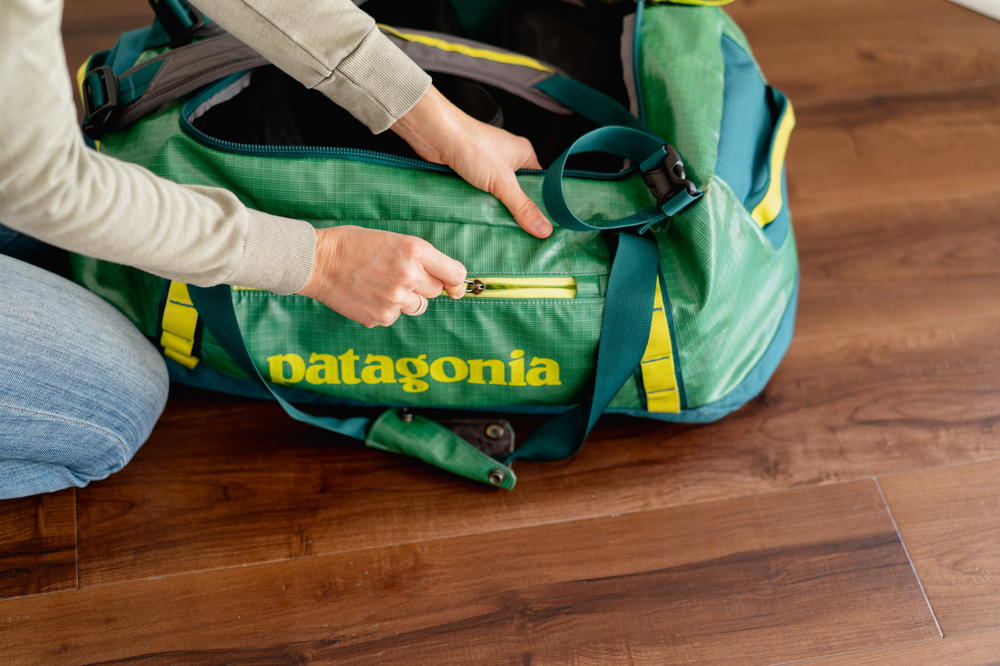 I review the Patagonia Black Hole Duffel based on my travel experience. I'll review features, packability and quality, and you can decide if it's for your next trip.
This article may contain affiliate links. We earn a small commissions when you purchase via those links — and it's free for you. It's only us (Becca & Dan) working on this website, so we value your support! Read our privacy policy and learn more about us.
Let's flash back to 2016 when I had only been to two countries and taken only a handful of flights in my life. I was about to leave for a year of traveling and working remotely around the world. I knew enough that I didn't want to check my bag on any of the flights I'd be hopping in the next twelve months.
I did my research and based on a friend's recommendation, I bought the Patagonia Black Hole Duffel (55L). I knew it would be okay to "carry on" for most flights, and big enough that it should hold everything that I needed for a year.
This trusty duffel bag is one of my favorite travel bags of all time. In this review, I'll touch on the features that make it a travel "must-have" for my trips.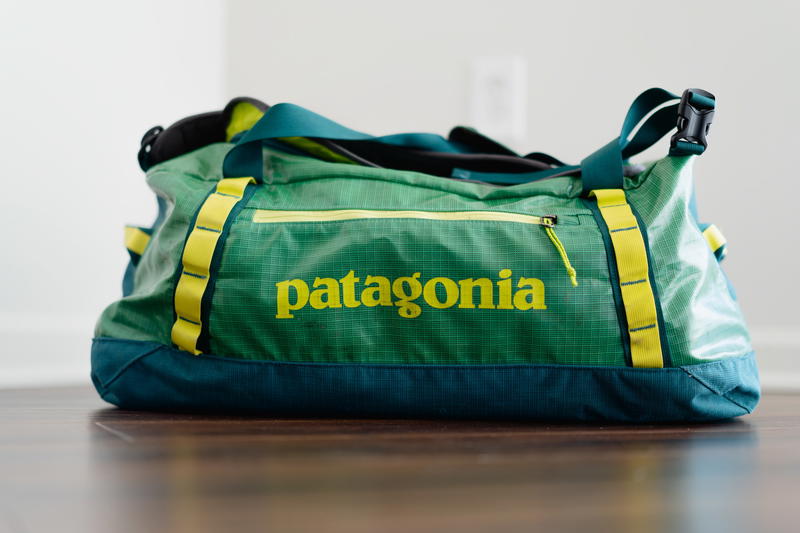 Quality & Material
The quality of the materials is absolutely the stand-out feature of the Black Hole Duffel. If you're into materials, you'll appreciate that the body of the duffel is made from 14-oz 900-denier 100% post-consumer recycled polyester ripstop with a TPU-film laminate. Wow, that's a mouthful. I found this info directly on Patagonia's website (I don't have it memorized).
This basically means that the bag is strong and probably won't break on you.
The sturdy ripstop build
I can feel the sturdiness of the build of this duffel via the somewhat thicker, robust, waterproof body with ripstop polyester.
The ripstop is the checkered pattern, which means when you do get a tear, the stitching will stop the material from creating more of a big hole. This is crucial, because during world travel, my bag can get tossed around off of buses and onto train overhead bins. I never know if there will be an unexpected sharp hook jutting out from somewhere that could create a snag in my bag.
I've had this travel duffel bag since 2016, and I have used it consistently for an entire year while I was traveling around the world. My wife Becca can attest to the fact that this duffel bag of mine barely shows any sign of wear. It's like it's still new.
To put it in perspective, I wore the same pair of jeans almost every day that year, and I don't think they even lasted six months.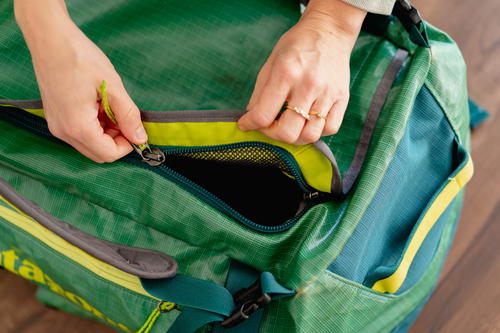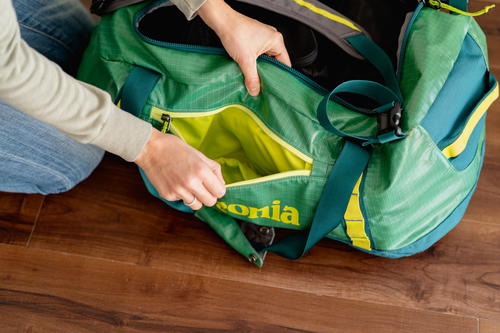 Capacity
The Black Hole Duffel comes in a few sizes. You can choose from 40L, 55L, 70L or 100L. For carry-on flights, I'd recommend 40L or 55L. You'll need to check a duffel bag that comes bigger.
A 100L duffel bag is also really huge. I don't even have a grasp of how big this really is. I'm looking at the product page for the 100L duffel and it makes the 40L one look like a toy!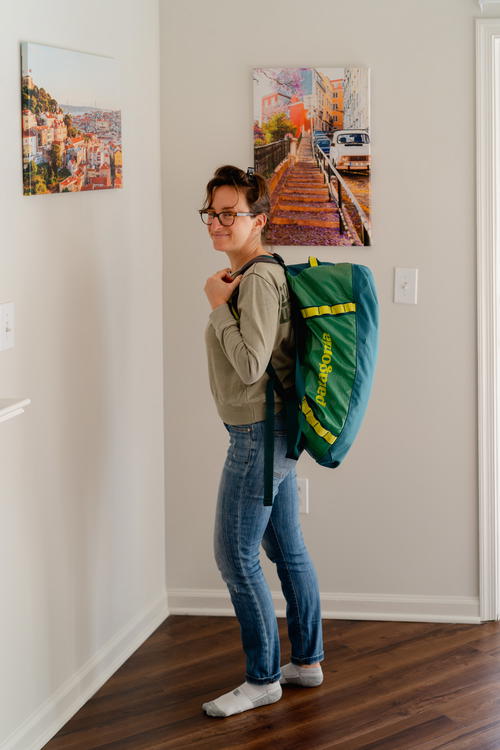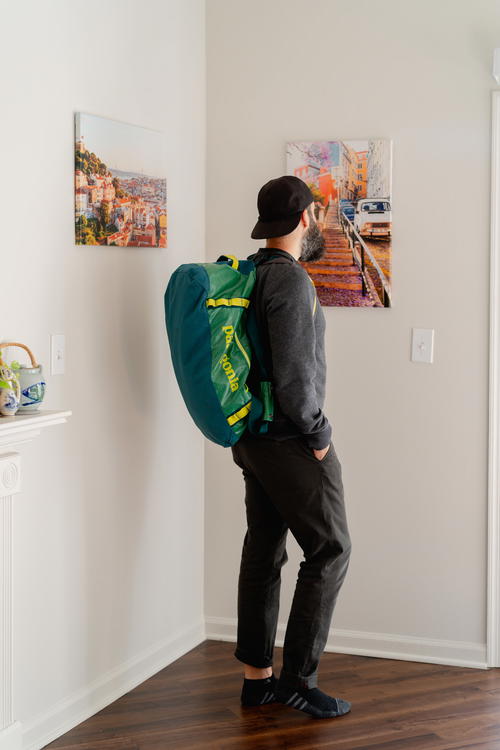 How much can I fit inside?
For gauging how much you can fit inside of each size, you can use my 55L for reference. I was able to fit:
Imagine that you can fit a little less for the 40L and a little more for the 70L. You can fit almost twice as much for the 100L. I'd use the 100L duffel if I were traveling to a place where I planned to bring a lot of things back home.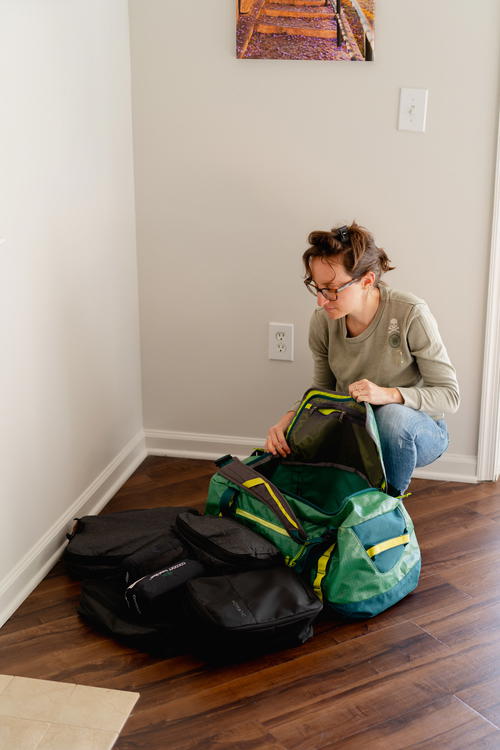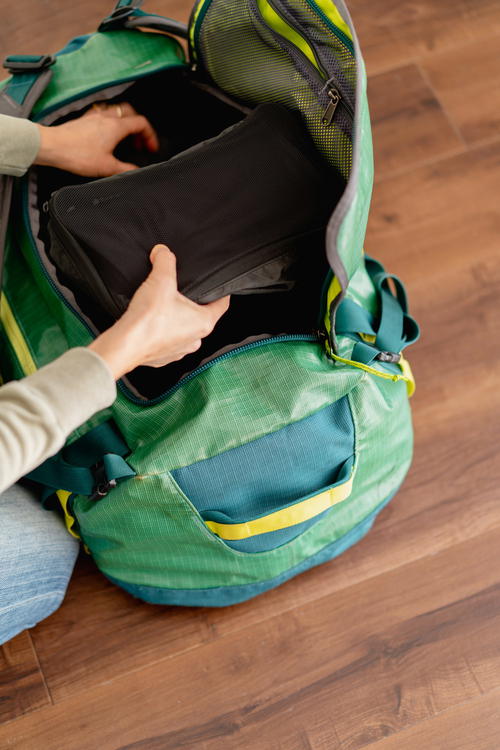 Additional storage
The Black Hole Duffel bag is pretty much only a duffel bag. You won't find too many other pockets or places to stash things. You're really getting your money's worth out of the full 55L.
There is a front pocket, but that's really only for the backpack straps when you're not using them, or maybe for a granola bar or something if the straps are "packed out."
Inside the duffel, there are some other pockets for organization that I have used for small items. Overall, this duffel does not offer much in terms of organizers, mesh pockets or sleeves like you'd find in travel backpacks, for example. There are two zipper mesh pockets in the top flap.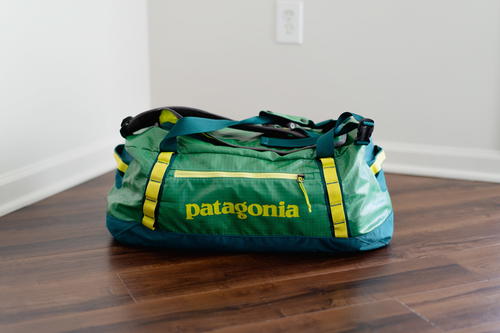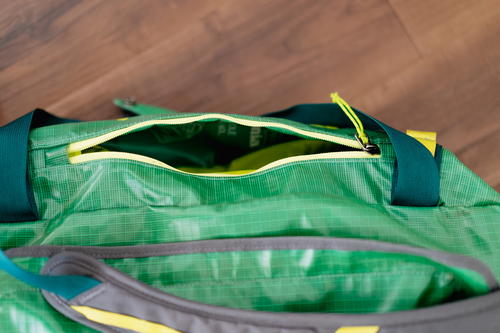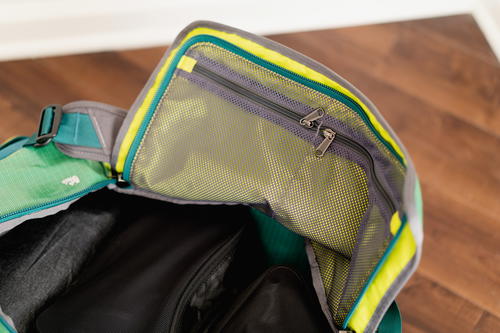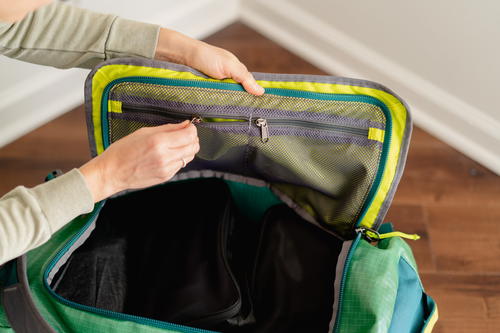 Backpack straps
The reason that I got this duffel bag was originally for the backpack straps. I didn't really want a traditional hiking bag, because being able to carry a bag two ways seemed more appealing at the time.
In reality, a fully-stuffed 55L duffel bag is rather heavy to carry as a duffel bag. You'll probably want to carry it as a backpack!
The straps are kind of "just OK," because after all, this is a duffel first, and backpack second. There is little-to-no support or cushion on the straps, but they work. They're not uncomfortable, but I've worn more comfortable bags that were designed to be a backpack.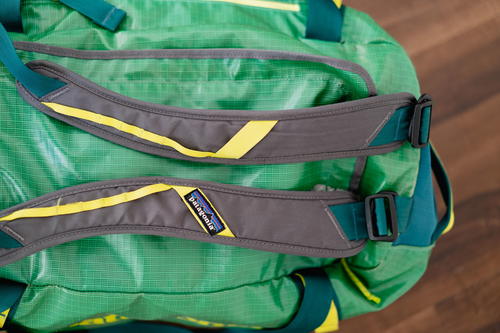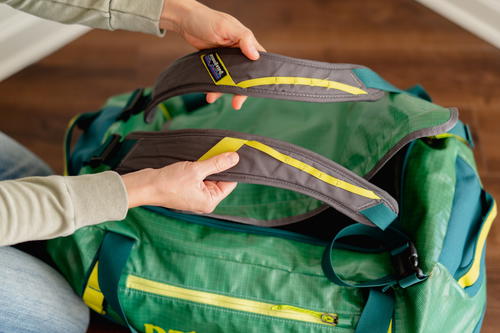 The backpack straps come in handy, though. When we went to Latvia on a bus, we ended up walking all around town to get to our hotel for the night. Instead of rolling Becca's Quince suitcase on bumpy roads or having to carry a duffel and switch arms every few feet, the convenience of the backpack straps did help, even if they lacked support.
I'd say the convenience factor and also peace of mind of having that versatility scored 10/10. You'll also find that in comparable bags from other brands like the Cotopaxi Allpa Duo 70 L Duffel Bag, the straps are very much the same thickness and weight.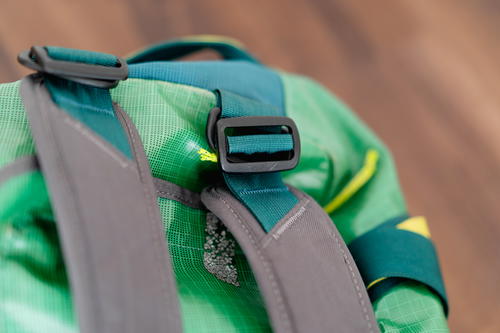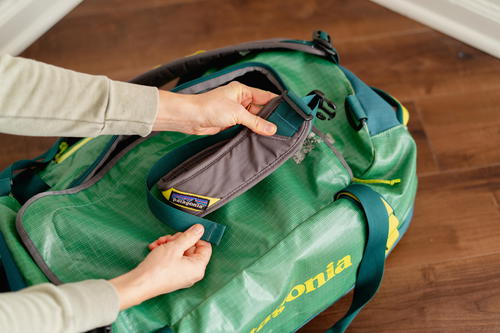 Grab and haul handles
There are "haul handles" at both ends of the bag. This is meant for luggage handling, when you are pulling this duffel out from an overhead bin or a luggage shelf in a train or bus.
There's also a snap handle that brings the duffel handles together. I use this when I'm in transit, to keep the handles from flailing.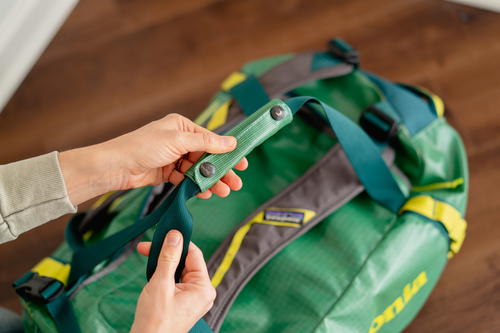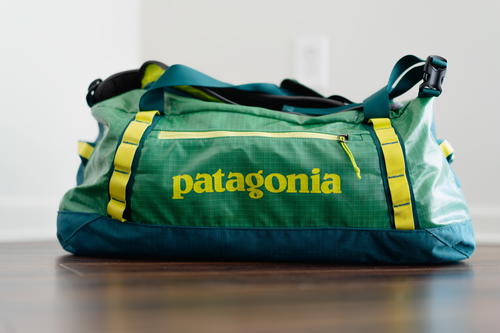 Compressibility
Another feature that might be useful to you is the duffel's ability to compress into itself. This works for me because when I'm not using it, I'll usually keep it folded up in my closet until I want to use it again.
I can see a situation in which you may want to travel with this duffel bag INSIDE your other luggage. When you take it out, you can buy clothes, gifts or souvenirs during your travels, and you have a strong bag to bring them back with you. This would work if you carried-on the Black Hole Duffel, and checked a different suitcase, on your flight.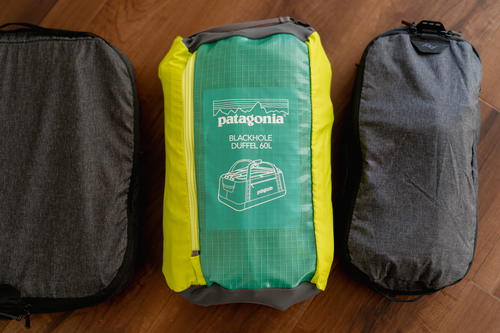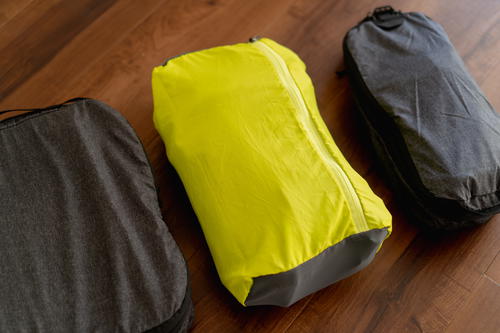 This isn't my personal style of doing things, but it may work if you're doing family travel or if you're transporting some things from here to there. This duffel folds up so it can be packed away in a larger piece of luggage.
I found a video showing you how to fold up the Black Hole duffel, and it's a great explainer. I used this video when I wanted to remember how to fold it back up in its folded-up state.
Use cases (how I've used this duffel bag)
In general, duffel bags are useful for weekend trips, road trips, flights or any time I want to transport something other than "myself" somewhere.
An especially durable duffel bag has other use cases that you may not have thought about! I'll tell you those here.
Here's a quick list of ideas for when you might want to use your Black Hole Duffel. If you're not as big of a traveler, but you want a high-quality bag for times when you do want to travel, consider these.
Sports Equipment: You could pack away things like balls, cleats, rackets, small cones or swimming gear in this duffel.
Emergency gear: Maybe if you're going to a big event where first aid will be needed on site, you can have a first aid box, bandages and braces in this type of bag.
Moving: I've moved many times in NYC while living there, and each time, I pack the Black Hole Duffel with some valuables that I don't want to be shoved in boxes.
Camping: If I were into camping, I would be packing camping gear and maybe even fishing or hiking gear into a duffel like this one.
Beach bag: The Black Hole Duffel makes a cool beach bag because it's so versatile. You could load it up with towels, snacks and beach stuff like buckets.
Music Equipment: You could fit some sizable speakers in here (maybe the 100L) if you're headed out somewhere like a festival or picnic, or maybe you need it for guitar accessories.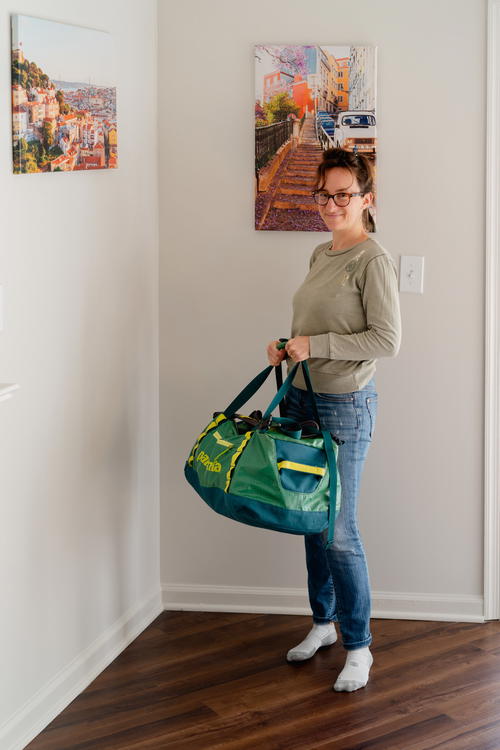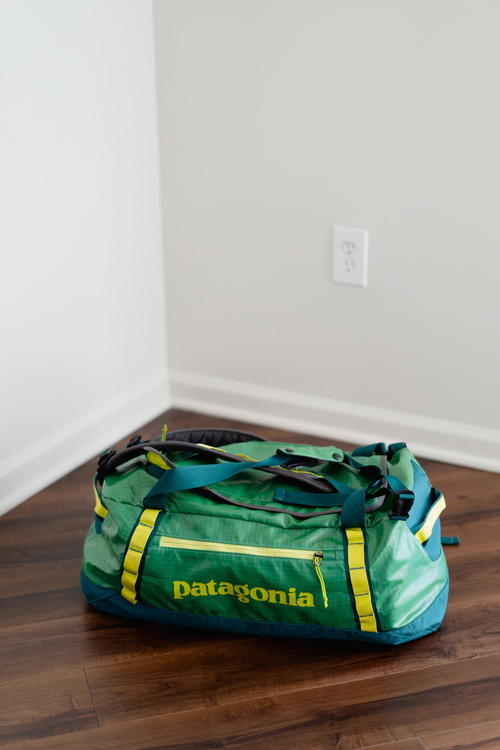 Some bags have a lot of pockets and compartments, which make it easier to figure out how to pack. The Black Hole Duffel is more or less a giant rectangle, and you're on your own to configure the insides.
I like using packing cubes because they eliminate the amount of loose items and help to compress squishy stuff. The Black Hole Duffel also has some compression straps in the inside (see the photo below).
When I was on my year of travel with Remote Year, and I was in a hurry, I absolutely threw everything directly into the bag and hoped that it closed!
Another vote for packing cubes is that they make it easier to pull something out of my Black Hole Duffel, because everything is nice and organized.
Becca and I were passing through the Ukraine Airport in 2018, and we got stopped because we needed to empty our bags of any shoes, as a security requirement before boarding with carry-on luggage.
Well, I threw everything into my bag because I was feeling lazy and my shoes were all the way at the bottom! We were so rushed that we walked onto the flight in just our socks.
That would have been much easier if I could have pulled out a few packing cubes to reveal my shoes.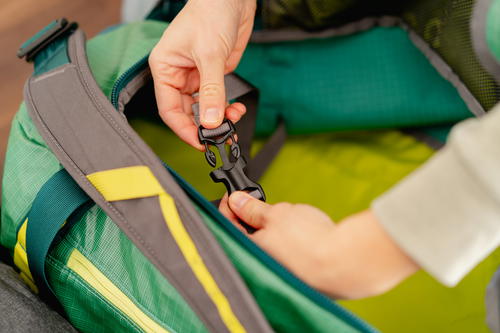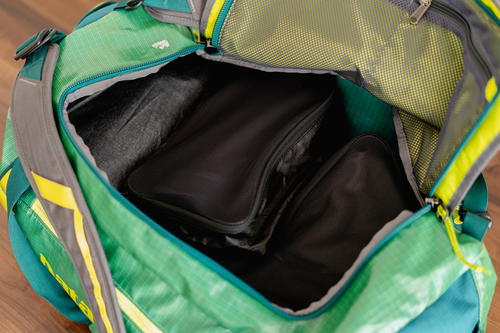 I mentioned a few things that I didn't like about the Black Hole Duffel. Let's recap them below, to keep in mind during this review.
Backpack straps
They're not the best for walking more than 20 minutes with your duffel packed up and on your back. Then again, consider that this is a duffel that turns into a backpack, not the other way around.
Storage
There's no dedicated place for a water bottle and there are very limited organizational storage pockets. There is a place for your keys, though!
Generally wearing the bag
There are two top grab handles and whenever I reach for the backpack straps, I almost always try to loop the grab handle through my arm as if I'm trying to put on the backpack strap.
Every time!
The other thing about the general wear comfort is the bag has a tendency to sit low and look a little droopy. It especially looks droopy if you don't have it filled. Everything will rest at the bottom and make the bag very bottom-heavy. I'd think that most duffels would be like that unless they're rigidly structured.
Comparisons
A few other duffels that I'd compare to the Black Hole Duffel from Patagonia are below, with little descriptions. A few of these "pack into" themselves like the Patagonia one does, but not all of them.
For more insight to travel duffels from various trusted brands, I'd recommend looking at REI's duffels page or Backcountry's duffels page.
Where to buy the Black Hole Duffel
Because Patagonia is a well-known outdoor and travel brand available at a lot of stores, here are a few of my picks. You can get free shipping on all three of these websites.
This Patagonia duffel makes an excellent gift for a traveler in your life. Because of that, we've listed it in our travel gift guide where you can see a short summary.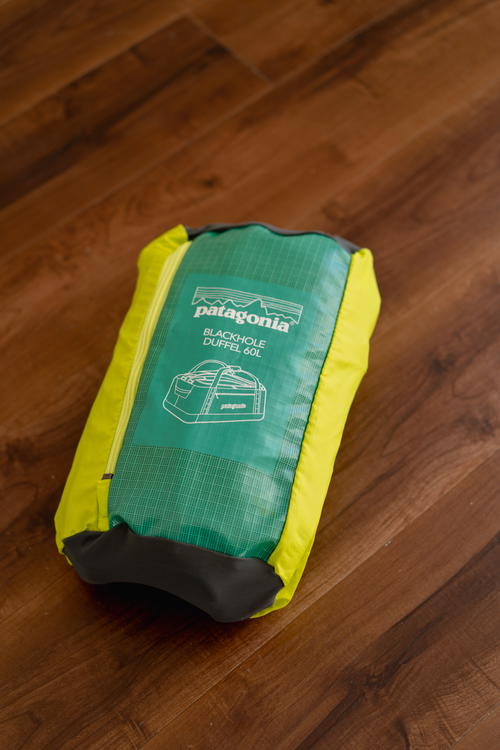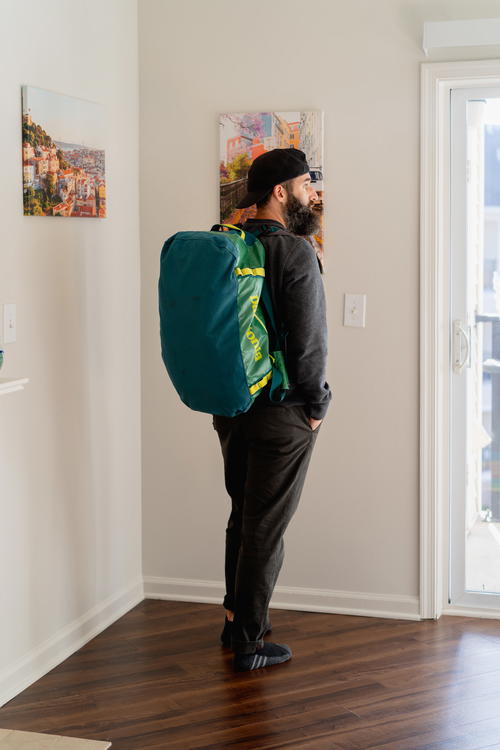 Enjoyed our article?
Consider supporting us! We're a 2-person team (learn more about us here) and your support enables us to create quality content. Thank you!