Bluffworks Review: What to Expect
Written by Dan
•
Updated on September 22nd, 2023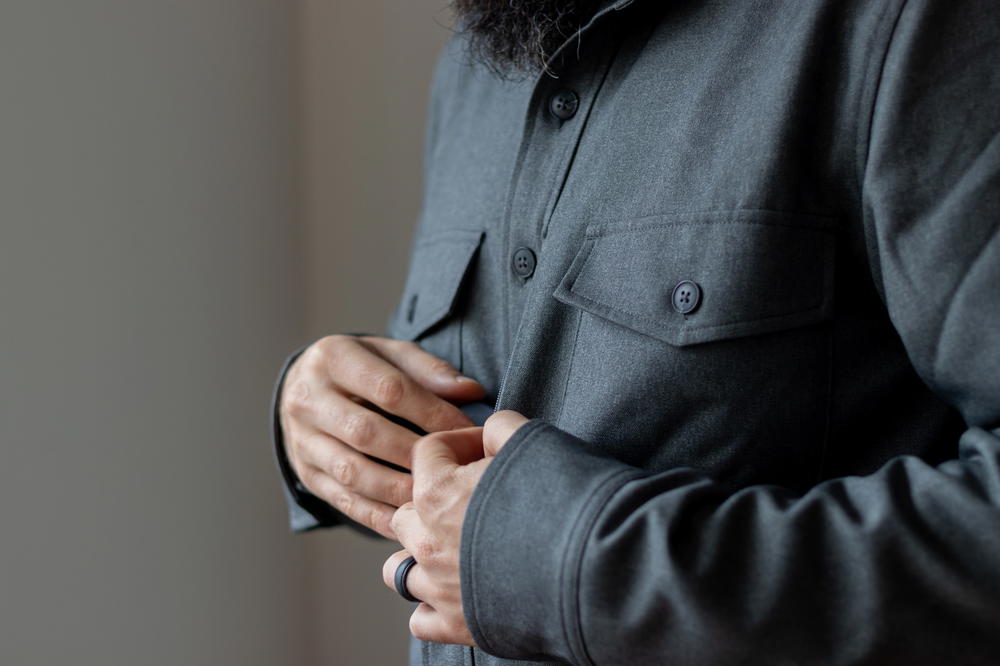 For our most trusted travel apparel brands, Bluffworks tops the list for their washable, packable, wrinkle-free and versatile travel clothes that are full of pockets and zippers.
This article may contain affiliate links. We earn a small commissions when you purchase via those links — and it's free for you. It's only us (Becca & Dan) working on this website, so we value your support! Read our privacy policy and learn more about us.
Table of contents
Close table of contents
Bluffworks is one of our favorite trusted travel apparel brands for so many reasons. From the brand's wrinkle-free travel suit and dress shirts, to the travel-savvy fabrics in their women's V-neck tees, joggers and summer dresses, Bluffworks is a company whose products we stand by, from years of wear.
Becca and I both own a lot of Bluffworks gear and with everything that we have, even after extensive use, they still look brand new. Most of my regular pants wear out and I have an issue with my shirts pilling. Those things don't happen with Bluffworks items because of the proprietary fabrics.
Aside from the company's outstanding quality, they have a wide variety of items to choose from. You can get a simple T-shirt all the way up to a travel suit. For their bottoms, there are pockets everywhere. Seriously everywhere.
Even the pockets have pockets (sometimes).
Out of everything, my favorite products have been the Bluffworks travel suit and the Ascender Shorts. I like traveling with a suit so much that I even wrote a guide on how to pack a travel suit!
We've really gotten to know Bluffworks and the product lines over the years. Here's our walkthrough of all the products that we've come to be very familiar with.
Key Bluffworks products to know
Men's Ascender Chinos: These were the first Bluffworks pants I ever tried. I basically live in the Ascender shorts once summer weather comes around.
Men's Gramercy Blazer: This was the first Bluffworks blazer I tried, with the Gramercy suit pants. It's a classic. It's incredible that it doesn't wrinkle when you fold it up. I like that it comes in Regular, Long and Short (I own it in both Regular and Short, and usually I wear the Short).
Women's Petaluma Ponte Pants: Becca thinks these versatile pants are fantastic, from the hidden zipper pockets to the stretchy slimming fit.
Women's Threshold V-Neck T-shirt: This is a T-shirt that Becca likes to take traveling, because of all the stretchy wrinkle-free odor-wicking capabilities in the fabric. It can survive a road trip and a flight.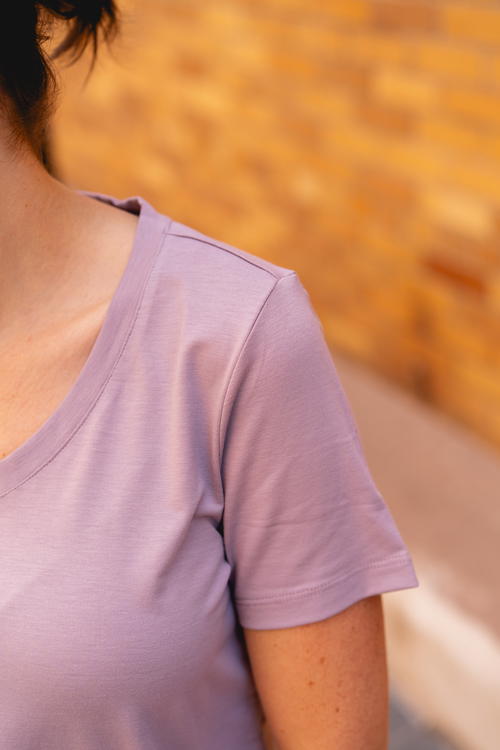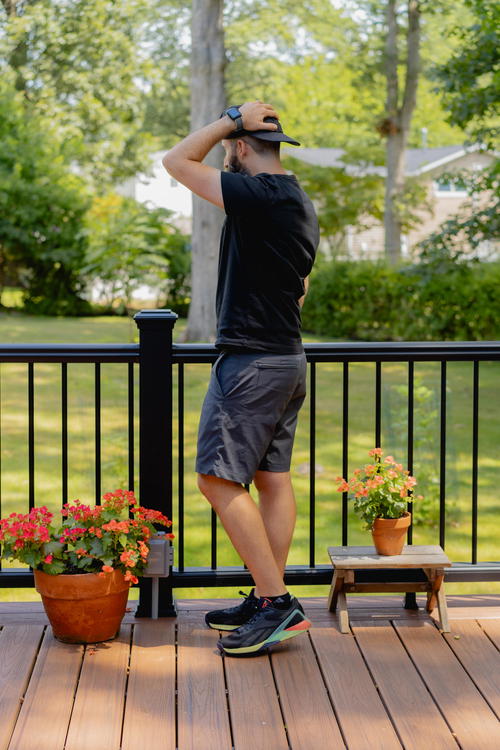 Understanding the fabrics at Bluffworks
Bluffworks offers several different product lines that focus around the brand's special fabrics. I've read on the Bluffworks blog about how much pride the company takes in the testing of fabrics to get them just right for the apparel items.
For both me and Becca, we've seen the Bluffworks materials and how they work in the men's and women's collections. Getting to know the fabrics helps with figuring out which type of suit jacket you might want, or which pants will suit (ha) best if you're focusing on a particular type of weather.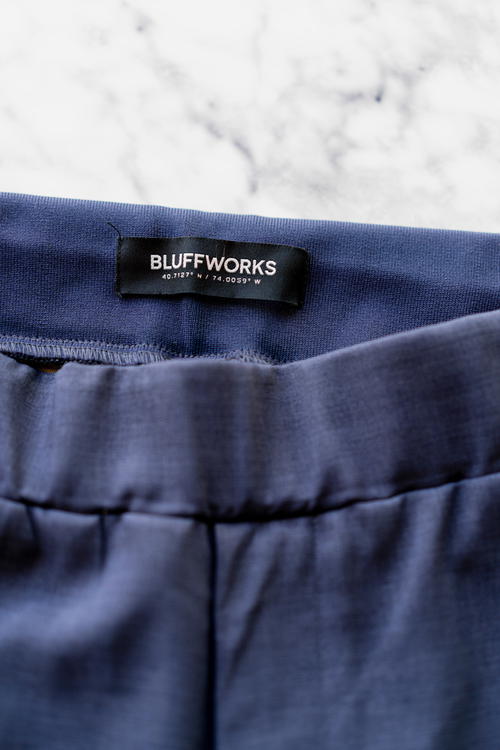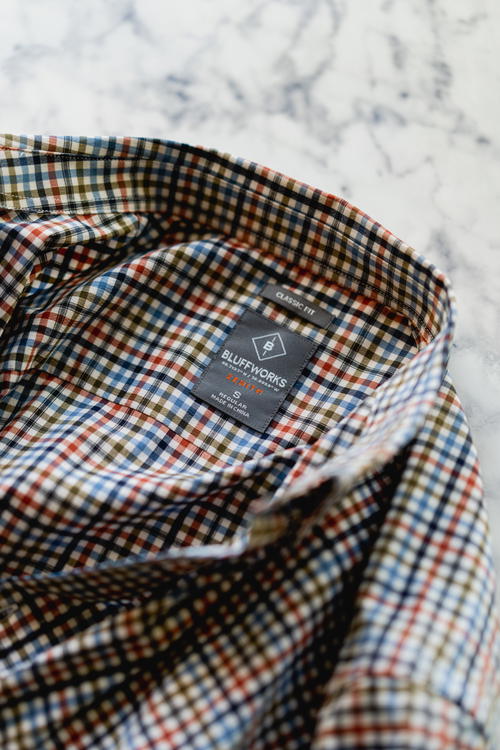 Ascender
The Ascender line is Bluffworks' "hallmark," as they call it. It's true, because some of my favorite Bluffworks products are within this fabric category. You'll find the Ascender Chinos and the Ascender Shorts, for now. The Ascender fabric is wrinkle-resistant, which is what you want in your pants or shorts. It's lightweight, matte and slightly stretchy. I find it pretty timeless and comfortable. If you want to see the wear (but no tear) I've put into my blue Ascender shorts, I can show you.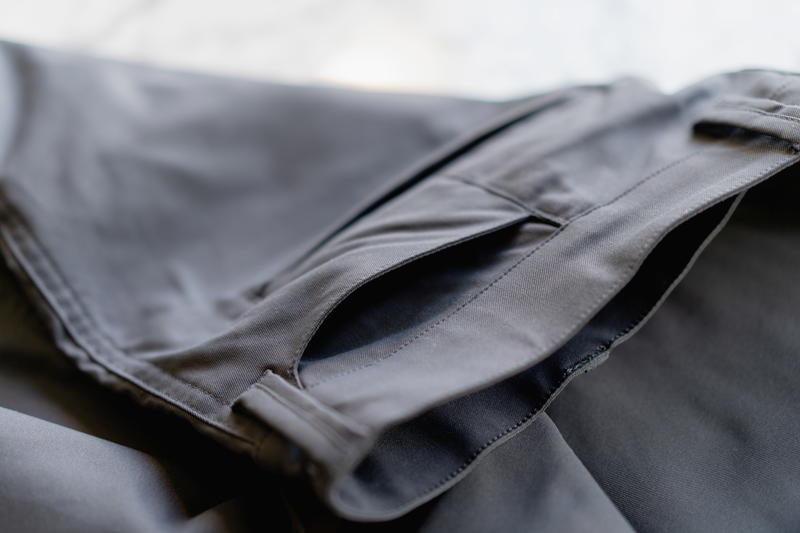 Ascender Chinos
The Ascender Chinos are a good-looking chino pant, and I've worn them everywhere from times when I need to look "decent" for an outing, to an occasion like a wedding rehearsal dinner. Actually, I've worn them every time Becca has taken me to a friend's wedding rehearsal dinner. They're basically my wedding rehearsal dinner pants.
These chinos (and keep in mind that I'm not the type of person who usually goes after chinos as my go-to pants) have plenty of pockets. There are 10 pockets in total, which is kind of incredible. They place high in my list of the best travel pants for men. There are even two phone pockets and three zipper pockets. These aspects make the Ascender Chinos great for being on a trip. I've taken them out of my suitcase when we get to a destination wedding somewhere, and they look like they just came off a hanger at home.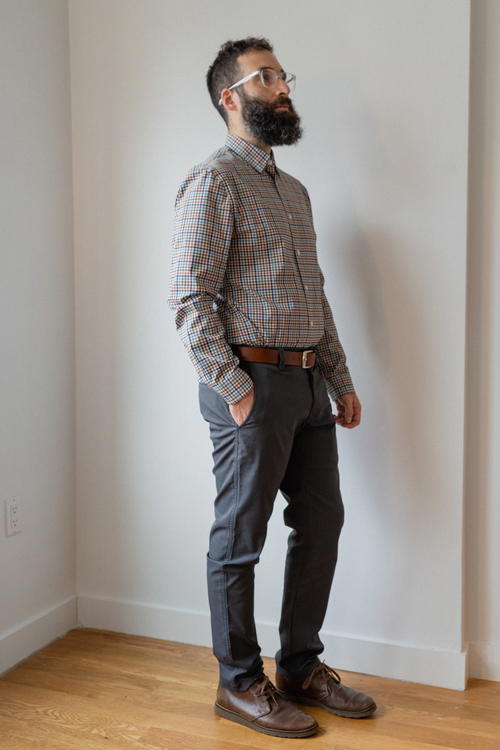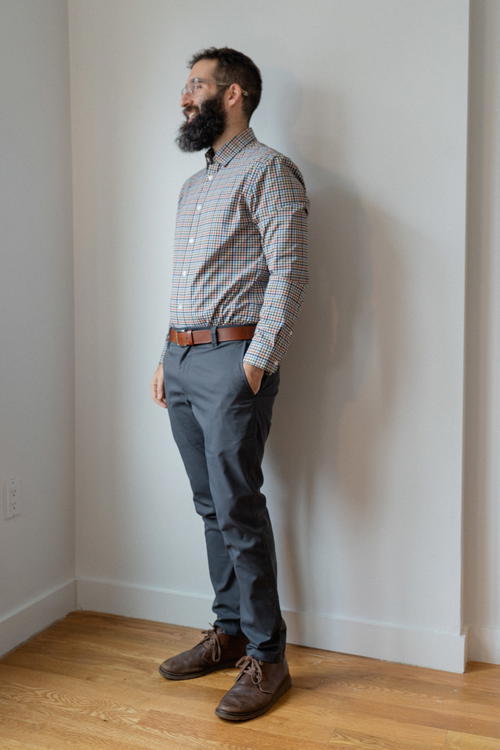 Ascender Shorts
The Ascender Shorts are what you'll find me wearing in all of our summer and early fall travel photos throughout our website. I have them in Matte Navy. The fit is flattering (the inseam has a choice of a 9" or 10"), the fabric can repel water and they're odor-resistant. There's not much more to ask for if I dream up the perfect pair of shorts.
As for the pockets, they've been great in protecting against pickpockets during traveling. There's a cool waistband phone pocket, and three anti-theft zipper pockets, within the total nine pockets in these shorts.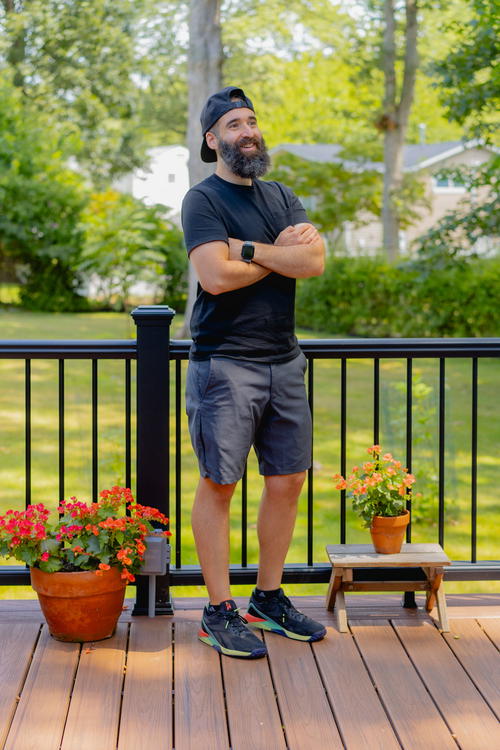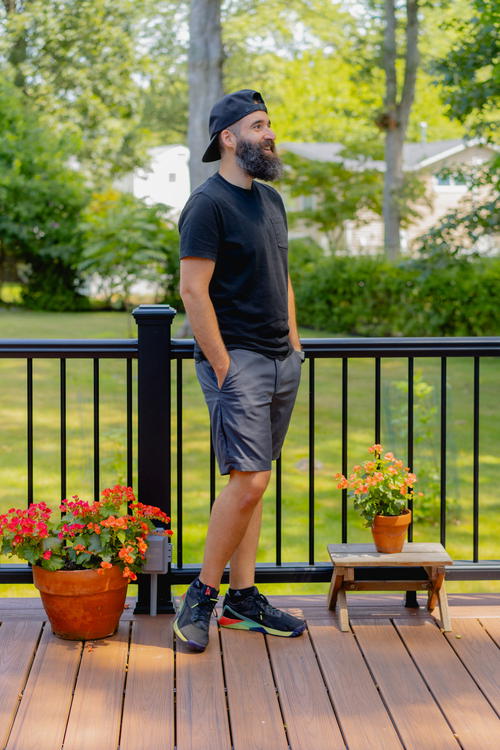 Gramercy
The Gramercy fabric is a wrinkle-free and machine-washable fabric that Bluffworks uses in suit blazers and suit pants. It's hard to believe that it's not traditional suit material. It's better.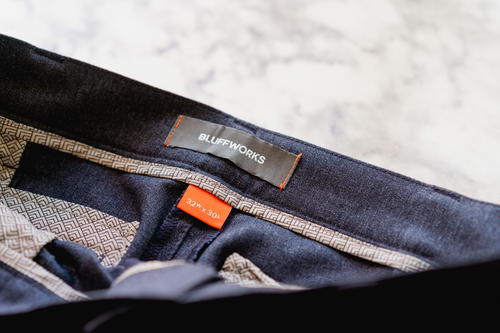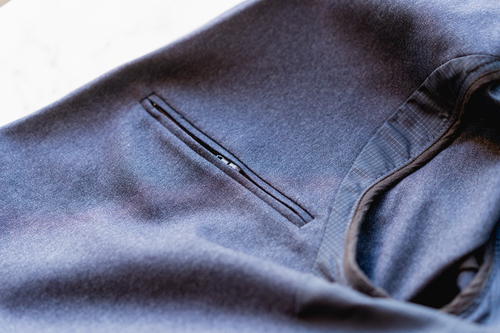 Gramercy Blazer
The Gramercy Blazer is the suit jacket I reach for if I have to dress up for a wedding or other event (my line of work doesn't require me to wear a jacket, nor suit pants). I can mostly comment on having worn the Gramercy Blazer as a jacket with the Gramercy Pants (below).
The blazer itself holds its shape well, even after squashing it into a suitcase. It's soft, and nice to wear. The big bonus is that it's machine-washable, because after all, it's a blazer. It has 10 total pockets, if you can believe it. This is one of those things I like showing off when I'm wearing it. Seven of the 10 pockets are inside the jacket.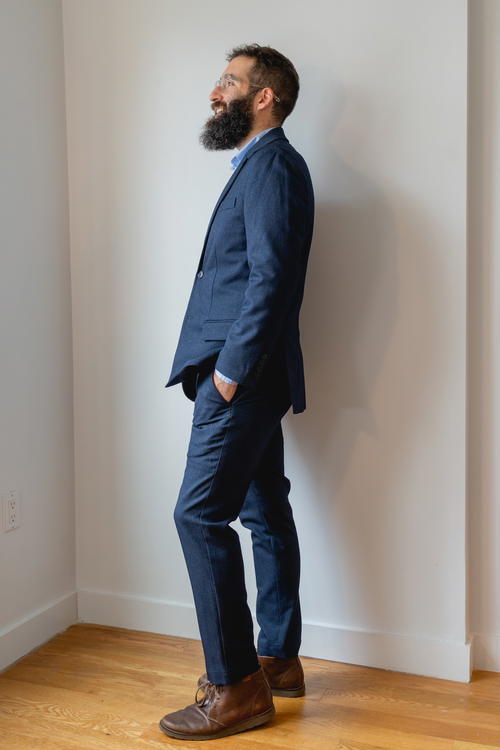 Gramercy Pants
No suit is complete without pants, and I've had very good luck with my Gramercy Pants. I have had them tailored, sure (no suit fits just right without tailoring). Just like the Gramercy Blazer, they're able to be washed in a machine, they're soft and comfortable, they're slightly stretchy and they have eight pockets. One of those is a convenient phone pocket in the waistband.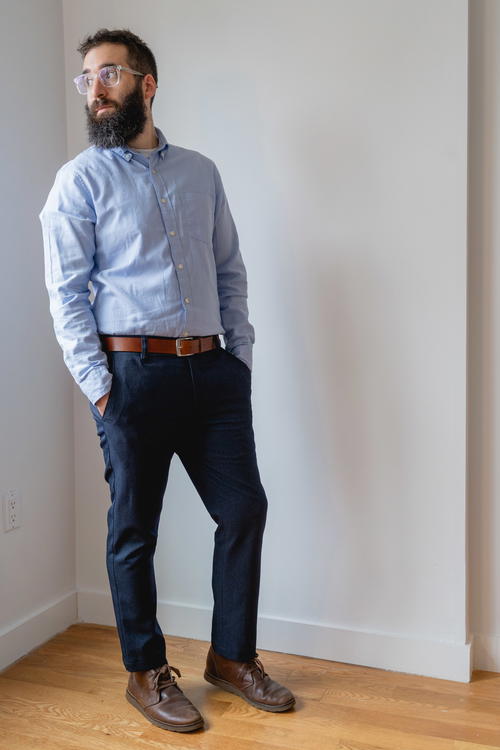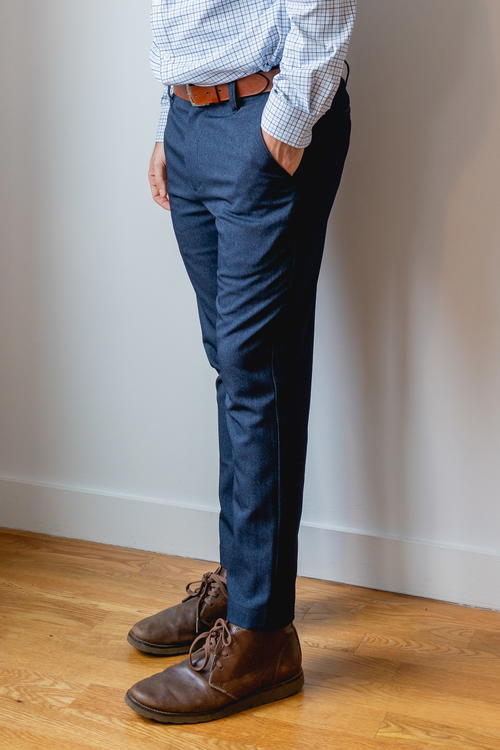 Presidio
Presidio is the Bluffworks warm weather-specific fabric and it's a lightweight fabric with a lot of the default Bluffworks properties: it's moisture-wicking, quick to dry, machine-washable and wrinkle-resistant.
Presidio Airline Pants
The Presidio Airline Pants are a cool hybrid pant that can be both casual or dressed up, effortlessly. A defining feature is the flat front waistband (and a hidden drawstring). They're good for summer travel, and I could see them as a good travel day pant when I put them on.
They have two zipper pockets among the six total pockets. Overall, they function like travel joggers for men without looking slouchy nor like athleisurewear.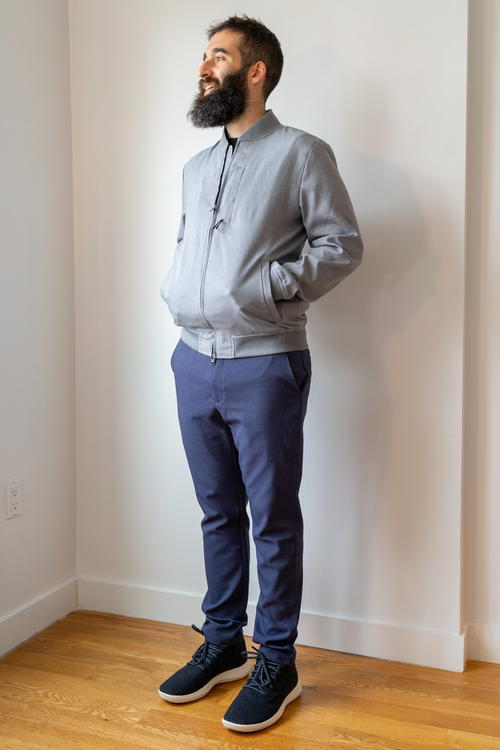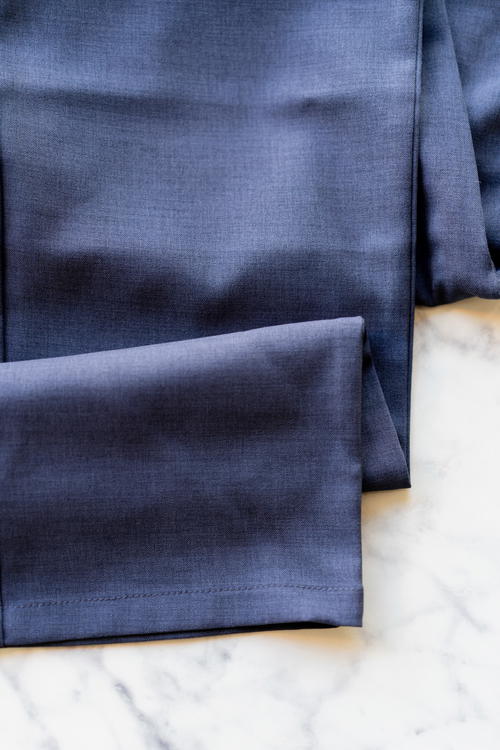 Presidio Blazer & Pants (Suit)
The Presidio Blazer and Presidio Pants have a lot in common with the Gramercy Suit set, mentioned above. While I don't own the Presidio suit set, I think it would be a good addition to my summer dress clothes. Mainly, if you see yourself wearing suits often in the summer, it's ideal to have a lighter-weight one so that you're not sweating through your layers if you're at an outdoor event in the heat.
The Presidio Suit is a performance suit that travels well because of being made of quick-dry fabrics.
Threshold
Threshold is probably our favorite Bluffworks signature fabric. If you're into basic tees for travel days or for pulling out of your closet when you can't think of what else to wear, the Threshold collection of tops (and women's dresses) is a default in the Bluffworks capsule wardrobe. Overall, the Threshold fabric allows Threshold products to be odor-qicking, machine-washable, wrinkle-resistant and breathable.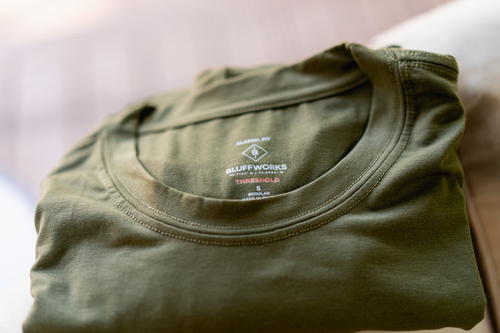 Threshold T-shirts
It's no wonder Becca put both the Threshold crew neck and V-neck Threshold tees in her list of the best travel shirts for women. They're easy to wear and they come in nice colors (now in eight colors for women and eight for men). In both men's and women's, they come in short- and long-sleeve, and in crew neck and V-neck styles. They're all super soft and feel natural to wear with jeans, chinos, joggers or shorts. For women, they come in Petite sizes, too.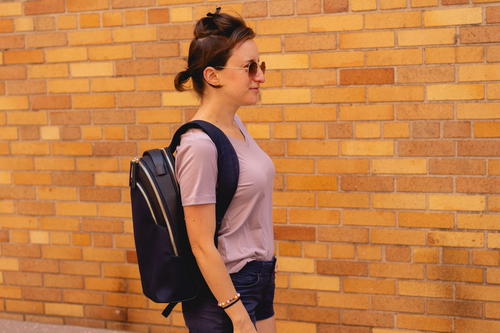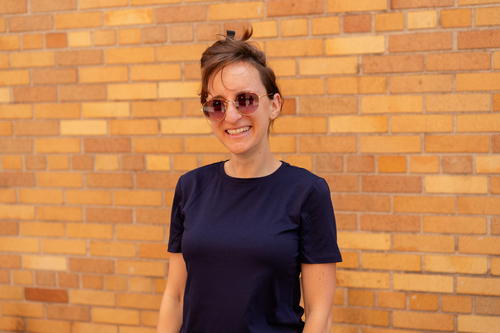 Threshold Dresses
New to the Threshold lineup (lest we forget!) are Becca's new favorite dresses, the Bluffworks Threshold T-Shirt Dress and Bluffworks Threshold Tie Waist T-Shirt Dress. Both are slimming, casual and easily able to be accessorized or dressed up with a blazer, sweater, scarf or jacket in different seasons.
And, they have pockets, which make them awesome for a day spent sightseeing abroad.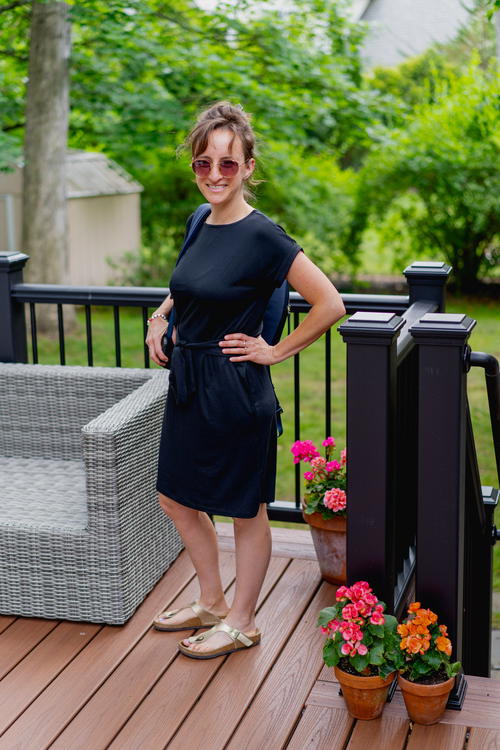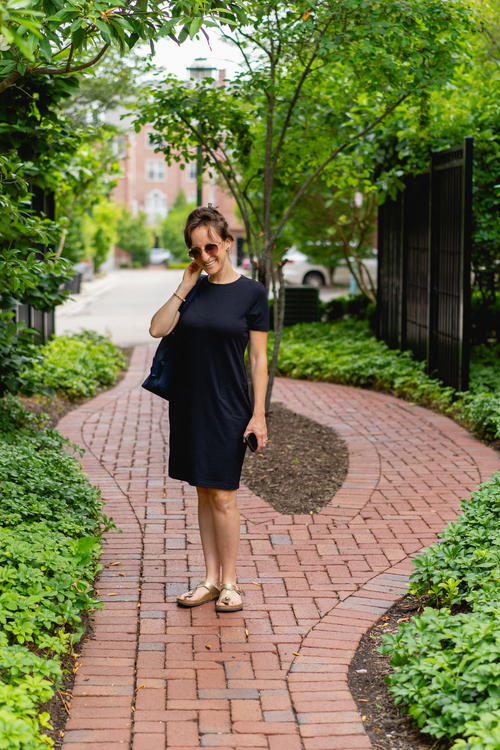 Threshold Hoodie
The men's Threshold Hoodie is a long-sleeve hooded top made of the Threshold fabric used in the men's T-shirts. This item feels like a long-sleeve shirt with a bit more room, and a hood with drawstrings. No pockets in this one. Here are some close-ups of the one I have.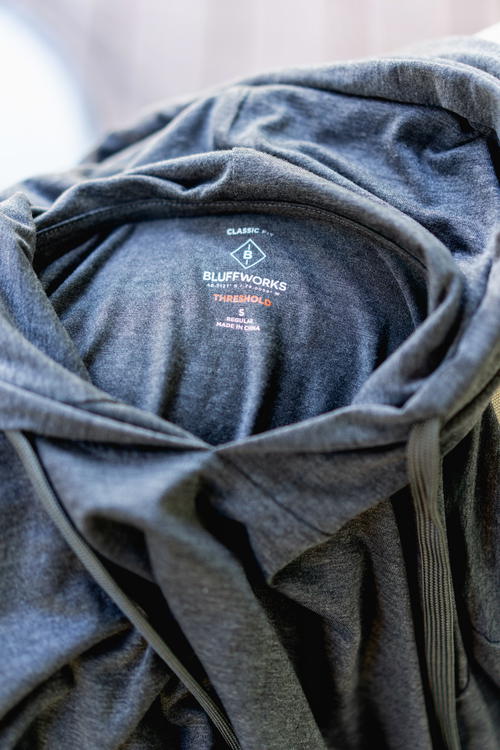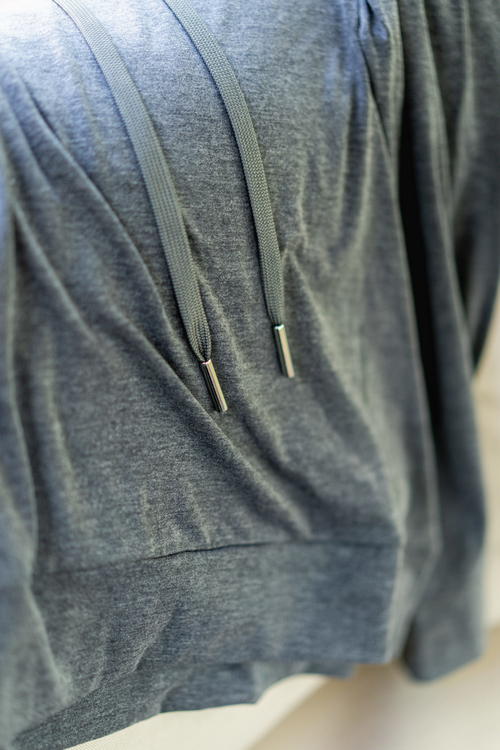 Threshold Knit Polo
The final product in this fabric group is the Threshold Knit Polo, which I've yet to try. I'm not really a polo person, in all honesty. I'd recommend the Threshold Polo for men who typically wear polos out to the office, or for Zoom meetings or around on the weekend. It'll be as soft and stretchy as the other Threshold garments.
Unique items from Bluffworks
Here are a few noteworthy products from Bluffworks that we didn't get to explain in other parts of this brand guide!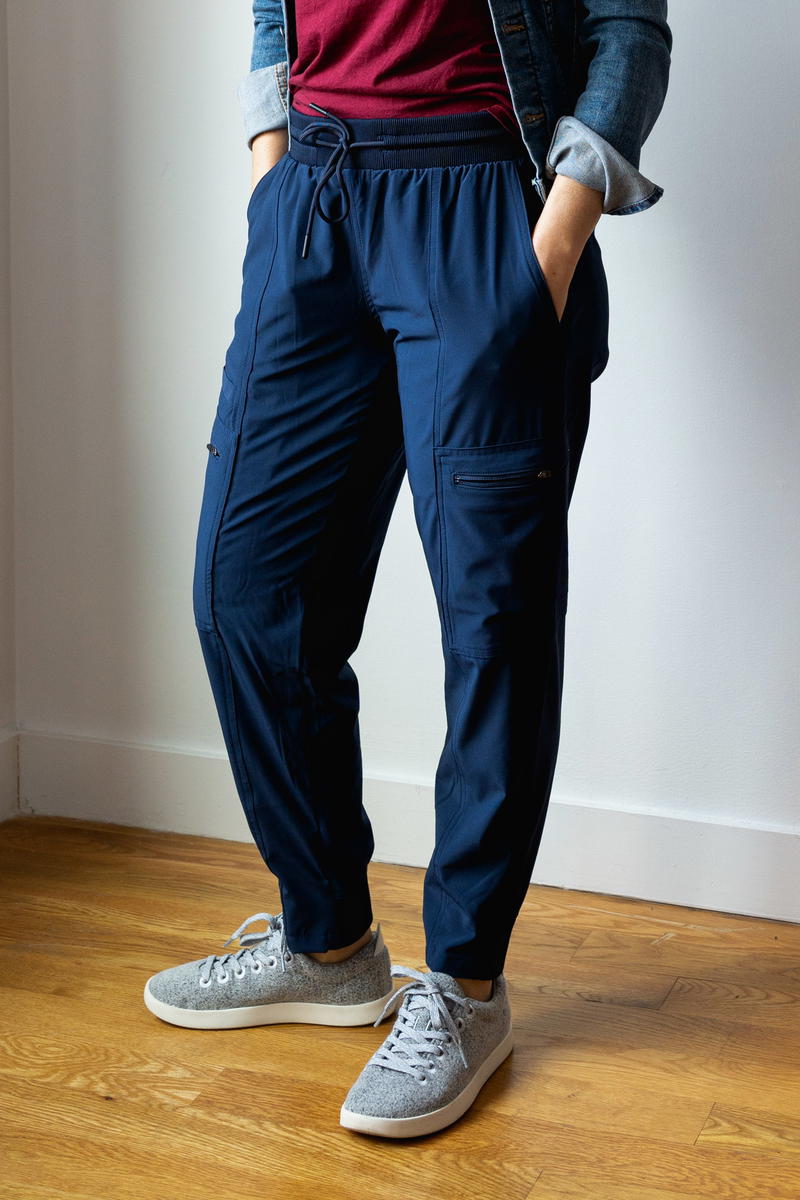 Men's Dress Shirts
As another signature part of the Bluffworks clothes for men, the men's dress shirts from Bluffworks are always made of wrinkle-free fabrics. It's what makes them so outstanding to travel with.
The times I've gone to weddings and had to pack shirts into a packing cube, they come out looking fine. I basically haven't had to use an iron in years because of Bluffworks' travel dress shirts. I also wear them multiple times before washing, because of the odor-resistant qualities. I have the Zenith button-down shirt, and when I've been out to meals, I show my friends how water droplets bead up on it. One time I went too far with this and I got kind of wet.
I look forward to trying the Lenox dress shirts.
Men's Envoy Lightweight Travel Pants
The Envoy Travel Pants are newer to the Bluffworks men's lineup. What I like about them is that they're designed to be a technical pant: versatile like chinos, and totally casual. They have a four-way stretch and have a very important side seam zipper on the leg, for hiding valuables.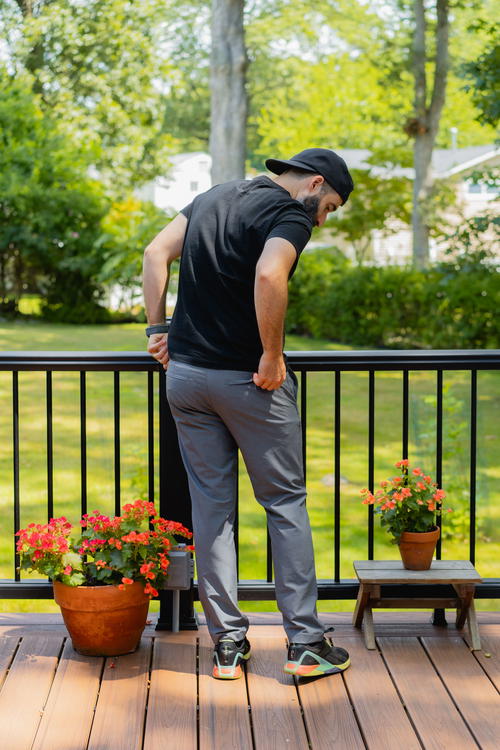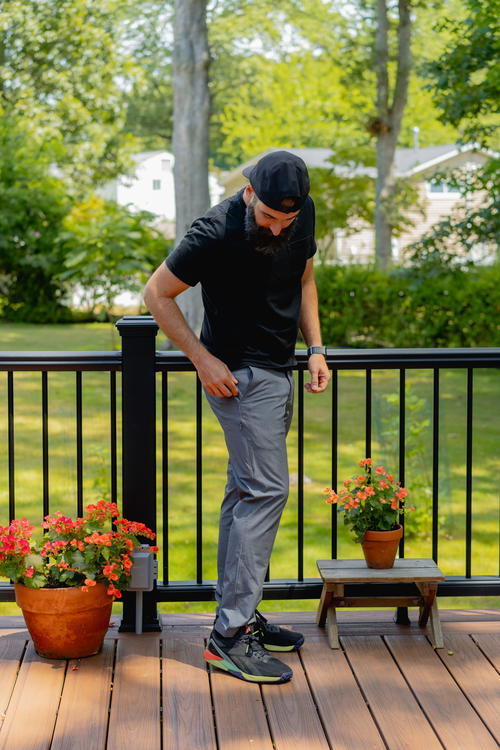 Men's Oslo Travel Vest
A great piece for cool weather travels, the Oslo Vest is a cozy piece for layering and has five pockets. I previously tried several other products from Bluffworks' outerwear development and I really like my Bluffworks raincoat from prior years; alas, it was discontinued. The vest is a good new addition to the outerwear collection and I like this lightweight layer that'll keep my core warm. Here are some photos of me trying it out.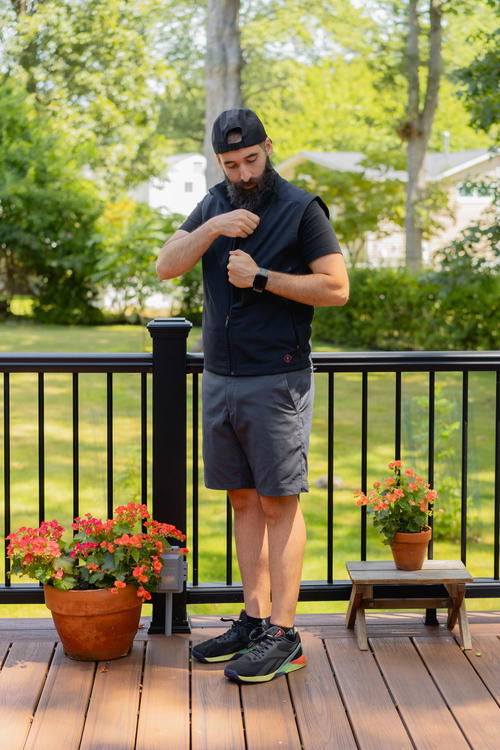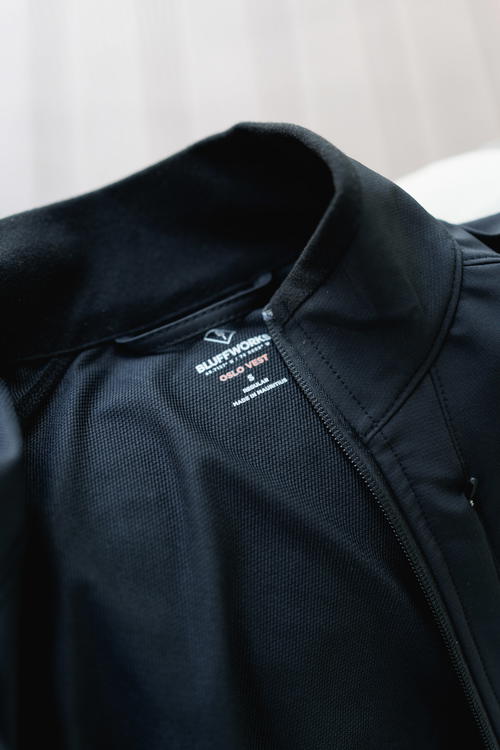 Women's Naha Travel Joggers
These Bluffworks women's pants are not like the others! Becca shows more photos and additional details about these women's joggers in this Bluffworks Naha Joggers review.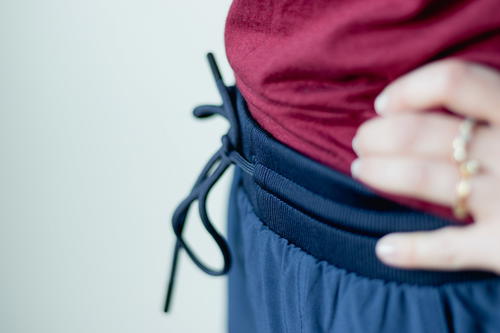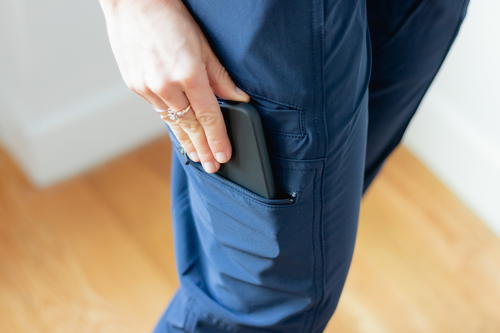 Women's Petaluma Ponte Pants & Petaluma Pintuck Pants
Becca tried both the Petaluma Ponte and Petaluma Pintuck Pant and gave them five-star reviews. They're both noted in her list of the best travel pants for women. Both are slimming, have thoughtful pockets built in and have stretchy comfortable fabric builds. They're comfortable enough to wear on a plane and sleek enough to wear to the office or a meeting.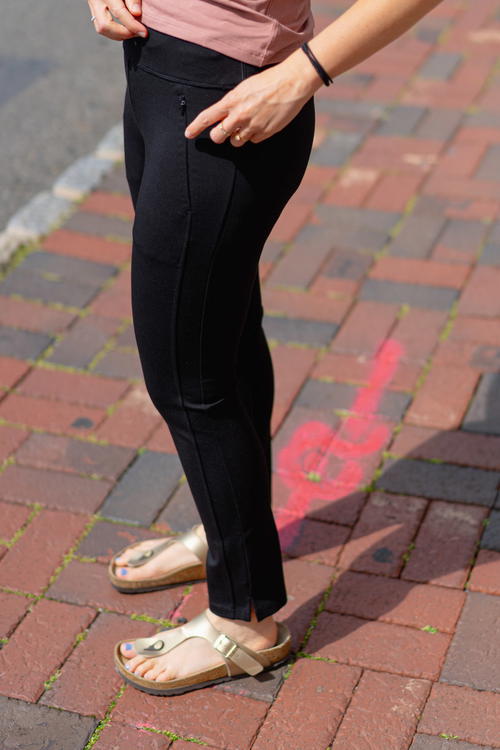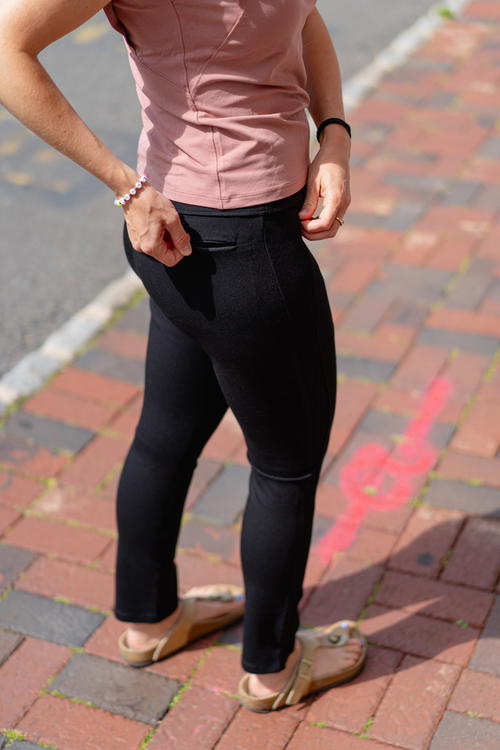 Women's Cowl Neck Top
Becca listed the Threshold Cowl Neck Top in the best women's shirts for travel. That's because this stylish sleeveless top for women has a built-in zipper pocket. It's perfect for being on vacation and putting your hotey key in there!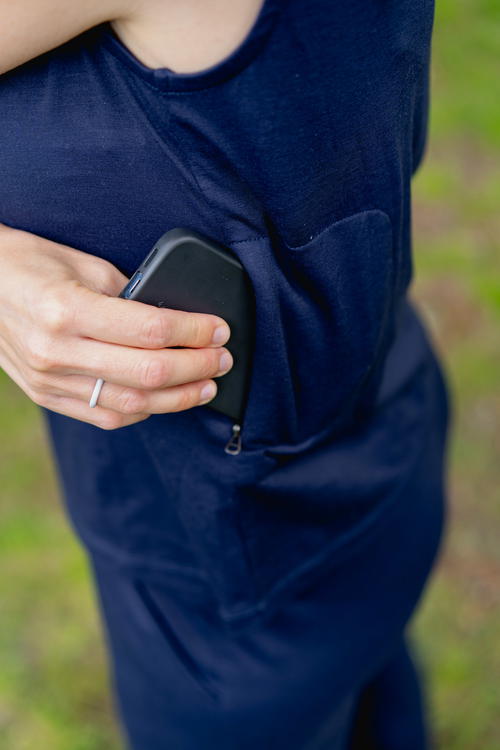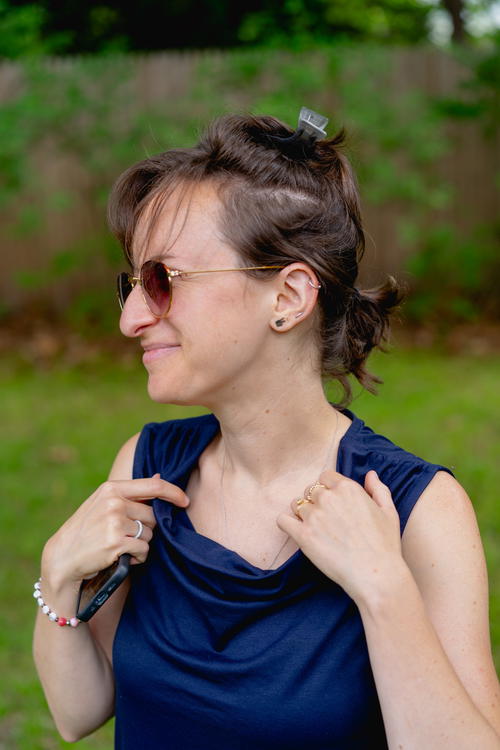 Women's Como Cardigan Blazer
Becca had been waiting to see Bluffworks come out with a cardigan or blazer for women for quite some time, and the answer is here. The women's Como Cardigan Blazer is both, with a front-close button, six pockets and a wool fabric blend. This one is both classy and refined and will be a fall and winter wardrobe staple. She's looking forward to trying it.
Utilty Scarf
This casual scarf, made from the T-shirt favorite Threshold fabric, is not what it seems: it has hidden zipper pockets hidden in its seams! It measures 21 x 80 inches and one size fits all. Becca has it in blue.
BluffCube Sport & BluffCube Pro
Bluffworks came out with a packing cube product, which I featured in our guide to the best packing cubes for travel. It's simple: the BluffCube is made of lightweight ripstop nylon and is expandable and compressible with a strap. They come in a larger size, and a smaller size, and both are machine-washable. I have the BluffCube Sport in Tangerine Orange.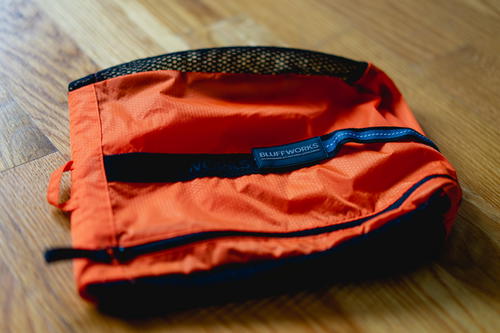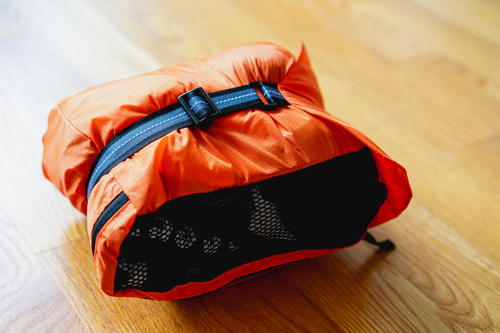 What to know about Bluffworks
Bluffworks is a brand that caters to the professional on the go. The "Bluffworks man" and the "Bluffworks Woman" both like looking good, traveling, being able to easily machine-wash their clothes and don't want to have to worry about wrinkles.
I think it's important to know, from how I've watched the company grow and change over the years, that Bluffworks isn't a gigantic retailer. The founder, Stefan, is the face of the brand, and likes to form relationships with customers. He's the voice of the Bluffworks newsletter, which announces new product launches as well as new colors for existing products.
Being that the company isn't as huge as someone may think, what you'll see if you start following the products (and switching out your old wrinkly pants for Bluffworks ones) is that the company phases out some products from time to time. They do this if they launch a new product that's better, or if they find that something just isn't a hit with the customer base after some time.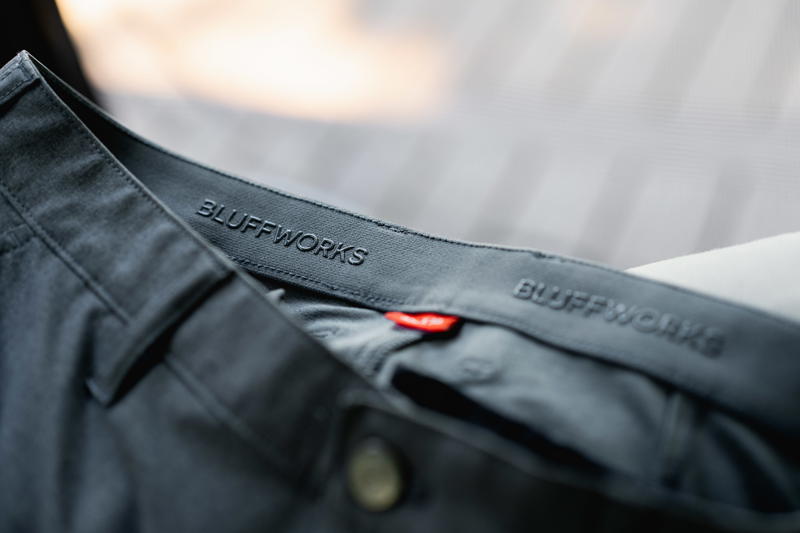 Where to buy products from Bluffworks?
You can buy Bluffworks clothing directly on their website. They don't have any in-person locations at the moment.
What types of products does Bluffworks sell?
Bluffworks started as a company focusing on men's apparel, and now, in addition to MORE men's apparel, they've also got a few years of success in women's apparel.
In terms of what Bluffworks makes for men, I'm a pretty big fan of it all. I've tried the Bluffworks Gramercy packable suit, the Ascender Chinos, the Ascender shorts from the same Ascender collection, the Zenith wrinkle-free dress shirts, the men's joggers, Presidio Bomber Jacket and Gramercy Shirt Jacket.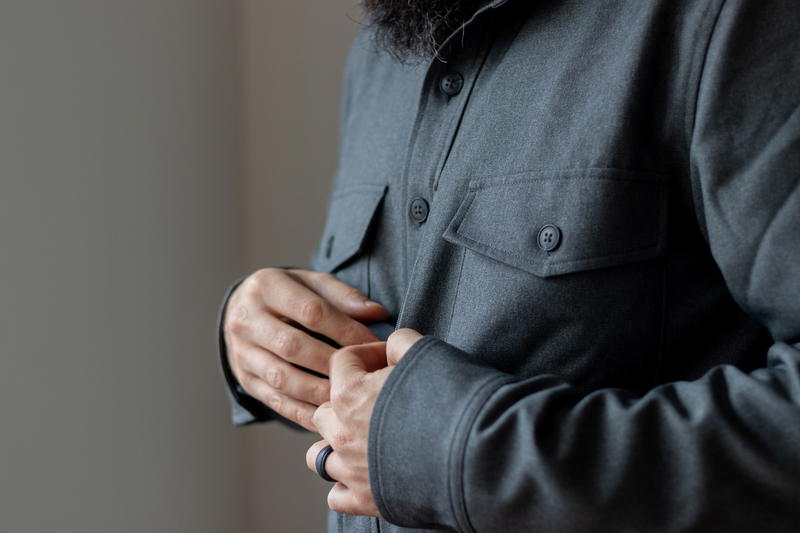 In women's, Becca has tried the Threshold V-neck tee and Threshold crew tee, the Naha Joggers for women, the Trevi Trousers (which are now discontinued, but you can check out the Petaluma Ponte Pant instead!), Palma Chino pants and new Threshold Tie Waist T-Shirt Dress.
As for accessories, there's more. Becca has also tried the Bluffworks utility pocket scarf, which is a cool accessory for travel with a surprising zipper pocket hidden inside the scarf itself. We both use the Bluffworks packing cubes, featured in our list of the best packing cubes for travel.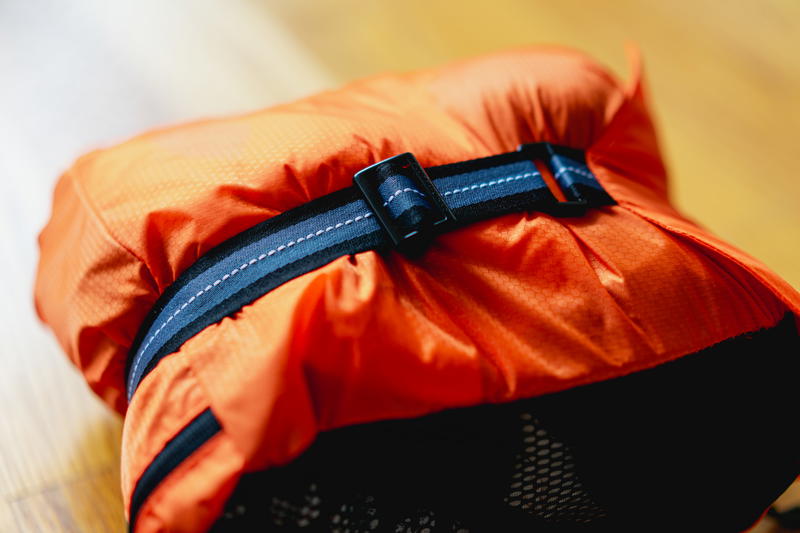 What are some of the benefits of Bluffworks clothes?
Bluffworks products are expertly crafted and planned. Behind each article of clothing are the reasons Bluffworks made it, and why they want you to love it.
For example, benefits of the Gramercy suit are that its fabric is moisture-wicking, quick-dry, machine-washable and wrinkle-resistant. And best of all they are amount some of the best pants for travel that you can have, because of all the features.
The suit jacket alone has 10 pockets (can you count them all?) and there is even a zipper pocket, great for holding anything small and/or valuable, while you're traveling or at an event, for example.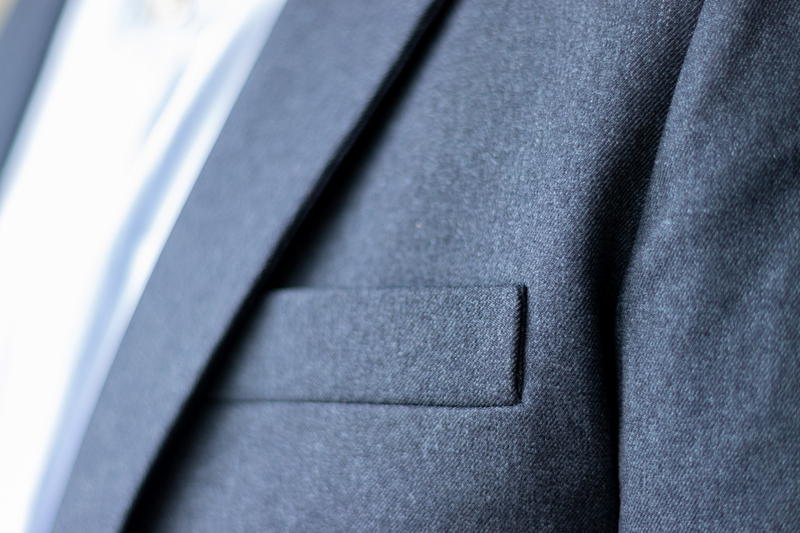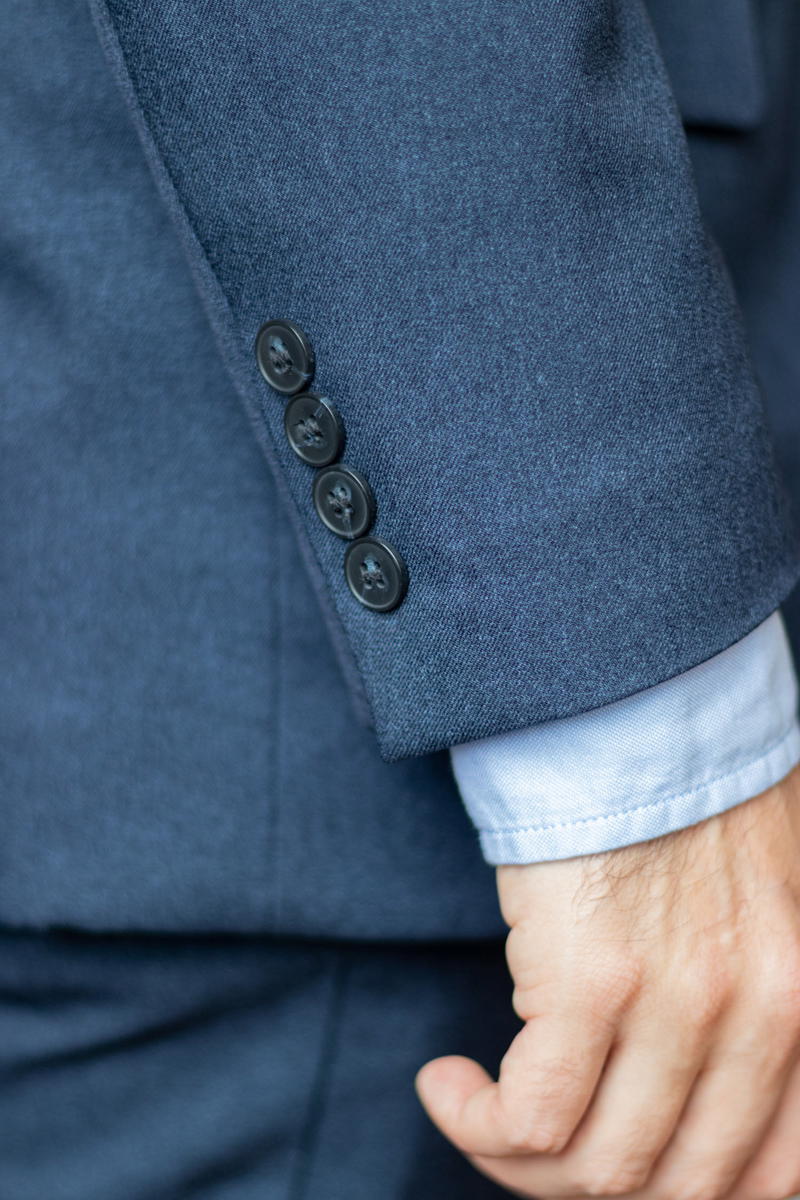 Where does Bluffworks fall short?
Bluffworks falls short only in one aspect, and that seems to be sizing for women. For Becca, the petite XS and petite 0 sizes are still too big, a lot of the time, despite this being her size across other brands with no issue.
For men, I don't see anywhere in which Bluffworks falls short. I've worn my Ascender shorts so many times that their color is fading, and every time I wear my Gramercy suit, I wind up showing off all its zipper pockets and wrinkle-free materials. Bluffworks is a brand I've enjoyed wearing since about 2019.
Where is Bluffworks clothing made?
Bluffworks garments are manufacturered in China and Mauritius, at the time of writing, based on the Bluffworks products we have in our closet. This information is not easily find-able on the Bluffworks website at the moment.
What is the Bluffworks return policy?
Bluffworks has a flexible return policy, and you can always contact their customer support team via email. Refunds can be obtained within 30 days of receiving your products by mail, and exchanges can be done within 90 days. Sending back your items is free, and you'll receive a prepaid shipping label if you wish to send back your Bluffworks apparel for a different size or for a return.
Note: exchanges can only be made for a different size or color of the same product you ordered. Also, items marked final sale are not eligible for returns.
Enjoyed our article?
Consider supporting us! We're a 2-person team (learn more about us here) and your support enables us to create quality content. Thank you!
Explore our other favorite brands!