Public Rec Belt Bag Review: Not Your Average Fanny Pack
Written by Becca
•
Updated on September 17th, 2023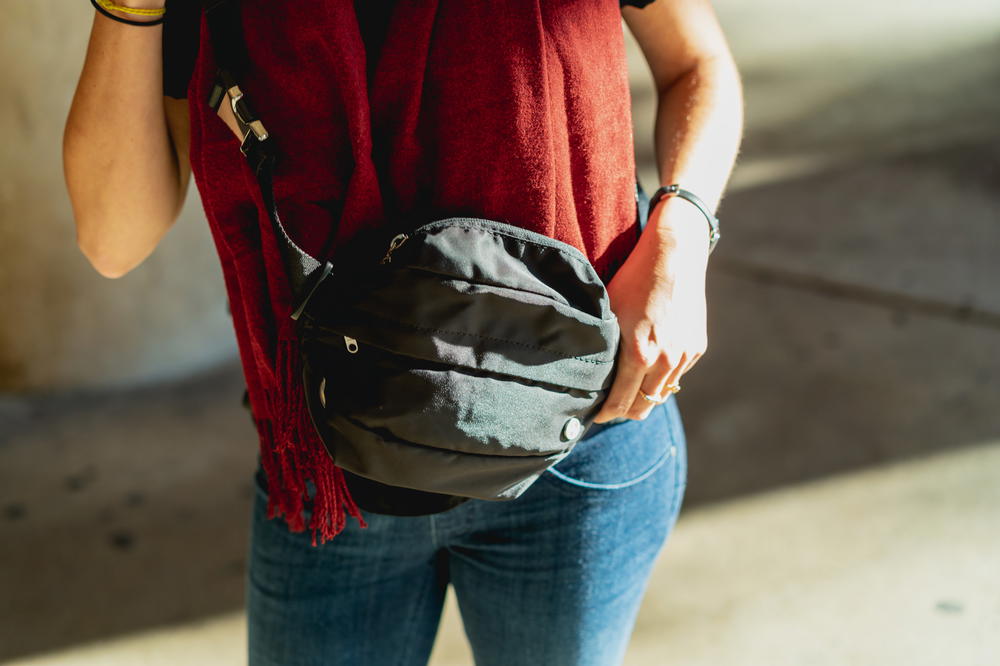 After trying the new compact Public Rec belt bag, I'm sold! Here, I review this athleisure belt bag as a fanny pack-style purse that converts into a cross-body shoulder bag for a trip.
This article may contain affiliate links. We earn a small commissions when you purchase via those links — and it's free for you. It's only us (Becca & Dan) working on this website, so we value your support! Read our privacy policy and learn more about us.
Table of contents
Close table of contents
For years, I've been using a "fanny pack" as my travel day bag. I like a waist pack for travel days because it's hands-free, and I can dig into it quickly for my wallet, phone and passport (also known as "literally all my valuables"). I'll wear a fanny pack on a flight so that all my most valuable items stay close to me, and during a trip, I'll go sightseeing, walking and hiking with a fanny pack.
As you can see, I find a waist pack-style bag to be one of the most useful and smartest types of bags to have during a trip.
But what about a belt bag? This was a new-ish idea to me as I found myself as the owner of Public Rec's Adapt Belt Bag, a "wear it two ways" type of expandable bag that starts as a fanny pack and transitions to a cross-body belt bag that looks cool with its jet black satiny finish.
In this review, I'll cover all the smart features of the Public Rec Adapt Belt Bag, how it turned out as a travel bag I took on a road trip and on a flight for a business trip recently and how you can decide if it's right for your lifestyle!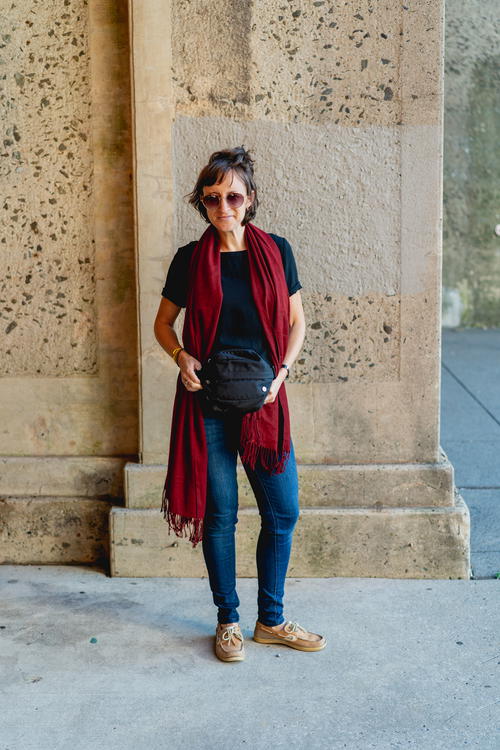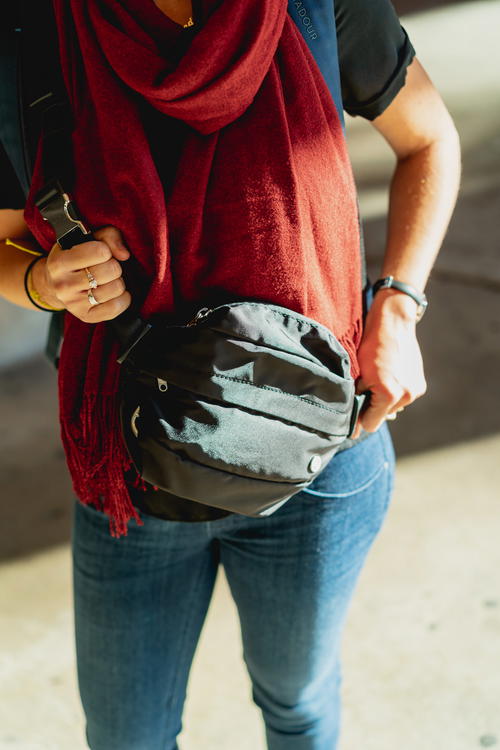 Note: Public Rec sent me the Adapt Belt Bag to try out, and the following is my honest review about how I feel about it after using it for quite some time.
About Public Rec as a brand
Public Rec is a cool athleisure brand that Dan and I came across in 2020, first in regard to menswear. Good thing we delved further than just their travel joggers for men, because as time went on, I was able to try a few products that really hit home for me in terms of lovable athleisure and loungewear.
I enjoyed the stretch of the Women's All Day Joggers, the great fit of the Women's Essential Tee for travel, and the Luxe Fleece Pullover, which I wore so many times a week in winter that I forgot to change out of it.
Public Rec as a company aims to focus on looking good and ultimate comfort, and it's doing that whole athleisure thing right. Many of the Public Rec clothes serve multiple purposes, like travel and loungewear, or something to wear to the office that you can also roll around your couch in.
I forgot to mention that I have the Public Rec Here to There Leggings in my trove of "things I like to wear every week" between fall and spring. Now that the company debuted a unisex accessory in the form of a bag, I saw it and wanted to try it out, to replace my current LeSportsac fanny pack that doesn't match quite as many outfits through the seasons of the year.
Summary of the Adapt Belt Bag
The Adapt Belt Bag is a waist pack that turns into a cross-body sling. Upon opening it from its package in the mail, I assumed I'd replace my current beige patterned fanny pack with it, and use it as a waist pack until the end of time.
Photo via Public Rec
I was wrong! I gave the Adapt Belt Bag a trial run on my and Dan's trip to Vermont and the Berkshires and wore it most minutes of most days we were on the road. I morphed it from waist pack to cross-body and back, depending on my outfit, the time of day, the sweater or jacket I was wearing and more.
If we were going hiking, it turned into a sling bag over my shoulder. If we were in the car, it turned into a waist pack that I snapped on if we got out at a rest stop. If we were hiking, I expanded it to a cross-body shoulder pouch that I could easily access while stepping over twigs and leaves.
And if we were out to dinner, I wore it as what I considered a classy and trendy waist pack that sat fine with my blouse and scarf.
What I like about the bag is that it's more of a cool black purse than other fanny packs I've owned. It also transitions fast from one wear style to the other, like many of the fanny packs I've tried in this list.
I also found that I can wear it while traveling, seamlessly as a cross-body bag under my backpack straps, or as a waist pack simply while I'm toting my personal item (the Ki Backpack from Troubadour) and my Away suitcase.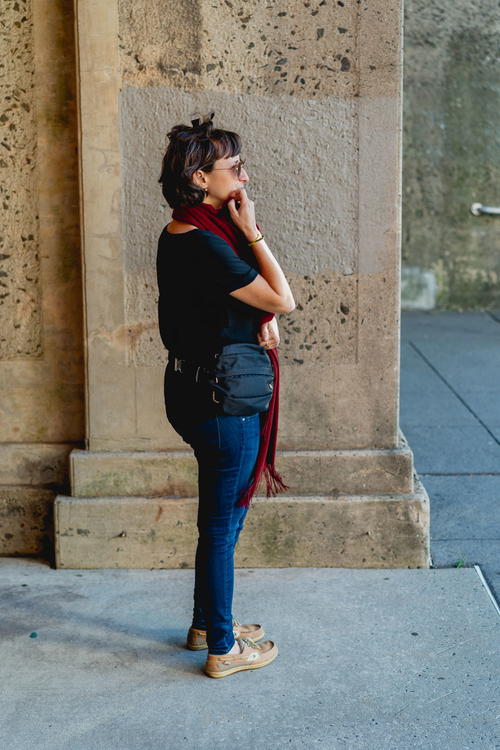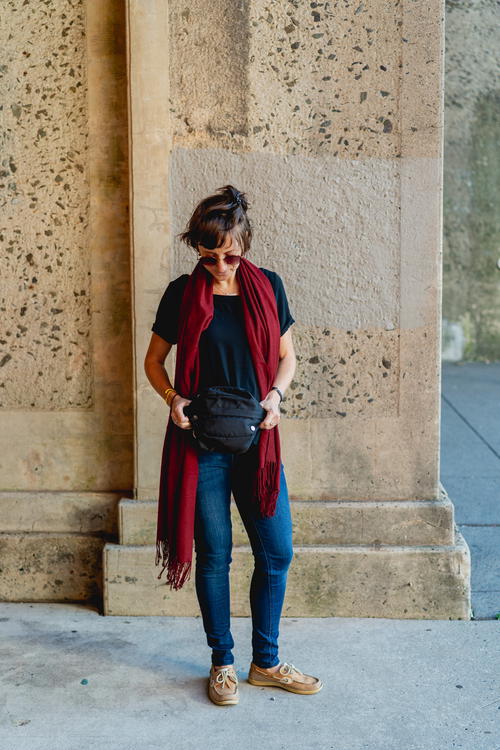 Quality and Materials
I don't have many doubts about the quality and the materials that make up this belt bag. I like that the exterior is soft and has a slight shine to it, which makes it feel a dab more upscale than a regular fanny pack you'd find at a sporting goods store for sure.
The belt and strap is the standard type of material you'd expect for a strap and reminds me of the thicker straps you'd find on the adjustable waist straps for a backpack. It's not much of anything special, but I like that the buckle is chrome. It looks cool.
Inside, none of the materials are luxurious or anything like that, but they do their job with the mesh, aptly-sized zippers, little Public Rec silver logo and zipper felt pocket that faces the interior.
Main Features
The belt bag has some thoughtful features that I kept discovering as I used the bag on two separate and distinct trips.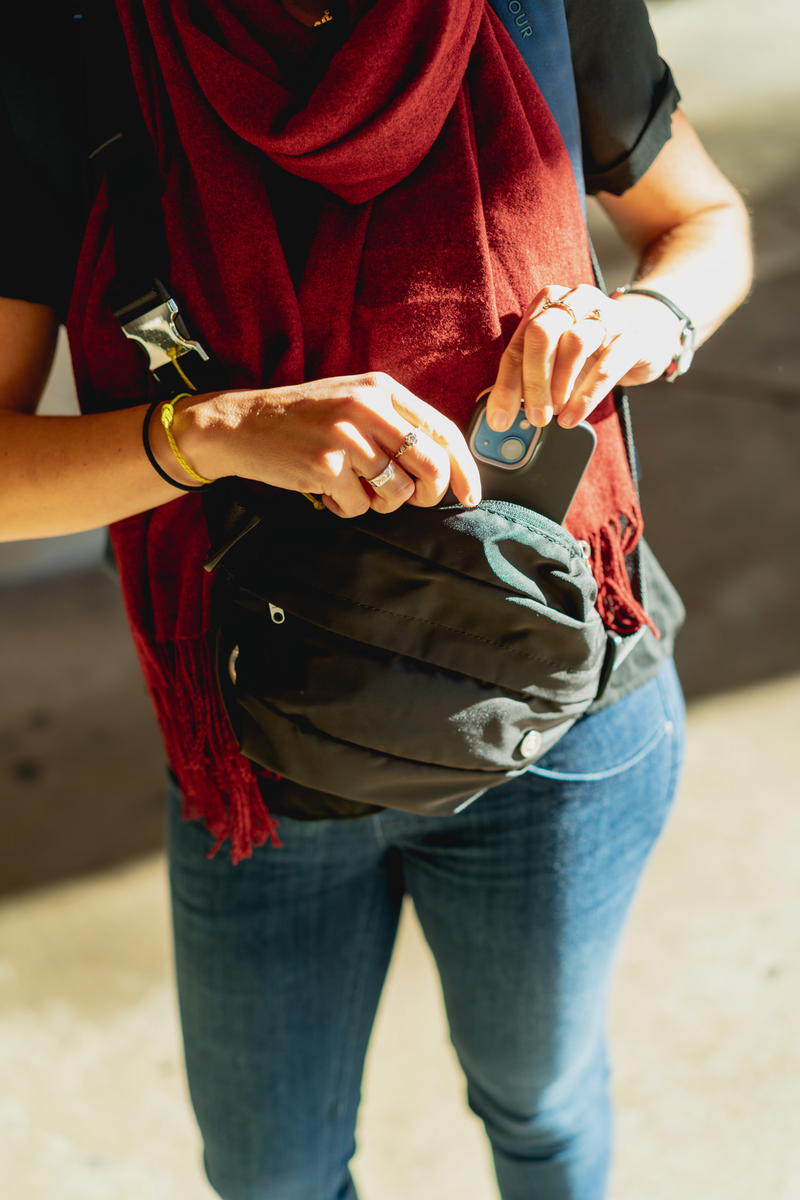 Expandable Side
What you see isn't always what you get! In this case, the Adapt Belt Bag can be pretty flat and geometrical when it's not so filled up. If you choose to stuff it with a wallet, phone, charger, snack, passport and more junk that I was able to find living in there, you can use the expansion that turns it more into a 3D shape.
It actually fits quite a bit of your stuff with substantial volume!
If you don't want to be carrying too much at your waist, that's when you'd have to choose to scrap some of your things inside.
3 Zipper compartments
The three zipper compartments are the main "cavity," and a zipper pocket on the back and on the front.
The front zipper pocket has a little flap that would protect the zipper itself from rain or any elements, as it faces outward, and the zipper pocket on the outside that would face your body doesn't have that little flap.
Inside the main cavity of the bag is a mesh pocket where I like keeping little wipes or tissues or credit card receipts.
Felt side pocket for sunglasses
The zipper pocket that faces your body, which is lined with felt on the inside, can be used for either storing sunglasses, or something valuable like cash. I'm still figuring out what I'd like to use this felt-lined pocket for! I don't want my sunglasses to get crushed, so I typically keep them in a case, but I appreciate that this pocket was designed for keeping sunglasses handy and un-scratched.
Carabiner
I'm not someone who has huge uses for a carabiner, but this mini carabiner is cute and matches the buckle. It's a cool addition.
Adjustable strap
The strap can be adjusted all the way from waist size (great for a petite woman like me!) to cross-body shoulder size, and would be fine for men or women.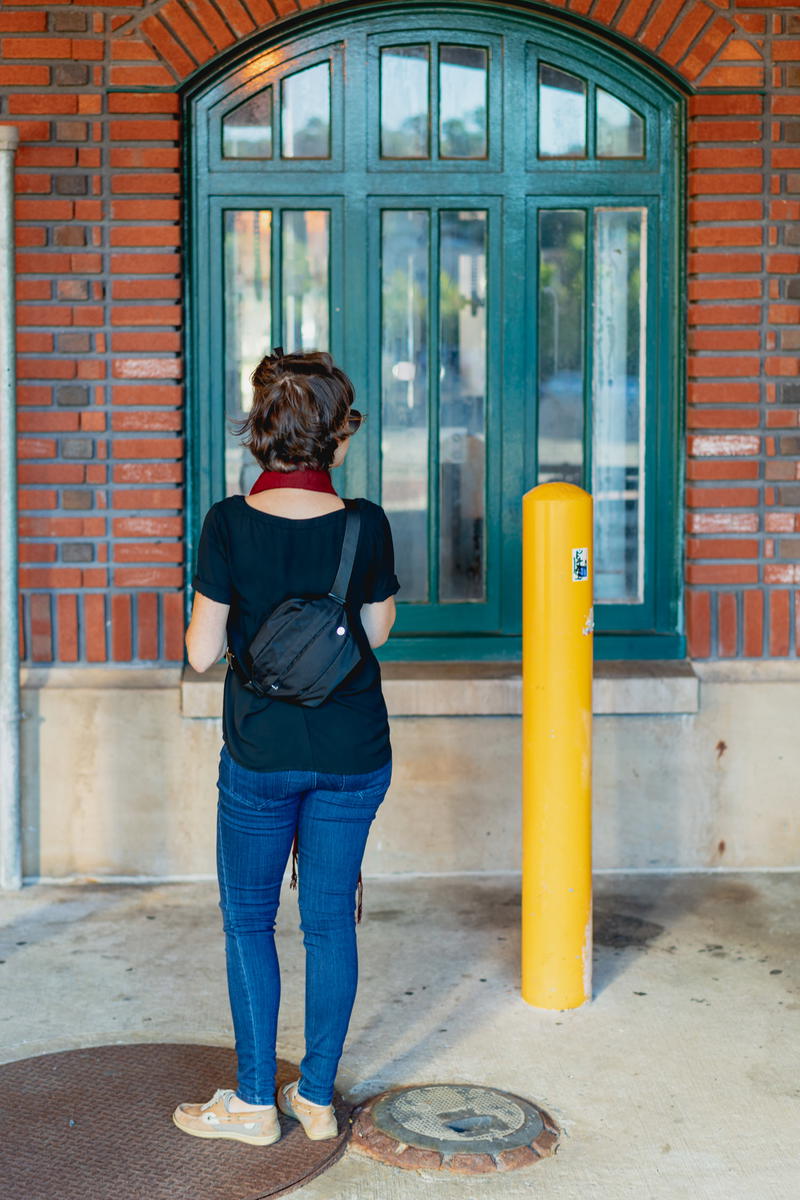 Double-zipper closure
Instead of just one zipper for the main cavity, there are two! I think this is a fun and useful feature. I often keep both zippers toward the middle and then I don't have to open both all the way if I just want to dig out my keys.
How I use the Adapt Belt Bag
The fact that this bag is satiny black and matches everything I tend to wear is a great start. I use this belt most of the times I leave the house (I used it just today while I was out getting groceries) and it's an upgrade to my former constant use of a canvas tote bag for my phone, wallet and keys (the essentials, of course). The belt bag helps me keep those everyday items handy, close to my body and pretty theft-proof.
Helpful Tip
Public Rec recently came out with two new colors for this belt bag, as it originally was only available in black! You can now get it also in "Pop Of Pink" and "Coastal Taupe."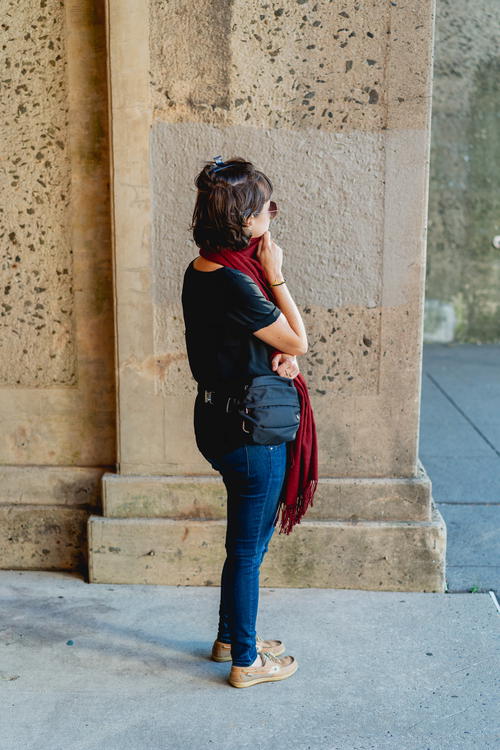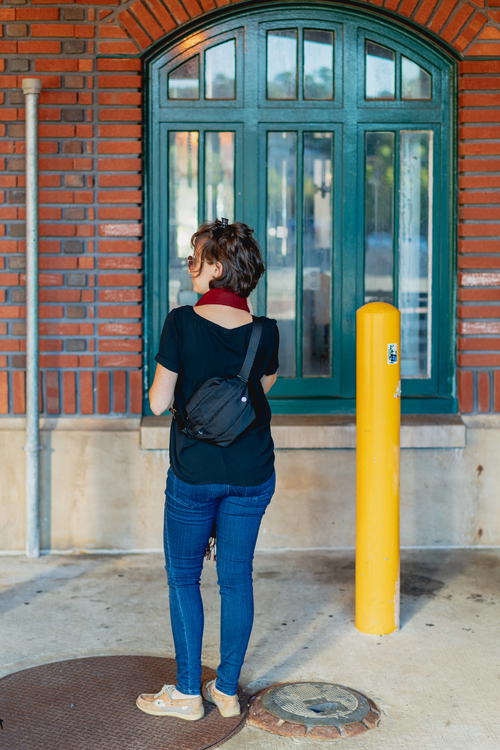 Next, the travel-friendly aspect of this belt bag is great. As mentioned, I use this bag when I'm on flights, because I like having a fanny pack with me on travel days.
And then, when I get to my destination, I use this belt bag as a cross-body hiking sling so that I am hands-free and also not weighed down by a backpack (Dan carries my reusable water bottle in his Aer Fit Pack 3, and I should be transparent in mentioning that).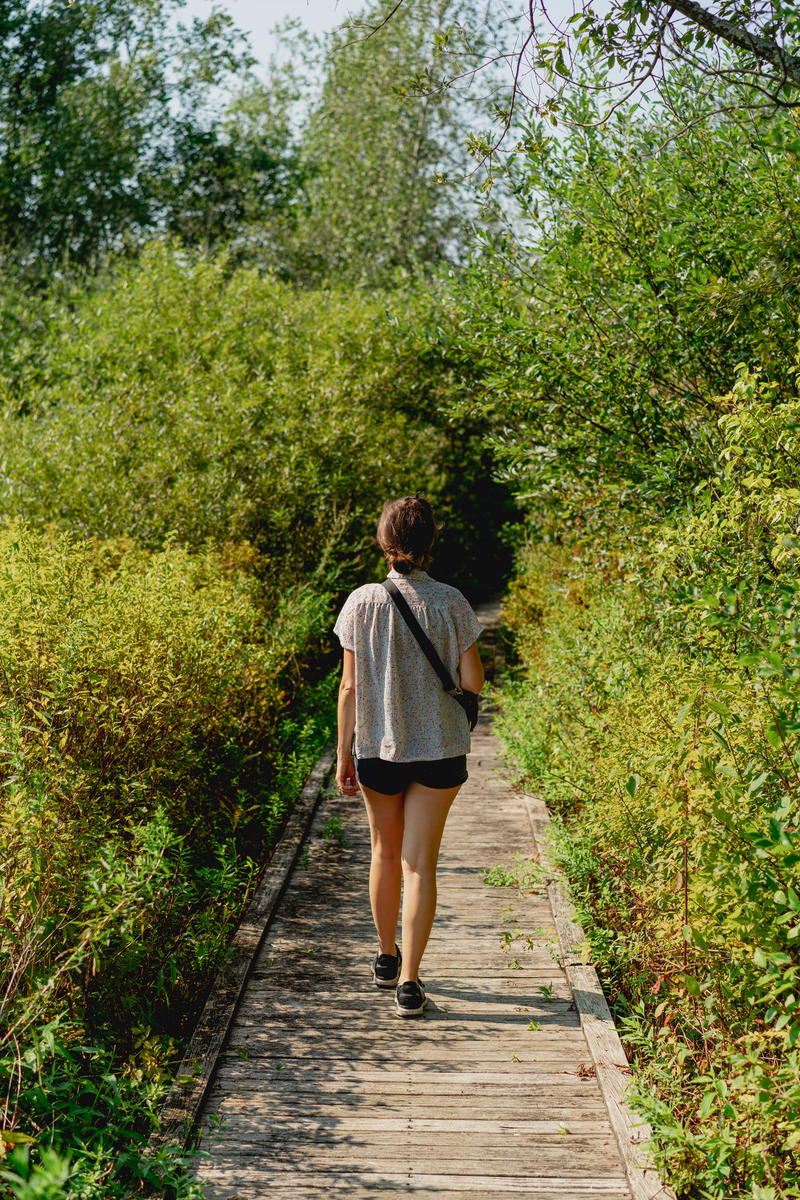 How to care for the Adapt Belt Bag
Washing the Public Rec Belt Bag turns out to be pretty easy. Just machine wash it with like colors (choose a day when you wash all your darks), and then choose to tumble dry on low (I'd only do this briefly) or hang it dry on a rack. When I get around to washing mine, I'm going to opt for the hang-dry method.
How to get the Public Rec Adapt Belt Bag
Getting your hands on the Adapt Belt Bag is easy, because the Public Rec website is really simple to use.
Check out the Adapt Belt Bag product page to get yours, and keep in mind that the free shipping is applied to orders totaling more than $75. You may want to throw in something like the Essential Tee to your order to get free shipping on all of it.
As for returns and exchanges, I already have experience with this process with Public Rec from when I got my All Day Joggers for women. In no time, I was able to exchange the ones that were too small for the size up, which fit perfectly.
Check out the Public Rec FAQ page to learn about the 45-day return policy and free exchanges for another size or color.
Enjoyed our article?
Consider supporting us! We're a 2-person team (learn more about us here) and your support enables us to create quality content. Thank you!