The Quince Carry-On Hard Shell Suitcase: a Fine Alternative to Away
Written by Becca
•
Updated on September 8th, 2023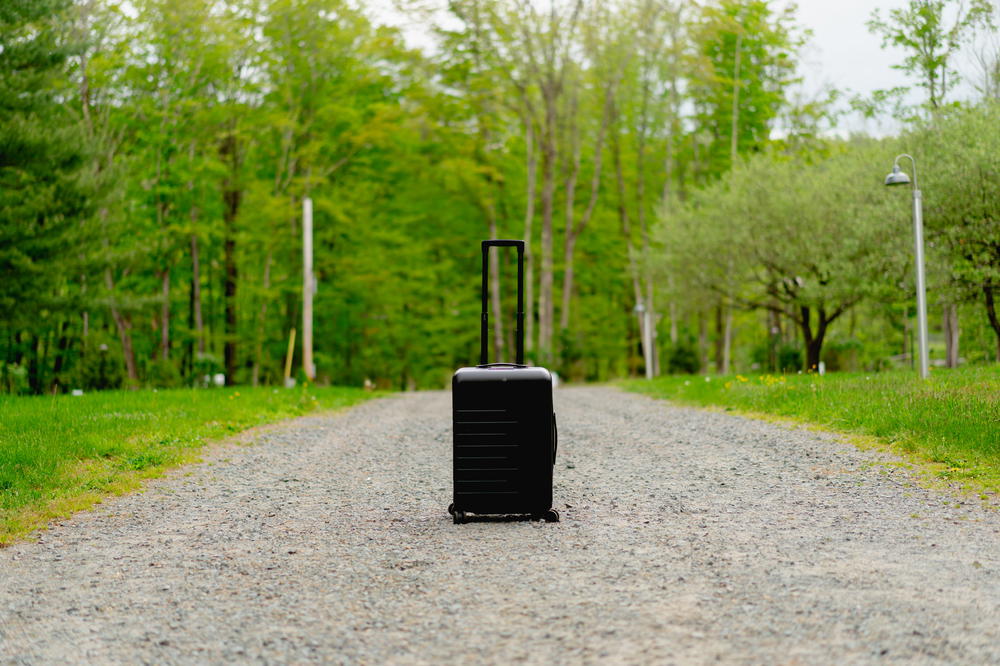 Is the Quince hardshell carry-on luggage worth it? I compare the Quince suitcase to the Away suitcase to prove which is the best inexpensive hardshell luggage for travel.
This article may contain affiliate links. We earn a small commissions when you purchase via those links — and it's free for you. It's only us (Becca & Dan) working on this website, so we value your support! Read our privacy policy and learn more about us.
I became a "suitcase person" in my late twenties and started to appreciate the convenience of a rollaboard hard shell piece of luggage. I was part of the Away luggage craze that began around 2017, and started traveling with Away's extra-large carry-on suitcase around then when I needed to fly.
The cost of the Away bags have always been a bit off-putting, though. Friends have asked me what type of luggage I recommend, and I say I enjoy using the Away suitcase, but it's almost prohibitively expensive, especially for someone who just wants an affordable carry-on.
When I learned about the new hard shell luggage from Quince, I was intrigued. Could Quince be making the same sort of bag, at about half the price? Was the quality just the same as Away's somewhat revolutionary suitcase that was a widespread hit with the entire millennial generation?
My review of the Quince suitcase follows below, for you to check it out and decide if the Quince suitcase is a good fit for your next trip.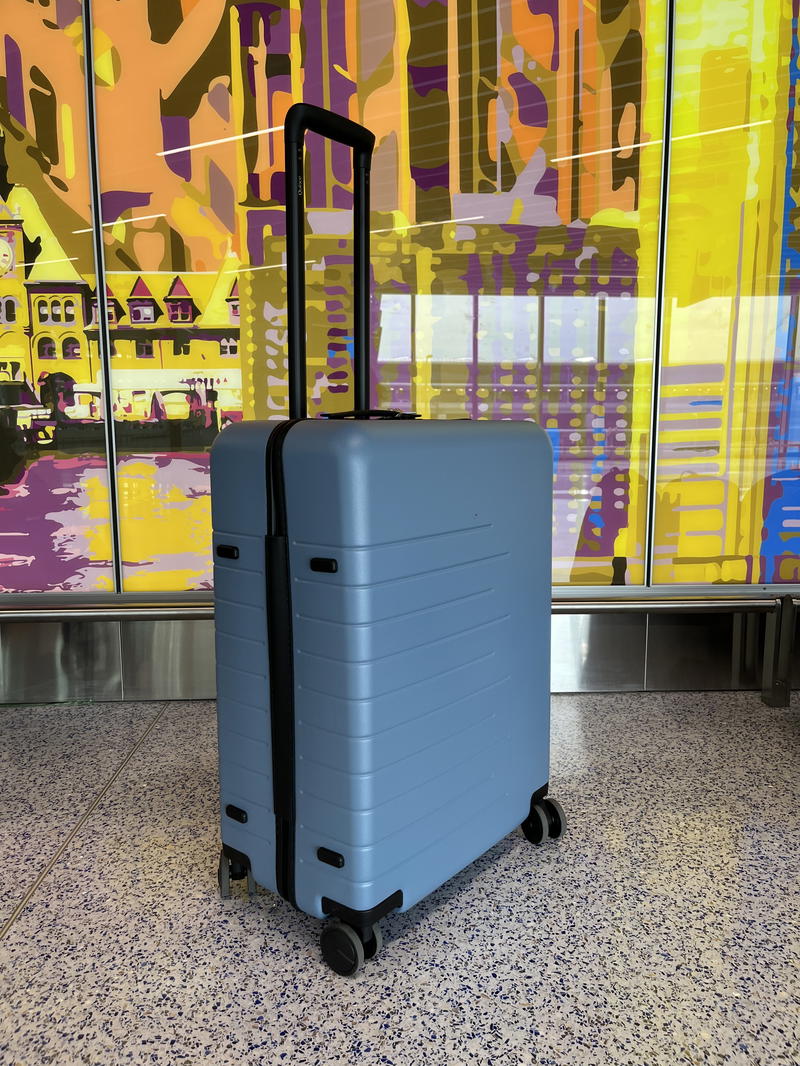 What is Quince?
I received lots of ads for Quince on Instagram before ever exploring the company's website or trying out one of their products. I mostly was "fed" sponsored Instagram stories about Quince sweaters and dresses, with the tagline that the brand is making luxury items at an affordable price. I have no problem with that; it's just that I didn't need clothes.
What I was down for, though, was another piece of good luggage so that Dan and I could both have a suitcase to use the next time we fly or go away for a weekend.
What I didn't know, until very recently, was that Quince makes a whole ton of products for every aspect of young people's lifestyles. Their products are mostly minimalist and single-color (which is my jam), made of attractive designs and at surprisingly agreeable price points.
Quince makes women's apparel, women's jewelry, activewear, loungewear, shapewear, intimates, sunglasses, bags and leather goods, hats, scarves, gloves, socks, footwear and even wedding items. They even make maternity clothes (I wish I knew when we went away on our babymoon!).
Shopping Quince is like a hack into looking good with timeless apparel and lifestyle products, at a fraction of the cost of what they're priced at from luxury retailers.
Anyway, so I wound up with their hardshell carry-on suitcase.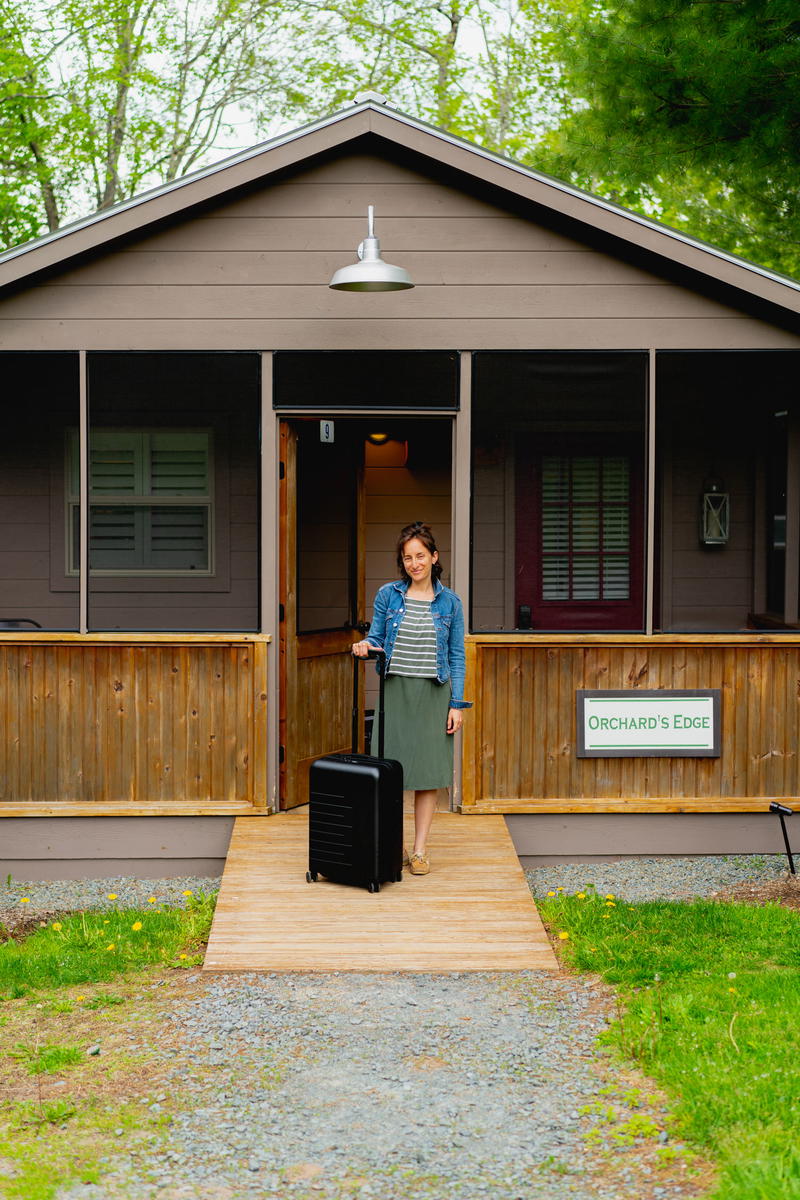 Summary of the Carry-On Hard Shell Suitcase (21")
At first glance, the Quince suitcase looks interestingly like the one from Away, but with a slightly different design in its horizontal striping. I'm cool with it.
It's lightweight, has a handle that retracts, lightweight materials and mesh inside, and rolly wheels. It comes in a dust bag for storage, and it arrived in the mail with no dents or mess-ups to note of (I mention this because I once received a dented suitcase in the mail).
The suitcase looks good, and I think the main "feeling" I get from it is that it really is ultra-lightweight. Sure, I filled it up with clothes very quickly the first time I packed it to go away to the Livingston Manor in the Catskills, but before that, i probably could've lifted it easily with only one hand.
Let's get right into talking about the features.
Helpful Tip
Scroll all the way to the bottom of this article to check out the larger Quince suitcase that I also tried – that one's the Check-In Hard Shell Suitcase - 24". I recently took it on an international flight and you can see how it worked out for me!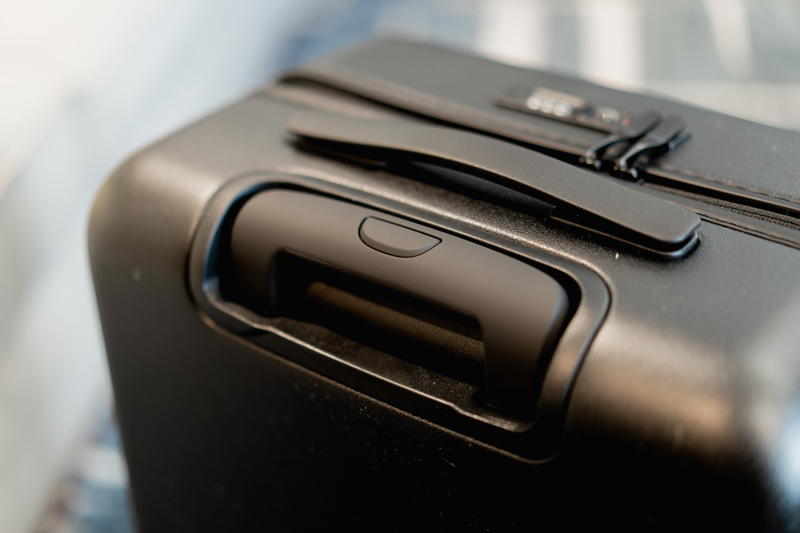 Features of Quince's Carry-On Hard Shell Suitcase
As this suitcase is made for zipping through an airport, it's made for fitting into an overhead compartment bin. It's also got some cool features that pleasantly surprised me, like the additional interior pocket, and even a little brush to scrub away nicks and scuffs that may come up on the exterior.
So thoughtful!
Here's a run-down of the Quince luggage features, in order of how they stand out to me.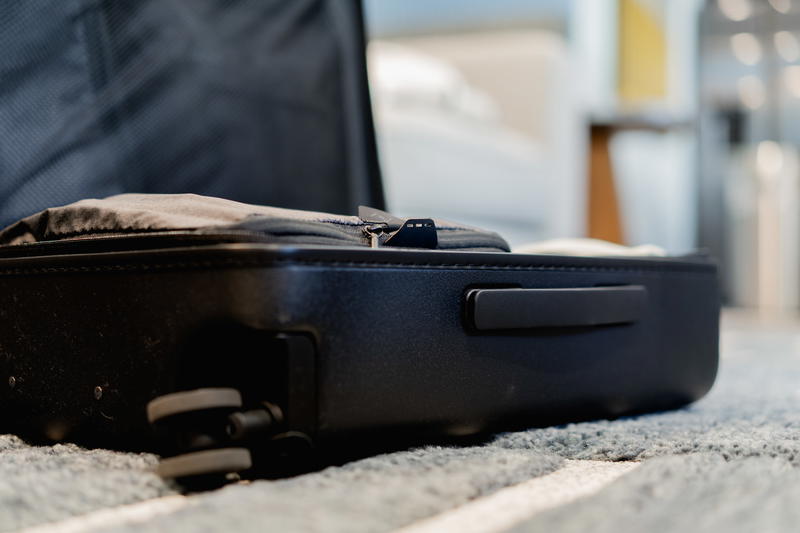 The price
First, let's talk about how much this suitcase costs. At $129.90, investing in a suitcase at this price is (hopefully) not as painful as the $295.00 price tag on the Away suitcase of a similar size.
The fact that Quince can make "basically" the same suitcase at less than half the cost of the "original" shows how much it's marked up elsewhere.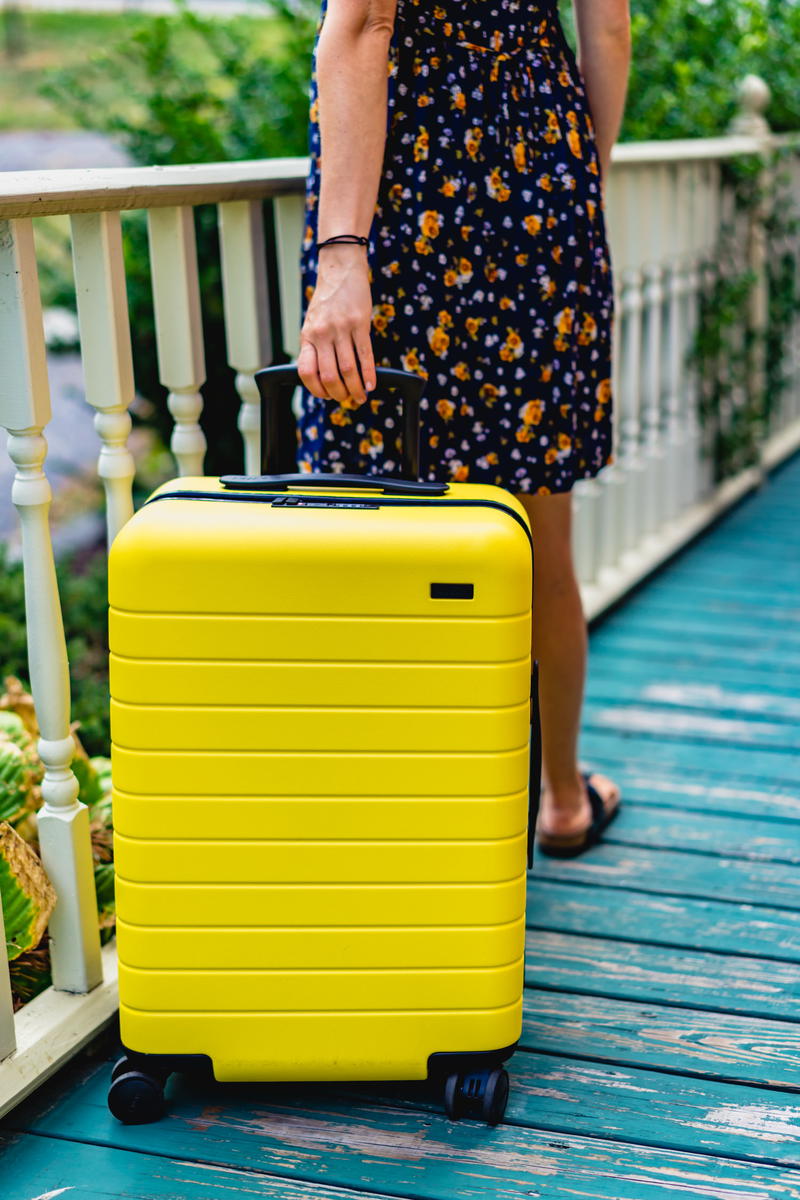 How does Quince do it? It's simple, if you look at the infographic they have pasted on the product pages. They mark up less. Easy. There are the costs of the item, and then there's markup to consumers. Quince marks up retail prices lower than the competition.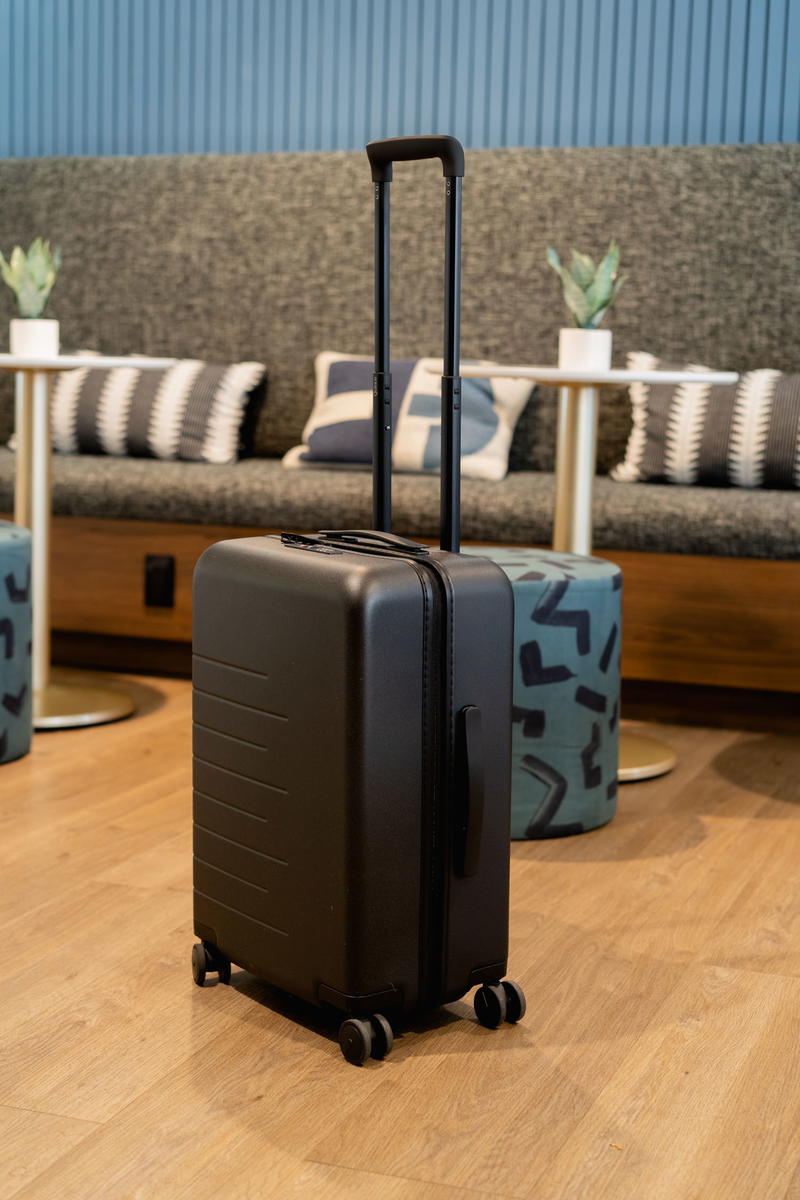 The materials
The suitcase exterior is made of a durable polycarbonate hard shell, which feels virtually the same as the exterior of the Away suitcase. Maybe it's a dab thinner or lighter (I'm no expert… or am I?), but it seems like it works just the same.
The interior is water-resistant 75D polyester pongee, which, again, feels the same as the lining of the Away suitcase I own.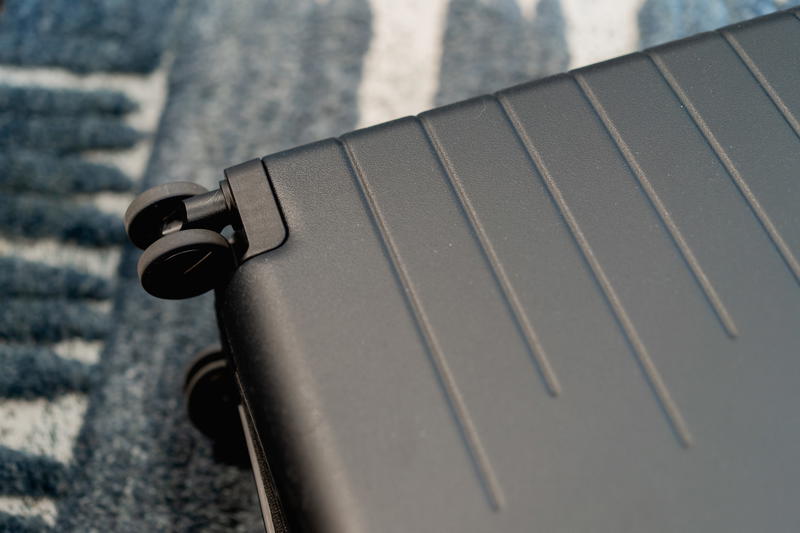 360-degree wheels
I recall, when I read the story of how Away formed, as a company, and how their first suitcase was inspired, was because suitcases historically have annoying wheels. Well, Quince's suitcase has perfectly fine rolly wheels that slid nicely across my apartment's floor. No complaints.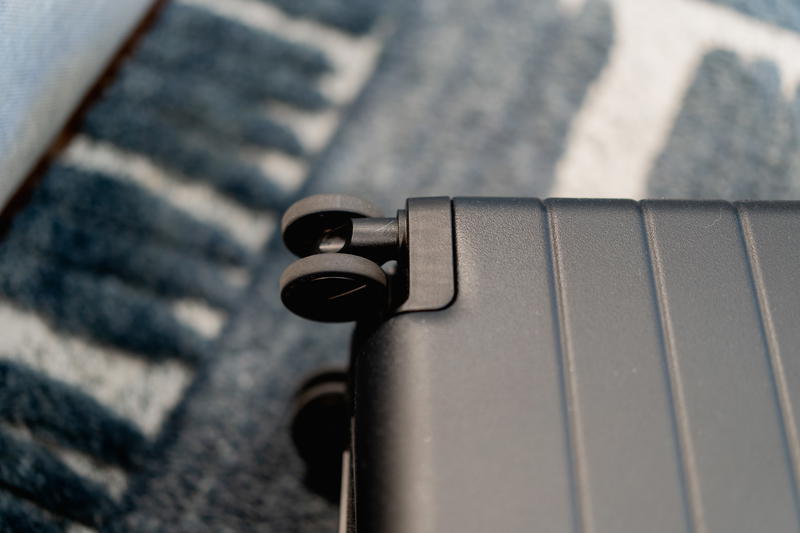 Compression panels on the inside
I famously claim to be a minimalist and light packer, but if we face the facts, I bring doubles of quite a few items, especially on a short trip, "just in case one gets dirty."
Compression panels help me compress my packing cubes, my jean jacket, my shoes and my toiletries bag, and get the whole suitcase closed before leaving.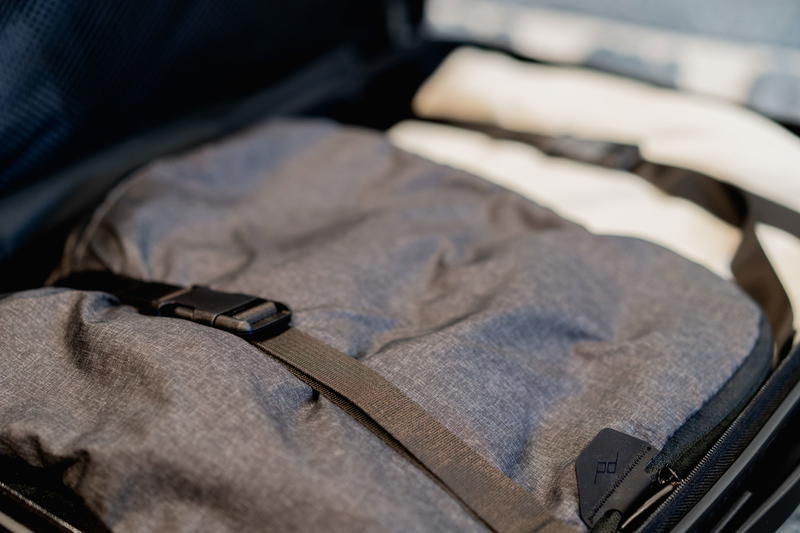 What I like about the compression panel specifically is that it has a mesh pocket on it. This is a bonus feature, and it means an extra place to put small or flat items so that they don't float around.
There's also a zip-around mesh pocket on the alternate side of the suitcase interior and this is where I put packing cubes as well.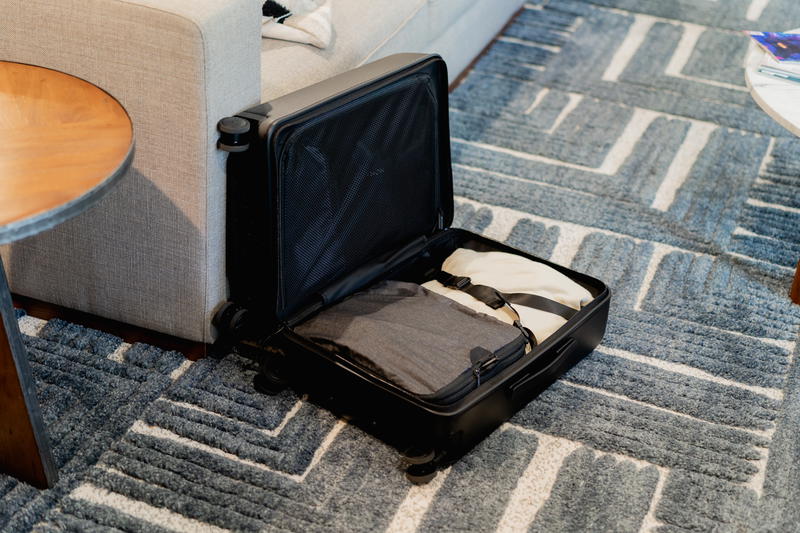 TSA combination locks
I haven't locked my luggage in ages, but I do appreciate the option to do so. Quince's luggage features a TSA combo lock right on top, just like the Away, Monos and Paravel suitcases do.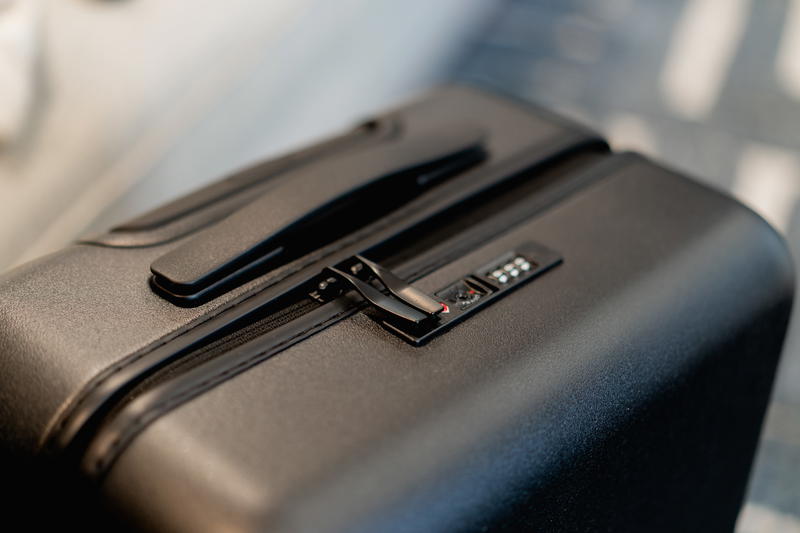 Trolley handle
The handle is quite lightweight and maybe has a bit less weight to it than the one on the Away bag, but that's not a big factor for me. It adjusts nicely, and has a nice feel on the handle part. I was able to slide a Canvelle weekender bag right through it for sitting on top of the suitcase itself.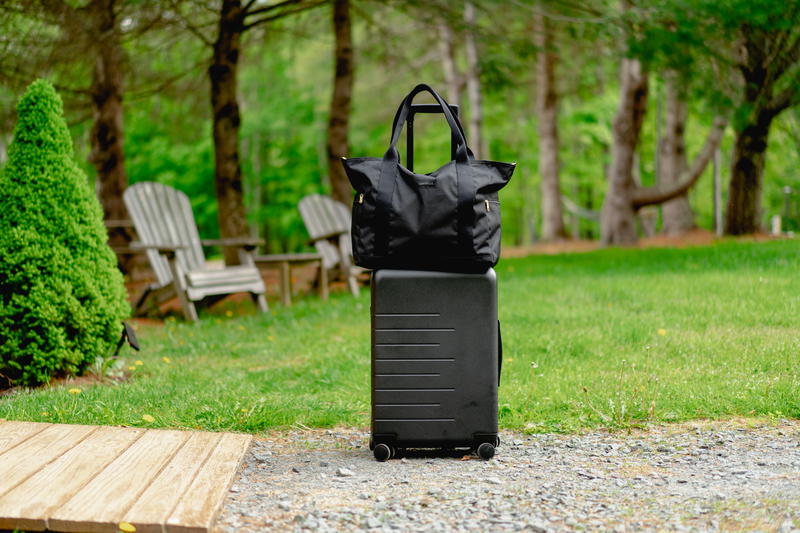 YKK zippers
This is the only criticism I had, that I noted to Dan, during a weekend of using this carry-on suitcase. The zippers felt like they were glitching a few times and just required an extra tug. I'll keep an eye out for if this was a one-time thing while the bag was being broken in.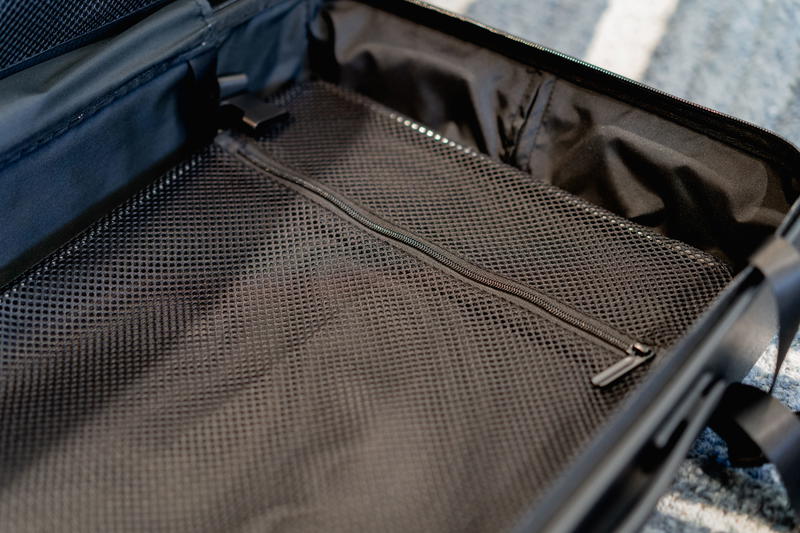 Removable laundry bag
I like that it comes with a laundry bag, as I'm one of those people who preaches all the ways you can do laundry during long-term travel. Sometimes I'll be on a trip and think, "Oh, yikes, here I am putting my dirty socks into this plastic bag from a grocery store," and a built-in laundry bag saves you from that.
Available colors
I will be honest: my Away extra-large carry-on is Minions yellow. I'm serious. I got the limited edition Minions suitcase because it was yellow and would stand out on a baggage claim conveyor belt if I checked it as luggage. As it turns out, this does not matter at all, because I've only checked it one or two times ever, and now I have a bright yellow suitcase the color of a Minion.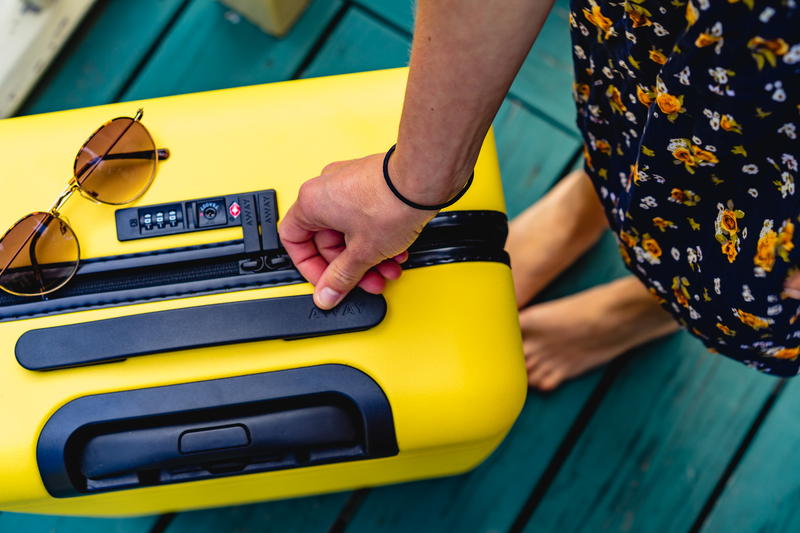 Helpful Tip
If you're checking baggage, consider getting Apple's AirTags like we just did. We be put them on our checked Quince luggage so that we can track the suitcase if it gets lost! AirTags come in this one-pack, or a pack of four, meaning you could also put them on your laptop, backpack, fanny pack and any other valuables you're traveling with.
The Quince luggage comes in Black, Tan, Blue, Dark Green and Navy. I am nearly positive they'll come out with more colors as time goes on. At the moment, these colors are great. They're timeless.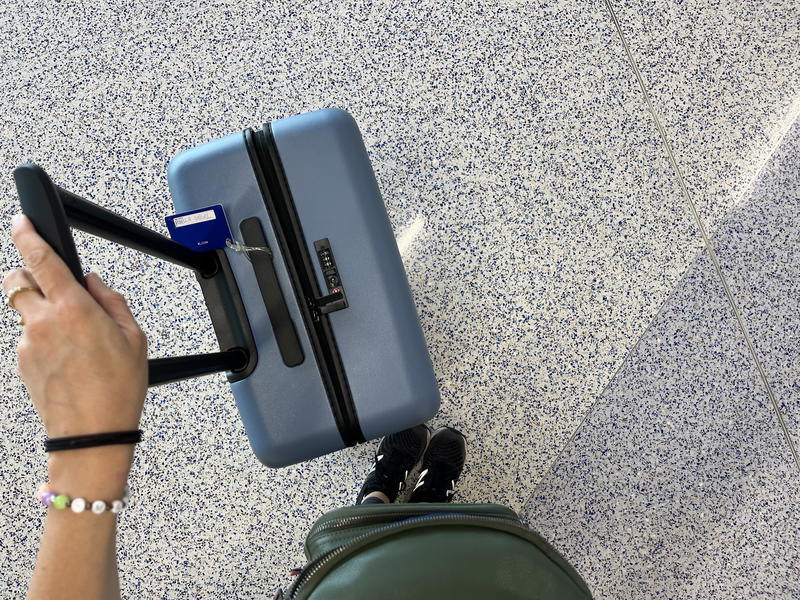 You can choose Blue if you want to stand out. You can choose Black if you don't (and it won't show as many scuff marks from getting jiggled in a trunk or an overhead bin). I think Quince did a nice job choosing the colors for the moment.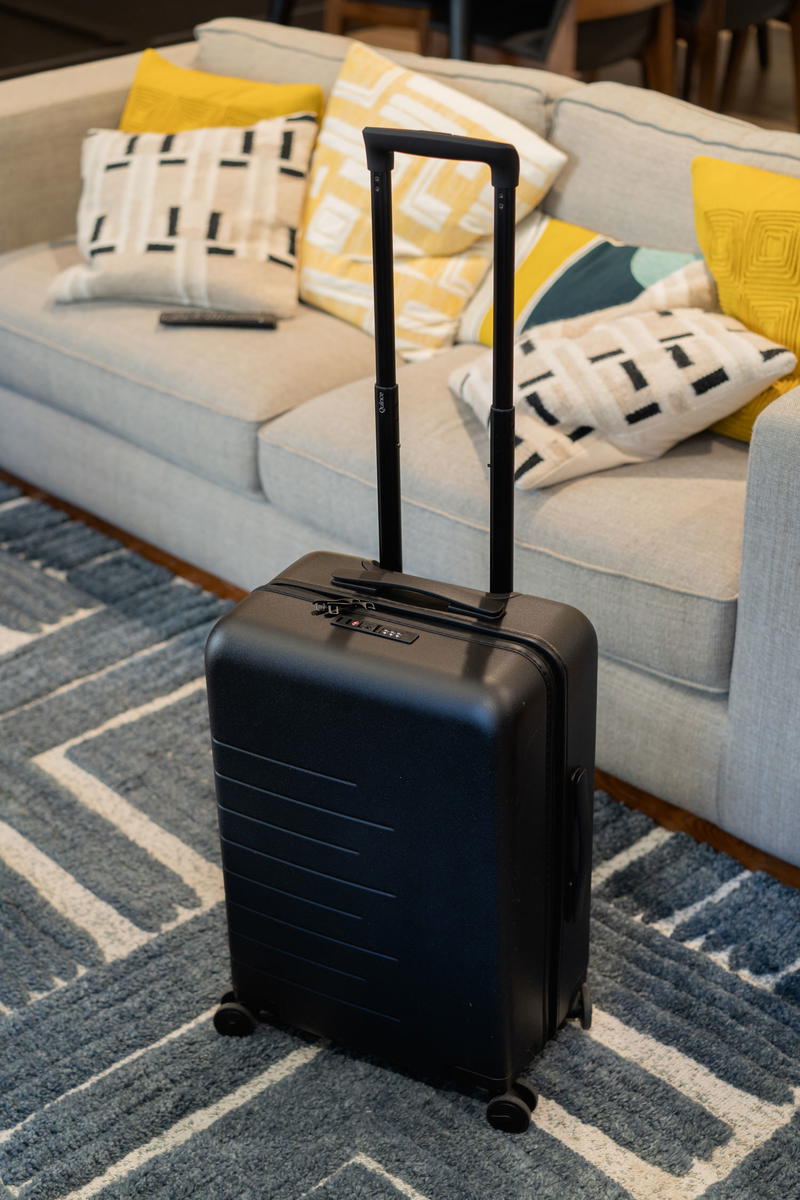 Free shipping & returns
Quince's bag ships free (a big win for the Amazon Prime generation), so there are no bothersome shipping fees tacked on to your purchase of it.
Second, when comparing the opportunity for returns against Away's policy, Quince's luggage is able to returned within 365 days, whereas Away only allows 100 days (and Paravel's policy is only 30).
For returns, note: you can get a full refund if you are returning any Quince item that has all original packaging, tags and boxes. Refunds are processed pretty quickly, around five days, which is impressive. The fastest way to obtain a refund is to request a store credit.
USB battery port
Oh, one more thing. I was on my way to Chicago a year ago and was using my Away extra-large carry-on as, quite literally, a carry-on. At the gate, the flight staff asked if my suitcase had a battery, and, well, it did. They said they weren't allowed on the plane due to a policy about suitcases with batteries built in.
In the sweatiest most heart-racing scenario (and thank goodness I was not alone), I had to take ALL my items out of my suitcase, quite literally at the gate before boarding the plane, like just as I had gotten my boarding pass scanned, and Dan had to YANK the entire USB battery product out of my Away suitcase. We threw it out.
If he hadn't been able to get it out, I would've had to put my packing cubes into a garbage bag and leave my entire suitcase in the terminal in order to get on that flight.
So, in conclusion, the Quince suitcase does not come with a battery pack for charging a phone, and you don't have to worry about this. It's a good thing. Just bring your own external battery pack for charging your phone on the go.
If I can be honest with you, I hadn't owned a "full-size" suitcase in my adult life until I got the Quince 24" check-in luggage for my most recent flight. I was interested in comparing it to the 21" carry-on suitcase, both in terms of what could fit inside and the overall weight of it. The 24" Quince suitcase is a piece of luggage that I checked, which is a pretty new idea for me, as it was my first time traveling with my baby.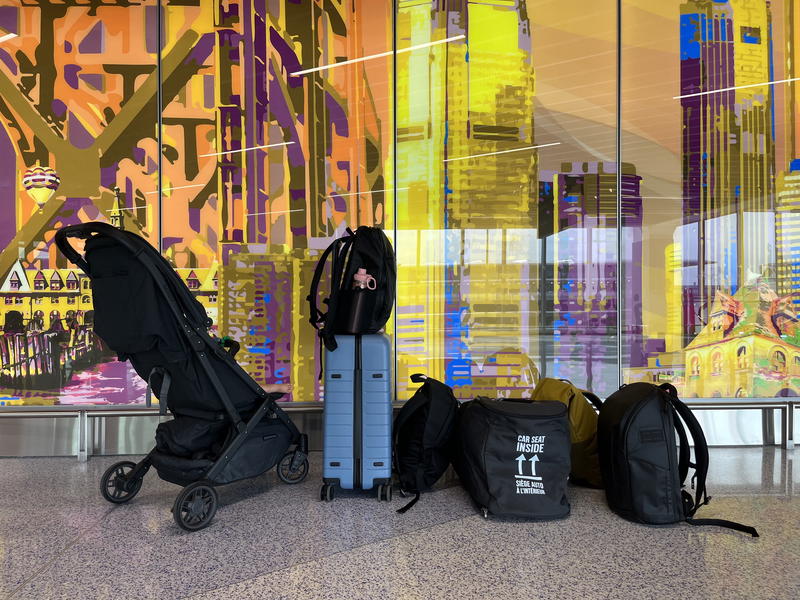 I might have mentioned above that I'm short, petite and not too strong when it comes to lifting stuff. If I'm going to have a suitcase, I have to be able to roll it comfortably when it's super full, as well as lift it off a baggage carousel. I got the 24" suitcase in Blue so that it'll stand out when I'm looking for it among all the other suitcases that come off the plane (this worked, by the way).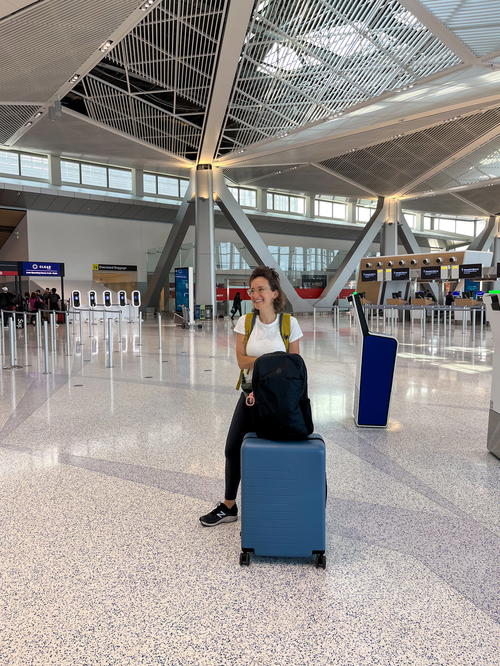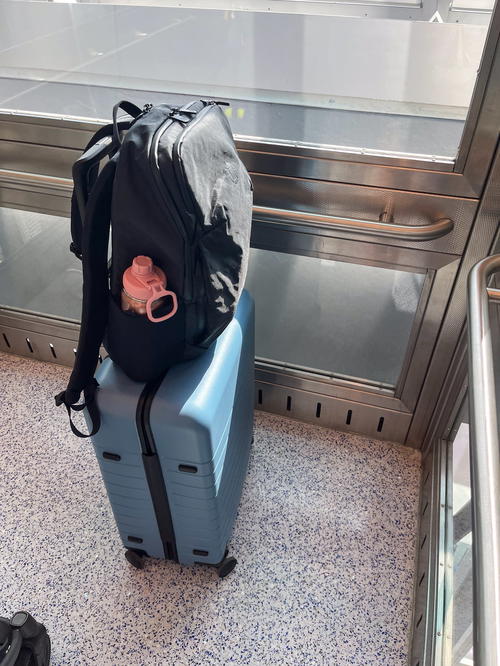 The Quince 24" check-in suitcase is a smart piece of luggage. I used it to pack for Dan, me and our infant daughter when we flew to Halifax, Canada (great place to travel, by the way). Sure, we packed light, but everything did fit, in our packing cubes. Just like with the carry-on Quince suitcase, I appreciated the compression panel on the right side, and the mesh pocket with a zipper on the left.
In my reading just now, it seems that the carry-on suitcase from Quince might even fit inside the 24" suitcase for storage purposes. I have to try this out ASAP.
The check-in piece of luggage has all he same great features, from the lightweight build (it weighs 8.8 lbs only) to the durable 360° spinner wheels and a TSA combination lock. Best of all, it'll save you quite a bit of money when comparing it to the similarly-sized suitcase from Away, which currently clocks in at $385 and might even cost you $725 if you opted for the aluminum version.
Is the Quince suitcase a good investment?
Dare I say yes? At the current prices of $129.90 for the 21" carry-on and only $119.90 for the 20" luggage, I feel like these have got to be some of the most competitively-priced carry-on suitcases on the whole market right now.
And if you're like me, you want your suitcase to look good and feel good, so it seems like a win-win. Both carry-on sizes are compliant with domestic as well as foreign airline dimension requirements, so unless you are forced into gate check, you should be fine.
If you're looking to size up and purchase a suitcase for checking into a flight (or just using on a road trip), Quince makes a 24" suitcase that comes in the same colors and has the same features as the carry-ons. It holds 9-12 outfits rather than 6-9, for the 21" carry-on.
I think this suitcase, in whichever size you please, is a good investment if you're looking for affordable and attractive suitcases for travel. I wish I had known about the Quince hardshell suitcase sooner, and I'm pretty sure I got it in the first weeks of its release.
I'm eagerly looking forward to trying out more products from Quince. You can see all the Quince products at the Quince website.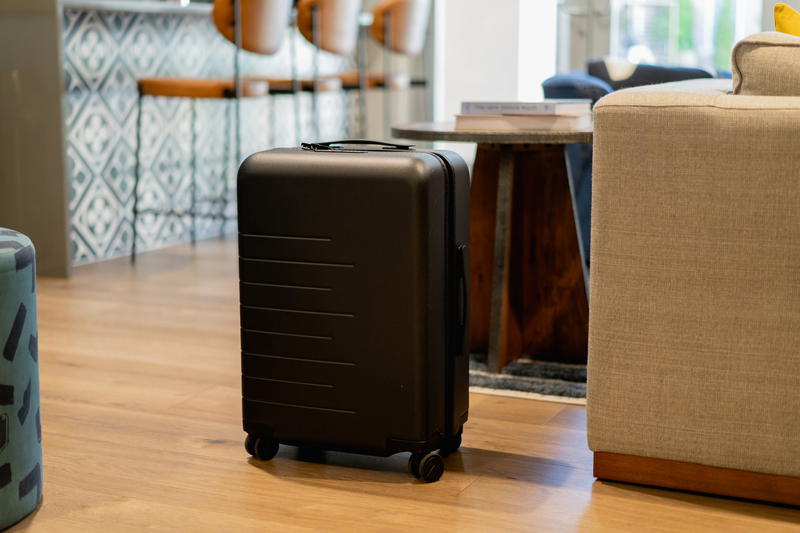 Enjoyed our article?
Consider supporting us! We're a 2-person team (learn more about us here) and your support enables us to create quality content. Thank you!