Best Small Towns and Villages for a Portugal Road Trip
Updated on September 6th, 2023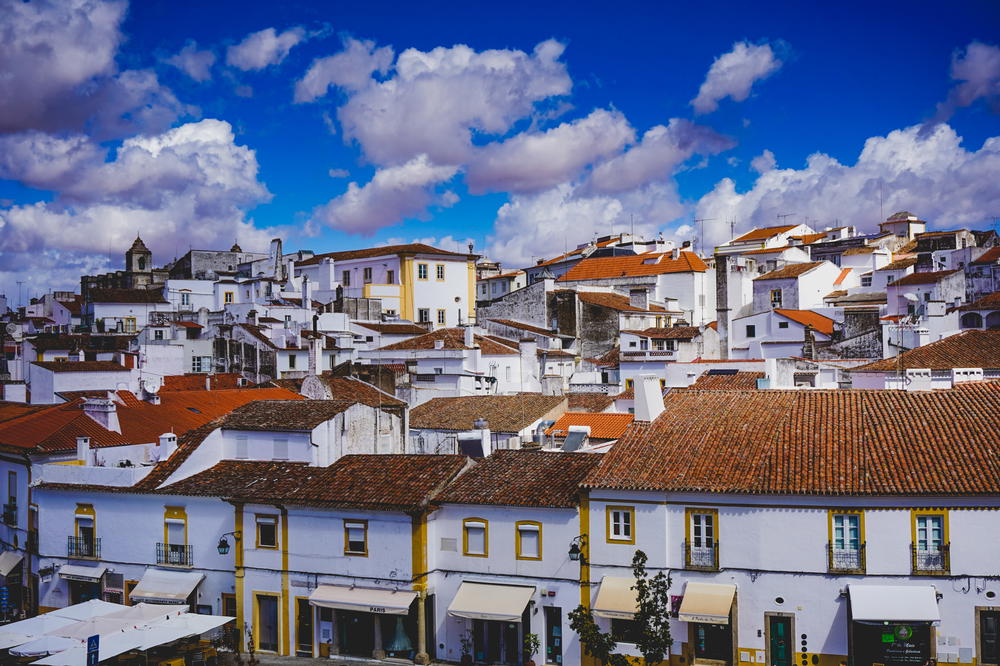 Which Alentejo villages are best to visit on a Portugal road trip? We found these charming and beautiful villages and towns to be the best for our tour of the Alentejo region in Portugal.
This article may contain affiliate links. We earn a small commissions when you purchase via those links — and it's free for you. It's only us (Becca & Dan) working on this website, so we value your support! Read our privacy policy and learn more about us.
After exploring Lisbon's best alternative attractions, we got ready for a road trip around the southern half of Portugal. We had no idea where we were going. What we did know was that we wanted to avoid the crowds and save money getting off the beaten path.
A few ways that we knew we could save money while traveling in the Alentejo and Algarve were by staying in hostels and Airbnbs, minimizing our drinks at bars and find things to do for free, like walking around.
As we drove straight east out of Lisbon without much of a plan except a guesthouse reservation in Évora, the south-central Alentejo region of Portugal stretched before us. This region is home to fields, castles, modest mountains, valleys, lovely people and a lot of history.
Armed with a Lonely Planet Portugal guidebook (get one on Amazon or Bookshop.org) and Dan's camera for travel, we navigated our way to beautiful small towns and villages in the Portuguese Alentejo and Algarve regions.
Best Alentejo road trip village #1: Portalegre
Our first stop on our Portugal road trip was Portalegre, a town of nearly 25,000 residents, and not well-known for tourism.
It was here, off the typical tourist route, that we found a white-washed town with narrow uphill streets of homes with yellow painted windows and laundry hanging outside. We sat down for lunch at Restaurante Cervejaria Santos for some coffee, olives and a light lunch.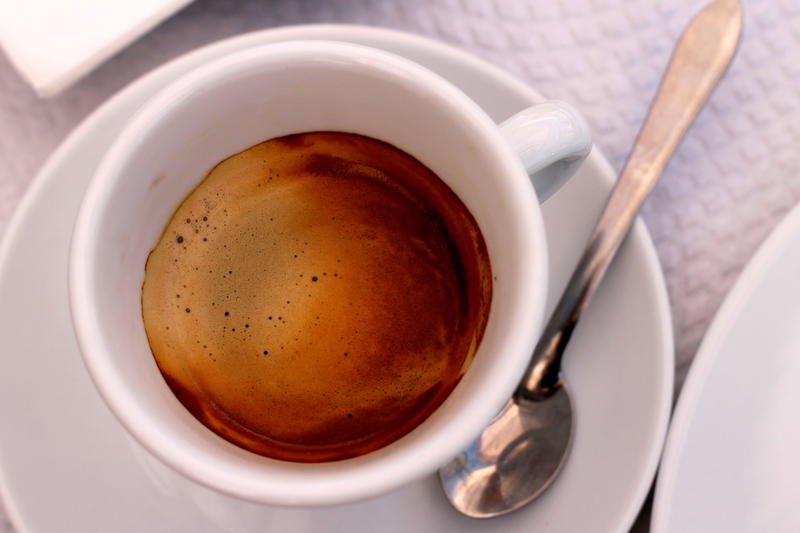 We explored the rest of the town center, finding pristine old streets and a large church where students were hanging out. As it turns out, many business close in this region of Portugal on Mondays, so there was not much to do.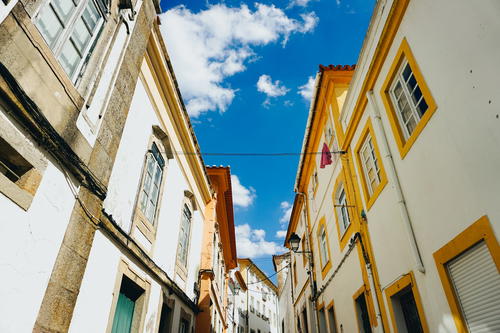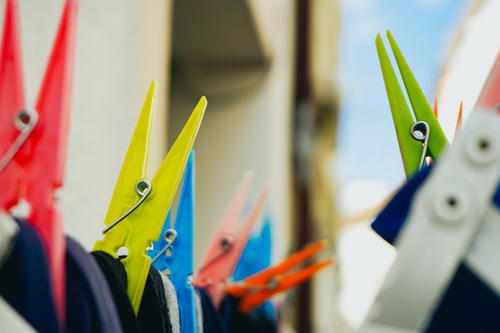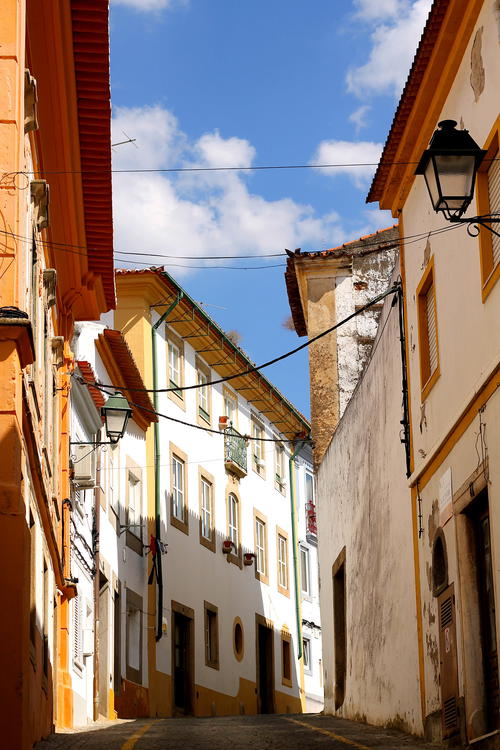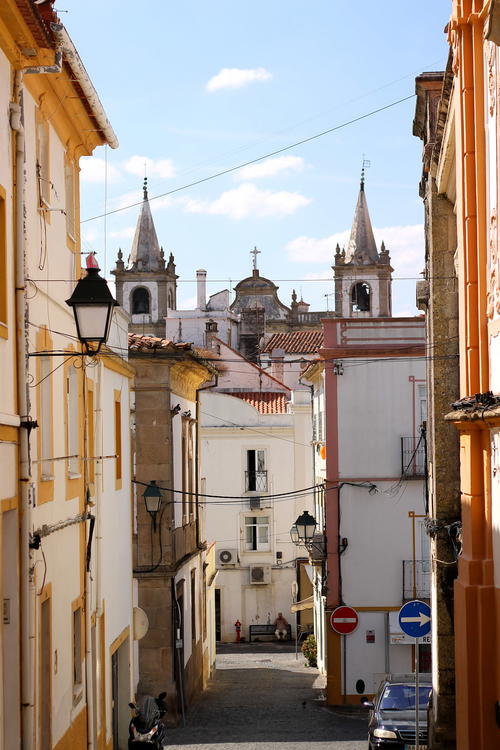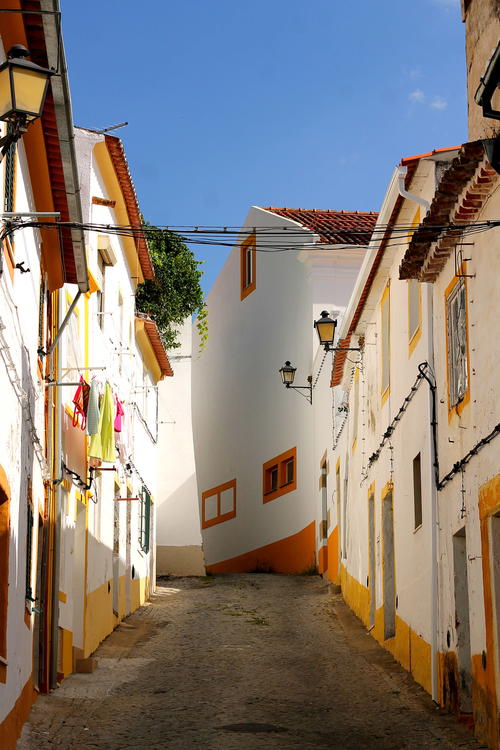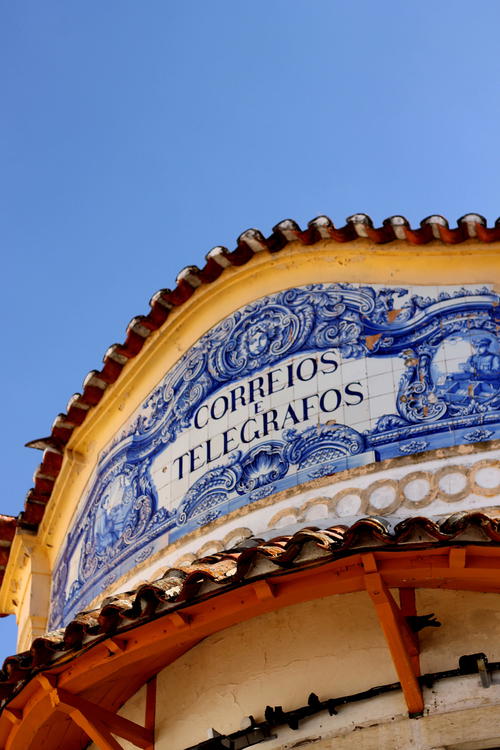 We drove on, but now a bit northward, to Castelo de Vide, a village Becca had read about and said we might as well stop by, as it's not clear when we'll be back.
Best historic village in Portugal, #2: Castelo de Vide
Castelo de Vide, a quiet town of 3400 people and only 17.5 km from Portugal's border with Spain, became our favorite Alentejo village.
Because it's harder to reach, Castelo de Vide is even farther off any tourist route. We took in the charm of the azulejos on the buildings, the steep hilly roads, the end of town from where we could see an expanse of farmland, and the historic synagogue and Jewish lane, which were once home to a tiny Jewish population.
You can Explore More About the Jewish history of this village here. We couldn't get enough of the scenery.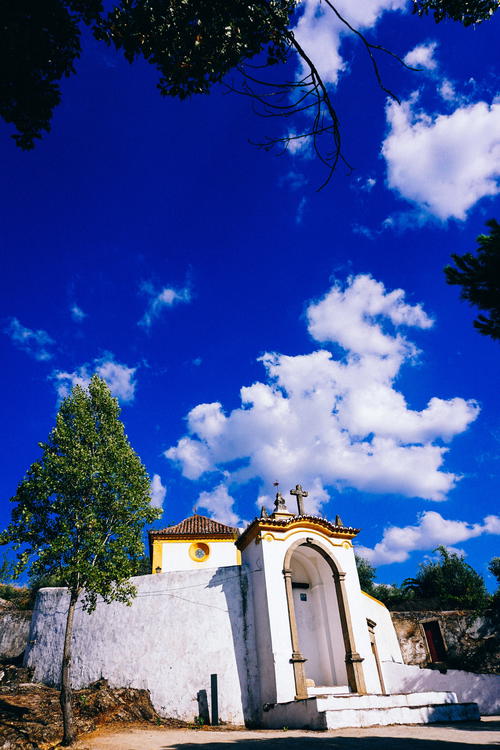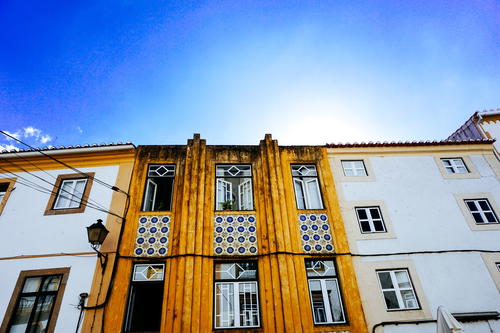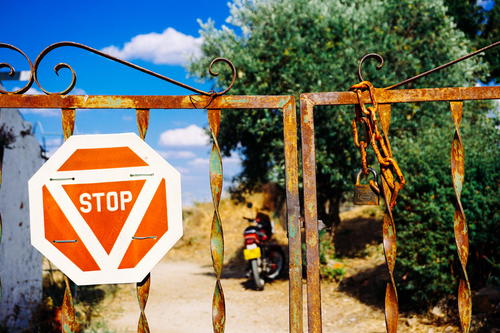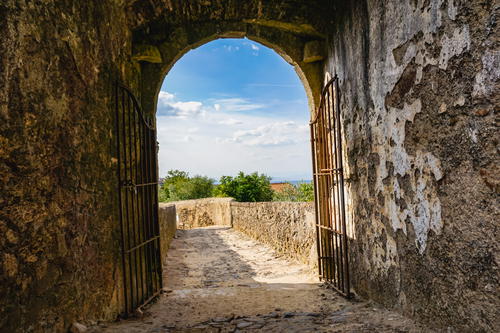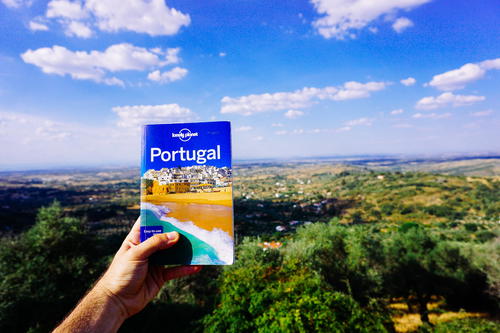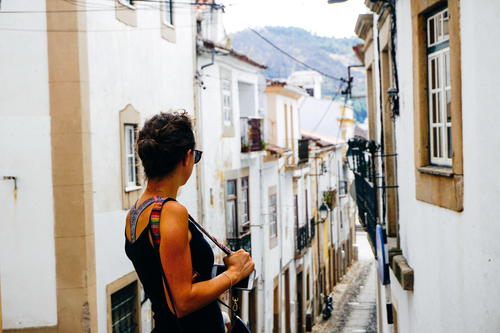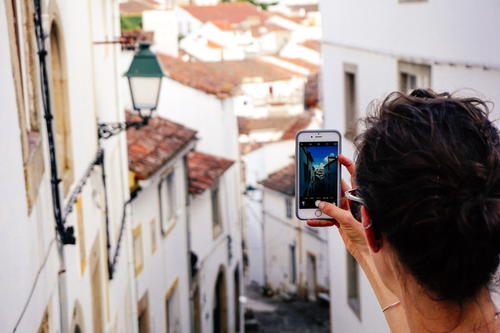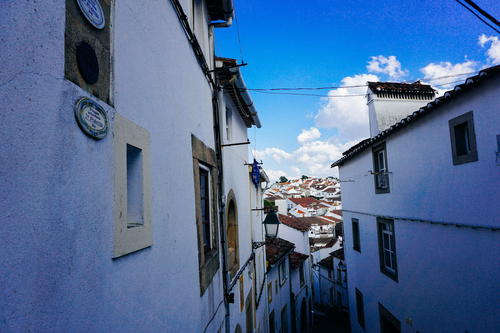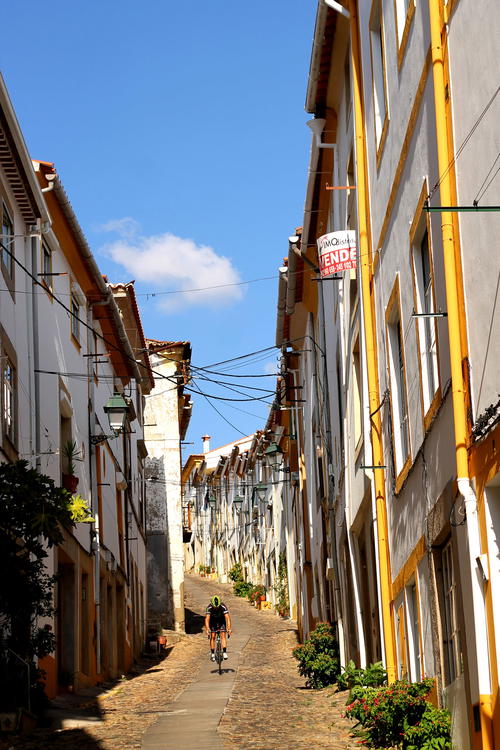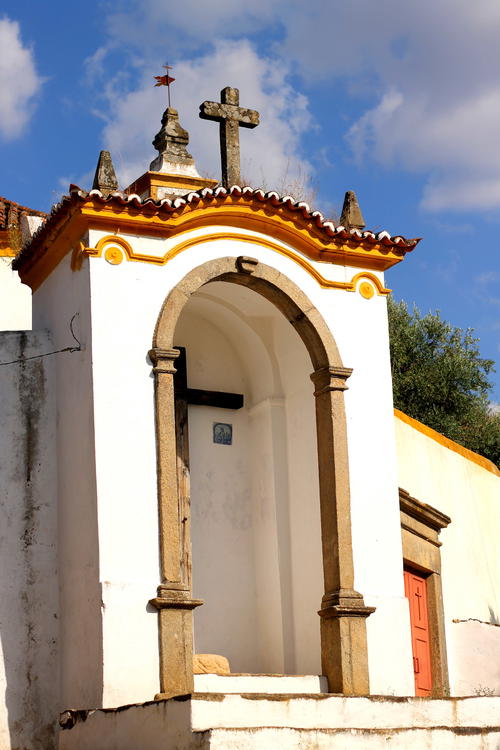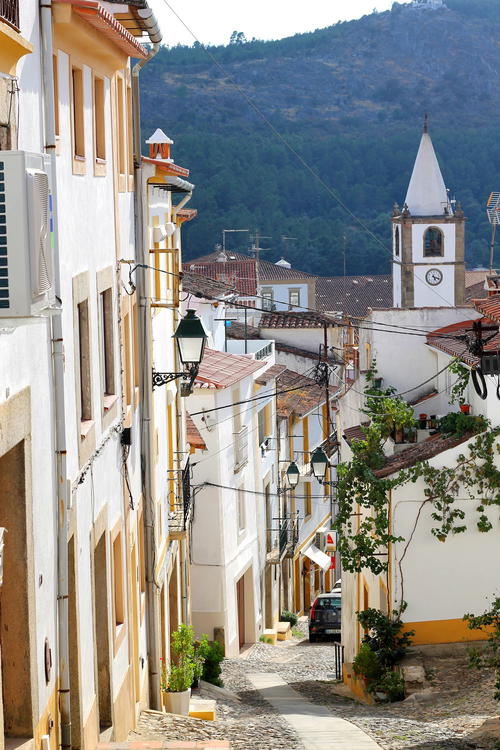 Best can't-miss Portuguese village: Évora
Évora is one of the biggest attractions in the south of Portugal. Travelers go to Evora in substantial numbers to experience this medieval city. The town is easy to get around by walking, and the architecture is beautiful.
We arrived after dark to Hostel Namaste, which has nice outdoor space, friendly travelers and spacious private rooms that are like staying in an old house.
After having dinner at Mojo, a trendy burger place in a cellar, we found obligatory dessert at Uafas. We sat in a small pocket town square and watched visitors and locals enjoying their warm autumn evening.
Best sights and attractions in Évora
Évora is, to say the least, pretty touristy. In the morning we saw the market and Capela dos Ossos, the famous bone church, which was a bit overrated, as far as our preference for attractions goes.
We preferred walking around outside and seeing the grand plazas, stopping to sit down for coffee at Cafeteria 35, which is on a small street and feels like the set of a movie.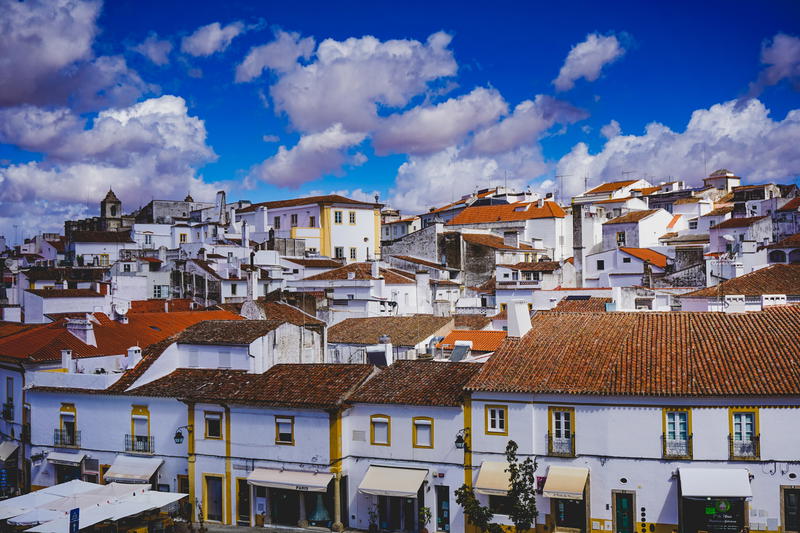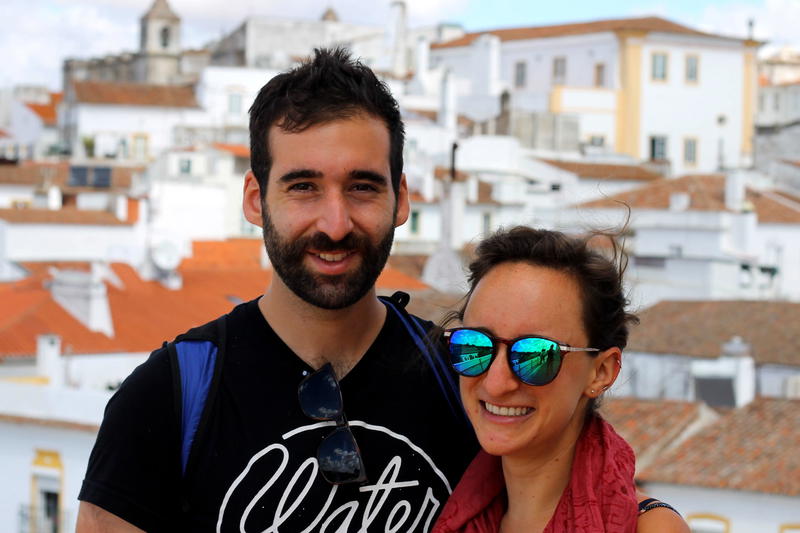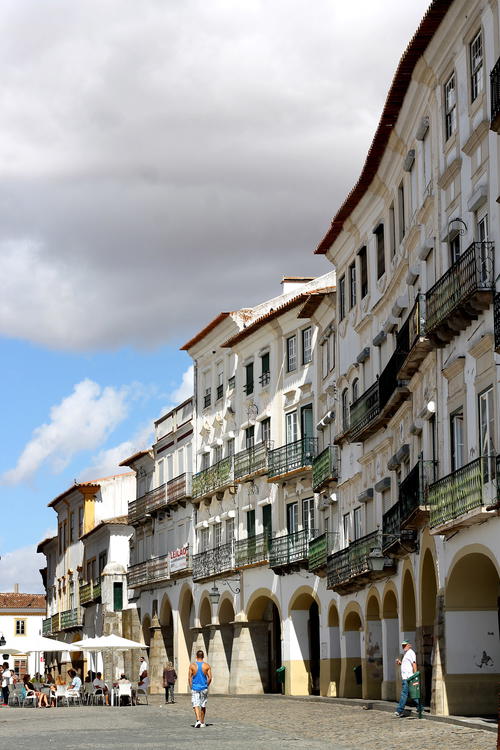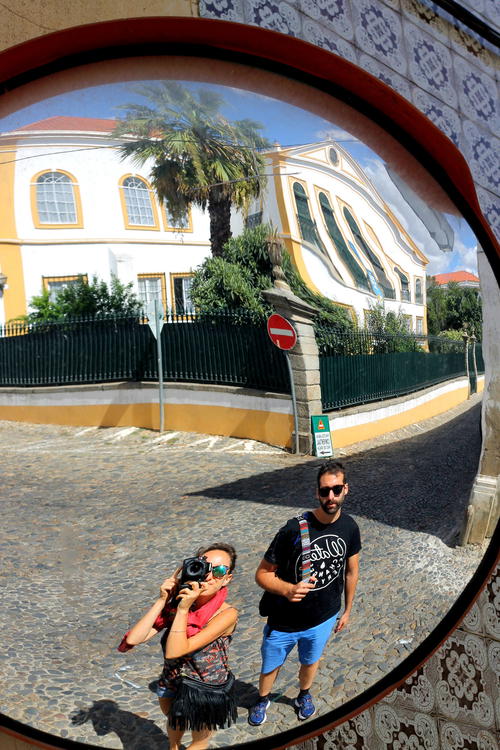 Without much more to see in Évora, and we recommend one day here, we set off for the southern half of the Alentejo for what was in store for us there.
Best medieval Alentejo village #4: Serpa
Serpa came recommended to us via a business contact I had in Lisbon. He said surely, not many foreigners nor tourists go to Serpa, but for locals, it's known as the village with the famous aqueduct.
We arrived at this postage-stamp-sized village and sure enough, a massive aqueduct towered over the town and through it. We parked the car on the exterior of the village and wandered our way in, through the low-lying one- and two-story homes painted white.
In the middle of this tiny town is castle ruins. We walked around, and from the top of the castle and the city wall was a beautiful view of the charming countryside. Without even trying hard, you could see miles of neatly-drawn-out farmland sprinkled with farmhouses and hills.
Most charming off-the-beaten-path village #5: Mertola
Mertola wasn't necessarily on our way, but it was not terribly out of the way, either. Mertola came recommended from Lonely Planet as a tiny village where you could end your stay in the Alentejo before heading to the Algarve via car.
We had to figure out where to stay and opted to book on Booking.com only the day before arriving in Mertola. We stayed at a comfortable quiet hotel next to the river, with parking right next door.
For dinner, there were not too many options, or rather, the places listed in our guide were full of people who had gotten there early. We opted for a light dinner with wine, beer and olives at Migas, located near the main street of the village.
In the morning, we explored the castle ruins. From the top, another nice view was to be had!
Enjoyed our article?
Consider supporting us! We're a 2-person team (learn more about us here) and your support enables us to create quality content. Thank you!
Find the Best Things to Do In Portugal