How to Beat the Crowds at Chichen Itza
Updated on November 21st, 2023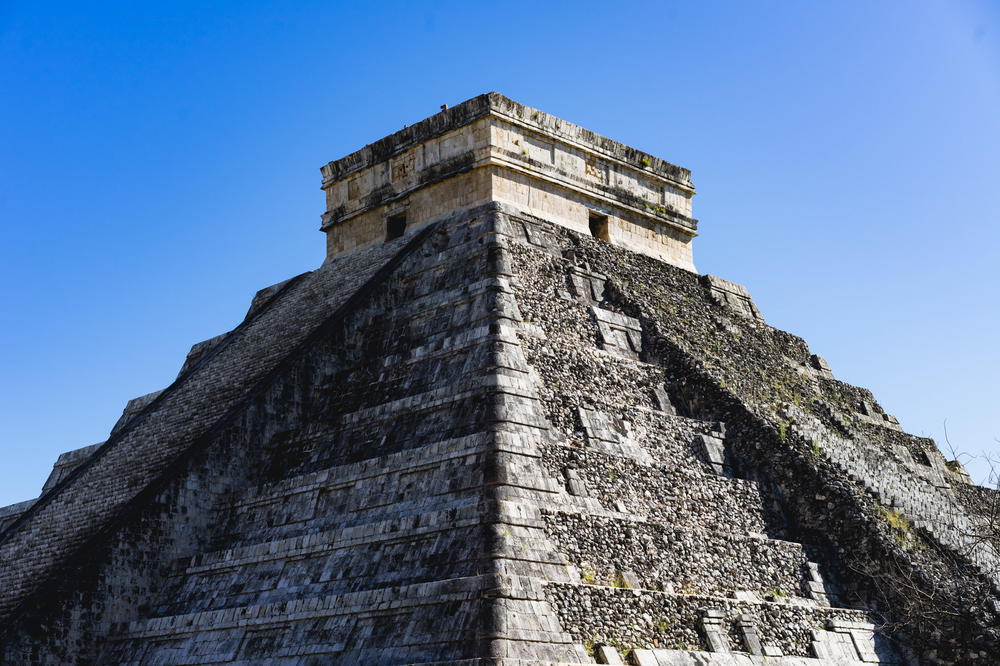 Thinking about how to beat the tourist crowds and get Chichen Itza to yourself? We found a way to avoid the tour groups and take the best photos, here at this guide.
This article may contain affiliate links. We earn a small commissions when you purchase via those links — and it's free for you. It's only us (Becca & Dan) working on this website, so we value your support! Read our privacy policy and learn more about us.
If you know us by now, you know we absolutely adore traveling in Mexico.
We dream about the street food in Mexico City, the beaches of Tulum and the colonial gem of Valladolid.
During our travels in the Yucatan Peninsula, we knew we shouldn't miss Chichen Itza, one of the New Seven Wonders of the World. The catch is that it's one of the most-visited Mayan ruin sites in Mexico.
As two people who aim for taking perfect photos, we want to see beautiful places in the best light, and with the fewest number of other tourists. So, here's how to beat the crowds at Chichen Itza National Park in Mexico.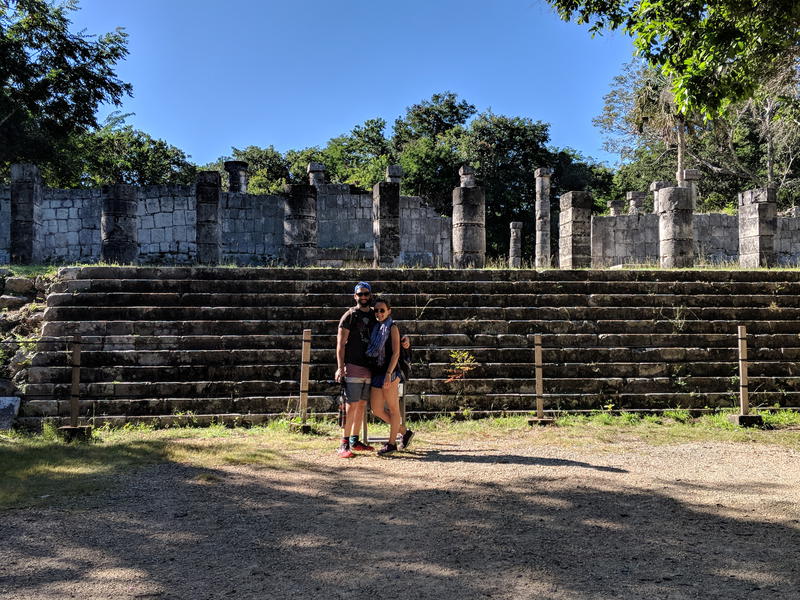 Helpful Tip
Before you go, one of the best things you can get ahead of time is a Mexico or Yucatan guide book! Get the Lonely Planet one on Amazon or Bookshop.org.
The best way to get to Chichen Itza
There are a few different ways to get to Chichen Itza, for every type of traveler (whether you're on a resort vacation or backpacking trip) in Mexico.
Most tour groups leave from Cancun, Tulum or Playa del Carmen by bus, very early in the morning. Both these destinations are a two or three-hour drive away from Chichen Itza, which is located centrally in the Yucatan state. The Mayans did a pretty good job of locating this archaeological site really centrally!
We stayed in Valladolid, a traditional Yucatecan city about two hours from Cancun. Not only did we really enjoy staying in Valladolid and seeing what the small city had to offer visitors, but we found it to be an excellent choice in terms of being close to Chichen Itza for a day trip.
How to get to Chichen Itza from Cancun
From Cancun, you'll want to either rent a car or hire a guided tour that can take you from your hotel to Chichen Itza and back.
A few things to remember are to try to go on an early tour, which will help beat the crowds and beat the heat.
Remember to tip your guide! You can see an assortment of tours that we recommend in this article.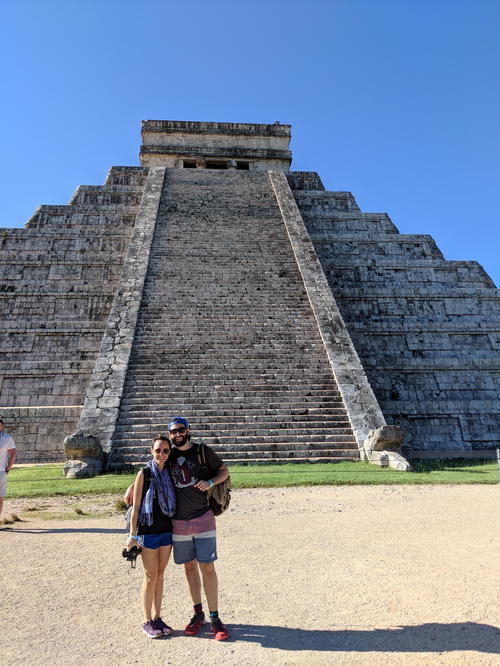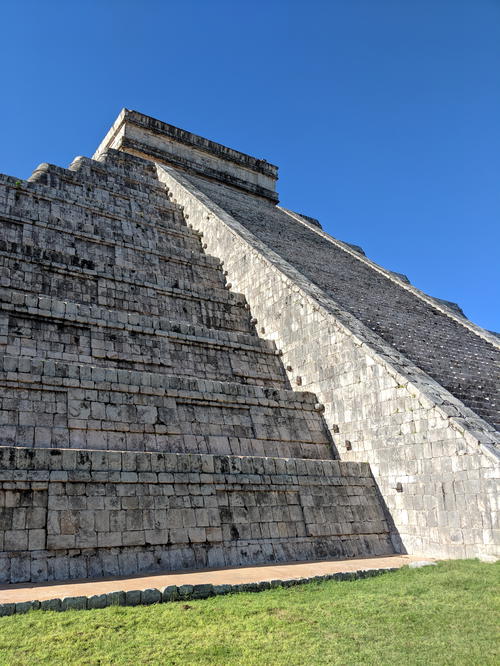 How to get to Chichen Itza from Playa del Carmen
Playa del Carmen, with its location to the south from Cancun, actually winds up being equidistant from Chichen Itza when compared to Cancun.
From Playa del Carmen, we also recommend either renting your own car and driving around the Yucatan peninsula to visit cenotes and archaeological ruin sites, or, taking a guided tour (this would be the easy route, and the guides are so knowledgeable!).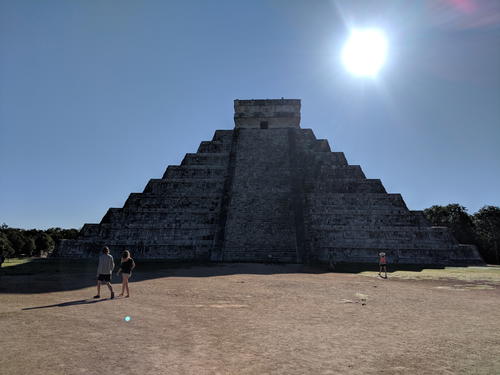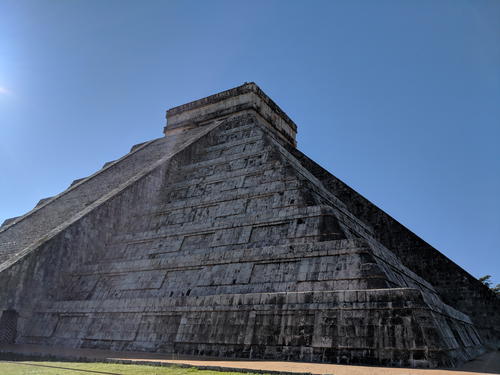 How to get to Chichen Itza from Valladolid
By staying in Valladolid, you'll be only one hour away from the ruins at Chichen Itza. This makes getting there a whole lot easier. If you were to rent a car, it would be a 45 minute drive at best, because it's only 45 km away.
Colectivos (small mini-buses that leave when they fill up) leave from the center of Valladolid. The first ones start leaving around 7:00 a.m.
Keep in mind that you might be cramped in a colectivo, and they're not any sort of fancy bus. The driver likely won't speak English, so it's a great time to practice Spanish, or learn it.
There may or may not be air conditioning, so go with the flow and appreciate the local experience. Colectivos also usually stop along the way to pick up and drop off local people, cramming in as many people as physically fit. Enjoy!
Helpful Tip
If you take the first colectivo of the day, you will get to Chichén Itzá before it opens and you can be one of the first people in for the day.
You could also rent a car from Valladolid and drive to Chichen Itza. We just happen to not know anyone who has done this.
How to get to Chichen Itza from Merida
There is no shortage of tours from Merida for taking you as a tourist to Chichen Itza. Like the tours to Uxmal, going to Chichen Itza with a tour will surely get you solid private air-conditioned transport, but, you likely won't be able to get there at 8 am when the park opens. Just keep this in mind.
You could also rent a car from Merida, and drive to Chichen Itza for the day. We have friends who rented a car in Merida and had good things to say about the price and ease of driving. Most roads connecting major cities and points of interest in the Yucatan are well-paved and have good proper signage.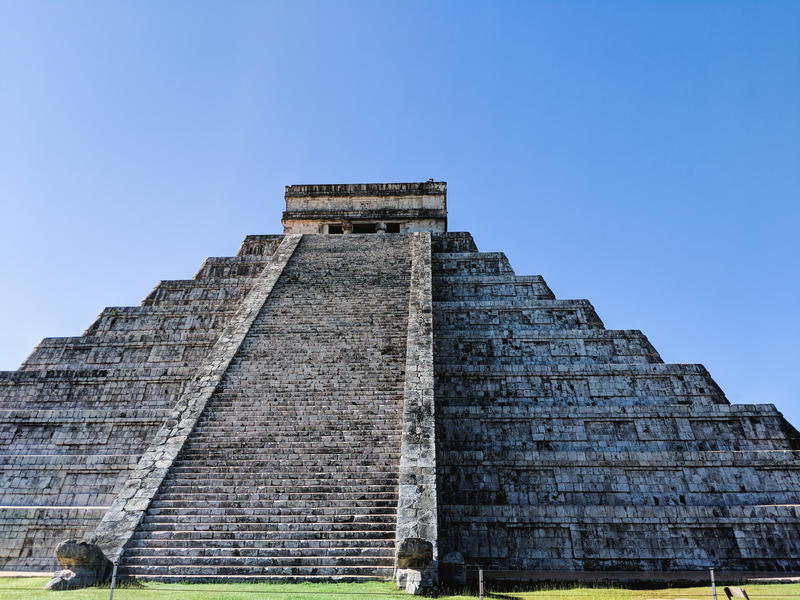 How to get to Chichen Itza early and beat the crowds
It's key to get to Chichen Itza before it opens, if you are traveling there on your own from where you're staying. The amount of visitors who visit Chichen Itza per day is pretty high, at 2 million per year. If you do the math, that's… 5700 a day.
Bookmark this point for later! If you take anything away from this helpful guide, the main point to remember about visiting is to go first thing in the morning (and it also helps to beat the heat, which is year-round).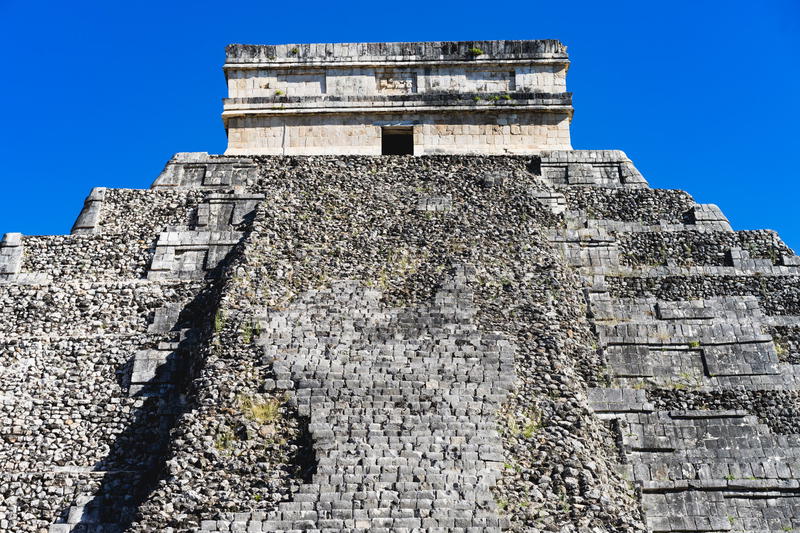 Get up early
We got up on our second day in Valladolid around 6 am and headed to the town center from Hostal La Candelaria.
Find the colectivo
We were much too early for the first colectivo of the day, which left at 7 am, but this gave us time to stop at the convenience store OXO for coffees. (We love coffee!)
Helpful Tip
Before your colectivo departs, you can also pick up some snacks for the day, as most items geared toward foreign tourists may be overpriced once you get to the Chichen Itza entrance.
Wait for the colectivo to fill up
We made conversation with the colectivo driver on the corner, who spoke with us about Mayan ruins, comparing where we had already been (Dan, to the Aztec ruins of Teotihuacán outside Mexico City, and Becca, to the Mayan ruins of Tikal in Guatemala… much more nearby, relatively) to Chichen Itza.
The colectivo leaves from somewhere near here: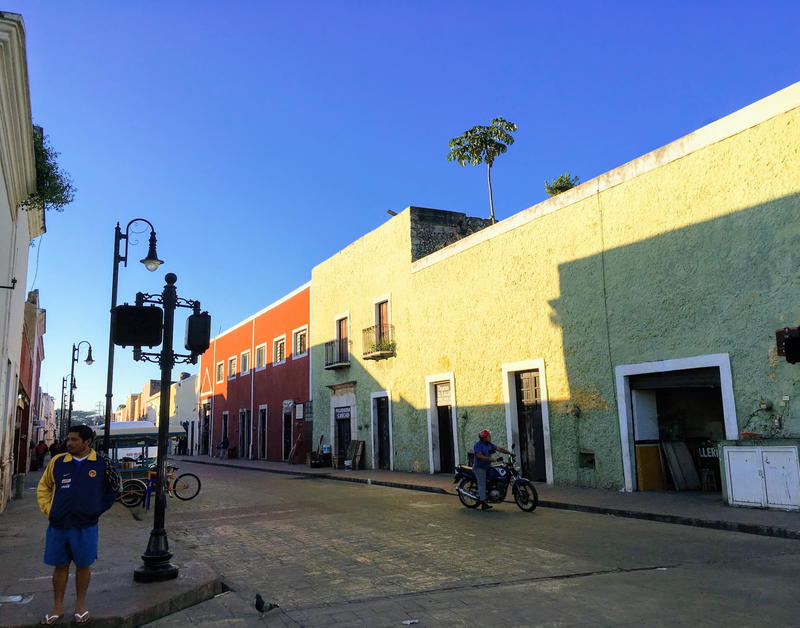 Get on the ticket line as fast as you can.
You will arrive after some time! The colectivo dropped us at the entrance to the ruins, or the national archaeological park.
By this point, we had already made friends during our ride, which lasted an hour.
Run to the ticketing line
We all were pooling ideas of how to get in as quickly as possible in order to be at the front of the line.
Helpful Tip
The same practice goes for visiting the ruins of Tulum.
We waited in the ticket line before 8 a.m. and were among what seemed some of the first to enter Chichén Itzá. After quickly paying the entrance fees of 614 Pesos per person ($33.72 USD), we were in. This price is the new entrance ticket price as of April 2023.
Explore Chichen Itza before tour groups arrive.
After seeing the pyramids, we wandered further into the patches of plants and trees.
There were no other humans around. This was unbelievable, for one of the top tourism sites in all of Mexico!
Keep in mind that if you go to Chichen Itza during Christmas week or around New Year's, it will be absolutely busy with tourists, mostly Americans, as everyone has vacation days. It's true: the Yucatan is one of the hottest places to travel to during winter.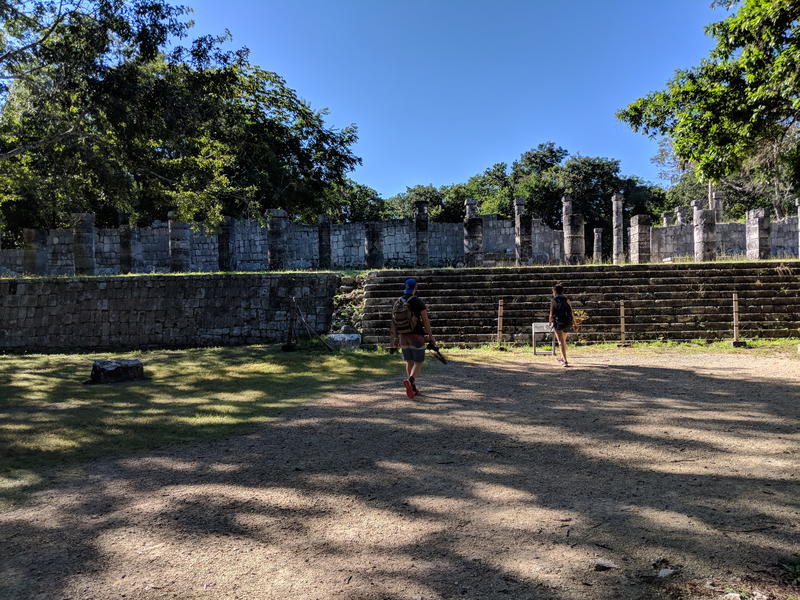 Places to visit within Chichen Itza
There are LOTS of different archaeological findings where you can take photos and learn about history in Chichen Itza. Our favorites are below.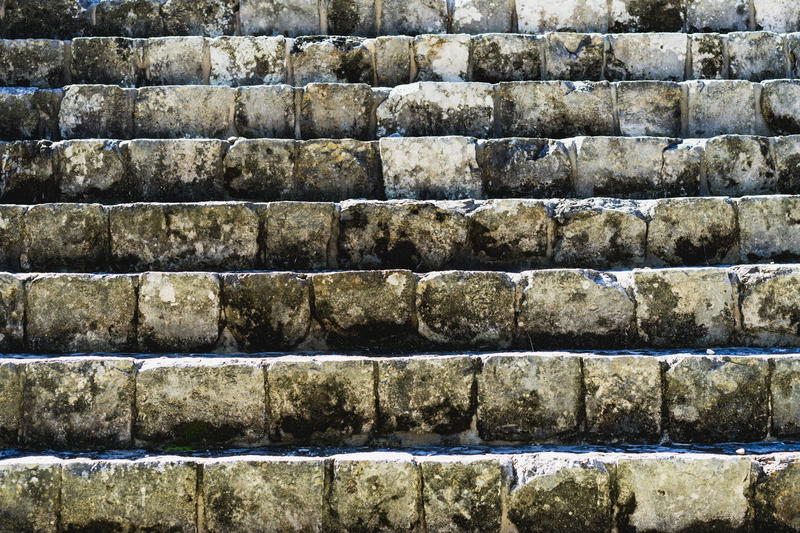 Temple of Kukulcán (La Piramide)
This is probably the best place at Chichen Itza to take your "I was here!" photo. Just make sure there are no other people in your photo, and you can do this if you go to Chichen Itza early and you're one of the first people to enter the park!
This step pyramid is grand, and big, and perfectly symmetrical. While we didn't go to Chichen Itza at golden hour, I'm sure that that would also be an excellent time to take photos there.
Visit Mil Columnas
You may even feel alone in the jungle if you walk quickly toward the Mil Columnas and further into the smaller ruins. You'll want to have your travel camera ready for the good shots before the sun rises higher in the sky.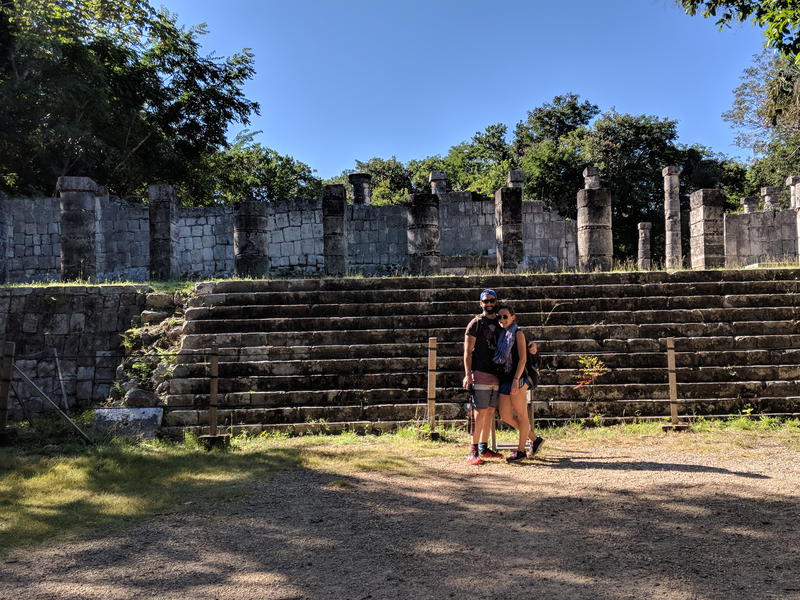 Small patches of natural jungle and cenotes
After admiring the large pyramids against a perfect blue sky, we hopped in a shortcut through a small jungle, stepping over pieces of ruin (or updated reconstructed ruins) in all shapes.
We found our way to two cenotes, neither of which are for swimming, and saw some large lizards. Still… not so many people.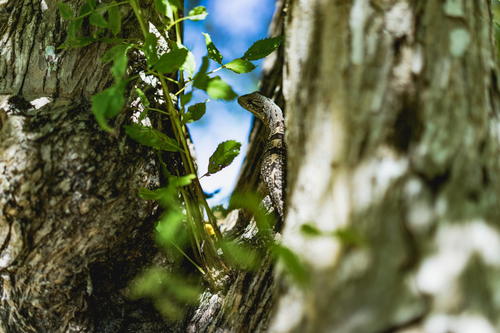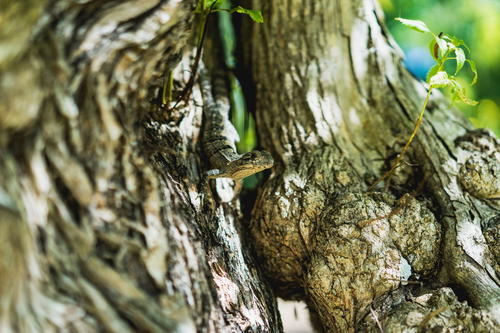 The two cenotes within the Chichen Itza park are the Sacred Cenote (Cenote Sagrado) and Xtoloc Cenote. Both are quite the sights to see! You cannot swim in them, however.
Helpful Tip
Look up toward stone ledges and tree trunks, as you may find lizards hanging out or sunning themselves. It's like a safari.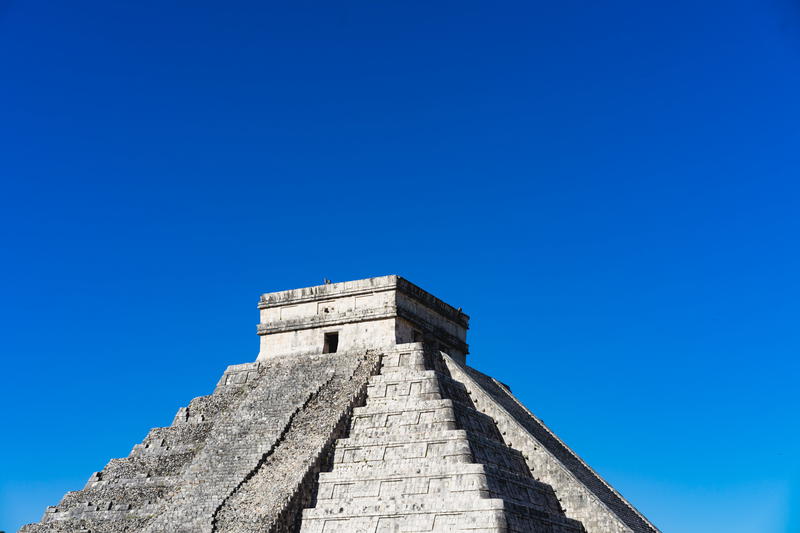 How long to spend at Chichen Itza
We spent a total of three hours in Chichen Itza and walked a bunch of miles, seeing two cenotes, which are natural sinkholes filled with stillwater, and more temples and cool stone carvings like jaguars and lizards.
If you are going with a guided tour, note that most guided tours (full-day tours) last about 10 hours. While that seems like a long day, consider that the drive (typically from Cancun or Playa del Carmen, where the tours originate) will take a few hours in the beginning and the end of the day.
You'll have around two hours to see Chichen Itza's sights, and then there will be time set aside for lunch. After that, the tours usually head to a cenote that everyone can swim in. Some tours will visit the city of Valladolid so that you get a full taste of the region.
From what we saw at Chichen Itza, and due to the heat during nearly all parts of the year in this part of the Yucatan, up to two hours is a good time to spend at Chichen Itza to see the top sights and see the pyramids and structures.
We left on a colectivo back to Valladolid for the same price (35 pesos, or $1.84 USD for an hour-long ride) and were glad to see that we had been charged the same price as locals, as we overheard.
We got back to our hostel, refueled with great food and rehydrated with lots of water, and continued our lovely trip through the Yucatan (highly recommend).
So, did we beat the crowds at Chichen Itza?
We did!
As predicted, within an hour or less from 8 am, the Chichen Itza park grounds were nearly overrun with tourists in groups who had come on tour buses from Cancun and Playa del Carmen.
The sun was higher in the sky, it was hot. We were baking and feeling exhausted already.
Photo lighting was no longer ideal, there were vendors hawking travelers and more and more people crowded the most well-known spots.
There were groups with guides and umbrellas to beat the heat, everywhere, and luckily, we had gotten our "we are the only ones here" photos already.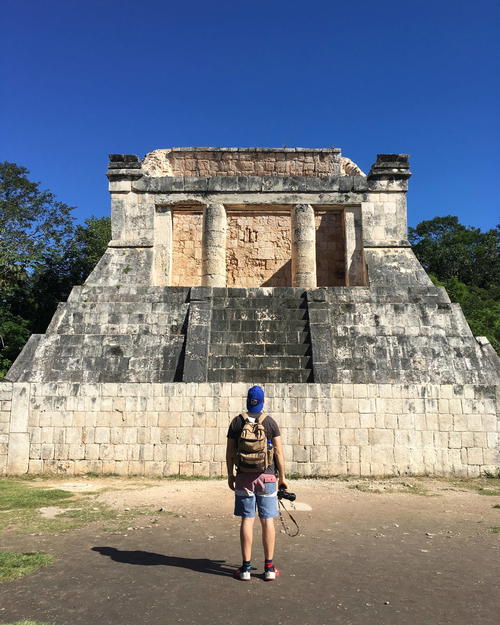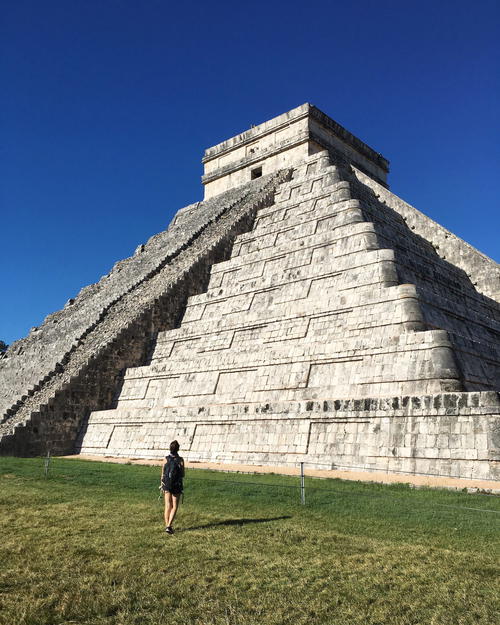 ---
Continuing onward in Mexico?
Check out our Yucatan guides for Tulum and Valladolid and bookmark our fabulous guide for Mexico City.
Enjoyed our article?
Consider supporting us! We're a 2-person team (learn more about us here) and your support enables us to create quality content. Thank you!