The Best Men's Travel Pants For Every Type of Trip
Written by Dan
•
Updated on November 9th, 2023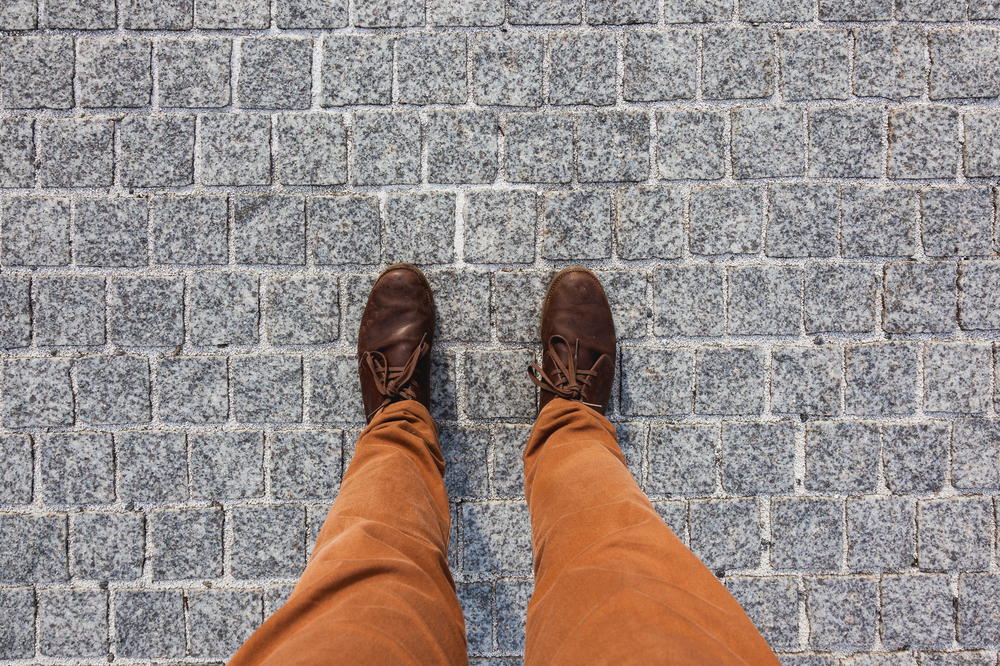 What are the best travel pants for men? I did the research to determine some of the most versatile, comfortable and functional travel pants!
This article may contain affiliate links. We earn a small commissions when you purchase via those links — and it's free for you. It's only us (Becca & Dan) working on this website, so we value your support! Read our privacy policy and learn more about us.
Table of contents
Close table of contents
When you travel, a lot of thought goes into the types of items that you bring with you. If you're like me, everything that you have serves multiple purposes. I like to pack light, and too many single-use items quickly start to add up and fill your bag.
I usually travel with a single pair of pants. I want to make sure those pants will last a long time! Picking a good pair of pants is based on a few qualifying factors. A pair of pants should be durable, flexible, good quality, not doofy and should serve a secondary purpose like being suitable for a second occasion.
Let's get started by checking out the following men's brands that have fashioned unique types of travel pants.
Western Rise is a cool company that creates versatile clothing for men. Their focus is on minimalist products that maximize features you need and slash those that you don't.
What I like about the company is that they are product-focused, and their garments perform great in all different types of temperatures, occasions, altitudes and activities. It's cool to see how the company was started and how the products are all inspired by travel. We dive into the details in our interview with Western Rise's Co-Founder Kelly Watters.
What's more is they don't chase fast trends; instead, their men's line is timeless and functional. If you were wondering, the name of the brand reflects the feeling of the Rocky Mountains (which are in the American West).
Western Rise has an amazing 'try at home' service that gets you a trial run of up to four products, for seven days, free of charge.
Shop Western Rise and look for the Try at home button on the product pages.
I recommend two of their styles:
Are Western Rise travel pants worth it?
Here's what I want to discuss about both the Evolution Pant and the AT Pant: both focus on durability, and comfort, with looks that are great for the workday or the weekend.
In general Western Rise makes quality clothing. After putting together a Western Rise brand review, I'm sold on their items fitting all of my criteria.
The Evolution Pant
The Evolution Pant happens to be ultra-lightweight and moisture-wicking, and it is also stretchy. I like wearing these on the weekend or if I'm taking a short train or bus ride these days.
These pants are perfect for the summer (or hot weather) if you're looking for something light weight and versatile. When I took them out of the packaging, I was surprised how thin they actually were.
The AT Pant
For the AT Pant, they're meant to replace jeans and work pants, so to speak. They have a two-way stretch, and elevate qualities of being breathable, water-resistant and no joke, Western Rise wants you to work from home in these.
I actually got caught in the rain while I was wearing these. I was able to brush the rain drops right off, and I stayed fairly dry. Pretty cool!
Photo via Western Rise
My pair of Aviator Jeans are one of my favorite pairs of pants. I have owned these for a while, and they have been an amazing asset for me. They were the first pair of pants with zipper pockets that I ever owned. They're also stretchy and very comfortable.
What are the best features of Aviator Jeans?
I like that Aviators have pockets specifically for a phone, a wallet or a passport. You can zip things in place, and you don't have to worry about your things falling out or being stolen.
I was once on a train, and I was wearing sweatpants. Would you believe that my wallet fell out?
Luckily, I noticed this before the train left the station, and I was able to recover my wallet. Since this experience, I've really come to appreciate zipper pockets.
Wearing Aviator Jeans is a nice experience because they're comfortable and stretchy. The blend of fabric is soft and durable. I'm confident that they'll last if I wear them every day, and they're durable enough to withstand some wear and tear.
Which features of Aviator Jeans can be improved?
I think there's too much fabric in and around the pockets. They sometimes feel a little bulky around the sides. Their bulkiness makes sense because some of the pockets are double pockets, and you need the extra fabric for the zippers.
I also had to get these jeans tailored considerably (again, by Becca's mom — thanks!). With that said, they legs fit a little on the wide side.
Update, Aviator now offers free hemming when you order! They'll also reimburse hemming up to $10 if you show a receipt. Keep in mind that sales are final once you make any alterations.
The hemming has been one of my (and Becca's) favorite features about Aviator. In fact, Becca's Aviator travel dress was hemmed and now fits perfectly!
Bluffworks offers everything that you need to be a smart traveler. Pants included. They have travel shorts, travel jeans, travel dress pants and suits!
They also offer free US shipping so that you can try on a few pairs and styles.
I like Bluffworks because they're specifically designed to be multipurpose. Plus, there are many different products to choose from.
All of the Bluffworks travel pants are wrinkle-resistant, breathable and moisture-wicking. They all do an excellent job of being durable while you wash them, holding your phone (or other items) and secretly having pockets (in other words, they have hidden pockets).
Why is Bluffworks the original travel pants?
Their original travel pants are made from super lightweight material. I tried these on during a hot day, and I could have sworn that they had an air conditioner inside of them. These will be great pants if you're wearing pants in really hot climates. They're very wrinkle-resistant, so if they're rolled up in a ball for a few days, you can shake them out, and they look presentable.
Bluffworks pants have been around for a long time. In fact, they were created in 2012. They have an interesting history that is worth checking out.
Bluffworks also makes a travel suit and nice travel clothes
The same technology that goes into the pants is also in their suits. If you need to travel with a suit, the suits from Bluffworks are sure bets for having a suit that doesn't wrinkle or smell during a trip.
I recommend the Bluffworks Gramercy suit, which has wrinkle-free suit pants. Check out this guide where we show how to pack a suit to avoid wrinkles, and you'll see what I mean.
They also have the Ascender Chino pants, which are your best option for times when you want something nicer or more professional. They pair nicely with their wrinkle-free travel dress shirts. I've been traveling with this combo to weddings and other events, and it's been a great experience.
Photo via Bluffworks
Before I was wearing my DUER pants, I was wearing custom pants that I got in Argentina.
The pants from Argentina are some of my favorite pants, ever, but weren't practical for traveling. They had shallow pockets, and the seams were not reinforced. The insides of the pockets started breaking because they weren't sewn well, and overall, it was time for a trusty pair of pants for me.
When I walked around South America during my year of working remotely and traveling, I was nervous that my pockets would get pick-pocketed.
I also blew out the seams a few times, and they currently have a patch on them. I can't say that the material is the most durable, but they are very comfortable!
I still wear these around New York City. My phone often slides around and is exposed in the corners of the pockets. I always have to make sure nothing falls out of the pockets.
My DUER jeans are the answer to the problems that my Argentina pants had. DUER pants are incredibly durable and have nice deep pockets. They have a lot of different styles to choose from, and all styles offer features that are unique.
The pair that I have lasted about three years of daily use. That's something like 1000 wears! They have since worn out a bit, but that's to be expected because I don't think any material really lasts forever.
I talk about them as pants made for travelers in my DUER Performance Slim denim jeans review.
For a trip when you'll be in cold places, I tried DUER's fleece-lined jeans and discuss them in my DUER Fireside Winter Jeans review! They're perfect for frigid climates or a ski trip. They have a thin layer of insulation, which don't get in the way where other fleece-lined paints might.
What types of DUER Pants do I have?
I settled on the "No Sweat Slim" pair. They didn't need any alterations or modifications. With that said, they are a slim fit, so they might not work for everyone. In any case, these are my go-to jeans that I could wear essentially any day of the week, and I always feel great in them.
I've worn these pants on hikes, with a nice shirt at a fancy event and almost every day during casual days. I also have DUER's newest summer shorts, the Weightless Poplin AC Shorts for men.
I only have nice things about DUER pants and actually, I bought them with a friend who also raves about them equally. The DUER pants don't have zipper pockets, but that isn't a big deal unless you're looking for them.
What makes DUER Pants unique?
I wanted to call out that DUER pants have a lot of reinforcement in certain places that usually fall apart on other pants that you wear often. Their pockets are also some of the deepest that I've seen in any other type of pants. This means feeling good that things won't fall out of your pants even if you are doing a cartwheel.
Because I like my other pair of DUER jeans, I'll mention that DUER also has a pair of joggers. I like joggers for travel because they are comfortable and versatile. You can wear them on travel days and for walking around cities and exploring various destinations.
Joggers aren't the best for hiking, but they do hold up very well for more active activities like working out and riding a bike.
They look great and would totally work for the traveler looking to find a great looking pair of pants that can be worn on multiple occasions. I really like joggers, and to this end, I've rounded up the best joggers for men, which is worth checking out.
Photo via DUER
Mott & Bow is a men's and women's apparel company that makes flattering jeans in timeless styles. I've enjoyed learning about the brand and all its products, and taking the jeans on my recent travels. The jeans are well-made and look effortless, with simple tailored fits from skinny to slim and with a fit for everyone.
See my review on what to know before you buy Mott & Bow to learn a lot more about this company and their other men's products, from my favorite everyday tee, to cashmere sweaters.
The fit
The Staple jeans fit me nicely, to the point where I feel good in them, and they're durable and versatile. They're effortlessly comfortable, more than most pairs of jeans I own.
One thing to note is that they only come in one length, 32. I roll them up because I'm typically a 30, but you can also get them tailored.
For the "Skinny" variety, I went 1 size up. It's rare that I do this, but skinny jeans seem to fit a little on the smaller side from Mott & Bow. Their jeans (based on the "styles," which all have names like Staple, Broome, etc.) can mostly be found in Skinny, Slim and Straight.
Features
Let's start with the stretch. These particular jeans are stretchy, so this makes them practical for long flights or travel days. The specific material is Dynamic Stretch, which has a 32% elasticity factor from the cotton, polyester and elastane.
The fabric is soft, which is why I enjoy it. It's not scratchy or stiff, and it feels like good substantial denim that I'd wear in fall, winter or early spring.
Everything else you need to know
These jeans are part of the Dynamic Stretch category offered by Mott & Bow. There are a few other varieties in that category that might be worth checking out if you're into these styles.
Mott & Bow also offers pants called the 4-Way Stretch. You'll see these listed as Broome Jeans. These are unique because they offer stretching in all directions, and they're good for different types of mobility.
One more thing I'll comment on about Mott & Bow is that their product pages for jeans specifically state that you don't necessarily have to wash these jeans often. This is my kind of brand! I rarely wash my jeans (and found that that this is actually recommended by denim experts!).
prAna is a socially-responsible company. You can learn more about their sustainability mission on their website.
Their sustainability line offers recycled wool and organic cotton. Their clothes are also fair trade certified! Quality and durability are important to the brand. They mention those two pillars in their mission statement.
Are prAna Brion pants worth it?
Their pants are crowd-pleasers! The Brion line is the most popular pair of pants that prAna makes. The material is cut from their original stretch Zion fabric. They have a lot of useful features that are specific to travel needs, like reinforced rivets, water-repellent materials and sun protection. Somehow, they've kept the price competitive and affordable through the years.
prAna Brion: deep dive
A personal consideration about these pants is that the pants are not tapered. If you have the pants tailored, you can get them to fit you exactly how you want. If you don't typically wear slim fit pants, this shouldn't be an issue for you.
The pants contain 97% nylon and 3% spandex. If you weren't sure what their original stretch fabric is, this is it!
You can use these pants for almost every occasion. They'd be good for hikes, climbs, casual Saturdays, office attire and for riding a bike.
Photo via Backcountry
The Stretch Zion pants are a great option for hiking and a more comfortable travel experience. They are classified as technical pants, which I believe speaks to their ability to offer features such as an adjustable waist, stretchy material, an inseam gusset and roll-up snaps.
If you're more adventurous, the Zion pants will help you perform better in your activity of choice. If you like to travel with a pair of pants and feel like you can do anything in them, then the prAna Stretch Zion would be a great option for you.
Photo via Backcountry
Icebreaker is known among the serious traveler crowd because of their quality and their use of merino wool.
Merino wool is one of the best materials to use for clothes. You can wear merino wool several times and the smell never really knocks your socks off. Well, unless they are socks, and you take them off.
Sustainability is a big part of their philosophy and core values as a company. They also make other great items for travelers, like their well-known socks, shirts and hats.
How are Icebreaker Merino Shifter pants?
Their pants are solid. Icebreaker has a few options for pants, and I'll focus on their Merino Shifter Pants.
I think they're interesting to highlight because this is a case in which this might be your secondary pair of pants. Although I typically like to travel with a single pair of paints, I can see having a second pair.
Traveling with two pairs of pants is good if one is in the wash or is wet from the rain. It would also be good in case you lose a pair of pants (is that possible?).
When would you use Icebreaker Merino Shifter Pants?
If you have the capacity for multiple pairs of pants or if you aren't traveling full-time, these are still great pants to have.
They're super cozy and have numerous uses. You can take them on a run during a cold day, be warm while relaxing around your house, pretend these are "adult pants" and wear them to work and more!
You might have a harder time in tailoring these; however, you might not need to because the pants are already tapered. They also have an excellent stretchy material called LYCRA® that helps a lot with the mobility and "stretchability."
Photo via Icebreaker
The Rhone Commuter are not your generic "travel pants." They appear to be from the outside, but when you dig a little deeper, they have some nice features.
How can travel pants have features?
The Rhone Commuters come with a few things that can be useful for someone who travels a lot. They have a snap button, back pocket zipper, phone pocket, articulated knee and a gusset. Why are these useful features?
A snap button is useful for times when you only have one hand available. It's also more comfortable, in my opinion. Back zipper pockets are helpful to keep things from falling out. I explained more details about this below! I like the phone (or media) pockets for phones and phone-sized-things, like passports. Having an articulated knee in a pair of pants is only useful if you're doing a lot of movement.
One of the best features about buying Rhone pants is their ability to hem your pants. Not needing to hem these pants yourself saves a trip to a tailor and makes them a bit more custom when they get to you.
Wait, what's a gusset?
A gusset is a piece of fabric in the undercarriage of the pants that reinforces the area and helps prevent the ripping of your pants.
Photo via Rhone
And if you're looking for an excellent belt option to go along with these pants, check out Arcade Belts on Amazon or directly on their site.
Mountain Hardware is a well-known outdoor brand. I first heard about them because of their jackets. Their Hardwear AP™ pants are their flagship hiking and climbing pants. Can pants have a flagship model? I guess so!
They're mostly cotton and nylon. Most people don't like cotton for travel clothes, but I don't mind it. I think that cotton gets better with age and is more comfortable. It doesn't usually do well in wet weather, though.
What to expect wearing Mountain Hardwear AP™ Pants
You can expect normal pants-wearing-things with these. Aside from covering your legs, you'll find zip pockets, articulated knees, reflective strips and a cell phone pocket. The reflective strips are useful when you roll up the bottoms of the pants. When you're on a bike, it's an extra protective measure for being seen in darker conditions.
Photo via Backcountry
Public Rec is a 'leisure for everywhere' brand specializing in soft and breathable products for men. I tried out their "All Day Every Day" (ADED for short) jogger, which is a style tailored for travel and comfort.
What can you expect from the Public Rec jogger?
At first glance, the jogger looks like a tailored type of sweatpants, but it's more than that. From far away, these pants look great. I almost wanted to wear these to work! Now that I work from home, I can wear them to work. There's an elastic waistband with internal drawstring, along with front and back zipper pockets that you can keep some crucial items in during travel.
In order to not be confused with sweatpants, the joggers have a faux front fly for a more formal look. While you probably wouldn't wear these right from the plane to a business meeting, you could for sure wear them for a day of sightseeing and feel pretty put-together.
What do the Public Rec Every Day Joggers feel like?
The joggers are a spandex-nylon blend, which makes them breathable and not a bad choice if you'll potentially be perspiring.
Do you need the Public Rec Every Day Joggers?
Probably. If you like to wear pants that are not jeans when you're in transit, and if you still want to look decent, then yes: you need the Public Rec joggers for men.
The Public Rec jogger will be the closest thing you can find to a stretchy pair of pants that will be comfortable, won't wrinkle and will look pretty okay after 24 hours in transit (like on a flight).
Another question is: do you need the Public Rec joggers for a woman in your life? Maybe you do! This is a pair of travel pants in this list that also has a women's version: the women's All Day Joggers from Public Rec, and my wife Becca approves of them.
Can you run in the Public Rec Every Day Joggers?
Yes! In colder weather (below freezing) I like to run in pants. For me, shorts are ok as long as the temperatures are above freezing. On some of the coldest days of the year, I decided to research what types of pants to buy for cold weather running. I enjoyed all of the suggestions, but I like to utilize items that I already own.
I took the Public Rec Every Day Joggers out for a run and it was great! I stayed really warm, in fact, I was actually too warm at the end of my run.
There is a security pocket on the left side, which was perfect for holding my phone during my run. I typically have a lightweight running belt but it wasn't needed when I was wearing these pants — all thanks to that pocket!
Photo via Public Rec
These Brise Schoeller Pants are going to be your pick for anything active. The pants are designed for everything. Because they are so adaptable, these may one of the only pair of pants you need to bring on a trip. As an update, Foehn reported that they have "updated the fit" on the current version of the Brise, so please re-check your sizing on the product page!
Do you need the Brise Schoeller Pant?
Maybe. You can find mechanically wicking material, which is great hot weather. The stretch fabric it perfect for times when you need to be a little more active than sitting on a couch or an airplane. The material is truly quality and all of the zippers found on the pants are YKK zippers. Knowing what I know about the Foehn brand, they don't make too many products, because they take pride in and want to excel in each one.
Photo via Foehn
What features should you look out for when choosing your next pair of travel pants?
Zipper pockets can help keep your valuables safe
No matter how careful you are, it's always a possibility that you can get pick-pocketed. Zipper pockets are an easy way to protect yourself from someone reaching into your pockets and snatching your phone or wallet.
With everyday use, zipper pockets are also great for making sure you don't lose valuable items that you keep in your pockets!
Depending on what you're doing, you need to put a lot of trust into regular pockets for making sure you don't lose anything. It's really easy for a phone or wallet to slide out if you're traveling all day and get up from a chair or bench. Having a little extra security can really go a long way.
What pants with zipper pockets do I recommend?
Check out a quick list of pants with zipper pockets. Even if you are not traveling, pants with zipper pockets truly help in all occasions. They are great for hiking, biking, commuting or walking around.
You might want hidden pockets (or inside) pockets if you really want to feel secure about keeping your valuables close to you. Alternatively, you could also look for a money belt.
Secret pockets are a great place to stash things like your travel documents, your keys or phone. Hidden pockets may also have a zipper that can help when you take off your pants and forget something is inside of the pockets.
Articulated knees make pants more comfortable
Having articulated knees built into pants is an interesting feature. They help to avoid having your pants bunched up or cutting off circulation. It makes it easier to go into a full squat as well. Having this feature in pants is a useful for hiking and going to the gym. The stitching pattern gives off a "travel pants" vibe.
I suspect that custom-fitting pants with articulated knees might introduce some challenges for the tailor (or Becca's mom). For these types of pants, I take the stance that they're specifically for hiking and that they don't require any custom fitting.
Cell phone pockets protect your phone
I generally like cell phone pockets because it means more pockets for other things. When you travel, sometimes you have odd items. It's not uncommon to have a passport with you while you're out, or to have an oddly-shaped piece of paper. Using such a pocket for those items is often a better idea than using it for your cell phone.
Stretchy material
Any pants that have some type of spandex built into the fabric is a nice touch in making your pants more comfortable. You'll see a benefit of extra mobility and the pants will be more forgiving for different situations.
Why should you trust me?
Pants are a staple item in my travel gear. I often travel with one pair of pants to help save space in my luggage. When I find a pair of pants that I like, I make that decision based on quality and functionality.
Additionally, I look for pants that provide utility, like to help prevent pickpockets!
I traveled long-term for a year in each of 2016-2017 and 2018-2019. I've traveled to 30+ countries and have lived out of only a backpack while working remotely for many months! I take travel pants seriously and I have used that knowledge to make this list.
Looking for more pants recommendations?
Becca wrote the best travel pants for women if you'd like to check out those recommendations! She has also traveled extensively and values travel pants that are versatile, high-quality and "do it all."
Enjoyed our article?
Consider supporting us! We're a 2-person team (learn more about us here) and your support enables us to create quality content. Thank you!