Peak Design Travel Backpack Review: My #1 Travel Bag (Seriously)
Written by Dan
•
Updated on September 6th, 2023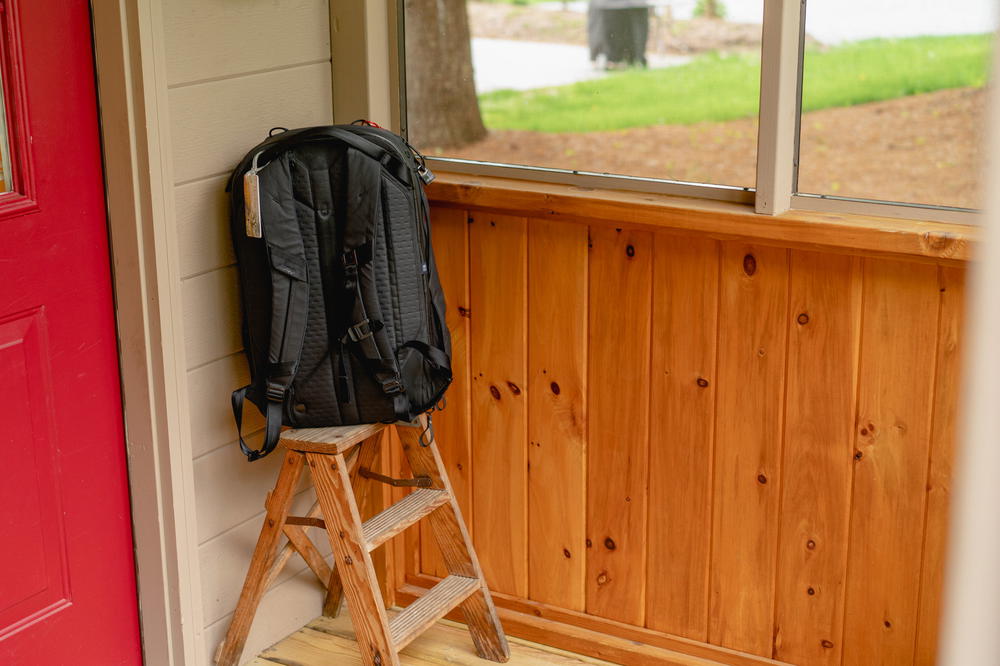 The Peak Design Travel Backpacks in 30L and 45L have been my favorite trusted travel bags for photography, and I really mean that. Find out why these backpacks have all the best features for your next trip.
This article may contain affiliate links. We earn a small commissions when you purchase via those links — and it's free for you. It's only us (Becca & Dan) working on this website, so we value your support! Read our privacy policy and learn more about us.
Table of contents
Close table of contents
The Peak Design Travel Backpack has been my go-to bag since the brand's Kickstarter campaign in 2018. Being a full-time traveler at the time, I was always looking for the best travel bag to take with me for an extended amount of time.
It's important to find a durable and reliable bag that is highly functional, and the Peak Design Travel Backpack is it!
Let's explore some of the features of this handy backpack, and you can learn about all of the pros and cons to determine if this travel bag is right for you.
Let's jump right in!
The Peak Design Travel Backpack is, in all honestly, my #1 favorite backpack to bring on a trip as my main piece of luggage. I'm a huge fan of the Peak Design brand, and I swear by their quality. All the prices of Peak Design products reflect the incredible durability of everything they make.
The Peak Design Travel Backpack, in 30L and 45L, is designed to be everything: a daypack (kind of), a suitcase, a bag for a ton of camera gear, a carry-on. It is incredible what I have done with this backpack over the years.
I'll take this backpack for a one-night stay somewhere during a holiday weekend, and I took it to Vietnam, Taiwan, the Dominican Republic, Mexico… the list goes on.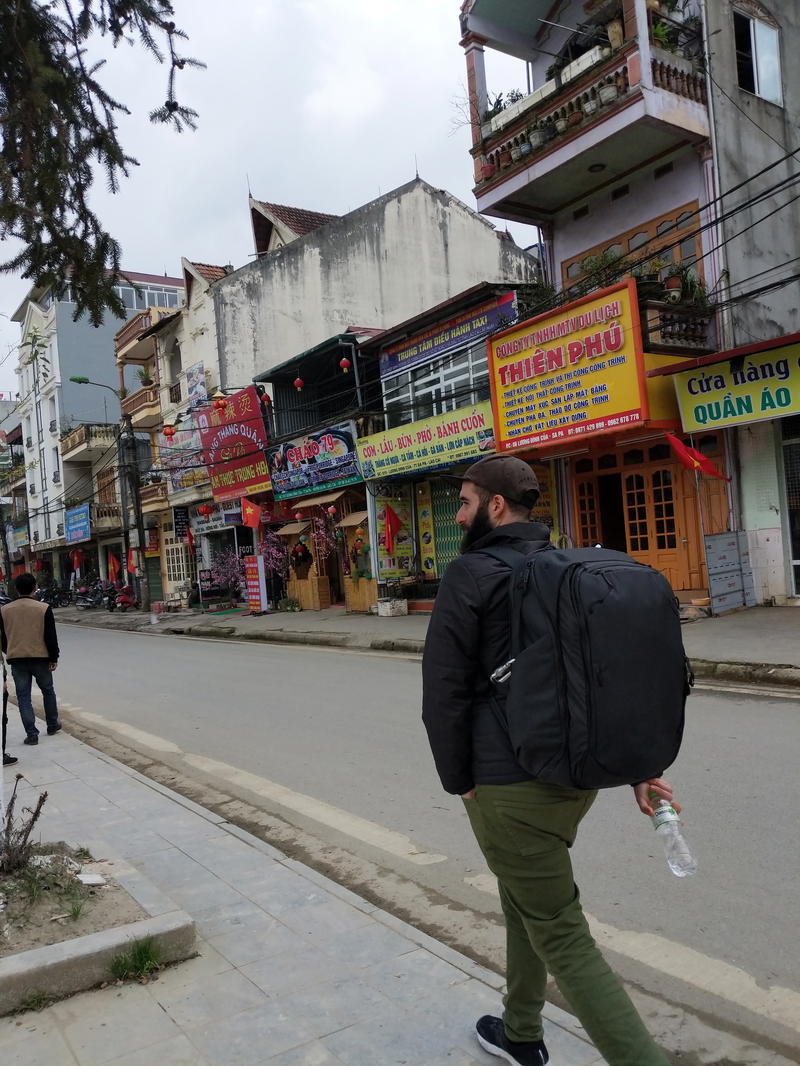 In this section, I'll walk through all of the features of the Peak Design Travel Backpack and I'll provide more information about real-life use and practicality with each of them. We're about to dive straight into the deep end with this overview.
The features are basically the same in both the 30L and 45L models, and I have both!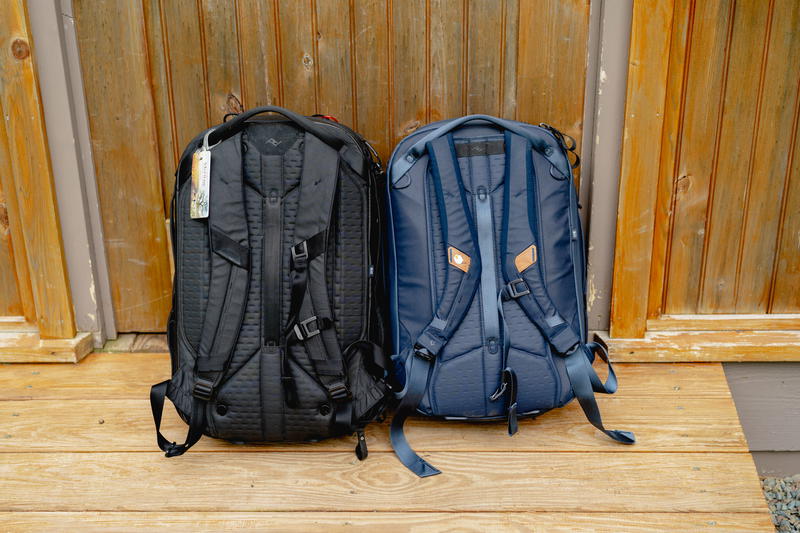 Carry-on approved
I've taken the Peak Design Travel Backpack on a lot of flights (I can't even count how many) and I've had no problems with it in any airline or airplane overhead compartment.
Some budget airlines might have more restrictions. I've flown on United Express and I have only ever taken a backpack, because the airline claimed to have more of a strict policy.
This backpack (in both 30L and 45L) won't fit under your seat, so you'll need to put it in the overhead bin. It does well in the overhead compartment because it's fairly squishy (if it still has room inside) and can rotate on its side if the airline crew needs to make more room up there.
Personally, I always get worried about finding a space in the overhead compartment for my bags. Even with tight squeezes, I've always been able to find a place for it.
And lastly, I've also been able to stash this bag up above in some overhead compartments on some of the bigger buses in South America and Southeast Asia, not to mention nearby NJTransit trains near NYC.
Zippers and pulls
The zippers are absolutely fantastic. I've completely stuffed this bag to the brim and have never had any issues with the zippers breaking. Even the sealed material surrounding the zippers shows almost no sign of wear, since 2019, which is impressive.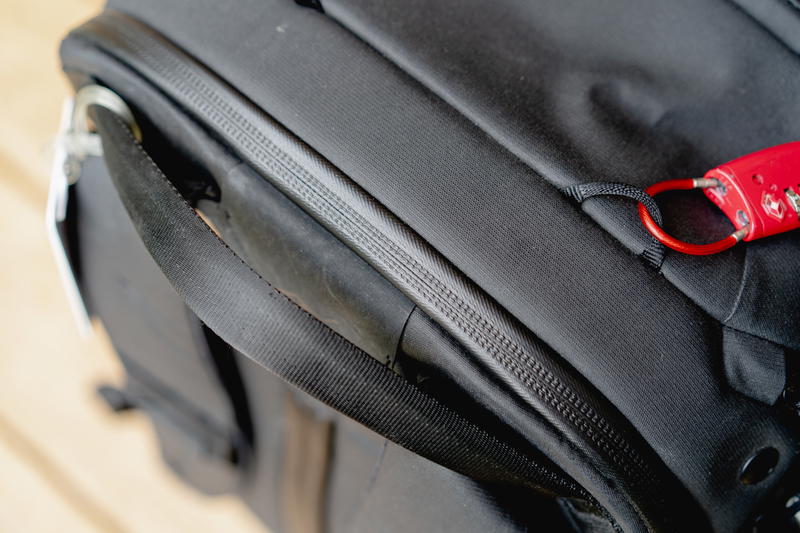 All of the zippers on this bag are the highest quality and are built to last.
The zipper pulls claim to be theft-deterrent. In my experience, if someone wants to get into your bag, they will. This might help stop someone getting into your bag while you're walking, though.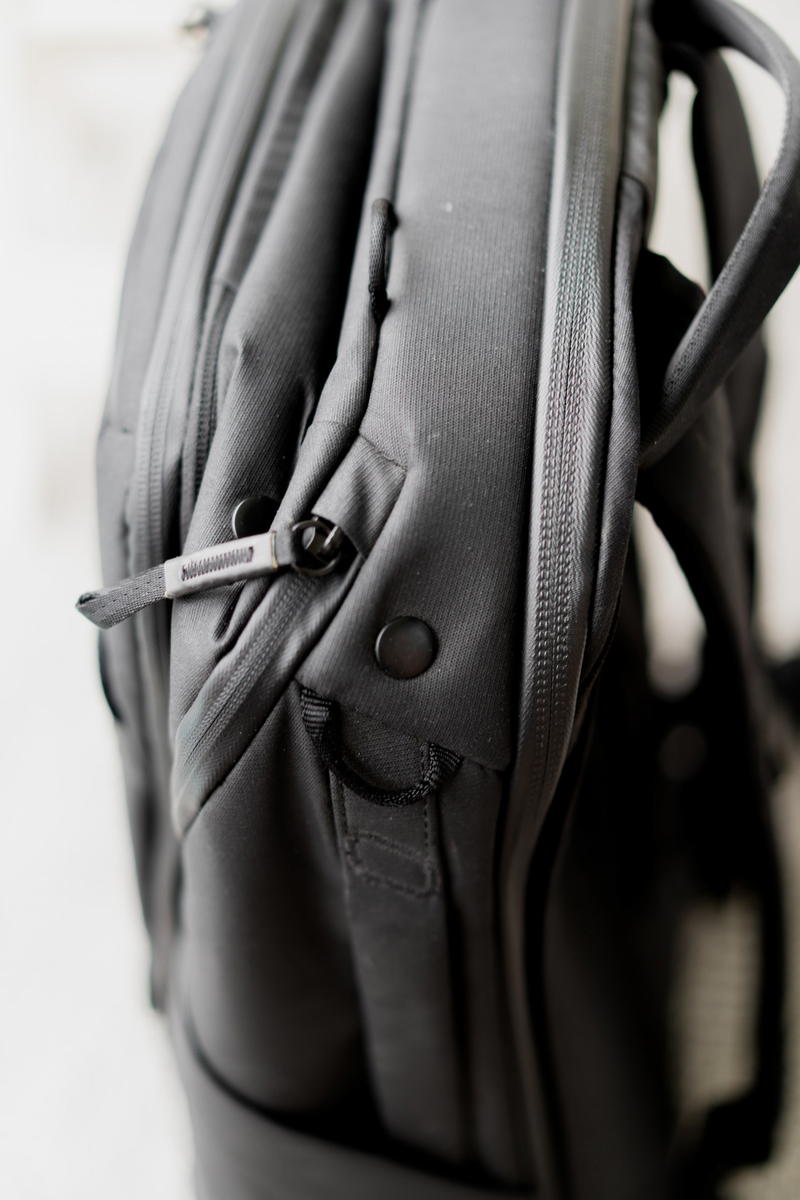 I've tried to combat this by putting locks on some of the external pockets. I had been worried about someone trying to get into my bag when storing it in a hostel/hotel storage closet, or when it's out of my sight in the storage under a bus.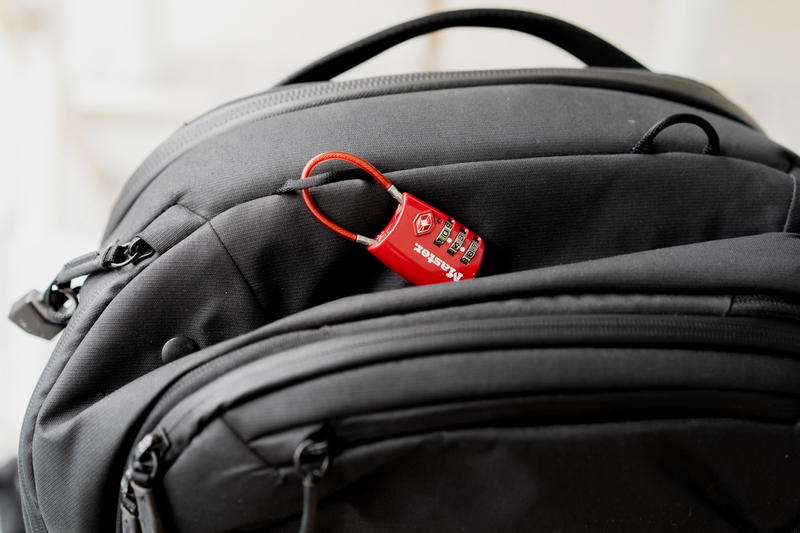 If you go the route of putting a lock on the bag, make sure you don't lose the key like I did. Oops. Good thing I can still get into the backpack! One of these days, I'll try and pick the lock or cut it off. This is a good reminder for myself to get more combination locks.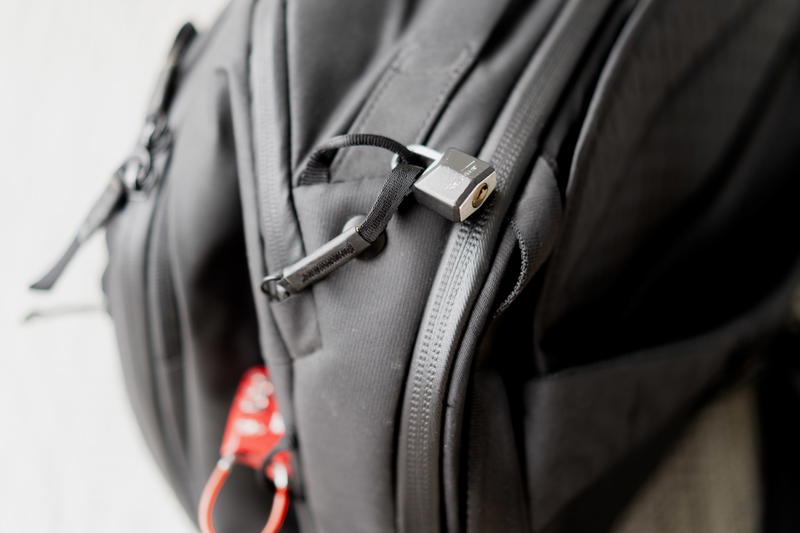 Luggage tag holder
It's nice that the bag has an integrated and protected luggage tag holder. Nevertheless, I've always put my own tag on the main strap so it's more visible.
My only gripe with this feature is that it's kind of hidden, on purpose, and that's a flaw in my mind. If you look on the bag, there's a little icon with an ID, but it's hard to miss.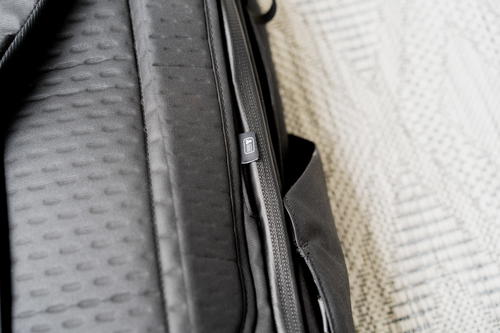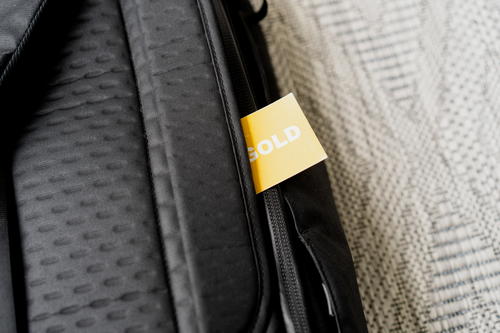 Someone might easily overlook this and not know that you filled out the card.
I generally prefer my own luggage tag because I have several (OK, maybe a lot) different bags and being able to swap the luggage tag is a nice feature.
Luggage trolley pass-through
If you're traveling with a rolling suitcase, having a luggage pass-through is a nice feature so that you can take the travel bag off of your back.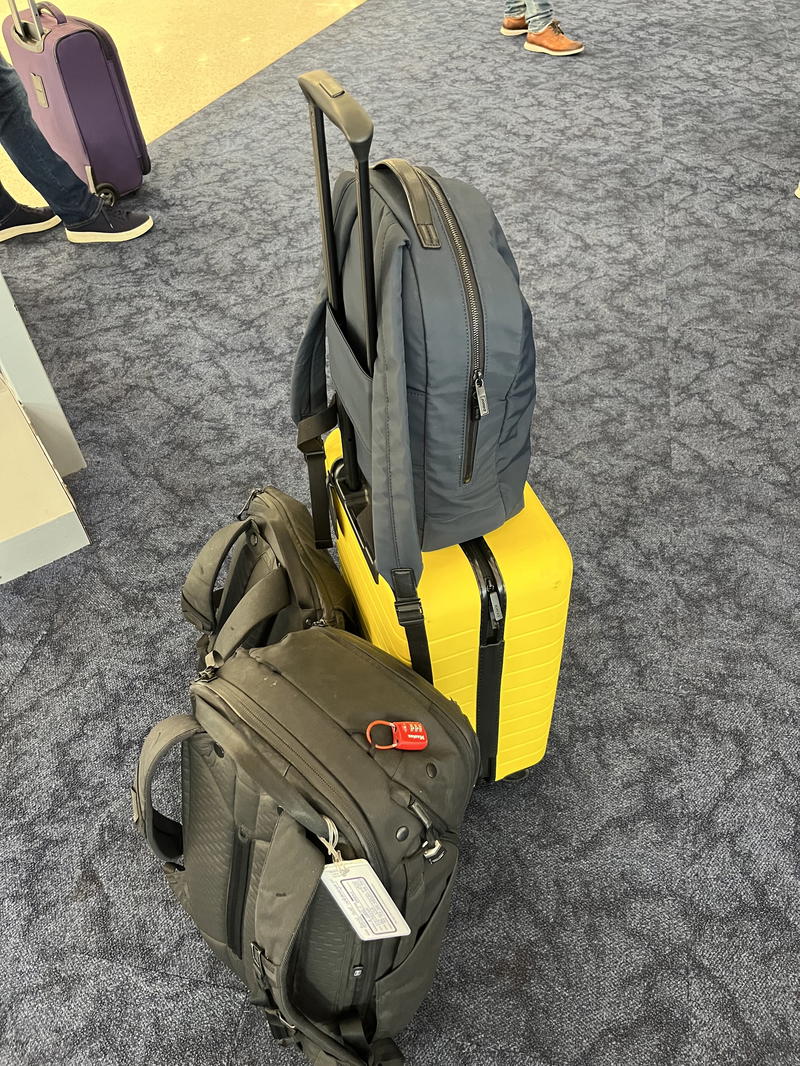 With the 45L version, and if you have the bag stuffed, I think that the Peak Design Travel Backpack might be a little too heavy to keep on top of a rolling suitcase.
There have been times when Becca and I traveled, and she was using the Away rolling suitcase and I had my Peak Design Travel Bag. My bag was heavier than her suitcase. In that case, it didn't make sense to keep my heavier bag on top of hers.
I think the 30L version of the Peak Design Travel Backpack is a little more suited to be pass-through luggage. Or, if you have a modest amount of things inside of your bag, the 45L also could work as a pass-through.
Padded backpack straps
The backpack straps are amazing. They're super comfy and seemingly haven't lost any of their padding over the years. If they have, it went unnoticed! I've had times when I was walking through an airport for 30 or so minutes or walking from a train station to my hotel and the bag never was uncomfortable.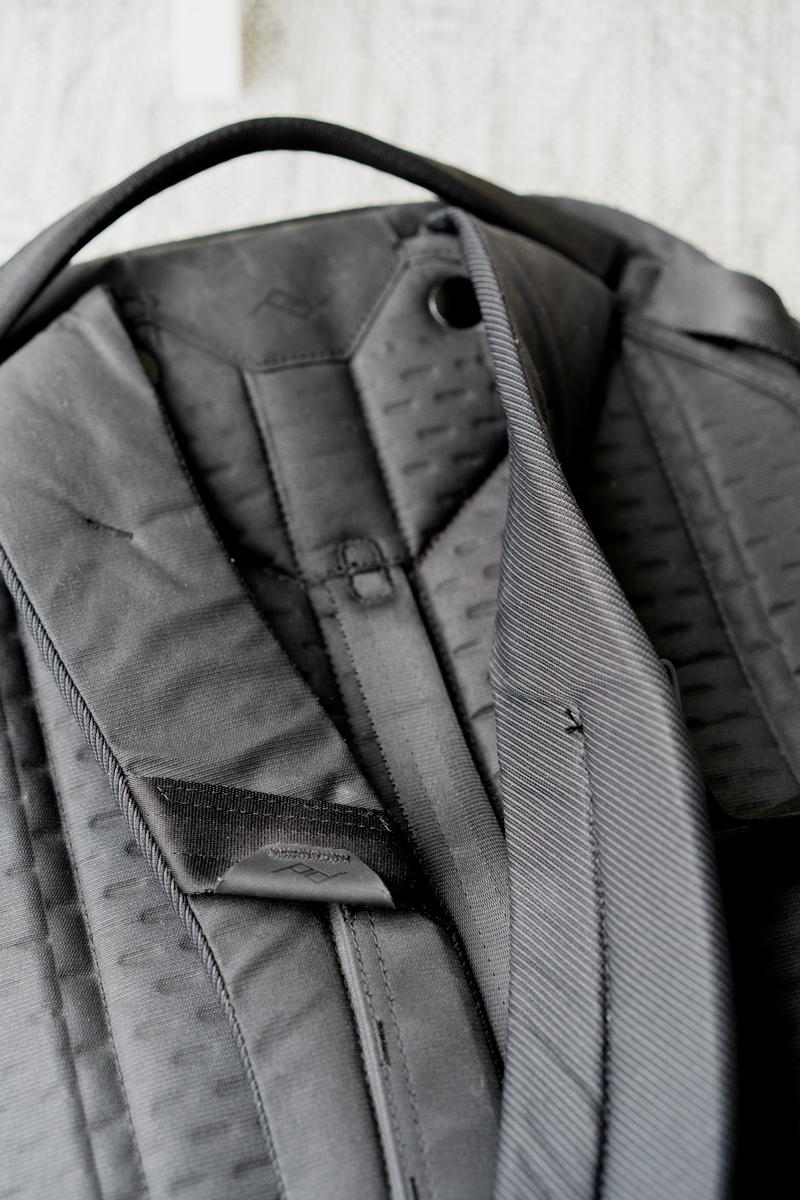 Generally, weight is well-supported throughout the bag and the straps help keep the backpack supported on your shoulders. The hip belt and sternum strap will help support the bag for you.
Hip belt and sternum strap
I never got onboard with the hip belt with my Peak Design Travel Backpack. Luckily, it's not in the way, and it conveniently stashes away behind magnet flaps on the bottom of the bag.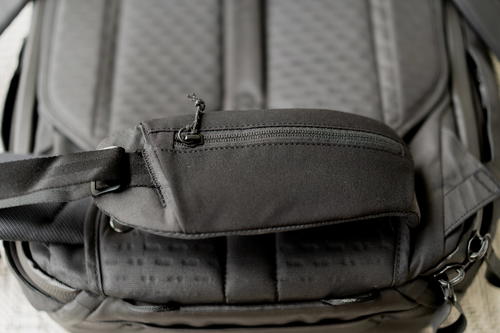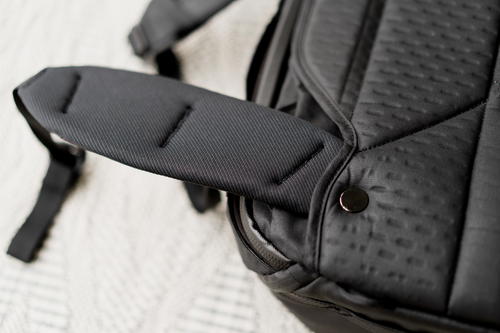 I've used hip belts with bigger bags and they're helpful. For hip belts to feel comfortable on me, they need to be pretty big. Imagine a wrestler's or weightlifter's belt. That's what I envision being an effective hip belt for a heavy bag.
Because we're traveling and not in the WWE, a huge belt isn't always practical. I choose to always keep the hip belt stashed and opt for the sternum strap to help with the weight.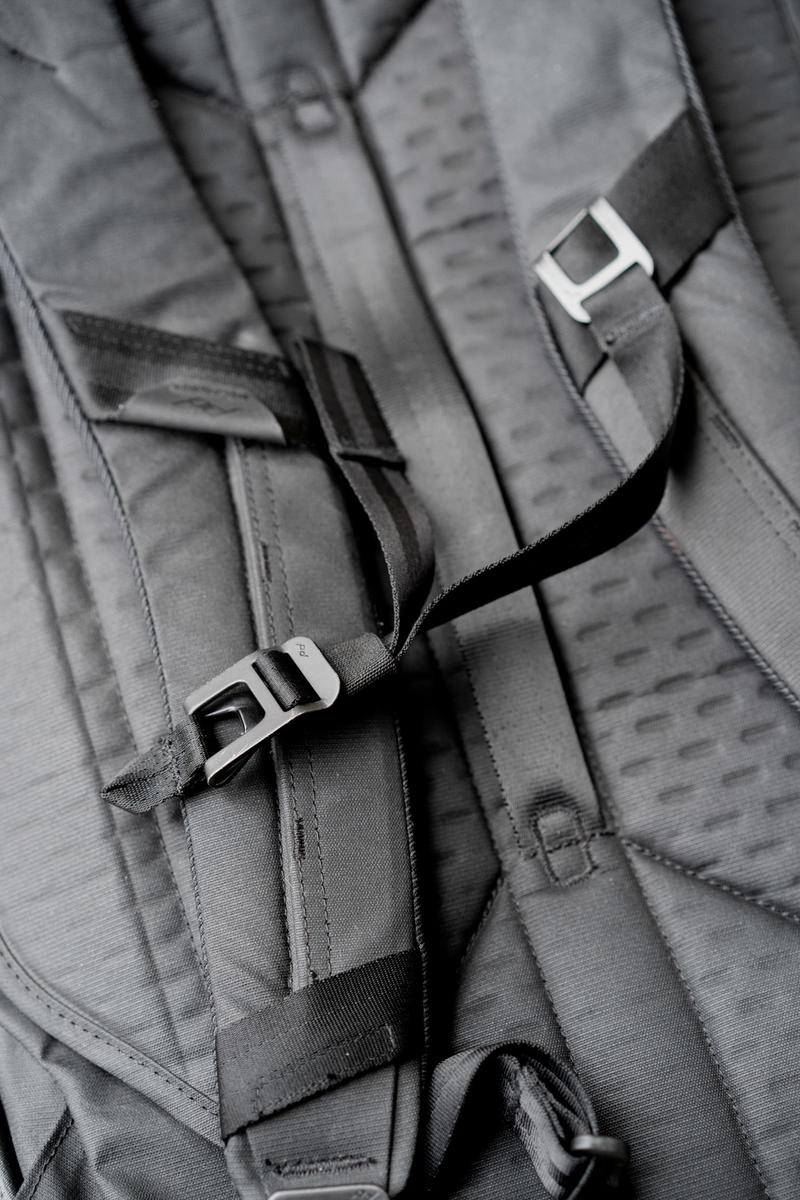 I like that you can easily adjust the sternum strap and position it higher or lower across your chest, to find a comfortable position.
Grab handles
Probably one of my favorite features of this bag, and what makes it unique from other bags, are the grab handles all over the backpack.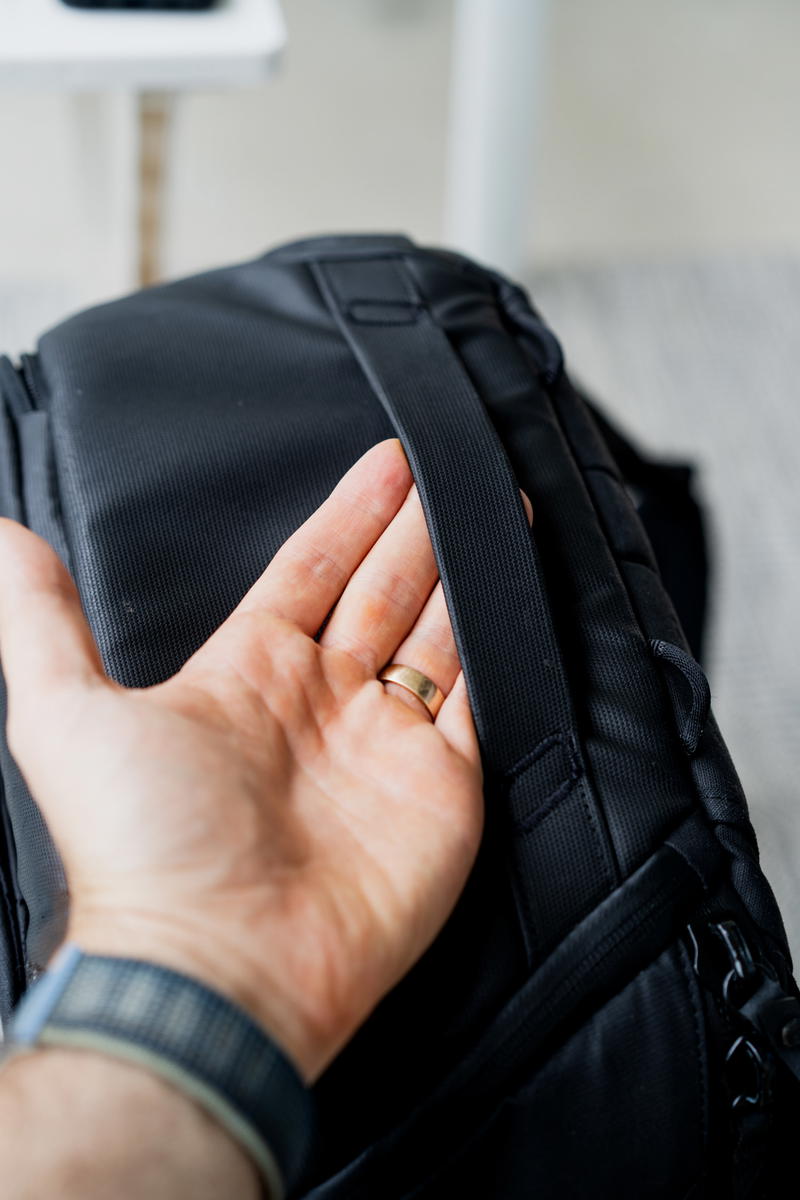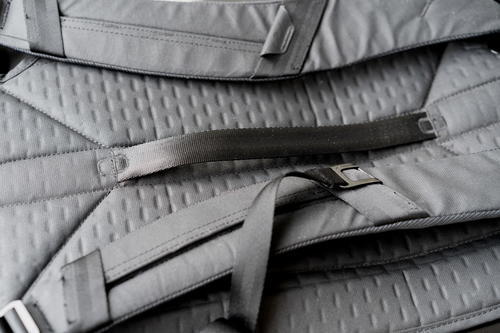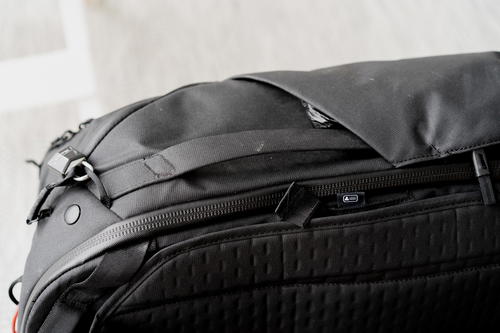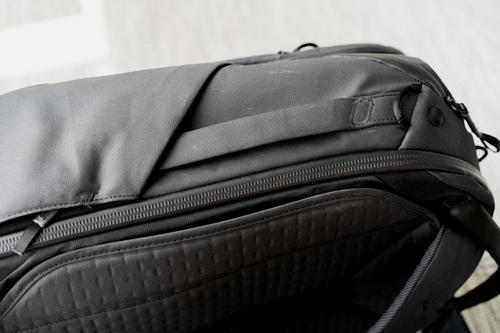 Imagine putting your bag in a trunk. Then, when you're repositioning other things, your bag gets turned around. When it comes time to pull your bag out of the trunk, you can conveniently pull from the bottom, left, right or top to get it out.
With other bags, you might need to tug from the straps or pick up the bag with two hands.
There have been a lot of applications in which I've used the grab handles and I've really enjoyed this particular feature.
Capacity
Technically, the Peak Design Travel Backpack (45L) is 35L, but expands to meet the 45L name. Put another way, you have 35L of capacity and can unzip the expansion straps to get yourself some more liters to work with.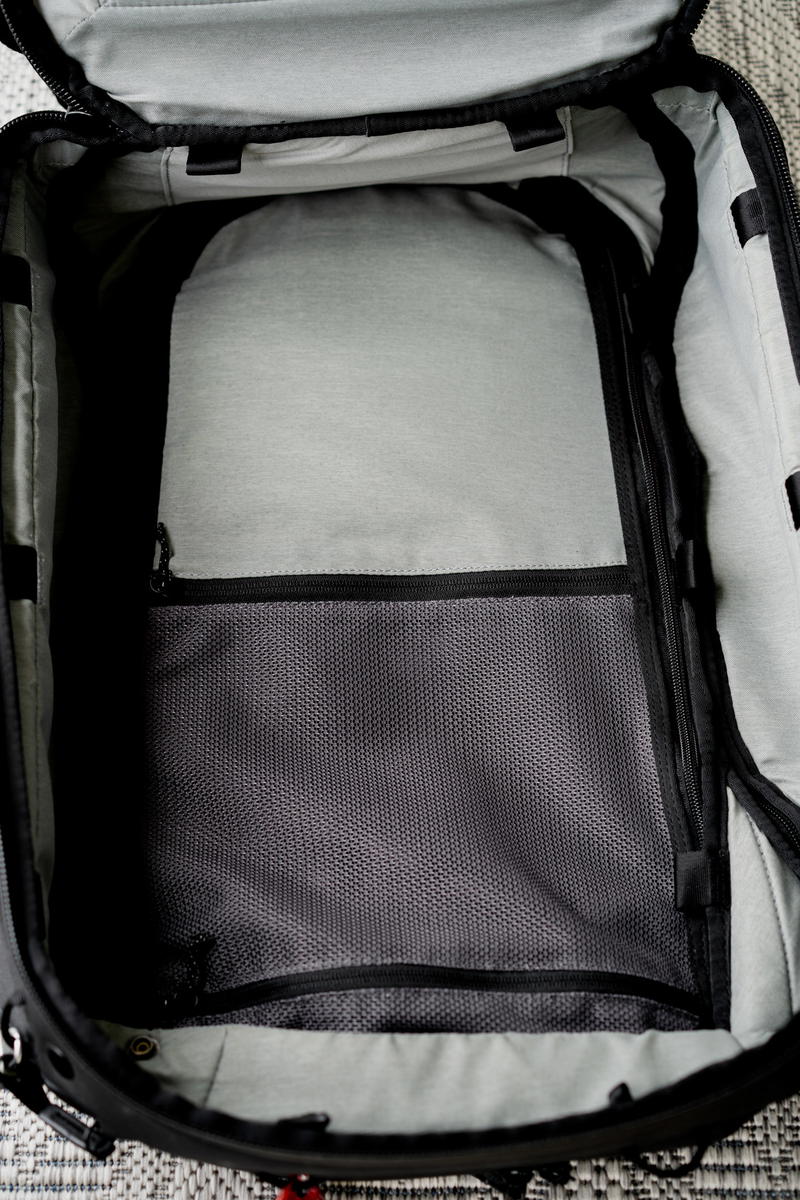 Peak Design claims you can use this as a daypack because you can button up the top, which makes the bag closer to the 35L benchmark. I feel like the width of the bag is a little too much for a daypack. I informally think a daypack should be between 15-25L.
On paper, sure, an extra 10L is great. It's a little harder to utilize the space, and I'll explain.
When you pack the bag, assume that you have everything in pouches and packing cubes. You'll pack the bag and close it. In my experience, you run out of room when you want to throw in an extra pair of shoes or something that's a little taller.
When you unzip the expansion, you get 10L but only ~4 inches of vertical space. Extra shoes don't really fit and the footprint of the camera might be a little too tall.
With that out of the way, I've found that I can fit a lot more in this bag than in other bags of a similar size. The Peak Design Travel Bag does a really good job of compression because the material is durable. I've absolutely stuffed this bag, like, "sitting on the bag and putting my knee on certain segments until I can get it shut" level of stuffed.
I've even unzipped the expansion compartment, packed my bag, then zipped up the expansion compartment again. I effectively used the bag as a giant packing cube.
I also like using the tech pouch because you can almost always find a place to put it when packing the main cavity with packing cubes.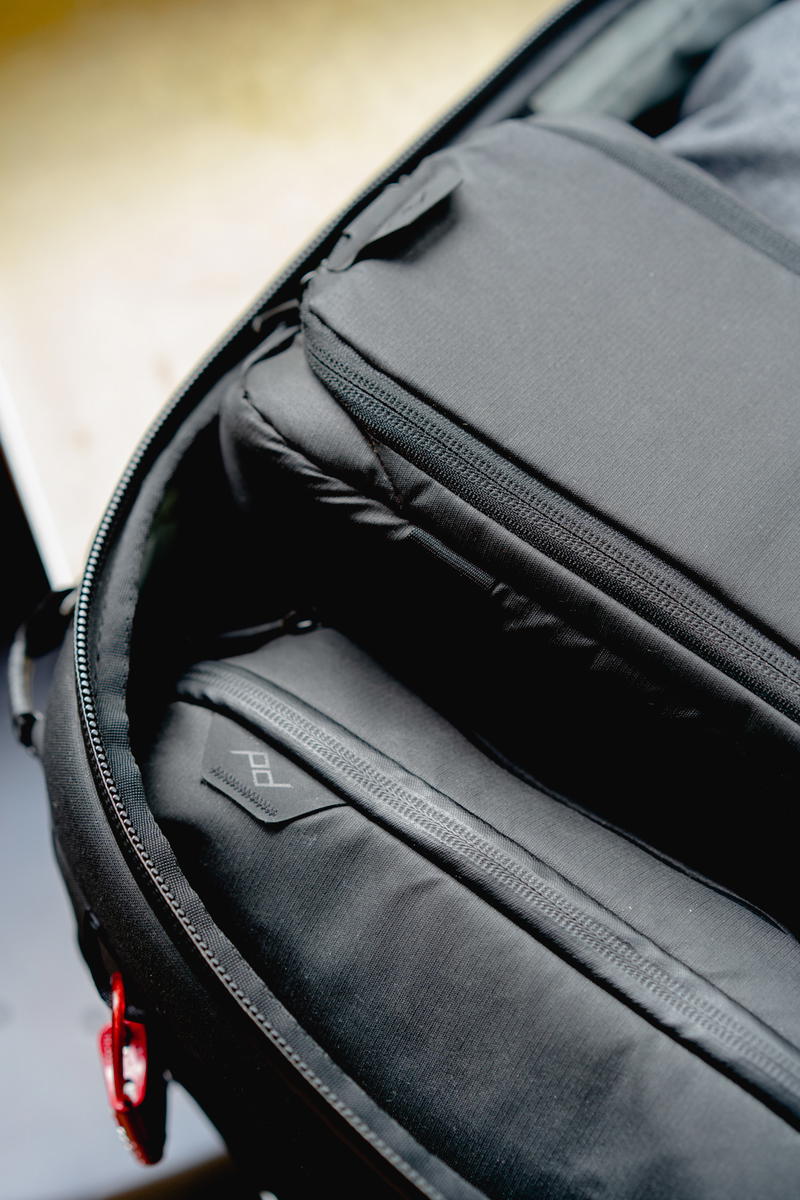 Pockets and internal storage
There's not much in terms of internal storage. I like to say that this bag is BYOS: Bring your own storage. That's why I like the tech pouch from Peak Design, or generally any other tech pouch option I recommend here.
There are some pockets that you can use. There is a mesh zipper pocket that links to the front cavity, which I like. I stash boarding pass stubs in there, and months later when I use the bag, I'll find them. It's kind of like a cool time capsule each time.
Water bottle pockets
The water bottle side pockets are great and fit almost every type of water bottle because of its expandability. There's even a little secret pocket that you have access to right around that area. It might be a good place for some hydration tablets if you're traveling to a place where to want to stay really hydrated!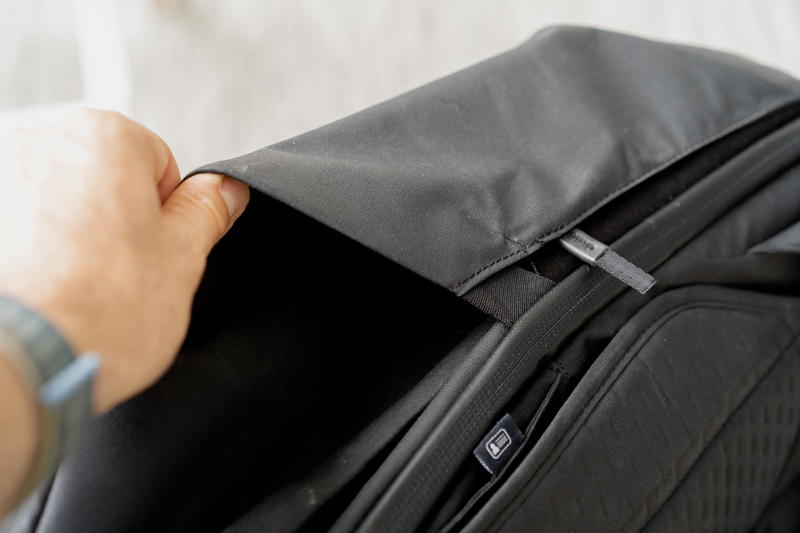 Expandability
Like I mentioned above in the capacity section, you can expand the bag to allow for more storage. I had mentioned that it can be a little awkward to put a pair of shoes in the expandable storage zone. What I have found to be an effective use of the space is packing other smaller daypacks, a travel blanket or a heavier jacket.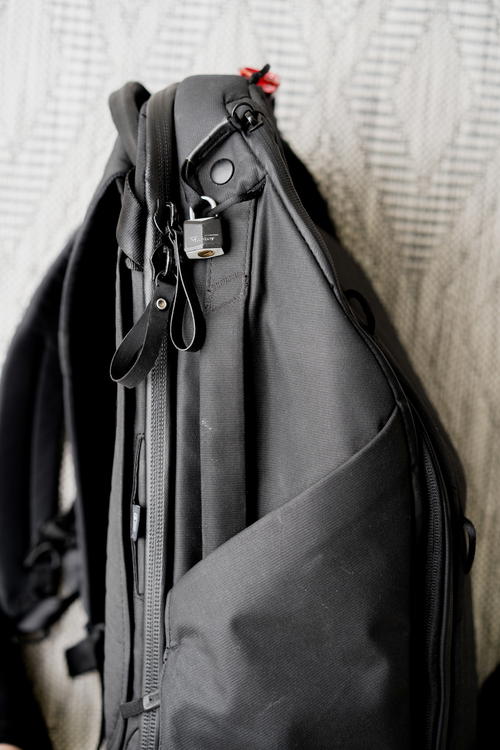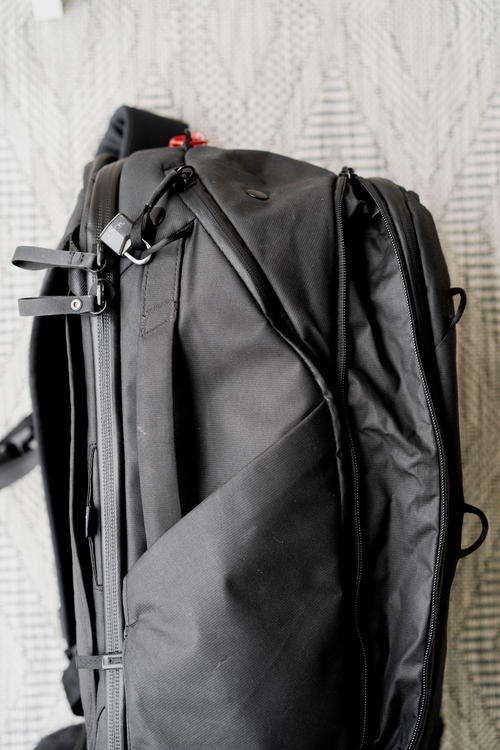 Imagine that you're traveling in the winter to a warm destination, like when I went to the Dominican Republic (hot) from NYC in February (cold): the expandable compartment is useful to be able to put your jacket away when you're in your final destination. And when you're going back home, you have your big jacket waiting for you in a bonus compartment.
Laptop and tablet storage
I use this feature a lot, as I often travel with my laptop everywhere I go. It's typical of me to travel with two bags. I have a daypack and a bigger travel bag. The daypack is the bag in which I'll put my camera, computer and anything else I need for the day, when I'm in my final destination.
Depending on how I pack, during travel day, I'll travel with my laptop in the daypack or the Peak Design Travel Bag. If I know I want to use my computer during the flight, I'll keep my laptop out of the Peak Design bag because I don't like going into the overhead compartment mid-flight.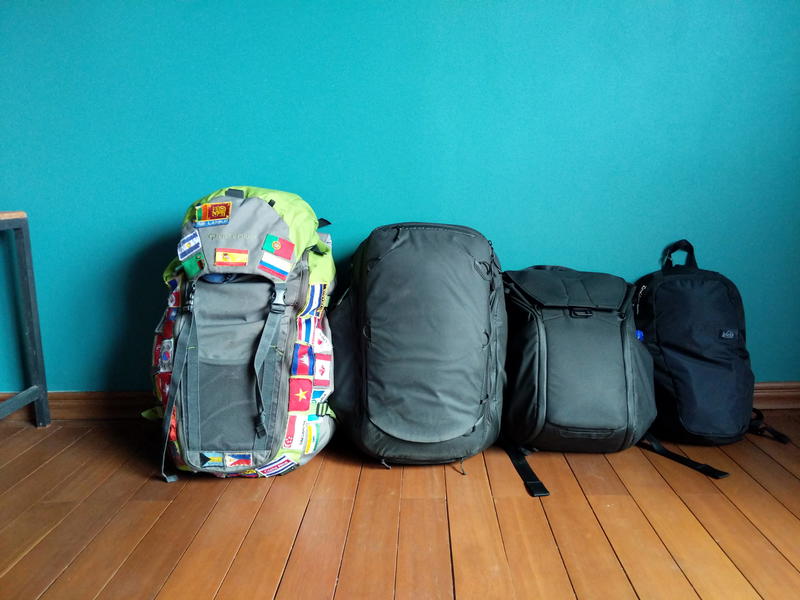 When you're going through security, the laptop compartment is really easy to open and it doesn't disrupt your other items. You can open the bag only enough to pull your laptop out, too, without having to open the full bag. This is useful for hectic security lines when you need to get the bins and take all of your electronics out quickly.
Because the back of this bag opens clamshell style, without thinking, it's possible that the weight of your laptop can cause the top lid to fall back. That hasn't happened to me because I'm really careful. After a long flight, or if you forgot that your laptop is back there, I can see how it's a possibility.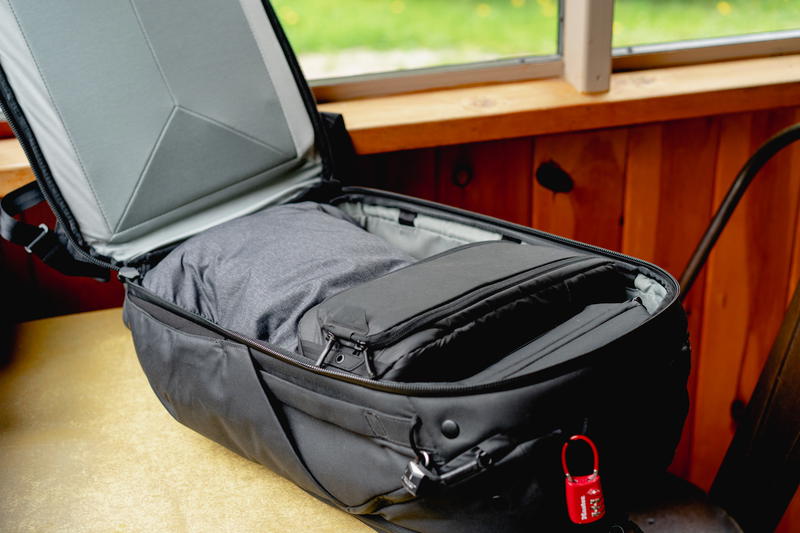 Also, when the bag is fully stuffed, I feel like the laptop has a lot of pressure against the rest of the bag. Sometimes you want to really get it shut and that could introduce all of that pressure.
That's not really a fault of the Peak Design bag, as it happens with other bags and other positions for the laptop compartment. Some other bags have a small integrated vertical pocket. And when the rest of the bag is full, it usually expands into this compartment.
Weatherproof
The material this backpack is made of is weatherproof and the zippers have some coating features to help stop rain and moisture. I've never thrown my bag in a pool, but I've absolutely gotten stuck in some downpours while wearing my Peak Design Travel Backpack.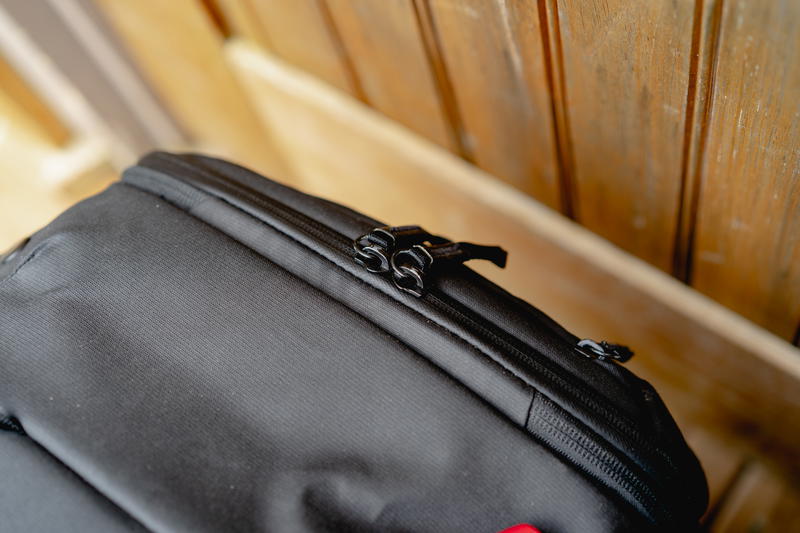 Everything stayed completely dry and the water beaded off fairly quickly. My most important items were protected. Some of the outside parts of the bag, like the grab handles, backpack straps or the adjustment straps might have gotten a little damp, but my tech was all securely dry.
For most people, you probably won't be hanging out in the rain with your luggage. You might be going from a car to the airport terminal, or from your driveway into your house.
The little bit of rain will absolutely not be a problem for that case, with the Peak Design Travel Backpack.
For more adventurous travelers, you also shouldn't really have to worry. You can have this bag on your back during a rainstorm on a motorcycle and your items will mostly likely stay nice and dry.
See for yourself
Head to Peak Design's website to see what else this bag has to offer!
Check availability
What is the Peak Design Travel Backpack?
This backpack optimizes travel by providing you with an easy way to transport your belongings from point A to point B.
The bag has wide-open access to the main compartment, which allows you to have full visibility into what you've packed.
What originally sold me on the bag, and why I bought it in 2018, was the camera cube accessories. I have the small camera cube and the medium camera cube.
The bag has three slots, when you use Peak Design accessories. The small packing cube and small camera cube is one slot. The medium packing cube and medium camera cube is two slots.
When bringing my travel photography setup, I would pack the medium packing cube and small camera cube. I can always find a place for the tech pouch, which is useful for smaller electronics and charging cables.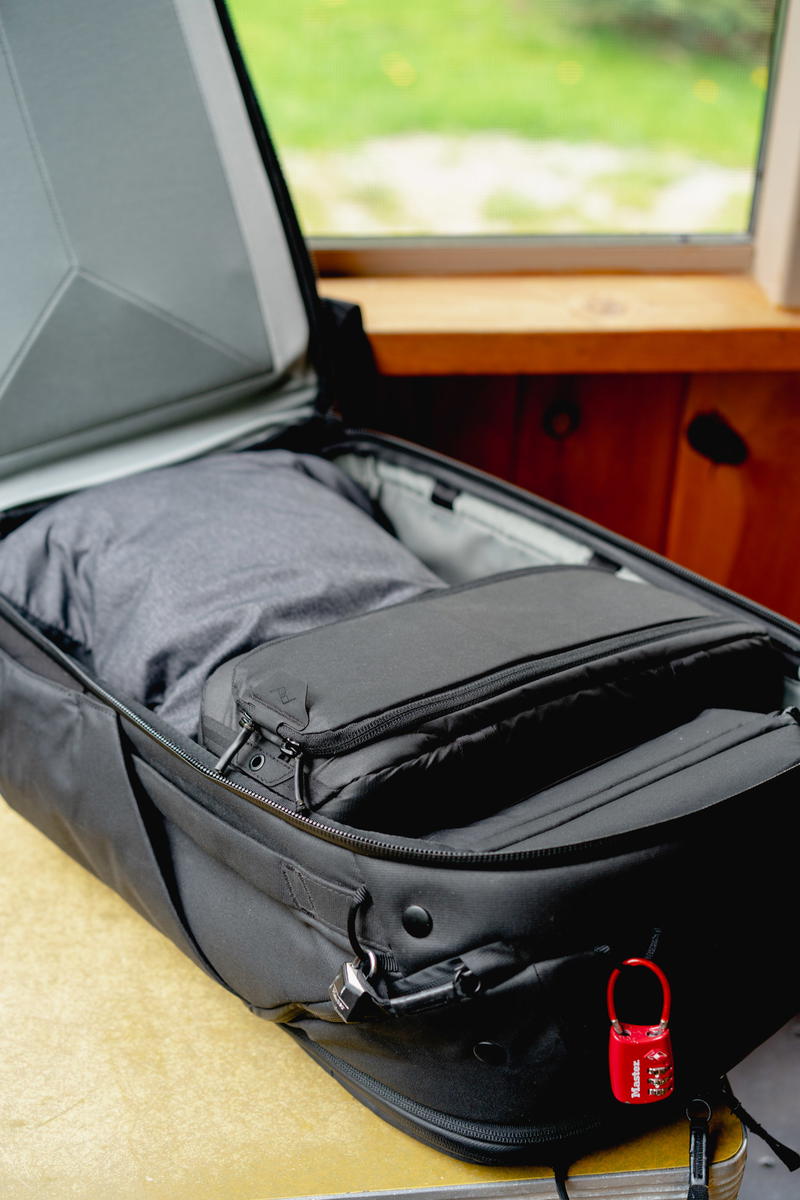 You don't need to feel limited to photography, or even Peak Design accessories.
Instead of the camera cube, you can easily pack a pair of shoes. And instead of the medium packing cube, you can use any packing cube, or none at all, though I highly recommend a packing cube if you haven't used one before.
Benefits of the Peak Design Travel Backpack 45L
What are the major benefits that make the travel bag standout among the competition? Well, let's see!
Durability
The durability and the material are the biggest selling points in my experience. It's the competitive advantage of Peak Design products, and these two stand out among all of the other travel bags that I've owned or tested.
Capacity
The capacity is also pretty perfect for a carry-on. You never have to worry about it not fitting in the overhead compartment, and you should have enough space for any length of trip. I've traveled for several months during a long trip using this backpack, and never felt like I needed more room.
Comfort
Wearing this bag is a dream, considering all the stuff you'll have packed inside. When you put it on, you'll see what I mean. It feels like it fits with your body and it doesn't feel overly stiff. It wears in nicely and becomes even more comfortable, the longer you wear it.
General features
Based on my breakdown of the features above, you can see that there are a lot of key points that make this travel backpack something unique. Every time I use this bag, the grab handles and zippers always amaze me.
Who the Peak Design Travel Backpack 45L is for
This bag is for a serious traveler who enjoys quality products and gear. This is not a cheap bag, by any standards. You're paying for quality and for a bag that you'll have for many years (maybe for the rest of your life, and I am serious).
As a user of this bag, you're not too picky about bringing everything. You can travel with one or two pairs of shoes, and you don't need three outfits per day (unless you get really sweaty, and that's what a laundromat is for). You're not a minimalist, but also not a maximalist.
Drawbacks of the Peak Design Travel Backpack 45L
There really aren't too many negative features that I can think of when it comes to the Peak Design Travel Backpack. I have particular opinions about some of the features, but they don't take away from the overall essence of what this backpack can do for you.
For example, updating the luggage tag is superficial against its ability to carry your stuff to and from many places around the country and around the world.
Who the Peak Design Travel Backpack 45 is not for
If you don't care too much about carry-on travel, I can see how you might not want this bag. Additionally, if you don't want to carry a heavy bag, you might want to look into a rolling suitcase instead. (And for that, I'll recommend the one from Quince.)
You might have a 20 to 30-pound backpack on your back with this backpack, and if that doesn't sound comfortable, you can look into other options.
Because of the relatively higher price tag, if you're on a budget or if you aren't ready to invest in a long-term solution for a backpack, I can see looking for more affordable travel backpack options.
Supplemental accessories
In my experience, the items below have paired really nicely with the Peak Design Travel Backpack. They have helped me pack more efficiently and are highly compatible with the backpack.
How does the 30L compare to the 45L?
The 30L travel backpack shares a lot of the same features as the 45L. To state the obvious, the 30L is 15L smaller. With that said, it might be a better solution for you if you want a more manageable bag or have a second luggage item, like a checked bag. It would also be a more appropriate daypack.
The 45L claims that it can be a daypack. I still think the 30L is a little too big to be a daypack as Peak Design claims.
Here are the features of the 45L backpack, when compared to the 30L model:
The 45L has more zippered access to your items on the sides of the bag.
The 45L has an internal divider to split the top section from the bottom section. The 30L only has 1 compartment.
The 45L has a padded and integrated hip belt to help carry and manage weight (the 30L has an optional hip belt accessory that does not come included).
For use as a day bag, there are compression straps to slim down the entire backpack on the 45L. I seem to have lost mine? You'll notice on the inside of the bag, there are loops that you can use to connect the compression straps.
The 45L has two hidden external zipper pockets that you can use for storing essentials like a passport. I've found these very useful. I mentioned that this also may be a good place to stash away hydration packets because it's near the water bottle holder.
The 45L has room for three PD cube units, with even more space for tech pouches, packing cubes and clothes or shoes.
Final verdict
I'll stand by every aspect of this bag that confirms that it's worth the money and worth all the value I've mentioned above. I'll keep using this bag until it breaks (and it probably won't), and I'm incredibly happy with all the quality benefits it has brought me over the years as my #1 bag for travel.
Even when I'm not using the backpack for any photography gear, like just visiting family for a few days, I use this travel backpack in 45L, and we'll pack the 30L one for some other things when we take a little road trip.
If you're invested in having a travel backpack for life, this could be a great purchase decision for your travels (and your sanity, if you were dealing with any poorly-made bags over the years).
Where to buy
It's best to buy this backpack directly from Peak Design's website, and that's because you'll get free shipping over $99 in the US, a lifetime warranty and guarantee (this is huge) and 30-day returns if you're not happy. You might not get these benefits if you buy elsewhere.
Plus, as a bonus, there are options on the Peak Design product page to buy these travel backpacks pre-owned, and you could be saving about $50. As another tip, you can complete your Peak Design kit by getting a bag and two or more accessories (like a packing cube or two) and save 10%. These benefits probably aren't available elsewhere online.
Enjoyed our article?
Consider supporting us! We're a 2-person team (learn more about us here) and your support enables us to create quality content. Thank you!