Best Packing Cubes for Travel in 2023 (Pack Smarter)
Written by Dan
•
Updated on September 6th, 2023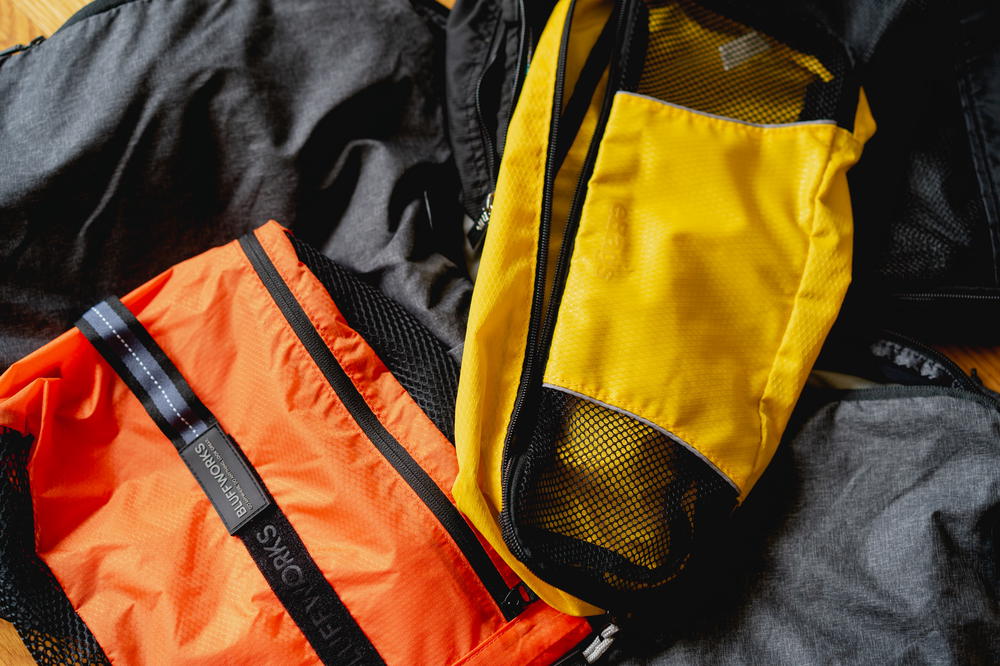 Packing cubes help keep your clothes organized and compressed. They're essential for traveling, but with so many options, how do you find the best packing cube? Let's find out!
This article may contain affiliate links. We earn a small commissions when you purchase via those links — and it's free for you. It's only us (Becca & Dan) working on this website, so we value your support! Read our privacy policy and learn more about us.
Table of contents
Close table of contents
Over the last few years of travel, I've really come to know and appreciate packing cubes.
There's something really satisfying about seeing your packed suitcase or travel bag neatly organized with various cubes and pouches. When I get to my destination and open up my backpack or suitcase for the first time, seeing all my neat cubes, I can't help but feel like I'm winning at the travel game.
The organization that packing cubes give you allows you to find things quickly in your luggage, and also allows you to fit more inside of your travel bag.
If you've reached a critical capacity limit with your travel bags, and you want to pack some more, then read on, and hopefully you'll find a packing cube that fits your needs based on the ones I've tried!
The Peak Design Packing cubes are some of my favorite packing cubes on this list. In fact, I like them so much, let's call them my #1 pick. I've been using them frequently for the past few years.
I enjoy the tear-away style zippers because they are easy to get things in and out of the cubes with. You can think of it like those tear-away pants from the 90s — except in packing cube form.
The Peak Design packing cubes are durable and lightweight. The pack away nicely when you're not using them. As for materials, they are made from 100% recycled weatherproof 70D nylon and poly shell.
I have the Peak Design Travel Backpack and the packing cubes integrate perfectly with that bag. The medium cube leaves about one third of the space available for other things, like a small camera cube.
These packing cubes from Peak Design are also expandable. I'll usually pack them pretty tightly, leveraging the expanded volume. I've never had any issues with overstuffing them.
Let's quickly go through how cool expandable packing cubes are!
Here is a normal amount of items that I would fit inside of a packing cube this size.
But because they expand, we can fit a little more!
We're not done yet: there's one more secret pocket that we can utilize to squeeze in another shirt or two.
Here's everything that fits inside!
Check out the Peak Design Packing Cubes
I've been using these Nomatic packing cubes since December 2022, and I must say, they have been a dream to use.
They are plenty sturdy and do a great job of compressing the clothing items inside. I have the complete set of small, medium and large, and they all have their own purposes.
The small packing cubes are great for your socks, underwear and maybe a bathing suit or smaller accessories. Whenever I travel with a suit, I pack my undershirts, watch, belt and dress socks in the small packing cube.
For me, I've had the best luck packing all of my T-shirts in the medium packing cube. I roll them up, and can fit a bunch! Folding flat should also work well. There's been enough room to pack a set of gear and apparel for a trip that's a week or longer, because of the added compression.
The large packing cube has been good for pants, sweatshirts and jackets. Depending on where I am going, I might skip packing the large packing cube, as I don't typically bring a lot of pants nor multiple jackets whenever I travel. If you travel with a partner, you can always share the large packing cube, which might additionally help save space overall.
Photo via Nomatic
Check out the Nomatic Compression Packing Cubes.
I really enjoy using my BluffCubes. I think the design is unique and is really effective. Instead of needing different size cube, you can change the size by rolling the cube and closing it off.
You can compress your clothes as much (or as little) as you like and you can have some variety into what you fit inside.
I've packed my BluffCube full of T-shirts and also my Bluffworks travel suit.
The BluffCube did a great job of accommodating both sets of clothes. We even outline how to pack a suit into a packing cube in our guide for folding suits for wrinkle-free travel solutions.
They are made from 100% lightweight ripstop nylon fabric, which keeps the weight and footprint down. You can wash these in the washing machine with no problem (do hang them dry, though).
I got this packing cube set in 2016 (I checked my Amazon orders for this date!) when I first left to travel for a year around the world. These packing cubes of mine have been through a lot of use, zips and packs!
I actually still use them on occasion, but since 2016, there have been a lot of new packing cubes that have come out that I also like.
I recently tested these Bagsmart packing cubes (the set of 6) and was pretty impressed with the quality and practicality for the price.
The set of 6 gives you lots of size options and gives you a shoe (or laundry) bag option as well.
Not all packing cubes offer the ability to compress your clothes, but these Bagsmart packing cubes do! If you're looking for a set of packing cubes as your first set to test out, I would recommend this set from Bagsmart without a doubt!
Knack sells packing cubes, which I've used in the past. They help with organization, but not so much for compression in my testing. However, their shoe bags are fantastic, in my opinion.
My general packing advice is always going to be to limit the amount of shoes that you travel with. Shoes end up taking the most amount of room in your bag. My wife Becca talks all about how to decide which shoes to pack for a trip in this article.
I broke my own rule recently because I traveled to California for a wedding and wanted to bring nicer shoes, running shoes and the walking sneakers that I normally wear every day.
Half my bag was dedicated to shoes, which I wrapped in plastic bags (and reused them on the way home). This was really not the best use of space, though, and I was sure that there was something out there to solve this problem.
And there is!
The compressible shoe bags from Knack are pretty cool. You can stash one pair of shoes in the small bag, or two pairs of shoes (depending on the size of your shoes) in the larger bag.
The best part is you can compress the bag, which allows you to save space for other things that you need to pack.
The compression does come at a small expense, and it will sort of squish your shoes. For me, I'm ok with that, but depending on the type of shoes you have, I'd keep that in mind (like if you have leather dress shoes for a wedding).
I recently tested out the Tortuga Packing Cubes in the set of 3, and they are super lightweight. I thought they nested really nicely in my new Tortuga Laptop Backpack, which they pair very well with as a duo.
The packing cubes from Tortuga are made from the same high-quality materials as all Tortuga backpacks are, so they're durable as well as waterproof, and have these great zippers with little turtle logos on them.
When I say they're lightweight, I mean it. The three of them weigh around half a pound all together and they're thin, yet strong. I like the top mesh flap and structured design.
They won't provide as much compression as some of the other packing cubes on this list.
These packing cubes come at a higher price point than, say, the ones from Amazon Basics. That's because Tortuga is a trusted brand and a leader in adventure gear for travelers. These aren't any old packing cubes, so they're for a person who appreciates quality and long-lasting goods to invest in.
Check out the Tortuga Packing Cubes Set
Everything else!
Here are the other packing cubes that I found that either offer something unique, have a good price or are overall well reviewed and used in the travel space.
The Eagle Creek Pack-it (Specter Tech edition) will be your lightweight and relatively affordable option for a set of packing cubes.
You can trust Eagle Creek because they have been around for more than 40 years! They were some of the first packing cubes that I ever tested. I don't own them anymore. I think I sent some older style of Eagle Creek off to a friend that didn't have them. I don't remember!
This particular set has some waterproofing, but isn't rated to be fully submerged in water. They can withstand a few drops and splashes, but I would not suggest letting them fall in the ocean or be rained on for more than a few minutes.
You are able to wash them in a washing machine. I would air-dry them as opposed to putting them in a dryer, for sure.
They are made from 30D Silnylon Ripstop. Silnylon in a combo material made from silicone and nylon. It's strength-to-weight ratio is known to be favorable! So, these packing cubes are both strong and lightweight.
Check out the Eagle Creek Pack-it (Specter Set)
This original set of Eagle Creek packing cubes is pretty much your classic packing cube set.
They come in a set of three, which is perfect for most of your packing needs. I like to dedicate one cube for socks and underwear, one cube for shirts and one cube for pants and sweatshirts.
You can expect a standard level of quality and functionality with these packing cubes. They are made from a nylon material, have decent zippers and feature a quick-grab handle.
Compared to the Eagle Creek Specter set, these are a bit heavier.
Check out the Eagle Creek Pack-It (Original set)
The Bagail packing cube set is going to be the most affordable option in this list.
You'll receive six packing cubes in three unique sizes. They are made from a typical nylon material, and that's about it!
I would get these packing cubes if you're interested in keeping your costs down and don't need any major features or care about the design.
Check Out the Bagail Packing Cube Set
There are a few similar types of packing cubes that you can find on Amazon. I would check these options and compare which has the best price.
I've had good luck with most Amazon Basics products. I am pretty sure that Amazon white-labels existing products and puts their own branding on them.
My guess is that these packing cubes are some variation of the TravelWise or eBags ones. They likely all share a similar manufacturing process.
Like most of the Amazon Basic products, the cost is affordable and you can find a generous return policy. You'll also get a 1-year warranty.
These packing cubes have a mesh top. The mesh is nice, for seeing what is inside. If you are careful with your packing cubes, the mesh should be okay.
If you use the cubes a lot and are a bit more rough with your things typically, I would assume that the mesh will be the first part of them that will start to show signs of wear.
Check out the Amazon Basics Packing Cubes
We like the products that we have from Away. Becca uses the Away Daypack and the Away Carry-On suitcase for most trips that we take these days.
These packing cubes are great because they integrate really well with the carry-on bag.
They come in a pack of four and have a 100-day free trial. The free trial is basically an extended return policy. You still have to pay for them up front, but Away will refund you if you aren't happy within the 100-day period of time.
If you're looking for more packing cubes or want to split them between a few bags, they also offer a set of 6.
In terms of material and usability, they are made from a nylon material and are somewhat water-resistant. They have a mesh top, so they're not totally waterproof.
Check out the The Insider Packing Cubes
The travel organizers from Leatherology are absolutely going to be your splurge pick or high-end choice of the bunch.
They are made from full grain leather and includes nickel hardware accents. You're able to personalize the bags, which I believe is having your initials or some other small marks that are custom to you.
These bags would be a great complement to any luxury travel or would be a nice gift for someone who likes quality items.
The size variety that comes in the set is perfect for packing toiletries, charging cables, clothes and everything in between, in style.
Check out the Nested Travel Organizer Trio
The packing cube options from Calpak are so fun! The set comes with five pieces and has many of great color choice and patterns to choose from.
If you're traveling with your packing cubes outside of your bag for some reason, you'll be able to benefit from the carrying handle and an organization label.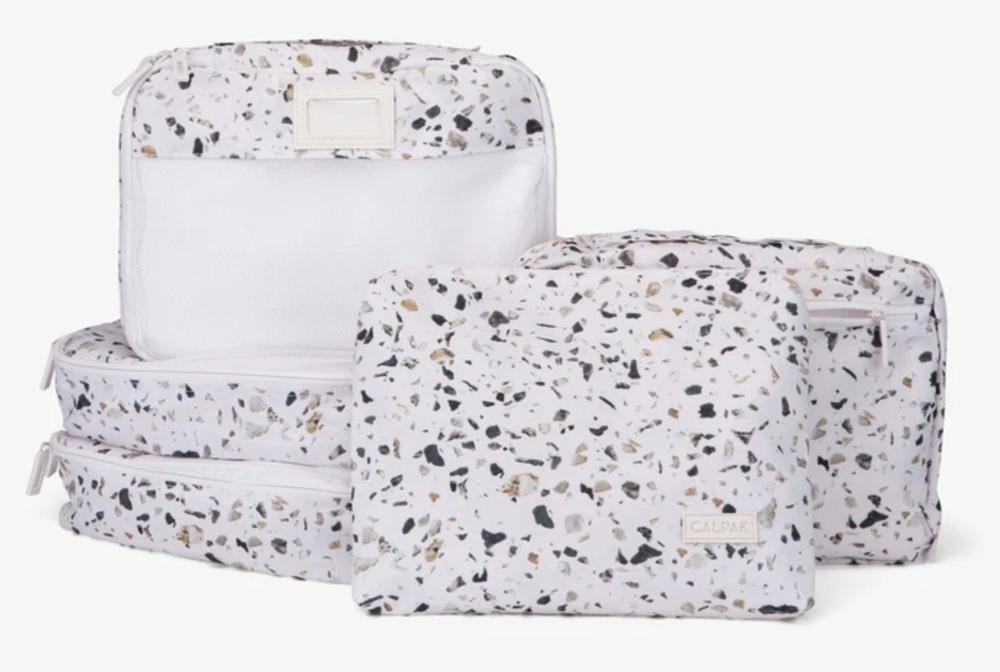 Check out the Calpak packing cubes
REI is known for consistency, quality products, good customer service and having everything you need for travel and outdoor activities.
REI's packing cubes hold up to their expectations, undoubtedly.
The REI expandable packing cubes come in a few sizes and are made from ripstop nylon. The outside has a durable water-repellant finish.
You can use them for a number of applications and can beat them up a little bit. Don't take their lunch money, though.
One of the best features of these packing cubes is their ability to expand. Each of the three sizes expands to hold more capacity.
These packing cubes also hold some sustainability credentials. They have a bluesign® certification. You can learn more about what that is directly on their website.
As an added bonus, if you're an REI Co-op member, you'll save about $4 (coming back to you in a dividend) after buying these packing cubes. Learn more about becoming a Co-op member here!
Check out the REI Co-op Expandable Packing Cube Set
The bags and packing cubes from Topo Designs are among some of the highest quality items that you can find.
Their products will likely hold up for many years and you can put them through a lot of wear and tear.
The 10L packing cube is made from 400D nylon pack cloth and includes heavy-duty YKK zippers. This basically means they are some of the highest quality packing cubes on this list.
If you're into it, they hold a Fair Wear certification and you can learn more about that process here.
The size and durability of this packing cube is perfect for some of your bulkier items, like shoes, sweaters, jackets and so on.
Check out the Topo Designs Pack Bag
The packing cubes from GORUCK come in two sizes, a 5L and a 10L size. They are incredibly durable being made from 200D nylon.
When you're not using them, the pack down really small, which allows you to keep them out of sight.
They integrate nicely to the GORUCK GR3, GR2 or Kit Bag. If you already own some of the GORUCK products or like their mission, these would be a great option for you!
Check out the GORUCK packing cubes
For people who like camping or need a waterproof option, this packing cube set from Trakke is your go-to option.
They are truly waterproof and hand made in Scotland. Their bright orange color makes them stand out and easy to identify.
Let's say the wash away in a river, you'll be able to easily find them assuming whatever you have inside decides to float.
The material is a dry-finish waxed canvas, which is really my favorite material.
Check out the Trakke waterproof packing cubes
Osprey UltraLight Zip Organizer
The Osprey UltraLight Organizer has a feature that makes them stand out from the rest. Why? Because you can hang it.
The hanging ability allows you to stash away electronics or toiletries (hopefully not together) and have them easily accessible.
There are plenty of pockets inside for additional storage and really allows you to organize everything exactly how you want it.
Check out the Osprey UltraLight Zip Organizer
If you've ever tried traveling with a suit, it's not easy. You usually need to be really careful to make sure everything stays propped up and doesn't fall off the hanger and collapse and wrinkle.
Away makes a nice garment bag that you can use to travel with a suit, dress or really any attire that you want to keep looking freshly pressed.
Inside of the bag, they have a small pocket perfect for some accessories, like a tie, clips or a comb.
The outside of the bag has some hanger clips that you can use for organization after you travel. The bag is designed to clip into some of Away's existing bags.
This is a great option if you're looking for a garment bag!
Check out the Centerfold Garment Sleeve
If you know anyone who loves IKEA like I do, you'll like the RENSARE packing cubes. They are exactly what you would expect IKEA to make.
Don't worry, though: you won't have to assemble them. They come pre-assembled!
They are mostly polyester and some polyurethane. I believe they are made from 90% recycled material, but don't quote me on it!
They are able to be put into the washing machine, but be careful and don't put them in the dryer.
The biggest benefit of these is the price. They are really some of the most affordable packing cube options that you can find. If you live near an IKEA, check them out. Otherwise, you'll probably need to pay for shipping.
Why should you trust me?
I've been packing bags since I left for my first full year of travel in 2016. In preparation for that trip, I thought I discovered packing cubes and was so impressed by how I could effectively turn my duffle bag into a lost game of Tetris.
Little did I know that the packing cube industry was thriving and about to explode with tons of new ways to pack your stuff.
By the time I finished my year of travel, I downsized a lot of my duffle bag because I was moving around so frequently. There were some instances where my bag would barely close, because it wasn't packed well enough. There were other instances when I needed to dig something from the depths of my bag, and digging through all of the loose items was not fun.
I realized how useful packing cubes were for both of those reasons. And during that realization, after more long trips, another year of travel, and lots of testing, did I come to really know and love packing cubes.
You should trust my because without knowing it, I've willingly packed well over 50 suitcases, duffle bags and backpacks to travel anywhere between 2 and 365 days.
Does rolling or folding your clothes matter?
Kind of? But probably not enough to over-think it.
I always like to tell people to pack half what you think you need. But there are times when it's hard and that extra pair of pants sometimes takes you over the edge and makes it hard to close your suitcase.
I've repacked my bag a few times, by carefully rolling clothes to leave no gap, so they compress more. I've neatly stacked my clothes to the same effect. I haven't found a huge space savings by doing either method.
I have found that using packing cubes is a better space-saving method because when I have a mix of dirty and clean clothes, sometimes my dirty clothes are loose in my bag when the clean clothes are in the packing cubes. It's those times when my bag is hard to close.
Enjoyed our article?
Consider supporting us! We're a 2-person team (learn more about us here) and your support enables us to create quality content. Thank you!