DUER Fireside Denim Review: Cozy Winter Jeans
Written by Becca
•
Updated on September 6th, 2023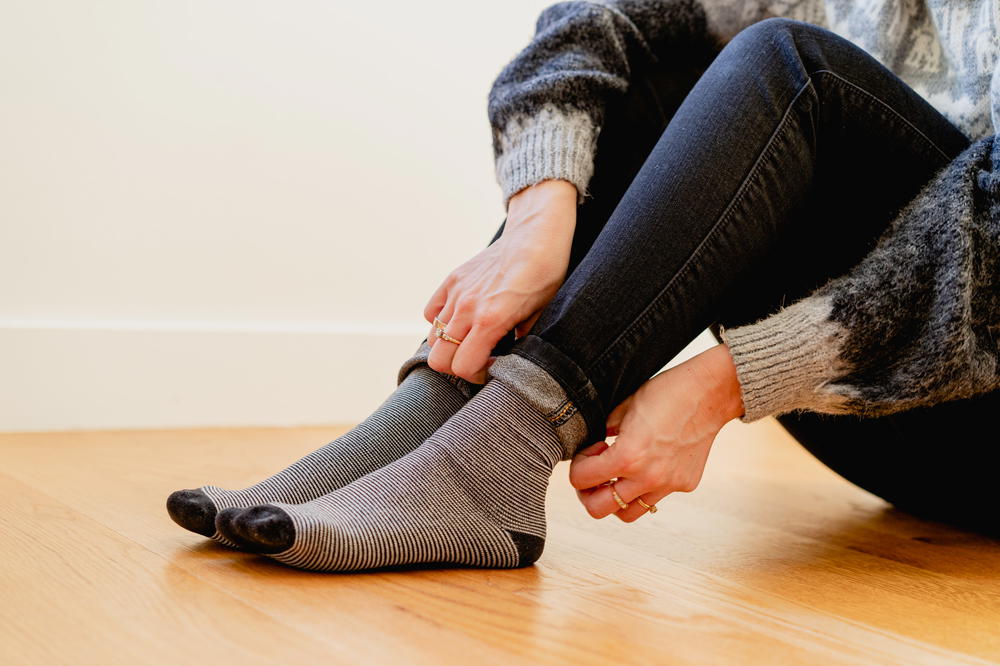 Could these be the warmest fleece-lined pants for winter? We review the DUER Fireside Denim from the Winter Collection as fleece-lined stretch jeans for men and women.
This article may contain affiliate links. We earn a small commissions when you purchase via those links — and it's free for you. It's only us (Becca & Dan) working on this website, so we value your support! Read our privacy policy and learn more about us.
You know those winter days when you're out on the town and the temperature starts to drop?
Those are the days when you wonder why you can feel the windchill through your jeans. And it's because jeans are just denim, at the end of the day.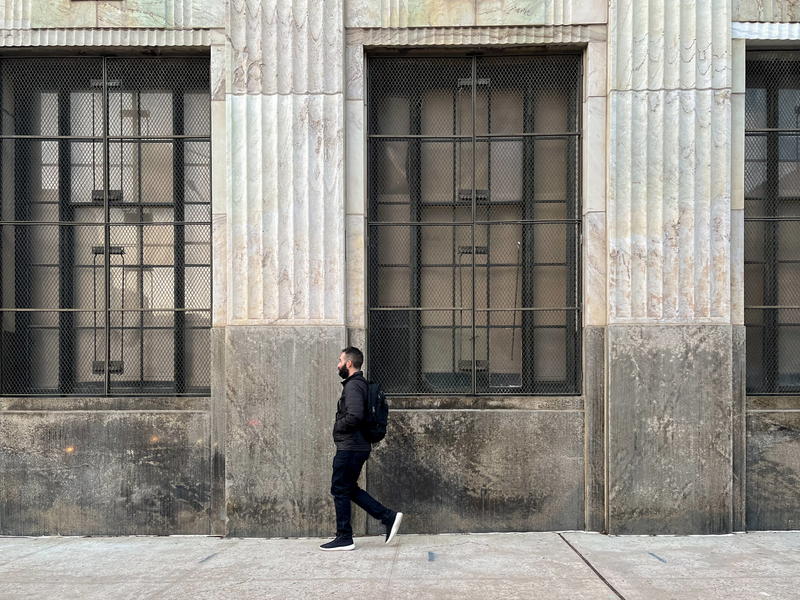 But it doesn't have to be that way. This is the reason why one of our favorite apparel brands (DUER) came out with fleece-lined pants for winter in the form of the men's and women's Fireside Denim jeans collection, for winter warmth.
Up to 50% off!
The DUER deals are now live! Get up to 50% off select styles.
Are these fleece-lined winter pants really the warmest, and are they worth the investment?
Let's check out all the aspects of these warm winter jeans, which come in a male and female version, and determine if these revolutionary cold-weather pants stand the test of the coldest freezing temperatures.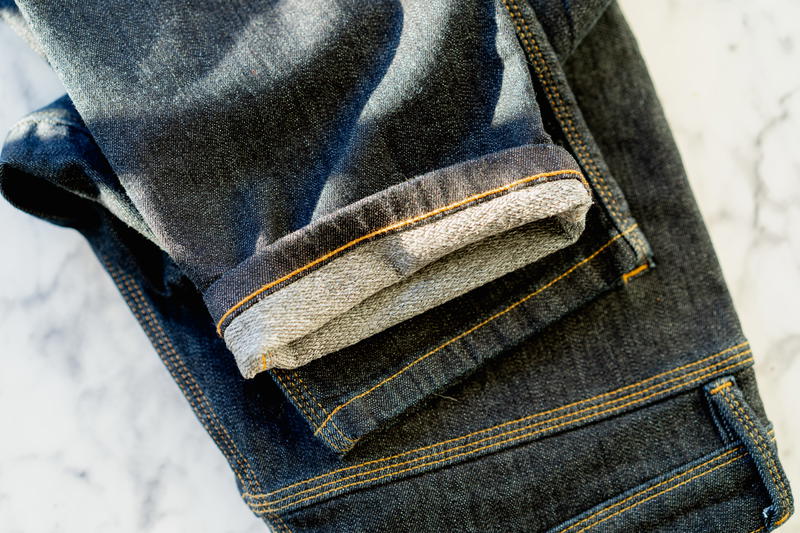 DUER has generously sent us each the Fireside Denim Slim for Men and the Fireside Denim Mid-Rise Skinny for Women in order for us to outline our thoughts, for this review. With this in mind, we hereby disclose that this review is sponsored by DUER, but all opinions are honestly and transparently our own (and so are our photos).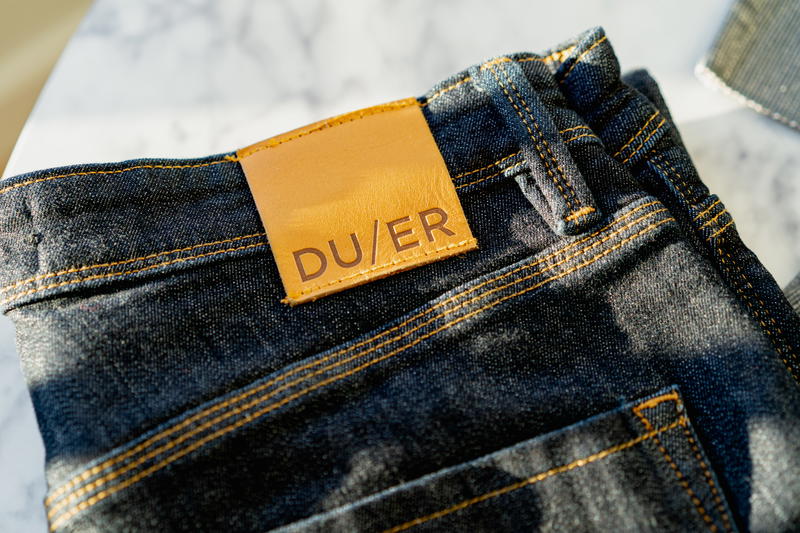 Fleece-lined winter denim is not exactly what you might think it means, the first time you hear the word.
When we think of "fleece," we think of (yikes, this will certainly age us) Old Navy Performance Fleece from the early 2000s and North Face fleece jackets that were an integral part of high school and college.
I thought fleece-lined denim would literally be jeans with a layer of North Face jacket-style fleece lining the inside. That's not totally the case, though.
Fleece-lined denim jeans are made of a signature fabric that weaves fleece and denim together. The result is a heavier and more dense denim, that DUER describes as "warmth without bulk."
When you fold up the jeans, or if you look at the interior, inside-out, you can see that the inside of the jeans is fleecey. They're soft! The outside looks just like denim.
When you wear the Fireside jeans, they feel heavier, and strong.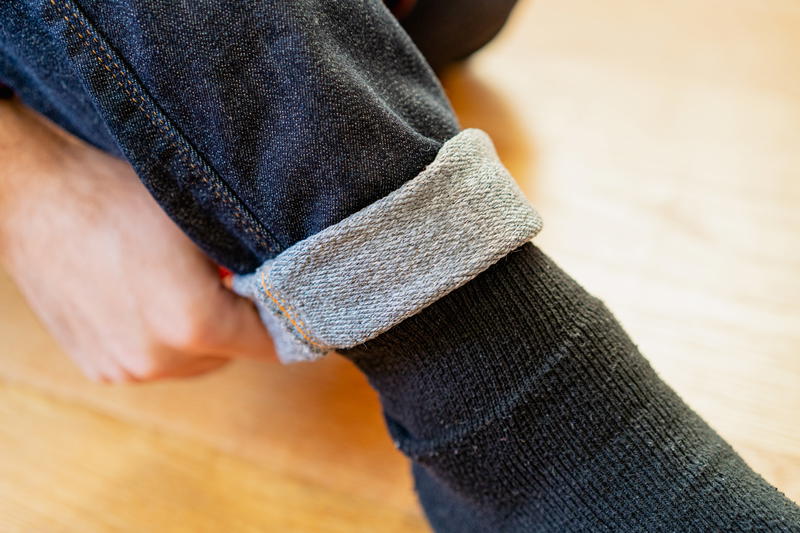 We got our DUER Fireside winter jeans in the mail and thought, "What the heck, let's try them on right now without waiting."
Our first thoughts were the following: "Whoa, these are stiff."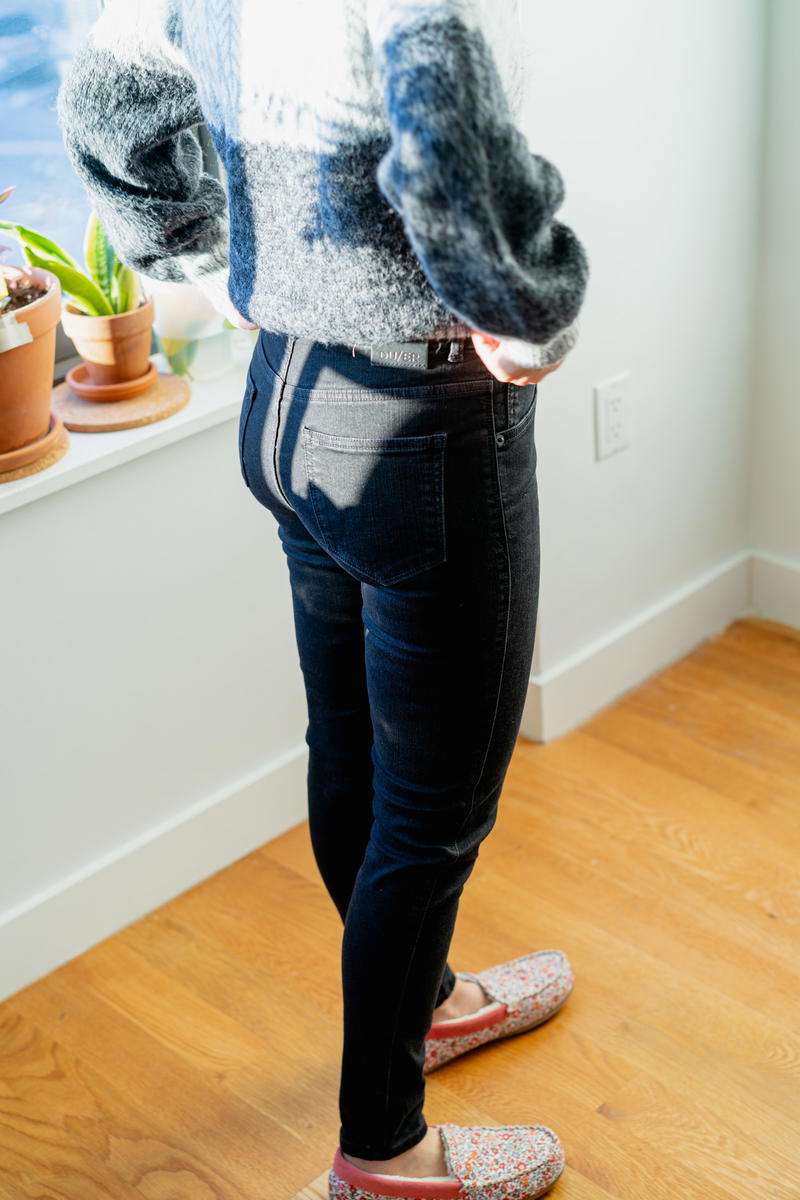 The immediate hand-feel was like no jeans we've ever owned before. These jeans feel dense. They won't stand up on their own, but they do have more structure than our other pair of Performance Denim.
The reason is because the build of these fleece pants for winter is the following: 81% Cotton, 13% Polyester, 4% Nylon and 2% Elastane.
The material components are exactly the same for the men's and women's versions, with the same proportions of cotton and stretch elements.
They are revolutionary, though. The fleece is interwoven into the denim of these pants you could wear to a fireside chat and actually feel the warmth before you get to the fire itself.
In our testing, we wore our jeans in a few different settings and temperature ranges. Luckily, we got our jeans in February, which is one of the colder months of the year in New York City.
We wore them inside and outside in temperatures ranging from 20 degrees to 40 degrees Fahrenheit.
While being inside, they aren't too hot. They aren't super pants with magical heaters inside or anything. They are comfortable, and these fleecey pants do a good job of making you feel cozy on a cold brisk day.
While outside, again, keep in mind that we aren't talking about super pants from the future with heaters inside. If it's really cold and not sunny outside, and you aren't moving around, you'll probably still be cold.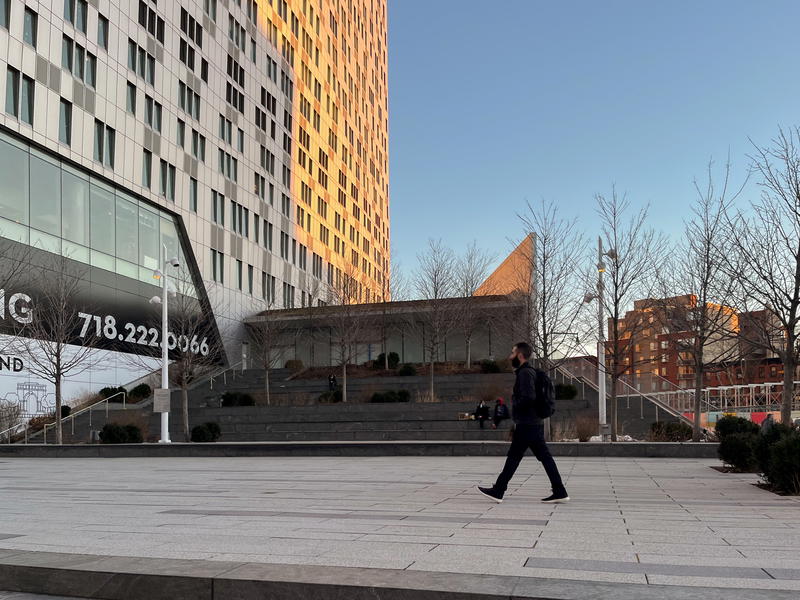 Where they excelled and exceeded expectations was helping us keep warm when we were walking outside and generating a small amount of heat. The pants did a good job of keeping the heat in.
When we first tried on our DUER Fireside pants and went outside, it was cold and raining. If I recall correctly, it was 32 degrees F! The proprietary fabric has water-repelling treatment that beads any moisture off of the outside denim material.
We'll be grabbing our DUER Fireside fleece-lined jeans to wear outside whenever it is raining or snowing to keep us dry.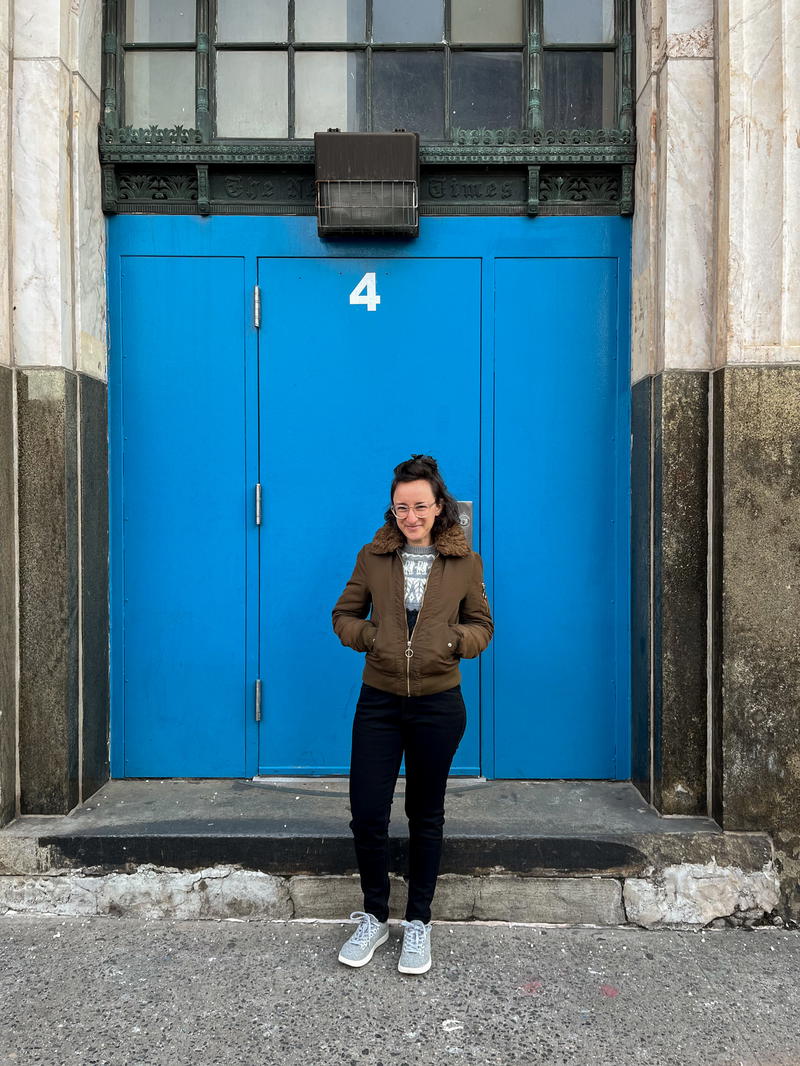 How do the DUER Fireside Slim and Skinny jeans fit?
We'll be up front with you: we are regular-sized people. Dan has an athletic build and Becca (hi, this is me!) has a petite stature. We both have issues finding clothes, and especially pants, that fit us well.
For Dan, a typical pair of jeans have too much material towards the back or the calves fit way too loosely. For Becca, it's that a lot of petite products are too tiny if they're the right length, and historically, if they've fit everywhere else, they are too long.
As we mentioned in our review of the DUER Performance denim, DUER jeans just seem to fit us, with no hesitation or weird gaps, slouching or gappiness (is that a word?).
Just like the classic DUER performance denim slims and mid-rise skinny for women, these jeans fit precisely the same, despite feeling heavier and stiffer to the touch.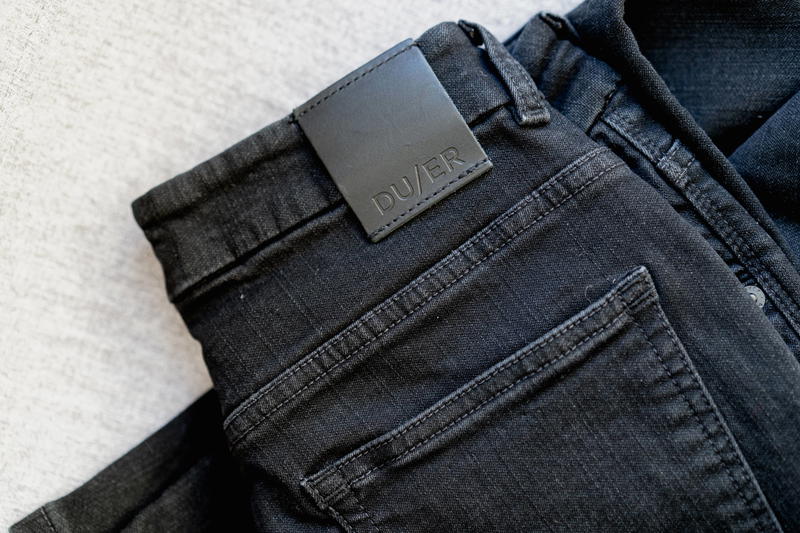 The fit of the Fireside Denim Slim jeans for Men
The DUER jeans are some of the jeans that fit Dan best. For reference, Dan is 5'9" and 155 pounds.
He likes the slim fit, especially the tapered hem, so that they're a sophisticated slim fit (but not "skinny jeans").
Dan tried the Men's Fireside Denim Slim in Heritage Rinse (in dark denim) in size 31x30.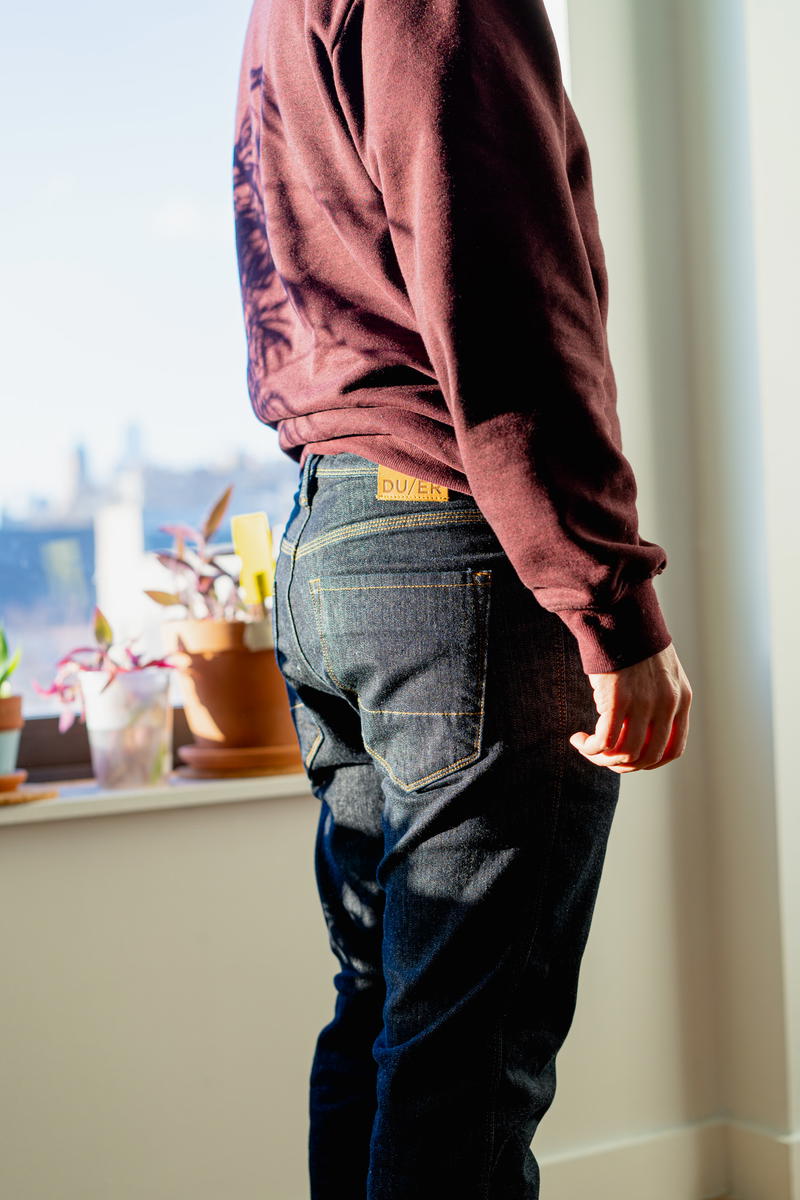 He typically wears a 32x30. Because DUER jeans stretch, going down by one size tends to result in a better fit. They are not too tight and they do stretch out (or we should say, "break in") after extended use.
The DUER slim fit for men is a modern fit and looks tailored. It's a flattering fit as well, considering that jeans from other brands often have too much space in the back, in the legs, or in the hip area. We find a lot of DUER products to be flattering, from jeans to the DUER Weightless Summer Shorts.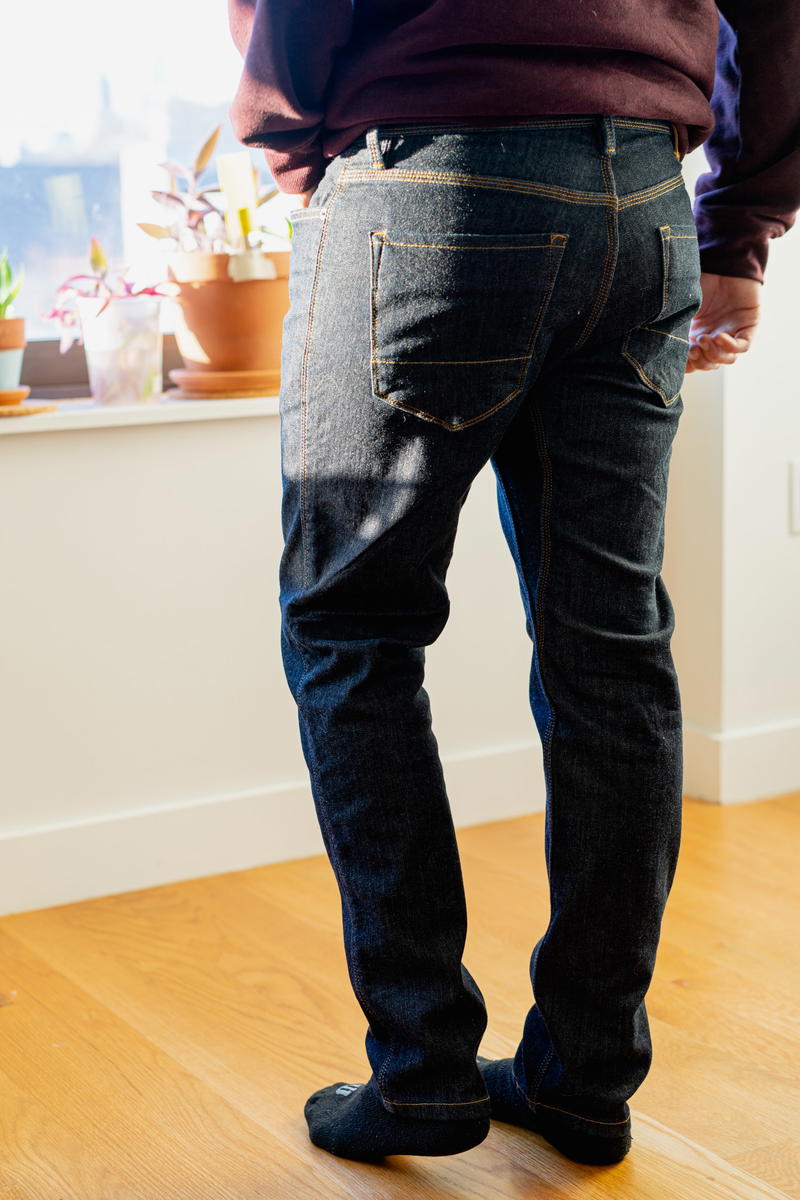 The fit of the Fireside Mid-Rise Skinny jeans for Women
There are two things (maybe three) that I really like about the women's Fireside mid-rise skinny jeans.
I tried the Women's Fireside Denim Mid-Rise Skinny in Black, sized 25 W x 28 L.
First, I like that they come in an option for a 28 length. I'm so tired of jeans that hit the wrong spot on my ankles and have to be cuffed.
The DUER jeans hit my ankle at the correct spot so that they're flattering and I don't look like I'm wearing jeans I borrowed from someone taller than I am.
Next, the gusset. This is such a unique feature for women, as we discussed in the DUER Performance jeans review.
Because of the unique gusset aspect, you can squat down to pick up a pen (or your child, or your socks — honestly, whatever makes you squat down) and not worry that you're going to split the crotch of your pants.
Lastly, the mid-rise aspect is flattering. It's not too low (think Abercrombie & Fitch low-rise jeans from 2004: nope!) and it's not too high (think mom jeans that cut off your circulation near your waist).
With the DUER tailored mid-rise fit, you've got the top of the pants sitting 1" below your belly button. That's the aim, at least.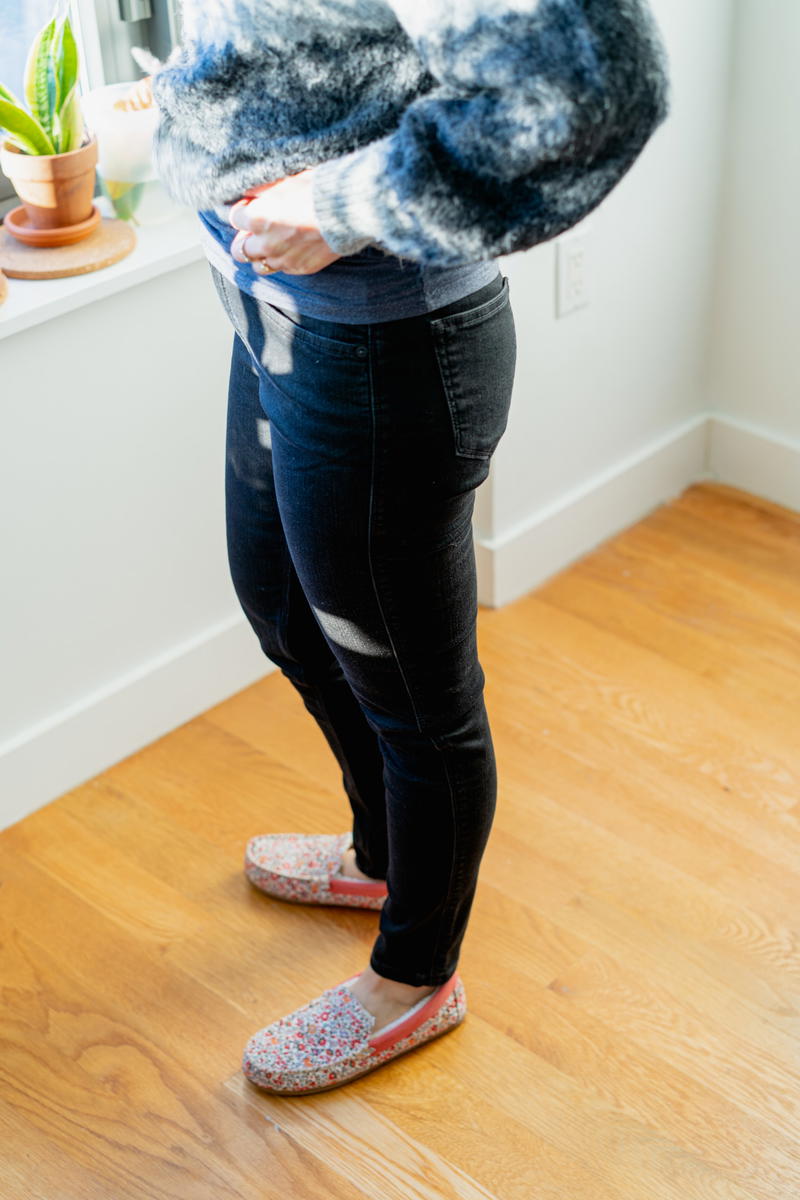 Is there any special care for the DUER fleece-lined winter jeans?
No, there's no special care aside from the fact that you probably wouldn't throw these into a whites load or a dryer on high heat.
We'll always wash our denim on a cold cycle with like colors (all our clothes are black anyway, because we live in NYC), and we hang our denim dry on a rack.
With the Fireside Denim Slims and Mid-Rise Skinny fleece jeans must, tumble dry on low and/or iron on low when necessary.
I would not think that you need to iron these fleece jeans. That would be excessive.
Can I return DUER jeans that don't fit?
You can! DUER has a pretty flexible and forgiving return policy. Their aim is to have you in jeans that you love, and if that's not the case, get a different size!
In regard to the DUER return policy, which includes the Fireside Denim and Winter Collection, you can do a return or exchange within 30 days from the date the order is shipped.
Note, though, that if you require a refund rather than an exchange of another item from DUER, they charge an $8 shipping/restocking fee. This policy makes it more agreeable to do an exchange rather than a complete return, to avoid any fees. $8 is pretty low, though, luckily.
If you live outside the US and Canada, that all international orders (outside the US) are final sale and do not qualify for a return or exchange!
Lastly, is the DUER fleece denim winter collection worth it for me?
At $159.00 for both the men's Fireside Slims fleece denim and the women's Fireside Mid-Rise Skinny fleece denim, this may be one of the more expensive pairs of pants you lay eyes on.
Consider first that the Fireside denim clocks in at only $30 more than the classic DUER Performance denim jeans for both men and women.
At a price point of $30 above the regular and original DUER stretch jeans, you are likely getting $30 of warmth, because like we said above, these jeans are dense and have a tight knit, allowing less cool air and wind to get through to your skin.
If that sounds like a worthy investment to you, then yes, the Fireside winter fleece denim jeans are worth it.
They're especially worth it if you live in the northern US and Canada, where it can get really cold. We're the types who like to escape winter to warm places, but for the months we're at home watching the snow fall, you can bet that we need cold-weather pants.
Having fleece-lined warm jeans for travel would be great if you like to go on cool weather trips (Iceland, anyone?) and skiing destinations!
That's why we've added the DUER Fireside slims to our list of this year's best men's pants for travel as well as the best women's pants for travel.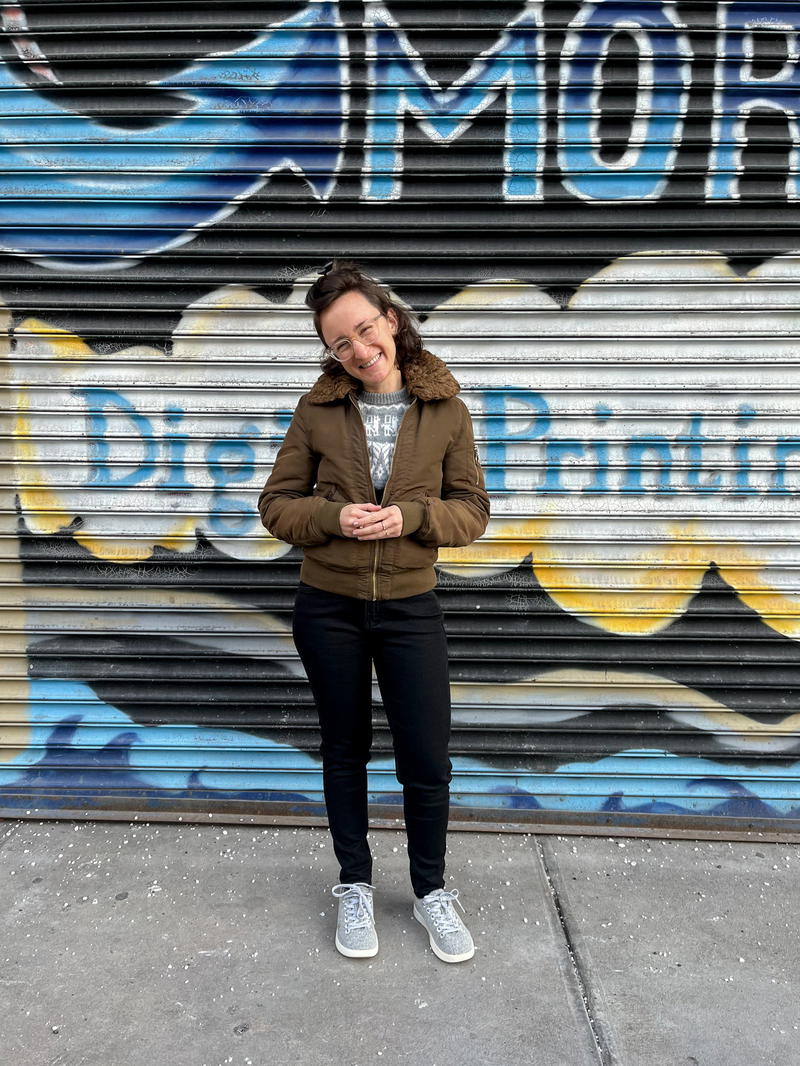 How to shop for the DUER Fireside Fleece Stretch Jeans
This is the easiest answer we're here to give: simply head to these links for both the men's and women's products:
Hungry for more of the best and proven apparel we recommend? Head over to our travel gear section to see which brands and products we recommend.
Enjoyed our article?
Consider supporting us! We're a 2-person team (learn more about us here) and your support enables us to create quality content. Thank you!