How to Pack a Suit for Travel (Step By Step Guide)
Written by Becca
•
Updated on September 6th, 2023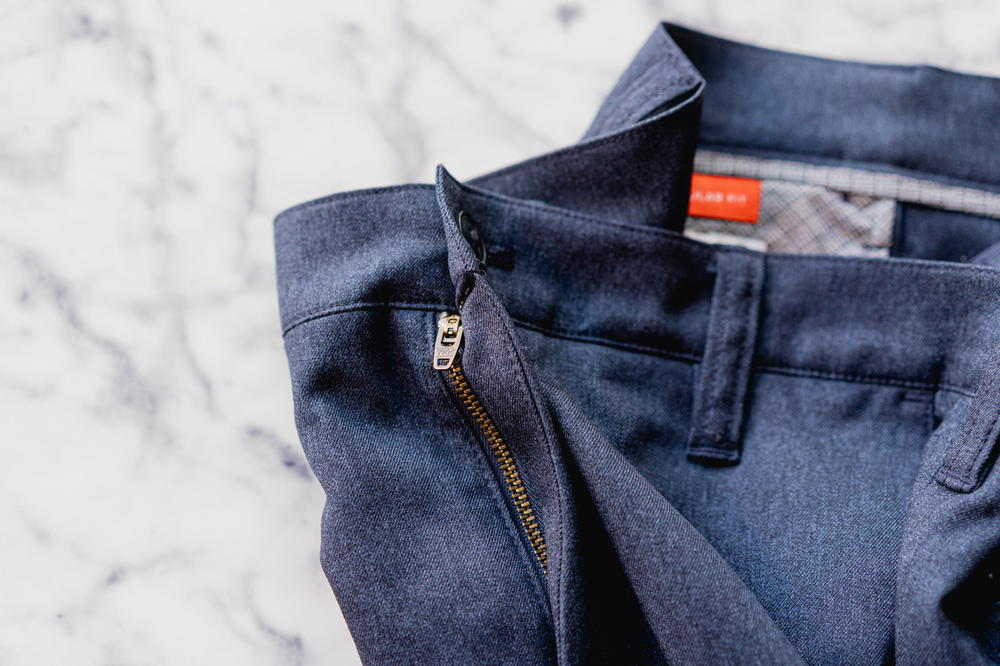 How do you fold a suit without it wrinkling, and pack it into a packing cube in carry-on luggage? Here's my best foolproof way to pack suit pants and a suit jacket for travel.
This article may contain affiliate links. We earn a small commissions when you purchase via those links — and it's free for you. It's only us (Becca & Dan) working on this website, so we value your support! Read our privacy policy and learn more about us.
Table of contents
Close table of contents
Traveling with a suit can be a challenge. There are a lot of different pieces to worry about and having something folded in your bag for an extended amount of time can cause wrinkles.
If you're not sure if you'll have an iron or aren't comfortable with one, you risk wrinkling your clothes before you need to wear them. Or worse, you can crease your pants and have them look like a mess.
Luckily for you, Dan has traveled with a suit many times, and we've perfected the way that we pack, fold, unfold and unpack it. And lucky for Dan, I love folding clothes and efficiently packing, so I've perfected a way to pack his suit.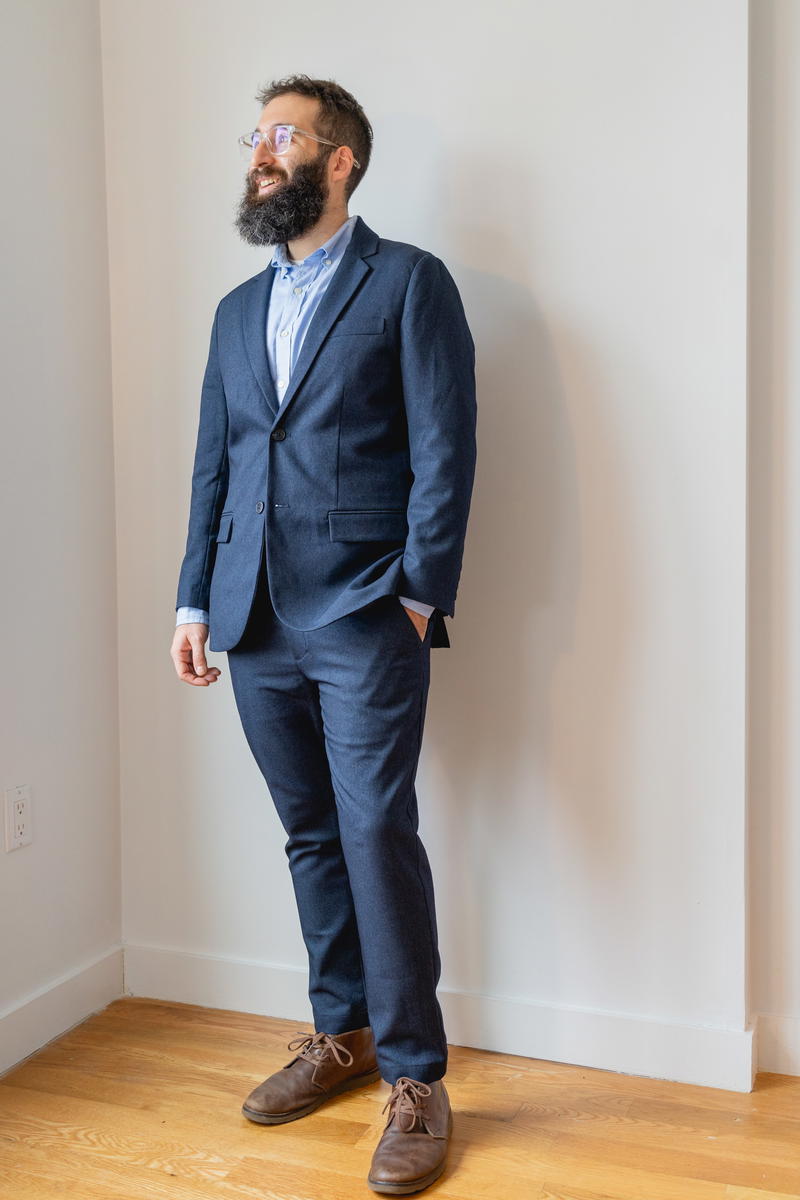 Yes, you're reading correctly. I (Dan's wife and best travel partner) am in charge of folding and packing Dan's suits.
It's because:
I really enjoy folding things, and I am a compulsive perfectionist
Dan does not enjoy folding things, and knows I will do a stellar job.
At first, I was Googling search queries like "How to fold a suit, "How to fold a suit in the best way," and, "How to fold a suit so that you avoid wrinkles." The answers are far and wide and come in the form of videos, articles and lists. In fact, the hardest part is actually folding the dress shirt, but we won't get into that.
One thing that does solve the problem is having a wrinkle-free suit like the Gramercy Suit from Bluffworks Men's travel collection. I'll be using this suit that has wrinkle-free properties in all the photos you see in the notes that follow.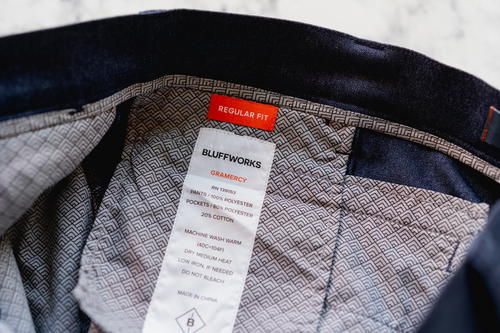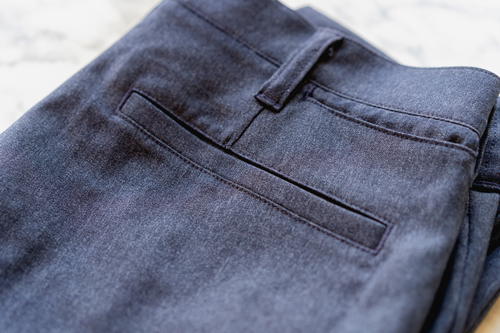 Read on to learn how you can pack your suit to prevent wrinkles and save some space while you're at it!
Take inventory of your travel suit components first
A suit usually has two pieces, the jacket and the pants. If you're super fancy, maybe you have a vest, but if you have any experience with suits, you know that these are reserved for tuxedos or for people who truly enjoy wearing suit vests.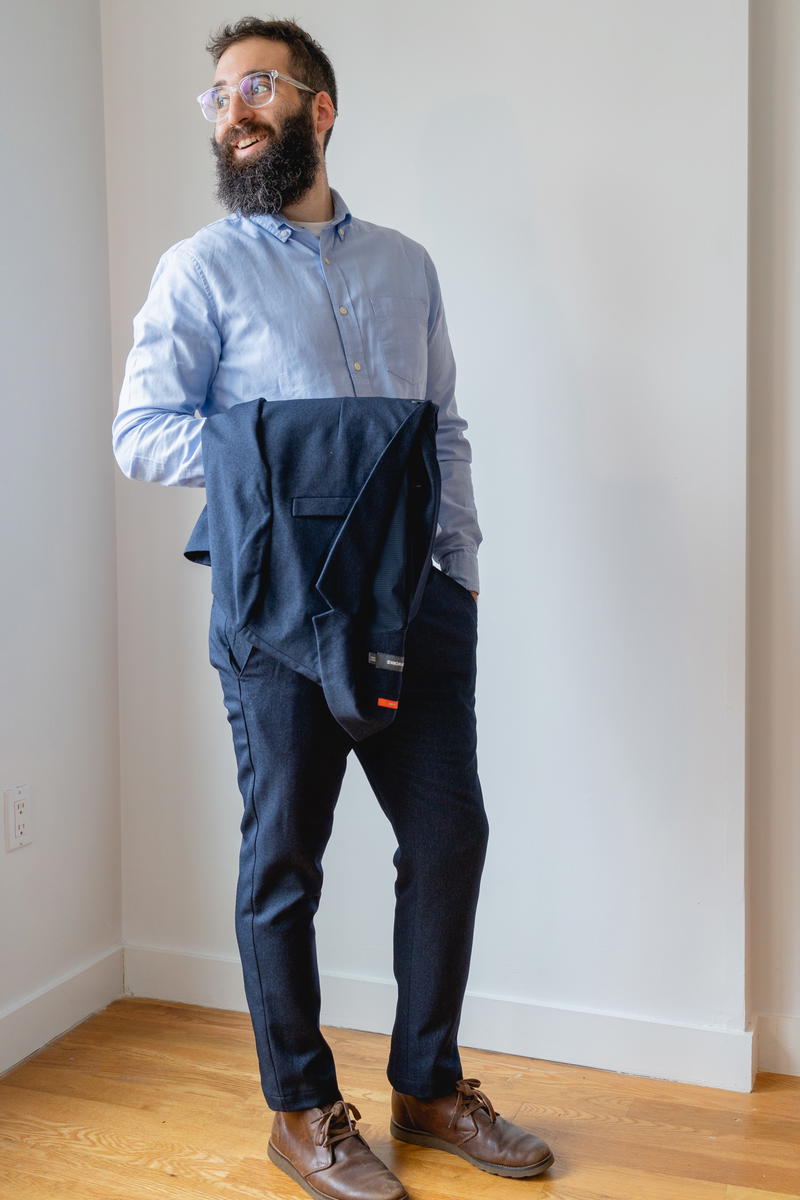 Other components of having a suit ready for travel are the following (I write this out as a travel suit checklist because there have been times when we get to our destination and realize Dan is missing an undershirt or a belt… you get it).
How to pack a suit
Learn the quick steps you need to take to learn how to pack a suit. More detailed information about each step is below!
Lay flat & button the suit jacket
Fold the suit jacket in half
Fold both suit jacket sleeves in
Fold the jacket thirds, and in thirds again
Slide the folded suit jacket into a packing cube!
Start folding the suit pants and zipper them closed
Hold up the travel suit pants
Fold them exactly in half
Fold in the crease seam
Start the suit pants thirds-folding
Fold up another third, and finalize
Slide the folded suit pants a travel packing cube
Suits are tough because they are unlike the things you usually take on a trip: T-shirts, shorts, bathing suits, jeans, joggers, hoodies, etc.
With a suit, you'll probably either be wearing it at a business event at which you need to look legitimate (industry conferences, client meetings and more), or at a dressy event at which you'll be in photos (weddings, wedding rehearsal dinners, religious events or services, holidays).
Wrinkles are a traveler's worst nightmare, especially when the hotel room is missing an iron, you're staying with a friend who doesn't believe in irons, or your Airbnb doesn't have one at all. I actually don't recall much ironing during trips, and if I needed to iron something, it was definitely one of Dan's button-down dress shirts.
I learned a few folding rituals from Marie Kondo, and as for the rest of how I pack a suit into a packing cube, I use common sense and see what works time after time, because we travel for weddings so seemingly often.
Here's the most foolproof way to pack a suit for travel, as shown in these photos of the method that works for us and Dan's suits for a no-nonsense wrinkle-free result.
Step 1: Lay flat & button the suit jacket
This may sound simple, but trust me: lay the suit out flat so that there are no wrinkles in the back of the jacket. With this step, you're setting yourself up for success in being cognizant of wrinkles, the size of the garment, and how it folds.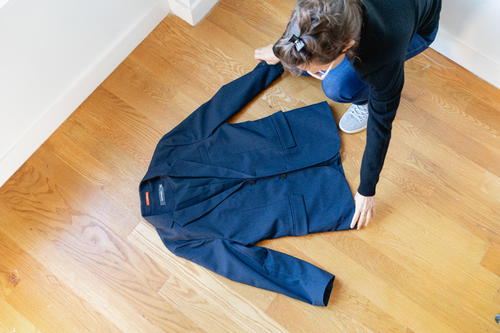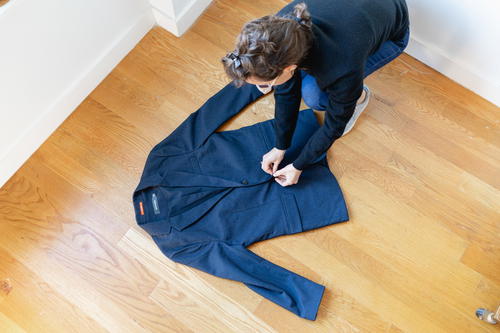 Step 2: Fold the suit jacket in half
I don't believe in that common method of "turn one sleeve inside out and put it inside the other sleeve." I think that may work for some people, but it makes me a little uncomfortable. I'm very delicate and respectful of clothes and their builds.
So with step 2, fold the suit in half and make sure that the sleeves match up.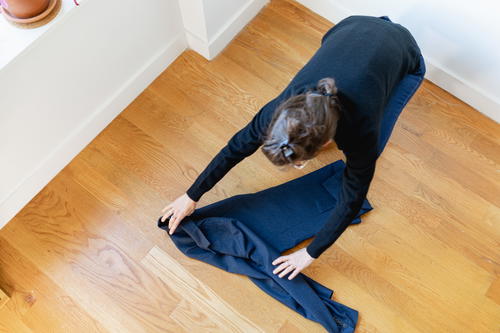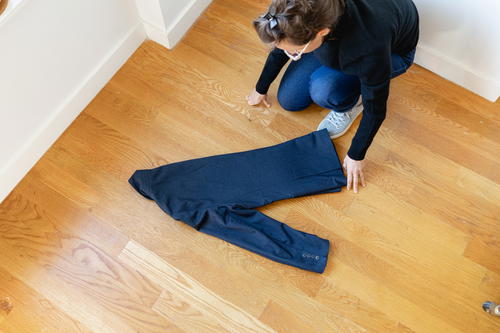 Step 3: Fold both suit jacket sleeves in
Here, fold both sleeves on top of the already halved body of the suit jacket. Be mindful of the crease where the sleeves meet the jacket body.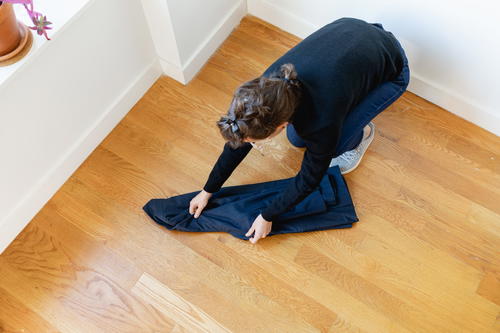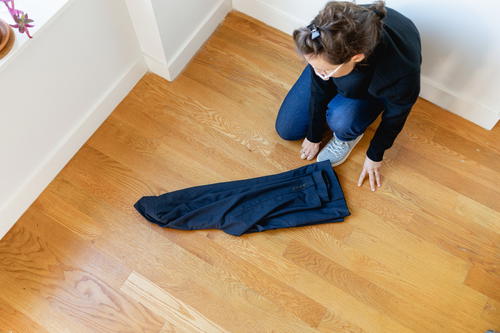 Step 4: Fold the jacket thirds, and in thirds again
One of my favorite Marie Kondo techniques is the folding in thirds so that clothing does not get too bulky. It also evens out the creasing so that you're not folding any garment too tightly.
In this step, eyeball a 33% fold, and then another one, so that you are folding the jacket into a small square.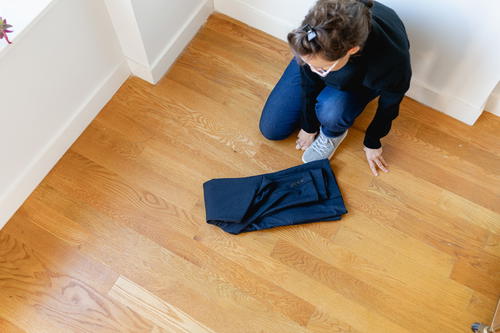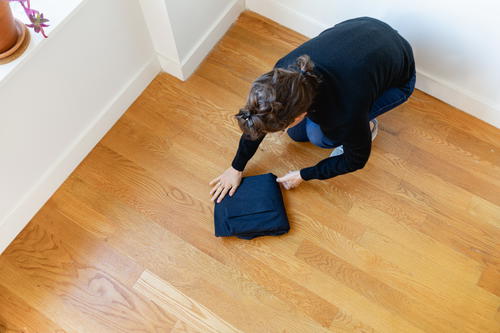 Step 5: Slide the folded suit jacket into a packing cube!
Like we mentioned above, we like the Bluffworks packing cube, which was designed for suit jackets, suit pants and dress shirts. It has some cool features like a compression strap and a side zipper, so it's really the whole deal.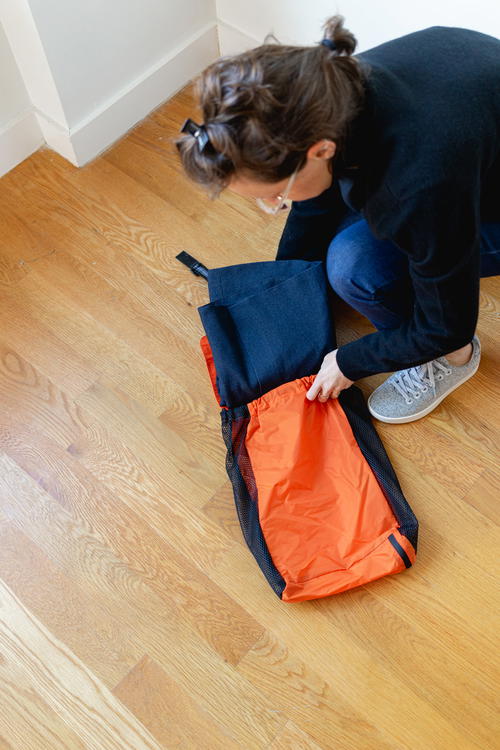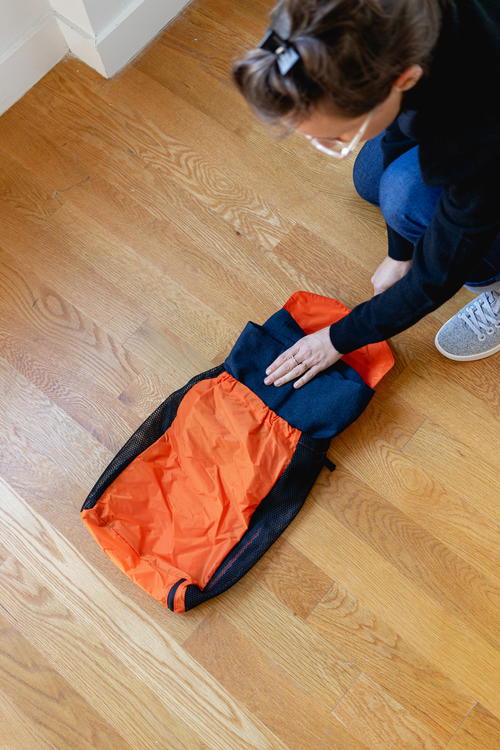 I find that with the jacket folded into thirds, it slides right into a packing cube so that I have peace of mind.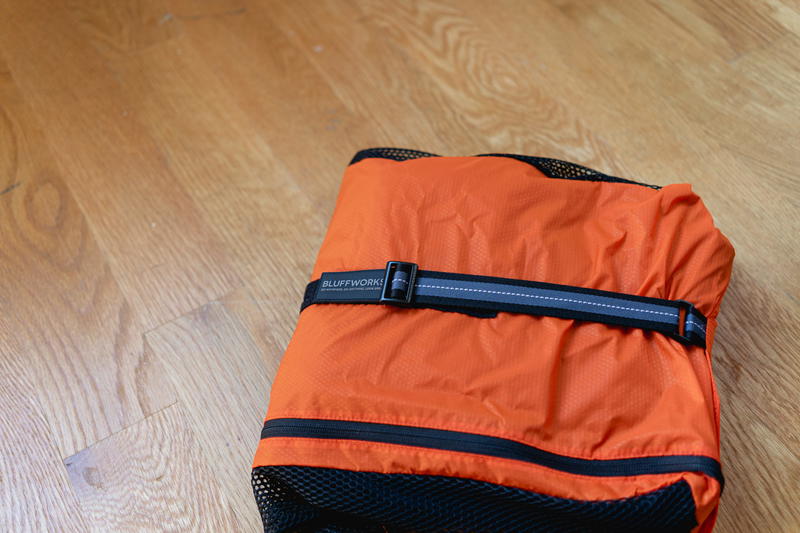 Step 6: Start folding the suit pants and zipper them closed
We're ready to start with suit pants now. The first step is to zip up the fly of suit pants so that the fly won't open and get a weird crease that would totally mess up a group photo at a destination wedding.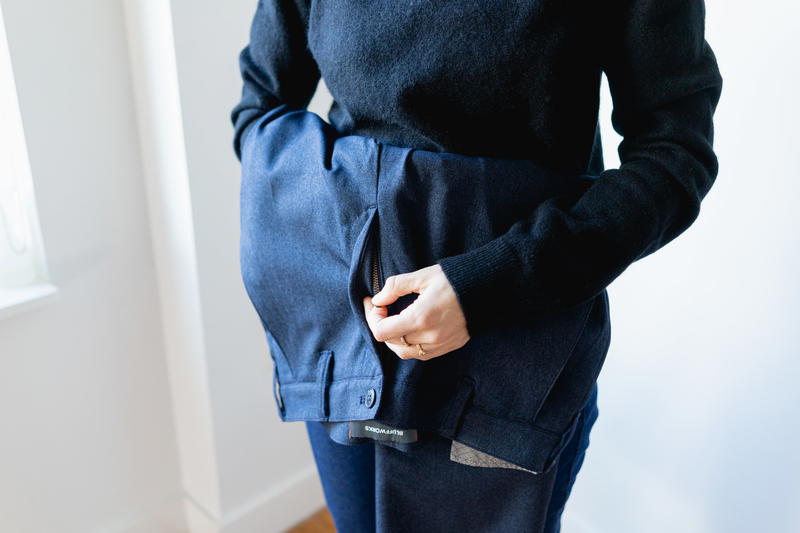 Step 7: Hold up the travel suit pants
Yes, that's it! Just hold them up so that you can assess how much extra fabric there will be to fold, and get the hang of what you're working with.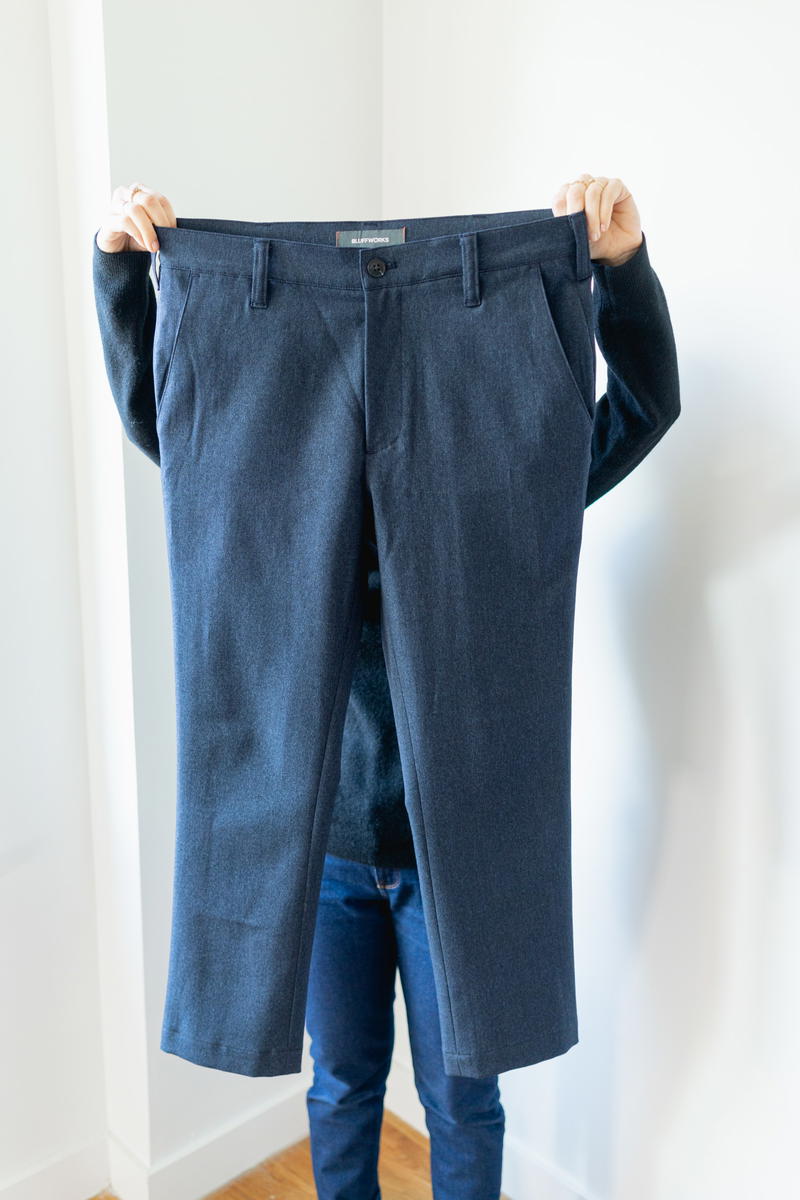 Step 8: Fold them exactly in half
This is the beginning of a Marie Kondo move: fold the suit pants exactly in half, and be precise. There is no room for error. Make sure you take the intersection of where both legs meet, and pull it out to pinch flat.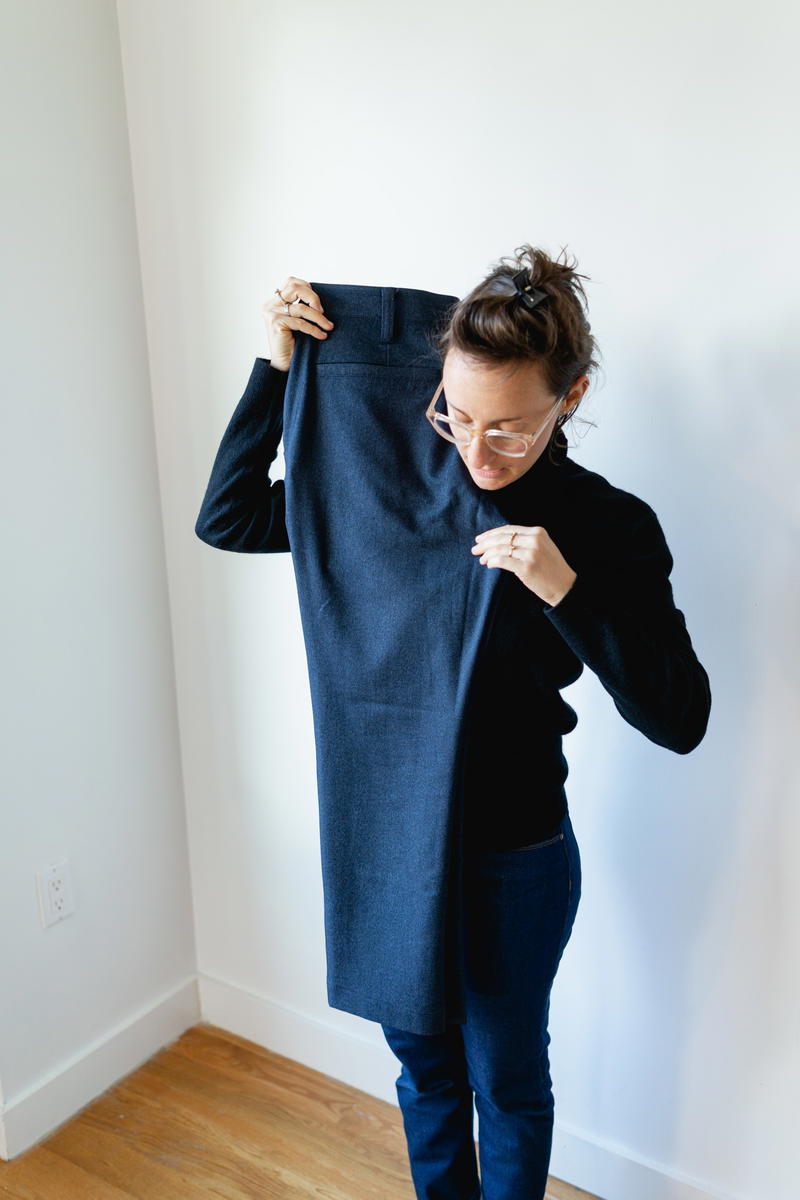 Step 9: Fold in the crease seam
Take that crotch crease and fold it in, ever so slightly. If you're visual like I am, picture that by folding in this part, you're creating a completely rectangular shape.
In the build of the pants, this is the only part that is not part of the large rectangle that would otherwise be a perfectly quadrilateral shape of pants shapes.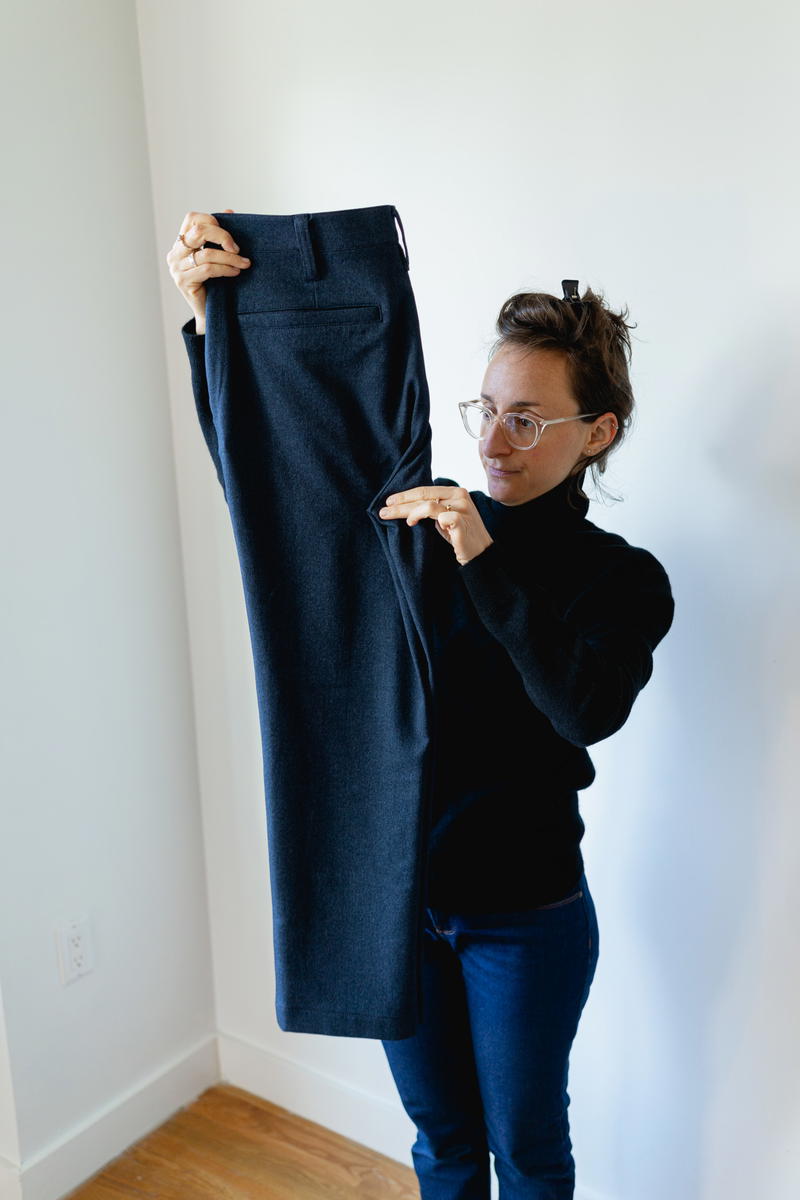 Step 10: Start the suit pants thirds-folding
Now that you've achieved the quadrilateral overall suit pants shape, start folding down the top third.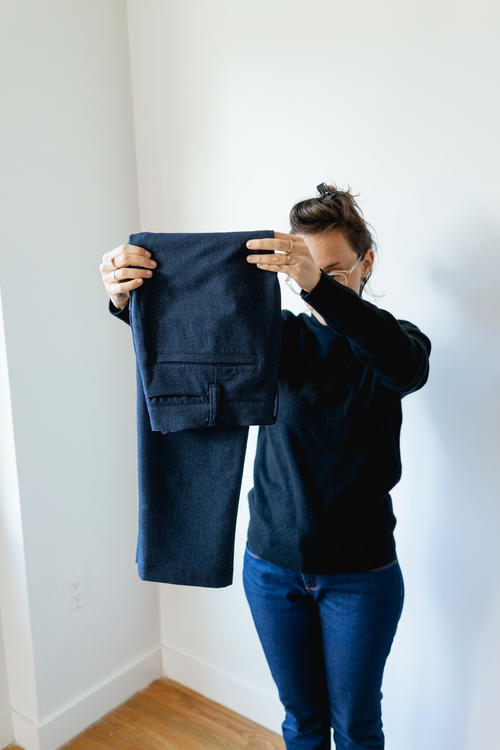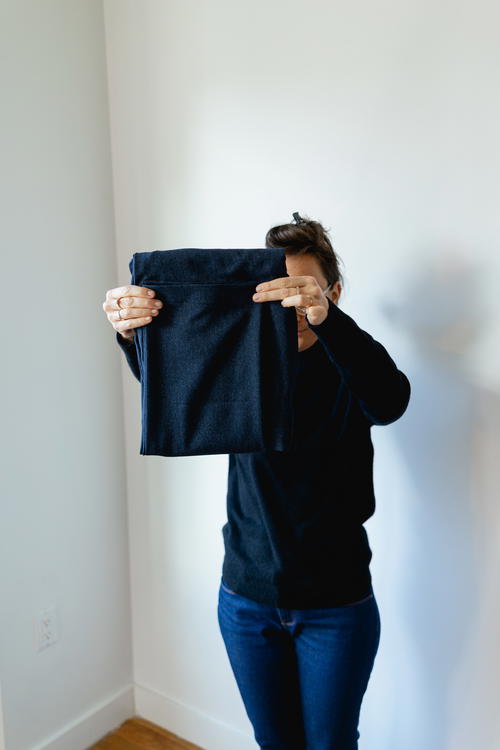 Step 11: Fold up another third, and finalize
Fold up the second third, and if space permits, fold the suit pants in half so that they fit in the packing cube, and also will not wrinkle.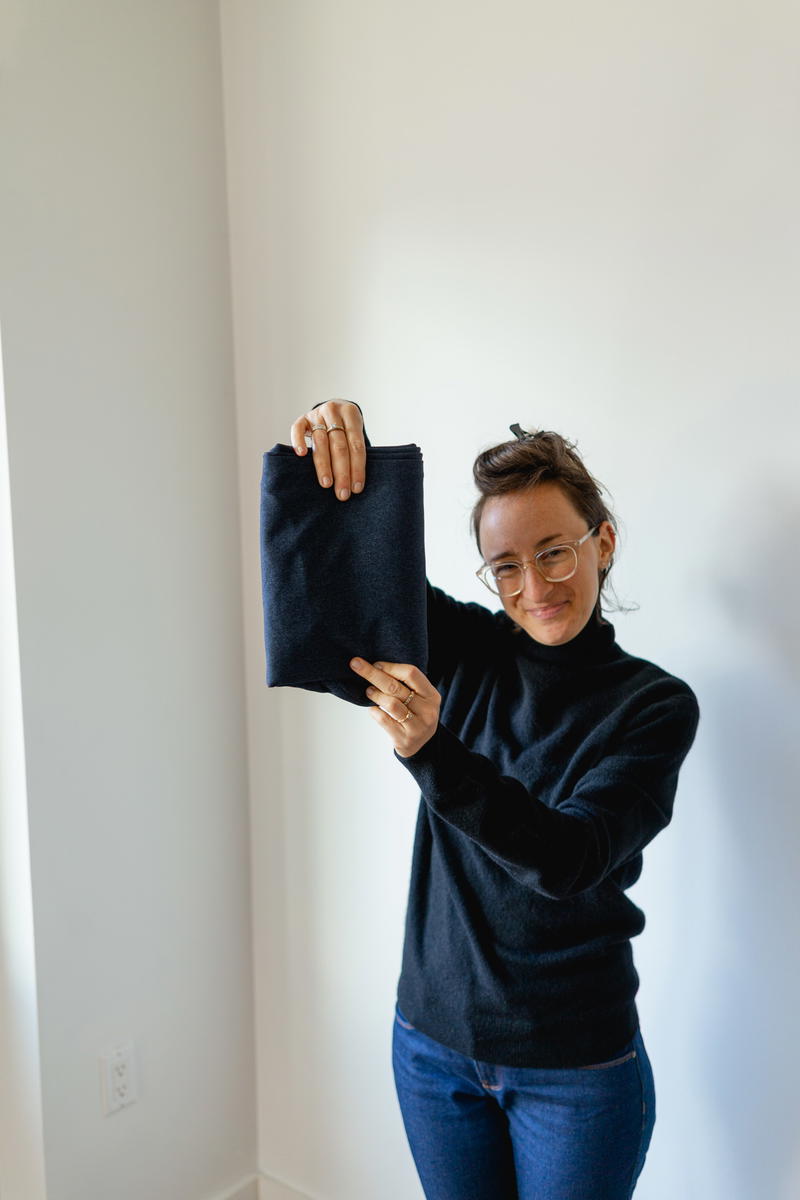 Step 12: Slide the folded suit pants a travel packing cube
Incredibly, you can get those suit pants into the same packing cube as your suit jacket. If you're feeling motivated, try to also fold your dress shirt and lay it in its folded form on top of both suit pieces.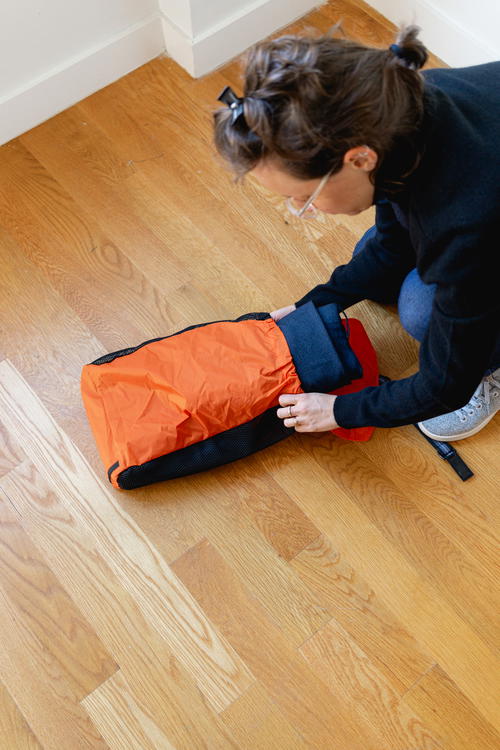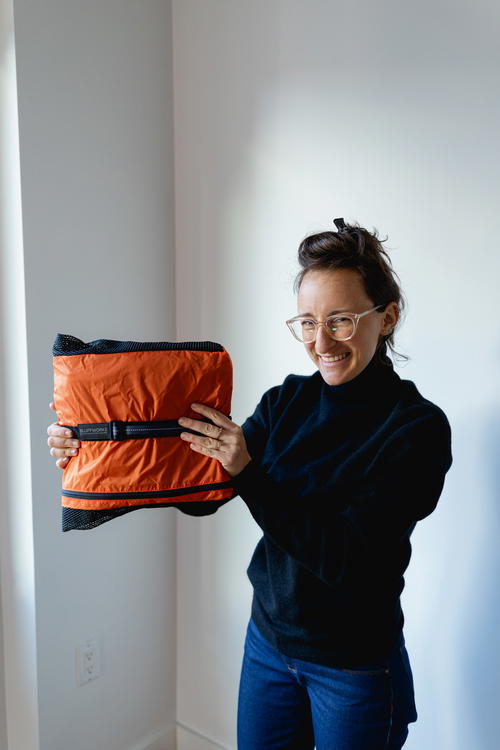 How to pack a suit in a backpack
For the times when we've only traveled with backpacks (which is often), we've had to figure out how to pack a suit into a backpack. Dan uses his Peak Design 45L Travel Backpack for basically every trip we take, whether road trip or flight. It's a great piece of luggage. One benefit is that it opens clamshell-style, so we can put his packing cubes in and stack them neatly, rather than shoving them into a backpack that opens top-down.
For getting that suit to stay wrinkle-free and neat when folded up for packing, I use the magazine folding method for the dress shirt. I then put the dress shirt into a large packing cube, or if we have a smaller packing cube available, I give the shirt one "hamburger fold" to keep the fold lines straight.
For the suit pants, I tuck in the inseam and do a quadruple fold, ensuring that all the pants lines stay neat and lined up. I put the pants into a packing cube with one of Dan's ties, folded up neatly.
For the suit jacket, I fold it in half vertically, and line up the arms, folding them in. Luckily with the Bluffworks suit jackets, they don't wrinkle, so they help keep us low-stress when we know we have a wedding to attend and we may not have time to iron everything.
With all parts of the suit going into packing cubes, we stack those in Dan's backpack and everything arrives without wrinkles at our destination. If you have a top-loading backpack, make sure your packing cubes stay flat, rather than sagging or collapsing, which might wrinkle up the suit components.
Keep improving on your travel suit-packing skills
Based on the size of your suit and its material, you will probably need to experiment and find the best way to pack your suit and its accessories. This is far from a one-size-fits-all process, just like suits themselves, which need to be altered and fitted periodically over time.
As promised, we're going to dive into the best travel suit that will guarantee you a wrinkle-free pack.
Having an anti-wrinkle suit has done Dan rather well in weddings we've attended in Los Angeles, Chicago and even our own wedding in New Jersey (we did have to transport the suit from NYC to NJ, after all, and it certainly got packed up!).
Invest in a wrinkle-free travel suit (and wrinkle-free dress shirts)
As for a wrinkle-free lightweight travel suit that looks fantastic, we couldn't recommend the Gramercy suit from Bluffworks enough.
We roughly fold it in a packing cube from Bluffworks, and take it out right when we get to our destination. It comes out wrinkle-free with no fuss.
We've never even come close to thinking, "Wow, this could really use some ironing" — far from it. This suit comes out without wrinkles the first time.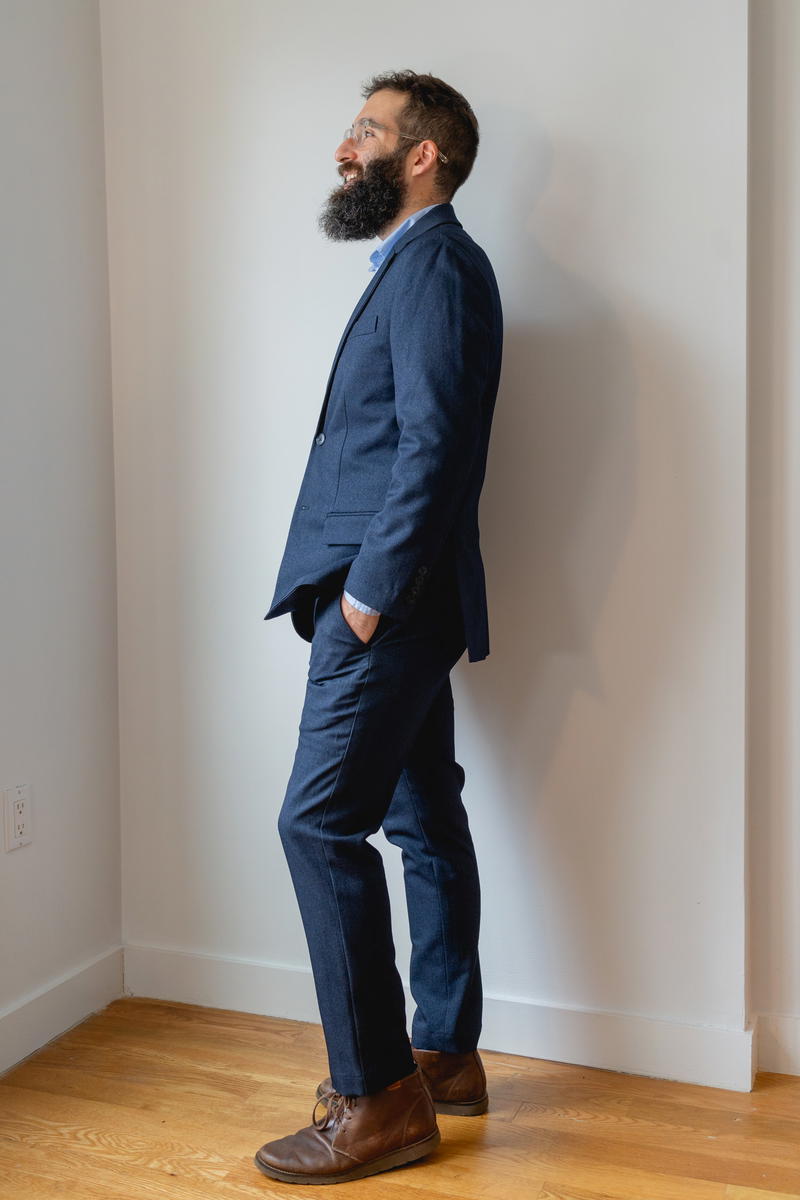 The Bluffworks travel button-down dress shirts are even better. They are wrinkle- and spill-resistant, which makes them perfect multipurpose clothes to pair with a travel suit.
One of the practical use cases for the Bluffworks suit shirts is being able to roll up the sleeves without causing any wrinkles.
Dan is able to roll up the sleeve in the middle of an event, take off the shirt at night, roll it into a ball and wear it the next day like it's brand new. (Just kidding — he doesn't have a real reason to roll up the shirt into a ball, nor would I let him, so that was just being dramatic).
Interested in the wrinkle-proof travel dress shirts? See our rundown of both the Meridian shirt and Zenith shirt, here.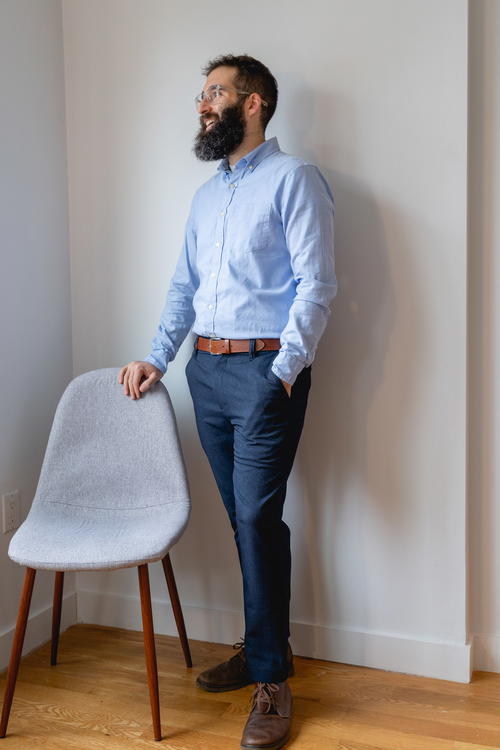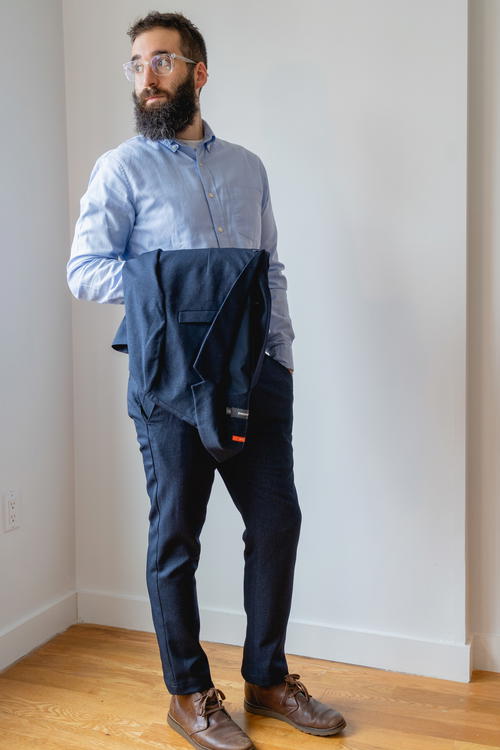 Last idea for avoiding wrinkles: wear your suit instead of packing it
Sometimes the easiest method is the one that's been staring right at you: you don't need to pack your suit if you wear it during your travel day.
If you're flying, you can wear your suit directly on the plane. You may want to pack a fresh shirt or wear a nice T-shirt instead, because some people sweat on planes or get smelly.
This might be another plug for my favorite travel suit, but quite honestly, if you were to wear the Bluffworks Gramercy suit on a plane, you'd probably walk off that plane in a wrinkle-free suit. I'm not joking. It's hard to believe, but this suit just won't wrinkle or crease! It's incredible that it looks great 100% of the time.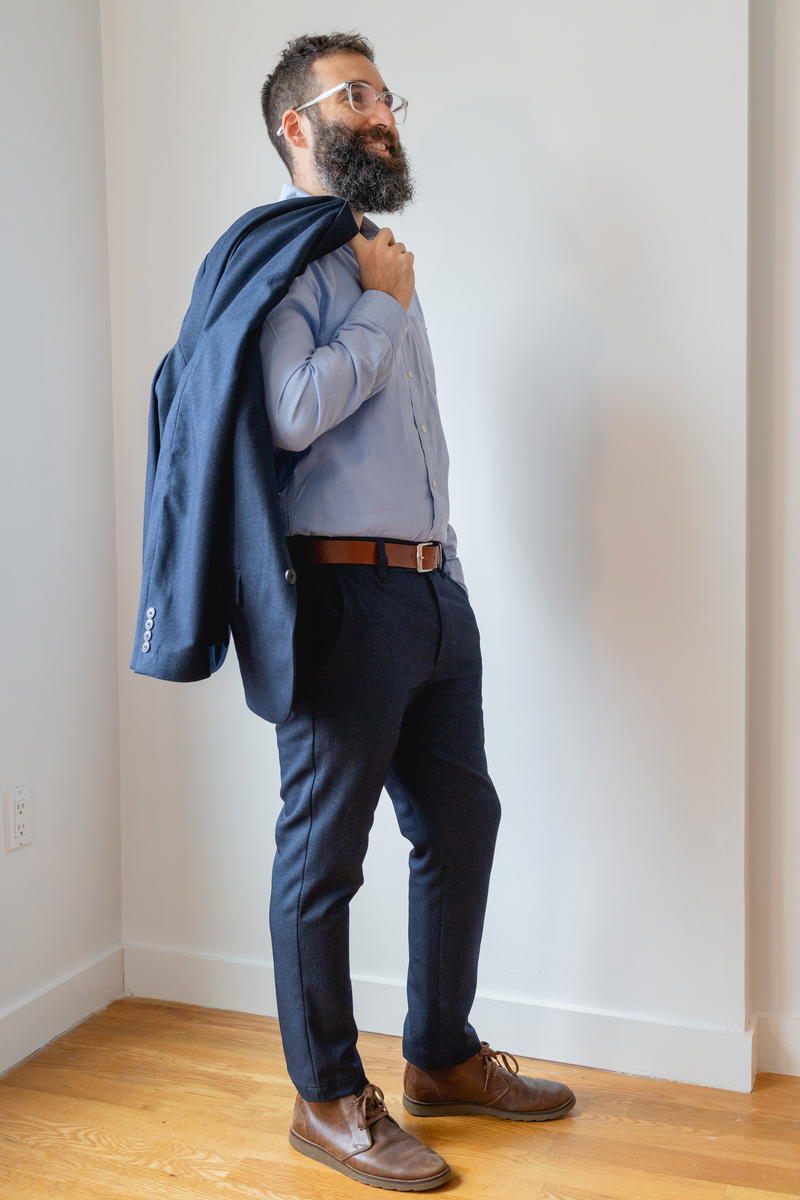 Best ways to pack your travel suit, a conclusion
A final way to take your suit on a trip would be to bag it up in a tote so that it doesn't get compressed among your luggage. I can see this being a backdoor route to avoiding both packing it into a compressed packing cube and/or wearing the suit on the flight.
To conclude, here are our three ways to avoid wrinkles by taking a suit on a trip:
Use the 12-step method to fold up the suit into a travel packing cube
Wear the suit on a plane (or train, bus or car ride)
Loosely fold a suit into a tote bag so that it doesn't get too compressed
Like we mentioned, the way for the most stress-free suit-packing experience is going to be by owning a wrinkle-free travel suit to begin with, so if you'd like to find out more about the best travel suit out there, read about the Gramercy travel suit for men at the Bluffworks website.
Enjoyed our article?
Consider supporting us! We're a 2-person team (learn more about us here) and your support enables us to create quality content. Thank you!