Mexico City's 23 Best Unique Photo Spots (With Locations)
Written by Becca
•
Updated on September 17th, 2023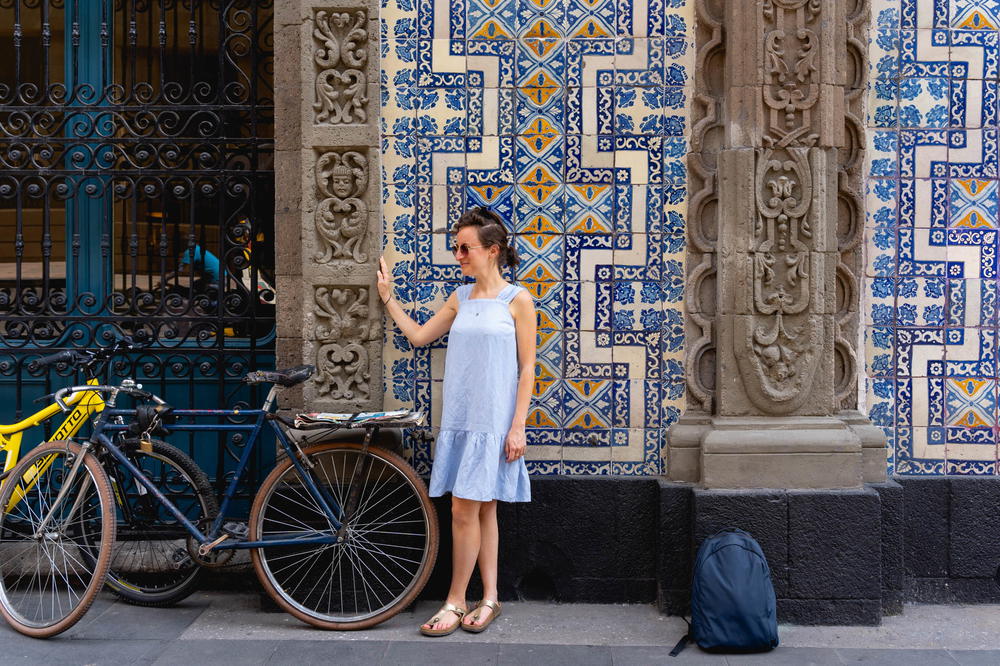 Where can you take the best photos in Mexico City? We've listed the most beautiful and interesting places for architecture, culture and street photography in CDMX.
This article may contain affiliate links. We earn a small commissions when you purchase via those links — and it's free for you. It's only us (Becca & Dan) working on this website, so we value your support! Read our privacy policy and learn more about us.
Table of contents
Close table of contents
Did you know that it has taken us weeks to explore all the places for taking photos in Mexico City?
From the coolest neighborhoods to the most beautiful places in this massive metropolis, we keep finding new places for taking the best photos in Mexico City. We're continually surprised by the variety of places to seek out, the different types of photos we can take and the things we can learn along the way.
Whether you're into taking photos of architecture, markets and food, pretty neighborhoods or urban parks and greenery, we've got quite a list for you to use during your next trip to CDMX.
Read on to start pinning your map with all of these suggestions of photography locations in Mexico's largest city, and we hope you have as much fun capturing moments on film as we do!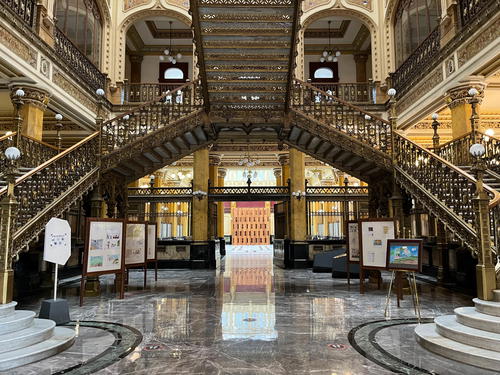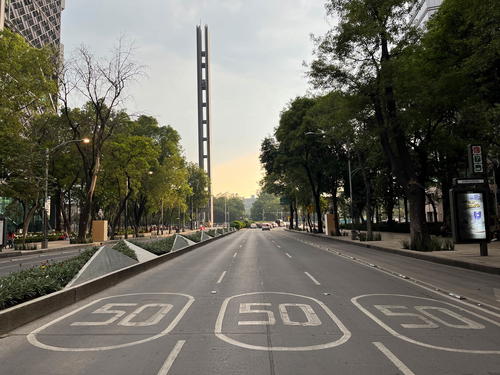 Centro Historico & Alameda Central
The heart of Mexico City is the central downtown, which has no shortage of historical monuments, striking architecture, incredible history and sweeping views. Check out this list of the best places for photography that we've hunted down in downtown Mexico City.
If you're not such a fan of finding the spots on your own, go with a private tour guide, here: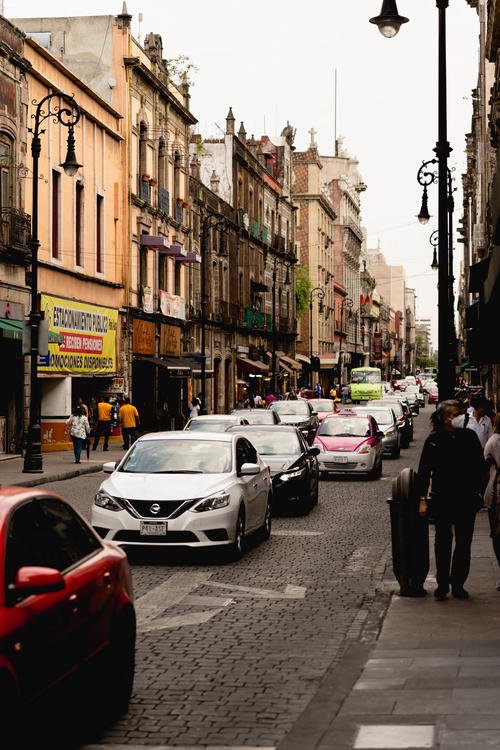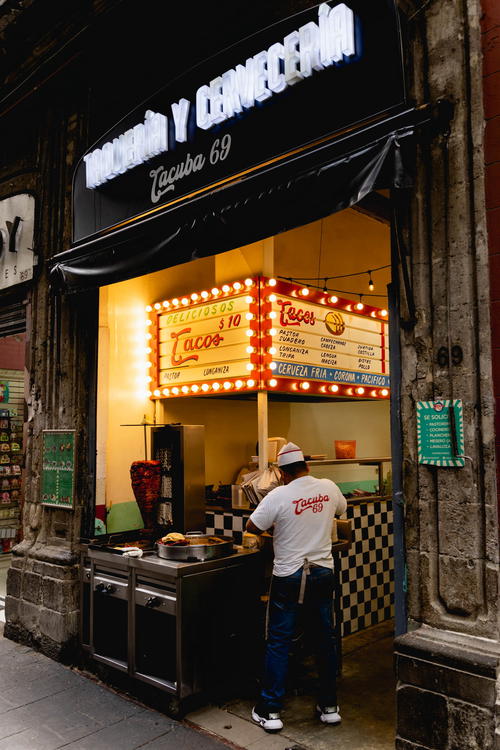 Casa de los Azulejos
This historic building is perhaps one of our newer favorites because it reminds us of the blue and white tiles you'll find in Lisbon and Porto.
What's unique about this building is that it certainly does look more like it would be in Portugal, rather than in Mexico, with its 1700s Baroque-style charm. What may surprise you is that it's beautiful both outside and in. Enter on the small Calle Condesa to visit the restaurant inside, which often will have live music, and the ecclectic general store.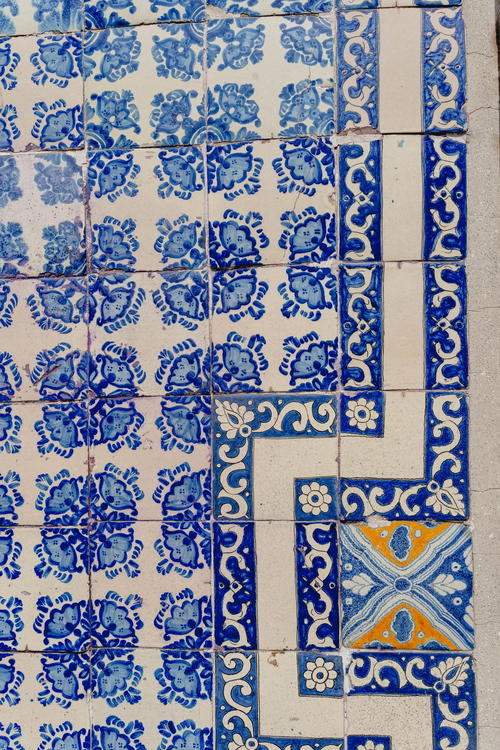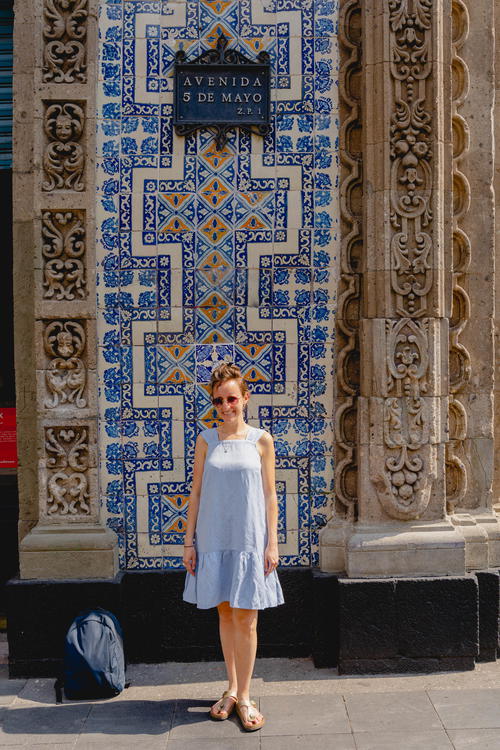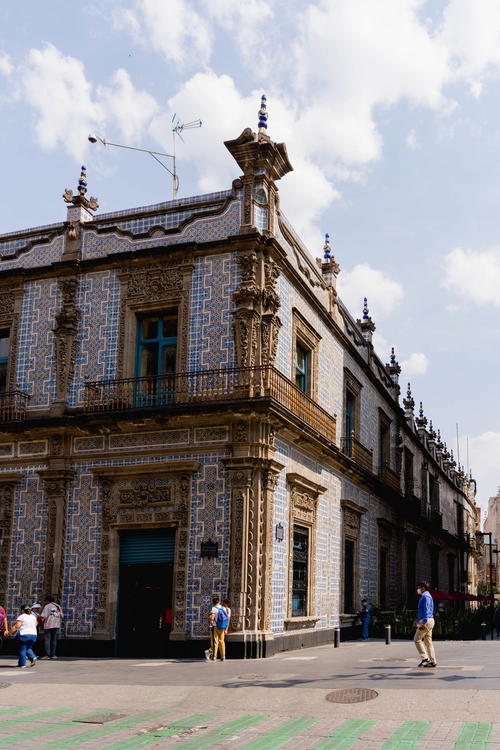 Palacio Postal
The Palacio Postal is Mexico City's main post office, and is a historic building dating back to 1907.
From the outside, it is a hulking building taking up a city block, and from the inside, if you enter on the north side for the entry to the "Post Museum," you'll enter through the grand lobby.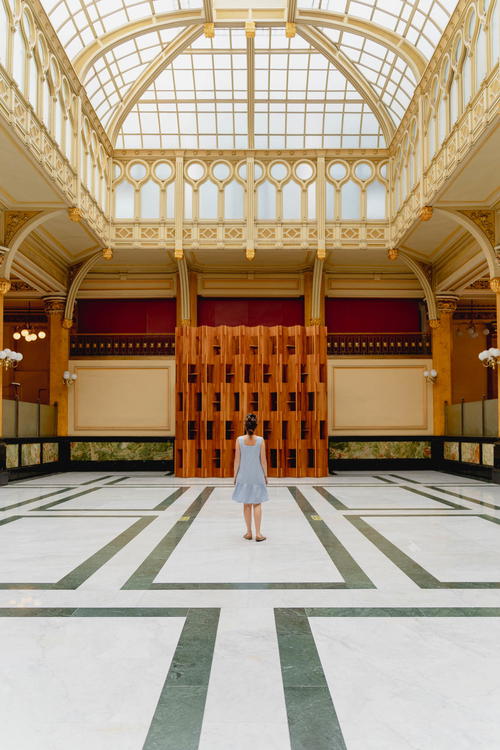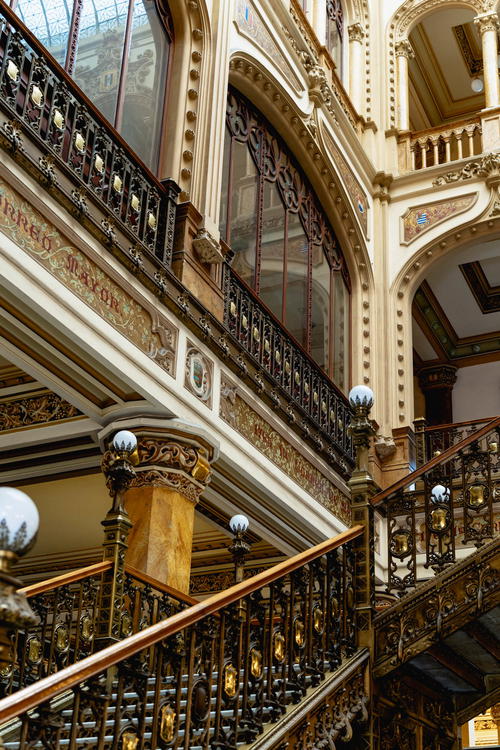 The Palacio Postal is, in fact, much like a palace, with stone staircases flanking each side of the main hall. As of our date of visit, we were able to speak with a guard about getting private access to the second floor, for some of the photos you see here.
We were told that as of summer 2022, the second floor was going to be more open to the public to include various art galleries with traditional Mexican paintings and art.
Don't forget to visit the Postal Museum itself, which has relics of Mexico City's postal history!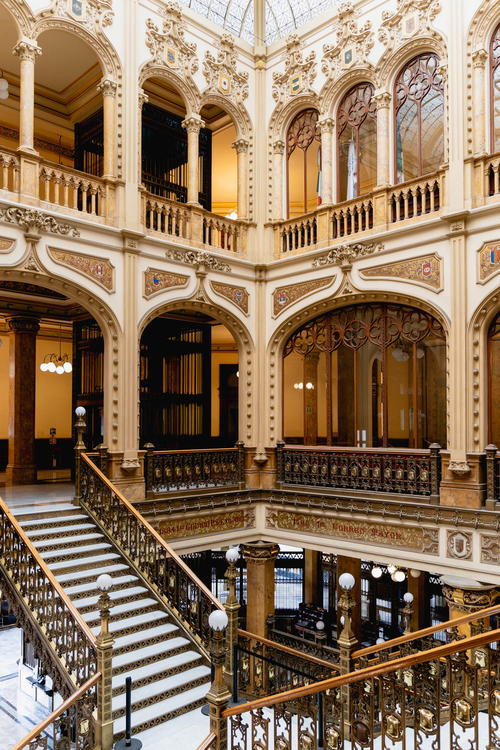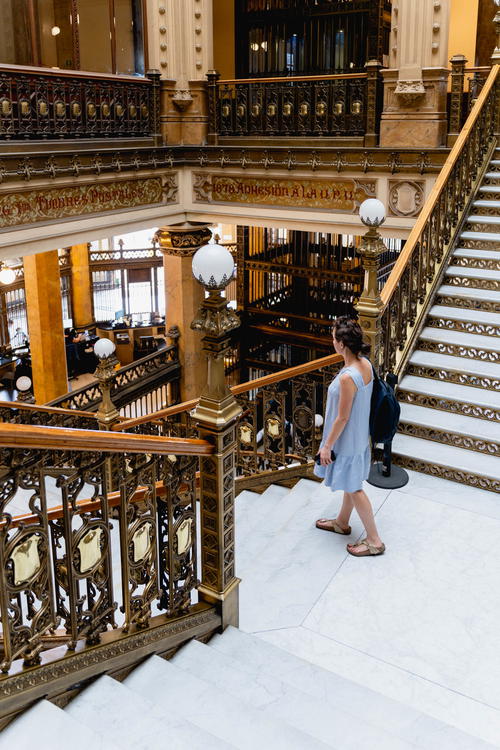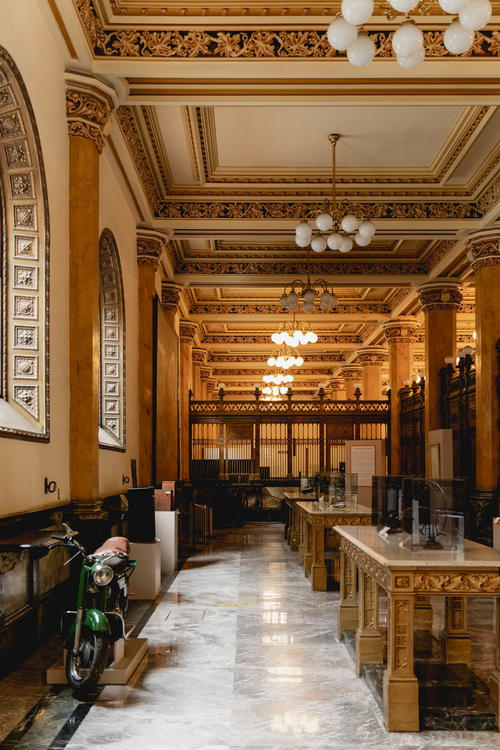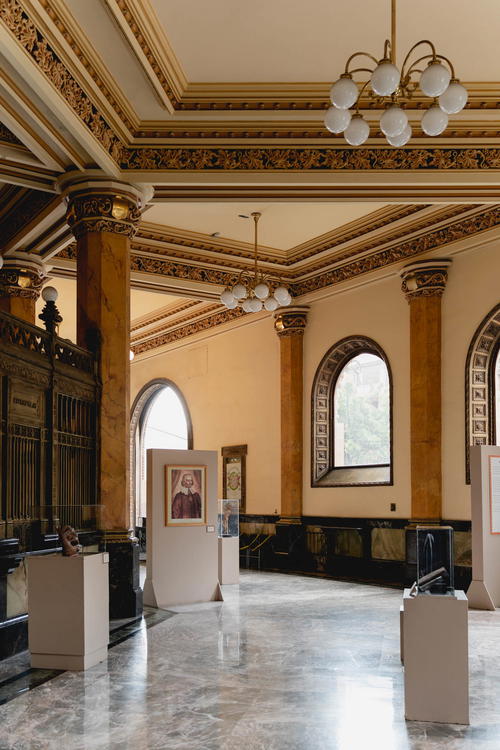 Palacio de Bellas Artes
Palacio de Bellas Artes is one of the most beautiful places in all of Mexico City and you'll see why. It houses notable works of art from Mexico's greats, and is a musical venue as well.
Our favorite place to take photos of Palacio de Bellas Artes is from an up-above location at the Don Porfirio Cafe in Sears. Would you ever believe it? You can learn more about this viewing spot in our Mexico City cafes guide.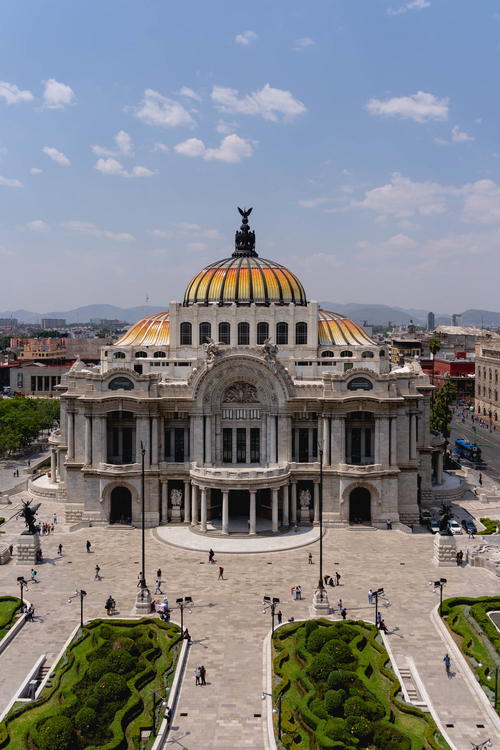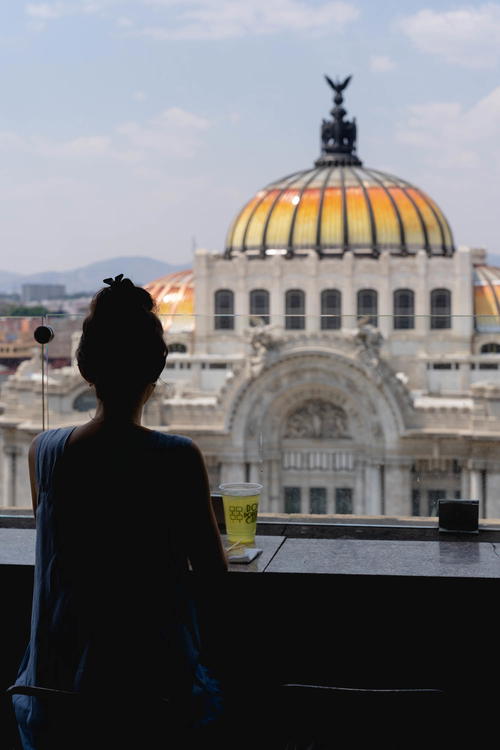 Torre Latinoamericana
You can't leave Mexico City without a photo of the Torre Latinoamericana, Mexico City's most famous skyscraper!
From anywhere in Centro, you can use this tower as your north star, or reference point, to determine if you're north, west, south or east of the tower itself.
The tower first opened in 1956 and a piece of trivia is that it withstood and survived the famous 1985 earthquake.
As a bonus, it does have an observation deck, just like the Empire State Building.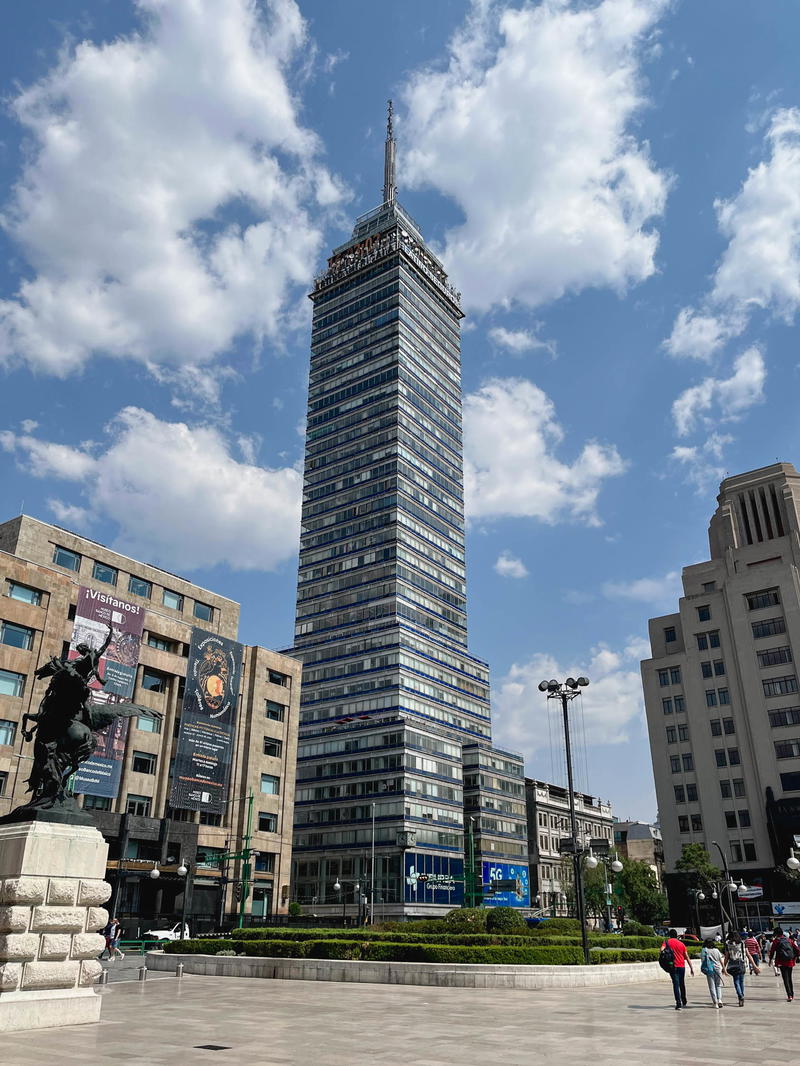 Gran Hotel
The Gran Hotel, located next to the Zocalo main city plaza, is a stunning example of Art Nouveau architecture in its gorgeous lobby that you can walk into. The Tiffany-style stained glass ceiling is one of the largest in the world. You'll want to come here with a wide lens!
At the time of our visit, we could not go to the upper floors. Check out more about the hotel here.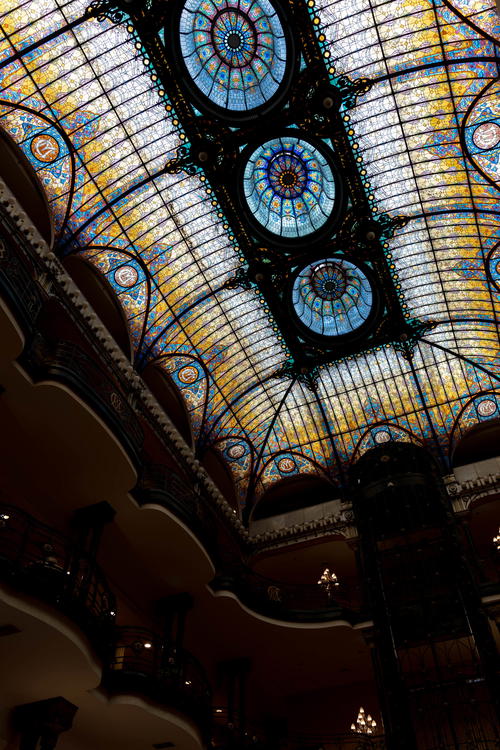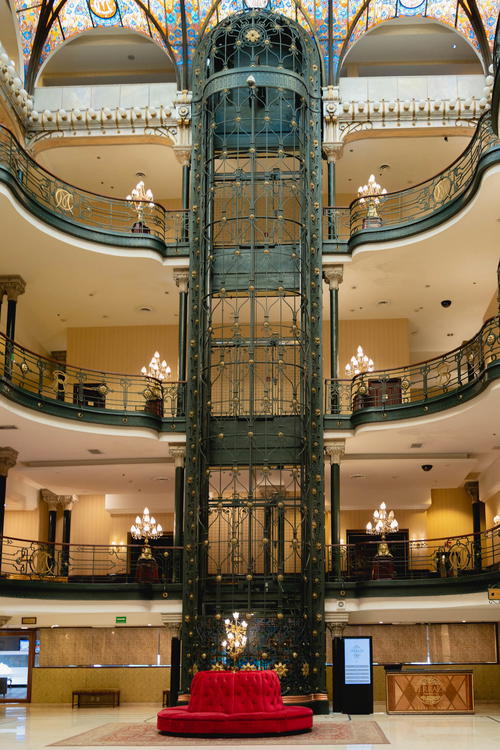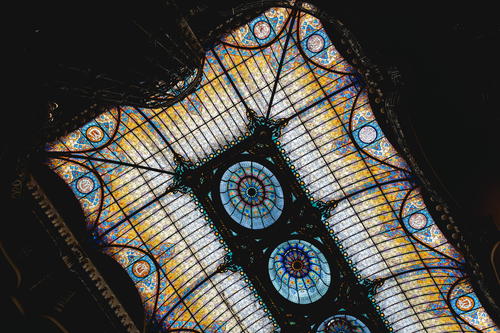 Zocalo
The Zocalo in Mexico City refers to the central square, and it is huge! Here, you will find the National Palace, Catedral CDMX and Parroquia de Nuestra Señora de la Asunción.
The Zocalo often hosts large events, whether an outdoor 1960s photo exhibition we saw in 2019 or a temporary soccer arena that popped up during our last visit.
Zocalo is just one block from the ruins of Templo Mayor, an important site in Aztec history that you will find in the center of Mexico city.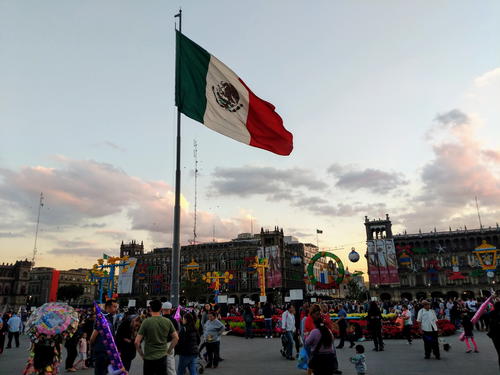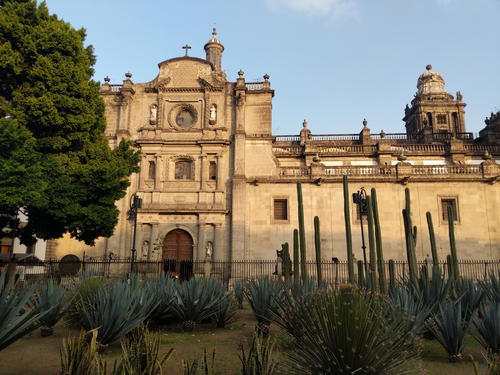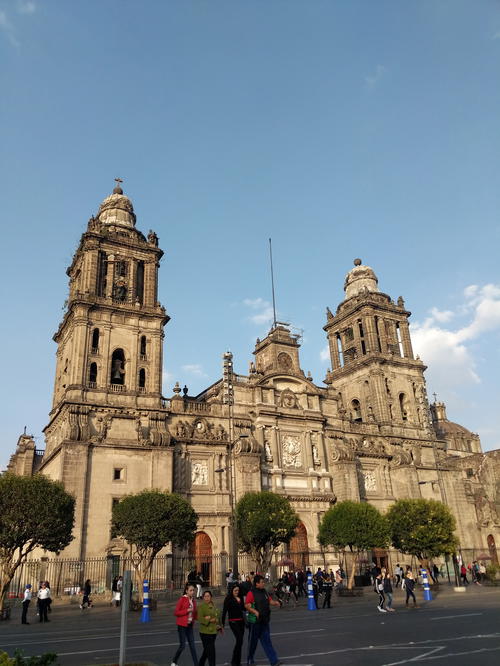 Barrio Chino
Barrio Chino is one of my favorite places in Mexico City, although it's a bit touristy and not terribly authentic! Technically, the neighborhood is only two square blocks, so it's a petite Chinatown when compared with other Chinatowns and Barrio Chinos of the world.
Mexico City's Barrio Chino isn't terribly Chinese anymore, but you will find street vendors selling Asian toys and crafts, dumpling stores, Chinese cuisine restaurants and a bubble tea shop.
Plus, Calle Dolores, the main two-block pedestrian street, is decorated with rainbow umbrellas and lanterns! It makes a great street photography spot if you're into colors.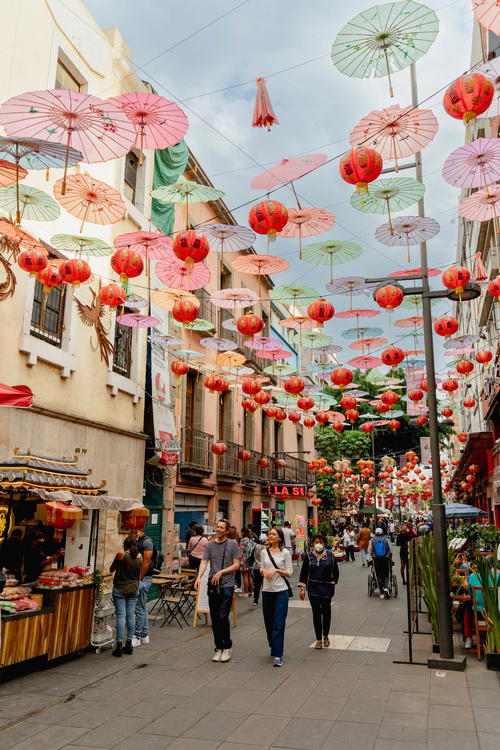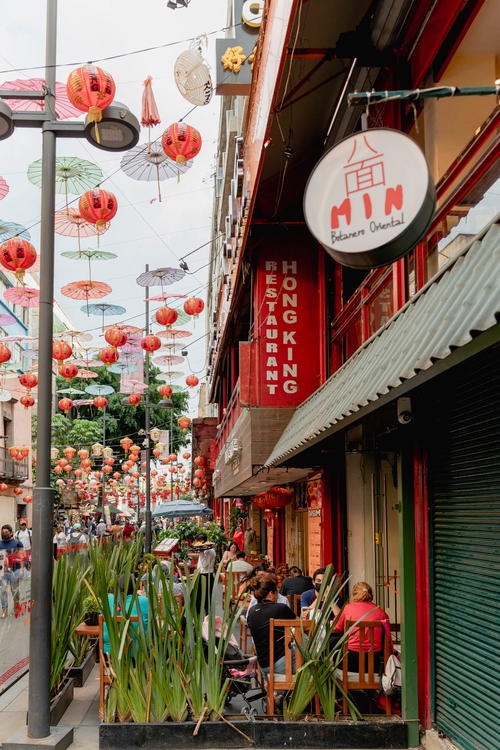 Rooftop at Museo del Estanquillo
This hidden gem of a photo spot in Mexico City was news to us when we went there. We're talking about its rooftop terrace!
The Museo del Estanquillo is an eclectic museum and its biggest attraction in my opinion is a modest rooftop where you can see a few several floors above the busy streets of Centro.
You can se more about this small museum here.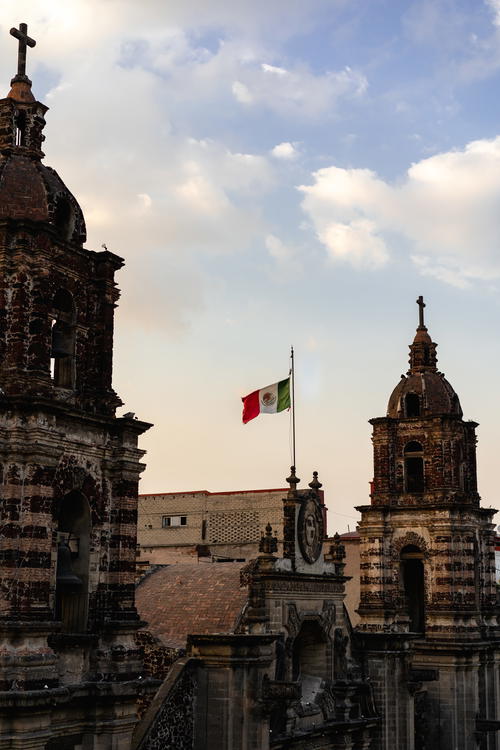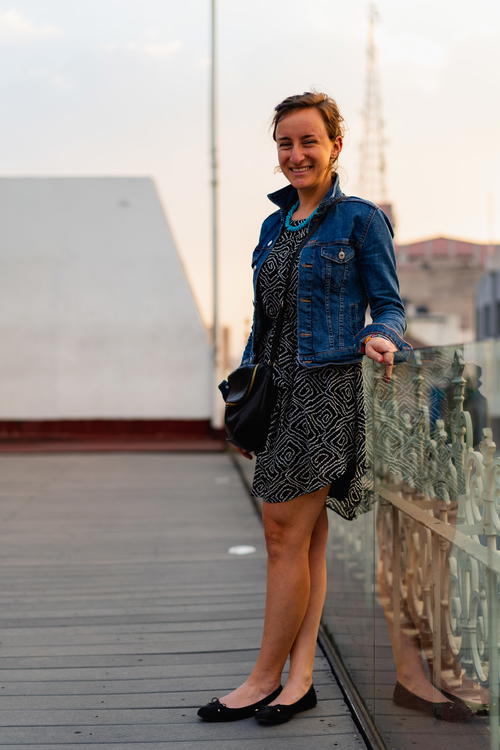 Mercado San Juan (Centro)
You'll find lots of markets called "Mercado San Juan" in Mexico, and for the purposes of this photo spot, we're talking about the market next to the Salto del Agua metro station.
When we spent two weeks living at Selina Mexico City, this market was our go-to for breakfast, snacks, groceries, lunch and fresh juices from a nice vendor with lots of fruit.
Visiting markets in Mexico City is one of the best things you can do in order to get a taste of local culture, see all the types of food available and also have fun taking photos. If you'd like to dig even deeper into markets that travelers typically don't visit, consider a food tour like this one, with Eat Like a Local.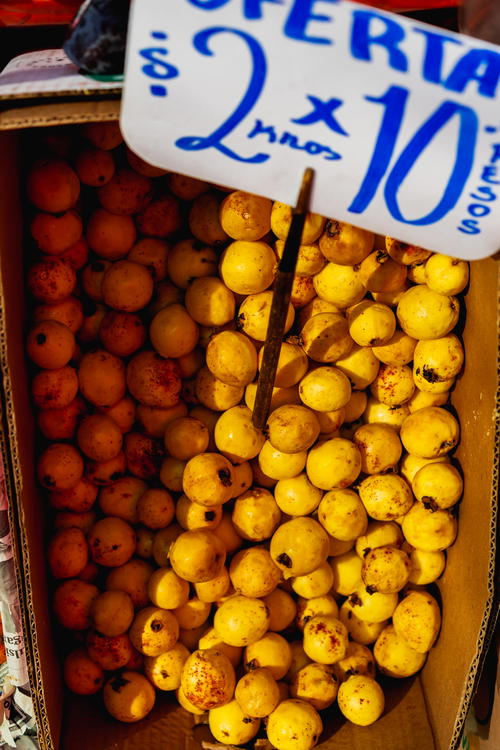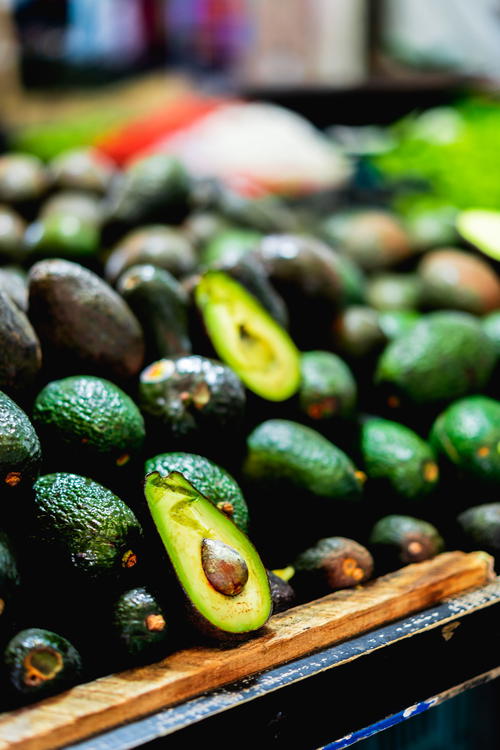 Santa Maria La Ribera
Santa Maria La Ribera is a nice neighborhood north of Juarez, and it's walkable if you've got 40 minutes. We recently visited and strolled the area, and enjoyed the local and authentic feel.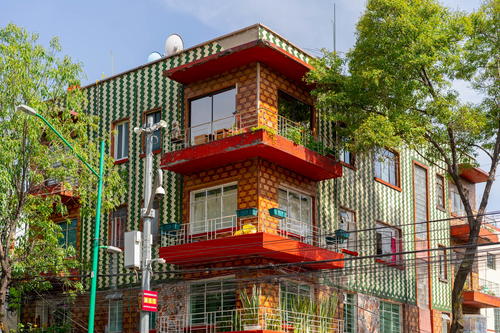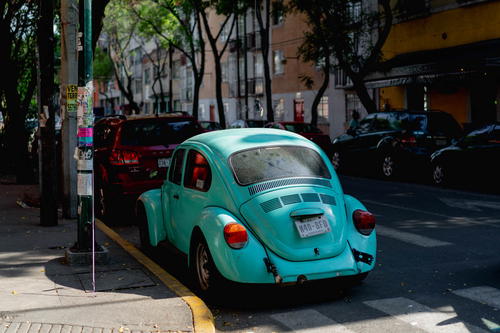 Kiosco Morisco
In the center of the neighborhood's park is the Moorish Kiosk, which has a fascinating history. Originally built for the 1884 World's Fair in New Orleans, USA, it was then transported to St. Louis, and finally to Mexico, where it lived in another location before its current one.
The architecture of the gazebo is in the Neo-Mudéjar style, which consists of the Moorish and Islamic influences from the south of Spain, or the Iberian Peninsula.
Head up the front stairs of the kiosco and find yourself in the center, where a skylight will allow brightness to fill your photo. Go at golden hour for better shadows and more dramatic scenery.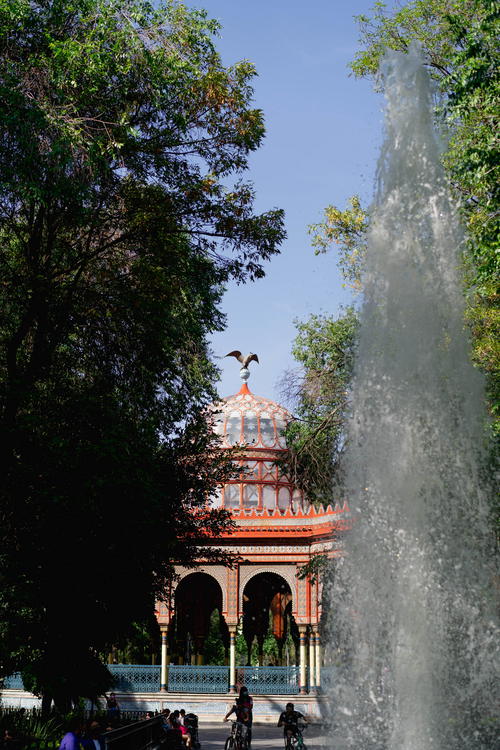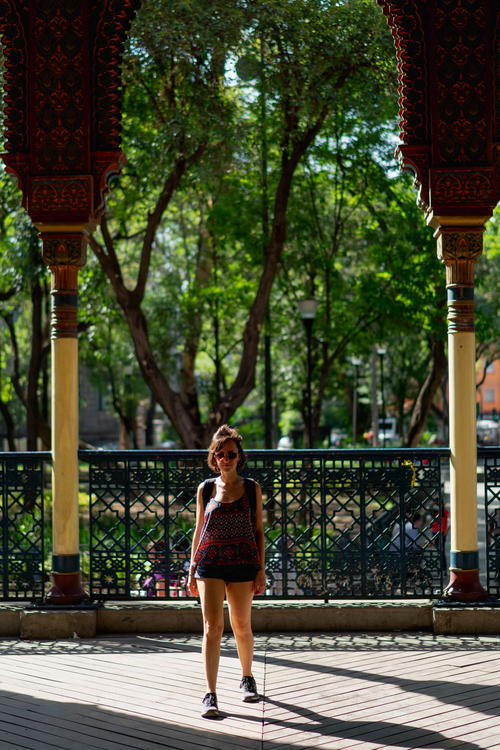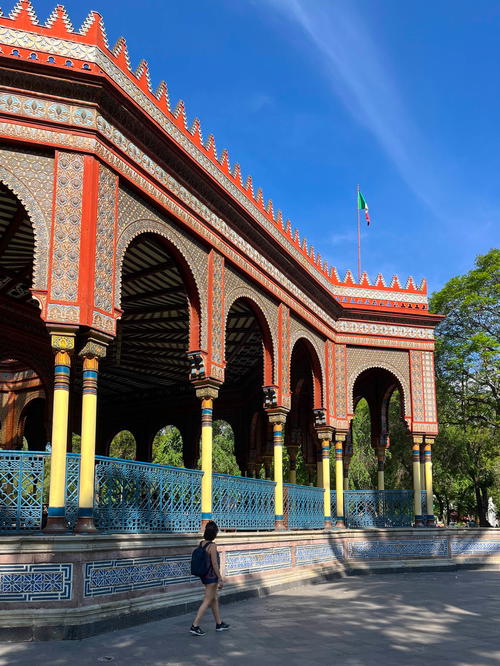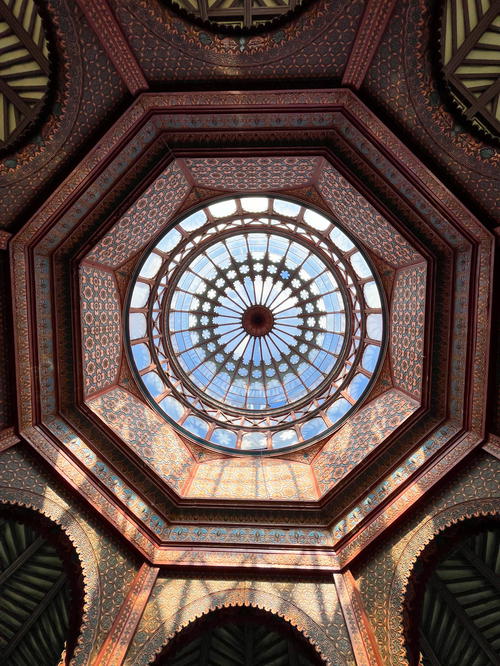 Polanco
Polanco is an upscale neighborhood popular for staying in, right north of Bosque Chapultepec. You may find that Polanco feels more like the US than other parts of Mexico City. Among the things to do in Polanco, there are places for interesting photos, so check these ideas out.
Pink Wall at Camino Real Polanco México
The cool pink wall at the Camino Real Hotel is surely one of a kind.
Unfortunately, the Camino Real Hotel is a little out of the way to get to, because it's between Roma and Polanco, but not in a very friendly assortment of streets. It's either best to drive, or take an Uber, or be prepared for a long stroll.
The Camino Real Hotel has some very interesting architecture, from its bright golden wall to a sophisticated open lobby. It was originally planned as a hotel-museum, and you can see that in its unique elements like an actual wave pool in the front driveway!
Get your camera ready, especially at golden hour, for taking some cool photos. Just be mindful that this 5-star hotel has guests staying there.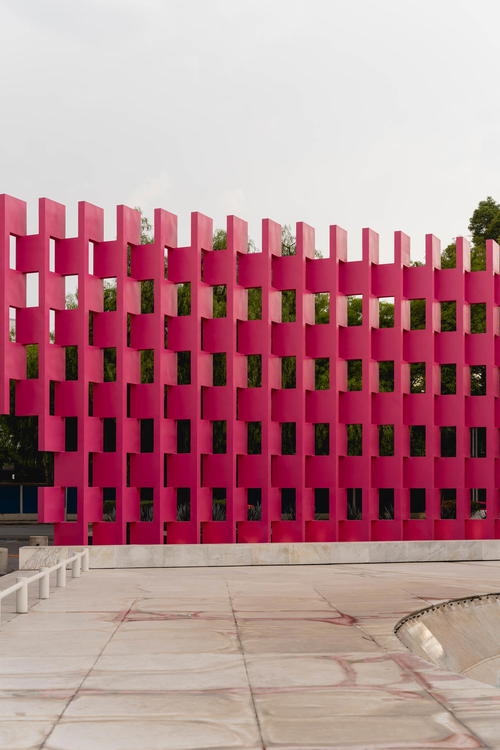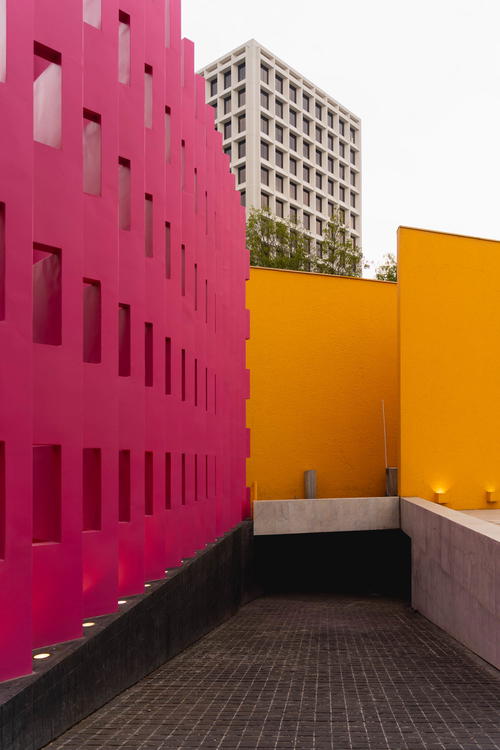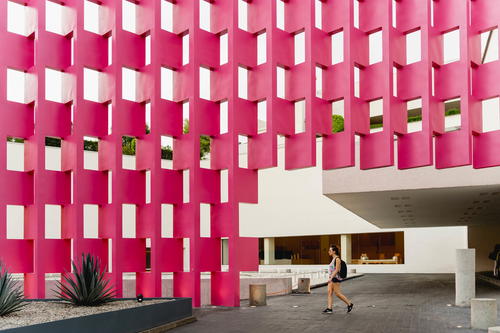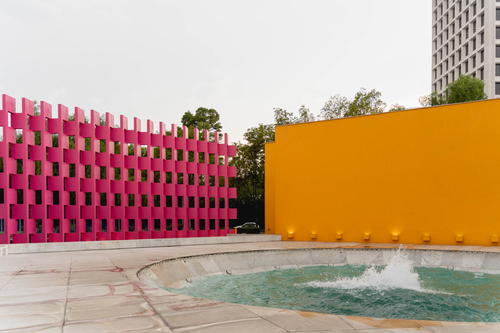 Museo Soumaya
This was one of the easiest places to take photos in Mexico City! By that, I mean that it's hard to take a bad photo of Museo Soumaya.
What's so special about this museum? Well, it is covered with thousands of metal tiles, and that makes it uniquely beautiful. Additionally, the top floor is lit by natural daylight. Entering the museum is free, as the costs are covered by non-profit funding.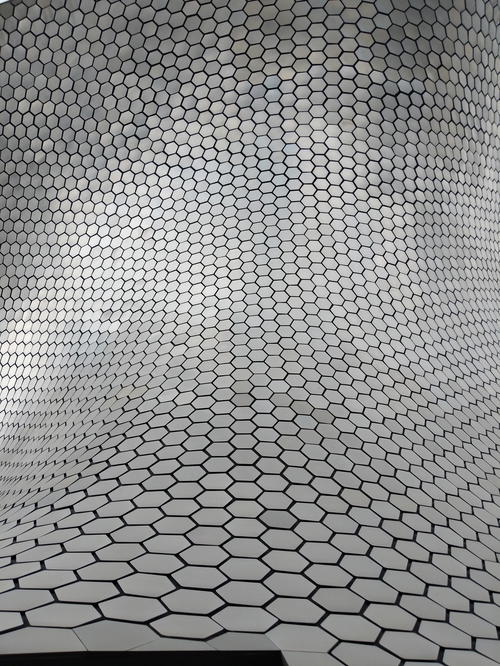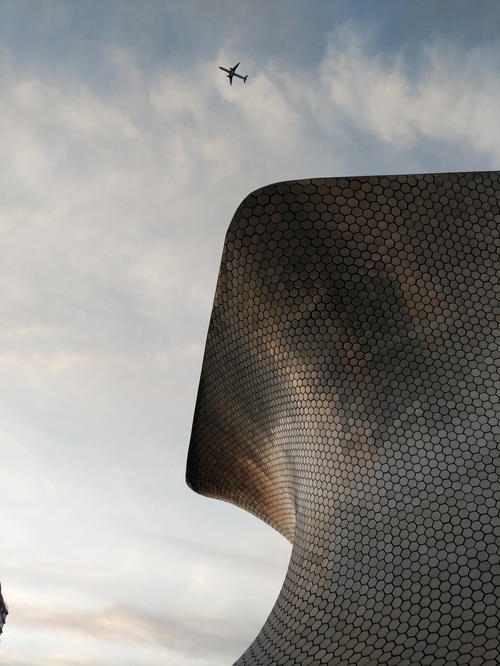 TANE red wall with neon
A more trendy photo spot, if you will, is the "MEXICO MI AMOR" neon sign against a red wall with prickly cacti outside the luxury jewelry store TANE.
If you visit, you may have to wait your turn, as this spot can get popular with visitors on weekends.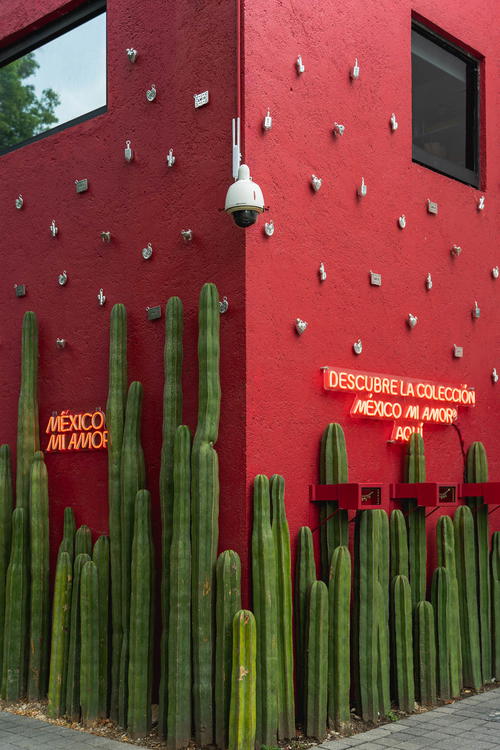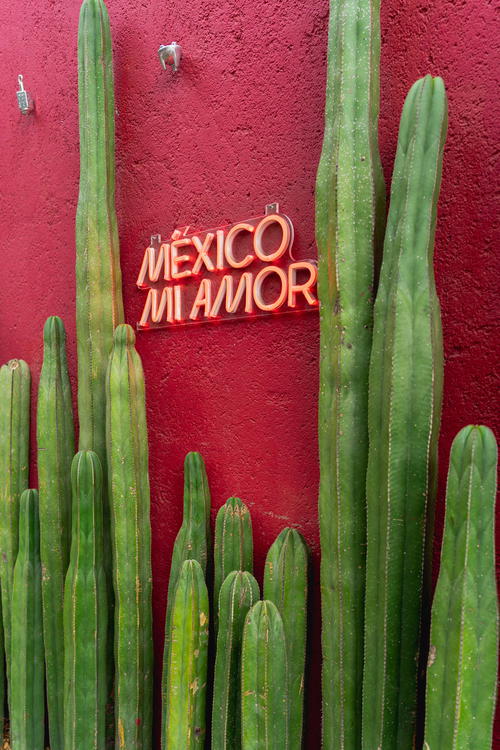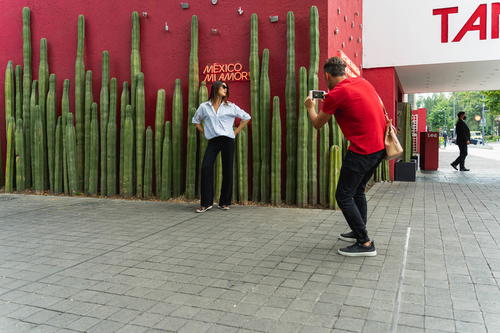 Condesa, Roma & Roma Norte
Condesa, Roma and Roma Norte are our favorite and most 'livable' neighborhoods in Mexico City where we've become most familiar with the surroundings, the restaurant scene and array of nightlife. These neighborhoods are known for friendliness to expats and travelers, as well as historic art deco architecture, and a great assortment of parks and green streets.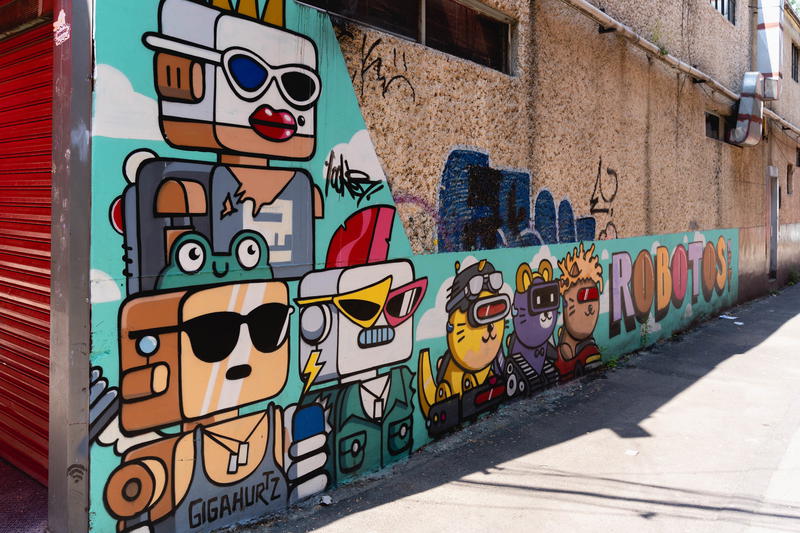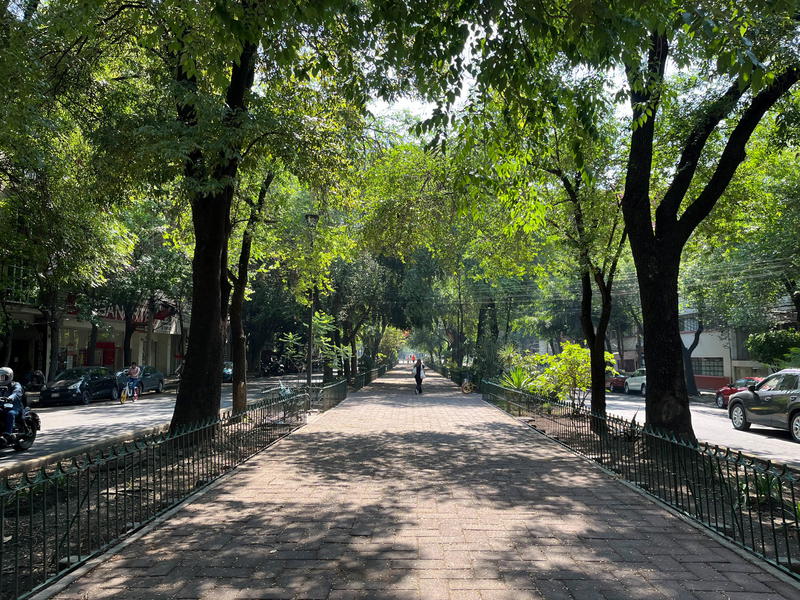 Jardin Botanico del Bosque de Chapultepec
We like Chapultepec Park, but our true favorite place to be is in the Botanic Garden of Bosque de Chapultepec. We are huge fans of the collections of native plants and flowers, which are categorized by type, like succulents!
Get your camera ready if you're into shooting macro-focused close-ups of plant life, because you can have a lot of fun with nature photography here.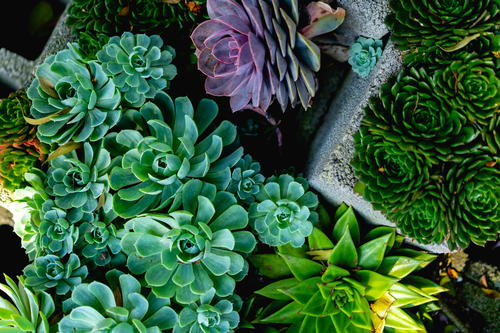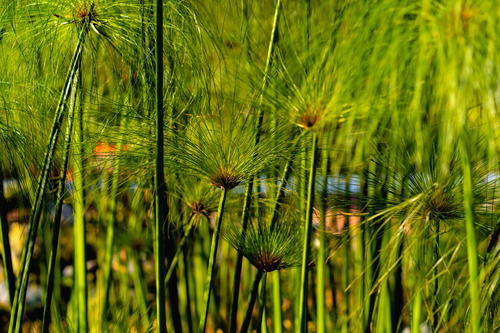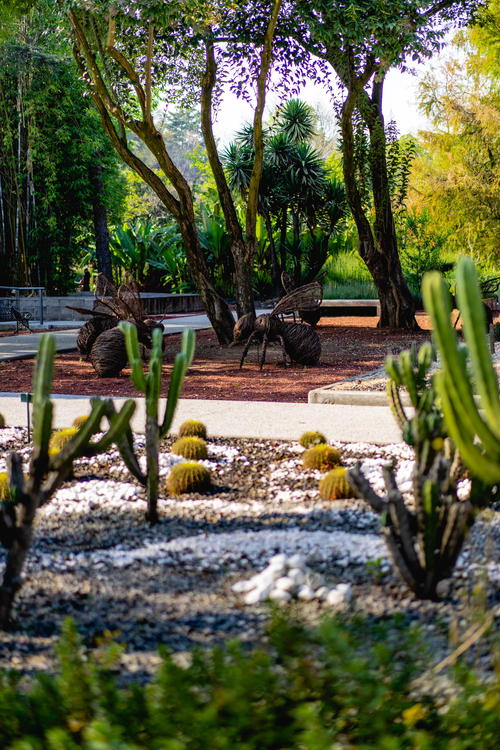 Mexico City's Cafes & Coffee Shops
More of a general suggestion than a specific place, we recommend taking photos in Mexico City's charming and funky cafes.
For one thing, head to our guide to Mexico City's Best Cafes to start your self-guided tour of where to take photos of your coffee.
As for a few notable starters that are sure to look great in your portfolio, try:
Remember that by leaving your bag on the back of your chair or on the floor, you could be a target for crime. We suggest perusing our Mexico City safety guide to avoid theft at cafes, which has been more common in past years.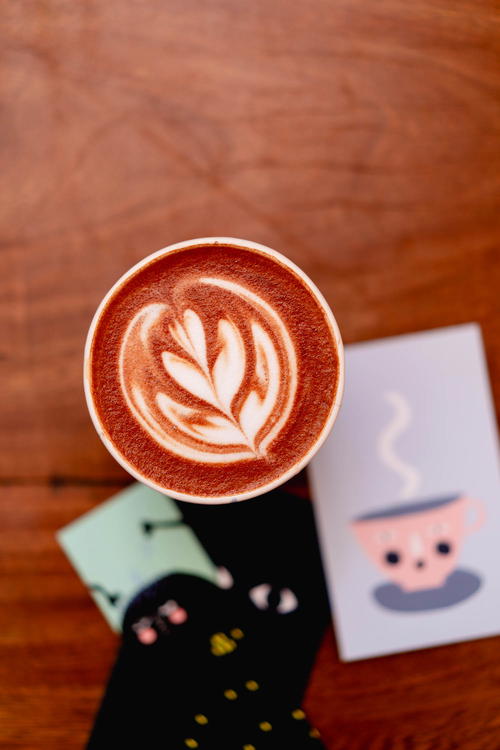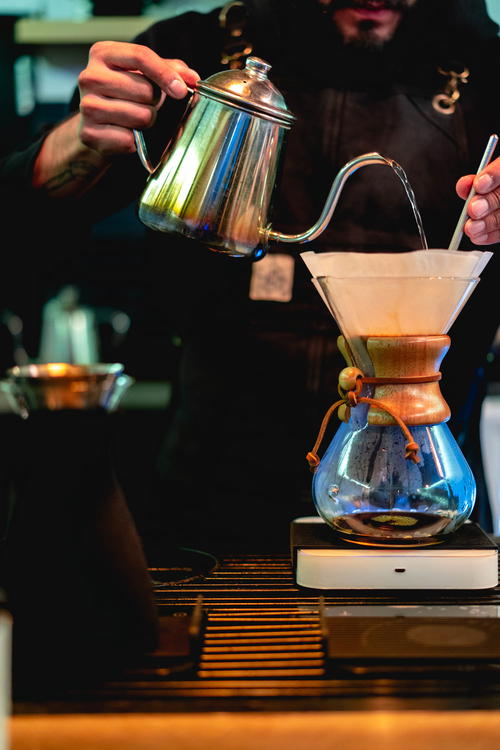 Parque Mexico
Parque Mexico is a beautiful and leafy park in the heart of the Condesa neighborhood, and one of our favorite spots for a photo is the Fuente de los Cántaros, located off Avenida Michoacan.
Parque Mexico has it all: tree-lined pathways, little gazebos where couples can sit, musicians playing live tunes, two dog parks, a playground and a little pond. You can go to take photos of this majestic park on its own, or of the street life that surrounds it.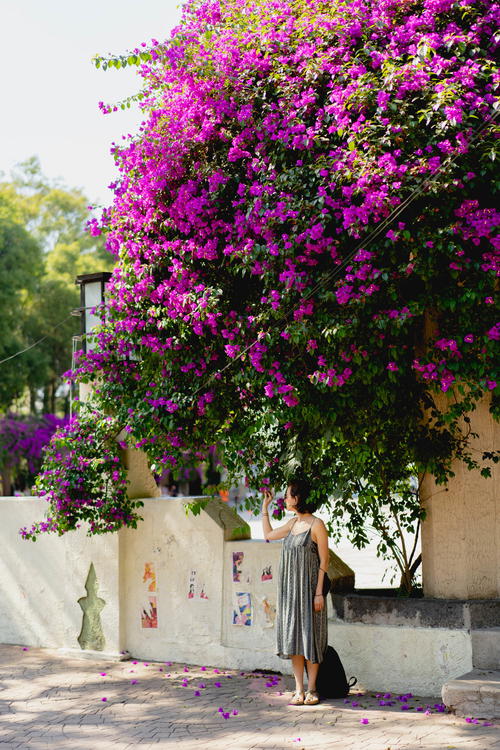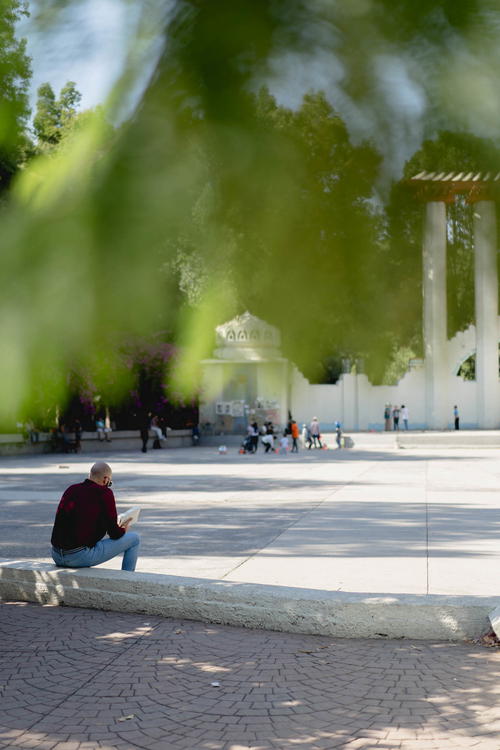 Guerrero
Guerrero is a local and authentic neighborhood located northwest of Centro, and it doesn't really attract many tourists. If you're looking for a way in to see real Mexican life, going to Guerrero is a good idea. Otherwise, check out the library photo spot we'll detail below.
Biblioteca Vasconcelos
This library is quite special for its symmetrical interior design of shelves and floors of books that look almost infinite.
When visiting, ensure you check opening hours and holidays beforehand. You may see families and students looking at books and studying here, so it's best to be respectful and quiet while taking your photos.
For more info, visit the library website.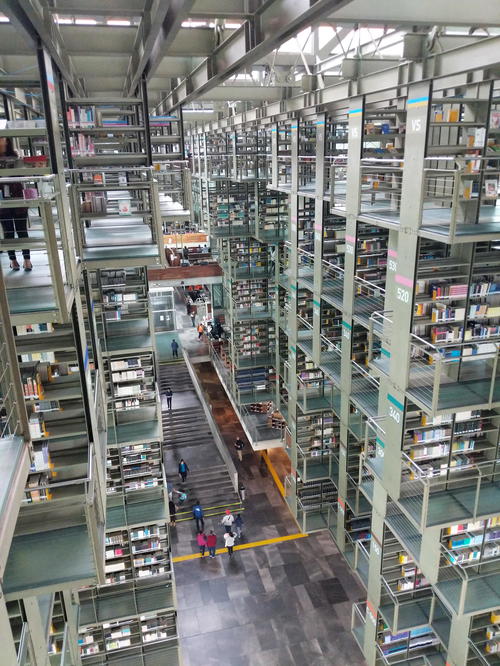 San Angel
San Angel is a pretty neighborhood not too far from Coyoacan, in the southwest of Mexico City. With a 20-minute Uber ride from Roma or Condesa, you can find yourself at Plaza San Jacinto, the main square of this small barrio.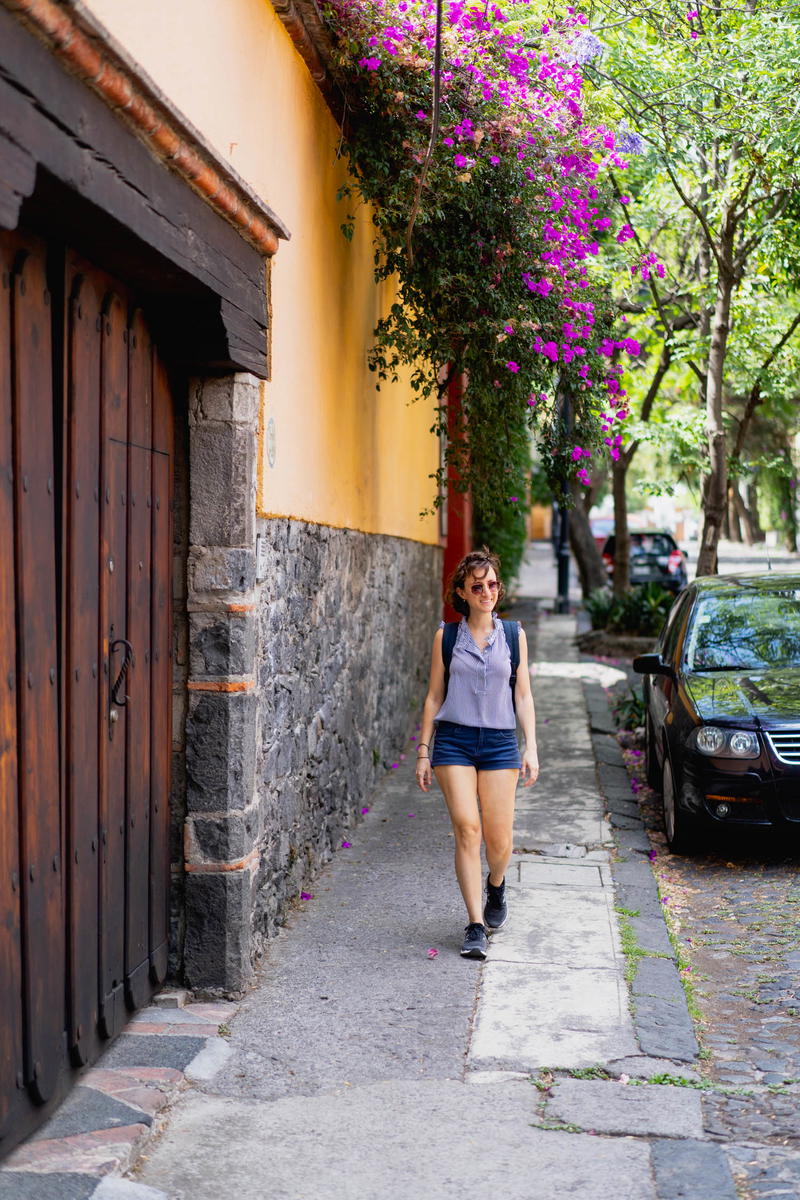 Frida and Diego Studio Museum
Personally, I thought the outside of Frida and Diego's studio was worth its own photo, or several. The buildings, where Frida and Diego lived from 1934-1939, contain remnants of their lives and their artworks.
The studios are accessible as a museum, with a ticket for entry required. If you don't have time to invest in visiting (and entry closes by 5pm daily), take a walk around this pretty and upscale neighborhood, and enjoy the funky juxtaposition of retro colors.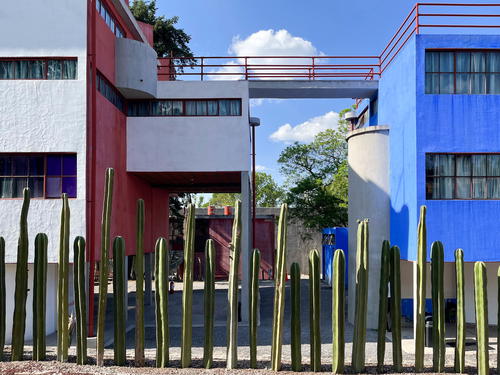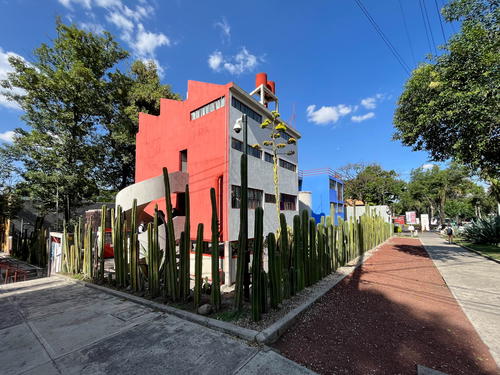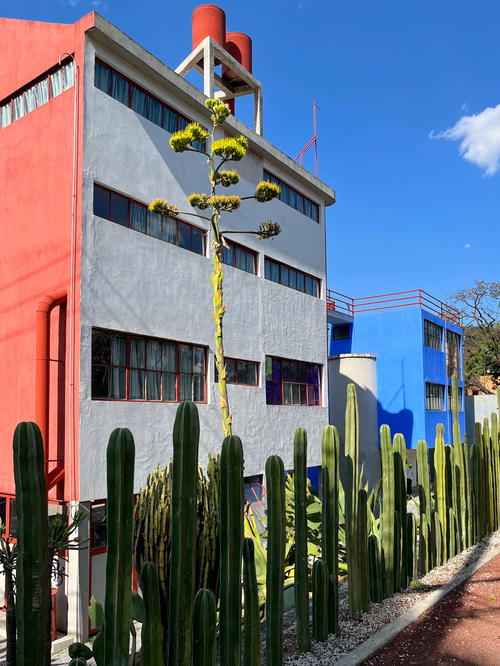 Coyoacan
Coyoacan is a cool neighborhood in Mexico City with a more chilled-out vibe than the other more central areas. There's less traffic, a cool market, nice cafes, a pretty square with a fountain and of course, Casa Azul, the Frida Kahlo museum. We detail the latter in our travel guide for Mexico City.
Cineteca Nacional de Mexico
This particularly design-worthy building is a movie theater near the Coyoacan district in Mexico City. The structure alone is worth a photo, or quite a few, as neither of us have ever seen anything like it.
It was founded in 1974 as a national film archive, and today you can enjoy its futuristic appearance that is surprising to many.
Find out more about the Cineteca Nacional, here.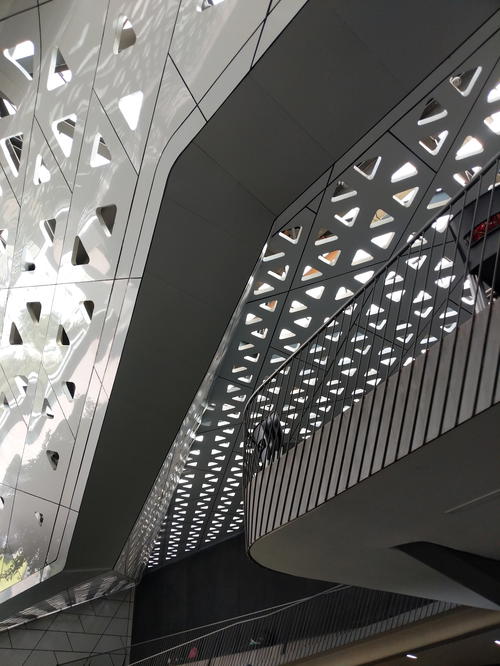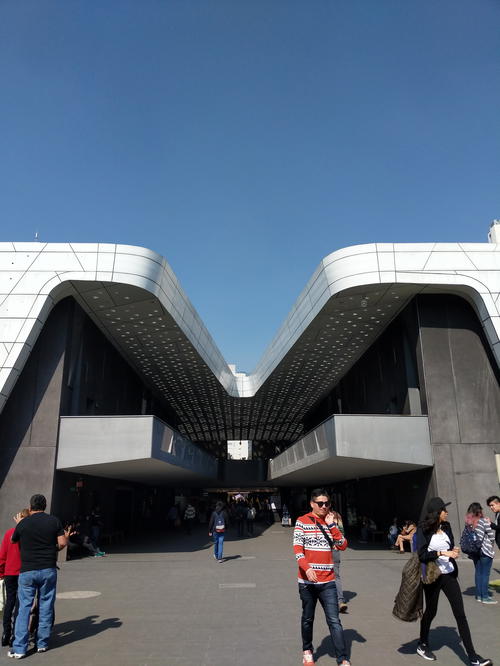 Frida Kahlo House Museum (Casa Azul)
Of course, most travelers wish to visit the Blue House, or "Casa Azul," of Frida Kahlo. It is a well sought-after tourist attraction, and for good reason! The museum is impeccably kept, with Frida's belongings, artwork and relics of her life, like her dresses and accessories.
As a photo spot, my favorite part about Casa Azul is its blue-ness, and the flora and fauna growing throughout the property.
Be sure to get tickets in advance.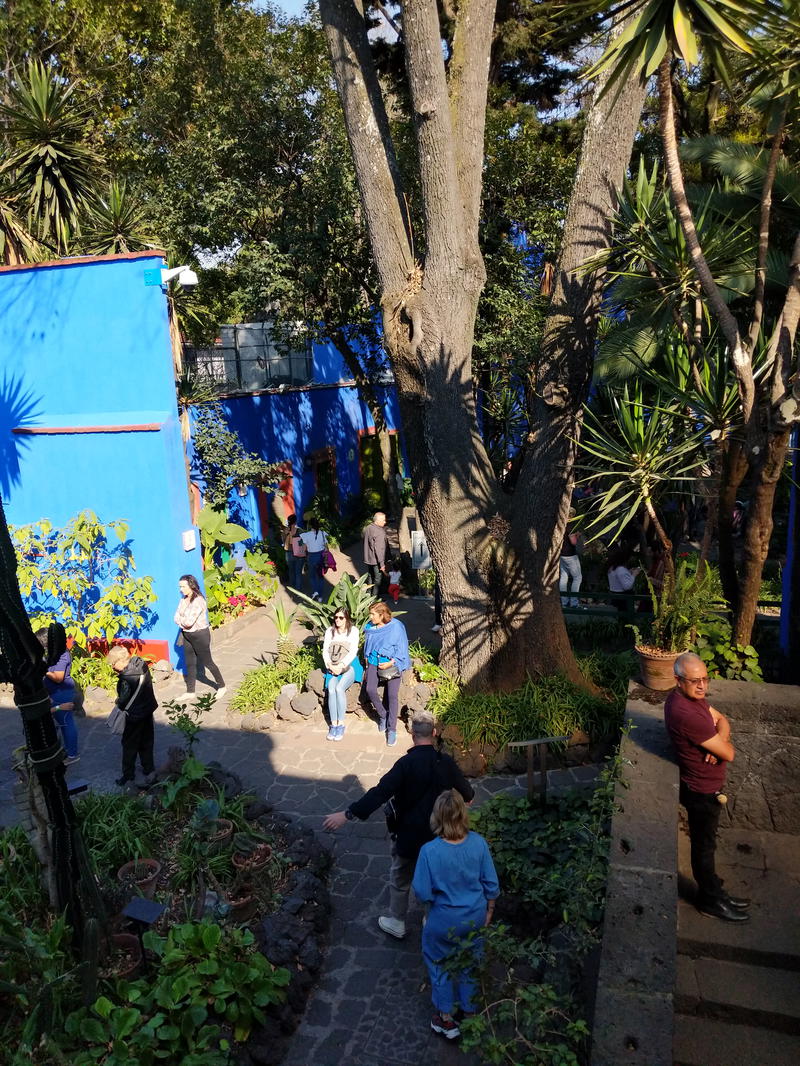 Outside Mexico City
As you now know, Mexico City is absolutely gigantic, and there are still some places to see, outside the city center, during your trip. These locations outside Mexico City can be a good day trip if you wish to have memorable photo locations.
Xochimilco Canals
The Xochimilco boats are a traditional tourist attraction called "Trajineras Xochimilco Mágico." The canal region is located to the south of the city and is best approached by car or Uber.
While the atmosphere is kind of like an afternoon day-drinking party, you certainly don't have to drink in order to have fun. By hiring a boat driver for the day, you and your group will cruise the canals, stopping at vendors to buy snacks and drinks, and listen to mariachi bands passing by.
A bonus location is Island of the Dolls (La Isla de las Muñecas), a creepy small island filled with old and pretty weird dolls.
Trying to find out how to get there? Book a simple Xochimilco tour that can also take you to Coyoacan, mentioned above.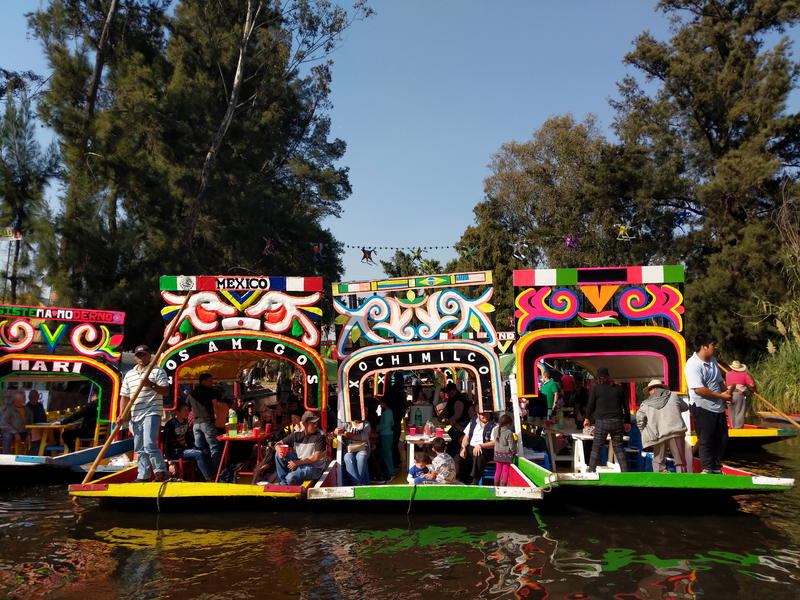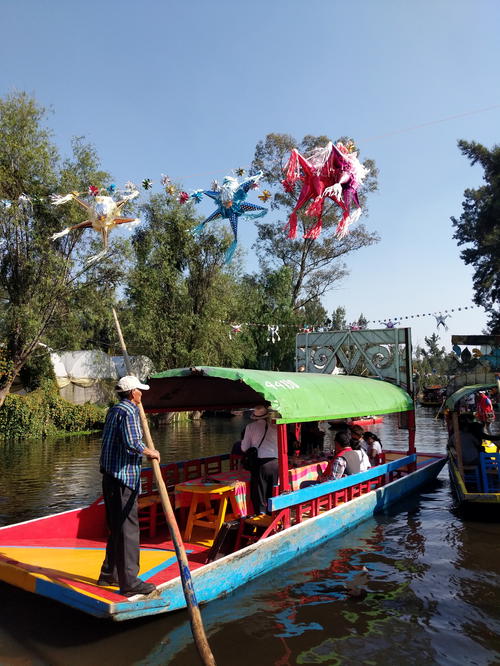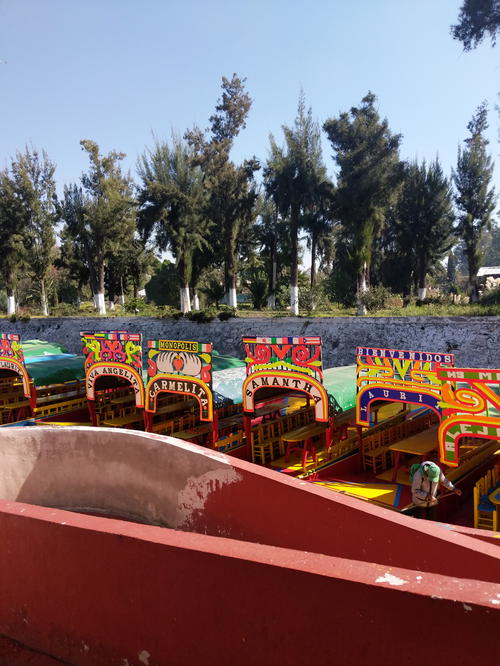 Tepoztlán Magic Town
Tepoztlan is one of the "magic towns" outside Mexico City and is a close favorite for locals seeking a weekend escape. It is also a great idea as a day excursion or weekend trip for travelers who spend time in Mexico City.
Tepoztlan itself is a charming destination set among mountains, and where you can have a hearty breakfast at a family-run restaurant in town, peruse the local market and then climb the Archaeological Zone Tepozteco. This is a great opportunity for photos with a more rural feel, not too far from CDMX.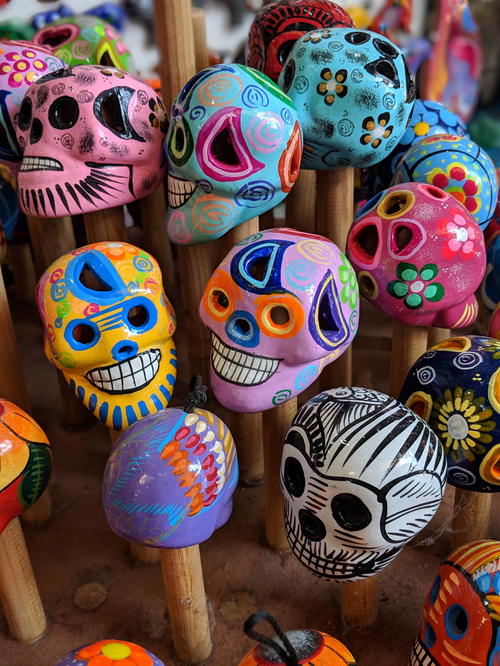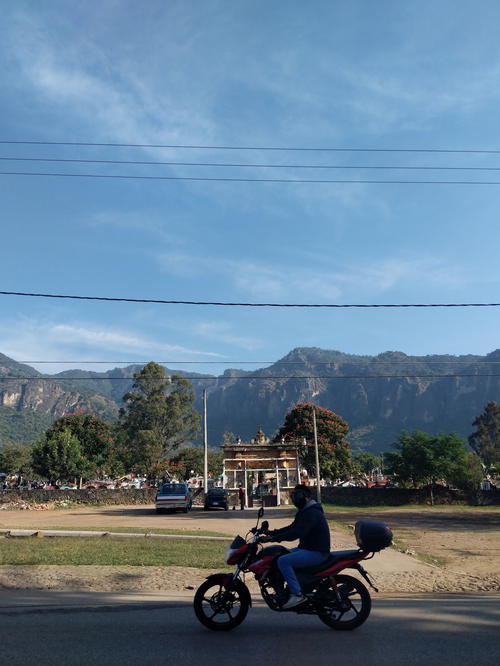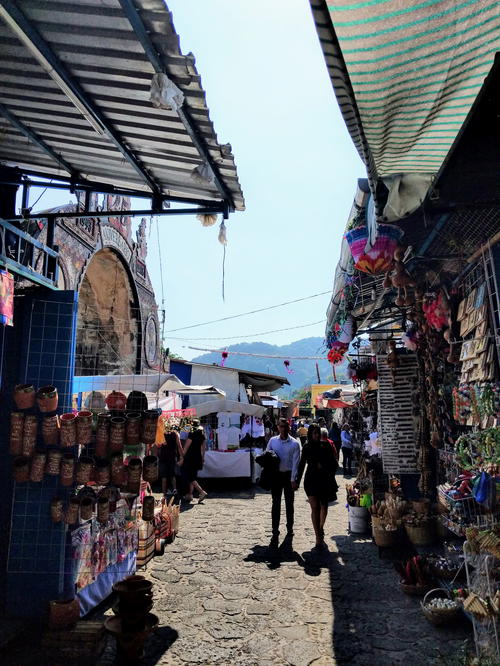 Teotihuacan Pyramids (Air Ballooning Ride)
We'll both agree that a can't-miss photo opportunity, much like the ruins at Chichen Itza and Uxmal is Teotihuacan.
Teotihuacan is a big Pre-Hispanic archaeological and historical cultural site outside Mexico City where you can see huge pyramids like Pyramid of the Sun, and sweeping views from the tops of them.
Check out a guided tour so that you have your transportation figured out, with Get Your Guide: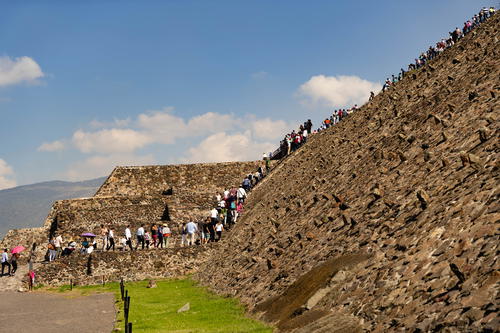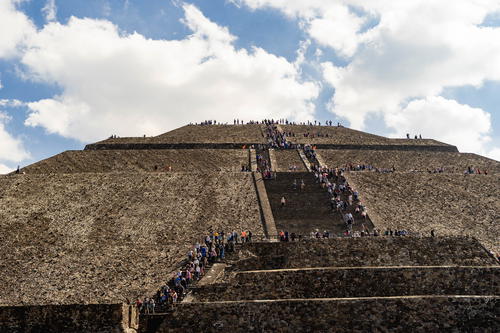 For an even more photo-worthy photography moment, consider taking a hot air balloon ride at sunrise above the Teotihuacan archaeological site. With the dramatic lighting as the sun comes up and the shadows of the pyramids, you'll have photos to remember forever.
Try an all-inclusive hot air balloon tour here: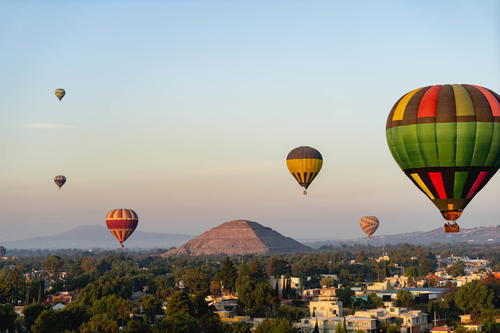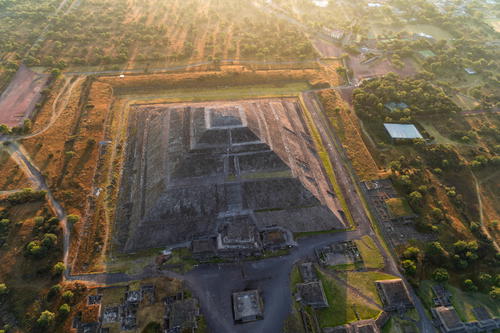 Enjoyed our article?
Consider supporting us! We're a 2-person team (learn more about us here) and your support enables us to create quality content. Thank you!