24 of the Best Mexico City Cafes Worth Visiting
Written by Becca
•
Updated on September 6th, 2023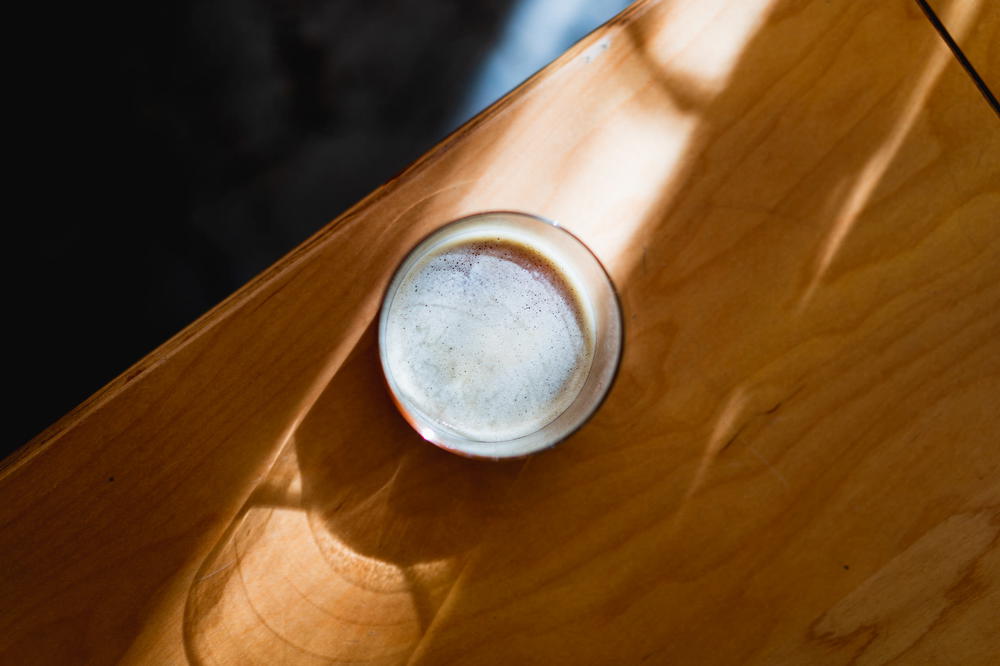 Looking for a cozy spot to sip a cup of coffee or sample some local cuisine? Check out our list of must-see cafes in Mexico City, where we share our top picks for ambiance, food and drinks.
This article may contain affiliate links. We earn a small commissions when you purchase via those links — and it's free for you. It's only us (Becca & Dan) working on this website, so we value your support! Read our privacy policy and learn more about us.
Table of contents
Close table of contents
Mexico City is also home to third wave coffee culture, and has recently seen the rise of a whole slew of specialty cafes.
In exploring Mexico City's wide range of cafes, we learned a bunch about Mexican coffee and which parts of the country it comes from!
We enjoy spending time in cafes, whether it's with friends or doing work while hooked up to some WiFi, so our favorite cafes are ones that have unique ambiance.
We've detailed their offerings below, as well as what they do best, in terms of coffee and atmosphere.
Helpful Tip
Traveling to Mexico City? Get a Moon travel guide (on Amazon or Bookshop.org) to help you find even more places to check out in Mexico City!
Why we wrote this Mexico City coffee shop guide
We wrote this guide in the style of something you'd receive from a friend either before or while on your trip. For any place we have not eaten or visited, we will say so, in order to be totally transparent.
Also, check out our guide for how to make coffee while traveling. You can support these cafes and try some of their local roasts with your at-home coffee set up!
As an update for 2023, we'd also like to make sure you're aware of safety concerns in Mexico City, namely theft at cafes among travelers and expats who have laptops or nice bags. We suggest heading to our Mexico City safety guide to read up on how to keep your belongings safe at open-air cafes, even if you're an experienced or veteran traveler.
Best Coffee in Mexico City
Where's the best coffee in CDMX? As coffee lovers, we set out to assess both interesting coffee shops and excellent brews.
Quentin Cafe
Quentin Cafe is a group of four cafes in Mexico City's Roma and Condesa neighborhoods that has won an excellent reputation for its drink menu, cool ambiance and great locations.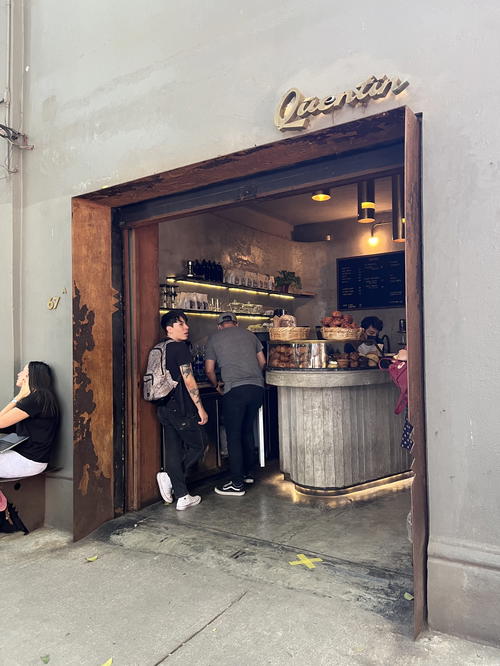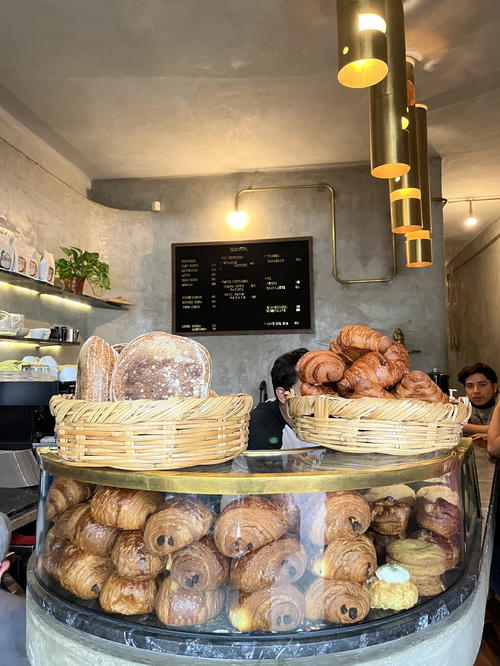 With its Roma location on Avenida Alvaro Obregon, this Quentin is close to lots of restaurants and bars in the area. It's easy to stop by quickly, but why would you want to dash out when you could stay longer and try more items from their unique menu?
Among the specialty drinks at Quentin are the 'espressonic,' a mix of espresso and tonic (are you intrigued yet?), the 'cascara,' made from the casings of coffee beans, the 'cascara funky,' the hotter cousin of the cascara original, flavored with ginger and the carajillo, a famous Mexican coffee drink made with fresh espresso and Licor 34 (this is to die for, and we had it for breakfast).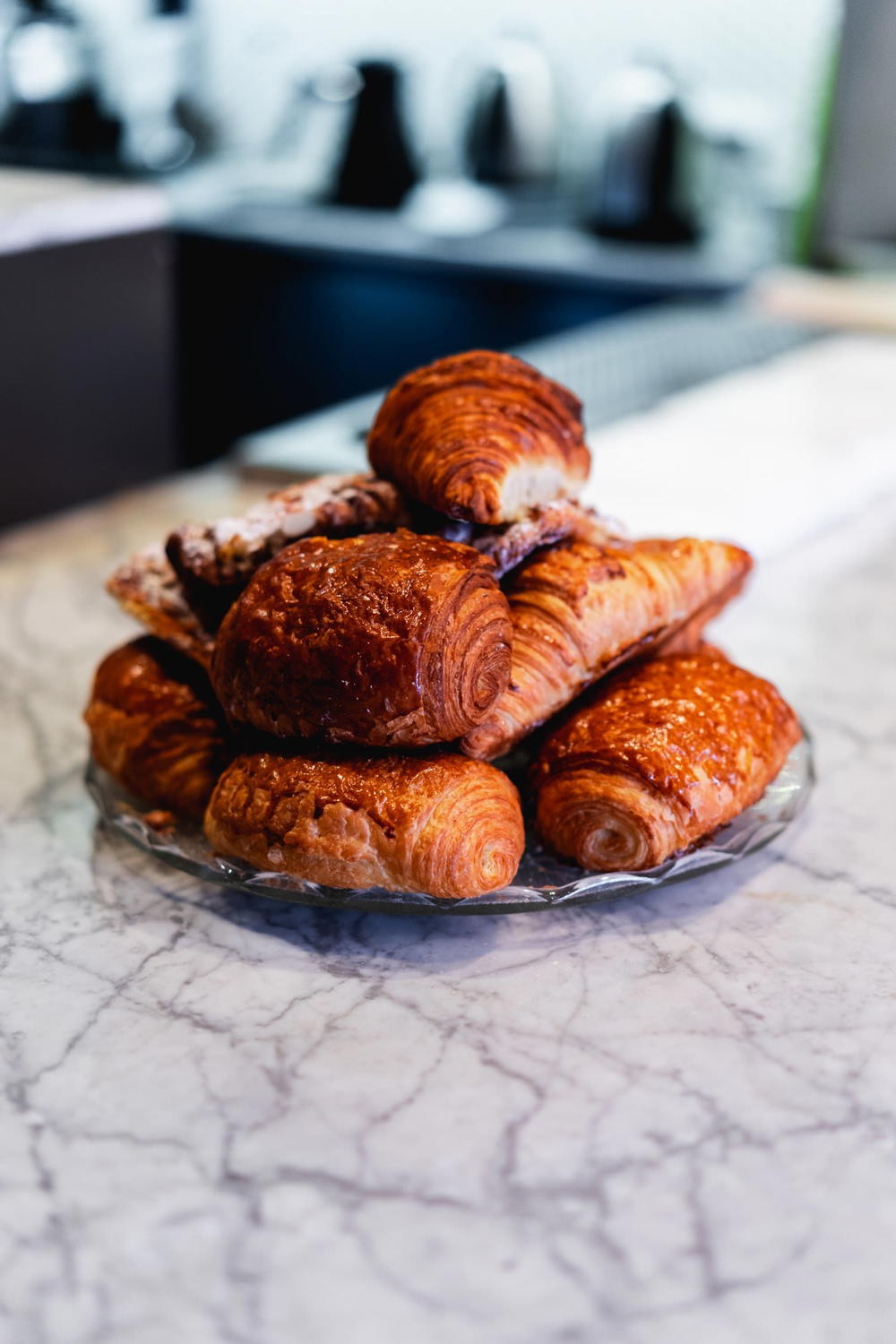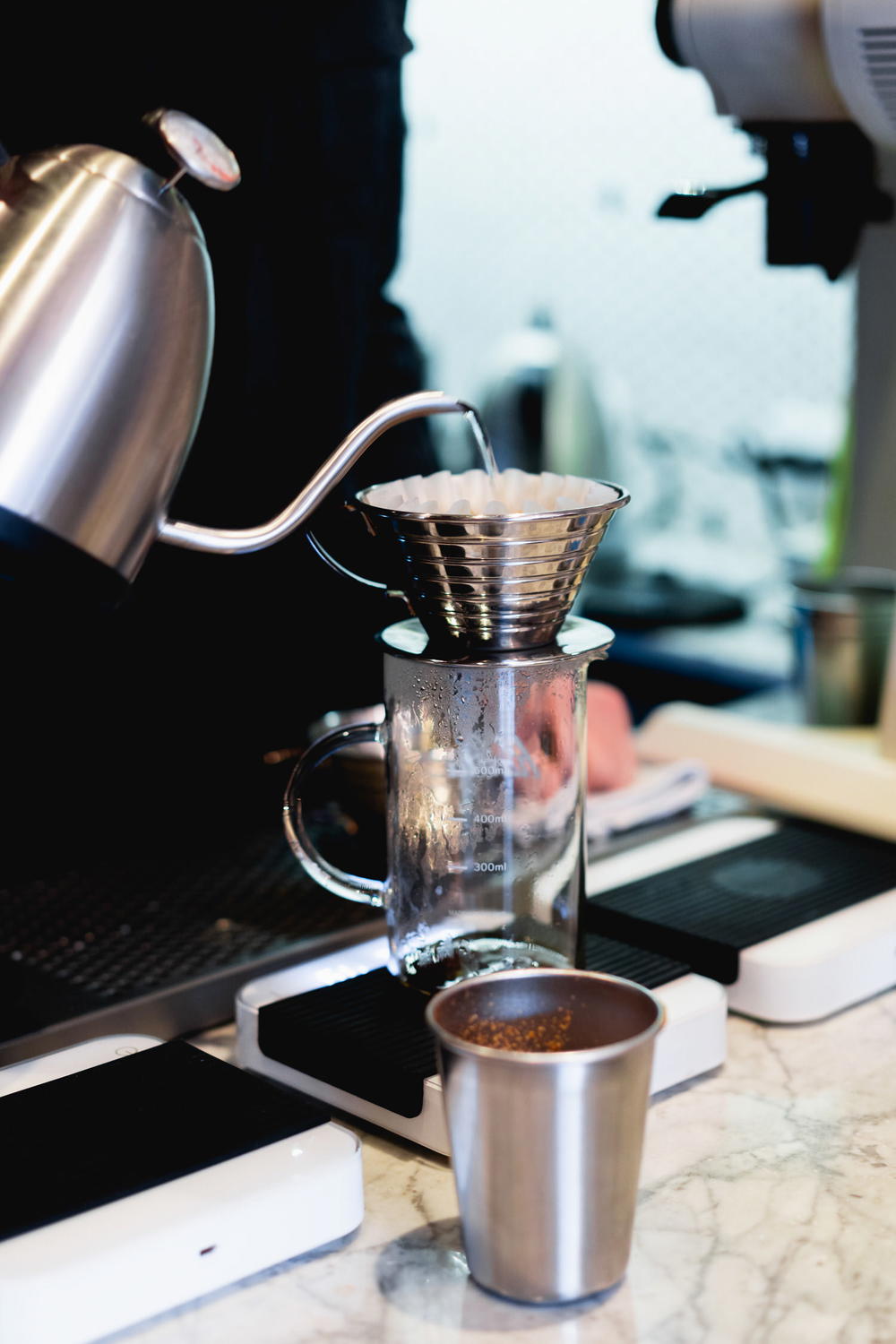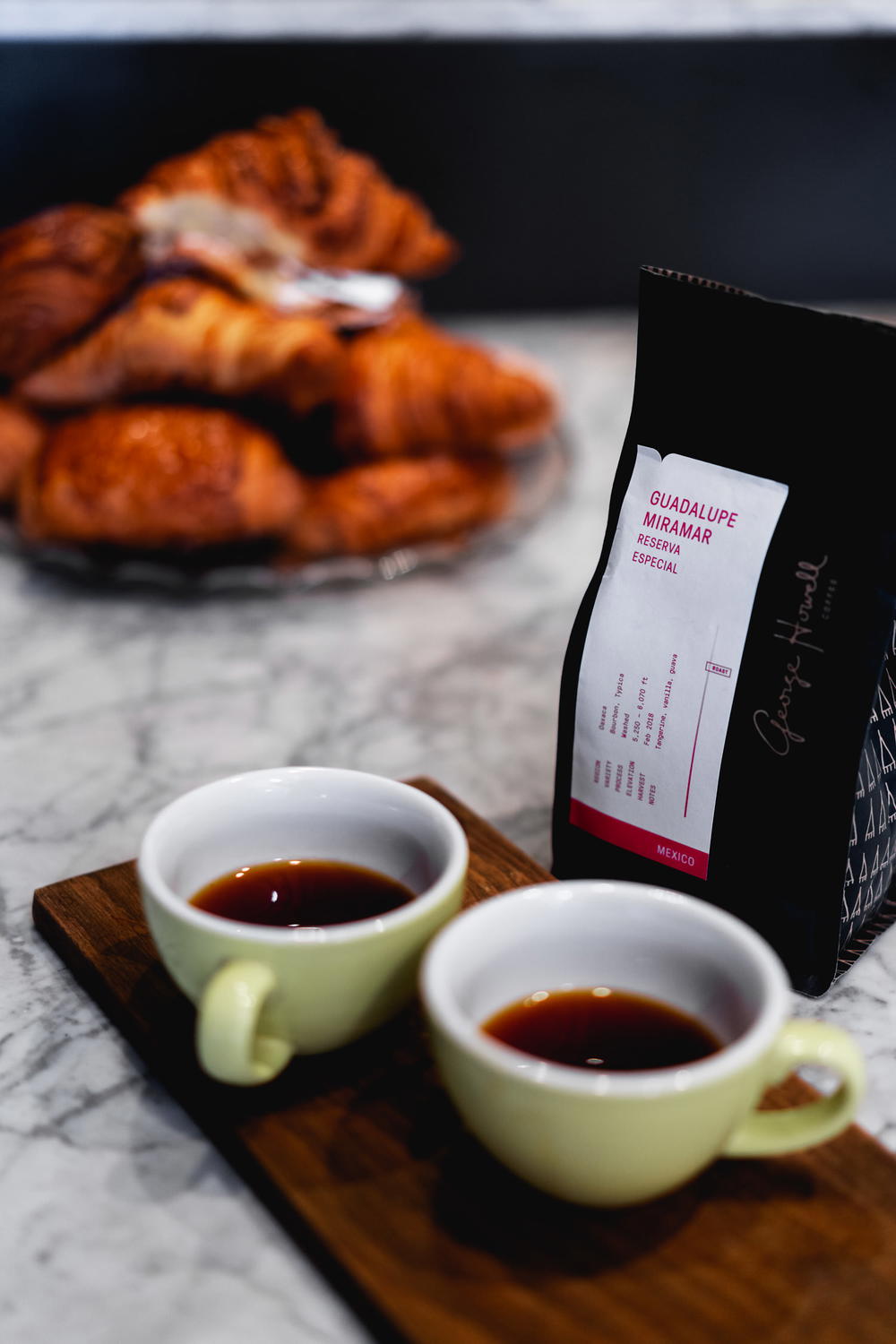 Quentin's owners opened this succession of coffee shops after being inspired by visiting coffee farms first-hand in Chiapas state, Mexico, Colombia and Peru.
There are more Quentins now! You can find the newer Quentin Cafes in Condesa on Avenida Amsterdam near Parque Mexico, in Roma at Avenida Yucatan and most recently at the brand new location on Calle Bruselas in Juarez.
It seems like Quentin is a favorite for digital nomads and people who might want to work remotely, so check out the outdoor seating. Just be mindful of your bag, as we note in our safety tips guide.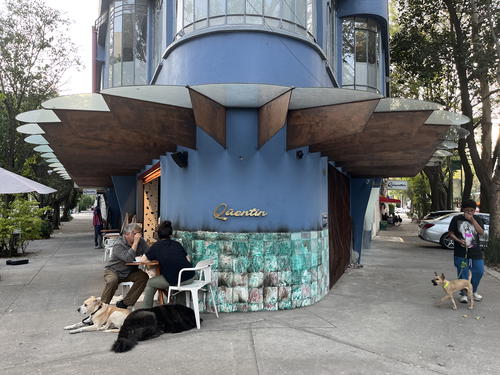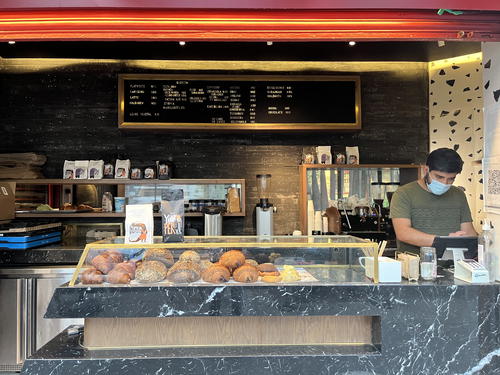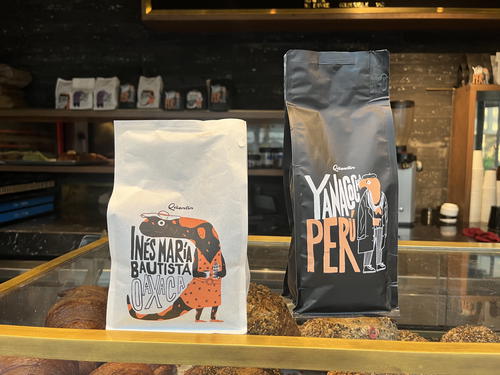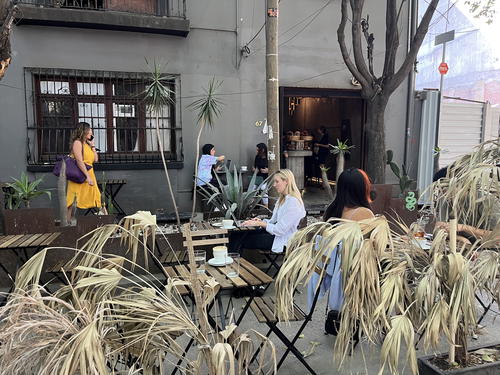 BUNA
Buna was where we tried Mexican coffee for both of our first times, and you could say this was a great thing for us. BUNA is located within a restaurant that shares its address. Both are thoughtfully-designed, in a modern yet retro type of simplistic way.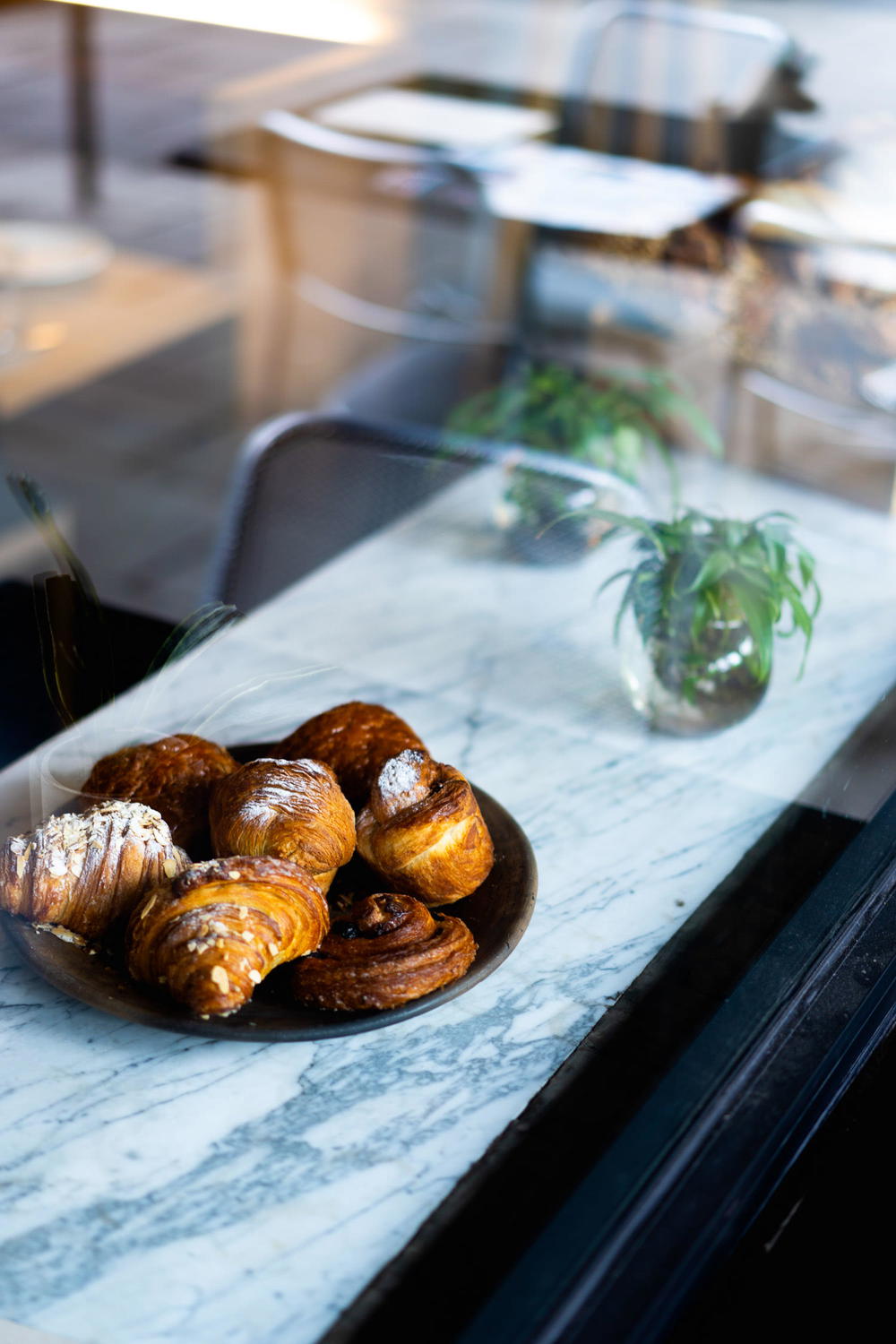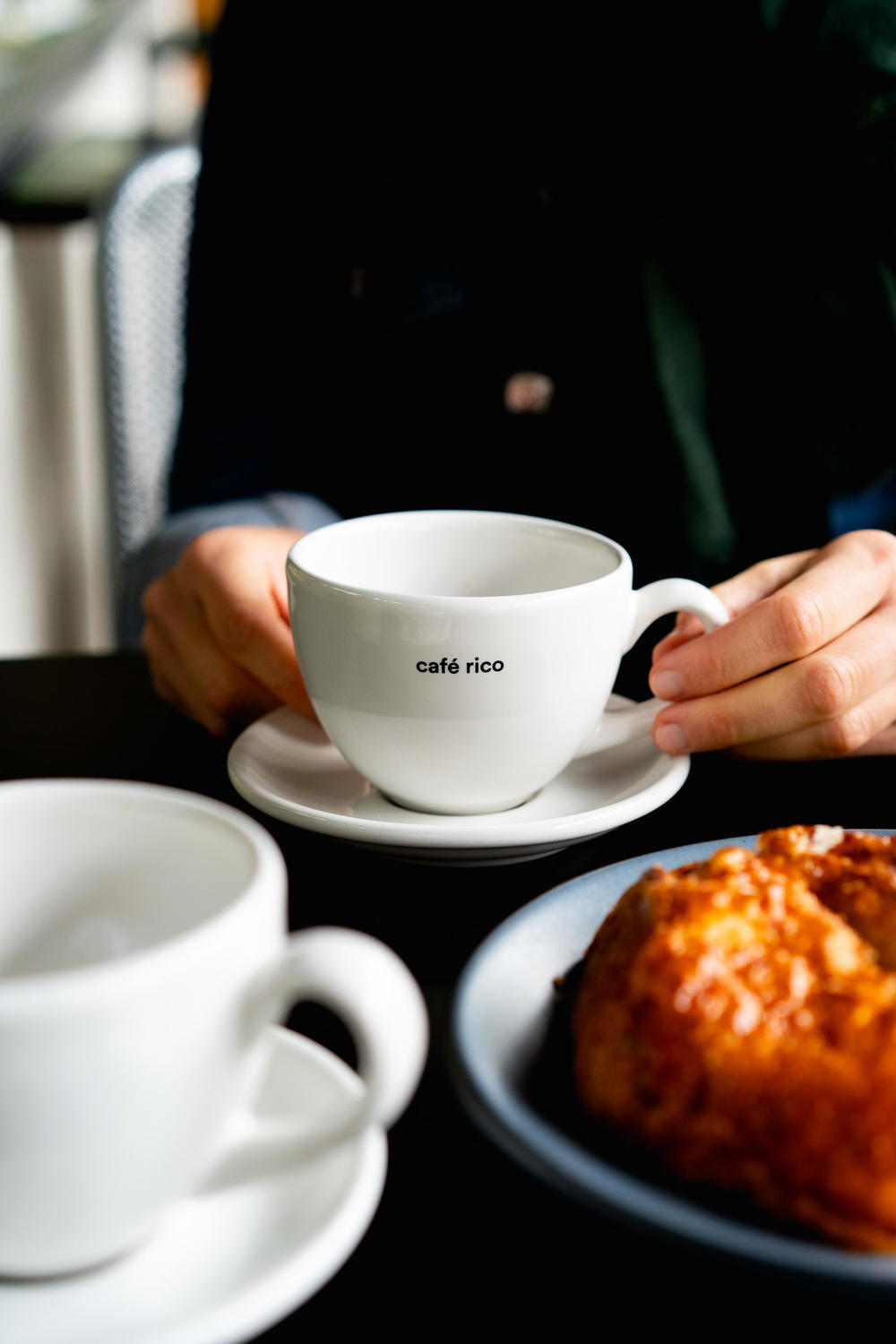 BUNA is where you can try locally-sourced Mexican coffees from a few different regions that surround Mexico City.
The cafe staff takes great pride in talking about where the coffees come from and how your coffee got its start.
Additionally, you can dine or brunch at BUNA's neighbor restaurant, which serves BUNA coffee. Want to pair delicious and beautiful food with awesome coffee? This is the right place.
You can also buy coffee by the bag at BUNA. They bag all the roasts that come from the BUNA roasting plant, located about a mile away in Mexico City.
Bags have modern designs based on the Nahuatl names given to the roasts, bringing the whole experience together.
Almanegra Café
Look closely, and you'll find Almanegra Cafe on a quiet street in Roma. There's a small sign on the wall of an old building above a cactus, and it says Almanegra Cafe.
Enter, and you'll see a minimalist coffee shop with lots of devoted regulars. Almanegra is big on black and white, square edges, basic tables and edgy music. They are also big on serious coffee-crafting.
Almanegra's fans are those who adore coffee, and adore Almanegra for being a serious cafe - serious about its beans, its ways of creating drinks, its vibes and its clientele.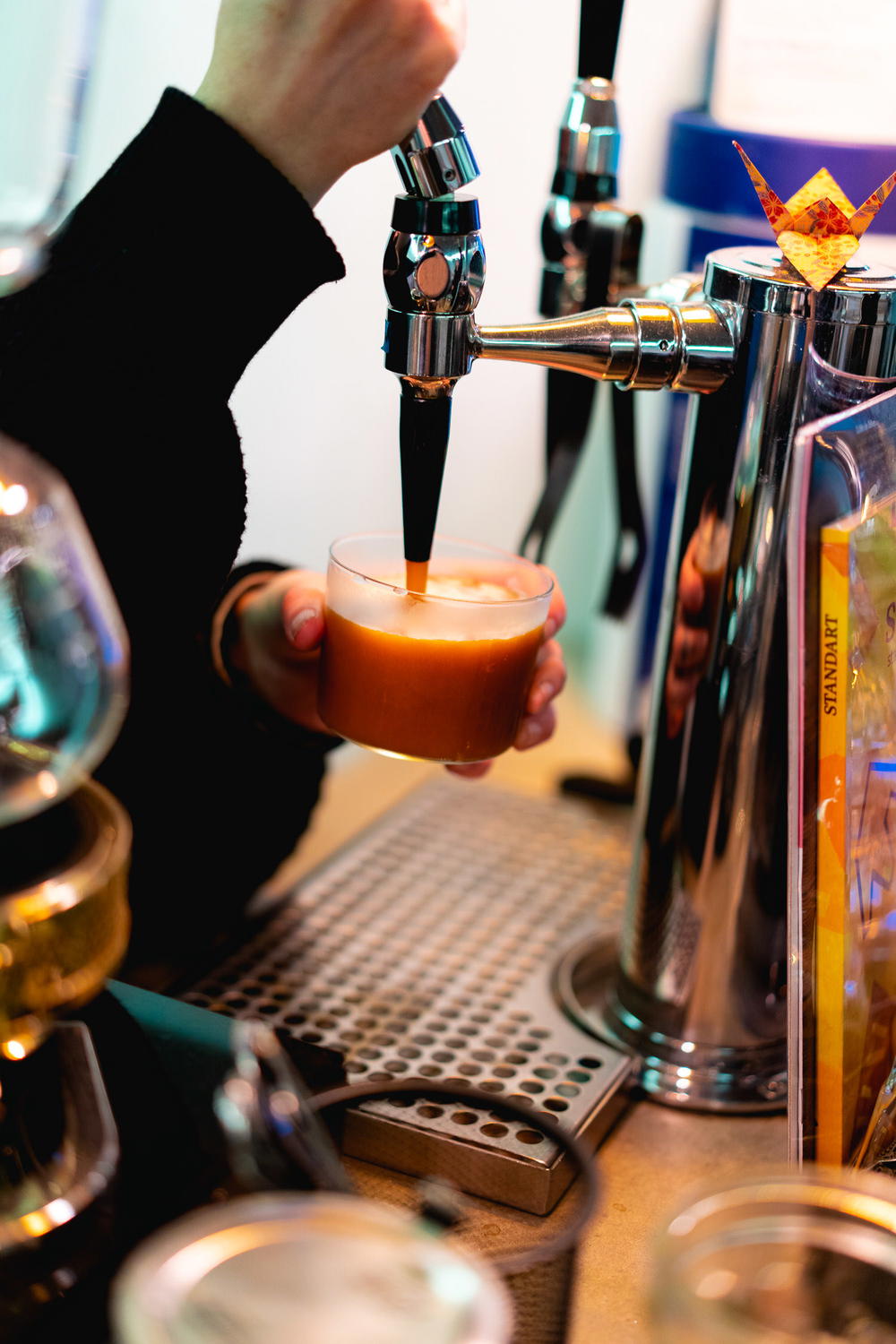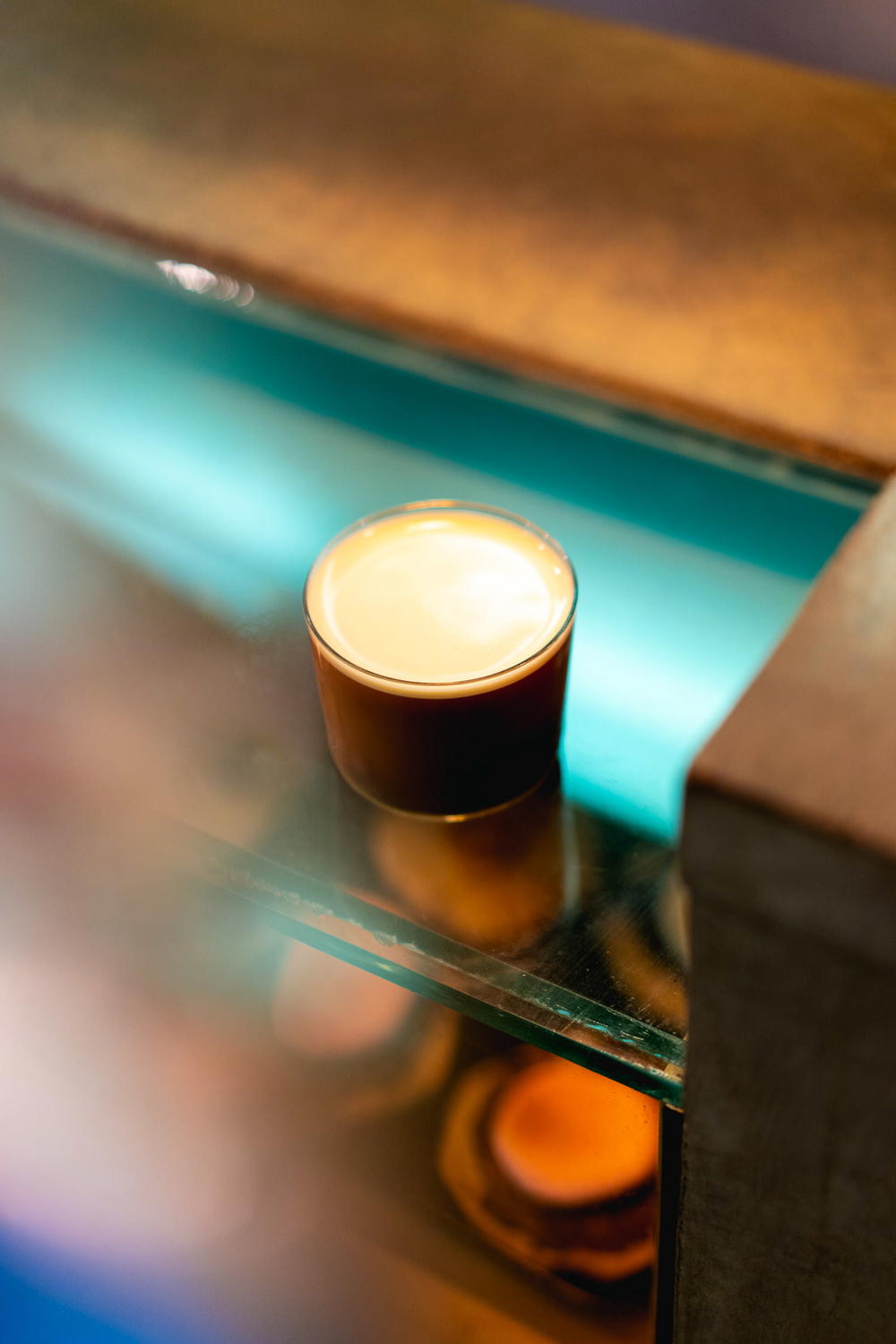 We were lucky to meet one of the Almanegra partners, Octavio, who told us a bit about the story of the cafe. It started from a smaller cafe a few neighborhoods away.
In order to expand into a neighborhood where they'd get more foot traffic, they opened the location on Tonala as a new location where its devotees can get their craft coffee kick.
We tried some lovely drinks, such as the nitro brew, the coffee tonic and the Chemex brew.
Learn more about Almanegra Café →
Efimero Café
Efimero Cafe is an adorable specialty cafe located in the Condesa neighborhood.
When you pass Efimero, you'll see some wicker chairs outside and a cozy inside with a coffee counter in the back.
The owners and creators of Efimero are a couple from Mexico who dreamed of opening up a cafe that felt like home. Both were working corporate jobs, and left their positions in order to pursue this dream.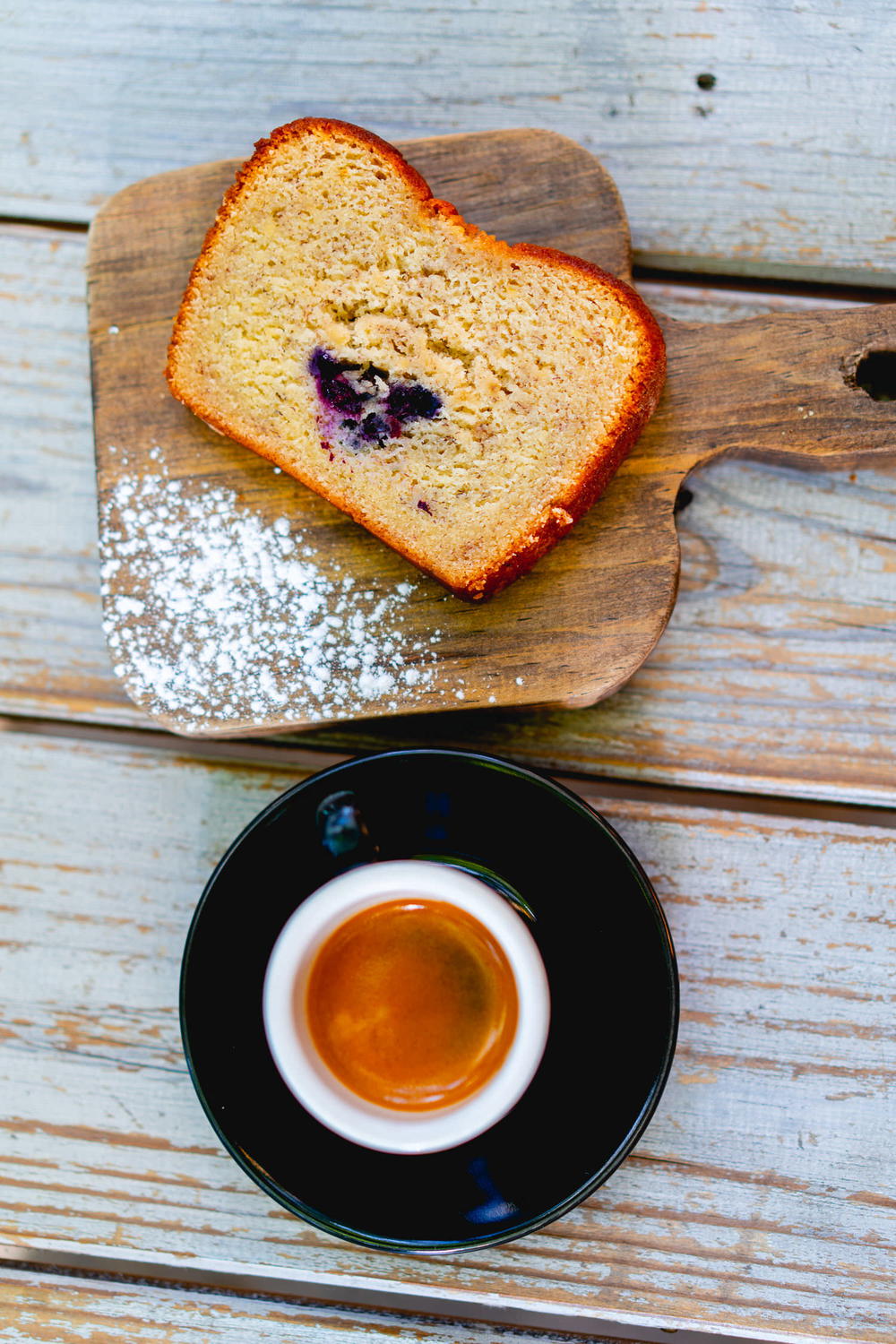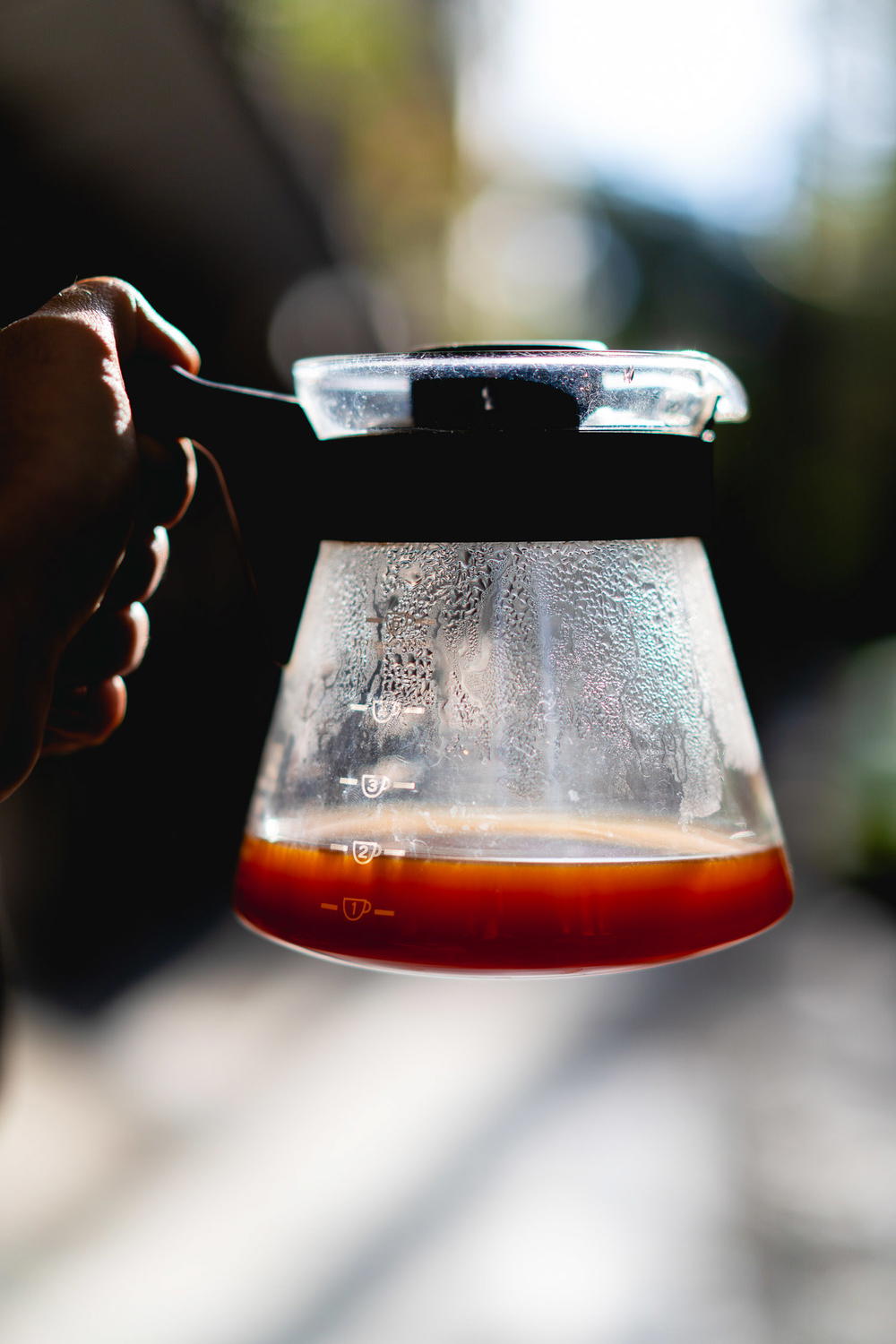 Down-to-earth Efimero opened early in 2018 and soon became part of the fabric of the Condesa neighborhood, which is one of the best neighborhoods for expats. This is a welcoming cafe where you can get a standard coffee or a more special drink, like the ones we tried.
Of the drinks we tried at Efimero, the most memorable was the Vietnamese pressed coffee, iced, and mixed with sweet coconut milk.
This is the kind of coffee drink that left you wanting another! We also tried espresso and a pour-over coffee. Efimero uses coffees both international and local.
Learn more about Efimero Cafe →
Cafebrería El Péndulo
It's a good thing El Péndulo has several locations, because we've been to three so far, and would go to three more.
El Péndulo is a bookstore-cafe, and as far as we've seen, all of their bookstores are located in old houses and all have interesting interiors with natural light, outdoor spaces or terraces, creative ways of displaying books and wonderful atmosphere.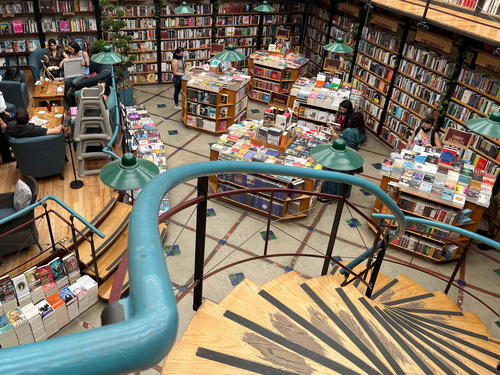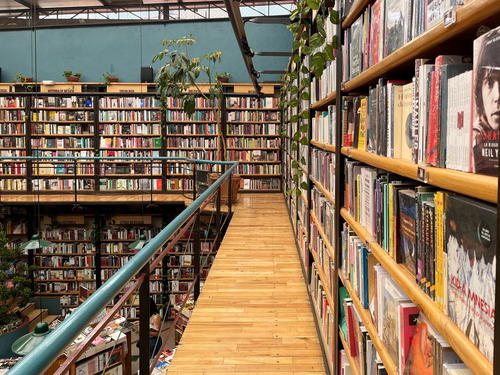 WiFi is free, too! Even if you're not into books, relaxing at El Péndulo for a coffee or their brunch (or even better, dinner and drinks! Yes!) is a great thing to do.
If you do love books, you'll be happy to know that their stock of books serves both English and Spanish-speaking audiences. They have some non-book items for purchase as well, like cool gifts and funny things to have in the house.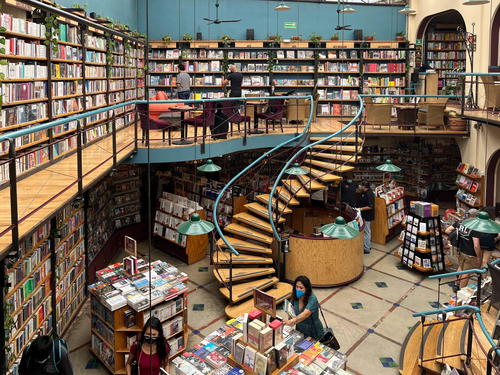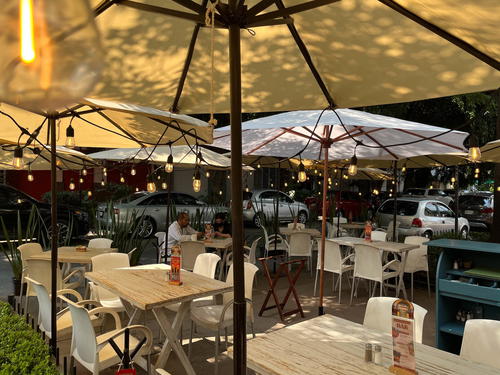 You can find El Pendulo in Condesa at Nuevo León 115, in Polanco at Alejandro Dumas 81, in Santa Fe at Centro comercial Santa Fe, 2º Piso, in Roma at Álvaro Obregón 86 and in San Angel at Av. Revolución 1500, Guadalupe Inn.
Drip Specialty Coffee
Drip Specialty Coffee (Drip Café Especial) began as a window where you could order coffee, and now it has expanded into a full cafe on Calle Guadalajara.
Stop by to learn about the Mexican coffee used in all their drinks and to sit outside on this lovely street.
Drip has a range of drinks from Mexican coffees brewed in a few ways to espresso, to matcha to chai lattes.
It's hard to choose! We tried some roasts from Oaxaca and sat outside reading the coffee (table) books they have in the bookshelf inside, and tried a croissant.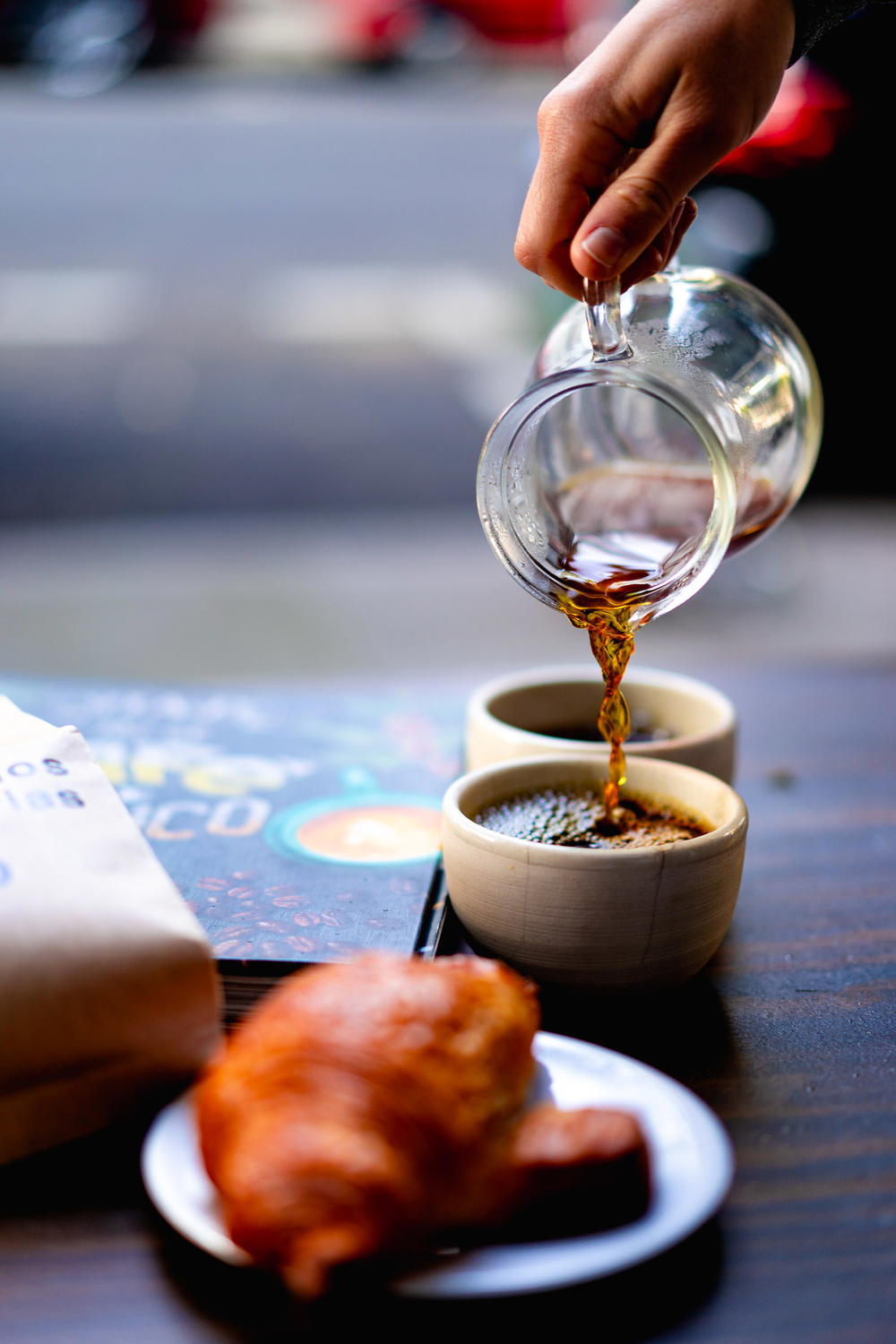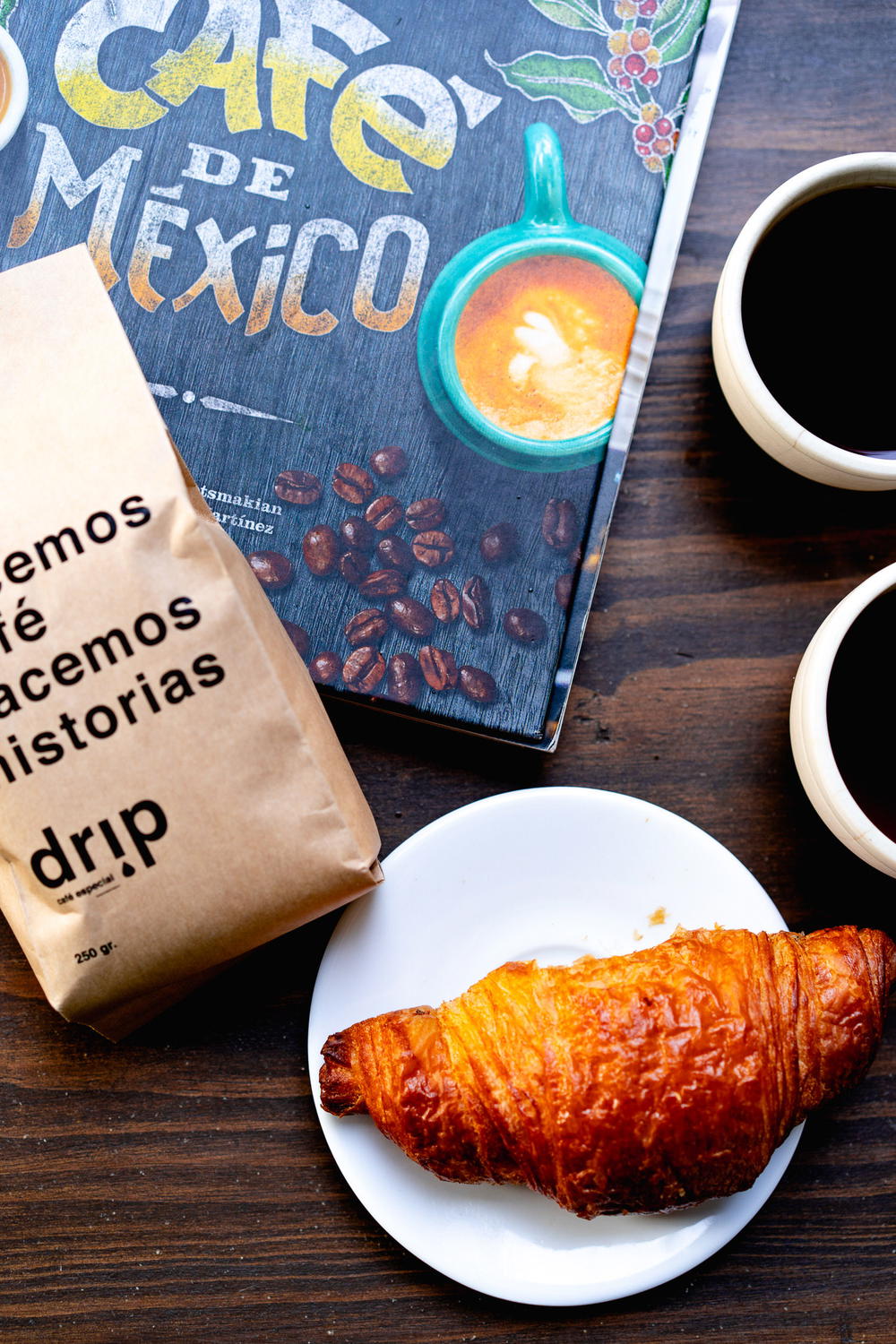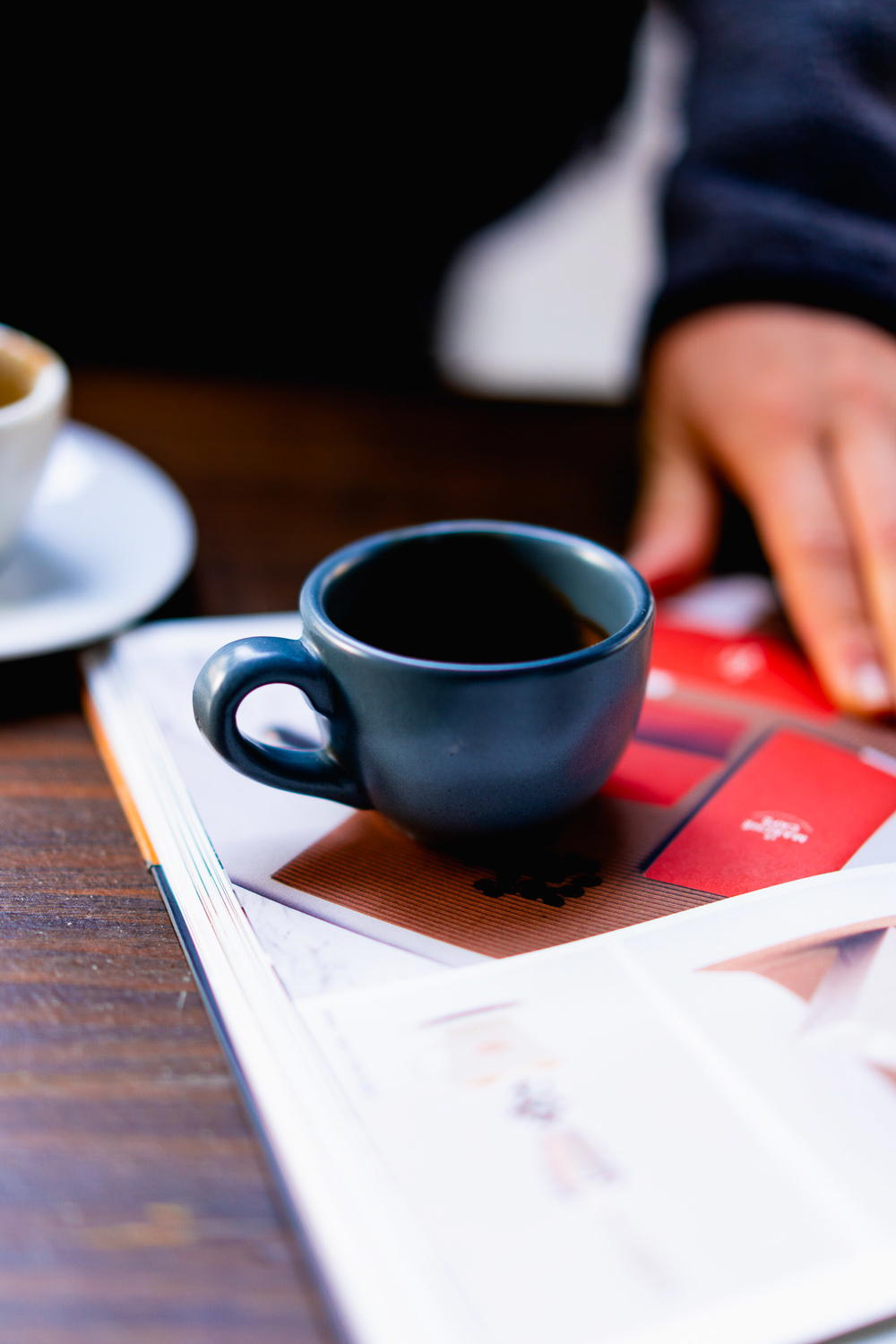 Drip has a theme of sharing coffee and making friends. Their original location was shaken by one of Mexico City's larger earthquakes in recent history, so they were forced into moving to Calle Guadalajara near Avenida Sonora.
This was a good thing, though, because now they've made friends with neighbors in this location, and the neighborhood has been welcoming!
Drip is all about consciousness in its products. You can buy coffee in a brown paper bag to bring home (branded with a cute slogan in Spanish) or you can buy their other fair-trade product… honey! Yummy.
Learn more about Drip Specialty Coffee →
Cicatriz Cafe
Cicatriz Cafe is cool, located in Juarez, at Dinamarca 44. The cafe is open from 9 to 11 every day and is both a cafe and a bar.
I originally went to Cicatriz Cafe at night to have at some mezcal and chocolate, and went back later during the daytime.
With clean modern vibes and a cool interior loft area, this is a place with a great menu and it's an awesome spot for meeting up with friends or fellow travelers.
On the coffee menu are (to note), cold brew, an affogato, espresso, macchiato, americano and latte, and for non-coffee drinkers, there's tea and juices.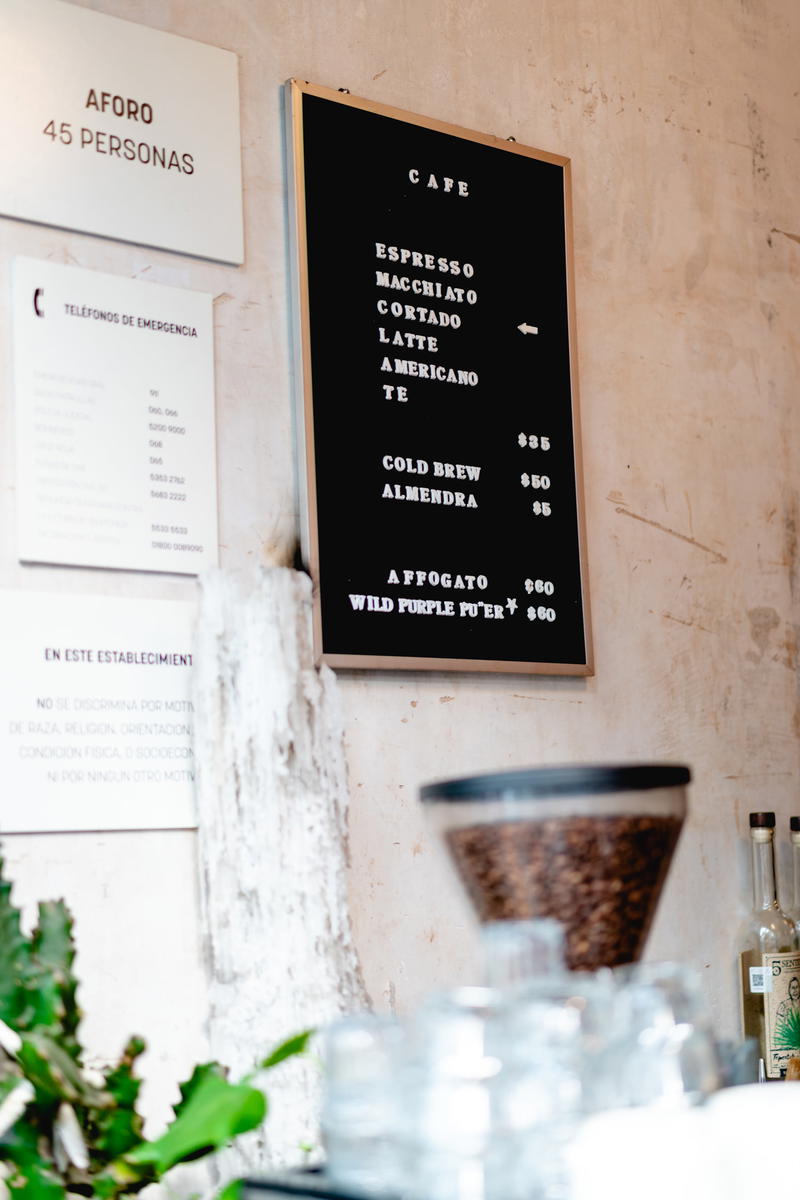 But the real kicker is their assortment of baked goods, which you'll find on the menu of "postres." Don't miss the galletas (cookies), muffins and foccacia bread.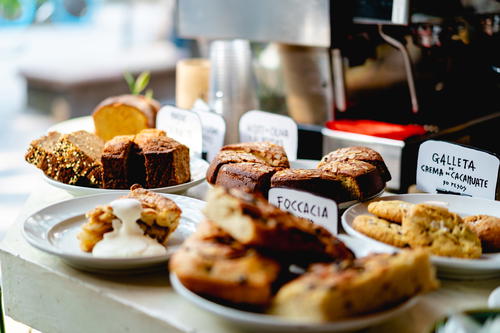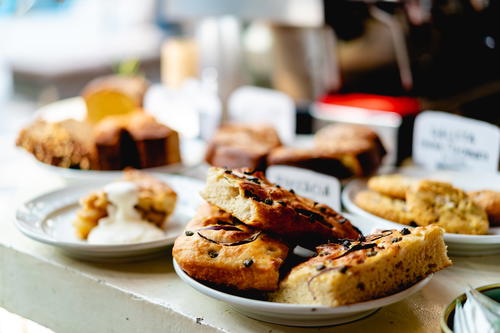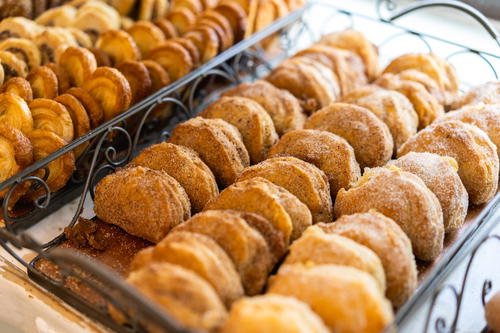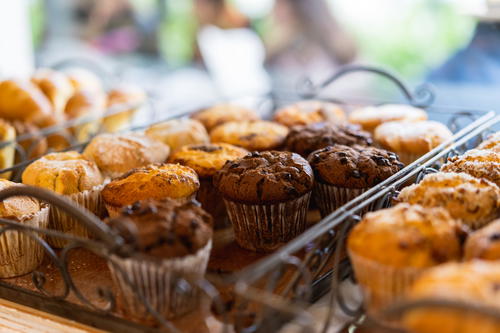 And very lastly, for your morning visit, there's a breakfast-brunch menu that lists yogurt & granola, chia pudding, torta de huevo (this is Dan's favorite food in Mexico City), and more.
Helpful Tip
There are a few small tables for outdoor dining, should that be your preference.
You can also find this cafe in our best bars in Mexico City guide!
Blend Station
How could you not like Blend Station?
Blend Station is immediately special with its cool and unique design that features pastel colors, eyes and funky art.
It turns out that the cafe was designed professionally by a design team, and as you peruse the art on the walls and postcards, it all matches the same cool 'mysterious eyes' theme.
Then you'll notice the tree in the middle of the cafe, which is a huge and open space, especially when they open the awning of the ceiling. This is an indoor-outdoor experience!
Blend Station's baristas are self-described as coffee geeks, and they'll make you a mean espresso, cold brew or perfect latte (with art).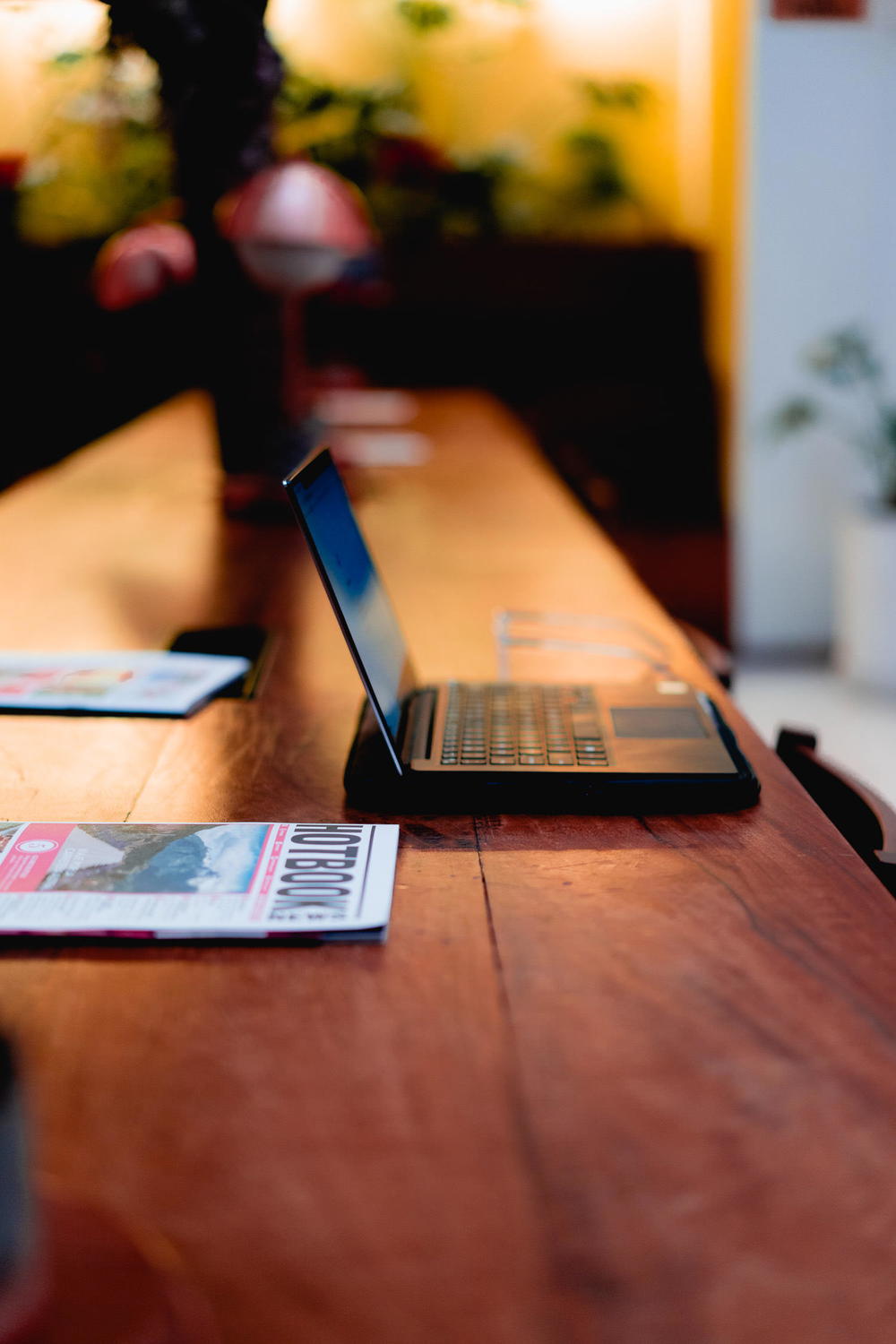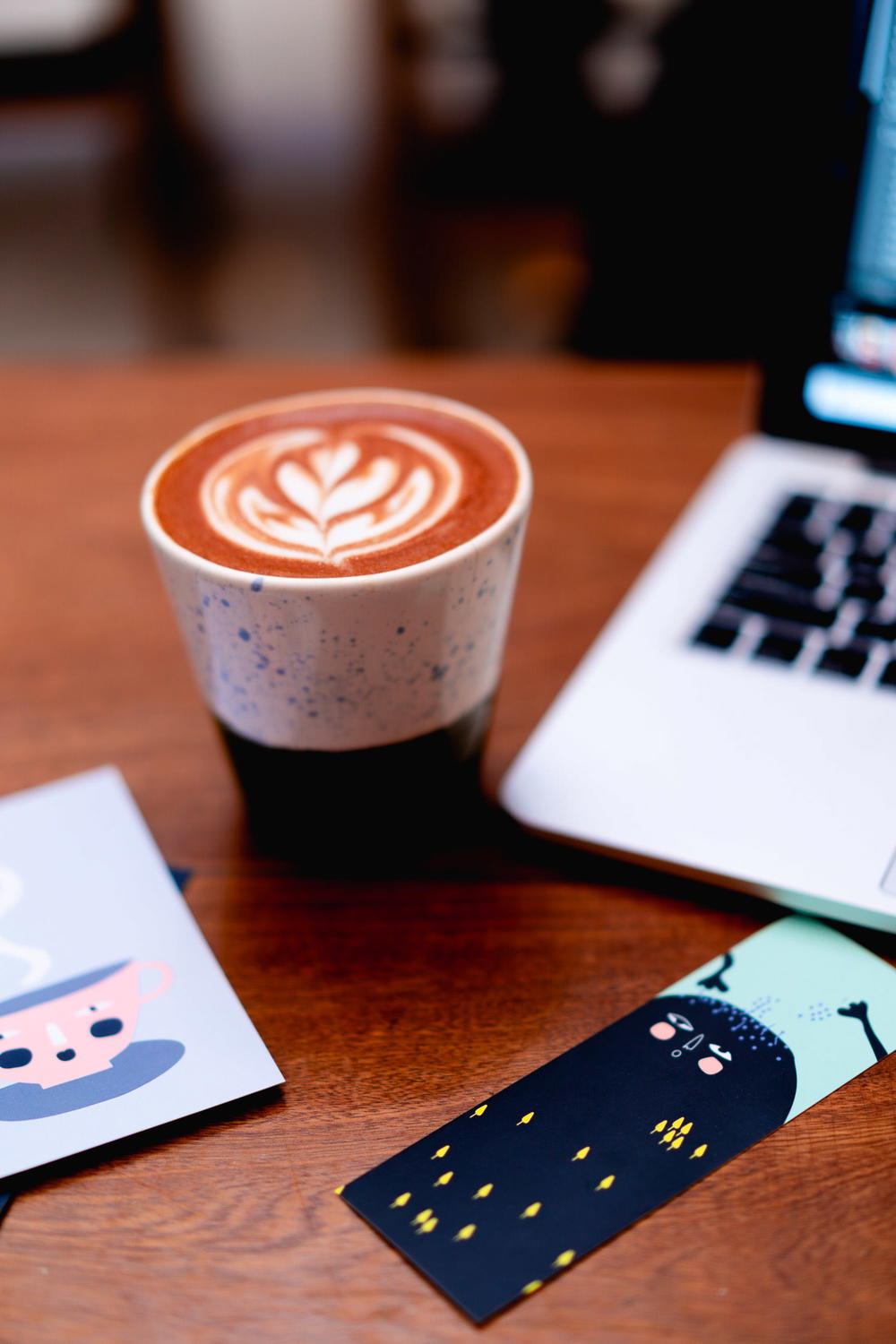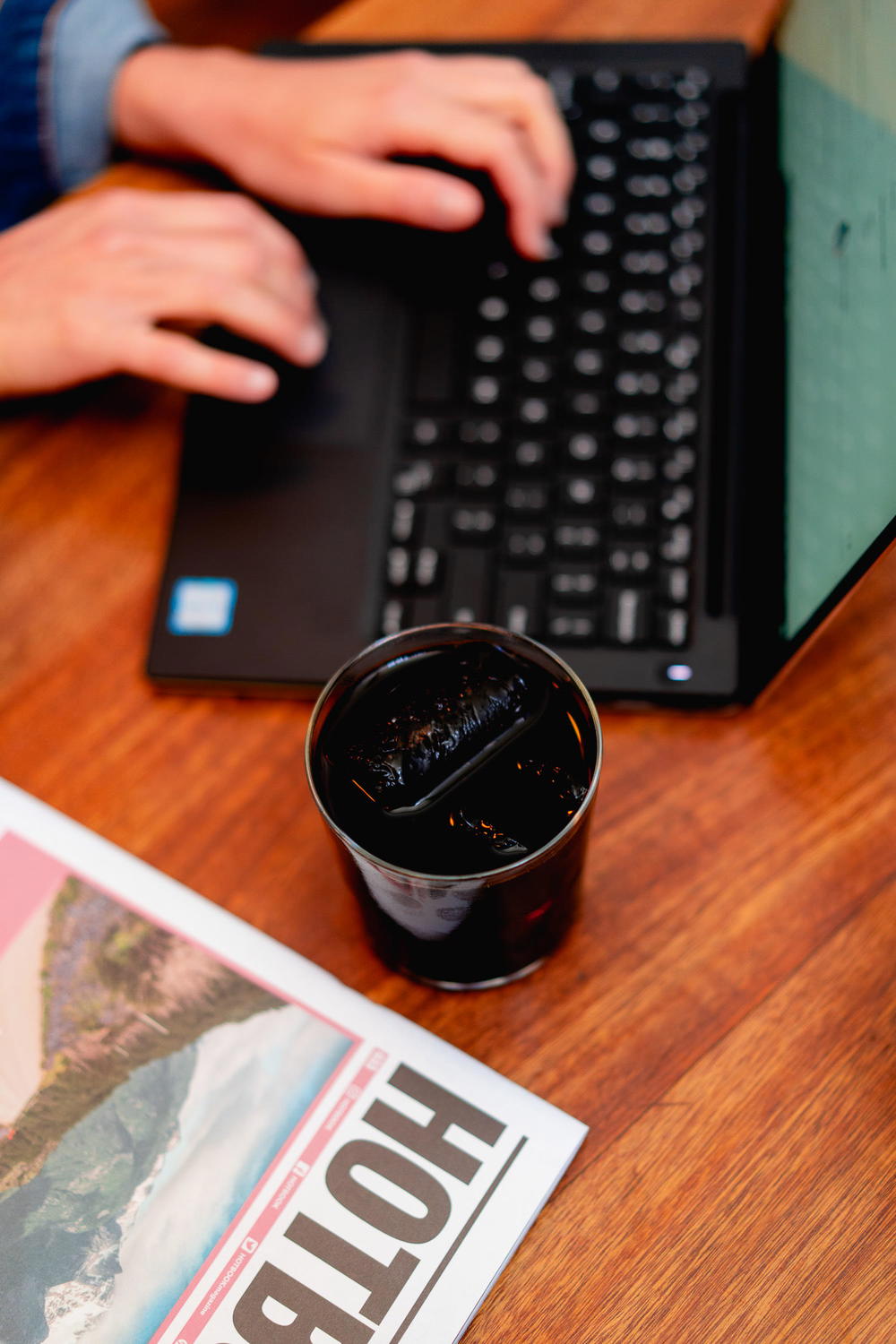 People come to Blend Station to escape the hustle of the street. Inside, you can keep your mind on your work (laptops are welcome here) or your coffee, or your food. You could also consider that we named Blend Station one of the top cafes to turn into a photo spot in Mexico City.
You can sit with a fleece blanket on the steps in the back, at a high table at a stool or at one of the tables that line the back wall.
There's food, too! Blend Station makes their bread in-house, which is a great thing to know, when you order any food (menu includes toasts, salads, a few types of bowls and English muffins in a few styles). We'll be back for lunch!
New update: Blend Station has new locations. You can find them in Hipodromo, Roma Norte and Polanco. They're all unique, especially the one in Hipodromo at Amsterdam, Av Sonora 282 Esquina, because it's also a bike shop!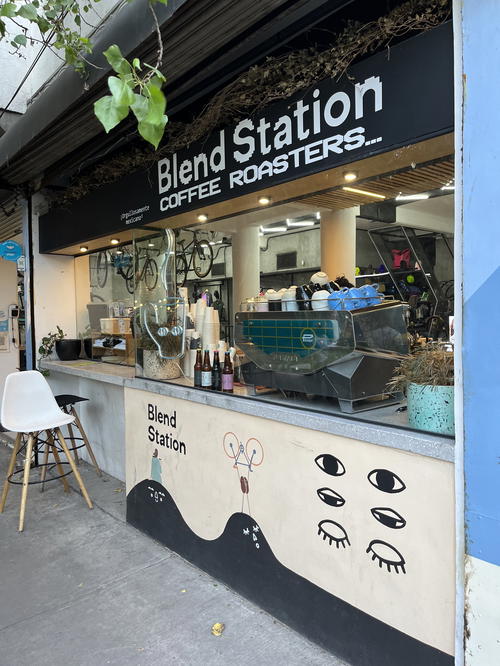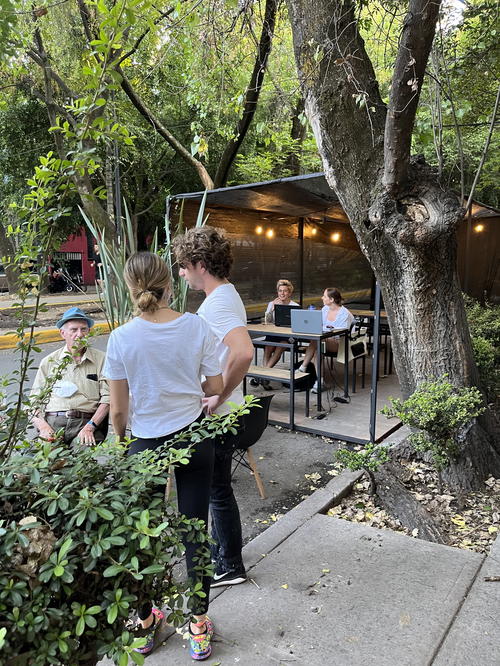 Learn more about Blend Station →
Chiquitito Cafe
Chiquitito Cafe is a neighborhood cafe that packs a bunch. Just like its name, Chiquitito is a little tiny place, where a few baristas are crammed behind a coffee counter, but still seem to have room while they craft your drink. Everyone's friendly.
It's hard to leave.
Chiquitito is a neighborhood place, so it's fun to watch locals roll in ordering their usual, in a friendly manner. You can sit inside at several tables that line the wall, or outside, at high-top tables or on a bench.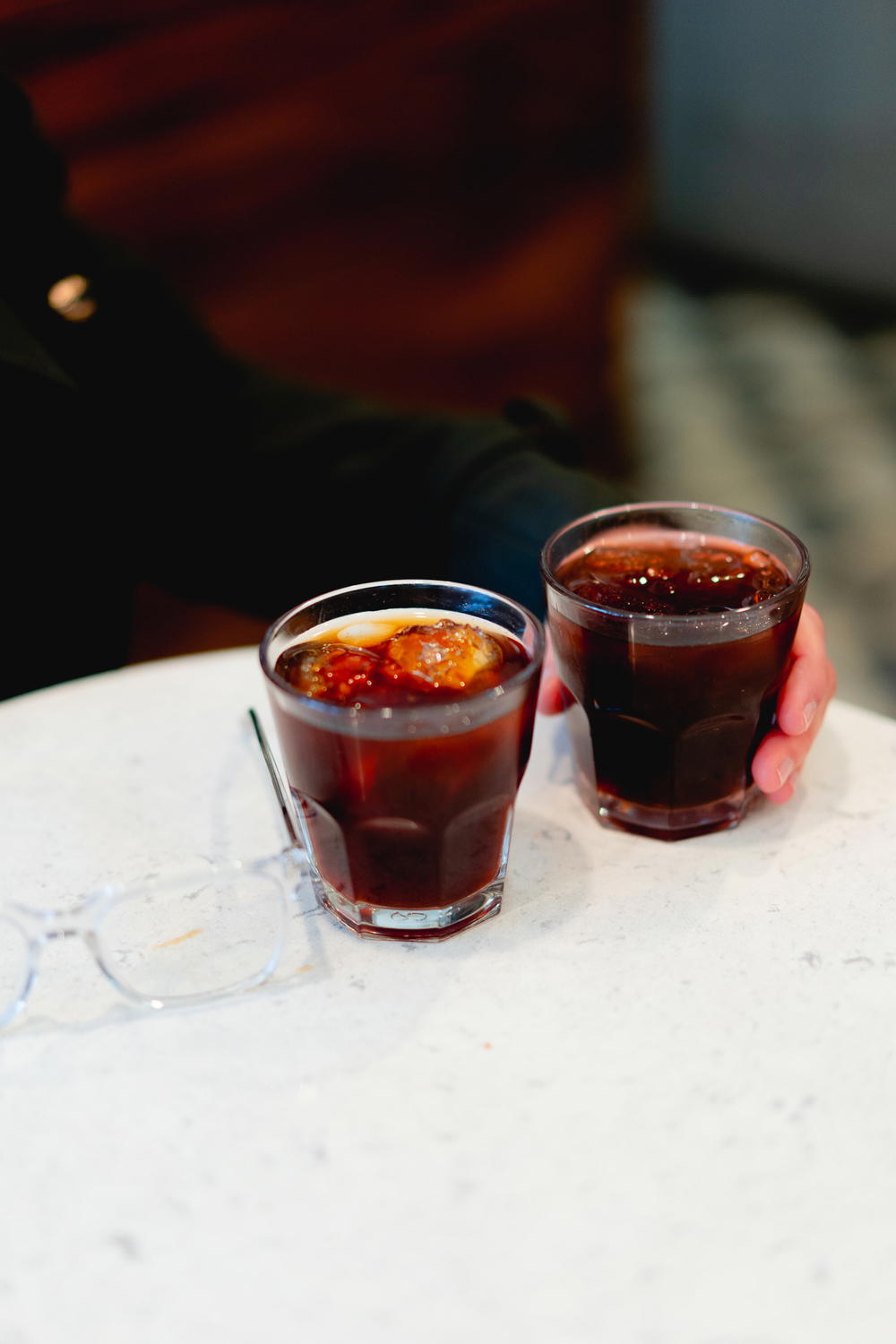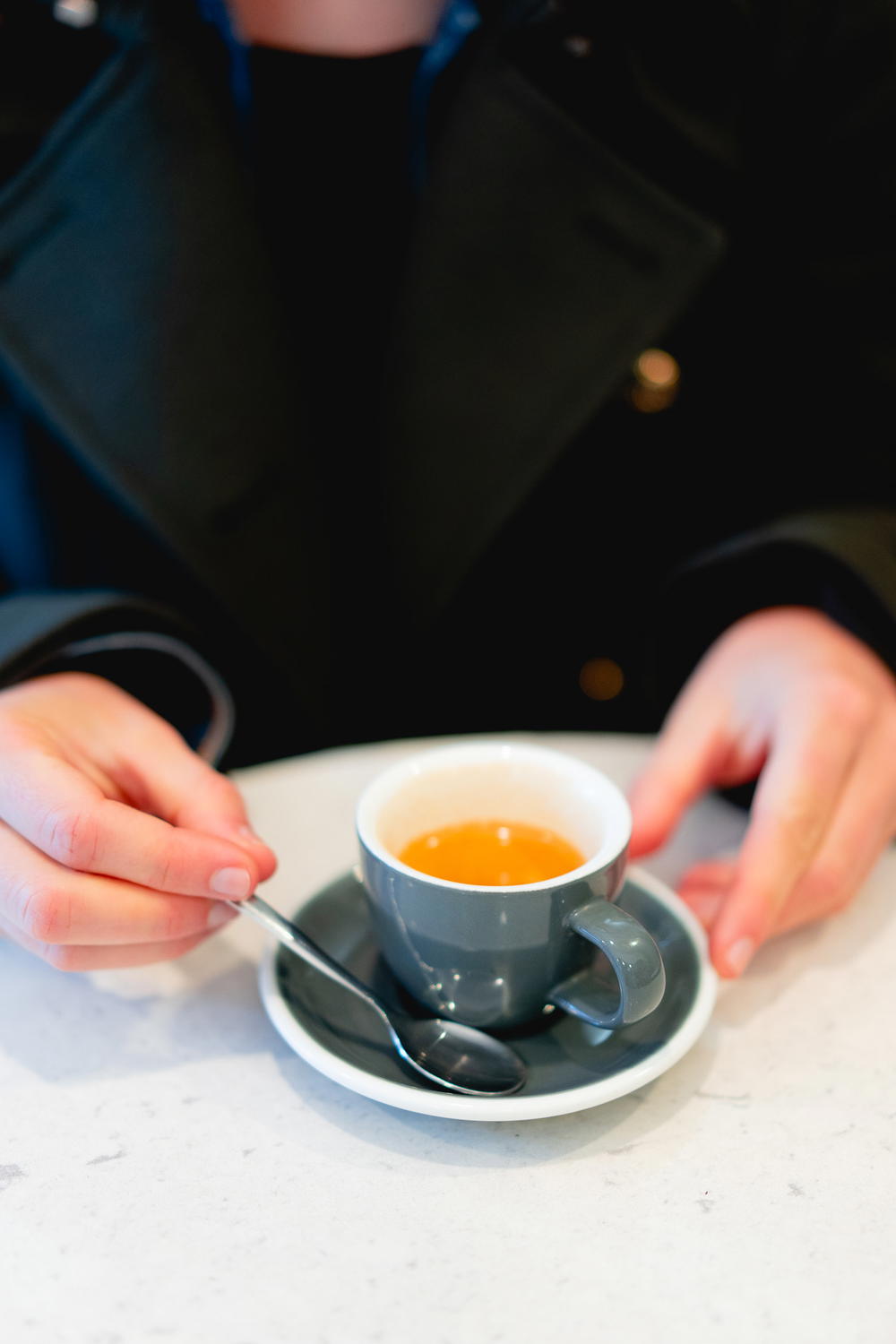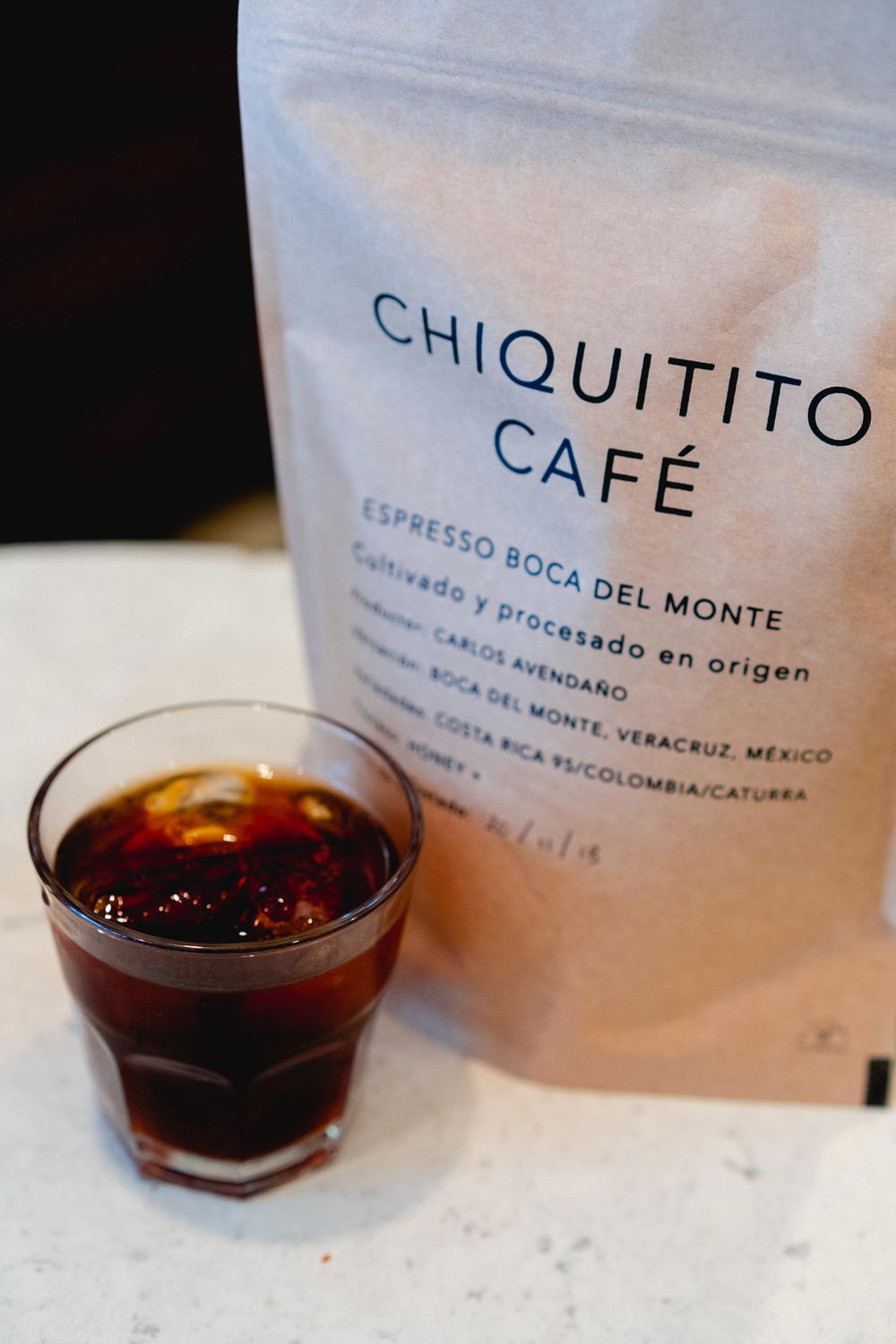 The theme of Chiquitito is coffee, and they do it well. In terms of products for sale, there are gooseneck kettles, tools for brewing coffee at home (V60, anyone?) and of course, bags of coffee for sale.
Coffees are roasted by Jiribilla Tostador in Mexico City, and beans originate from farms in Oaxaca and Veracruz states, also in central regions of Mexico.
Our locally-originating drinks came in the form of espresso, a seasonal special, a cold brew and an americano. All coffees had roots in nearby local Mexican coffee plantations.
Chiquitito now also has four locations! They're in Condesa (pictured above), Cuauhtémoc (pictured below) and there are now two in Lomas de Chapultepec.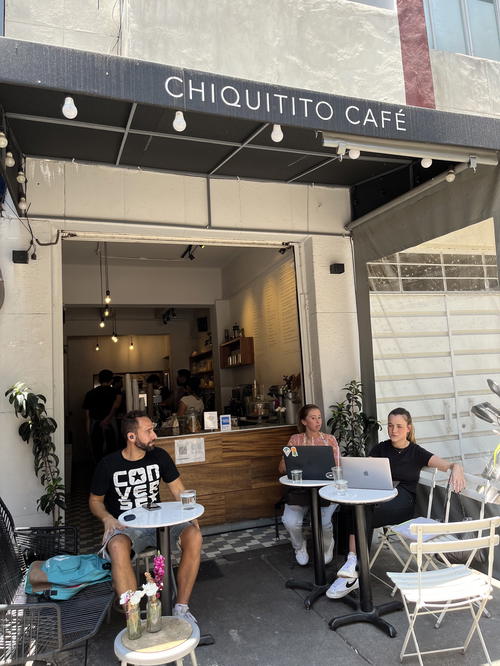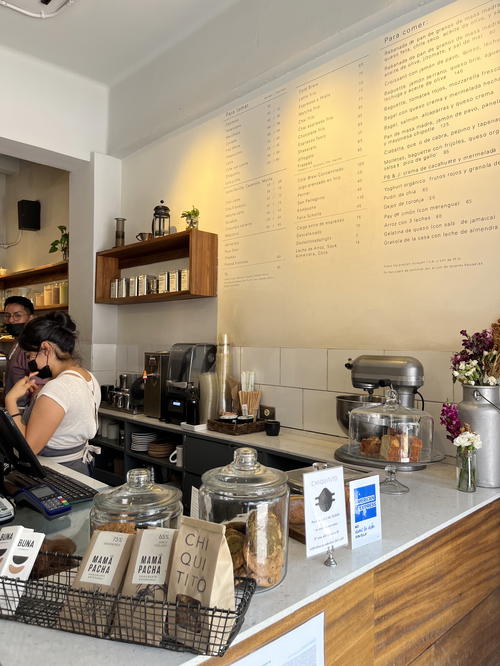 Learn more about Chiquitito Cafe →
Finca Don Porfirio, Sears (Zocalo)
This is your secret to getting a million-peso view of the Palacio de Bellas Artes, an art museum in the center of the city with a multi-colored roof (photo below).
If you come at a busy time, you may have to wait on a little line, and that's because they don't let anyone stand around: all guests get seated at tables or at the bar stools that line the wall where you can look out at the view.
The menu consists of coffee drinks and teas. It's great to cool down with something iced when you've been sightseeing around Centro and taking photos like we were!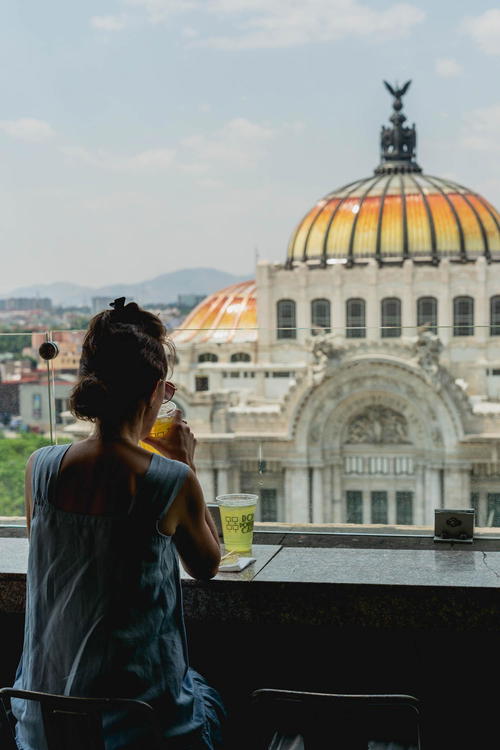 To get to the cafe, take the elevator straight back when you walk into Sears, and go to the top floor! There, you'll find the cafe near the home goods section.
After you get seated, you can enjoy the view! We recommend coming in the late afternoon or around sunset to catch some incredible lighting of the Palacio de Bellas Artes and surrounding area of Alameda Central.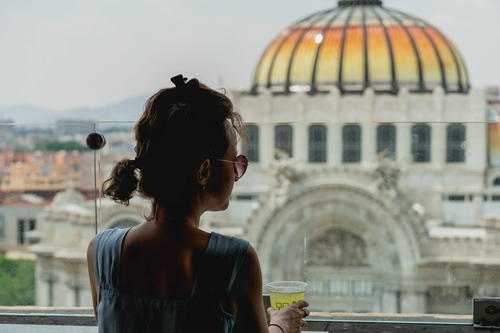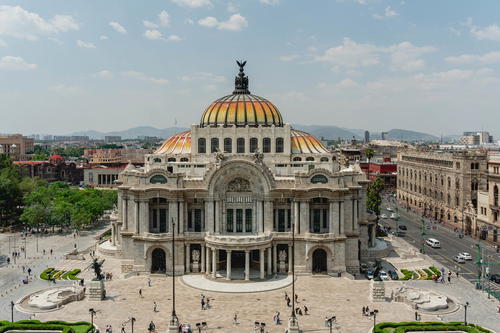 Casa Cafe
Located on Fernando Montes de Oca 64 in Condesa, this relative newcomer to the area is a pleasant surprise for its cozy interior and nice amount of outdoor seating.
With a coffee menu of classics (americano, capuccino, espresso doble, latte and cold brew) and some surprises like a honey latte, you'll also be inclined to try a smoothie.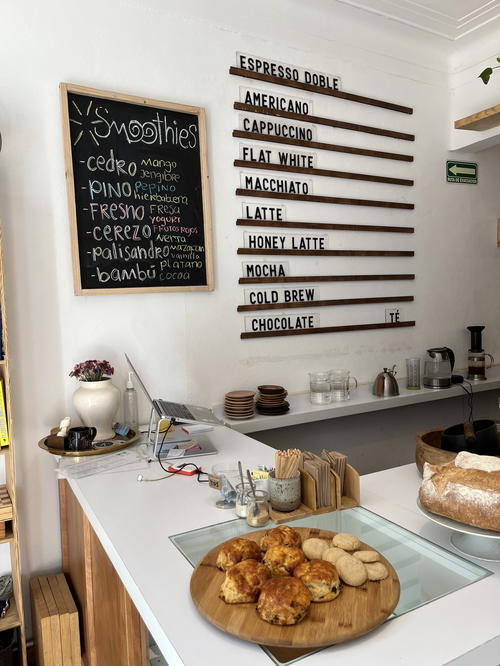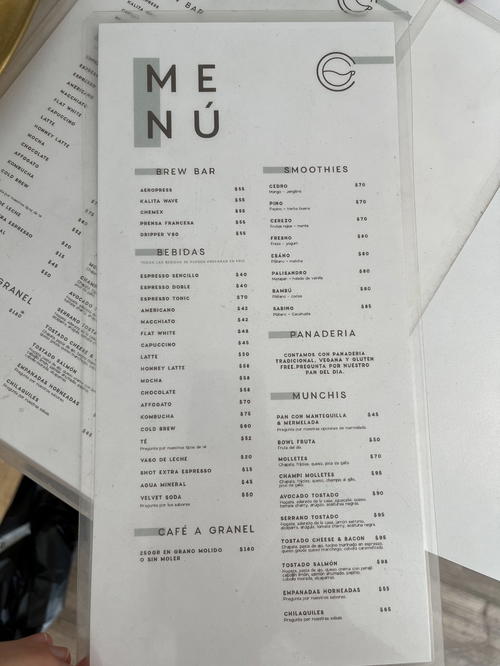 For breakfast, brunch and lunch, a menu of tostados, empanadas and chilaquiles is also sure to delight, as is the super friendly barista, who suggested I go with the curcuma (tumeric) latte when I arrived.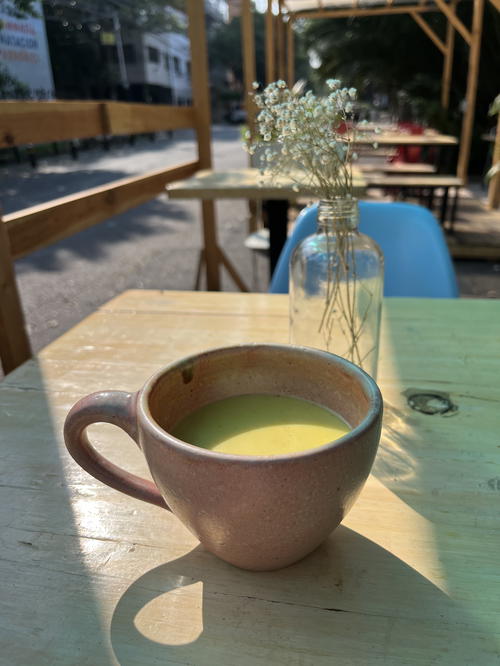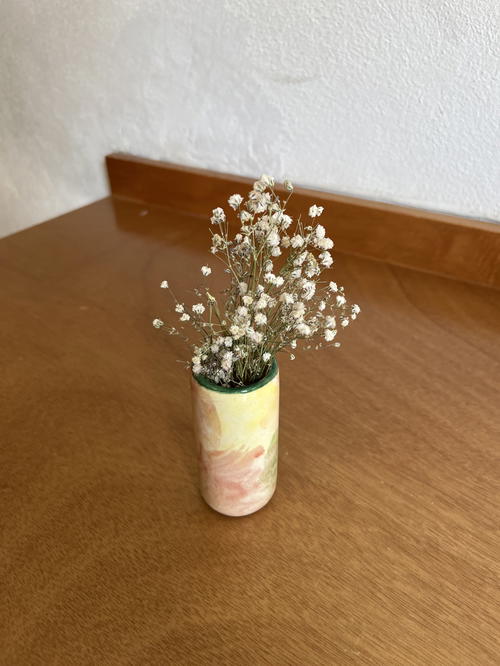 I enjoyed the small details like tiny flowers in tiny vases at the tables, as well as the sun-filled outdoor dining area on a wooden patio in the street.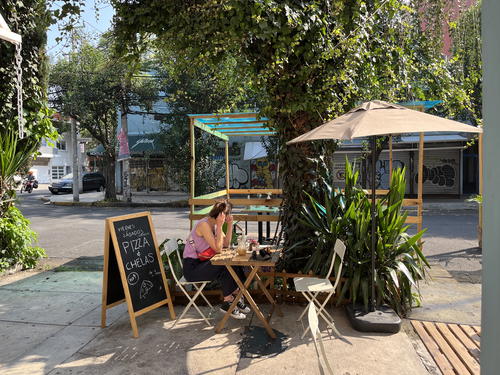 When I go back, I'd love to try a Chemex brew or an espresso tonic and spend some time with a book in this cute Condesa coffee shop we hope you get to try.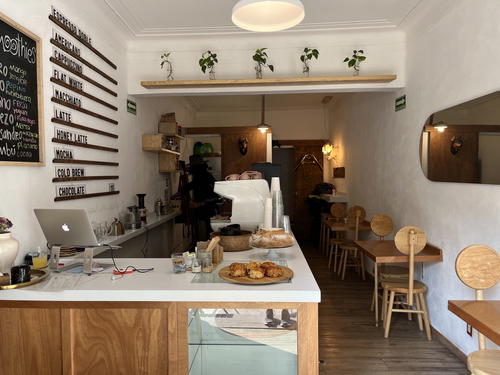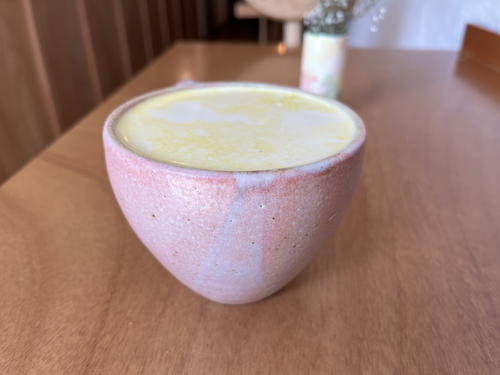 Cafe Avellaneda
Head out to Coyoacan to try this special treat of a cafe that our local Mexican friend took us to. The place is small and cozy with hardly any room to sit, and the coffee drinks are quite a surprise.
I would say Cafe Avellaneda specializes in unique cold drinks that combine flavors, causing you to rethink how you considered coffee.
There's "Trago 2," a cold brew with ginger ale and hibiscus syrup, and the "Tranquilo," a mix of espresso, coconut cream, pineapple and tonic water.
The menu at this cafe is practically cocktail-style, but with coffee, cold brew and espresso.
If you're not into the caffeine, try this cafe anyway, because the menu of pasteles may have you sold. They also sell coffee beans.
With so many drinks and in such incredible cool varieties, Cafe Avellaneda makes a great Instagram moment.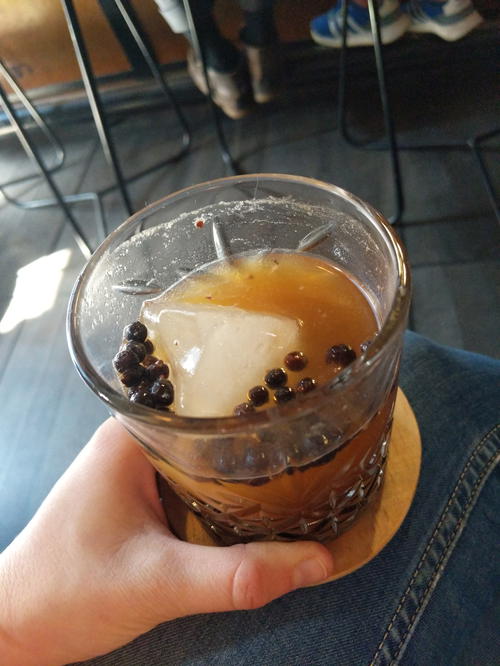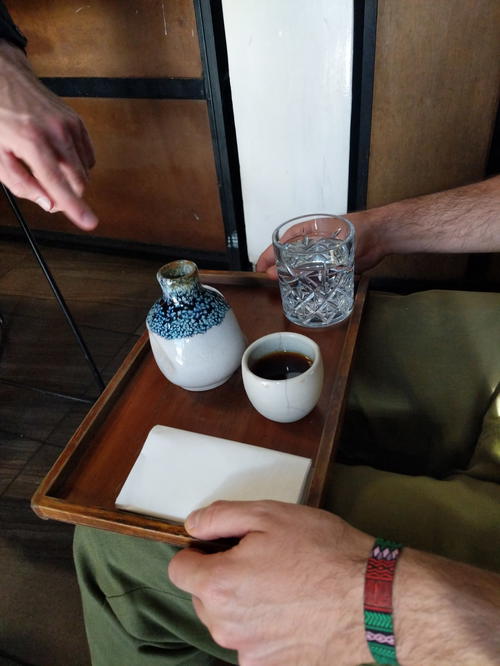 The cafe is located at Higuera 40-A, La Concepción, Coyoacán, 04020 Ciudad de México.
Cafe Regina
If you are downtown and find yourself in the peaceful pedestrian street of Calle Regina, stop for a cafecito or americano at Cafe Regina. This place is old-school and has kept its vintage charm.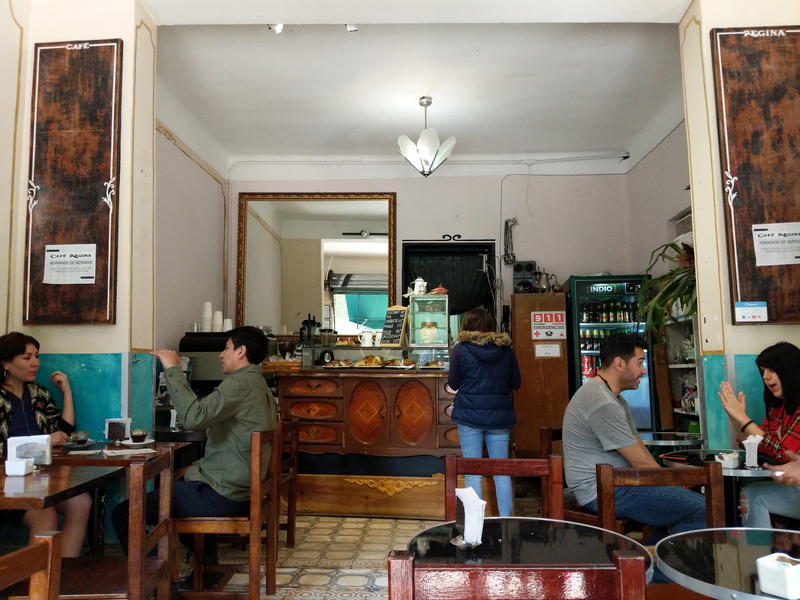 Sit at wooden benches, or outside under umbrellas, and after you order your coffee, you'll wish you ordered food when you see it come out to the other tables. So, save your appetite for breakfast and sit down at Cafe Regina for some eggs, bread and coffee.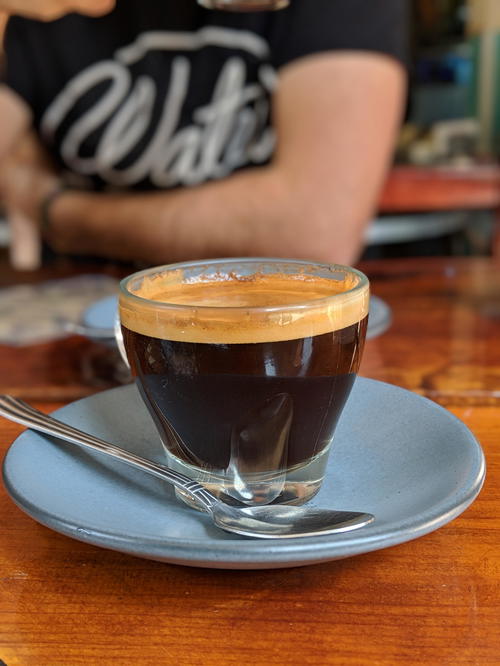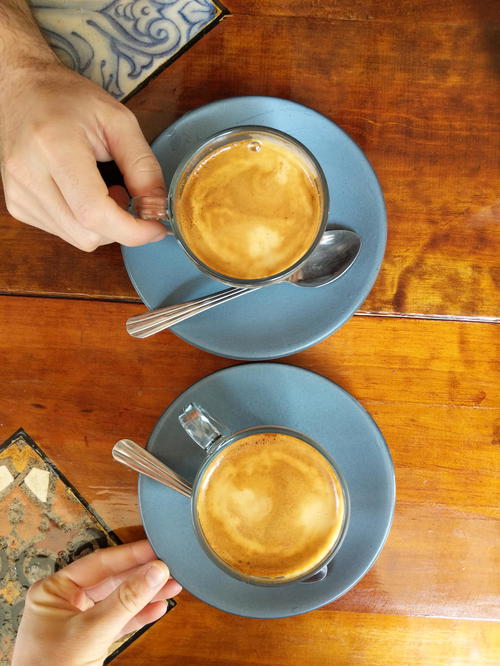 Also, despite the old-fashioned decor and location in the Centro Historico, this cafe has WiFi. You may see anyone from locals to digital nomads trying to get some work done on laptops.
The surroundings on this stretch of street with no cars is also a plus, as there's little street noise, and the environment is quite peaceful.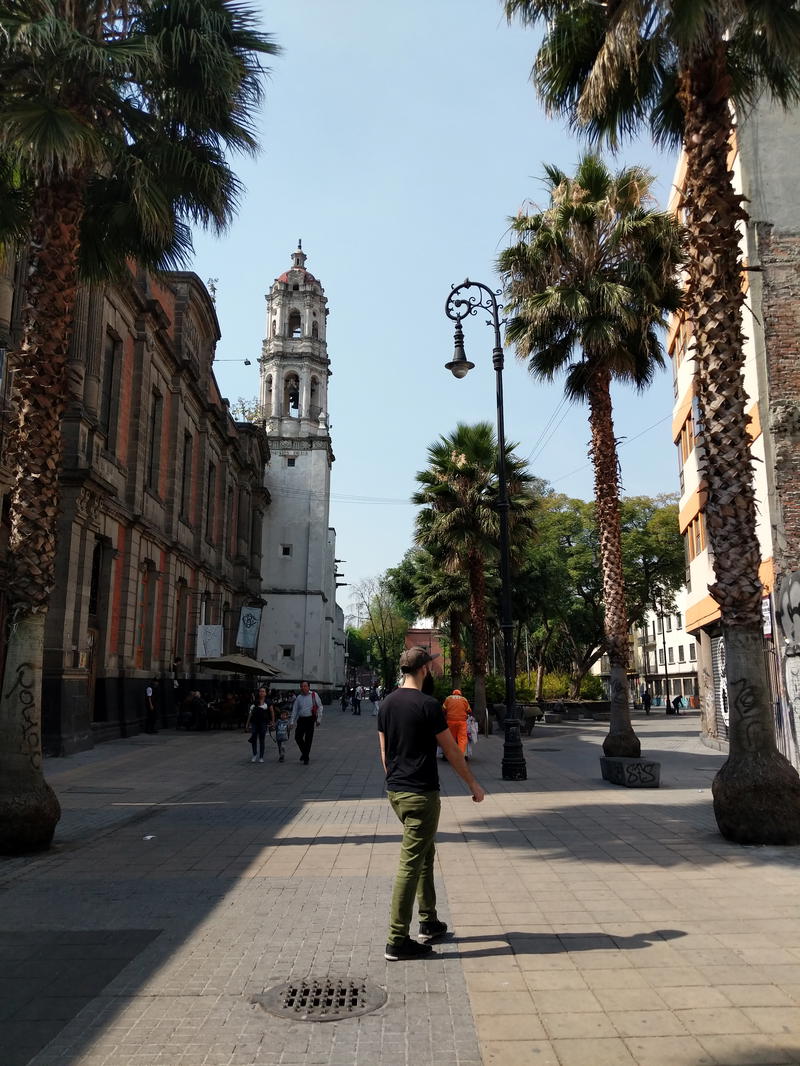 Cucurucho Cafe
With a fun name to say, you'll find this Mexico City cafe in a few locations, including Polanco, Condesa, Cuauhtémoc and Roma Norte. While we wished we could have stopped by them all, we had to make a choice.
We found ourselves admiring the exterior of Cucurucho Condesa, with its minimalist exterior, big windows and cool black-and-white sign.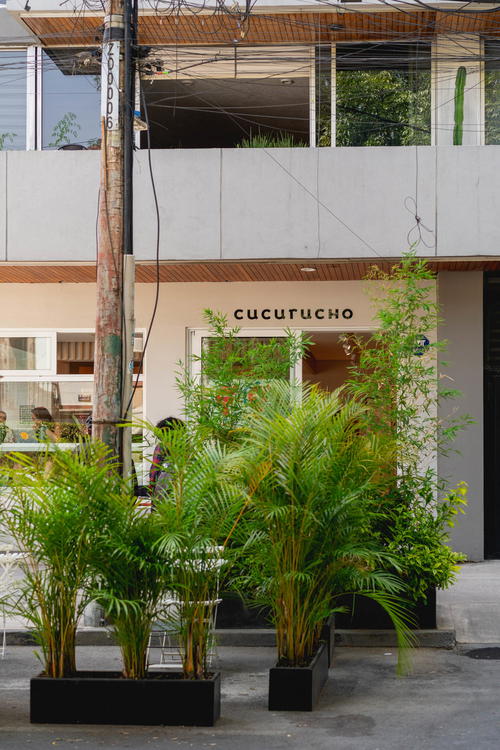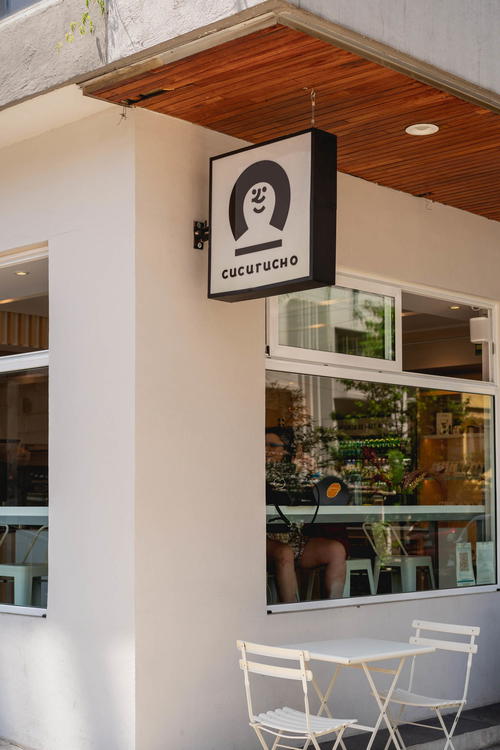 Inside, instead of too many tables with chairs, they have tables like kitchen islands, where you could stand with your drink, and maybe even start a chat with a fellow traveler or local.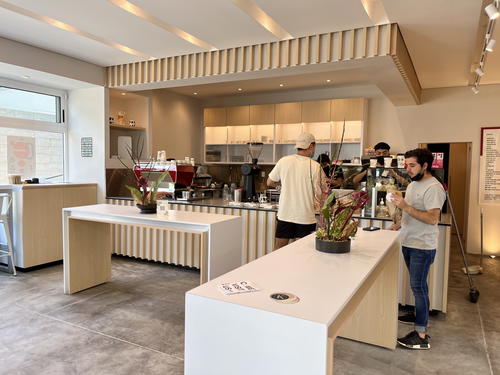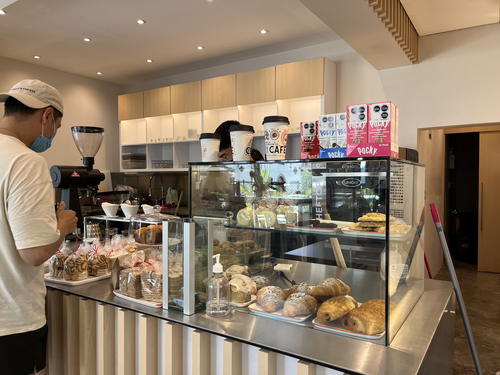 Founded on some big principles like freedom, innovation and creativity, you can see by visiting this cafe that the owners were very thoughtful in their design, and menu.
As for drinks that'll stand out, try the espresso sonic, horchata with espresso (yum), cafe au lait and yuzu lemonade, for those not drinking coffee. You can visit their store online, to get coffee from Oaxaca, Nayarit, Guerrero, Veracruz and Chiapas (Mexico's top coffee-producing states) by the bag.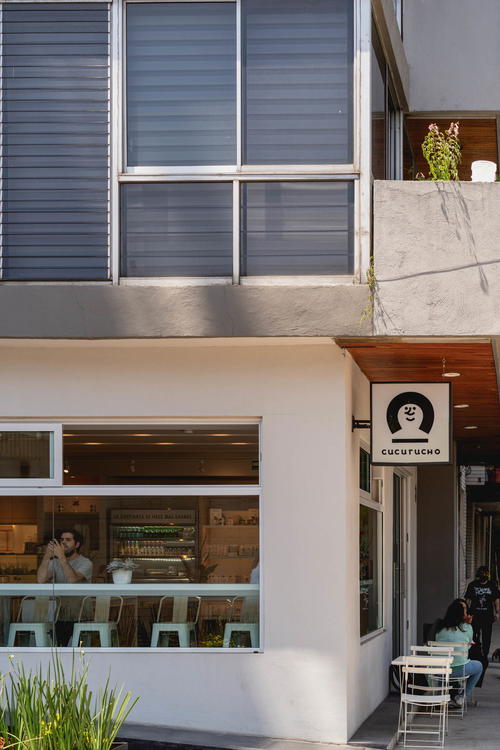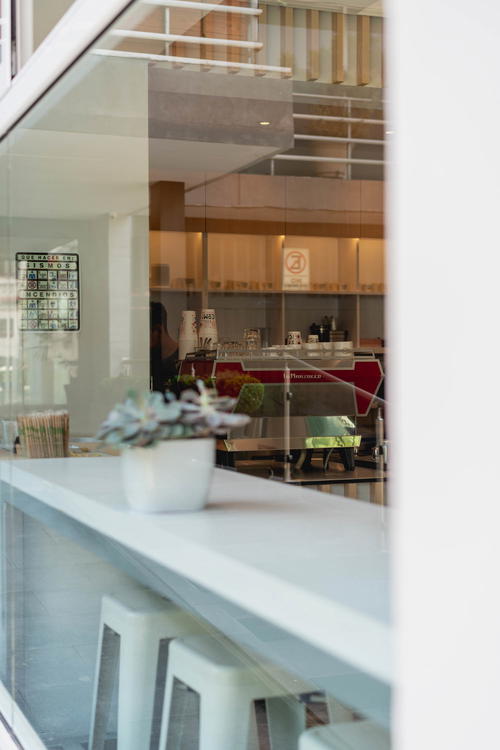 eNHORAbUENa CAFÉ
Yes, their preferred casing of the cafe's name is "eNHORAbUENa CAFÉ."
This cafe is perfect for hanging out or working, and is a neighborhood favorite. It has a laptop-friendly vibe and a big open window to get some nice airflow.
The food is really good, yet limited to what they can make in their tiny kitchen area. We tried the chilaquiles and wow: that was great.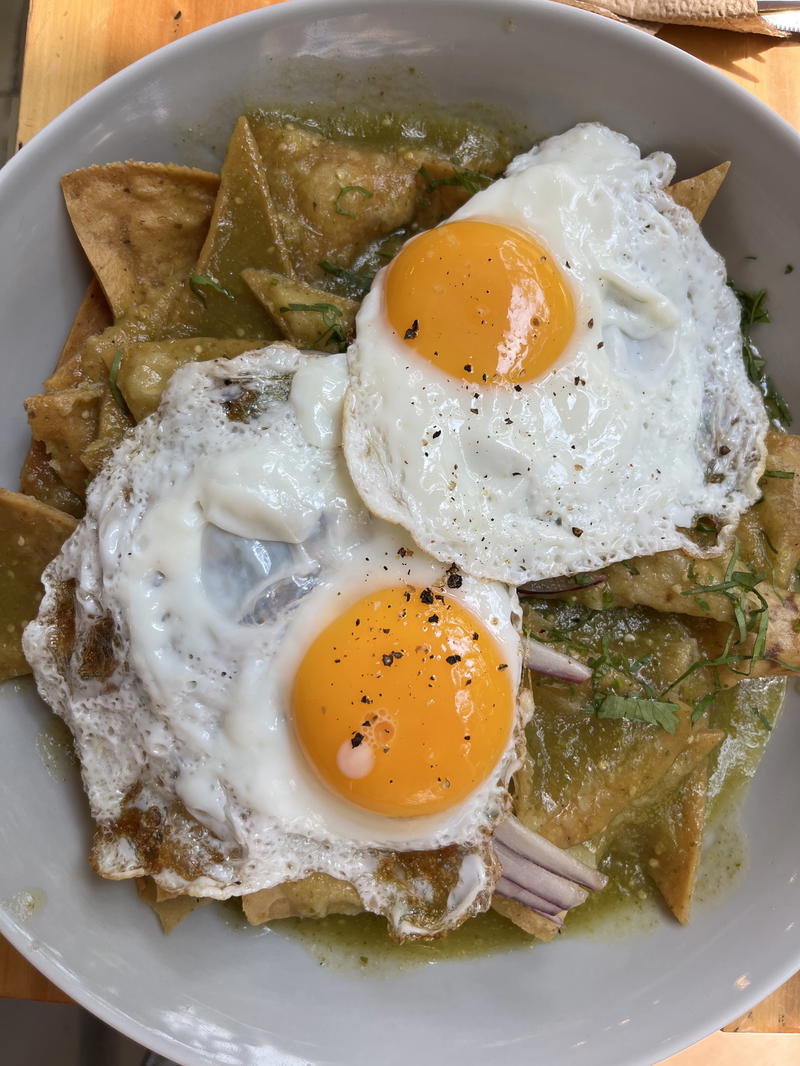 There are plenty of power outlets, so it's helpful if your laptop is low on battery.
Check out the cafe's Instagram.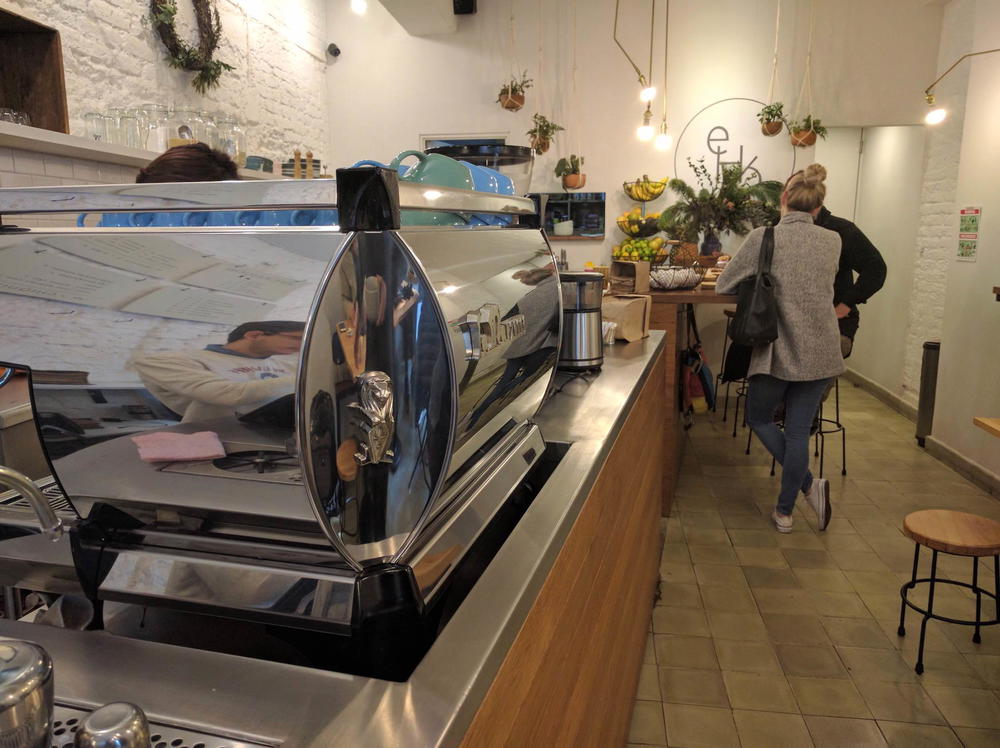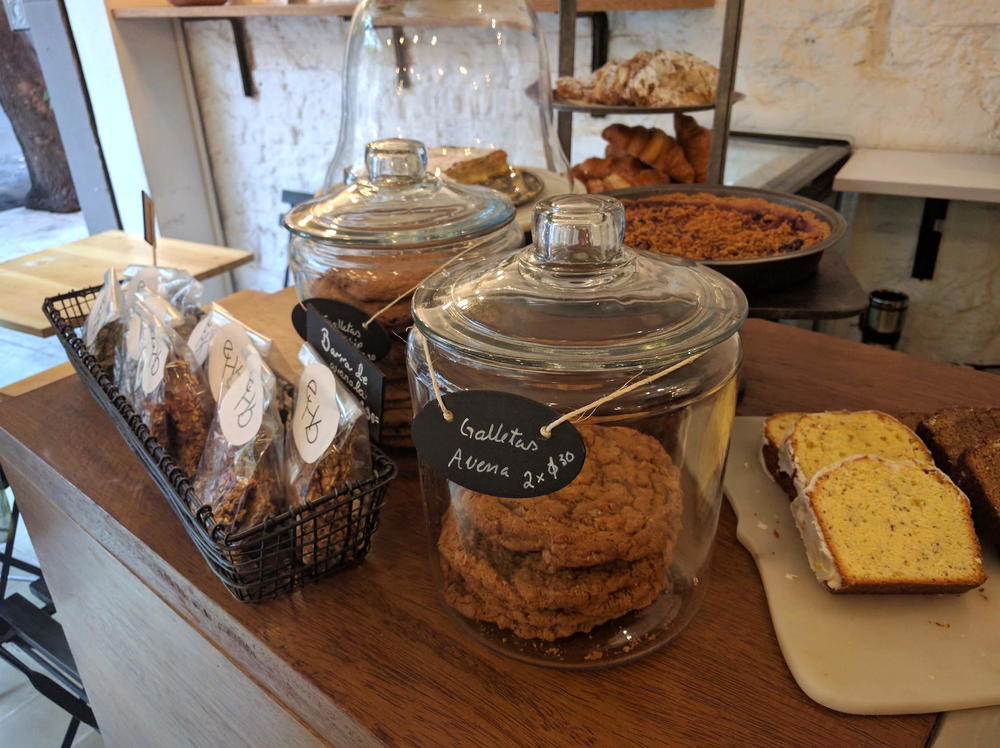 Tomasa Condesa
If you're into a trendy vibe, Tomasa is a great cafe and bakery to try as both a spot for a cute photo and some delectable treats.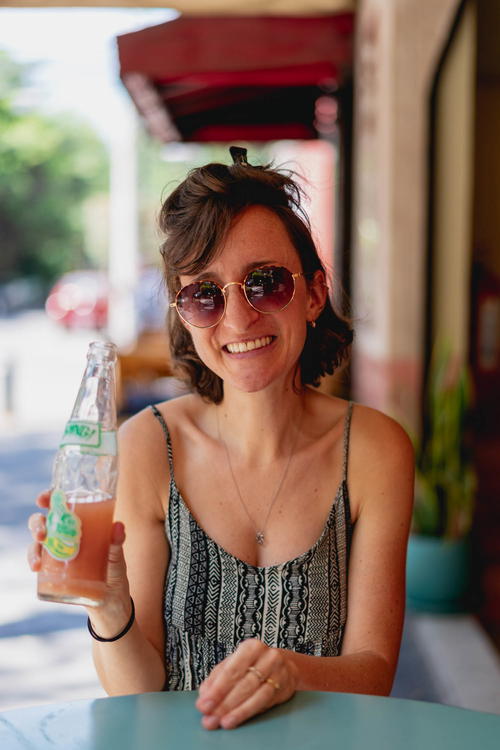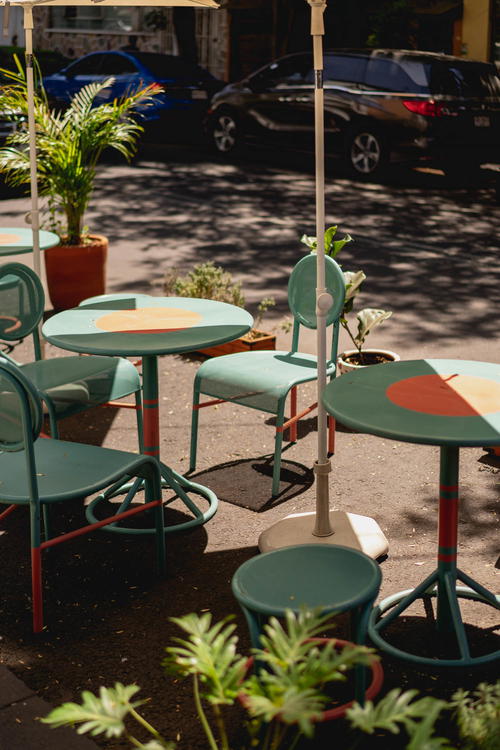 As soon as I saw photos online of Tomasa, I starred my map and knew I had to try to go. With the pinks and teals and rounded shapes, this was an aesthetic I wanted to see with my own eyes.
With its location on C. Atlixco #74, not far from Parque España, Tomasa is on a quiet street with some sidewalk seating, and an open cafe that really pops!
On the menu are "Dulces," including lattes, americanos, espresso, chocolate abuelita ("your grandmother's hot chocolate") and "conchas," the big fluffy cookies that kind of look like shells.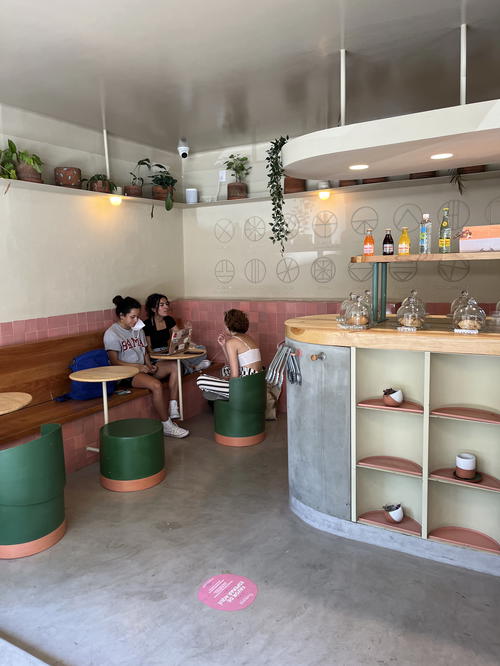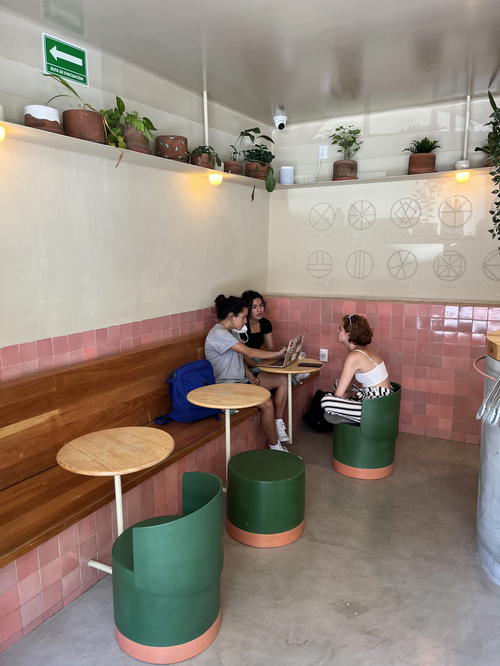 The conchas come in a list of flavors, and if you want a photo moment, you may want to look at them all before choosing. There's dulce de leche, vegan vanilla and chocolate and also gluten-free (and so many more).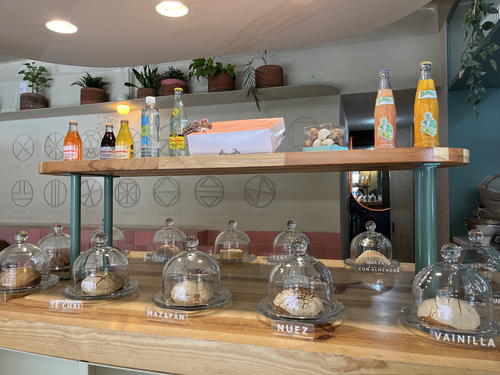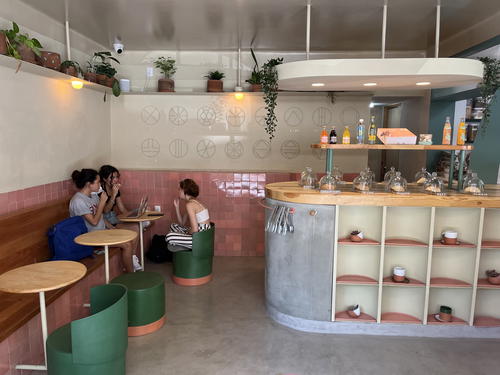 La Otilia (Polanco)
Finally, a gluten-free friendly cafe that's good for working remotely at!
La Otilia has a garden-themed outdoor space where you can sit with delicious baked goods and drinks, and not feel bad about it.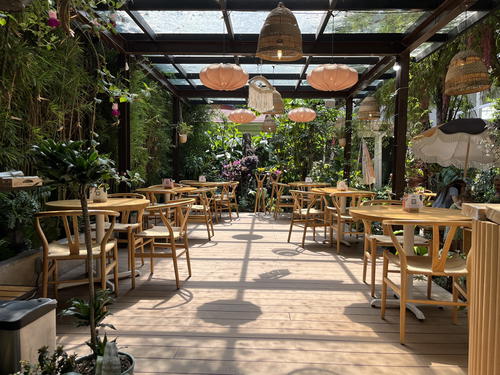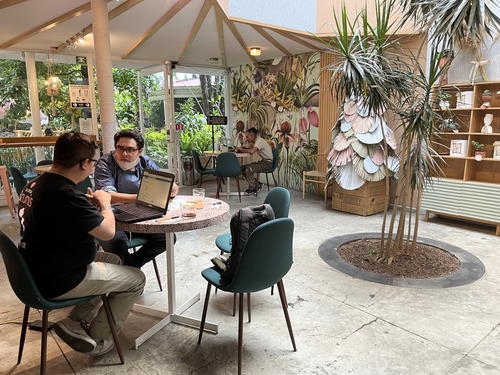 If you're traveling with a gluten allergy, you'll be happy to know that they take the gluten topic really seriously! La Otilia is the only 100% gluten-free baked goods establishment in all of Mexico, according to the story on their website.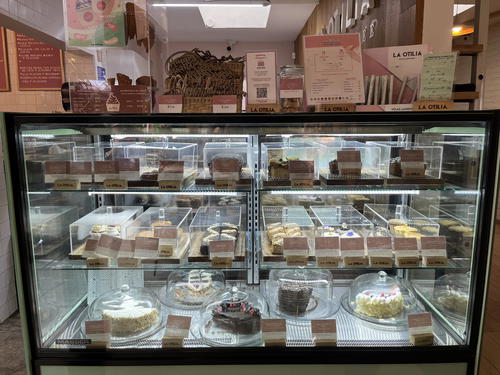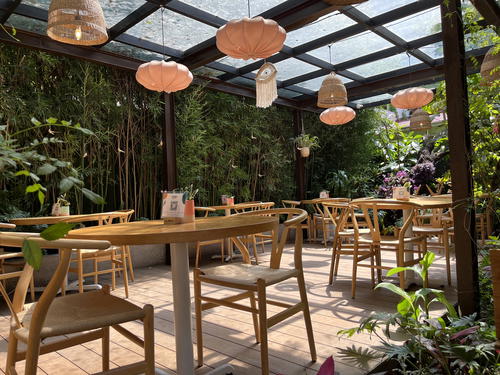 Check out the cafe's Instagram and their website, especially to see their little market, where you can get almond flour tortillas, fresh jarred salsas and coconut yogurt.
Our friend Melissa took this photo of a lovely Instagrammable drink that you can find at La Otilia.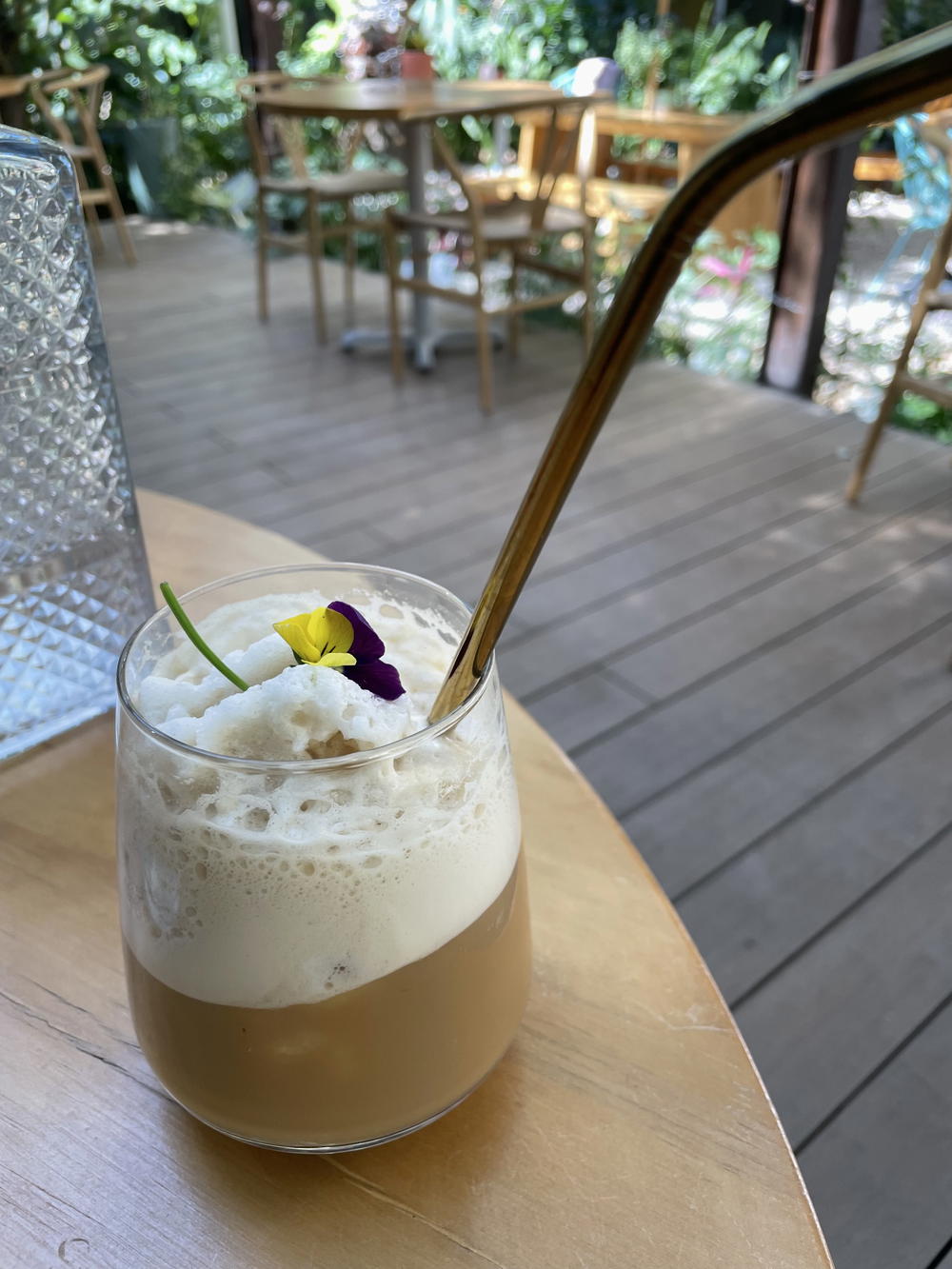 Cafe Nin
Cafe Nin is a cafe and restaurant in Juarez, and it is very much a charmer.
If you're into atmosphere, we suggest going for a coffee and brunch at Cafe Nin, because its design elements and aesthetics are worth a photo.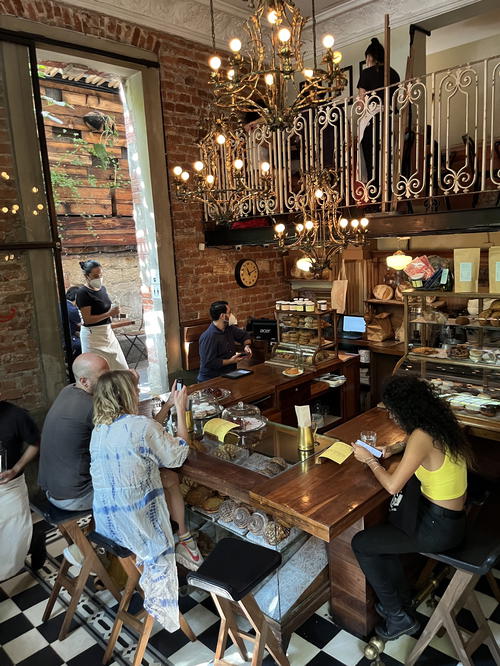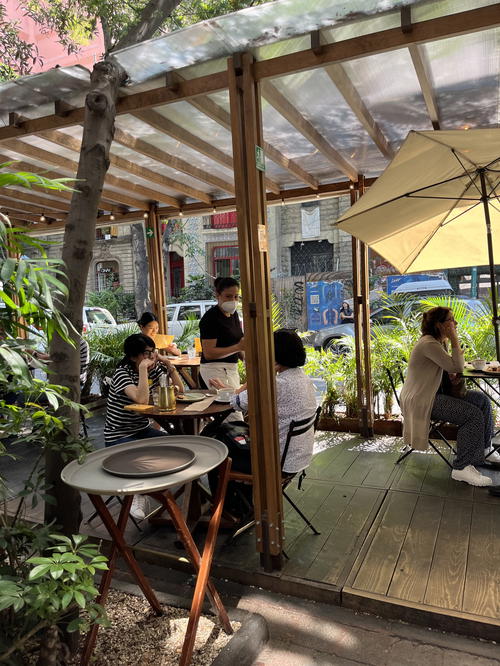 On the menu for caffeinating are your coffee classics like americano, cappuccino, "moka" (mocha) and espresso double, plus an affogato for kicks. There are also house juices like grapefruit, orange, carrot/ginger/jicama and this one I'd like to try, which is macadamia/coconut/cardamom.
For the eating though, there's lots to fill up on at Cafe Nin, and I'm only speaking to brunch and breakfast. From 'pan dulces' (a long menu of this) to Berlinesas, there's also eggs and lunch plates, and sandwiches.
Check out our photos of the interior and outdoor dining at Cafe Nin. The address is Havre 73 in Colonia Juarez.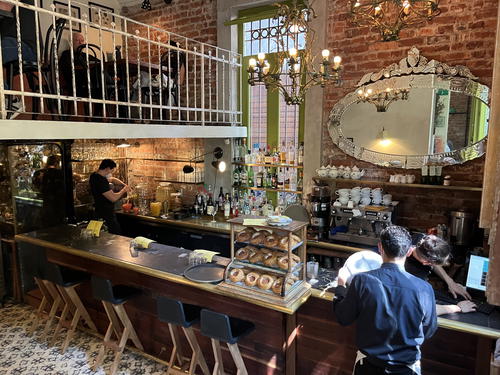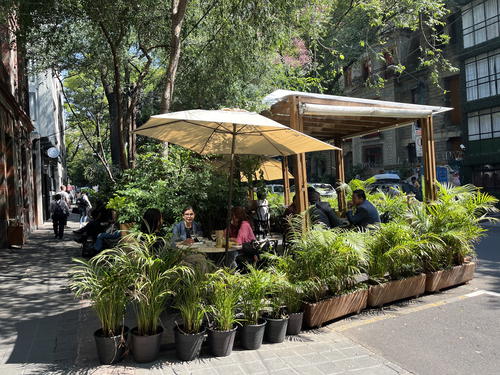 Raku Cafe
Raku Cafe is Roma's Japanese-themed coffee shop that's very serious about specialty coffee. It's new within the past few years, meaning we certainly didn't know about it when we spent more than a month on Calle Sinaloa in 2018.
Raku Cafe is located at Sinaloa 188, Roma Norte. Here, you will find a concise and to-the-point menu of classics like flat white, cortado, americano and latte, followed by specialties like a Vietnamese coffee, "cafe de metodo" (coffee of a brewing method) and cold brew.
If you're into teas, they have those, too, along with San Pellegrino seltzer water, which sounds like something I am always seeking out.
With its tiny sleek interior, Raku Cafe is meant to make you feel like you got swapped into Japan, during your trip to Mexico City. We don't have a problem with that.
After hours, it turns into a beer and wine bar; just beware that they close at 7pm, so you better act fast.
Tomás - Casa Editora de Té
No coffee here, but the staff at Tomás really know their teas. You can take a few wafts and get an idea of what you want to try. For working, there are some couches, tables and standard chairs. You can also sit outside!
This is a favorite for digital nomads, and is nearly always quoted as a favorite for places where you can sit down with steady internet. The location is ideal, on a beautiful leafy street.
Helpful Tip
Their opening hours are 8 am on weekdays and 9 am on Saturdays, but they usually don't open right on time.
Madre Cafe
Madre Cafe recently came recommended to us via a friend, and we are looking forward to trying it the next time we are in CDMX.
Located at Orizaba 131, Colonia Roma, it's housed in an old mansion, and its owners want you to come experience originality and creativity.
Madre Cafe takes pride in its coffee, which is sourced from Puebla (in Mexico). With a goal of creating awareness in those who consume their coffees, you can get in touch with the staff and arrange a trip to the coffee farm itself.
All we can say is that we wish we knew about this one sooner, and it's on our list for upcoming trips to CDMX, one of our favorite places to be.
Ojo de Agua
Ojo de Agua is an earthy yet trendy idea where you can have a coffee, eat brunch and then buy groceries. It's all in one, for a healthy and comfortable experience.
While their WiFi may not work at all locations and we don't suggest specifically going there to do work or do things online, you can always sit outside at Ojo de Agua and people-watch.
Then, you can peruse their crop of produce, ranging from fruit (zapotes!) to vegetables (mini eggplants!). They also have cold drinks and some less-perishable food products like granola and the like.
Café El Cordobés
Café El Cordobés was a gem that we found while walking in Mexico City's Historic Center. Café El Cordobés has all its coffee beans out for you to see, and super friendly staff that insisted on asking where we were from.
The location near Chinatown (Barrio Chino) makes it a good stop while you're doing your exploring. The place is bustling! They do take-away if you ask.
Make sure to notice the staircase that leads up to the second floor. There's a balcony terrace! We missed this, so now we have to go back.
Hule
Hule is a Mexico City cafe that serves up drinks, food and this "booze" menu. If you're looking for a spot with WiFi where you can get some work done and you want it to be open til 8pm, Hule is your spot.
Located at Michoacan 75 in the Condesa neighborhood, it's a stone's throw from the gorgeous Parque Mexico, where you can relax before or after you visit this coffeeshop (and bar). The vibe is both indoor and outdoor seating, and music coming from a record player (but it's not too distracing if you're trying to have a conversation or read a book).
What's more is that their food menu is everything from breakfast (baked goods), including avocado toast and a bagel with smoked salmon, to lunch items like grilled cheese and lastly, a "p.m." food selection of bar snacks to go with your beer or mezcal from the Hule bar.
Did you find our best cafes in Mexico City guide helpful? Looking for more? Ready for more places to go in Mexico City? Check out our recommendation of for the best Mexico City bars.
Enjoyed our article?
Consider supporting us! We're a 2-person team (learn more about us here) and your support enables us to create quality content. Thank you!
Find the Best Things to Do In Mexico City