Mexico City Food Tour with Eat Like A Local
Updated on September 6th, 2023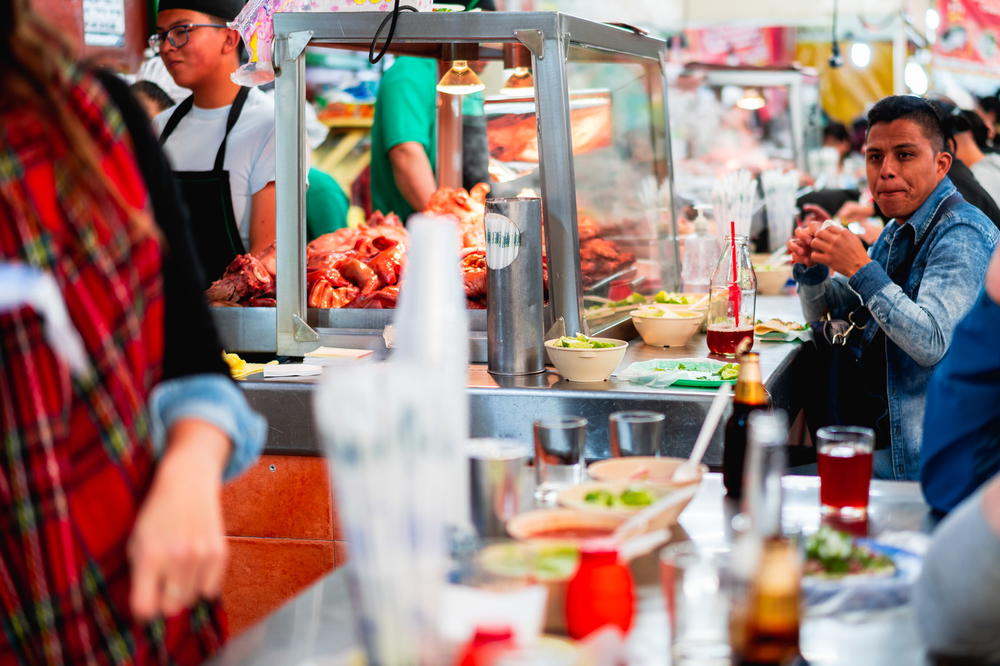 It was exciting to take one of Mexico City's best food tours with Eat Like a Local MX around the city's food markets. This is a great tour for foodie travelers and adventurous eaters.
This article may contain affiliate links. We earn a small commissions when you purchase via those links — and it's free for you. It's only us (Becca & Dan) working on this website, so we value your support! Read our privacy policy and learn more about us.
Table of contents
Close table of contents
Here's a little bit of a backstory before we review Eat Like a Local Mexico City Food Tours: we had been in Mexico City nearly six weeks before we joined Eat Like a Local's Mexico City market and food immersion tour.
By this point, we had defaulted to eating tacos de canasta, tacos al pastor, tortas from 'our guy' and trying things like quesadillas or chilaquiles here and there. Even in six weeks, we hadn't visited any of Mexico City's super-famous markets outside of Condesa or Centro, we had minimal relationships with vendors in markets for the most part and we hadn't tried anything new off the street lately.
This is where we got lucky, when a friend recommended we get in touch with Eat Like a Local MX.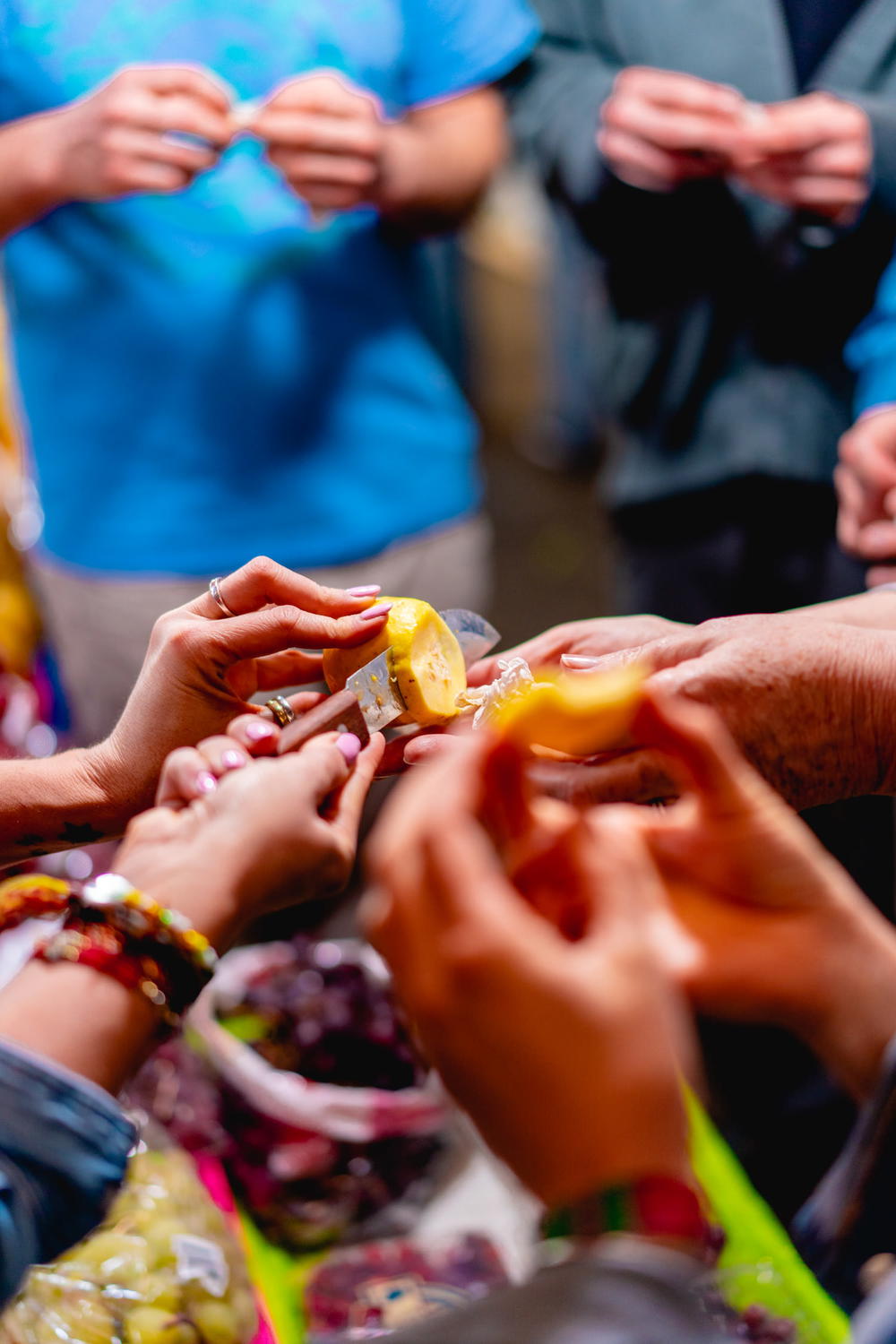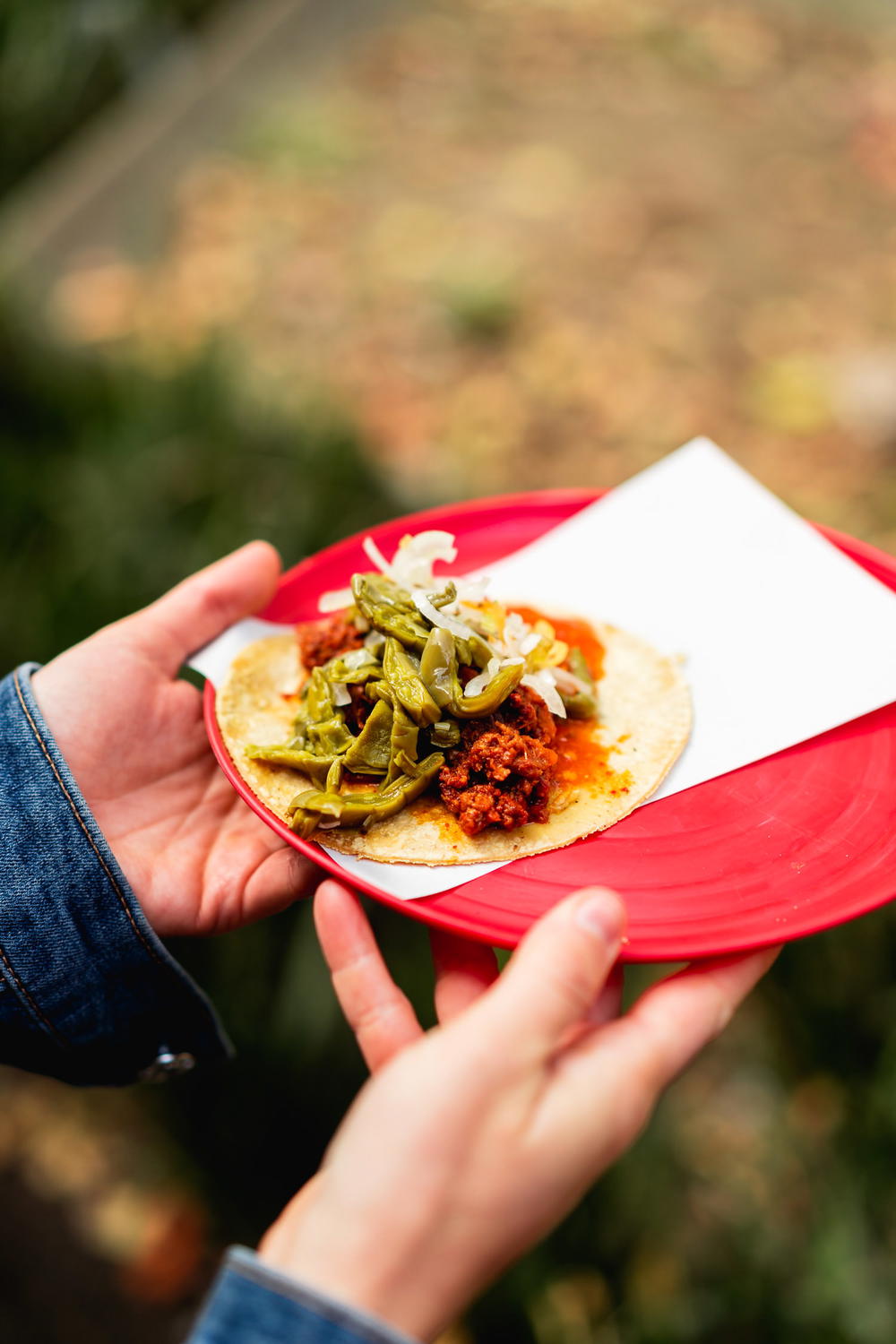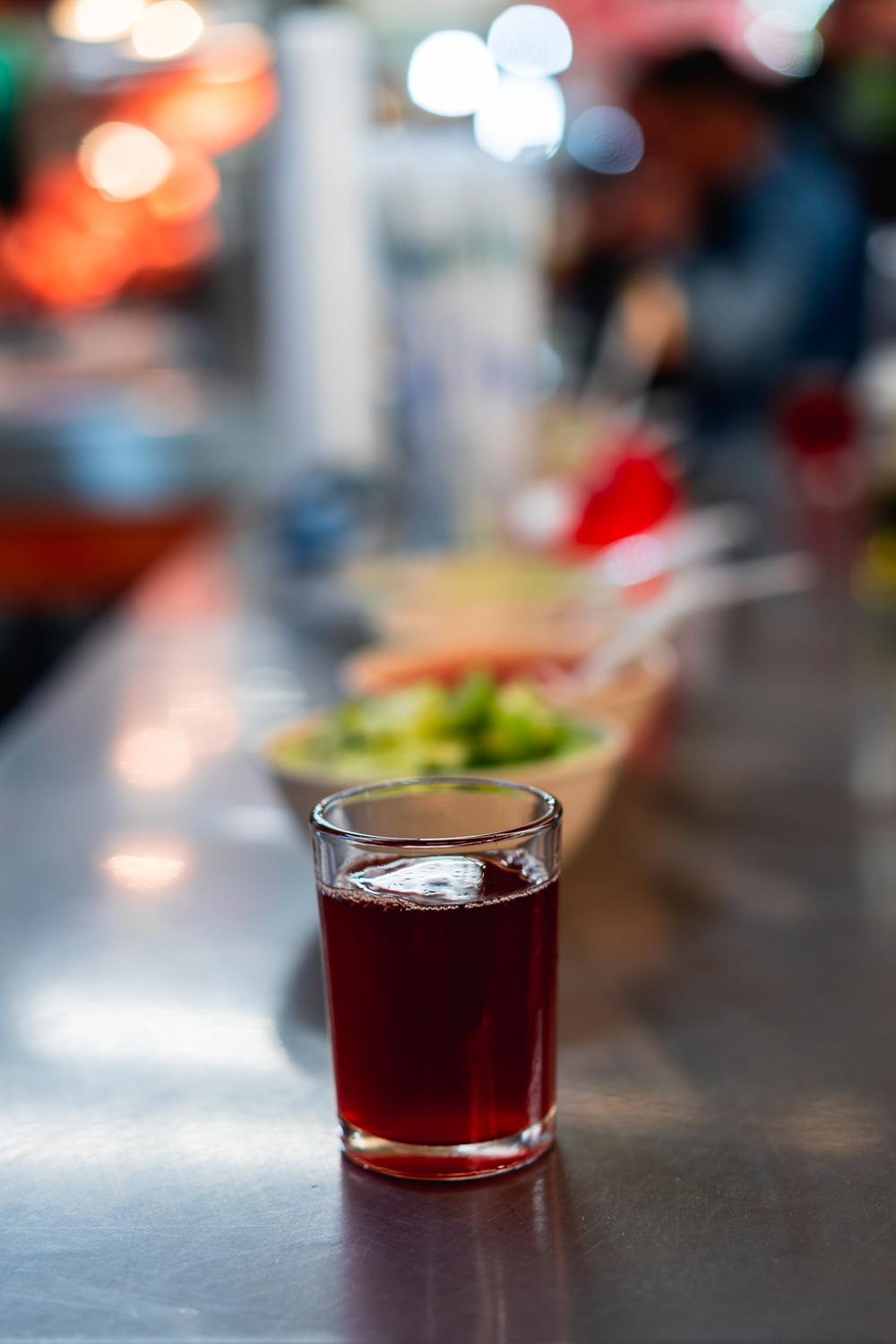 What are Eat Like a Local Food Tours?
Eat Like a Local Mexico City Food Tours are self-branded as 'food tours for haters.' Travelers in general are seeking tours less and less as the Internet becomes a place where you can do your own research. In bringing back the food tour, Rocio of Eat Like a Local promises an experience where the guide becomes your cool local Mexican friend who brings you around Mexico City's markets to try foodie secrets and treats.
After we got off the Mexico City metro in Juarez, Rocio noted to me, "No one tried to sell you anything, right? No one bothered you?" She was right, and we hadn't even noticed it - as foodie travelers on her Mexico City market food tour, no vendors had bothered us, tried to up-sell us on anything or attempt ripping us off. We were in good hands.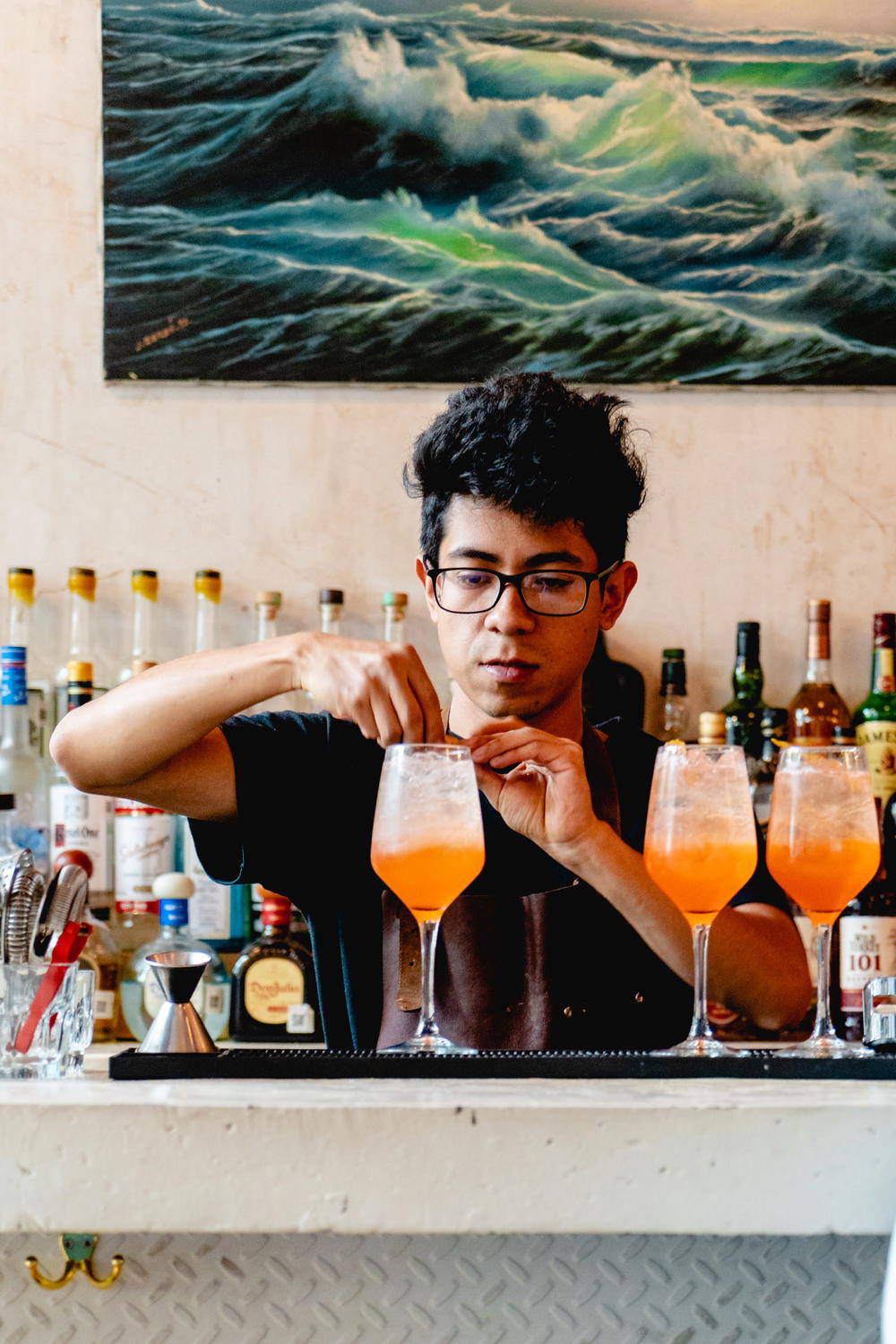 Why Eat Like a Local is for Independent Foodie Travelers
Eat Like a Local Food Tours are some of Mexico City's best, and you'll see why, after joining one of the groups. All tour groups are intimate, around six people (ours was six) and we felt like we could ask our guide Rocio essentially anything, especially when it came to food allergies.
With Becca's allergies to beans, soy, gluten and dairy, eating can sometimes be a challenge, but Rocio made it look easy, asking vendors in Spanish as we arrived about the ingredients in lots of dishes. Becca had a happy tummy all day!
All Eat Like a Local food tour guides are cool Mexican women from a variety of backgrounds. All are food fanatics, and are fluent in English! Rocio, the company's founder, only hires women who she feels will make exceptional guides. Being "in love with food" is a requirement!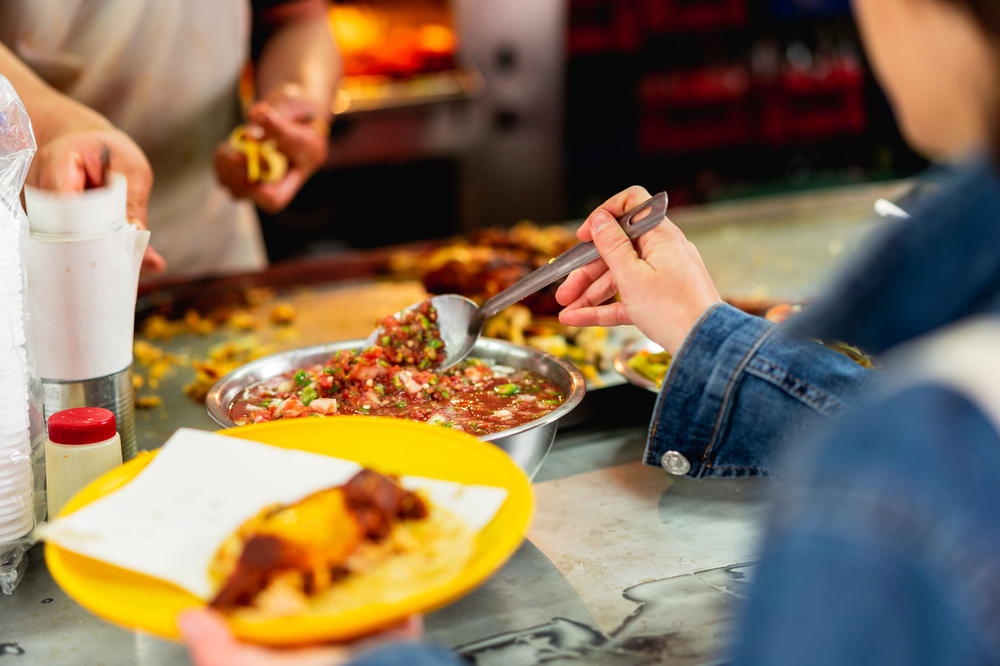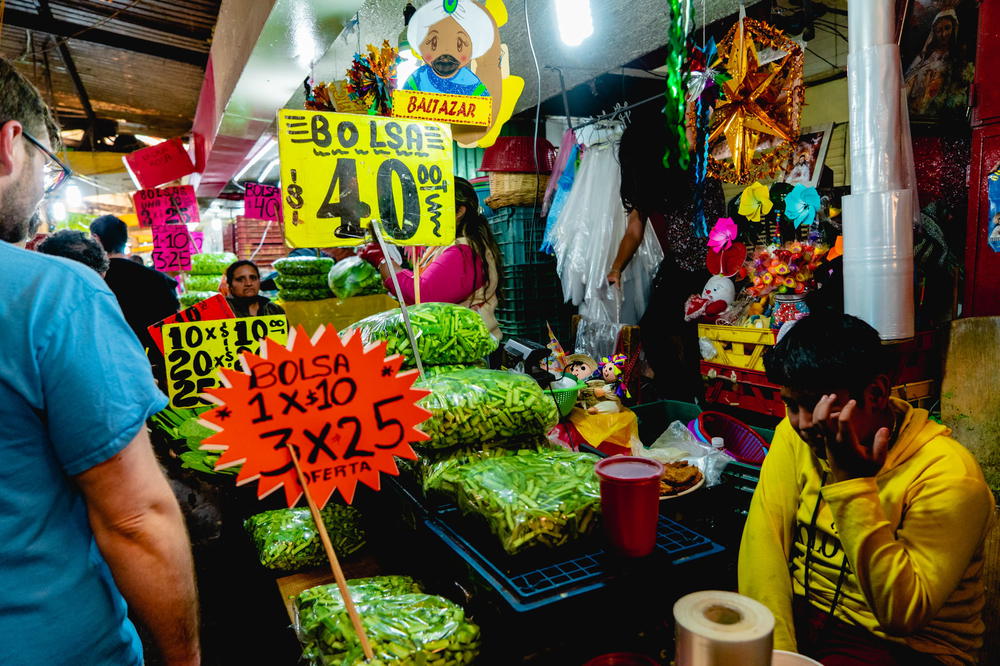 What also stands out about Eat Like a Local is that the company is part of sustainable tourism. What they company does not do is take crowds of tourists into markets and usher them out when finished. Instead, Eat Like a Local emphasizes its relationships with vendors in the markets, paying them fairly, making lasting relationships such as helping young Mexicans learn English and respecting their culture and their trades, helping facilitate a cultural exchange.
Among some really impressive aspects of Eat Like a Local is how a portion of funds received from tour bookings goes toward programs that provide English lessons to the kids at the markets (mentioned above) and business advisory skills to single mothers and women in the Mexican markets.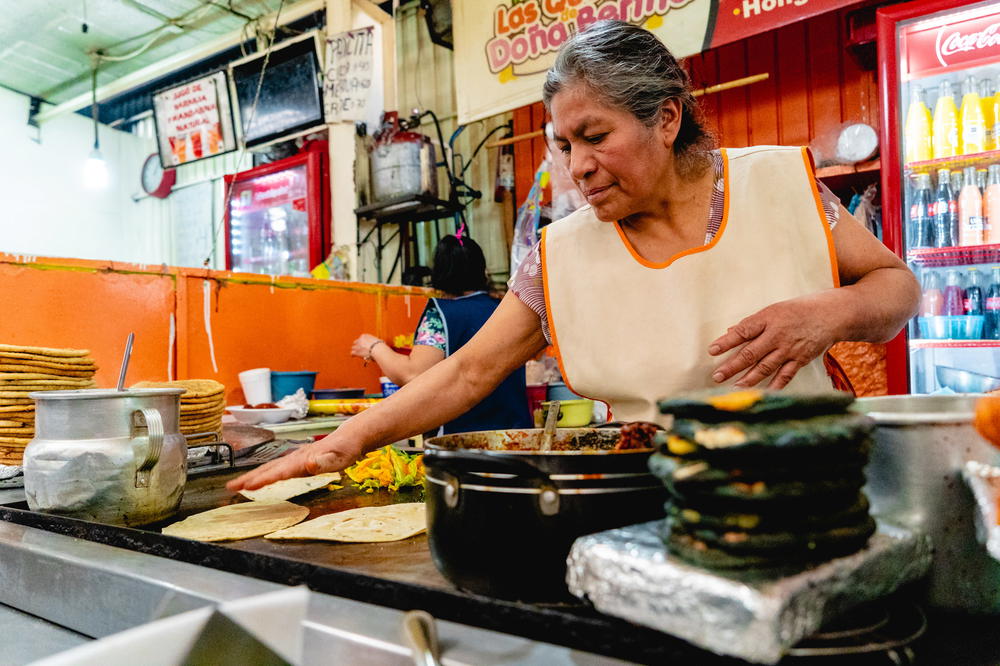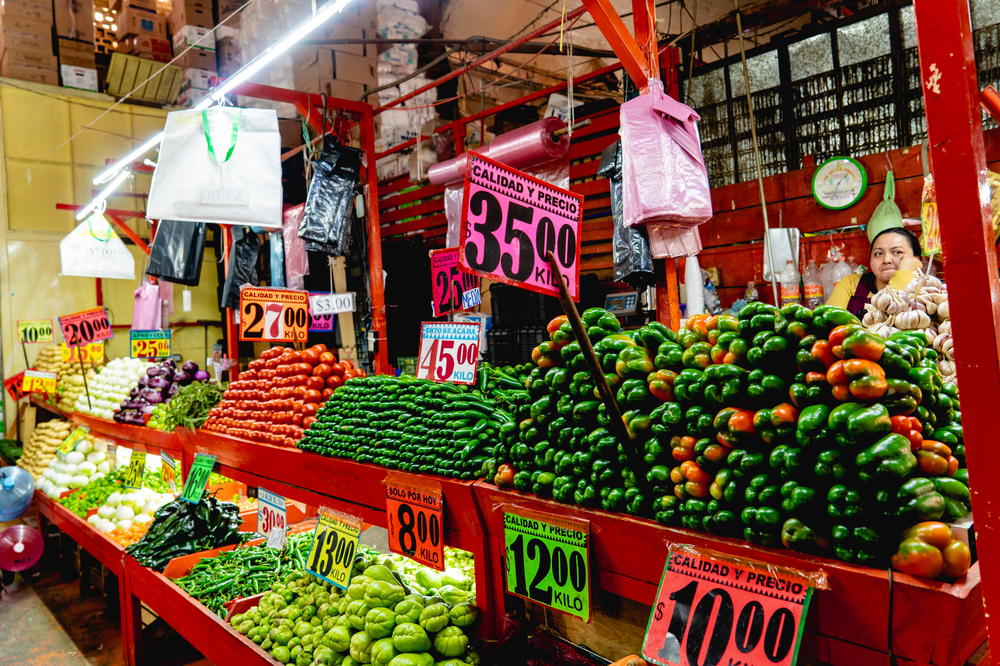 Review of Foodie Immersion Mexican Markets Tour
As mentioned, we were pretty excited to jump out of our daily routine (which, by this point, was shopping at our Mercado San Juan in Centro, or searching for the nearest tacos de canasta) and learn about food in Mexico City from a professional guide.
We met Rocio at one of her favorite coffee shops in Condesa, one of the most beautiful neighborhoods in Mexico City and known for its leafy avenues, cute shops and wonderful sidewalk cafes and restaurants.
Included in the tour (everything starting when you meet your guide is included!) was your choice of anything off the menu at the cafe, and we started our day with a cold brew coffee (Dan) and almond milk latte (Becca), respectively.
After meeting our fellow group-mates, a family from Boston, we started the walking tour portion of the tour! Rocio took us down some streets we already knew, but provided us with crucial historical information about the neighborhood that we had not heard before. For example, that Amsterdam Avenue was named by the Jewish immigrants who came to Mexico City during the settlement of the neighborhood, and — well, we can't give away too many other secrets.
Before starting with Mexican street food, we went to another one of Rocio's favorite bakeries, where we got to try fresh cookies, and ate them on a street corner while people-watching on a cool Saturday morning. We started with small cookies so that we had room for what was to come. The itinerary for the next four and a half hours was nearly overwhelming!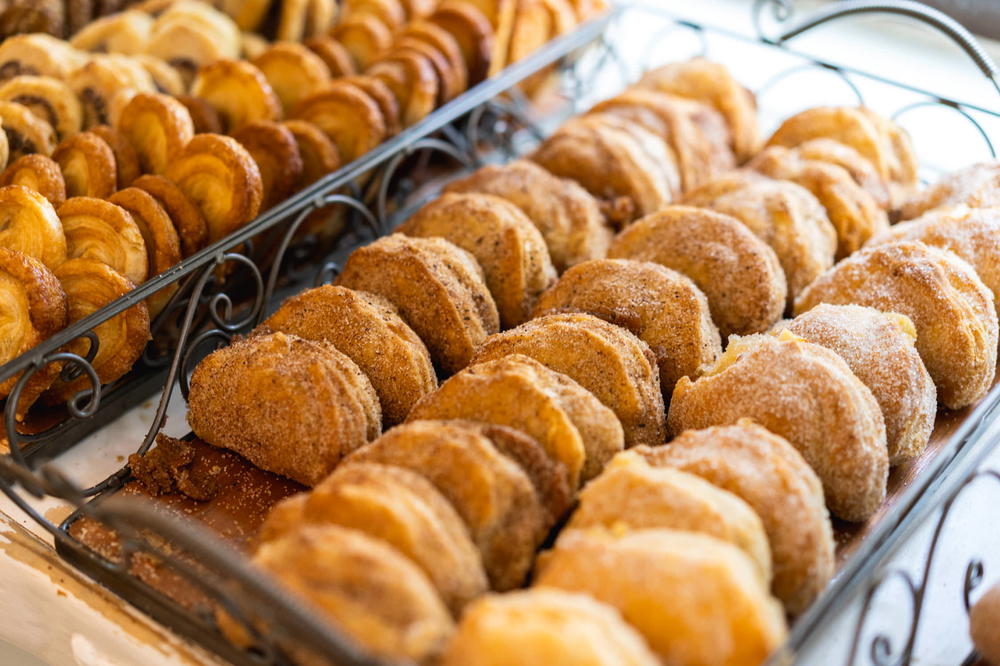 First stop: tacos de canasta
We love canasta tacos, but we had not ever seen the vendor on the corner several blocks away from the Chilpancingo metro station before! Here, we each got to try a canasta taco of our choice, and we learned that adobo tacos contain meat and potato together. We had had no idea!
Second stop: more tacos
We tried tacos from the Hidalgo region, and the result was a, "Mmmmm," from everyone, as we dressed our meat tacos with salsa, onions and nopal, Mexico City's default cactus, which comes pickled as a taco topping.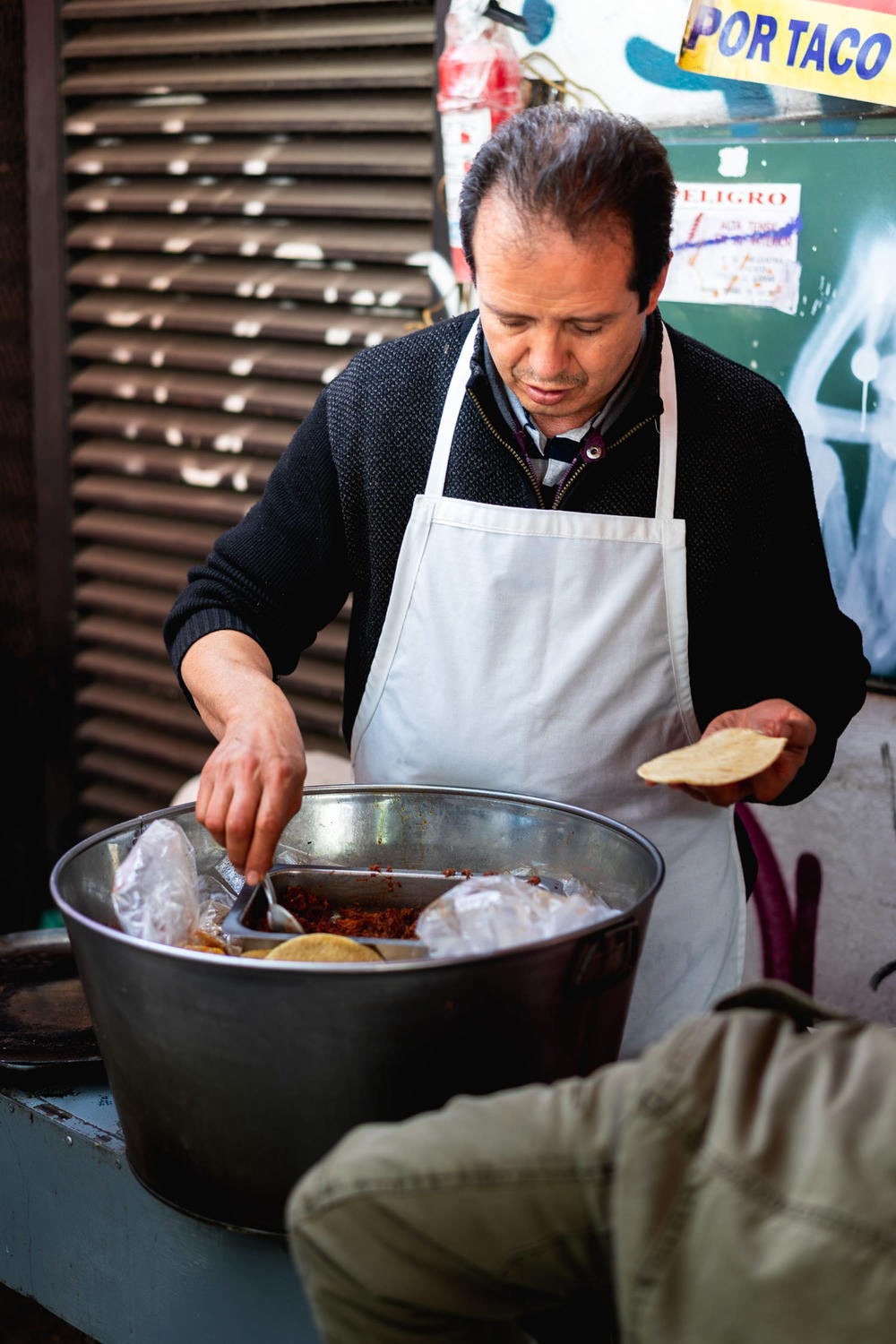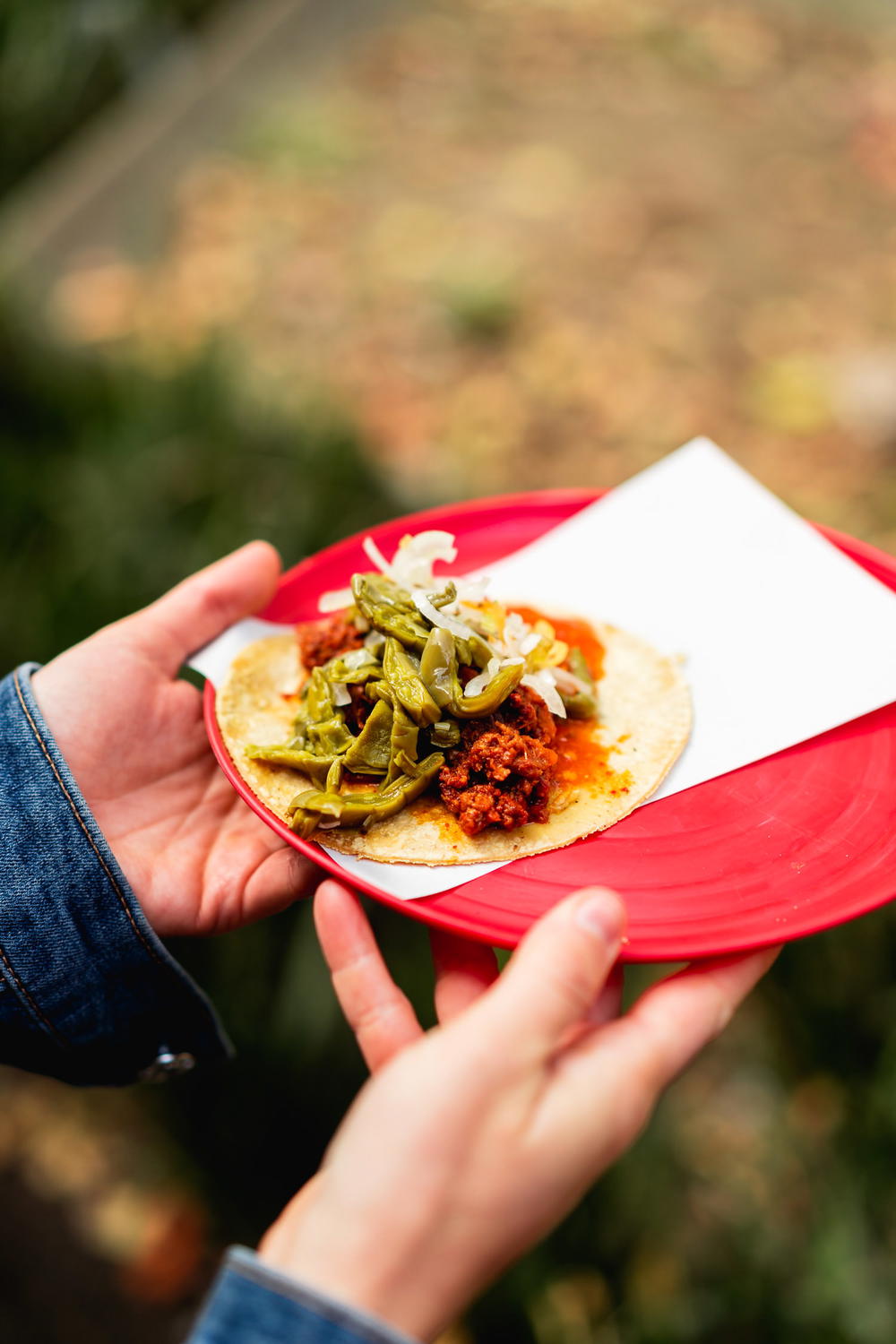 Third stop: rotisserie chicken tacos
In being completely honest, we had passed Mexico City's rotisserie chicken shops and kiosks before, but had never had a chance to try this delicious treat. Rotisserie chicken from the roasters goes into tacos, and Rocio's favorite vendor prepared ours with a balance of meat and chicken skin on top.
From there, we got to dress them with salsa of our choice, lime and pickled carrots or jalapenos, and the result was to die for! This stuff melts in your mouth.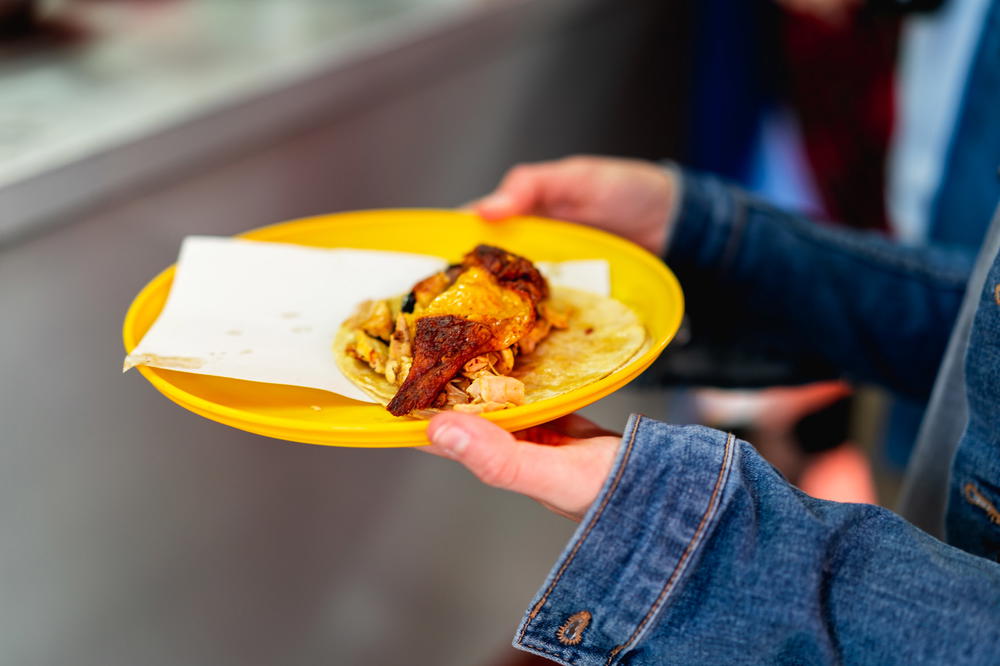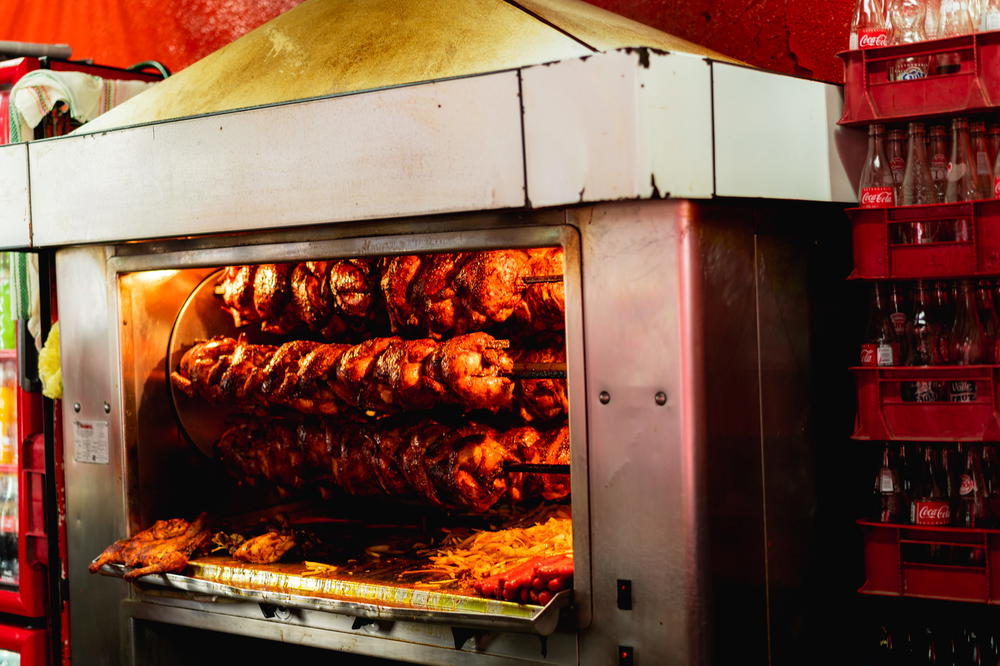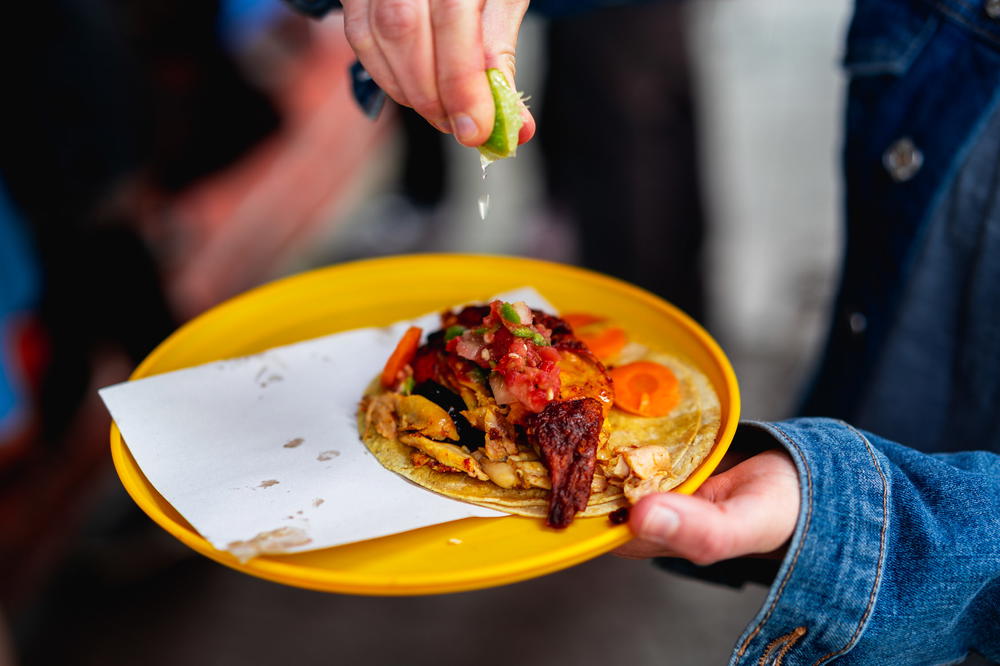 Taking the metro to Mercado de Jamaica
Taking the metro with a local requires so much less energy than taking it by ourselves. Rocio bought metro tickets for our group, and we took the metro trains to Mercado de Jamaica.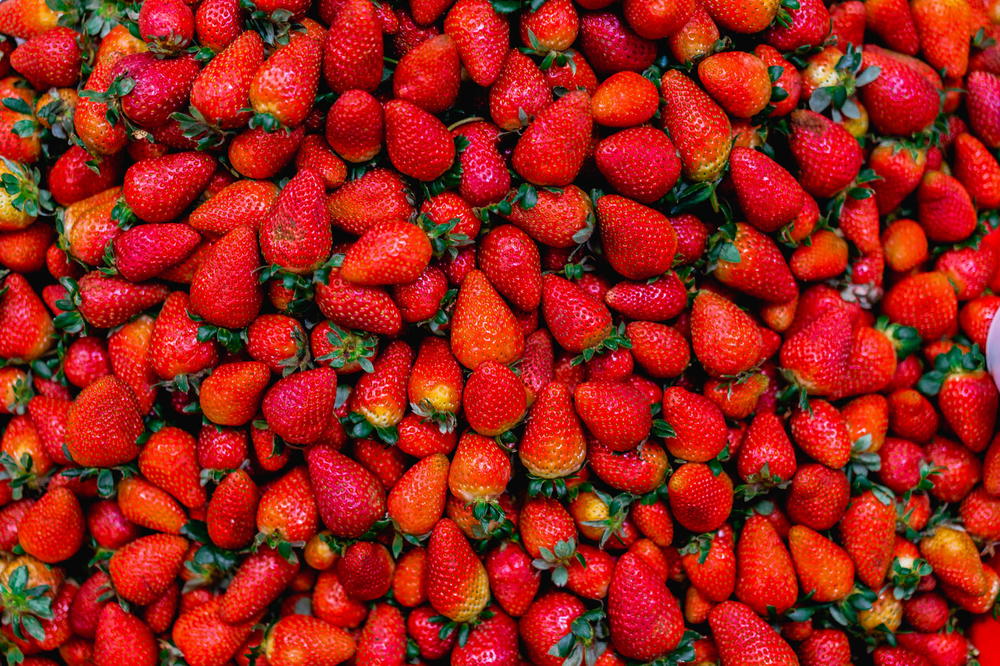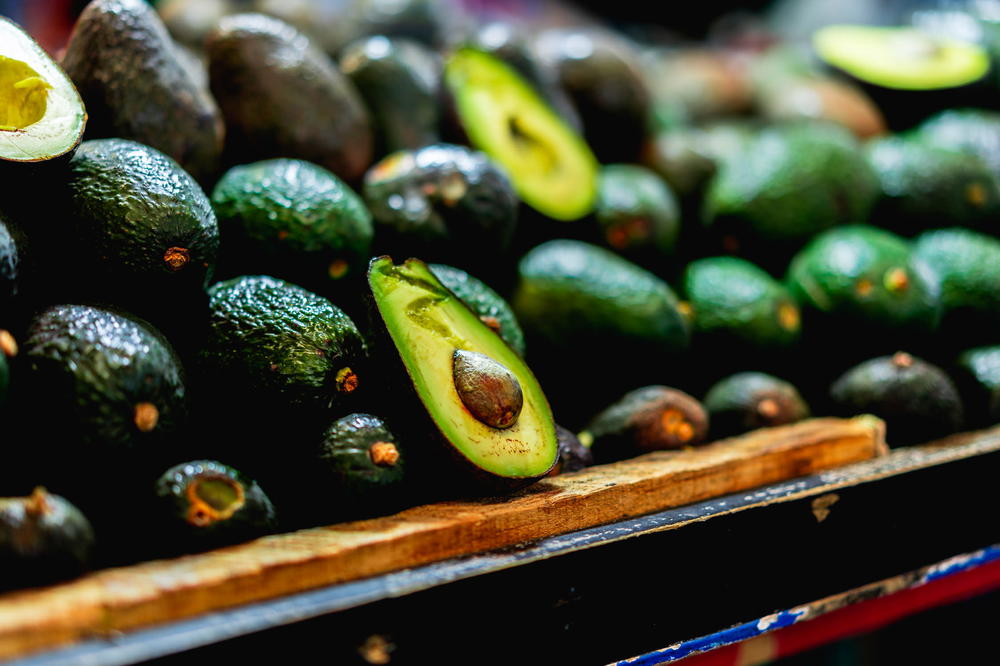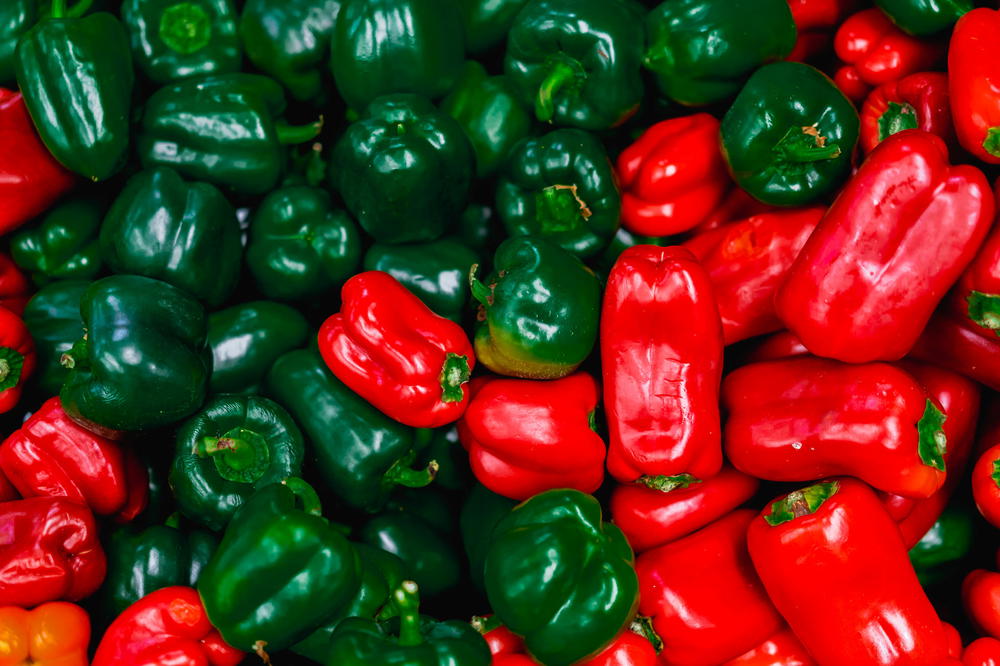 It was here where we sat down among locals to try another type of meat taco, and Rocio showed us how she is friends with all the vendors there from having been coming for years now. Having relationships with the people selling the food can make the experience that much more fun!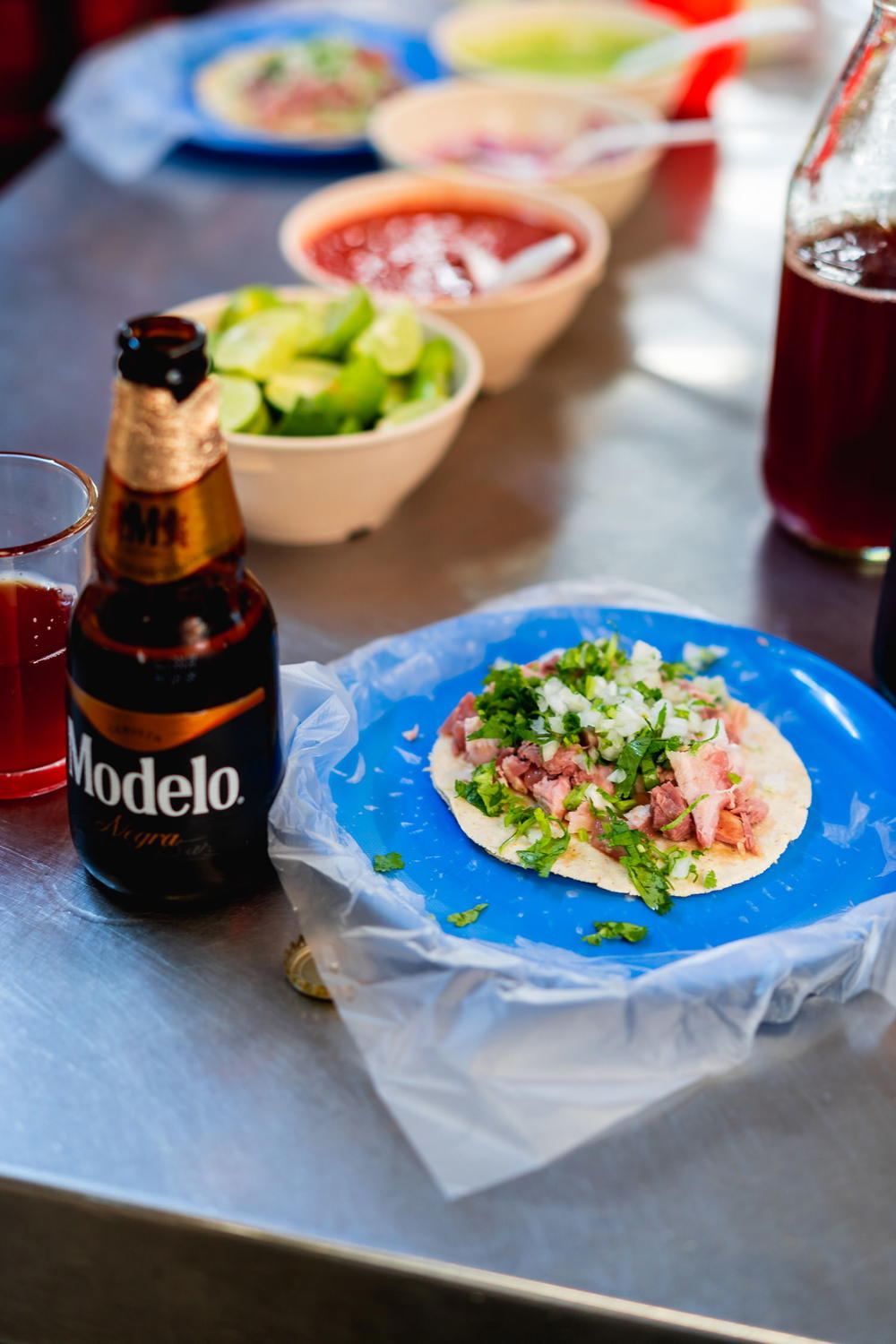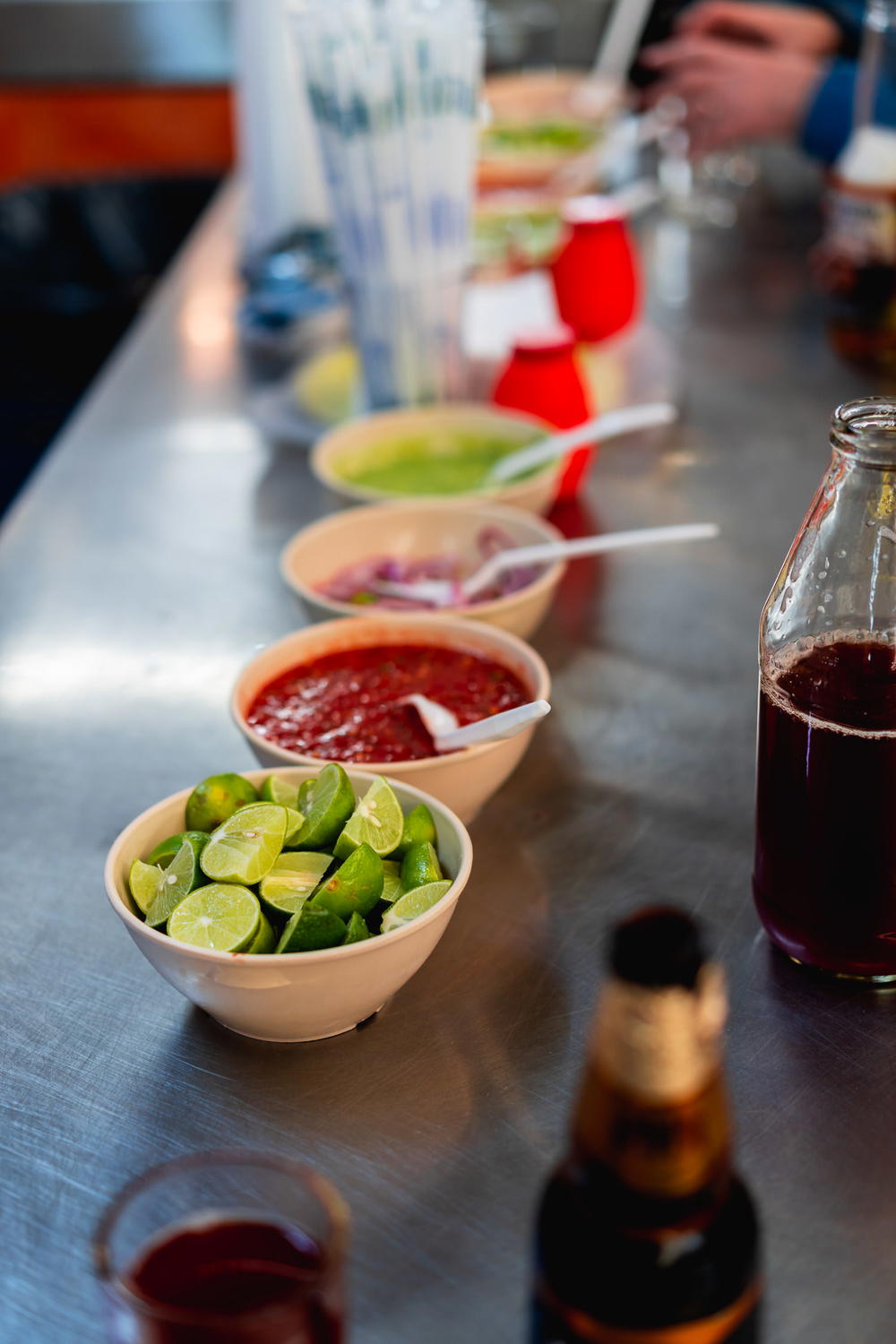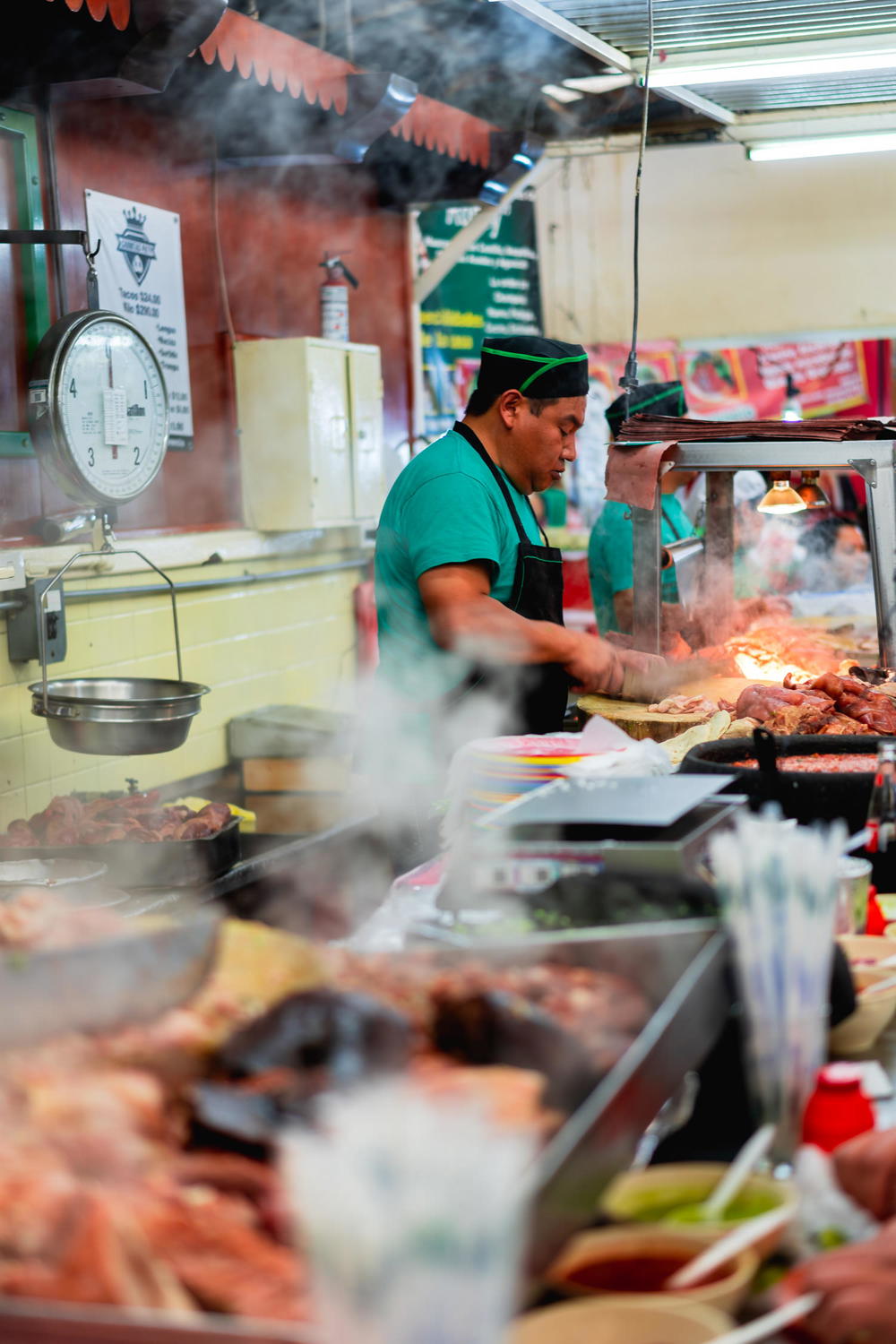 In this market, we also tried some sweet treats of many colors and another type of taco. We also learned that the original piñatas had seven points to represent the seven sins: fact of the day!
Last in this market was Mexican fruit tasting with a fruit seller. Rocio and the fruit shop owner cut us slices of fruits so that we could try everything: kumquat, persimmon, guava, mamey, mandarin, mango and carambolo (starfruit).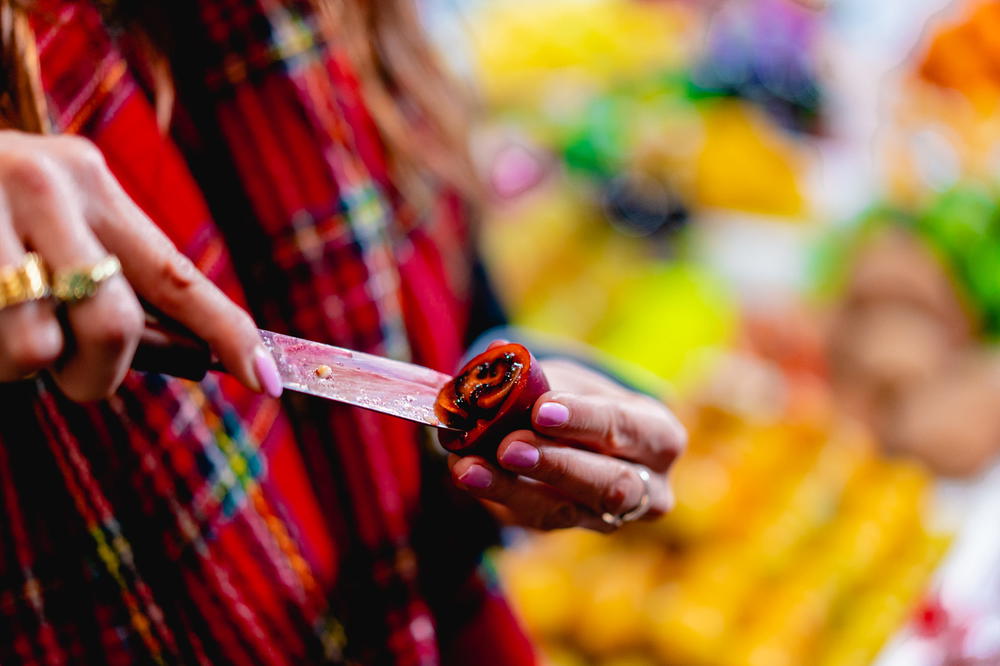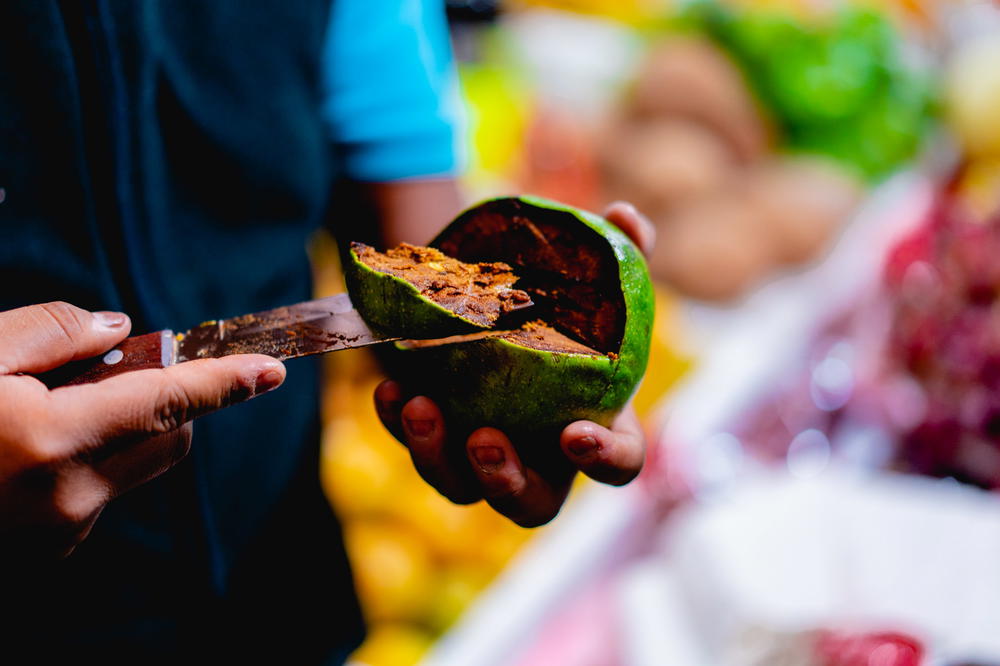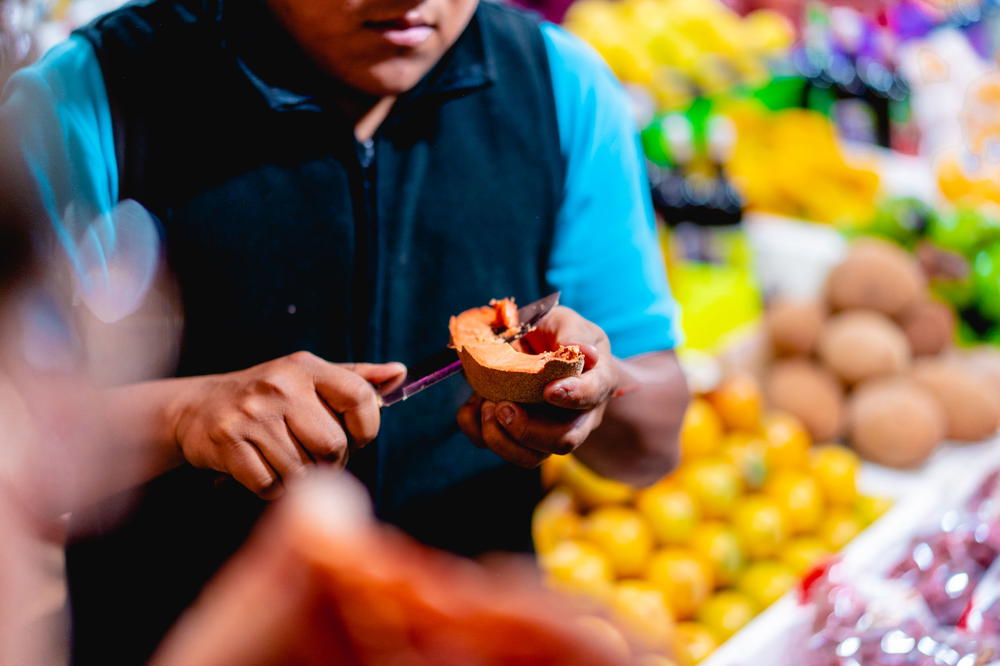 A second and bigger market: Mercado de Merced
We went back into the Mexico City metro and made our way to Mercado de Merced. Here, we were met by Wendy, one of the children from the 80iqmx program. Wendy is 11 years old and learning English, and led us to one of Rocio's favorite stands for quesadillas. Specifically, we tried quesadillas de flor de calabaza (the flower of a zucchini or pumpkin) and they were fresh and delicious.
Then, we headed in for tasting insects (Dan tried a fried flying ant) in the nopal (cactus leaf) section and finished off with tasting Mexican candies and dried fruit.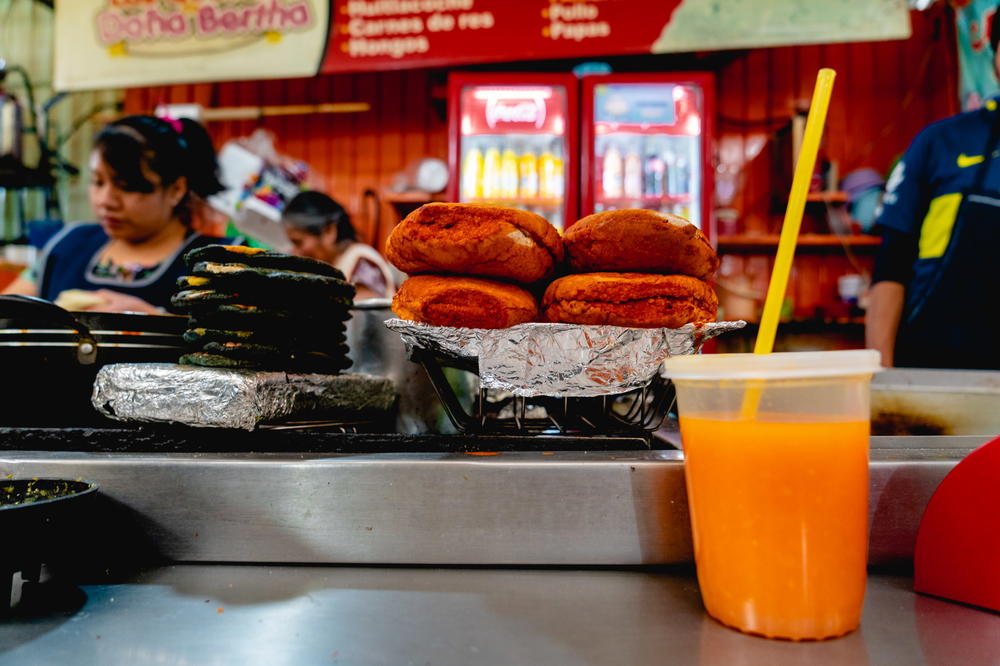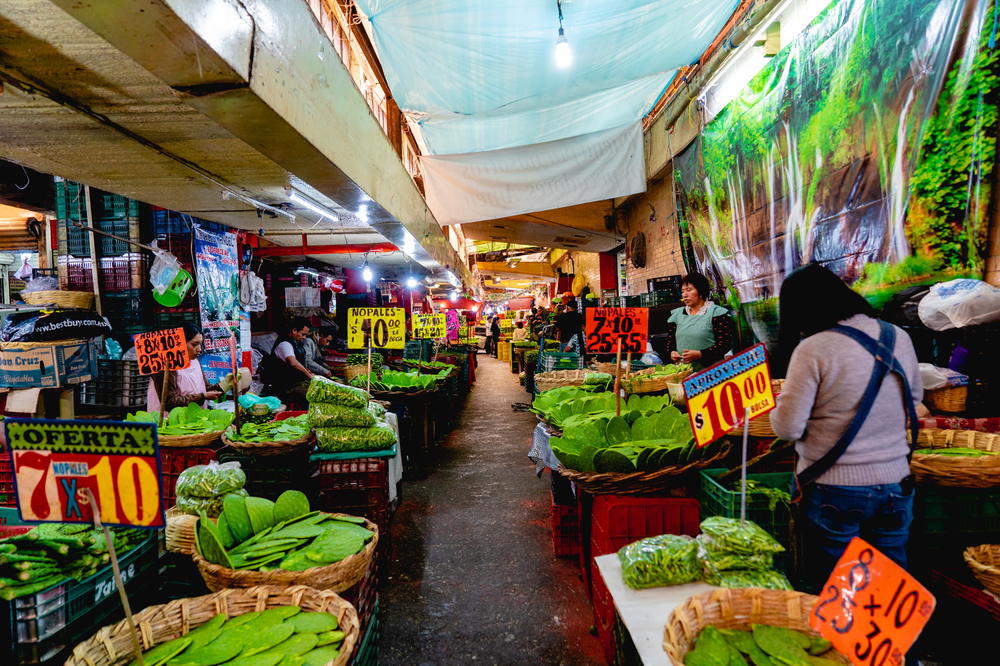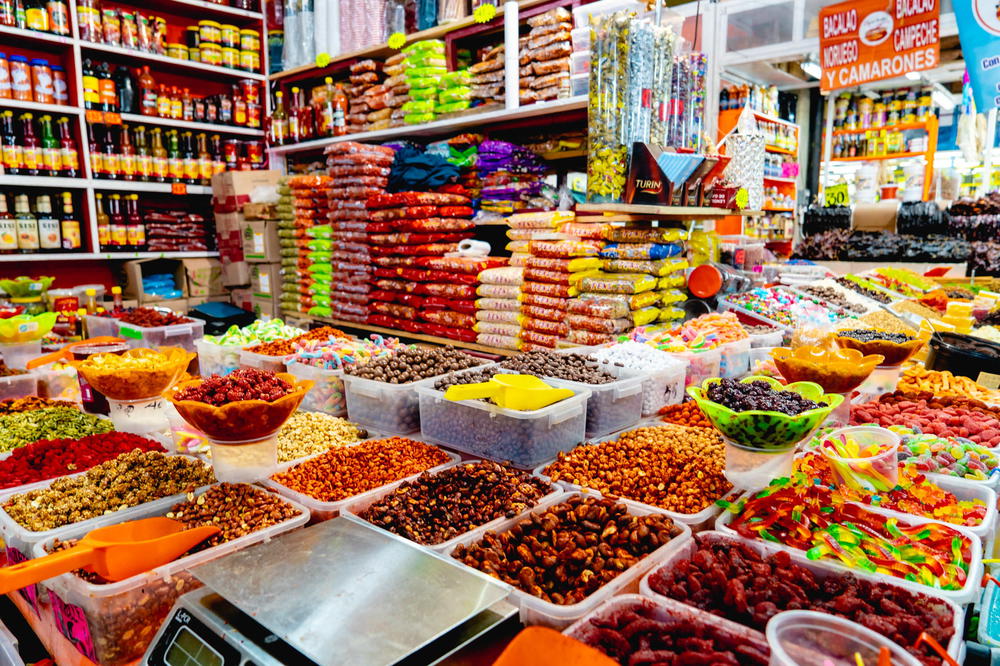 There were more tastings in between, but there are too many to name, and we don't want to spoil the secrets of the food tour!
Concluding our day with a cocktail
We went back into the metro and came out in the Juarez neighborhood, which was a breath of fresh air after the crowded and lively market. Juarez is known for its mansions, old architecture and quieter streets. It's a nice place to be!
Rocio took us to one of her favorite locations, which is a cafe and mezcal bar. I had been there before, so it was nice to be back! Our group had a choice of a refreshing mezcal or tequila cocktail, or a coffee drink for those who wanted a different type of kick.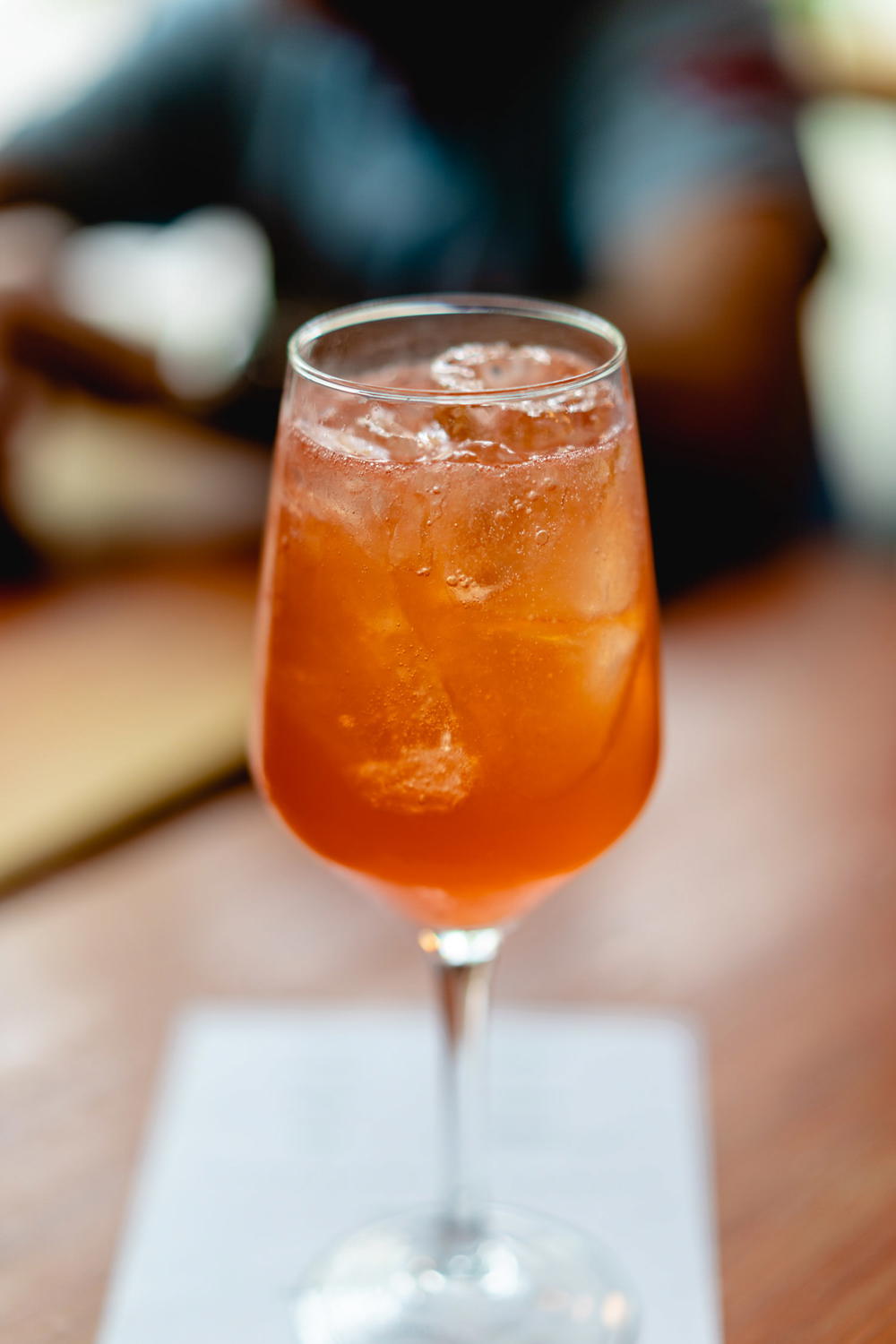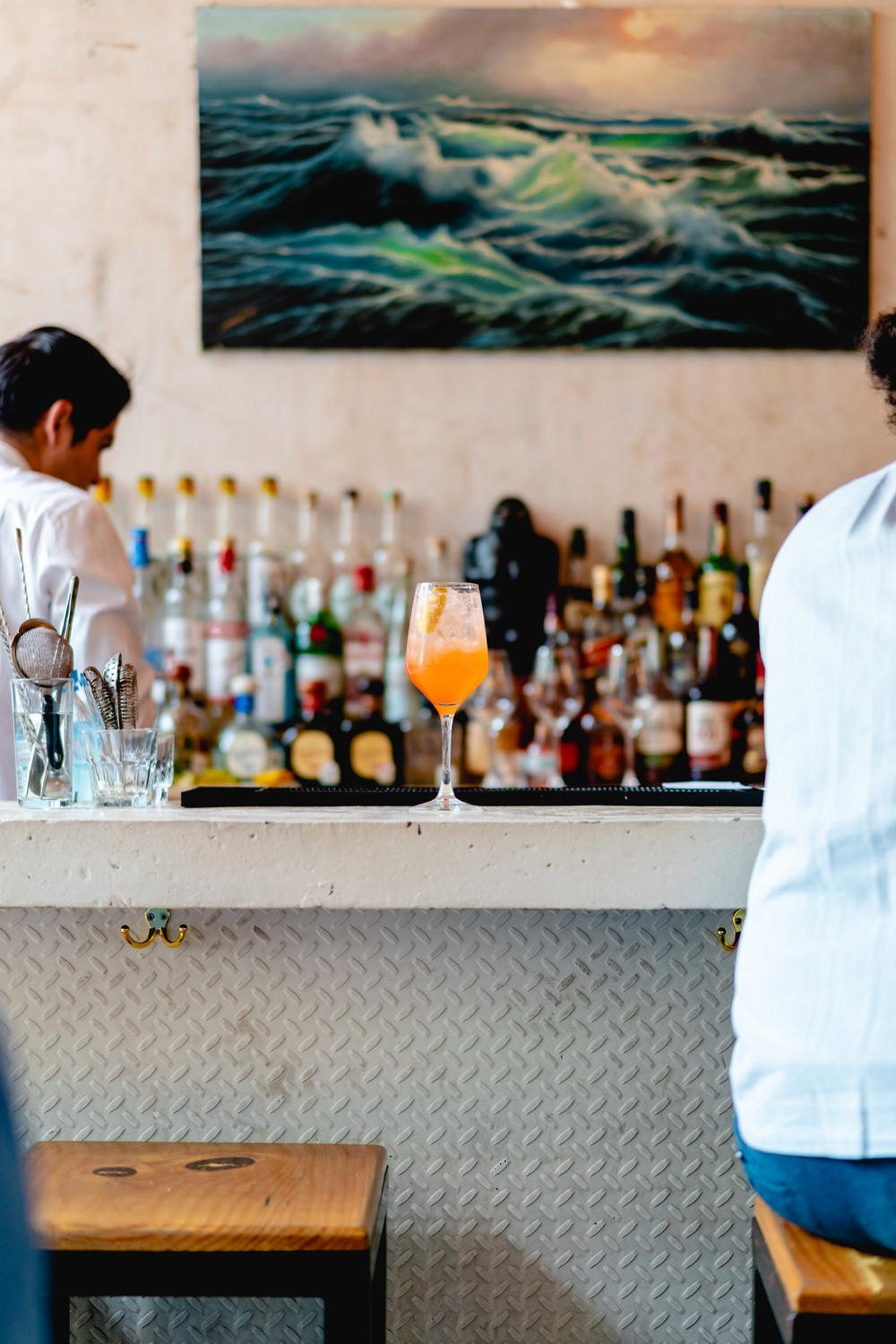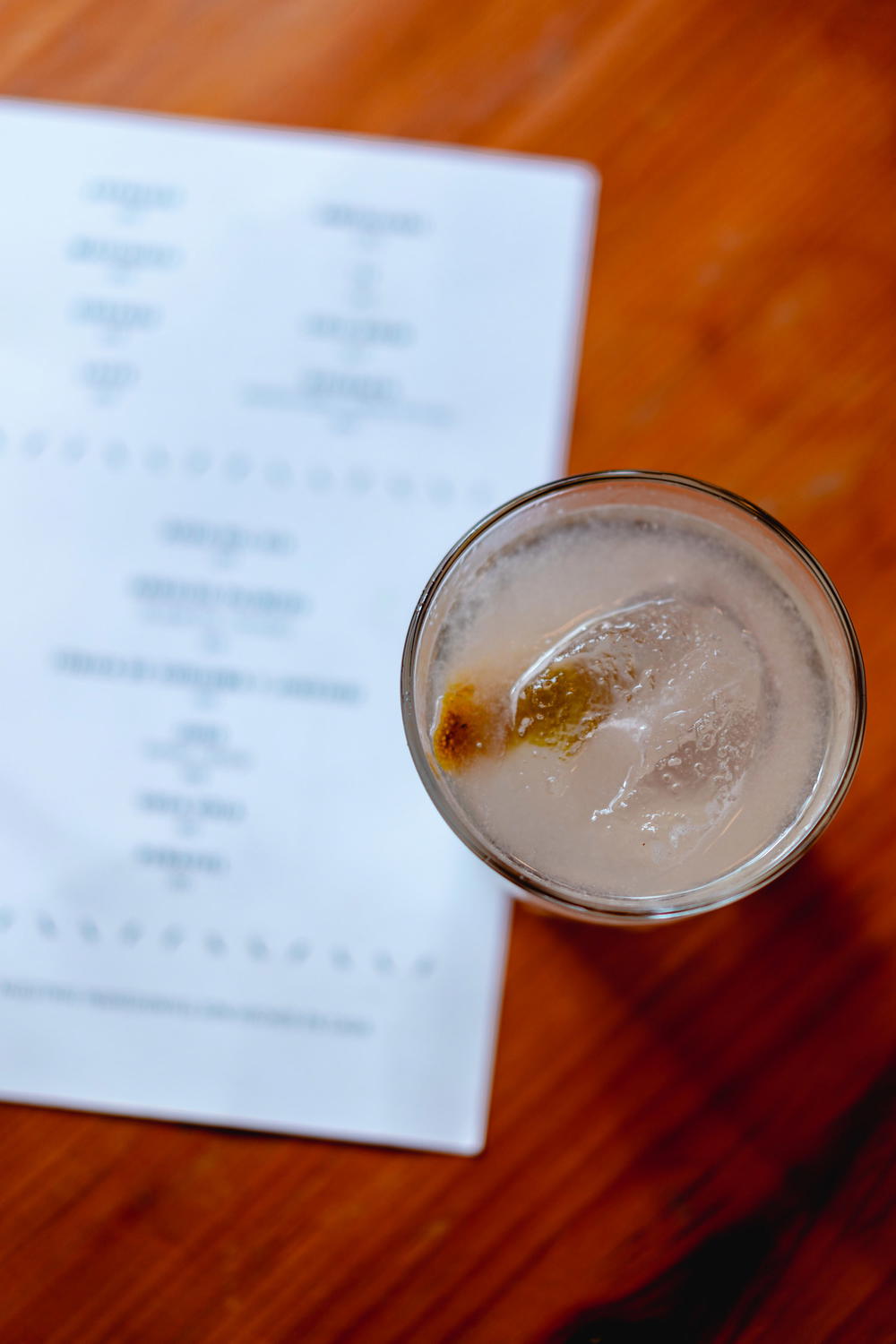 We took some group photos after exchanging travel stories and talking about some hot topics like flight deals and exploration during long layovers, and said goodbye to our new friends. What a day, and we were so full!
Explore Mexican culture with a food tour
Our tour with Eat Like a Local made time go by so quickly, and that's how you know it was a great tour to be on. This was a unique experience for street food, market stalls and other local foods and drinks. You'll quickly also see why we consider markets one of the best places to take photos in CDMX.
We loved having an expert guide for a day, and her relationship with the street and market vendors made us feel comfortable and safe, in a city where safety can be a concern for some. Thank you, Rocio - we can't wait to recommend your tours to everyone!
You can book the Eat Like a Local Food Immersion and Market Tour or any of the other food "safaris" according to your tastes and schedule when you visit Mexico City.
We'd like to thank Eat Like a Local MX for a morning of immersion, learning and amazing tastes. Gracias!
❤️ Becca & Dan
Enjoyed our article?
Consider supporting us! We're a 2-person team (learn more about us here) and your support enables us to create quality content. Thank you!