How to Work Remotely and Travel (19 Expert Tips)
Written by Becca
•
Updated on October 31st, 2023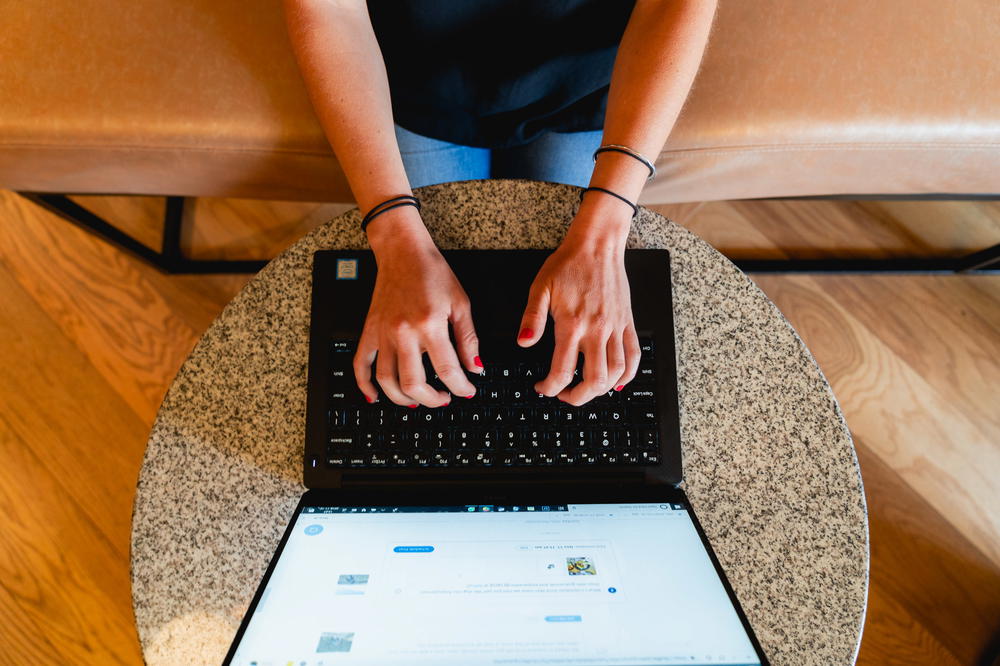 Is working remotely and traveling easy? There are several challenges that come from being away from home! Here are my tips for working remotely while traveling.
This article may contain affiliate links. We earn a small commissions when you purchase via those links — and it's free for you. It's only us (Becca & Dan) working on this website, so we value your support! Read our privacy policy and learn more about us.
Have you just had that moment when you think, "If I can work from home… Can't I work from anywhere?"
Working from home and working remotely have given people the freedom and time back into their lives where they otherwise could have spent commuting too and from work.
Working from home has allowed us all to focus on ourselves, our hobbies and our relationships. Working from home can sometimes be done equally successfully… away from home.
Have you spent a few months, or years, working remotely from home, only to wonder if you could take a week (or three!) with only sacrificing a few 'actual' vacation days to work remotely from a hotel near a national park? Or a friend's cabin in the woods? Or a family member's ski house?
In the tips that follow, we're outlining how to take your remote job 'on the road' and to work as efficiently from somewhere that will pique your interest and inspire your wanderlust.
Here are our best tips for how to work remotely and succeed at traveling, even internationally, starting with some of the best places to do it, followed by our tips from years of living this dream.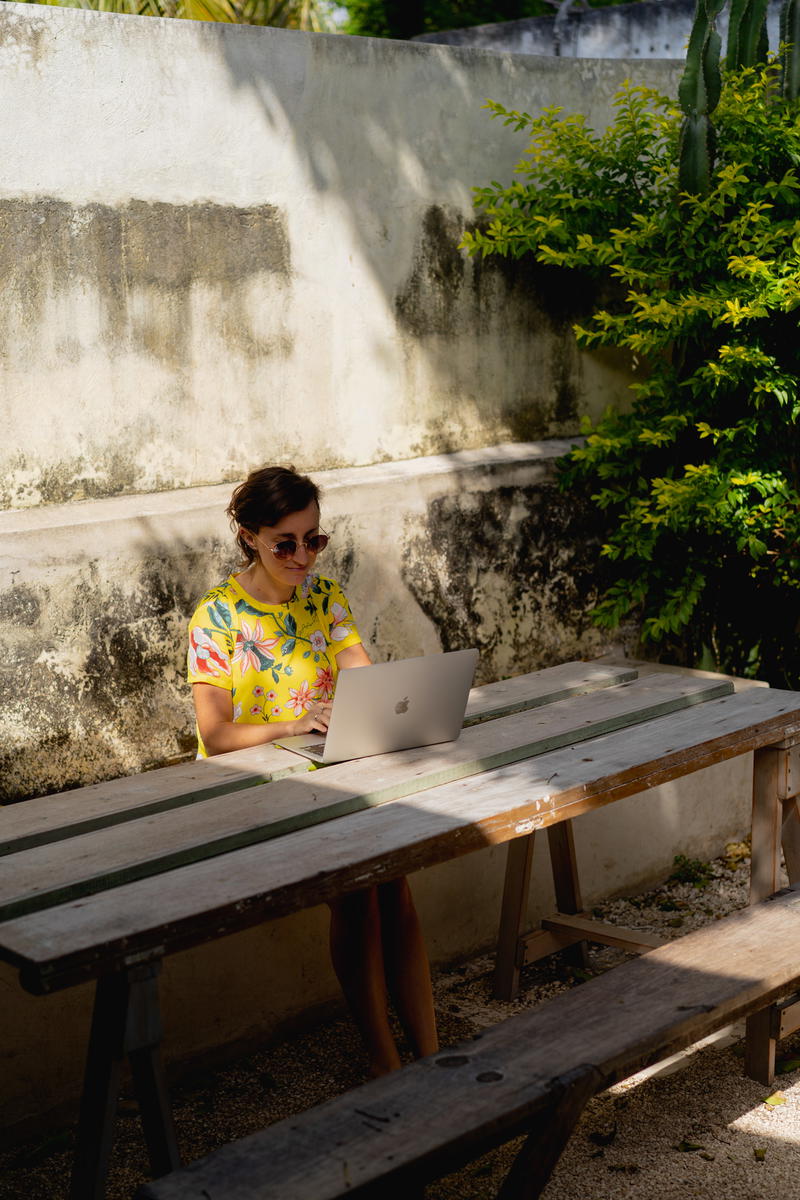 Determine the cost of living or the cost of travel where you want to work remotely
Let's talk about money.
Money is a real thing, and you might have a specific amount that you set aside for the three days or three months for when you want to take your remote work trip.
Do you have an endless budget? Do you have a set amount? Are you budgeting one month of pay? Are you budgeting the value of your rent on your apartment or house because you got a subletter?
There are many different costs of travel in the world, and if you're just starting out in traveling your own country, or across the world, there's some research to do!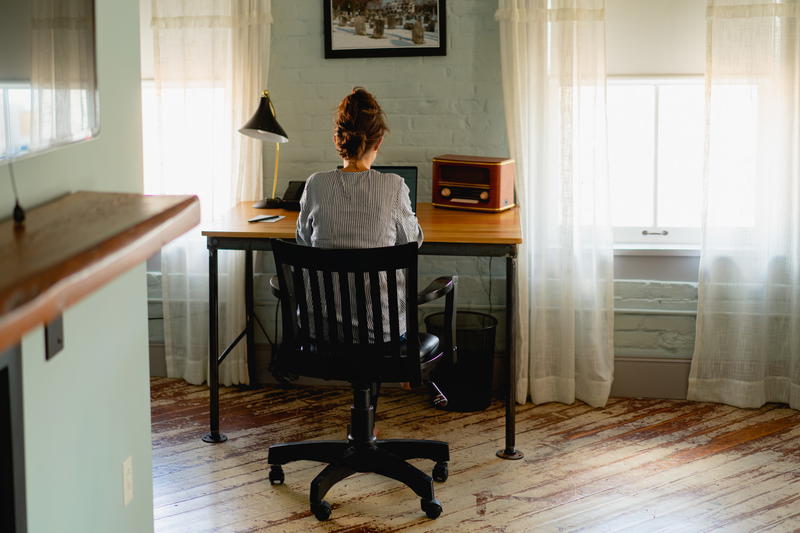 Common ways to calculate the cost of travel or cost of living in a travel destination are by:
The cost of a night in a hotel, or the cost of a week/month of rent
The cost of a mid-range meal
The cost of mass transportation or a car rental
The cost of a beer (it can vary greatly!)
The cost of a cowering space, either for a day pass, a week, a month or a year
In my experience, I like to calculate how badly I want to go to a destination, with the cost of travel once I land there.
This is why I've never chosen to spend a year in Norway (as I always say, sorry, Norway!). And it is why Dan and I chose to spend a month in Hanoi, Vietnam as well as in Merida, Mexico.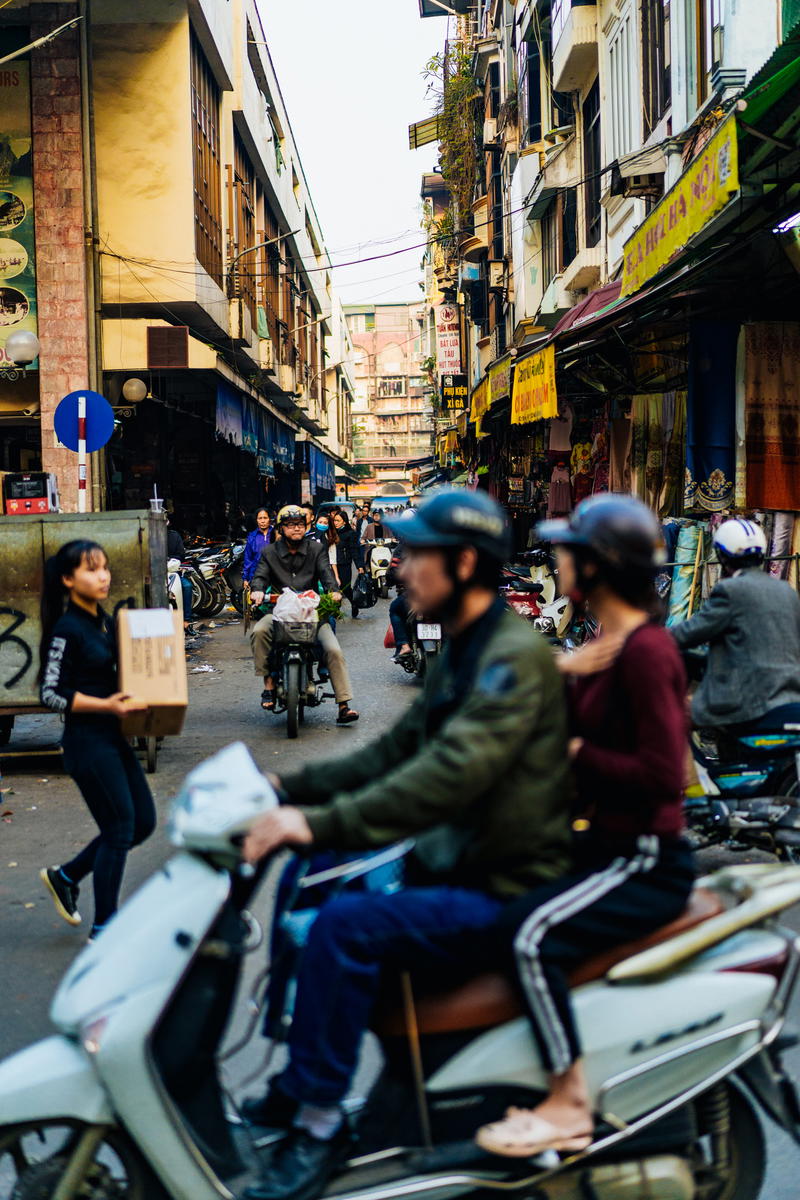 I'd love to talk about the cost of travel all day long, and it's why I wrote this guide to ways to save money while you travel, and also, budgeting tips and hacks for any trip.
With my two cents (or pesos, or rupees), I'll list the most expensive and also the cheapest places to travel and work remotely.
The most expensive places to work remotely and travel
The Netherlands
Singapore
San Francisco, California
Tokyo, Japan
Seoul, South Korea
Switzerland, Denmark, Norway and Sweden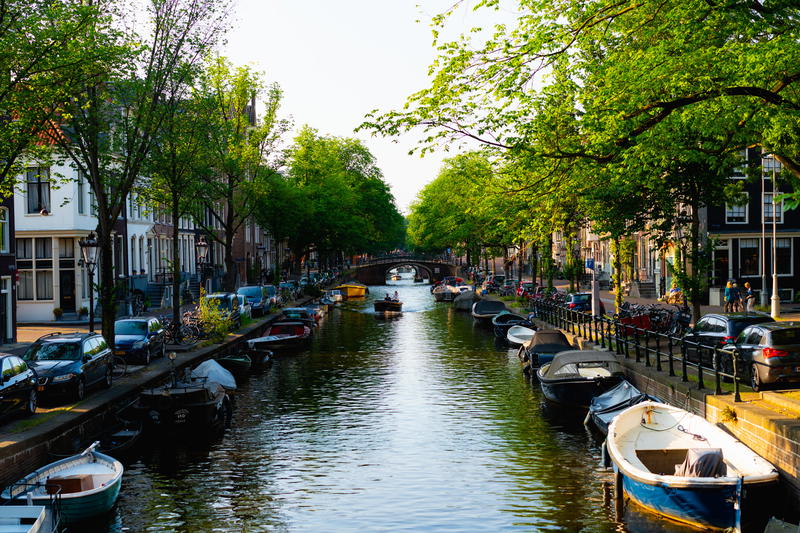 The cheapest places to work remotely and travel
Hanoi, Vietnam
Antigua, Guatemala
Colombia & Ecuador
Merida, Mexico (and other cities)
Prague, Czech Republic
India & Sri Lanka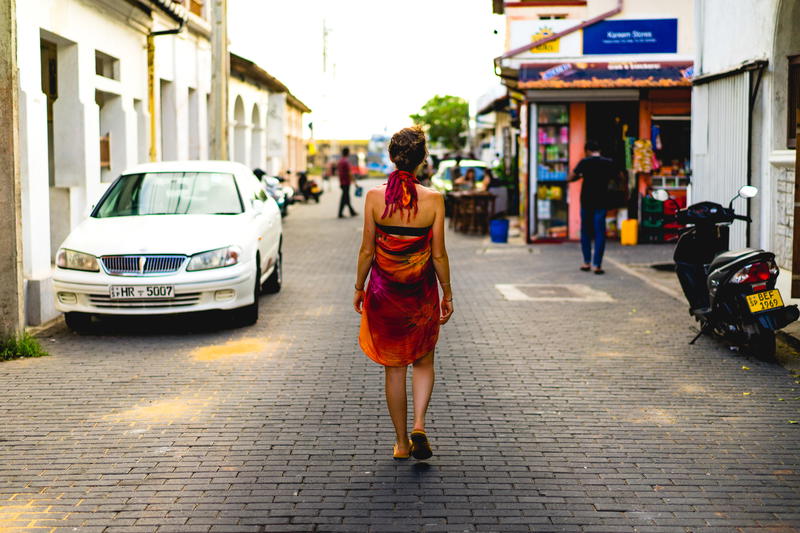 Pick a safe travel destination for working remotely
Safety is a big consideration, especially when choosing to live or try out a destination for a while. If you're taking a short trip, you should of course look into the safety level or possible concerns or risks, and choose a proven destination for travel safety.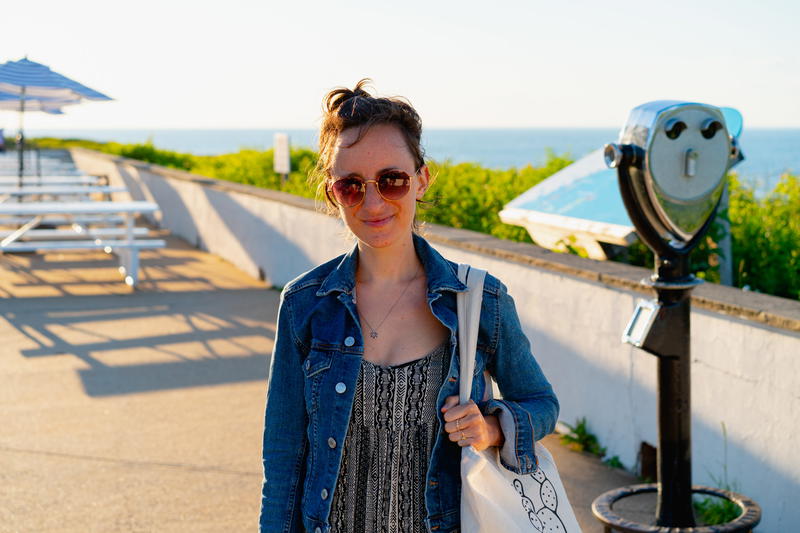 Here are two stories.
The first one is that Dan and I went to Barcelona in 2017, and it was there that we ran into some of his friends from the work-travel program Remote Year.
Having only arrived a day earlier, we soon found out that one of his friends AND his brother were both pickpocketed for their cell phones on the same day.
Is Barcelona 'dangerous?' No, I wouldn't say it's dangerous, but if you're going to be a target for looking foreign, then it's a place where you should keep your phone and valuables hidden from plain sight even during the daytime.
The second story is about how Dan and I spent 45 days in Mexico City working remotely and living there.
People tend to think Mexico City is scary, dangerous and full of gang and cartel violence. Unfortunately-but-fortunately, this isn't true, for the areas that travelers would visit. In a month and a half, we experienced ZERO crime.
For this reason, we consider Mexico City a safe place to visit and to travel, especially if you want to work remotely!
Verify the following before choosing where to go for a remote work trip:
Ask around in digital nomad groups on Facebook and network to get your questions answered. Or, look on sourced like Nomad List, which falls into our useful apps and websites for travel. Then, ask in your groups of friends if anyone has local connections to a place, whether it's Austin, TX, or Sofia, Bulgaria. Ask all your safety questions with someone who actually lives there.
Pick a remote work location with great weather at the correct time of year
Weather can play a BIG part of a short workation or a long-term remote work travel stint.
For example, when we spent three weeks in Taipei, Taiwan, it actually rained for five days straight out of our three weeks there. It spoiled a lot of the fact that we chose our Airbnb location to be near a park that was good for running trails within the city. Everyone said this was normal, though!
Low seasons and high seasons (in terms of tourism, visitation and travel) exist for a reason.
You may be aware that a place like New York City can be below freezing for a good number of days in January or February, and three storms in three weeks is a possibility. (The best time of year to visit NYC, is, in our opinion, spring or fall!)
You may know that California gets wildfires at certain points in the year, and Southeast Asia gets monsoons in summer. Minneapolis, MN, will be freezing for a lot of the winter months, and a large swath of Arizona will be 100+ degrees in summer.
With remote work, you get to choose a season that you thrive in, if you wish to travel and work remotely away from home.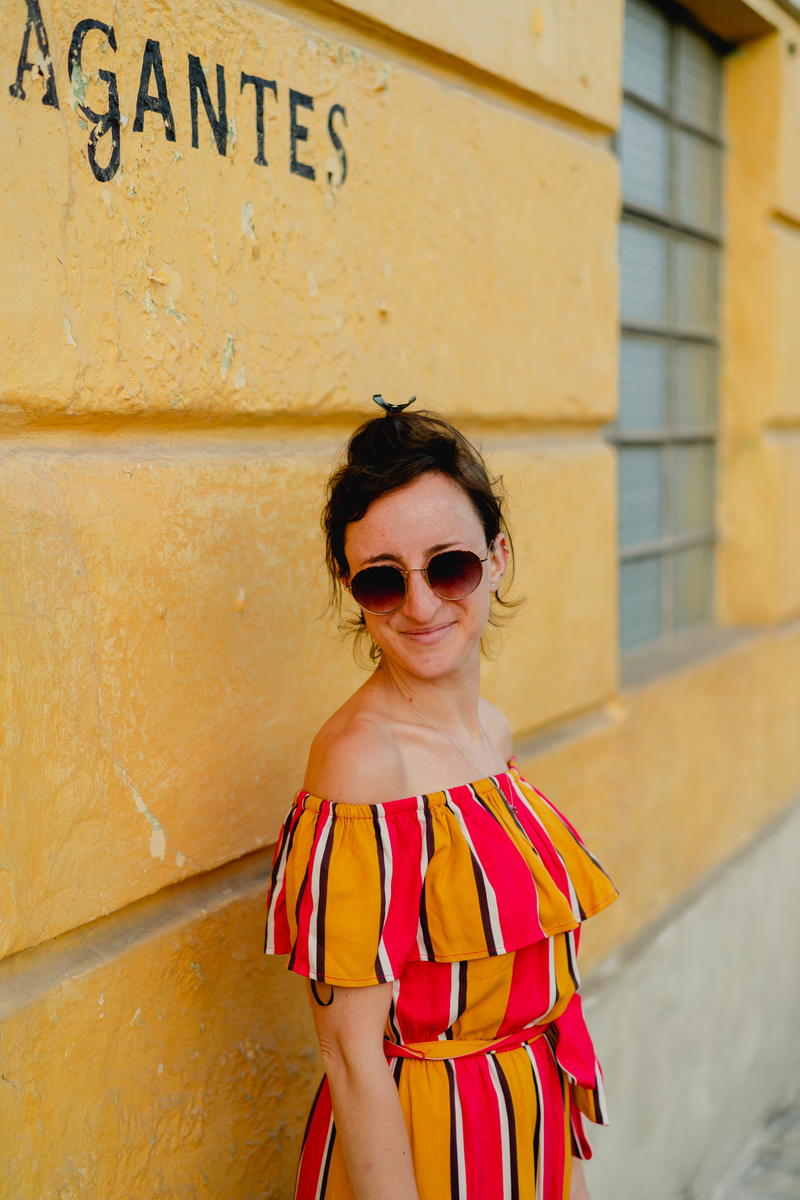 We learned that if you spend time in a city during the high seasons for tourists, then streets will be crowded, prices may be higher and the hikes may have lots of people waiting to take the same photo at the top.
In the low season, if you can find a happy medium between unwelcome weather and shoulder season, you can enjoy a good amount of breathing room in otherwise uber-popular locales.
We suggest that you do your research, look at climate charts in Google searches and look at precipitation annual patterns. Like above, ask around to check with locals or expats if what you see online rings true from what they recall.
If someone wanted to work remotely in Brooklyn (which we recommend, for all its laptop-friendly cafes for working!), I'd comment that spring and fall are both beautiful, summer can be hot and humid and winter may see ice, wind and a blizzard every few years. I'd be honest about it!
Pack appropriately for remote work and travel
If you've hastily packed for a remote work trip and forgotten a few crucial things that are needed for work, rather than vacation, you're not alone.
Working remotely while traveling is another beast of its own, as you have to take along things that make working possible.
What changed for us in packing for remote work long-term trips was that we took this skeleton list of essentials in addition to the standard 'vacation stuff:'
The above items are all things that can come with you when you choose to work in a cafe, like we've done in the cafes of Brooklyn, Cabarete in the Dominican Republic and Mexico City, to name a few.
Bonus items: Zoom shirts & decent professional clothes (if needed)
As a bonus, maybe you need some jazzy clothes while you're on your trip, like a suit, or a Zoom shirt, or a decent outfit in case you wind up meeting foreign clients outside the country.
Did you ever think that you may need tips for how to pack a suit into a packing cubes? There's so much to consider!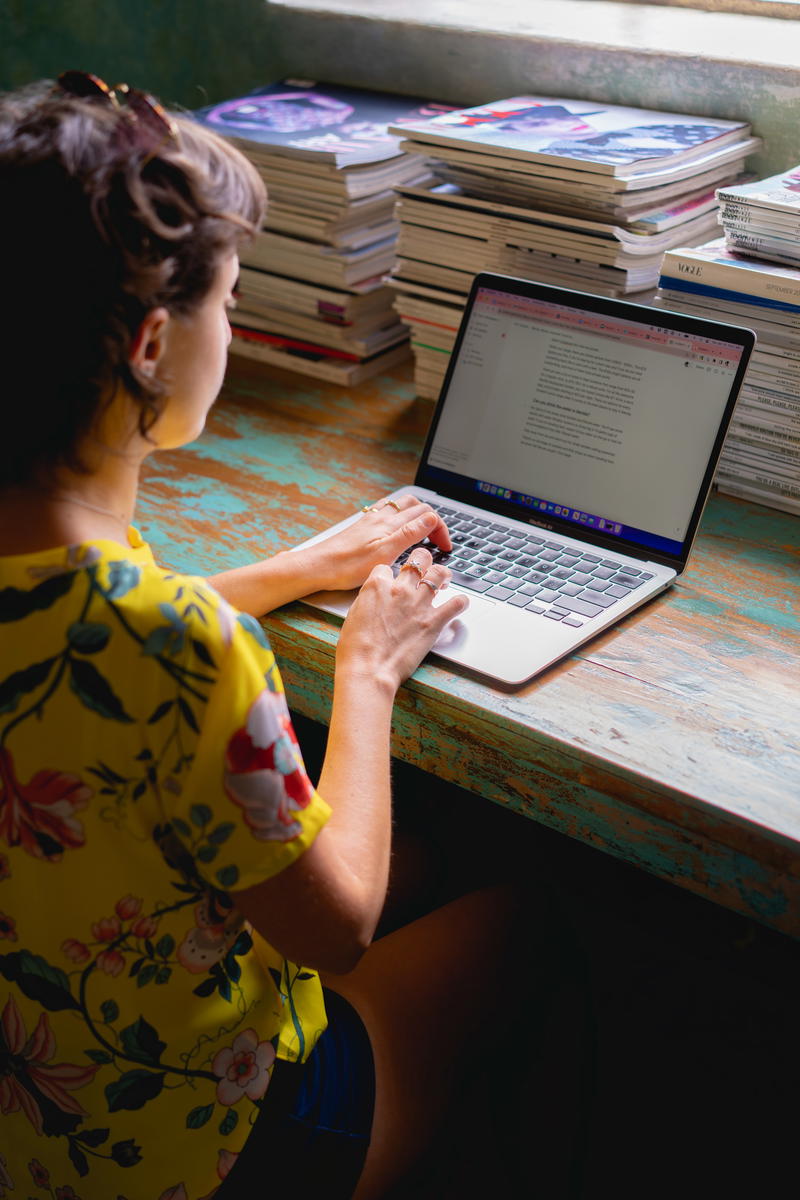 Use your remote work trip location as a way to explore
Have you chosen to work remotely across the country? Or, have you chosen to hunker down in a new city in a new state, for an entire month? Maybe it's neither of these and maybe you've taken a long weekend trip for three days during which you have to finish a big project or make a deadline.
Remember: Use your location to your benefit, whether it's learning the local slang ("y'all," "wicked awesome," or "soda pop"), taking advantage of local workout trends (trail running?) or diving into the local culture.
In working remotely in Peru, Colombia and Mexico, I benefited greatly from taking Spanish classes with great teachers in all three countries. I also learned all about the local fruits in these countries and enjoyed coming to my and Dan's coworking space to introduce fruits I had found to other travelers.
While learning Spanish may be strongly recommended in Latin America, it could also help you get around places like southern California or the Miami region of Florida! Look for international inspiration wherever you go, to make it feel like you really went far, if that's your style.
For tips on learning a language whether before you leave for your trip or while you're at the destination, see the tips that have helped us learn languages for travel.
Helpful Tip
Are you hitting the road soon? Brush up on all those travel FAQs with our travel tips and tricks guide.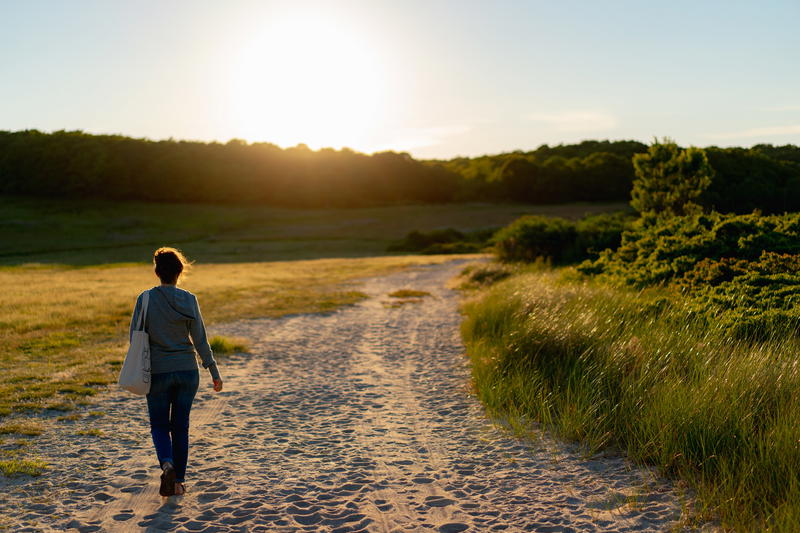 Be present and communicative with colleagues and clients
For professionals who are one of only a few remote employees in otherwise non-remote companies, it's easy for those who all work together in person to forget about their remote counterparts.
In order to be present, I communicate regularly with colleagues, even if it's to check-in or say hi.
Offer video conferences, phone conferences or detailed emails, so that you are a star when you stay connected and in touch with coworkers.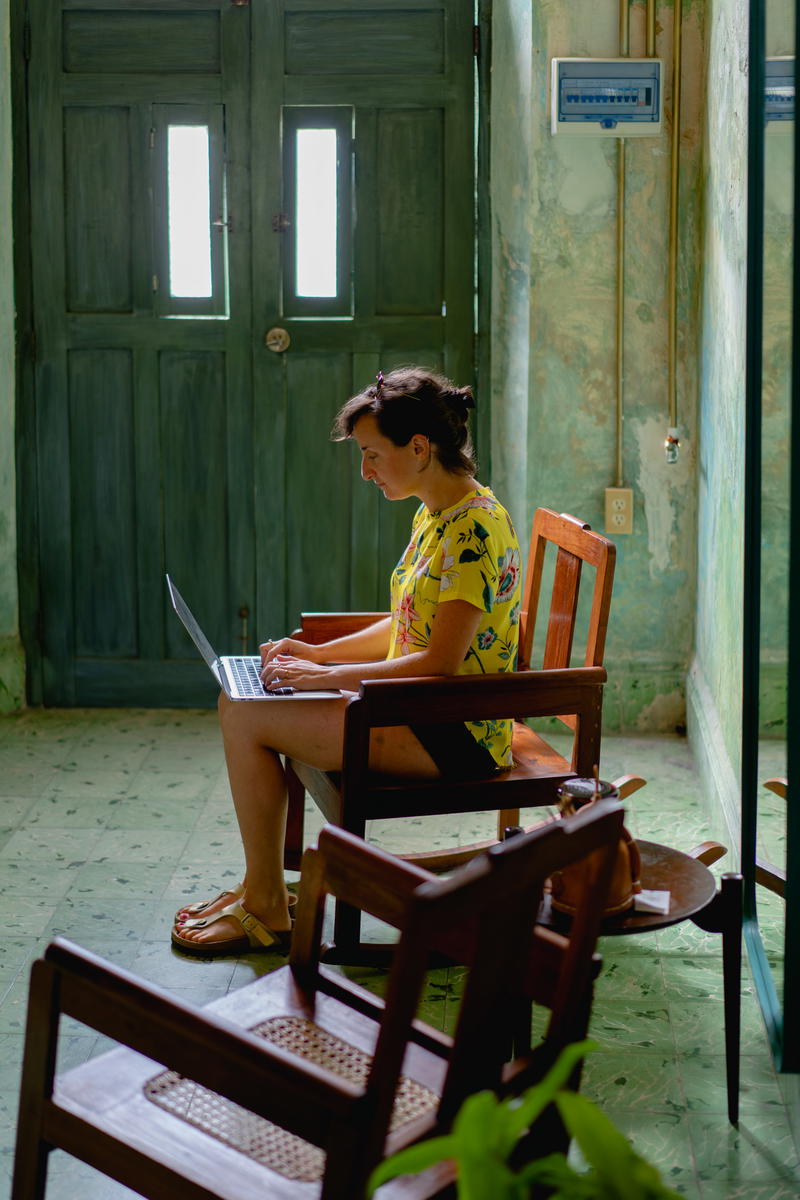 Create and stick to a remote work schedule or remote work routine
In thinking of how to work remotely effectively, give yourself the tools to create a remote work schedule that will keep you on track.
With remote work, you don't have colleagues or bosses physically looking over your shoulder at what you're doing, so distractions are plentiful. No one is immune to distractions, which is why we tackle the topic of how to avoid distractions in our remote work tips guide.
In my personal experience, I heightened my productivity and efficiency by sticking to a 9-to-6 workday with some breaks.
It's easy to sleep in, and it's somehow even easier to stay up late if I have no social obligations, but I've found that starting my day on time keeps me on track to have a successful day.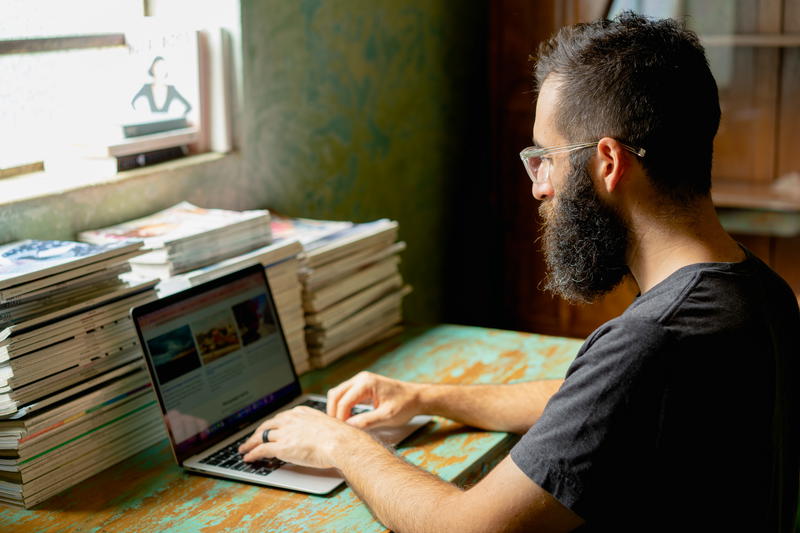 Strive to maintain your long-distance relationships
Perhaps you've chosen to take some time to 'see the world' and take your job with you for a little while. Maybe you even left loved ones at home, like a dog, a best friend, a whole family, or … a significant other?
See our best tips for long-distance relationships when it comes to traveling professionals who choose to lead a travel lifestyle or go away for a month or two. These go for anyone who's away from home and figuring out how to lead a relationship across multiple time zones or continents.
You're probably thinking about how to best stay connected while working remotely, and this doesn't have to be daunting.
In fact, brushing up on the best practices of keeping in touch virtually can bring new life to many relationships in your life, whether professional or personal or a combination of both.
Luckily, being set up for work usually means you're set up for lots of connectivity, so remember to communicate tons. You can do it!
Join a coworking space
Should you join a coworking space? Yes! Joining a coworking space is for anyone who chooses a consistent work environment that's more set up for productivity than a cafe or restaurant.
Dan and I spent three months traveling around Europe, working from cafes, restaurants and hotels, and the outcome was straightforward: we figured out that these types of places are not ideal for working like coworking spaces are.
We enjoy working from cafes as much as we can. Cafes do have some tradeoffs that are worth understanding. Sometimes they don't have enough power outlets or they have lots of noise from espresso machines. Other times the cafe might close early and before your workday ends. That can make having phone calls difficult.
Helpful Tip
You can help remove background noise on your calls by using something like Krisp.ai.
With even short memberships to spaces like Selina Mexico City, you can increase productivity and also find community. Interested in seeing what a real-life coworking space in another part of the world looks like? We reviewed our coworking experience at Conexion 60 in Merida, Mexico.
By meeting other people that work remotely in a type of working community, you can share tips, professional skills, job offerings and social opportunities.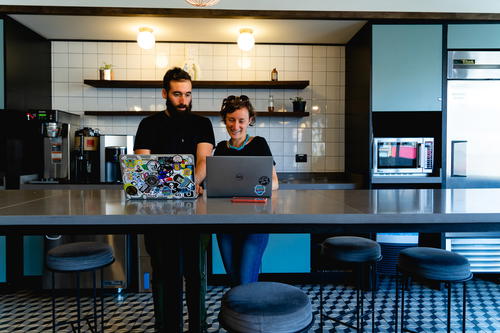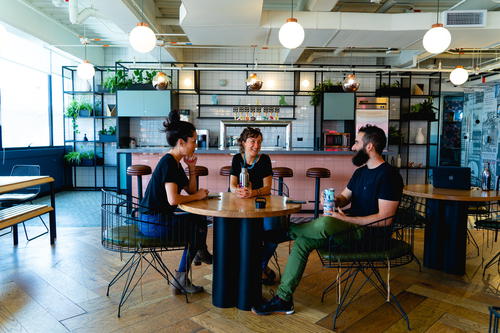 Seek remote work communities and opportunities
There are lots of communities online out there for traveling professionals who want to network and find new remote opportunities. You can look for remote work opportunities that are non-time-zone-specific, so you can keep working flexibly no matter where you go.
As for networking, consider that networking is just beginning when you think outside the box of meeting other professionals in person.
We discuss the best ways to network as a remote professional, namely, getting active on social media, joining Slack workspaces according to your profession and never hesitating to reach out to someone with a connection.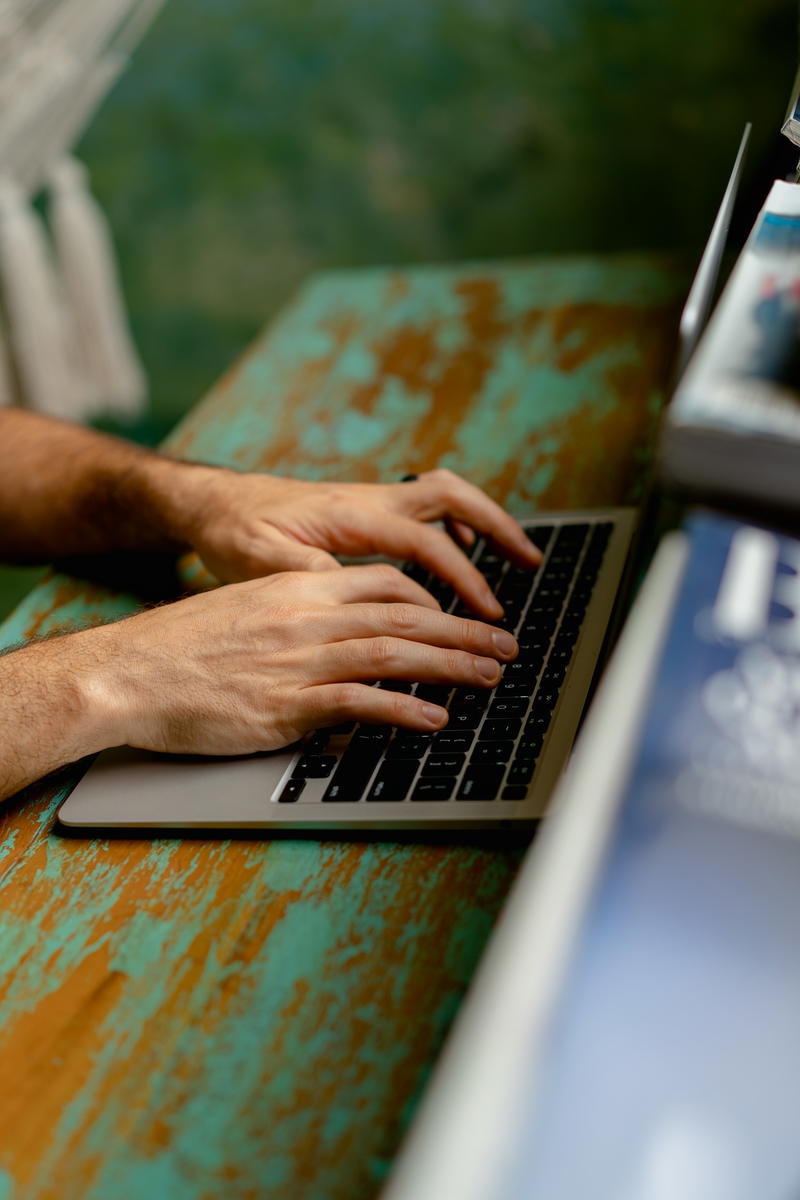 Itching for a freelance gig, a flexible remote job or a new career? You can see our list of the best remote job boards and start sifting through the listings.
As for an in-person experience that will let you travel the world while working remotely with your job, check out a work-travel program like Remote Year.
Minimize distractions to work efficiently
I find that I check my phone often — okay, all the time. If my phone is next to me, I'll start checking all my apps and it takes away significantly from my work.
As with any type of task to which you dedicate your energy, take away the things that prevent you from working remotely and being productive.
If you don't work well in loud environments (or get distracted easily), get some noise-canceling headphones.
If you function well with background noise like I do, use the energy of those around you to keep yourself motivated. Remove the little distractions that get in your way of having a productive day in your remote office.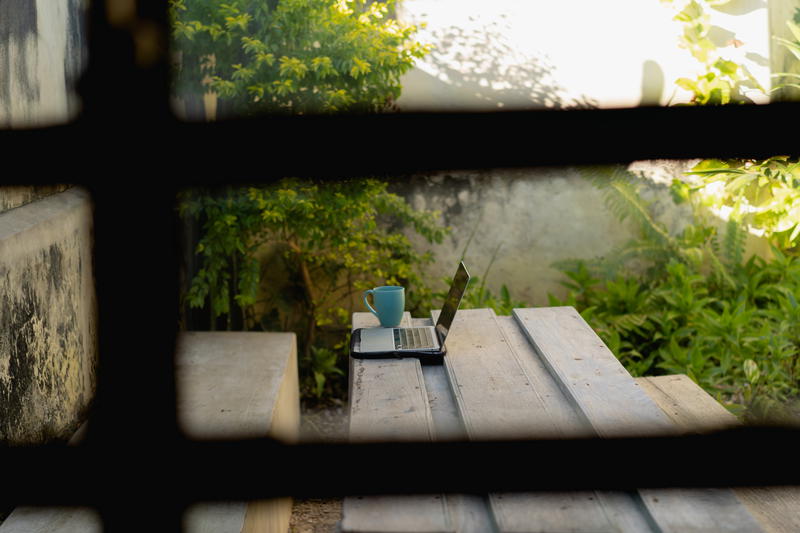 Understand time zones and use them to your advantage
If you're already working in a multinational remote-first company or with clients or vendors across oceans, then you're familiar with time zones. Let's get to talking about geographic arbitrage as it concerns time zones!
I've been working with companies in Asia, Africa, Australia and Europe for ten years now, and it directly affects how and when I'm able to schedule meetings.
If you've worked within your home country, and time zones haven't affected you in your working life yet, then congrats! You're in for some awesome surprises.
Working remotely abroad or throughout various time zones introduces you to familiarity with how time zones lead to asynchronous communication!
Does the country in which you're living change clocks for Daylight Savings? Will Daylight Savings affect your meeting times with your client or your remote team? Do you work with people in India, and have you found out that they're actually not 10, not 11, but 10.5 hours ahead of you?
My favorite tool for scheduling meetings across time zones is World Time Buddy and it has helped me arrange calls with contacts in Australia, attend meetings with companies in China and even helps me figure out what time it is in California, where I work with some vendors.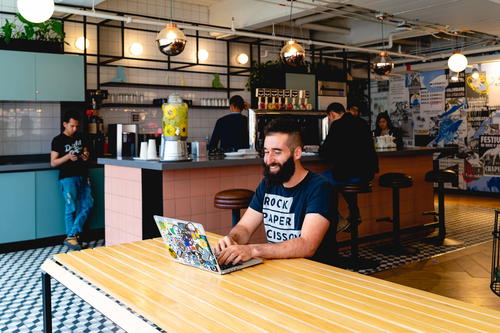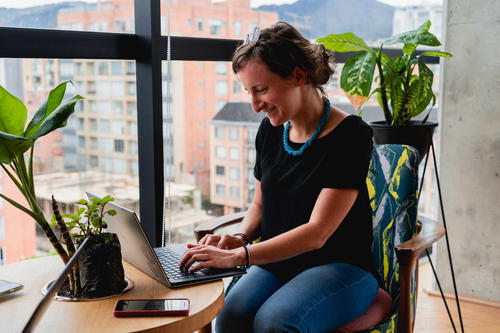 Set limits for how much you work and know when to call it a day
Unless you're working on a deadline, limit your workday to a personal time limit that causes you to be the most productive.
It's important to prioritize work-life balance so that you can enjoy your surroundings, take time for yourself and fit in a workout or some health and wellness hobbies. We usually limit our workdays to between six and nine hours with a bunch of breaks.
Working remotely and traveling when the rest of your team is elsewhere makes it challenging to visualize that your colleagues' day has ended, or started.
Relating directly to time management, it's easy to take the morning for a hike or an excursion and promise yourself that you'll fit an entire business day into your afternoon and evening.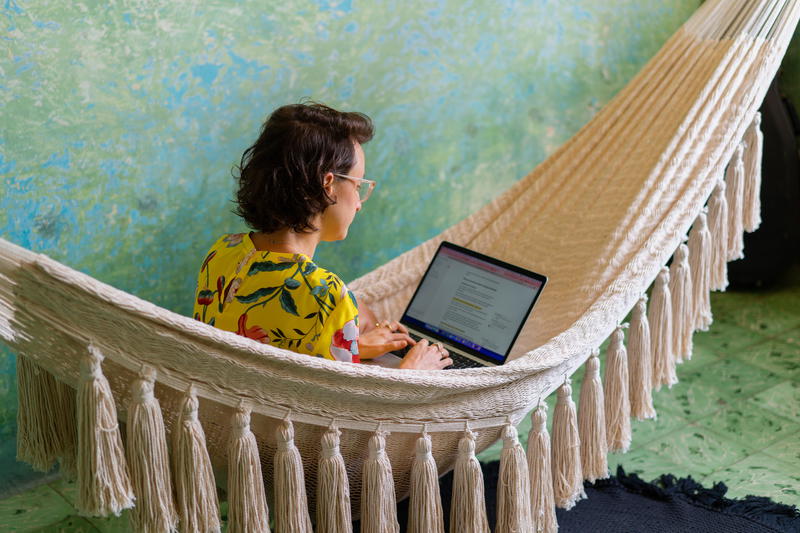 If this will affect your sanity, then choose to schedule a hike on a weekend! Work should come first, and committing to not overworking is equally important.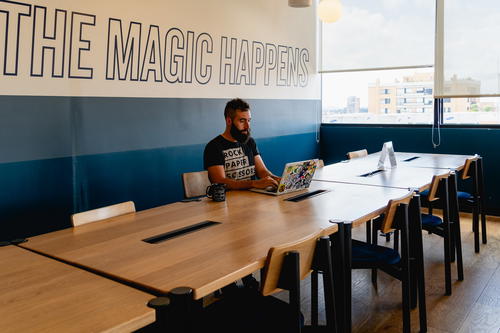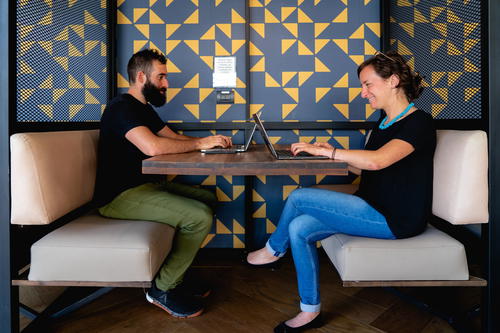 Use working remotely as a flexible way to work, not a lazy way to work
I've found that I work best when I'm in a workspace scenario, and I focus terribly when I'm lounging in bed, sitting on a couch and leaning my head down too much at my computer or sitting on a stool in my kitchen.
One of the clearest and most direct ways toward staying productive while working remotely is to pin down your ideal remote work schedule while you are away from home.
Creating a 'workspace at home' whether it's in your house, apartment or Airbnb (or VRBO) or hotel can be as simple as clearing a space at a table with a comfortable chair where you'll be productive.
For some people, working in bed feels the most comfortable, but it's not the best for your body! Make sure to take breaks from your screen, get up, stretch, get some steps in and sit in a proper ergonomic chair.
Do your research regarding WiFi speeds for working remotely
The USA and the rest of the world truly have some beautiful places, but not all WiFi speeds were created equally, unfortunately.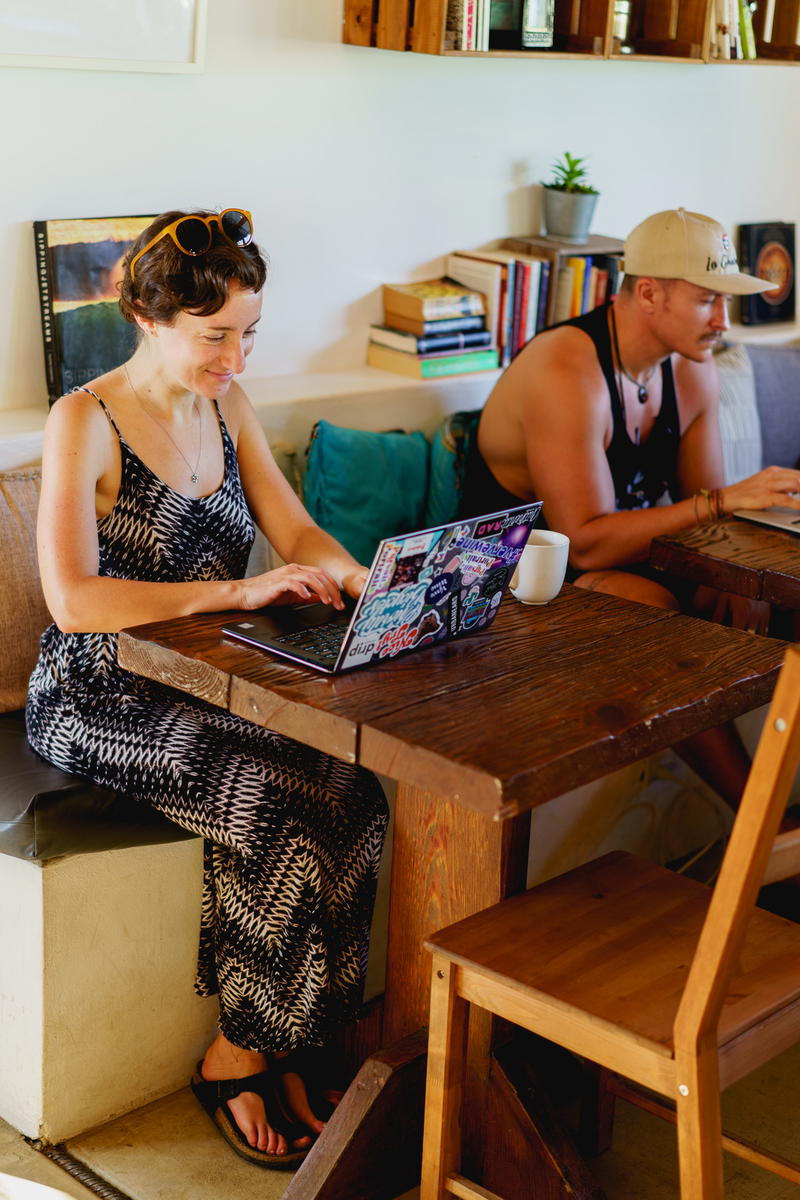 WiFi speeds abroad
I learned this when I traveled in China and Bolivia and sometimes, depending on the city, could hardly get an email to send. Even in cities where free WiFi is publicly available at malls and outdoor spaces and paying with your phone is more common than with a credit card, you may get stuck in finding out that your Airbnb has a WiFi issue.
Luckily, most coworking spaces abroad are usually dependable in terms of WiFi, but keep in mind that in developing countries, simple things like rain can sometimes knock out the Internet for an hour or so!
WiFi speeds will impact the speed at which you can work efficiently, send files and download documents, so it pays to research WiFi speeds of where you're going. What we recommend is that if you plan to engage in video calls, teleconferences or Zoom meetings, do your research.
A strong WiFi speed is one of our top tech tips for taking remote interviews and it holds the same importance while boosting productivity in meetings.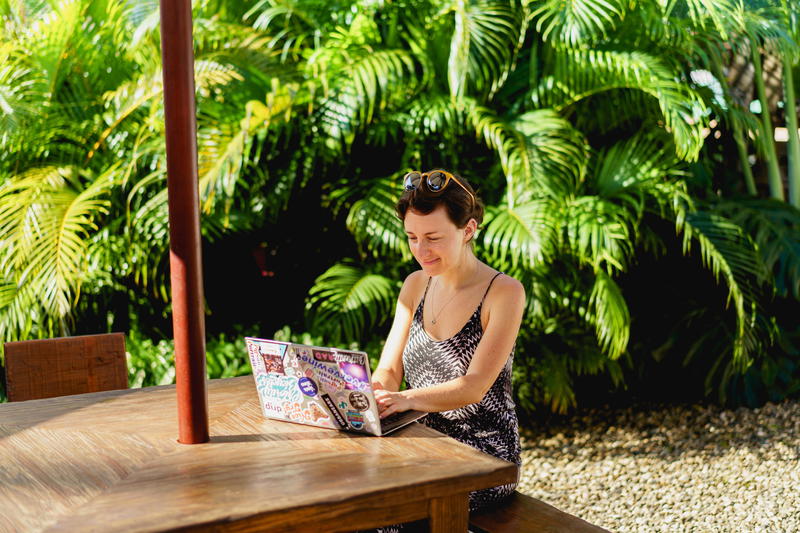 WiFi speeds in different parts of the US
It's honestly hard to generalize WiFi speeds in different parts of the US. That is because you could very well be in a major city at an Airbnb that has downgraded WiFi or has a type of less-than-optimal old router situation.
If you're concerned about WiFi speeds, feel free to ask the Airbnb host, or hotel, before your arrival, about average WiFi speeds, upload speeds and current monthly Internet plan levels.
How to test WiFi speed while traveling and working remotely
You can do a quick benchmark download speed test on fast.com to see how fast the internet is. If you click on "See more info" you can see the upload speeds.
The speed test will give you a good idea of whether or not the internet is "good" or "bad." Anything over 15 Mbps is considered "good" for download speeds. Anything over 5 Mbps is considered "good" for upload speeds for remote work.
Be patient with explaining your situation
Remember that you made the choice to work from home, work remotely at an Airbnb, work from a beach or work remotely in a cabin with a WiFi hotspot.
Others in your circles may have a challenge in understanding what that 'looks like' or 'feels like,' so use caution in explaining the trip you've chosen to take and how it will give you a fresh restart.
Use this mindset while staying connected with the contacts you've chosen to keep in touch with.
People who have never heard about the idea of working remotely and traveling may have lots of questions or doubts. It's up to you to ensure everyone that things are going fine and that you may be even more productive than before.
Determine side trips or weekend trips you can take from your remote work destination city
Part of the joy of choosing somewhere to spend a week or a month (or a year) is that you can use it as a jumping-off point for other trips. Some cities have great side trips within feasible distances, whereas others may not.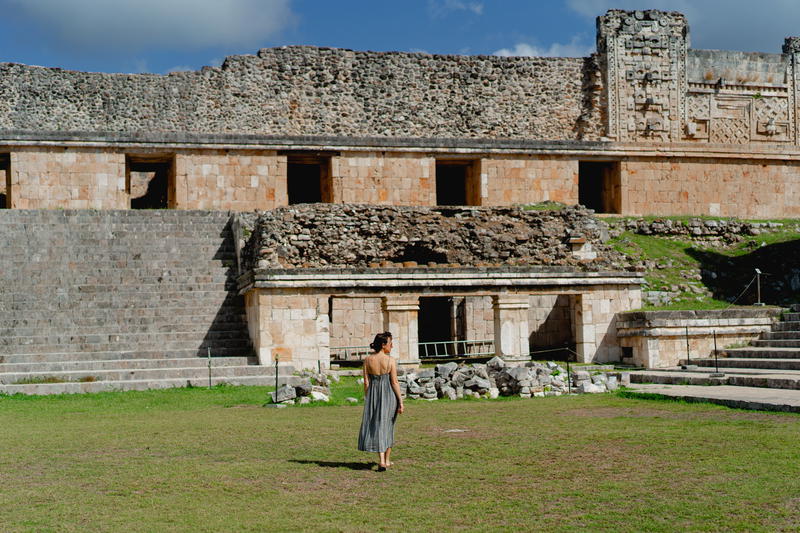 Here's what you can consider:
Look at a map of the city or town where you wish to travel and work remotely. Are there any national or state parks nearby? Are there other towns or cities of interest within driving or bus/train distance? If another flight or two is in your budget, are there any close-by cool places to see for a weekend trip?
Helpful Tip
Looking for new proven ways to save money on flights and airfare? The easy solution is to sign up for Going, the leading way to find flight deals and mistake fares, directly to your inbox. Use HALFHALF20 to get 20% off!
Some of our favorite side trips from places we've spent time traveling and working abroad were:
Sometimes your side trips can actually make the trip! Side trips, especially when in small towns, cultural villages, historic ruins or beautiful nature might be the most memorable photos you look back on after you get home from your 'workation' within your country or across the world.
Join a travel and remote work program, like Remote Year
Dan joined a Remote Year work and travel program a year before he and I did one together! When Dan first left for Remote Year on his own, he didn't have a ton of international travel experience. Trying to navigate flights, coworking spaces and living arrangements sounded like an overwhelming endeavor if he were to figure it out from scratch.
Luckily Remote Year provides all of the things that you need to work remotely and travel. The convenience of having a coworking space and apartment waiting for you as you change destinations every 4 or 5 weeks is a dream! Plus, you travel with a group of diverse remote workers who are just as excited as you are.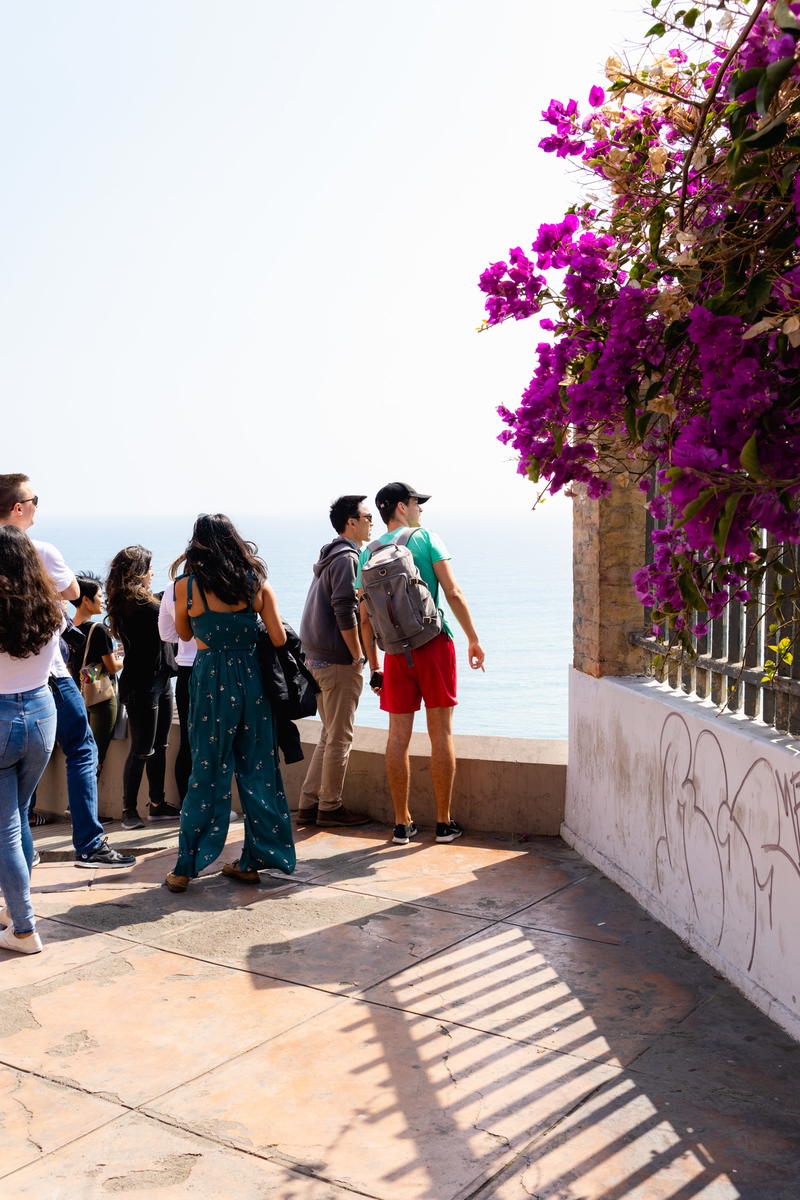 We highly recommend checking out Remote Year if this sounds interesting to you. It's an easy way to confidently work while traveling with a group of diverse individuals from all over the world. You can explore new destinations, work in coworking spaces and travel the world.
Congratulate yourself on your choice to work remotely and travel
Remember to praise yourself often, as working remotely while traveling is a challenge.
It looks pretty easy from the outside and to those who've never tried exploring the difference between working from home and working remotely, but every time you come across a hurdle, you remember what type of challenge you've chosen.
"Working from home" might easily transform itself to an experience of working remotely in an Airbnb, hotel, RV, trailer or home-stay. Explore these new sets of opportunities.
Did you even think you'd be Googling a phrase like 'how to work remotely and travel' this year? Pinch yourself, because you can make it work!
Smile, and keep going. This is just the beginning.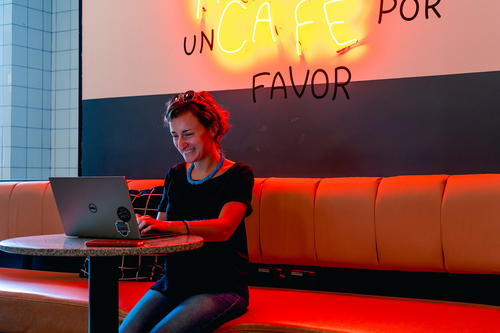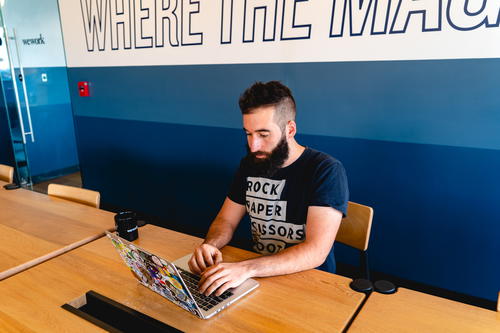 Enjoyed our article?
Consider supporting us! We're a 2-person team (learn more about us here) and your support enables us to create quality content. Thank you!