12 Benefits of Coworking Spaces for Remote Workers
Written by Becca
•
Updated on September 6th, 2023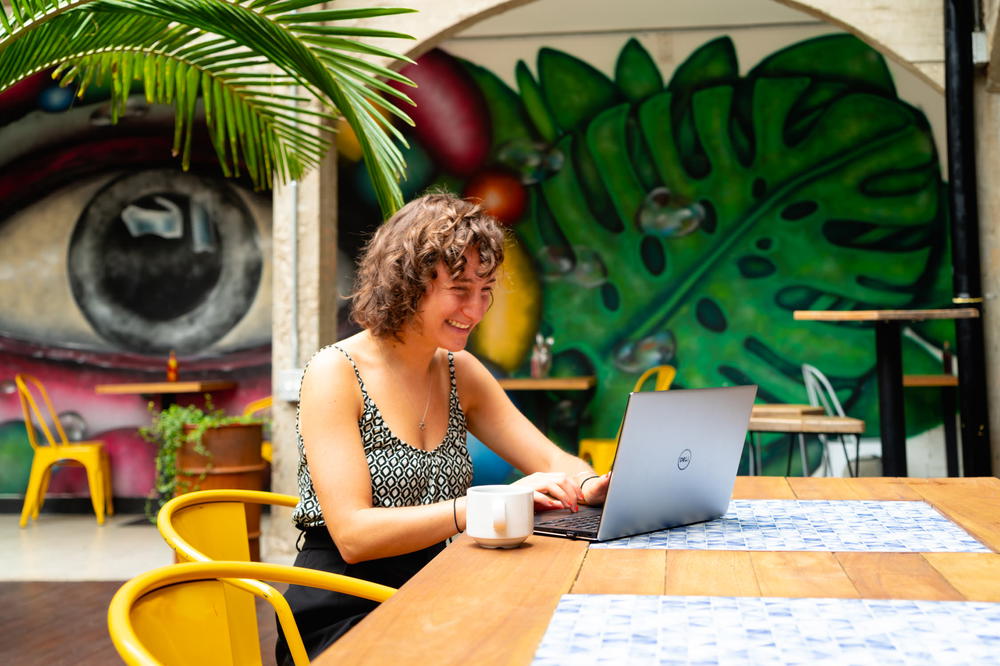 What are the advantages for remote workers working in coworking spaces? Are coworking spaces worth it? Find out why we swear by cool places to cowork.
This article may contain affiliate links. We earn a small commissions when you purchase via those links — and it's free for you. It's only us (Becca & Dan) working on this website, so we value your support! Read our privacy policy and learn more about us.
Coworking spaces are one of the best alternatives to working from home, if you have access to one. They're also a great way to retain a sense of routine and stability while traveling, if you're working remotely in another city or another country.
While I was working at my old office job, I could never in a million years picture that I'd have the chance to work from spaces as inspirational as WeWork of Bogota, Colombia, or Selina CoWork in Mexico City, or the coworking space at coliving houses like Nine Coliving.
The fact about coworking spaces is that you can work in them as a traveling digital nomad or as a permanent full-time employee in a company that has rented out a private office space in a coworking space. Both situations allow professionals to benefit from all the advantages of these unique work environments that foster creativity and entrepreneurship.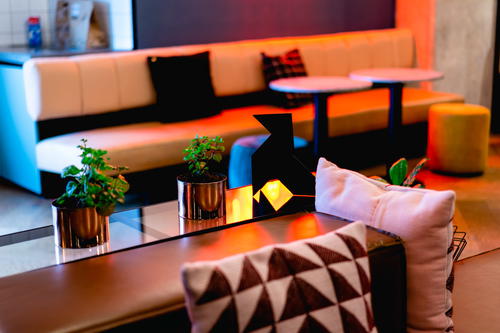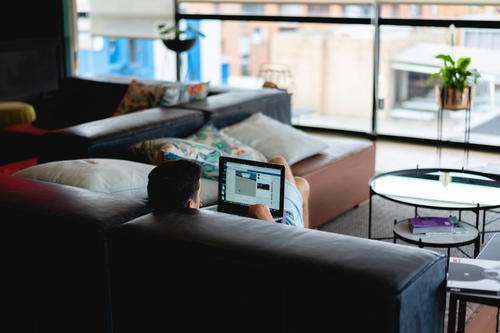 I originally wrote this article from a perch at an outdoor table on a deck that overlooked a river at the Selina CoWork in Medellin, Colombia.
Instead of plugging in headphones to listen to instrumental music, I was listening to the running water of the stream next to the patio. I had just said hi to a guy from New Zealand whom I had met earlier that week in the communal kitchen. Every day was a bit different in how I'd set up my remote workspace for the day, or whom I'd happen to meet.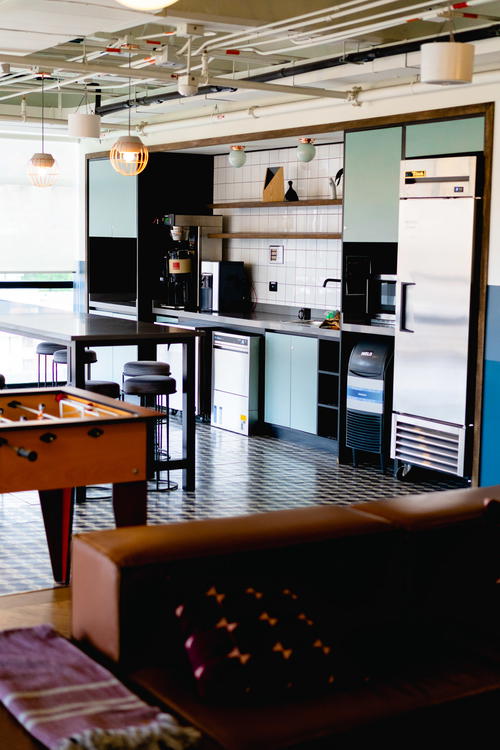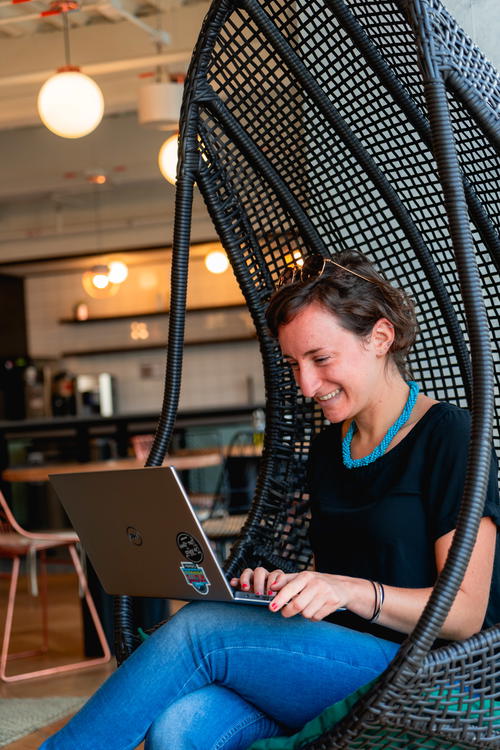 What are coworking spaces?
In explaining how coworking spaces work, it's important to start off by noting that coworking spaces are office environments for people who work remotely, or, they can also be new 'homes' for small companies that want to rent a cool office space that comes with all the coworking space perks.
Coworking spaces are growing in popularity around the world, for freelancers, remote employees, digital nomads, small businesses and entrepreneurs.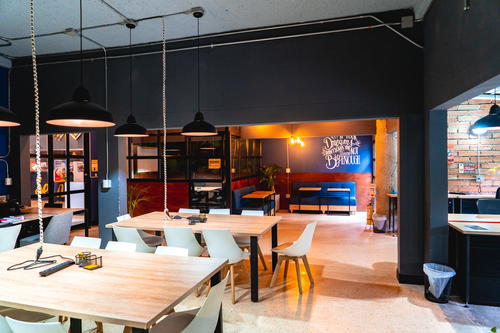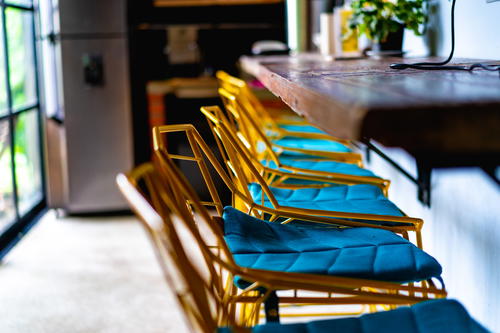 Coworking spaces offer an alternative to the traditional 'work-from-home' model in that you no longer have to be lonely if you have a remote job. You can work remotely alongside others who do the same, in an inspirational office space with perks like networking, events and inspirational design.
I did not work remotely until summer 2018, so at the time, I had to pack in all the knowledge of remote work, and fast, as I traveled with Dan around the world to work remotely while having great experiences abroad.
Coworking spaces, just like remote work and working from home, are super important in the future of work. Here's a list of the benefits of coworking spaces for remote workers, digital nomads and entrepreneurs that you won't want to miss.
Helpful Tip
Is there a difference between working from home and working remotely? The answer is YES, and it's because 'working remotely' signals that you could be working from a coworking space, or multiple coworking spaces.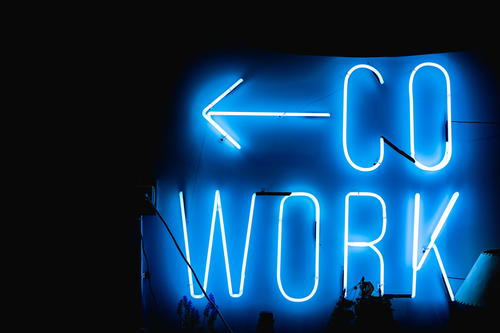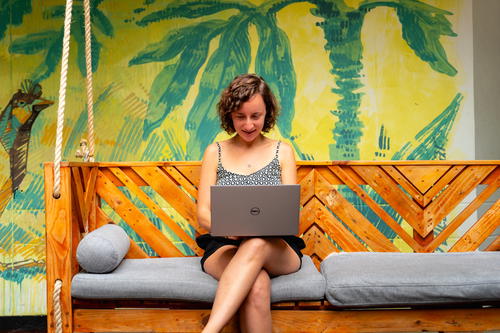 You'll meet other inspiring professionals at coworking spaces
Unlike a group of employees who work in an office, in the traditional sense, a coworking space is the professional home for people who have all sorts of jobs and talents.
Before I left home to travel and work remotely, I had never worked in the same room as web developers, graphic artists, software salespeople and e-commerce specialists.
Coworking spaces introduced me to so many types of professions I didn't even know existed, and to the types of people who have these professions. Just being around the buzz of people coding websites, writing novels and designing startups was far from the corporate talk and dry meetings I'd known to be an integral part of 'professional life.' It was awe-inspiring.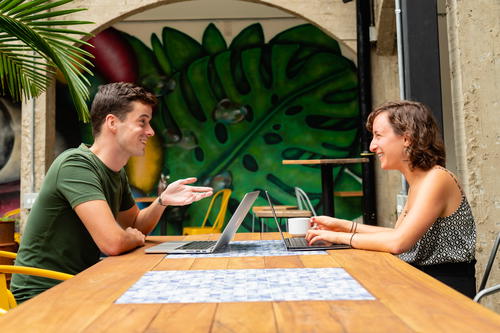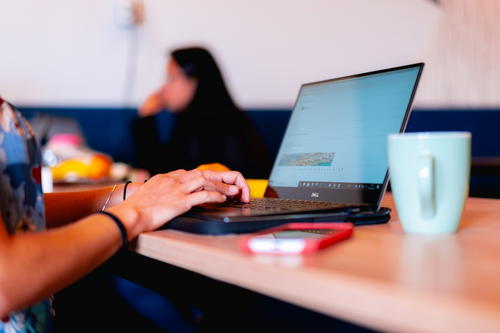 Coworking spaces are more inspiring than a traditional office
Have you ever done work with your laptop while in a human-sized net? On a deck? In a cubby?
All in one day, while coworking at Selina in Medellin, Colombia, I did two of these three things (can you guess which?) and there are many other types of creative designs with which coworking spaces have been planned.
Sometimes switching your surroundings is the best inspiration of all, which is why the best coworking spaces have been designed with meditation rooms, outdoor deck space, social kitchens, high-top tables, couches, zip lines… you name it.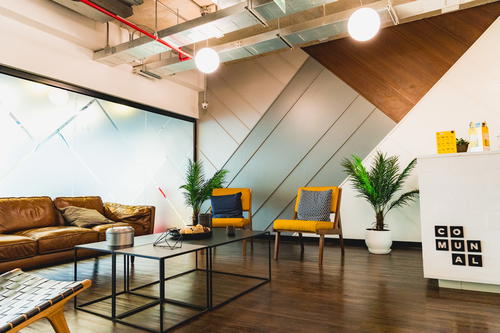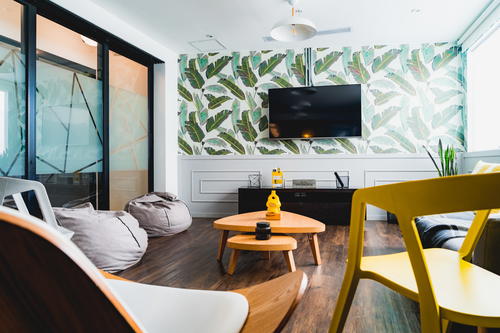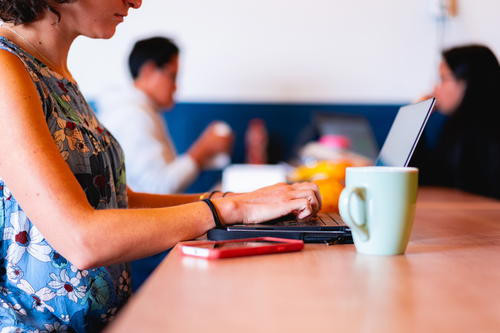 Some coworking spaces are open 24/7
While not all coworking spaces are open 24/7, you can usually find one that is, in some of the best cities for working remotely.
That makes it easy in case you need to work late, come in early or take a call on the weekend. You might not even be alone, when working on an urgent deadline or packing in some work on a Sunday in order to get ahead for the week.
In Merida, Mexico, we got a coworking space membership at Conexion 60 that got us 24/7 access to our coworking space, in case we needed it.
It would've been useful if we had wanted to go in there on a rainy weekend, like if we had nothing else to do (and the internet in Airbnbs has the potential to be spotty).
Coworking spaces usually host activities and networking events
At Comunal Coworking in Lima, Peru, I attended a weekly event called Spanglish, where English-speaking professionals have the opportunity to link up with Spanish speakers and answer get-to-know-you questions in the form of a language exchange.
Not only was it fun, but I walked away with some new colloquial Spanish knowledge and some new people to say hi to in the workspace for the next few weeks.
At Selina in Medellin, there were yoga classes and meditation sessions. At WeWork La 93 in Bogota, my partner Dan and I even hosted a community event to discuss photography, social media and business for anyone who wanted to attend.
Events like these give a sense of community to places that are centered around "work," and they're great bonuses — and usually more interesting — than a typical post-work happy hour with coworkers at the same bar time after time.
Helpful Tip
Still seeking more ways to network and create social connection when you work remotely? Look outside the coworking space as well, to our list of ways to network when you work remotely, so that you can always be 'meeting' new people through social and professional outlets.
Coworking spaces are making it possible to work remotely and travel
If you want to figure out how to work remotely and travel, coworking abroad may be an option, or a solution, for you.
Check our a program like Remote Year to help set you up with travel accommodations and coworking. Dan and I have both been on a program and we have nothing but great things to say!
In Medellin, Colombia, I met a bunch of digital nomad professionals who had been traveling anywhere from months to years, mostly alone. They would seek cool coworking spaces wherever they went, in order to have consistent WiFi, a guaranteed spot at a workspace setup and the familiarity of seeing familiar faces day after day.
This is how coworking spaces are a more consistent solution to working remotely and traveling than doing work from coffee shops and restaurants or hostel lobbies.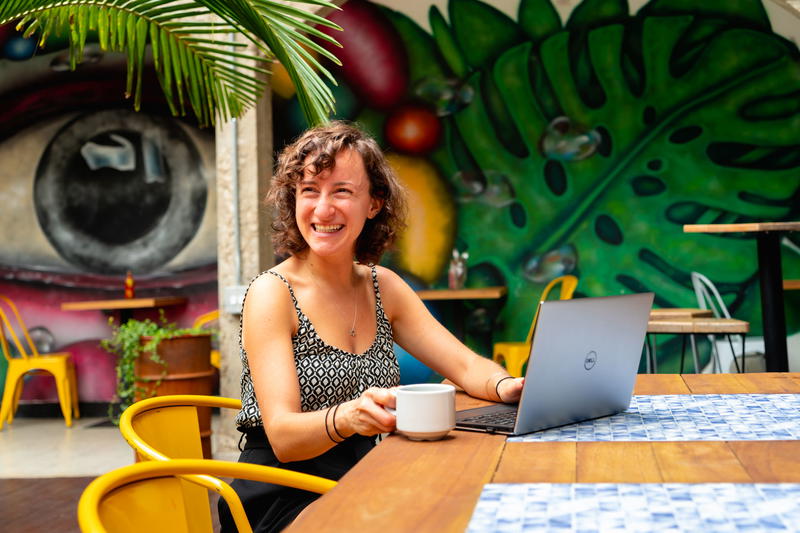 Coworking spaces show that it's not crazy to be a freelancer
The digital revolution, the rise of remote work and all the factors that have made creative careers possible have given many people the opportunity to start their own businesses and begin freelancing.
Freelancing only became possible for me once I became in-tune with the remote work lifestyle and the belief that work can take place anywhere.
This drift from the traditional full-time office job has naturally allowed for coworking spaces to be places where freelancers can feel like they fit in perfectly. In fact, there's no better place to be a freelancer than at a coworking space — where else would you find community, while meeting individuals so similar as well?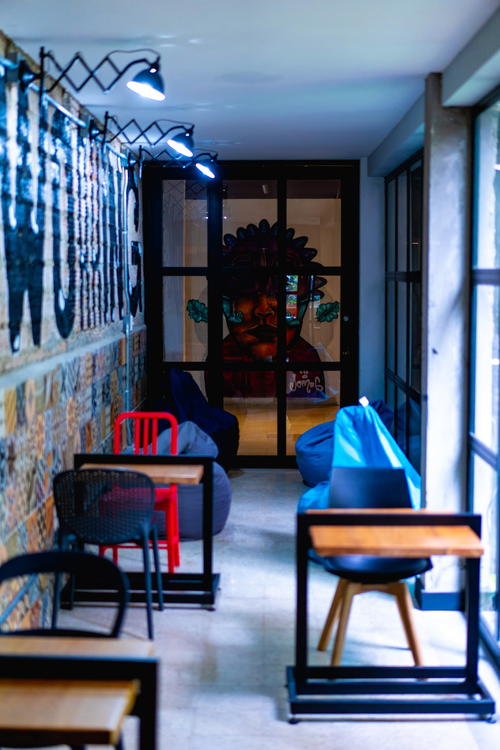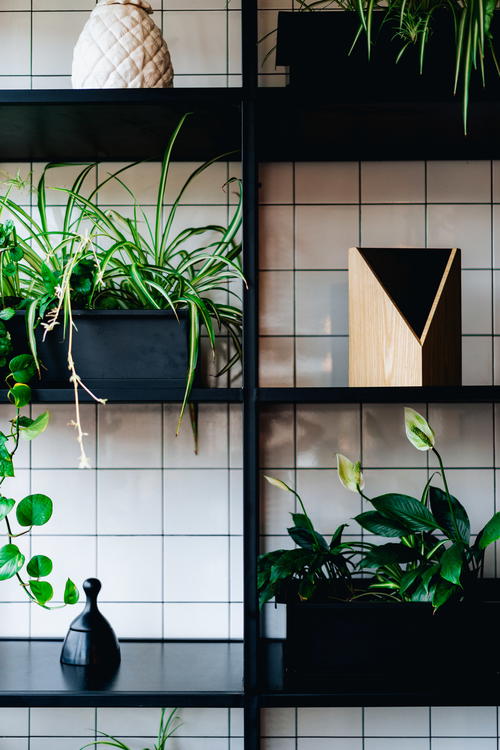 Coworking spaces encourage entrepreneurship
As I mentioned above, coworking spaces are for those who work remotely already, or any group of employees working for a small company that has sought office space at a coworking space.
Coworking spaces (due to being a relatively new phenomenon) are usually somewhat newly-built and therefore have incorporated creative and modern designs into their builds.
Entrepreneurship, because it can be so outside-the-box, requires a certain level of inspirational environment as well. Whether you and your team are a total three people or fifteen, being in a coworking space and using all its dynamic locations and benefits will likely inspire new ideas.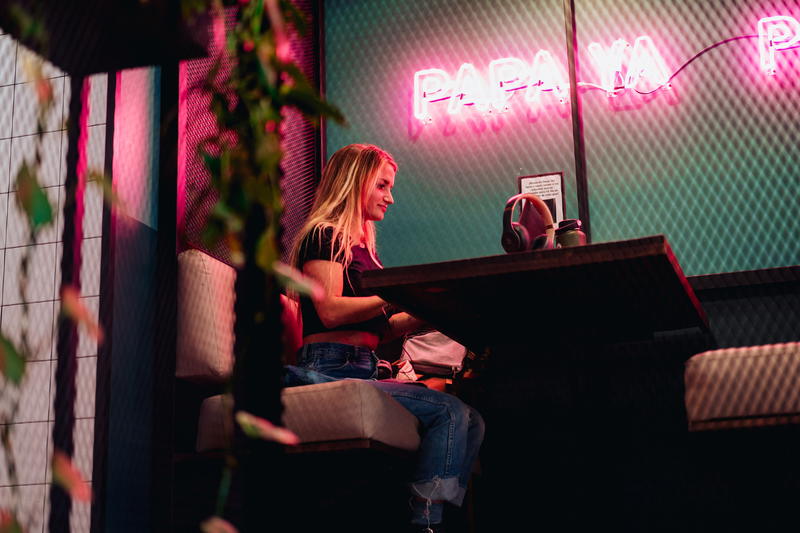 Some coworking spaces offer multi-city memberships
As coworking spaces rise in popularity along with the increase in professionals who work remotely, coworking spaces that have multiple locations bring a great benefit.
If you've read this far into the article, you've probably heard of WeWork, one of the most global coworking space brands. Dan and I have worked from WeWorks in Colombia and the US. More on the 'digital nomad' side of coworking spaces are the Selina spaces, which are often coupled with traveler hostels, making for a type of coliving experience abroad.
Check out our list of the best cities for working remotely, which were rated by us on the availability of coworking spaces.
A coworking space community manager will help curate your experience
A coworking space community manager is typically a person whose job is to make sure that your coworking experience is excellent.
This person will typically send community newsletters that detail new members or new companies joining the space, upcoming events and opportunities to give feedback about what you'd like to see.
Depending on the size of the coworking space, there may be several community managers who manage a single floor out of many. Typically it's a great idea to become friendly with the community manager so that you can make sure you'll be getting the most out of your coworking space membership.
No one will shame you for working from a hammock, cubby or outdoor space
In a traditional office, if you're not at your desk, your coworkers may wonder where you are. Or, their assumptions could jump to the fact that you are slacking off.
Worse yet, they could think you left for the day, if they don't notice that you're indeed online. There are so many misconceptions that can occur when people take 'being at your desk' very literally.
At a coworking space, the 'desk' has a new meaning.
Your desk can be wherever you feel comfortable, whether it's outside at an outdoor table under an umbrella or sitting at the bar in the social area near the cold brew coffee.
This is one of my favorite parts about a coworking space, personally.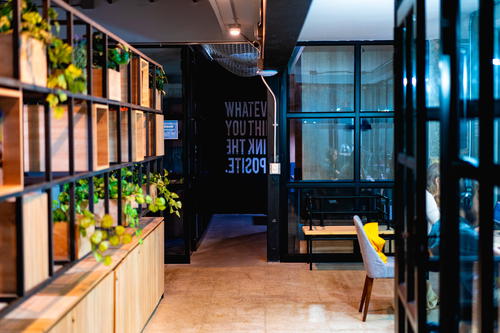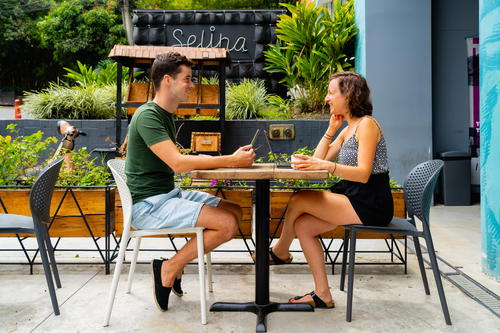 Coworking spaces help reduce anxiety and loneliness for remote workers
For remote workers or people who've started working from home, figuring out how to avoid burnout and isolation are real concerns.
Anxiety and solitude often stem from feeling isolated while working from home or working alone without any company.
Coworking spaces help solve these issues by providing a constant social (or, as social as you choose to be) atmosphere, where you'll see other humans and you can continue to meet people and make meaningful connections.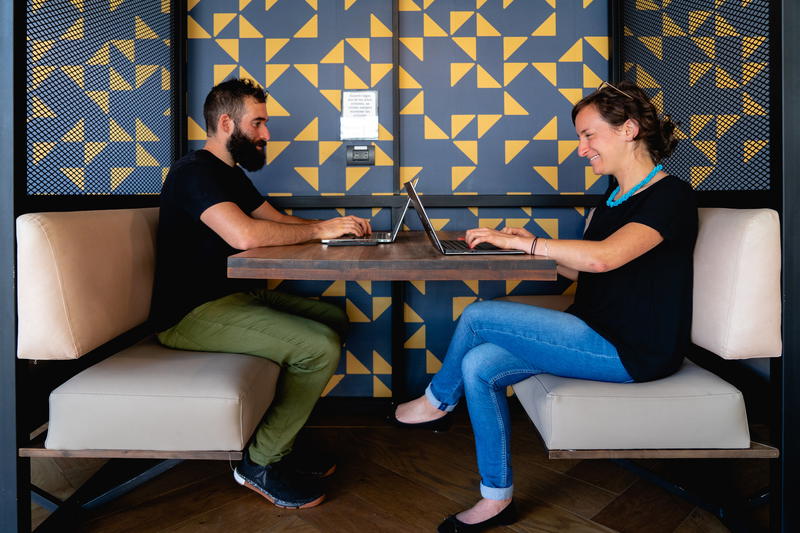 While coworking spaces are not the answer for everyone, especially if you don't live very close to one and would need to commute, they do solve the problem of feeling alone while working remotely.
This is one of the greatest benefits of coworking spaces by far.
Coworking spaces give stability and routine to digital nomads
Being a digital nomad can be overwhelming — the freedom to make your own remote work schedule, work in different time zones and figure out how to balance productivity and motivation.
One of the biggest struggles of becoming a digital nomad, for me, was sticking to a schedule and making weekdays feel like weekdays, and weekends feel like weekends, before I had a coworking space to go to.
Going to a coworking space brings back the feeling of going to an office, but it's an office — rather, a work environment — that you choose, if you're a freelancer, entrepreneur or digital nomad on the road.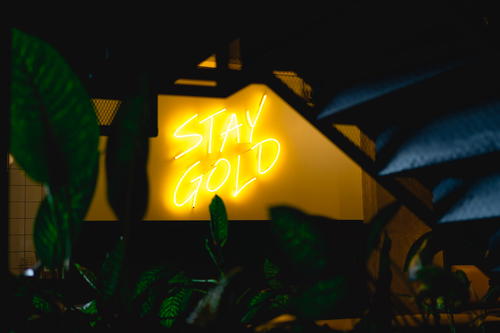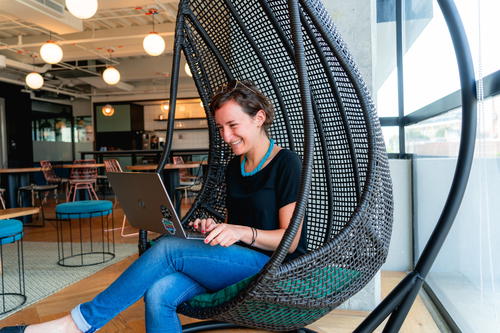 Going to the same coworking space day after day creates more of a sense of belonging and routine than going to a cafe that might be closed some days, or may have no more available seats, or outlets, at the time you show up for sitting down at your favorite table.
Going to a coworking space is more social than working from home. It's easier to focus at a coworking space than at home because you can't slack off and start cleaning.
It's also easier to be productive and stay motivated at a coworking space where you see lots of people working, compared with a cafe, where there may be some kids running around distracting you, or a cute puppy, or the rattling sound of an espresso machine interrupting a call you had to take (I've been there!).
So, are coworking spaces worth it?
Overall, coworking spaces are like flexible, social and motivational workspaces that get the job done. The rise of coworking spaces has solved many problems for remote-first professionals and traveling remote workers, from forming communities to creating routine and stability.
To see more about how coworking spaces fit into working remotely and traveling, visit our guide to the best tips that will help you bring your remote job on the road.
Enjoyed our article?
Consider supporting us! We're a 2-person team (learn more about us here) and your support enables us to create quality content. Thank you!