36+ Laptop-Friendly Cafes for Getting Work Done in Brooklyn
Written by Becca
•
Updated on November 26th, 2023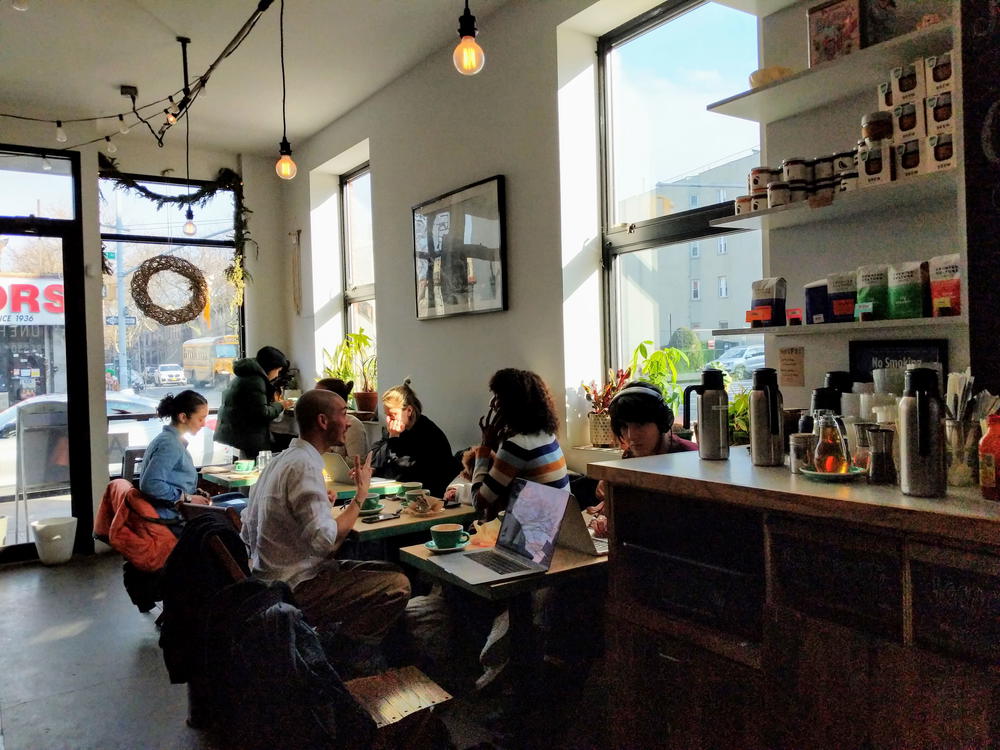 Here's a list of the best laptop friendly cafes in Brooklyn. These places have free wi-fi, outlets and delicious coffee!
This article may contain affiliate links. We earn a small commissions when you purchase via those links — and it's free for you. It's only us (Becca & Dan) working on this website, so we value your support! Read our privacy policy and learn more about us.
Table of contents
Close table of contents
Have you been working from home for so long that you're dying to go work remotely in a new environment? Are you looking for some inspiring, unique and cool places to work with your laptop, grab some WiFi and try a new coffee drink?
You're in the right place. This is the #1 list of coffee shops for working remotely with your laptop right here in Brooklyn, and I'm constantly updating this list to reflect changes in cafes and coffee shops (some have closed since last year), as best I can, so that you can go find new spots to get work done.
Helpful Tip
Most of the cafes in Manhattan are wildly overcrowded, which is why the cafes of Brooklyn present so much of a better environment for remote work!
Read on, to find some new Brooklyn spots for working, taking meetings, studying, doing homework, reading a book or coworking with a friend.
If you see any errors or the need for updates in this article based on your recent visits to these cafes, please get in touch with us ASAP, so that we can keep this list up to date for everyone. Thank you, Brooklynites!
Devocion (Downtown Brooklyn, Williamsburg & DUMBO)
Helpful Tip
Locations as follows: 276 Livingston St, Brooklyn (Downtown Brooklyn), 69 Grand St, Brooklyn (Williamsburg), 105 York St., Brooklyn (DUMBO). There are two more locations in Flatiron (Manhattan) and Midtown Manhattan.
I once mentioned to a barista at the Livingston St. cafe that I had spent a month in Bogota in 2018, and that what had excited me most was Devocion's strong connection to Colombia.
She said Devocion is so serious about their Colombian beans that they overnight them by FedEx from Colombia to New York so that they're as fresh as possible. Is that devotion… or is it 'devoción?'
The DUMBO Devocion
The DUMBO Devocion is clean and glimmering with great design (check out our photos below) and it's spacious with tons of natural light. Located at 105 York St., it is open from 7:30am – 6pm on Mondays through Fridays, and 8am – 7pm on weekends.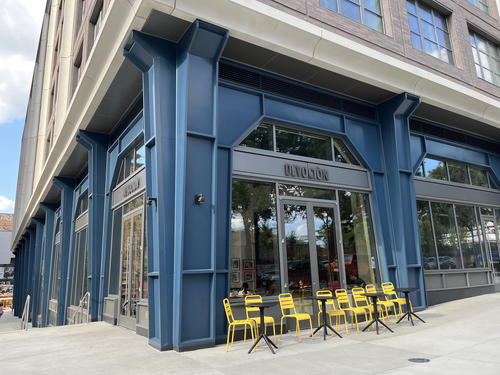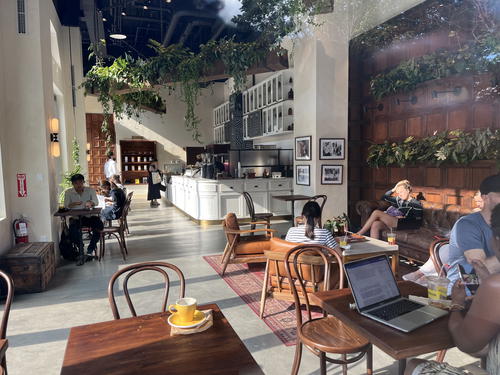 The Downtown Brooklyn Devocion
On the Monday when I visited, there were still seats available and the place was surprisingly not entirely packed. There's a cool soundtrack playing in the background, and due to the fact that most people here are working, no chatter and not too many loud conversations.
Helpful Tip
The WiFi is on a password-ed network and is free. Note, however, that they shut the WiFi on weekends (to keep the place laptop-free, I presume), so come here Monday through Friday with your laptop, and not on Saturday nor Sunday.
Decor is clean and new, with high industrial-style ceilings, walls reminiscent of cinder blocks, tiled floor, a cool cement central "patio" surrounded by real (!) jungle plant life. Working here is like working in a garden.
For the Downtown Brooklyn location, the closest subway is Hoyt-Schermerhorn C/G.
Check out Devocion and learn more about their coffee and their story.
To drink: the fresh Colombian coffee.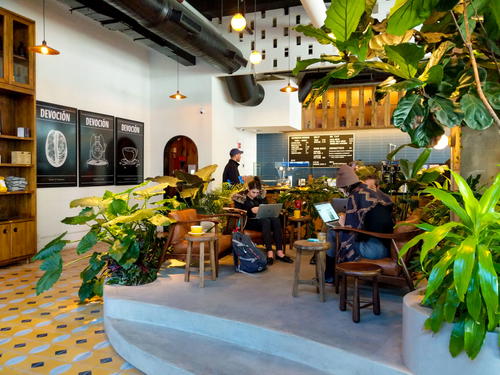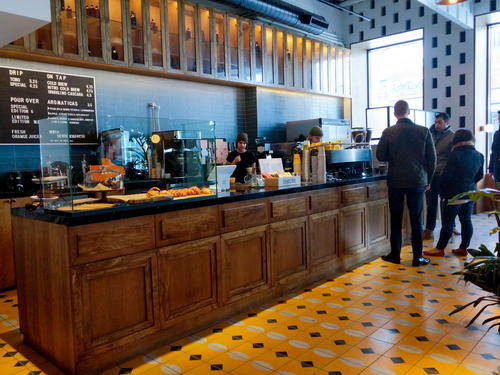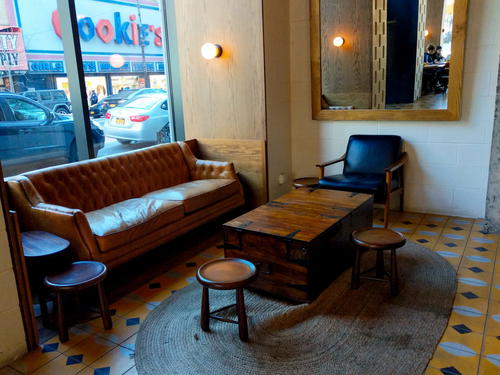 The Williamsburg Devocion
Devocion in Williamsburg has all the same perks as its sister location in Downtown Brooklyn, but it sports a natural-lit space with a big skylight for a beautiful effect while you work on your laptop.
Here you'll find couches in the center of the cafe, surrounded by some tables with umbrellas where you can sip on and savor an excellent Colombian coffee. The plants chosen for the plants wall include some coffee plants unique to Colombia! Devocion wants you to imagine you're a guest at an estancia (a large plot of land used for farming) in the Colombian coffee region, so enjoy!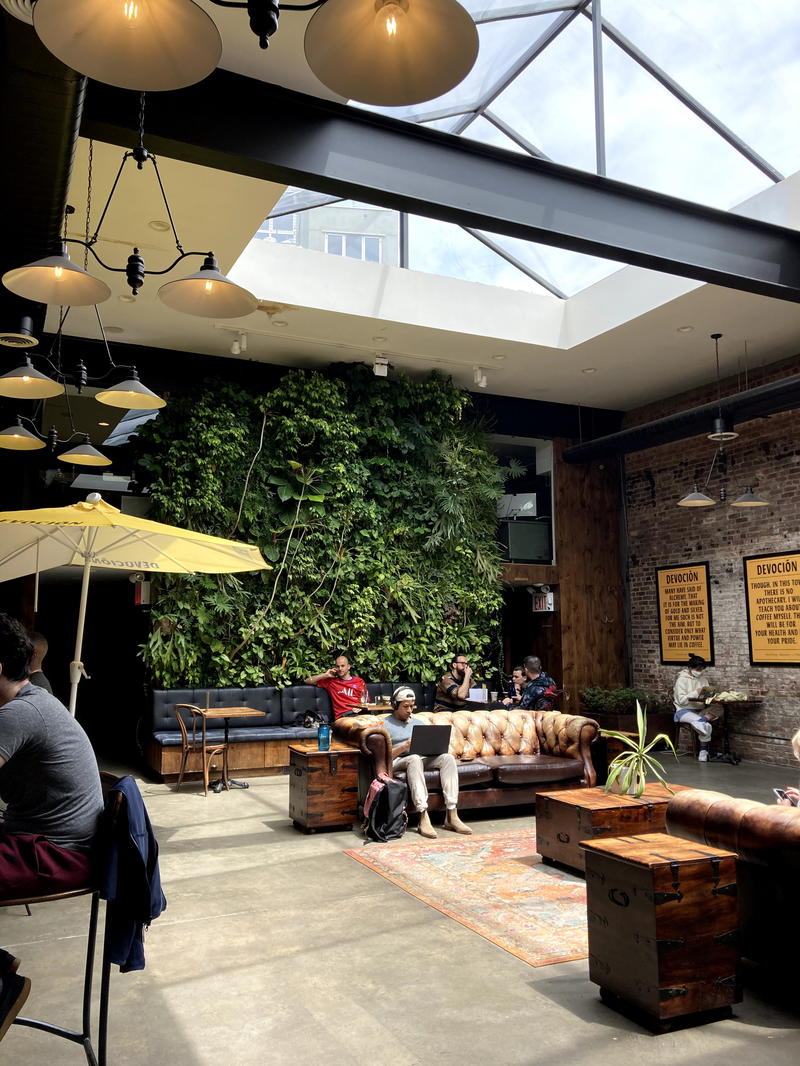 Coffee Project NY (Fort Greene, also East Village/Chelsea and LIC)
Helpful Tip
Check out these locations: 78 Rockwell Pl, Brooklyn, NY (Fort Greene); other location are in the East Village, Chelsea, Hell's Kitchen, the West Village and Tribeca.
Coffee Project NY is an unbeatable cafe in Brooklyn, and was walkable from our Fort Greene apartment! This is a unique coffeeshop with tall ceilings, exposed brick walls, earthy wooden tables and a modern white aesthetic. The look is complete with a neon light installation on the inner wall that reads, "COFFEE made me do it."
During weekdays, the Fort Greene cafe has a work-friendly environment for anyone who comes with a laptop. When I tested my download speed, it was about 140 Mbps.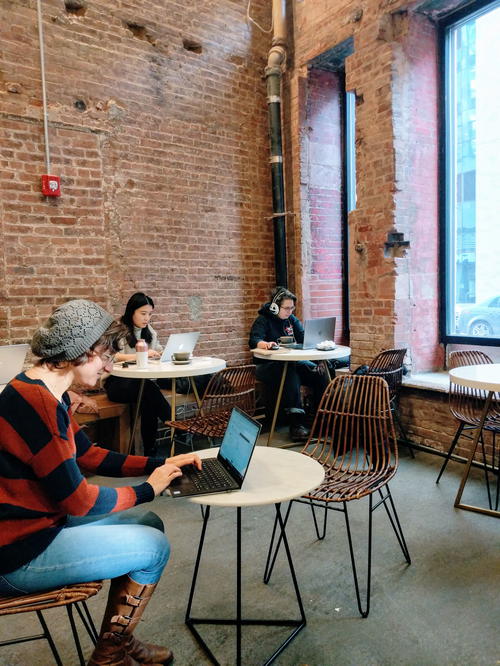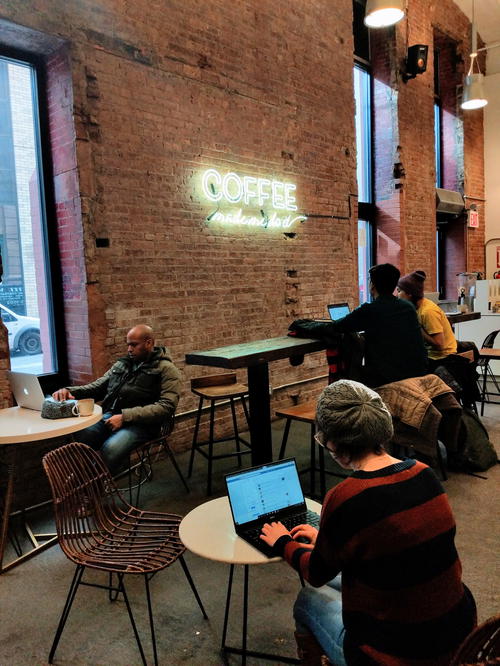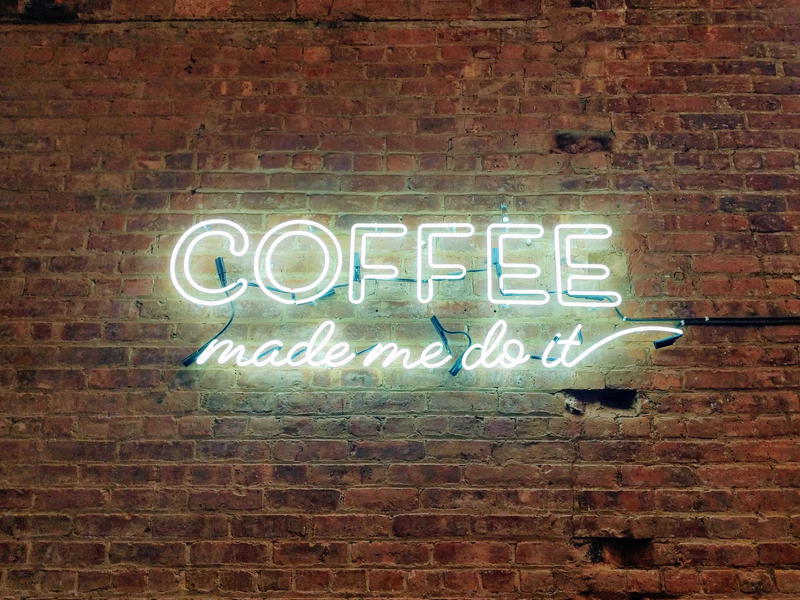 The coffee at Coffee Project NY is undoubtedly excellent. I had the drip of the day and it was a delightful Nicaraguan blend. They also have coffee in bags for sale, ranging from a house blend drip to house blend espresso and single origin, priced at market price. For food, there's an assortment of croissants, jelly donuts and cake.
Dan and I took a couples coffee class with Coffee Project in Long Island City. If you're really into coffee, check out this cool weekend experience, and tell the instructors we say hi!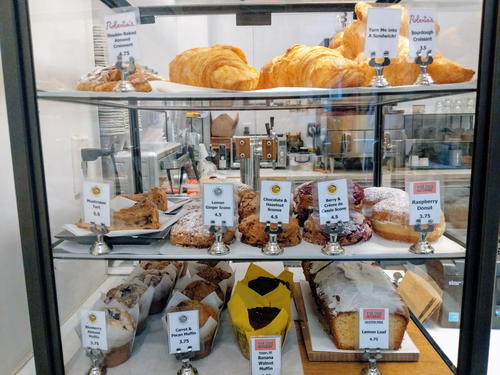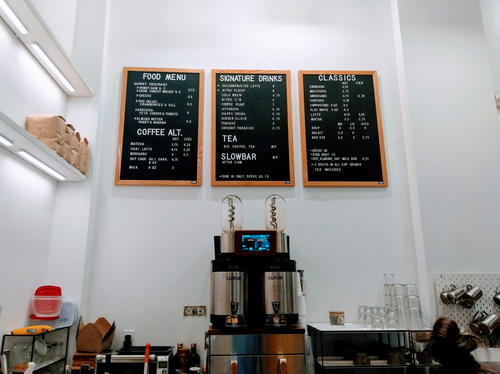 Sit & Wonder (Prospect Heights)
Helpful Tip
This cafe is located at 688 Washington Ave, Brooklyn, NY 11238, just blocks from where my grandmother grew up (fun fact!).
Aw, Sit & Wonder is so cute! I first came here with a friend while exploring her neighborhood two years ago and based our preference for cafe features on 'outdoor seating' and 'backyard garden.'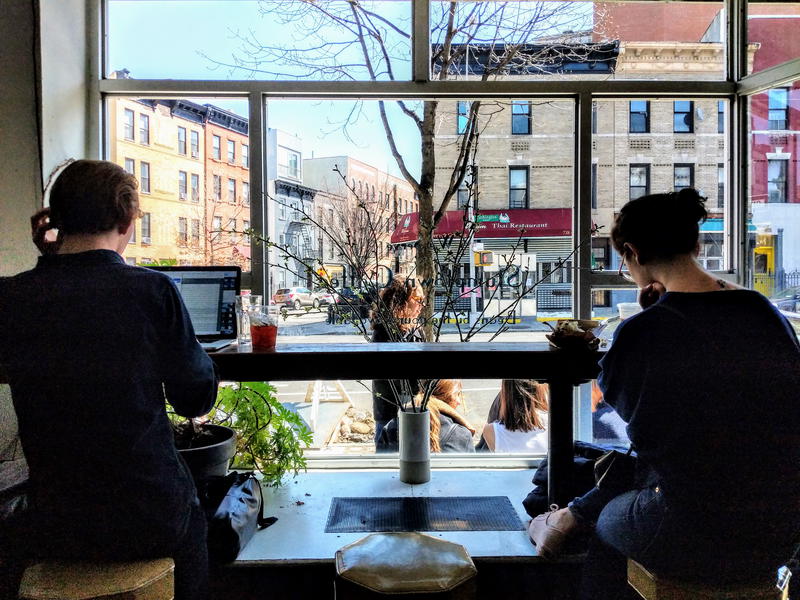 Sit & Wonder is hip, neighborhood-y and cozy. On the menu is Stumptown coffee, sandwiches and pastries. There are specialty drinks like kombucha, cold brew, maple lattes and matcha.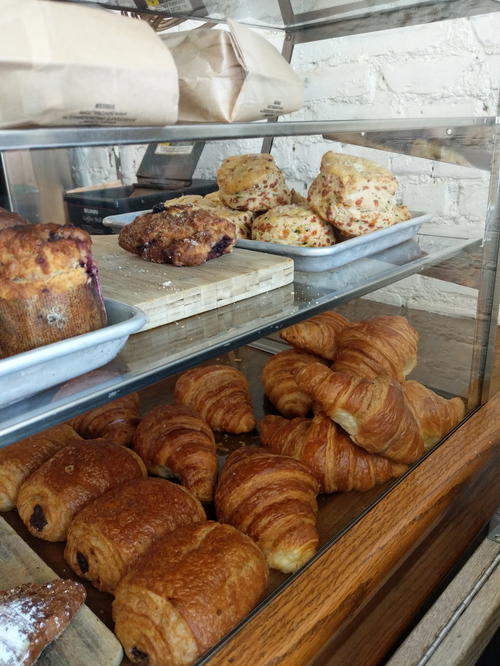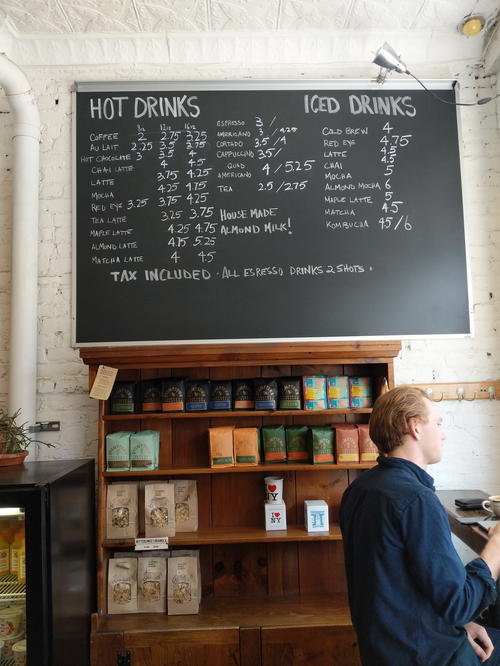 Freehold (Williamsburg)
Helpful Tip
Find Freehold at 45 S 3rd St, Brooklyn, NY 11249. It's one block in from Domino Park.
TOP PICK ALERT!
Freehold is one heck of a name in the Williamsburg parts, where this locale is known for being a cafe, coworking environment, event space, brunch spot and bar. Freehold has a whole variety of personas. Freehold customers are able to work from their laptops on the WiFi at this location, as confirmed by staff.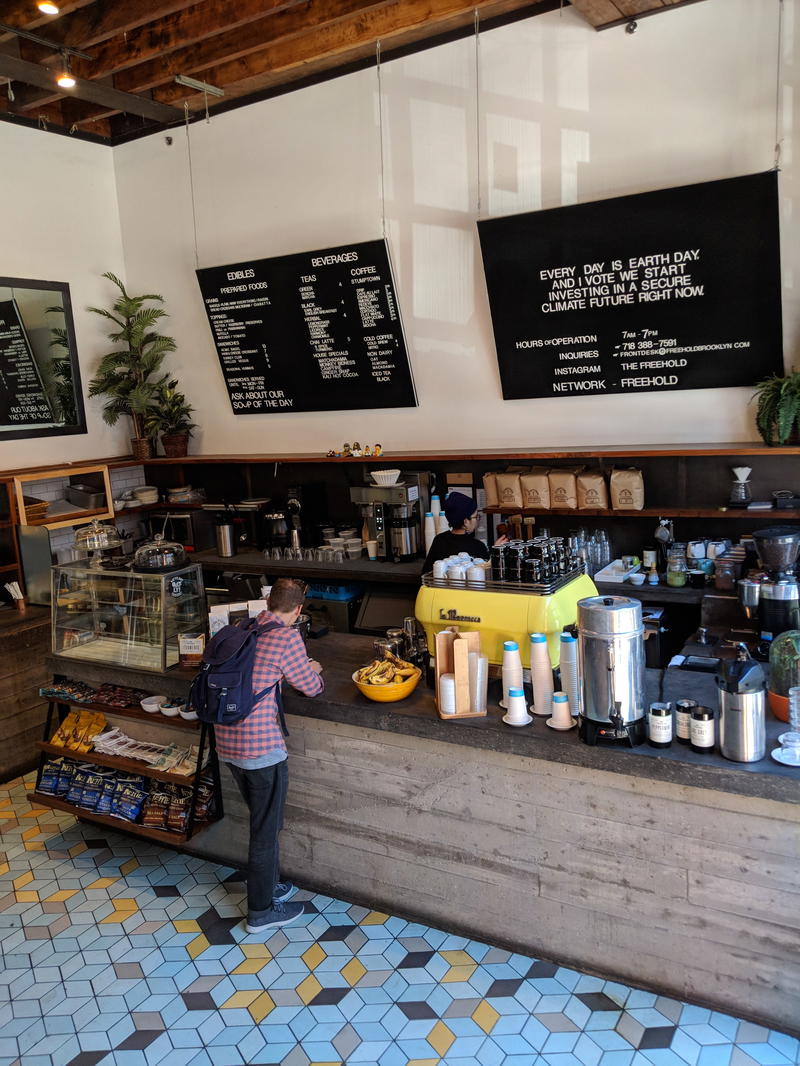 What you can find here if you want to come and work is a great coffee menu and lots of places to sit, whether inside, outside, on a deck or at a booth. So, get on down to Williamsburg to check out this lovely cafe space!
Helpful Tip
If you stay into the night, you might find that your office environment has transformed into a hopping bar scene-slash-club.
Casita (Park Slope)
Helpful Tip
Casita is located at 318 11th St., Brooklyn, NY 11215.
Casita is one of the newest newcomers to the coffee shop scene in Brooklyn, and in Park Slope, it's getting a sweet amount of attention.
Simply charming from the outside, and with a cool neon Insta-moment right in the interior, Casita is a friendly and cozy neighborhood spot where you can sit outside and work with your laptop!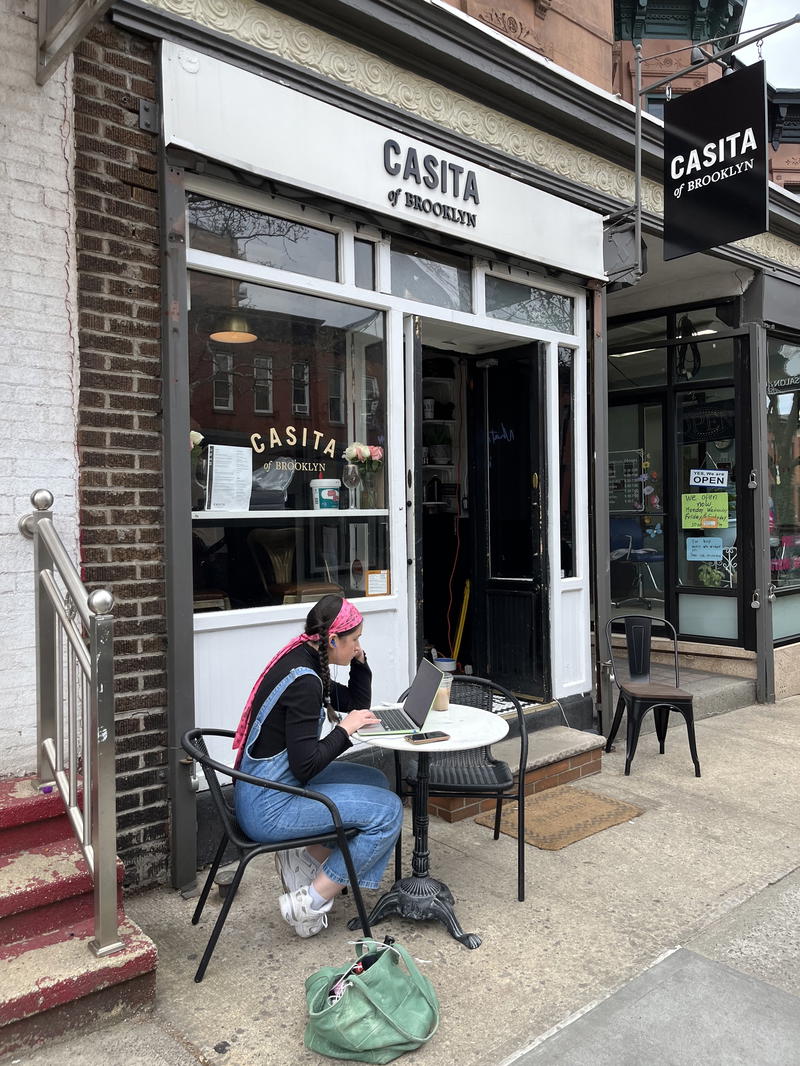 WiFi is good, the staff is awesome and the menu is unique. What's different and fresh about Casita is that the owners are Latin & Greek, so the menu items reflect this with empanadas, cafe con leche and guava and cheese pastries.
The cafe's clientele are loyal because the owners greet the regulars by name, and guess what: it's dog-friendly! See more about the Casita story and their vibey Instagram account.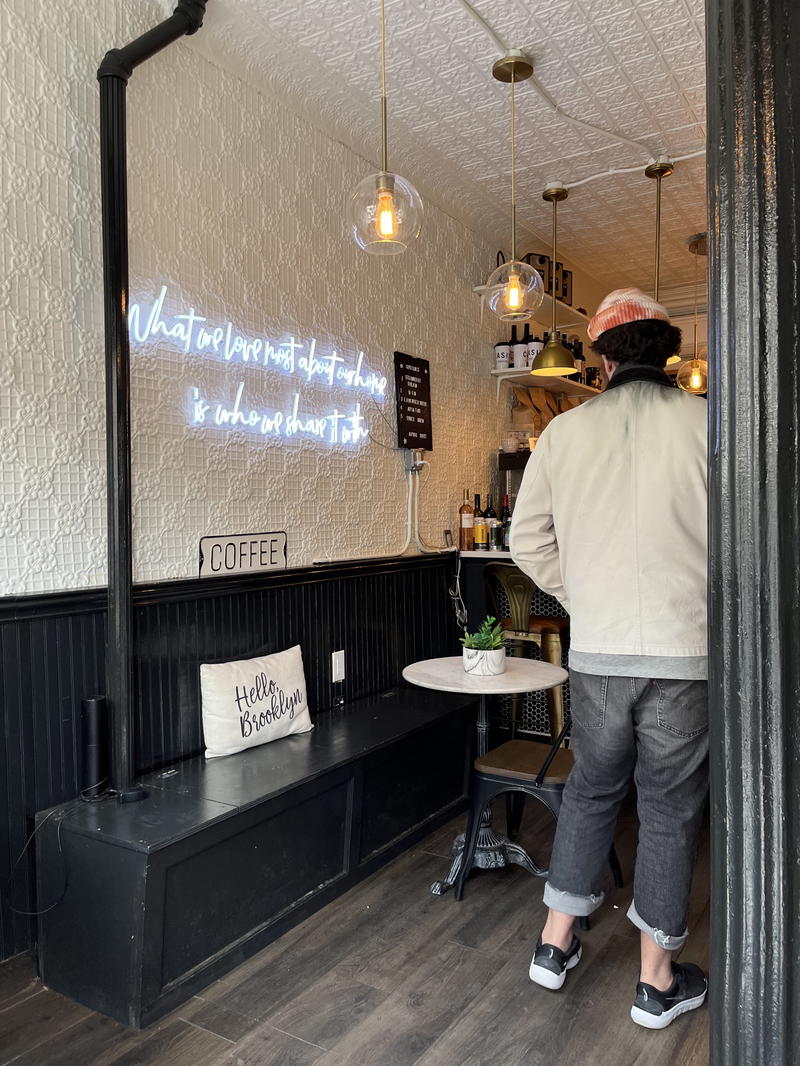 Helpful Tip
Casita is not a big place, with only a few seats and one outdoor table as of now, but it is possible the cafe will set up more seating.
Stonefruit Espresso + Kitchen (Bed-Stuy)
Helpful Tip
It's located at 1058 Bedford Ave, Brooklyn, NY 11205.
OMG, Stonefruit is SO, so cute. This sizable cafe, which has dual personalities as a coffee shop and a plant store (!!) is located near the Bedford-Nostrand G train (one block away, actually), and I wish I had found it much sooner.
The crowd: Local coffee shop customers, lots of quiet people on laptops, and people who want to brunch.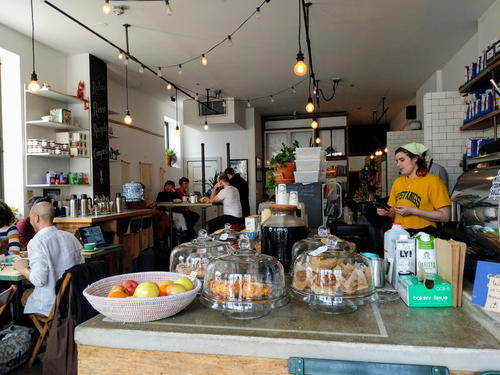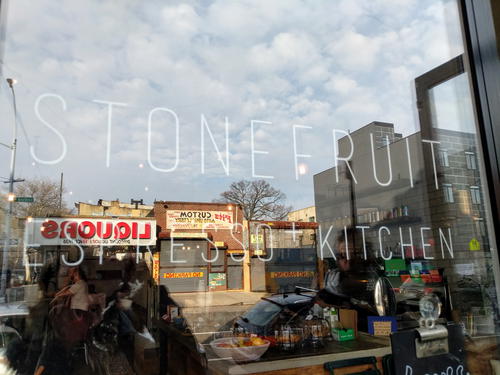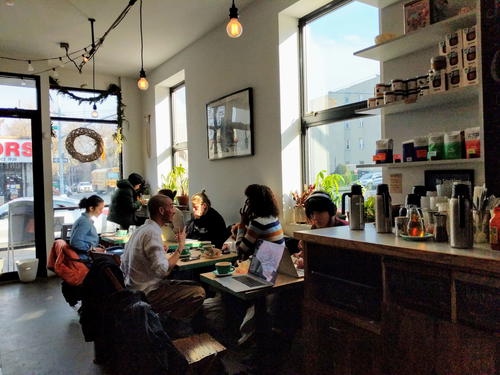 The plants: They are delightful. The entire back room has a long family-style/cowork-style table with 14 chairs and a side table that has cool retro chairs and pillows. For sale, there are plants lining the walls, soil and potting mix on the floor (bagged), Instagram-friendly pots for sale in an array of pastel colors and dried flowers for your home.
There are also wreaths, baskets and macrame wall hangings. If you want to feel like you're working for the day in a greenhouse, this is the place.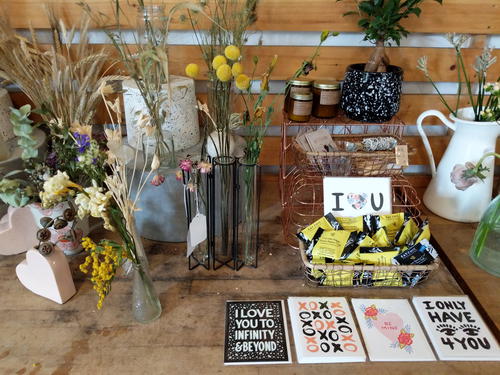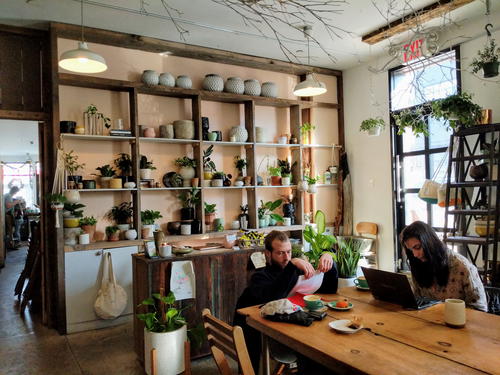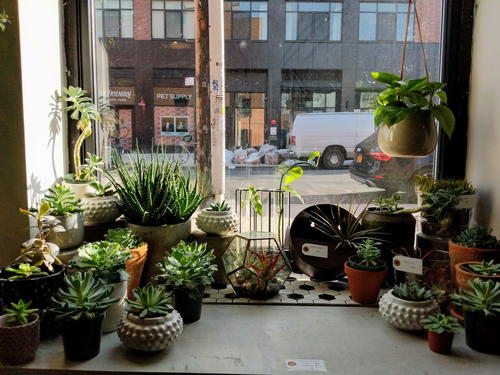 The WiFi: Fast. 170 Mbps for downloads (via fast.com), with upload speed of 60 Mbps. The coffee: it's delicious, and the small house drip is $2.50 with the first re-fill on the house!
Helpful Tip
Get the loyalty card, and your 11th drink will be free.
Poetica (Carroll Gardens, Boerum Hill, Williamsburg, Windsor Terrace )
Helpful Tip
With several locations, here's the rundown: the Carroll Gardens location is at 251 Smith St, the Boerum Hill one is at 529 Atlantic Ave, Williamsburg at 561 Lorimer St, Windsor Terrace at 1233 Prospect Ave and South Slope at 240 Prospect Park West.
Poetica is a local group of coffee shops under more or less the same name, and the Cobble Hill-Carroll Gardens location has a plant-filled backyard! It has a great atmosphere for getting work done.
If you check out their website, you'll see the other locations, ranging from Williamsburg (the cafe that has a sign that says "Coffeeeeeeeee" on Lorimer Street), Windsor Terrace and the newest location on Atlantic Ave. near Third Ave. in Boerum Hill (yay)!
You can find people on laptops and reading at all Poetica locations, so it's a great name to put into Google Maps and see if you are near a Poetica already. Also, all their locations seem to have this "Instagram moment" innately designed in their facades, and with the draping flowers, you'll want a photo.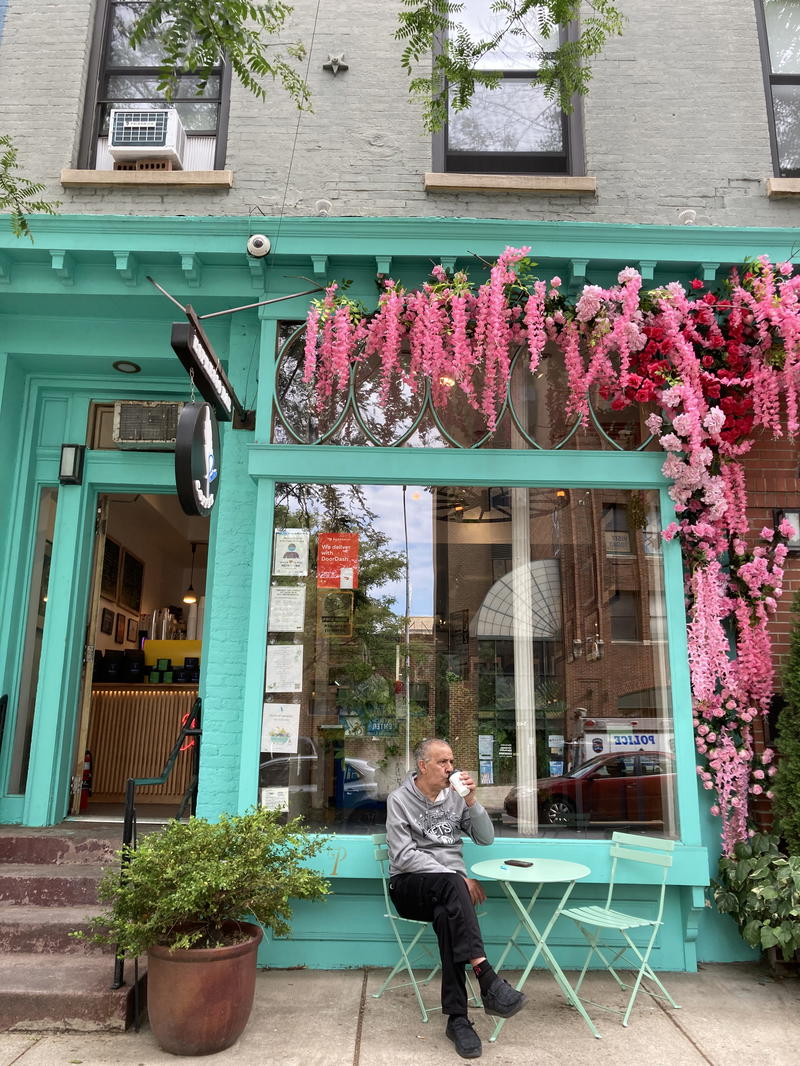 Blue Bottle Coffee (Park Slope, Boerum Hill, Williamsburg)
Helpful Tip
Several locations alert! Find the Park Slope location at 203 7th Ave, Brooklyn, NY, the Boerum Hill location at 85 Dean St, Brooklyn, NY, and the Williamsburg one at 76 N. 4th Street, Store A, Brooklyn, NY.
Blue Bottle is a pourover specialist, and if you order the drip coffee (we did), you get a custom pourover by a barista. Blue Bottle Coffee is a gem because the interior (in the Park Slope location) is like a minimalist light wood dream where you're about to drink something awesome.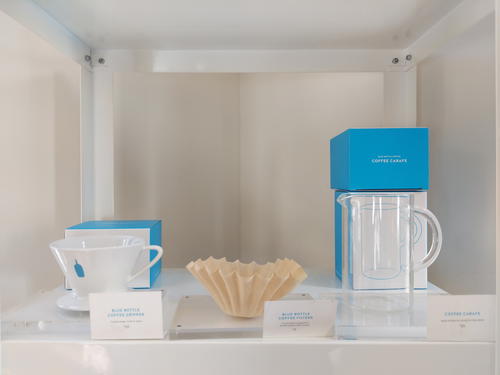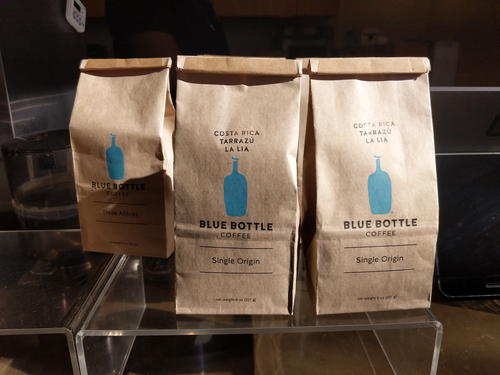 There's no regular drip coffee from a big vat or anything like that. Their menu is beautifully specialized, with espresso and various specialties like the "New Orleans" iced coffee, a coffee tonic, the "Cascara Fizz" and cold brew in a can for purchase (you can also buy it online here).
Come to the Park Slope spot any day and you'll see locals taking up the tables against the back wall with laptops. On weekends, it's full with passersby, including kids and dogs. Note: The Dean St. location is small in the inside, and I wouldn't recommend hunkering down there for working.
Bonus: the outdoor space (Park Slope location)! What a joy to sit in a sunlit patio facing 7th Avenue in Park Slope, where you can people watch, or stay connected to their fast and free WiFi.
Other bonus: They have "coffee toys" (the Blue Bottle Carafe, and the Blue Bottle Coffee Dripper) and swag for sale, and you can also buy Blue Bottle signature bagged coffee.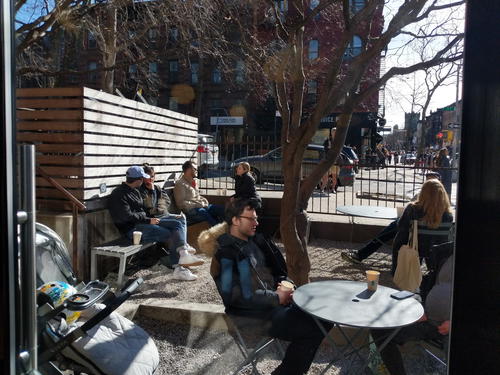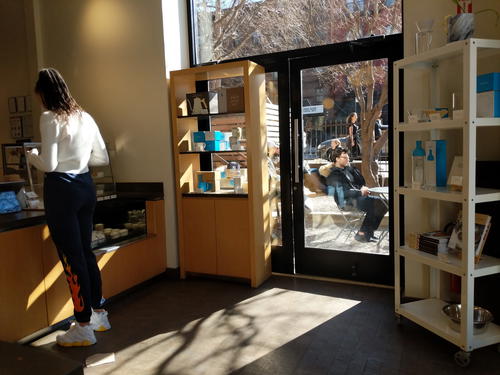 Absolute Coffee (Atlantic Ave. / Boerum Hill)
Helpful Tip
Absolute Coffee is located at 327 Atlantic Ave, Brooklyn, NY 11201.
On a given weekday, Absolute Coffee turns into a laptop-friendly work-from-home hangout where three tables put together form a communal remote work desk and the tables that line the wall are occupied by peeps on laptops. The WiFi is fast, and there's hardly any distracting side conversation.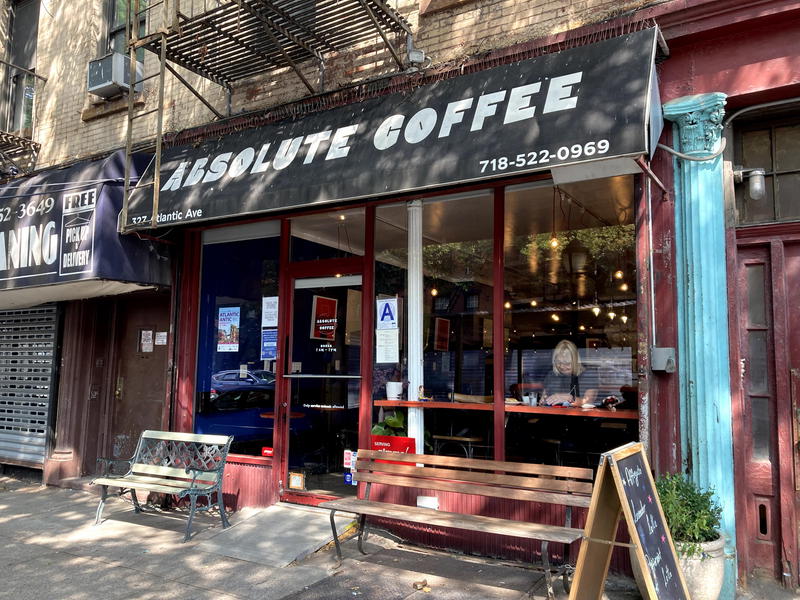 As for the vibe, it's indie, with few frills, and simple deco like black and white photos framed on the walls and some hand-drawn doodles of cats. There is great music, friendly baristas and a wide array of teas. They also have some yogurt parfaits, croissants, gluten-free or vegan baked goods and donut holes. The cafe sells coffee for taking home in a bag.
Also, there's a loyalty card! Grab one and start racking up your points. If you'd like to support the cafe further, you can get a gift card online.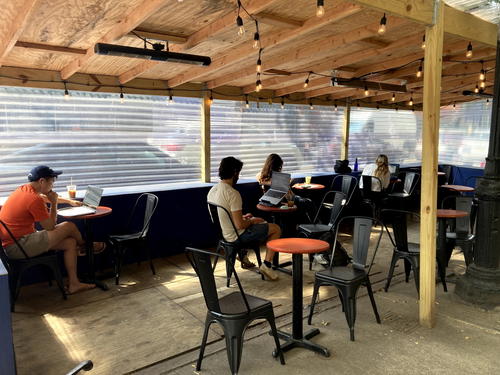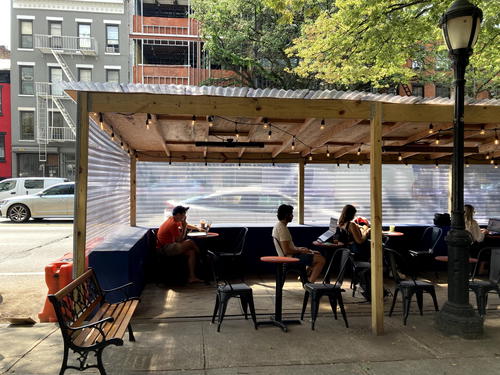 Helpful Tip
It kind of has more of a 'cafe' (think long counter for ordering food) than 'coffee shop' vibe, but that's an opinion.
The Center for Fiction Cafe (Fort Greene)
Helpful Tip
The CFF library, event space, cafe and bookstore is located at 15 Lafayette Ave, Brooklyn, NY 11217.
Are you dreaming of doing work in a quiet bookstore with floor-to-ceiling shelves reminiscent of a library?
Your aspirations for being surrounded in literature can come true as soon as you arrive at The Center for Fiction, on the very bright corner of Lafayette Ave. and Ashland Pl.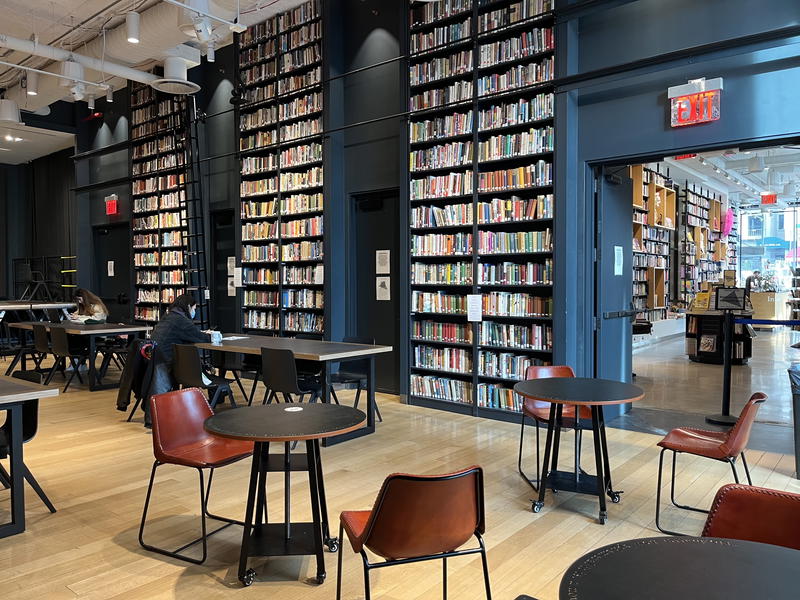 Can you work remotely at CFF?
Yes, you can bring a laptop here and use WiFi while seated at their cafe. The cafe is open with indoor seating and a full menu of coffee, tea, espresso, beer, wine, cocktails, and small bites (mostly baked goods and they look great). Check out the cafe website.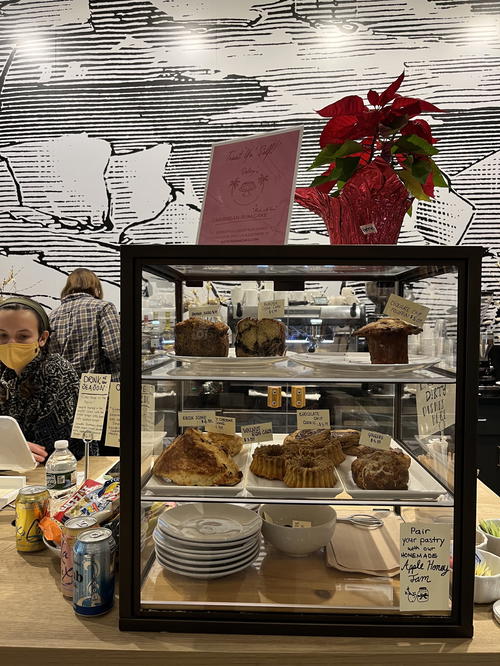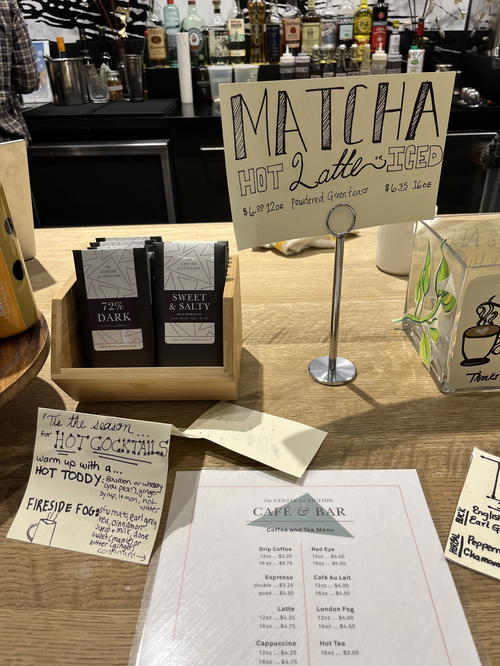 All laptop seating is in the 'auditorium' in the room neighboring the cafe and bookstore itself. The vibe here is quiet, as in, you wouldn't go here and casually take a loud stand-up meeting or boisterous meetup with a friend.
It's the type of place where everyone is heads-down and into their own things for the most part. This being said, it's a great place to come and work quietly without disruptions or loud interruptions like you might get at more lively coffee shops in town.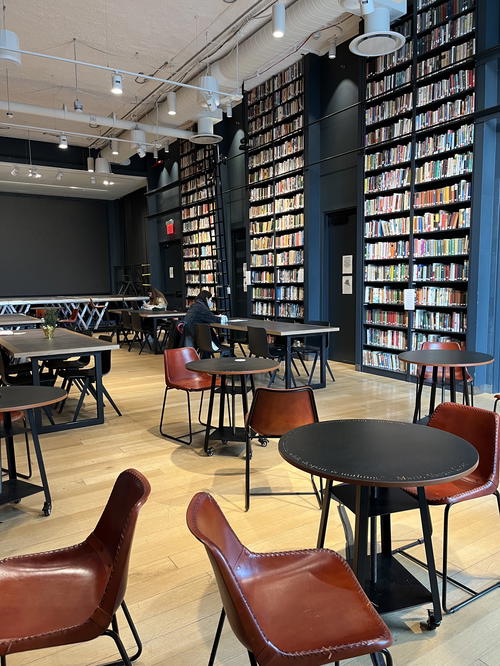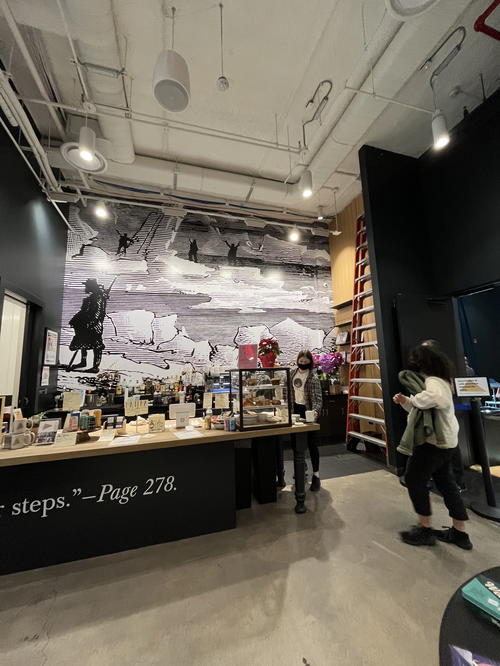 What are the hours for working at the Center for Fiction Cafe?
The cafe hours are 11am-8pm daily. For people coming with laptops to get work done, note that the indoor seating closes a little early (usually 5 or 5:30pm) if there are any in-person author events. It is suggested to check the CFF events calendar beforehand.
Is there a limit on WiFi like there was a few years ago?
Nope! The cafe did away with the limited WiFi, so now the WiFi is unlimited and you don't have to worry!
Helpful Tip
For any writers looking for dedicated space, check out the Center for Fiction's writers' studio, much like a consistent coworking membership for writers specifically.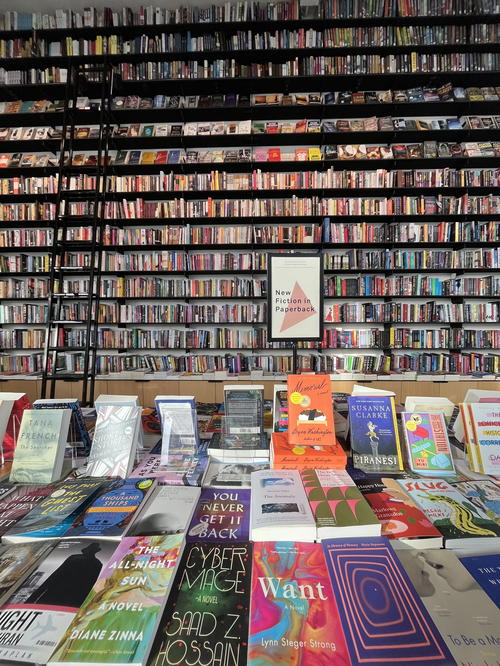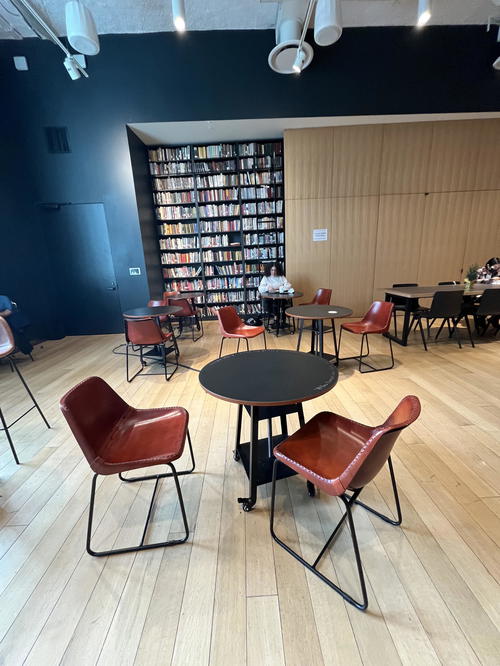 Vineapple (Brooklyn Heights)
Helpful Tip
Vineapple is located at 71 Pineapple St Brooklyn, NY 11201.
Vineapple is nearly hidden from the street and tucked behind a small door and small sign on Pineapple Street, Vineapple is super chill. Pre-COVID, Vineapple was a highly sought-after cafe to go to with your laptop in Brooklyn Heights and was more or less a vibey coffeeshop. New ownership in 2021 reinvented the place as more of a restaurant and bar as well.
There's a beautiful backyard garden where anyone can work with their laptop and some Devocion coffee, and a sidewalk cafe where you can meet with a friend and enjoy options from a significant food menu, craft cocktail selection and curated wine list from predominantly women-owned vineyards.
Vineapple has a nice selection of tea, coffee wine and cocktails. See more about the latest in this great cafe's offerings at the website.
Hungry Ghost (Park Slope / Prospect Heights / Fort Greene / Carroll Gardens)
Hungry Ghost. Memorable name, right?
My biggest discovery when visiting Hungry Ghost's Prospect Heights Flatbush Ave. location recently to do work was also that the key to getting some space and a comfy seat was coming at 4 pm and staying til past 6.
Due to this location's optimal location between Park Slope, Fort Green and Prospect Heights, it's always busy (with people on laptops on weekdays). Check out the Hungry Ghost website to see what's new with their 11 locations.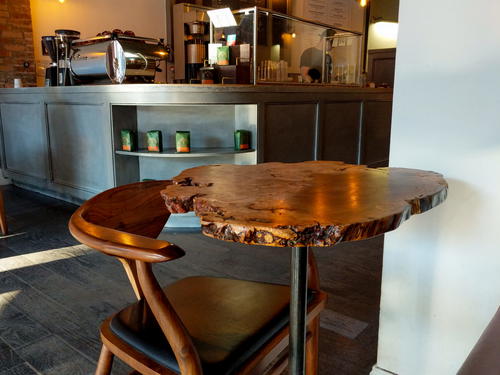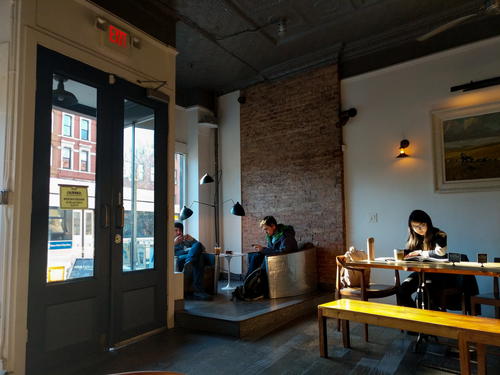 Decor at the location I go to is chic and has a touch of vintage. If you look up at the ceiling, you'll remember that most old buildings in Prospect Heights are turn-of-the-century and pre-war and have details in the ceilings.
Big windows at the front of the store let in lots of beautiful light toward the end of the day, and you can get cozy in the window booth.
Helpful Tip
Hungry Ghost designates several tables as non-laptop tables, so look for the signs if you're with your laptop and don't want to be told to move.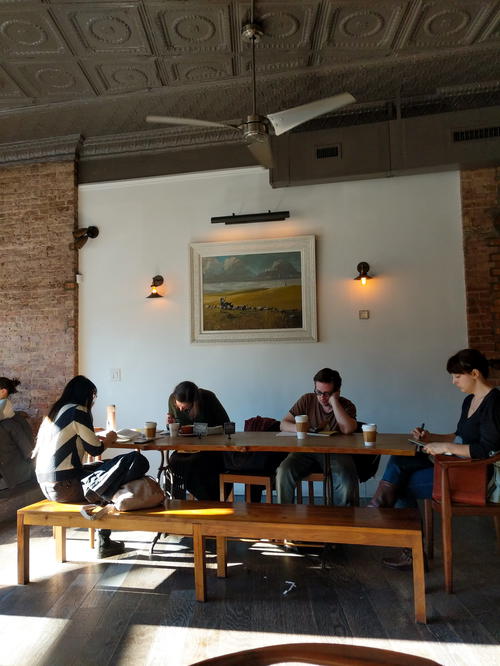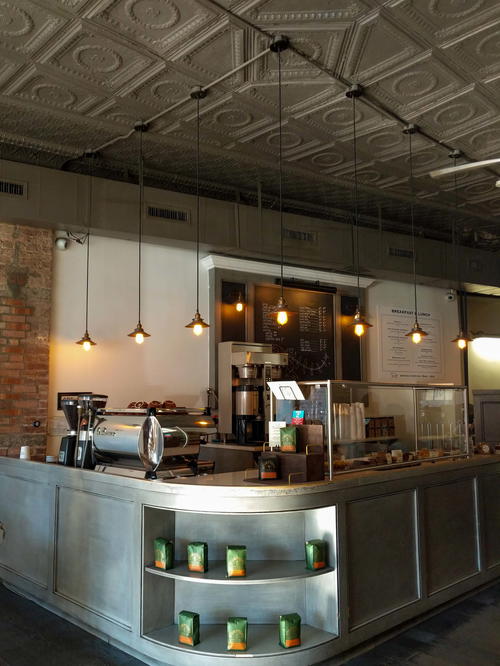 Helpful Tip
They have seltzer on tap!
Rita & Maria (Bed-Stuy)
Rita & Maria came recommended by my friend and former colleague Kylie, who has been working at cafes in and around Bed-Stuy. Rita & Maria is a perfectly cute cafe (check out the cafe's Instagram) located at 558 Halsey St., Brooklyn, NY.
It's both a cafe and a bar, with a couple of outdoor seats, and a fun and playful interior: an old-school tiled floor, whitewashed brick walls and seats that remind you of the chairs you took tests in during middle school.
The dishes on which the menu items are served remind me of classic platewares that my grandmother would've had, and the latte art is photo-worthy. As for working, Kylie says watch out, as it gets pretty packed! As for sound levels that you might want to consider if you plan to work remotely, Rita & Maria doesn't get too loud, or Kylie definintely wouldn't be heading there frequently.
The next time you're choosing where to work for the morning, consider that the prices at this coffeeshop are reasonable and the pastries are amazing (we trust Kylie's judgement here). Also, note: this cafe is closed on Mondays, and open Tuesday through Friday from 8am-3pm, with weekends 9am-2pm.
The hours for the bar are only Friday and Saturday, from 5:30pm-10pm.
Dweebs (Bushwick)
Helpful Tip
Dweebs is located at 1434 DeKalb Ave, Brooklyn, NY 11237.
Minimalist and unpretentious cafe Dweebs has a dreamy menu and is a neighborhood favorite spot for working remotely with a laptop. This coffee shop is located at 1434 Dekalb Ave, between Wilson Avenue & Knickerbocker Avenue in Bushwick, Brooklyn.
Most people continually praise the coffee (from Spectrum Coffees) at Dweebs, along with (wait for it) the chia pudding. So, put it on the list. For the rest of the eats, they have breakfast burritos, "bagel sammies," and convenient "TOASTS" like avocado on toast or "eggs! on toast."
The indoor dining area has plenty of space in which to work on a computer with WiFi, and they now have outdoor dining, giving you an open-air environment in which to work remotely outside. Dweebs has consistently been known as a good place to get work done, study, do homework, catch up on reading or hang with friends.
Variety Coffee (Greenpoint, Williamsburg & Bushwick)
Helpful Tip
With several locations, you'll find the Greenpoint cafe at 142 Driggs Ave, Brooklyn, NY 11222, the Williamsburg one at 368 Graham Ave, Brooklyn, NY 11211 and the Bushwick location at 146 Wyckoff Ave, Brooklyn, NY 11237.
With three Brooklyn locations to choose from in north BK, you can probably find a Variety Coffee within a 20-minute walk no matter where you're located along the L or G trains.
Variety Coffee shops are a bit of a retro-meets-modern bunch, and frequent customers recommend the cold brew (best ever?), along with the vegan pumpkin loaf, croissants and some gluten-free baked goods.
As for working, most Variety shops make for excellent chill places where you can work with your laptop. The Williamsburg location has outdoor seating to be happy about. The Greenpoint location is smaller with outdoor seating in the street in a corral setup. You can see the Variety Coffee Instagram here.
Boris & Horton (Williamsburg)
This friendly cafe came recommended by Maggy, and if you love dogs, well, read on.
Boris & Horton is a famously dog-themed cafe and dog-friendly cafe in Williamsburg. Maggy says the WiFi is good for working, and you can bring your dog. So, if you're working from home and Fido wants to come with, no problem.
You may ask yourself first: Do I want to work in a dog-centric cafe? If you're cool with (cute) distractions, and maybe some barking here and there (like maybe if you work in design, rather than constant Zoom calls in sales), then you can work remotely here with your laptop.
It gets even better, though: there's a Manhattan location for Boris & Horton, too! The Brooklyn location is at 510 Driggs Ave., Brooklyn, and the location across the river is at 195 Avenue A., New York, NY, in Alphabet City.
If you head over to their fun and colorful website, you'll see that the cafe(s) host events, have "Coffee Club memberships," sell treats (for dogs) and sell merch (for humans).
Remember: all dogs must be "people-friendly" in order to create a welcoming and respectful environment! 🐶
Brooklyn Kolache (Bed-Stuy)
Helpful Tip
This cafe is located at 520 DeKalb Ave, Brooklyn, NY 11205!
Brooklyn Kolache Co. is a cutie little blue-themed bakeshop with its Brooklyn location in the heart of Bed-Stuy at 520 Dekalb Avenue (Dekalb and Bedford), and a Manhattan location on Bleecker St.
The menu might stop you in your tracks, with its array of famed pastries, rolls and vegan treats, along with coffee drinks, from a vegan turmeric latte to the good morning latte (also vegan).
With nice outdoor tables in a yard, this is a cool and chill spot to work remotely with your laptop and some fresh air.
Odd Fox Coffee (Greenpoint & Bed-Stuy)
Helpful Tip
The Bed-Stuy location is at 525A Throop Ave, Brooklyn, NY 11221 and the Greenpoint location is at 984 Manhattan Ave, Brooklyn, NY 11222.
Odd Fox describes itself as a cafe brand where you should hang out and get work done, so yes, they probably want you to grab your laptop and come enjoy a coffee with some WiFi. Hooray!
This is a chill coffee shop (in both locations) where the coffee is 'mmmmm' and the peeps are chill.
Two locations, in Greenpoint at the original location of 984 Manhattan Ave, Brooklyn, NY, and in Bed-Stuy at 525 Throop Ave, will keep you happy even if you move, or have a friend to see in the other neighborhood.
You can chill in the yard to study, read, do work or just consume Internet, and you should check out Odd Fox Coffee's website.
Early Yves Cafe (Bed-Stuy)
This coffeeshop also comes recommended by Kylie, who frequents this spot to get some work done in a cool environment.
This delightful cafe at 210 Patchen Ave. in Brooklyn is a welcoming spot with wooden floors, natural light, exposed brick and daytime digital nomads tapping away on keyboards. In fact, Kylie notes that people take quiet Zoom calls in Yves, so if you need to hop on a video call, you don't have to be too shy about it if you're here for some work time.
For those who come with laptops, there are outlets near the wall. This seems like a prettttyyy popular place for coming to get some work done with cafe WiFi.
What's on the menu? For coffee, Yves has got espressos, cappuccinos and lattes, and for teas, there's chai, matcha and loose leaf teas. Hungry? Try the sourdough toast, French breakfast, assortment of patisseries and tartines. Feeling classy? Try the "Parisian Picnic."
Little Skips East (Ocean Hill/Bushwick)
Helpful Tip
Little Skips East is located at 1643 Broadway, Brooklyn, NY 11207, with Little Skips South (not remote-work friendly as per latest update) located at 1038 Nostrand Ave., Brooklyn, NY 11225.
Little Skips is a family of two cafes, with the "East" location in Bushwick and the "South" location in PLG.
Little Skips East is the Bushwick-Ocean Hill location, and it's known in the neighborhood as a good spot to work remotely for a few hours around these parts of Brooklyn.
Here's a rundown of the coffee shop?
There are two big tables for "camping out with a laptop"
The food menu serves up sandwiches, croissants and brunch items
There are also wines and brews on tap.
A little market has classic grocery items from local vendors for sale.
The vibe is kind of industrial-meets-art, with a focus on elements of Little Skips being a woman-owned business in Bklyn.
Brooklyn Roasting Company (Brooklyn Navy Yard)
Helpful Tip
Brooklyn Roasting now has 3 Bklyn locations at 200 Flushing Avenue near Brooklyn Navy Yard, the Williamsburg location at 543 Metropolitan Ave, and a Brooklyn Heights store. The Williamsburg location has lots of seating, Wi-Fi and a surprising amount of space. The third location in Brooklyn at 1 Clinton St is small and may not be conducive to spending much time to invest in trying to work remotely there.
Brooklyn Roasting Company is practically a NYC household cafe name, but the Navy Yard location is spacious and feels a bit like a miniature coworking space. You'll see a few people here with laptops, and there's WiFi.
What you certainly can count on at BRC is a large variety of coffees from all over the world, an array of non-coffee drinks and internet.
The Flushing Ave./Navy Yard location (200 Flushing Ave, Brooklyn, NY 11205) is where we walked by recently to verify that remote workers can hunker down with some caffeine and get into their work or studying.
Helpful Tip
They have oat milk. Coffee's good. Ask for a "to-stay cup" to choose an envi-friendly method of consumption. Due to the large space and high turnover of customers, not every table is sparkling clean, so watch out for crumbs and spills if you're cautious with your laptop and tech.
Lincoln Station (Prospect Heights)
Helpful Tip
Head to 409 Lincoln Pl, Brooklyn, NY 11238 to visit this Brooklyn cafe.
Lincoln Station is a cool spot in Prospect Heights and not too far from Prospect Park. It doubles (triples?) as a coffee shop, brunch spot and place to have a beer. In spring and summer, their outdoor seating is super nice!
Inside, the environment can be described as 'busy.' Seating consists of tables around the perimeter and at the windows and a bigger communal table in the center. Most people using laptops sit in the big center table.
Helpful Tip
Lincoln Station is open til 9 pm. Rotisserie chicken is available after 4 pm, and this seems to be an important thing to mention, according to the online buzz about the place.
Brooklyn Perk (Prospect Lefferts Gardens)
Helpful Tip
The PLG location is located at 605 Flatbush Ave, Brooklyn, NY 11225.
Not huge, but quiet with remote workers on the average weekday, this cafe has a great set of drinks. WiFi is free, strong and fast for some laptop time.
They have some specialty drinks like a lavender latte, rose latte and a bunch of fancy tea like French lemon ginger and white coconut creme.
Helpful Tip
Order a drip coffee and receive an actual four choices of 'which drip' you want! Choose from Kenyan, Ethiopian or whichever are being brewed that day.
Swallow Cafe (Cobble Hill, Williamsburg & Bushwick)
Helpful Tip
The Cobble Hill location address is 156 Atlantic Ave, Brooklyn, NY 11201.
Popular for people near Brooklyn Heights who want to get a little bit of work done with coffee, Swallow Cafe is the neighborhood-y joint around here in Cobble Hill.
It's smart to get to Swallow Cafe early, as tables fill up with laptop workers in the morning. According to our latest visit, they're also pretty populated on a Monday at around 2:30 pm, so expect to share a table or sit on the stools at the window.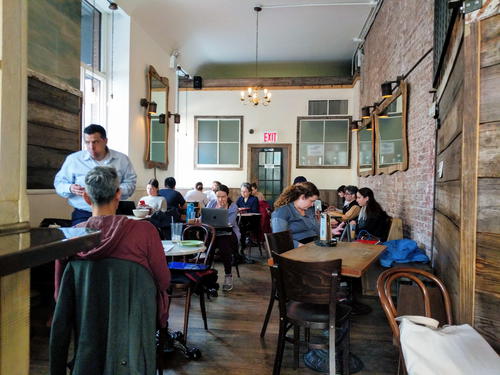 Ambiance: lots of natural light here, as, yes — you can sit facing the street and feel kind of like you're in a TV sitcom set (in my opinion). The decor is woody and vintage, with big brass chandeliers, a handwritten chalkboard with all food and drink specials and wooden shelving full of coffee toys like V60 pour-overs and packaged beans for sale (by Counter Culture coffee).
WiFi: WiFi is fast, there are some power outlets and everyone's happy with the quality of the coffee, which comes from Counter Culture. What's unique about the place are the high ceilings, which are a welcomed feature in a city of tight spaces. Fast.com clocked in at 72 Mbps with an upload speed of 11 Mbps.
To drink and eat: we tried the drip coffee (as always, to keep things consistent), and it's a bit burnt-tasting, but again, some people like that. Note that if you'd like a 'for here' cup, they charge you for a large.
For food, there's lots on the menu, from sandwiches named after neighborhoods in Brooklyn ("The Fort Greene," "The Cobble Hill") to breakfast all day, salads and smoothies. As you order and pay, you'll see a glass case of fun vegan and gluten-free baked goods, trendy wrapped chocolates and granola bars from local sellers. You won't go hungry here!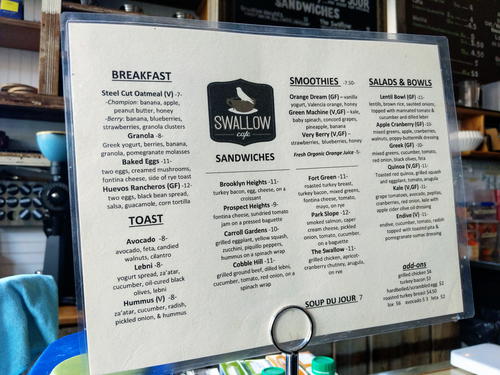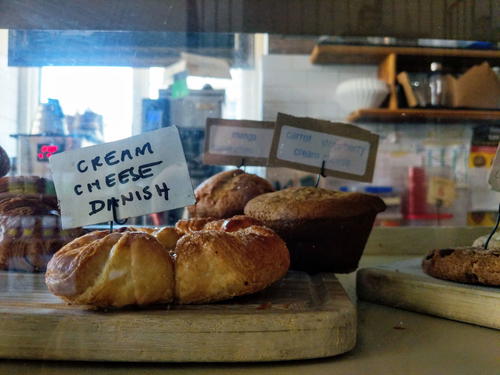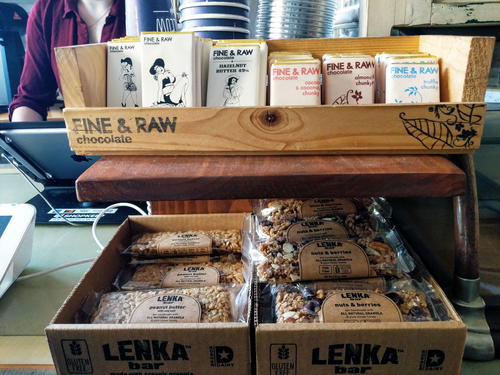 Coffee offerings range from lattes and cappuccinos to mocha, chai latte, matcha latte, golden latte and teas. There's oat and macadamia milk, along with a house vanilla syrup for adding. For those who want something sweet, they have lemonade and apple cider as well.
Bond St Coffee and Goods (Gowanus)
Helpful Tip
Located at 365 Bond St, Brooklyn, NY 11231, Bond St Coffee is in the heart of Gowanus (does Gowanus have a heart? Kidding.).
Given a tip by a fellow member of my Brooklyn neighborhood Facebook group, I decided to check out Bond St. Coffee & Goods as a cafe for working remotely in Gowanus.
The cafe is a busy spot, located near several new luxury high rises at the development between the Gowanus Canal and Bond St.
Locals in the area know Bond St Coffee well, although anyone from farther-flung neighborhoods may not be making it out there. All in all, the location only 2.5 blocks from the Carroll St. F/G train is not too shabby.
A menu of hot sandwiches, cold sandwiches, salads and hot drinks makes this place equal parts order-and-go, and enjoy-and-stay. With ample seating and a WiFi network, you can see why this is a neighborhood spot for taking a break and bringing a laptop along.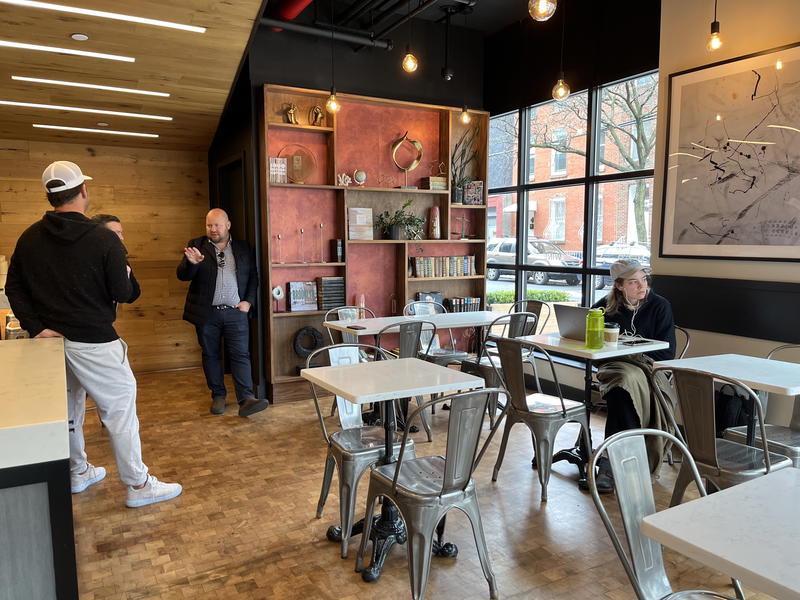 Rather than a homegrown cozy warm coffee shop vibe, Bond St Coffee and Goods is a bit more like a proper cafe, with meals, coffees, a fridge of sodas/beverages and bags of chips to grab for snacks.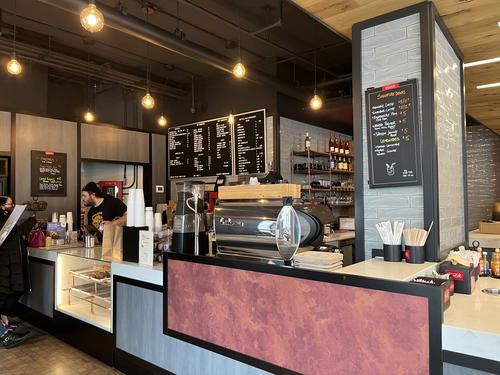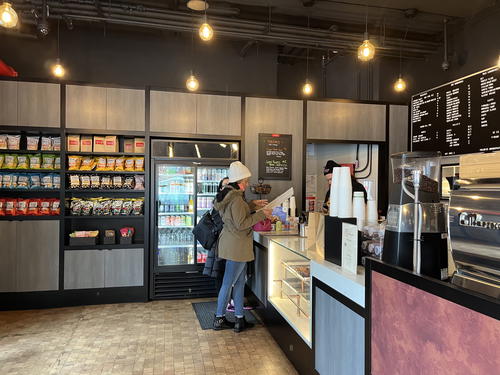 If you're into ratings, know that they have a big clear "A" on the front next to the entrance.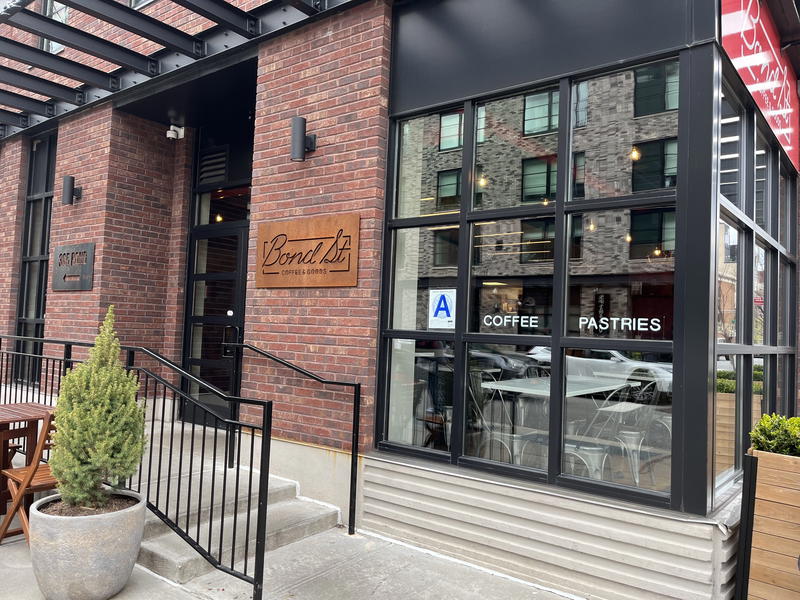 If there's anything on the menu to write home about, it seems like it's the signature drinks, which include a turmeric latte, lavender latte, matcha lemonade and ginger + turmeric lemonade. Those will be a great way to stay cool this summer.
Kos Kaffe (Park Slope)
Helpful Tip
Nestled in Park Slope, the address of Kos Kaffe is 251 5th Ave, Brooklyn, NY 11215.
Kos Kaffe is a "marriage of food and coffee," and the place is a local coffee shop vibe with wooden floors, shabby-chic deco, friendly staff and quick bites (from salads to sweet treats to avocado toast).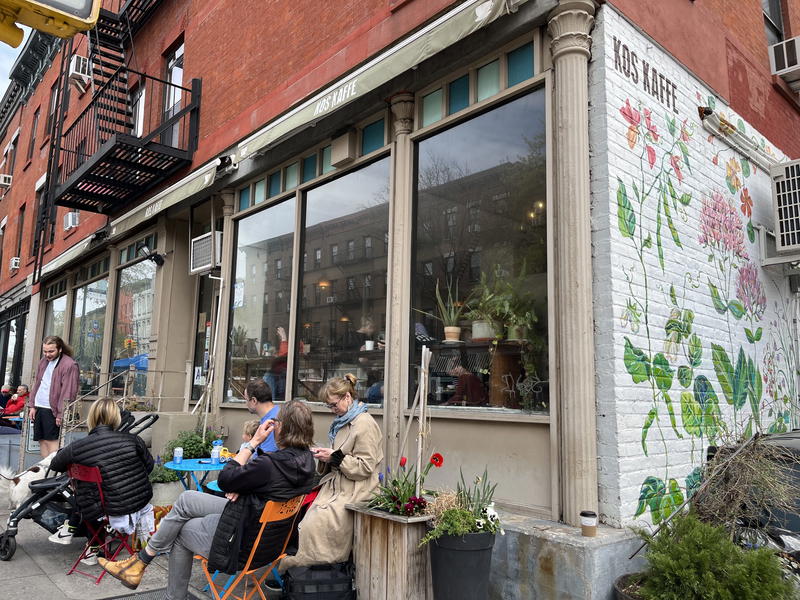 Kos Kaffe is a Park Slope staple, from its corner location on Garfield & 5th Ave (Park Slope) to its Sara Erenthal artwork boldly on the windows.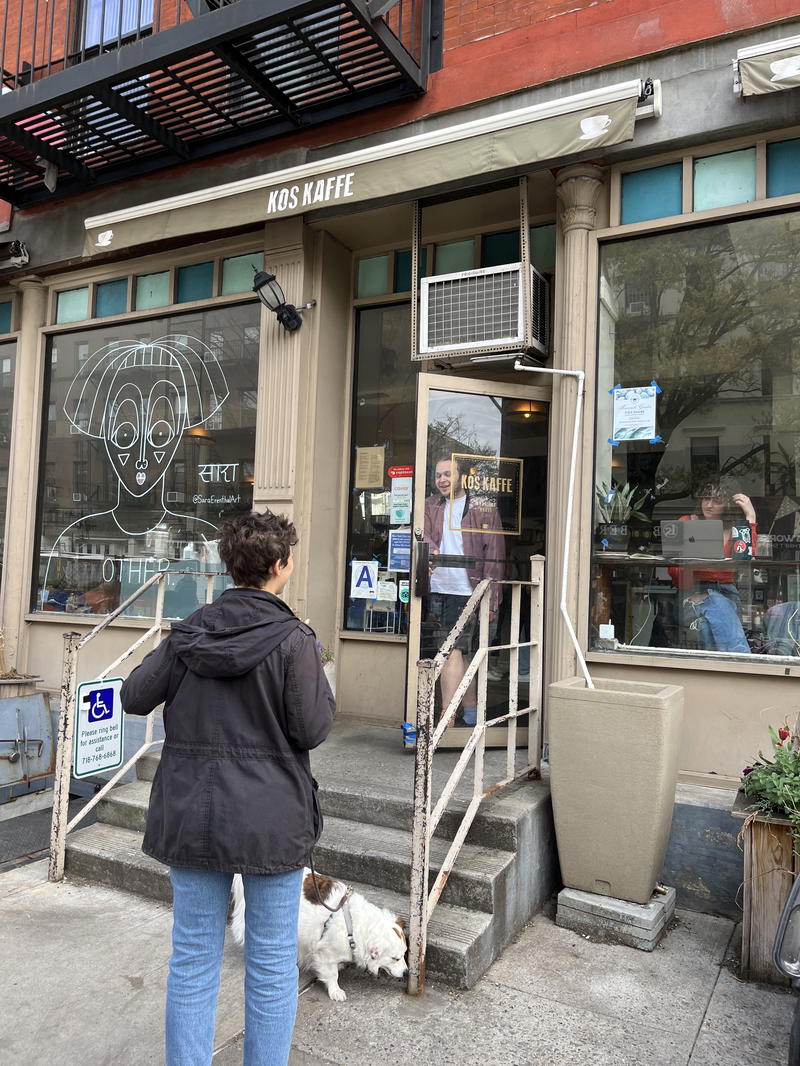 The baked goods are either made in-house or sourced locally, with breakfast served from 8am to 7pm daily, and drinks including a Belgian hot chocolate, matcha latte, Organic Kos Blend coffee and iced chai.
Regarding working with a laptop, they'll note that laptop use is only permitted in certain areas of the cafe Monday thru Friday 12pm-3pm and Saturday-Sunday 10am-4pm. At all other times, laptop use is unrestricted.
Check out the coffee shop's Instagram.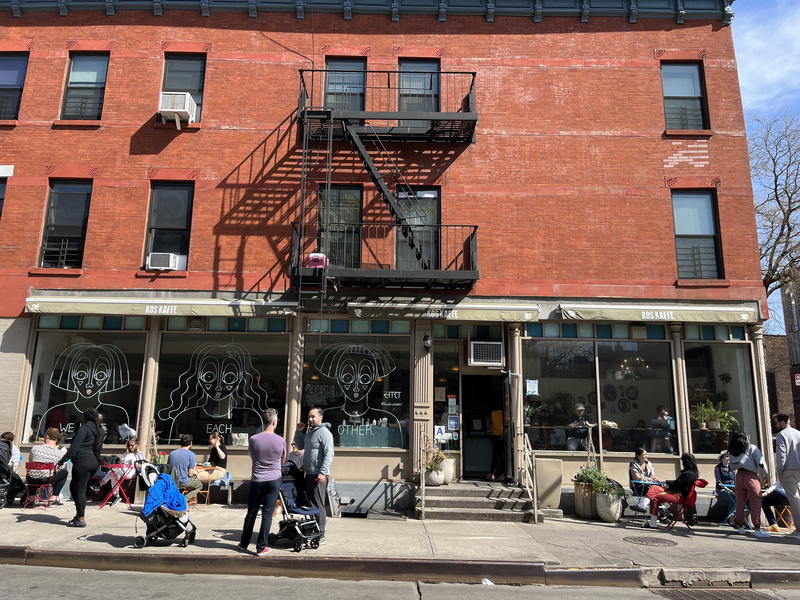 Santander Work Cafe (Williamsburg)
Does anyone else remember the Capital One Cafe on 14th Street at Union Square? I was sad when it closed (maybe sometime right before 2020, actually). I was both surprised AND happy to find out from Erin Smith that Santander Bank opened a Work Cafe right in Williamsburg, Brooklyn, at 85 N. 6th St. not too far from the Bedford L station.
I looked into this right away, and it's confirmed: you don't have to be a Santander Bank account holder to go to or work remotely from the Santander Cafe. Seems the cafe has been open since July 2021 (oops, I am very late to the game here) and aims to be a "free coworking space" for professionals in the city.
How very kind of Santander Bank! Honestly, these types of spaces go a long way in making corporations like banks look good in ourminds. I'm all for it. Santander has created a welcoming environment where they encourage remote workers to collaborate, meet, greet, take meetings and of course, do some banking, if they wish. There's coffee, WiFi, seating, desks and clean-cut corporate vibes. That means you don't need a Zoom background because you're already sitting in a real-life one!
People who use the space say there's tons of seating options, delicious coffee, good service and that overall, Santander has created the perfect coworking space. It's great if you don't have the budget for a membership at WeWork, or you just want to get out of the house from time to time to get work done on your laptop.
Please take note of the cafe's business hours.
Rhythm Zero (Greenpoint)
Helpful Tip
Find it at: 32 Kent St., Brooklyn, NY.
Vibes, you guys: Rhythm Zero is a cafe where you can work with your laptop at a big wooden table next to a tree trunk and old-timey wall paintings. You could probably say this place is "so Brooklyn." I started reading this article about the cafe in Greenpointers from when it opened.
Rhythm Zero is like wooden tones meets 19th century paintings meets retro furniture, and you'll be having a croissant on a plate with a doily while you dial into a meeting. It's right near WNYC Transmitter Park, where you can head before or after, for some views of Manhattan <3.
There's matcha, lattes with art, espresso drinks and even an affogato on the menu. The owners at this place have a true eye for design and it's what keeps everyone coming back. It's great that laptops are so welcomed! Follow the Instagram.
Velvette Brew (Park Slope)
Helpful Tip
Right in Park Slope, the address of Velvette Brew is 279 5th Ave, Brooklyn, NY 11215.
Another Park Slope classic cafe, locals love Velvette Brew as a neighborhood spot for a tasty iced coffee, sweat treat and a little spot to do work in.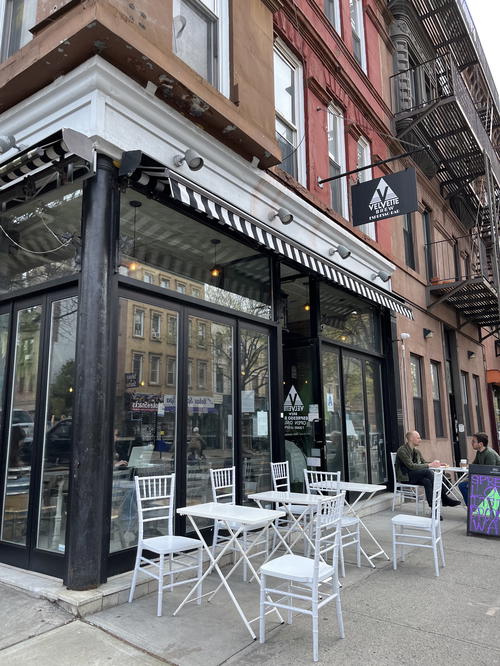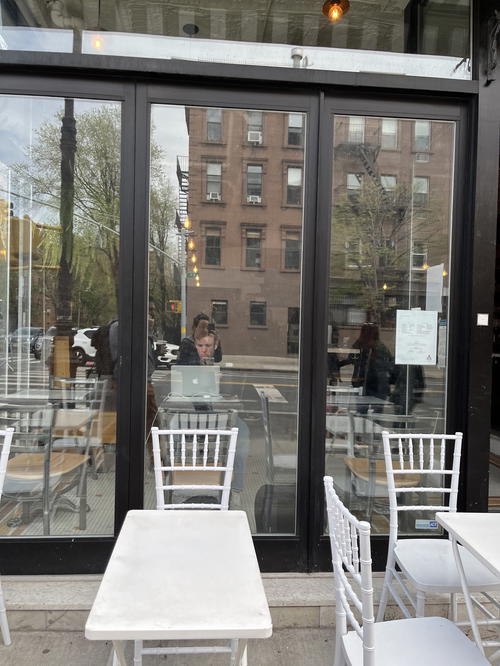 Are you into your coffees? Their house blend is Direct Trade Certified, and you can learn more about Velvette Brew here.
On the menu is a piercing green matcha lemonade, delightful matcha latte and iced chai for cooling down. You might also be inclined to go for an Instagram-perfect hot latte with hand-done latte art, for dining in.
In terms of actually getting work done, this is a good spot for popping in for just 1-2 hours. Seats are not so comfortable for longer than this, and they could benefit from more outlets, but again, this is a coffee shop, not a coworking space!
Because Velvette Brew is not a massive space, expect that there is a limited amount of seating. If you can't find a seat, pick up a muffin or a signature sweet crepe anyway, and come back another time!
AVA Brew (Downtown Brooklyn)
Helpful Tip
Located on the ground floor of a luxury apartment high-rise, the address of AVA Brew is 100 Willoughby St, Brooklyn, NY 11201.
AVA Brew is a modern space with a clean and cool atmosphere, described best by its Foursquare rating. The noise level is not too high, and you can usually get some space for yourself.
Helpful Tip
There's a high-top table with eight stools, and two tables each with two seats near the window. Aside from these, the seating is couches and big comfy chairs. If you're someone who requires a surface at which to work, keep this in mind.
AVA serves Pushcart Coffee, a selection of teas and for eating, they have pastries. The cafe's location is such that it's right near the A/C/F/R at Jay St. MetroTech, City Point shopping center and Borough Hall.
Artshack Cafe (Bed Stuy)
Another winner of a cafe to work at in Bed Stuy is the good-vibes locale Artshack Cafe. The WiFi is work-friendly, and it's a good stop for daytime caffeinating and getting some work done. This cafe comes recommended by Maggie G.
I can't believe I had not heard of this cafe until recently. Artshack Brooklyn is a "queer-affirming" organization that celebrates and honors people of "all abilities," according to the About section of the website. The cafe is a part of Artshack Brooklyn, which is a verified 501c3 non-profit organization. Spending money at the cafe will go back to the organization, and that is a great thing.
What's on the menu? Let's get right into it! For food, try the shakshuka, avocado toast, croissants or polenta, and for drinking, don't miss the matcha latte, flat white and espresso.
Artshack Cafe is located at 1129 Bedford Avenue, and is closest to the Franklin Ave. C Train.
BKG (Clinton Hill)
BKG is pretty "Brooklyn." Locatedd at 557 Myrtle Avenue, the interior has exposed brick, plants and cool baristas with beards. The exterior is a teal facade on a brick building with a wooden door, a bench outside and a black folding chalk sign. Step in.
Do you want to do work on your laptop here? Yes, you very much do, and so do other people, who you will find working on theirs when you get to BKG.
But what should you be drinking at BKG? Try a pourover, macchiato, iced chai latte, hot chocolate or iced mocha… yum. For bites, there are sandwiches, bagels and croissants. It's all really good.
On your way out, take home some bagged BKG coffee. Also, visit the website to learn about the other BKG locations on Scherhermorn at the Hilton Brooklyn Hotel (140 Schermerhorn Street) and at the Fordham University Rose Hill Campus. (Thank you Maggie G. for recommending this one!)
Sweetwaters Coffee & Tea (Park Slope)
Helpful Tip
Located right on 5th Ave. Park Slope, the address is 55 5th Ave, Brooklyn, NY 11217.
Finally, a cafe with ample space and tons of tables for sitting at with a laptop! Sweetwaters Park Slope is located conveniently on Fifth Ave. near St. Marks and is bright, with a low noise level on weekdays. When I went on a Thursday afternoon, only a third of the tables were occupied.
WiFi is free and fast and there are various outlets for you to plug in your charger. What's more is the walls are decorated with painted scenes of Park Slope and other areas of Brooklyn from local artists.
The menu is pretty big, with choices of espresso, teas, coffees and creamy shakes. For food, there's a selection of baked goods, cake, cupcakes, macarons and bagel sandwiches.
Lion's Milk (Williamsburg)
With a great location on Roebling not too far from "everything Williamsburg and Bedfor Ave.," Lion's Milk is a nice little cafe known as a good spot for working remotely with your laptop or tablet. Specialties include Turkish pastries and, wait for it, Turkish bagels.
As per the website's handy slogan, Lion's Milk is coffee by day, and wine and dine in the afternoons. That's my kinda place! Check out the Lion's Milk website to see more visuals of the trendy interior as well as the wine, beer and kitchen menu. There's also a brief Facebook page for anyone who'd like to see some photos of the baristas' latte art.
BURLY Coffee (Bed-Stuy)
Helpful Tip
Address: 356 Throop Ave, Brooklyn, NY 11221
Out there in a little wee bit of a subway dead zone (meaning you'll probably only get there if you're local) is Burly Coffee. A bus may get you there the most optimally, but if you're sworn to take the subway, try the Bedford-Nostrand Av or Myrtle-Willoughby Av G stops or the Myrtle JMZ.
This cafe is rated as good for working, reading and chilling, and the bonus is its bookstore vibe. Just check out the cafe's Instagram to see what I mean!
While some think "the best part of waking up is Folgers in your cup" (cue the jingle), Burly's customers think that the best part of starting a morning are the cafe's pastries. Other great parts of the Burly Coffee experience are the friendly baristas, coffee, chai tea lattes and anything made with oat milk.
If you like natural light, enjoy the large windows and ambiance while you do productive things on your laptop.
Honorable mention (not for working): Cafe Kitsune (Boerum Hill Historic District)
Helpful Tip
Cafe Kitsune is located at 112 Bond St, Brooklyn, NY 11217, in the Boerum Hill Historic District.
When I walked into Cafe Kitsune of the Boerum Hill Historic District, they told me they couldn't wait for the weather to get nice so that they could put out tables and chairs on the sidewalk.
"Ah, just like Paris," I said dreamily, not knowing that Cafe Kitsune is from Paris (🤦‍♀️).
Yes, Cafe Kitsune is a Parisian (and Japanese?) favorite, and you can see their fancy website here. Without knowing much about the history of the brand, I can only guess that Kitsune aims to mesh together coffee, food, music and art in a beautiful way.
The first thing you notice when you enter Cafe Kitsune on Bond & Pacific in Boerum Hill is that this coffee shop is great-lookin.'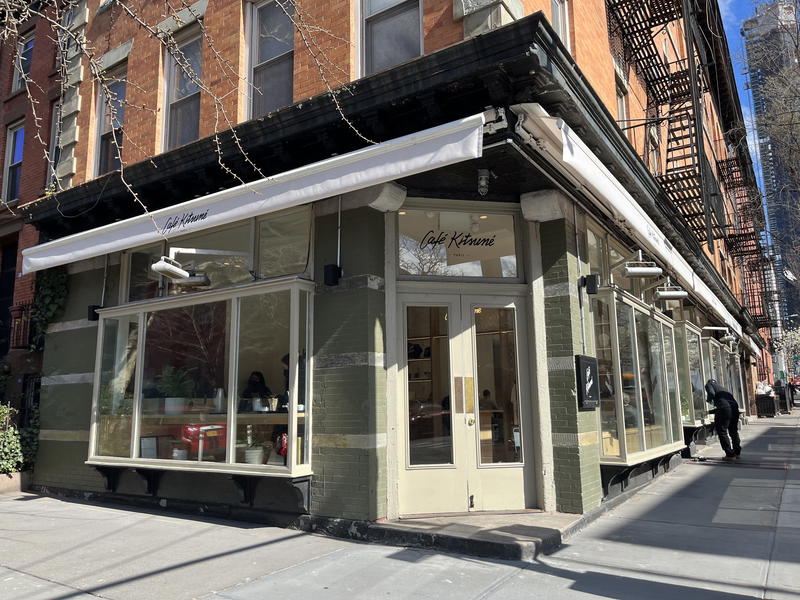 A cafe that's an art gallery
Wait, it's also an art gallery. It's also a cocktail bar. They also sell merch (what!) and lastly, you can get a really good coffee while sitting down to talk to your friend, because they are laptop-free.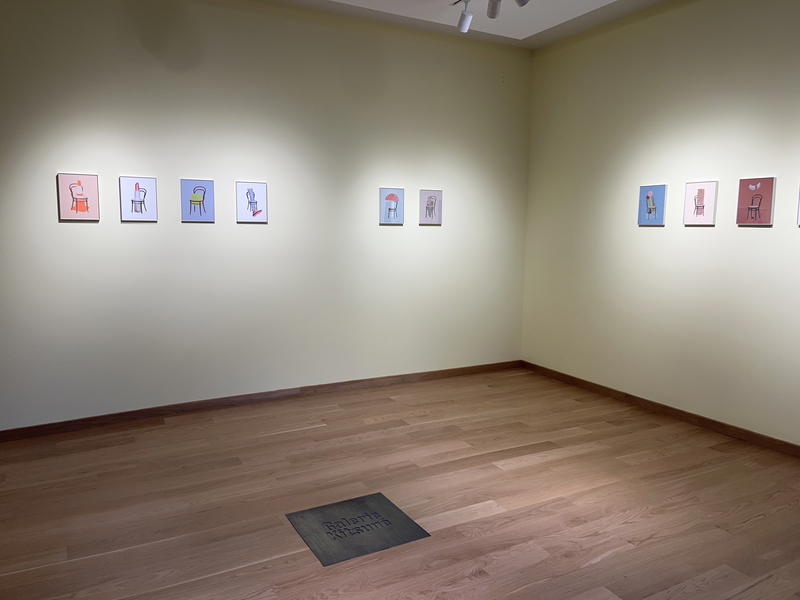 Maybe I've been living under a rock, but it's a very cool deal that my current neighborhood Boerum Hill (where's that, you may ask?) has a Cafe Kitsune location, taking after the locations in these world-class cities like Seoul, Tokyo, Shanghai, Beijing and Bangkok. It's a little taste of the international, right here at home.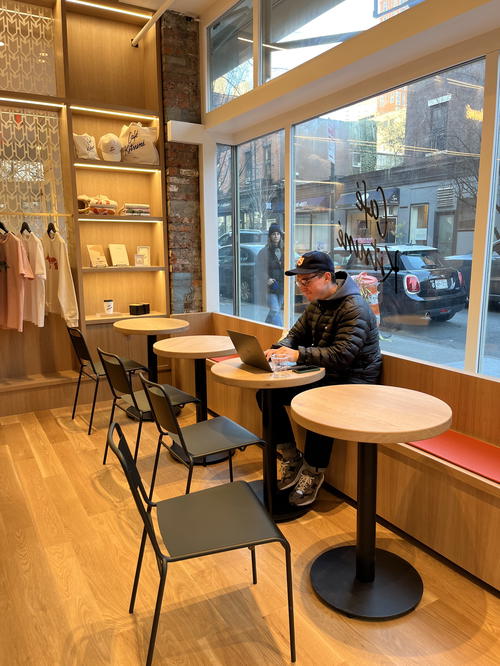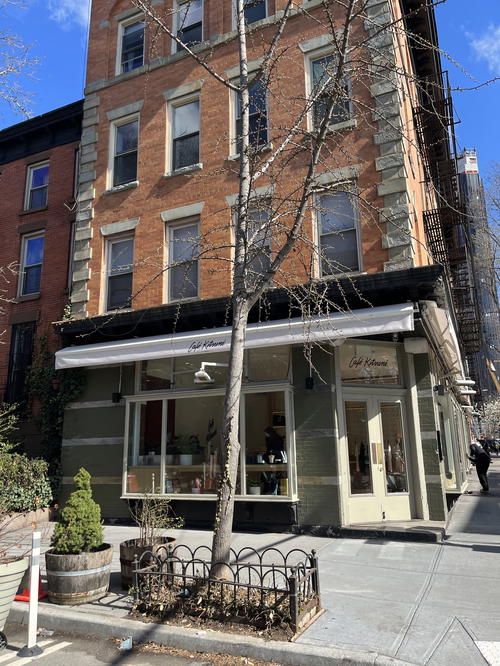 Can you work remotely at Cafe Kitsune?
The seats for dine-in are designated as laptop free, as the aim is to facilitate an environment in which you can have a good old chat with your buddy. You could do some type of work that didn't involve a computer, like writing or reading, or art. Art seems welcome.
Verbatim from what their manager wrote to me on Google Maps reviews was that they look forward to a cafe space filled with laughter and conversation (rather than laptops). So, you could have a business meeting at Kitsune instead of having your meeting over video. :-)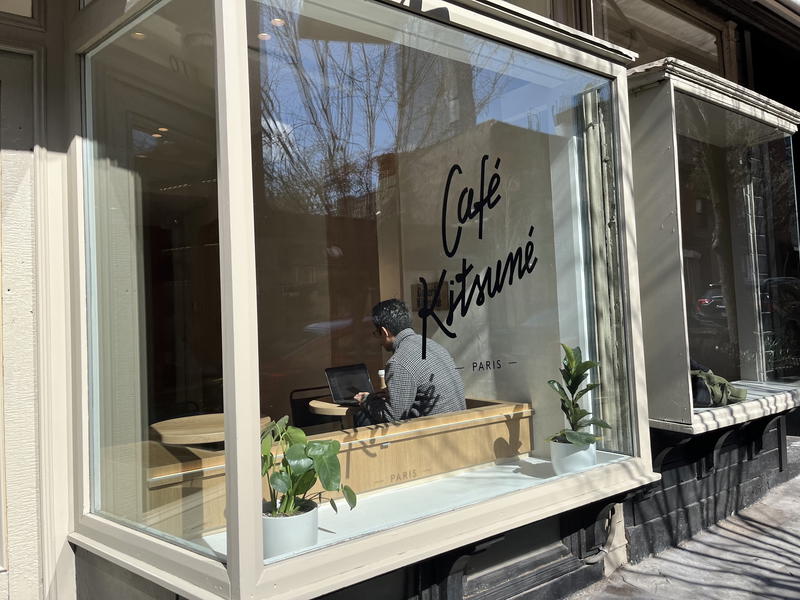 What's on the menu at Cafe Kitsune Brooklyn?
With only one photo (that I took) of the menu, you'll see there are coffees, including a signature special Black & White latte (based on the Jewish classic "Black and white cookie" that NYC so loves), and teas, along with juices.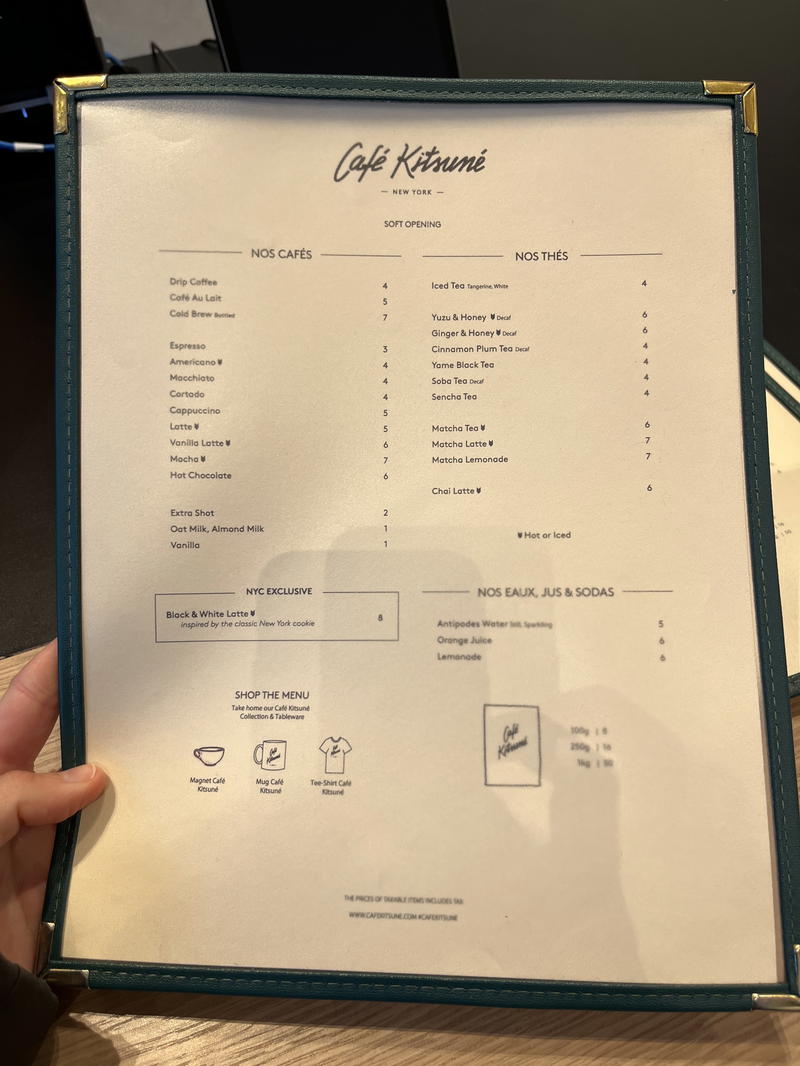 Cafe Kitsune is an experience, and the prices reflect that, relative to other coffee shops in this list. A bonus of the unique Kitsune experience is that if you walk back into the gallery, you will see the room that celebrates emerging artists.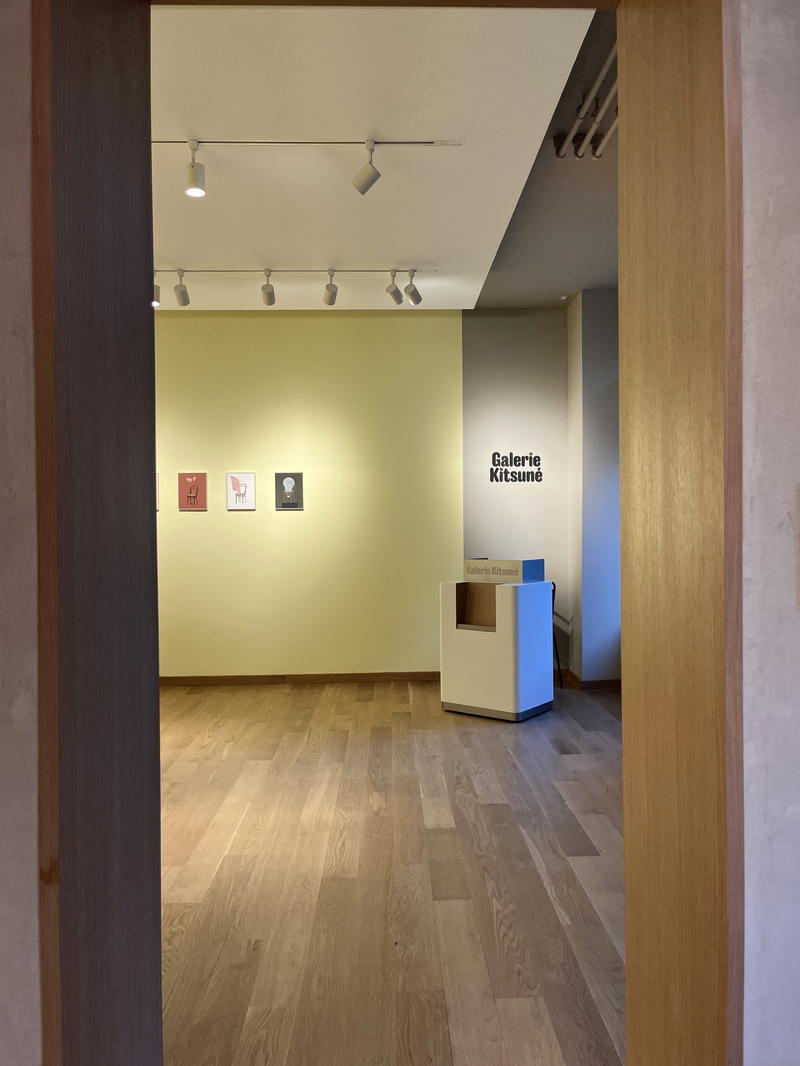 Where is Cafe Kitsune Manhattan?
Yes, yes, Cafe Kitsune has a Manhattan location on 550 Hudson Street in the West Village.
Bonus: FREE Coworking in Industry City, Brooklyn (for Freelancers)
The best-kept secret I learned was about Freelancers Hub. It's a community designed to help NYC freelancers thrive, through programming, events, networking and coworking in person. Freelancers Hub hosts a section of their space as a freelancer hot desk area for daily coworking.
Now, for eight days out of each month, you can get a free coworking seat by signing up as a member (for free) and choosing your free coworking days. The center is open from 9 to 5 on weekdays. It's located in the Industry City complex, at 241 37th Street, Brooklyn, NY 11232 (Sunset Park).
Opt for free easy booking at this link, and for updates, follow the Freelancers Hub Instagram.
There are some cafes I haven't been to!
Here are the cafes in Brooklyn where I want to go:
Colina Cuervo, Crown Heights
Daily Press Coffee, Bed-Stuy & Ocean Hill/Brownsville
El Beit Cafe & Espresso Bar, Williamsburg
Dweebs, Bushwick
Stumptown Coffee Roasters, Cobble Hill (Pacific St.)
Konditori, Prospect Heights on Washington Ave.
Cafe Cotton Bean, Crown Heights
East One Coffee Roasters, Carroll Gardens
And the ones in Queens (love ya, Queens!)
Kinship Coffee, Astoria
Sweetleaf Coffee, Astoria
---
Looking for more remote work articles? Don't miss my best tips for working remotely and my favorite must-have apps for remote work.
Enjoyed our article?
Consider supporting us! We're a 2-person team (learn more about us here) and your support enables us to create quality content. Thank you!