47 Things to Do in Taipei
Written by Becca
•
Updated on September 6th, 2023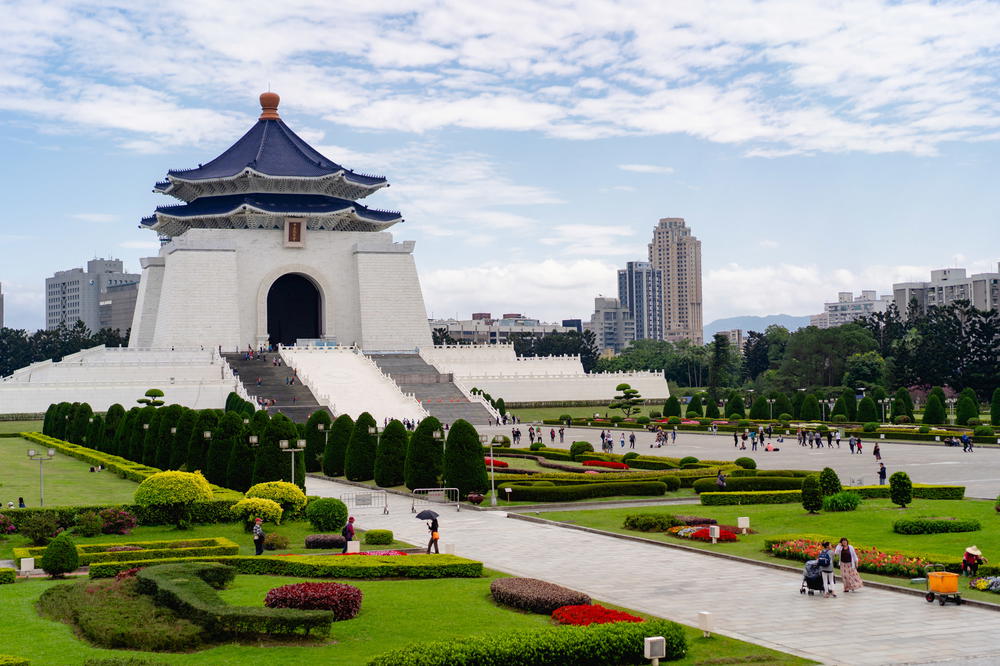 With so many things to do in Taipei, we explored with the top tourism sites and also the best alternative and off-the-beaten path attractions like creative parks, night markets, the specialty cafe scene and free hiking trails.
This article may contain affiliate links. We earn a small commissions when you purchase via those links — and it's free for you. It's only us (Becca & Dan) working on this website, so we value your support! Read our privacy policy and learn more about us.
Table of contents
Close table of contents
We love Taipei. It's simple. Taipei is a wonderful city. We originally chose to visit Taiwan for a few reasons, the first being that we didn't need a travel visa as Americans, and the second being that Becca speaks Chinese, and was looking for a destination where she could speak the local language.
We stayed in Taipei for two and a half weeks and found plenty of things to do, especially for free, which is one of our favorite ways to be conscious about money during long-term travel.
From hiking to cultural institutions to markets, Taipei is full of colors, delicious food, a variety of temples, shopping malls and night markets.
To stay healthy, we went jogging in Da'An Park, bought fresh produce at our neighborhood morning market and found that you don't have to go out to a bar to have a fun night in Taipei.
Nightlife in Taipei consists of frequenting your favorite night market, where there are stalls for every type of flavor. You can eat great in Taipei around the clock.
Helpful Tip
Looking for new proven ways to save money on flights and airfare to Asia? The easy solution is to sign up for Going, the leading way to find flight deals and mistake fares, directly to your inbox. Use HALFHALF20 to get 20% off!
A variety of places for food in Taipei
Din Tai Fung
You may have even heard of or been recommended Din Tai Fung before even landing in Taiwan. Maybe you tried it in Hong Kong, Singapore or the West coast of the US. Din Tai Fung is the most famous eatery to come out of Taiwan, and for good reason - everything here is tasty, fast, attractive (swirly xiaolongbao!) and consistent.
When ordering at Din Tai Fung, you mark your orders on a sheet, and they're brought out to you when they're ready. Don't expect to wait for everything to come at once, because it won't. The service is fast because all the food is made without alteration, and it's brilliant.
We had fluffy shrimp fried rice with egg, steamed vegetable dumplings, steamed buns, sauteed greens and more. Din Tai Fung is a Taiwanese experience that can't be missed, as this is a place loved by locals and visitors alike.
Yummy Sushi
Do you want to have your sushi served to you in a toy car? This was the experience we had at Yummy Sushi, a restaurant we nearly stumbled upon and then starred in our maps in the Ximending district.
In a semi-futuristic manner, you place your order on a screen, and await the two toy cars on tracks to deliver your sushi to you. It was kind of challenging to not keep ordering more!
YAYOI
YAYOI is a cool and simple place for Japanese cuisine and is especially popular for lunch. Here, you also place your order on an iPad-style screen, except it's delivered by a human waiter or waitress (and they're friendly!).
Dan was able to have a vegetarian meal and Becca had a (seemingly) gluten-free option of salmon sashimi over rice with pickled vegetables. For dessert… Japanese ice cream with red bean!
MOS Burger
MOS Burger is a fast food chain you'll see frequently. We're mentioning MOS because it's open late, has a big menu of burgers and related items and you'll find it all over Taipei.
How to find a food tour in Taipei
Taipei Food Tour with Taipei Eats
We had a great time on our tour with Taipei Eats. We tried so many foods that we typically would not have found on our own, and our guide Tina was super helpful in finding ways for us to find food we could eat on our vegetarian-preferred and gluten-free diets, respectively.
On the Dadaocheng route, we tried food in markets, in boutique shops, in old family-owned restaurants and from carts on the street. This was an excellent way to see into the Taipei food scene and to have all our questions answered.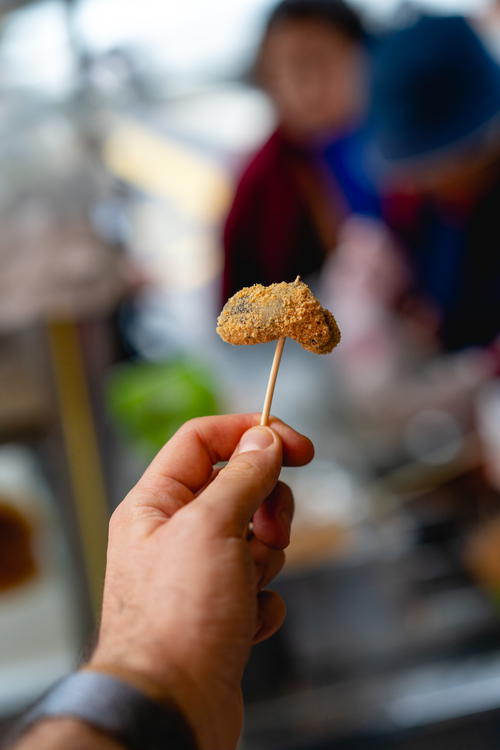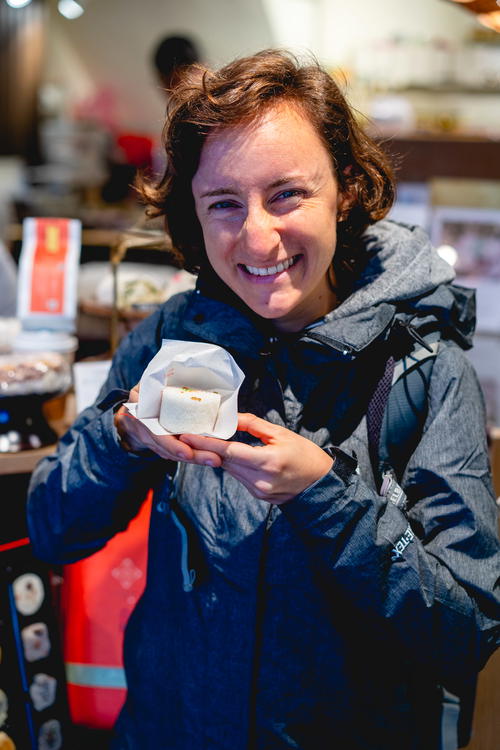 Nightlife at the night markets in Taipei
Night markets are a must in Taipei, which is why everyone's buzzing about them! Taipei's night markets come in a variety of different sizes, in different parts of the city - some are permanent installations and some are in the streets with vendor stalls that leave. All night markets are a great way to experience Taipei's famous pastime… eating!
Ximending Night Market
All of Ximending seems like a night market when you get there - the lights, the people, the things to buy. Past dark, you'll see that smaller alleys turn into kiosk-to-kiosk labyrinths of food vendors, so save your appetite for fried seafood, grilled meat, desserts and other delights here.
ShiLin Night Market
ShiLin Night Market is the mother of all night markets and it is no secret at all. ShiLin Night Market itself is a massive covered indoor-outdoor building (you won't get wet if it's raining) with food, carnival games, arcade games and games involving live small animals (fish and turtles).
As you exit the covered building, you'll be in a maze of streets where there's even more food vendors selling every type of Taiwanese street food under the sun, shops selling clothes, 7-Elevens and small bars. Things start around 5 pm.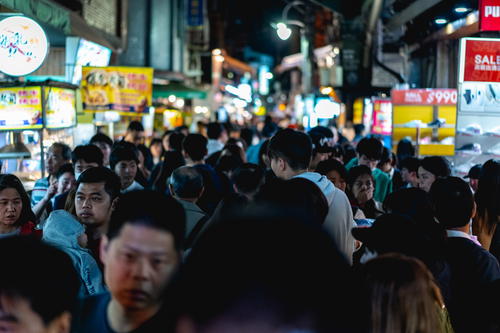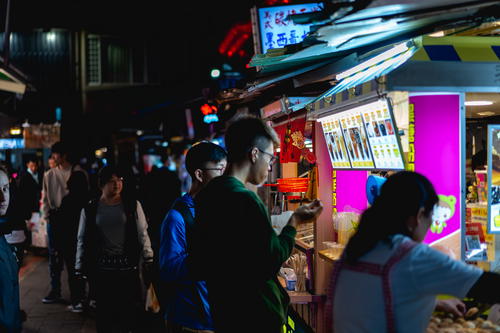 Rao He Street Night Market
We got an idea of Rao He Street Night Market on a holiday weekend, and experienced this night market in wall-to-wall crowds.
There are food vendors, craft vendors, vendors selling bagged foods and pre-made drinks (but also made-to-order smoothies - yum!) and proper restaurants on the periphery. The market itself is four long blocks long and you can enter at either end or in the middle through the alleys.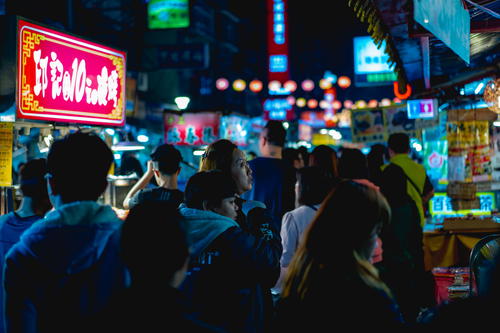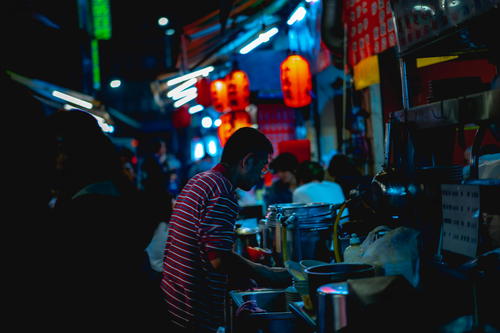 ShiDa Night Market (& nearby neighborhood)
ShiDa was the first night market we went to, and it's more of a nighttime shopping area than a market with stalls. The market is composed of several streets in a shopping district, and what we liked about the market was that the main crowd is students (ShiDa is a university nearby!).
We had fruit from a fresh juice and fruit shop, and looked at all the different types of trending styles in the clothing shops. Aside from the market itself, we really like the ShiDa neighborhood.
Our favorite Taipei entertainment & museum
During rainy days, we had to figure out what to do. We opted for some of Taipei's museums, and of course, shopping malls! We lucked out with finding a great cinema as well.
MOCA - Museum of Contemporary Art, Taipei
This museum is housed in a historic building in the downtown Datong district. You need about an hour here, as none of the exhibits are too big. Most exhibitions occupy a single room, with artistic themes coming from the Philippines, Taiwan and other places in Asia. Admission is 50 NTD. There is a cafe and shop near the entrance where you can buy tea, small desserts and craft beer.
Miramar Cinemas
Miramar Cinemas was the only place in Taipei where we went to see a movie, and it was a great choice! There's an IMAX that's one of the largest in all of Asia. Tickets for general tickets are 300 NTD for adults.
Our favorite Taipei cafes & coffee shops
Taipei has lots of specialty cafes. Although Taiwan is originally a tea country that takes tea very seriously, recent generations have experienced the rise of the specialty cafe. You can find lots of cafes for every taste, and we made a list of the ones that were great to do work at.
TenRen's Tea
TenRen's Tea is a global chain of bubble tea shops that you'll see often in Taipei.
Coco
Coco is a bubble tea favorite! The prices start low, and as you add on things like 'bubbles' and different flavors, you still won't be spending too much money on your bubble tea. Most Coco stores are takeaway-only, so if you're looking for somewhere to really sit down for a while, we'd suggest looking elsewhere. Note: most bubble teas come in one size and it is giant.
Coffee Z
Coffee Z is a quiet place to do work and have a big coffee. The cafe is two floors, with most people on the second floor reading or working on laptops. The location is close to the MRT.
Louisa Coffee
Louisa Coffee is a rather big chain of coffee shops, much like the Starbucks of Taiwan, it seemed. We liked the affordable prices, the availability of bagels and the clean design. While they do not have their own WiFi network, we were usually able to connect to the city WiFi.
Ecole Cafe
Ecole Cafe is a very cool and chill place that specializes in nice coffees and food. We liked the relaxing vibe and the design. Their WiFi is free and fast, and there was lots of natural light.
2 Shots Coffee
2 Shots was the closest possible cafe to the Airbnb where we stayed during our weeks in Taipei. While the coffee was good, the place lacks more than two or three seats and they do not have a restroom. They do have WiFi though, and laptops are welcome.
Roaster Family Coffee
Roaster Family Coffee was one of the cafes near Yongkang Street that opened earlier than the others, so we wound up here on a weekday morning before noon.
Note: they have a minimum of one item purchased per customer in order to keep people from hanging out and not ordering anything.There's WiFi and you can use laptops here.
515 Cafe & Books
515 Cafe & Books is a cafe on a quiet street that feels like a big retro living room with cats and books. We liked it here! WiFi was free, there's lots of seating and the cats were friendly.
Settled Cafe
Settled Cafe has a bright and new Instagrammable design to it, and the staff was memorably nice (kept bringing us drinking water to our table). There's WiFi, a range of coffee drinks (cold brew!) and bathrooms. Also, they're open kind of late!
Chachago (Ximending)
Chachago is another bubble tea joint that's pretty popular. You can get cold bubble teas or regular 'warm' teas.
Homey's Cafe
Homey's Cafe feels like someone's house (it's on the second floor of an apartment building on a side street), but with lots of people and lots of seats. We came here on a weekend and it was packed. You can expect a server to show you to some available seats. Prices are a big high, as they presume you'll stay a while.
Best of Taipei's sightseeing & places to explore
Taipei has so much to see, but with the MRT, you're never at a loss of how to get around. We found that locals were so helpful if we needed directions or ideas, and there's generally lots of signage and a good amount of English.
Danshui (Tamsui) Old Street
Tamsui Old Street is, for many visitors, the main attraction of going to Tamsui. Tamsui is a town that retains a sort of seaside culture and is a relaxing getaway (for an afternoon) for many city people.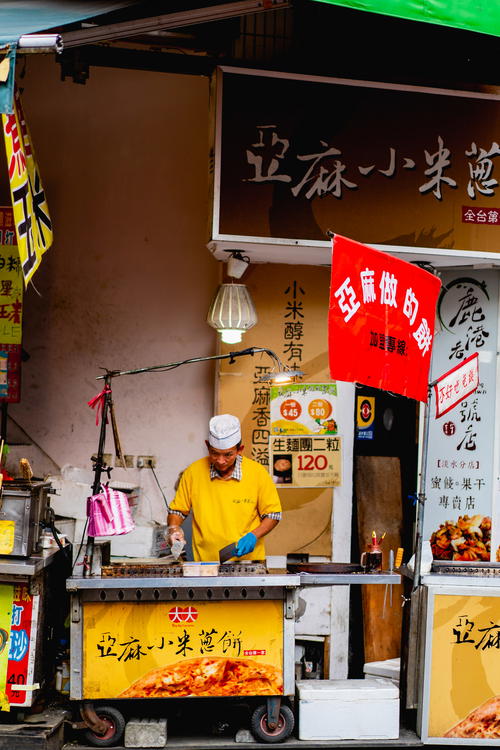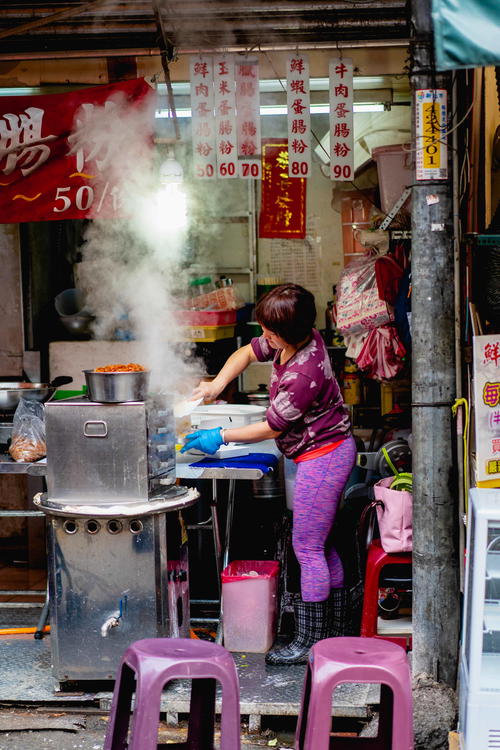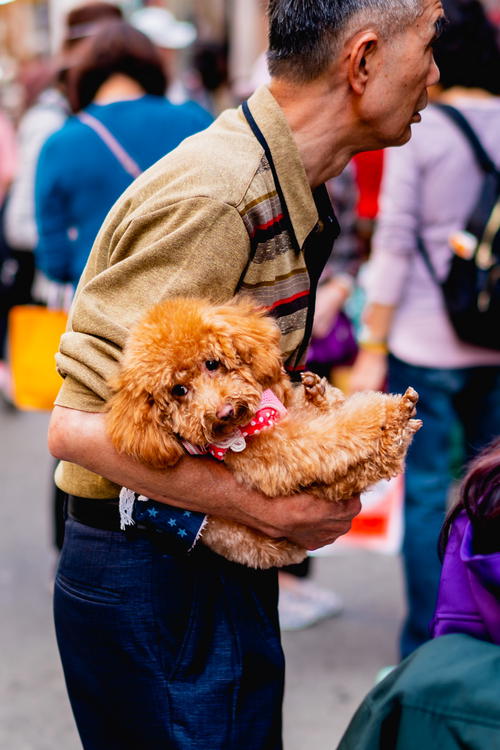 Danshui (Tamsui) Wharf
Danshui Wharf is a pedestrian promenade along the river in Danshui (Tamsui). There's lots of street food for sale (fried seafood, and more!) and small carnival games.
Chiang Kai-Shek Memorial Hall
Probably "one of the #1" attractions in Taipei, this is not only a famous place to go, but it's a beautiful one. Chiang Kai-Shek Memorial Hall and the surrounding square, park and national buildings are symmetrically-arranged and have beautiful architecture.
Bring a tripod and camera, as this is a great photo op!
Helpful Tip
Look up timing for the changing of the guard in the memorial hall itself, as this was quite a special thing to do.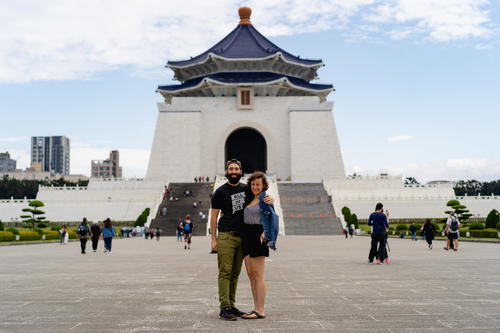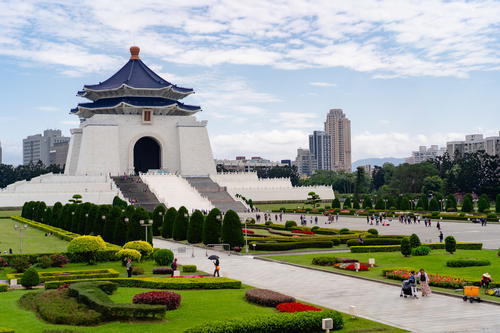 National Concert Hall
The National Concert Hall is a beautiful and colorful building located near Chiang Kai-Shek Memorial Hall and in the same complex. The red columns and tiled roof are unique, and it's hard to take a bad photo here.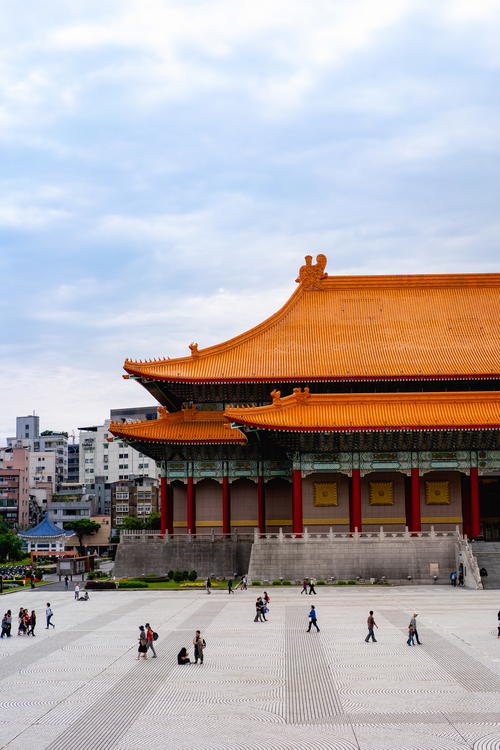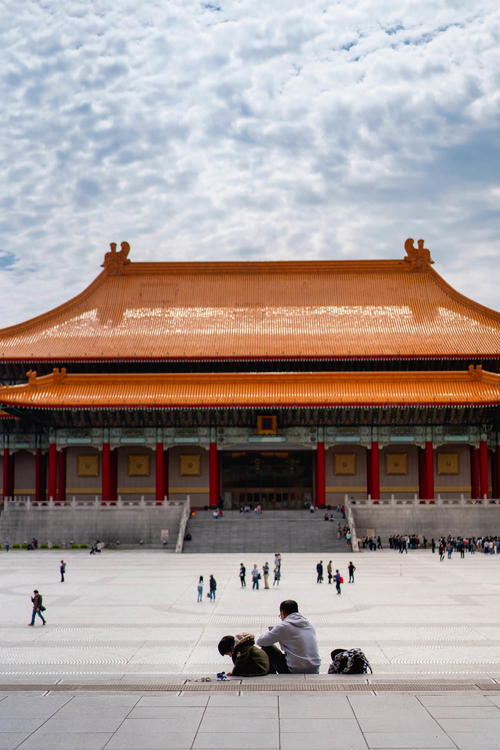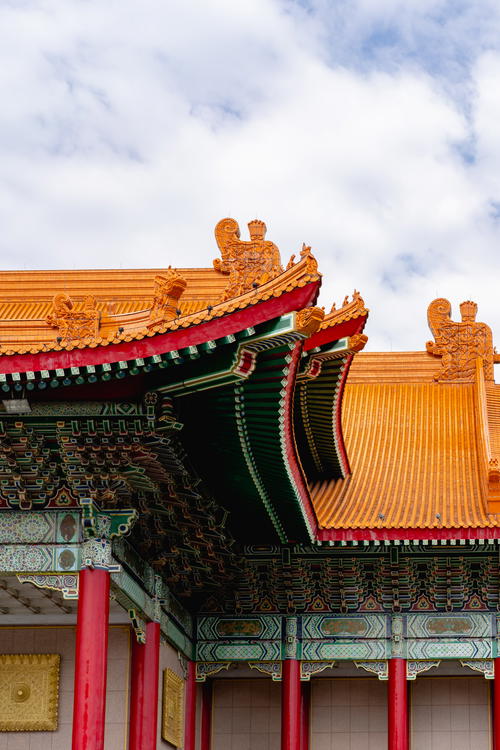 Yangming Shan National Park, Miaopu Trail & Qixing Shan Peak
Yangming Shan National Park is Taipei's famous natural park within the city limits. Here, you'll feel like you're far away from the city life (especially if you get stuck in the clouds like we did!).
We took a city bus to the park, but it turns out that the place is so big, our bus didn't take us to the start of our hike exactly.
Fear not, though - public buses pick up and drop off to all the visitors centers and trail heads, so even though we hiked QiXing on the Miaopu trail and started from the visitors center, we ended at the start of the Xiaoyoukeng trail and were able to get on a bus back to the ShiLin or the city center from there.
You Ci Temple
You Ci Temple is an awesome (and tall) temple that we accidentally wound up at while trying to reach the Rao He Night Market, as the two are next to each other. You Ci Temple looks fantastic at night when it's lit up, and if you're able to see some lanterns nearby, it completes a very pretty sight.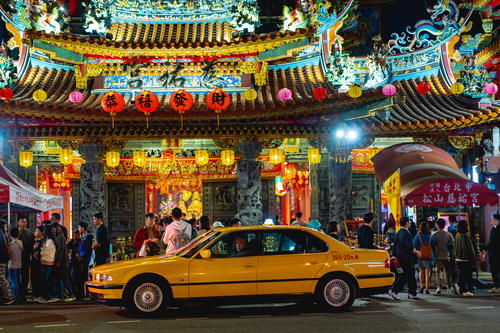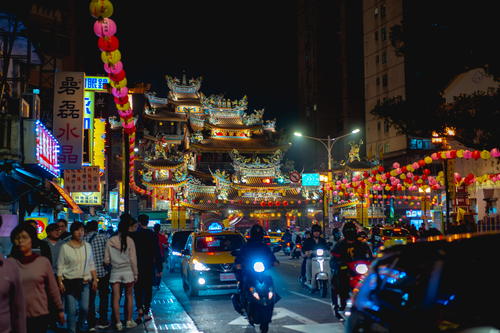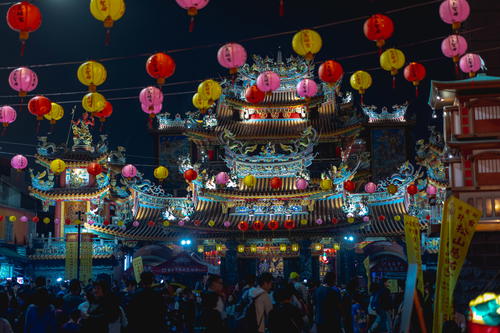 Da'An Park
Da'An Park is a neighborhood park in the Da'An district of central Taipei, and it seems to be one of the largest city parks.
There's a running path (note that it doesn't connect in a circle, so if you're jogging, you can either go back and forth on the path or cut across the walking paths in the park), playground for children, pond, grassy areas for picnics and connection to the Da'An Park MRT station.
Taipei 101
Taipei 101 is really tall, and was once the tallest building in Asia! We did not have a chance to go up to the viewing platform, but we got to crane our necks up at it from the sidewalk and get some night views of it (it lights up at night).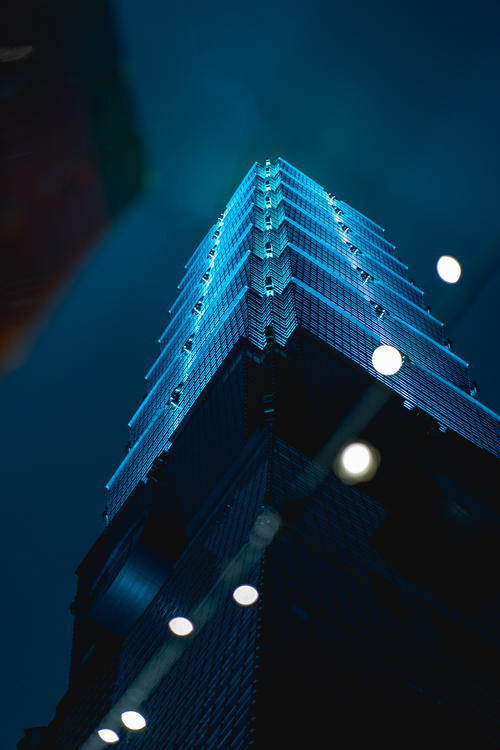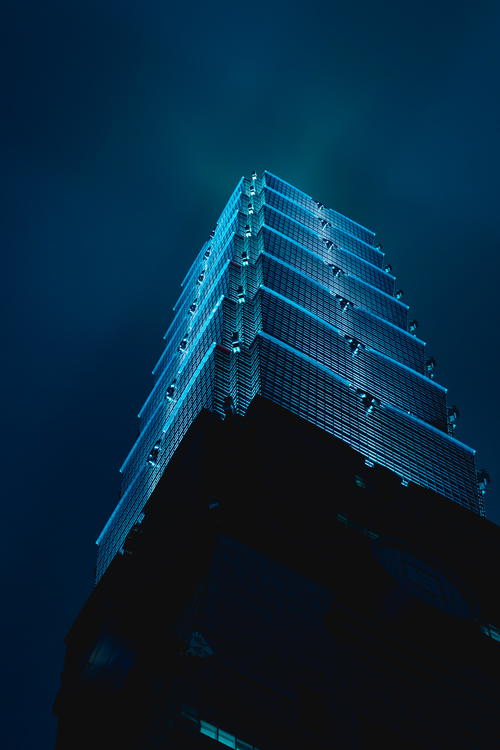 Tao Zhu Yin Yuan Building
This wacky-looking new luxury residential building is a carbon-absorbing building that made the news when it was built in 2018. It has a twisty modern design, and from it, you can get a clear view of Taipei 101 (which we recommend doing after dark!).
It's located between Xiangshan area and Taipei City Hall, and it's a good stop for architecture enthusiasts. It's a residential tower that, at the time of our writing, is not yet fully occupied.
For photography ideas, head past the building and try to find Taipei 101 framed by the building on one side.
Huashan 1914 Creative Park
This revitalized space was originally a winery during Japanese rule in the first half of the 20th century. It's been turned into a creative park, a place for artists and nonprofits to showcase talent and hold cultural events.
The surrounding space is a park that fills with families and young people on weekends and holidays. It's worth checking out, as it's located near Da'An.
XiaHai City Temple
Xiahai City Temple gained fame recently for being mentioned in this CNN article as being a place where singles go to pray for love. While we can't guarantee that you'll find love if you come to this temple and pray to the god of love, you can definitely give it a shot.
DiHua Street
DiHua Street is a street we're glad we were taken to during our Taipei Eats Tour. We liked the interesting architecture, which our guide told us was from the Japanese colonial period.
DiHua Street has traditional shops and new-wave boutique shops, so there was a good mix of things to see, from traditional basket-makers to specialty steamed rice cakes. We also liked trying all the samples of dried fruits and nuts as we walked on the sidewalks under the awnings.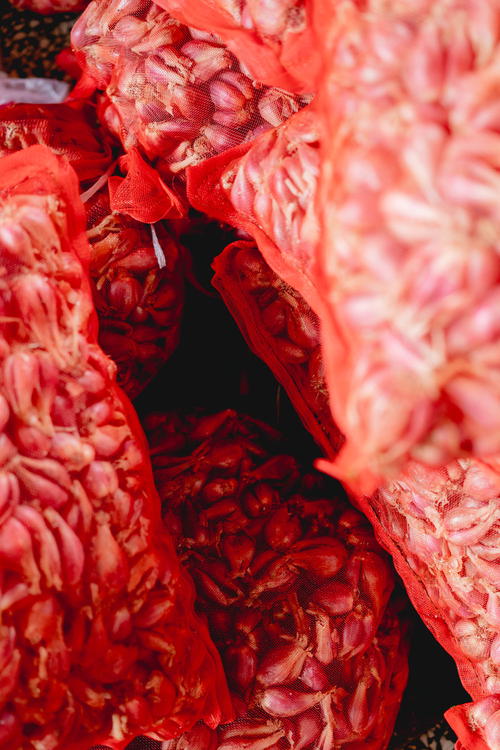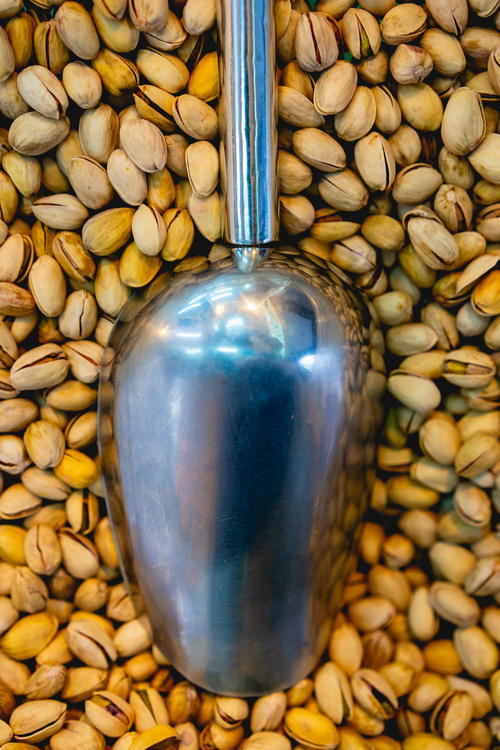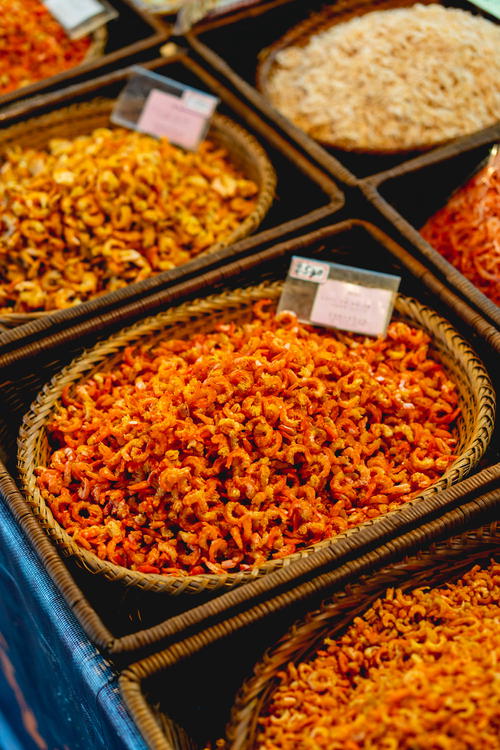 Xiangshan Hiking Trail (Elephant Mountain)
This is the most accessible hike in Taipei, and on a clear day, you can have a great view of the city. We chose to treat this like a proper hike and wore running shoes (the path is made of stone steps, at least in the parts leading up to the views), and brought water, towels and snacks.
It was a good thing we came prepared, because there's no chance to buy drinks nor snacks once you walk up the stairs. What we do wish we brought was some mosquito repellent!
To get to Xiangshan, take the MRT to the end of the red line, Xiangshan station. Then, follow signs for the Xiangshan hiking trail, and it's about a 10-minute walk. You'll see the steep steps going up, and that's your start!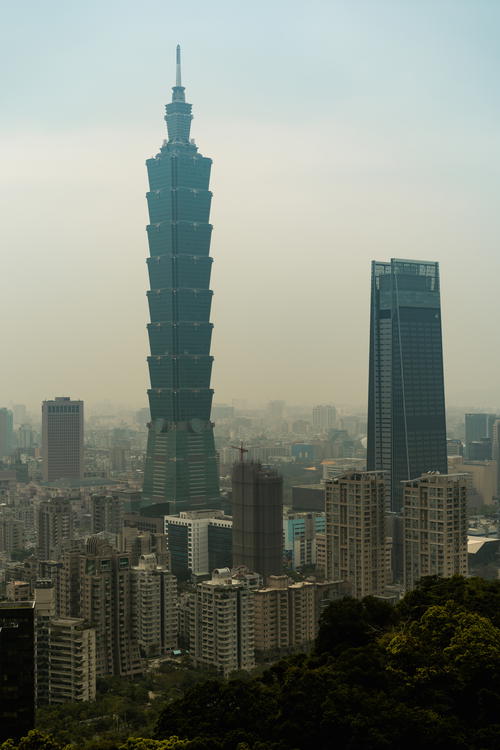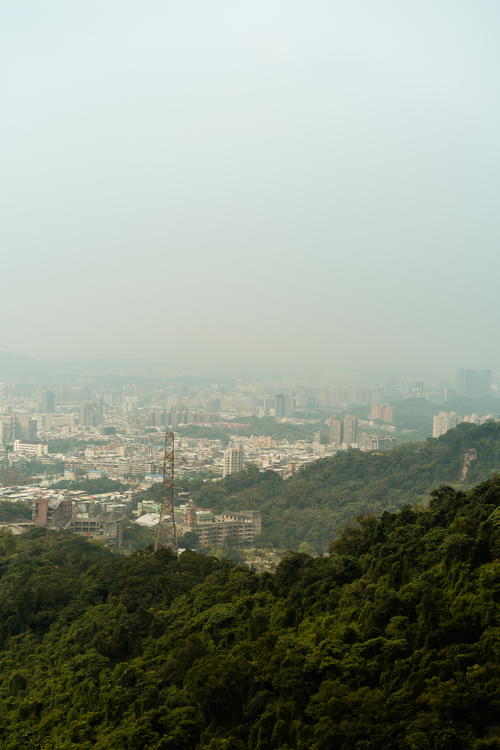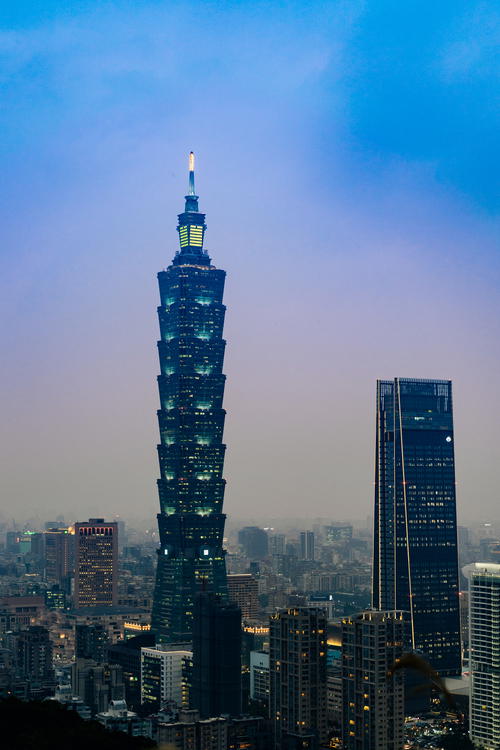 Where to go shopping in Taipei
Taipei has shopping for everyone! Whether you want an umbrella, socks, souvenirs or luxury brands to bring home, there's a mall or a market for what you need.
Miramar Shopping Mall
This shopping mall near Beitou is great for a rainy day, and also for a sunny day, because it has a Ferris Wheel on the top floor! Our favorite part was the movie theater, located on the upper floors, where we spent a rainy Sunday. Check out the food court in the basement level for Jason's marketplace, an array of Japanese, Chinese and Korean eateries and a fresh juice place as well.
Jason's Marketplace
Jason's Marketplace is an upscale supermarket where you can find lots of Western brands and imported goods. The most impressive Jason's we went to was in Taipei 101, where the selection of fruit, vegetables and sushi was excellent.
Helpful Tip
Wait until 7 pm when all the sushi prices are marked down 30% or more.
Breeze Nanjing
Breeze Nanjing is a shopping mall conveniently located in a busy area and not too far from Taipei Arena. This is where you can visit IKEA, MUJI, Uniqlo and other big global brands. The food court is smaller, located up a few floors from ground level.
Q Square
Q Square is a very big shopping mall of many floors near Taipei Main, and that's exactly why we found ourselves there. The plethora of shopping there was impressive, as was the system of escalators, variety of vendors and the size of the food court. We got lost a few times and ultimately wound up eating dinner there.
Eslite Spectrum Taipei
Eslite Spectrum Mall is in a busy shopping district, and the mall is aesthetically-pleasing to walk around. Low ceiling and lots of design made with wood make it feel warm and not so overwhelming.
Each floor has lots of independent designers who have their own kiosks and setups, and you can explore products from the bookstore level on floor 5 to the handmade bags, wallets and jewelry on other floors. The basement has a food court and it was one of our more 'favorite' food courts among malls in Taipei.
Wellcome
Wellcome is the supermarket that had the most familiarity to us in Taipei, so it's where we shopped a few times for items we couldn't find at our local neighborhood outdoor market. Having known about Wellcome from Hong Kong, we knew that we could get refrigerated goods, produce, dry goods and things like spices and household items at Wellcome. We went to the Wellcome between Yongkang Street and Shi Da.
7-Eleven
Why are we mentioning 7-Eleven? It's almost like 7-Elevens were reinvented for Taipei as a convenience store you actually want to go to. At 7-Eleven, our favorite things to buy were the freshly-roasted sweet potatoes, small sushi rolls, fresh single-serving fruit packages, sport drinks, tea eggs, big bottles of water (6L) to bring home and snacks like dried fruit or nuts. The choices seem endless. What's more is you can get coffee at 7-Eleven and even sit down in the seating areas!
Family Mart
Family Mart is a close second to 7-Elevens in Taipei where you can find everything from some types of fresh food to regular convenience store items.
Yongkang Street
Yongkang Street is a quintessential shopping street to visit in Taipei. This is where trendy young people go with friends to stop by cafes, boutique shops, dessert restaurants, bubble tea joints and some cafes that turn into bars later into the evening.
Be sure to check out the side streets that are on either side of Yongkang itself, as this is where you'll find quiet cafes, smaller specialty restaurants and great opportunities for photography.
Taipei 101 Mall
The shopping mall at Taipei 101 is exceptionally upscale and consists of several floors of luxury shopping and a food court level. Given our constant hunger, the food court was our favorite part, and we had bubble tea from Happy Lemon and fries from McDonald's (don't judge - we needed a taste of home… or something!).
Our other favorite (how could we forget?) is Jason's Marketplace, a supermarket on the fancy side that has loads of imported and Western goods. Our favorite part was the sushi counter.
Helpful Tip
Fresh sushi leftover from the day will go on sale after 7 pm, so you can enjoy your sushi at around 50% off.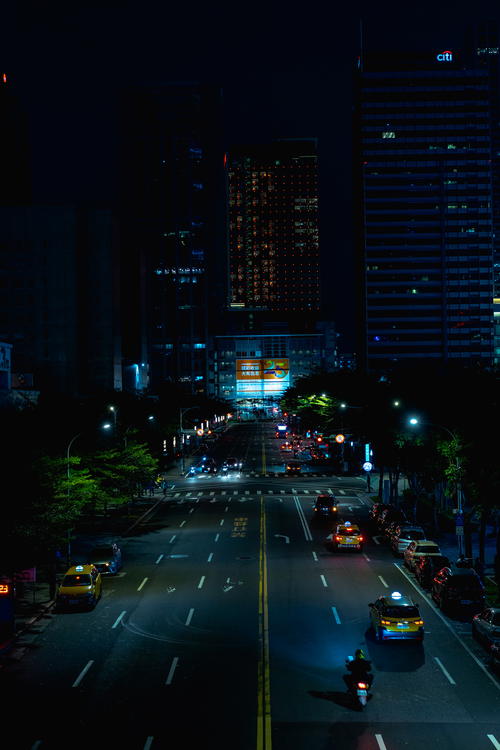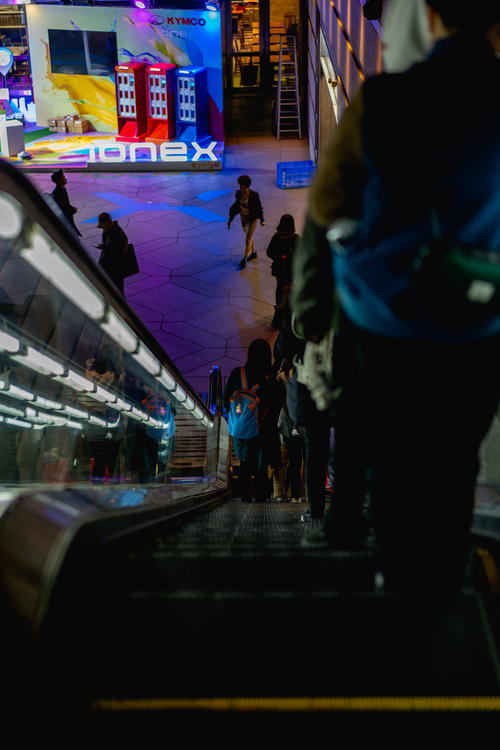 Taipei City Mall
Taipei City Mall is not a modern mall, but rather, an urban underground shopping center with local stores, knock off goods, lots of clothes shopping (Taiwanese and Chinese styles) and toys. We couldn't find anything we truly wanted to purchase, but it was worth seeing this very Taiwanese urban market.
Pacific SOGO Department Store (Fuxing)
SOGO is a shopping mall that is referred to as 'department store' in some instances. For speakers of American English, we consider a department store to be a single store under one name that has different departments, but in Taiwan, a department store refers to the mall itself. SOGO has lots of upscale brands and of course, a food court. Great for spending a rainy day.
More things to do in Taipei
While we did have more than two weeks to explore Taipei, it rained a lot, so we didn't have a chance to explore every outdoor place we had planned to. If we had had more time, we would've also checked out:
Songshan Cultural Park
Sun Yat Sen Memorial Hall
National Revolutionary Martyrs' Shrine
Longshan Temple
Bangka Temple
Ningxia Street Night Market
Grand Hotel
Taipei Botanical Garden
Linjiang Street (Tonghua) Night Market (Da'an)
Huaxi Night Market
---
Looking for more things to do in Taipei? Check out our guide to Taipei's best cafes for working with a laptop and our review of the Taipei Eats food tour.
[Update] Looking for where to stay in Taipei? A friend just recommended Star Hostel Taipei, so if you're looking for a great hostel, this is it. Check it out!
Enjoyed our article?
Consider supporting us! We're a 2-person team (learn more about us here) and your support enables us to create quality content. Thank you!