18 Tips to Survive a Long-Distance Relationship (Make it Work)
Written by Becca
•
Updated on November 26th, 2023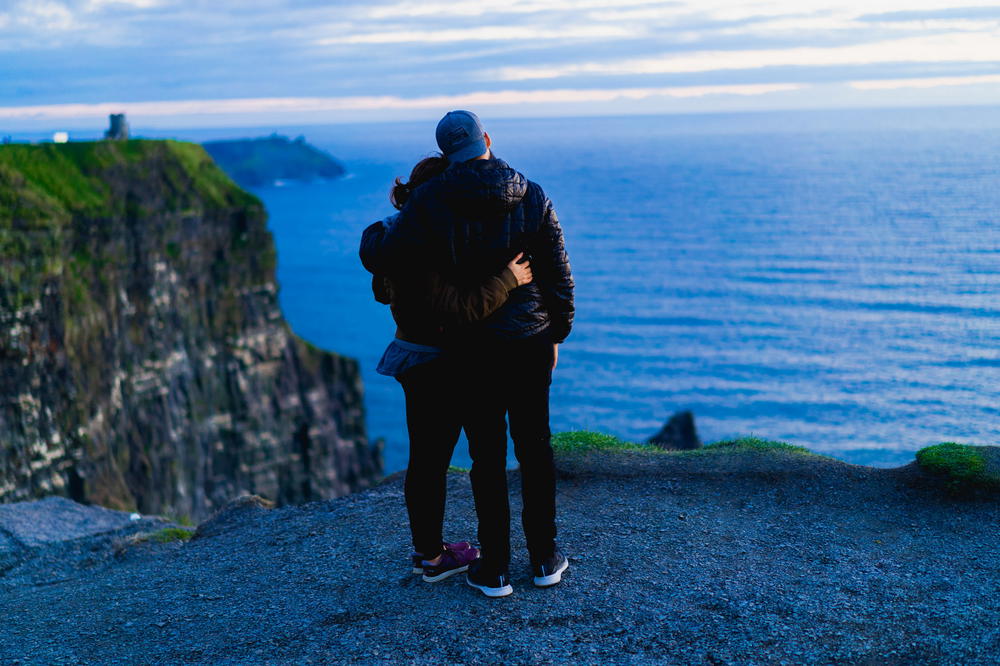 Looking for ways to survive long distance relationships while traveling? Whether you're traveling as a digital nomad or studying abroad, use these tips to make your long distance relationship last.
This article may contain affiliate links. We earn a small commissions when you purchase via those links — and it's free for you. It's only us (Becca & Dan) working on this website, so we value your support! Read our privacy policy and learn more about us.
Did you know that the @halfhalftravel Instagram project started from our long-distance relationship? Five months after Dan and I met in NYC, he left for a year-long international trip to travel and work remotely. We never could've imagined that we'd be dating long distance across the world.
Many friends raised their eyebrows at our sudden choice to try dating long-distance, as we hadn't been dating for much time. Other friends, who had dated in successful long-distance relationships, cheered us on and told us we could do it.
Was it harder than it looked? Yes! Was it worth it? Yes! I think that for people who enjoy traveling, dating in a long-distance relationship actually lets you travel in new ways.
I'll share how we survived an entire year of dating long-distance, from across the world! If you're hoping to survive your new long-distance relationship, check out this list of tips that helped me and Dan stay together while we dated from far apart.
Quick takeaways from my list of long-distance relationship tips
Every couple's long-distance relationship will be different! These tips are meant to be ideas and guidelines.
Focus on communication, however that works for you both. Every couple will prefer a different style and different amount of communication.
Plan trips to see each other, and think about what you'll do on them! Plan trips far in advance so that you stay positive.
Remember that dating long distance is not forever, and think of your ultimate goal for being together.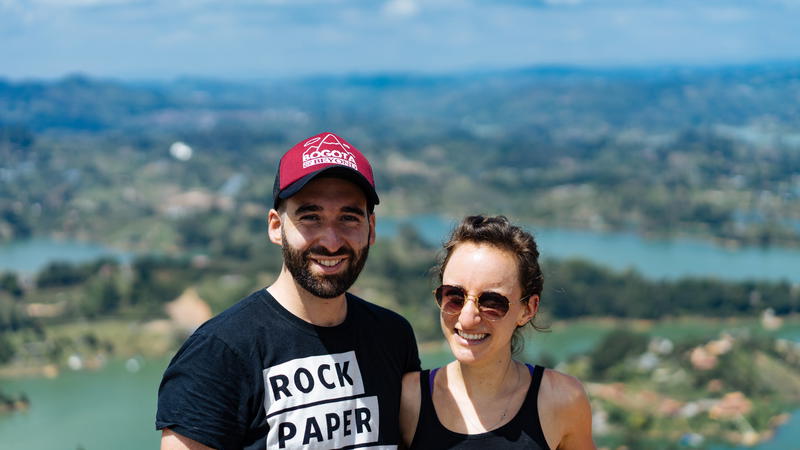 Communicate as often as you want.
Some couples want to talk all day long (we did). Some want to chat once in the morning and once at night, especially if time zones are a challenge. For communicating, you might think 'phone call,' 'video call' or 'text.' There are SO many ways now to communicate whenever you want!
We'll never forget the night we had a late-night call while it was 11 pm for me, while I was on my friend's rooftop in Washington, DC, and Dan was out having a proper European weekend at 6 am in Europe (we still laugh about it). Usually, we'd have a call while I was working out and biking after my day at the office had ended, and Dan was heading to bed in his apartment in Prague.
Our farthest long-distance call was during my business trip in San Francisco, when I called him, eight hours in 'the future,' while he was in Rabat, Morocco.
We'd use Google Hangouts to chat all day long while we were at work (don't tell our bosses!). When we weren't at work, we'd be checking our phones for WhatsApp texts from each other. I'd email him during my nights while he was in Europe, knowing that he'd wake up to them.
When Dan was in Latin America for the other half of the year, we were more or less in the same time zone and it made things a whole lot easier.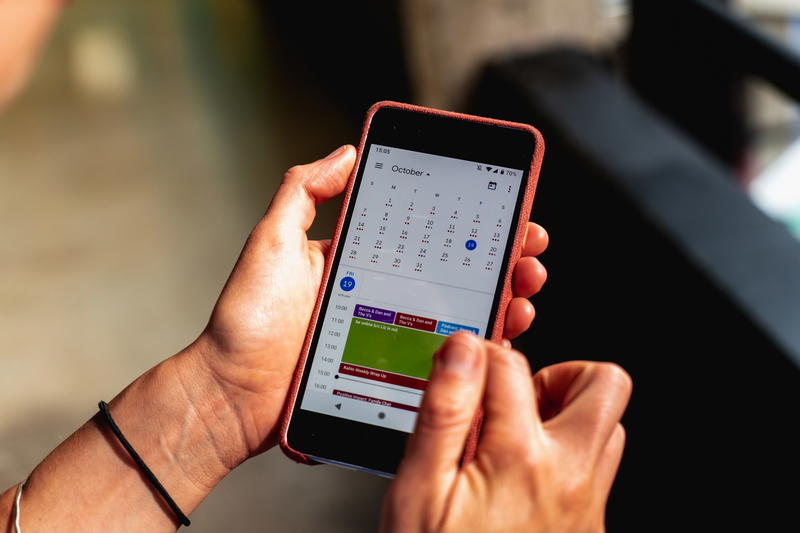 Plan visits and trips whenever you can.
The worst part of long-distance relationships is being far away, but maybe the best part of long distance is being far away.
If Dan hadn't been in Colombia for two months, we never would've explored Salento and the world's tallest palm trees, or the architecture and culture of Barcelona. Lucky for me, as fall and winter fell upon NYC, I got to escape the snow with warm weather destinations that had already become part of his itinerary.
As soon as I'd have a flight booked, I would buy a Lonely Planet guidebook to stay hyped about the trip. I would research accommodation options for us, and how to book where to stay and figure out what to pack! Dan let me do most of the planning, because he knew it was exciting for me.
The article about our long-distance relationship in Cosmopolitan says, "like any relationship, it must be hard at times, but they're clearly owning it." We're glad it looked like we did!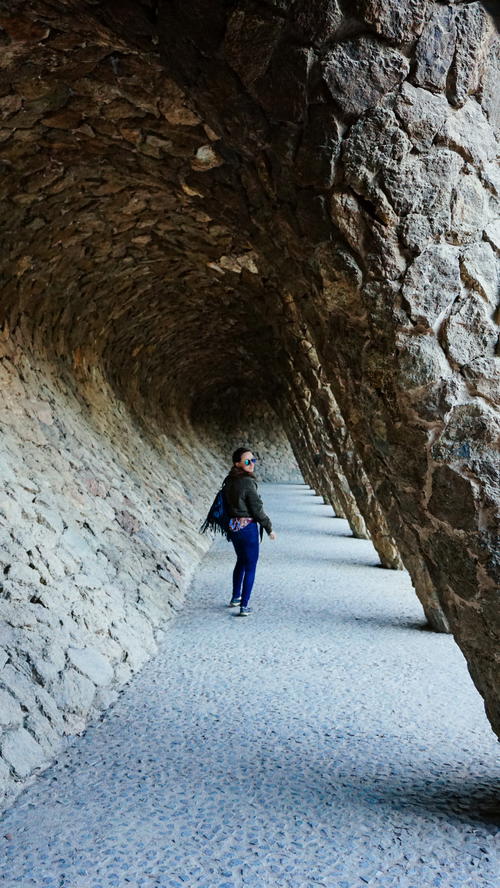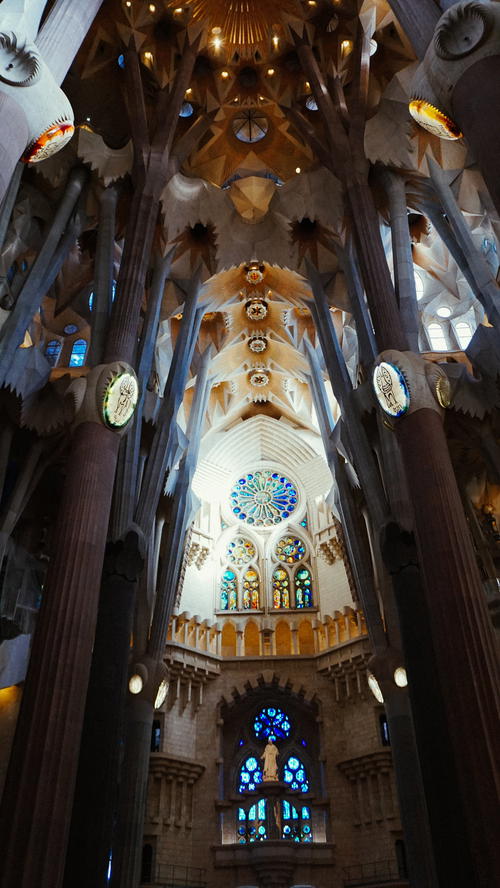 Helpful Tip
Looking for new proven ways to save money on flights and airfare? The easy solution is to sign up for Going, the leading way to find flight deals and mistake fares, directly to your inbox. Use HALFHALF20 to get 20% off!
Find creative methods to stay connected.
Our main methods of staying connected were WhatsApp, Google Hangouts, e-mail and WhatsApp video calls. Some of these communication types are immediate, while some are asynchronous communication, like if I sent an email that said, "Remind me what time your flight lands?" Dan could reply whenever he had a minute.
A creative way we stayed connected was by seeing each other's "check-in"s on the Swarm app. Swarm is an app that came from Foursquare, so it's based on places you go. You can "check in" when you go to a location, and your friends who have the app will see that place. Dan and I would see each other's location check-ins, and felt connected that way!
Maybe the two of you share interest in a unique social media app, or maybe you like leaving each other audio messages in WhatsApp. Maybe you use Viber, or Signal. Whichever the case, stay connected in a few ways so that you know what to expect from your partner.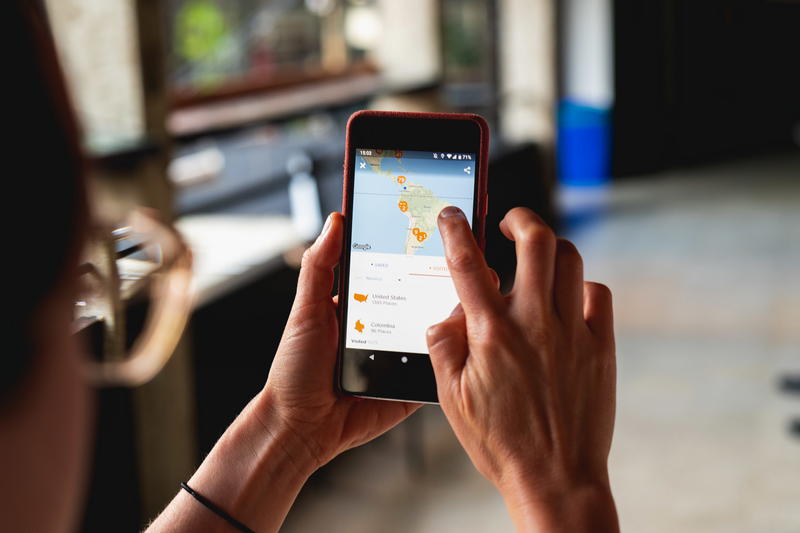 Speak positively about your choice to be in a long distance relationship.
My friends, family and colleagues would ask about my relationship with Dan. They'd express their concerns, or confusion, and it was up to me to confirm that this long-distance method of staying together was my and Dan's mutual choice.
I love that this article about our LDR from AWOL.com said our Instagram project would "restore your faith in long-distance relationships." What a sweet title! It all comes down to how positively you frame your relationship! If you think about it negatively, then something negative is more likely to happen, as your thoughts fester around it.
Tell your friends, family and colleagues confidently that you chose to date long-distance because there's a future for the two of you together. It's that simple.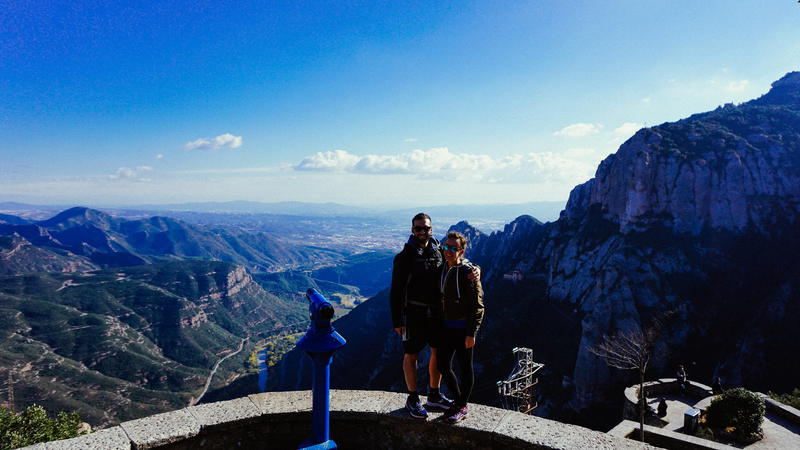 Make a FaceTime or video call schedule.
I am very Type A, so I work well when I have a schedule. For years, I've been planning out my days with Google Calendar, and I have the notifications come through my phone.
One thing we did while dating long-distance was plan time to chat, with invitations on Google Calendar. We'd send calendar invites by email, and see if the other could make it at that time. Then we'd have it like a designated time to get on the phone.
At the time, I was working with clients in various time zones, so having a boyfriend who moved around the world in different time zones relative to my location was kind of fun!
Plan long-distance "dates!"
While Dan and I didn't sit still for too many organized "dates," I know many couples who succeeded in keeping their long-distance relationships strong by doing this. You can have a movie night date by watching the same movie and starting it at the same time, and keeping your laptops open with FaceTime or Whatsapp Video the whole time.
You can have a cooking date, where you both follow the same recipe, and stay on a video call the entire time on the kitchen counter. You could do an arts and crafts project from a kit, and mail each other your crafts.
You can also have a "date" to plan your next travels, looking up travel blogs of things to do in a location where you can meet in the middle. Or, you can research your dream itinerary for the next time you'll be together in the other's city or hometown.
Be as honest as possible.
I think honesty is what carries any long-distance relationship and keeps it strong. One thing about Dan that I came to admire very quickly was his honesty. I knew that if I texted him while he was in Lisbon and asked what he was doing right then, he would be truthful.
For 12 months we were 100% honest with each other, down to what we were eating. If I had overindulged in gluten-free dairy-free dessert, Dan knew about it. If Dan skipped a day of training for his marathons, I'd hear about it.
People would ask me, "How can you trust each other when you're so far apart?" I would say, "The same reason you trust anyone in your life, no matter where they're located. If you put your trust in someone, you should expect the same. If not, they're not worth your time!"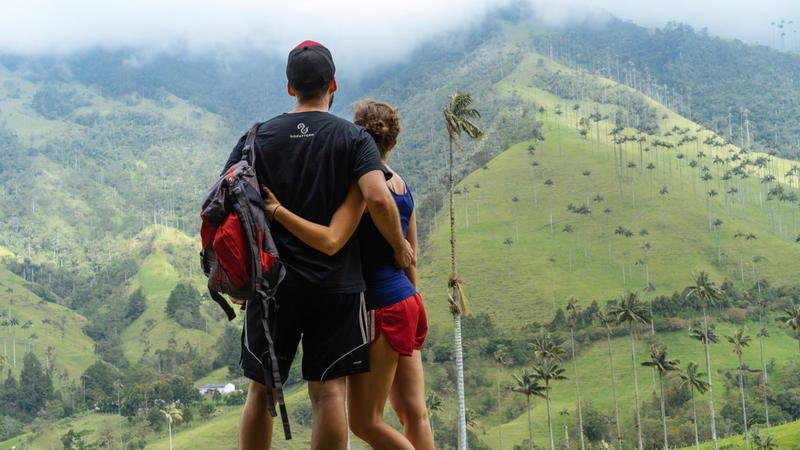 Make a mental list of positive things.
Whenever I got bogged down thinking about the challenges of a long-distance relationship, I thought of the positive things about my boyfriend and my relationship. I would think about how we cared for each other, respected each other and missed each other.
I would also think positively about the fact that we communicated SO much might be making us closer than two people in a relationship who work too much and barely speak or catch up on a day to day! Think about the most positive things coming from your long-distance relationship, and if it helps you to survive the months apart, write them down or pin them to the wall.
Leave your partner with something of yours.
When Dan left for Remote Year, he was thinking of how to prepare for a long trip (the longest trip he'd take in his life!) and moved out of his apartment. With his move and downsizing all of his belongings, he wound up leaving some stuff with … me!
I was happy to store some of his stuff while he was gone. Actually, it showed that he trusted me and wanted to come back to me! Having Dan's stuff (some of it) also helped my mood and positivity when I looked in my closet and saw his things, it made me feel happy!
Keep in touch with your partner's family.
If you have already been together for some time before dating long-distance, then keeping in touch with your partner's family can help your mood and strengthen your connections! Maybe your partner's family will be visiting them soon, and you can send a surprise with them. If you keep close in touch and chat often, you can find out!
Plan a long-term project with your partner.
If you've seen our @halfhalftravel Instagram by now, you'll know that we started having a project together. We were even featured in a bunch of online publications like My Modern Met with our story, which charmed many viewers around the world!
As soon as Half Half Travel was born, we had a project we could both work on, despite being far away. Actually, being far apart made our project possible.
If you've seen our photos of us arm-in-arm in Colombia and Spain or close-ups of our glasses on different continents, you'll see how our being in different locations was crucial!
Having a project together gave us topics of conversations, and jobs to do and notes to share. It also showed all the non-believers that we could be productive together and work creatively, despite only seeing each other five times in one year. The article about us in Elle Decor called us "#couplegoals" with our "long-distance relationship beautifully captured on Instagram!"
Send real mail!
When we moved into our first apartment together in Brooklyn Heights, we started a bulletin board in our kitchen that showcased the postcards we had sent to each other during our time apart. There were notes that led us back to places and times, and reminded us of funny stories like how it took a postcard from New York nearly six weeks to reach Bogota, Colombia.
We avoided sending packages to each other frequently. That's because sending packaged mail with goods from abroad is subject to customs checks when it enters another country. If your long-distance relationship is within the same country, you can send your partner a surprise in the mail with a service like a courier, or Postmates.
With our international long-distance relationship, we stuck to "real" letters and postcards. I even gave this same tip for an article in Huffington Post about long-distance relationships!
We'd pick up the free postcards from restaurants and museums, or buy them from vendors and souvenir shops during our separate travels. It didn't matter if a postcard was beautiful or not &mdash. It just mattered that we thought of each other and took the time to find a stamp to mail it!
Create surprises for each other.
The biggest surprise I got during our year of dating long-distance was on Valentine's Day. I was sitting in my office, probably lamenting that my boyfriend was thousands of miles away, when our receptionist told me I had a package.
I wasn't expecting anything, but I got up to see. I had a big paper bag that had just arrived, and inside was a surprise from Dan. He had used Amazon Now to send me a same-day courier delivery. I was totally shocked, and I was melting inside that he thought of me!
I tried to do the same for him, but a bit differently. I messaged one of his friends who I knew he was with at their coworking space and asked her if she could go out and buy a rose and chocolate for him, along with a little card.
I paid her by Venmo, and she got everything to set out on Dan's hot desk while he was up from his seat! He was equally surprised too, and we felt like we had "won" at doing Valentine's Day while dating long-distance.
Share things you plan to do when you're back together.
While I definitely started thinking of things we could do together when we lived in the same city again, like ideas for dates, little trips I wanted to take and friends I wanted us to hang out with, we actually wound up planning a trip to Asia, while Dan was in Chile!
It was one of those nights when I found flights for us on our United miles, and said, "We have to book this now, or we're going to lose the chance to fly nonstop round-trip to Hong Kong," so we got on the phone and booked flights together at the same time.
While you're long distance, you can still figure out how to plan a trip as a couple when you get back together. You can brainstorm friends of each other's you'd like to meet and hang out with, when you're finally in the same city. If you'll be living together again, think of parties you want to throw and new recipes you want to try, together. Share these ideas with your "other half," and it'll keep you both thinking positively!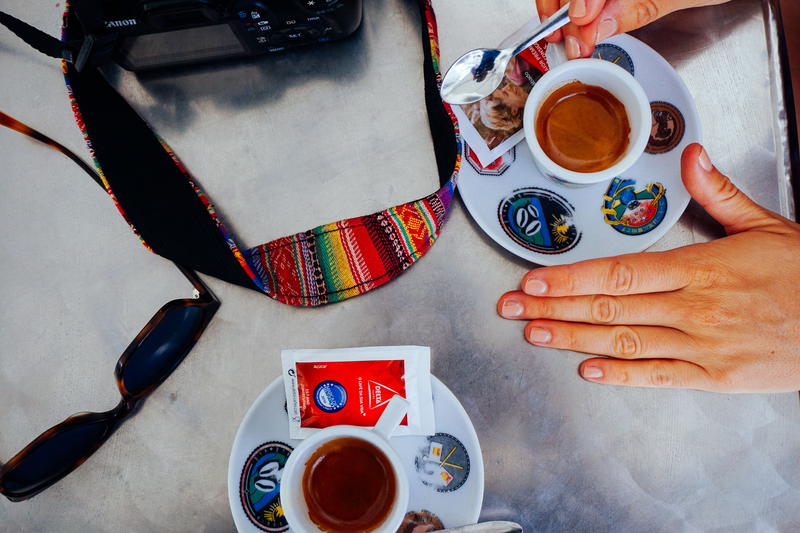 Be transparent about your concerns.
There was never a point at which I felt we 'weren't going to make it,' but I wondered if Dan was feeling the same way I did about our relationship. For instance, did he see a future together like I did? Was he treating this year like a test of our compatibility?
There were so many things that I thought about because he wasn't there in person, and I couldn't ask him until I saw him next.
If you have real concerns, whether they stem from communication or a lack of trust, bring them up to talk about before it gets too late. Voice your concerns as soon as you can, so that they don't bottle up inside and drive you crazy. If there is something bothering you, bring it up as soon as possible so that it doesn't blow out of proportion.
Talk to friends who survived long-distance relationships in the past.
Talk to friends who've done this before. The very day I said goodbye to Dan when he left for Europe, I immediately texted my cousin, who had dated her now-husband long-distance from DC to NYC for a while. They're married now, with two kids!
I also texted my good friend Alex who had dated her boyfriend (and now-husband) Ryanfrom Minnesota all the way to Shanghai, China. Now they are married with a baby, and they own Alex and Ryan Duo Life! I was lucky that 90% of the couples I knew who had 'done distance' had stayed together.
Most couples I know who have dated long-distance say it made them stronger. They say the LDR allowed them to have more time of independence while learning about themselves, all while staying true to the person they love.
Relationships are all about give and take. I was excited for Dan to be able to take time to travel, even if it meant I had to continue working my regular job and living in NYC as usual. I felt that the experience would be great for him (it was).
Keep in mind that it's not forever.
If you've chosen to pursue a long-distance relationship, the chances are that it is not forever. Maybe one of you is studying at a university far away, but the program has an end date. Maybe one of you has taken a job at a company across the country, and you'll be moving out there as soon as you land a job there, too.
Long-distance relationships should not be forever! Even if dating long-distance is several years of your relationship, I believe it makes you stronger. That is, as long as you have an end goal. Even if it is an open-ended goal, think about the fact that one day you will be together, starting a new life.
Remember why you made the decision to stay together.
During the 12 months of our long-distance relationship, I never forgot why we had stayed together. We stayed together because we didn't want to let one year of our lives affect the rest of our lives. We gave it a chance, and we're so glad we did!
Getting back together in the same city meant starting a home (here's how we moved into our first apartment together) and picking up right where we left off, just with a year of LDR experience.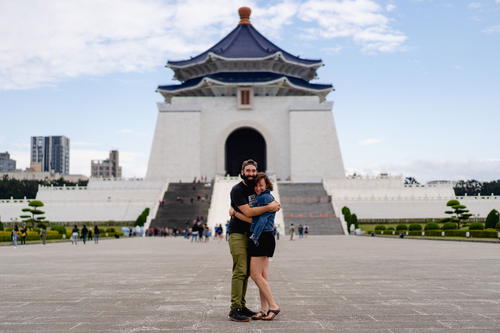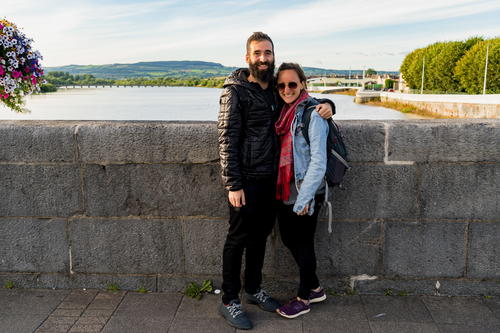 Why trust us?
We dated long-distance for a whole year, and in the beginning, we couldn't believe we were doing it. By the end, we looked back and thought, "That wasn't that hard!"
Dating long-distance for sure has its ups and downs. I like to think I came up with this list of how to get througha long-distance relationship by remembering the most positive pieces of what really helped.
Dan and I dated across the world while he traveled to a new city every month with Remote Year. I was living and workingin New York City. We met up only four times that year, because of constraints with work, travel and all the flights. But we made the best of every trip, and our trips to be together ranged from five days to two weeks.
We took vacations together to road trip through Portugal, tour Barcelona, see Medellin and hike in Salento, check out Cordoba and hang out in Buenos Aires, Argentina.
We have no regrets, and luckily, dating long-distance worked out pretty smoothly for us. After all, we were featured in Business Insider saying that "the key to making a long-distance relationship work is understanding and communication."
I hope it works out the same for you, with all of my experience listed above!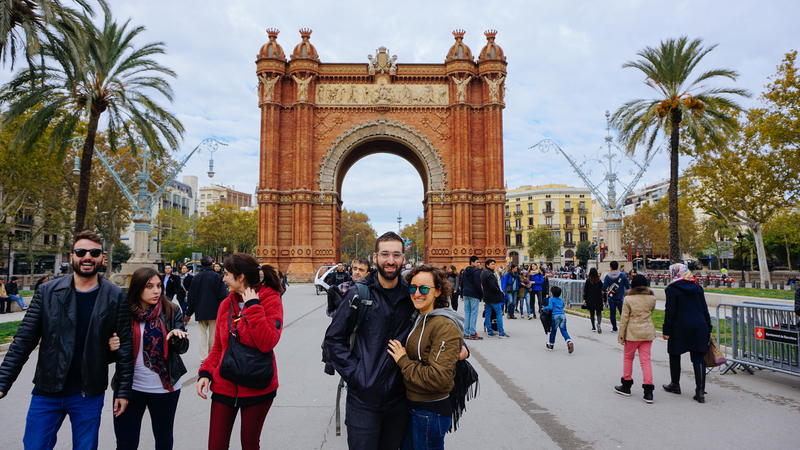 Enjoyed our article?
Consider supporting us! We're a 2-person team (learn more about us here) and your support enables us to create quality content. Thank you!