Trekking in Sapa, Vietnam - What to Expect
Updated on September 8th, 2023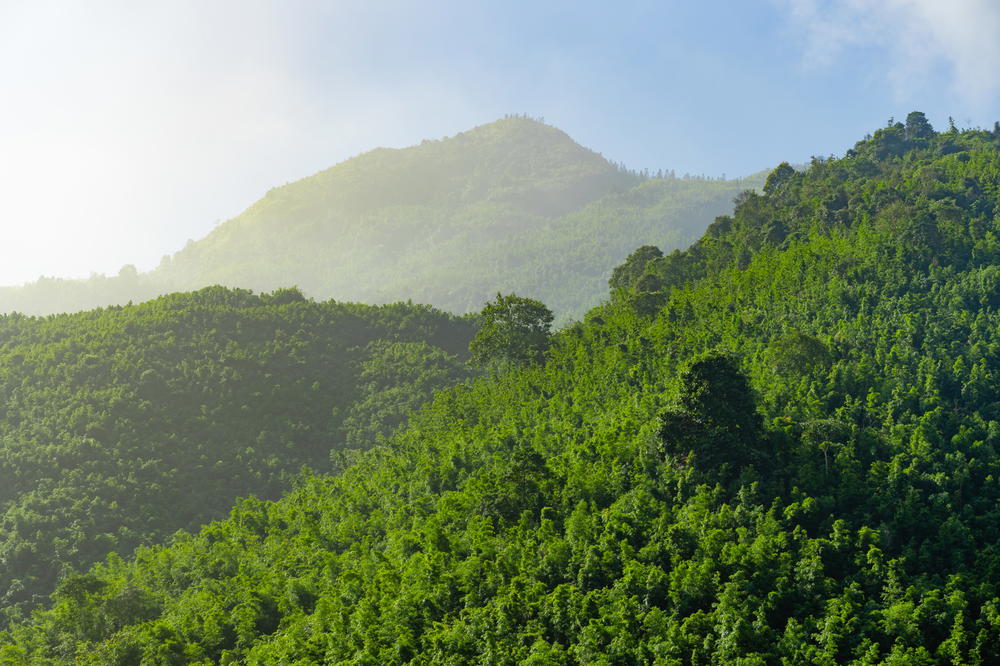 Hiking in Sapa and seeing the rice terraces, scenery and Hmong villages is one of the best things to do in Vietnam. Our winter trip with Sapa Tribal Trekking was so unique!
This article may contain affiliate links. We earn a small commissions when you purchase via those links — and it's free for you. It's only us (Becca & Dan) working on this website, so we value your support! Read our privacy policy and learn more about us.
Table of contents
Close table of contents
We finally got to trek in the north of Vietnam, see the rice terraces and experience the Black Hmong culture with an experienced guide, all thanks to Sapa Tribal Trekking.
Part of any trip to Vietnam is experiencing the beautiful nature and culture in the northwest of the country, which is vastly different from the urban cities, the beachy center of Vietnam and the tropical Mekong River Delta south.
We didn't know what to expect when we came to Sapa, but knowing that we would be trekking with a reputable trekking company made us feel comfortable and at ease. What we were about to experience was hard to prepare for, so we let it all be a surprise!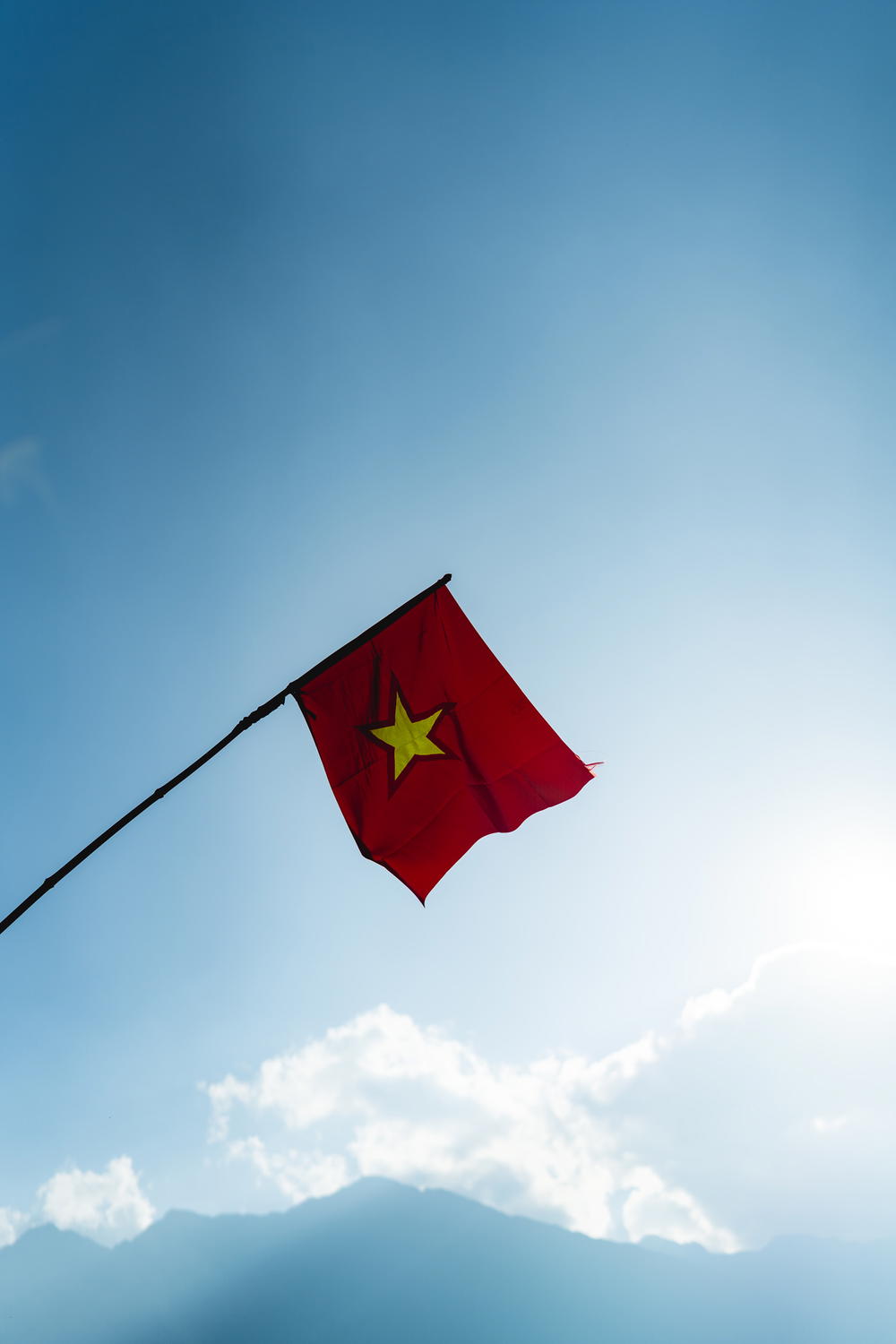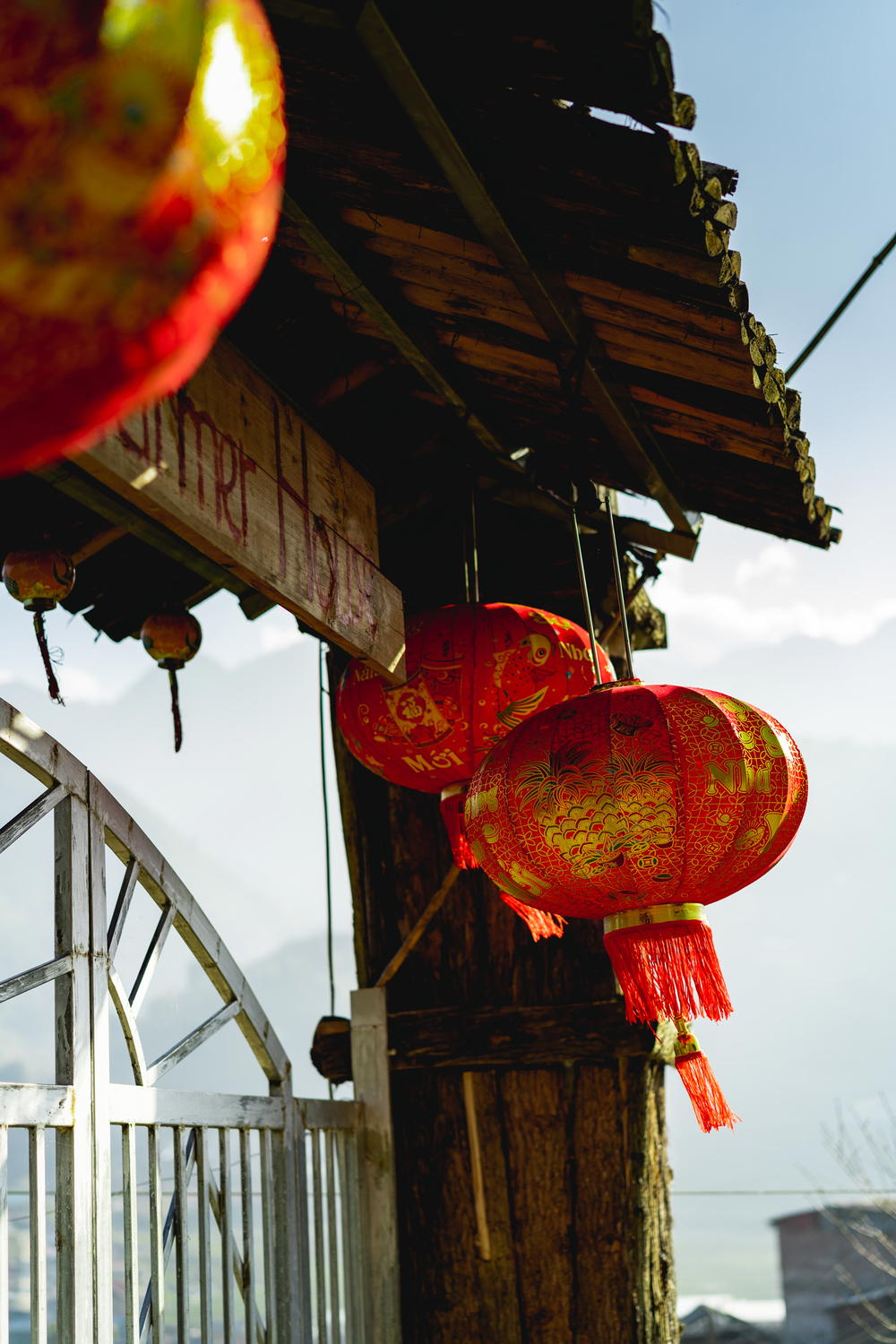 The best way to go trekking in Sapa
First of all, Sapa trekking starts in Sapa and then takes place outside of Sapa. Sapa is a town that serves as the tourist center of the region, and all treks and cultural attractions stem outward from the semi-urban area of the town.
Trekking in Sapa comes in trips usually between one and three days and involves staying in 'homestays' with local minority villages. To understand the minority cultures outside of Sapa, well, you have to see it for yourself!
Trekking involves a bunch of hiking through a few types of terrains, from mountainous rocky paths to slippery mud in bamboo forests, to dry soil in the rice terraces, if it's winter (January and February). You will see all these types of landscapes, the people who live among them and probably some animals, too!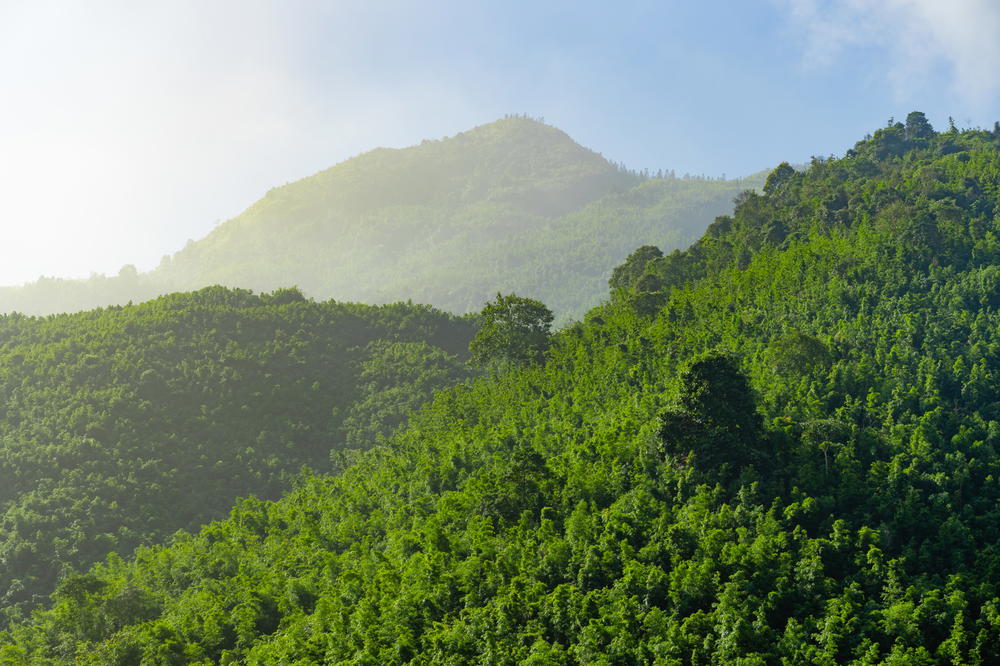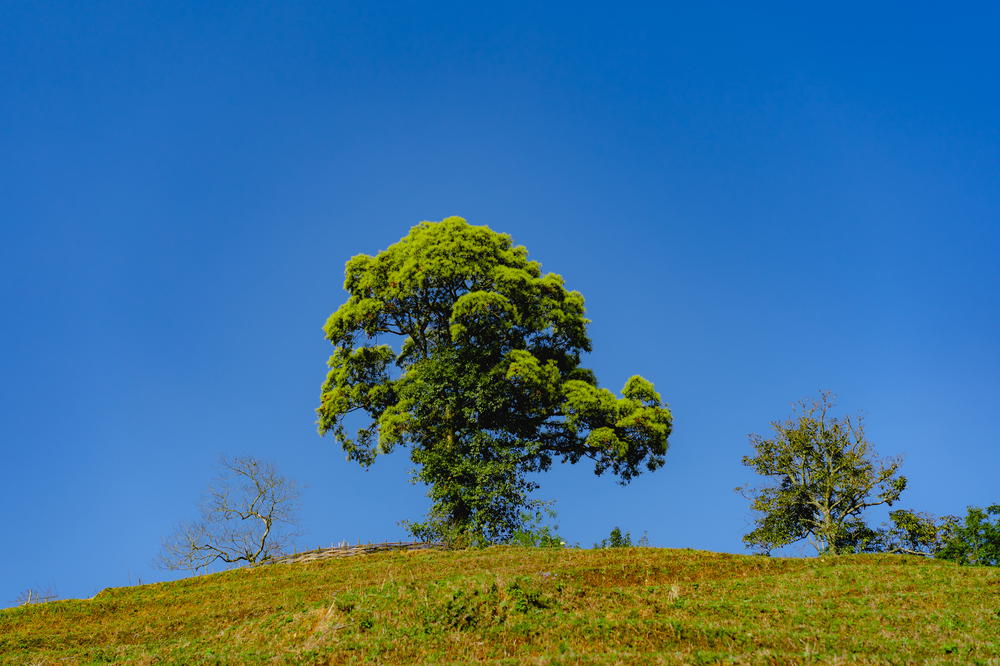 Why you should trek in Sapa with an experienced local trekking guide
Our guide Giang was the best we could have asked for! We immediately felt trust with her, as she met us early in the morning before we were done eating breakfast at our hotel in Sapa. She told us to take our time, as we were about to have a private trek for the next two days, and the whole schedule was flexible!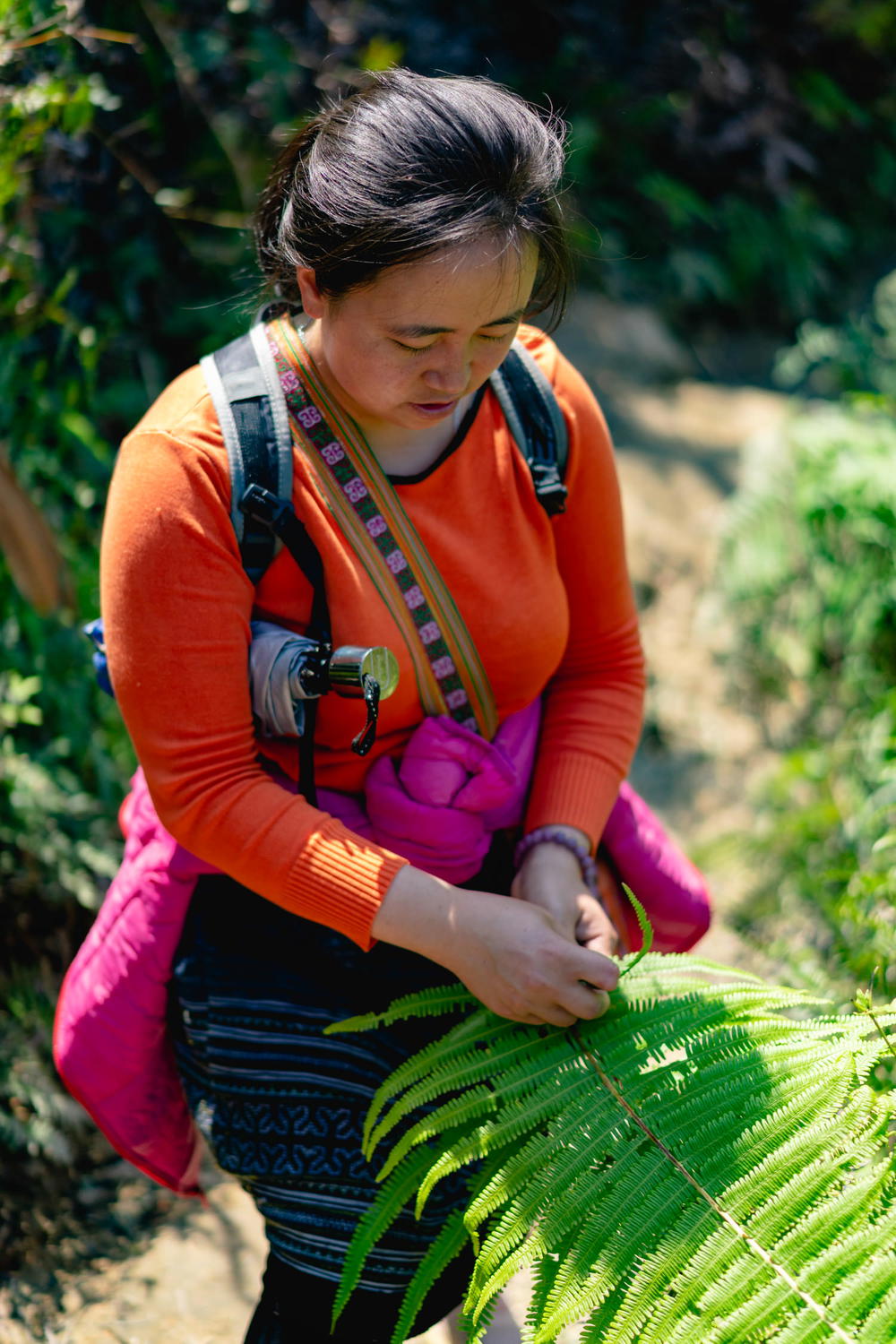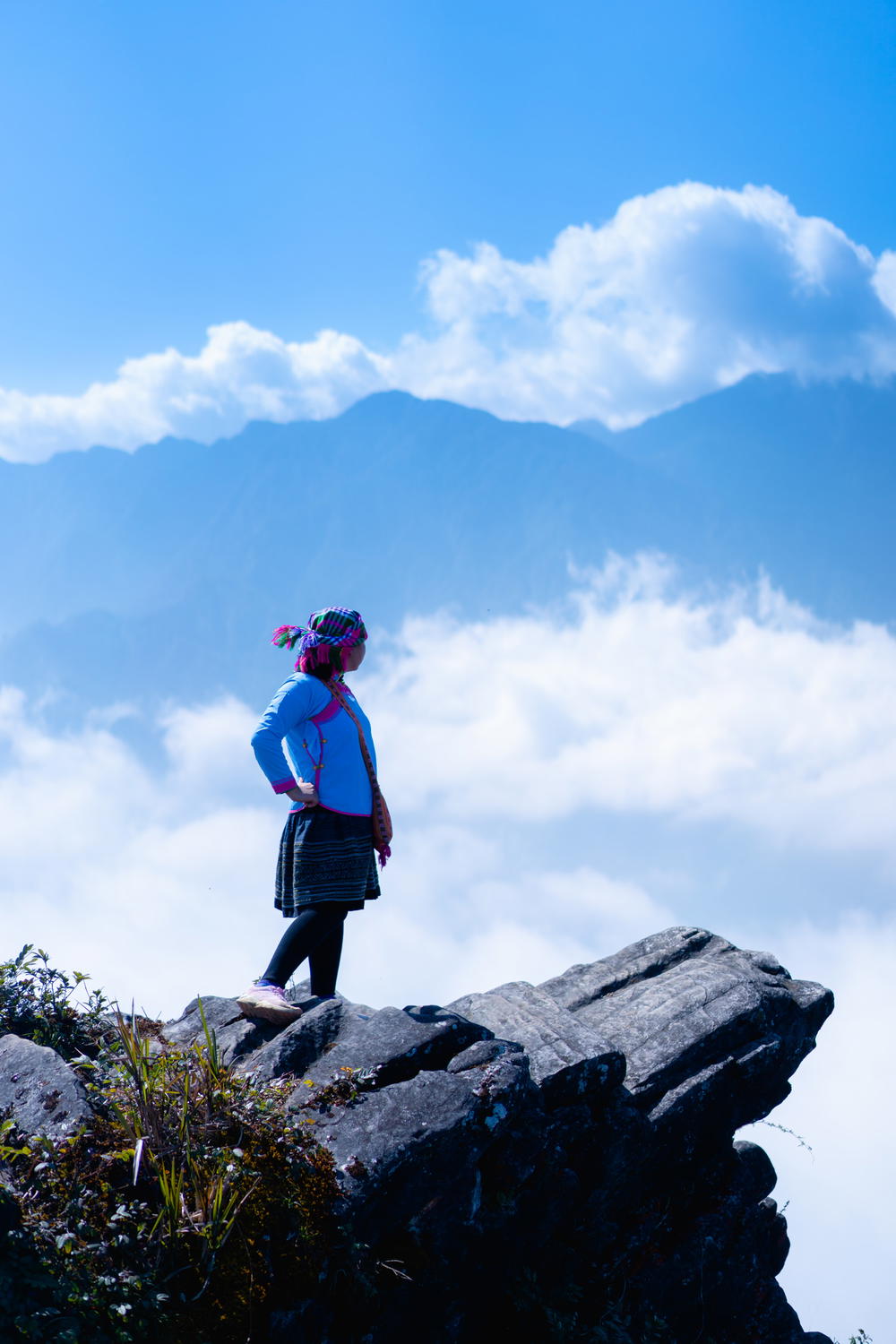 Giang is part of the Black Hmong ethnic group and she has been serving as a trek guide for nine years. Her English is impressive, and so is her ability to help foreign travelers understand her tribe's culture, because most of us have had no prior interactions with the Black Hmong people of northern Vietnam! Over the next two days, she answered every question we had as best she could, and we learned an incredible amount.
In having an experienced guide with you during your trek, you can have intercultural experiences you'd never have if you were to trek and experience the villages on your own. Giang brought us to the homes of local families who often host trekkers and tourists for meals, so they're used to having company and introducing their traditions.
Giang also brought us to our homestay, where she is familiar with the host family and the other trek guides who bring their groups. Knowing that she's friendly in the villages with everyone made us feel welcome in such new environments.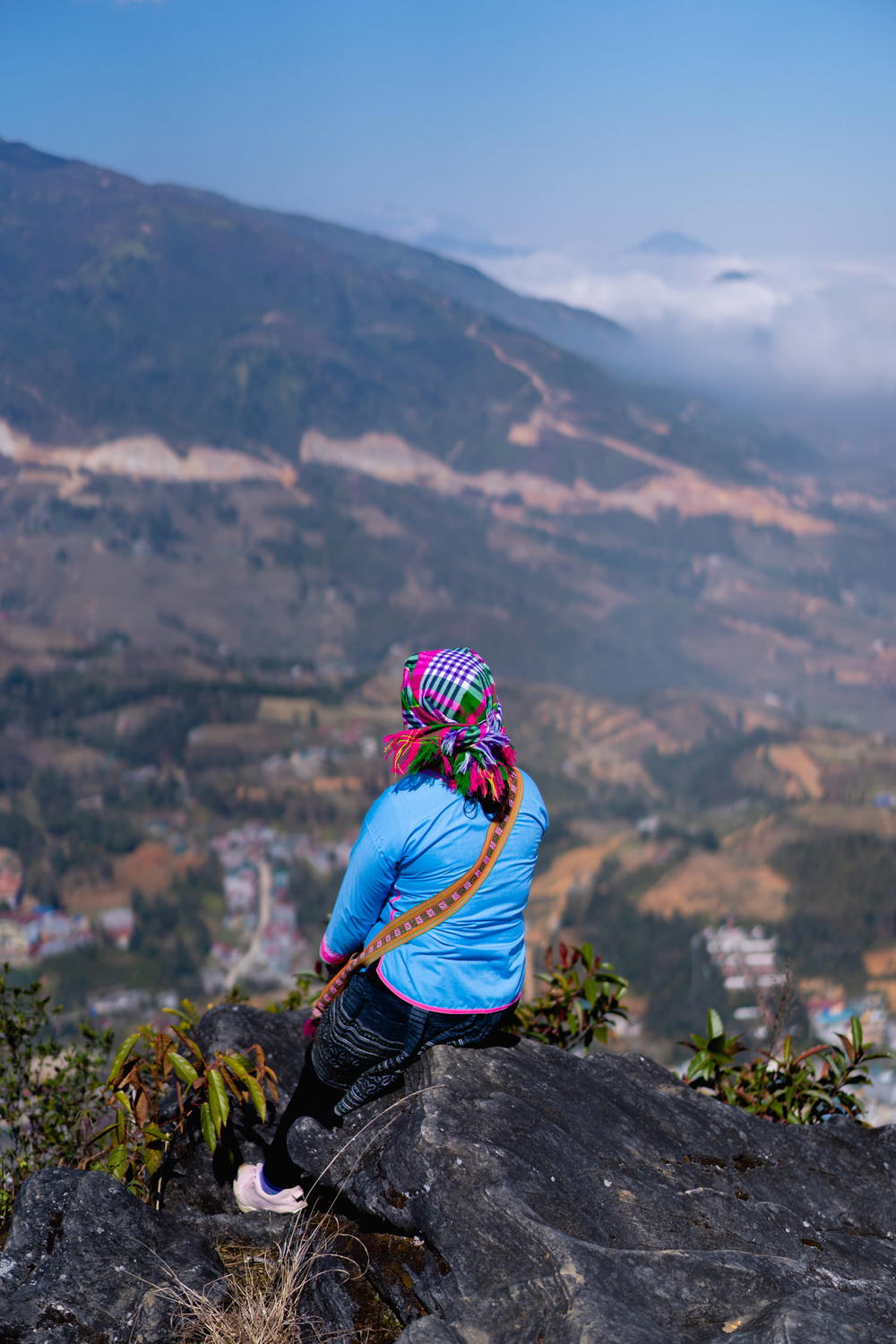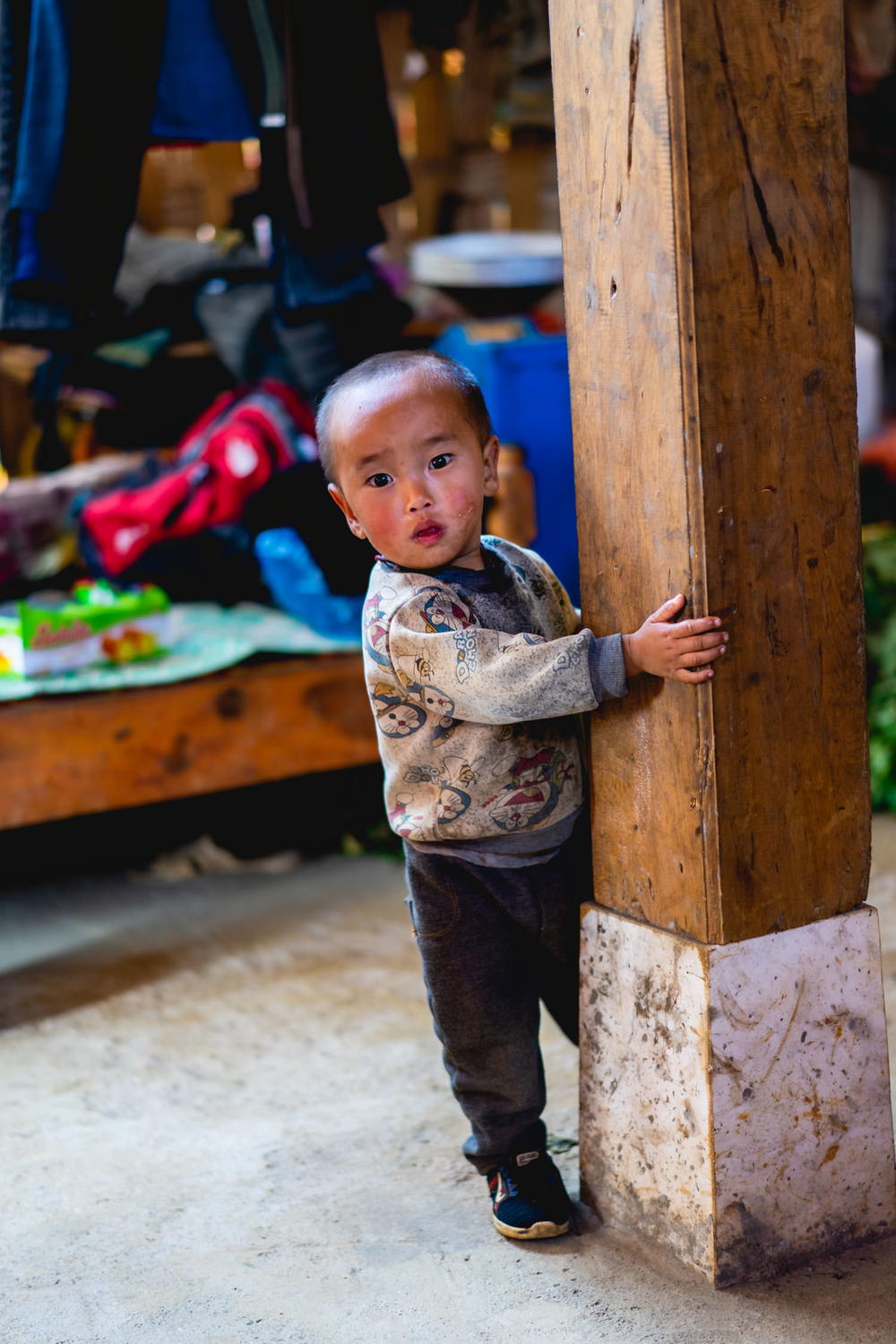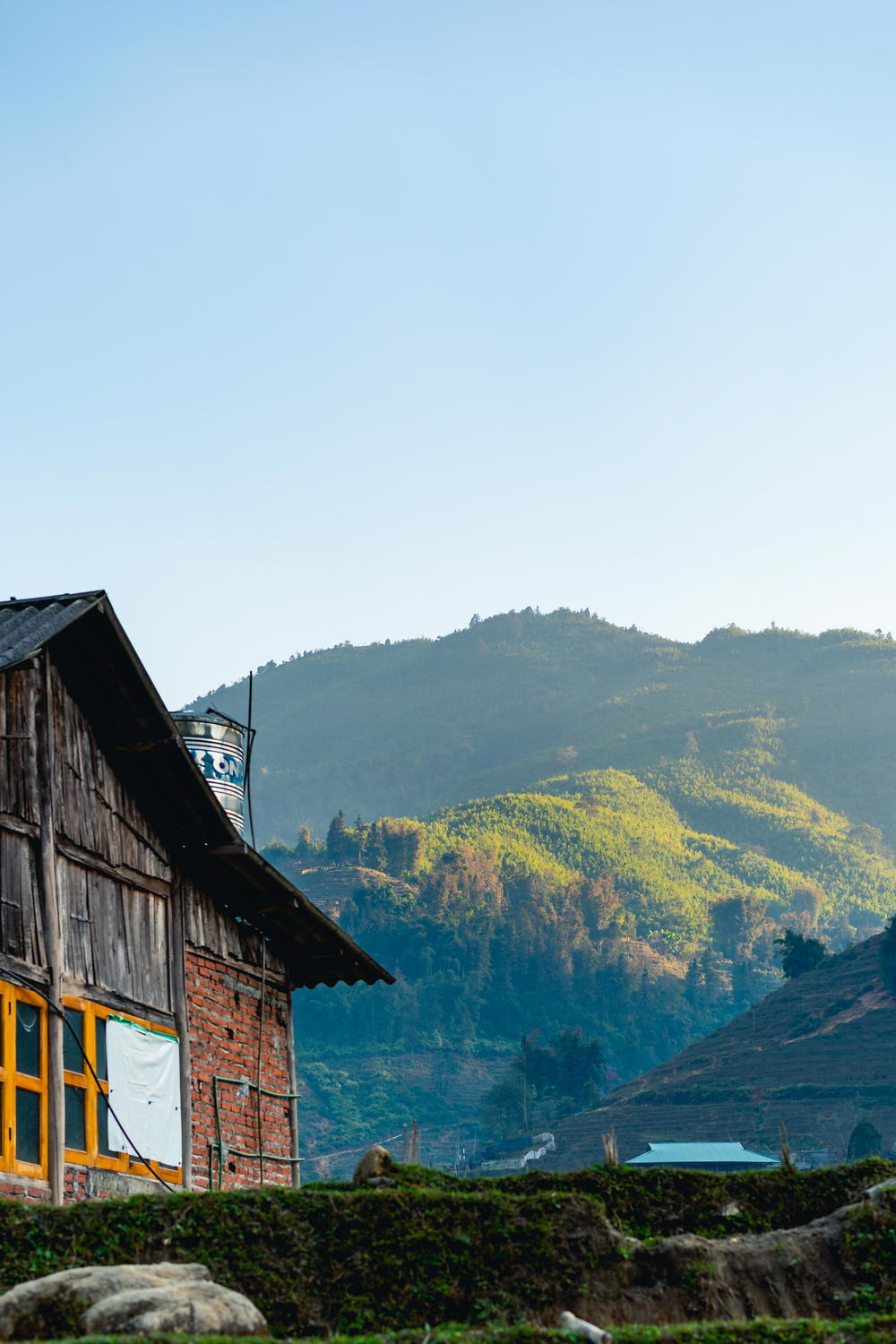 Lastly, traveling with a local guide who speaks the Black Hmong dialect is crucial in case you have any sort of problem during your visit to the villages near Ta Van and Lao Chai outside Sapa.
If we had had any sort of health complication or other issue, Giang could communicate with anyone nearby to get us help. To note: the locals in these villages don't really speak standard Vietnamese, as it's not their native tongue, and not all villagers are fluent in Vietnamese.
Hiking the mountain overlooking Sapa
Our first trek activity was hiking the mountain right next to the town of Sapa, and we accessed the start point not too far from our hotel. Looks like we chose the right side of town to stay at! After forty minutes or so of hiking past plant life and corn fields on rocky paths, we reached the mountain's summit, and being in the clouds was totally unexpected for us!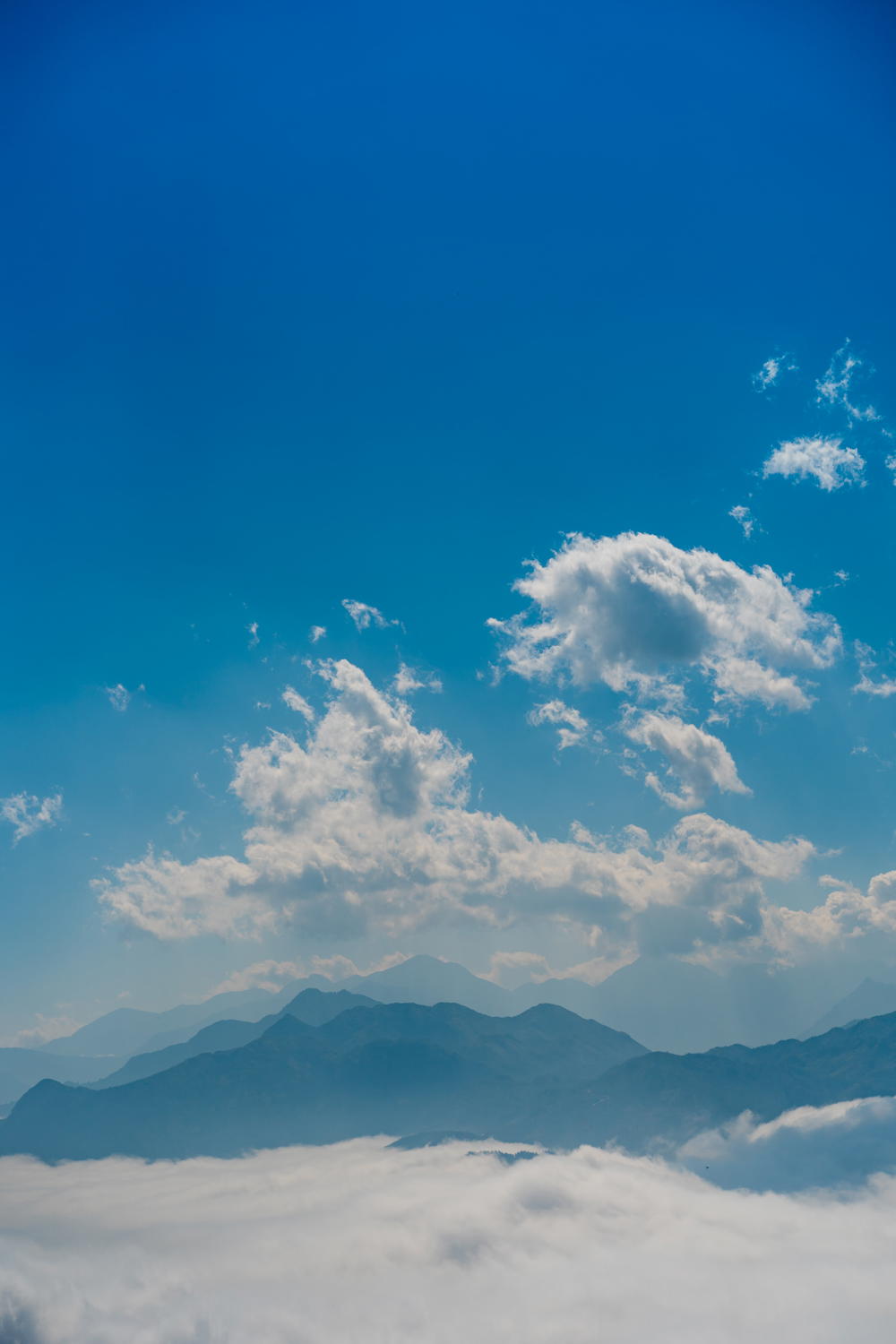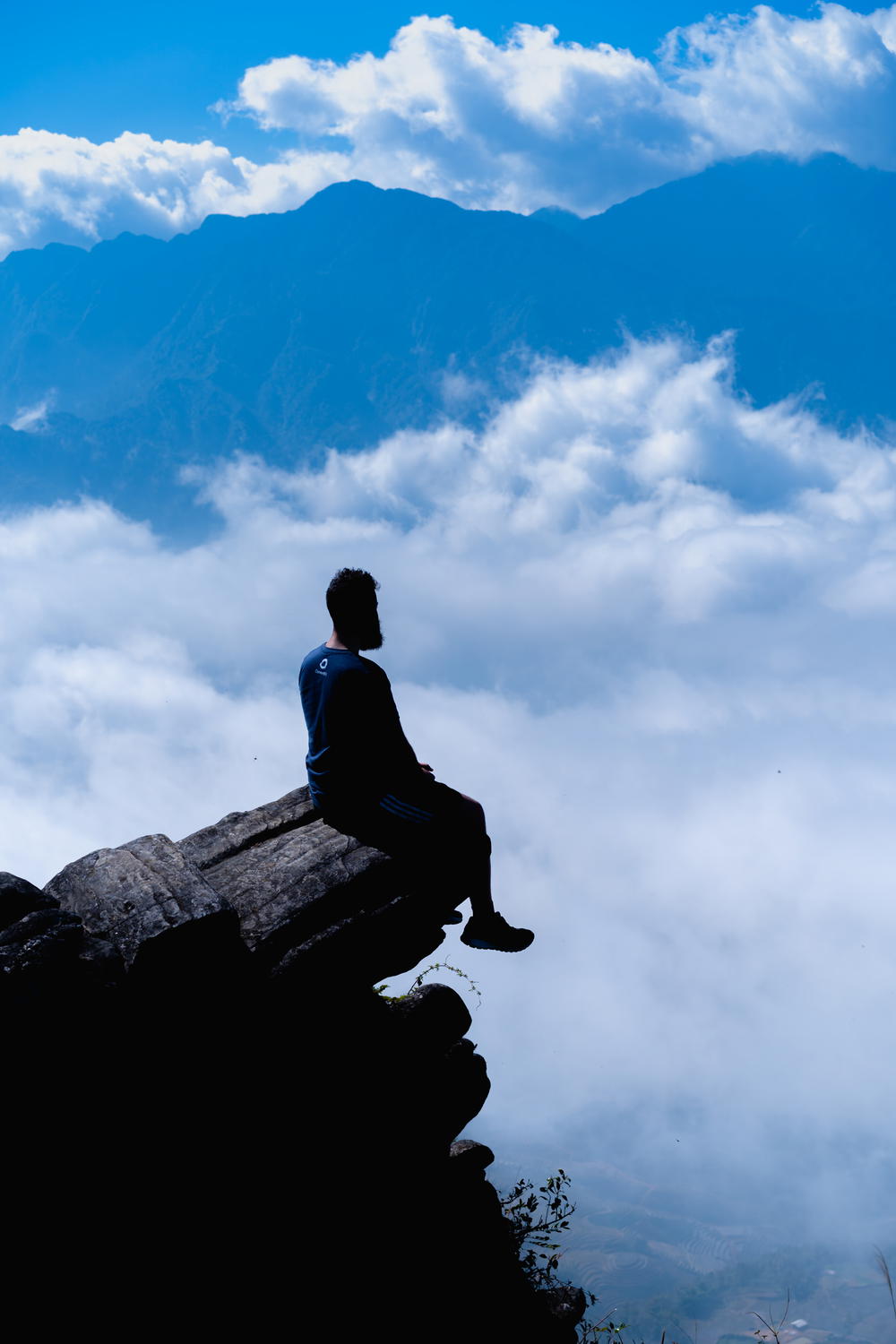 We loved shooting photos with a sea of clouds to one side and a clear view of the town to the other side. The clouds were moving so fast from the wind that we couldn't take our eyes off of them. We were lucky to have such great weather to start out with!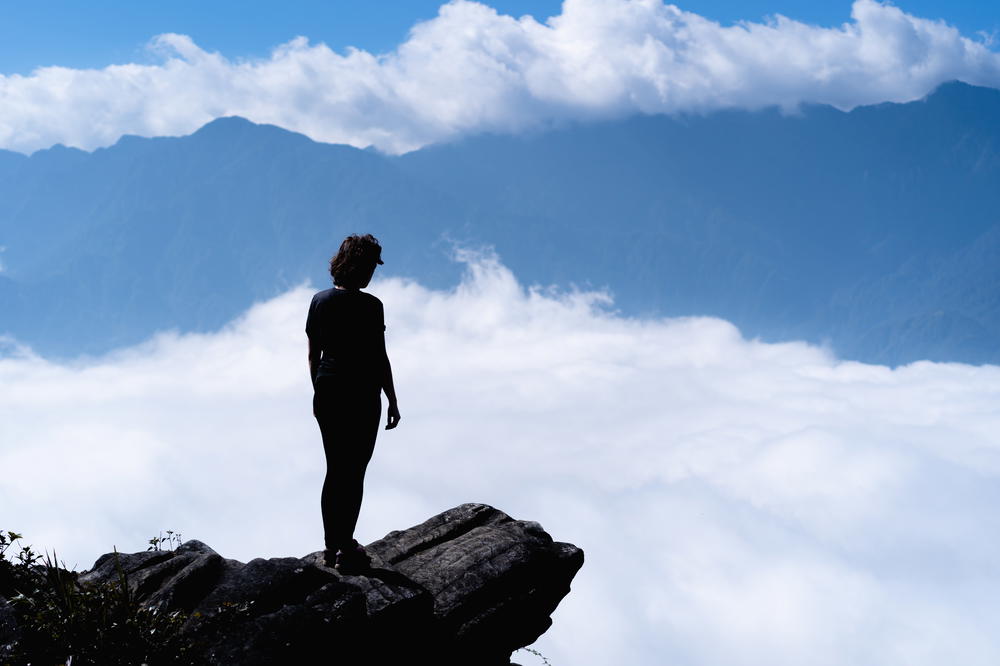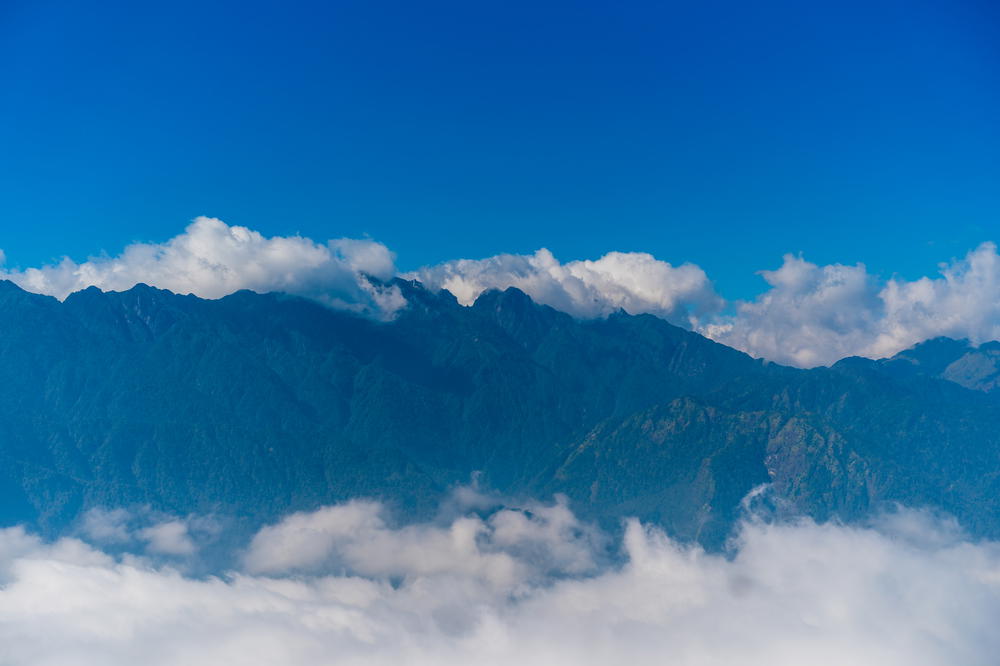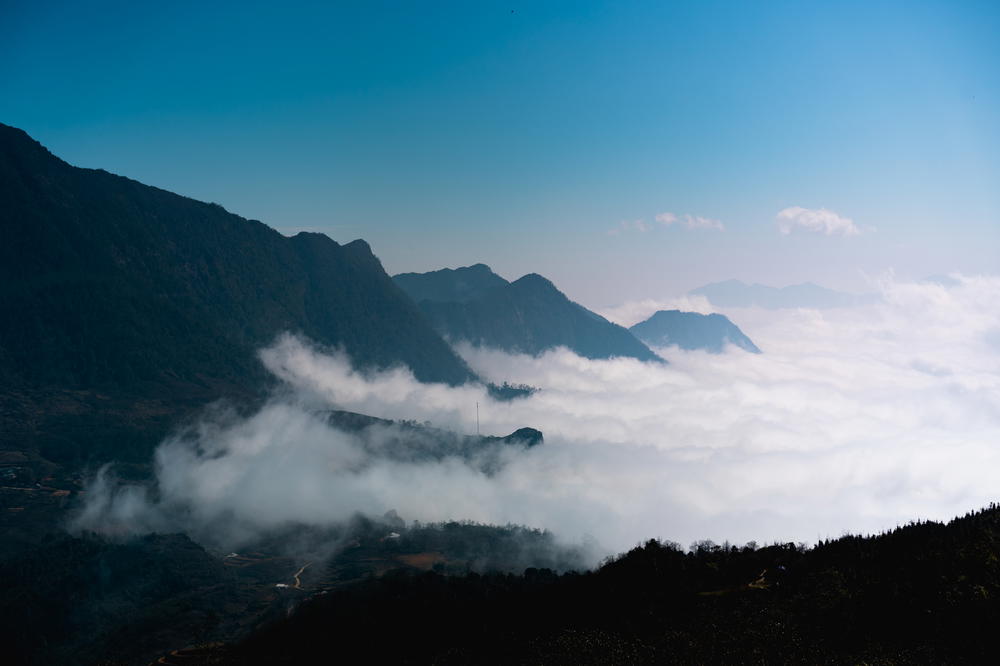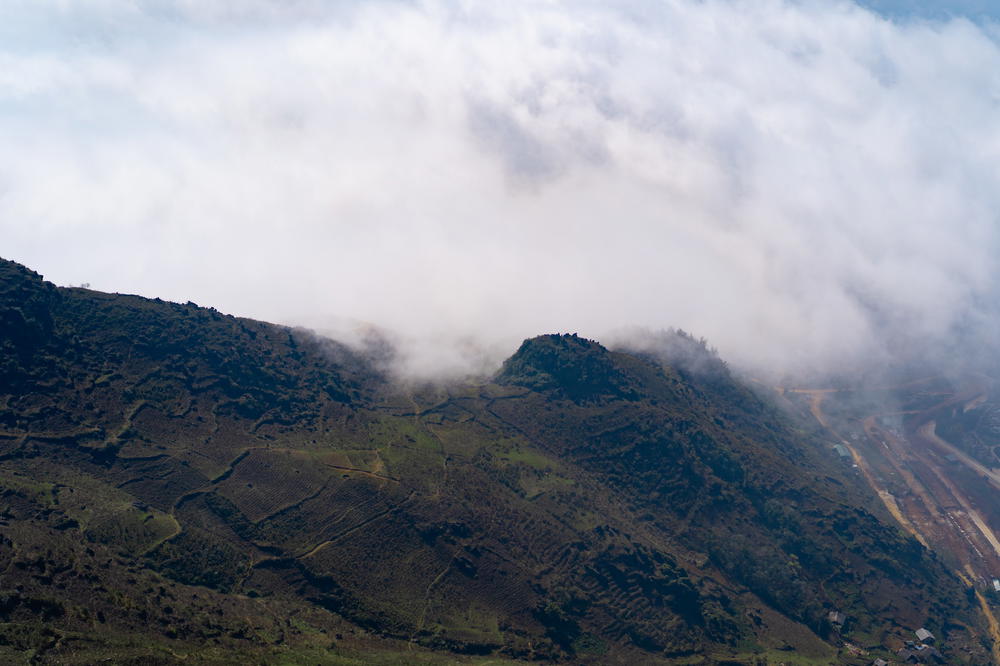 After getting our fill of dizzying views off the rocks, we headed down the other side of the mountain with Giang, toward the villages. We started heading through a cloud, and things got all foggy. Soon, though, we had clear views into the small farms and yards of Black Hmong villagers, the cute kids and all their livestock!
Lunch at the first Hmong home with locals
We arrived for lunch at a large Black Hmong family home, and a group of men were already surrounding a small table, sitting on short stools, drinking rice wine and eating a big meal with chopsticks. There were dogs, a cat, and an array of pigs and chickens outside roaming freely.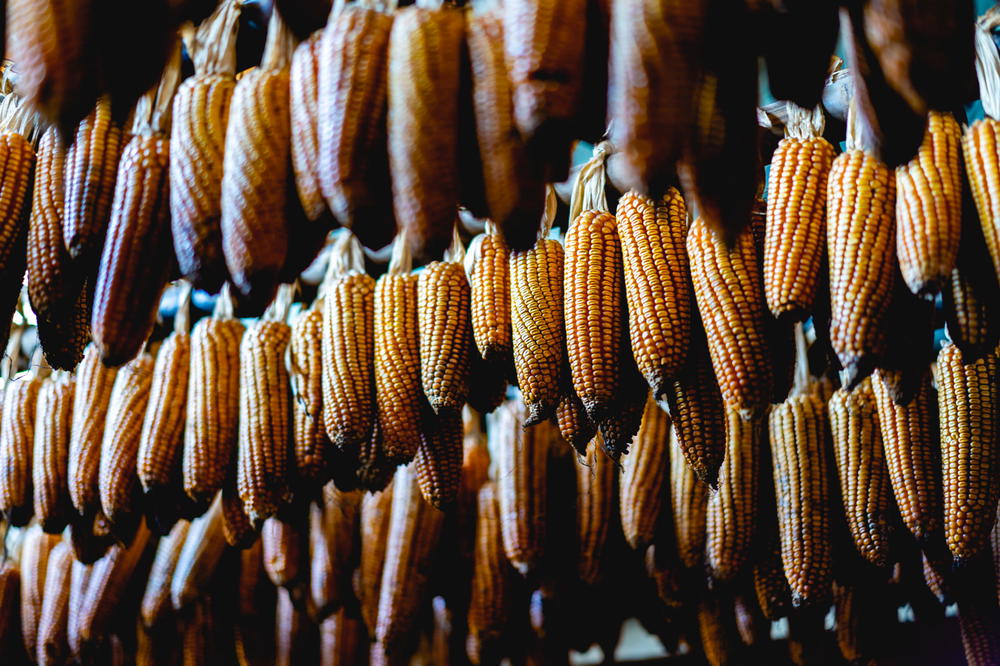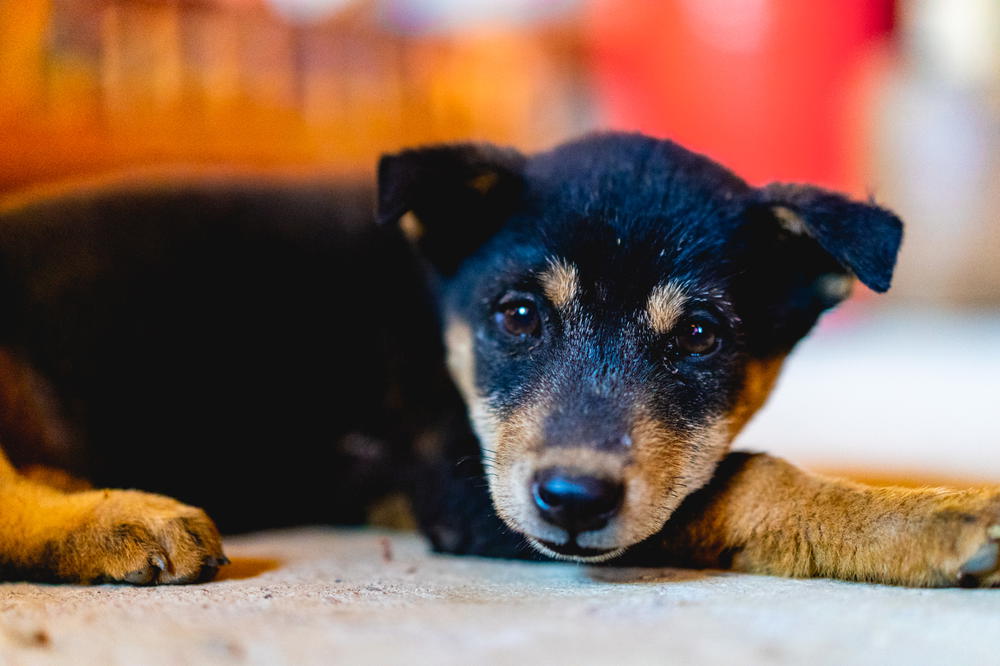 Soon, another trekking couple arrived with a guide, and we sat down at the women's table for a meal. We were surprised to see that several women spoke English, and they were so friendly! Because of the lunar new year (Tet, in Vietnamese) coming up the next day, we were treated to the tradition of taking shots of rice wine after our meal was done.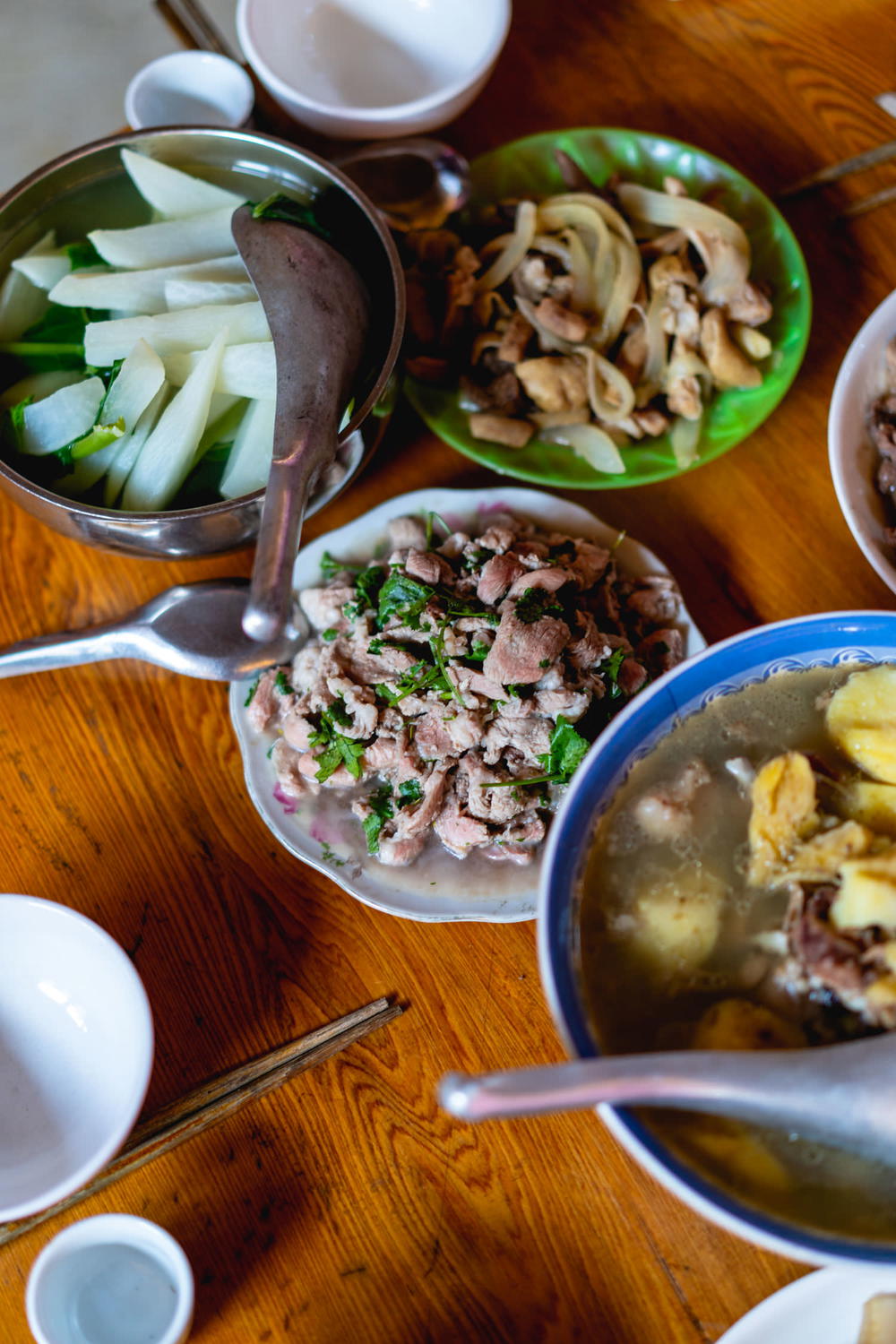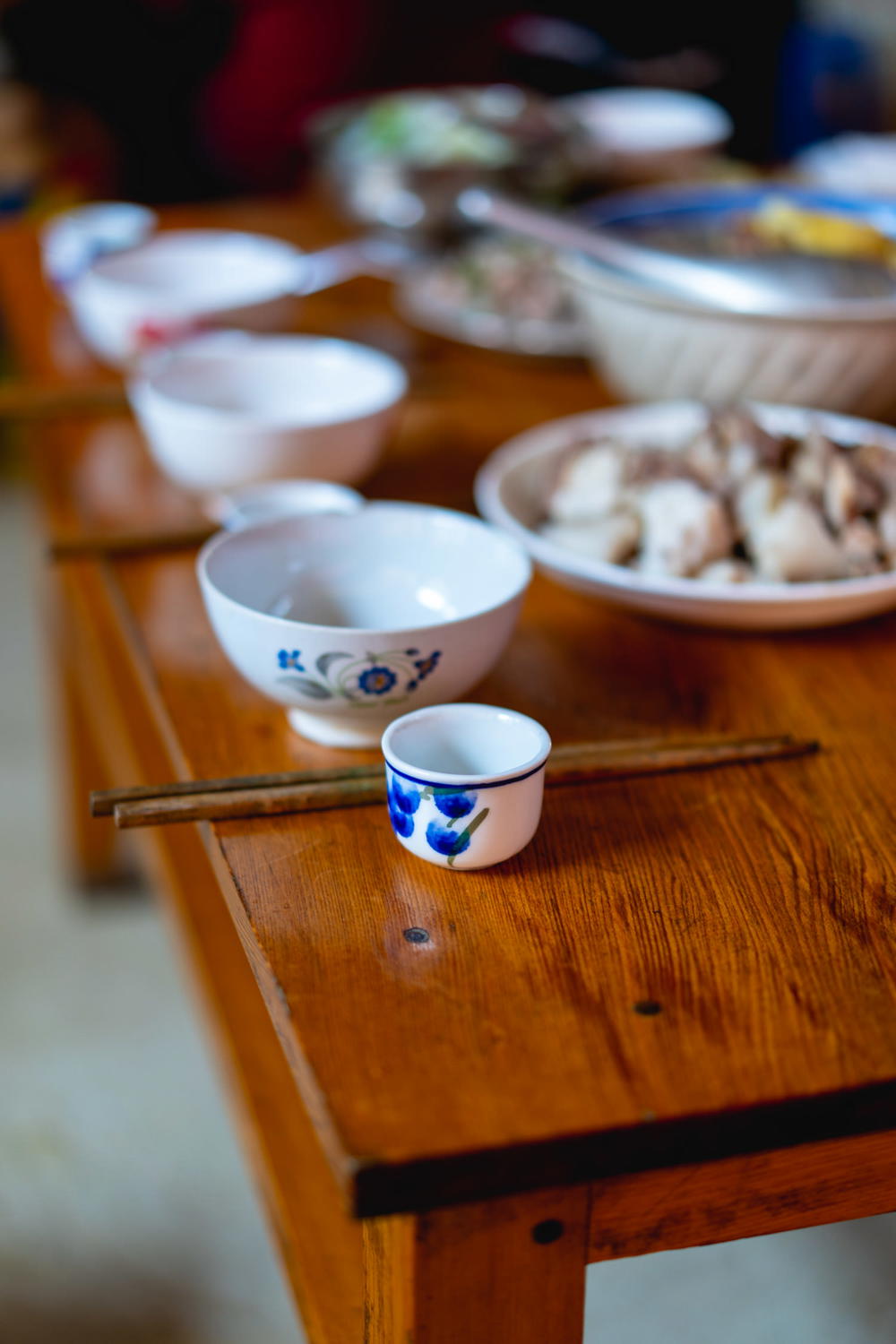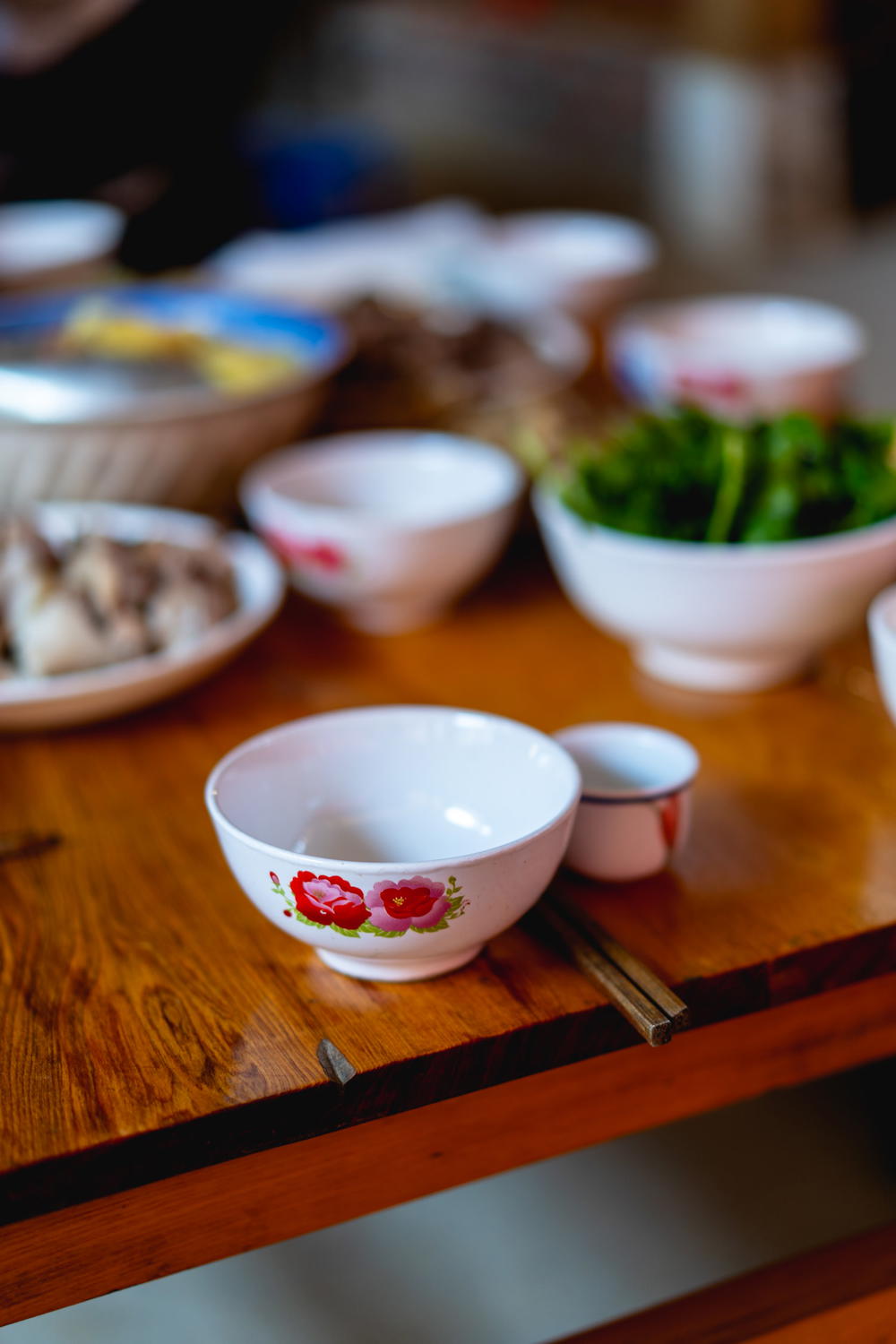 Hiking in the rice terraces outside Sapa
Now, for the big 'wow' moment - our next stop in the trek was the famed rice terraces of northern Vietnam. We hadn't seen them with our eyes yet! We started hiking down a hill through the woods, and when we came into a clearing past some small homes with livestock in the yards, we had a clear view of the expanse of rice fields in the valley.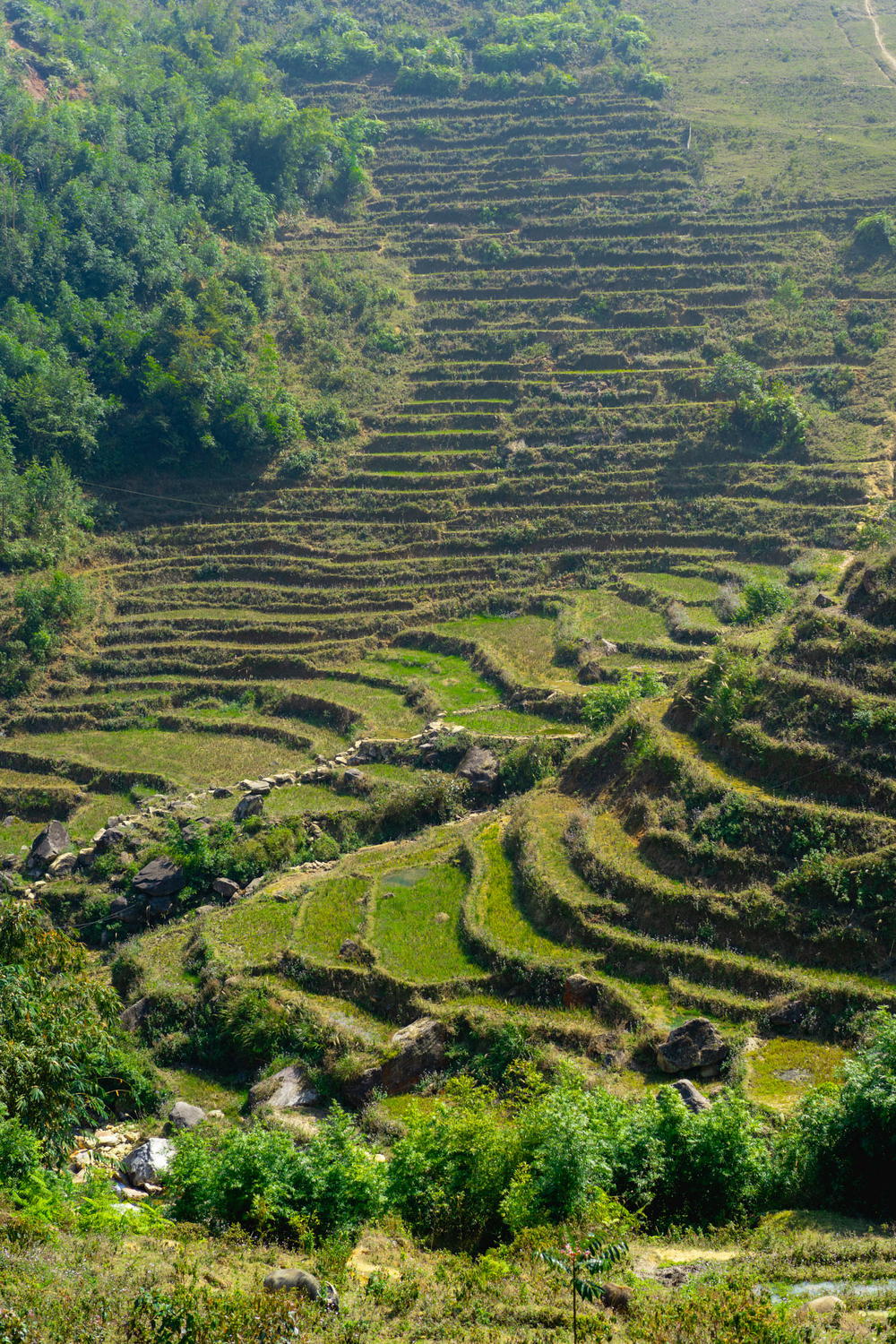 It really is as beautiful as we had pictured! Even though the rice harvesting takes place in the other half of the year and the fields were pretty dry instead of green, we thought the view was lovely.
We continued down on dusty trails to the villages that hug the river and got to see the village life there. Once down on the roads, we witnessed a fight between two male water buffalo, and saw how the people in the town reacted. The young boys got excited to see all the action, and everyone else, including us, tried not to be in harm's way as the two big angry buffalo barreled down the road.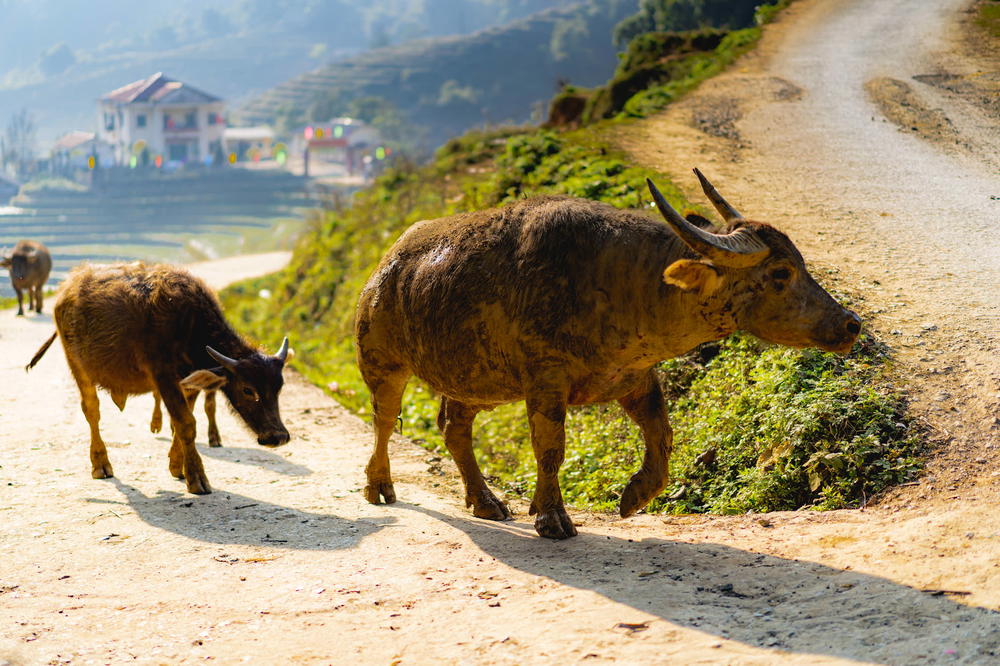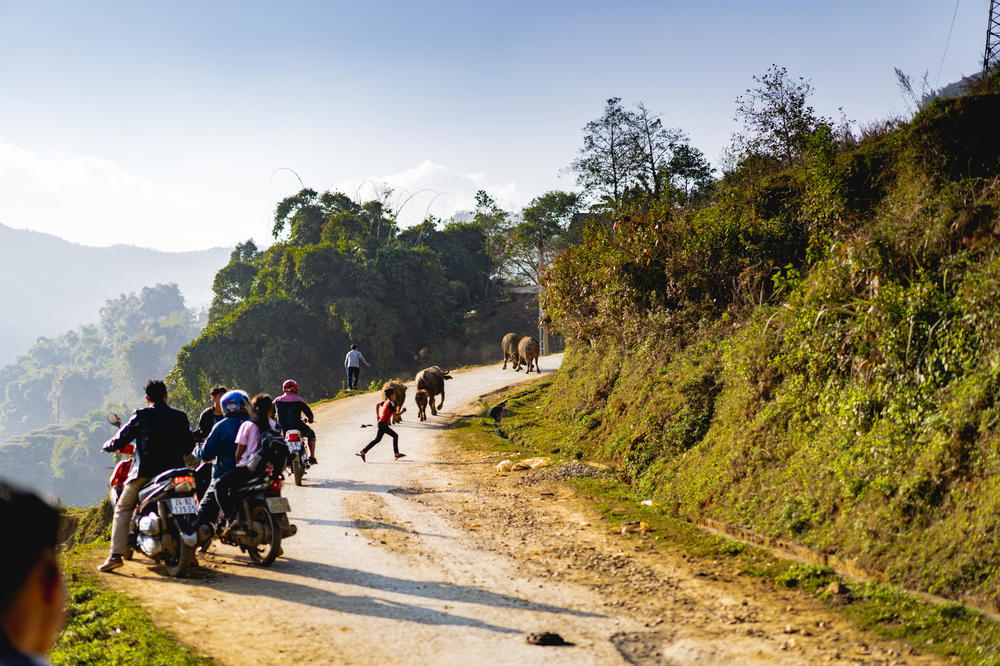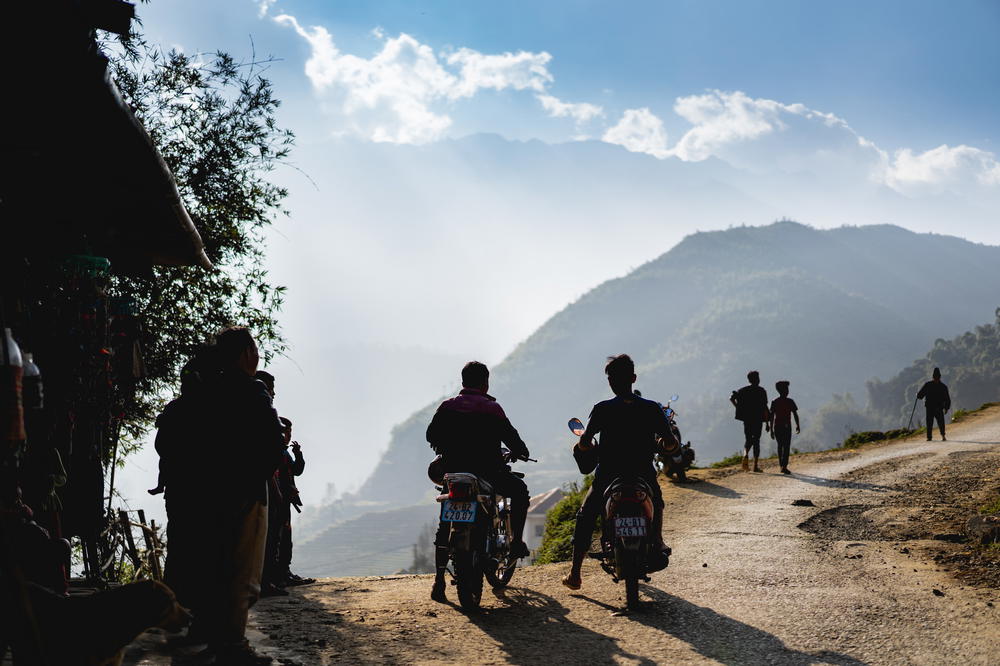 Sunset and Hmong village homestay
We did not know what to expect out of the Hmong village homestay for the night, but I think we were most pleasantly surprised with the kindness of the host family. We arrived at 5 pm and got to see the sun get lower in the sky, as the valley got darker and fog started rolling in.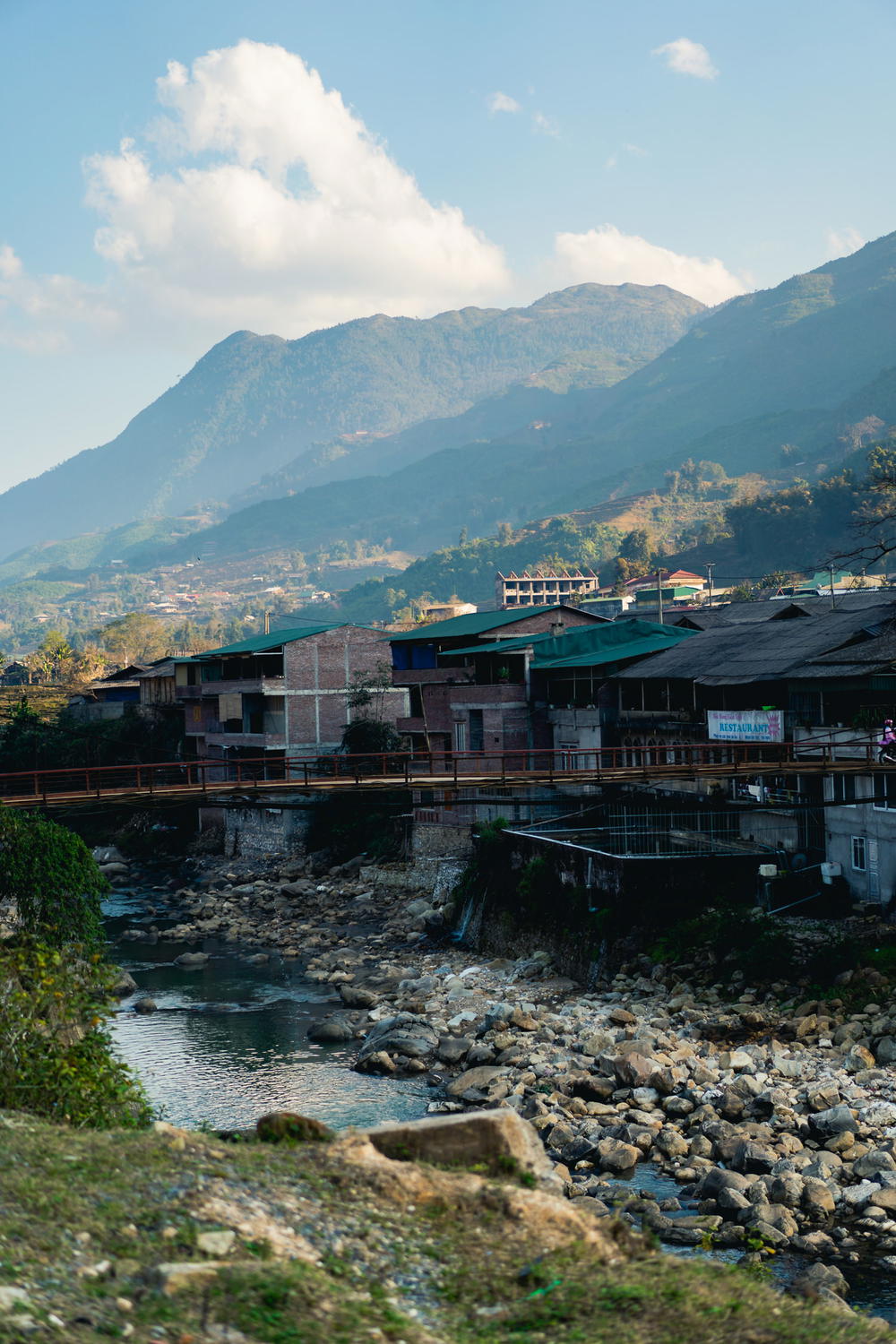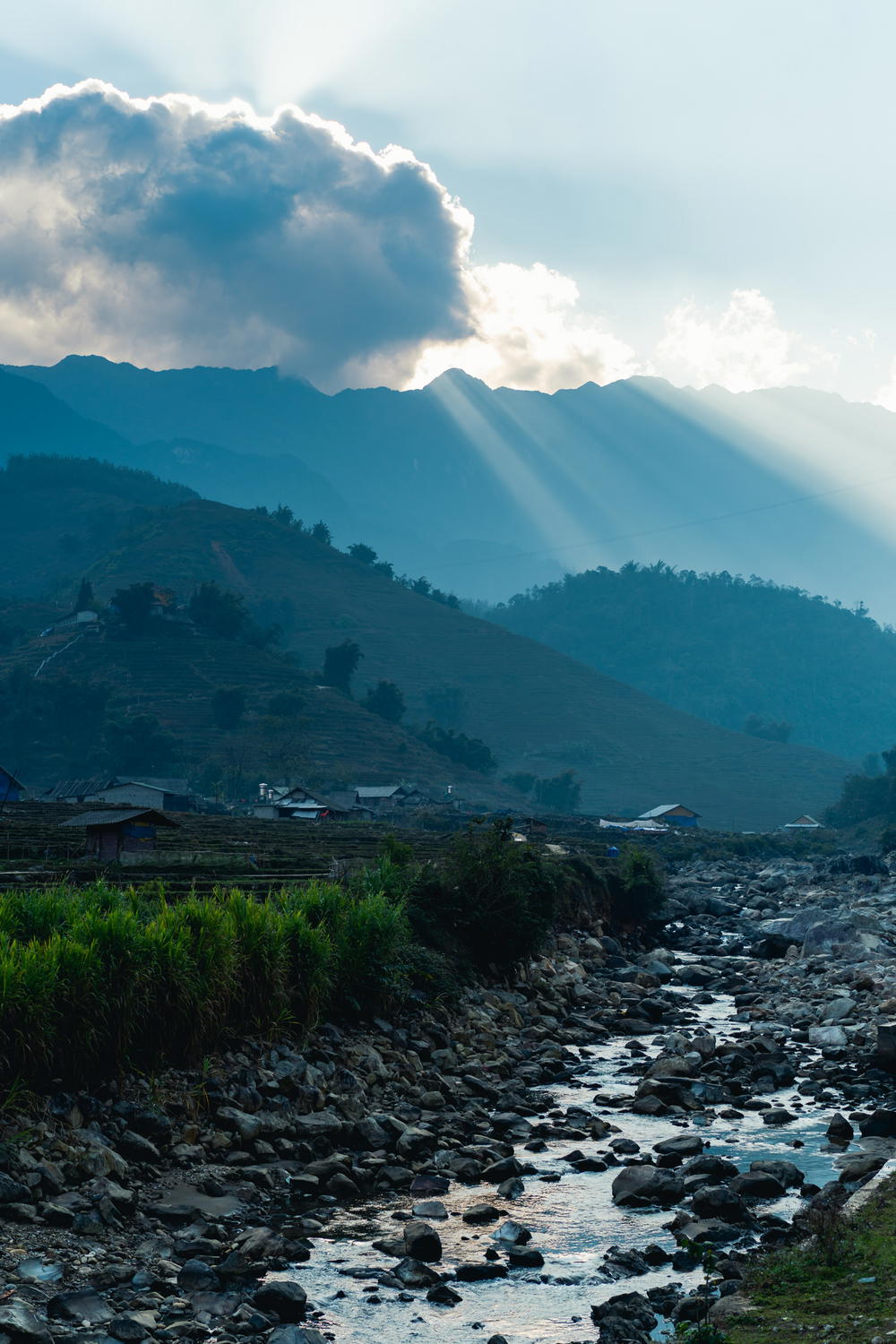 We stayed the night in the Big Tree Homestay, which is run by a Black Hmong family with several children. They love hosting foreign travelers, and through some years of hosting tourists, they've learned to speak some English, French, Hebrew, Spanish and German. They're so funny!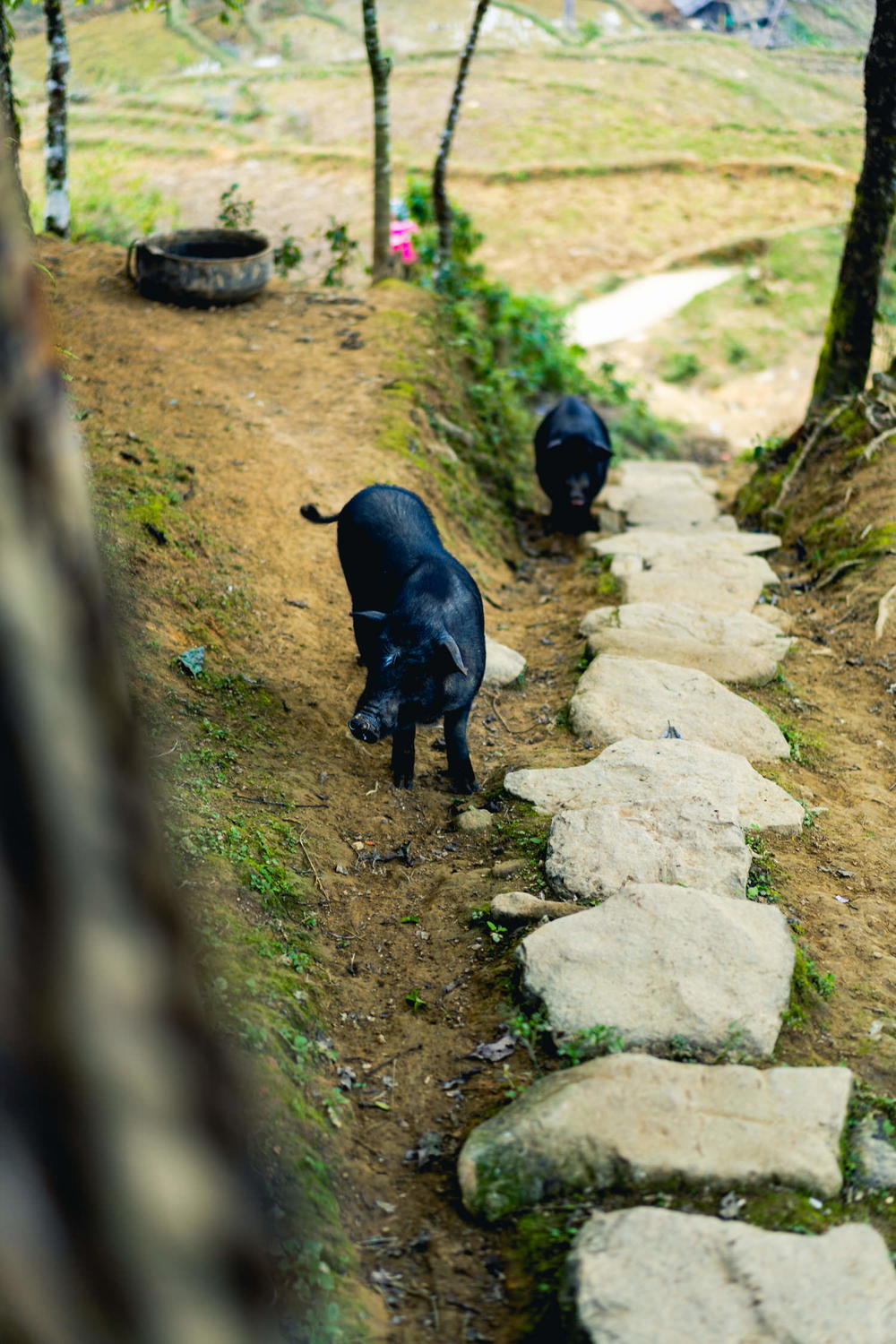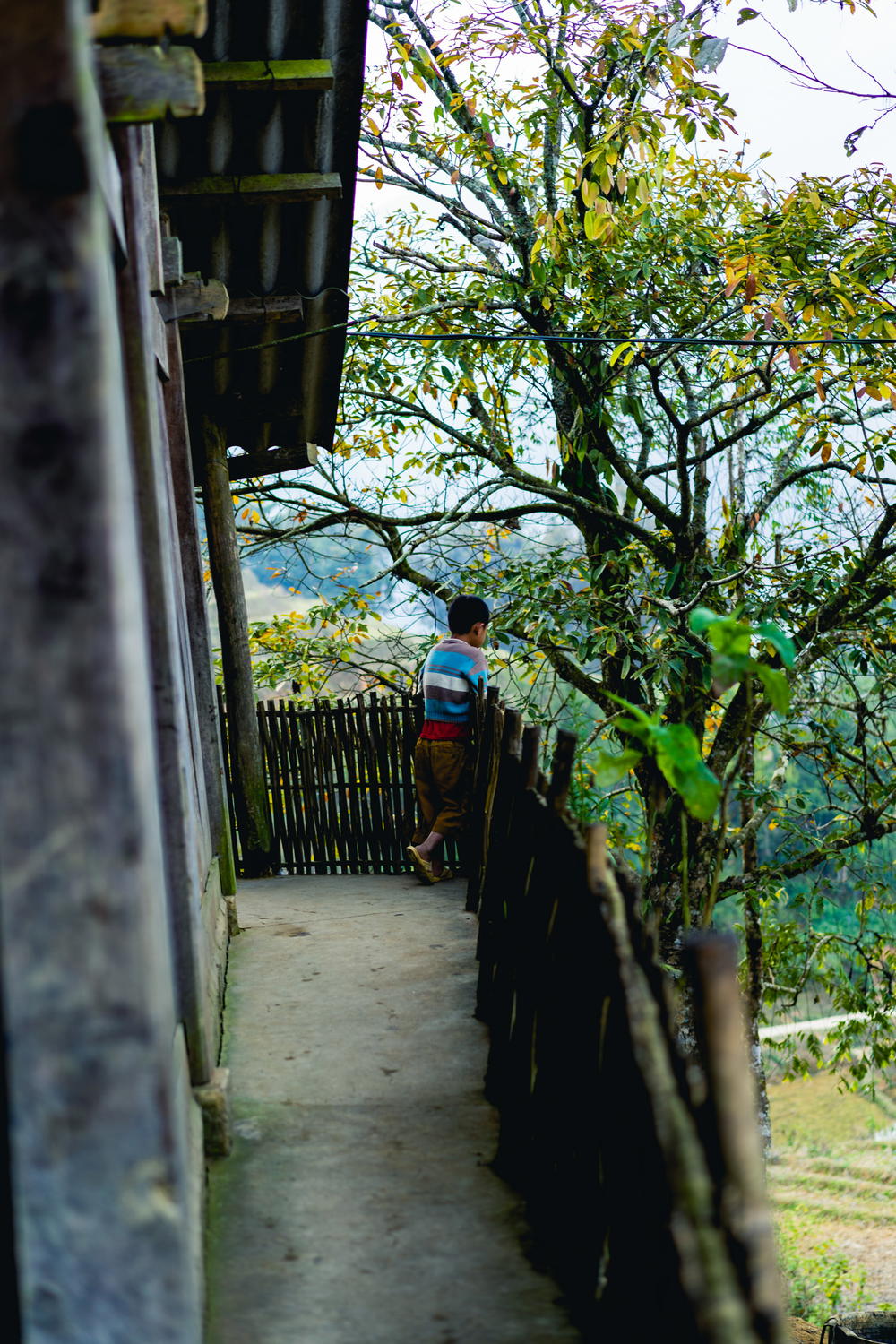 We were joined by four French travelers and their French-speaking Hmong guide. After having tea and watching the sky grow dark, we were invited to have dinner around a low table and sat on stools in the house's common area. Dinner was traditional food of various combinations of pork, string beans, tofu, mushrooms, bamboo shoots and rice. For the finale, rice wine for the new year!
Day two: rice terraces hiking and through the Hmong villages
When we woke up, we were treated to breakfast with our French travel-mates. Breakfast was thin pancakes with bananas and pineapple. Because of Becca's allergy to gluten, she got to eat a typical Black Hmong breakfast with the guides and the family! This breakfast included freshly steamed rice, pork fat with spinach from the garden and a fried egg omelet with chives.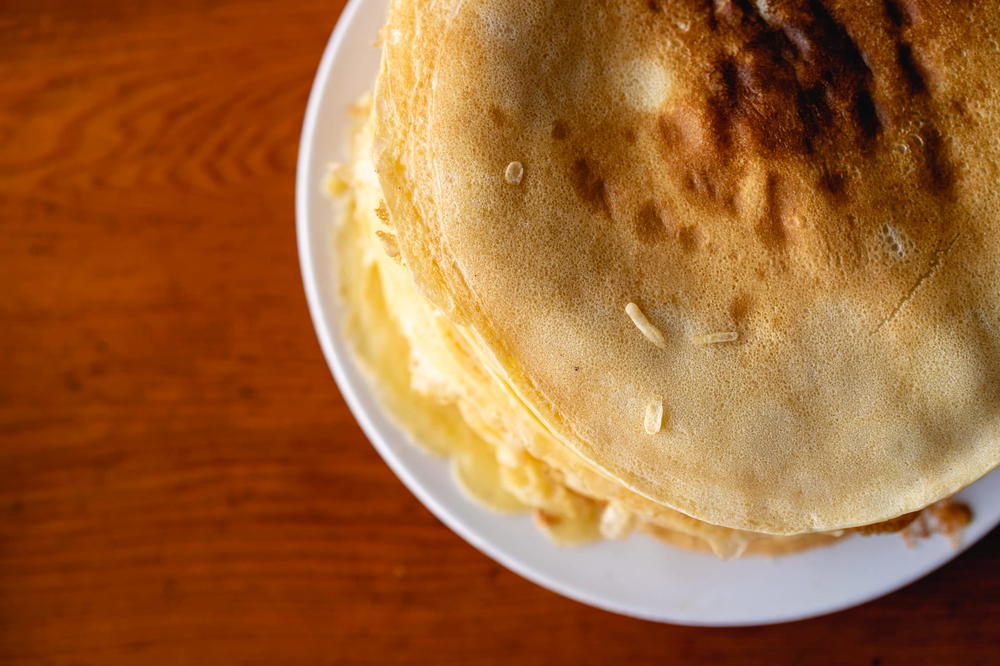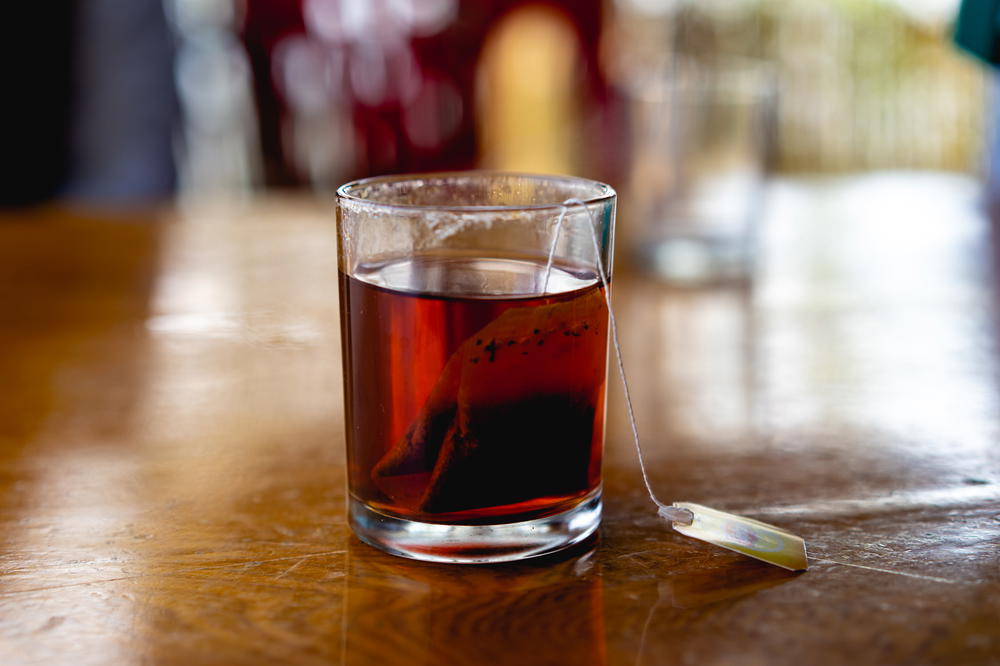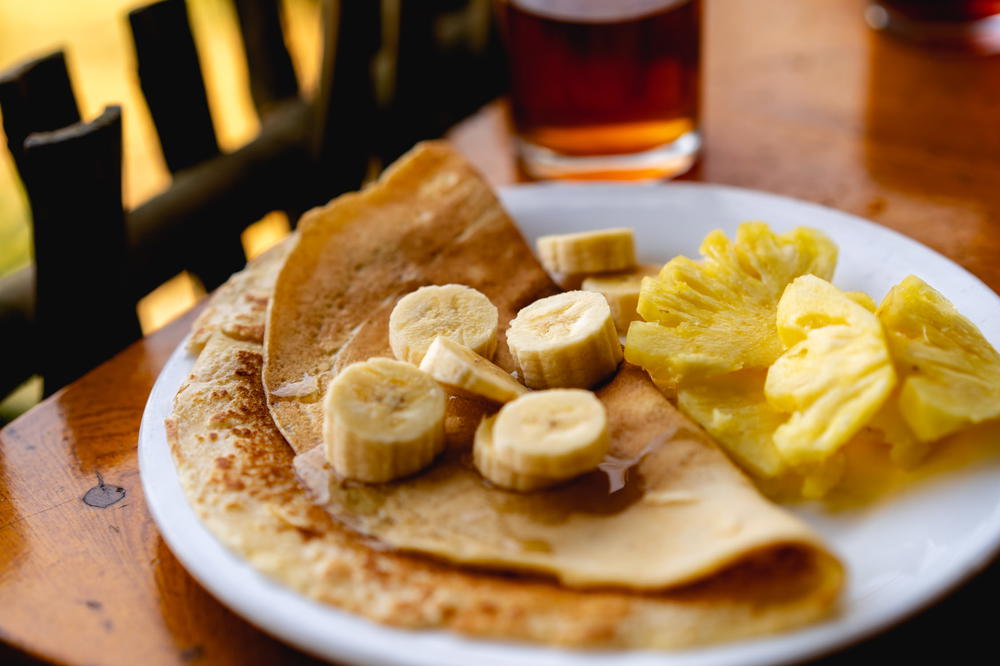 By 9 am after packing up, we were ready to continue our trek with Giang. On this day, the weather got warm, fast! We started with seeing the rice terraces in the morning and walking past the homes of people in the village.
We passed Hmong homes and people outside them, and Giang would get stopped, because she knows everyone. A family insisted on giving her a bag of a slab of pork fat for the new year, as it shows prosperity and she said it's all these families have to offer in terms of giving gifts. It's also useful, because they use pork fat to flavor most foods and they can salt it to make it last a few months.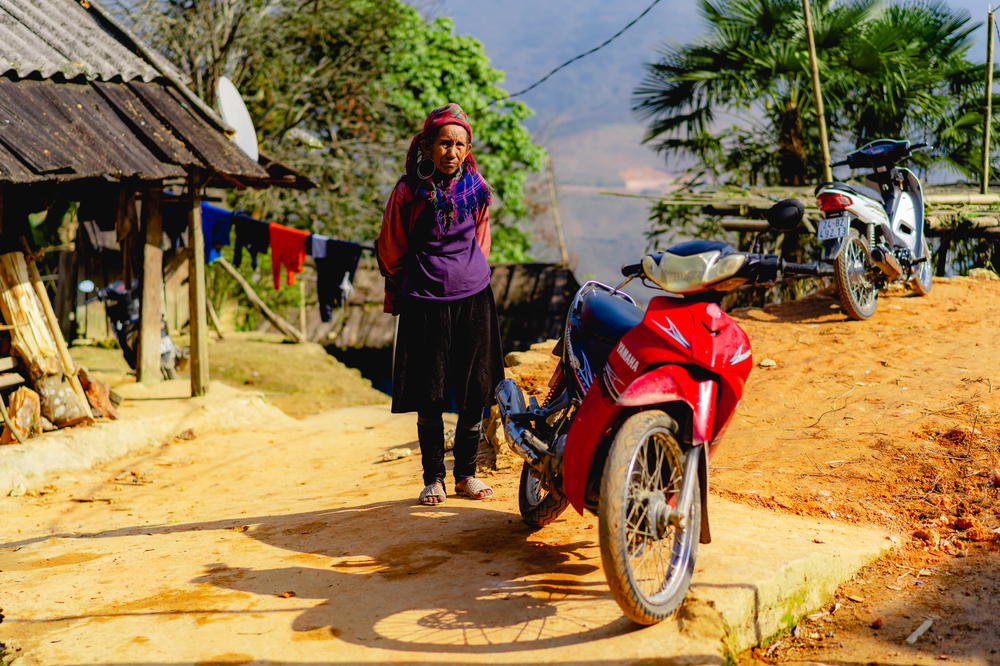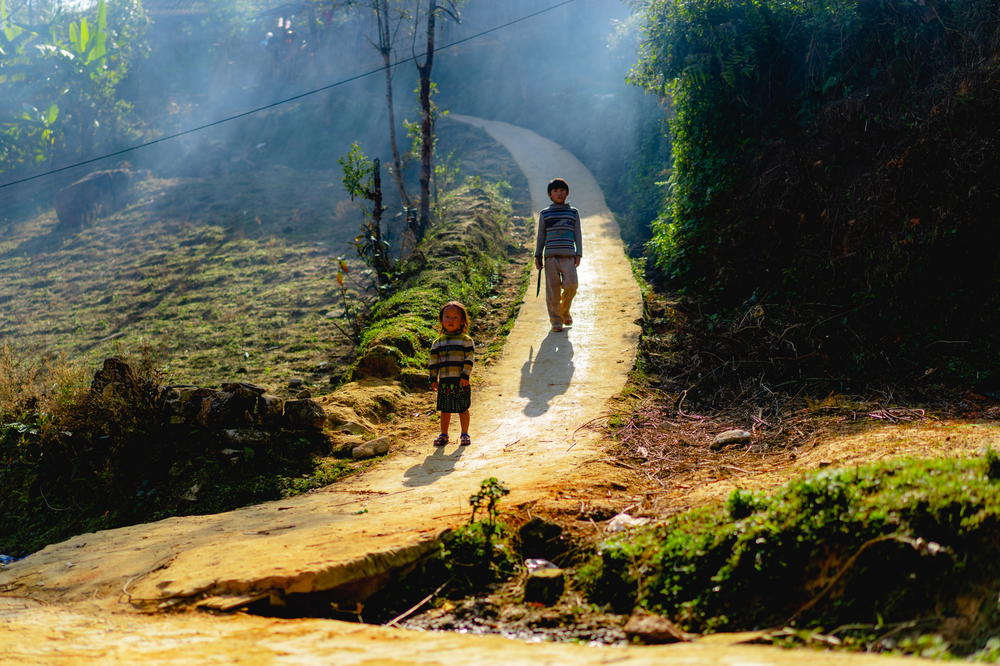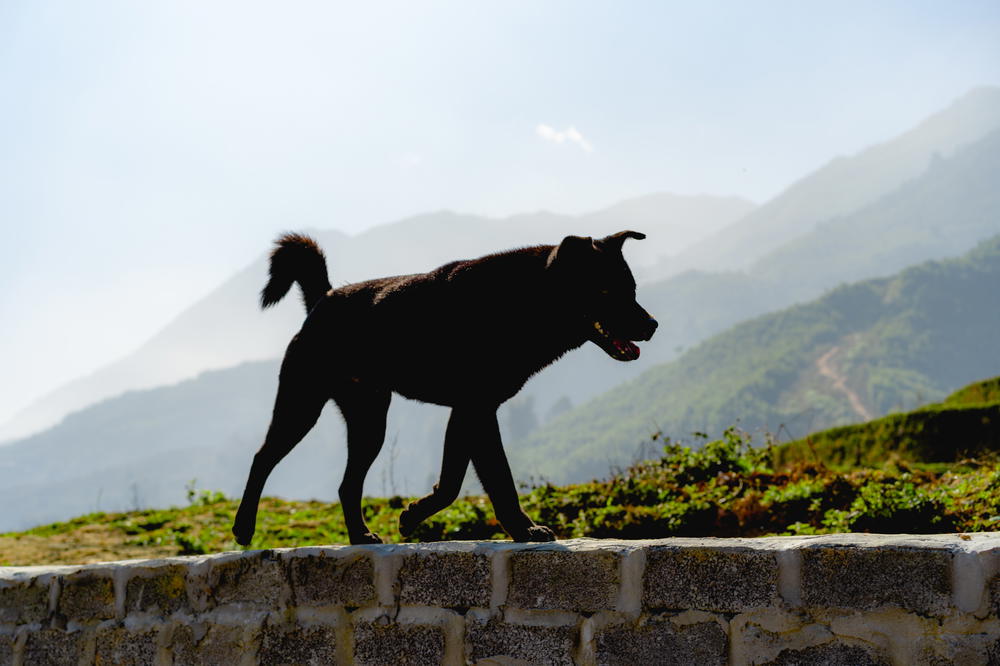 The sun got higher, and we got hotter, but we arrived in Ta Van Village in time to restock our drinks and hydration supply. This is where Giang gave us the treat of fresh sugarcane that we got to munch on while continuing our hike in the sun.
Bamboo forest hike near Ta Van Village
We found shade and cooler temperatures when we reached the bamboo forest, where the paths were muddy. To avoid slipping, we grabbed onto bamboo trunks, which are some of the strongest on earth!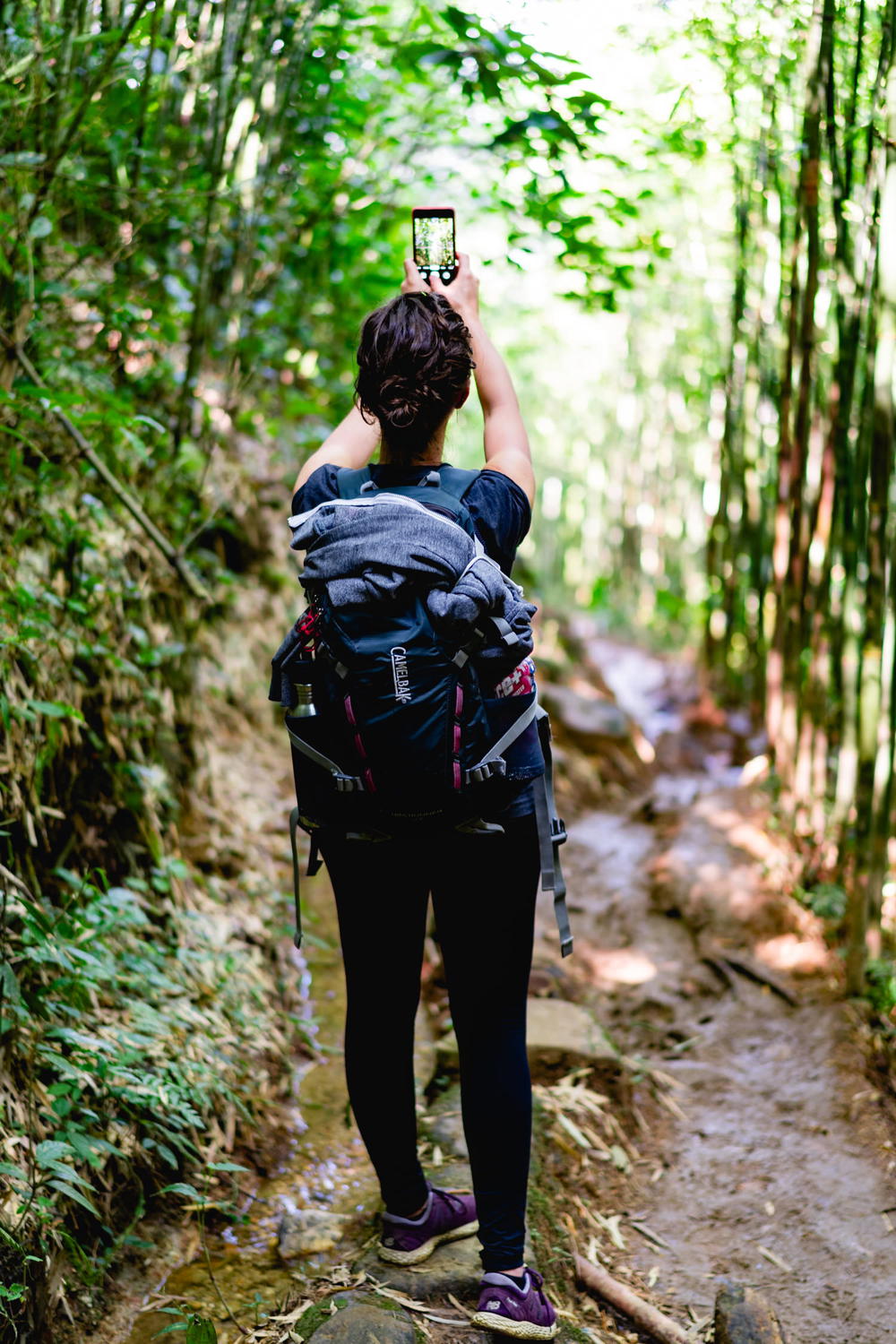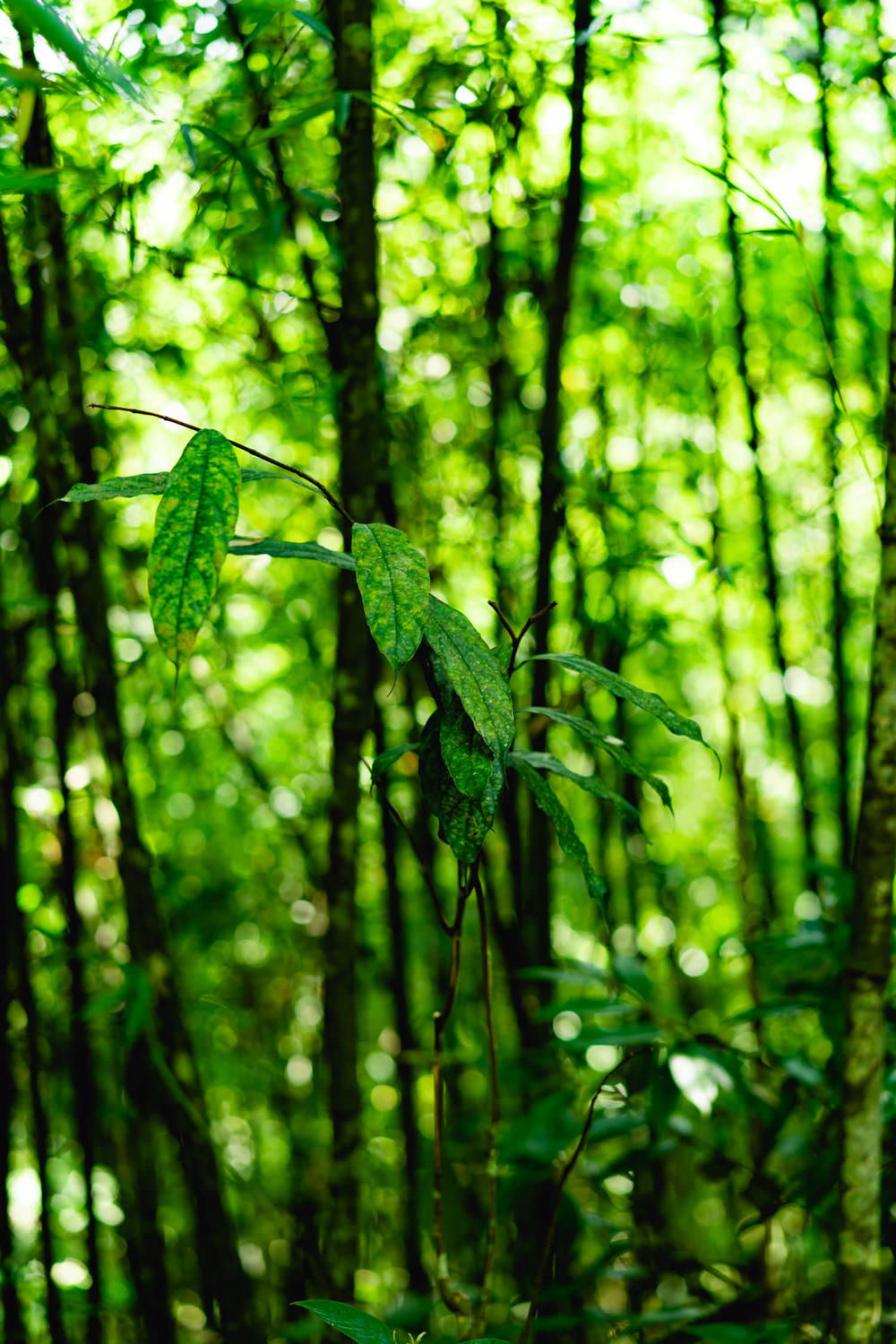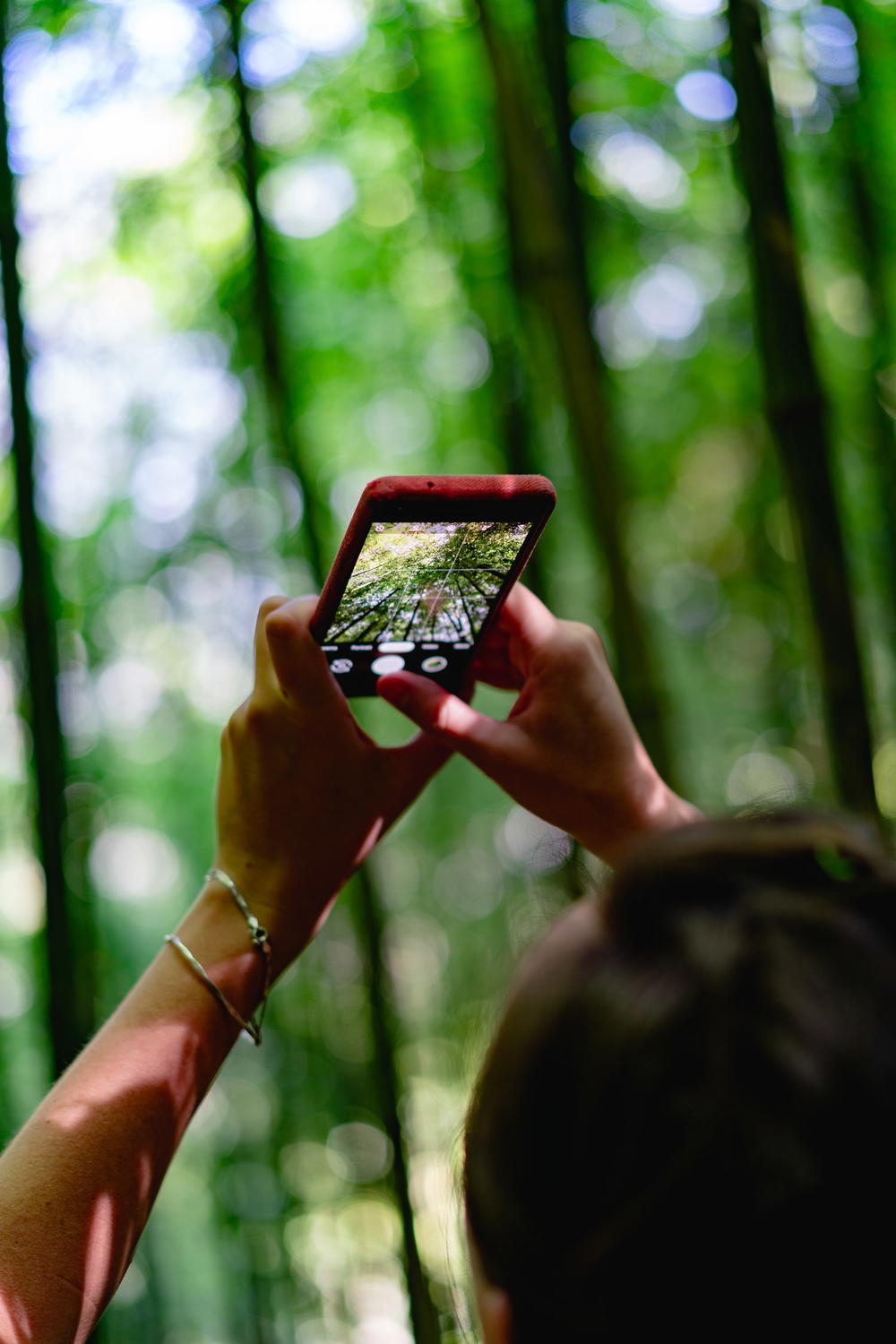 The bamboo forest hike was brief, and we ended it by seeing 'light at the end of the bamboo tunnel,' where we exited back to drier and hotter land on rice terraces. From there, we passed by a large waterfall and continued down toward the Red Dao Village.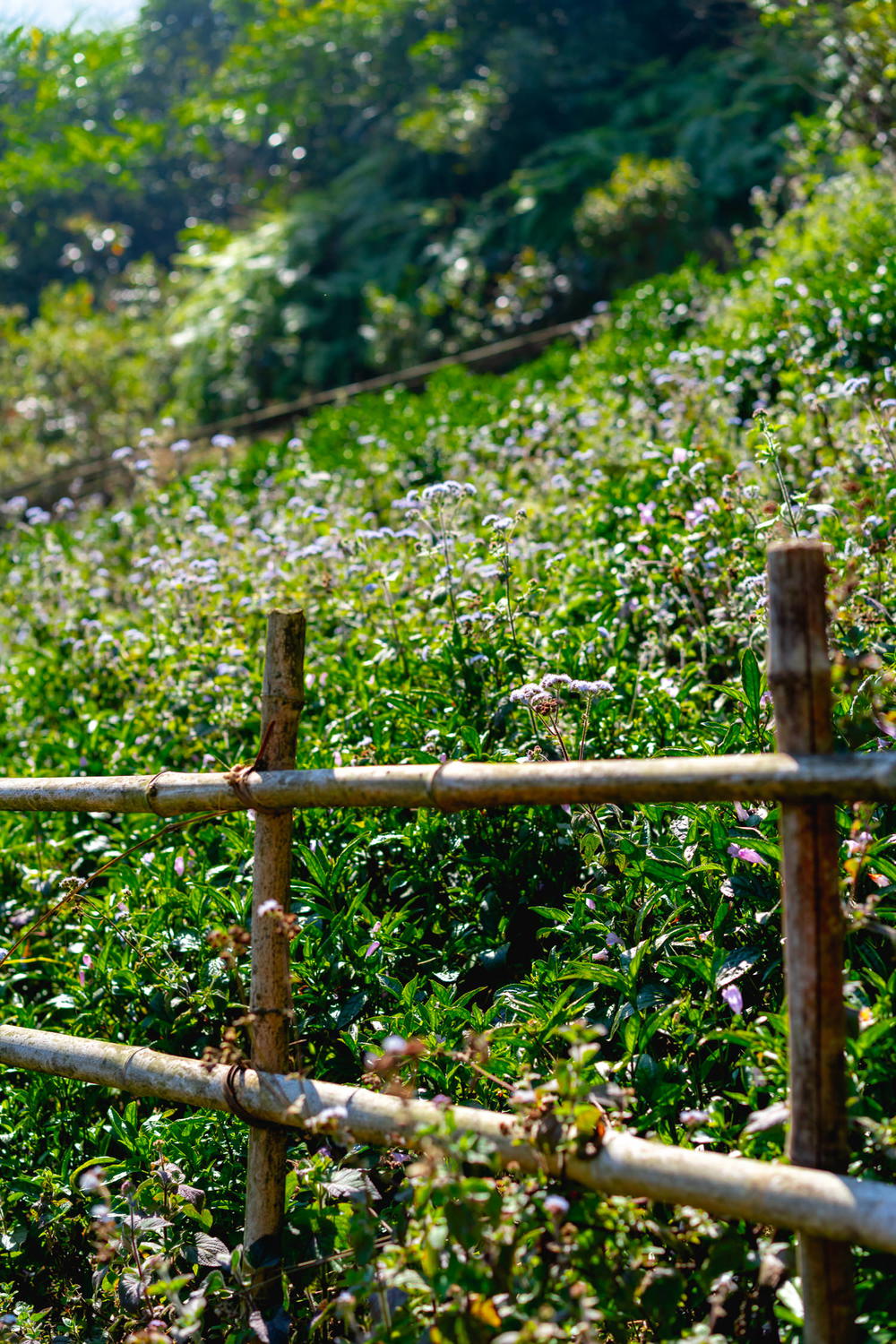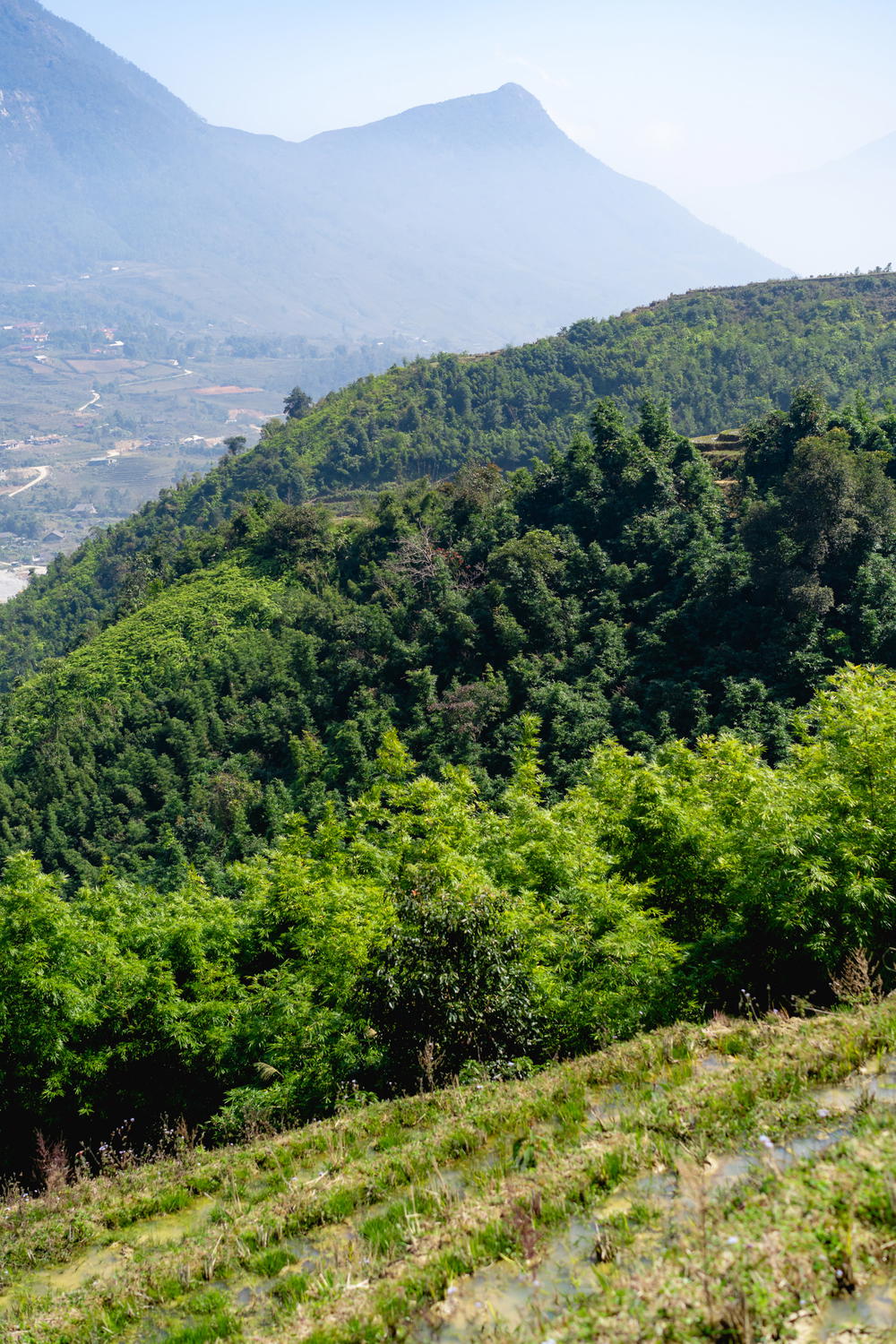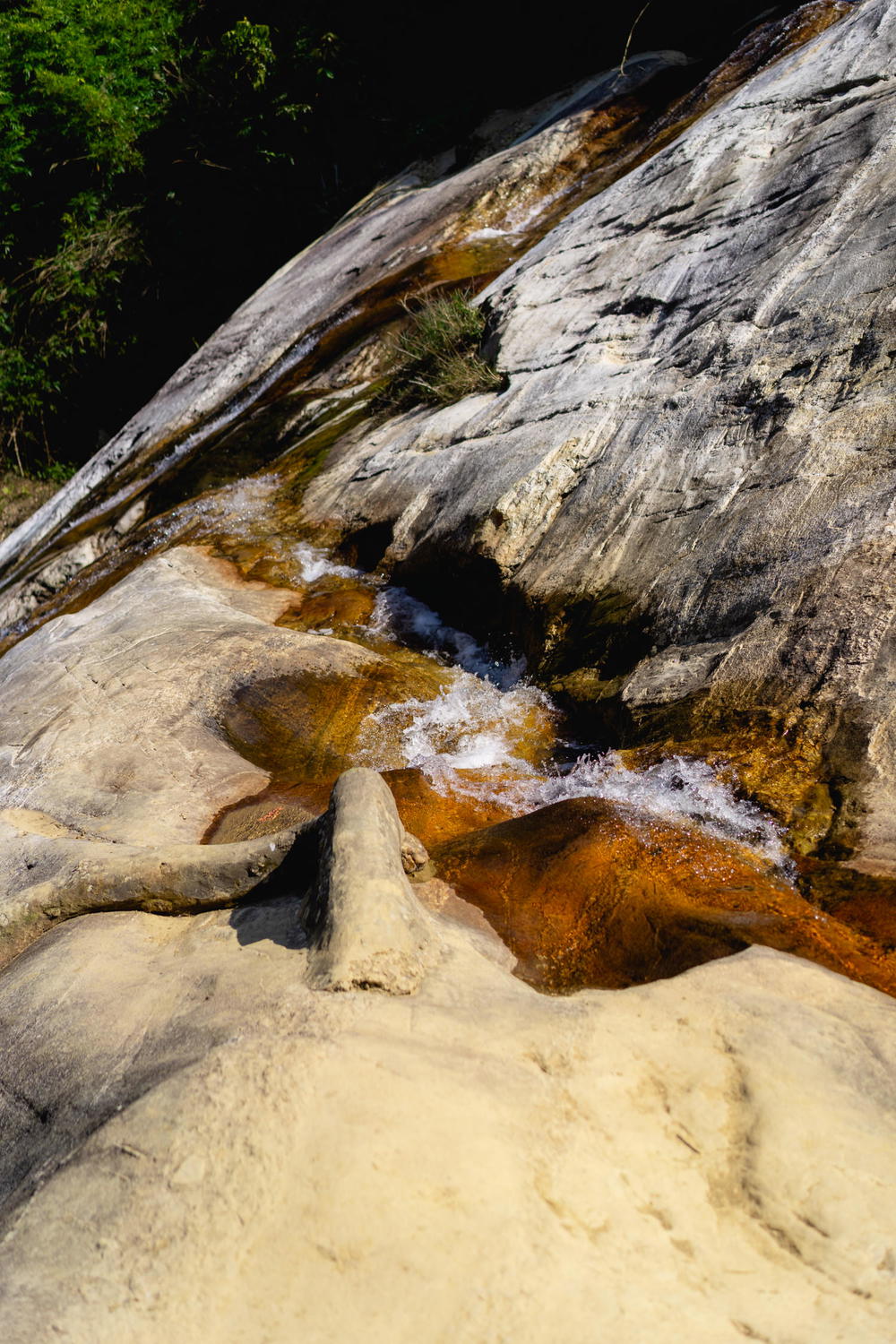 Here, Giang explained to us some traditions and facts about the culture, mostly about marriage tradition. She said Red Dao marriages are arranged, still to this day.
Final lunch and return to Sapa
Our final lunch was a choice of a few standard foods at a restaurant that overlooked the valley. We were hungry and thirsty, from all the hiking in the sun! We ate all our food, and had small mandarins for dessert.
After the meal, Giang took us in a private van to transport us back to our hotel in Sapa, and this was the end of the trek experience! We had learned so much about the villages, their traditions, the landscapes and the people.
This experience was one of a kind and we would recommend trekking with Sapa Tribal Trekking to anyone who wants adventure and an intimate learning experience about the minority cultures in Vietnam!
---
Make sure to check out our Sapa travel guide, if you're planning your trek from Hanoi and are curious about general trip planning or how to get to Sapa from Hanoi.
Enjoyed our article?
Consider supporting us! We're a 2-person team (learn more about us here) and your support enables us to create quality content. Thank you!