How to Get from Riga to Vilnius
Updated on September 6th, 2023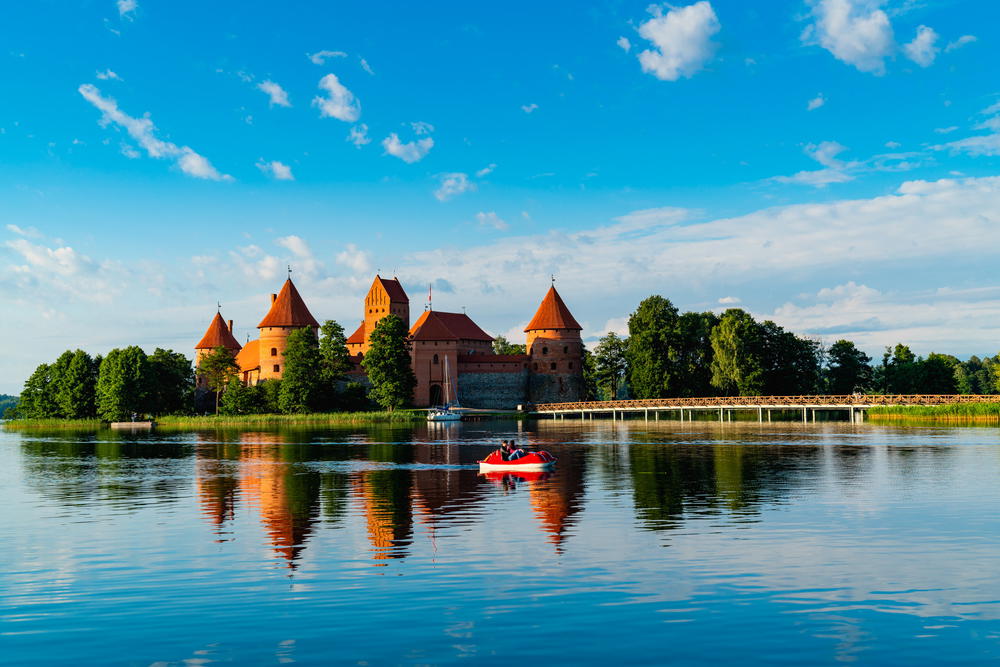 Planning a trip from Riga to Vilnius? Check out our guide on the best ways to travel between these two cities.
This article may contain affiliate links. We earn a small commissions when you purchase via those links — and it's free for you. It's only us (Becca & Dan) working on this website, so we value your support! Read our privacy policy and learn more about us.
Table of contents
Close table of contents
After spending four days in Riga, we were ready to see more of Latvia. Luckily, we found the Riga to Vilnius Traveller Tours Sightseeing Bus, which would take us from Riga to Vilnius with five stops along the way. This is tons more fun than taking a standard four-hour bus for the same journey.
Having not seen much of Latvia so far due to a few rainy days, and aside from the several stops of the Tallinn-Riga Sightseeing Tour Bus, we were really looking forward to seeing more top sights that otherwise would've been hard to reach on our own. In heading into Lithuania, the route would take us also to Lithuania's top sights, all while getting us to Vilnius. Brilliant!
We met up with our guide, Alex (who goes by the nickname "Sunshine") before the 9 a.m. departure time in the Old City of Riga. Alex is from Lithuania and told us right away that she was excited to introduce us to the culture and history of her country as we made our way southward during the next twelve hours.
Visiting Salaspils Memorial
The first stop was a somber one, at Salaspils Holocaust Memorial. This is the site of a former World War II prison camp at which thousands of innocent Lithuanians (Jews, political activists, professionals and others) perished between 1940 and 1945.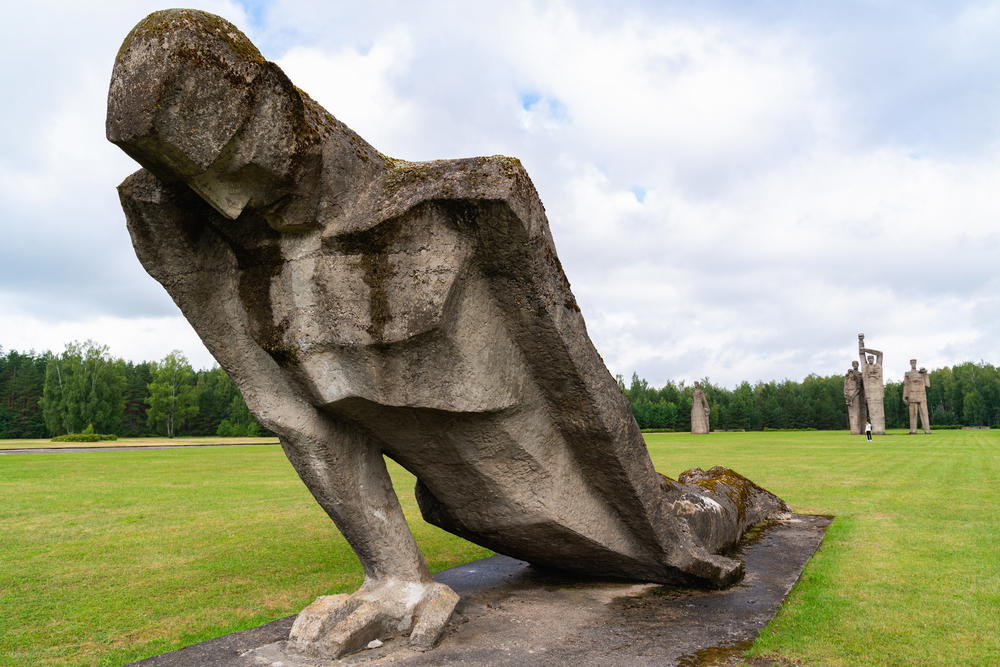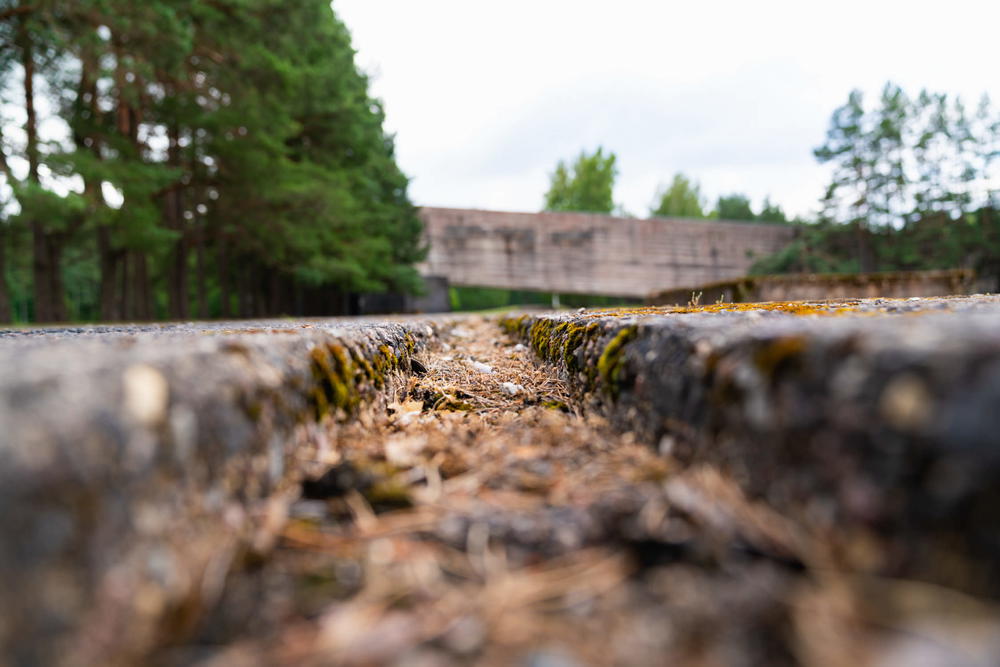 The memorial is set up such that visitors first walk through a forest path and then come to a clearing, where, in the distance, there are several giant concrete figures, each representing Mother, The Unbroken, The Infamous, Protest, Red Front and Solidarity.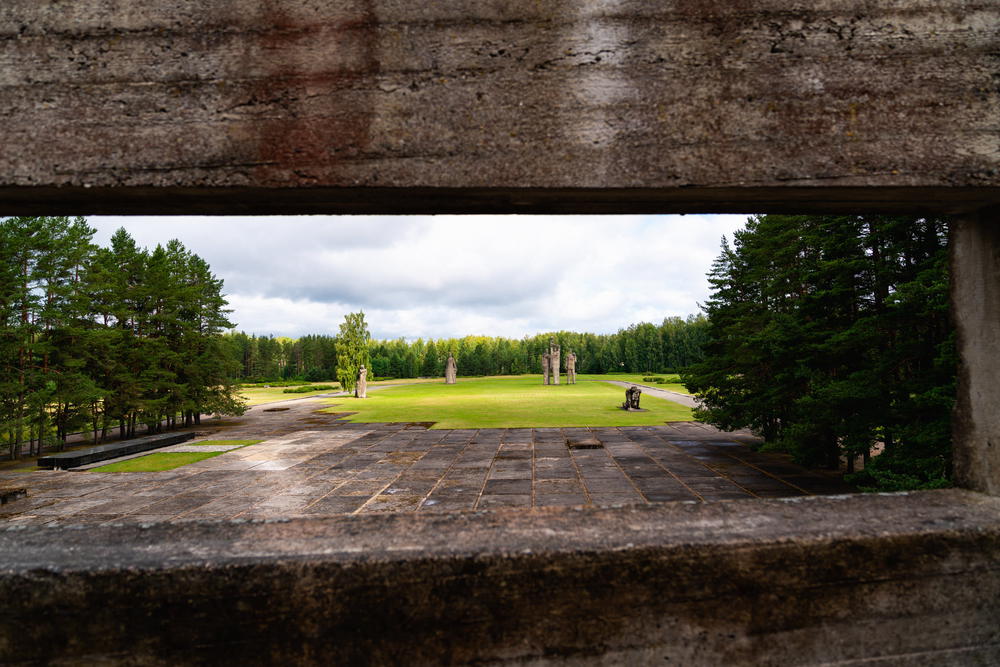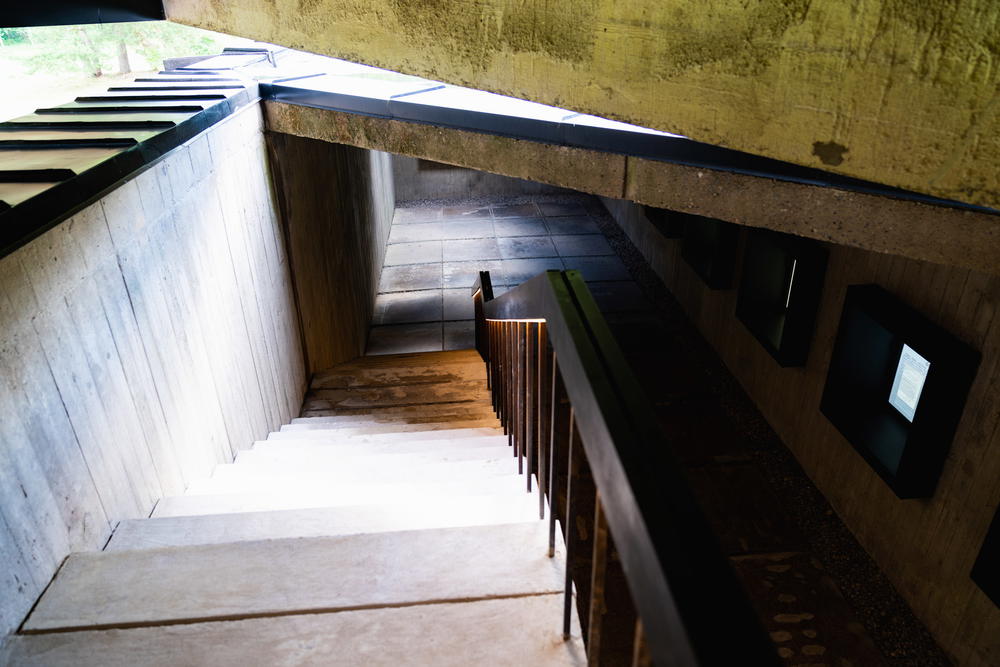 The memorial is impressive for a few reasons. First, it was opened in 1967, only two decades after the prison camp shut down at the end of World War II. Its design has several powerful structures, including a giant concrete museum built at an angle and with steps and levels inside, and a block of stone toward the left side that contains an eternal beating heart - "for the hearts that will never beat again."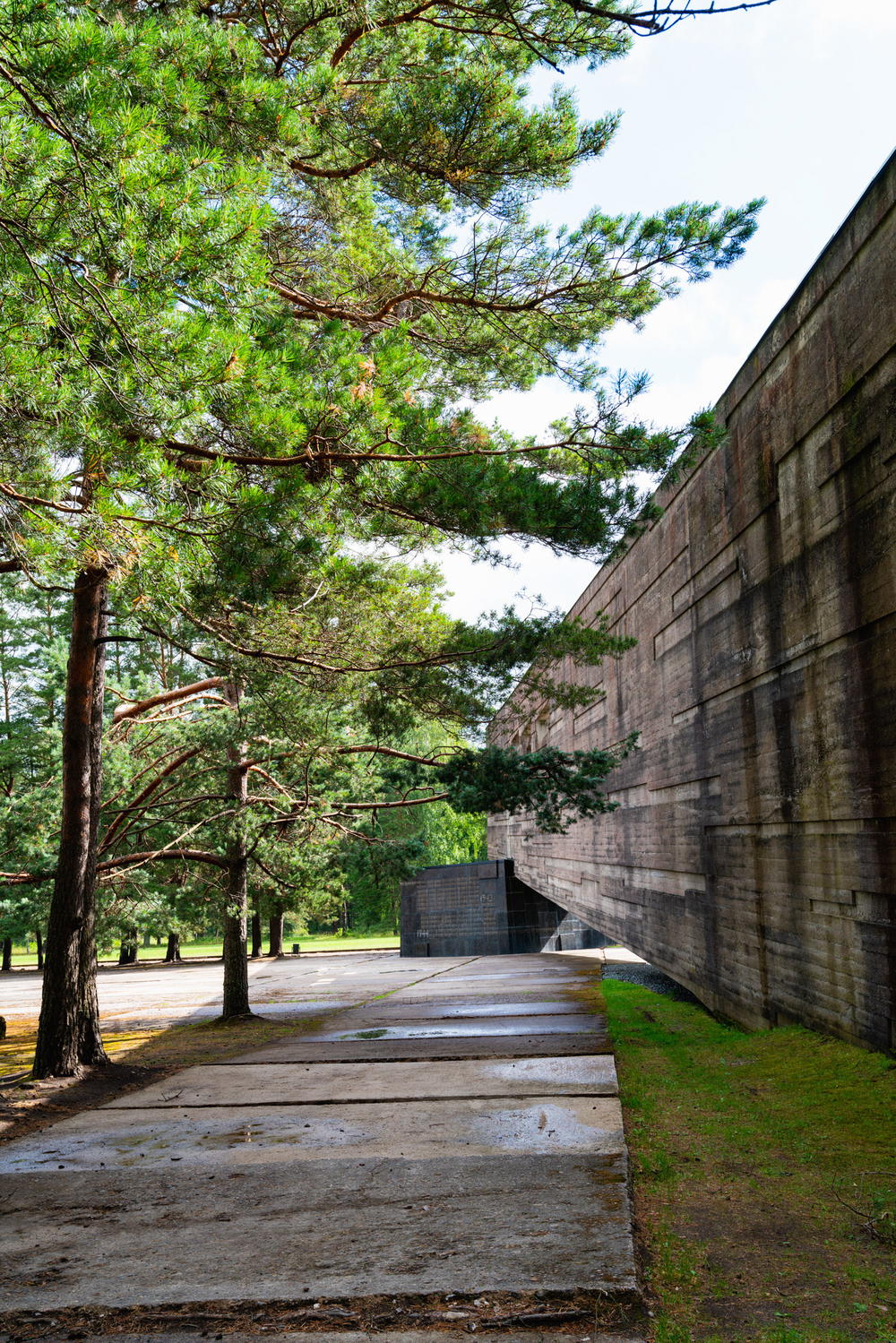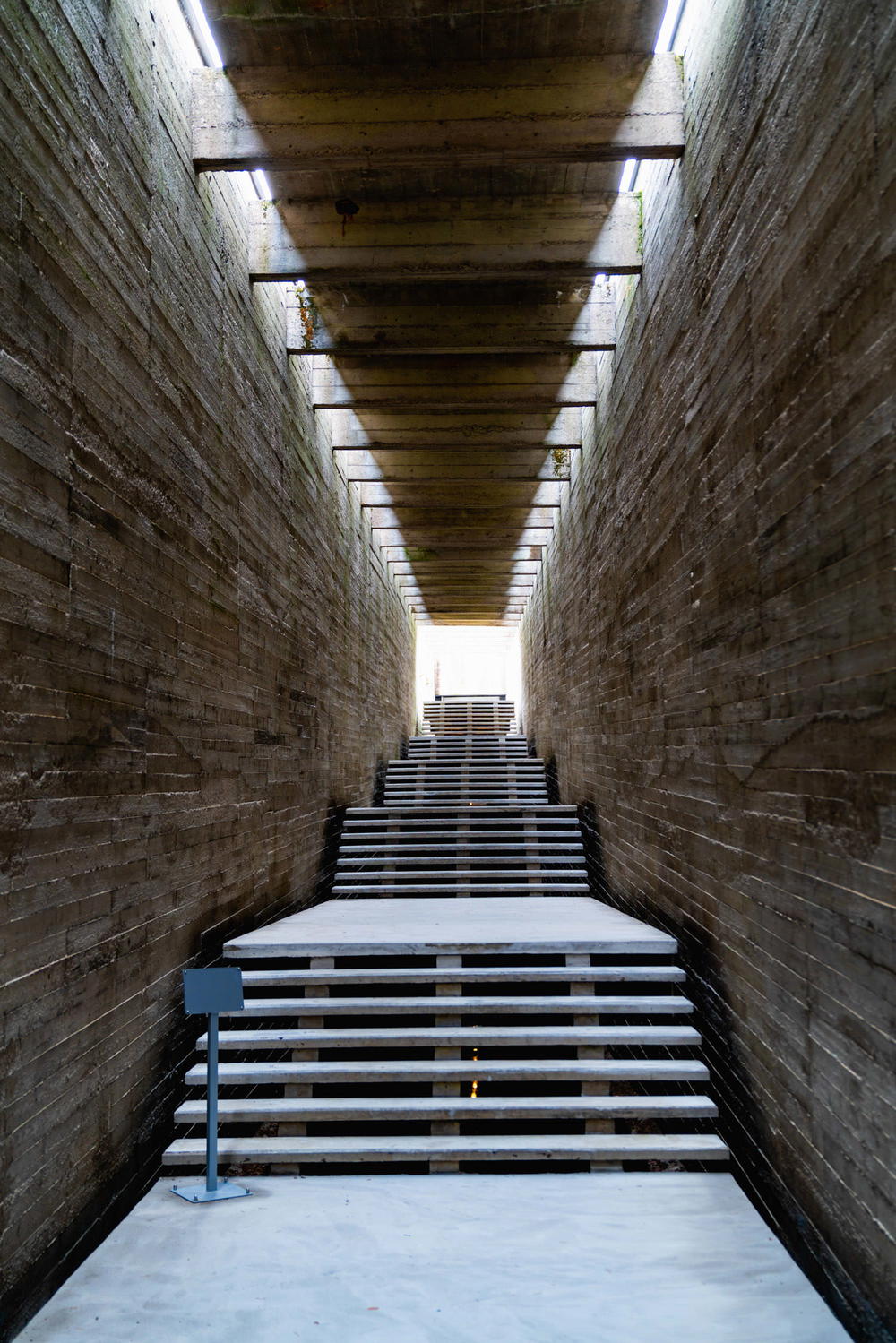 Inside the museum are videos of survivors' accounts of their experiences, letters written by those who were held in the camp and other information about the persecution of the innocent people. We left with heavy hearts and also a feeling of hope.
Our guide Alex did an excellent job of providing adequate background knowledge and also her grandfather's accounts of fighting in the war when he was only 17 years old.
Rundale Palace
Next on the route toward the south of Latvia was a very different type of attraction, Rundale Palace. This majestic palace is set up to look like the French palace of Versailles, and Alex explained that nobility in this era would learn French and imitated French styles, as it set them apart from the plebians.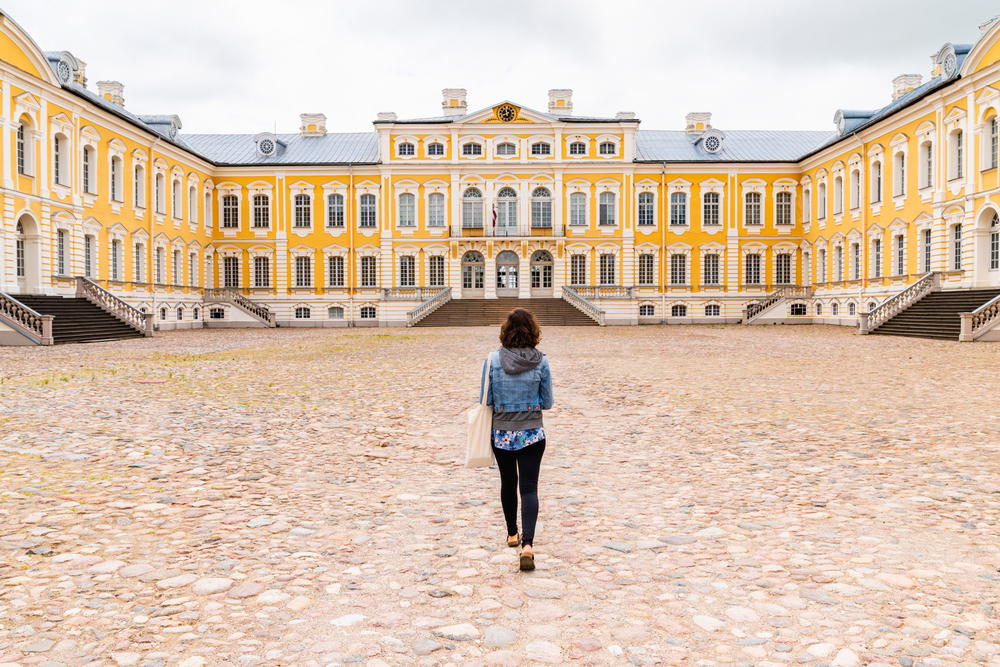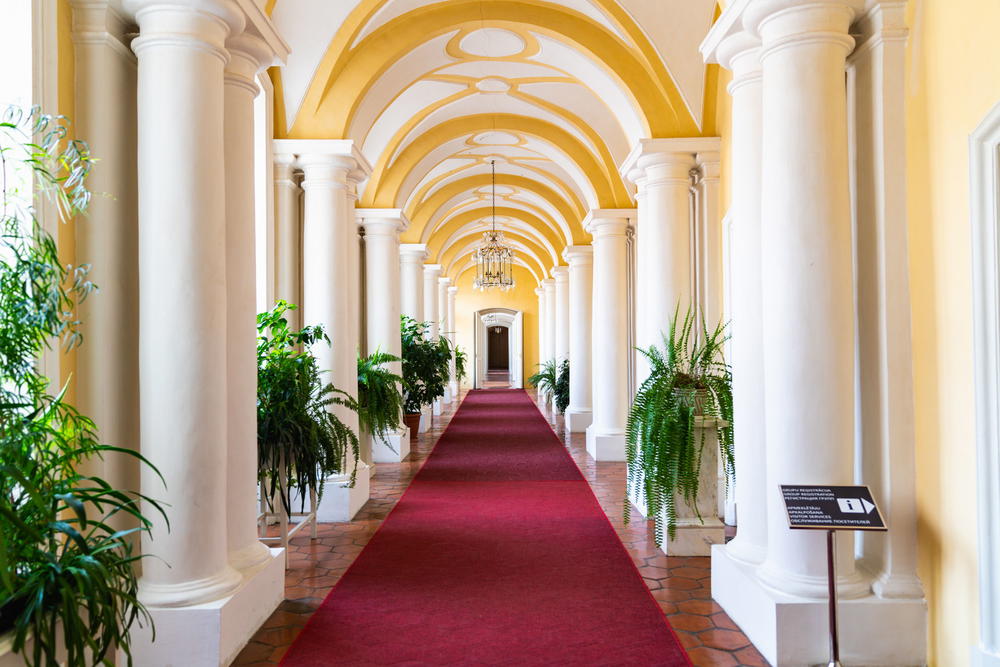 The palace itself is restored beautifully and the inside contains artifacts from the time in which it was inhabited. We learned that the many chimneys are not because of fireplaces or kitchens, but because of use in vodka distillation!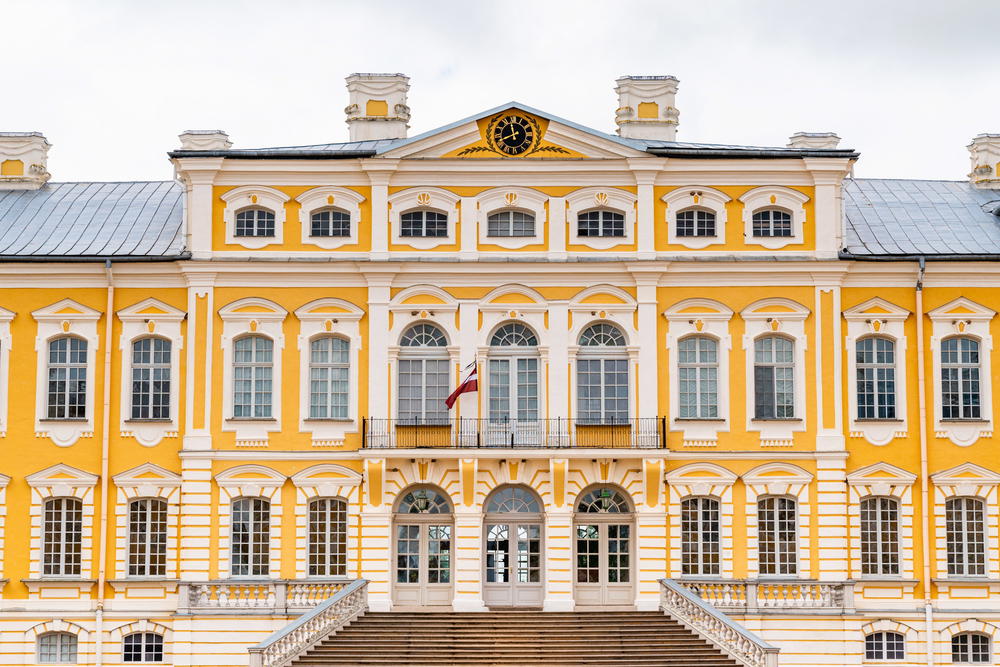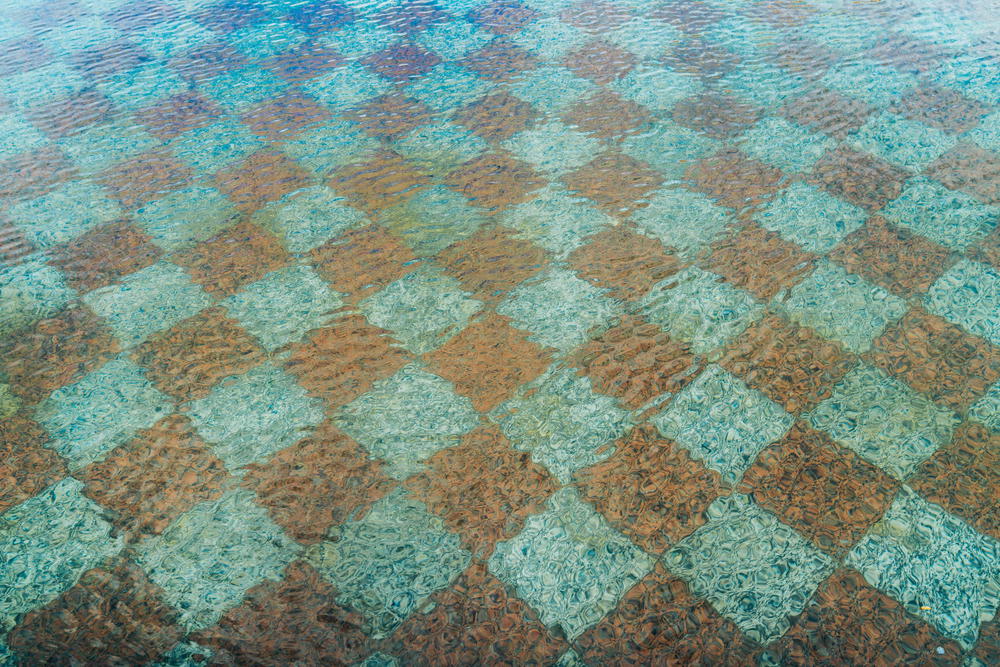 Our tickets to the Rundale Palace Gardens were included in our tour, and so we had a chance to walk around and see the perfectly manicured lawns, flowers and trees set up in paths.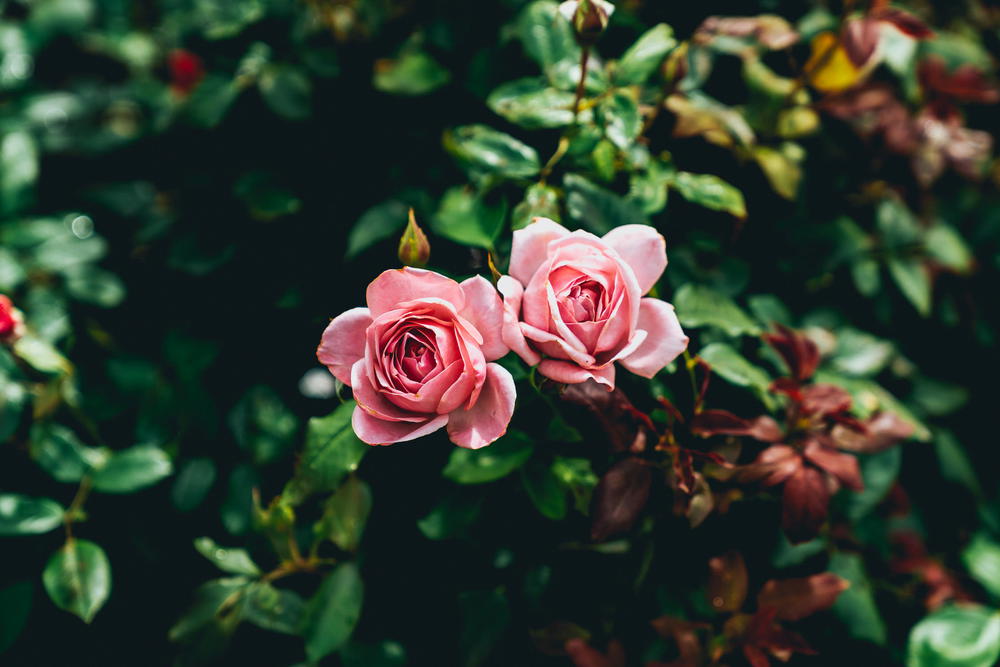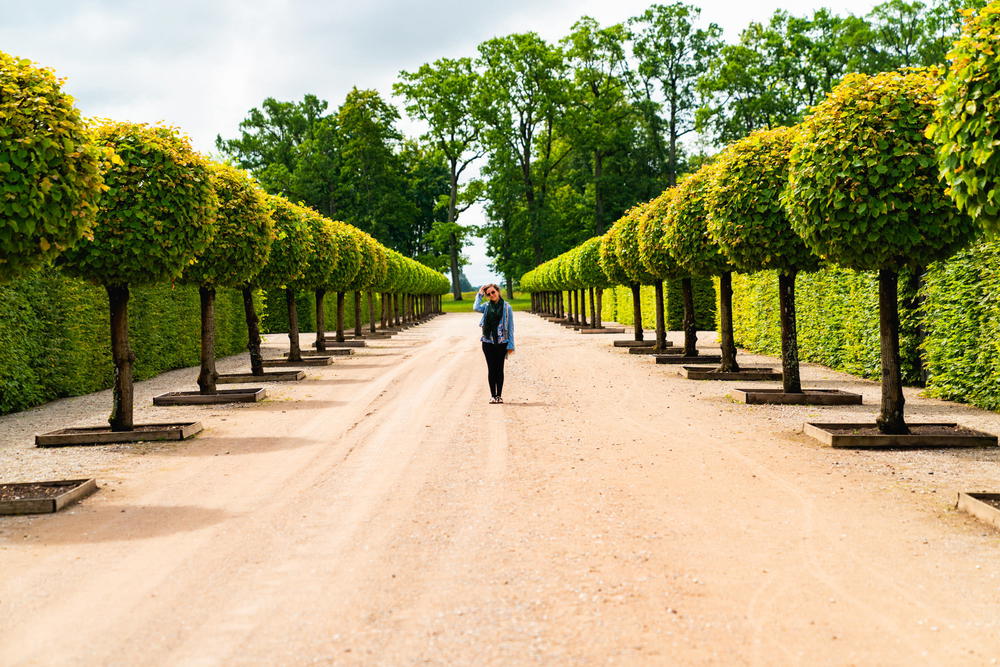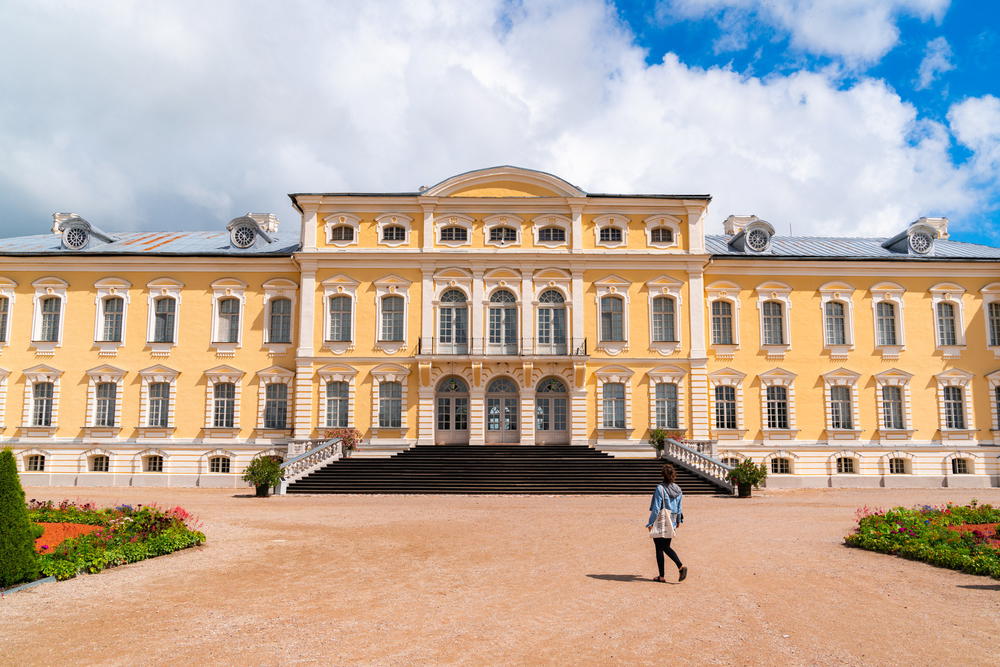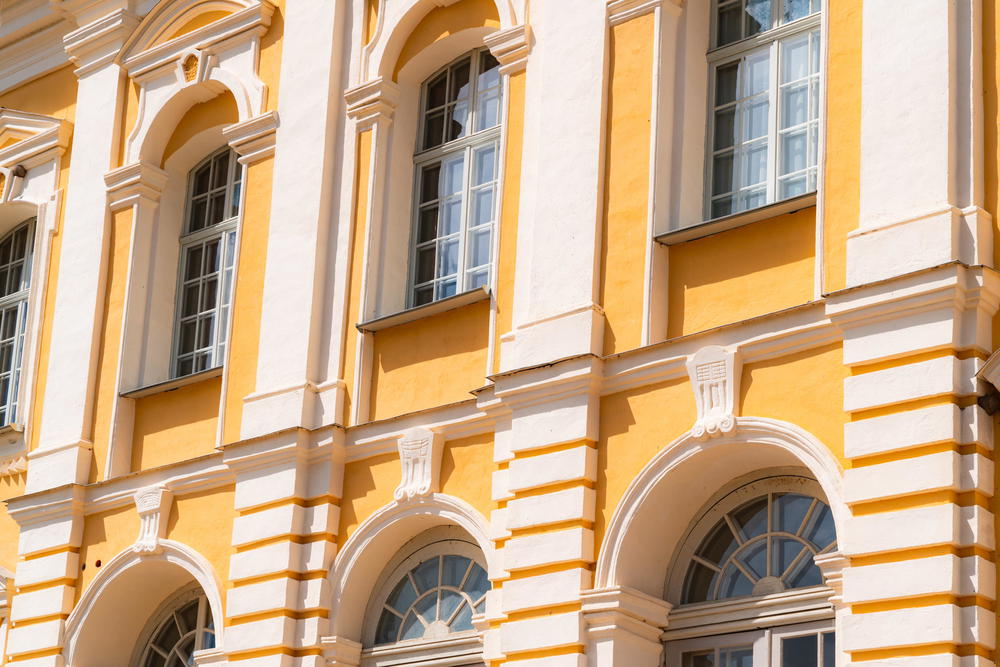 Crossing into Lithuania and eating local food
In the same way we had crossed from Estonia to Latvia some days before, we drove onward into Lithuania down a highway. This was a new country for both of us! We stopped for lunch at a restaurant and had our first Lithuanian gastronomic experience of trying fried bread with cheese and chicken shashlik and grilled vegetables. Delicious!
Checking out the Hill of Crosses
Next on the route was the Hill of Crosses, perhaps Lithuania's most bizarre and famed non-city attraction. Several different tales depict the nature of this unique place, which is very popular and was busy when we went, despite its location among the fields outside a small village in the north of the country.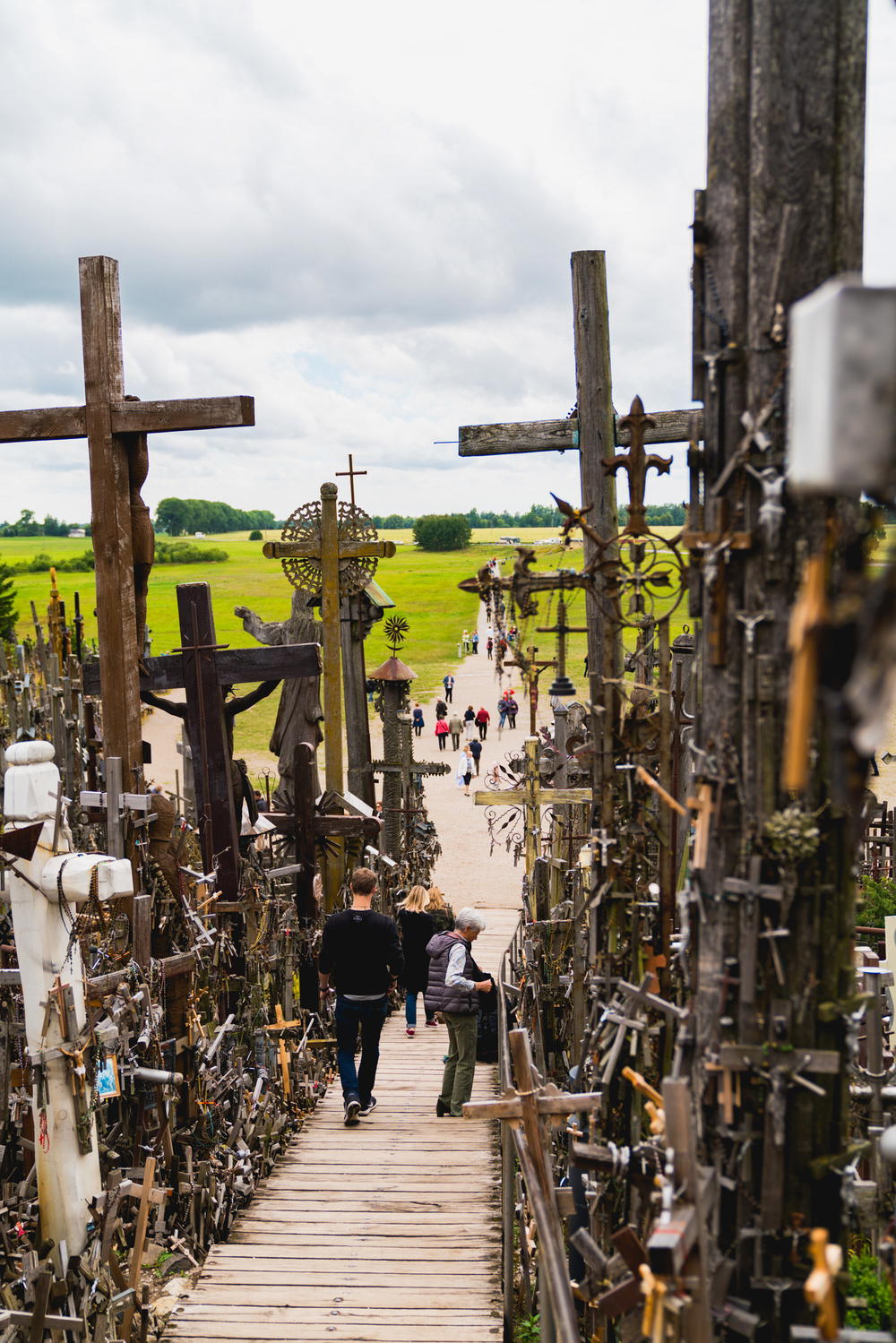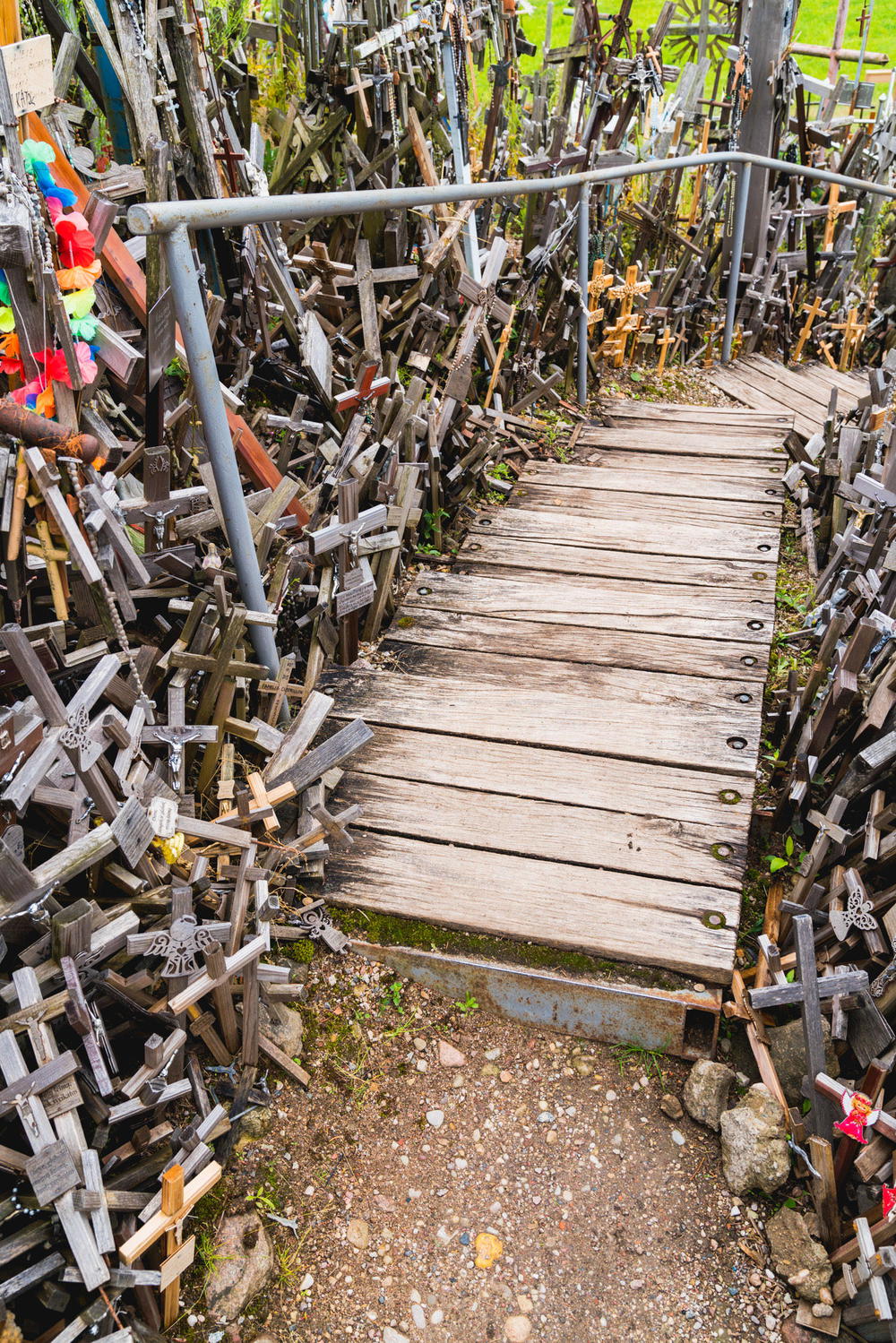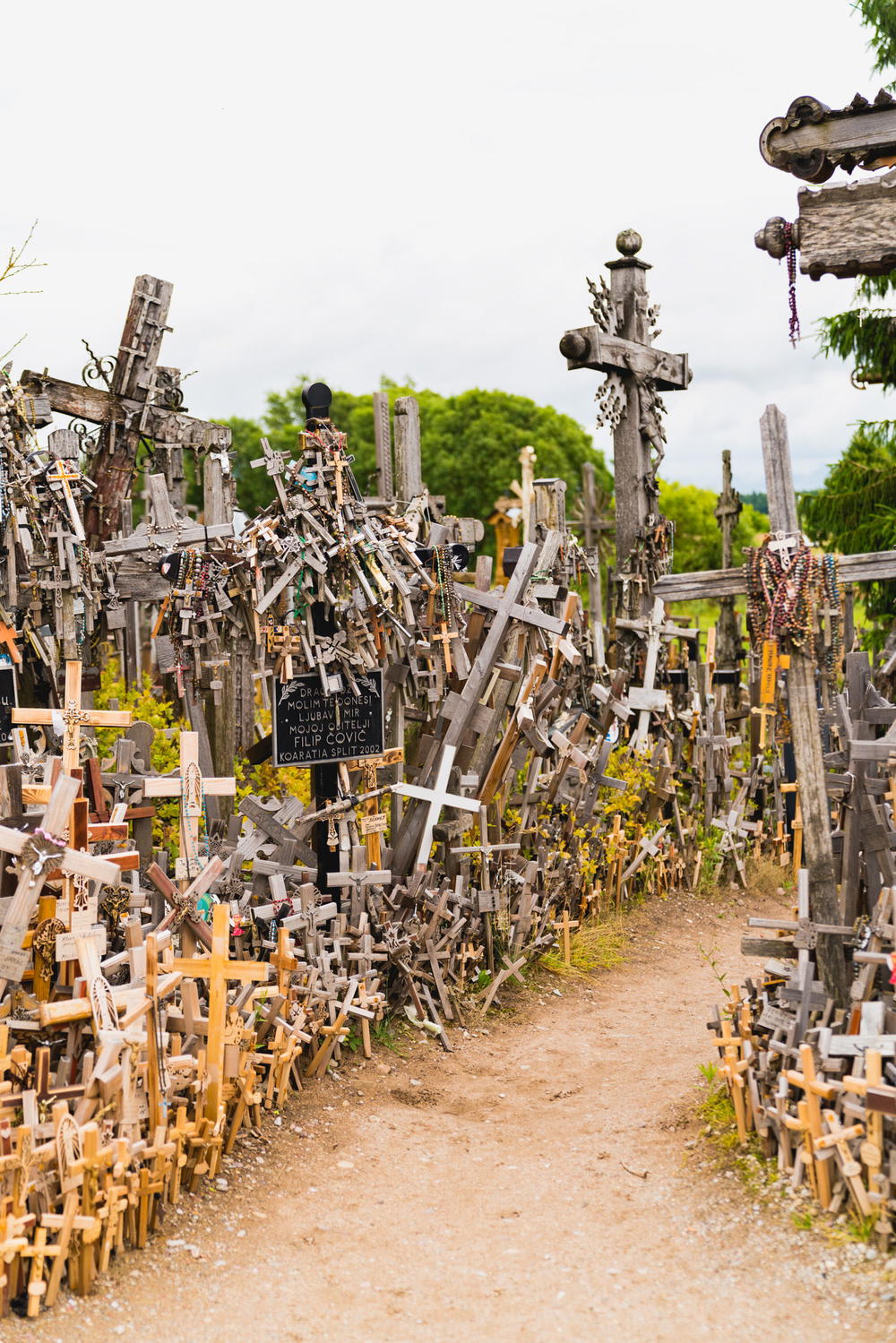 The Hill of Crosses is a religious pilgrimage site, but also owes its history for being the site of a memorial for a battle. During Soviet times, the place was bulldozed five times and was re-built by dedicated people each time. Now, it contains hundreds of thousands of crosses.
Alex gave us twenty minutes to count, but she was kidding. Hundreds of thousands? When we got up close, we realized that this could actually be accurate.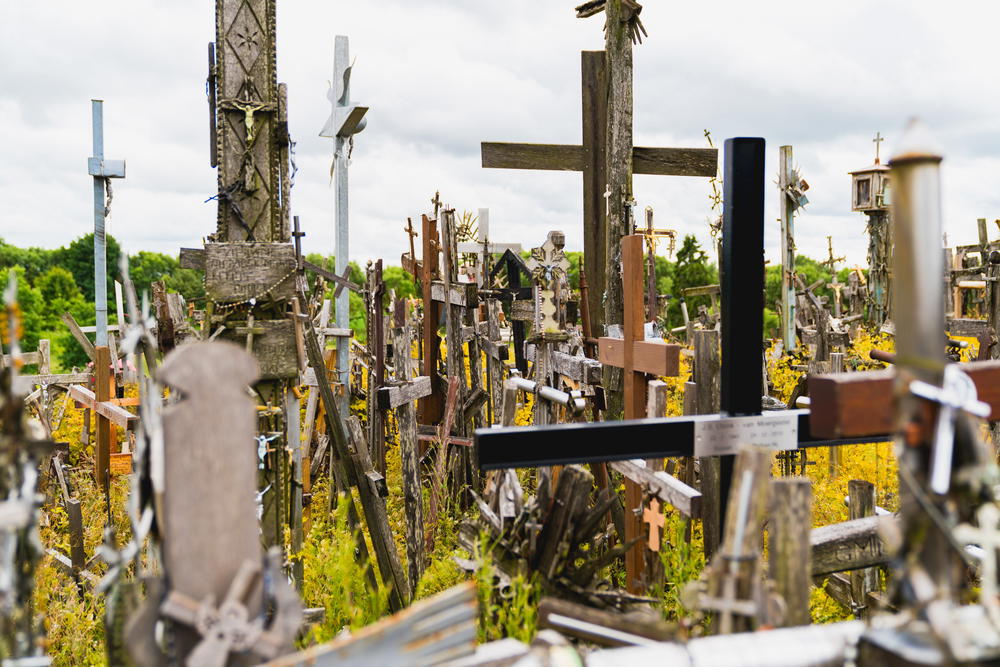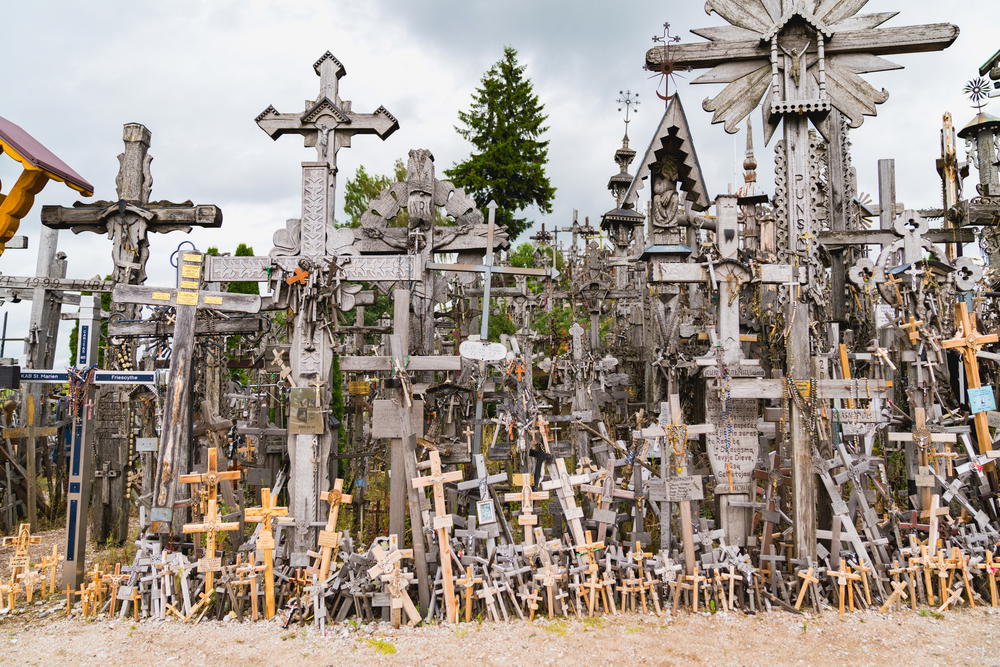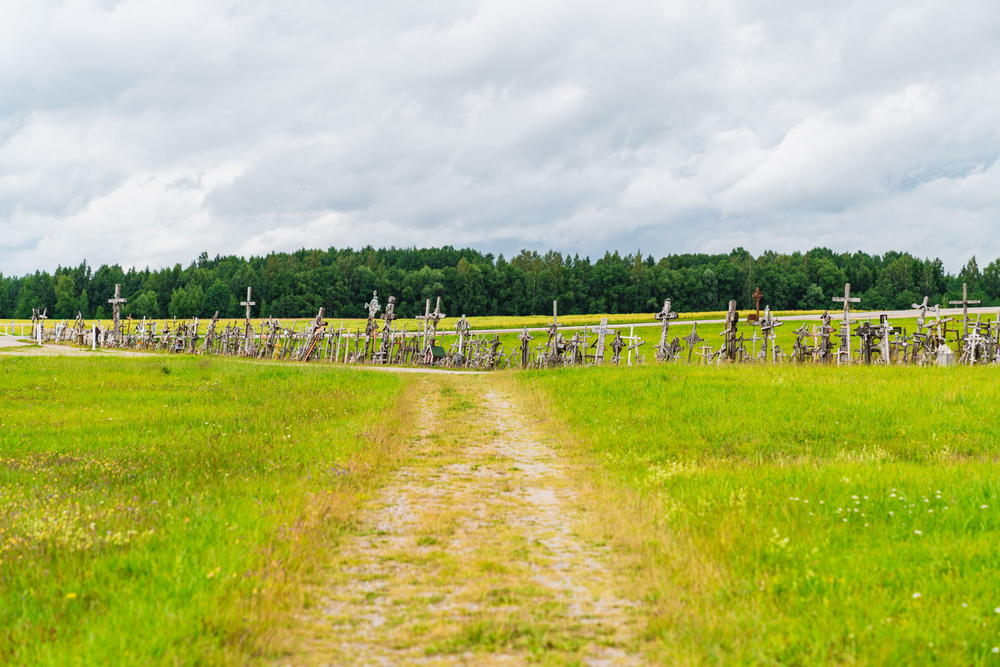 There were crosses everywhere, and due to the vendors that sell small wooden crosses of varied sizes outside the entrance, there are new crosses put up every day by visitors and tourists. This was like nowhere else we had ever been.
A visit to Lithuania's second city, Kaunas
We really liked the Old Town of Kaunas! The biggest surprise was the Kaunas Cathedral Basilica, which is a brick church on the outside and fantastically ornate on the inside. To top off our amazement when we walked in, there was live singing that echoed throughout the cathedral.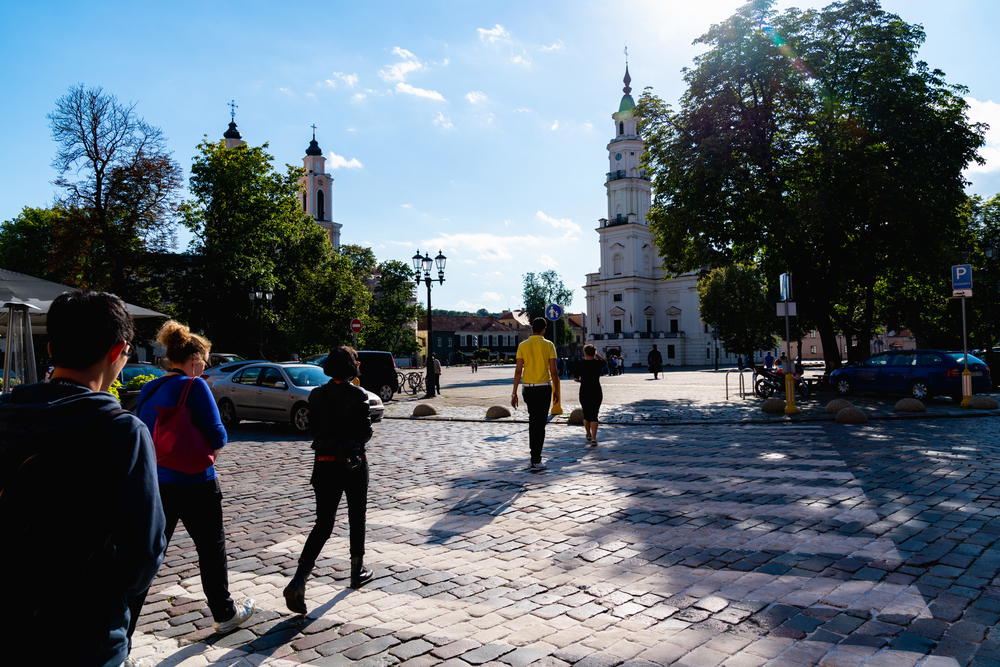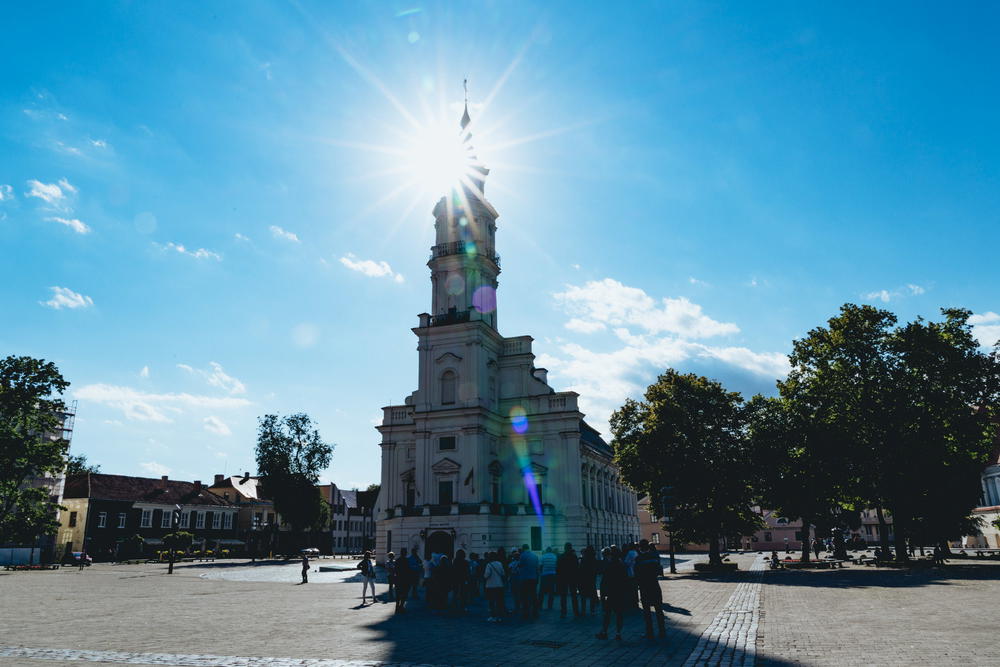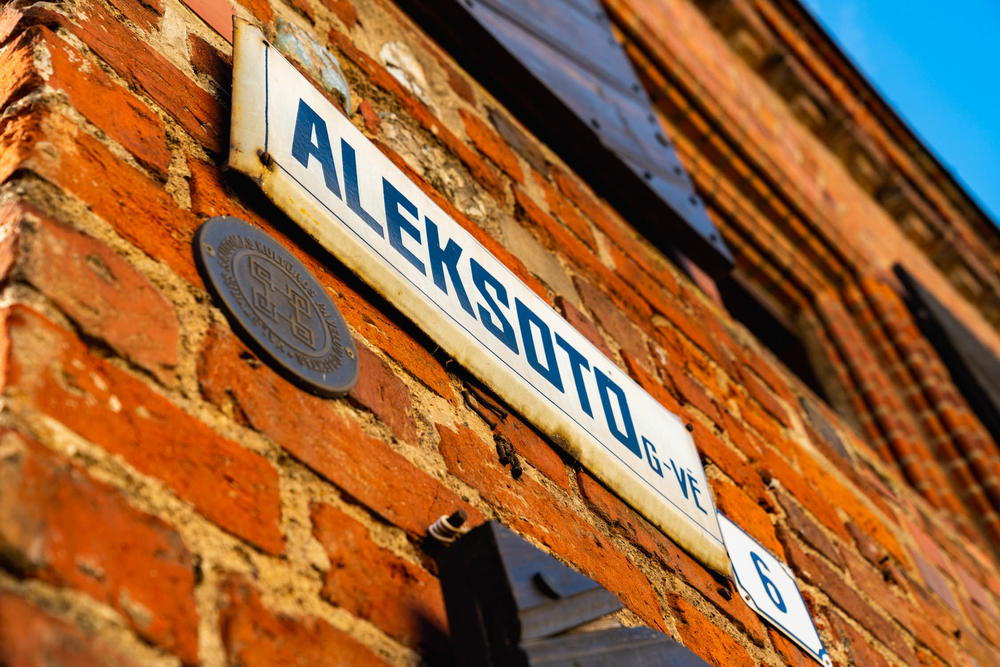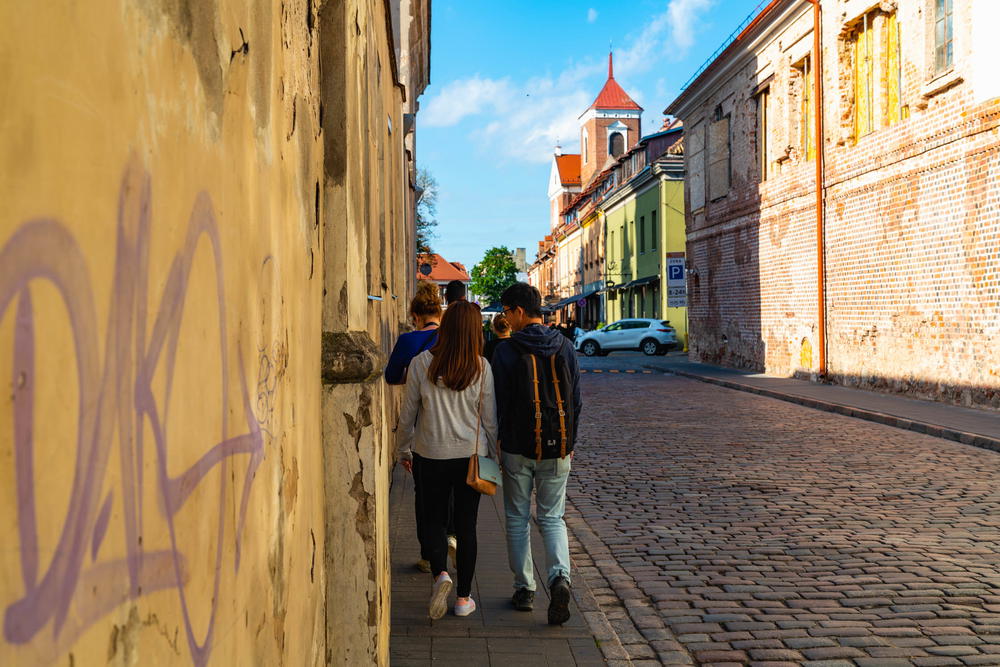 Alex introduced us to lots of history of Lithuania and specifically in Kaunas, ranging from religious topics to information about how the city's river would flood very often back in the day.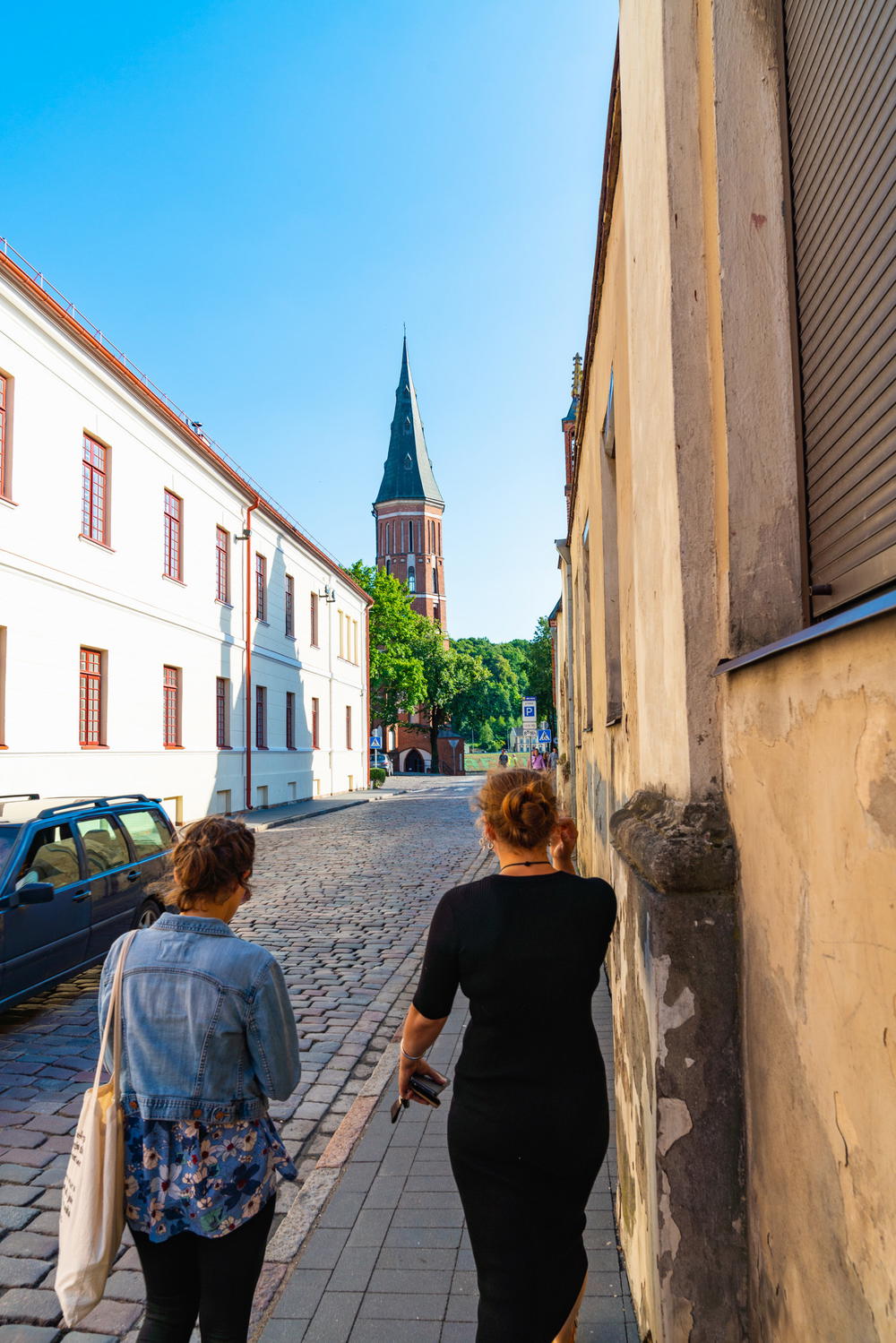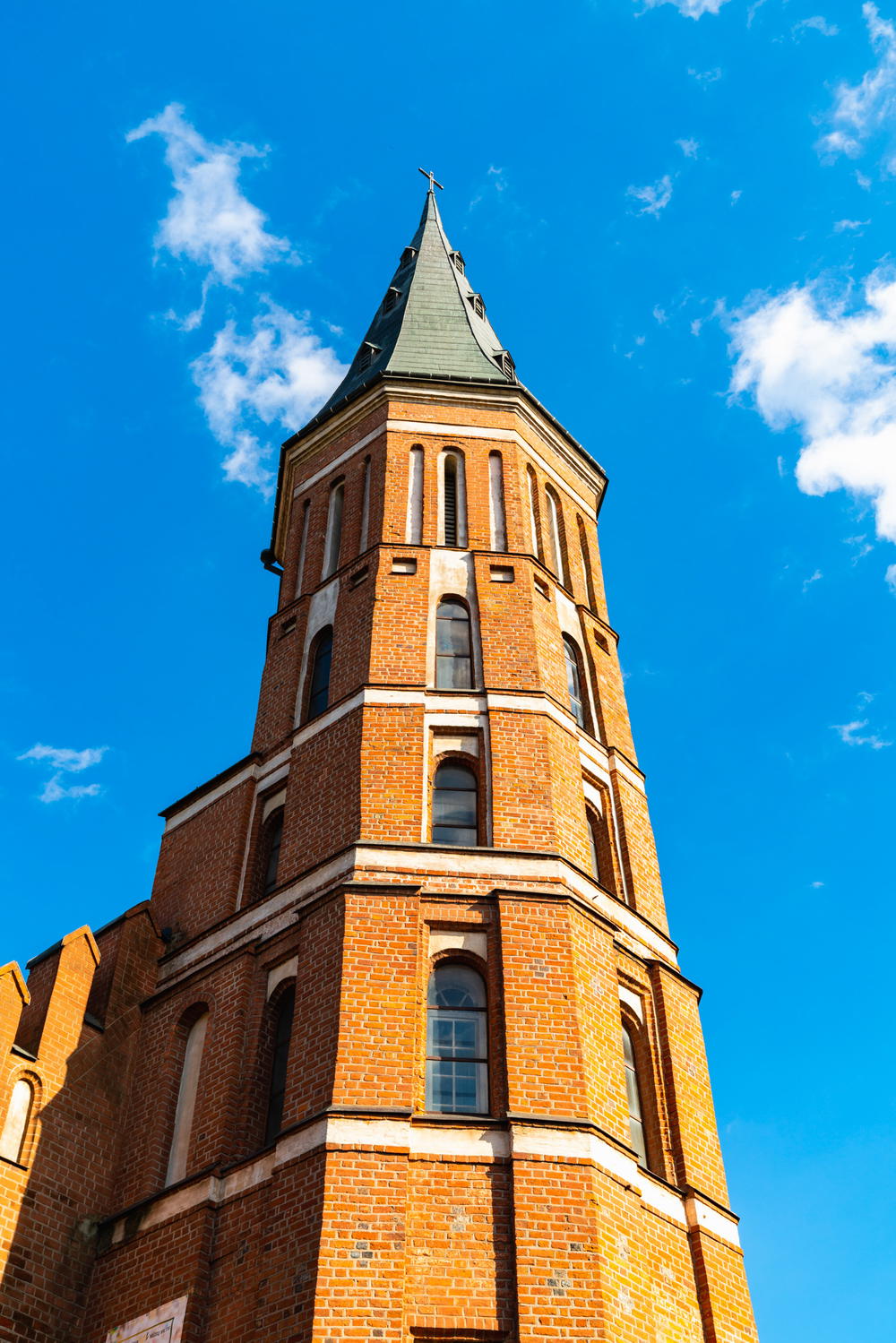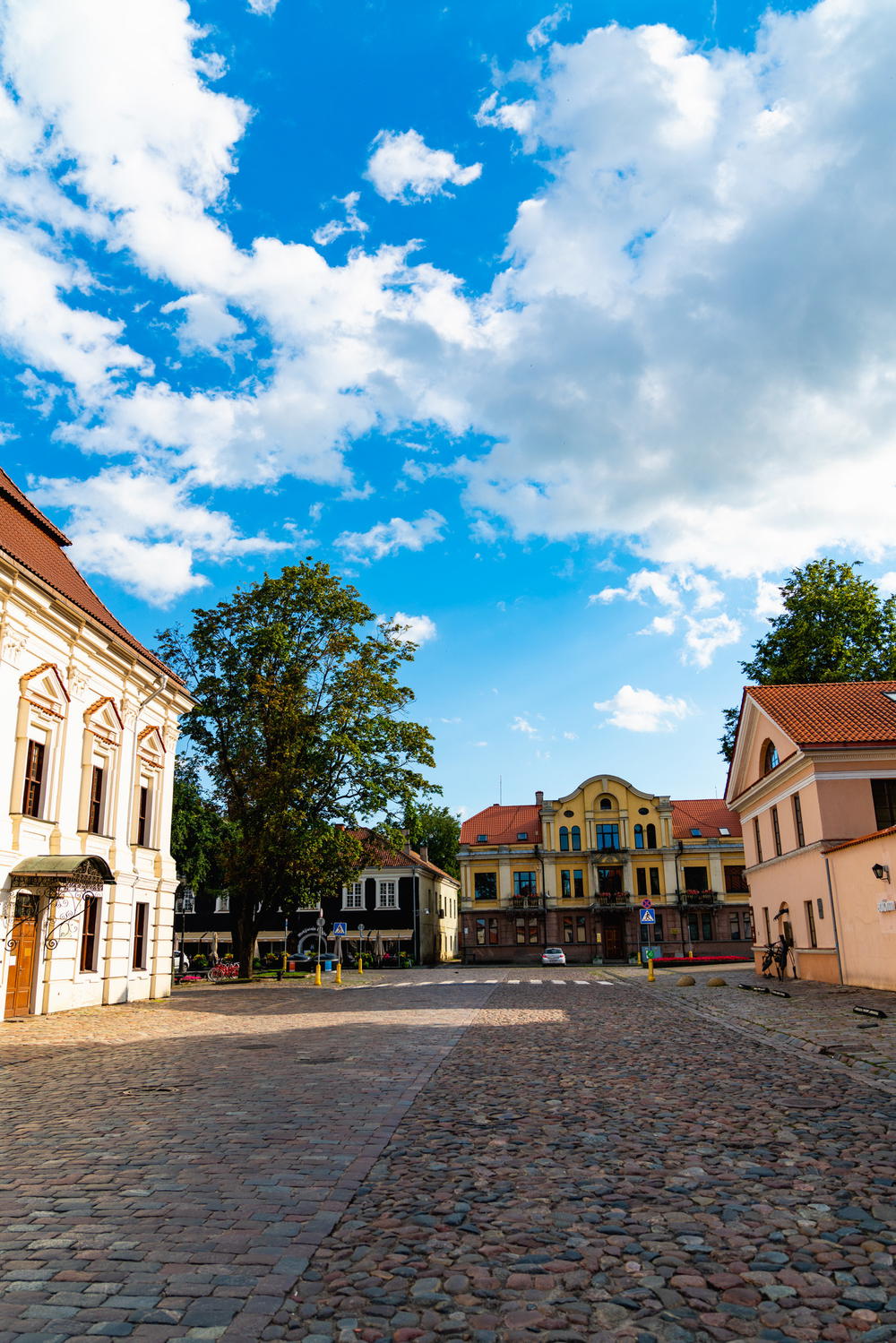 Getting awed by mystical Trakai island castle
To end our day, we visited the small town of Trakai, which is located outside Vilnius. We had perfect evening lighting for taking photos of the town's old castle on an island.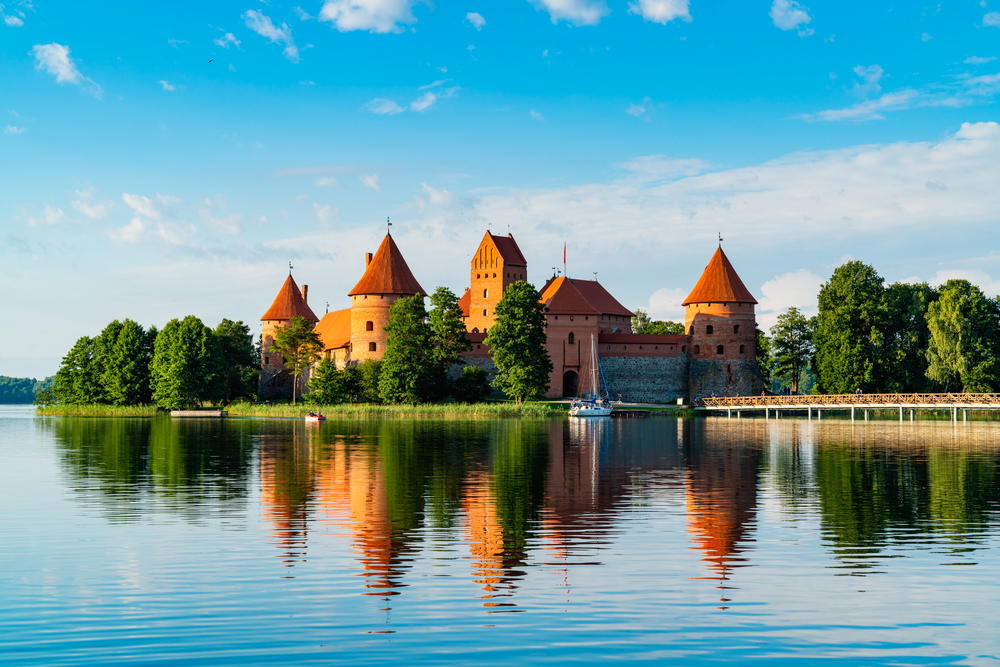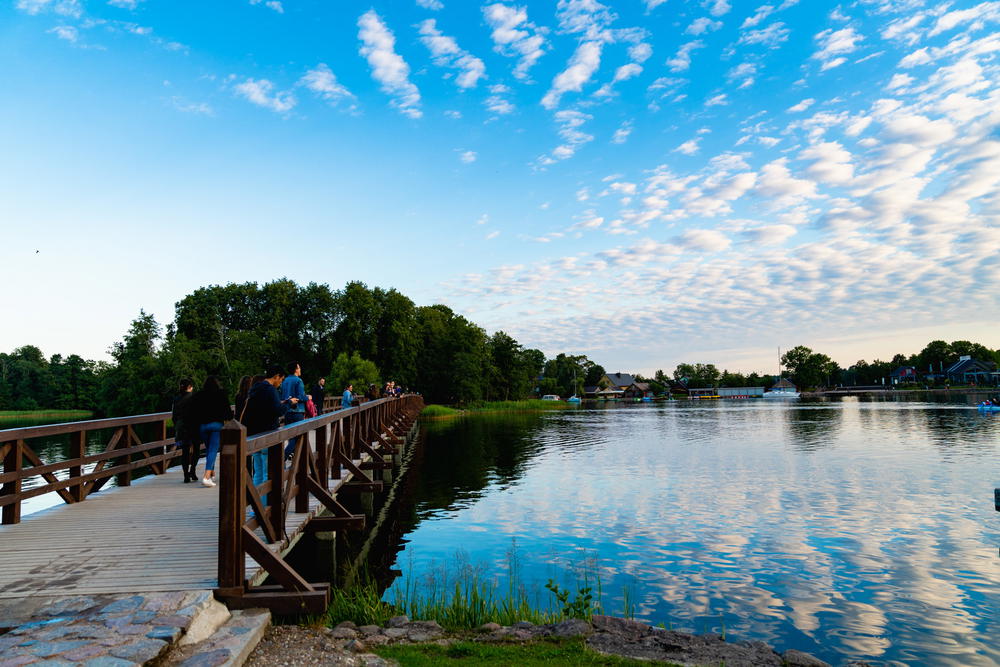 Alex brought us to a restaurant for ordering some kibinine local dumplings (more like a filled pastry) that we could take along during our walk back to our van to end our day. We arrived in Vilnius before dark!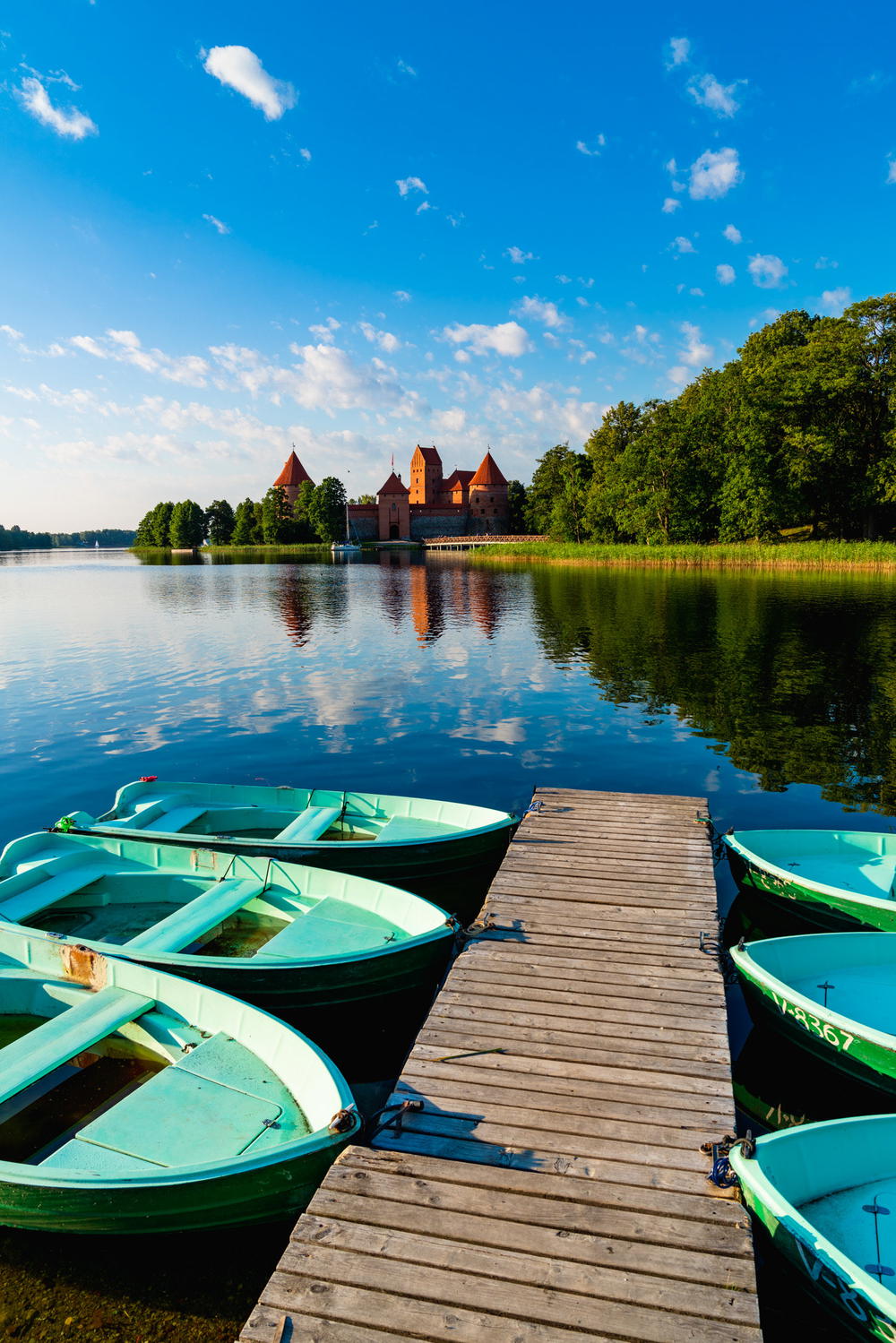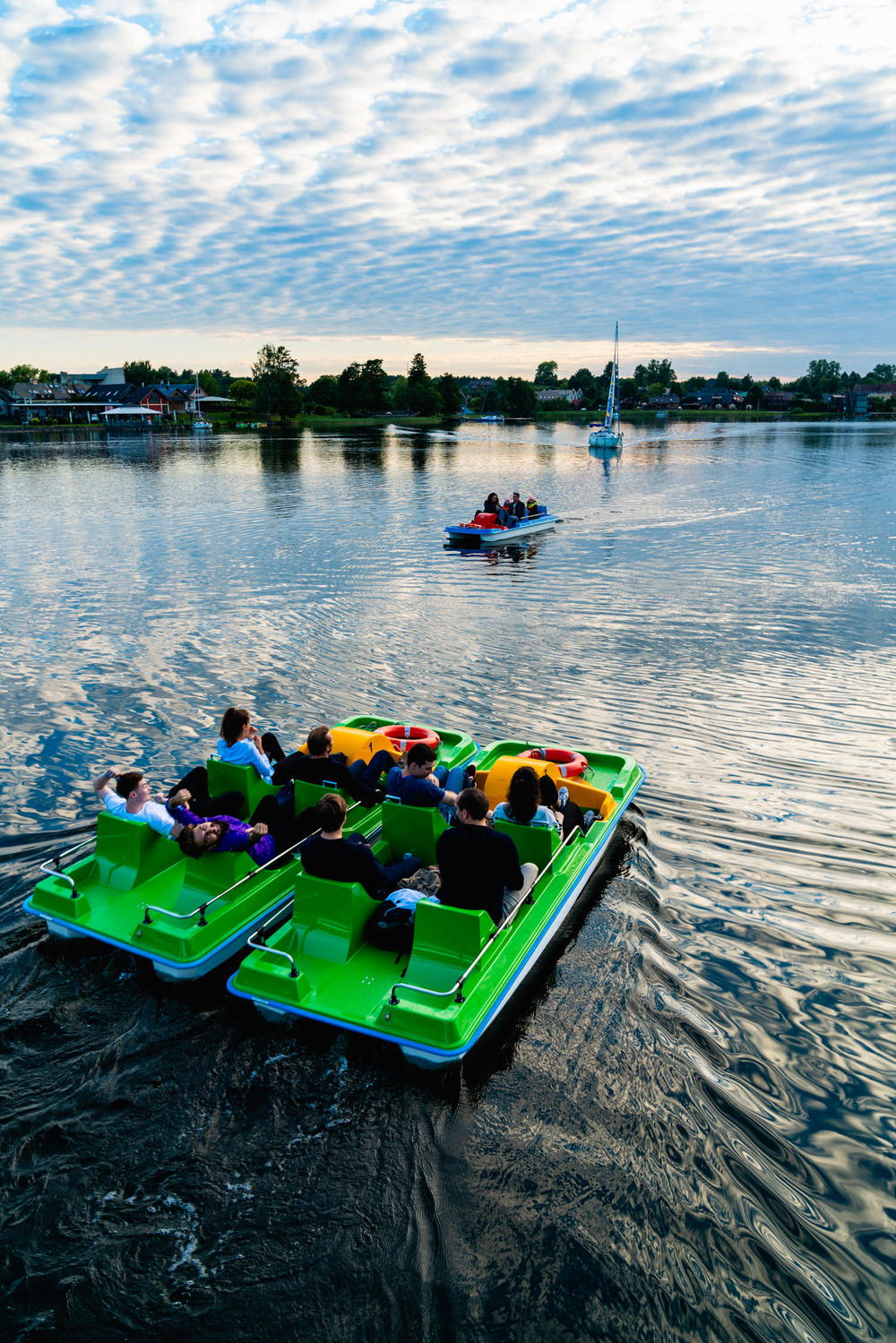 How to learn more about getting from Riga to Vilnius
You can check availability and book the Riga to Vilnius Traveller Tours Sightseeing Bus online and find additional trips at the Traveller Tours website. Thanks for having us!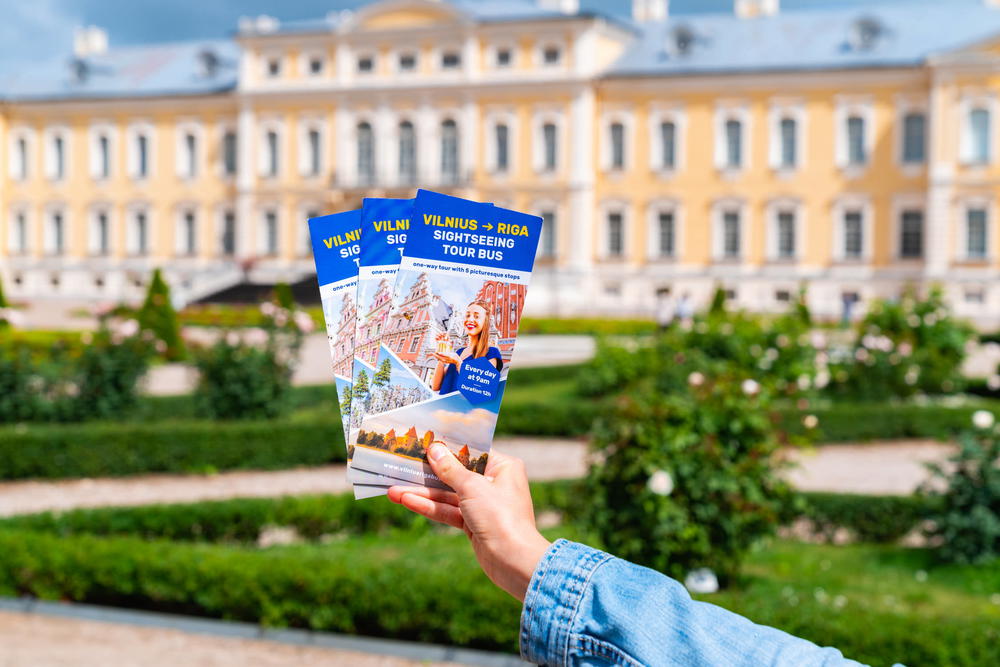 Enjoyed our article?
Consider supporting us! We're a 2-person team (learn more about us here) and your support enables us to create quality content. Thank you!