Helpful Apps and Websites for Travel
Written by Dan
•
Updated on November 8th, 2023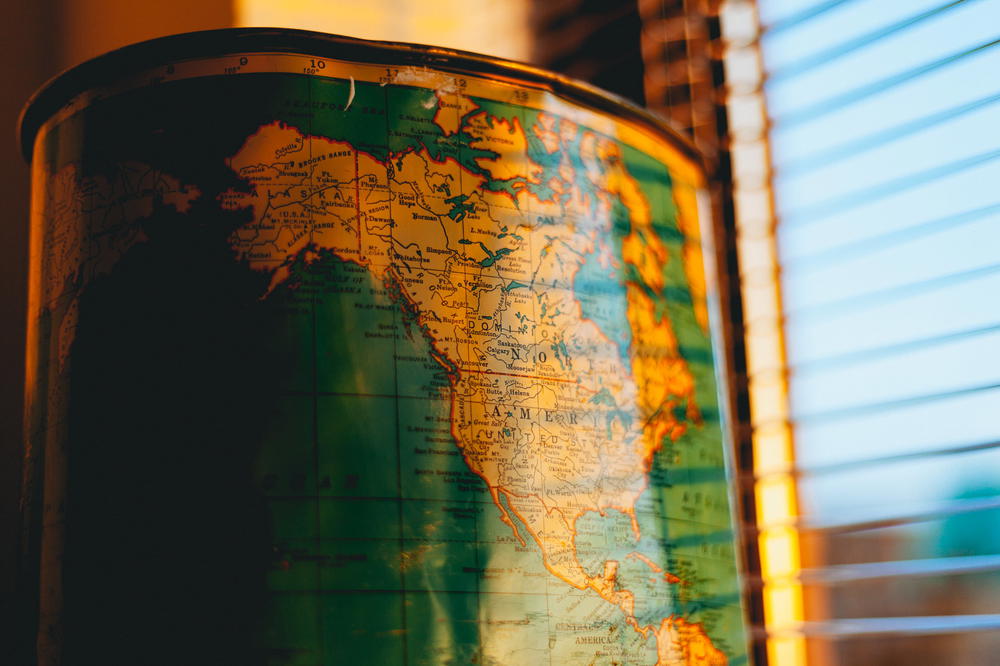 Here are some new ideas for the best and most useful websites, apps, tools and services that make your life easier during travel. Our top travel apps are subscriptions, free services and crowd-sourced data apps that provide cool travel hacks.
This article may contain affiliate links. We earn a small commissions when you purchase via those links — and it's free for you. It's only us (Becca & Dan) working on this website, so we value your support! Read our privacy policy and learn more about us.
Table of contents
Close table of contents
Traveling is hard. Really hard (OK, sometimes). Before apps existed, we used to do it ourselves with paper, pen, fold-out maps and notes scribbled on paper.
Luckily, times have changed, and now apps can do so much that there's nearly always "an app for that" (where did that saying come from?).
Are you planning to travel as a digital nomad or do something specialized like gluten-free travel? There are apps that can help you do things like pin down specialty food, coworking spaces, mapping, communication and more.
As we describe in our story of how we dated long distance through travel, apps played a huge part in our relationship… and still do!
Apps can also help you do things on the go. You can look up live exchange rates as a travel money hack, try to save money while traveling by using photos as your souvenirs and even learn a new language for travel with some helpful — and fun — new apps.
Let's see the apps that have helped us most and the ones we are currently using.
Useful Travel Apps for Convenience and Travel Hacks
Google Fi
Google Fi is one of my top-recommended services that you can get if you're interested in traveling. Whether or not you're about to go on a short trip or a long trip, Google Fi can help you. Actually, if you want an awesome cell phone plan for home, Google Fi works for you as well.
The most useful feature of Google Fi is the ability to use the same phone and the same phone number in most countries. Every time I land in a new country, I take out my phone and I have service right away, with Google Fi. There's no need for me to find local SIM cards or struggle to find WiFi.
When I'm not traveling full-time, I have a cellphone plan as part of a family plan, at home in the US. I keep that phone around when I'm home because there is more data attached to that plan. During these times, when I am not traveling, I pause my Google Fi plan and it saves me a little bit of money.
I used my Google Fi phone plan to tether local data when I was working from a small cabin in Argentina and needed to check something for work. The data can get expensive because you pay for your usage. The good news is that if you use a lot of data, Google caps how much you'll pay. You'll never be surprised with a $300 phone bill.
Now that Google is rolling out other phones to use with Google Fi (before now, it was only Google phones that you could use!), there's no reason to not try it out for your next trip. It even works in most off-the-beaten-path destinations that you might be considering.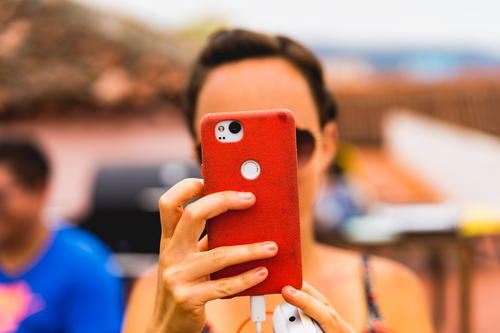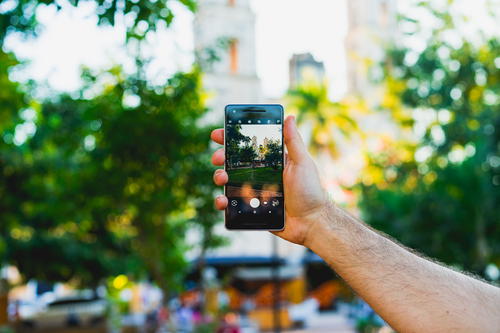 The best insurance: World Nomads Travel
Travel insurance is important to have when you're on the road, whether for a short trip or during long-term travel. Outside of the United States, you can pay out-of-pocket for some medical expenses and it can equal the amount of a standard doctor co-pay; however, if there's ever an emergency, hospital visits or emergency evacuation can be expensive.
Luckily, World Nomads is a well-trusted and an amazing travel insurance provider.
Outside of health coverage, World Nomads helps cover other travel-related struggles, like lost baggage, theft and injury.
Priority Pass Airport Lounge Access
Becca and I wouldn't know what to do in an airport without Priority Pass. We intentionally show up to airports early in order to get to the Priority Pass lounge, whenever we have a travel day. We're lucky enough to have received Priority Pass through our credit card, Chase Sapphire Reserve.
Every airport lounge is different, depending on where in the world it might be located or depending on which airline or company runs it. Airport lounges give you a nice place to sit and relax before your flight.
Some airport or airline lounges offer nap rooms, showers, full meals, drinks, WiFi and so much more. We've been to a lounge in Hong Kong that has a noodle bar!
Some airport lounges aren't as luxurious as others, and might offer simple snacks and drinks, like nuts and water. We're not luxury travelers, but our Priority Pass membership is one of our main luxuries that we have come to love.
If you're interested in trying Priority Pass, you can take a look at the stand-alone version of membership, or check out the Chase Sapphire Reserve credit card, which includes a membership in the annual fee.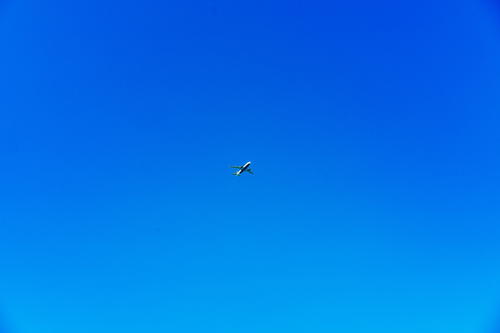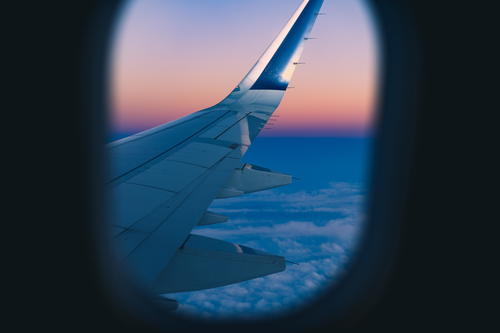 The best travel VPN: ExpressVPN
A VPN is a good tool to have if you're visiting websites that aren't encrypted (HTTP only) or if you're in a country where there are firewalls that block many websites (like China). You can also use a VPN to get benefits, like spoofing your location and watching location-specific shows online.
I use my VPN for two major reasons:
YouTube Premium is the only content that I watch. I don't subscribe to Netflix, Hulu or any other service. Some countries don't allow downloading YouTube videos, so you can download videos using a VPN!
Some websites restrict functionality if you're not located in your home country (for example, music sites, banking sites and some others). For those cases, I'll connect to a VPN in order to proceed with my task.
The Best Apps for Money Hacks While Traveling
Venmo (or PayPal)
Venmo and PayPal are two useful ways for paying friends while you're traveling. Consider the typical situation of when you go out to eat: the bill is huge and the server is unable to split the bill.
If you're traveling in a country and you only have big currency or no cash at all, it's typical for someone to either cover you so that you can pay him or her back later, or pay for the entire bill.
Venmo and PayPal are the standard ways to pay a monetary amount from your bank account to other people's bank accounts. It's important to mention that Venmo is only supported in the USA. If you try and get Venmo in another country, you'll probably run into issues. I suggest getting Venmo before you leave, if you don't already have an account.
Free ATM Debit Card like Fidelity or Schwab
Ready for my travel money hack?
I use two bank accounts as my primary checking accounts when I travel. I have a checking account with Fidelity and Charles Schwab. These bank accounts don't charge an ATM fee when you withdraw money. This is useful for taking out smaller amounts of money whenever I want to. I avoid trying to optimize each visit to an ATM and it eliminates this type of stress.
I automatically deposit a small amount of money into these two checking accounts every month. I do this so that I never have to worry about empty checking accounts!
I should mention that both of these accounts reimburse ATM fees 30 days after a fee is charged. So, while my ATM receipt shows that I got charged a foreign bank fee, this fee gets reimbursed by the bank within about a month. No pain here!
Currency Exchange by XE.com & XE App
I've used Currency by XE.com in the past, but Becca actually uses this currency service a lot (it's free to use!).
You can track how your home currency is doing compared to the currency in the country where you are traveling. I usually use Google, so I'd input, for example, "200 COP to USD." From here, I get the conversion for what 200 COP equals in USD. This is a great money and budgeting hack while on the go.
Another trick is to remember the simple math to convert a currency. For example, the Peruvian Sol is always approximately three per 1 USD. So, I try to remember which values equate to which values in my home currency.
Another example is the Colombian Peso. To convert Colombian Pesos to United States Dollars, you divide by 3000. This won't give you exact results, but it will give you a good ballpark and you'll start to understand the value of what things cost, instead of always using your phone's calculator or free XE.com app.
Clarity Money
Becca uses the Clarity Money app to track expenses and manage a budget. Clarity is an app with a nice interface that can help you clearly see what you've spent and which categories it falls into.
The best feature it has is that it has an easy search function to, for example, see what you've spent at [X store] over [X period of time]. That's a cool way to see if you've spent excessively on shopping or non-necessities and that you need to slow down.
It can also help you budget and be sure you're setting aside money in different types of buckets for certain goals (like travel, of course).
Mint
Mint is another money-tracking app that puts all your accounts together (if you give permission to link them) and you can see things like how much you're saving over time and your net spend or gain over a month, for example.
When you open Mint, you can see your recent transactions (if you link your credit cards) and you can double-check the categorizations that have come up. In this way, you can see how much you've spent on "Restaurants" in the month of June, to give an example.
The best thing about Mint is that it sometimes notifies me if I've gotten charged a fee by a bank, before the bank even does. This has helped shift finances when I get back to a laptop, or notify and inform my bank I'd like to arrange a time to discuss.
Honey
Using Honey can help you save money when you buy anything online. It's a browser extension that runs in the background and automatically applies coupon codes and notifies you when there is a deal or a sale. Super cool!
Entertainment Apps for Travelers (TV, videos, music, etc.)
YouTube Premium
I mentioned above that I watch a lot of YouTube videos. YouTube Premium enables ad-less playback of videos and supports downloading videos to your phone. Before a long flight, I'll usually download some interesting videos to watch (sometimes I do this from the Priority Pass lounge).
I use YouTube instead of Netflix and I've never had any issues nor do I ever feel like I'm missing out on anything.
Netflix
Netflix is great to have when you take long flights or have a rainy day where ever you are. You can download videos onto your phone when you don't have access to the internet or cell service.
We've totally been on long bus rides in Colombia with nothing to do for 8 hours. If you're traveling internationally, you can use a VPN to spoof your location to another region.
STARZ
If you're into new movies, a subscription to STARZ can help you be the first one of your friends to see what's out.
Hulu
If you get tired of the shows on Netflix, you can try Hulu! Hulu will have different programming than some of the other streaming services. If you watch a lot of TV/shows/movies, check out Hulu.
Prime Video
Prime Video is great if you already pay for Amazon Prime. It's great because it's free. You don't have to pay for Prime Video if you already pay for Amazon Prime. Check it out to see if you like the show and movie selection.
Keep an eye out for Prime Day to get the best Amazon Prime deals for travelers!
Spotify
Spotify helps me get through repetitive tasks while I'm working. I'll usually have Spotify open throughout my day of work. I'll download a few songs to my phone and I will use that playlist when I go running or want to listen to music on a flight.
Helpful Tip
Do yourself a favor and get some bluetooth headphones like AirPods or Jaybird Vistas. You won't regret it!
Best Apps for Travel Hacks During Flights and Transport
You can book a plane ticket or train ticket, or, you can do a lot of fun research beforehand to make sure you're getting the best price, best connecting flight, best flight time and best airport.
Why not check out these apps and websites for flights and travel hacks while you're on the go, or planning a trip? A single app can change a whole travel experience.
SeatGuru
Before a flight, I'll check my seat selection with SeatGuru. It will tell you things like, "the seat doesn't recline." Fun fact — I almost never recline my seat. I'm a good person to sit behind! These tips don't work for every single airline and flight path, but they can save you from an uncomfortable experience.
Google Flights
When I do my flight research, I like to search via Google Flights. The search is fast and the site is really simple and easy to use. There's not much of an upsell to rent a car or stay in a hotel, like with some other booking sites. Google Flights is a good way to get a benchmark of flights before you choose where or when to go.
Remember that if you're aiming to use up an airline voucher, this has to be done through the airline website itself. Don't worry though, because Google will always take you there when you click into a flight.
Secret Flying
Secret Flying is completely free and claims it will find you the cheapest deals online. This includes mistake fares or errors fares, and how to find these types of flight deals that come from mistakes made that are not yet corrected.
To browse error fares, head to the "Error Fares" section of the website, but the key is to get these fares while they're hot and before they expire (or get corrected by the flight company or airline).
Going (formally Scott's Cheap Flights)
Going is a membership-based website where by subscribing, the company claims you can save around $550 on average.
Helpful Tip
To get 20% off your first year of a Premium subscription to Going, use our exclusive code: HALFHALF20, when purchasing.
You'll get email alerts about cheap flights that depart from your favorite airports, and the flight deals you receive are vetted by Scott's vetted flight experts. Two million people around the world use Going and many say that they're able to take trips three times a year, for the price of one. This is cool to consider if you plan to fly frequently.
So, are you ready to have a new way to save money on flights and airfare? Sign up for Going here.
Rome2Rio
Rome2Rio was originally a very useful and popular website among the backpacker crowd, and now it's an app. Rome2Rio shows you every mode of transport to get you from one city to another, or one place to another. In the app, you can see the prices and you can book transport if it's in a service that exists online.
Seat61
Up there with the legacy fame in the way that Rome2Rio has been an indispensable website for travelers over the years, Seat61 seems to be the original train travel hack website.
With a new focus on train travel as the eco-friendly and sustainable alternative to airplane travel, Seat61 helps you travel affordably by train (or ferry) in places where 'you thought flying was the only option.' Cool!
Kiwi.com
Kiwi.com is an excellent service if you want to get a general idea of how much it costs to fly to a certain region. I've used Kiwi to help determine how much it costs to go to Europe from New York City, for example. Most flight-booking engines give you price from city to city. Kiwi enables you to find the cheapest flight to "somewhere" South America from Chicago, for example.
Priceline
Priceline can help you find the best deals for hotels, flights car rentals and vacation packages. It's best to shop around when you're pricing out your travel logistics. Priceline is a great tool to allow you to see prices from various vendors.
Chase Ultimate Rewards
I mentioned above that I use my Chase Sapphire Reserve credit card to get Priority Pass.
The same credit card gives miles per every dollar spent. Those miles start to add up when you buy things that qualify as purchases in travel, food and other expense categories. You can redeem those miles for travel services like flights, cars and hotels.
You can also transfer those points to travel or airline partners, like United and JetBlue. Using Chase Ultimate Rewards has been helpful in saving money when taking long flights. I've used my points to book flights all the way from Europe to New York, and from New York to Vietnam.
Travel cards like the Chase Sapphire (and Freedom) credit cards are the best way to start travel hacking. You can really get hooked. Once you start accruing miles and points, you'll never travel without thinking, "How many points will this flight cost me?" again.
Best and Most Useful Map, Transport and Location Apps
Maps.ME
I like Maps.ME as an alternative mapping app. The app's main focus is offline mobile maps, so this combo is perfect for getting to your destination without using any data.
I've found that the maps and directions are better in Maps.ME than in any other map app - the directions are easier to follow, in my opinion. Despite this helpful feature, I still find myself using Google Maps because it's what I'm used to.
Maps.ME helped out during my hike in Iceland. One of my friends had the app installed and used it to find a hot spring in the middle of nowhere. Well, the hot spring was well-known, but it was an adventure for us to get there!
Maps.ME does a better job helping you get through trails and other places that don't have roads.
Don't fall into the same trap that I did! Give Maps.ME a try.
City Mapper
I've used City Mapper in the past when I was visiting London. The Tube stations and reliability was better than any other map app at the time. All of my friends in London used it and recommended that I use it, too.
Google Maps doesn't always have to be the go-to mapping app. Sometimes a city has a general preference for another app based on what features it can offer.
Moovit
Moovit is a popular app in Israel.
When I was in Israel, Google Maps had trouble with GPS and determining where addresses were in relation to where I was. Moovit fixed that problem! It made walking around and getting directions much easier.
Moovit "knows" everything about the buses in Israel, specifically. If you want to go anywhere in Israel by public transit, download Moovit in order to get there in the best way!
Uber
During my travels in South America, Uber has been one of the only taxi apps that I can use. Uber is much safer than regular taxis, specifically in Latin America.
Taking Uber is also easier if you're not as comfortable speaking a language other than your own. Uber allows you to set your pickup and drop-off location, and everything else is taken care of.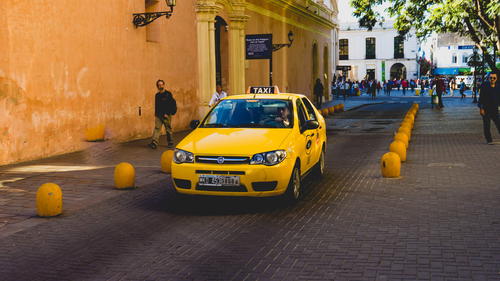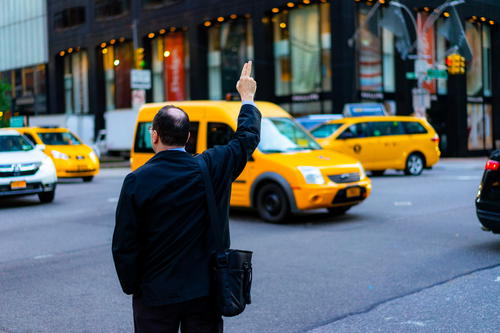 I've heard from locals in Mexico and Colombia that using Uber has helped them go out at night and get to otherwise geographically-challenging locations. This means that the app has changed people's lives, for the better!
Lyft
When Lyft is available, I prefer to use Lyft. What can I say — I have a soft spot for pink mustaches.
Lyft, Uber and other ride-sharing apps generally do the same thing. They allow you to set your location and easily get to your destination. When I was in San Francisco, Lyft was often used in place of public transportation. A Lyft ride can be about the same cost as a one of their public transportation methods.
Also, in San Francisco, there are special Lyft programs for people that take Lyft to work. There's a specific route that you can jump into with other passengers. This helps keep the cost down, and you can rely on the route in order to get to work efficiently. Seems more eco-friendly, right?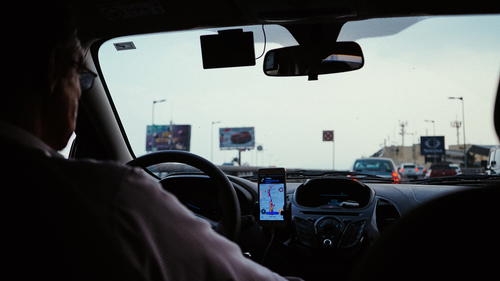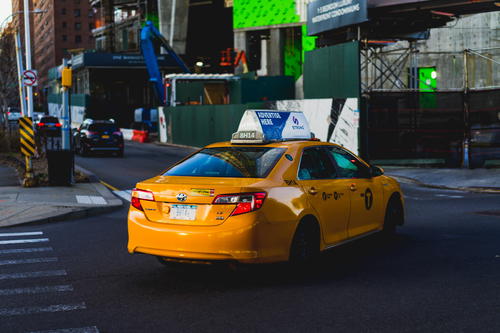 Taxify
Taxify tends to exist in cities that do not typically have Lyft or Uber available. This isn't always true, but I've found this to be the case most of the time.
I mainly have used Taxify in European cities. The same strategy for having a safe and easy ride is true here. The difference with Taxify is that regular cabs can use the app. This is because Taxify isn't necessarily a "ride-sharing app" like Lyft and Uber are.
Grab
Grab is the equivalent of Uber in places like Vietnam. The difference is that you can pay by credit (set up the credit option from your home country before you leave, to be safe) or cash, upon the completion of the ride.
Google Maps
Google Maps is the most common app for getting around. It handles walking, biking, driving and public transportation options. I like to use Google Maps to create stars and labels for some of the places that I frequently visit. This makes it easier to get back to those locations easily.
One of my favorite features is the ease of download of offline maps. Downloading offline maps is helpful in saving data if you're using Google Maps outside of WiFi. Also, if you don't have any data, you can still use maps when you've downloaded the data.
Swarm
I've been using Swarm since before it was Swarm. Swarm used to be a part of Foursquare by way of "Foursquare Check-ins." They broke it off into a new app that creates a gamification layer to visiting new places. These places can be cafes, bars, hotels, cities, airports and more. You get stickers and points for the places that you check in to.
Your friends can also see where you visited and where you currently are, if they use the Swarm app as well.
My favorite feature is to be able to look at where I've been in the past. If you ask me, what's that cool restaurant that you visited in Belgrade? I'll be able to search through my Swarm history and tell you the name and location of the restaurant. I checked, and the restaurant that I was thinking about is called Smokvica.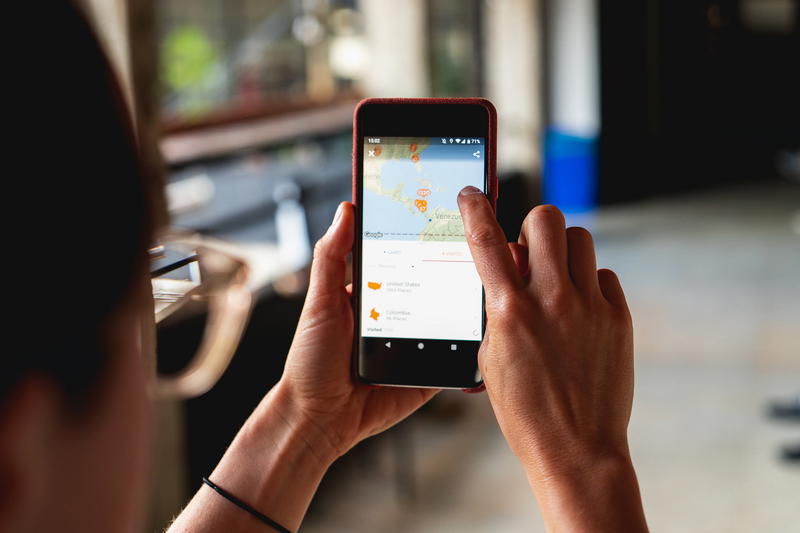 Best Apps for Health for Digital Nomads and Travelers
We like to focus on health when we travel. During long-term travel, you may go through spurts of a high interest in health and activity, counteracted by periods of when you don't care so much. Not everyone's interested in health, but some people define their lives and progress by it.
Google Fit
Google Health now has metrics like active minutes per day, miles or km walked in a day, heart health and more.
The app tracks 'Heart Points' and 'Move Minutes' to help show how much activity you've had in a day, and then shows a bar graph of your steps over a week. This can be cool to see if for example you walked 7 miles a day like we did, in Barcelona, Spain.
This app is also on Google Play Store.
MyFitnessPal
If you're interested in what you consume in a day, MyFitnessPal helps you track calories and consumption activity through an app that helps total these metrics. It can be really interesting and can give some clarity to your habits.
WeightDrop
If you've been indulging in lots of pizza and pasta in Italy, excessive empanadas in Colombia or too many bowls of pho in Vietnam, you might start with a resolution to get more fit and drop some pounds while traveling for a while.
WeightDrop helps track your weight, if you have a scale nearby. You can see over time how your weight changes, if you like to measure your progress in that way. This is not for everyone, but can be an interesting thing to track over a year.
Best Apps for International Communication While Traveling
Communicating across oceans used to cost a ton of money or take a while. Now, you've got either instant communication, or asynchronous communication, and there are tons of ways to do both.
If you're going to be abroad and out of your home country, why not try a few different ways to communicate with friends and family back home, and with travelers you meet along the way?
Google Translate
English is becoming spoken and understood in many different cities and countries all over the world. I'm really grateful that English is my first language.
Whenever I am in a new place where people do not understand English, I try to learn my hellos, goodbyes and thank yous in the local language. I'll usually have Google Translate open on my phone to help translate words from another language that I am not familiar with.
My favorite feature about Google Translate is its ability to translate text from an image. A perfect application of this is in translating a menu. You can take a picture of the text on a menu and then you can understand it!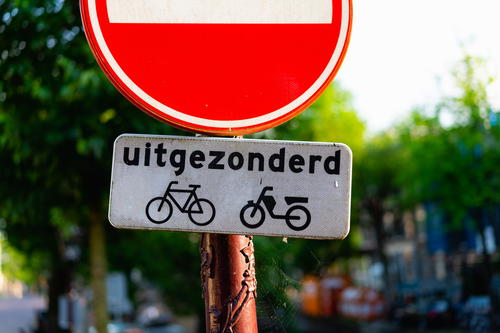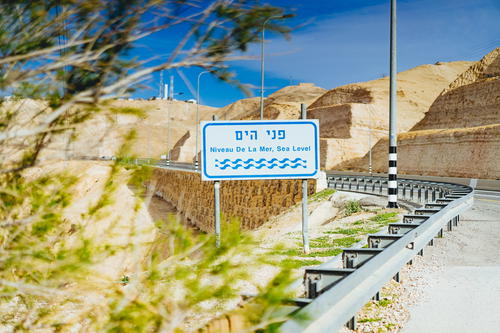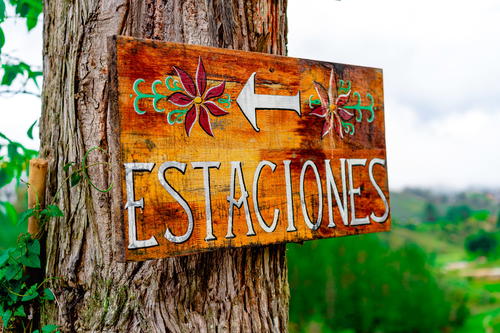 WhatsApp
WhatsApp has been forever useful in communicating with everyone. I use it every day to talk with friends and family, but I have also used it to communicate with locals that I meet.
It's a universal text message application that almost everyone around the world uses. WhatsApp is incredible!
It's amazing that once you leave the USA, many people use this instead of iMessage or regular text messaging.
Slack
Slack is how I keep in touch with more professional contacts. I am a member of several Slack communities that all offer different things.
Slack by itself is nothing. You need an invite from a specific group, organization or company to make something out of Slack. You're able to join as many communities as you want, after you get that invite.
The workspaces and Slack communities that I belong to help me find work, stay in touch with other travelers, talk about photography and so much more.
Zoom
Most meetings that you take for interviews and work calls with be on Zoom. A fun tip for Zoom, is to explore within the video settings and remove your background. Instead of superimposing a background of a beach, you may actually be at a beach.
Krisp.ai
Krisp can block out background noises for you and the person on the other end of the call. This is great if you are in a noisy cafe or airport.
Best Apps for Booking Accommodations While Traveling
If you want more information about how we book accommodations, feel free to check out our article that we wrote about finding accommodations.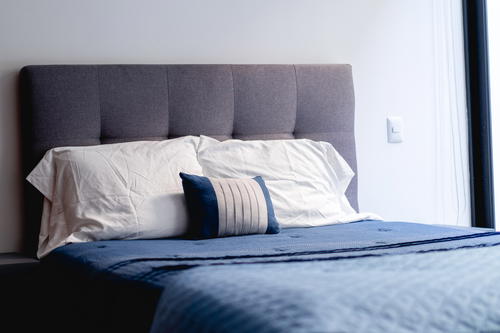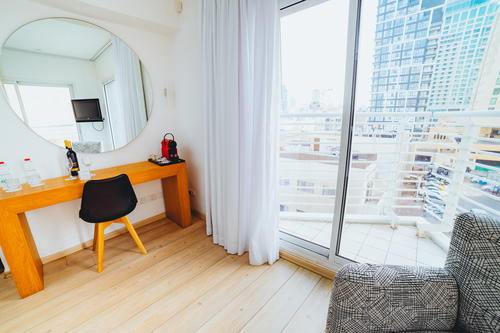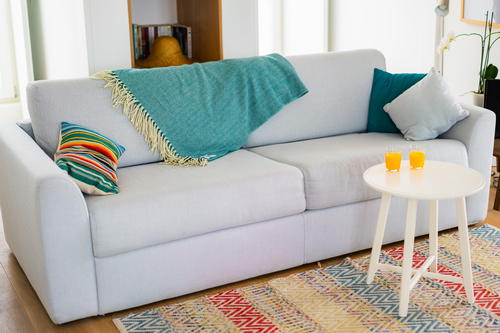 Airbnb
Airbnb has been helpful when booking places to stay for a trip. Airbnb has one of the better filtering systems out there. You can choose a place to stay based on a number of different options. Do you want a kitchen? Do you want a single home? Do you a queen-sized bed? Cool. Airbnb can be how you find an optimal place to stay, whether that place is an apartment, a house, a room in a hostel or room in a guesthouse.
VRBO
VRBO is a great tool when you're looking for something more like a vacation. You'll find some of the best vacation rentals when you're looking to get away. You can also use this to connect with home-owners if you're interested in doing any long terms stays somewhere.
How to book hostels on the go: Hostelworld
I use Hostelworld to get an idea of where the cool neighborhoods are in a city. This is sort of a flawed system because sometimes the hostels are in the party part of town. This is usually true in Europe, but it's helpful in Central and South America, because hostels are usually also located in the safest parts of a city.
We also use Hostelworld to find out which cities in a country are best to stay in. Hostelworld helped a whole bunch when we went to Colombia, Argentina and Portugal.
Booking.com
I'll use Booking.com if Hostelworld and Airbnb do not return quality results. When I was in Patagonia, I noticed that Booking.com had way better options than AirBnb did. Hostelworld and hostels were not as popular for the smaller towns. Booking.com helped us a lot in the coasts of Portugal during our road trip, and in Sri Lanka, where hostels are not yet a huge thing.
Productivity and Data Management For Travelers On the Go
If you're a digital nomad or remote worker on the go and you're looking for travel apps to make your work life easier, check out these suggestions.
Dropbox
Dropbox is great for a professional setting. You can use it to collaborate with others by sharing files and keeping shared assets organized. I use Dropbox for sharing files with clients and keeping my own files organized and backed up. By the way, if you use this link to sign up for Dropbox, you'll get 500MB of storage for free!
For traveling, I like to use Dropbox to keep a copy of important documents, like a copy of my passport and other banking records. It makes finding these items really easy if you're like me and can't remember your passport number. You can quickly open Dropbox and browse toward the location in which you've saved those documents.
1Password
I've been using 1Password for almost five years. I have over 400 logins saved. It's incredible that I've even logged into 400 different websites. Nevertheless, each one of those websites uses a different password.
Because every website has a different password, if that website's data were ever compromised, my password that the hacker would get is basically useless for logging into any other account that I have.
1Password is essentially a flexible database. You can store whatever you want inside of 1Password. At a high level, it's a secure vault that can keep varied types of information. You can store credit card information, phone numbers, lists and more.
Storing your credit cards and other information is a good idea if your wallet ever gets lost or stolen. Having a record of your credit card numbers is incredibly useful if you need to call a bank and report the card as lost or stolen.
Todoist
Over the years, I've bounced around using a few different to-do apps. I used Teuxdeux for a few years before switching to Todoist. The reason that I switched was because I wanted to have more control over my to-do items. I use to-do lists to plan my day and Todoist provides a lot of functionality.
When you're traveling, you can plan on-the-fly itineraries of your trip using Todoist. Let's say that you want to visit 10 interesting sites in total. You can spread them out throughout your stay and use a simple to-do app to track your progress or plan.
Trello
In my case, Trello is sort of like Todoist, except that it's for more long-term, non-time-sensitive information. I put big ideas into Trello along with long-term goals.
You can use Trello to plan a list of things that require feedback from other people, and you can plan lists of items that include images and other attachments. Imagine that you're planning to take a three-month trip. What are all of the steps that you need to take in order to leave? It's different for everyone, but planning the steps in an app like Trello can help make that process easier.
Backblaze
Backblaze is my favorite product to talk about. Most days, I forget that I have it running in the background. It keeps all of my data safe and gives me peace of mind that I'll never lose a file or a photo.
If you take a lot of travel photos or do a lot of writing when you travel, making sure that your data is backed up, especially if you're saving everything to an external hard drive, is an important part of traveling. It's easy to lose a hard drive or damage a hard drive. Backblaze has a simple interface that backs up all of your data in the background.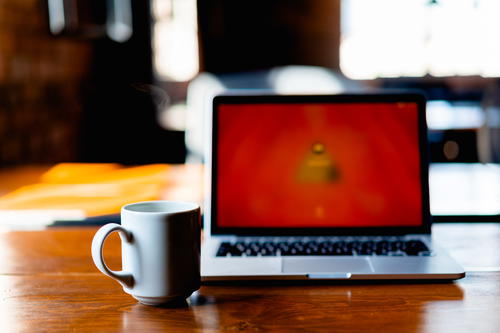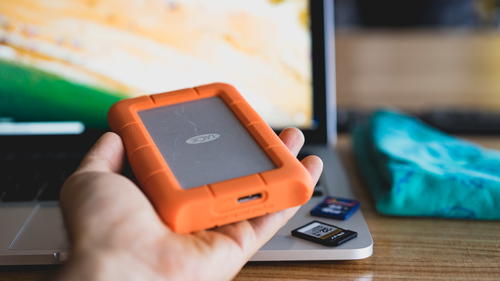 Best Apps for Photography for Travelers on the Go
Google Photos
Google Photos is an incredible tool for organizing, viewing and storing your photos. If you have an Android phone, like a Google Pixel or something else, photos automatically backup to Google Photos. iPhones require you to download the app before using the service.
My favorite uses for Google Photos are the search and the assistant. Being able to search for locations is so useful. I can search for something like, "Jamaica," and easily find photos from my trip to Jamaica back in 2012. Even though I didn't geo-tag those photos or even have cell data, Google can predict that I was there based on other factors and show me those photos.
Google Photos has an assistant that shows you cool information. It can make GIFs from your photo bursts and can make a collage of photos based on similar other ones. If you have a large volume of photos like I do, this type of information is fun to look back at!
As a tip, Google Photos is crucial to have for working out storage on your phone. Even if your iCloud is enabled, you might find that your photos have "filled up" your phone storage. If that happened to you recently, fix your iPhone's photo storage with these tips.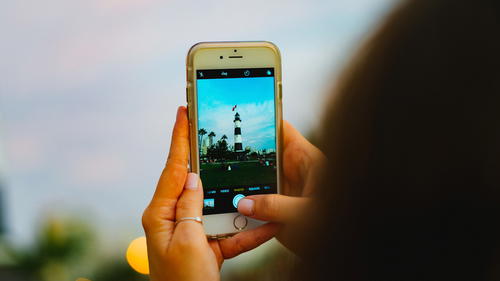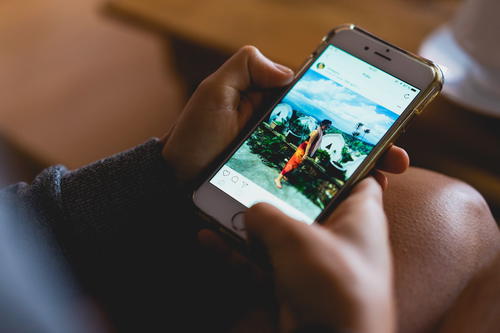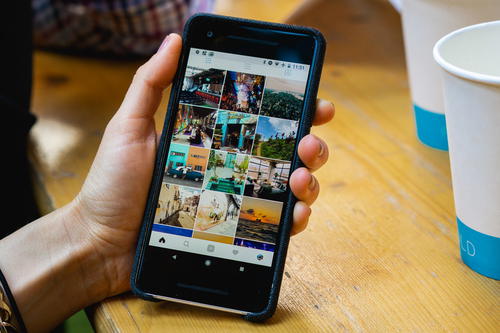 Adobe Lightroom
Lightroom is my preferred tool for editing photos. Without a computer, I can take photos from my camera, edit them on Lightroom Mobile and then share them on social media. I don't typically do this, but sometimes I do.
Save up to 50%
The sweet deals are live now through 12/3. Get up to 50% off select plans!
Lightroom is a good way to catalog all of the photos that you take when you travel. Lightroom CC has a similar search process to Google Photos. You can search for generic terms like "dog" and get a bunch of dog photos.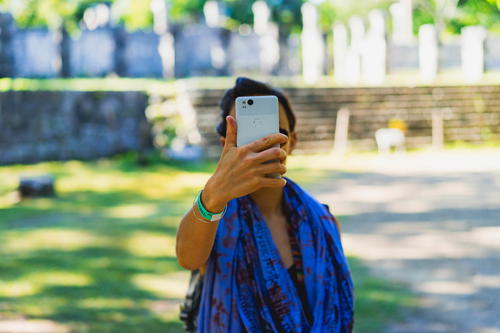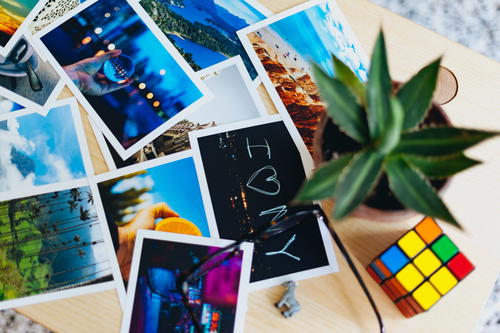 Amazon Photos
Amazon photos won't let edit your photos, but you can use the service to help backup and view your photos. It comes free with Prime. Amazon Prime will also be useful if you want to watch Prime Video.
Virtual Remote Work and Digital Nomad Apps
The apps below make work possible when you're away from home, or when your home is 'away' from home all the time.
DocHub
Working remotely is a big part of how I am able to travel for long periods at a time. At any time when I need to sign a contract, DocHub can help. You can have your signature ready to go and you can easily drop it on a line that requires your signature. You can than export that document as a PDF and send it off to where it needs to go. So cool!
Worldtimebuddy
A big part of travel is understanding how to deal with time zones. It's currently 10:45 pm here in Mexico, but in New York City, it's 11:45 pm. In Dubai, it's 8:45 am. Good morning, everyone!
When you have to set up a meeting with someone in another time zone or figure out what time it is back home, Worldtimebuddy can help. You can add a few different cities and easily see an overlap of what time it is everywhere.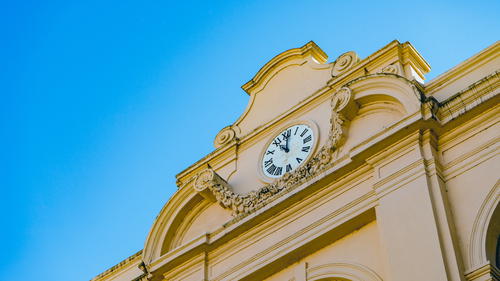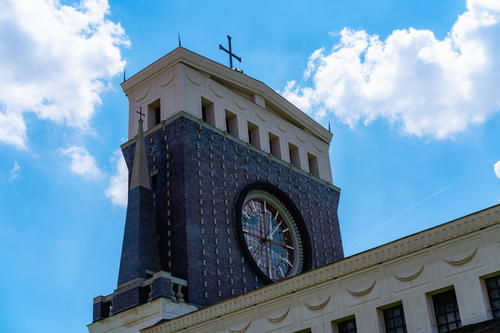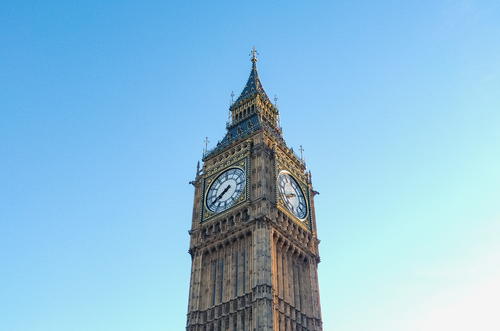 Traveling Mailbox
When I was traveling full-time, I used Traveling Mailbox on a weekly basis - this service allowed me to receive physical mail while I was traveling. In the past, I sent mail to my parents' house or let it pile up in the location where I was staying.
The Traveling Mailbox service was especially useful because I run my own business. I often get sent mail that is associated with my business, and I'm able to see a physical scan of my mail items online.
This has been helpful in permitting me to not rely on others to collect my physical mail.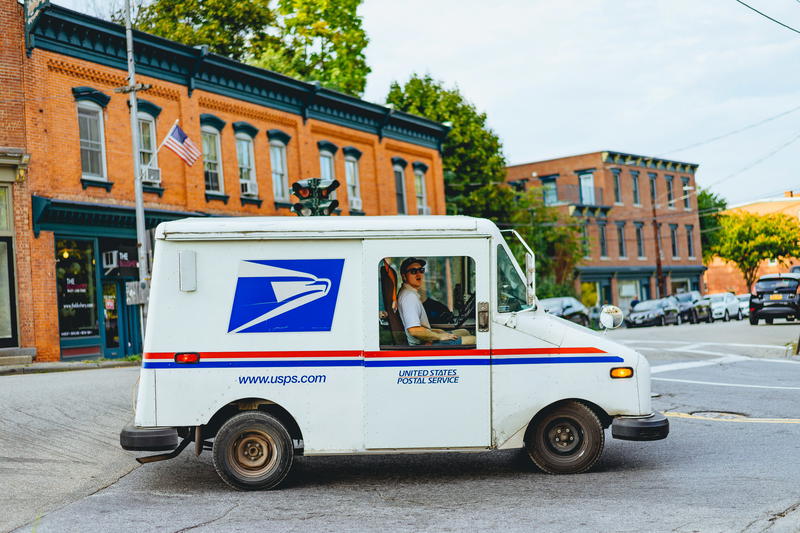 OOTD: the Office of the Day App
This app knows where you are (if you give it your location), and it'll find you a place to work, as recommended by other digital nomads.
Depending on where you are, you can search (for example) for a place to work in Los Angeles, or Bangkok, Thailand. Each entry comes with ratings for features like WiFi, outlets, ability to make/take phone calls, credit card usage and outdoor space.
Recommend it to a friend, as it gets better as more people use it!
Remote Work Job Boards for Digital Nomads
For a more comprehensive list of work from home websites, check out our full list on remote jobs!
RemoteOK
RemoteOK is one of the more popular job sites for finding remote work. It has a simple interface for browsing and searching for different remote jobs. All of the jobs are remote, so there isn't any remote or location filter like you'd see on other job sites. Most of the jobs on this site are developer-focused, but you will find jobs for marketing, customer service and a few other types of industries.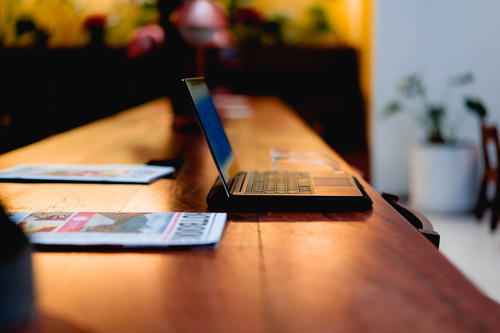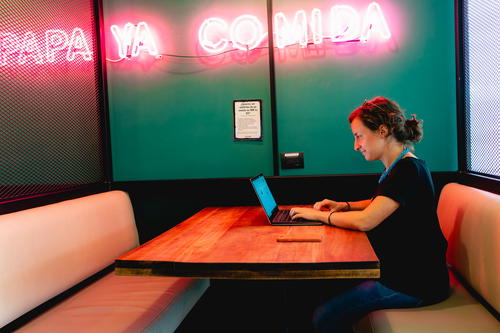 Upwork
Every year or two, I give Upwork a shot. I am curious as to which types of jobs you can apply for and which skills are in demand. It takes a lot of time for someone to become popular on the Upwork platform. You'll get rewarded for the work that you do and how often you get hired.
I personally haven't had too much success with Upwork. Most of the proposals that I submit as a developer often go unnoticed because there is a lot of competition. If you're looking for work, give Upwork a try and let me know how it goes!
Fiverr
I'm on Fiverr. There, I said it. It took me a long time to create a gig and give the platform a shot because Fiverr has a reputation that I didn't want to be associated with. However, times have changed and I've found the platform to be interesting.
There is a lot of competition for certain types of jobs or gigs, but it's fun to play with the market and AB-test various different gigs to get a sense for what is popular.
The more and more that I played with Fiverr, the more I realized that you get rewarded for using the site more. The more your gigs get ordered, the more you appear in the search results. Depending on many 5-star ratings you have, the more you will rank higher for high-competition gigs. It makes sense: Fiverr wants to reward quality people because the company takes a cut of your income, per job.
Authentic Jobs
Authentic Jobs has been a place where I've searched for jobs for so many years. I can't remember the first time that I heard about Authentic Jobs, but it's been there with me for a few different career hires.
Authentic Jobs has a filter for remote positions. My favorite filter is actually displaying types of roles, like part-time, full-time and contract roles. There aren't too many positions listed, but the ones that are listed are usually high-quality. The jobs that are posted are mostly design and development jobs.
LinkedIn
For my entire career, I never took LinkedIn seriously. Until recently, my tag line was, "Hire me for pizza advice." I mean, you can totally still hire me for pizza advice. When you visit my LinkedIn profile now, it paints a more professional picture. There's a time to be playful, but I started to realize that LinkedIn wasn't the place for that.
You can share your professional knowledge about travel through LinkedIn. After traveling with Remote Year, I realized that sharing specific travel-related advice on LinkedIn is an effective way to find a new travel community and a way to attract readers to your content.
Hacker News: Who's Hiring?
I'll admit that my consumption of Hacker News articles has dropped off significantly. I'll still vouch for the quality that their monthly job posting has. The best part about this job board is that it's crowd-validated. The posts get up-voted, so the most popular and interesting job posts bubble to the top.
If there's a really obvious question about the posting, someone probably answered it in the thread below the post. There's no filter for remote jobs because it's a text-only service. However, good ole' CMD + F "remote" always returns a few interesting positions to check out.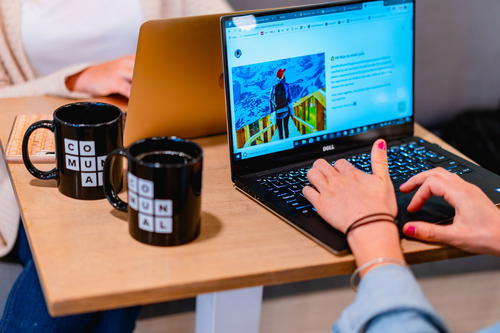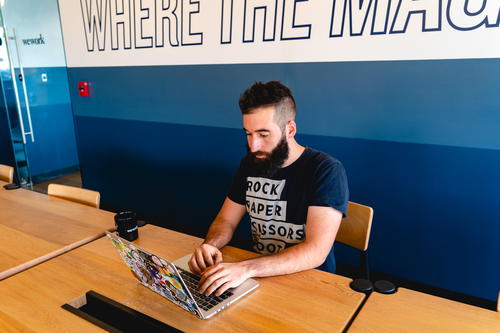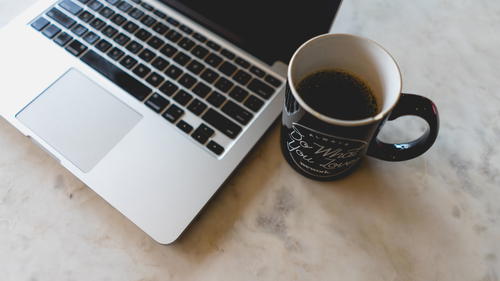 Helping You Work Remotely
Even if you think you have remote work down to a science, it's never too late to add a new work hack to your work and travel life. While we list lots of tips for working remotely on our website, check out the tools that make it work for us below.
Workfrom
When I was living in New York City, I started working remotely from my neighborhood on days with bad weather. After doing this during a few snow storms, I quickly realized how effective I could be by not going into an office. I started working from home more frequently because of the productivity benefits that I saw.
I quickly got bored working from my living room. I started to look for more cafes to work from near my apartment in Park Slope. After stumbling on a few cafes with bad WiFi and limited power outlets, I found Workfrom.
Workfrom has crowd-sourced a global network of cafes that share helpful stats like how many power outlets exist, how fast the WiFi is and if the cafe has good food or coffee. I added a few of my favorite neighborhood stats to the Park Slope map!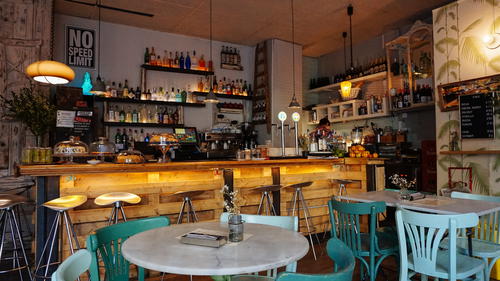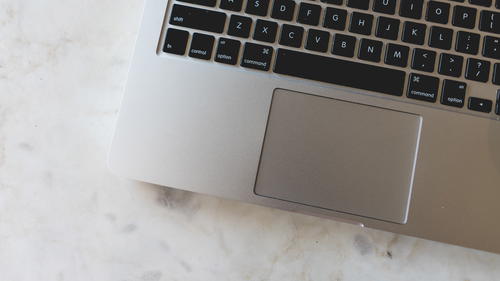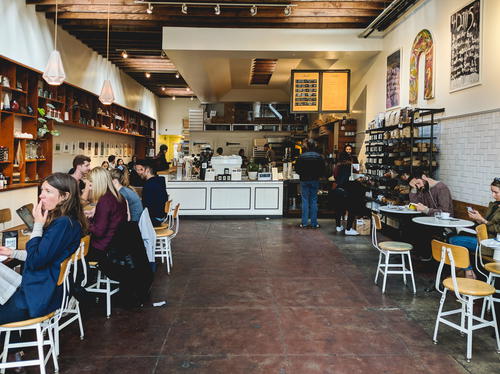 Nomad List
I like how simple Nomad List is. It gives you a generalization for how it is to travel to and live in a city that might be really far away. If you're going to Hanoi, you can see criteria about how safe it is there, how the internet is there and other helpful stats like air quality.
While it's an average of a lot of different data points, you can get a good idea about what it's like to be there.
If you subscribe to Nomad List, you can enter in all of the places that you've been to and also connect with other travelers with the Nomad List Slack community.
News Apps: How to stay in touch with what's going on
NYTimes
Usually when we're traveling, Becca refreshes the NYTimes app every morning. It pre-loads, at least in summary form, so if we're on a train or bus without WiFi for the rest of the day, she can still skim through headlines in each section and get briefed on what's going on.
There's nothing worse than being out of the loop. With phones, apps and WiFi, you can now stay connected anywhere (even when you don't feel like it - ugh!).
CNN
Also free, but with no limits on articles per month like the NYTimes app, the CNN app has tons of articles. It doesn't pre-load as well, so expect to use it only when connected to WiFi.
BBC en Español
Maybe you read the BBC in English, but Becca reads it in Spanish. If you don't read Spanish, and you're not looking for a way to practice Spanish, what we do suggest is getting a news app in the language you ARE trying to learn. This helps with word recognition and key words, even if you skim for only a few minutes per day.
Apple News
Apple News is one of the default apps that comes with the iPhone. It creates an aggregation of top stories drawn from many news sources, so you get variation. You can also choose which 'beats' you'd like to see, from travel to science to fashion.
Apps for selling stuff and downsizing before travel
When we decided to travel for 10 months on a remote work digital nomad trip, we sold all our furniture. And got rid of a lot of clothes (that we could have made money on if we had just taken the time to sell it all).
We also got rid of things like coffeemakers, bikes, electronics… you name it. We had to downsize, and because we had just decided to go on Remote Year, we had to do it fast.
Poshmark
It's too bad that we didn't discover Poshmark until we saw ads for it on the subway after we got back from our trip. The way we started selling on Poshmark was because we went through our belongings after getting back from our trip, and realized we (awkwardly) hadn't missed some of it. So we started posting listings for our name-brand items on Poshmark.
Poshmark is an app that lets you create listings with photos and details for clothes, shoes, bags, accessories and jewelry. It's mostly for people who want to buy (and sell) name-brand things at a discount if it's gently used. We had the most luck with Poshmark after returning from travel, but that's because we didn't know about it beforehand.
We recommend Poshmark if you have a lot of name-brand or luxury items you can part with, and you're downsizing your wardrobe before setting off on the road for a while.
Mercari
Mercari is like Poshmark but it's for "anything." You can sell electronics, bags, luggage, household items and more, in a type of marketplace where buyers can barter. You can also set your settings to 'eat up' the mailing fee, or charge it to the buyer. There's lots of options. We haven't had luck on it yet, but we're trying to get rid of a few things we're done using.
Craigslist
While not an app (yet?), Craigslist was a way we sold our furniture before we ended our lease in order to travel-long term. We also used the 'Free' section to get rid of things we couldn't sell and didn't want to have when we returned (like the coffeemaker mentioned above!).
Craigslist works by setting up listings, adding photos and locations, and then waiting for buyers to contact you via email. Because we sold furniture over Craigslist, and the world is a big place, we recommend meeting buyers in public places if you can, if the item is small. If you're selling furniture or something large, have someone else in your home with you when the buyer comes for pickup.
Best apps for learning a language for travel
Did you ever want to learn a new language for your trip? We often do, and we often have picked up some basics in a very new language while traveling. We know how to say 'carrot' in Vietnamese, 'thank you' in Lithuanian and 'tap water' in Portuguese. These can be super important!
Drops
Drops came as a surprise, and we found it while looking up ways to learn some Vietnamese on the plane ride over to Hanoi. Drops is like a swipe-right swipe-left app, but with simple words in another language.
This makes learning a new language really fun!
Duo Lingo
Looking to learn a new language for your upcoming trip? Try Duo Lingo, which is a fun way to brush up on basics for a language or learn a new one.
As you'll find in our article about tips for learning languages, there are lots of ways to learn languages, but doing it on the go is easy. With an app like Duo Lingo, you can get some vocab in during a flight, bus ride or taxi ride.
Pleco
Pleco is the #1 easy dictionary for English-Chinese and Chines-English. It's great for when you're in China, Taiwan, Hong Kong, Macau and Singapore. It's like a dictionary made fun again.
Mondly
Mondly is a free app that comes in lots of languages. We downloaded it for some languages to learn before we went on trips!
---
We hope these apps helped improve your travel experience. Now that you're ready to go, check out our checklist for what to do before going on a trip.
Enjoyed our article?
Consider supporting us! We're a 2-person team (learn more about us here) and your support enables us to create quality content. Thank you!