42 Fun & Unique Things to Do in Hanoi, Vietnam
Updated on November 21st, 2023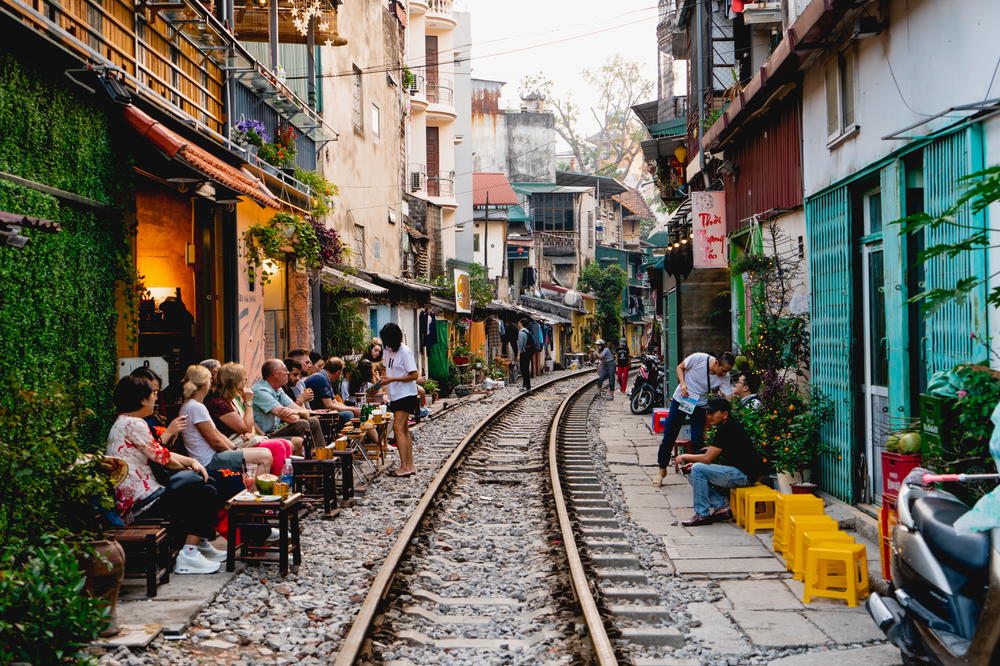 Bookmark our favorite Old Quarter restaurants, the best laptop-friendly cafes for working and some of the best rooftop bars for views of Hanoi.
This article may contain affiliate links. We earn a small commissions when you purchase via those links — and it's free for you. It's only us (Becca & Dan) working on this website, so we value your support! Read our privacy policy and learn more about us.
Table of contents
Close table of contents
Hanoi, Vietnam, is one of our favorite cities. We fell a bit in love with it, for my second time there and Dan's first. Not only is this a city where you can travel very affordably, but it's fun, with a great nightlife scene, activities for any type of traveler and incredible food.
In our guide to Hanoi, you'll find the best cafes for getting some work done, our favorite places to eat and all the sights we saw in four weeks. We hope you enjoy this city full of interesting culture, people and history.
Leaving for your trip to Hanoi soon? Make sure you see our list of what to do before you travel abroad.
Best Laptop-Friendly Cafes for Working in Hanoi
During our month living in Hanoi, we were focused on finding cafes with fast WiFi so that we could effectively work remotely. Aside from this, we were also very focused on excellent Vietnamese coffee (not hard to find) and beautiful cafes.
Helpful Tip
Sustainable travel tip: ask for a 'for here' cup, to avoid one-time-use waste. Plus, you'll want to stick around in all these great cafes.
Here are our best picks with our honest thoughts.
Tranquil Books & Coffee
The name says it all - Tranquil Books & Coffee is a quiet place to spend a few hours and work, read or enjoy a quiet coffee or tea with a friend. With three locations (and one location having two cafes sharing an address), you can "Tranquil" in several parts of Hanoi.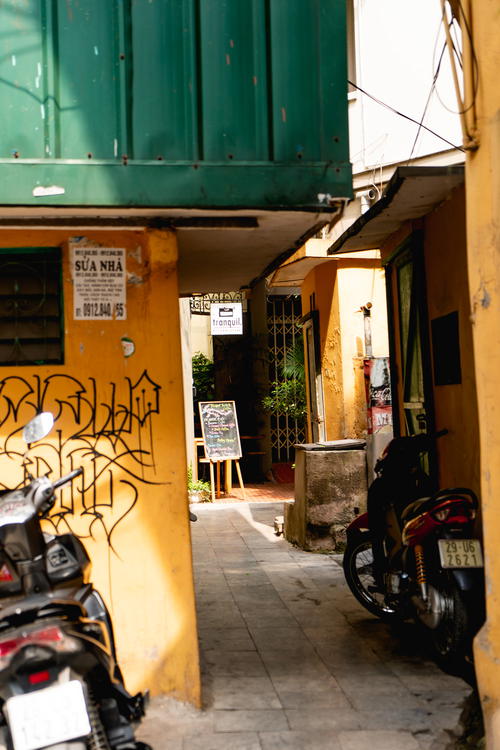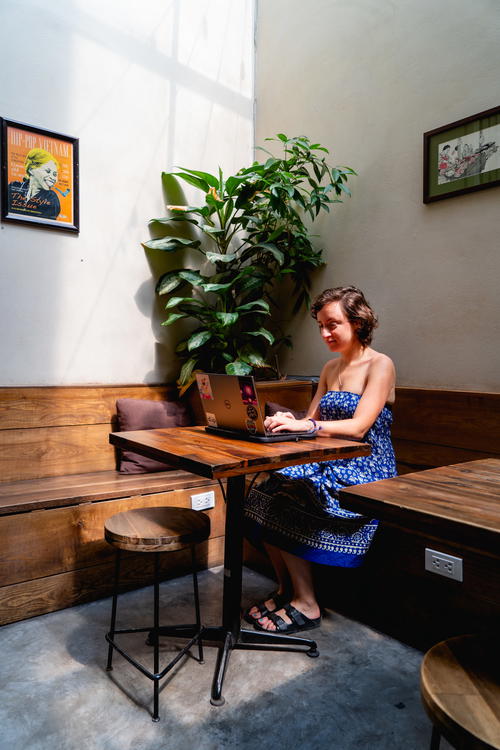 We visited two of Tranquil Coffee locations, and each provide their own personality with touches of wood, plants, natural light and cute tables. The menu consists of Vietnamese coffee drinks, an array of gourmet teas and a few fruity drinks. The WiFi is pretty consistent all the time, and they have a punch card you can use to get your tenth drink free.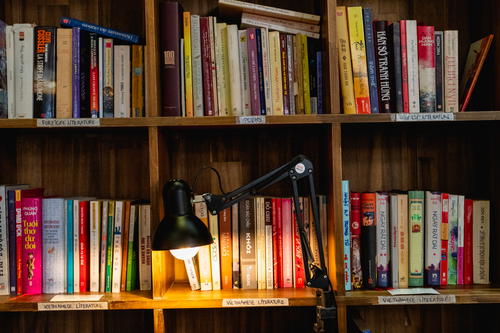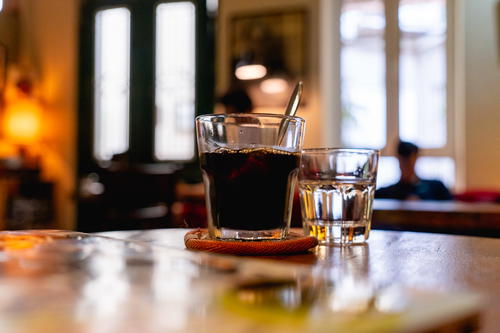 Blackbird Coffee
From the owners of Tranquil comes Blackbird, a cute cafe not too far from the action near Hoan Kiem Lake that takes its theme after the Beatles song "Blackbird."
We've never had a problem with the WiFi, which is strong enough for getting a lot of work done, and the staff is nice. As a plus, they take credit card! They also have a punch card that we enjoy filling up to get our tenth drink free. The interior has lots of wood and plants, and there is outdoor seating where you can people-watch.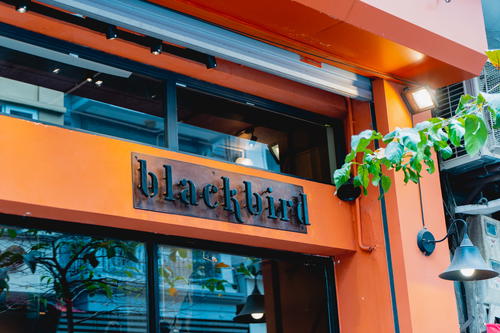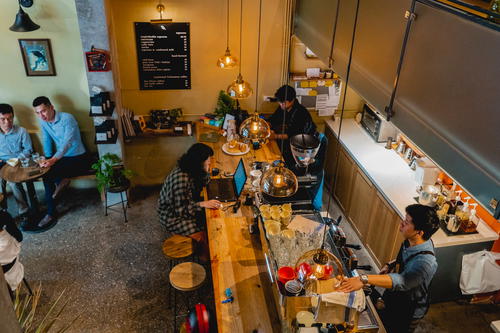 Joma Bakery Cafe
Joma Bakery Cafe is a small chain of cafes that have set up shop in a few parts of Southeast Asia. Incredibly, I recall having been at one of their first locations in Vientiane, Laos, back in 2009.
Joma provides a dab more of a commercial feel with seating for lots of people near the counter, outside in a courtyard and in their "dining" area, an enclosed room of strong A/C, more natural light and lots of tables and chairs that are ideal for sitting with a laptop. The food menu is extensive for brunch foods and even includes bagels.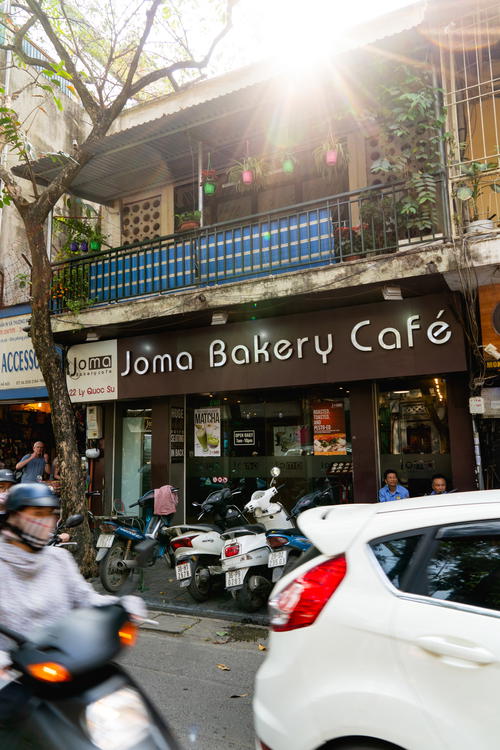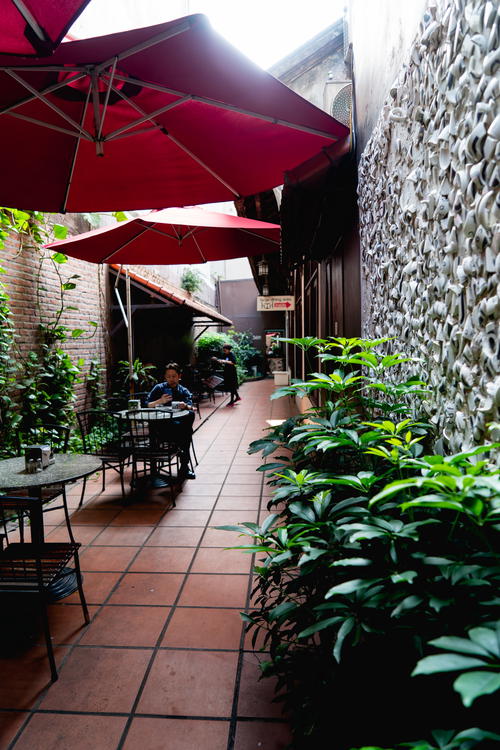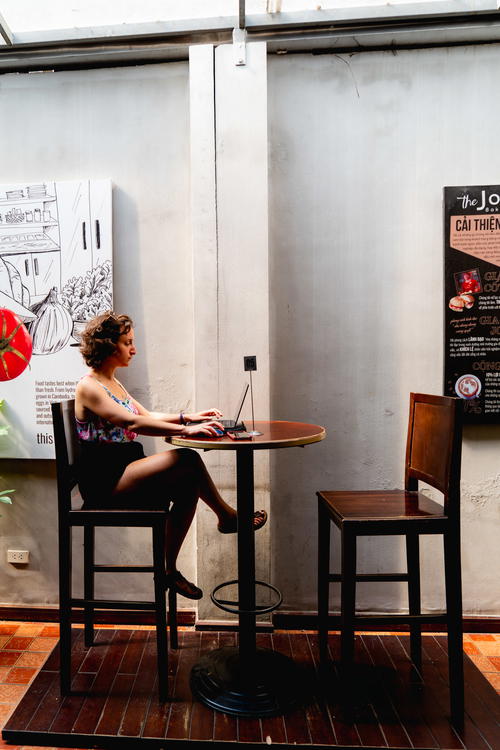 Xofa Cafe
Xofa Cafe is not somewhere where we ever sat down to work, but we stopped by with friends to check out the scene. At Xofa, you can get food, coffee, tea or alcohol, and you can sit anywhere where there's a table and chair inside this two-story mansion-converted-into-a-massive-cafe. There's WiFi, some social areas and some quiet areas.
Bonus: Xofa, and its neighbor Puku, are both open 24/7 so you can go at all hours of the night to finish up work or keep the party going.
The Coffee House, 56 Ba Trieu
Reportedly closed, 2023
Due to its location south of the lake and into the "real Hanoi," The Coffee House is a place popular with locals for catching up over coffee or little cakes.
The cafe consists of three floors, with a room on the second floor being reminiscent of a coworking-style space with a large table, several smaller tables and an overall low noise level. There's also outdoor seating on a few balconies. The coffee is good, they take credit card and the WiFi was strong.
Best Coffee shops & Tea Shops in Hanoi
Hanoi has some fun cafes. Some are what I would call Westernized, where you can find coffee drinks reminiscient of those you'd find at home, while some are traditional Vietnamese spots, where you can try authentic treats like Vietnamese coffee or egg coffee (ca phe trung).
The Note Coffee
The Note Coffee is the height of the Hanoi Instagrammy cafes where you'll want to go for a coffee and surely, for a few photos. When you enter at street level, you'll notice (note-ice) that everything except the cash register is covered in layers of post-it notes left by customers over the years since 2012.
Go up the narrow staircase to the second floor and you'll see a room with a low ceiling where not one speck of white wall has been left. Continue up the stairs, though, to the second and third floors, where you can sit in bright airy rooms that overlook Hoan Kiem Lake, and start writing your post-it note to leave as your legacy.
Helpful Tip
Bonus: did you find ours? We left three post-it notes signed "@halfhalftravel" in February 2019.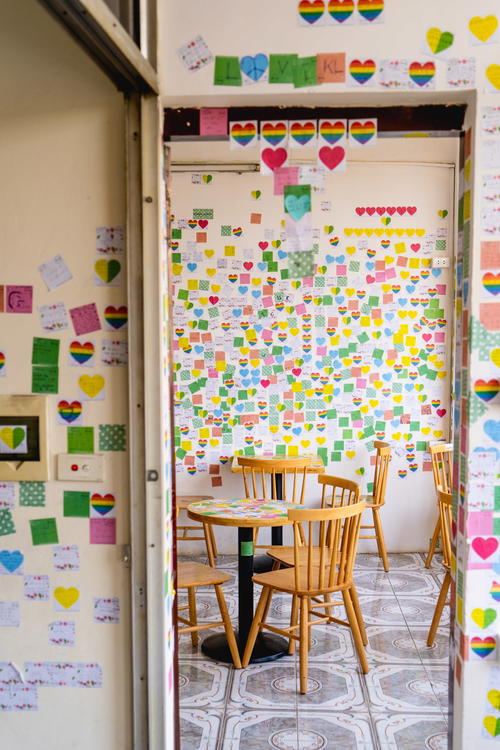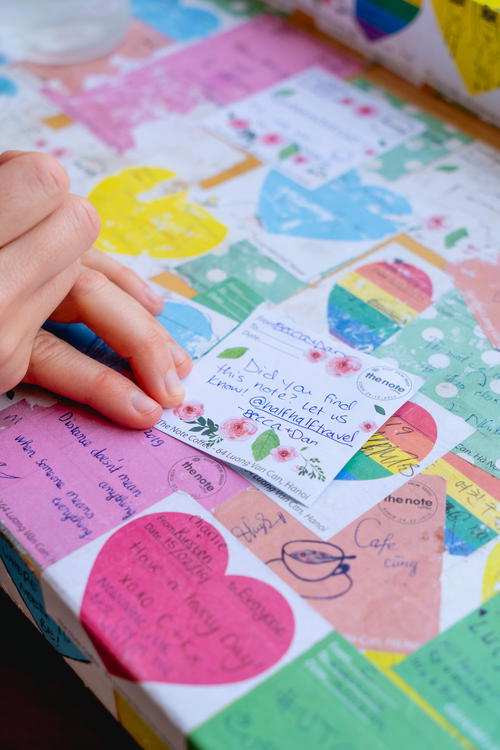 Highlands Coffee
Highlands Coffee is a chain much like the Starbucks of Vietnam. What we like: their cafes are always big, with free WiFi, and typically with good views of the most prominent sight nearby.
The Highlands Coffee closest to the top of Hoan Kiem Lake has an excellent view of what some refer to as the "roundabout," a rather lawless type of intersection where you can watch cars, buses, bicycles and motos all intersect peacefully on their trajectories. Highlands Coffee takes credit card.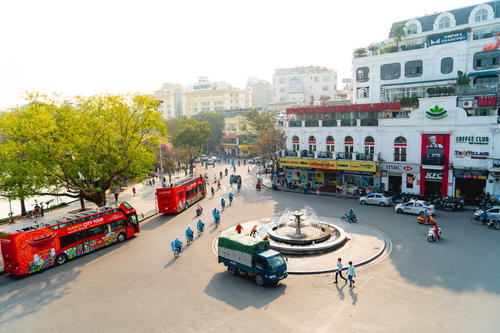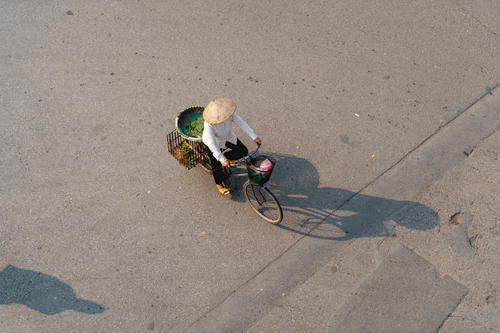 Feeling Tea
Translated from the original Taiwanese name "Cha Gan Jue," or, "Tea Feeling," Feeling Tea is one of many Taiwanese-style bubble tea joints that are scattered all over Hanoi.
Adding "bubbles" (sweet tapioca balls) comes at an extra fee of about 2000 Dong, which luckily will not break the bank. Other types of bubbles come at other fees. The menu consists of various combinations of black tea, green tea and oolong tea flavored with fruits like mango, lychee and kumquat.
Cafe Dinh (egg coffee)
Cafe Dinh is a step into old school Hanoi. We met up with a friend of a friend there for our first egg coffee experience.
The cafe is located up a tight semi-dark staircase at the end of a hallway, and once you arrive to the second floor, you'll be experiencing a piece of Hanoi history. Egg coffees come at around 20,000 VND, and you'll be treated to little bowls of sunflower seeds to munch on. Cafe Dinh is popular with both locals and tourists who've heard of the place.
Lifted Coffee & Brunch
Lifted Coffee is an Australian-themed cafe and brunch spot in Hang Bo, outside Old Quarter, and it is very popular with foreigners.
You can get brunch foods that remind you of home (helpful if you've been traveling for a few months on end). They have coffee, outdoor seating on a balcony, WiFi (not strong enough for working, from our experience) and a cool painted wall on the second floor.
The Nest, Board Game Cafe
While we would not truly recommend The Nest for a peaceful working experience, we do recommend it for playing board games and having tea, coffee or a smoothie.
When we went to The Nest, we found ourselves surrounded by young Vietnamese kids, all roughly high school and college age, joyfully playing board games in groups both small and large. If you're into games, this is your place!
Conifer Coffee
Conifer Coffee is located in the Old Quarter and has three floors of seating, where you can look out at the street from any level. There's WiFi, food options and lots of coffee and tea. You can go as high as the third floor for a cool look-out at the traffic!
Where to Find Healthy Snacks & Smoothies in Hanoi
Nuoc Qua Ba Noi, 41 Ly Quoc Su
Nuoc Qua Ba Noi also goes by the name "Grandma's Juices," and you can find it on the popular street Ly Quoc Su. It is our favorite juice place for an after-lunch juice.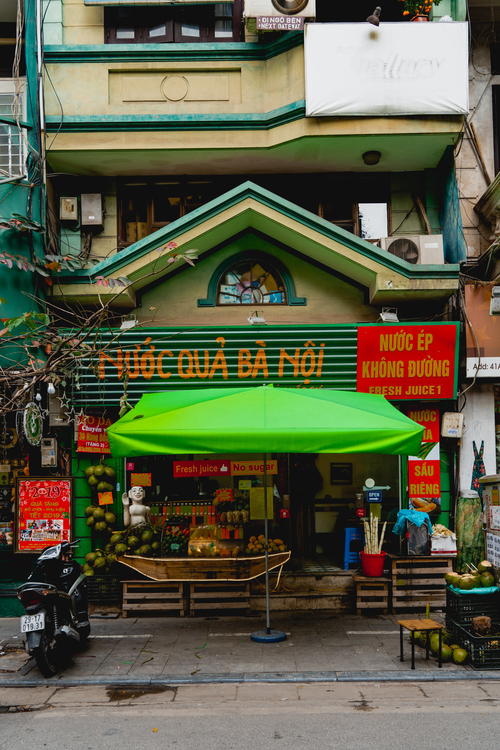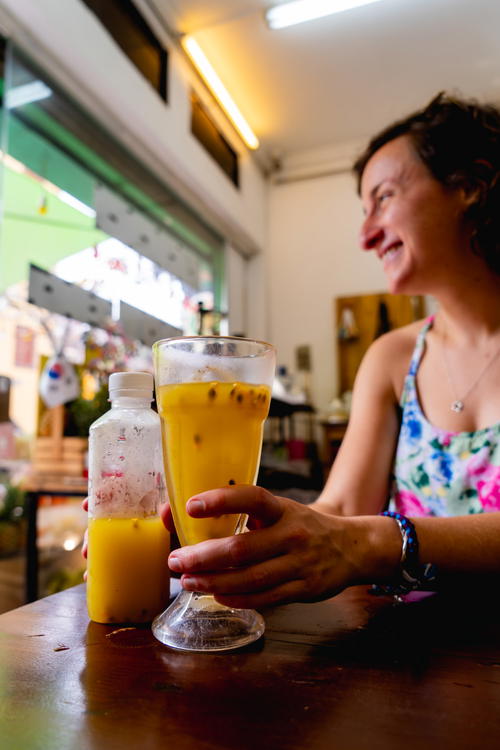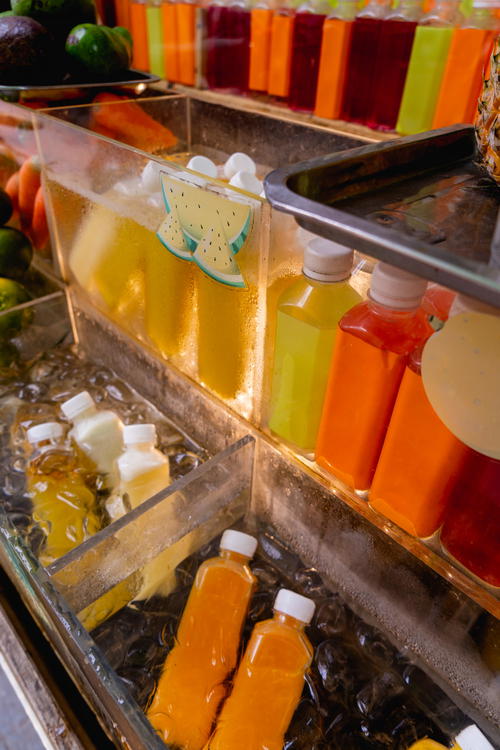 What's best about this place is that by default, everything comes with no added sugar. On the street, there are a few tubs of bottled fresh juices in ice baths, so you can grab one on the go. Or, you can sit inside with a made-to-order no-sugar smoothie. Dan's favorite is mango banana and Becca's favorite is passionfruit sugarcane.
Be Organic
Be Organic is a cute and chic organic foods store that serves smoothies and coffee. Located on the famous "Food street," it's open 24/7, should you have a craving for smoothies at any time of day. They also sell imported health food products like non-dairy milks, pastas and jams.
Fresh Juice Bar, Hang Bo
"Fresh Juice Bar" on Hang Bo is our juice place closer to where we stayed for four weeks near the Old Quarter. The menu is an entire page of juice and smoothie choices. There's a section for banana smoothies, which are all very creamy, and you can even get a banana-coffee smoothie.
If you prefer no sugar or no milk in your smoothie, check twice with the person who takes your order and repeat it in Vietnamese from a translation app in order to be crystal clear.
Best rooftop bars and nightlife in Hanoi
Diamond Sky Bar at the Hanoi La Siesta Diamond Hotel & Spa
This is a beautiful rooftop bar with a view of everything down below and a sunset to the west. There's happy hour deals and an array of nice food to order. There are not all too many seats, so the setting is considerably intimate.
Skyline Lounge, Tirant Hotel
Skyline Lounge is the top level of the Tirant Hotel, and the view is a 180 panorama of the Old Quarter as far as the eye can see.
The level below has a pool that we kind of want to jump into the next time we go there. Prices are what you'd expect for a hotel bar on a rooftop in Hanoi - cocktails are between 150K and 200K VND, and non-alcoholic drinks will be in the 60K-80K range.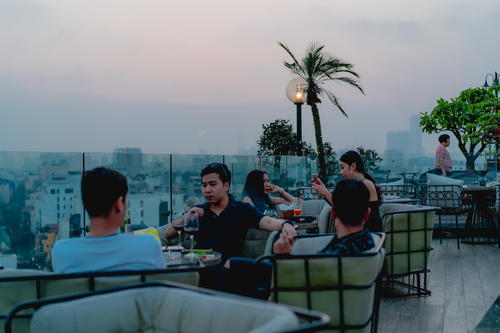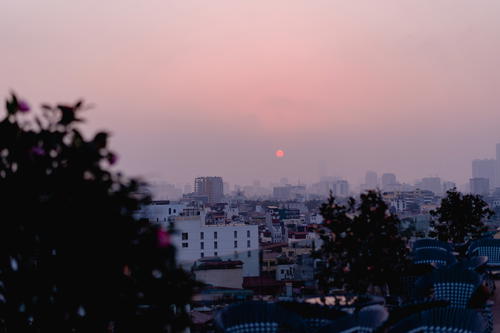 The Alchemist (cocktail bar)
The Alchemist is a cool cocktail bar on the upper level of an old building on Nguyễn Quang Bích. Cocktails start at about 120K VND and go up to 200K or more. It's hard to order wrong, as they're all hand-crafted and yummy.
Prague Pub
You'll probably see Prague Pub somewhere near Ma May or Beer Street, and then you'll see it again and do a double-take. That's because there are about five Prague Pubs scattered throughout Old Quarter.
You can get beer or cider at Prague Pub and you can probably snag a seat outside on the sidewalk with some locals. Prices are not expensive.
Pateta, Ma May
Pateta is a break from the loud street-level bars on Ma May, and that's because there is a second floor where you hear much less of the ruckus down below. There is a menu of craft beers, and you can also get a mojito or margarita. They also serve bar snacks.
Xupito Bar, Beer Street
Xupito Bar says it's Mexican style with tapas, but even if we're not so sure about that, you can still use Xupito as a meeting spot if you want to meet up with friends near Beer Street.
Xupito sits at the edge of the congestion, and we went on a Monday night in order to avoid the big crowds that come to this intersection for partying on weekends. If you sit on the stools and short tables near the front, you'll get offered street food snacks by the vendors that pass by.
Best local Vietnamese food in Hanoi
We like to keep our budget small and our food experience big, and in Hanoi, the best food is found on the street or in local street-side stalls. This is great for anyone who wants to actually save money during travel.
Our most memorable Hanoi eating experiences were in tiny plastic chairs in the Old Quarter, sweating over delicious hot soup, and sitting in the terrace of Banh Mi 25 overlooking motos zipping through the streets. We urge you to try everything!
Banh Mi 25 ($) (Vegetarian Friendly)
Banh Mi 25 is hands-down the best! This place (in its three locations within a 2-block span) is everything you want - banh mi (vegetarian-friendly, too), a small menu of juices and even coffee.
Their street-side stand is for takeaway, the sit-down cafe-style Banh Mi 25 across the street is for sitting down and having waiter service and down the block, Banh Mi 25 "Work & Chill" is a second-floor relaxing place to have a banh mi, look down at the street and spend a while.
Try to meet the owner, as he's really friendly and speaks great English. He'll love if you spread the word about Banh Mi 25!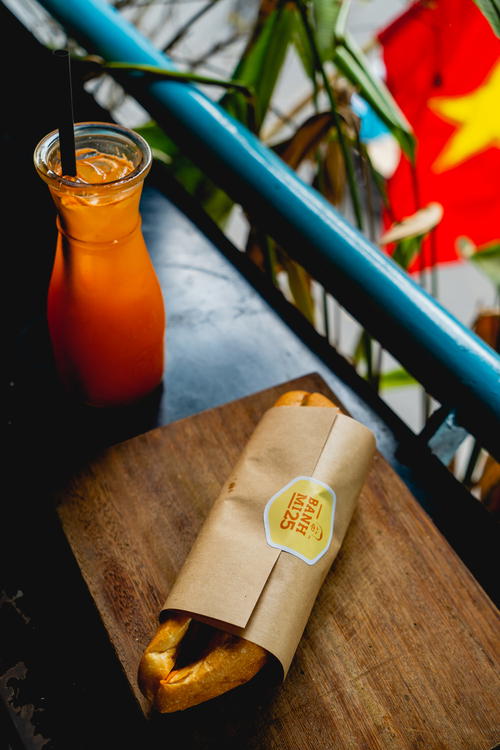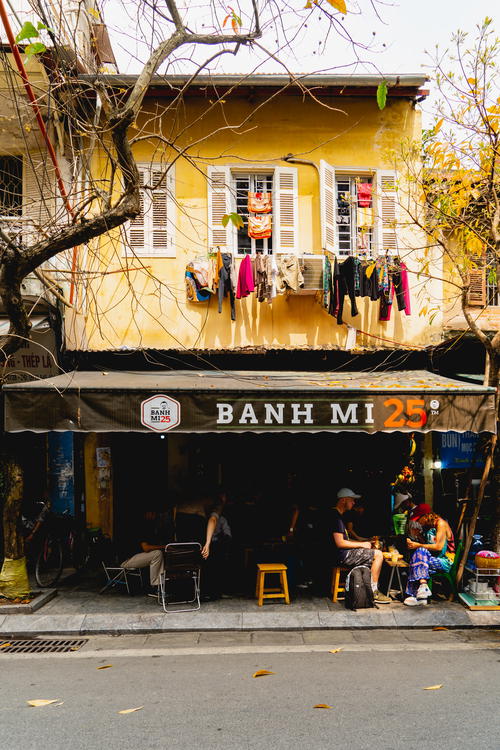 V-Cuisine ($) (Vegetarian Friendly)
V-Cuisine is a place we found with two locations, one on Hang Giay and one on Ma May, both offering a big menu of Vietnamese typical meals and a few pages dedicated to vegetarian food. You can find everything here, from pho, my default gluten-free travel food to Dan's favorite, mee noodles fried with eggs and vegetables.
Most items on the menu are between 40K and 60K VND. Bonus: they take credit card.
Pho 10 Ly Quoc Su ($)
Pho 10 is an exceedingly popular place for mostly one thing: pho bo (beef pho noodle soup). There is sometimes even a line out the door. Go here if you like beef pho and you want it fast and consistent. The portions are big and mostly everything on the menu is 60K VND. Pho 10 is a safe bet if you're looking for gluten free food options.
Little Vietnam ($) (Vegetarian Friendly)
Like V-Cuisine, Little Vietnam has good food and everything is consistent, time after time (we'd know, because we went twice in one week). Several pages of the menu are dedicated to vegetarian options. There's free WiFi!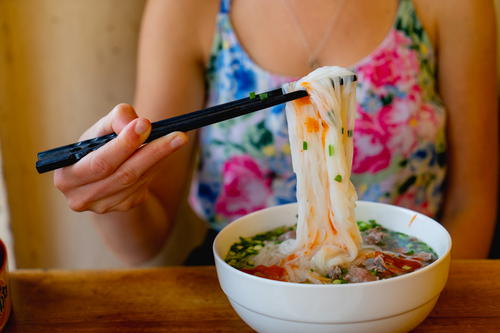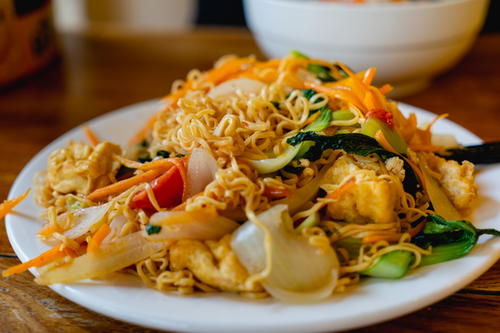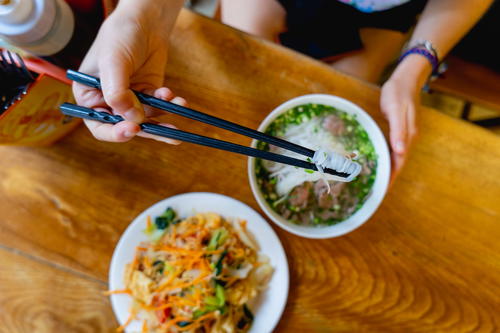 Quan An Ngon, Phan Boi Chau ($$)
Quan An Ngon is a nicer restaurant with slightly higher prices than the other restaurants we've mentioned. Here, you'll get friendly waiter service, get your questions answered in English and sit in an indoor-outdoor garden-style environment.
Cau Go Restaurant ($$$)
Cau Go Restaurant is an option if you're dining out for an occasion. The decor is beautiful, and there is balcony seating with views of Hoan Kiem Lake. Prices are higher here, and that's because the food is high quality and the menu is extensive. Credit card is accepted.
Banh Cuon Ky Dong on Food Street ($)
We were so glad when we discovered Food Street, Tong Tuy Dong. A place we ate at twice is Banh Cuon Ky Dong, and the menu is simple, but is just what we typically want - noodles, vegetarian options and a few drinks.
Vegan Banh Mi ($) (Vegetarian Friendly)
Vegan Banh Mi isn't in the Old Quarter, but it is a vegan dream for many adhering to a strict diet. It's cash-only, down an alley, a little bit hard to find (but we got pointed in the correct direction by a local) and has an English menu.
The menu consists of vegan items like vegan spring rolls, two types of vegan banh mi sandwiches and some vegan desserts. This is a good place to stop for lunch, and if you stick around the area, there are a few cafes to visit that we recommend.
Best Sights to See on a Trip to Hanoi
Dong Xuan Market
Dong Xuan Market (Cho Dong Xuan) is ironically somewhere we didn't get to go until our last day in Hanoi! This massive market is where locals do their shopping, and where visitors love seeing the insane high volume of goods and different parts of the market stalls.
In only a few minutes, we saw the home goods section (we picked up souvenir wooden chopsticks), the dresses section, the shoes section and the dried fruit section out front. If you like markets and bargaining, this place is for you!
Train Street (disclaimer)
Helpful Tip
Hanoi's Train Street has been closed to tourists (2019), reopened (spring 2023) and officially-unofficially closed again, as per the Vietnam Government and authorities. Many blogs will report that it is fully open to visitors, or fully closed, so we urge you to ask around among expats or Facebook groups when you land in Hanoi, if you wish to try to visit. Things change very quickly in this part of the world, so even a travel blog that reported an open/closed experience one month ago may not be accurate.
Train Street is an attraction that seems to have gotten momentum and exposure since the age of Instagram. The street got its English name from the fact that it's a street with the backs of buildings and homes facing either side, but instead of a road, it's train tracks.
Several times a day between 7 and 8pm on weekdays and more sporadically throughout the weekend days, a train passes down the street and it will pass only inches from your face. Lots of people look up the train times and stick around to watch.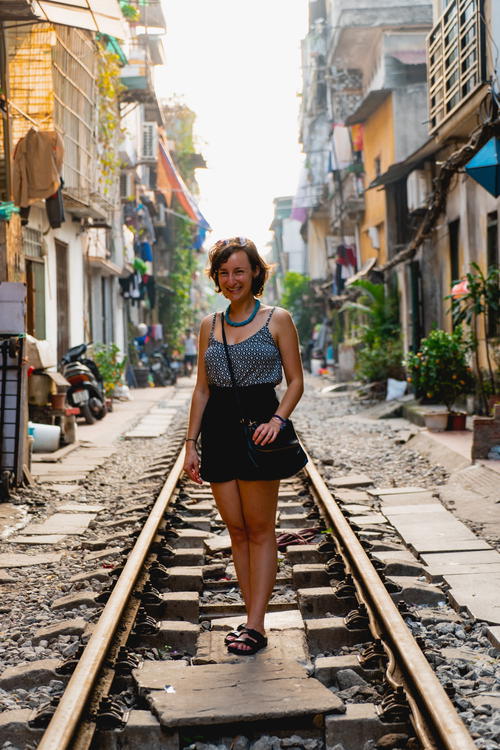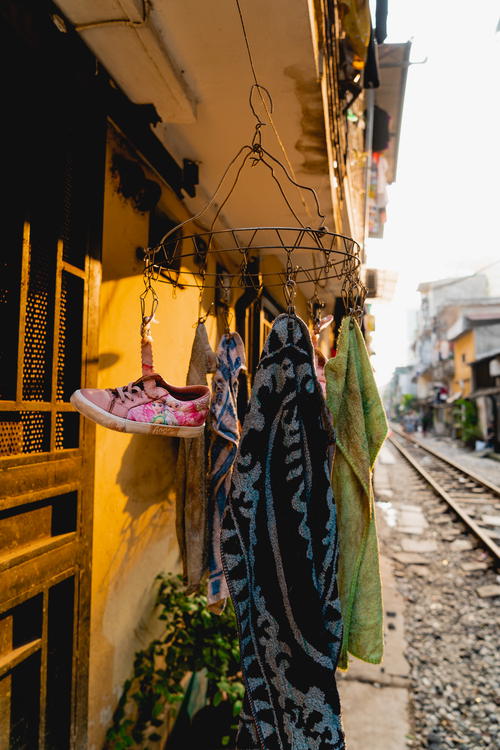 When the train isn't passing by, Train Street has a nice perspective to it that lots of people like for photos. In recent years, the locals whose homes face the tracks have turned their bottom floors into cafes and bars, so you can enjoy an egg coffee, smoothie or beer while you wait for the train to pass. It's a lot of fun, and provides an interesting alternative to sitting on a traditional type of street! BE SAFE!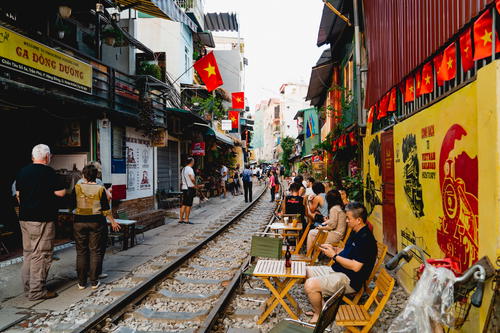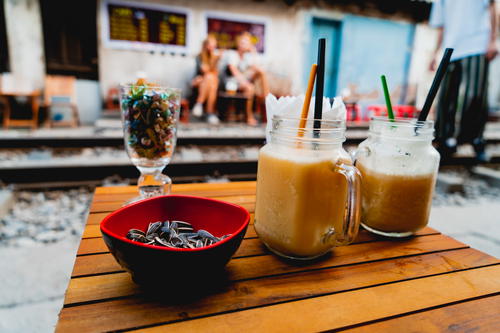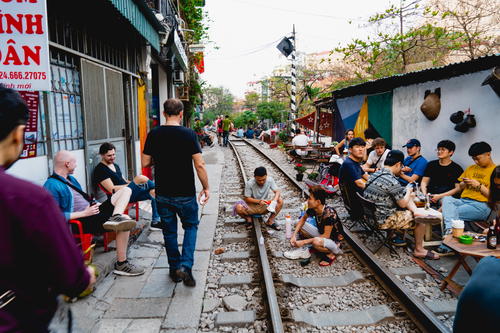 Hoan Kiem Lake
Hoan Kiem Lake is the main attraction of Hanoi, and it's where locals and travelers love to wander outdoors, spend time with family, see street performers and exercise. The lake is like the center of culture in Hanoi.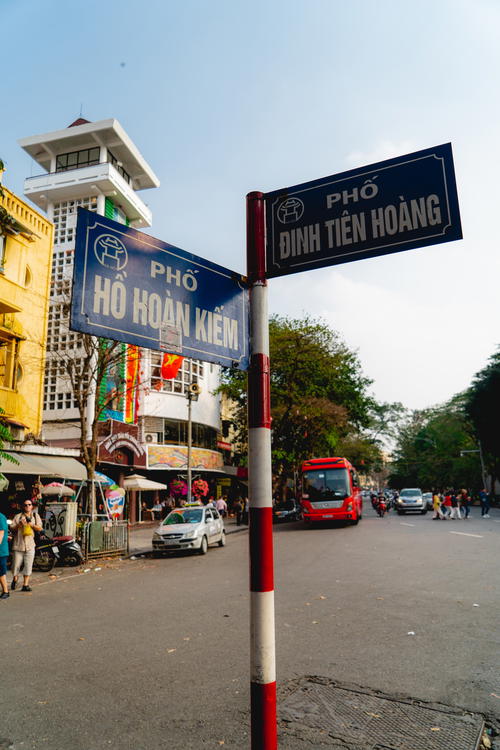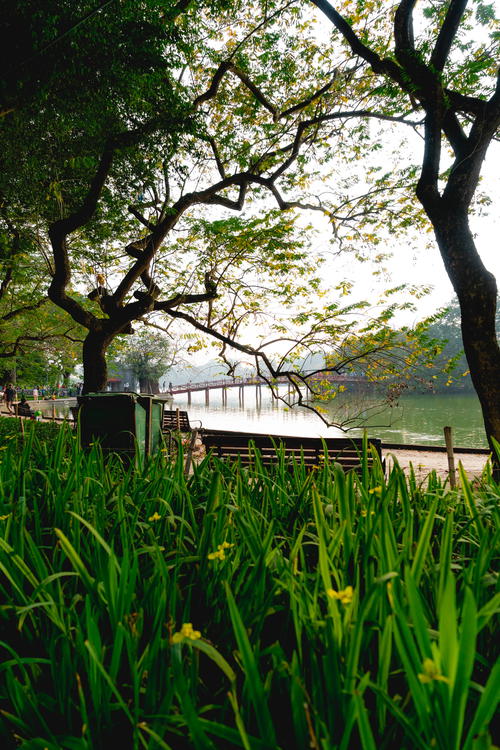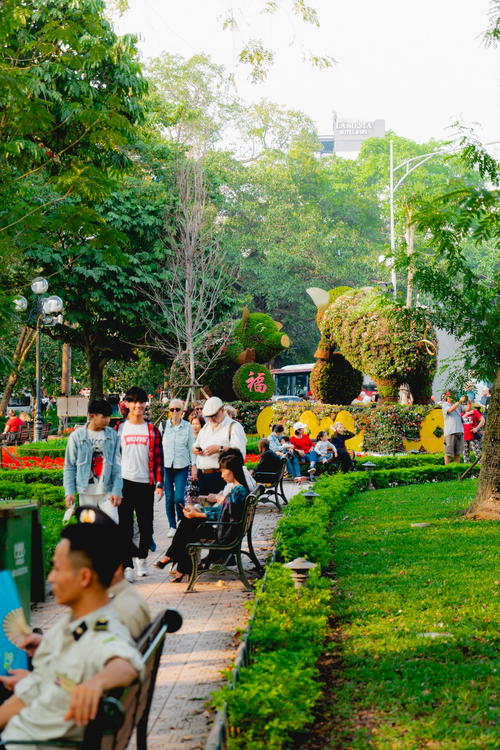 During weekends, the street that loops around the lake is closed, so people can wander freely in the circular road like a pedestrian avenue. It's also great for running, strolling and biking. On the eastern side of the lake is a bridge that leads to a small pagoda (an entrance fee is required). If you come at night, you'll see the bridge lit up in red lights and reflecting in the water.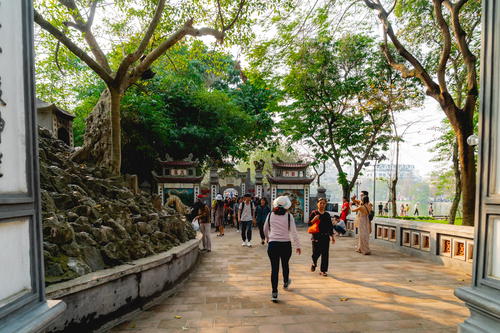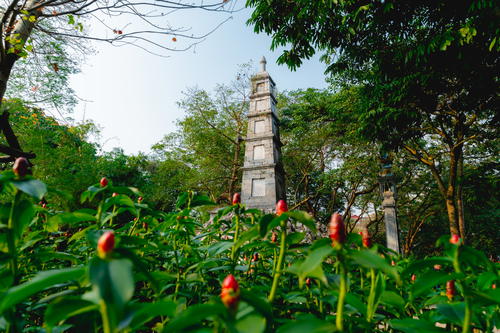 Around the lake are lots of vendors who sell fruit, meat on sticks and crafts like paper cut-outs or wooden toys. At both the top and bottom of the lake are a bunch of cafes, restaurants and shopping.
Ho Chi Minh Mausoleum
Another one of Hanoi's most famous sights, this one has to do with history, respect to "Uncle Ho" and the government of Vietnam. Entrance to the Mausoleum grounds themselves and the adjacent sites are free, but remember to dress appropriately out of respect (shoulders need to be covered - a scarf will do!).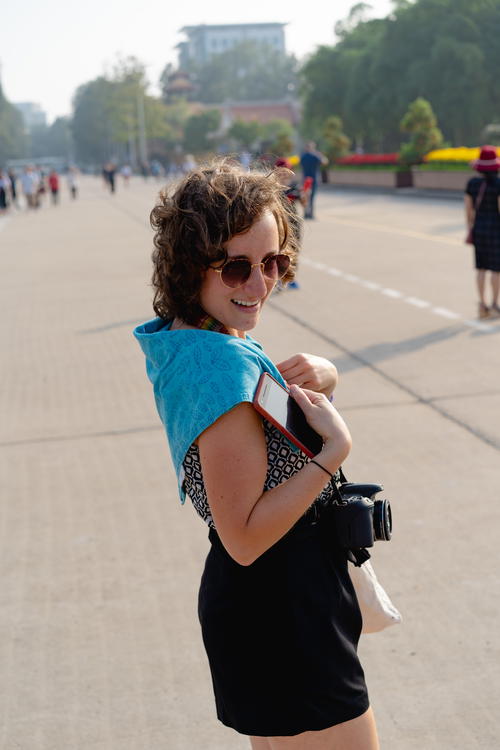 Ho Chi Minh's body is inside the very stately concrete mausoleum, which stands tall in the center of a very large square and is guarded by guards wearing all white.
One Pillar Pagoda
This is a pretty pagoda next to a pond in the park adjacent to the mausoleum and museum. We went during Vietnamese New Year (Tet) and there were lots of locals going up to the pagoda for prayer. Surrounding the pond are lots of food and souvenir vendors, and some benches where you can rest.
Chua Tran Quoc (Tay Ho)
Tay Ho is both the name of the lake to the northwest of Hoan Kiem Lake and the name of its nearby neighborhood, which is home to lots of expats. Tay Ho has a bridge that you'll come across if you approach from the south or from the Old Quarter. There's a lakeside promenade walkway and you can catch the sunset here.
Den Quan Thanh (temple)
This is probably our favorite temple in Hanoi. We went at 4:30pm right before closing time, and it was very serene.
In fact, there were only about three other people there at the time, besides the two men at the entrance. Admission is 20K VND per person (less than 1 USD) and was well worth it, to see the peaceful temple interior and the fruit trees that line the entrance.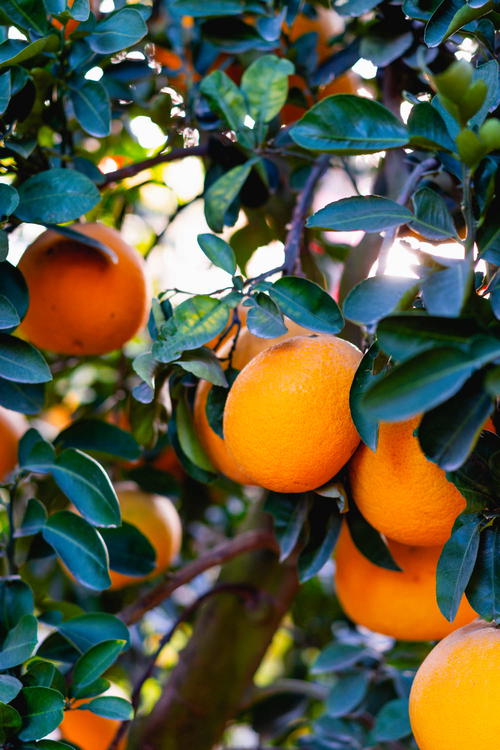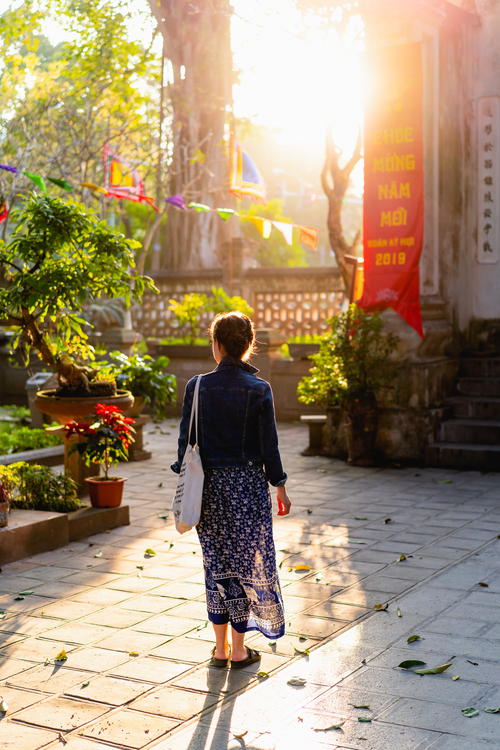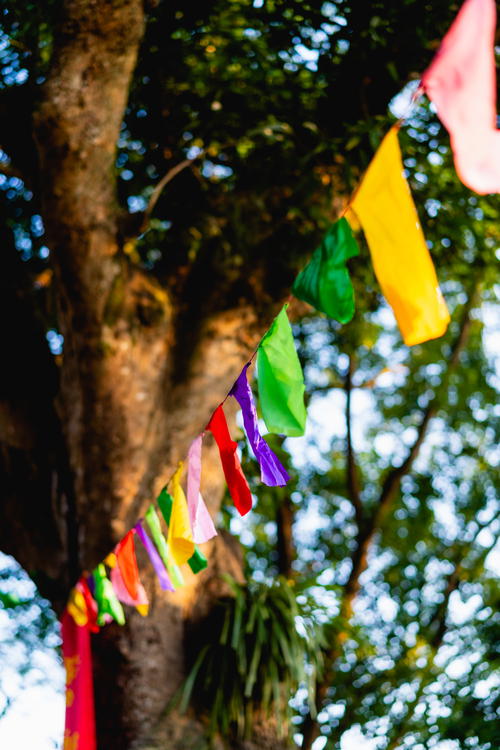 Our favorite Snacks, Food and Fun Shopping Spots
Circle K
This is the Vietnamese version of 7Eleven or FamilyMart. Circle K is every few blocks, and the store is good for snacks, bottled drinks, sweets and random things like batteries. Our favorite Circle K 'healthy' snacks are dried pineapple, dried guava, peeled chestnuts, coconut water and a sports drink when it's really hot out.
Miniso
Miniso is a store we started seeing more and more around the world, everywhere except the US. Having first noticed Miniso in Mexico, we were delighted to see several Miniso stores in Hanoi, where we decided we needed more things like headphones and body products.
Miniso is like Uniqlo but for 'stuff,' and accessories. You can get wallets, small electronics, flip flops, nail care products and water bottles. Every time we go to Miniso it's like we realize there's something we didn't have yet that we have to get.
Intimex
Intimex is the only proper grocery store we were able to find in Old Quarter and Hang Bo. This is as big and varied as it'll get, if you want to shop for groceries and be able to use a credit card.
On the first floor, there's fruits and vegetables, eggs, a selection of frozen meats and freezer food. On the second floor is where you'll find more packaged goods like nuts, dried fruit, milk, bags of noodles and a lot of home products like detergents and soaps.
Vinmart
Vinmart is like a smaller-size grocery stores, usually pretty compact and without tons of variety. You'll see several in the Old Quarter and nearby. Expect a small selection of fresh produce in a single fridge, a few types of oils and seasonings, packaged goods, snacks and some household products. For quick snacks, we prefered Circle K, but Vinmart was a good bet for a fruit or vegetable if we were passing by.
Places for self-care and beauty in Hanoi
Ngoc Anh Nail
This nail salon was a good find. A pedicure was 100K VND, or less than $5 USD, and it was cleaner than other places I'd been to.
Massages
Southeast Asia is known for being a region where you can get a massage, and Hanoi is no exception! Most streets in the side of the Old Quarter closer to Ma May will have a plethora of massage parlors, so you can shop around for the best rate.
Enjoyed our article?
Consider supporting us! We're a 2-person team (learn more about us here) and your support enables us to create quality content. Thank you!