Western Rise Review: What to Know Before You Buy
Written by Dan
•
Updated on September 6th, 2023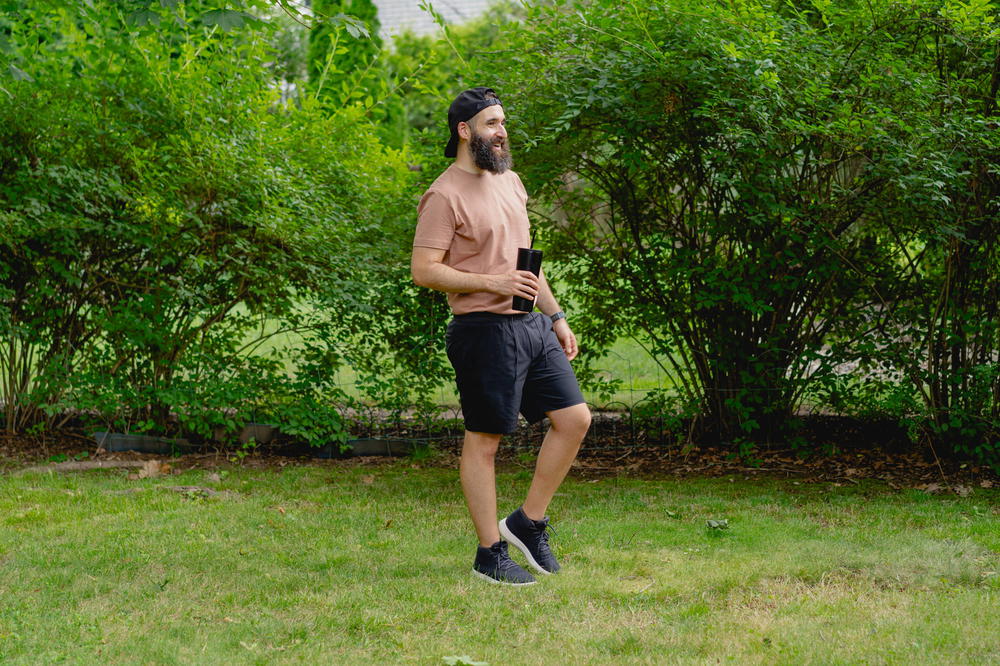 Before you buy Western Rise apparel for men, see my honest review of their shorts, pants, tees and button-downs. See if Western Rise versatile travel apparel is right for you.
This article may contain affiliate links. We earn a small commissions when you purchase via those links — and it's free for you. It's only us (Becca & Dan) working on this website, so we value your support! Read our privacy policy and learn more about us.
I've been wearing men's products from Western Rise for quite some time now, both at home as loungewear and on the go, when we take a trip.
Western Rise is a men's apparel company made for guys who want versatile clothing that performs during travel and daily life. The company's aim is to create simple products that take detail into account for efficiency, so that you can wear the same pair of pants for multiple purposes in your schedule, for example.
They also focus on timeless style and colors, so nothing is even close to the fast fashion trends you'll see elsewhere.
In this product walk-through, I'll be sharing my personal experience and thoughts about several different types of Western Rise products. I've split this guide up into articles of clothing, but it's also important to know that there are several distinct types of fabrics that each article is categorized into.
This review was sponsored by Western Rise; however, I've been wearing Western Rise clothing for many years and I am happy to share my own thoughts and opinions. Western Rise has had no influence on the opinions shared in this article, other than helping to provide the items to test out.
Let's jump right in!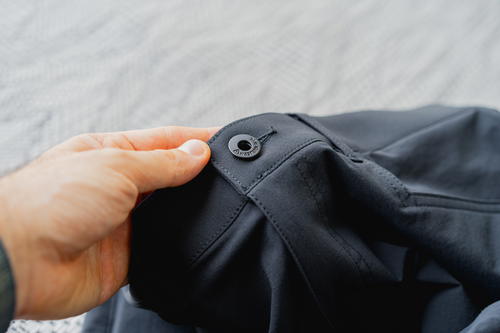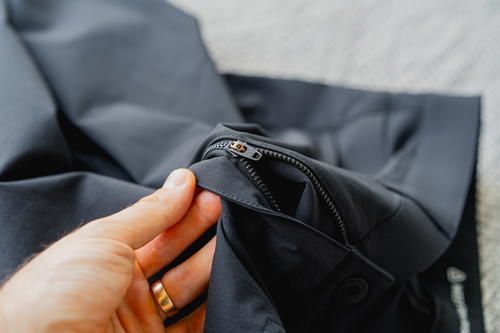 Pants
The following pants items are what I got a chance to check out as I dove deeper into my experience with Western Rise products. You'll find some of my thoughts about each style of pants, and how they fit! Basically, Western Rise pants have so many lives to live because of their multiple uses, and they'll let you pack like a minimalist.
The Evolution Pant 2.0 is a new iteration of the original Evolution Pant. These pants are ideal for travel, and for that reason, they are very thin and lightweight. They are great for warm weather, if you're someone who prefers wearing pants over shorts.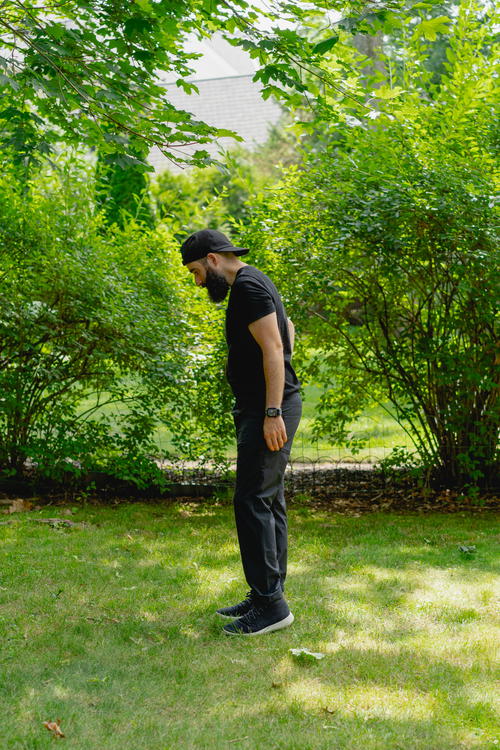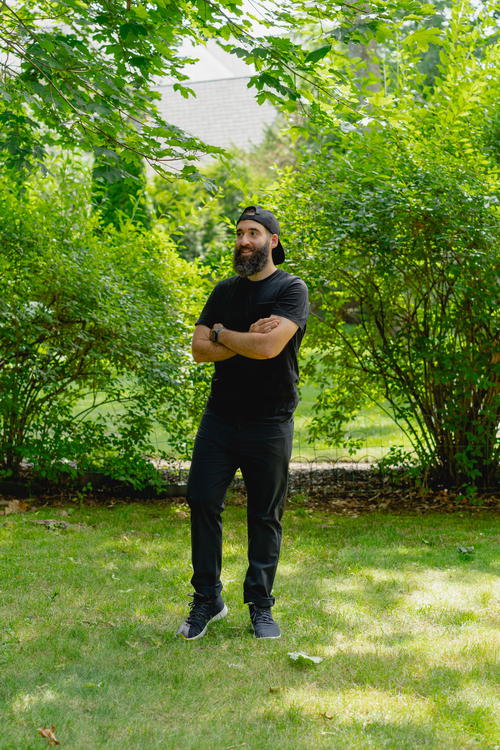 Because the Evolution pants are so thin, they fold up much smaller than other regular pants from other brands. You'll see them mentioned as an all-star in my list of the best men's travel pants.
As for stretch, the four-way stretch Evolution fabric is what I'd call "moderately stretchy." It's the type of stretch where you might not notice it, but you'd be glad you have it if you bend down or if you're doing physical activity. It's not as stretchy as, let's say, joggers, or something made from only polyester.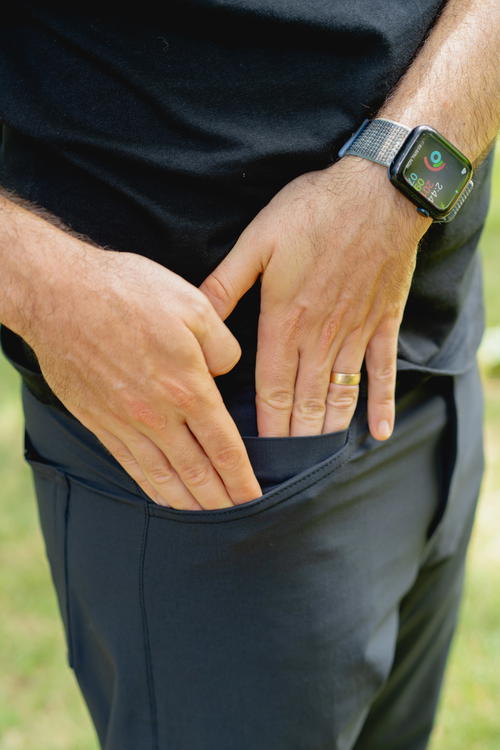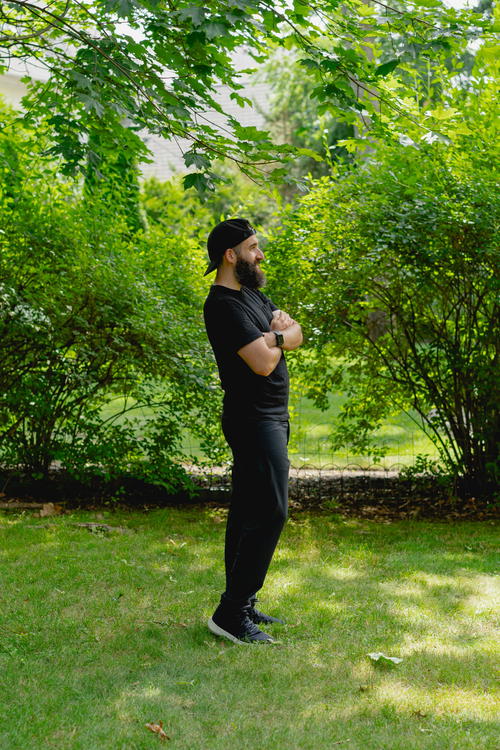 The Evolution Pants fit as expected, as in, they're true to size. I have a 33 and I wouldn't want a 32 or a 34.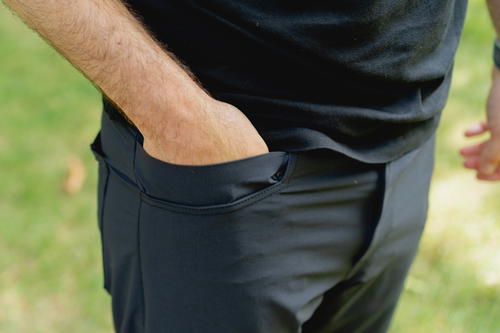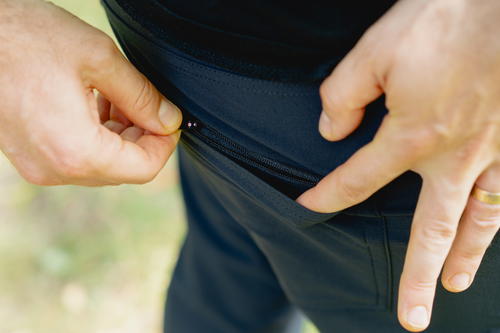 Because they are so thin and lightweight, they make a great travel pants choice. They fold up in a packing cube and hardly make a dent.
Photo via Western Rise
At first glance, the Diversion Pant looks a whole lot like the best-selling Evolution Pants, but, traveler beware! The Diversion Pant is double the weight when it comes to the fabric.
The Diversion pants are like a classic pair of pants for taking on a trip when you're not totally sure what to expect: is this a trip that may need me to look decent? Will I have dinner plants, and will I be coming from a hike or a nature walk right before that?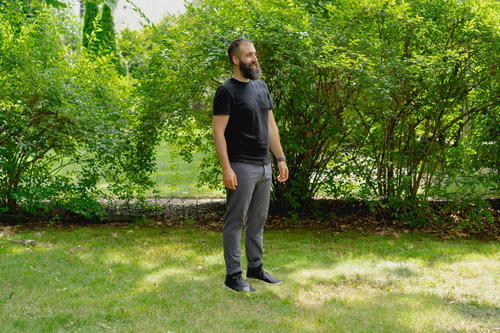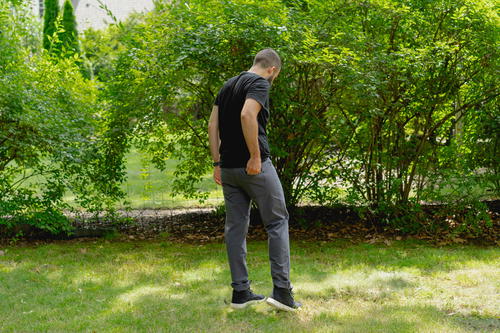 The Diversion Pants are truly versatile, and Western Rise built them for the "one-bag traveler," which pretty much described me for an entire year of my life when I traveled with Remote Year around the world, working remotely on the go!
These durable pants for travel pack in all those punches like being stain- and water-resistant, and with the easy blend of polyester and spandex, they can be thrown in a washer or even entrusted to a laundry service in your hotel.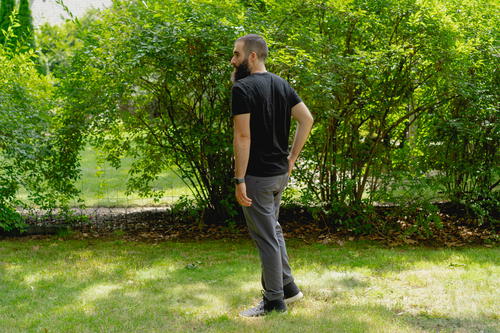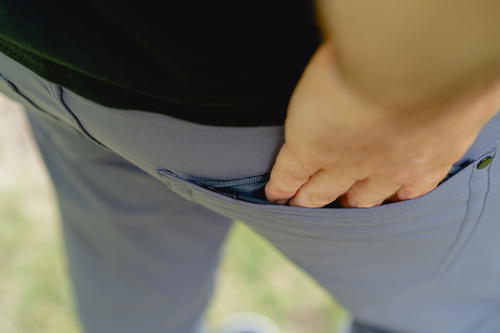 Like the Evolution Pant, I'm wearing these in 33x30, in Blue Grey. Notice the zipper pocket!
Photo via Western Rise
Difference between the Diversion Pant and Evolution Pant
So, what is the difference between the Diversion Pant and the Evolution Pant, and why would you choose one over the other?
The main difference, aside from what you can see in this photo in the back pocket studs, slight difference in belt loop width and diagonal stitching above the rear pockets, is the fabric weight.
While the Diversion Pant is a 286 GSM fabric, the Evolution Pant is specifically lightweight. You can feel this, when you run your hands over the two pairs at the same time.
The Evolution Pant was dreamed up to be the "office to travel pant" (think: leaving the office on a Friday afternoon for the airport!) and the Diversion Pant is Western Rise's answer to a "do it all" everyday pair of pants.
In terms of actual style, the Evolution Pant is a slim straight style, and the Diversion Pant has a slim cut with slight taper.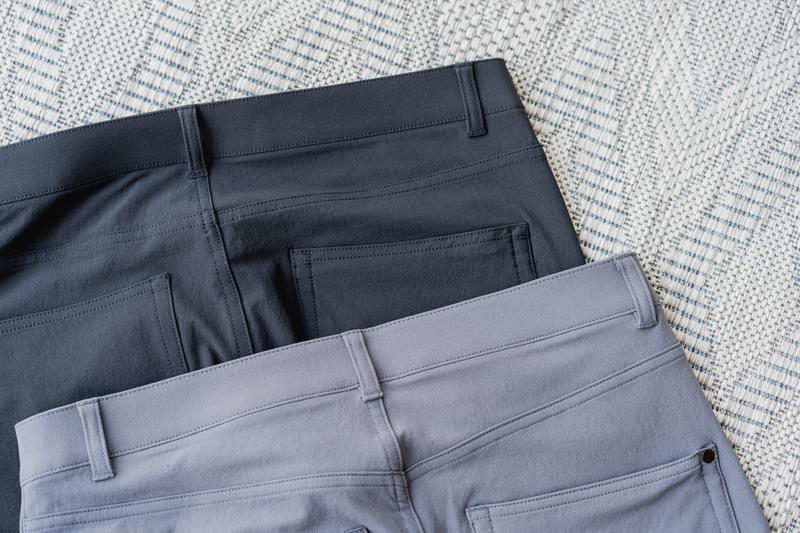 I tested a lot of travel joggers for men and the Western Rise Spectrum Jogger came out as one of the most memorable.
I like wearing these around the house as a form of athleisurewear, and they are also very comfy for a travel day like when we take a road trip (now with our baby!), or fly.
These joggers are perfectly suited to something semi-active like when we go for an easy nature walk during a trip, or when I'm sitting in the car driving for a two-hour stretch and then looking decent walking into a cafe that Becca finds for us in our destination.
The fabric has a four-way stretch from the lightweight polyester fabric that is lightweight and breathable. These joggers are an easy choice for taking as a "travel day pant" or having as the pants I'll wear at night when I'm lounging around the hotel before going in for the night.
I have these joggers in size medium and in navy. They're a pretty classic and timeless style of joggers, so they won't get going out of style any time soon and they're a fair investment for multi-use men's bottoms.
Photo via Western Rise
Shorts
The following shorts items are the products I've been testing out from Western Rise. You'll find some of my thoughts about each style and how they fit! For the past few months, I've practically been living in my Western Rise shorts every day. Becca can attest to that, as they're in every single laundry load!
I really like the Evolution Short. I think they fit great and they're comfortable. They have a 7" inseam, which I've found to be the perfect length for casual shorts. The inseam is flattering and doesn't make you think twice about looking good in them. I included them in my list of the best men's shorts for travel without hesitating.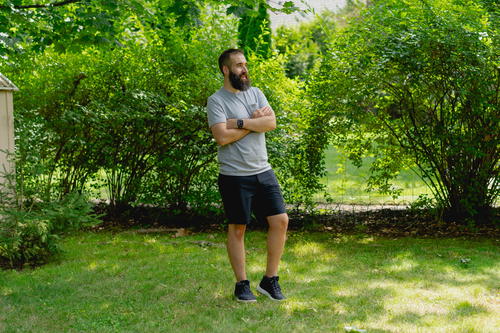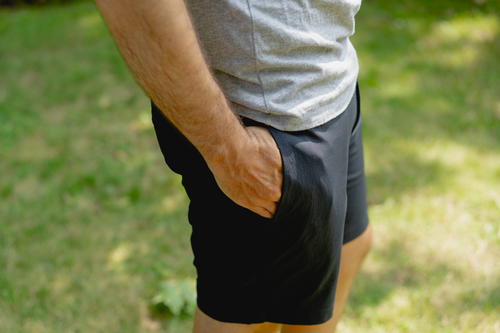 They're the same fabric and are basically "the shorts version" of the Evolution pants (reviewed above). Maybe that's obvious, but it took me a while to make the connection, so I wanted to call it out! I find that they look decent with most shoes, including the ones pictured here, which are my Allbirds high-top Runner-up Mizzles.
Expect a really stretchy and breathable pair of shorts in the Evolution Short. What makes this pair of shorts unique is the drawstring. You can adjust these shorts like a pair of workout shorts and you don't need a belt.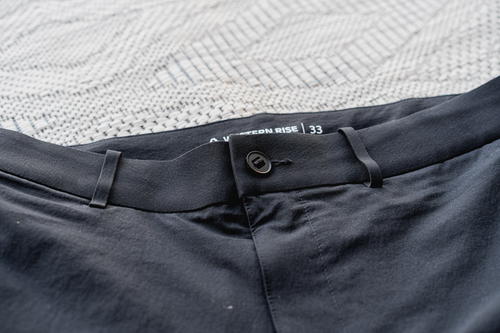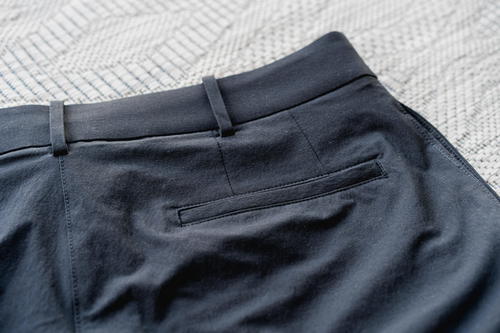 When I first tried the drawstring, I was a little put off at first. And even after a few wears, it still has me on the fence. On the one hand, it's great to never need a belt with these. You can adjust the level of tightness, which might be useful if you're wearing these shorts all day.
On the other hand, the drawstring sometimes gets in the way. If you tuck in your shirt, it's a little awkward having a drawstring poke out, unless you tuck that in, too. And if you go to the bathroom, you probably need to untie the drawstring.
Lastly, if you don't tie the drawstring, I've found that it's a little weird having it hang down.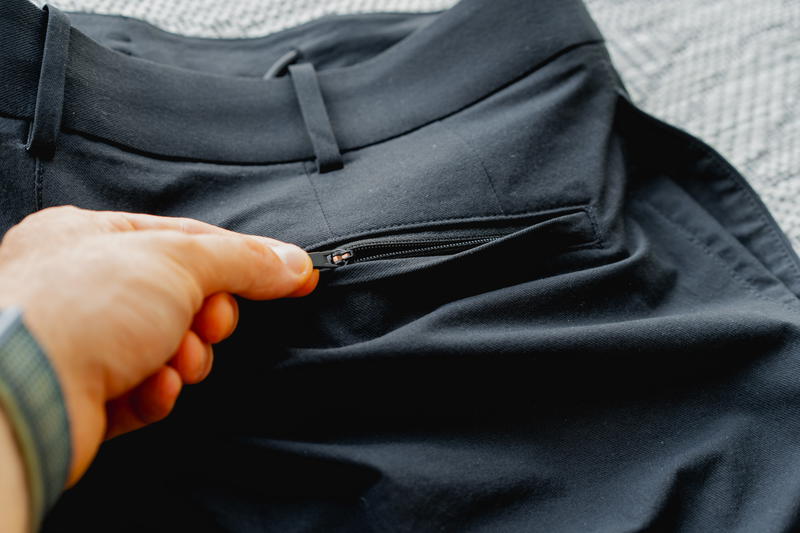 Even with the drawstring quirks, I still really enjoy wearing these shorts and I wear them all the time. The pros outweigh the cons, for me. I actually like being able to make "micro adjustments" with the tightness or looseness during the day. In general, the Evolution Short is one of my most comfortable pairs of shorts that I own. The zipper pocket is a nice bonus for travel purposes.
Photo via Western Rise
What sets the Boundless Short apart is that they're made from 100% polyester. They are my favorite shorts to wear around the house, and to wear on weekends, to run errands. As they'll also come on a spring or summer trip in my bag, they're great for travel shorts.
They're a little too thick for heavy cardio, like running, in my opinion. They'd be fine in the gym for general movement or lifting workouts.
The zipper pocket is a really nice touch. I've used it for my wallet when I don't want to lose it. Its location is unassuming and would be hard to snatch up from pickpockets. I still would be cautious and vigilant in large crowds, though, as a general travel safety precaution!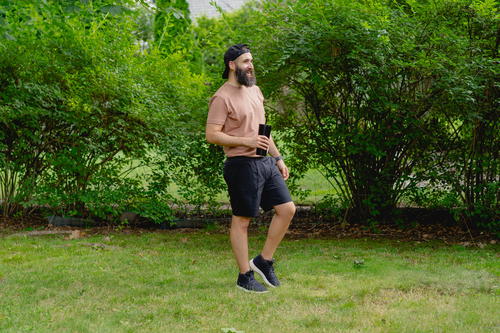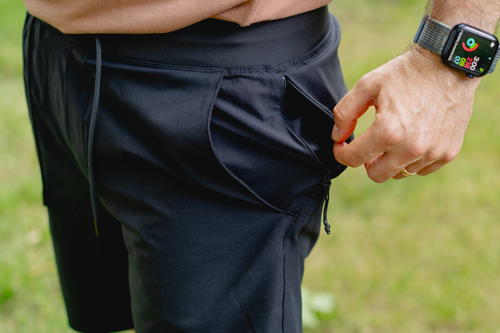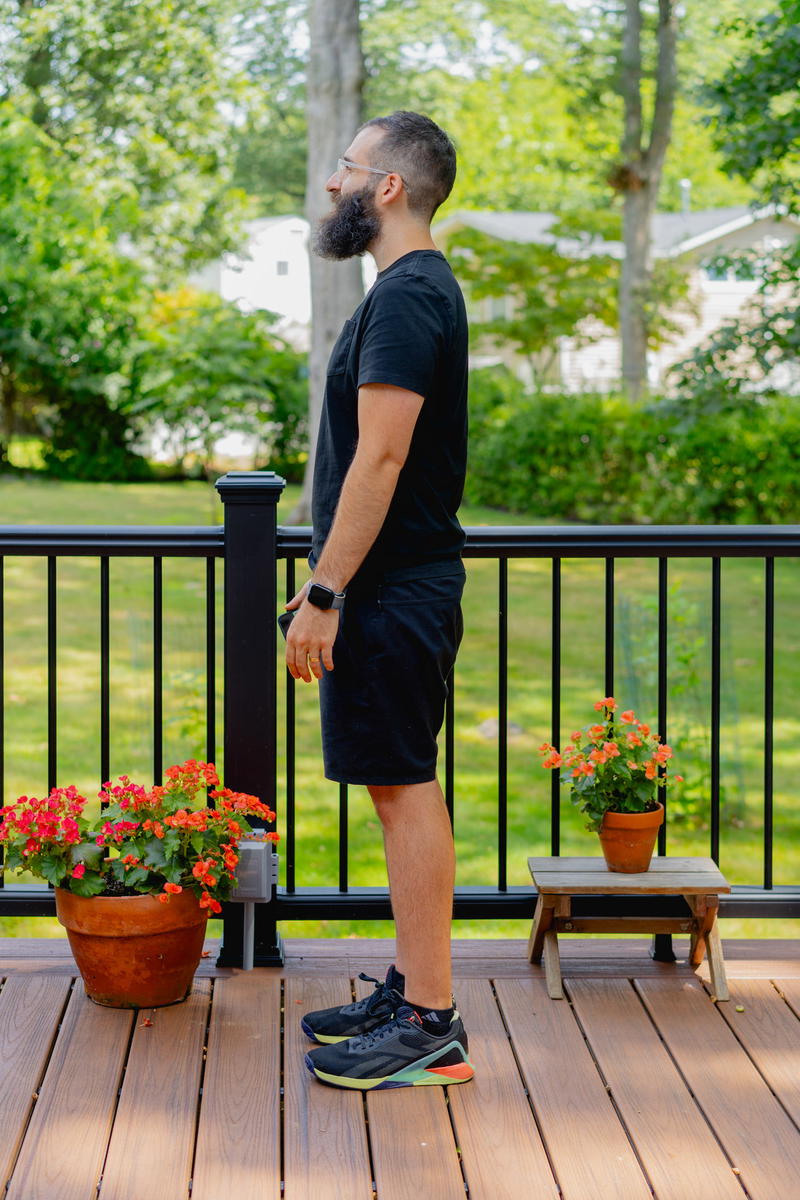 It's not shown in their product photos, but the waistband is nice and think. I think this feature is what makes these shorts really comfortable to wear.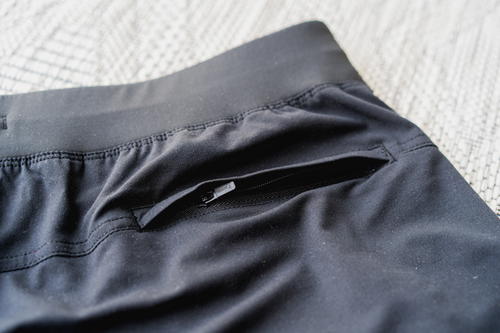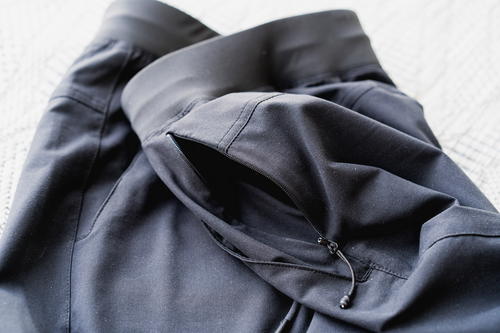 The Boundless Shorts have a 7" inseam, which hits at a great spot above the knee, and it is not too high. The fabric is tightly woven, so it's fairly water-resistant.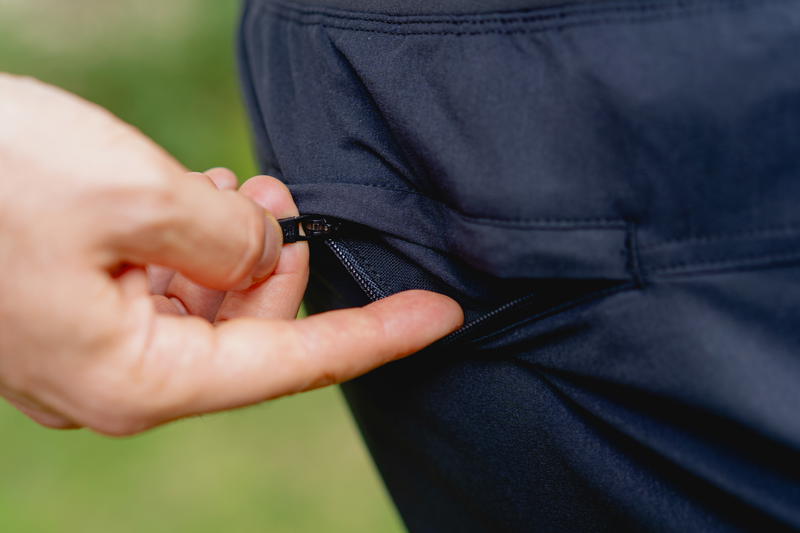 You could swim in these shorts. If you do, the waistband will probably dry last. And because they're a little on the heavier side, they might take longer to dry, versus other types of bottoms options.
Photo via Western Rise
The Movement Shorts are nice and lightweight. They're very comfortable, which is one of the reasons I find myself wearing them all the time in summer, or as "house shorts" in winter.
The Movement Short feels the most like workout shorts, to me. I wouldn't feel as put together wearing these out all day. I would stick to the Evolution short (reviewed above) for that.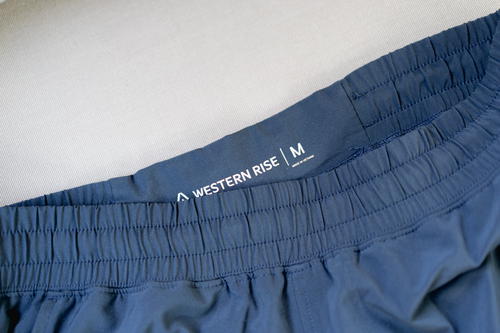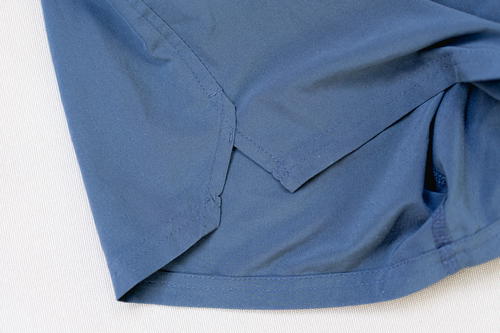 I've gone for runs before in the Movement Shorts. If I run for more than three miles, sweat starts to become visible in the Blue Grey variant and I look kind of drenched. I might stick to the Black variant if I know that I'll be doing hard workouts in these.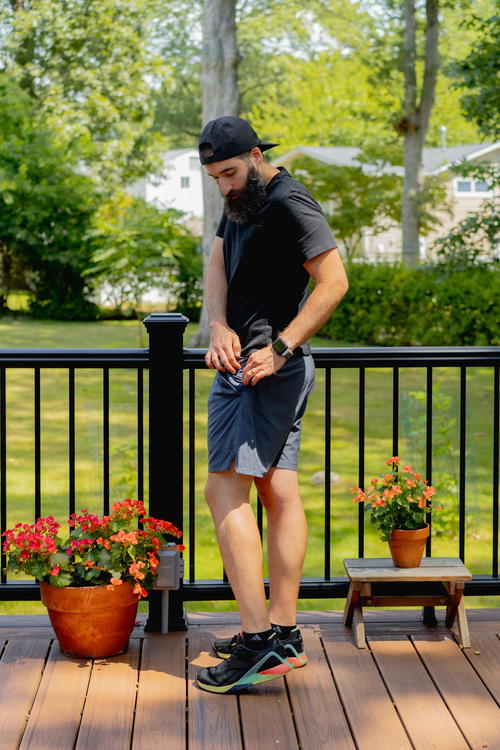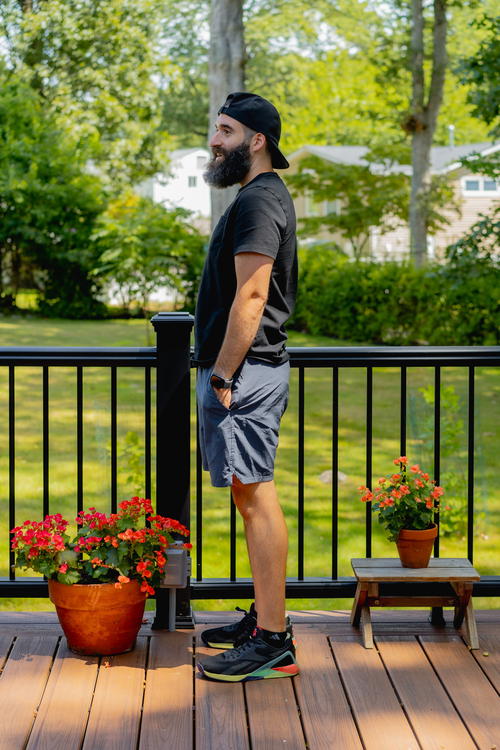 For swimming, the Movement Short is not as stiff as board shorts. I believe they make a passable bathing suit, but I don't think they are as quick-drying as actual bathing suits or board shorts for men. I'd probably want to change after swimming in these, and let them fully dry out before wearing them again.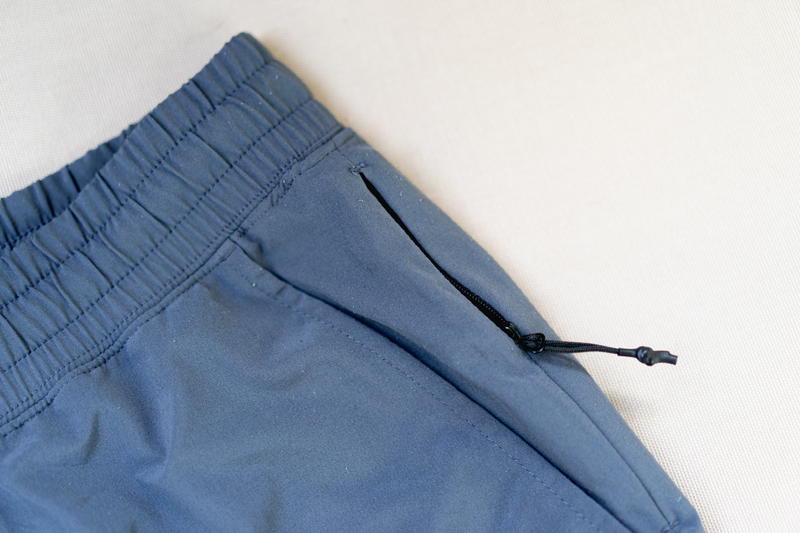 Photo via Western Rise
Shirts
Western Rise makes tops for men that are flattering and come in a few different types of fabrics. I tried the best-selling shirts and tested them out over several months. My perspectives are below!
I've worked the Western Rise X Cotton Tee into my revolving favorite tees for weekdays and weekends.
The small fits slightly larger than a typical size small. I wouldn't describe the fit as boxy, but more that I think it's proportional, and doesn't seem overly wide or overly long. I actually like the boxier fit, as shirts that are too narrow don't fit me too well.
It's a mid- to heavyweight shirt, but it's not as thick as other classic heavyweight shirts. Other heavyweight shirts that I've tried also tend to be a bit more stiff and less forgiving. The X Cotton fabric is very stretchy and is able to rebound nicely. Other shirts that I own might stretch after use and after washing. My X Cotton Tee has kept its shape after lots of wears.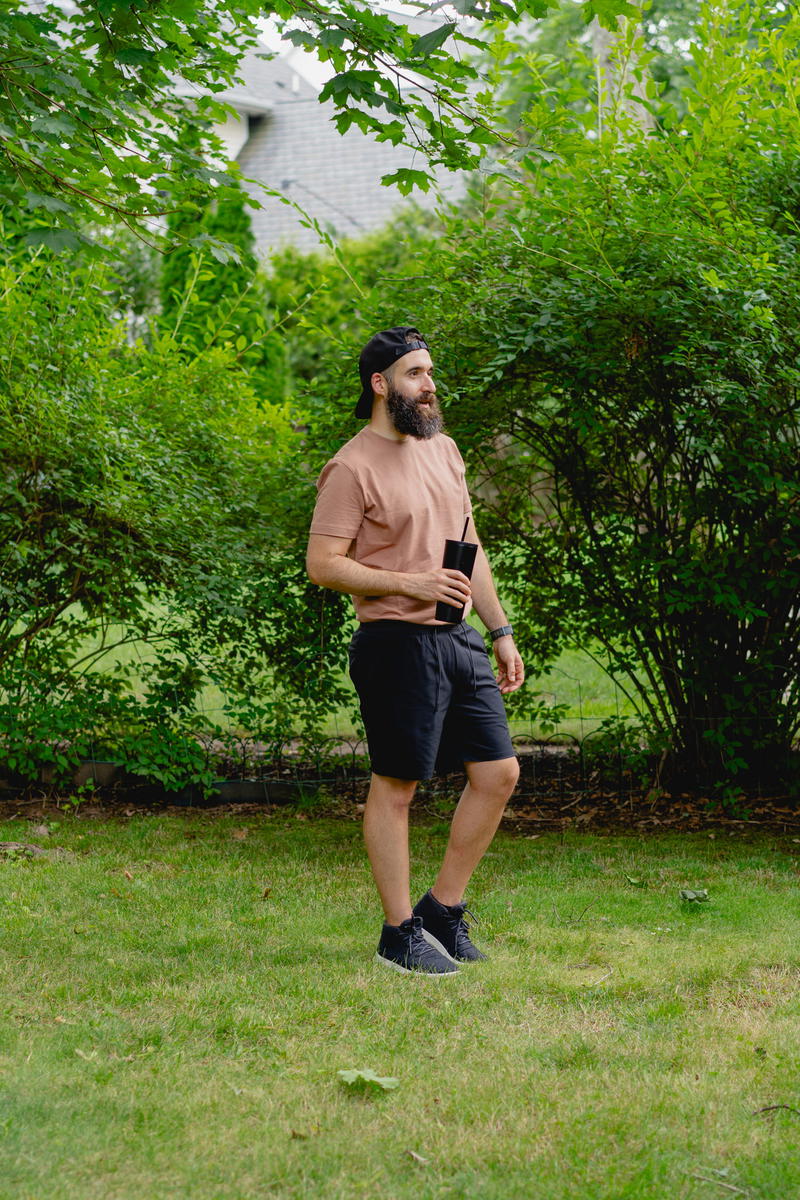 I noticed that the neck is a little less forgiving, so to speak, and has way more structure and reinforcement, when compared to other tees I have. When I put it on, it feels like my head has an opinion about going through. When it sits on your neck, it doesn't feel tight. If you have a bigger than average head or neck, I'd keep this in mind.
Photo via Western Rise
Based on the measurements, and mostly my neck measurement taken from trying other dress shirts, I assumed that I would be a size small in the Western Rise Merino Button-Down. I even thought size small would work with how the X Cotton Tee fit. Read on to read how the sizing worked out for me.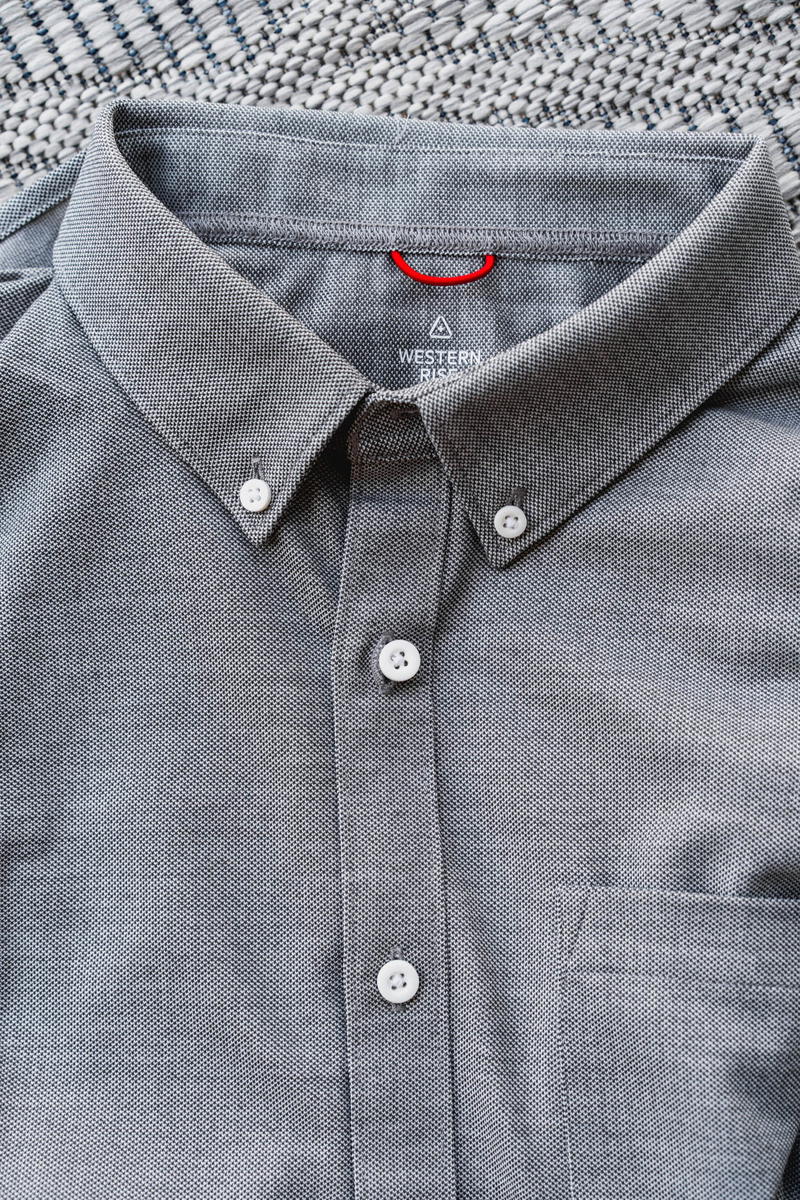 The fit
I am borderline in between sizes for this product. The size small was really small. It probably could work if I dropped 10 lbs. If I tuck it in, it might be passable wearing under a sport coat. Nonetheless, I didn't feel comfortable in the small because I also don't love wearing clothes on the tighter end of the spectrum.
The size medium feels much more relaxed and just feels like it's my style. I can wear it untucked, or tucked, and both styles work. Because it is a medium, it means that the sleeves are longer, which end up being a little too long for me. So, I'm still in between sizes on this one, and neither the small nor medium is 100% perfect. You may have better luck with your measurements.
When I wear this shirt out, I need to roll up the sleeves, which is really no problem because I end up doing that with dress shirts anyway.
The other thing about the fit is that the shoulder creases fit slightly farther than how dress shirts should fit. I think I'm most likely in between sizes.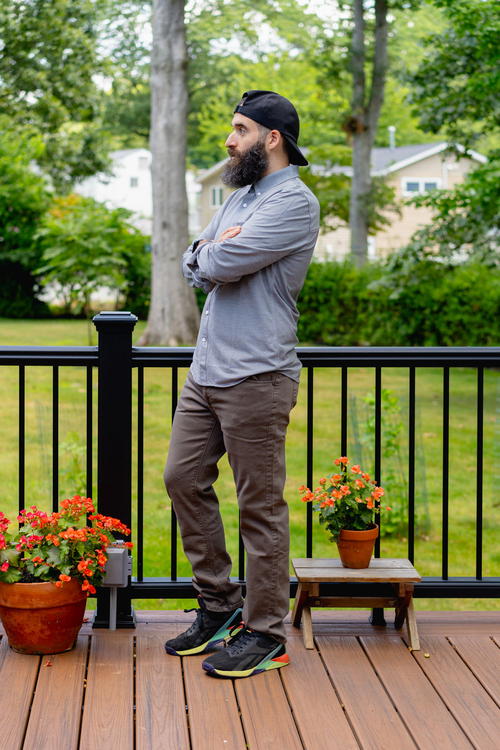 The features
Regardless of the fit, I really enjoy this shirt. It's incredibly stretchy, which is a feature that you want in a dress shirt if you haven't experienced it before.
With regular dress shirts, here are so many times when I reach up high to get something or do some type of twist and I'm betting all my marbles on the stitching. With the Limitless Button-Down, the shirt moves with you. This is really nice!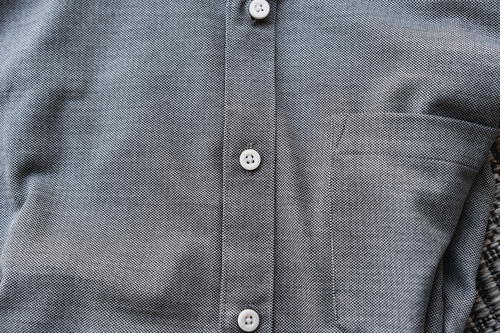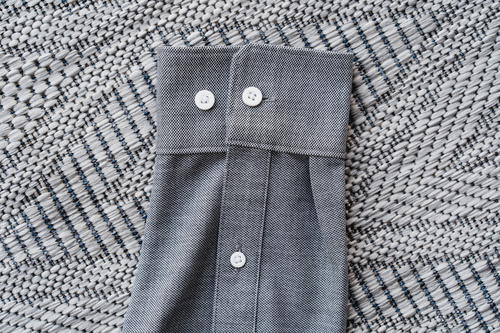 Because it's so stretchy, it stays tucked in a little better while you move. You know when you have a shirt tucked in, and reach up high, and then your shirt is kind of bunched up? That happens a little less because the entire shirt has more stretch and it prevents it from untucking. If your pants are tighter, this prevents the untucking even more.
Photo via Western Rise
I haven't tested the Limitless Merino Polo Shirt, but because it's made from the same fabric, I guesstimate that it shares a lot of the same good qualities. If you're looking for a polo, I would check it out.
Photo via Western Rise
Sometimes when you try on a shirt, you know it's not for you. I wanted to like this shirt, but in the end, the fit wasn't right for me.
Who is this shirt good for? Someone who looks good in ultra-thin fabric (and that's not me, in being honest).
This shirt is amazing for the traveler or active person seeking a comfortable shirt that performs great with sweat and eliminating bad smells.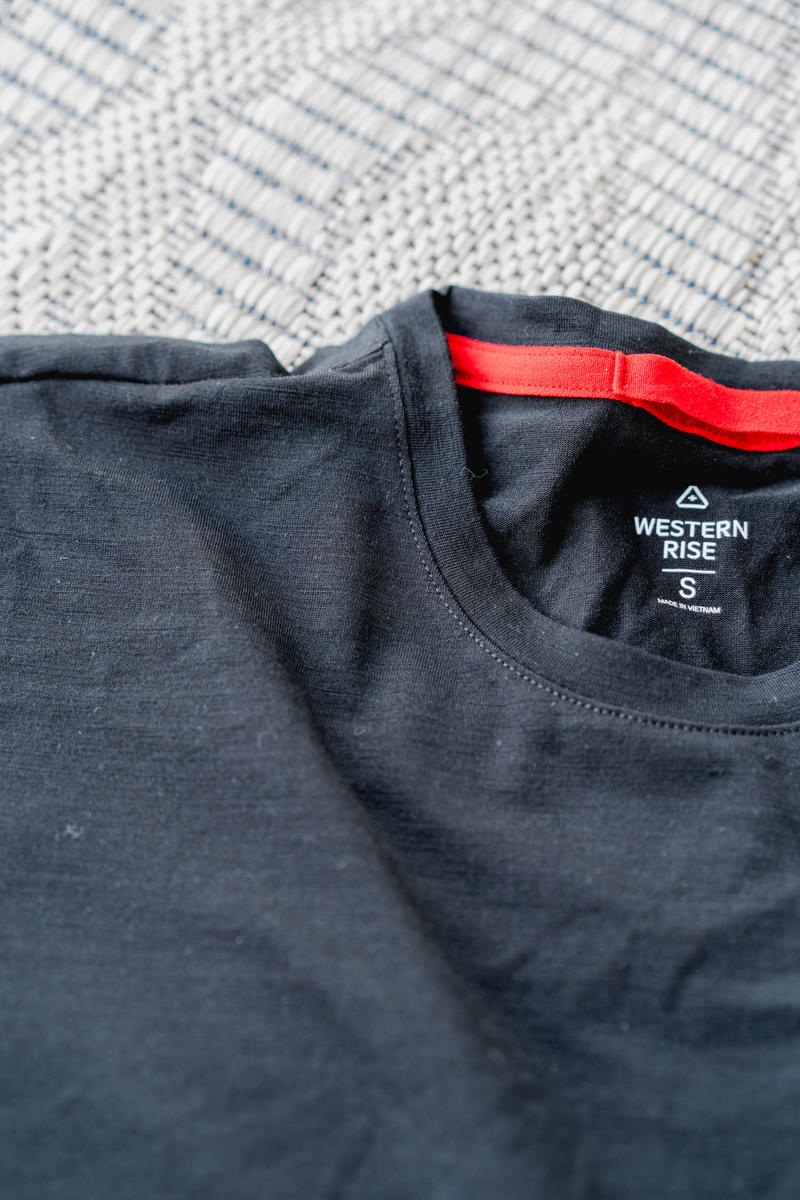 Merino fabric is famous for being this magical fabric that resists all of the things that are annoying about shirts. Merino wool shirts rarely absorb body odors. They don't wrinkle. They are great in the heat. They perform nicely in the cold. If you need to, you can wash merino shirts in the sink because they dry quickly.
But in the end, the small was a little too small on me. It runs more narrow than the X Cotton Tee and runs considerably longer, as well. This shirt is not flattering on me and despite wanting to wear this merino tee while working out or traveling in a hot climate, I won't feel the best about myself when wearing it.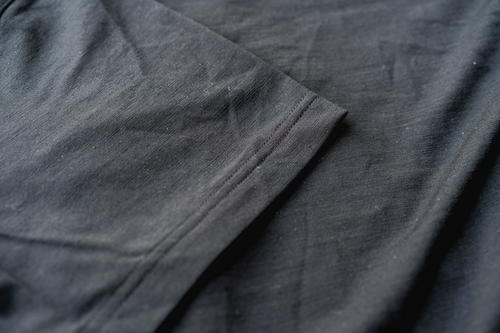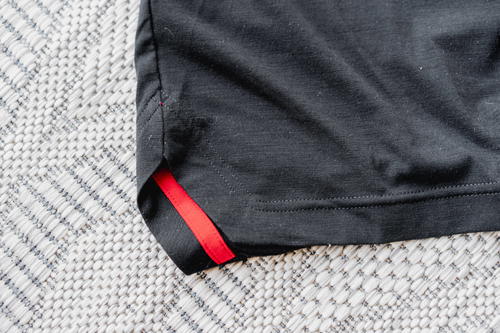 To be clear, I would encourage you to try it out, if you like a tighter fit and a thin fabric that shows off your best features.
Photo via Western Rise
Accessories
I think what pleasantly surprised me about some Western Rise accessories is that they quickly became parts of my daily outfits. My Western Rise hat basically lives on our kitchen counter so that I can grab it to wear on a sunny day out, a day trip or backwards on my heat for a meeting when I'm working from home.
I wear the Versa hat a lot. It's my go-to hat for grabbing before I leave for the day or when I am hanging around the house. It's my default hat for when I need a haircut, but want to look presentable outside.
As far as hats go, this hat is … floppy? It doesn't have a ton of structure to it, which I enjoy. I think it looks good frontwards or backwards.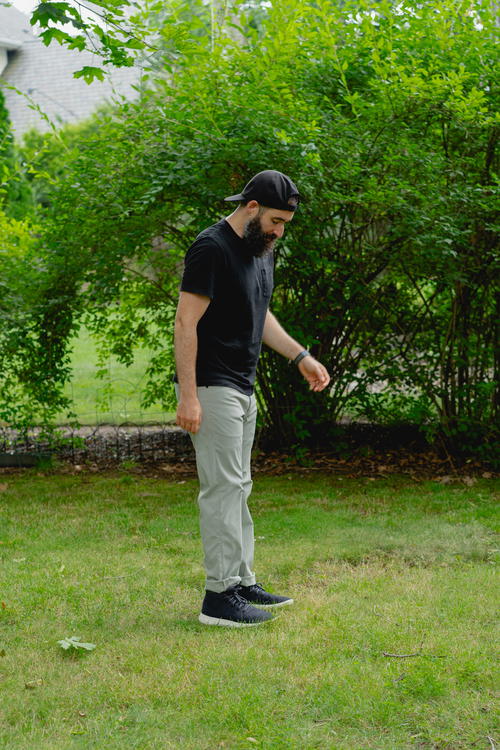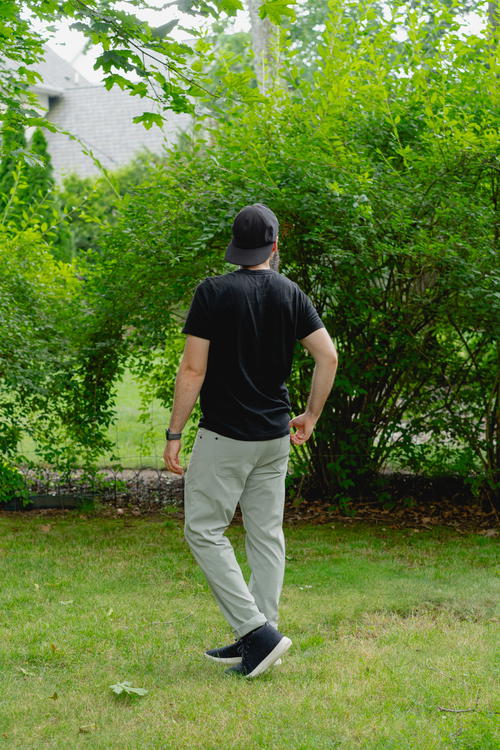 You can adjust the Versa hat via the clasps around the back. The excess strap nests, so you have a clean buckle. I've washed this hat a lot, because I'll wear it on hot days and it does a great job of wicking away the sweat.
Photo via Western Rise
Western Rise: what to know about the fit
If you want to jump right into your measurements, check out the fit guide from Western Rise. You can read my opinion below on how I like to wear clothes and which of the Western Rise sizes make me feel the most comfortable.
I am 5'9" and about 165 lbs. Depending on the year, I'm either really into running or really into lifting. When I'm doing more running, I tend to carry more fat, and vice versa for lifting.
I've been wearing Western Rise for long enough where the clothes have fit me well through both transitions. I might opt to wear different types of clothes or layers during each version of myself, though.
But I digress, as I want to explain a little about how you can expect the clothes to fit your body type.
Use me as a reference. If you are shorter and lighter, you may want to size down accordingly. Or, if there isn't a smaller size, expect the clothes to be a little more on the baggy side. If you are taller and heavier than I am, then size up.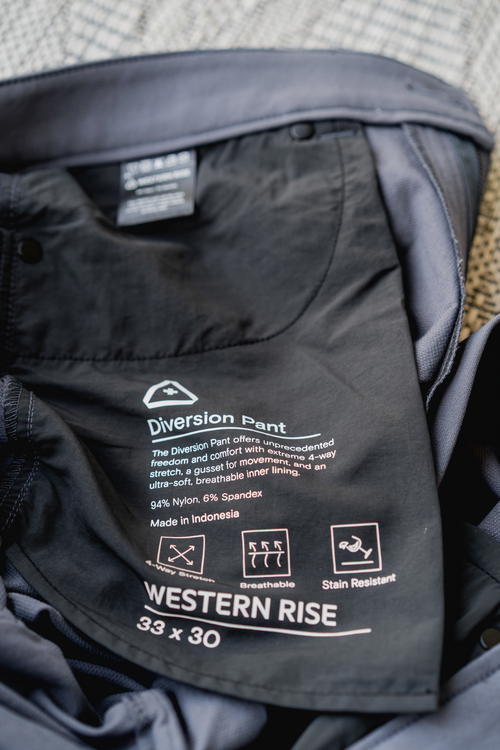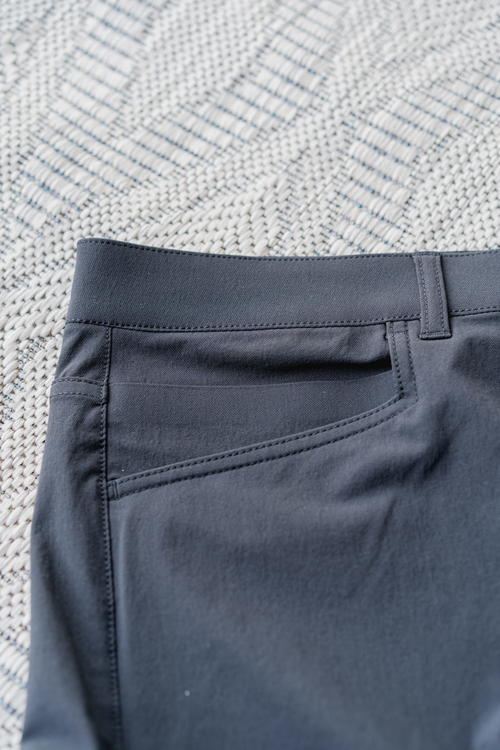 Pants
When you have control over the waist and the inseam, I've found that the 33x30 is a perfect match for my body type. That measurement is consistent throughout all of the shorts that I've tried from Western Rise. I have wider hips and my waist has always been slightly disproportionate from the rest of my build. I also carry most of my weight around my middle.
I've tried a 32" waist from Western Rise and overall it's too tight. I haven't tried 34, but I suspect it would be a little too baggy.
For the length, 30" feels right, although depending on the shoes that I'm wearing, I tend to cuff the pants. I mostly like the look of a cuff based on the way the pants are hemmed.
For the joggers, because they have broad sizing, I wear a medium.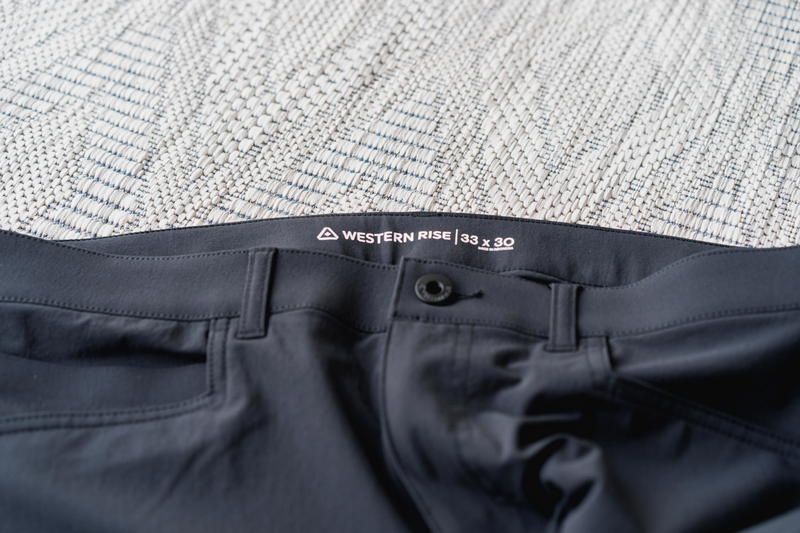 Shorts
Similar to Western Rise pants, 33" has been the best number for the waist measurement for me. That measurement is consistent throughout all of the shorts that I've tried from Western Rise. Medium suffices when available.
Western Rise currently doesn't have any inseam variants for shorts. Some other companies offer an option of 5", 7" or 9". Each pair of shorts has its own inseam measurement. Look at my review above to describe the individual fit.
Shirts
The fit of the shirts have the most variance, for me. I attribute this to my build and my preference for how I like my shirts to fit my build. I have a bigger chest and wide hips, so I generally feel uncomfortable in long and tight shirts.
I also only really like wearing T-shirts, so I haven't fully tested the Western Rise polo nor the Henley variants of tops.
See the respective reviews above for each of the shirt options that I reviewed!
Fabrics and Materials
Western Rise splits their apparel into four main categories of fabrics. You'll see these names pop up within each product name. Each product is typically prefixed by its respective fabric. Let's take a deep dive into each fabric and why it is beneficial.
Evolution
You'll find the Evolution fabric only in the bottoms category, which is pants and shorts. With 90% nylon and 10% spandex, you'll get a pretty stretchy and breathable piece of clothing.
With the woven twill structure, this refers to the weaving technique. If you look closely, you'll see diagonal lines and ridges, known as wales. This is likely done to maximize durability, whereas other forms of waving might not be as strong.
At a weight of 107 GSM (GSM stands for grams per square meter and is used quantify the weight or density of a fabric), it's on the medium-to-low end of the spectrum when comopared with the other fabrics.
The features of the Evolution fabric are impressive: it's stain-resistant, breathable and abrasion-resistant. You don't have to worry about spills, stains or any type of abrasion.
Limitless Merino
The Limitless Merino from Western Rise has four-way stretch, and a merino weave that regulates your temperature, resists bad odors and ensures comfort.
It's essentially wrinkle-resistant as well, and packs small into my favorite backpack. The exact blend is 85% Australian merino wool and 47% polyester, which makes it washing machine-friendly, as long as you lay it flat to dry.
To be clear, if you throw anything from the Limitless Merino collection in the dryer, you could expect a whole lot of shrinkage. The use of bleach nor the use of dry cleaning are recommended.
Spectrum
The Western Rise Spectrum material is actually 100% polyester at 220 GSM. This makes it heavier and sturdier than the Evolution fabric, for comparison. You'll find this fabric in the Spectrum jogger, which is soft and stretchy, also with a four-way stretch.
It's water and stain-resistant, breathable and moisture-wicking. As it's built for active movement, you can expect reasonable breathability that looks as good as it performs.
StrongCore Merino
StrongCore Merino is Western Rise's second merino wool blend, and the difference between this material and the Limitless Merino, if you'd like the specifics, is that the StrongCore is 82% merino wool, 12% nylon, 6% spandex and a 170 GSM weight.
It's made for easy machine washing (lay flat to dry!) and has the odor-wicking capabilities of merino wool that you would expect. It's incredibly soft, and packs up small for your trips!
Session
Check out the Session fabric if you're interested in products that perform brilliantly during travel and also can perform for a workout on the go! I mean, sometimes you're traveling and don't realize you will have time for hitting the gym, but in fact… you do.
This antimicrobial and moisture-wicking fabric is made of 100% polyester and is seriously comfortable.
Boundless
The Boundless fabric was created to have the plus of being quick-to-dry, and the products like the Boundless shorts were meant to replace workout shorts or even the idea of a swimsuit. The water- and stain-resistant fabric is 100% T400 polyester that focuses on stretch ability.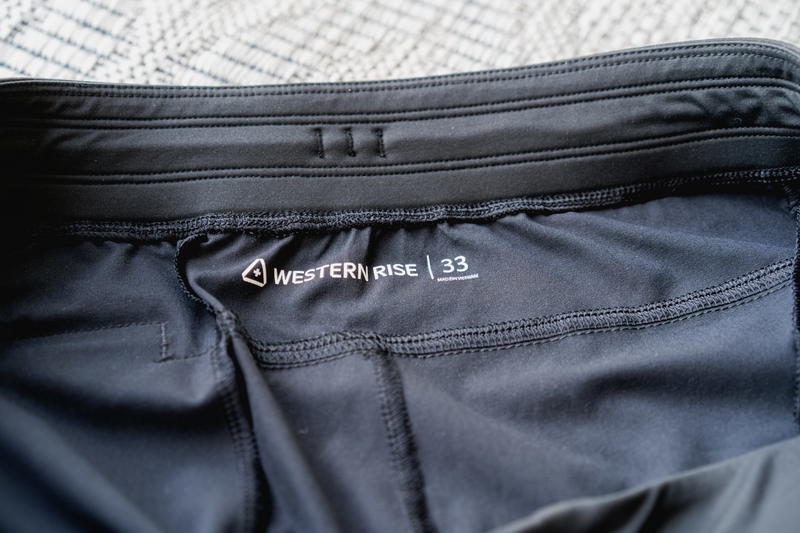 Where to buy Western Rise
Western Rise is an online-only brand, so you won't find any brick-and-mortar retailers selling Western Rise products.
If you'd like to do a try-on at home, like I have done, order the product you're looking for in a few sizes. Then, enjoy free returns and exchanges to send back the ones that don't fit.
You can buy Western Rise products at the Western Rise website.
Which types of products does Western Rise sell?
Western Rise sells a variety of everyday versatile apparel products for men. I've tried a good bit of Western Rise products, as you can tell above, from their joggers, to the AT pant, to performance shorts and the merino wool pullover hoodie, to hats, socks and tees.
While I can't honestly say I'm in love with every single style (and every style certainly doesn't fit my body type the best), I have come to find my favorite items that I tend to take on our trips. I've been transparent about which products those are.
I was first introduced to Western Rise as a pants brand, seeing how the brand's top-performing pants made it into my guide of the best travel pants for men. Then, I found out that I should be trying their shorts, sweatshirts, tees and hats.
To date, some of my favorite items are the StrongCore Merino Hoodie, the Boundless Shorts, the Movement Shorts, the Versa Hat, the Shift Hat and now, the AirLoft Hooded Jacket, too.
Plus, for any of the unisex items like the Merino Cashmere Beanie, these are perfectly fine for women as well. Becca likes the cashmere beanie. It's super soft and goes with any outfit all winter long. She also likes her ultra thin Western Rise no-show socks.
What are some of the benefits of Western Rise?
Some benefits I've found in wearing the Western Rise brand is that a lot of the clothes are good for various seasons. My merino wool hoodie from Western Rise is good for spring, fall and winter. Depending where you live or where you are traveling, a thin hoodie can also be useful and practical for cooler summer nights as well.
The pants like the Evolution and the AT pant are lightweight and good for most warmer seasons, and for travel.
The overall benefits of the brand are the focus on sustainable manufacturing and commitment to performance in design. The styles are pretty timeless, meaning you can wear Western Rise apparel year after year and the styles don't look aged. It's what I look for in any type of clothing I like to own.
In terms of the benefits I've found in Western Rise fabrics, most of them are durable, stretchy and breathable, as well as easy to care for and wrinkle-resistant.
What is the Western Rise return policy?
Western Rise offers an easy return policy with free return shipping. As long as products are unworn with tags on, they quality for free returns or exchanges within 30 days.
Enjoyed our article?
Consider supporting us! We're a 2-person team (learn more about us here) and your support enables us to create quality content. Thank you!
Explore our other favorite brands!