17 of the Best Travel Shorts For Men
Written by Dan
•
Updated on September 8th, 2023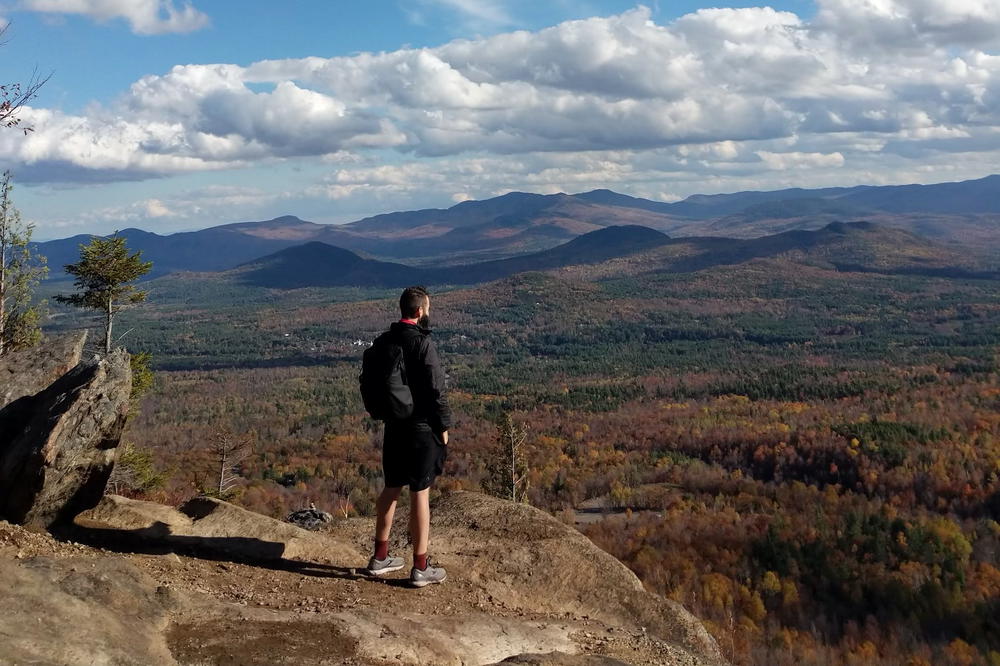 I rounded up the best travel shorts for men, from lightweight activewear to casual loungewear. See the helpful travel features like water resistance and zipper pockets in this list.
This article may contain affiliate links. We earn a small commissions when you purchase via those links — and it's free for you. It's only us (Becca & Dan) working on this website, so we value your support! Read our privacy policy and learn more about us.
Table of contents
Close table of contents
"Travel shorts" can mean something different depending on who you ask. For me, I look to pack two different types of shorts in my bag when I travel in warm weather or summer months.
I want a pair of shorts that I can wear to look "presentable," like if I'm going out to dinner or to an event at a friend's wedding weekend. I also want a pair of shorts that will maximize comfort and function, but have plenty of flexibility as well. In reality, these two categories are often two different types of shorts.
On one side, you have a product that leans more toward "casual," and on the other side, you have a product that leans more toward "athletic."
In this roundup, I've collected my favorite shorts for travel, and I'll mix and match between those two categories. Keep that in mind when going through the list!
For reference, I am a guy who is 5'9" tall, and about 165 pounds. More "athletic" styles usually fit and flatter me the best.
With all of that said, let's jump right in to see the best travel shorts for men this year.
The Public Rec Workday Shorts are an excellent choice for travel shorts, coming from the thoughtful folks at Public Rec. I'm so happy with the way they fit, with the color options and how comfy they are. The moment I put them on, I thought that these may be my #1 new favorite shorts for the year.
The shorts have a good balance between being casual and presentable, with the option to walk around all day in them and feel comfortable.
In terms of materials, they are made from 100% polyester. This makes them super easy to wash again and again.
They have belt loops, which are good if you need a belt, or if you want to dress them up with a belt. There's a hidden side zipper pocket, which is useful for stashing away something small and valuable.
They fit very true to size, like the website says. I wear a size 32 width, and I wouldn't size up or down at all. In terms of the length, they don't feel especially too short or long, so they're flattering from the start.
I have nothing bad to say about the Workday Shorts and hope to wear them for years to come both when traveling and when home.
I started wearing the Bluffworks Ascender Shorts in 2019 and until recently, I barely wore any other pair of shorts. These shorts are a truly fantastic option for someone looking for a great pair of travel shorts. They have come on every summer and early fall trip of ours since I can remember.
Bluffworks has been one of my go-to brands for travel since 2016. I have a lot of their products and everything I own is durable, high quality and built to last. Having a suit from Bluffworks taught me that you really can pack a suit for a trip and it won't wrinkle.
The Ascender Shorts are 100% polyester, making them simple to wash. I always hang them dry rather than put them in the dryer. They look fantastic and crisp, wear after wear.
They have tons of pockets, much like most Bluffworks products for men (and women). There's a back phone pocket, which I don't use too often, but it's good for a passport or anything that shape that you might need to keep out of your front or back pockets temporarily for security.
They're lightweight and packable. They feel like they have more structure on the outside. They're made from Bluffworks's signature Ascender fabric, so if they feel like they could also be pants, it's because they are the "shorts version" of the best-selling Ascender Chino pants for men.
These shorts really are wrinkle-resistant, but not immune to wrinkles. My photos above might show an extreme case of wrinkles because I had them rolled up in a ball before I took the photos. Oops! I took photos on another day, which you can see here.
Regarding the size on these: they fit true to size, which is also something I've lucked out with in wearing Bluffworks apparel for travel. After several years, they've held up great, aside from the color fading ever so slightly. They don't show too many signs of heavy wear, even after wearing them through so many countries and cities, from NYC to Puerto Rico to Mexico.
The Western Rise Boundless Shorts have been my favorite shorts to wear around the house and around my neighborhood on the weekends. They're super cozy and surprisingly durable. I like taking them on a trip when I want a travel short that has an athletic feel. If you're not familiar with Western Rise, check out this page where I talk all about the brand to get familiar!
With the rest of the options on this list, I'd say that the Boundless Shorts are slightly less casual than some other options, and they're more "athletic." I think the photos on Western Rise's website make the shorts seem more passable as regular shorts.
They have a substantially thick waistband, which you don't notice if your shirt is not tucked in. After a lot of wears, the band still has plenty of tension and it hasn't worn out even a little bit.
Some shorts that tend to favor the athletic side only come in small, medium, large and x-large. What's unique about the Boundless Shorts is that you can get really granular with your sizing and pick the exact size that works for you from all the waist sizes, 28 to 40.
You can apparently take these shorts with you in the pool or ocean, which I have yet to do on a trip!
I can say that after these shorts come out of the washer, they don't feel especially wet. Instead of putting them in the dryer, I always hang them dry. The large waistband will be the last to dry. Keep that in mind if you plan to take a quick dip and then go on with your day.
The zippered pockets might come in handy if you take a hotel room key or something else waterproof with you in the water during your trip.
The Evolution Shorts from Western Rise are a casual and laid-back answer to travel shorts that are ready for anything. Basically, they're a modern pair of travel bottoms for warm weather that look decent whether you're flying, taking a road trip with stops, hitting some nightlife at night in your destination or going to the beach for a day.
Like the Boundless Shorts (above), they come in a range of numerical waist sizes, from 28 to 40. Western Rise designed these shorts to be the only shorts you'd need on a trip, if you have a variety of uses (everything except swimming and working out, basically). If you plan to go to the hotel gym or go for a run while on vacation, I suggest checking out one of the more athletic-style pairs of travel shorts I continue to suggest below.
As for stretch, the Evolution Shorts have a four-way stretch, which is one of my favorite features of any travel shorts. Second, the pockets have a few good aspects to note: the interior pockets have mesh drainage, in case you get caught in some rain, and there's a zippered wallet-style pocket for protecting against theft.
You could wear the Evolution Shorts with a polo, a wrinkle-free button-down shirt or a simple T-shirt to look great while on the go.
The DUER Weightless Poplin AC Shorts are a very "packable" type of travel shorts that I took with me to Mexico City. They have a fresh and crisp feel to them, and they were designed to be a cross between athletic and casual. They're everything except a more formal pair of shorts, but if you paired them with a casual button-down, I bet that would look fine, too.
I reviewed these shorts at my in-depth product review of the Poplin AC Short, so to see more photos of how they look on me, check it out before you purchase.
As you may have seen within our other gear reviews, I'm a huge fan of DUER products. The DUER Performance Denim jeans are one of my favorite pair of pants, and I tried the Fireside jeans for winter travel! I wear my Performance Denim almost every day, actually. DUER does make a pair of the Performance Denim shorts as well.
I'm here to talk about DUER's No Sweat Shorts. There are a few things that I like about these shorts, which make the list as some of the best travel-worthy shorts for guys. First, superficially, the No Sweat Shorts come in a lot of colors, from the really nice "Wood Smoke" to the fresh "Stone Blue," and I appreciate this because I'm not a huge fan of classic blue jean shorts.
Second, the signature gusset in the No Sweat Shorts is what originally turned me onto DUER pants. I like how the durability of my Performance Denim jeans are carried over to the shorts. I've gone on hikes, slept on night buses and took long walks through cities in my DUER jeans. Through those various adventures, the gusset has held up and has provided a super comfortable fit.
I tend to see exactly how helpful the gusset is when I bend down to pick up my phone or some luggage, and the two sides of the pants or shorts feel reinforced. With the same gusset in the No Sweat Shorts, they'll last for years upon years.
I think what's attractive about the TRANSVERSE shorts from Swrve is that they're a decent-looking pair of shorts you'd wear day to day while traveling, but they are completely geared toward being active in a flash.
With the reinforced gusset at the inseam, water-resistant four-way stretch fabric and a rear zippered pocket, you could be out mountain biking in these as soon as you were done with lunch. Swrve built these for men who value comfort, as the low waist in the front was built to avoid digging into your middle, while the higher waistband in the back should cover your rear when you bend down.
The TRANSVERSE shorts are built for adventure and have a modest 9" inseam. They come in sizes 28 to 38. Keep in mind that these shorts are not necessarily meant to be lightweight, so if you're seeking something weightless, check out the other options above for your desired travel uses.
I have a pair of these and you should know that the sizing is a little different than most shorts. Measure your existing favorite pair of shorts to see what the waist measures. That number is your size of Swrve. For example, even though my Public Rec Workday shorts are a 32, the waist measures 33. I ordered a 33 for the TRANSVERSE Trouser Shorts and they fit great.
I could have gone a little bigger because the pockets fit a little on the snug side. My waist size usually fluctuates about a half size during the spring and summer months because I am generally more active in those months.
The Mission STAHL : LT shorts are made of really unique fabric. They're pretty stiff, but stretchy and forgiving at the same time. I'd say these are a specialty pair of shorts, as the material is a military-spec textile.
The 10" inseam is typically long for most men, so this is an aspect of them you have to be interested in and ready for. I'd say these shorts work best for men with long legs, or tall guys. In fact, they're perfect for tall guys who find a traditional 7'' inseam to be much too short.
There are a ton of pockets (well, six of them), which makes the Stahl LT shorts ideal as general utility shorts that will do you well during a trip.
They're water resistant because of the outer coating, which is a special coating on the fabric.
They're lightweight and feel very high-quality, which is reflected in the price (note that they are made in New York, not abroad).
If you're looking for a pair of travel shorts that comes in 14 (yes, you read that right!) colors, check out the Myles Everyday Short. They're a minimalist and cool pair of shorts with a drawstring waistband and four-way stretch you'll definitely enjoy. I'd say I like the Dark Oak and Fog colors best.
A unique feature of ordering them to get your size is being able to pick the inseam length (6 in., 8 in., 10 in.) in addition to your waist size (sized in Small through XL). These might be good for petite guys, or guys who are tall and find that travel shorts tend to hit too high on the thigh.
These also have mesh front pockets to hold your stuff, and a water-repellent finish on top of the ultra-soft weave. They come at an affordable price, and the enthusiastic five-star reviews could probably speak for themselves.
Public Rec is one of my favorite brands for travel apparel, and most of their products are winners in my mind. The Public Rec Flex Shorts are kind of an interesting item: they have an athletic look at first glance, but if you were to hide the waistband, you could dress them up a tad.
One helpful aspect of the ordering experience is that you get to choose a customizable waist size for these. Pair your waist size (28 to 44) with a desired inseam, with three choices from 5.5 inches to 9.5 inches, depending on your height and how you like your shorts to look.
You also get a choice of having them as "unlined" or "lined." You don't need to wear underwear with the lined version (shhh!). Lined shorts are good to double as a baiting suit, so that makes the Flex Shorts pretty versatile.
Overall, they're great for lounging while on vacation, or maybe you can wear them at home so that you feel like you're on vacation. They serve a dual purpose for travel, because they can be a bathing suit, workout shorts or shorts to hang around in and be comfy in.
prAna is a cool company that makes men's and women's basics in a lot of great colors and styles. They also focus on sustainability. Their Stretch Zion Short II is a nice mainstay of their men's shorts collection, and it's made from the proprietary ReZion fabric, which is a recycled nylon blend stretch performance fabric. They have a unique waist adjustment buckle and strap that you can show off if you have your shirt tucked in.
The Stretch Zion Short II is one of the few shorts that offers all the way up to a 12" inseam. This means they could be great for tall guys, or just men who have long legs and find that other shorts sit too high on the thigh. If you prefer shorts that hit your knees, explore the different inseams lengths available on these shorts.
My personal preference would be an 8-inch inseam, and that can even be a little to long for me when I look for a flattering shorts fit.
These Zion shorts are called "Short II" because they're the second "iteration" of the Zion Short I, based on customer feedback. For travel, the thoughtful design that optimizes performance, breathability, moisture-wicking technology and comfort will be helpful on any summer trip.
Coming again from prAna, the Brion Short II is the second iteration of the Brion Shorts, based on previous customer feedback. It's a casual type of short, and more traditional than the prAna Zion shorts, best worn with a T-shirt or button-down during a trip.
These shorts come in two inseam lengths for men: 9" and 11". Like the Zion shorts, tall men and men who enjoy the look of shorts hitting the knee will benefit with these options. There's a significant difference in these two lengths in terms of how they look.
The Brion Short II is made with the same fabric as the Stretch Zion (ReZion), meaning you get UPF 50+ material that is abrasion-resistant and moisture-wicking. These are all ideal qualities for a trip when you're walking in the sun sightseeing, or sitting outside at a bar with a cocktail on a rooftop.
Maybe you're laughing at the name of these highly-recommended shorts from Patagonia. The versatility of these shorts is no joke, though: they're good for all-weather running, they can double as a quick bathing suit when you left yours at home, they're nice for the general "active travel" category like easy hiking and they're excellent "all-around versatile shorts if you don't need to dress up."
The lightweight factor of these shorts is probably what sets them apart. Made from recycled 100% nylon, they give off a retro 80s feel, and with the 5" inseam, be ready to show off those legs you've worked for all year at the gym!
The Men's Baggies Shorts come in lots of fun colors (15 of them!) and a variety of sizes from men's XS to men's XXL, which is kind of rare to see from retailers. The mesh liner lends itself to the design that lets you go in and out of water without needing boxers.
They also come in a 7" inseam option.
Just like the name, the REI Trailmade Amphib shorts will almost let you turn into a frog if you plan to spend a trip on wet hikes or in and out of the ocean on a day to day. These active shorts for travel are pretty affordable, not crossing the $50 threshold, and if you're lucky, you can find several colors on sale for $10 less at any given time.
There's a built-in adjustable waistband that not only looks cool, but helps if you want to tighten them before wading through water while trekking, or simply hopping in a hotel pool. The material is resistant to snags and tears, which is good for more adventurous hikes and bouldering.
The main benefit of the Amphib shorts is that they're a solid choice for being in and out of water, and not having to change clothes. The blend of 89% nylon and 11% polyester lets them dry exceptionally quickly, meaning that they may even be dry before your flight home.
We're big fans of Cotopaxi as a brand. They stand for quality and sustainability, and their products are really well-respected in the travel space.
The Veza Adventure shorts are great everyday shorts, and they're pretty "attractive" as far as activewear for travel tends to go. In warmer months, you can wear these shorts from the moment you wake up, through going on a flight and arriving at your destination.
The Veza shorts feature a thick waistband, which I've found to be comfortable and long-lasting in similar styles of shorts that I own, like my shorts from Western Rise. There's only one inseam option for the Veza shorts, and it's 8 inches. This inseam length is not too short and not too long. It's probably just right!
Because of the zipper pockets and blend of nylon and spandex, you'll be happy with the functionality and overall comfort of these. They also come in some fresh colors, with "Raspberry" and "Spice" as colors that would look awesome in trip photos. A bonus feature is a gusset, making them reinforced like my DUER shorts.
Vuori is known for their athletic-first clothing lines and the company is a climate-neutral certified brand. You can expect high-quality clothing from Vuori, and have peace of mind that your items were made in a sustainable way.
The Ripstop shorts from Vuori caught my attention because they are made from 98% organic cotton and 2% elastane. From my experience, even a little amount of elastane goes a long way in making shorts and pants avoid feeling stiff. I'm also glad to see that Vuori is promoting a range of sizes for men, from XS to XXL, with these shorts.
These are really nice-looking casual shorts that will make you feel great through out the day. Cotton isn't necessarily the best material for unlimited use, but if you have access to a washing machine during your trip, or the space to be packing several different outfit options, that shouldn't be a problem.
I tend to under-pack and not bring enough options with me. And because of that, my travel outfits sometimes feel limited, or I have to wash items in the sink! I realize that not everyone is like that, and you may want a pair of high-quality comfy shorts to wear a few times — not five times times during your trip.
When you're not traveling, these shorts are going to be a perfect summer weekend option.
We like lululemon for their thoughtful range of products that make you feel good while working out, as well as wearing their products for loungewear. The men's Commission Classic-Fit Shorts are a minimalist and simple choice for shorts made from the company's signature "Warpstreme" fabric, which has four-way stretch, sweat-wicking, wrinkle-resistant and quick-drying capabilities.
They are sturdy shorts made in the chino style that will look good for a wide variety of occasions. I'd be very happy to dress these up with a button-down if going out to eat, or wearing them with a graphic tee while on the go.
As for beneficial travel features, they have a secure and hidden (!) zipper pocket where you can quickly stash valuables like a credit card, room key or collection of spare change. The back pockets have snap closures.
How I made this list
I did a lot of research to determine some of the better brands out there that are making great travel shorts. When I first searched around, I found a lot of the same products circulating on other lists that I found online!
I wanted to wait until I had personal experience in really trying out several different pairs of shorts before forming an opinion on any.
Below, I have some criteria that went into making my list.
Comfort
Your shorts should be comfortable, especially if you bring them when you travel and wear them multiple times.
In my criteria and in my testing, shorts still need to be comfortable, to endure long flights or sitting for long periods of time (like on a train or in the car).
While I do love my trusty Levi's 511 Cutoff shorts, they are not comfortable for being in one place for a long time. My wife Becca and I often travel for extended periods of time, and I often make the mistake of bringing these shorts to wear on a plane, train or car ride. They don't do too well because they're kind of stiff and thick. Oopsies.
Comfort also means something different for men with varying body types. Sure, material can lend itself to being stretchy or soft; however, some shorts will fit better for certain people.
I have more of an athletic build. My waist size doesn't always match up to some dimensions of leg sizes. For example, a pair of shorts might fit perfectly in the quads, but will barely fit around my waist, or vice versa.
So, finding shorts that fit me and are comfortable is subjective to my body type.
Functionality and features
For my list of the best travel shorts for men, I looked for shorts that had a combination of these features below. The perfect pair of shorts doesn't necessarily have to have every box checked. But, if they enable the feature, they should do it well!
Zipper pockets
For travel shorts, zipper pockets are sort of a must, if you're traveling to Europe, South/Central America or really any place where pickpockets are known to lurk (like Barcelona or Colombia). Good zipper pockets make it a little harder for someone to snoop in your pockets and easily grab your wallet or phone. I note this because I've had friends who've gotten their phones stolen out of their back pockets in a snap, in both Spain and in some cities in Latin America.
Even for everyday life, zipper pockets are pretty useful in having peace of mind that something important won't fall out of your pockets! Plus, you can impress your friends with them
Hidden pockets are a nice touch in travel shorts, for keeping your items safe. Similar to how zipper pockets protect your valuables, hidden pockets make it harder to figure out where your valuables are.
Some hidden pockets also double as zipper pockets.
The drawback of hidden pockets is that they can be in non-standard places for pockets. I have one in a pair of my shorts, and having my wallet in a hidden pockets feels a little clunky. I usually stash away something like a piece of paper or a single coin. Anything larger feels like a nuisance.
Belt loops vs drawstring
Some travel shorts try to impress you by having drawstrings. For athletic shorts, that makes sense. You wouldn't wear a belt when you go running, for example. If your shorts are a little more on the "business beach casual" side (like maybe khaki-colored shorts with a button-up shirt), having a drawstring show up in your outfit might be a turn-off.
Some shorts offer this feature as a way to not need a belt.
This might be appealing to you, but I haven't been sold on the feature, yet! Additionally, when you wash drawstrings, it's really easy for them to wrap around the washing machine, or get stuck inside the waistband.
But, if you're looking for a great belt to use for shorts that do have belt loops, I've been enjoying my Arcade belt a lot and I recommend it. You can check it out on Amazon or on Arcade directly.
Activity, like hiking, running or other things
When you're looking for shorts, there's not really a single pair that will cover you in all circumstances. The shorts that you want to have to look casual and feel comfortable probably aren't the shorts that you might wear to the gym and to go swimming.
But, the shorts that you wear out to a nice and casual dinner might be the same shorts that you can take on a hike. It took me a few years to figure this out!
In another way, the shorts that you bring to the beach can also be used for running.
I try and group together my activities and try to plan which types of shorts make the most sense for those occasions.
The benefit of (most) travel shorts is that you can often wash them overnight, and they'll dry by the time you need them in the morning. The reason is because most travel shorts are made from quick-drying material.
I once forgot running shorts, but luckily had a pair of nylon shorts that I used for a workout in Mexico City. I washed these shorts a few times and they were always dry the morning after. I did point a fan toward them for helping them to dry off, so I knew they would be really dry!
UPF rating
This isn't a huge factor for me, but it's nice that it's a feature of clothing if you're conscious about being protected from the sun. For travel shorts, if you're outside all day with no shade, this holds a high amount of value to help keep you safe from the harmful rays of the sun.
UPF is the clothing equivalent to SPF, if you haven't heard of it (and I only learned about it recently). It's fairly standard for most of the shorts on the list to have a UPF rating of 50. It isn't called out so much, so if it's a deal-breaker, I'd encourage you to look at the product descriptions after clicking through to each product.
Materials
Materials are pretty important and are something to look out for when picking your final pair of shorts. When you look for shorts that are branded as a travel shorts, you can almost expect that the material will be pretty stretchy, durable and will be made from something really fancy. Let's take a look at what you can expect.
Quick-drying
A lot of materials are branded to be quick-drying. Pretty much anything except denim or think cotton is quick-drying, in my opinion.
What you want to look out for is any materials with double fabric or reinforced stitches. Those variants probably won't dry as quickly, because they have more material to dry. It's like when you stack T-shirts, the top one probably will dry first. The last part to dry will be where they are touching.
Quick-drying material might mean a slightly less durable pair of shorts. Keep that in mind when doing your search.
Breathability
Depending on the climate you're going to be in, breathability may or may not be important to you. Sitting on a long flight and immediately going to India where it's going to be 150 degrees F??? You might want the most breathable shorts possible. Or, skip the shorts all together!
If you're spending time in moderate temperatures like the mid 70s on your trip, breathability might not be as important to you.
Similar to quick-drying, breathable shorts might sacrifice durability.
Stretchiness
Stretchiness used to be limited to spandex. There have been a lot of really cool products to hit the market that integrate spandex-like material into denim and make them extremely lightweight, comfortable and durable.
For me, if shorts are stiff and don't have any flexibility, they don't make good travel shorts. You're one lunge or squat away from splitting your pants, and I've split quite a few.
Stain and water resistance
Dockers stain defenders was the first pair of pants I remember seeing that had this feature. The commercials implied that you could spill anything on them and they never stained.
Now, lots of other brands have this type of material and fabric technology.
Dockers was targeting people going to work or people who never wanted to wear khakis. The shorts that you'll find on this list aren't only for dressing business casual, though. Stain and water resistant shorts are great for getting stuck in the rain, wearing multiple times or not showing that they're actually pretty dirty.
And it's implied that because water and potential spills bead right off, they're fairly quick to dry as well.
Smell resistance
Because "travel shorts" by definition usually means that you'll wear them a few times, you don't want them to smell bad after their first wear. Most travel shorts aren't made from material that hold smells. It's called "odor control" by most brands.
Something to look out for is that if your shorts do get wet, allow them to dry. Because, even the most advanced material will probably smell if its been damp for a day or two.
I wouldn't roll up your wet clothes in a ball. Try to lay them out in a sunny or warm area. That should help!
Enjoyed our article?
Consider supporting us! We're a 2-person team (learn more about us here) and your support enables us to create quality content. Thank you!