Nomatic Review: What to Expect
Written by Dan
•
Updated on September 6th, 2023
What can you expect with traveling with products from Nomatic? We'll explore why Nomatic is one of our favorite functional travel gear companies!
This article may contain affiliate links. We earn a small commissions when you purchase via those links — and it's free for you. It's only us (Becca & Dan) working on this website, so we value your support! Read our privacy policy and learn more about us.
Table of contents
Close table of contents
I've been interested in gear from Nomatic since I first heard about their travel bag Kickstarter all the way back in 2016.
Nomatic has come a long way. They first got their roots with wallets, notebooks and general "everyday carry" items.
Since then, the brand has really made a name for itself by selling excellent and well-designed travel backpacks, photography backpacks, packing cubes and more.
I'd like to use this multipurpose review to chat about some of the Nomatic items that I own and how I've enjoyed using them for travel, photography and everything in between! None of these reviews are comprehensive, but should give you an idea of the general quality of Nomatic.
Nomatic was generous enough to send some of these items for review, but I was not paid for any of my opinions. This review is also not sponsored.
The McKinnon Camera Pack was the thing that I was the most interested in because, if you didn't know, I really like photography backpacks.
With all things considered, this is a great bag for photography and travel.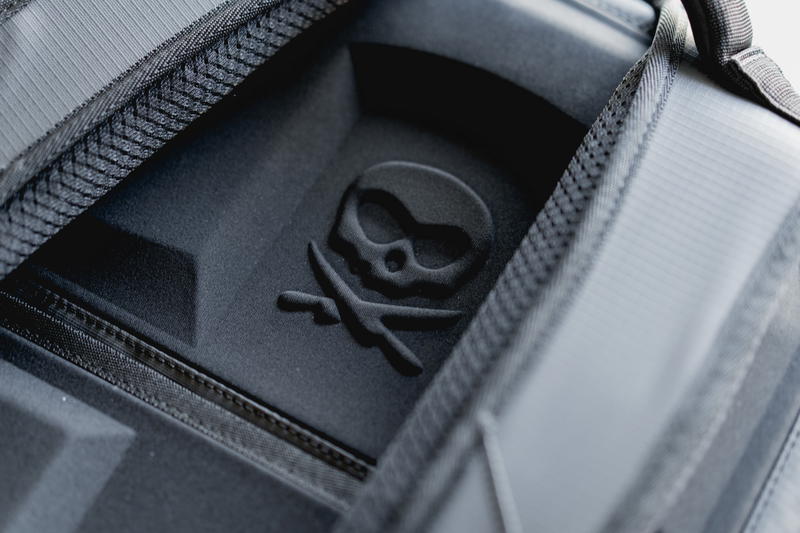 Pros
The side tripod and water bottle (or blanket, yoga mat, etc.) pockets are so unique. I haven't seen any other bag with this feature and I like it a lot. The bag itself accommodates a wide variety of various sized items, while not having too much material that would make the bag feel bulky on the sides.
The laptop compartment is fairly standard. It works. I have no real additional comments about it. I appreciate a laptop compartment that gives my laptop a solid fit.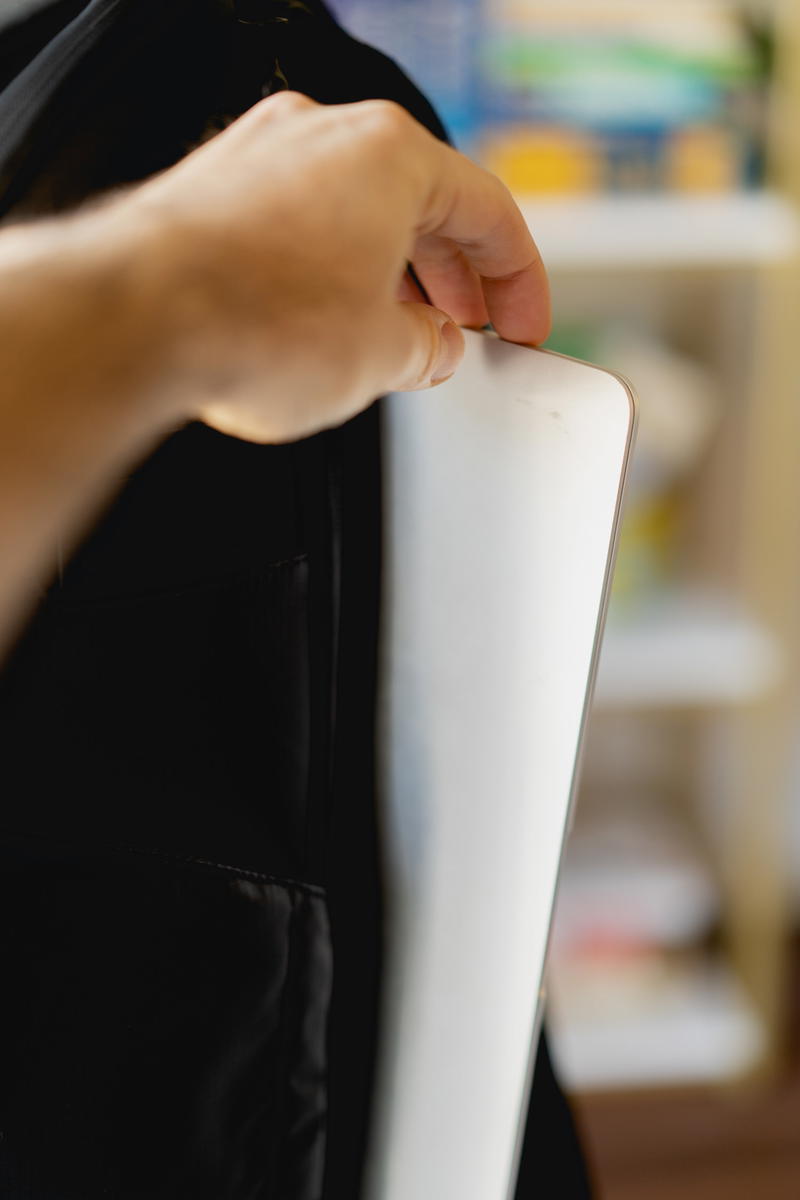 I found the straps and the embossed pattern on the back to be comfortable. I've heard that some people have mixed feelings about this, but it worked for me.
The top compartment has been nice to easily throw small and loose items into. It can fit a camera, portable battery or charging cable. It also fits some other tech bags.
Cons
Visually, and this is a nitpicky comment, the bag wrinkles from the front. The space between the fabric and the next adjacent compartment has too much room. I believe that this is the primary cause of the wrinkling.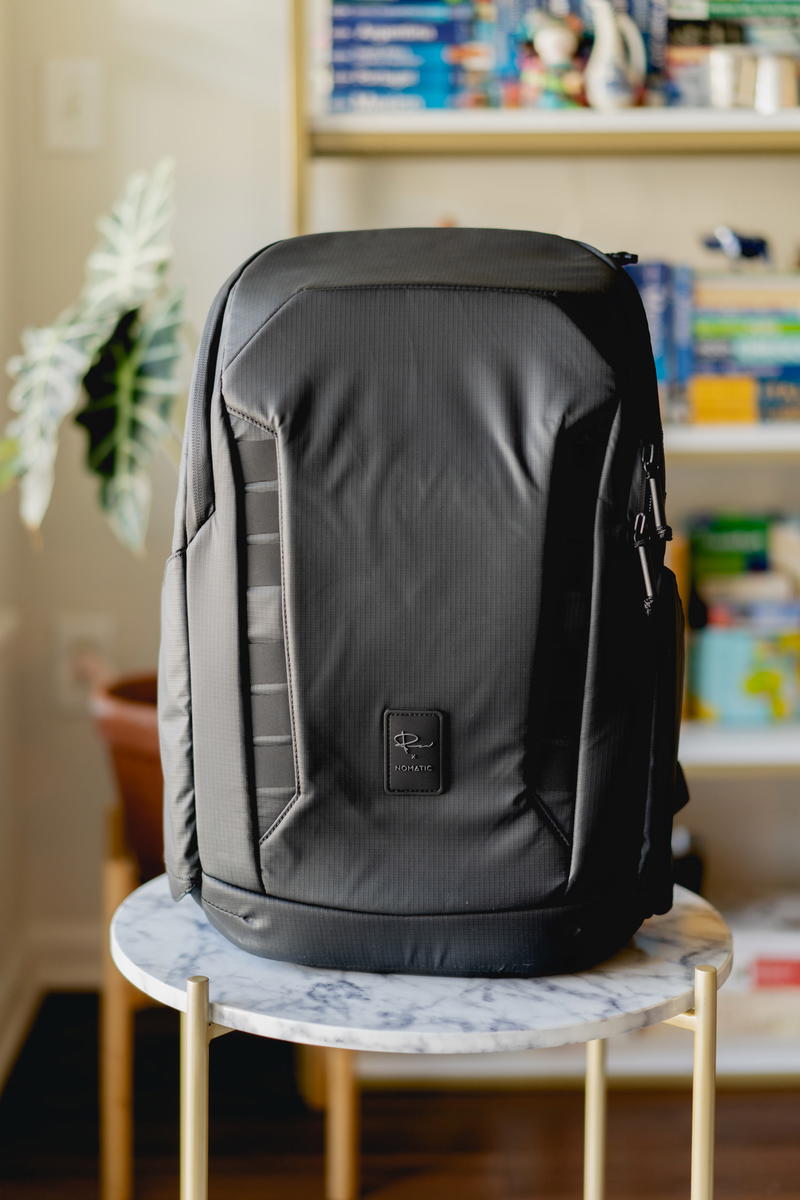 I don't really have a use for the loops on the front of the bag. I think it looks cool, but I wouldn't use it in practice. Even when secured, I would be too worried that something I am carrying would fall out.
I'm indifferent to the storage compartments on the lid of the bag. I had a hard time fitting some of my items in here. I would much rather use my existing tech and storage bags to keep everything in one place.
Everything else
I've heard that the material is easy to scratch. This is something that hasn't happened to my bag, but if you check it at the airport or are in situations where the bag is thrown around, beware!
There are lots of different storage options, so make sure to check out Nomatic's website to see the different configurations.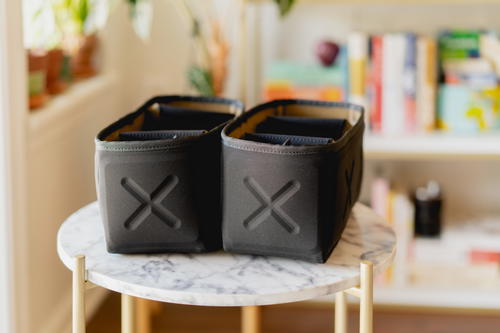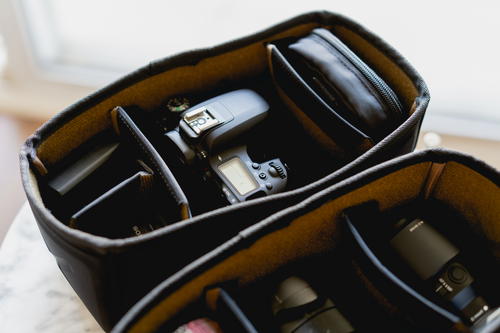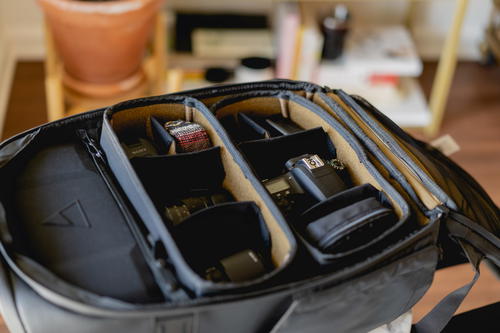 I chose to configure the bag with two cubes. I like the flexibility, and it's useful to be able to easily take the cube out if needed.
Photo via Nomatic
I am a fan of small 15-20L daypacks. I like the size of this 15L bag because it's perfect for taking a laptop and a few small items to work.
When traveling, it's the perfect size because you can bring a few things to help you through the day. Because of the total size capacity, it's hard to over-pack something heavy (well, unless you literally pack bricks or rocks).
As for the Navigator Pack 15L, it's up there with one of my favorite bags, after my using it for a few weeks.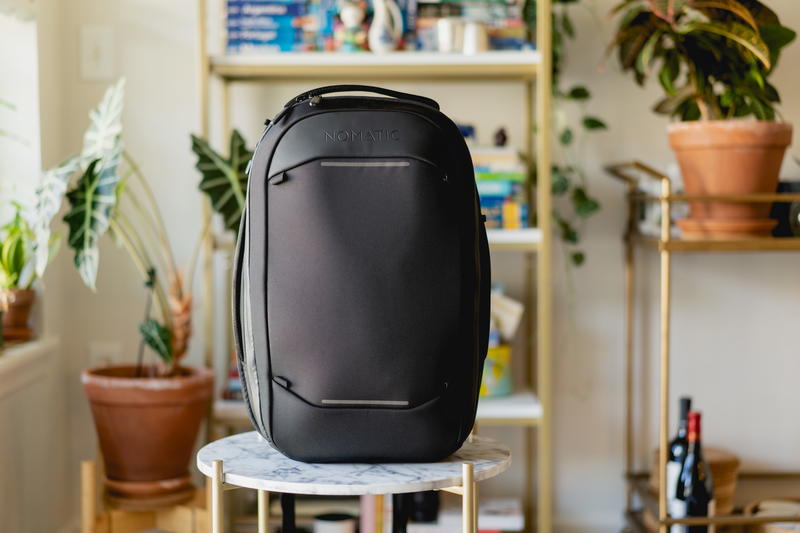 Pros
I like how the bag is somewhat expandable. You can keep it small at 15L and unzip the side compartment to make the bag fit 21L worth of stuff. This is nice if you want to add some packing cubes or have a coat or additional item that you want to put in the bag.
As a travel bag, having built-in tamper-proof zippers is a nice feature. There is a little loop that you can slide the zipper pull through that makes it hard for someone to quickly unzip and grab your stuff. This can help prevent pickpockets from stealing from you, or people from snooping in your bag at a coffee shop while you get up from your seat.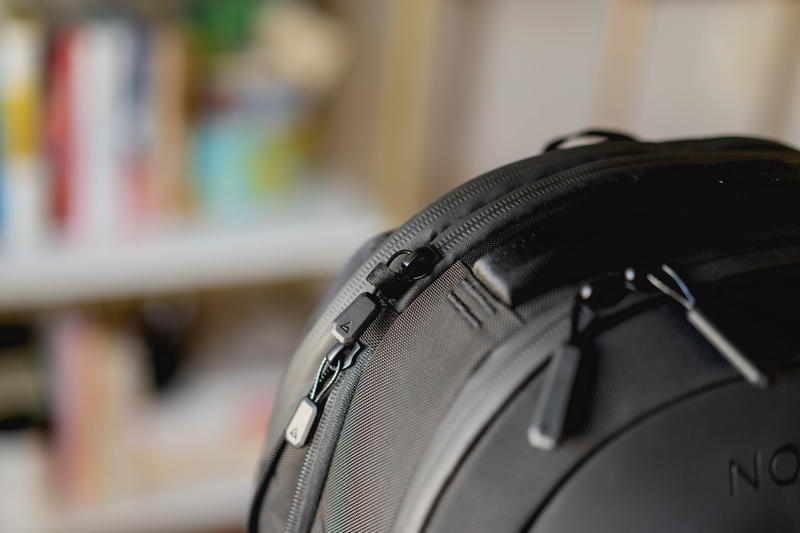 The luggage passthrough is a nice touch, especially for a bag this size. Some bigger bags, like 35-40L ones with luggage a passthroughs can feel a little big on top of rolling luggage, in my opinion (and, depending on your weight, could make the bag top-heavy).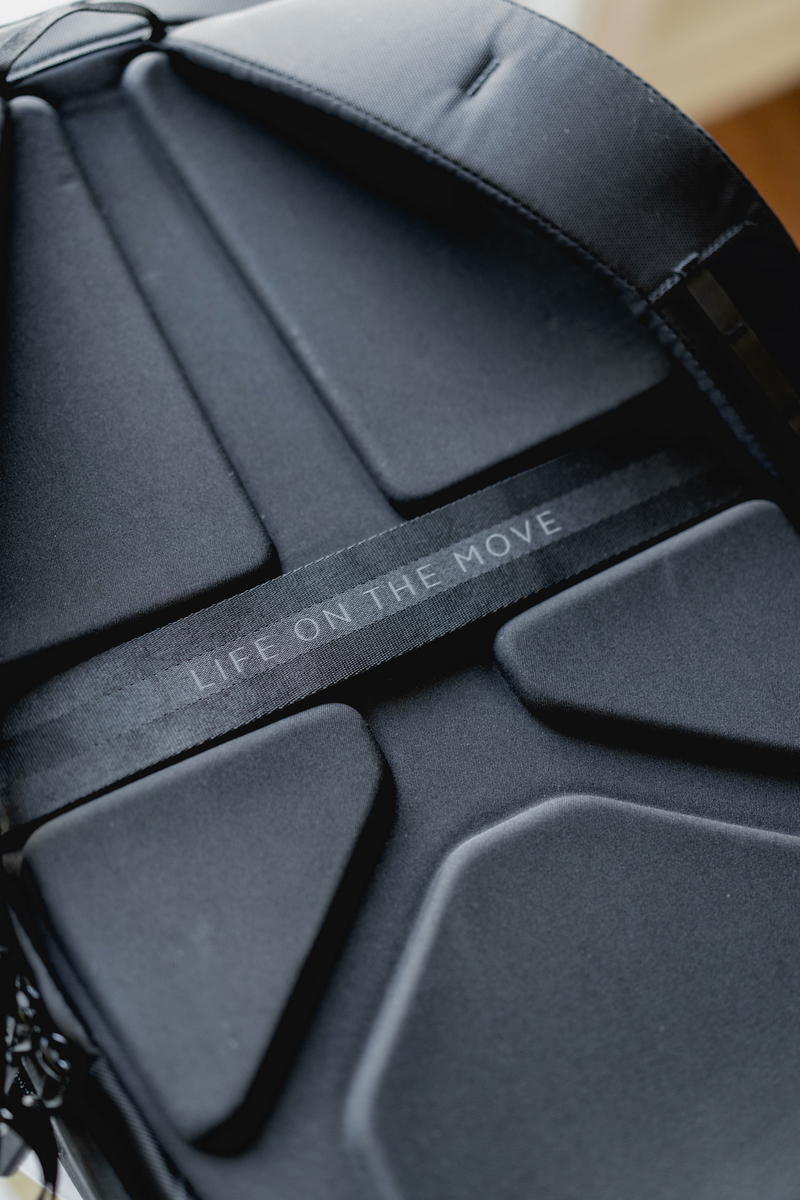 As I mentioned about the maximum theoretical weight that you can fit inside of a 15L (or 21L) bag, it'll be hard to put in items that are heavy enough to make your luggage want to tip over.
Cons
I didn't understand the water bottle pocket until I went back to the Nomatic website and looked at their product photos. I'm not a fan of having to put a water bottle inside of the bag, and have it stick outside the bag.
I get why the design included this, to keep the bag streamlined, but I don't like the user experience of having to treat your water bottle like a motorcycle's sidecar. I'm much more into having a dedicated side water bottle, and this is something that Becca and I tend to look for in our travel and photo backpacks.
I took the front straps off of this bag right away. I don't really care for this feature. I can see how this is useful for keeping a blanket attached to the front, but I would be worried that it would fall out. This is more of a personal preference, and you might feel otherwise!
Everything else
The Navigator Pack 15L is taller than some other bags in its volume class. It's neither a pro nor con in my book, but remains a consideration if you struggle with finding a bag to fit your dimensions.
The bag feels very rigid in its build and shape, which is a positive thing. It doesn't seem like it will lose its shape if you are rough with it, but at the same time, it might look floppy if you are rough with it. After a few weeks, it still looks brand new to me, so time will tell!
Photo via Nomatic
The Shirt Organizer is a travel product from Nomatic that I didn't think I wanted until I had it in front of me.
I've traveled a lot with dress shirts and I usually need to carefully fold them and put them in a packing cube as "flatly" as possible. You can be a little more forgiving if you have wrinkle-free dress shirts, though.
With a shirt organizer, you can be a little more generous with the type of shirts you pack and where in your luggage you pack them.
The shirt organizer also helps you to keep everything perfectly folded, which is a nice touch if you are like me and find it challenging to fold dress shirts.
You can pack up to five dress shirts in this organizer, which for me, is plenty for any occasion, especially wedding weekends away, or professional events.
Photo via Nomatic
I am so happy to have a dedicated garment bag. Over the years, I've tried to find a travel suit that is comfortable and looks nice. Luckily, the Bluffworks Travel Suit has been my go-to travel suit for years and it continues to stay in style and perform excellently.
But, with most things you bring with you on a trip, you need to know how to pack a travel suit.
I've put my suit in some packing cubes and it's generally been fine for me. I haven't had too many issues with wrinkling, which is because luckily, my travel suit is mostly wrinkle-free. Not everyone has invested in such a product, however.
If you don't have a travel suit or if you don't have the space to carry a dedicated garment bag, you'll want to check out Nomatic's garment bag, which is for both men and women. I've been enjoying the features that Nomatic has added to theirs.
There isn't much variety in what you can ask for in a garment bag. It has nice pockets, nice material, a comfortable strap and it looks stylish. There are plenty of accessory pockets for your belts, watch, shoes (up to size 13), socks and a tie.
The bag is mostly water-resistant, so if you happen to get caught in the rain, you shouldn't have to worry about getting your garments wet.
You won't look embarrassed walking into a business setting with a plastic garment bag from 10 years ago! This garment bag is modern and sleek for travelers.
And, if you have any larger luggage that you can check, this garment bag should be able to be folded once and lay flat on the bottom of your luggage. I don't have experience with this because I almost always carry on a bag.
Photo via Nomatic
Both Becca and I have lots of experience traveling long-term and laundry is a big part in allowing us to be flexible during our trips.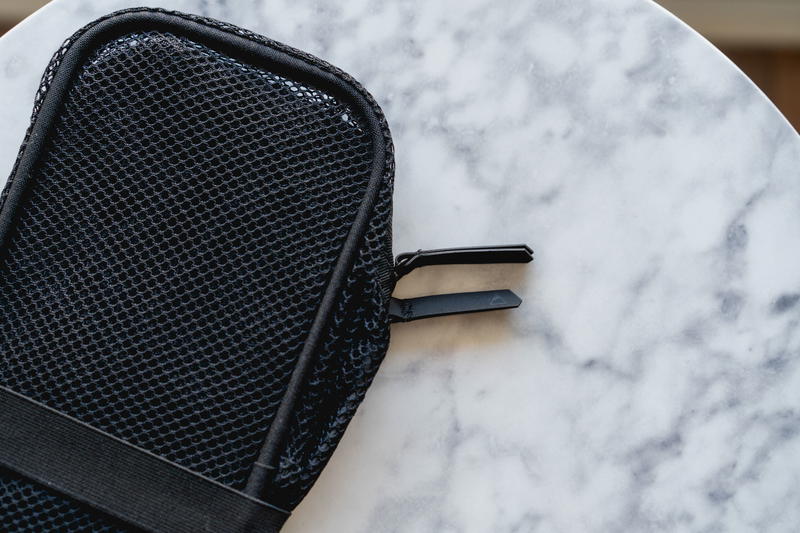 If we go anywhere for more than a week, we usually plan to do laundry at our destination. During our trip to Merida, Mexico, we found a local laundromat and did laundry four times! Knowing that we can use local businesses for laundry lets us pack less and have peace of mind.
I like the laundry bag from Nomatic because it's easy to pack and it's an item that's convenient for you to use when you get to your final destination. You can hang it on a door frame, door handle or hanger (if you find one sturdy enough).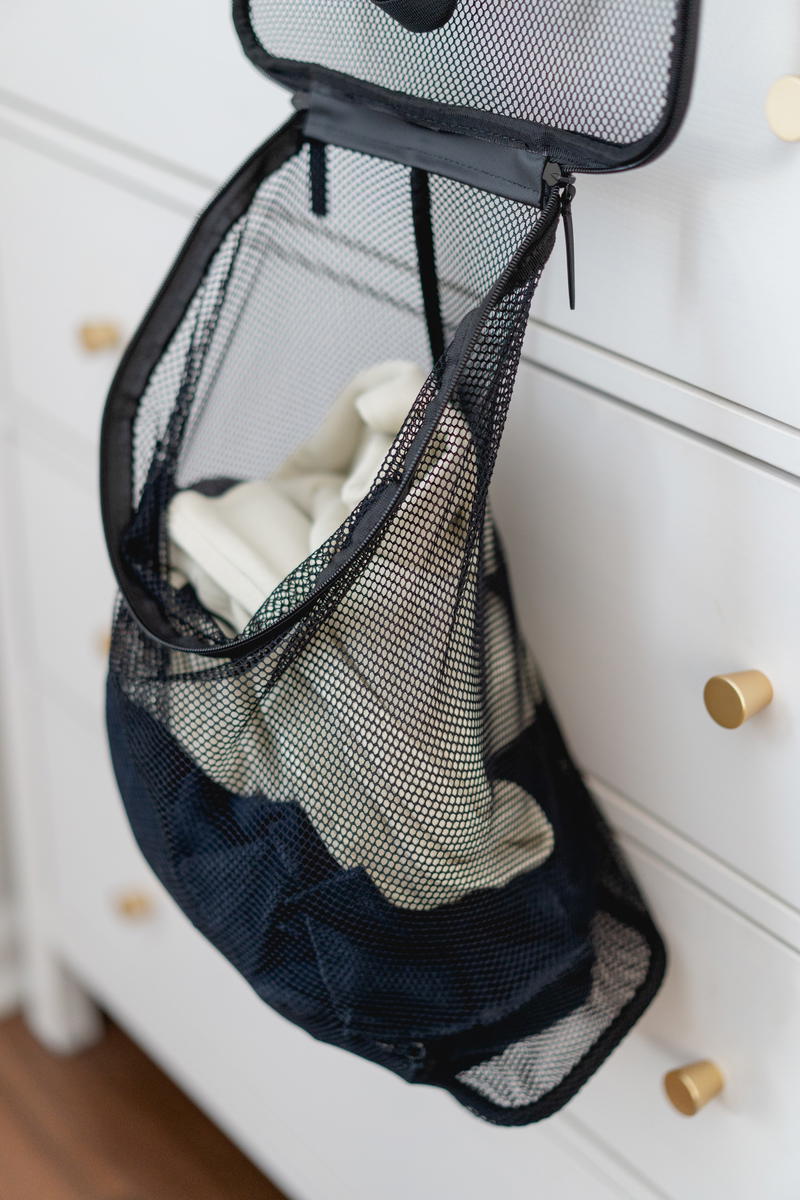 If you have the budget for a laundry bag like this, I think it's worth it to be a little tidier and organized with your dirty clothes. Previously, we'd use plastic bags or canvas tote bags to store laundry, but it feels temporary. I have a habit of finding a chair in the room of creating a few piles of clothes, if you know what I mean. I tend to have piles for:
"I wore this once, I can wear it again"
"Kind of dirty, but I'll wear them again"
"Very dirty, must wash (but I'm keeping it on a chair)"
At the very least, this laundry bag is great for that last category of 'very dirty, must wash' clothes. Without this bag, I've used a plastic bag or a dedicated a packing cube for laundry.
While the laundry bag is nice to have, it doesn't look any tidier than re-folding dirty clothes and stashing them away. I think the primary benefit of having a dedicated bag for your laundry is that it's mesh and can help your stinky or slightly damp clothes breathe.
I've had some bad experiences with my clothes smelling musty because they were a little damp and I packed them and forgot about them. Oops!
Photo via Nomatic
If you know us, you know that we are big fans of packing cubes. I've tested a lot of different packing cubes over the years, as well and certainly have a preference for features that I like.
In general, I like when packing cubes have solid zippers and are made of durable material. It's also nice when packing cubes are expandable. I like to start with the cube expanded, then tightly pack the cube to create more compression.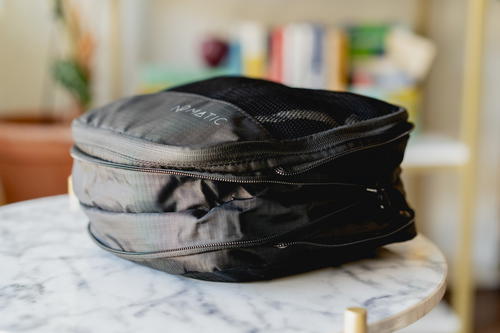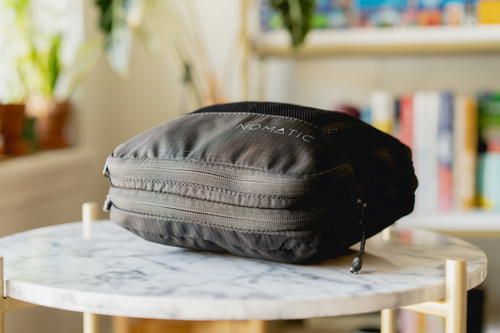 The material is not much of a deal-breaker for me, but having some breathability is a nice-to-have.
Now with those baseline features mentioned, let's see how the Nomatic Packing Cubes hold up.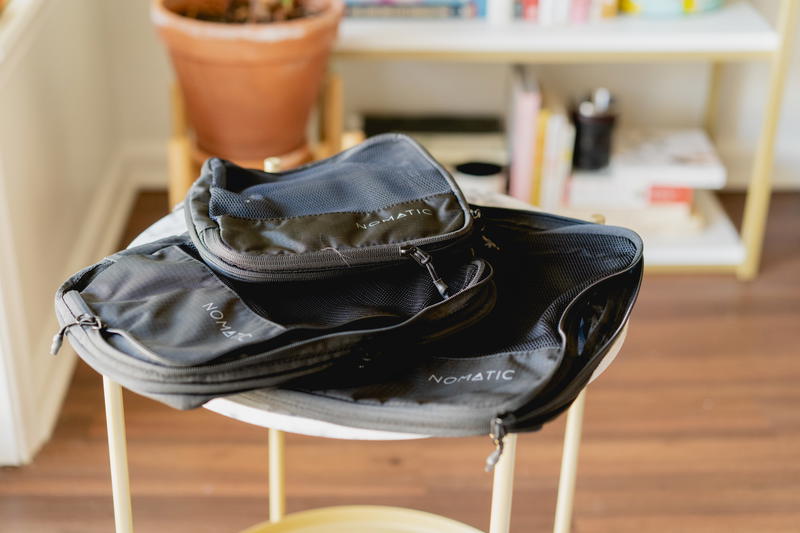 First, they come in three sizes: Small, Medium and Large. Use this guide to see the volume you can fit in each size:
Small Cube: 4L to 1.5L compressed
Medium Cube: 5.5L to 2.5L compressed
Large Cube: 10L to 5L compressed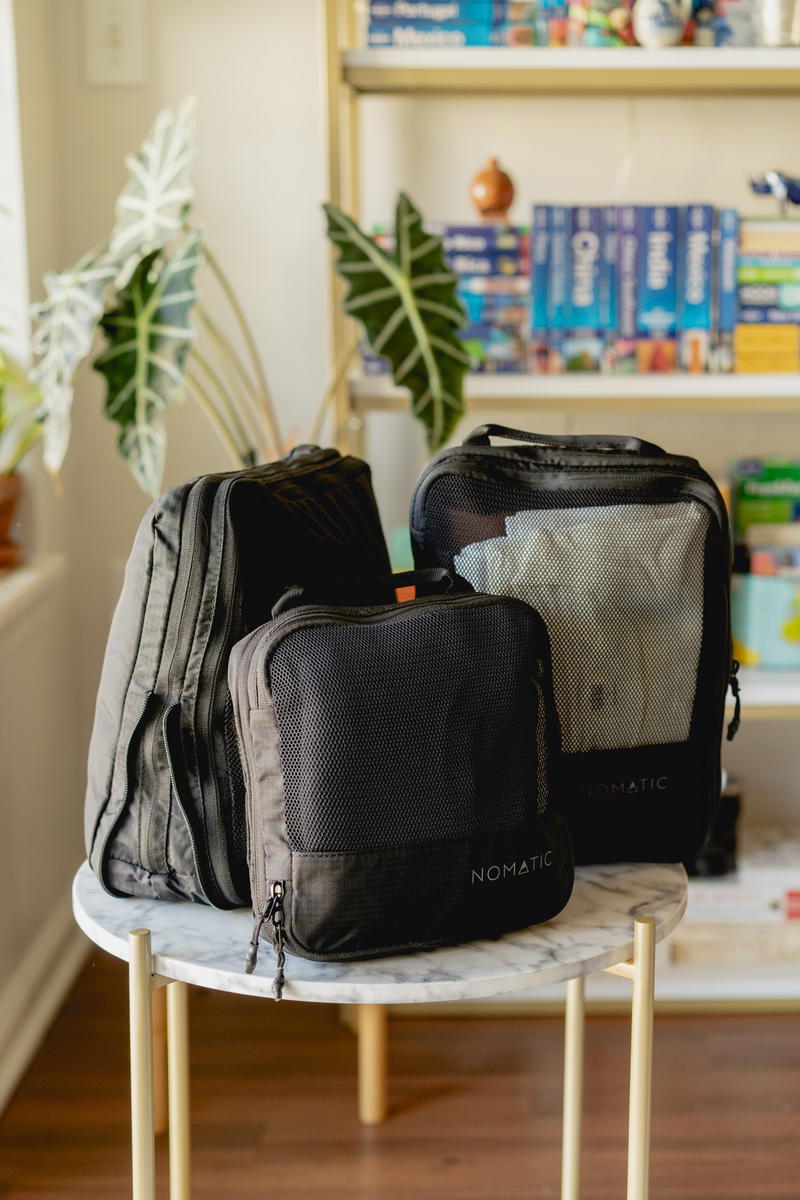 I used the small cubes for socks, underwear and maybe a T-shirt or two. I'll also use a size like this for some accessories, like belts and maybe a watch, for if I need to dress up.
The medium cube is a great size. It's perfect for T-shirts, shorts, pants and most of the things that you wear on a day-to-day basis. It's not a good use of space to pack anything too large in this size of a packing cube.
The large cube from Nomatic is great for jackets, bulky sweatshirts, pants or any other large items that you want to compress. If I am traveling for a long time, I might pack all of my T-shirts in the large cube, because that might be the majority of the clothing that I bring.
There really isn't anything wrong with the Nomatic Packing Cubes. They are generally affordable and competitively-priced compared to other high-functional packing cubes on the market for travelers.
Overall, I am very happy with them. I would recommend them to anyone looking for packing cubes and looking for a travel product that will last.
Photo via Nomatic
I like to use a shoe cube anytime I travel with an extra pair of shoes. I usually bring a spare pair of shoes if I am going somewhere that requires me to dress up, like a wedding or a work event. I like to run and do healthy workouts when I travel, so if I am not wearing my running shoes on the plane, I'll typically pack them as well.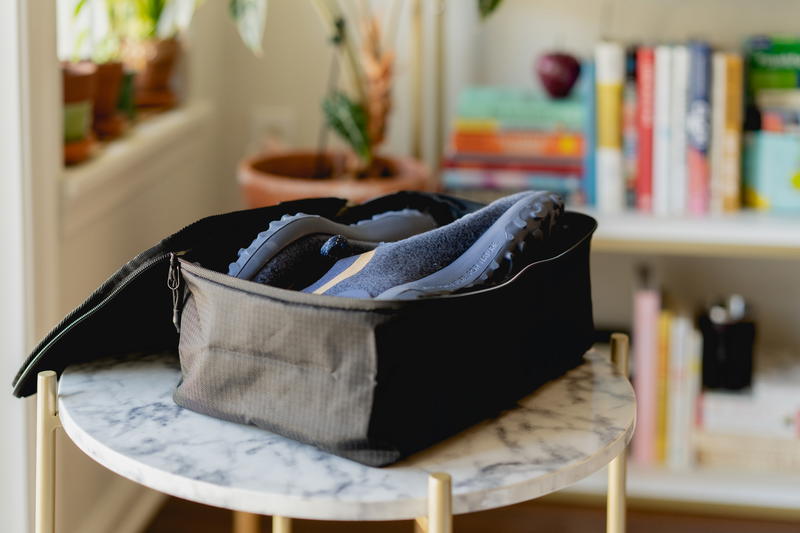 Shoe cubes are great to keep messy shoes away from your belongings. That's their primary purpose, and for many people, a shoe cube is a type of product that is often overlooked when packing.
With shoe cubes, you can either have a cube for your shoes or more of a sack to slide your shoes into. The sack style is typically compressible, which may or may not be desirable for you. I'm open to either type.
The Nomatic shoe cube is the "cube style" (as you probably guessed from the name). It also stays relatively flat unless there are shoes inside.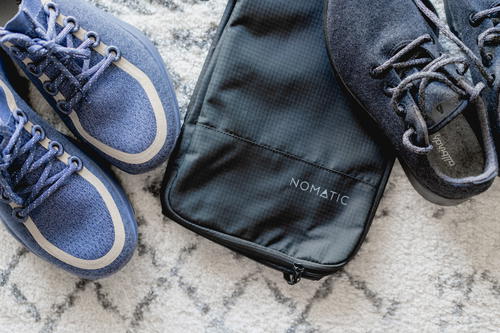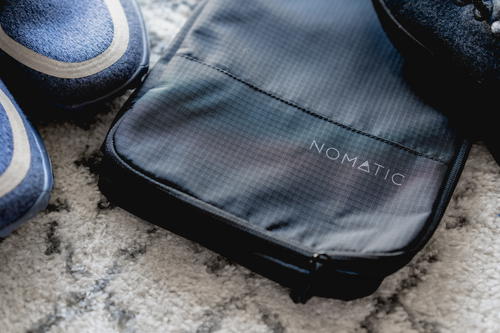 I tested the cube with Becca's women's size 7 shoes and my size 10 shoes. Both sizes fit nicely and had no issues with closing or having too much or not enough room.
Here are the size 7 shoes.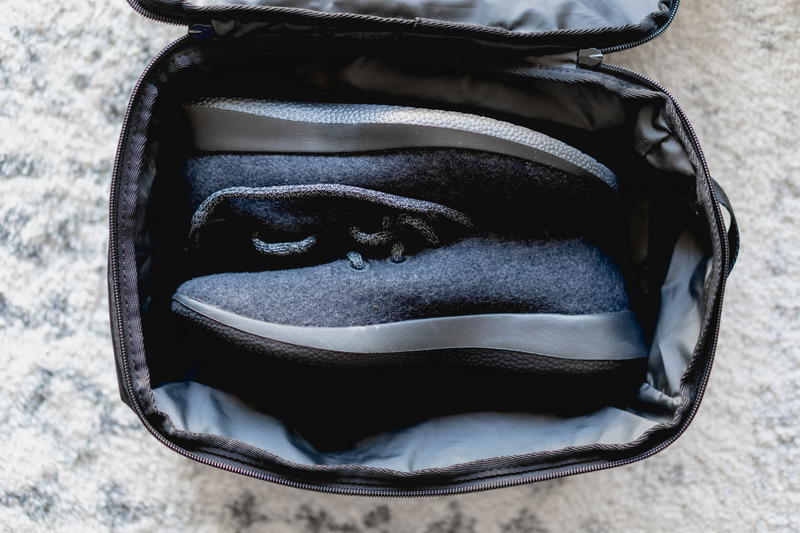 Here are the size 10 shoes.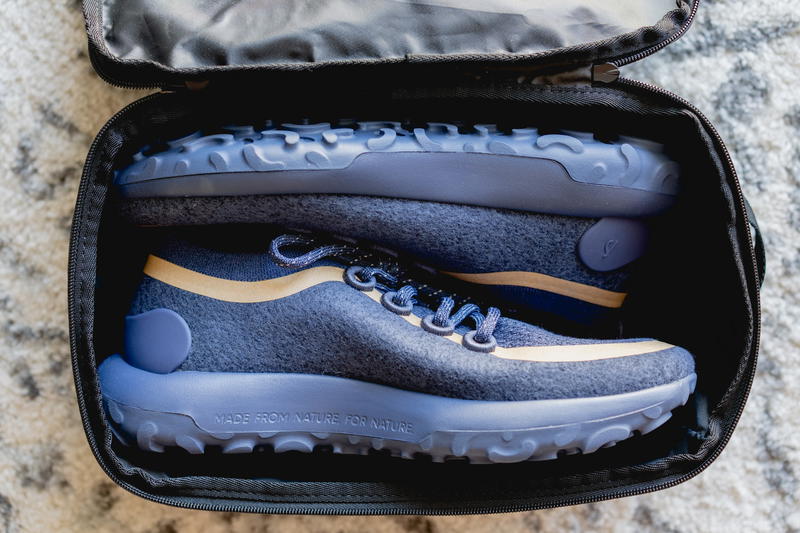 Nomatic says that their maximum size that will fit is a US size 12. And based on what I saw from my size 10 shoes, I would tend to agree.
Photo via Nomatic
Enjoyed our article?
Consider supporting us! We're a 2-person team (learn more about us here) and your support enables us to create quality content. Thank you!
Explore our other favorite brands!