14 Best Joggers for Men (Best Style and Versatility)
Written by Dan
•
Updated on September 23rd, 2023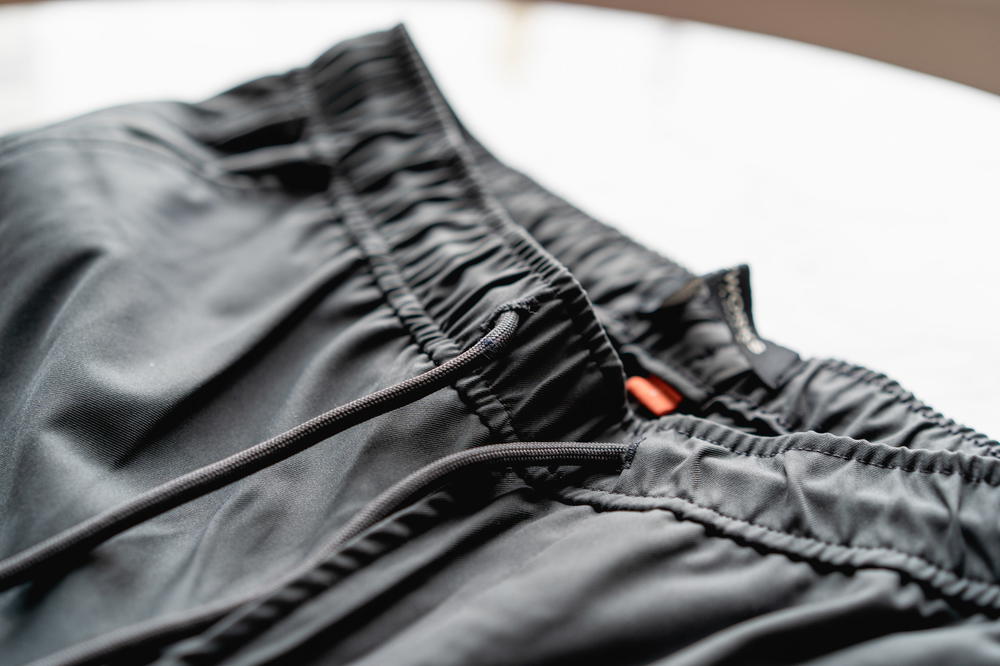 Here are the best joggers for men, from athletic joggers, to athleisure loungewear joggers, to versatile travel joggers that double as casual pants for every day. See the list.
This article may contain affiliate links. We earn a small commissions when you purchase via those links — and it's free for you. It's only us (Becca & Dan) working on this website, so we value your support! Read our privacy policy and learn more about us.
Table of contents
Close table of contents
Over the years, I've collected quite a few pairs of joggers. To me, joggers are different from sweatpants. The feature of joggers should have qualities suited for travel, exercise and comfort. In more recent years, joggers have also been great work-from-home clothes.
Joggers let you feel casual, yet decent. They function as athleisure pants, but you can secretly dress them up. That's the cool thing about joggers.
I personally consider sweatpants to be reserved for the classic champion-style retro 100% cotton pants. Most joggers that are on this list have modern material and features designed for purpose and style.
In this article, I'll go over some of the best joggers that I've come across and explain some of the best features of each.
You'll find that based on the brand, joggers range from more on the "athletic" end of a product, to more on the "decent" end (think of something you could dress up with a nice top, in a pinch).
I hope you find your next favorite joggers in the list that follows!
The Public Rec joggers are what originally turned me onto joggers in the first place. Before I owned these, I didn't really know how comfy joggers could be.
My thoughts about these joggers feel opinionated, if that makes sense. Let me explain. They hold their shape really well, and have more of a stiff framework. If you think about how you can roll sweatpants into a ball, these are the opposite of that.
They are not stiff in terms of comfort, though. They are soft, comfortable and versatile. You can wear the Public Rec All Day Every Day Joggers with a wide variety of tops to make your outfit complete.
I usually wear a T-shirt or a hoodie by default, but you can wear a nicer sweater and dress these up a bit. They'd look fine. You can also buy a matching pair for a woman in your life, as my wife Becca already reviewed the Public Rec joggers for women.
Level of activity I would recommend with these
Before I had any real type of running pants, I would actually run in these. I would only wear them running when the temperature was hovering around 32 degrees Fahrenheit.
I wouldn't really recommend these as running pants, but I would recommend them if you want something to assist in your comfort for light activity. Going for walks, having a catch, playing with a niece or nephew are all par for the course.
Do I recommend the Public Rec All Day Every Day Joggers?
Yes. I recommend these, and they are up these with some of my favorite joggers that I own. If you are on the fence with sizing, pick something on the smaller side. They run a tiny bit big, in my opinion.
Western Rise, a brand from which I've sourced an entry on my list of the best travel pants for men, has debuted the Spectrum travel joggers, which are meant to be okay both for light athletics and casual wear.
These versatile joggers for men happen to be perfect for travel, because of the stretchy fabric that's breathable, moisture-wicking and comfy. I'd for sure wear these on a flight or as soon as I get to my hotel and need to lounge around and decompress.
Western Rise markets these joggers as being meant to "replace sweatpants and casual chinos" rolled into one. What you'll see about the fit is that they're a bit baggier (rather, not as form-fitting) as other joggers, and they do look a little bit more like loungey sweatpants.
One great feature is a slim hidden zipper pocket.
Sizing comes in S through XXL, and you'll find a helpful sizing guide on the Spectrum Jogger product page.
Let's talk about lululemon's joggers for men: they're unique and they look nice. The ABC Jogger Warpstreme come in a whole list of cool and versatile colors, and they have funky deep pockets on the front.
I have these and they're very nice. The fabric and material feel high quality, which is what you can expect from lululemon.
In short, the crazy name "Warpstreme" refers to the company's Warpstreme fabric, which sports a four-way stretch, shape retention, wrinkle-resistance and everyday performance. In more detail, it's made from recycled polyester, nylon, Lycra elastane and Elastomultiester (this is a new word for me).
The ABC Warpstreme joggers have technical features like secure storage in those deep front pockets and a single zippered back pocket, with a drawcord that can be hidden if you prefer a flat waistband.
Like DUER products, the crotch is built with an ergonomic gusset that'll let you sit cross-legged in your desk chair (I use this one) during the work day. Don't tell!
The fit
I have a Medium, and while this is mostly my size for joggers, the waist feels a tad small. I wouldn't want a large, because the legs would feel too baggy. While wearing them all day, they don't feel uncomfortable. When I tried them on originally I didn't think they'd fit. Once they got over my hips they were actually fine.
If you are in between sizes, I would size up if you want a more relaxed fit.
You'll be familiar with DUER from my review of their performance denim jeans for men, along with their newer Poplin AC weightless shorts that I like for athleisure and lounging.
Now that DUER has a pair of joggers that are tapered and stylish, you won't want to miss them. The build on these are considered 'athletic,' which is usually where I find a win in terms of fit and sizing.
As for DUER's No Sweat Joggers, I wouldn't consider them pants for athletics. They're a more true casual pant, good for wearing on a day spent working from home or running (not literally) around town running errands.
With the casual athleisure build, they have a cool slim fit with a bottom cuff, two back pockets like you'd find in your favorite pair of jeans, and a zipper thigh pocket that sets these apart.
I've got to say that what I also think is great about DUER's jogger offering is the array of colors that are both calming and classic. With the best sellers of black and army green, you've also got more seasonal color picks of ink blue, slate gray, golden brown, falcon gray and a yellowish-gold called Tobacco.
DUER's sizing comes in sizes by waist, so choose from 26-38 and use their size guide before checking out.
I have the Brooks Spartan Pants and I really enjoy them. Yes, they are marketed as running pants and I use them for that. But, they are also less traditional joggers that can be used for any active activity and beyond.
There is quite a lot of overlay between joggers and running pants. You get comfort, zipper pockets, flexibility and versatility.
As an example of versatility, if you're cold, you can easily throw these on over your existing activewear shorts. Because the ankles zip, you don't even have to take off your shoes.
Another benefit of these Spartan Pants is they are lightweight and do well in most climates.
You can pack these for travel because they don't take up a lot of room. They compact to a small footprint which is good if you're running low on space.
I like my pair of Tracksmith Session Pants. They fall in the category of "running pants that are also great as joggers", though. If you're a runner, you probably know about Tracksmith.
If you're into activewear, you should also know about Tracksmith by now. They are a New England-based company that's keeping the spirit of running alive. I like this!
In my opinion, Tracksmith also stands for quality and experience. When you receive your pants, you get a clean package design experience. There's a great-looking mini-envelope with a small branded sticker. and your receipt. It's the opposite if receiving a garment in a plastic bag with no branding. It's the opposite of getting something from Amazon.
Sure, the packaging is nice, but how are the pants?
Verdict: They're great. The minute you slip them on, you know they are made very well. You can feel the quality, and you can feel the effort that went into sizing them for a fit guy.
Like most running pants, I think these work as a great pair of joggers. They are an A+ in the comfort department and they allow me to move freely when I'm wearing them.
I typically wear a 32x30, and the Tracksmith Session Pants fit perfectly. I was actually really surprised that I had no qualms at all!
If anything, they are a tiny bit on the snug side. There is a lot of stretch, so they can accommodate most body types.
I tried the Tracksmith Rapid Transit Pants, and I don't think they are for me; however, they could be for you!
For what they are, they have an incredible amount of quality and strength built into the materials. This is something I could tell as soon as I took them out of the bag. It was obvious that the price tag reflects the design and craftsmanship.
They are built like dress pants, but they feel like joggers. With details like a hook-and-bar waistband and pleats, you'd be surprised that they are in fact, joggers.
I found that there was too much room in the thighs and backside for me to feel comfortable in these, in size M, even though, as written above about the Session pants, the M in that style fit great.
I think the Tracksmith Rapid Pants are not my style, but that doesn't mean that this style isn't for you.
Knowing that they fit more on the baggy side and are optimized for comfort, they would be a perfect match if you're looking for something like that. I recommend looking into your exact sizing, and perhaps ordering a size up and size down so you can find your perfect match from Tracksmith.
When I received my Nathan Men's 365 Jogger, I immediately put them on and went for a run. It was winter, and I had already gotten a pair of running pants from Amazon, just to have a base model off of which I could compare better brands.
I went for a run in the NYC winter in the Nathan Men's 365 Jogger, and then I went for a run in them again. And again. And again.
These joggers are great for (you guessed it…) jogging. And I would recommend them to any runner, especially anyone who lives in a city that sees all four seasons throughout the year.
My favorite aspects of the Nathan Men's 365 Joggers are that they have plenty of pockets, a tapered leg fit that cuffs at the ankle and super stretchy fabric.
They feel lightweight, but not flimsy. They're versatile. They're great both for a workout, or working from home right in your home office. They're the perfect work-from-home joggers that turn into your workout pants for when the day ends.
None of this is surprising because Nathan is a brand that makes running essentials. The intuitive designs of their products are for athletes at any level. I also feel like I could live in these joggers at home, so it's a win-win product for me.
You probably know that I like Bluffworks a lot as a casual brand built for travel. I've reviewed an array of Bluffworks products, from how to pack their travel suit to the Bluffworks wrinkle-free dress shirts.
Let's talk about the Bluffworks Airline Pants, the brand's new take on the jogger, styled with a dress pant, in fact. It's a hybrid style, good for a travel day or a smart casual occasion.
The Bluffworks Airline Pants are casual, with a tailored fit and a drawstring close. They're like smart weekend pants, cool for heading out to hang, and great for spending a few hours on a plane, when you want really comfortable pants for your flight.
My favorite pair of any Bluffworks item is my Ascender shorts. I basically live in them in summer. The fit is perfect. With the Airline Pants, the fit was a bit more on the snug side, although they have a considerable stretch. They come sized in S-M-L-XL, rather than sized by the waist (i.e. 30, 31, etc.). Also, there are both Regular and Long lengths available as options when you're choosing your size, which I appreciate!
I'd encourage you to explore your best size by using the Bluffworks Fit Guide and ordering a size up as well as the size you think you are based on what you own.
My favorite aspects of the Presidio Airline Pants are the materials, and this is because it's a similar proprietary fabric as my favorite Bluffworks shorts. The Presidio fabric is quick-dry, machine-washable and wrinkle-resistant, so it's your ideal trifecta for when you're traveling, and you need a go-to pair of casual pants that'll do the trick.
For a woman in your life: while not a carbon-copy, Bluffworks makes these joggers for women that Becca reviewed, so if you need a gift for someone female who likes to lounge around, check them out.
Everything else!
I handpicked the rest of these options based on overall reviews that I found online and brands that I already know and trust. In the future, I hope to test them out and compare them to the rest of the items on this list!
The stretchy Commuter Jogger by Rhone is built with maximum mobility. They were dreamed up for multiple uses and have a gusset for ultimate mobility! I like that they're designed with replacing your favorite pair of chinos in mind.
The Commuter Jogger has a cool back-of-the ankle zip and a cuff that hugs right above the ankle for a nice look. The flexible fabric is wrinkle-resistant, so when you get off the train for your morning commute, you won't look all wrinkled up. There's a good reason for why they're called the Commuter Jogger.
Meant to be a day-to-night pair of pants, these joggers are semi-athletic and comfortable. One thing I'd like to note about them is that they do have a hug-the-body type of slim-fitting snug fit, so if you are looking for a looser pair of loungey joggers, I'd suggest looking at the other alternatives in this list.
Slightly different from the lululemon Warpstreme Jogger is the Surge Jogger, which is kind of like the joggers of the future.
In contrast to the Warpstreme, which is designed for athleisure loungewear, the Surge leans toward actually working out. The classic tapered fit is the same, and instead of a zippered back pocket with deep front ones, there are streamlined front pockets and a single back pocket with no zipper.
An added feature is a zipper at the ankle, as well as reflective detailing for when you're out a dab past dark, for safety.
These joggers aren't quite "pro" athletic gear, but if you're a fan of the brand and you're looking for joggers that look great and perform in a workout, see how you'll like the quick-dry sweat-wicking fabric in the Surge Jogger.
These lightweight joggers from Bonobos are classically good-looking. What I like about them is that the sizing accommodates men of various heights, with options in "Short," "Regular" and "Long." You don't see this every day.
Bonobos describes these joggers as refined and for all seasons, and given the lightweight material, they're just that. Made from a rayon-nylon-polyester-polyurethane blend, they're easily machine-washable and can be tumble dried.
As for the fit, they're pretty simple and relaxed. There's a tapered leg shape with an ankle cuff, and an easy drawstring waist. Bonobos has lots of information on finding your correct size so that you can hopefully get it right. Check out the Lightweight Homestretch Jogger (and see if you can snag them on sale).
From Outdoor Voices, there's the jogger-like sweatpants for men called the All Day Sweatpant.
They're incredibly soft in terms of the material, and have a relaxed tapered fit that anyone could like.
Outdoor Voices unabashedly recommends them for cozy days spent working from home. The CloudKnit fabric is 94% polyester and 6% Spandex, giving them a dab of stretch. Two technical details are the drawstring waist and two side pockets.
As a bonus, the All Day Sweatpants come in cool colors like Heather Grey, Charcoal, Fog (very light grey) and Tea Tree (greenish).
These stylish joggers from On are specifically meant for running, which is why they're literally going to be your favorite pair of unique jogging pants.
What's great about this specific style is that they hug the calf, so they have a much more athletic feel to them than the other joggers in this list aside from those that are from running brands as well.
The On Running Pants have a neat drawstring waist, cool side zipper pockets and a convenient ankle zipper. The design is meant to be for race-day ready guys who also want to lounge in the same pair of joggers. They're debatably best for cold-weather running and athletics, warming up and cooling down after a workout.
How did I make this list?
Comfort
Comfort is one of the most important decision factors when picking a pair of joggers. You're wearing these pants and you want them to be comfortable.
If they don't fit well, you won't like wearing them and they'll find their way toward the back of your dresser.
Everyone is shaped differently and certain brands may fit you better than they fit other people. For me, I have more of an athletic build and pants generally tend to fit me better than shirts.
Joggers are also quite forgiving because they aren't designed to be as fitted as a pair of jeans or dress slacks.
Style
You should like the way joggers look and you should especially like how they look on you. For me, I tend to be more conservative with the styles that I pick out.
For colors, I have a preference for dark and neutral colors with the occasional pop of color here and there.
I like to stand out and fly under the radar at the same time, if that makes sense. My style for joggers tends to stay within that range of motion.
The joggers that I selected for this list are stylish in today's climate, but won't turn you into a trendsetter by any means.
Functionality & Versatility
I enjoy being able to use a pair of pants for multiple occasions. As I've lived the extremes of having too many clothes at some points in life and at others, traveled full-time living out of a backpack, I value being able to have clothes that fit multiple use cases.
With joggers, you inherently get a great pair of bottoms that are great for exercise, comfort, travel and lounging.
Some joggers are better than others, or so it seems. There's not much variability that you can fit into a pair of pants. They're pants. Sometimes they have zipper pockets and someones they have different reinforcements at common points of failure.
These features are nice to have, but aren't always practical for you if you're looking for something simple.
For me, I'd rather have a feature that I use once or twice rather than not have it at all. One time, I was wearing a normal pair of sweatpants on a train and my wallet fell out of my pocket. I'll never forget this.
I ran back to the train after I noticed and luckily the train hadn't left the station. I was able to figure out where I was sitting and I found my wallet in between the seats. Now, given the chance, I always zip up my valuables even if I don't think they'll get pick-pocketed.
Materials
The materials are important because they determine a lot about the quality and longevity of your joggers.
100% cotton sweatpants are comfortable, but don't offer you any benefits for sweat-proofing. They may also stretch, unreliably, over the years. There's nothing wrong with 100% cotton, but I wouldn't want to get them wet, even by a single drop. Especially with gray sweatpants, a drop of water looks like a stain before it dries.
I have two identical 100% cotton T-shirts that fit completely differently. Conversely, 100% cotton clothes that I have are some of my favorite items in my wardrobe.
With different materials, like polyester, nylon or elastane, you get a mix of comfort and practicality. Some brands choose to go 100% polyester, while others find a mix of materials that optimize performance. There's no right choice, and the construction and quality of the materials will make a huge difference.
Price
Price is important because saving money is important. A good guideline that many people forget when they see something they want is: "Don't buy something if you can't afford it." You can often find deals or sales if you track the brands that you know and love.
Keep in mind that some of the items on this list were gifted to us. They don't impact the decision of our recommendations, because all opinions here are our own. You can note that I didn't pay for some of these products in order to own them. I want to be up-front and transparent about that!
Enjoyed our article?
Consider supporting us! We're a 2-person team (learn more about us here) and your support enables us to create quality content. Thank you!