Allbirds Men's Wool Runner-up Mizzles: Should You Get Them?
Written by Dan
•
Updated on November 27th, 2023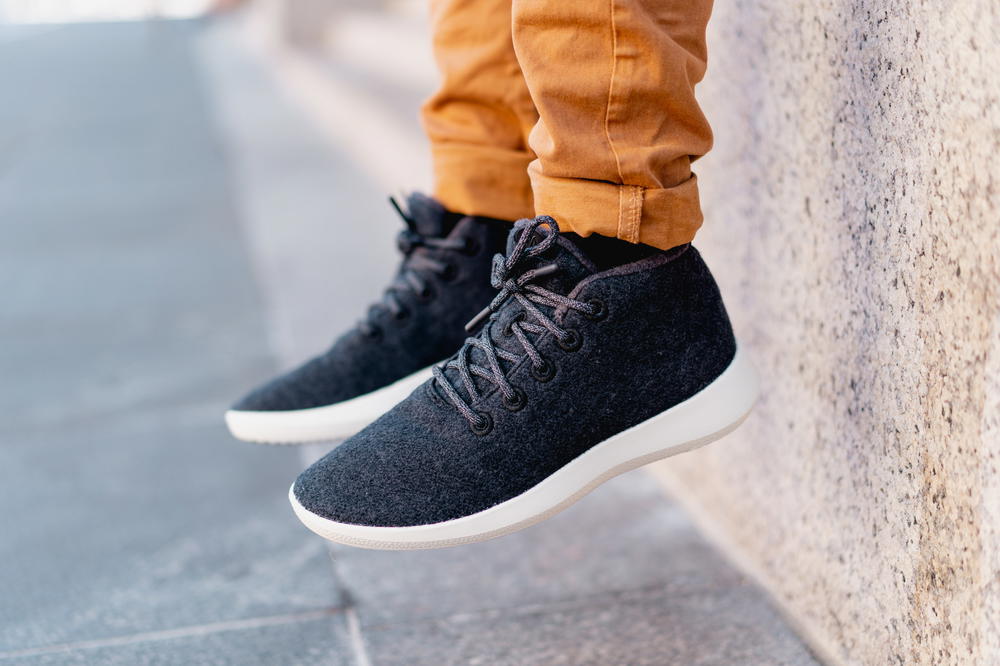 In this Allbirds Wool Runner-up Mizzle review, I compare the Wool Runners with the Wool Runner Mizzles and decide if this waterproof Allbirds shoe is really worth it.
This article may contain affiliate links. We earn a small commissions when you purchase via those links — and it's free for you. It's only us (Becca & Dan) working on this website, so we value your support! Read our privacy policy and learn more about us.
Table of contents
Close table of contents
I wasn't one of the first adopters of the Allbirds sneakers everyone talks about and can pick out from a crowd, but I did get my first Allbirds in summer 2018 and I'm now onto my second pair.
Allbirds is a cool brand with some impressive carbon-neutral practices that set it apart from other shoe brands. They've turned casual sneakers into a product that turns heads, and now they have a water-resistant sneaker that made me eager to try out.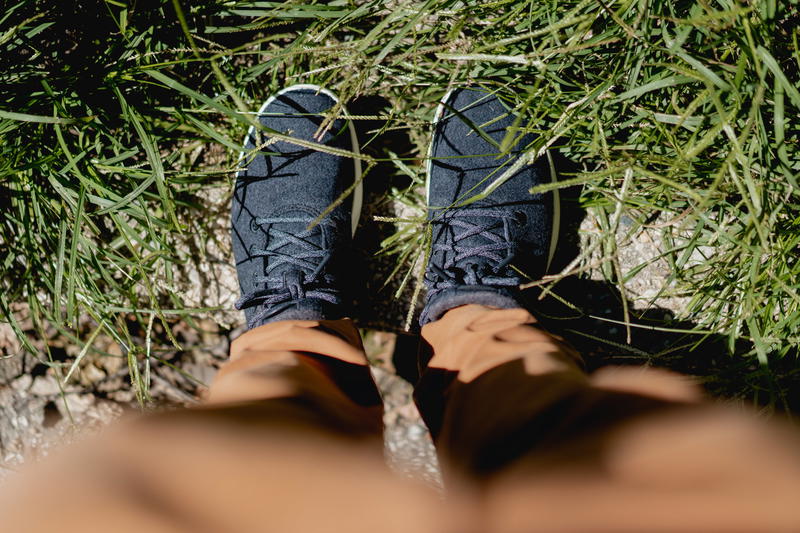 The Allbirds Wool Runner Mizzles come in a "high-top" version that I like as an additional type of shoe I can have in my closet. I don't typically seek out high-top shoes, but the Wool Runner Mizzles in its "Runner-Up Mizzles" version is a good fit for anytime I'm wearing regular pants or even dressing up casually with a collared shirt.
Up to 30% off!
The Allbirds deals are now live! Get up to 30% off sitewide! Use code GET30 at checkout.
Let's check out the Allbirds Men's Wool Runner-up Mizzles in this review about one of the newest water-resistant and water-repellent sneakers in the Allbirds family of products.
Helpful Tip
While reading this article, remember to use this link for a free pair of socks with your purchase of Allbirds shoes or Allbirds apparel. This will automatically be applied at checkout if socks are added to your cart.
Note: Allbirds sent me the Men's Runner-up Mizzles (along with the Allbirds Wool Pipers for Becca) to try out, and the following is my honest review about how I feel about them. Thanks, Allbirds.
Allbirds shoes have a few key features that set them apart from other brands I'm familiar with.
First of all, they use natural products in their sneakers. Allbirds shoes are made ethically with materials like merino wool, sugar cane and castor bean.
Some of their materials are even carbon-negative, like the soles of the Wool Runner Mizzles. That's something to be happy about.
Lastly, you can wash your Allbirds in a regular washing machine. Just be sure to line-dry them, and don't put them in the dryer, but it's pretty straightforward. Your shoes are guaranteed to be clean and free of odors after a good machine wash, and this is one of the simplest ways the Allbirds shoes make looking good pretty easy.
Another thing you'll find out when shopping for Allbirds is that they have a 30-day return policy with no questions asked. Also, any order online over $50 ships free, and all of their shoes are $50+ so that's a one-and-done.
You can learn more about the sustainability practices of the company at the Allbirds website.
Allbirds Wool Runner-up Mizzles review: Are they worth it?
Like I said above, I first tried out the Allbirds shoe brand during a trip to Ireland in 2018. Thinking back, it would've been nice to have a shoe like the Wool Mizzle because it rains literally all the time in Ireland, and it's when you'd least expect it.
This takes us to the Allbirds Wool Runner-up Mizzle, the shoe I've added to my Allbirds collection. The Allbirds Mizzles are the wool water-repellent lineup of shoes. These shoes maintain the look and most of the feel of the original Allbirds Wool Runners, with a few upgrades that are reflected in a slightly-higher price point.
The flagship feature of the Wool Mizzle shoe is the level of waterproof-ness. Merino wool is a unique material that Allbirds uses in its eco-friendly practices to make them more wintry and cozy shoes.
With the Mizzles, they're adding a thicker material weight for more warmth and a water-repellant layer on the exterior to keep out water.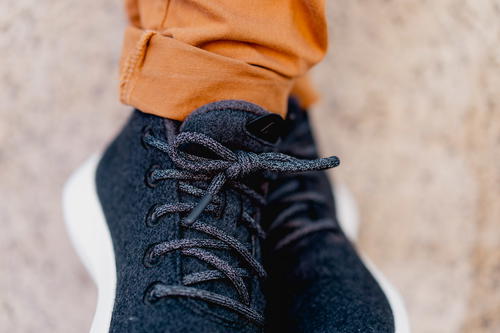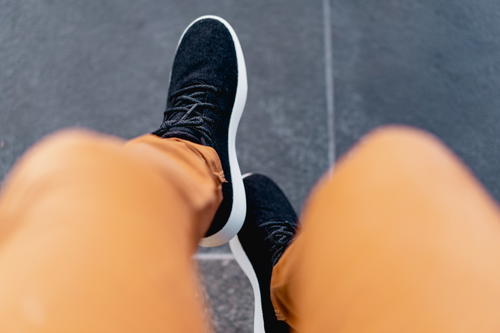 How waterproof are the Allbirds Mizzles?
The water-repellent ability is good enough for most situations. If you're caught in the rain, you'll be happy you have water-repellent shoes.
If you are going outside for a long period of time, stepping in puddles or trenching through snow — you'll probably have some issues with the waterproofing.
Keep in mind that these shoes are in no way rain boots. I don't even have rain boots, but I do have some boots that I wear in heavy rain, snow or sleet, and the Allbirds Mizzles would not be a stand-in.
Consider that having a water-repellent sneaker is good if you know there's precipitation in the forecast, or if you're going somewhere like Seattle or Dublin, where it's not too hot and it'll probably rain at some point, every day.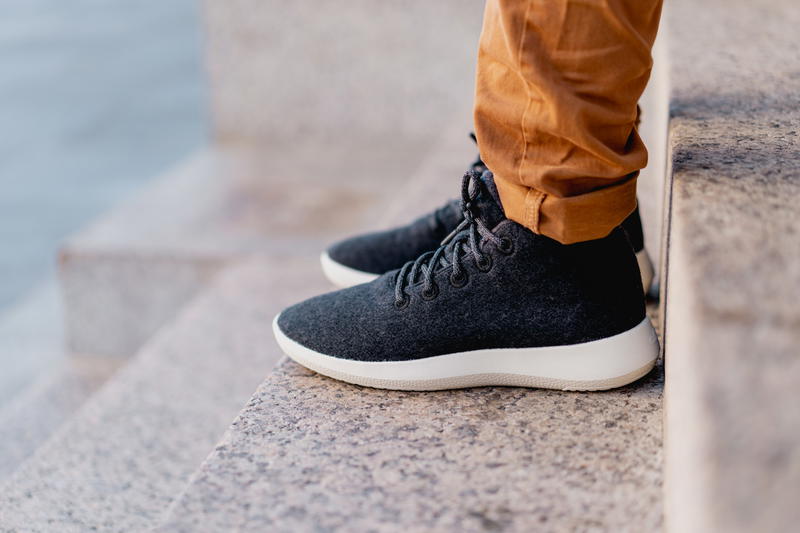 What's the difference between the Allbirds Wool Mizzles and Allbirds Wool Runners?
At first glance, the standard Tree and Wool Runners for both men and women look almost identical to the new Wool Runner Mizzles (we have to break down the Allbirds model terminology here).
Here are some visuals of other Allbirds shoes, which come in unisex versions: the Wool Runner, the Tree Runner and the Wool Piper. I'll mention a few of these as you read on.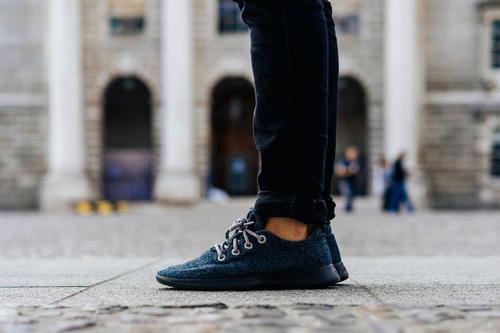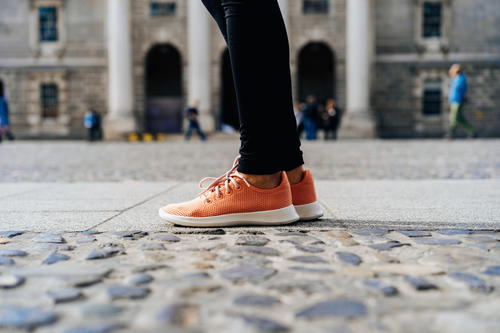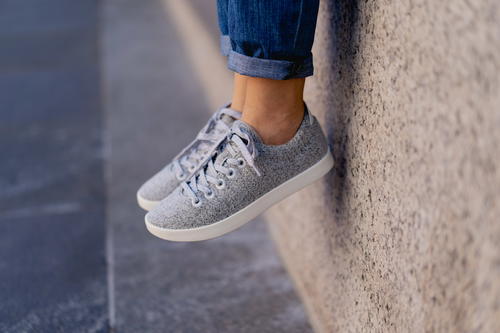 The first difference is that the "Mizzle" line only comes in the "wool" (merino wool) material. So, you won't find the Tree Runner in a "Mizzle" version.
As for the Wool Runner Mizzles and standard Wool Runners, I really had to look at them next to each other.
Both the Wool Runner Mizzles and standard Wool Runners are made from renewable materials, are machine-washable, were built to minimize odors, and have flexible movement contouring.
Both are made of ZQ Merino wool with a sugarcane midsole and a castor bean insole, and laces made from "100% post-consumer recycled polyester."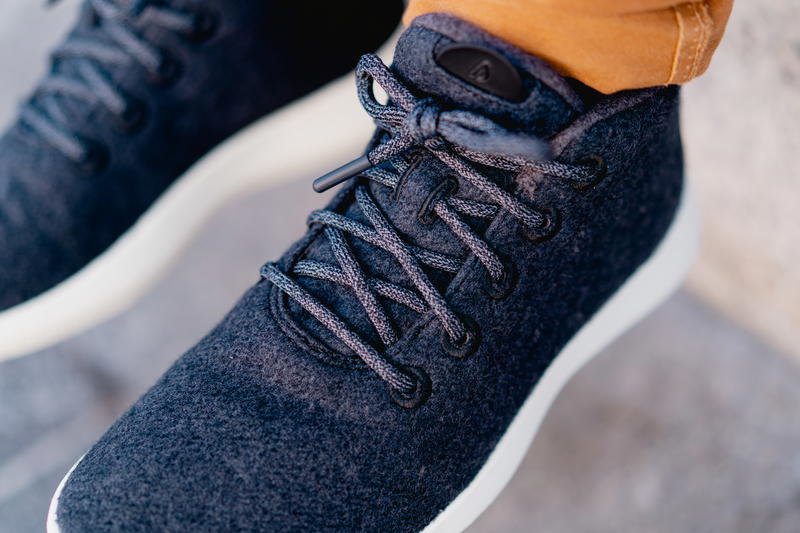 Here's a photo of each with me wearing them (the Wool Runner, and then the Wool Runner-Up Mizzle), next to each other: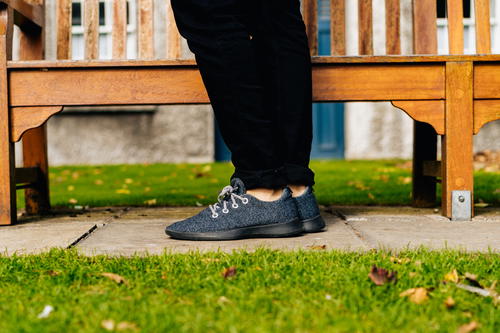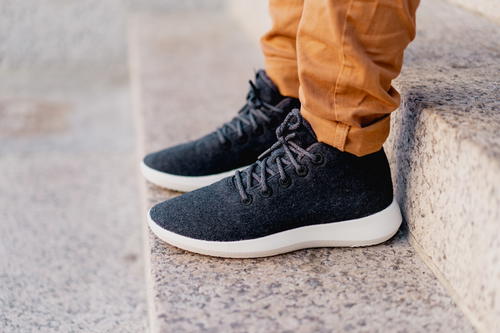 Here is where the Wool Runners and Wool Runner Mizzles are different:
The price point. The Allbirds Mizzles are priced higher. While the original Wool Runners are made from the merino wool material, the Mizzle shoe is the water-repellent sneaker of the two, made from what Allbirds refers to as thicker wool.
With this, the Mizzle claims to have a "bio-based water repellent shield" that will keep feet dry in unpredictable weather (good for an NYC fall, or a Pacific Northwest wet climate, I would think).
On par with the wet climate and rainy day aspect is the Allbirds Dasher Mizzle sneaker, which is more geared toward activity and running.
What are the pros and cons of the Allbirds Men's Wool Mizzles?
It's ideal to assess both the best features and the hesitations you might have when choosing which Allbirds to buy, and which Allbirds shoes might be best for you.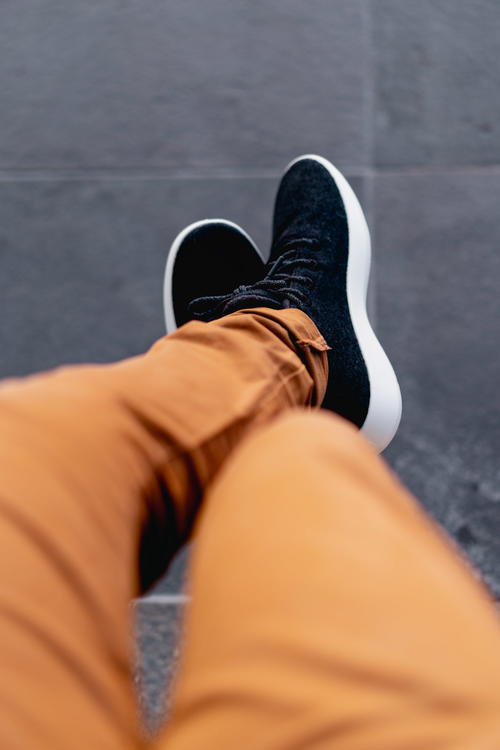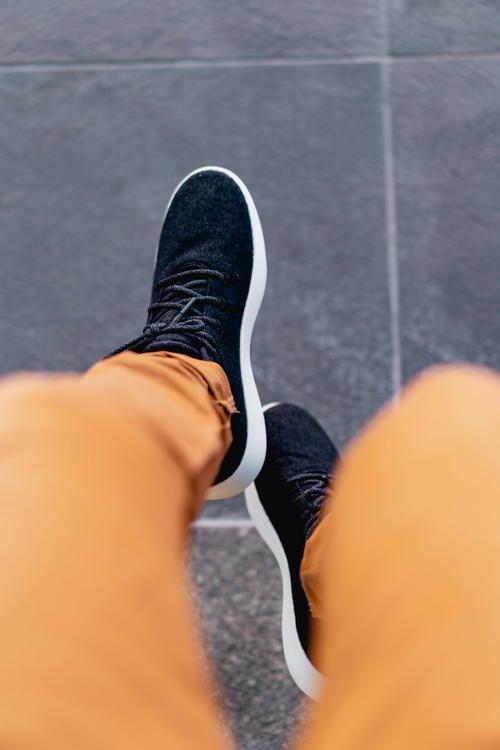 Pros
There are some good things to say about Allbirds and their products, which you may have already seen in reviews, media, videos or social media.
They're comfortable. They're cozy.
They're stylish. It's hard for men to find a cool sneaker for wearing out during the day or out to an event at night, and it's harder to find something that looks good enough with jeans where it doesn't look like you came right from the gym. Allbirds do the trick here with being an attractive and trendy shoe that you can wear to work or anything casual.
They're pretty good for the planet, and by that I mean that Allbirds is pretty transparent about their B-corporation status and eco-friendly practices for sustainability.
In comparison with the standard Allbirds Men's Wool Runners, the Mizzle product has an extra layer of material that causes a tiny bit more stiffness and rigidity, which might be what you're looking for.
Check out the floppiness versus rigidity I'm talking about when comparing the Wool Runner to the Wool Runner-up Mizzle: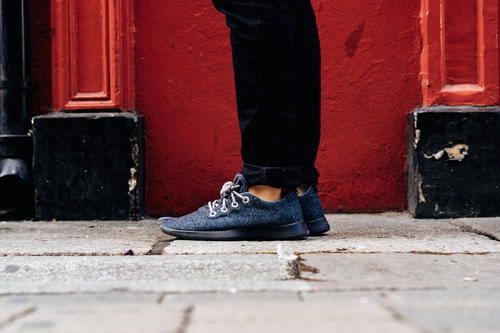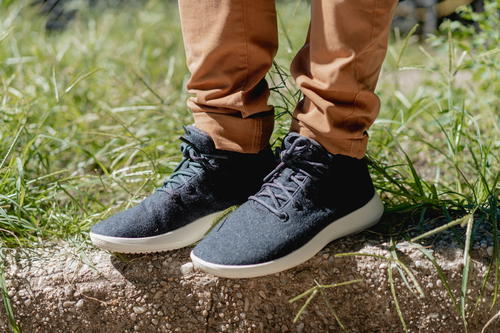 Cons
While Allbirds makes cool shoes that people are excited about, there are some things to know.
I've heard people say they hurt their feet. This might be that tiny layer of stiffness, or at least that is my suspicion. It also might be people who have flat feet or low arches who need more support in their shoes. Allbirds shoes do not have high arches and do not absorb shock like sneakers from big athletic brands would.
I personally wouldn't wear the Men's Wool Runner-up Mizzles with shorts because they have a high-top effect that I'm not into unless I'm wearing pants.
April 2022 Update: I've been wearing my Allbird Mizzles for almost 6 months. I walked about 6 miles in the shoes and felt a small amount of discomfort.
I'm still very happy with the my Allbirds and often wear them when it rains or want to dress up an outfit. I think they make a great business casual shoe and are great for going to an office.
If I know that I will be walking long distances (over 6 miles) or traveling and exploring a new city, I probably won't wear them.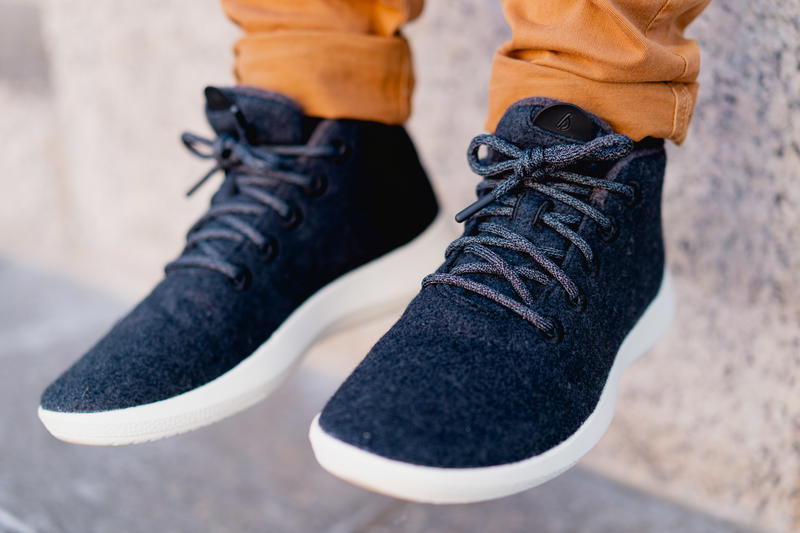 Here's a photo of me and Becca both wearing our Allbirds with pants. She's wearing the Women's Pipers, which look fine with shorts as well (in our opinion), but you may have to be a bit bold to wear the Runner-Up Mizzles with shorts.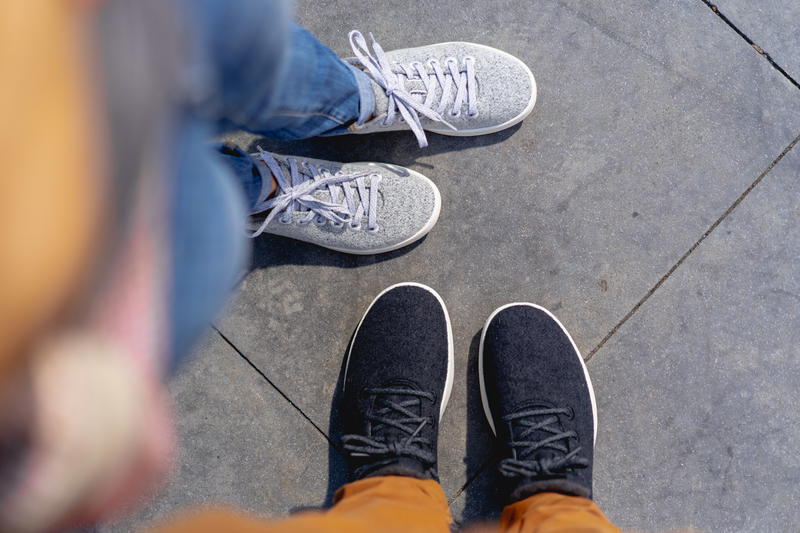 Final general considerations about the Men's Wool Runner-up Mizzles
I like these Allbirds sneakers and I'm looking forward to wearing them as a decent and attractive shoe to wear with jeans, from autumn to spring. They kept me pretty warm on a cold day (while wearing socks inside them), when paired with warm pants like my DUER Fireside jeans.
I think they make a nice addition to anything I'm wearing. They also come in a whole slew of colors, from Black to "Tuke Jo" (a dark gray), their natural gray and some more limited-edition color choices like navy, "Mist," turquoise "Aurora" and a heathered navy called "Blue Ridge."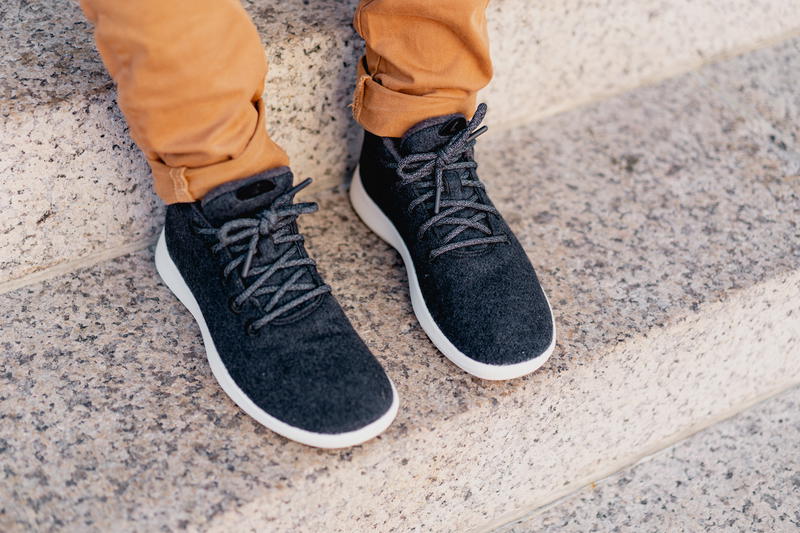 The Runner-up Mizzles are warm and cozy because of the merino wool! For most people, I don't think these shoes are good for hot days. These are perfect for morning walks, brisk falls days and the winter. If your feet sweat, I'd avoid them as soon as summer hits, or if you live somewhere humid.
Oddly, my don't sweat and I don't mind wearing these even on super hot days. I quite like the look of these with shorts lately.
They are excellent travel shoes that I'll be including in my future travel gear. I'm a big fan of only traveling with one pair of versatile shoes in order to pack minimalistically. The comfort, waterproof quality and style make the Allbirds Mizzles okay to wear in a lot of different situations.
Because they are water-resistant, the Mizzles are a bit easier to clean. They don't get dirty as easily as my other Allbirds. Note: I have both pairs in the dark gray color choice, as to not show so much dirt (I live in NYC, so walking down the street, you never know what can happen).
I have the Allbirds Wool Runner-up Mizzles, which is the high-top version of the standard Wool Runner Mizzles. The regular lower Wool Runner Mizzles look a lot like the original Wool Runner shoe.
Allbirds also sells the classic Tree Runners and Wool Runners and the "Dasher", which is the newer run-friendly shoe that also boasts a water-resistant capability.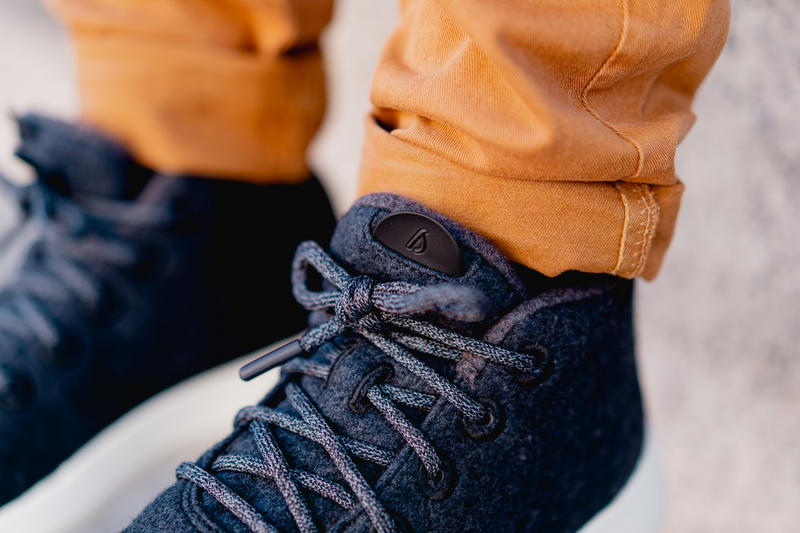 Where to buy Allbirds Wool Runner Mizzles
Obviously you can buy Allbirds via their own retail experience. Not many other stores carry Allbirds right now except for REI. If you have an REI close to you or you are am REI Co-op member and like the shopping experience, check out Allbirds on REI.
Getting Allbirds in-person at a retail store
You can now buy Allbirds shoes at any of their retail stores around the world, which are located in some major (and awesome!) places like NYC, Chicago, Boston, DC, LA and also South Korea and China, not to mention across Europe.
Getting Allbirds shoes online with shipping
If you're not near an Allbirds store and you want to sit at home and shop online, go for it! You can shop on Allbirds.com to get the Wool Runner Mizzles or Wool Runner-Up Mizzles.
And, click here for a free pair of socks when you buy any Allbirds sneakers or clothing products on their website.
Helpful Tip
Note: The socks will automatically be free at checkout, if they're in your shopping cart online! 🧦
Enjoyed our article?
Consider supporting us! We're a 2-person team (learn more about us here) and your support enables us to create quality content. Thank you!