Things to Know Before Traveling to Myanmar (Burma)
Updated on September 11th, 2023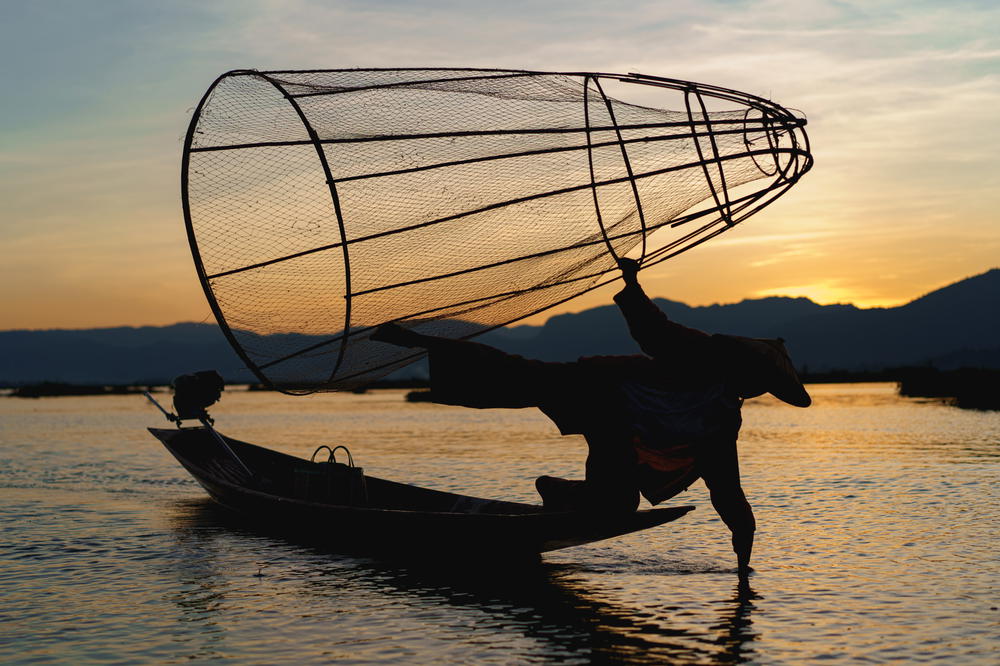 What's it like to travel or go backpacking in Myanmar (Burma)? Here's what to know for how to prepare for a trip to Myanmar with our travel tips, itineraries and ideas for what to pack.
This article may contain affiliate links. We earn a small commissions when you purchase via those links — and it's free for you. It's only us (Becca & Dan) working on this website, so we value your support! Read our privacy policy and learn more about us.
2023 update: Myanmar is still going through a period of civil unrest, according to the US State Dept. at travel.state.gov. Travelers are asked to "reconsider traveling to Myanmar (Burma) due to armed conflict and the risk of wrongful detention of foreigners. The Travel Advisory for Myanmar (Burma) was renewed on July 24, 2023, as "Level 4: Do Not Travel." For more information on this topic as well as developments, please visit the US Dept. of State website.
Is it easy to travel in Myanmar (Burma)?
In our minds, we pictured travel in Myanmar to be like travel in other parts of Southeast Asia, but a bit less developed. After two weeks in the country, we were surprised at the current tourism infrastructure, which allowed us to travel freely and conveniently around the major traveler hot spots, and with ample amounts of English along the way.
As we like avoiding over-tourism, we were pleased with the amount of places in Myanmar that still felt empty, and we went to the most popular places on the most popular route!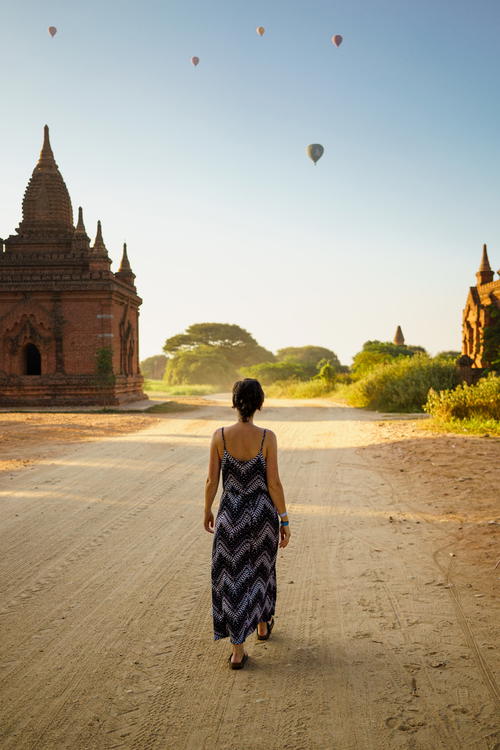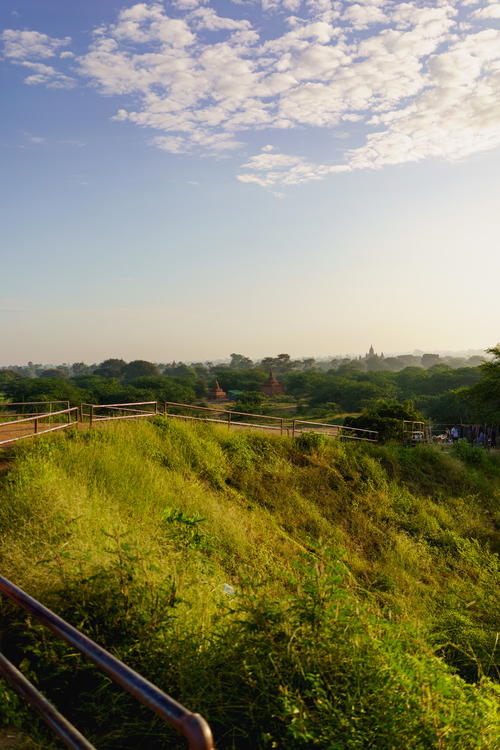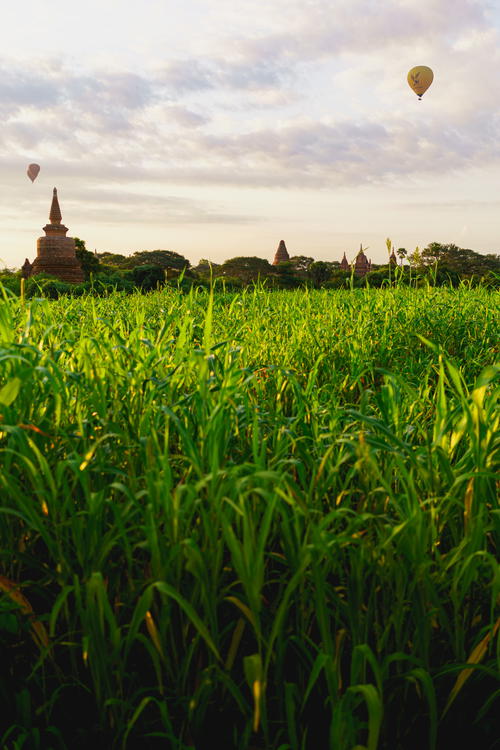 We also felt Myanmar was an affordable destination, where our daily budget was $35 each, per day. With this budget, we took first-class "VIP" overnight buses, stayed in private rooms and even enjoyed some cocktails at bars.
A few tips for traveling in Myanmar
Pack like a minimalist — it's best to travel light in Southeast Asia. Also, remember to discuss with your travel partner about flexibility, budget and the extent to which you'll plan your activities. Leave room for changes and unexpected availability of transport.
Here's what you need to know before starting your travel or backpacking trip through Myanmar.
What are some common scams in Myanmar?
Although Myanmar is exceedingly safe as far as traveling for travelers goes, there are several ways that scammers try to get more money out of you. Please note that none of these scams are dangerous; rather, these are ways people may try to trick you to pay a bit more or try to swindle you for a service you did not ask for.
Are there any scams in Bagan?
While in Bagan, we had rented an E-bike (motorized scooter) and were searching for sunrise spots at dawn one morning. A man on a motorbike saw us, and in English, offered to take us to a spot he knew of. We accepted, and followed him.
He brought us to a truly secret spot we never would have found, and we found two other foreign couples sitting atop a pagoda. When we asked them how they had found the place, they said the same guy who brought us had brought them the day before, and for the other couple, the day before that. They said after leaving, he'll have waited for us and will try to sell us paintings out of his bag.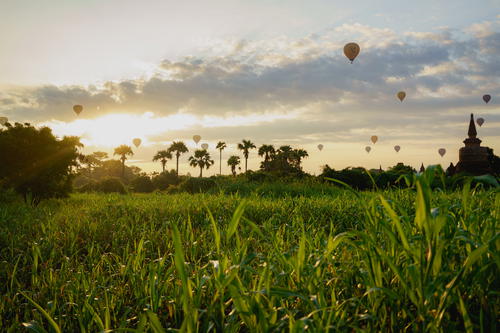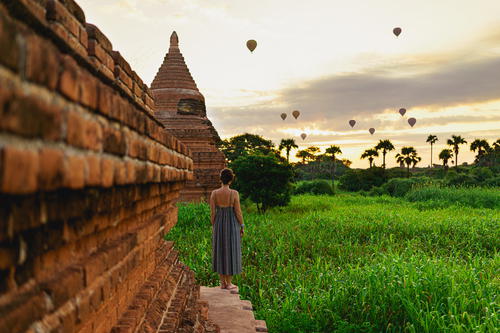 That is exactly what happened. One of the couples said they flat-out said no to the trick, and the other couple said they bargained and bought one. We took the route of negotiating and buying a painting from this man, who had, after all, taken the time to bring us to a somewhat legitimate sunrise viewpoint, and we also thought the paintings were nice, but it was a trick after all.
Helpful Tip
If you want to avoid this completely, say no to strangers who offer to help you and bring you somewhere.
Are there taxi scams in Myanmar?
We found that Grab, one of the helpful travel apps we downloaded before arrival, only worked in Yangon to get a fair price. When you get off the night bus or want to take a taxi in a different smaller city, you'll likely get quoted a higher-than-usual amount (this is also because Grab's prices are quite low).
Helpful Tip
Check pricing quotes or share a taxi with other travelers in order to create an Uber pool situation, as this is what we did when we arrived in Bagan. We got a better price and shared a car with another traveler, as we were all going in the same direction.
You can also get a quote from your hotel before you go. A taxi from the Bagan bus station cost us 10,000 Kyat because we shared the taxi. In Inle Lake, you can walk from most parts of town to your hotel, as everything is quite central, so there is no need for a taxi.
Is it OK to leave your shoes when you visit temples?
The best type of shoes to have in Myanmar is a sturdy sandal like Birkenstocks so that you can slide them off easily when you visit temples. When taking off shoes, be careful to keep your shoes out of the designated bins. We had someone tell us that she watched our shoes while we visited the temple's interior and that we needed to pay her.
Helpful Tip
To avoid this, we found it fine to leave them in clusters of shoes wherever locals left their shoes.
Should you pay anyone for taking photos?
At Inle Lake, people let you take their photo, and then ask for money. This applies to the dancing fishermen and tribal people who know that they look unique and authentic to tourists. We nearly expected anyone who was unique-looking enough to merit a photo to expect a tip, so we kept a few hundred Kyat handy to do so.
Helpful Tip
If you don't want to be paying anyone for taking their photo, keep your camera hidden, as to not attract attention.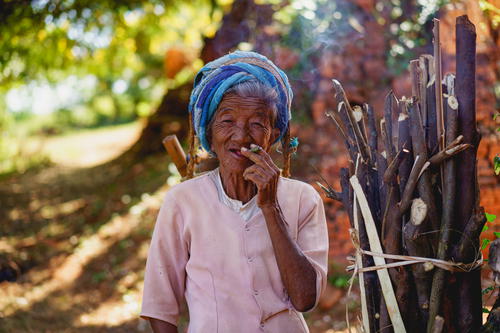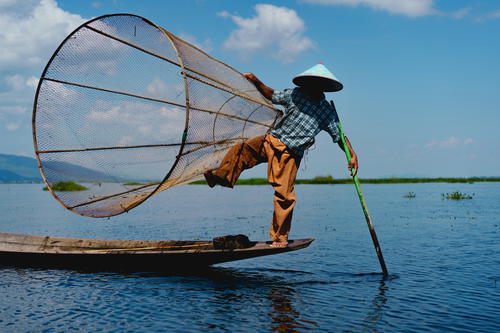 Are the fishermen of Inle Lake fake or real?
In Inle Lake, the dancing fishermen with the large nets aren't always real fishermen. We heard that they can make more from tourist tips than from fishing for fish.
The boat drivers will slow down when they see your boat, and if you're taking pictures, your boat driver will bring you closer. The fishermen expect to be paid for posing, so if you want a photo of this quintessential Inle Lake scene, expect to be paying the fisherman a few hundred Kyat for his time.
We were happy to tip the fishermen, because we sure can't stand on one leg on a boat with a giant net! That's talent!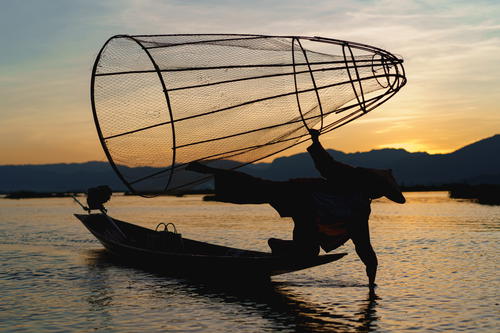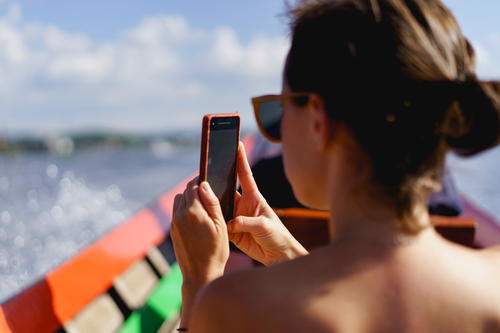 What are the 1-week and 2-week itineraries for Myanmar?
Where to go with a few weeks in Myanmar
There are many itineraries for travel in Myanmar and there's really no bad way to see Myanmar. We went from Yangon to Bagan to Inle Lake, and back. We recommend flying out of Mandalay if possible, so you don't have to return to Yangon, if return flight prices allow.
Helpful Tip
Looking for new proven ways to save money on flights and airfare? The easy solution is to sign up for Going, the leading way to find flight deals and mistake fares, directly to your inbox. Use HALFHALF20 to get 20% off!
Best itinerary for 1 week in Myanmar
Fly into Yangon or Mandalay where you can spend one to two full day(s) experiencing either city, spend two full days in Bagan, two full days in Inle Lake (one day for a boat tour and one day for biking around the lake) and another one or two days in your city of departure.
Helpful Tip
For a more detailed itinerary, check out a travel guide by Lonely Planet! It helped us a lot during our trip throughout Myanmar. Get one on Amazon or Bookshop.org.
Best itinerary for 2 weeks (or 10 days) in Myanmar
With two weeks, you can allow for more flexibility with your chosen way to get around the country, whether that is with night buses (our choice, in order to travel more sustainably) or domestic flights.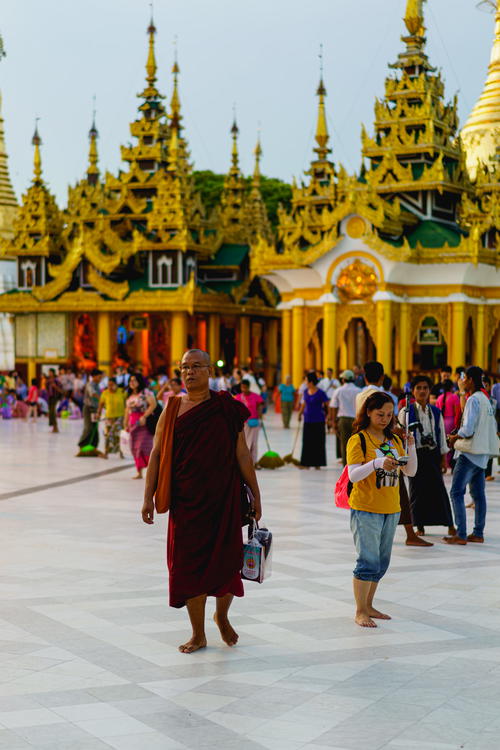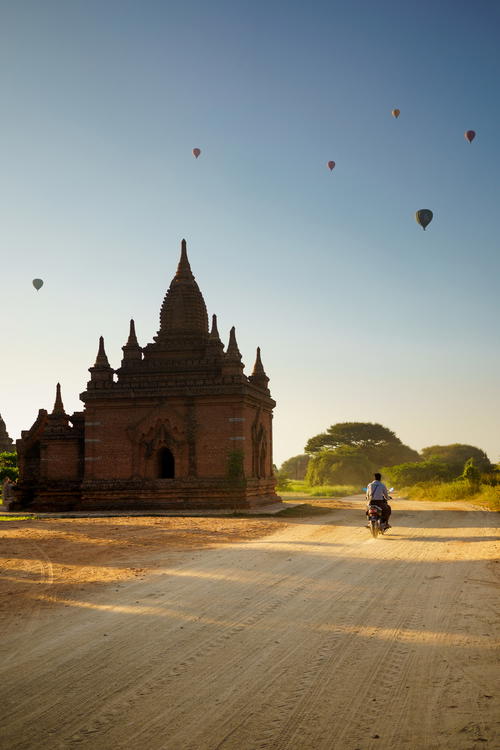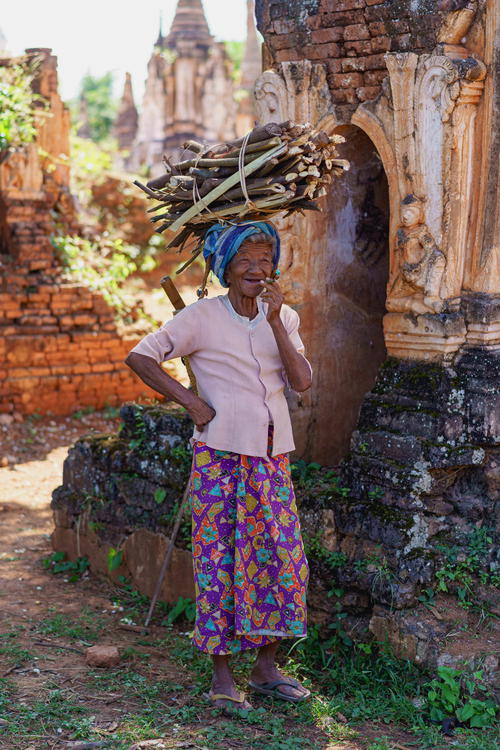 Keep in mind that taking a domestic flight will take up a morning, afternoon or evening (most will be around one hour), and that a night bus, while 'costing' you 8 to 12 hours, will save money, but might leave you very tired when you arrive.
In two weeks, you can allot three days for Bagan, three or four full days in Inle Lake like we did (a chance to visit Indein, and a morning-afternoon to try a cooking class) and a full two days in Yangon or Mandalay on either end.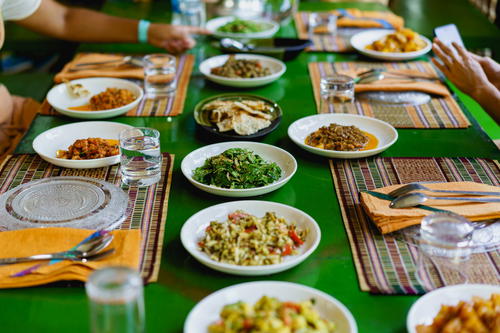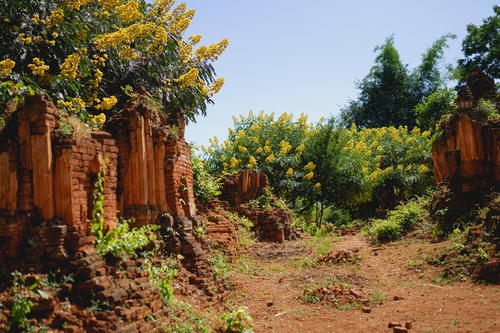 Helpful Tip
If you choose to travel fast, you can add a stop in Ngapali Beach or jump on a 2-day Kalaw-to-Inle Trek, which also comes in a 3-day version, that you can book at most hostels.
Which Bug Spray to Use in Myanmar
Do the mosquitoes in Myanmar have diseases?
Most of the country has mosquitoes and some carry diseases like malaria or dengue fever. While we did not go into our trip with any worries about malaria (a disease spread by mosquitoes in tropical regions), the threat of dengue fever (a very serious disease that travelers can contract in Southeast Asia) is real.
You can buy bug spray (or bring a reputable brand of spray) at a pharmacy when you arrive. The one that we got contains 40% DEET and is what everyone traveling in Myanmar recommends. It was also 1200 Kyat ($0.80).
This spray probably did work, but we still got bitten daily, mostly around our ankles, legs and hands.
Helpful Tip
Come prepared with a travel-sized Tiger Balm to apply to bug bites.
Can I get local SIM data on my phone in Myanmar?
You can get local data, or you can come with your own. We use Google Fi.
How to get international data with Google Fi
We used our Google Fi plan to help us get around Myanmar. We each used around 1 GB on data during our two-week trip. We don't use too much data, typically, and we used data mostly for looking at maps, texting friends on WhatsApp and sharing the occasional photo with family.
Local SIM Card for Travelers
A lot of other travelers got a local Myanmar SIM card. You can get data much cheaper than the kind we used. We recommend this if you don't have an international phone plan, like Google Fi or T-Mobile. You'll be able to use your local SIM data in situations when WiFi isn't strong.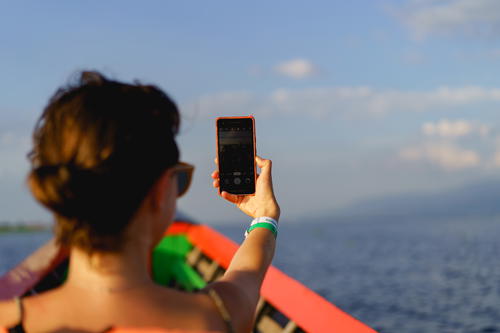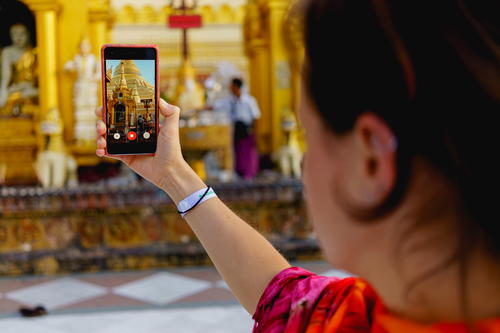 Food in Myanmar
Burmese food is likely a cuisine you haven't tried much if you have never been to Myanmar! We had heard some tips from friends like, 'Try the tea leaf salad!' and a passing mention of curry. Burmese food can be heavy on the fried stuff and the oil, so we tried to balance our daily diet with fresh fruit in order to stay healthy on the road.
What is Burmese food like?
We found the food in Myanmar to be like a mix between Indian and Thai, with some influence from Chinese food and some Western food available as well.
Most meals consist of fried noodles, with Shan Noodles getting all the fame and popularity. Shan Noodles originates from the Shan State, where Inle Lake is located.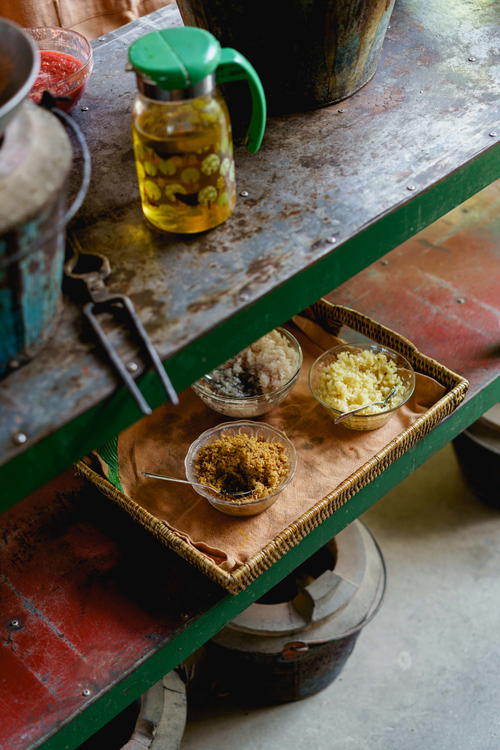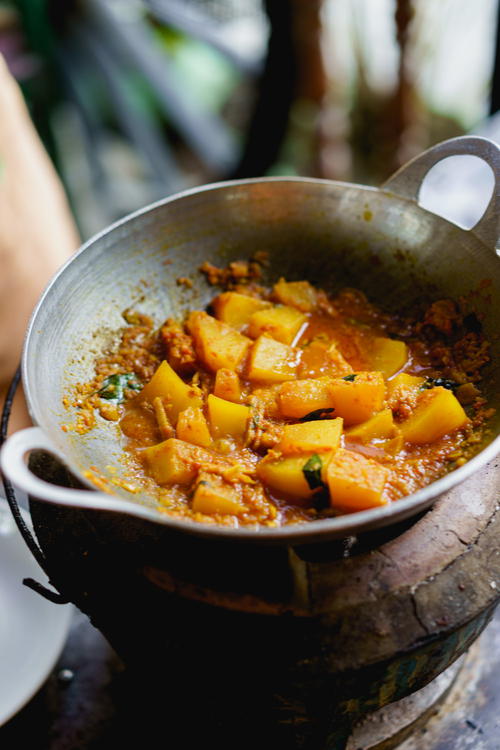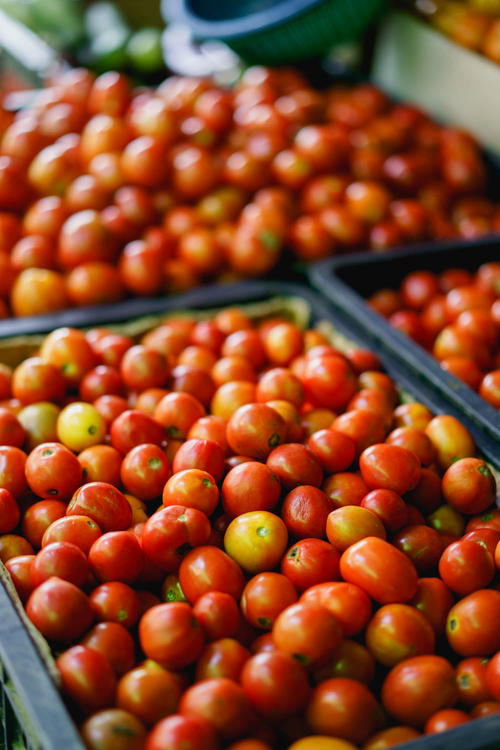 Street food it Yangon seemed rather Indian-influenced to us, as you could pass by stands selling samosas and other fried treats. There is a plethora of fresh produce being sold on many streets in downtown Yangon, with some streets dedicated to selling fresh vegetables, fruits, fish and sausage.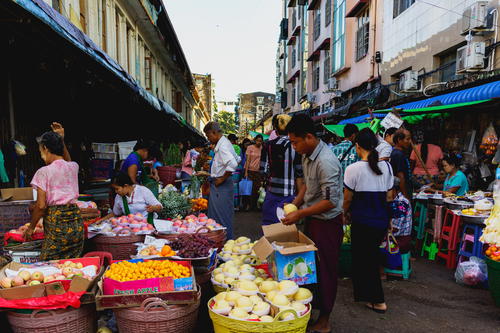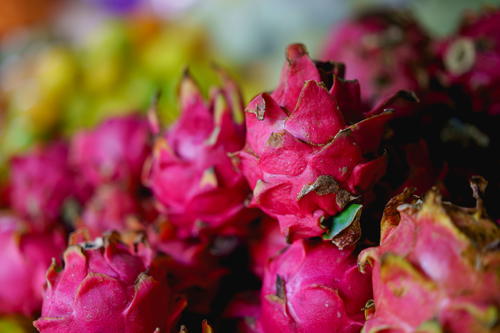 Which cuisines to try in Myanmar
Throughout our time in Myanmar, we had Thai food twice (in Bagan and Yangon), sushi once (Genki Sushi in Yangon), Chinese food at a Yunnanese restaurant (Chinatown, Yangon), Indian food in Nyaung Shwe at Innlay Hut and some Western-style food at our hostels (burgers or chicken sandwiches).
In Yangon, you can find plentiful amounts of Chinese, Japanese, Indian and Thai eateries, as these are the other main Asian cuisines represented. There are a handful of Vietnamese restaurants in Yangon as well, but it's recommended to try the Burmese cuisines like the traditional foods from Shan State (you'll see lots of signs for 'Shan Noodle').
Aside from these, we saw Vietnamese, Japanese and Malaysian-Singaporean eateries around the country.
Is there Western, Foreign or Imported Food in Myanmar?
If you need foreign or imported food items while in Myanmar, you can check out City Market in the Junction City Mall in downtown Yangon. This store has the largest selection of Western goods that we came across.
Other brands we saw that were re-branded for Myanmar were foods like potato chips, Coca-Cola, several sports drinks, coffees, teas and ice cream.
Will I have any issues using credit cards in Myanmar?
We used credit cards roughly three times during our 12-day trip, only at our accommodation and at one rooftop bar that belonged to a hotel.
Myanmar is still a cash society, and credit cards will only be accepted at larger establishments. Additionally, if credit is accepted, not all types of credit cards may work. It's best to always have enough cash on hand to get through your day and your next large purchase, like a night bus.
A pair of pants for night buses
Once you land, you'll be glad you brought loose light-weight pants (even though it'll be so hot most days you'll be wearing shorts by default). Conversely, you can buy some loose 'backpacker pants' upon arrival at any market. For visiting temples, note that legs need to be covered and shorts are typically not allowed.
If you don't want to rent a longyi (menswear sarong, or ankle-length sheet of cloth typically worn by men instead of pants) when visiting a temple, you can buy one for $2-3 at a local shop in Chinatown of Yangon.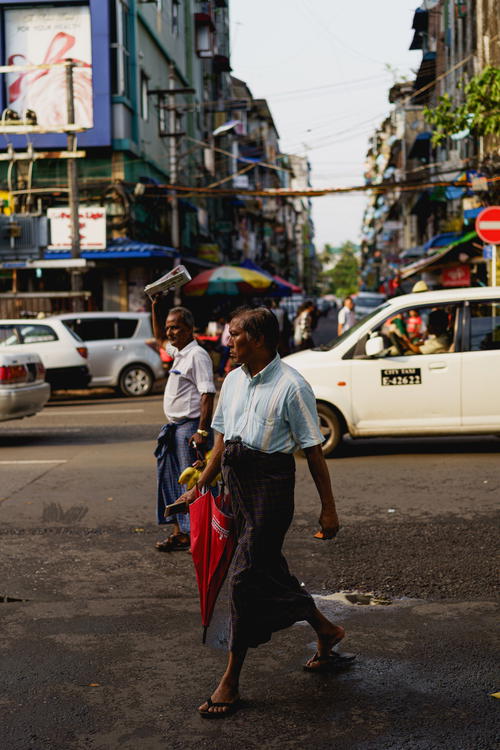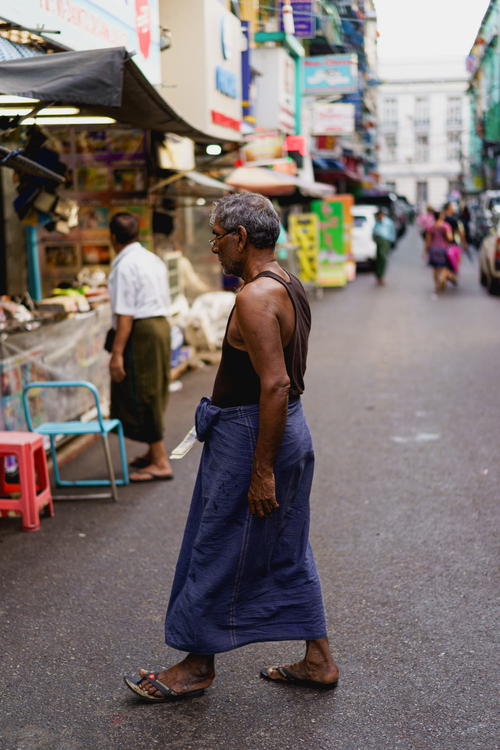 Handkerchief or bandana for multiple purposes
Having a hankie or bandana handy will be great for wiping your glistening face when perspiring daily, or for covering your mouth during bike or scooter rides because it can be pretty dusty.
What should women pack for traveling in Myanmar?
Myanmar is generally a traditional and conservative society. In the tourist hot spots of Yangon, Inle Lake and Bagan, dressing as you would at home in the summer is fine; note, however, that in visiting the homes of locals or Buddhist temples and pagodas, that shoulders and legs must be covered.
Loose skirts and dresses, or loose pants
Becca found it helpful to dress for the day in a maxi dress that was sleeveless on top, and hit close to her ankles on the bottom. This way, if visiting a Buddhist temple or shrine (which is bound to be part of your day!), she only had to cover her shoulders and arms with a shawl, scarf or sarong in order to hit the dress code requirements.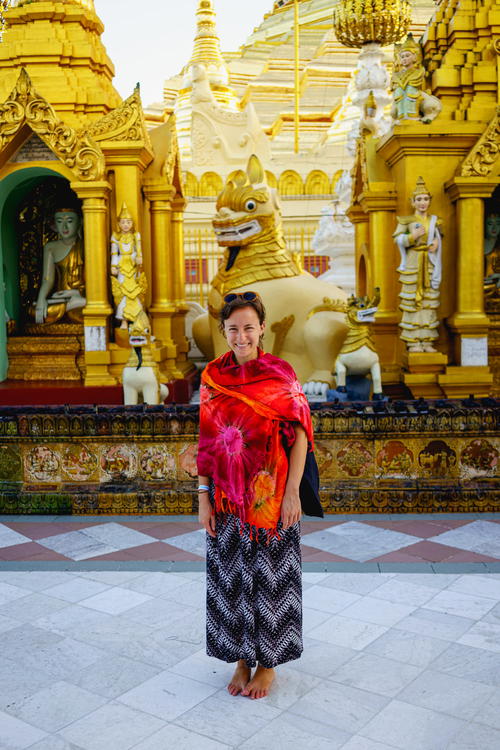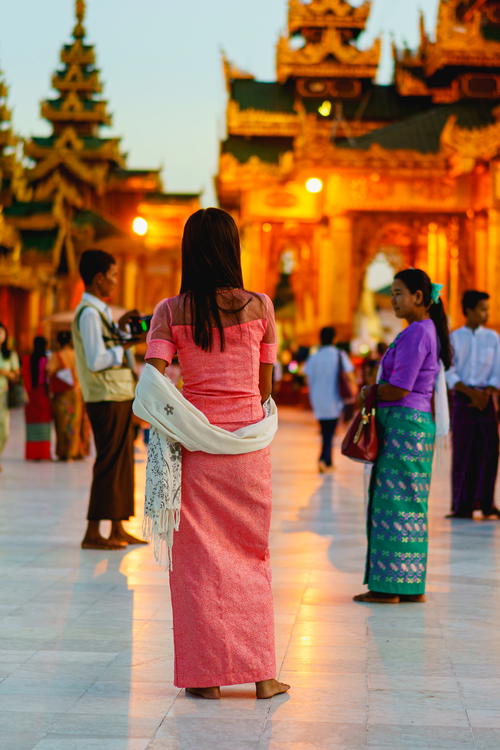 Problems with Car Volume and Traffic in Myanmar
Interestingly enough, Yangon, the biggest city in the country, does not have motorbikes on the roads. There are only cars. Ironically, this creates a huge amount of traffic, and a debatable level of safety … you decide.
How bad is traffic in Myanmar?
Once we got out of Yangon, we didn't encounter any traffic jams except for maybe a cow crossing the road in more of the rural places of the country.
Traffic in Yangon, however, should be taken very seriously(!). When our hostel staff told us to budget two hours for getting to the Yangon bus station from downtown, we didn't believe them.
We did listen, though, and sure enough, it took us over two hours from downtown Yangon to travel 14 miles to the bus terminal in the suburbs. It was truly unbelievable. So, if you have an 8 pm bus departure with the JJ Bus, leave two and a half hours to get there.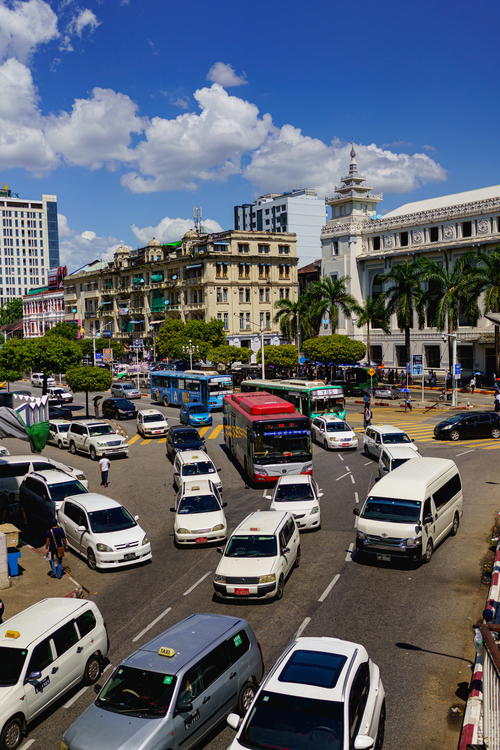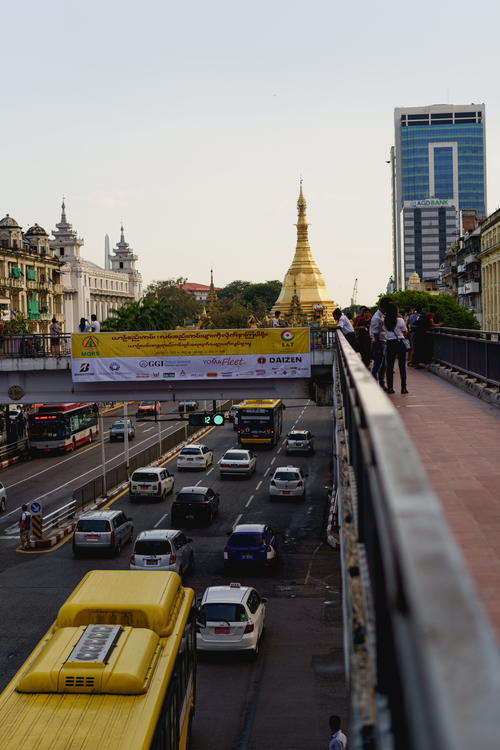 Sunscreen and hats: protection from the sun
The sun is very strong in Myanmar, even in the fall and winter. We brought our own travel-sized sunscreen from home, in a 30 SPF and 50 SPF variation. We found that most travelers were also carrying around their own travel-sized sunscreen brought from home.
If you choose to forego sunscreen while you're out in the sun… we'll just say we saw some sunburned people (especially from that Kalaw trek) and we'd recommend having a trusty hat with you as well. If you didn't bring one from home, don't worry at all, because most markets, tourist shops and vendors will want to sell you one!
When is High Season in Myanmar?
High season for Myanmar begins in November and lasts until March. The best time to go is between December and February, when rain dies down and the temperatures drop a bit, too. We enjoy traveling in the off-season as a way to save money long-term.
We went in October, which, lucky for us, turned out to be a nice time to go! October is 'shoulder season,' so there is still a chance of heavy or frequent rain, but for our first ten days, we did not experience even a drop.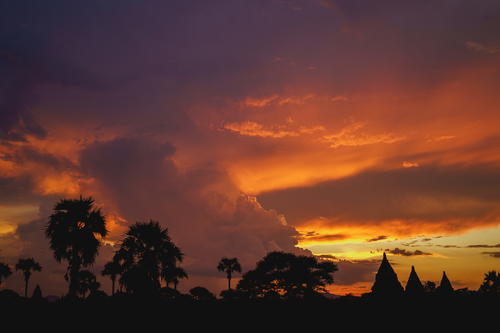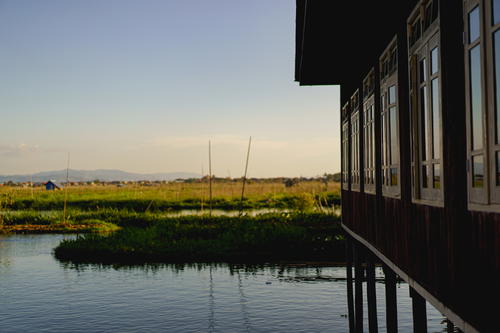 Low season, or off-season, is from April to September, when monsoons ensue and when some roads will flood or have a chance of mudslides. Some people prefer to travel in low season, so this is entirely up to you and when you can make the trip. Most of Southeast Asia will be rather wet between April and September.
What is Grab (the Southeast Asian Uber)?
Like in Vietnam, there is no Uber in Myanmar. Instead, use Grab! It's what the locals do.
Where does Grab work in Myanmar?
Grab works in Yangon and does not work in Inle Lake and Bagan. We haven't visited other cities, so don't know much about the connectivity nationwide.
Grab is great for getting around Yangon and for getting an idea on how much a cab ride should cost. You can set up your Grab to pay with credit or cash. If you choose to pay for your ride in cash upon the completion of the drive, make sure you have a bunch of smaller change, as drivers are known for claiming to only have big bills.
How to get around Myanmar: Night Bus vs. Flying
Is it safe to take night buses in Myanmar?
During our trip, we always took a night bus instead of flying. The cost was much lower to take three night buses rather than three flights around the country, and this choice saved us on accommodations for the nights we spent on buses. It was totally safe and there were other travelers.
We arrived the next day after a bus and were a bit tired, but took mid-day naps. That was fine because it's so hot in Myanmar that you'd want to nap anyway!
Should I take trains in Myanmar?
We did not take trains in Myanmar, but we met travelers who did. Trains are known to be slow and old, and if you wish to take one, you're signing up for an adventurous experience!
One tip we heard is that if you take a night sleeper compartment bus to avoid the top bunk, as the spiders and insects like to hang out up there, and the space between the ceiling and the bed is rather small. You could be sleeping with a good bunch of wildlife in close reach.
We did ride the Yangon city 'circle train,' which is the equivalent of a light rail or above-ground metro. It's really old, and there's no AC, no fan, no frills… but it made for a cool thing to do for a morning (until we were done with sweating) and you can see a lot of local life in the outskirts of the city.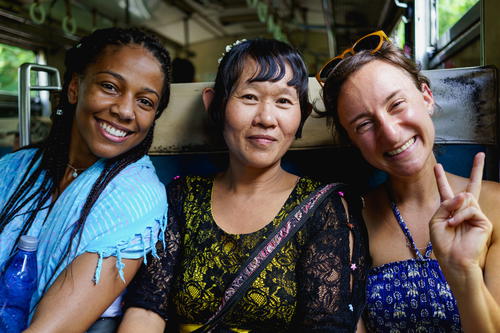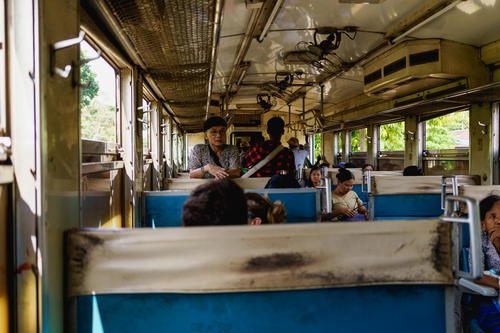 Is traveling in Myanmar dangerous or safe?
Traveling in Myanmar is incredibly safe, even if you are traveling solo. In fact, Myanmar is probably one of the safest places we have ever been, where crime is not even a topic that travelers talk about.
We walked in Nyaung Shwe (Shan State) at 4 a.m. after being dropped off our bus there, and no one bothered us. We also were not hassled much at the airport at midnight when we arrived in Yangon. We felt perfectly safe being outside and looking for our Grab taxi.
In Yangon, we did not experience any pickpockets, but we do suggest keeping your bag close to your body and not flashing lots of money in public spaces. Much of the population in Myanmar is poor and as we mentioned in common scams, above, there are people who want to make some money off of innocent travelers.
The only dangerous areas in Myanmar are the off-limits areas, which have already been closed by the government to tourists. These are the conflict areas, but luckily they do not overlap at all with places of interest like Yangon, Mandalay, Bagan and Inle Lake.
Is there tipping in Myanmar?
Similar to traveling in other Asian countries, tipping is not inherently part of the culture.
Do people tip in Myanmar?
Tipping isn't required in Myanmar, but it is encouraged when you're happy with your service. It's more expected in places that give one of those black booklets when you receive your check. Sometimes, you'll see that tips are included at a Western-style establishment (upscale or at a hotel) and it's typically 5%-10%.
Is tipping expected in Myanmar?
We gave tips when the person giving the service least expected it, and it sometimes made their day. You can do this simply by rounding up your bill to the nearest thousand, or handing off a few thousand to your server or hairdresser (in our case) upon leaving.
Should you tip the Inle Lake boat people?
At each stop during a standard Inle Lake boat tour, locals who work for the establishment will help you off your boat so that you don't fall. We found that most of the time, no one asked for tips, but during our second boat tour, we were asked for tips by a small boy who helped us on and off.
You are welcome to tip these individuals, as a few hundred Kyat is small change to us, and they may appreciate it.
Are there foreigner prices (the "foreigner tax")?
At times, there is a blatant different price for tourists versus price for locals. This happens often at large religious or national sites.
While it's frustrating, the logic is that the average Burmese person does not have a lot of money, and in this way, the establishment can make a profit off of tourism and at the same time, allow nationals to be able to access religious and cultural landmarks.
In the case of a famed place like Shwedagon pagoda, this is a religious place where people go daily or weekly, or to which they may make a pilgrimage from far away, and the price should not be a deterrent.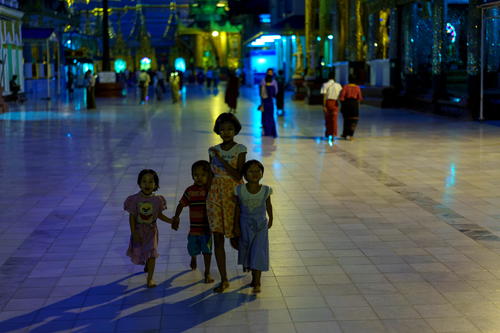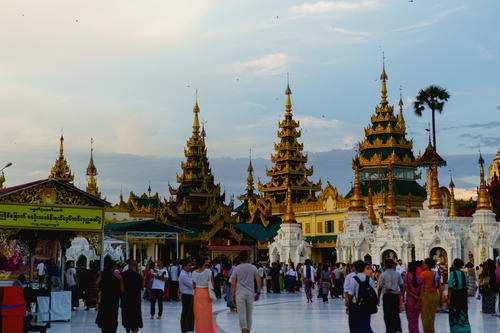 When buying food or items in markets, you will probably be charged the foreigner price, and this is also because the vendor knows you can afford more than the average local — after all, you already traveled from far away to their country! It's not fair, but if you are already on vacation, chances are you are coming from the luxury of being able to leave your home nation.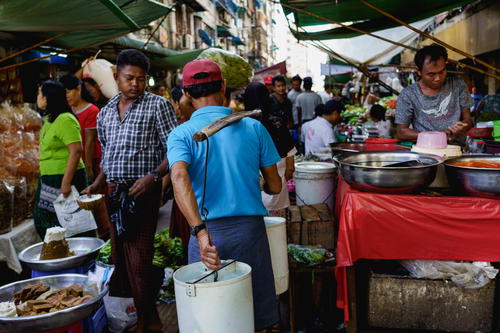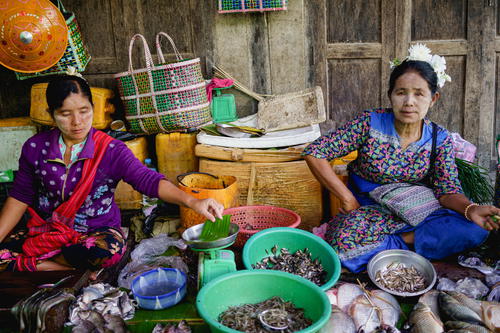 What is the currency in Myanmar?
We recommend that you do your research on traveling with foreign currencies before you leave. The currency in Myanmar is the Burmese Kyat/Myanmar Kyat. The currency recently devalued steadily in the past few years, making Myanmar a very affordable place to spend a while.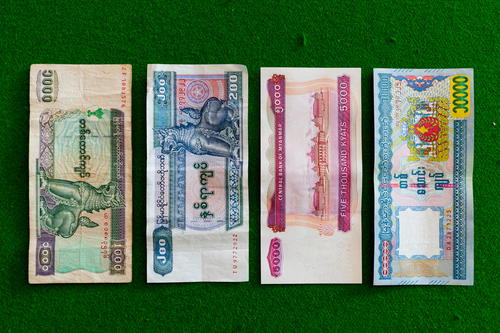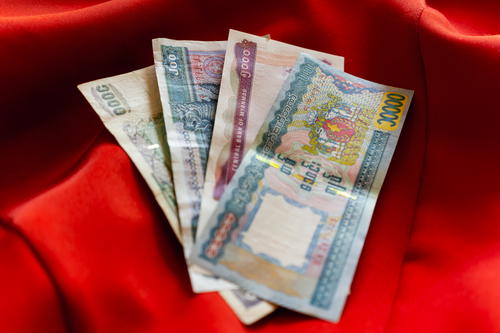 What are the little stickers on receipts?
We noticed that we received little stickers on receipts. These are for declaring taxes, if you wanted a small refund when you exit Myanmar. We don't typically collect these taxes unless we make a big purchase. If you spent over $500 at retail stores, you might be eligible to get $50 or so back, when you depart for your next country.
What is the largest bill in Burmese Kyat?
The largest bill in the Kyat is the 10,000-Kyat note, equivalent of $6.54. When going to an ATM, you'll need to withdraw 200,000 Kyat to have $130.
ATM Fees and Withdrawals in Myanmar
Make sure you have the appropriate credit and debit cards for your trip before you land and use an ATM.
What is the largest withdrawal from an ATM in Myanmar?
The largest withdrawal is 300,000 Kyat from an ATM.
What is the ATM fee in Myanmar?
The bank fee will also amount to fee of 6000 Kyat. Plan accordingly if you plan to pay for everything in cash (night buses, accommodation), and keep this in mind when withdrawing.
Which plugs and outlets does Myanmar use?
While we brought an international converter. Luckily, the hostels at which we stayed during our trip had the standard US outlet we are accustomed to. The voltage in Myanmar is 230 V and the standard frequency is 50 Hz. We also saw sockets of type C, which is common in Europe. We recommend bringing a converter in case you need one.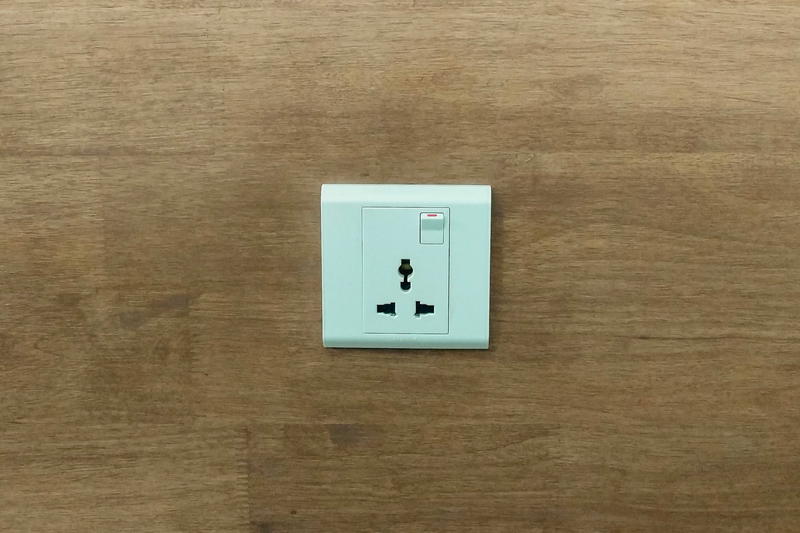 Is there ethnic diversity in Myanmar?
While on the surface, people in Myanmar people may seem or look "Burmese," what's truly incredible about this country is the ethnic diversity. In addition to Burmese, there are at least 50 ethnic dialects spoken from north to south, along with languages from other countries like Chinese.
In Yangon alone, we noticed people of Indian descent and Chinese descent, in addition to the ethnic Burmese population. This ethnic diversity leads to more diversity in food, language and religion.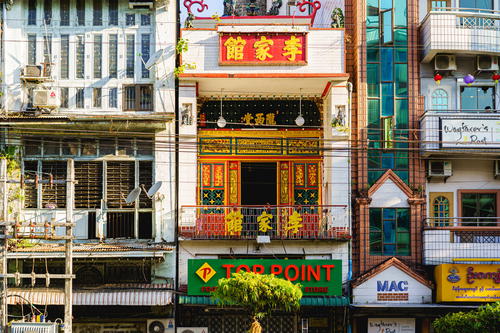 What is the Burmese language like?
Before we left, Becca downloaded a Burmese language app to get a preview of what the language is like. If you want to preview the language of where you'll be traveling, read our tips for learning a new language for travel.
What are the religions in Myanmar?
Religious diversity in Myanmar is incredible to see, especially in downtown Yangon and Yangon's Chinatown. Here, for example, the density of the population has created city blocks that have both a Buddhist temple and a Hindu temple, and neighboring blocks that have a Jewish synagogue and a Muslim mosque.
There are also several Christian churches of several varieties. Around Myanmar, there are tribes and ethnic groups that have animistic beliefs, meaning a belief in spirits (called 'nats').
What are the Burmese people's attitudes toward travelers?
We got the vibe that people wanted to talk with us to practice their English, thank us for visiting their country or to say hi. In one case, one local showed us around to all of his friends at a market and gave us bananas and watermelons, asking nothing in return!
Are locals safe in Myanmar?
We mostly had great experiences as foreign travelers in Myanmar. We were shown an incredible amount of hospitality, with nothing to ask for in return, when interacting with locals.
In being invited by locals to their homes or villages, we do suggest taking some sort of precaution, such as having cellular data in case something is to happen to you or your safety. In our own personal experiences, we were shown nothing but generosity.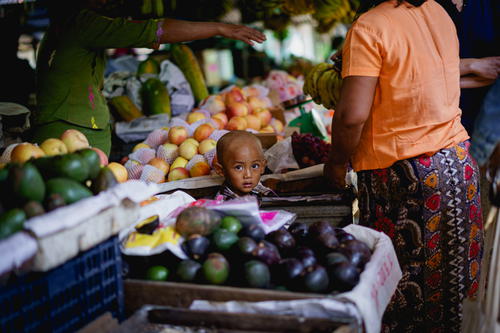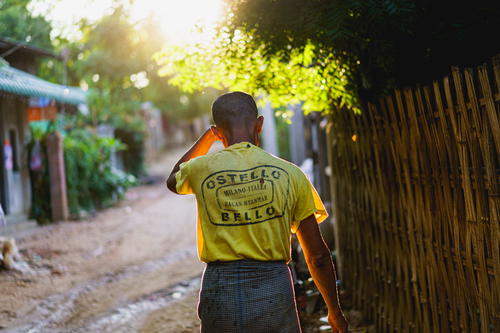 How much English is used in Myanmar?
We were pleasantly surprised and somewhat amazed with the widespread use of English in Myanmar. Given, we interacted mostly with individuals working in tourism — hostel staff, bus staff, bar servers and tourism hosts at workshops or stores.
Not everyone speaks English, though, and one thing to keep in mind is that, similar to people in much of Asia, Burmese people will avoid saying 'no' or admitting that they don't understand you at all.
As an alternative, they will answer as best they can, even if a language barrier causes them to miss your question or your point completely. This is to 'save face,' and you will encounter this in much of Asia.
Drinking the Water in Myanmar
Can you brush your teeth with the water in Myanmar?
We did, and we typically brush our teeth with the water anywhere, but we never swallow any of it. If you have concerns, you can brush your teeth with purified water.
Can you drink the water in Myanmar?
No. The water source from the tap is not clean in the entire country. There are several options of bottled water that have different treatments for drinking. We didn't have any issues with the bottled water.
In restaurants and hotels, you can usually find a source to fill a water bottle; in fact, jugs of drinking water are pretty common to see, even in markets.
We had most hostels and night buses provide bottles of drinking water to us upon boarding, or on the nightstands in the room when we arrived.
Helpful Tip
Travel 'greenly,' and re-purpose these bottles by filling them up from large jugs, as to avoid buying new bottles and wasting plastic.
Do I need a travel visa for Myanmar?
Yes, you do need a visa! Be sure to check visa requirements before you travel to anywhere in Asia.
In fact, all travelers from Western countries require a visa. The countries that have their visas waived are mostly within Southeast Asia (Singapore and Thailand, for example) or East Asia.
To get the Myanmar travel visa, apply online and pay the $50 USD fee at the Myanmar tourist visa website.
How fast is the WiFi in Myanmar?
Myanmar does not have such fast WiFi, when compared with other places we've been. Of all the cities, Yangon had the average fastest WiFi by far, and Nyaung Shwe had the slowest, but after all, you're not traveling all the way to Myanmar for the WiFi! Internet in Nyaung Shwe was around 7 Mbps.
Can you work remotely in Myanmar?
Becca tried working remotely in Myanmar, and the best luck was in Yangon in our hostel lobby. We would not confidently recommend Myanmar as a destination for a fast connection to WiFi in order to get work done. There are also sometimes power outages.
If you do choose to get some work done in Myanmar, keep in mind that the time zone is on the half-hour, as it may affect your appointments or calendars. You can also use our remote work tips.
Is there public WiFi in Myanmar?
There isn't that much public WiFi in Myanmar. You might find WiFi at a mall in Yangon, but it is still less than common in general.
In the hotels that we visited and the hostels that we stayed at, the fastest WiFi that we saw in the country was 15 Mbps. We had some proximity connection issues throughout our hostels. We were always able to connect when we wanted to, but didn't feel like it was a place that we could work reliably for an extended period of time.
Is there alcohol in Myanmar?
While Burmese people do not have an extensive bar culture, it is possible to drink in Western-style establishments like dive bars, pubs and rooftop bars throughout Yangon. Many hostels will have their own bar as well.
Myanmar has two local brands of beer, which are Dagon and Myanmar Beer. Depending on the bar, you can get imported beers, imported liquors and imported wine.
We did enjoy a visit to Red Mountain Winery to try Burmese wine, which was a treat (especially with the view).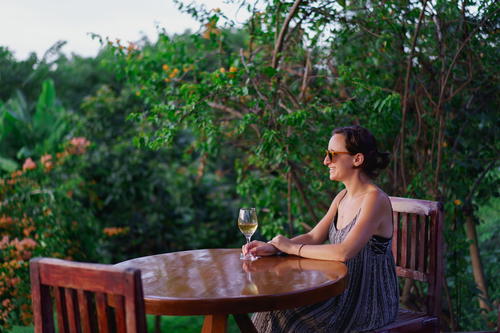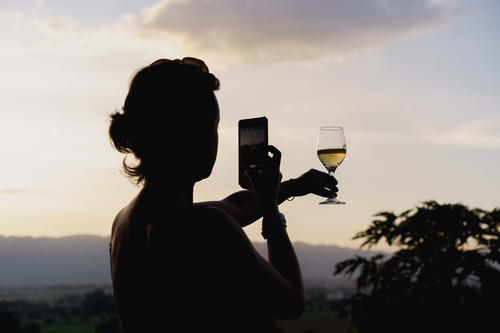 Cocktails are popular, especially those made with rum. Before you leave Myanmar, try a Mandalay sour, made with Mandalay rum and lime.
How can you eat vegetarian in Myanmar?
Our best luck with vegetarianism was with hostel breakfasts! Usually, a breakfast consisted of eggs, fruit, toast, potatoes and fried rice or fried noodles.
Helpful Tip
We had great luck in eating vegetarian (or vegan, in Becca's case) with Indian cuisines, especially when we could express in English that we needed dishes free of butter for lactose intolerance.
While we did not delve into any street food, mostly because we don't consume too much fried food in general, we found that veggie-friendly Burmese dishes were all of the yummy salads, which are often dressed with chickpeas, peanuts, soy sauce and ginger. You can also typically find egg fried rice or egg fried noodles anywhere.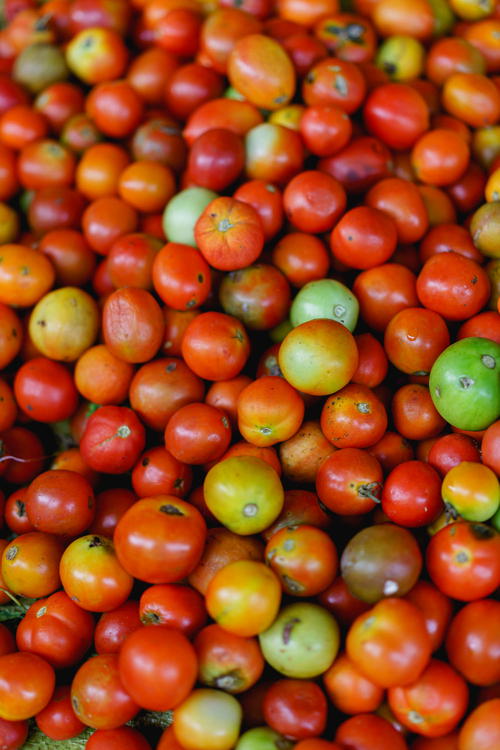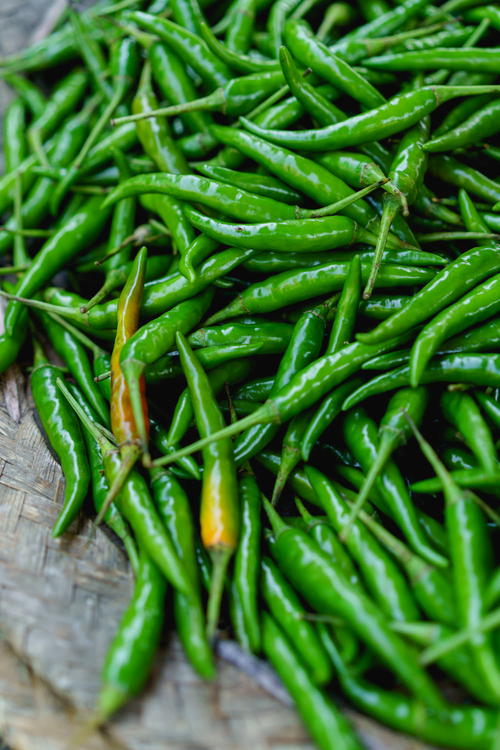 What is the street food in Myanmar?
As mentioned, street food is pretty oily, greasy and fried in Myanmar. Street food in Yangon had a bit of an Indian vibe, right down to the fried samosas or breads we saw being sold on the street. Some street food was completely new to us as well, but we delighted in seeing Asian pears, tiny mandarins, apples, coconuts and watermelons for sale.
Renting scooters, e-Bikes and motos in Myanmar
Renting motorized bikes and scooters was rather easy in Myanmar, and when renting in Bagan, we weren't even asked for monetary collateral (this was because the rental shop was across from the hostel and instead asked for our room number — honors system — so that we could be tracked down in a worst case if we did not return the scooter).
Most rentals were by the hour or half day, but can be bargained for. We paid 4000 Kyat for three hours, or less, around 3000 Kyat, for taking an e-Bike out for two hours. You can agree on a return time with the shop owner.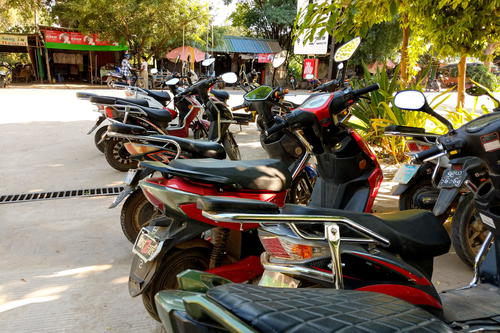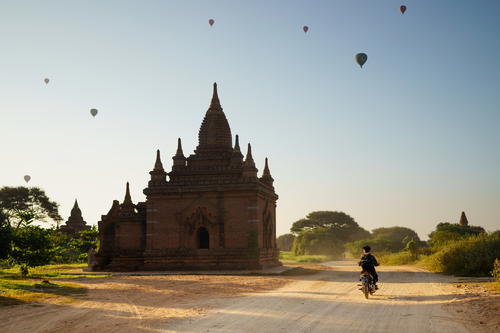 Before setting out on a scooter or moto, make sure you have some practice under your belt, as that's the safe thing to do. As in the rest of Southeast Asia, the local 'tattoo' is surely the battle wounds of a fall.
Want to stay insured in case of injury? Get some travel insurance, with World Nomads or SafetyWing before you go.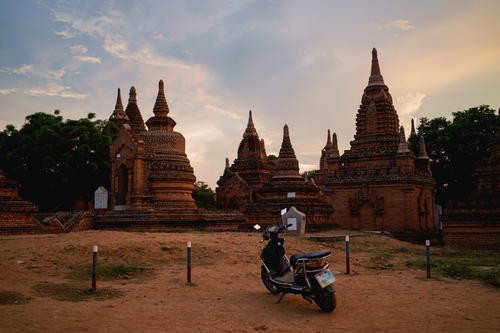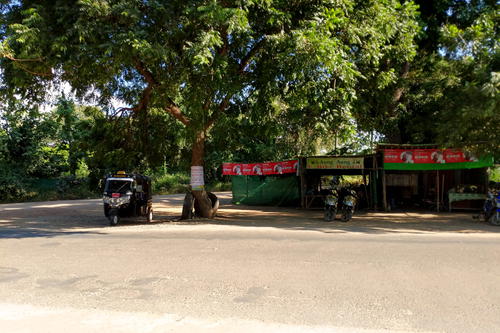 Renting bicycles in Myanmar
Most hostels or hotels in Bagan and Inle Lake (outside major cities) will have rental bicycles of their own, and these will likely be for free for a very low cost. While it's very nice that they come as a perk during your stay, the fact is that these bikes are not of the best quality and don't enjoy such great up-keeping.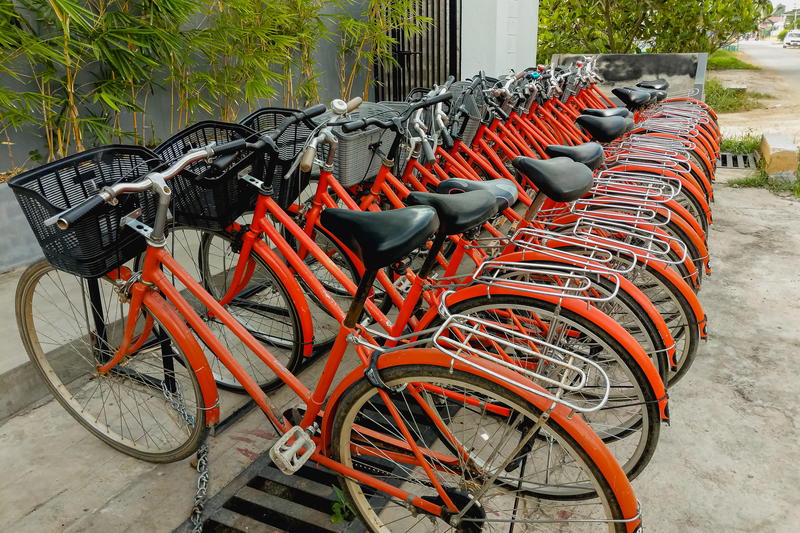 We walked around Nyaung Shwe to try to find a better bike situation, and our first experience was trying old slightly beat-up mountain bikes at a shop near Ostello Bello Hostel.
While the price was going to be super low for our day of biking around the lake, the bikes did not seem sturdy and so we forwent this option.
Renting mountain bikes
Our best bike rental experience was at a shop called KKO Mountain Bike Rental on the main road of Nyaung Shwe (Youne Gyi Road).
Here, we bargained a 6-hour rental for two bikes for a total 10,000 Kyat. This seems steep, considering the cost of other things, but we were able to take out new mountain bikes with gears and breaks working properly and even had the luxury of padded gel seats.
What's the time zone in Myanmar?
Myanmar uses a unique time zone of GMT+6:30, which is EDT+10.5 hours or EST+11.5 hours for daylight savings time in the US.
Myanmar is 30 minutes behind Thailand, Vietnam, Cambodia and Laos, and 1.5 hours behind China, Hong Kong and the Philippines.
Having trouble figuring it out? Check out one of our favorite tools for doing the time zone math easily.
Should you buy gems (rubies, sapphires) and gold in Myanmar?
If you spend even a few hours in Yangon, you'll see that there are many shops and vendors selling gold and precious stones. You'll also see this in the silversmithing tourist shops of Inle Lake during your boat tour of the lake villages.
Some of the prices for stones are very affordable by Western standards, but the catch is that you'll probably never know the grade or class of the stone you're getting, if it's a 'real' sapphire or ruby (and not glass or a less-precious softer stone) and if the gold or silver is real.
We looked at the gold and stones for fun, but did not buy anything, for this concern mentioned above. If you are serious about buying gold and gems, we suggest doing your research to work with a reputable agent or a verified wholesaler.
Animals (pets, strays, monastery cats) in Myanmar
Stray dogs and cats
You'll find lots of dogs and cats all over Myanmar. Be careful, as some dogs and cats might have fleas or ticks and a very select few may be harmful. We noticed a lot of young puppies and kittens and we couldn't get enough of the cuteness, but decided not to pet them.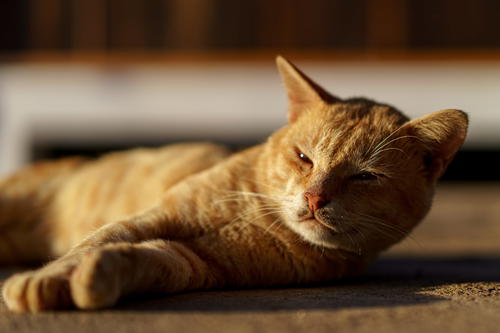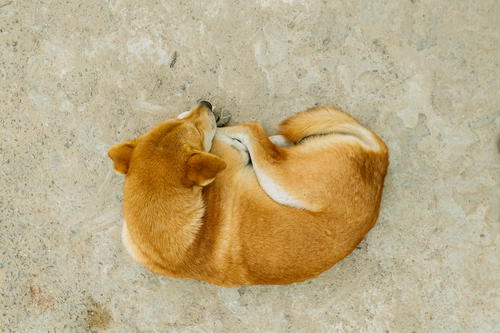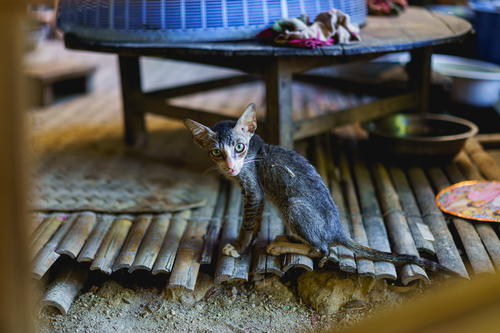 Danger of snakes in Myanmar
Myanmar has a lot of snakes and some can be venomous. Be careful when going off-road in Bagan and in other rural areas. Luckily, we didn't see any, but heard a lot of stories of people getting close to them or seeing snakes in the road. Yikes!
Large insects and bugs
We found some gigantic crickets and cockroaches (some dead, some alive) — like seriously, these were out of Jurassic Park. They're seemingly harmless, but keep in mind that big bugs exist and you might see a few here and there.
Where to stay in Myanmar
Accommodation ranges from the basic guesthouse to the 5-star Shangri-La Hotel in Yangon. We chose our accommodation to be the middle of the road: new hostels with modern amenities.
In Yangon, Bagan and Inle Lake, there are heaps of places to stay. Interestingly enough, this was not the case even ten years ago in Myanmar, when there was a shortage of accommodations due to the newly-opened tourism in the country.
Hostels in Myanmar
Hostels in Myanmar are a fun and social place to be. We recommend checking ratings and prices on Hostelworld before booking. Some hostels may hike up pricing on weekends or in high season, so if you see a jump in price from one month to the next, that could be why.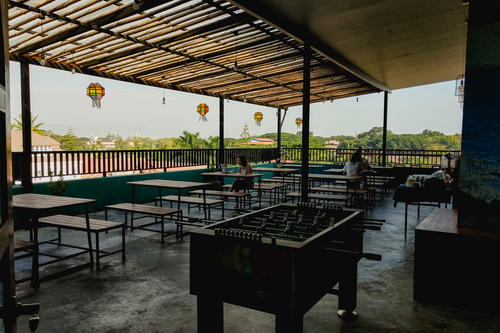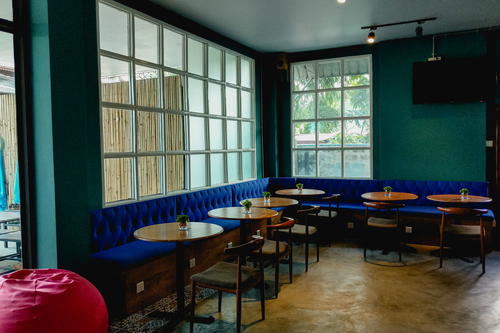 What are hostels like in Myanmar?
Hostels had amenities such as WiFi, free included breakfast, hot water (most of the time), helpful 24-hour front desk staff, an "early check-in" room at Baobabed Nyaung Shwe/Inle Lake for guests who arrive in the early hours of the morning from a night bus, daily snack tastings, free flow coffee and tea, pool tables, rooftop pools, a cafe or restaurant and daily happy hour. Hostels in Myanmar are an awesome place to be!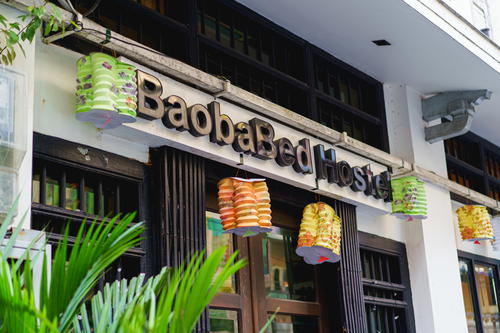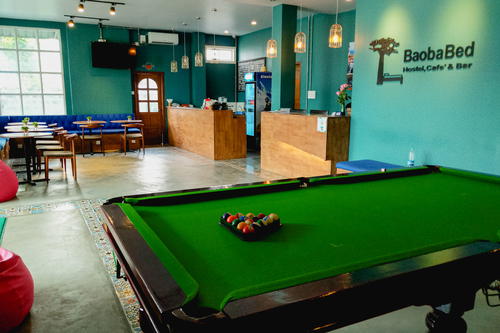 When we hostel, we always opt for a private room, ideally with a private bath for convenience. We find that this is a happy medium between having peace and quiet and the benefit of being able to meet and socialize with other travelers, which is always a great thing to do in a new country where everyone can exchange tips, advice and recommendations.
Cheers! If you're curious about what to bring and what to expect for a long trip, check out guide for how to prepare for a trip abroad!
Here are some items that made our trip seamless:
Enjoyed our article?
Consider supporting us! We're a 2-person team (learn more about us here) and your support enables us to create quality content. Thank you!