Hong Kong Travel Guide for First-Time Visitors
Written by Becca
•
Updated on September 23rd, 2023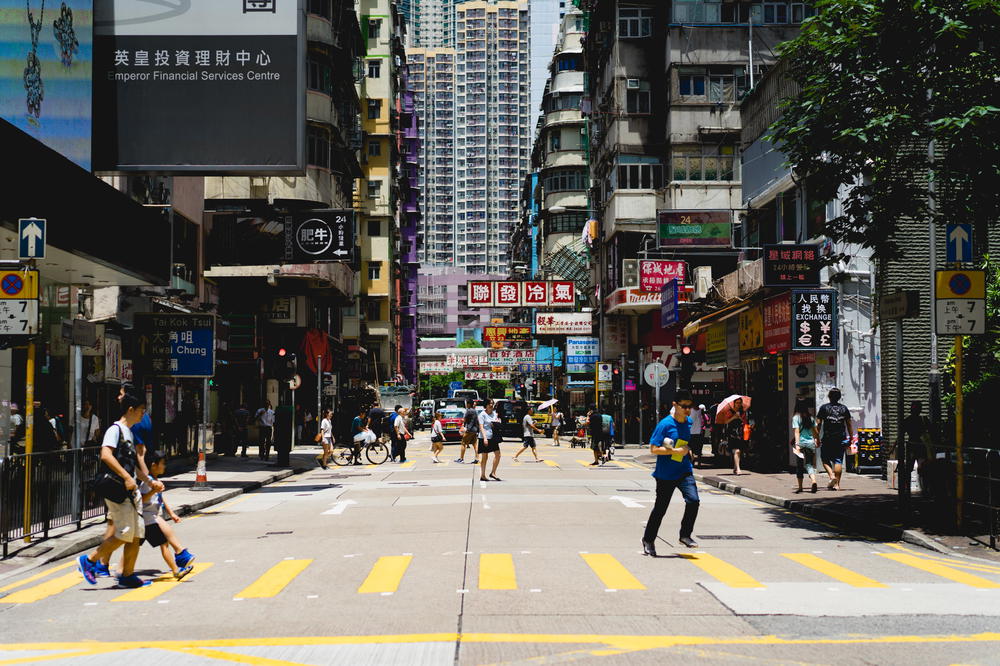 What's there to see and do in Hong Kong for a first-time visitor? Here's my favorite sights and local neighborhoods for the traveler who likes things off the beaten path.
This article may contain affiliate links. We earn a small commissions when you purchase via those links — and it's free for you. It's only us (Becca & Dan) working on this website, so we value your support! Read our privacy policy and learn more about us.
Table of contents
Close table of contents
Welcome to Hong Kong, one of the greatest cities in the world and certainly one of my favorite cities in Asia.
It's safe, it's crowded, it's full of nature and it's gorgeous.
Hong Kong is like nowhere else in East Asia. Its blend of East and West, of old and new, of urban and rural and of mountain and beach is incredible.
I'm always going to be so glad I chose to spend some of my college studies in Hong Kong. It was an unbelievable way to experience a city, meet and stay friends with locals, pick up some Cantonese and learn more than I ever imagined I could about this special metropolis.
After leaving Hong Kong, I returned more than ten times over two years when I lived in Shanghai. I told everyone that Hong Kong was my first love, if it came down to choosing a city that was my second home. The energy in Hong Kong is contagious — when you arrive, you'll see why.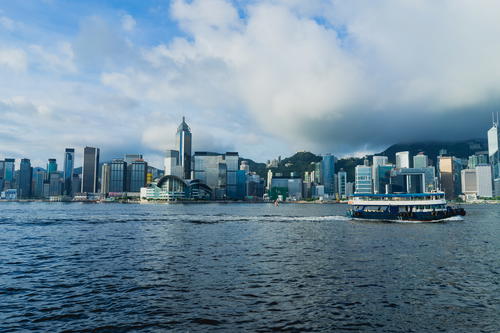 For visiting, you'll need a bit of background: Hong Kong's main geographic areas are Tsim Sha Tsui (TST) on the Kowloon Peninsula (I recommend reviewing a map), Hong Kong Island and the New Territories. With a short trip, you'll probably stick to Kowloon's most populous areas, Victoria Harbour and a bunch of Hong Kong Island like Central and Causeway Bay.
Here is the list of things I've been recommending (since the first time I spent time in Hong Kong in 2009!) that visitors do for their first trip to HK. I am so excited for you to check it all out!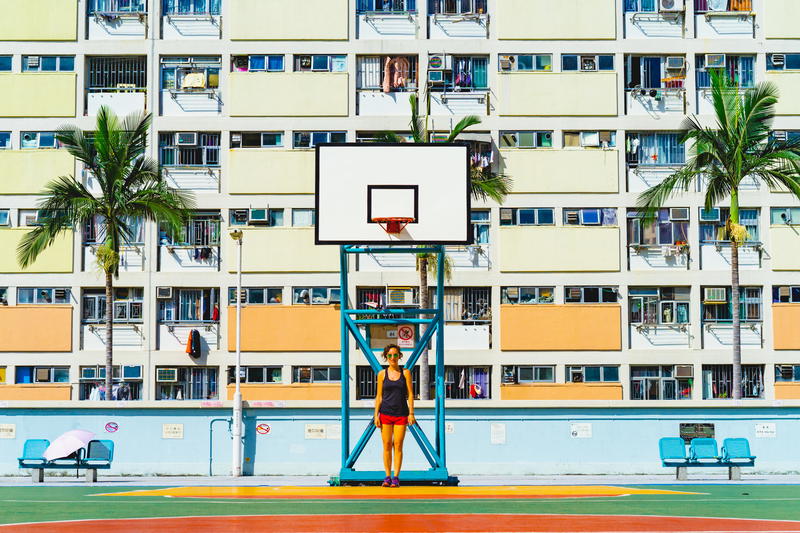 Helpful Tip
As Hong Kong typically has a tropical and humid climate, it's one of my favorite destinations for escaping winter because it's warm during winter months. In summer, it'll be hot, humid, steamy and potentially rainy. I've been to Hong Kong both during winter and spring, as well as in fall and summer. If you are in HK during the summer, be prepared for relentless heat!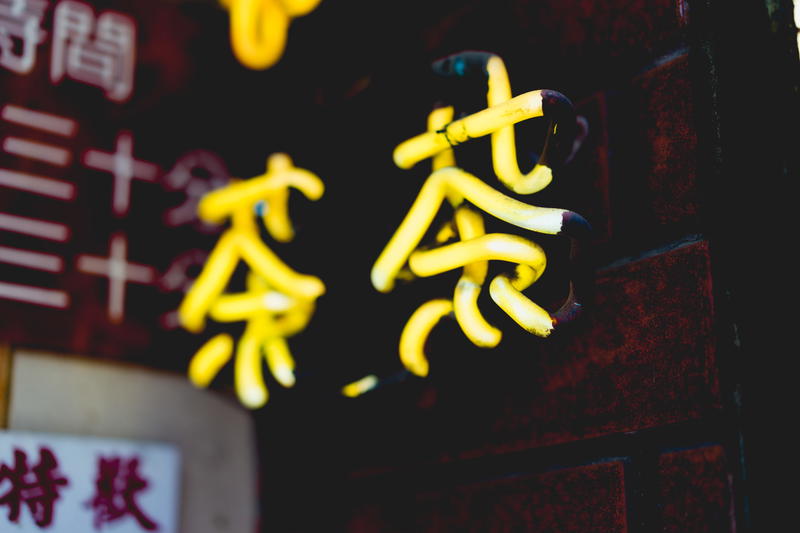 Hong Kong Island
Hong Kong Island is diverse, which is hard to figure out if you only go to Central and Sheung Wan. The island itself has HK's urban centers, and on the other side, beaches, mountains, nature and small villages.
Hong Kong Island is serviced by the blue MTR Line, the Island Line. I suggest buying an Octopus card and then keep loading it up to take the MTR as well as make any purchases at any 7-Eleven, and most grocery stores. It's super convenient! You can read more about it here.
Helpful Tip
A tip that locals know: if you return the Octopus card at the MTR customer service area when you are leaving Hong Kong on the last day of your trip, you'll get all your unspent money back!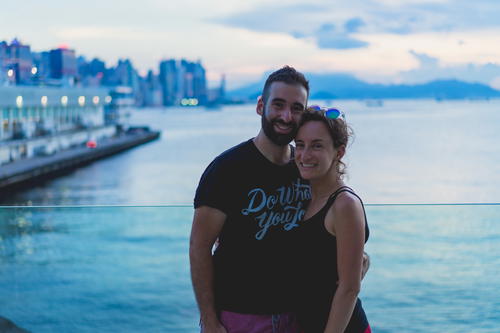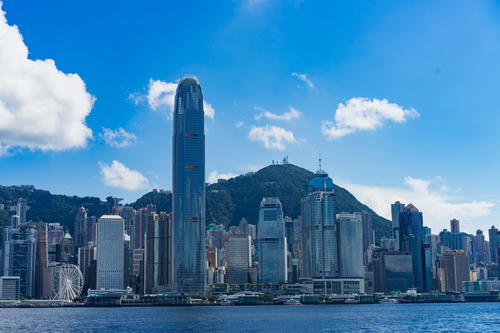 Get a clear view of Victoria Harbour
Victoria Harbour is the waterway between Kowloon and Hong Kong Island, and it's where you'll be able to see the two skylines from both sides, depending on where you are. I like going in the morning for a clear view of the skyscrapers, which are sometimes shrouded in clouds. With a "key" to which building is which, you can learn about all the banks and other massive corporations that call Hong Kong their headquarters and homes.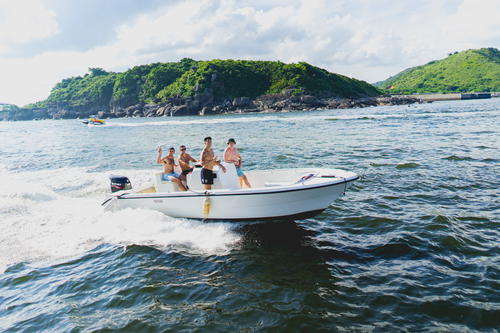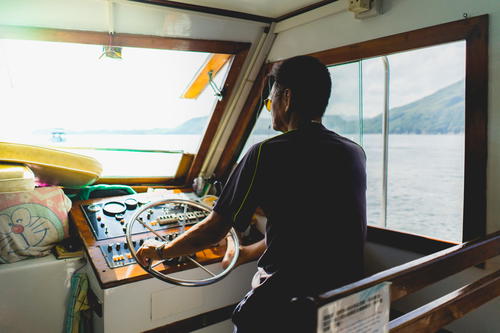 For a different view of Hong Kong, try a "junk boat trip." Junk boats are based on traditional Chinese sailing boats and are very distinct-looking. Here's a photo gallery of our junk boat trip with friends — this is something that groups of locals like to do on weekends. The boats will go out of the city and will park for an hour or two so that everyone can jump into the water, and swim.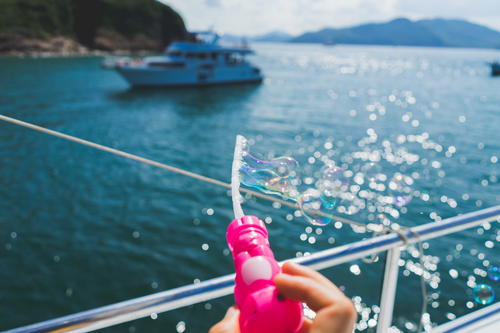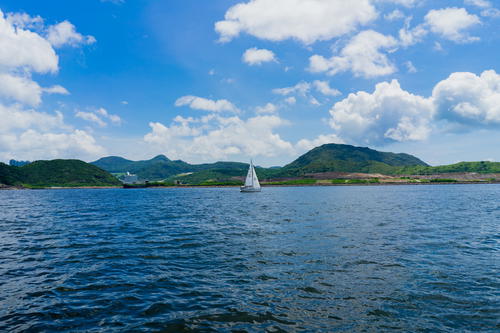 See the nightlife in Lan Kwai Fong (LKF)
Lan Kwai Fong is Hong Kong's bar district. Most nights of the week, people will be crowding the streets and going in and out of bars, restaurants and clubs in this part of the city! Find it here.
If you're low on travel funds, you can famously just get beers from a 7-Eleven or convenience store and hang out in the streets with everyone else. To get there, take the Blue Line to the MTR Central station, and choose exit D2.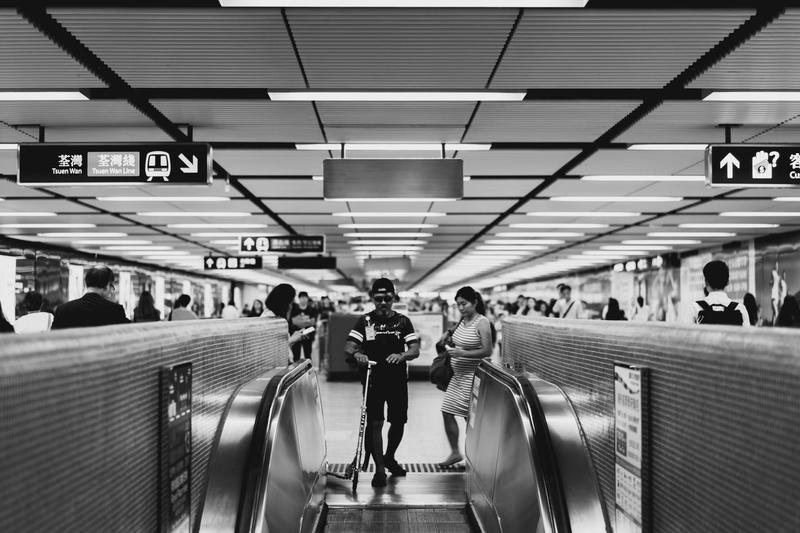 Walk around Central's skyscrapers
Stroll Central (Hong King's main financial district) to see the tall buildings and the HK Botanical Gardens, which is a hidden gem! Start at the Central MTR station.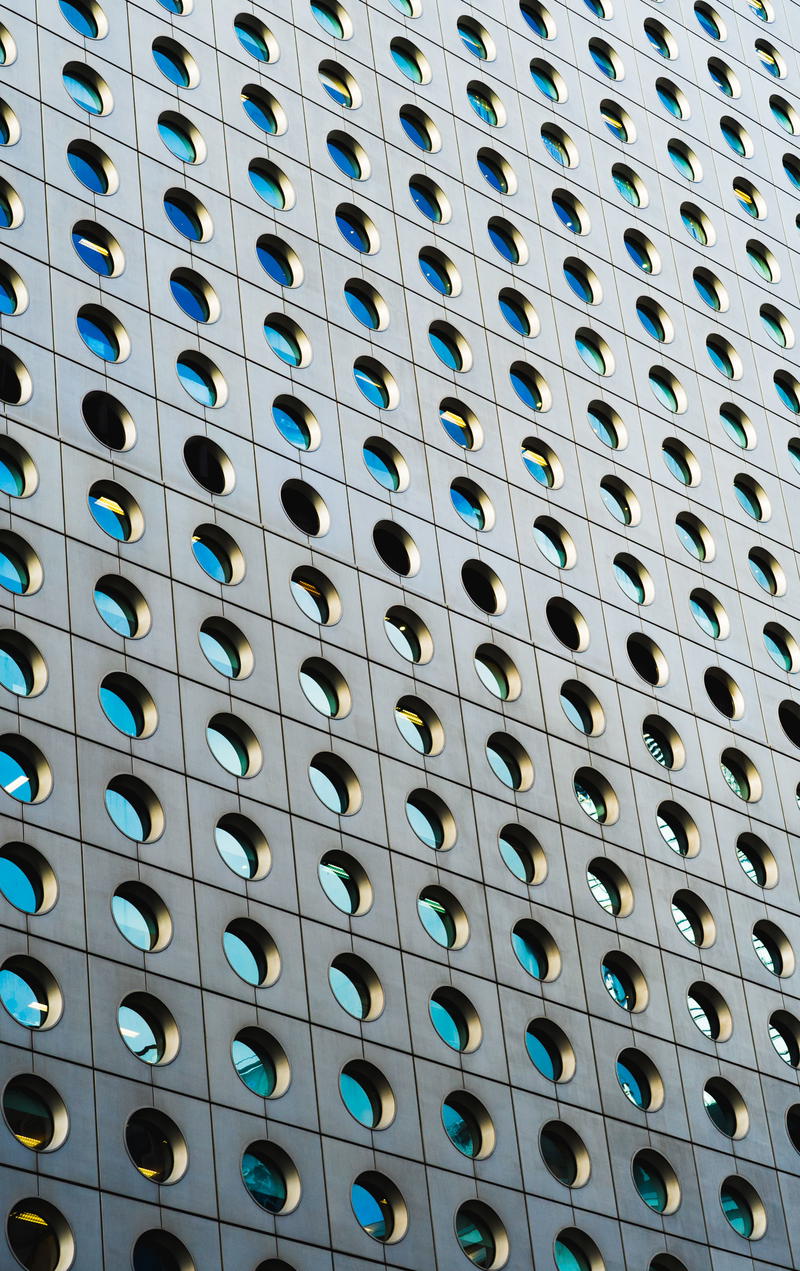 Hong Kong Park is also a beautiful place to spend some time. Many visitors overlook this park, but it is a local favorite and worth every minute spent walking there!
Walk up steps whenever you see steps in Central. Take the Midlevels Escalators, the longest outdoor escalator system in the world. It leads to SoHo, where you can find a lot of upscale dining options and international restaurants.  
Hollywood Road is cool for Chinese-esque antique markets and the Man Mo Temple is up there, too.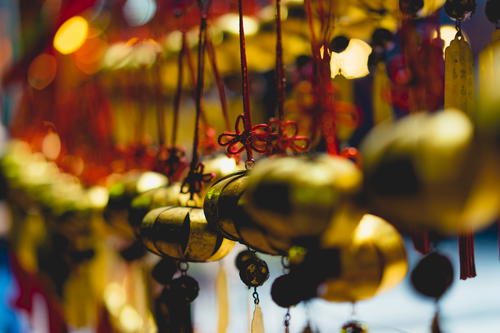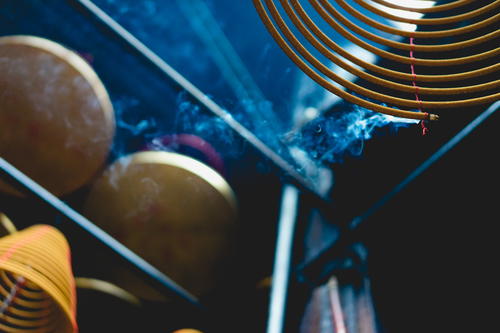 To get to all these locations, take the Blue Line MTR to Central, and choose your exit based on your choice of destination at the maps near the info booths.
Marvel at the view from Victoria Peak
Victoria Peak is the top of the mountain on HK Island where, from above, you can see the incredible Hong Kong skyline.
Helpful Tip
Go in the late afternoon and stay for sunset, because then you get to see everything lit up!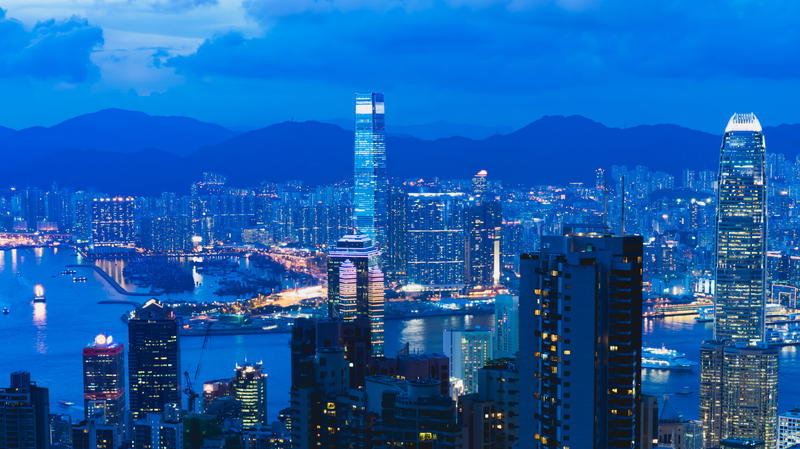 Take the peak tram there, and then take the public bus going down (it will be ten times cheaper, but the tram going up is pretty special!
To start the journey, take the MTR to Central.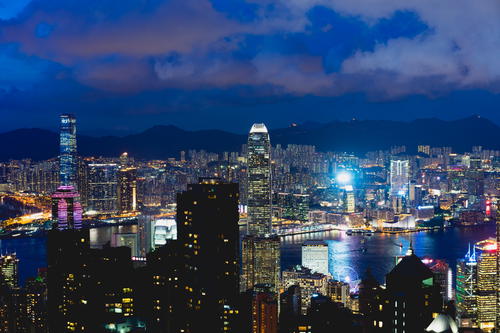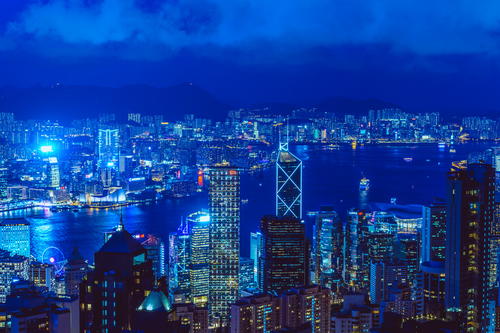 Wind through Causeway Bay on HK Island
I love Causeway Bay. It's always bustling, and has great old vs new character among its older streets and dazzling shopping malls.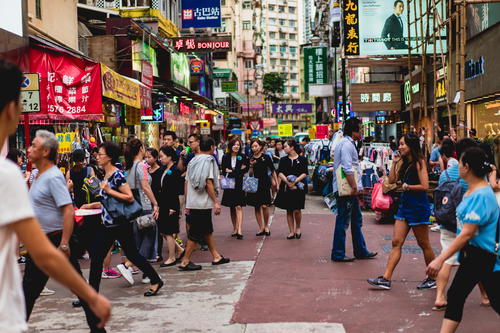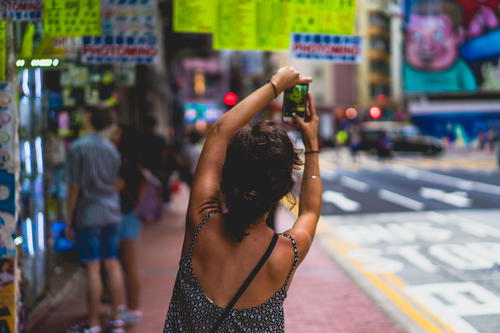 For just some more Hong Kong streets, scenes, walking around, street food (waffles!), alleys with graffiti, bubble tea joints, upscale shopping, the huge Times Square Mall and boutiques near Victoria Harbour, make it a stop in your itinerary.
Take the MTR to Causeway Bay, to get there.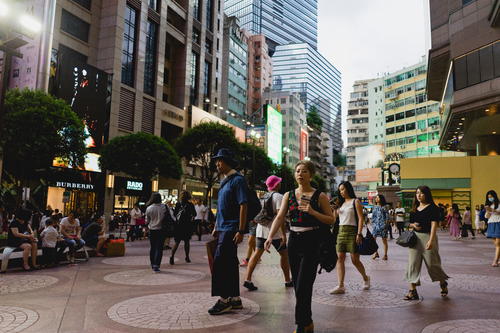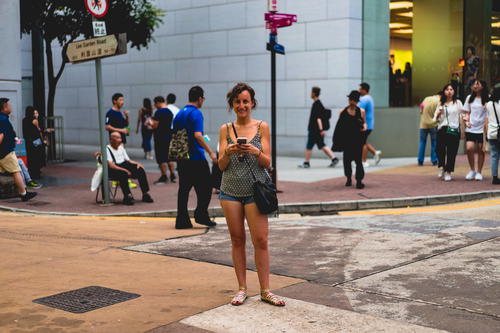 Helpful Tip
Stop in a CircleK convenience store or 7-Eleven for fun drinks. Stay hydrated, as summer gets hot and sweaty in Hong Kong!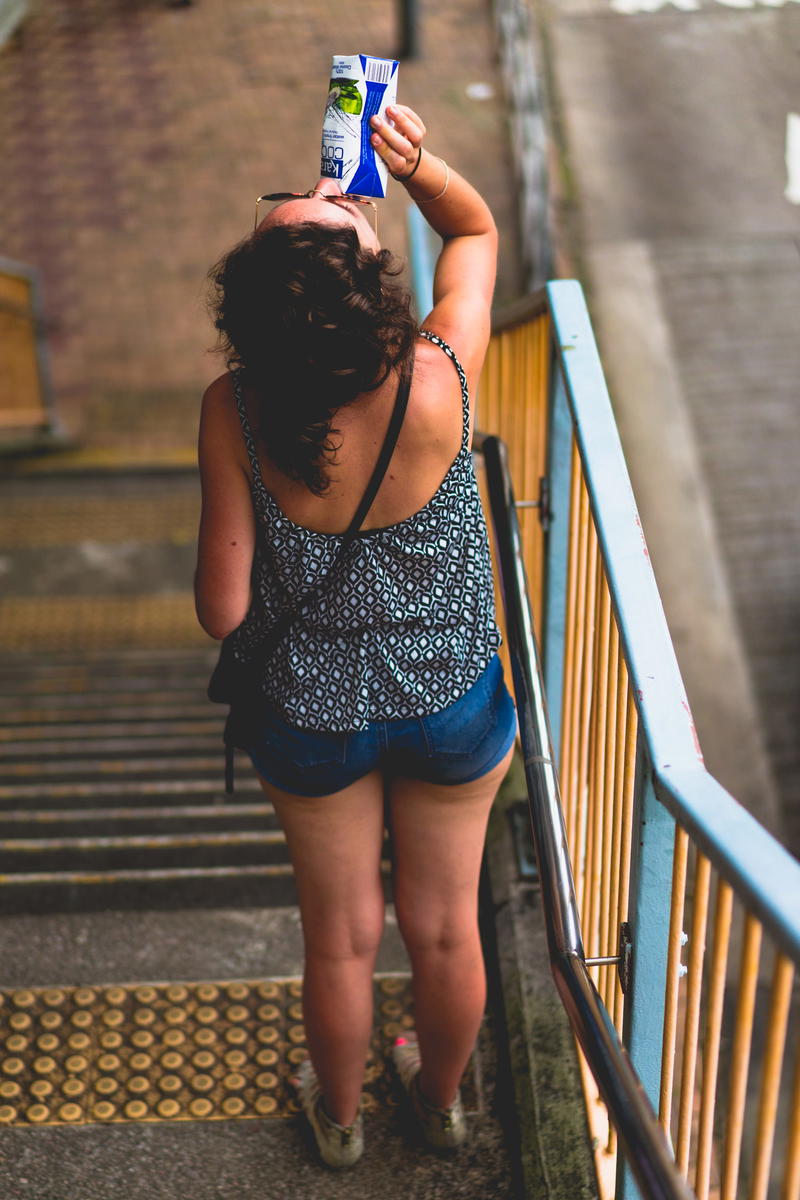 Walk up the Olympic Bridge Staircase
Causeway Bay is home to a cool set of staircases that are painted with the names of all past Olympic cities and the years in which they hosted the Olympics. This is something so special to either come across by happenstance, or weave through the crowded streets to!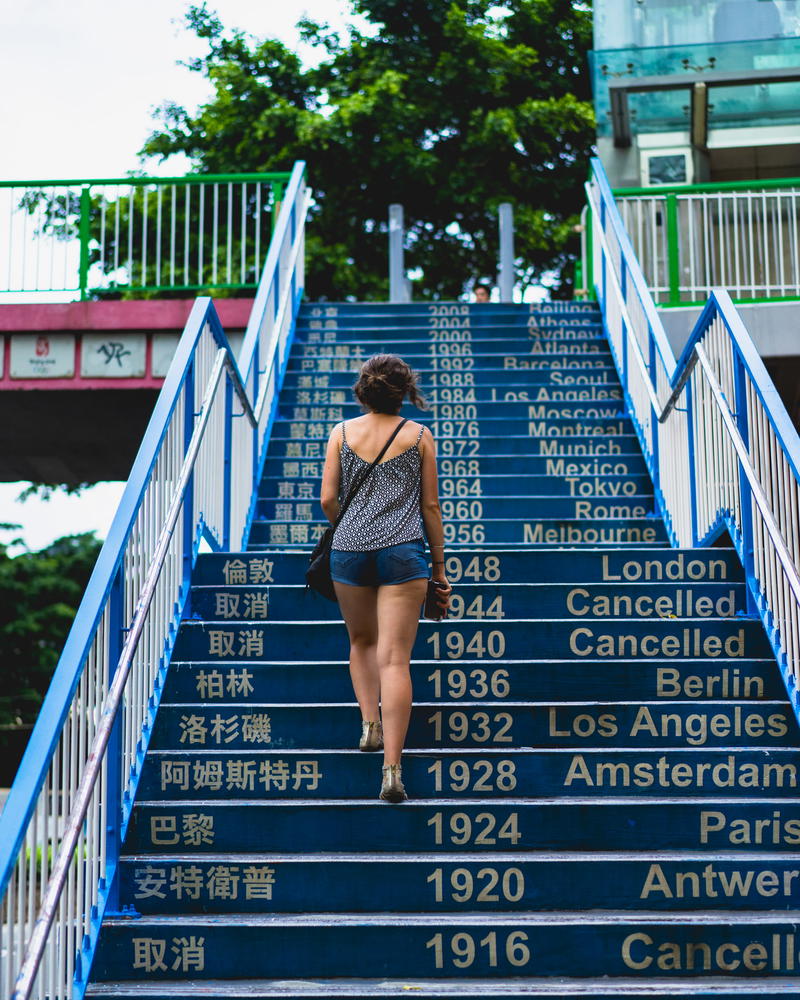 Go to the top of IFC in Central
IFC has a beautiful indoor shopping mall in its lower floors, and this provides a cool escape from the HK heat during most of the year!
The deck floor has a nice view of Victoria Harbour on a clear day, as it's right next to the water!
IFC is a gorgeous mall, and if you just keep going upward and you'll reach the top level patio.
The MTR stop is conveniently also Central (red/blue lines), but "Hong Kong station" is where you have to exit for IFC.
Visit the lovely Hong Kong Park
Hong Kong Park is supposedly one of the more unique parks in the world. It has an aviary (birds!) and a lake with coy fish. It's nice for a picnic (on a bench, because HK is very clean).
Day trip to Stanley & Stanley Market
If you're getting adventurous, go see the areas on the south of Hong Kong island like Stanley or Big Wave Bay. Take the bus there for a local experience. You can pick up bus number 6 or 6X from Central Bus Terminal.
Take bets at Happy Valley Racecourse
Check out Wednesday nights at Happy Valley Racecourse in Causeway Bay for the horse races! There are tons of expats who go to this, and the bottom level near the beer stands look like a college tailgate. For getting there, take the Blue Line MTR to Causeway Bay. You may need to take a trolley to go further to get to the racecourse.
As a little tip, go after halftime for free admission. Take bets! The cheapest bets are cheap, and winning is fun. (Note: the season ends in mid-July).
Have a beach day at Repulse Bay
If you thought Hong Kong didn't have great beaches, think again!
Repulse Bay Beach is located on the south of HK Island. You need to take a bus to get there; however, it gets very touristy. I prefer Big Wave Bay and Shek O (detailed below).
Ride the sky ride at Ocean Park
Ocean Park is also an amusement park on the south-east side of HK Island.
By western or American standards, the rides are nothing special, but the park does have pandas in the zoo and a skyride/skycar that goes over the water, which can be thrilling.
Stroll through authentic Fortress Hill
Fortress Hill is a more "local" neighborhood to the right of Causeway Bay on the Island Line, with fewer tourists. Honestly, you won't find many visitors with Fortress Hill at the top of their Hong Kong to-do lists, but I think it's a nice area to beat the crowds and grab some food.
I have friends who lived here near the market near the MTR, Exit A2. If you want to escape tourists, see what life's like in this authentic Hong Kong neighborhood.
Trek out to Shek O Beach
Shek O Beach is on the south of HK Island and can be reached by minibus! It's a fun place where I have camped on the beach with friends when I was in college and doing my exchange program.
Snap photos at "Instagram Pier"
This industrial pier (technically named the "Western District Public Cargo Working Area or 西區公眾貨物裝卸區 in Chinese) is located past Sheung Wan on Hong Kong Island gained popularity during the start of the rise of "Hong Kong's photo spots" in 2017-2018. Find it here.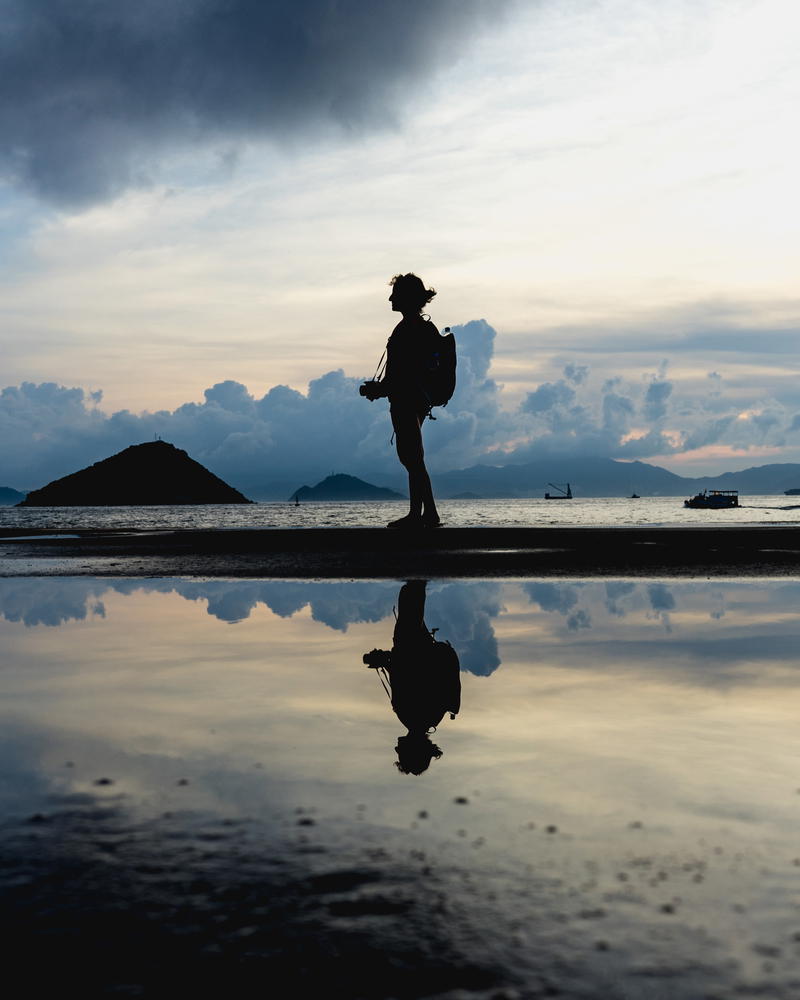 It received its name as a place where young Instagrammers would go for sunset, as there's a view of the Kowloon skyline and some big shipping containers to take photos at.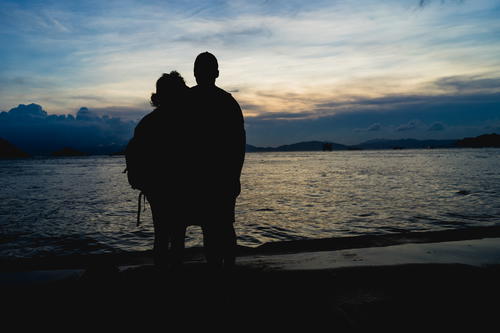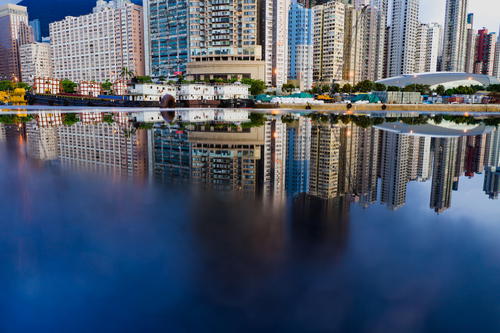 Wondering what it is like to go to Instagram Pier? Check out our photo gallery of sunset and twilight at this picturesque spot.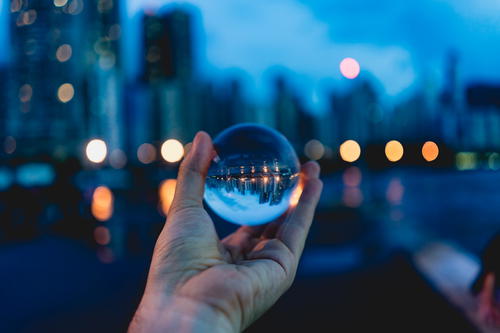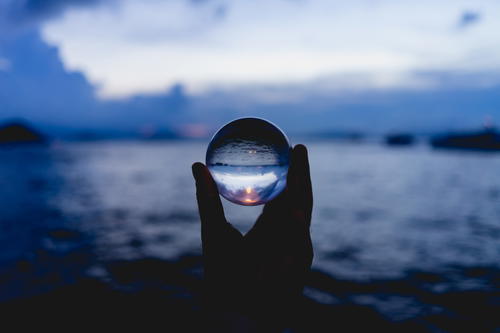 Look up in Quarry Bay
Quarry Bay is a neighborhood with a social-media famous public housing development called Montane Mansion in English. This huge apartment complex is unique for photos because of its four-sided "towering" feeling.
Keep in mind that there are residents who call this place home, so while it is possible to take photos, it is important to be respectful.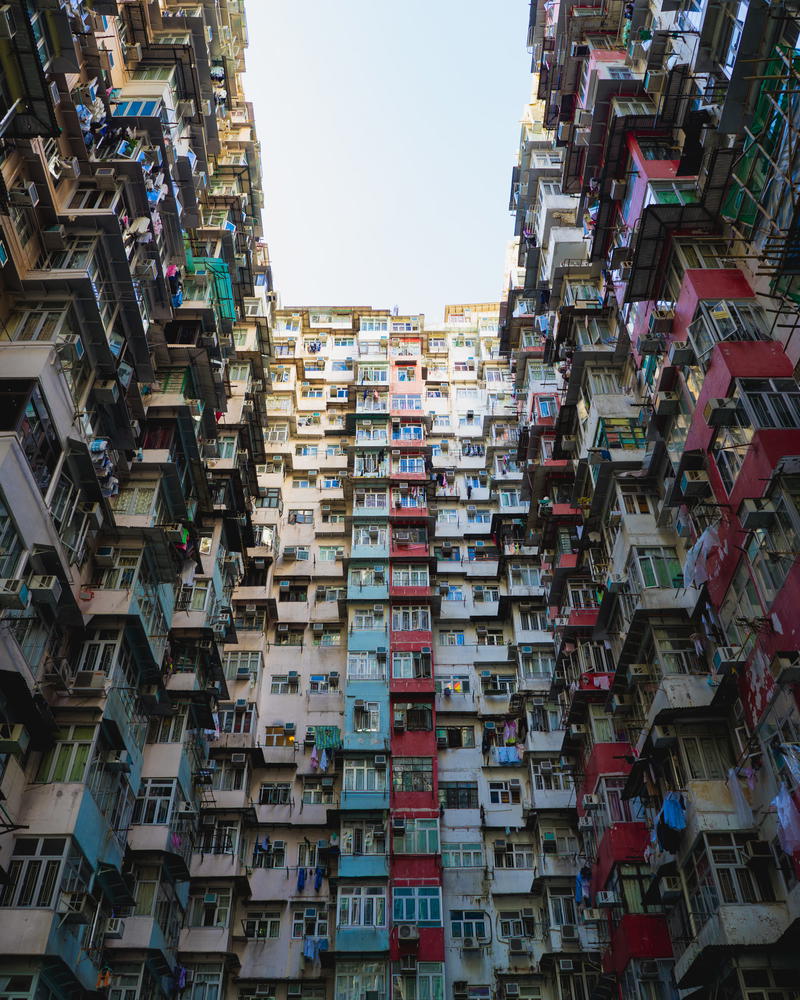 Kowloon Peninsula
Kowloon Peninsula meets Hong Kong Island at Victoria Harbour. The peninsula is home to the busy shopping centers of Tsim Sha Tsui, Mong Kok and quite a bit of nature, as you head up to the areas past Kowloon Tong. Check out my favorite things to do in Kowloon here.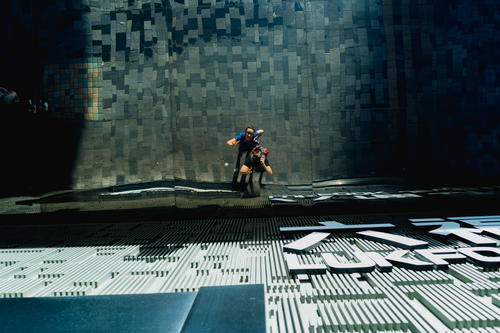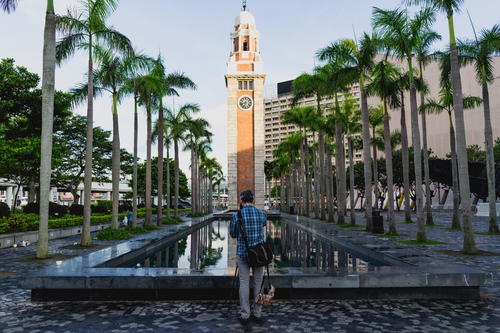 Heighten your senses in Mong Kok
Grab your camera and walking shoes and take the MTR to Mong Kok station, on the green/red MTR line in Kowloon.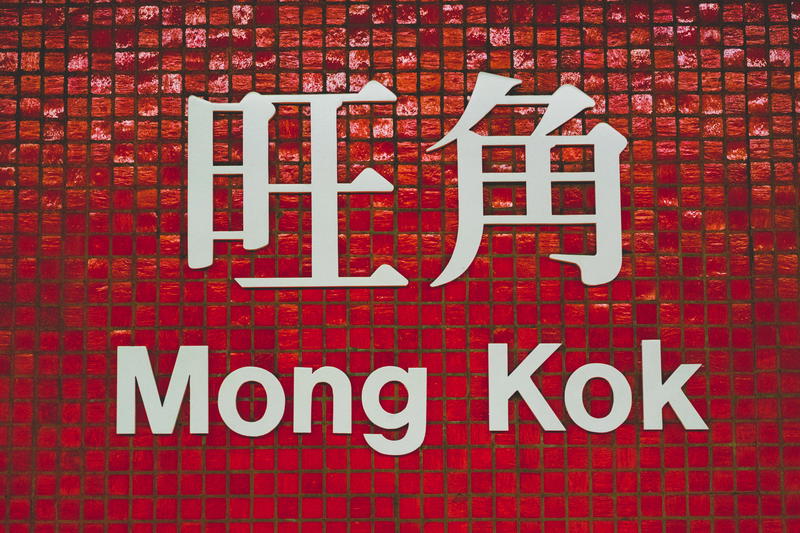 This is the quintessential Hong Kong scene — I mean that! You will see that people are everywhere, and so are the stores, crowds and places to eat, drink and shop. Choose to follow your map or simply own the idea of getting lost and wandering in the madness.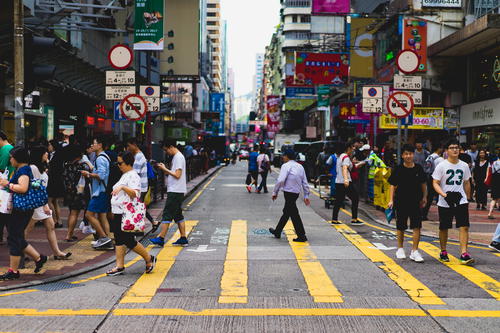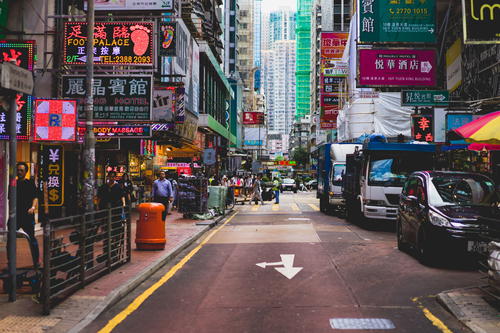 Test your bargaining skills at the Ladies' Market, which is hard to miss, for spanning four long blocks. Hunt down the whiff of stinky tofu, and you'll be close.
Also, in the ladies market in Mong Kok, if you go BEHIND the market stalls into the alleys, you'll find less pricy Thai and Chinese food joints.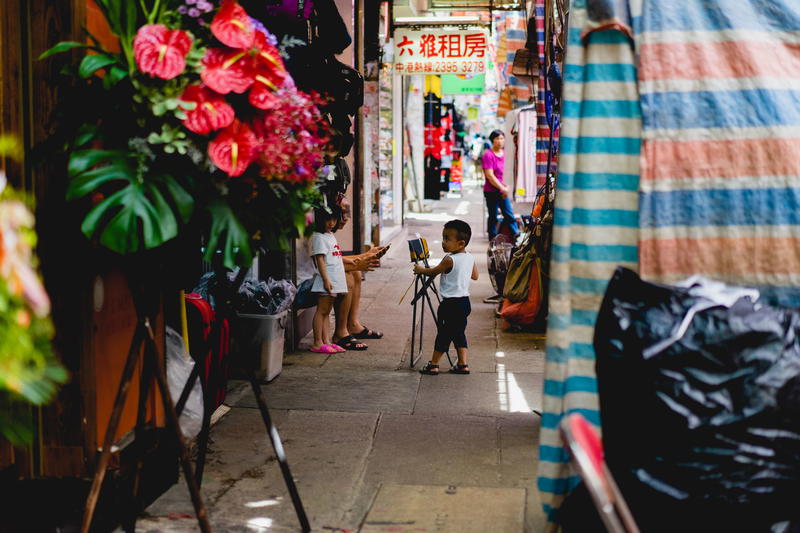 Wondering what it looks like to wander through Yau Ma Tei, Jordan and Mong Kok? We have a photo gallery you can peruse to try to create the same type of sensory overload.
Lastly, if you need a break from the heat, or a rainstorm, head to the shopping mall right above the Mong Kok MTR station.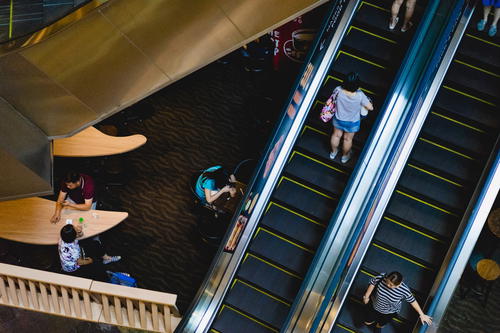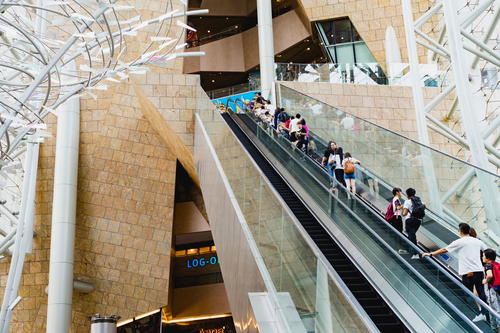 Get starstruck at Avenue of Stars in TST
At 8pm every night of the week, head to the Tsim Sha Tsui Avenue of Stars promenade.(MTR stop: Tsim Sha Tsui). The buildings light up on Victoria Harbour during the nightly light show, the official name of which is a Symphony of Lights. It's unique, and even though it sounds kitchy, it's well-orchestrated and special.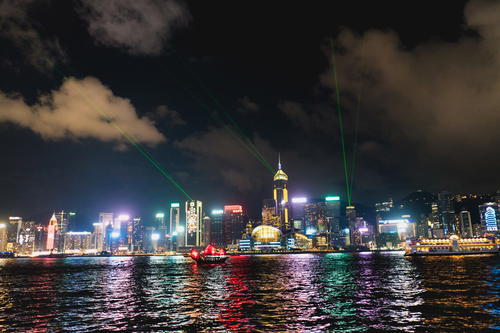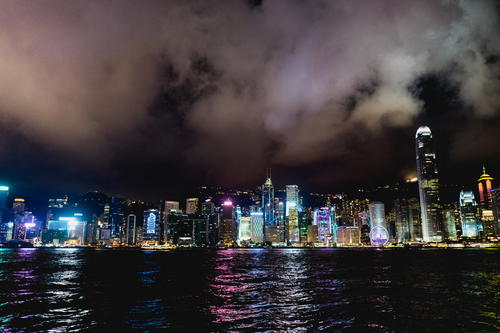 To see some photos of that, hit up our photo gallery of Hong Kong at night.
Go to the Avenue of Stars during the day if its nice out, for a view of the entire skyline, and don't forget to stop in the Peninsula Hotel across the street for some charm.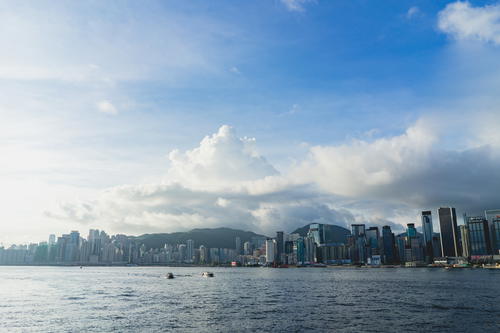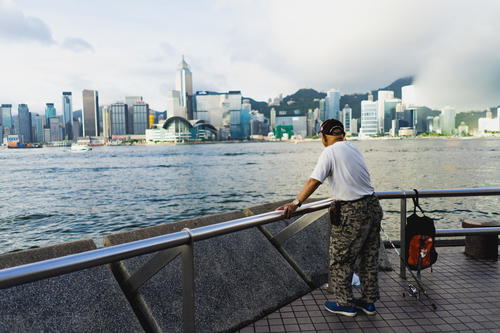 Pose at the Hong Kong Cultural Centre
Take photos at this unique building right near the water! The Hong Kong Cultural Centre is a big performance space with theaters inside. Most importantly, it's a great place to take some unique photos with its pinkish 80s-style mod architecture.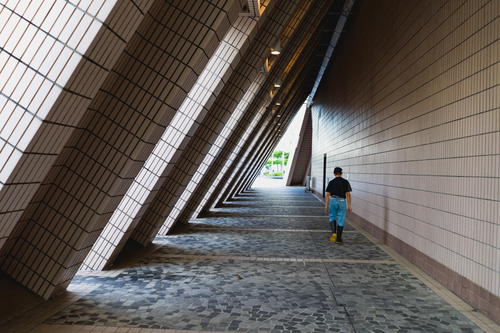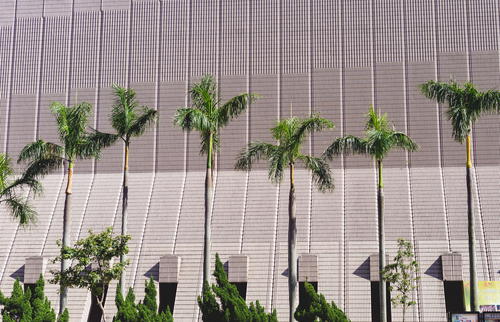 Adventure into ChungKing Mansion
ChungKing is a building on Nathan Road in TST in Kowloon. You'll feel like you're in an action movie, weaving through the first-floor market, and then taking the dodgy lifts up to the higher floors, where you can find some incredible Pakistani and Indian food at "mess halls."
ChungKing Mansion is also where you'll see the true diverse side of Hong Kong, as it's a gathering place for South Asian immigrants and HK residents from India, Pakistan and other places in the region.
ChungKing Mansion will be on the left side of the road if you're walking toward the Harbour down Nathan Road.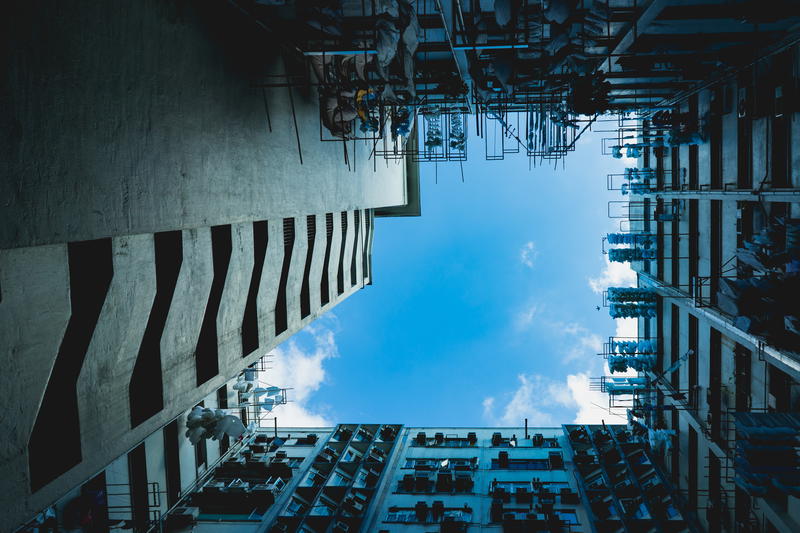 See neon in action on Nathan Road
Nathan Road is famous for its hustle and bustle, and this main thoroughfare in Tsim Sha Tsui is where you'll walk by bright businesses and quintessential neon signs.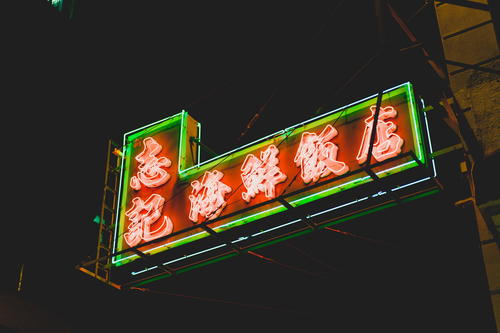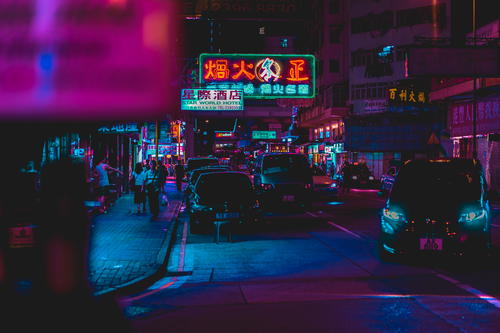 Sweat in the streets of Jordan Night Market
At Temple Street Night Market in Jordan, look for the places that sell 'king crab,' and eat on the street! This is a great (and usually sweaty) experience. It's not cheap like street eats in Mainland China, but you can get some beers, crab and seafood for less than a nice restaurant would cost you.
There is also a small temple called Tin Hau Temple, which is worth checking out. It's near the Yau Ma Tei Station and it's a local secret.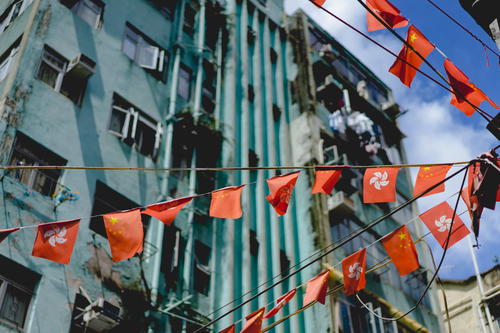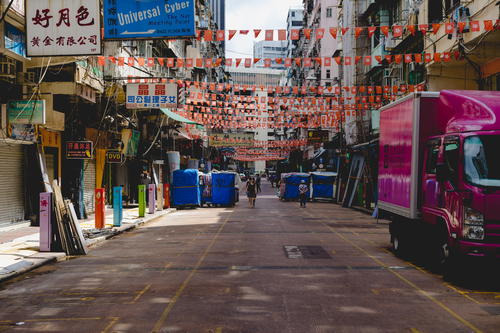 Hit the markets in Yau Ma Tei & Jordan
Check out the back streets of Jordan and Yau Ma Tei. These streets tend to be very "local," and less influenced by Western culture and big snazzy chain stores.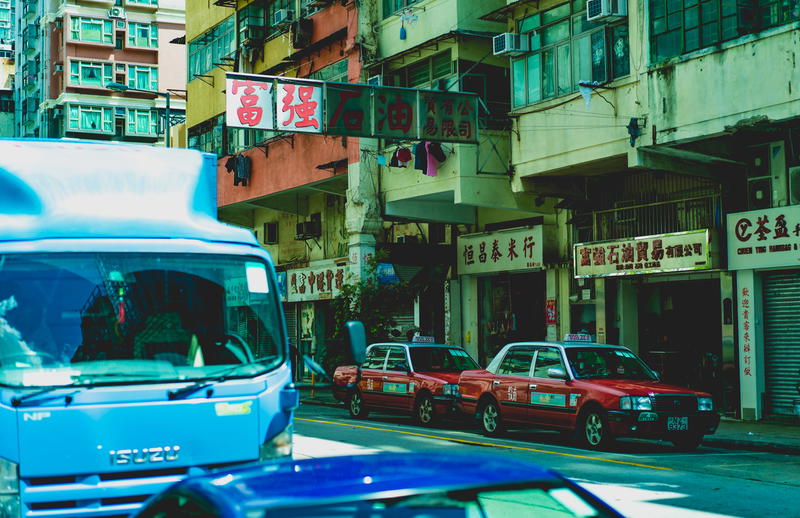 There are cheap Hong Kongese-style places to eat at, and this will be adventurous for visitors who don't mind menus with little or no English.
One of two unique markets I found when I was living in Hong Kong is the goldfish market, between the Prince Edward MTR stop and the Mong Kok MTR stop.
There is also the Mong Kok flower market right a few blocks from the Prince Edward MTR station. It's a refreshing market to visit if you've been constantly in markets with stinky tofu and knock-off handbags.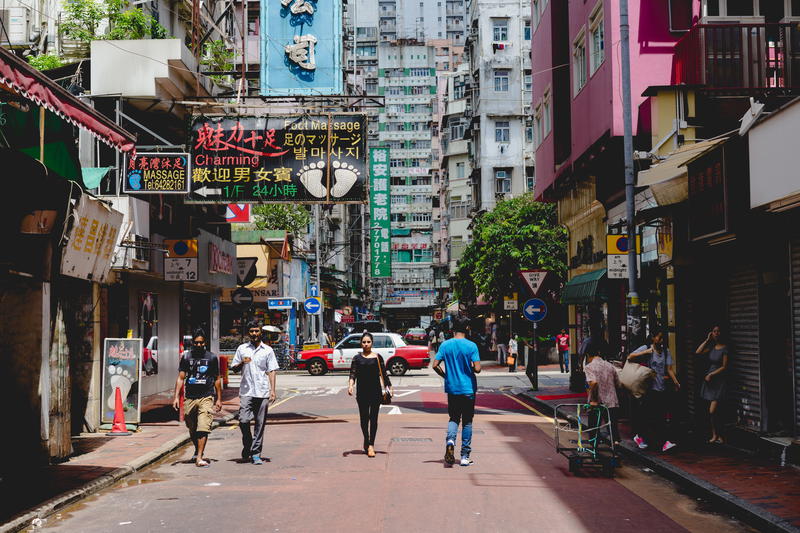 Visit CityUHK (City University of Hong Kong) and Festival Walk
For those interested in educational institutions and also seeing an accessible Hong Kong-style university, check out the college where I did my student exchange — City University of Hong Kong! The MTR stop is Kowloon Tong on the green line.
Kowloon Tong is a great neighborhood to go jogging in because it's not so congested, and it has huge hills!
For cooling off in AC, grabbing a bite and doing some shopping, Festival Walk is a fantastic mall and a good place to eat is EXP. They have afternoon tea sets and there is even an ice skating rink. The grocery store Taste in the basement level has fresh sushi every day, and lots of good foods (imported bagels, an international specialty!). There is an entrance directly to the MTR for Festival Walk.
Dodge monkeys at Kam Shan Country Park
Monkeys. There are monkeys in Hong Kong. If you're up near Kowloon Tong or Sham Shui Po, get in a cab and ask the driver to take you to the monkeys in Kam Shan Park.
You can 'hike' here (walk up steep hills) and see monkeys literally hanging out. Do not feed them.
Keep walking for a view of Victoria Harbour and skyline from up above. Do not stay past dark. There are no lights. Have you seen Planet of the Apes? It could turn into that.
Go back in time in Sham Shui Po
Sham Shui Po is one of my favorite old-school HK neighborhoods. Actually, I think it is my number one favorite.
It has another local market, with people selling everything from violins to Hello Kitty watches, to pots and pans. If you have time and want to see local life, go here.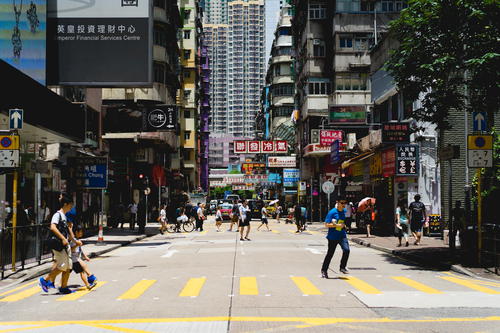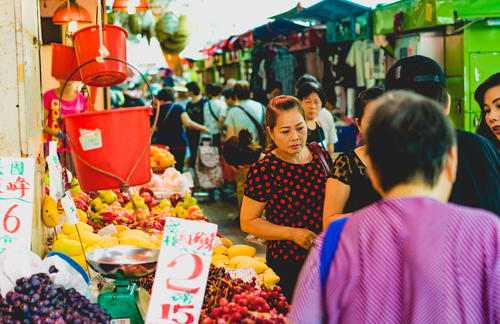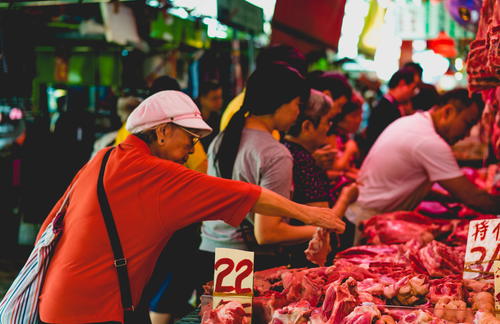 Sham Shui Po was also once very famous for handwritten business signs that jutted out vertically into the street, much like the ones in TST on Nathan Road, but hand-painted and without the neon. They've since been declining as an art and as a style, so go admire them before they're extinct!
Take it slow at Chi Lin Nunnery
The Chi Lin Nunnery is on the green line MTR to the east, after Kowloon Tong, in Diamond Hill.
The neighboring garden is really nice and recently redone in traditional Chinese style. It's nice to see this temple/nunnery juxtaposed against the Kowloon high-rises in the background, and against the mountains. It is one of my favorite places in Kowloon for photos.
The New Territories
This is the area of Hong Kong past Kowloon, or rather, between Kowloon and the border with Mainland China.
It's more sparsely populated and is serviced by the KCR light rail trains rather than the MTR metro lines, mostly. The KCR is an above-ground train that is easily transferable to from the MTR.
Hike up Ten Thousand Buddhas Monastery (Sha Tin)
In short, the 10,000 Buddhas Temple in Sha Tin is worth the trek.
Once you get to Sha Tin, there'll be signs for the 10,000 Buddhas Monastery. Get your camera ready and bring a water bottle for all the step-climbing.
Hong Kong's Outlying Islands
Most people don't know it, but Hong Kong is made up of hundreds of islands. Hundreds!
Here are some tips for the cool stuff you can get into on the ones that are inhabited and accessible. They really feel worlds away from Central and TST.
Admire the Tian Tan Buddha in Ngong Ping
Ngong Ping is the location of the "BIG BUDDHA," which is the world's largest sitting bronze Buddha.
The Tian Tan Buddha is actually gigantic and weighs many, many tons.
To get there, take the yellow MTR line to Tung Chung, and then you'll see directions to the cable car through the mountains (which has awesome views); this is another attraction and is what everyone goes there for.
Wear good shoes because there are several hundred steps up to the Buddha itself, and from the top, there's (once again!) a cool view of mountains and the island scenery. There's also a monastery with a vegetarian cafe (cool for vegan and veggie travelers!).
Go back in time in Cheung Chau
If you have tons of time, another 'outlying island' is Cheung Chau, which is a nice island with no cars and a mountain to walk up. 
It's famous for its pedestrian-friendly streets, seafood restaurants and Hong Kongese island vibes. Don't miss the local temple!
You can take a nice ferry ride to get here.
Take the ferry to Lamma Island
Lamma Island is the best known of the outlying islands. You can see HK Island culture and feel like you're miles away from the city and urban life.
Ferries depart from the Central Ferry Pier and are cheap, but stop at midnight-ish. There IS accommodation here, and lots of seafood, and even a lot of expats that have chosen to live there. It's also popular to camp on the beach.
Visit a new Disney at Hong Kong Disneyland
Disneyland in Hong Kong! I've never been to this one, but many of my friends have!
If you're the type who likes to visit a Disney everywhere you go (California, Paris, etc) then this is your chance! The website is here.
Leaving Hong Kong for Macau or Mainland China
When visiting Hong Kong, keep in mind that it is a special administrative region (SAR) of Mainland China. There are many cultural and political variations between Hong Kong and China to this day.
In leaving Hong Kong, a visa is required for entry to Mainland China, for foreign visitors. When going to Macau, I would recommend that you check visa requirements for your specific passport.
Macau
Macau is a special place, with a mix of Portuguese and Chinese culture! Like Hong Kong, it is a special administrative region of China, and much smaller than Hong Kong.
To get to Macau from Hong among, you will need to take a ferry there from Central. The ferry is a catamaran, rather than a basic urban ferry.
I have been to Macau about five times to take flights out of there and back, because flights into Macau from Thailand and some other parts of Southeast Asia are sometimes half the price than to Hong Kong. 
If you're going to Macau for a day trip or for a night, go to the Venetian! And for gambling (which Macau is known for), a good thing to know is that you'll find it's not exactly Vegas or Atlantic City. Bets start higher, and there are a lot of high-rollers from Mainland China spending the night in the casinos.
To get to the Venetian, you can take a taxi from the main island (Macau is made up of three small islands). Macau is really cool because you can see all the Portuguese influence in everything. The signs are in Portuguese, Chinese and English. The cuisine is a mix of Portuguese and Chinese cuisine. It's fascinating.
I like visiting the Portuguese ruins of St. Paul. It's so unique to be at European church ruins on an island next to China.
Shenzhen, China
Shenzhen is the gateway to Mainland China, and for many, a stop on a business trip.
To get to China, originally the most direct way was to take the KCR light rail to either of the port entries into Shenzhen. I have been to Lok Ma Chau and the other, Lo Wu.
Recently, a new high-speed rail (bullet train) system has opened, with Kownloon Station as the terminus. In a very brief 18 minutes, you can get from Kowloon all the way to Shenzhen, which is incredible. For longer-haul routes, this train can take you all the way to Dongguan and Guangzhou. Check out the High-speed rail system website. Tickets cost around USD 10. Keep in mind that if you wish to go all the way to Guangzhou, visit the timetable, as those trains depart fewer times per day.
When taking the KCR to China, you'll arrive at the end of the train line, and everyone gets off. There are some places to get tea and buns and other light snacks. Then, you can proceed through immigration into the People's Republic of China. Keep in mind that after crossing into China, apps like Facebook, Gmail, Twitter and Google will not work, and all Chinese laws such as censorship and government regulations will apply.
Also note: VISAS ARE REQUIRED FOR CITIZENS OF MOST COUNTRIES. See our article all about getting a visa required for travel.
Schedule your Chinese visa in advance in order to not get turned away at the border.
Enjoyed our article?
Consider supporting us! We're a 2-person team (learn more about us here) and your support enables us to create quality content. Thank you!