How to Stay Healthy During Your Trip
Written by Becca
•
Updated on September 19th, 2023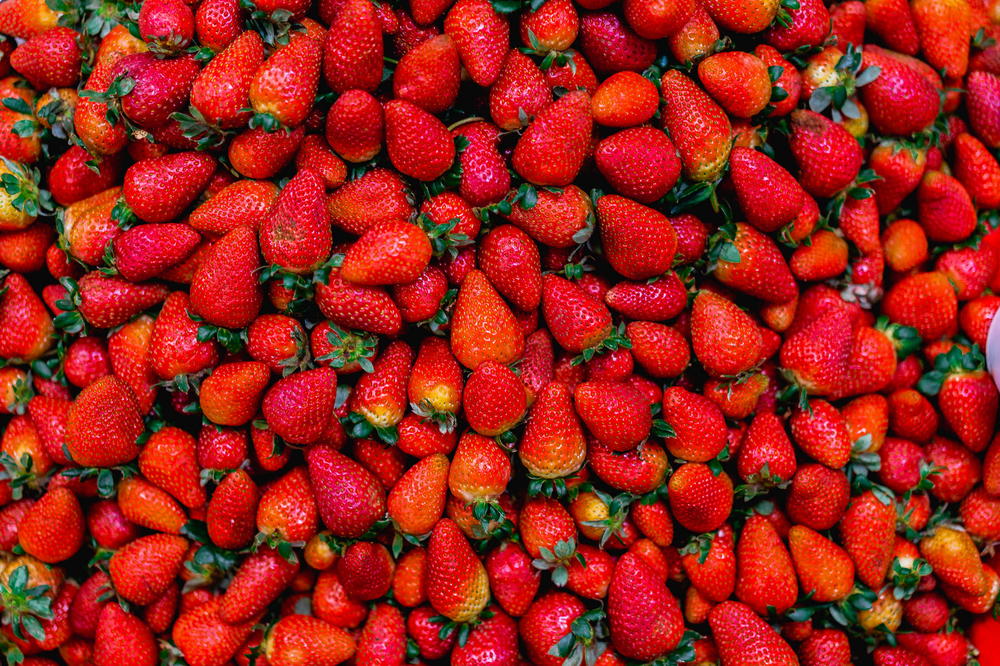 Our best health tips for long-term travel as digital nomads will help you stay fit, making healthy choices about food while traveling and help you get the right amount of sleep.
This article may contain affiliate links. We earn a small commissions when you purchase via those links — and it's free for you. It's only us (Becca & Dan) working on this website, so we value your support! Read our privacy policy and learn more about us.
Staying healthy while traveling might seem overwhelming because you're away from all your routines at home.
For us, part of the fun challenges of exploring new places is figuring out how to stay healthy and fit.
We stay healthy while traveling with a bit of balance and conscious effort. While trying new things, we also tie in habits from home and translate them into different places. How do we stay healthy during long-term travel as digital nomads?
We make an effort to work out.
We shop at markets to get our fruits and vegetables.
We cook our own food when we can.
We make time to rest and reset.
Staying healthy while traveling didn't always come easy, and we're still working on our goals of working out to stay fit and eating well to maintain good health. Here are our main tips and how we achieve them.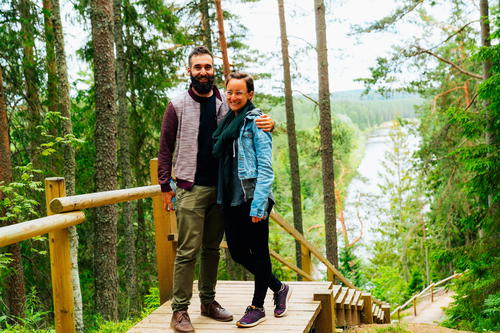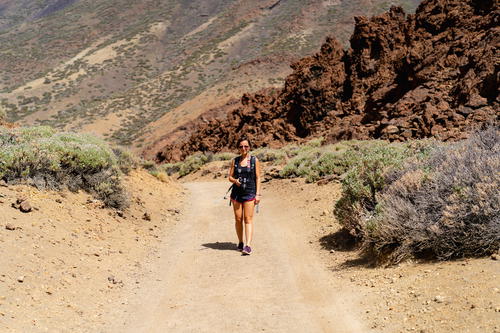 Work out while you travel, from running to CrossFit to yoga and everything in between
At various points during our long-term travel together as a couple, we've developed and kept (and also gotten lazy with) several fitness habits. In Lima, Peru, and Medellin, Colombia, Dan was a member at the CrossFit gyms in our neighborhoods.
Dan's biggest success was doing a strenuous workout class after a day of remote work in our workspaces. He, therefore, avoided less-healthy habits like going to happy hour or eating a big dinner out at a restaurant.
Becca also worked out during the same months, but in a different way. In Lima, she was a monthly member at local yoga studio called Lima Yoga, and in Medellin, she bought a 30-day pass for weekday morning yoga at the Medellin Selina coworking space.
Knowing that she had made an investment for a 30-day membership, she sometimes went to yoga classes as early as 6:45 am on weekdays and as early as 9 am on weekdays (rough, right?), averaging yoga classes usually four times per week!
Starting in Mexico City, after acclimating to the high altitude, we both started running on our own. Mexico City has an awesome park called Bosque de Chapultepec, which has a great running path.
The neighborhood of Condesa is nice as well for running because the traffic isn't heavy, the sidewalks are pretty wide, and there's a running path around Avenida Amsterdam, which forms an oval around a park.
We also ran together during mornings in Hanoi, Vietnam, where a promenade around the city's most popular lake is an ideal place for a run (if you go early before the traffic starts and the tourists come out!).
If you're interested in working out while you travel, check out some of our favorite recommendations for helping you stay fit!
Running belt
Any time I run, I like to have my keys, my phone and some money or a credit card with me. I don't rely on my pockets to hold these things snug and secure — that would never work!
I have this running belt from SPIbelt. It's lightweight and has no issues holding my phone, keys and a credit card or two. Note: If you have an extra-large phone, this belt probably won't work for you.
I've had mine for a long time and it has held up great! It's so comfortable that I sometimes forget that I am wearing it after I complete my run.
Becca likes her FlipBelt. It fits her well, it's safe and it's washable. It has more surface area to hold more items because of its flat built.
I prefer to have something a bit smaller to travel with and the FlipBelt has a lot of material (but Becca really enjoys hers).
Travel running bottle
For more serious runners, a travel running bottle would make a good investment. When you're running near your home, you'll know where the water points are, or have a system that works for you to make sure you have enough water.
When you travel, you're on your own to find water. And, water is very important! In some countries, tap water is not drinkable, so you can't simply stop at a drinking fountain in the park for a quick sip. That would end terribly.
I actually have and use this water bottle from Nathan.
It has a front pocket in which you can keep your phone or something phone-sized.
When you're not running, you can use this water bottle for hiking or other outdoor activities. The strap for your hand can easily be used to attach the bottle to a backpack or your belt. It's a seriously great find!
The Buff
For all weather conditions, I think the Buff is great for most fitness activities.
The Buff is versatile and can work as a face mask, or it can help protect your neck from being sunburnt. It can also serve as a headband, or it can help keep your face warm in cold weather. There are many uses for a Buff.
I have this Buff that is made out of Merino Wool. I like it because it dries quickly and does well with bad smells.
Apple Watch
Tracking your fitness progress can be rewarding at the end of your trip. If you are getting your fitness from walking, your Apple Watch can help show you how far you've traveled in a day. It's so satisfying!
There are plenty of other fitness trackers that are less expensive and equally suitable. I like the Apple Watch because it has multiple use cases that work well for a traveler.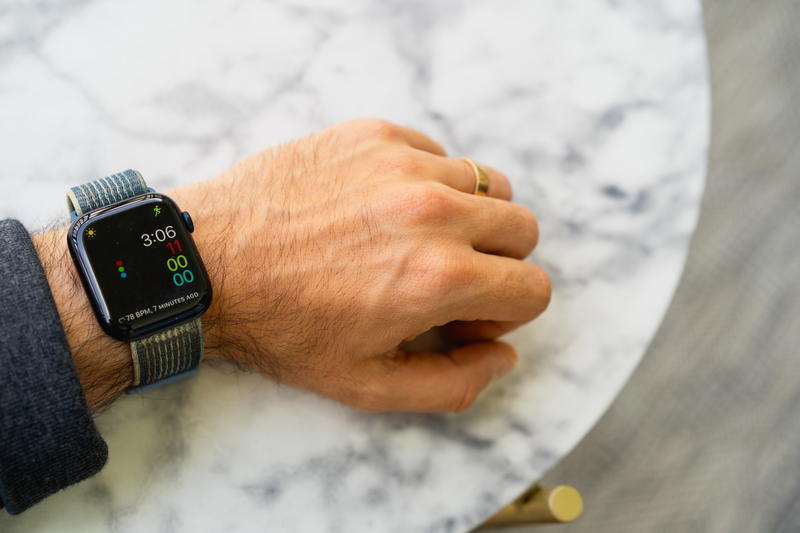 You can use the Apple Watch to help you with directions. It can also help show you notifications without taking your phone out of your pocket. Lastly, you can stream music from your watch! Sounds fun.
Massage gun
When you're looking to warm up or cool down, a massage gun can be a great way to work out knots from tight muscles. It's something that Dan uses frequently after running or on a lazy Sunday while he's sitting on the couch.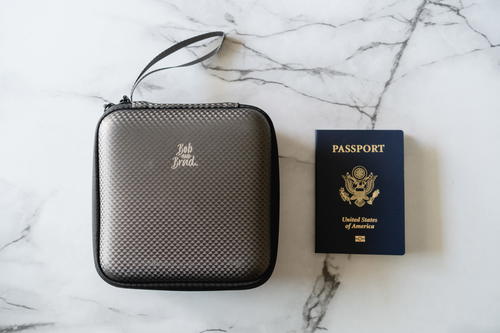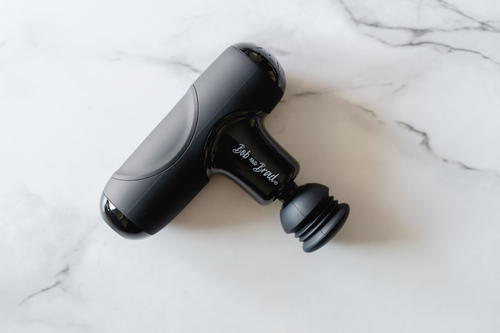 We've enjoyed having them in our house and now that we have the Q2 Mini from Bob and Brad, we're excited to travel with it and stay loose on our trips.
Jaybird Headphones
I've tried a few different pairs of bluetooth headphones. My Jaybird Vista headphones have been my favorite headphones over the past few years.
For working out, I used to have headphones with a wire. I used wired headphones for a long time and it required me to always have my phone on me. I would need a dedicated pocket or I'd have to hold my phone in some instances.
There were always a few times in which I would snag the wire on something, or it would catch my arm as I was doing something and the headphones would fly out of my ear.
Needless to say, I needed Bluetooth headphones.
I tried headphones that were connected to a wire, but I would get annoyed that they would touch the back of my neck and never feel centered.
I tried AirPods but I've always had issues with Apple headphones staying in my ears.
The Jaybird Vista headphones were a perfect fit. They feel secure in my ears and the wing-tip design helps them feel secure as I am running and doing other kinds of movement.
Charging the headphones is easy because they come with their own charging case that can be charged with USB-C wires. There's an app that you can download, to customize some of the options, and change the volume or skip songs when you press the button on the ear bud.
Shop on Jaybird's website or Amazon for these awesome travel earphones.
Lacrosse ball
A lacrosse ball is one of my favorite (and super simple) travel tools to help prevent injury when I'm far from home.
In 2015 I got really into fitness. I started exercising every day. This was a big improvement from doing almost nothing for a few years prior.
Working out started to catch up with me, and I started to develop pain throughout my hips and lower back.
I found a lacrosse ball to be the perfect size and shape to get into tight corners to roll out knots in my lower back and on my hips. As I started running more, it was perfect for rolling out my feet to help loosen them up.
When traveling, I bring a lacrosse ball with me to help my muscles stay loose when I go on runs.
If you have a metal water bottle or something sturdy, you can also use that and get similar results!
TRX
I would say traveling with a TRX is for someone really into fitness and looking to stay fit while traveling for a few weeks at a time.
The way the TRX works is by attaching the system to a sturdy structure, like a beam, tree or post. Then, while it is securely attached, you can do your movements.
Even while you're not traveling, a TRX is a great way to stay in shape and cut out the added expense of going to a gym. There's a learning curve of learning the movement and creating your routine. There are a lot of resources to help you out on the TRX website.
Resistance bands
Resistance bands are both lightweight and effective to use for working out. You can do a wide variety of exercises and level up your resistance as you build your strength. This can all be done from a hotel room, hostel backyard, Airbnb living room or train station waiting platform. You choose.
Our friends Alex and Ryan have created a guide for how to workout with resistance bands. Check them out!
Be conscious of the foods that you eat when you're not at home
The food is, of course, one of the best reasons to travel. In Mexico, you can get a taco for $0.40, and in Vietnam, you can eat a bowl of pho on the street for $2. We can't enjoy these types of foods for the same prices at home in the US!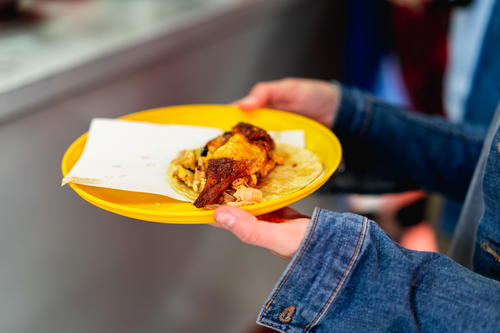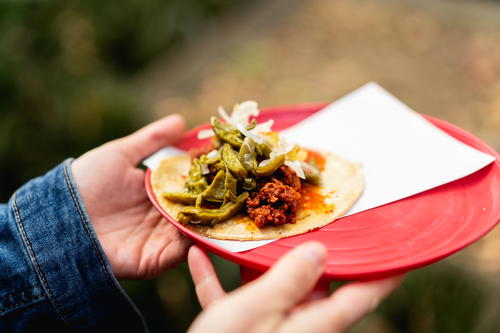 While great food might come at very affordable prices for us (compared with prices where we come from), chances are that not everything we see is healthy. We're conscious of when, how and what we consume when we aren't the ones cooking.
Control how often you dine out
To this end, we try to control how often we dine out at restaurants. This is challenging, especially when entertaining friends visiting, going out to a catered event or social gathering or going to a food festival as a cultural activity.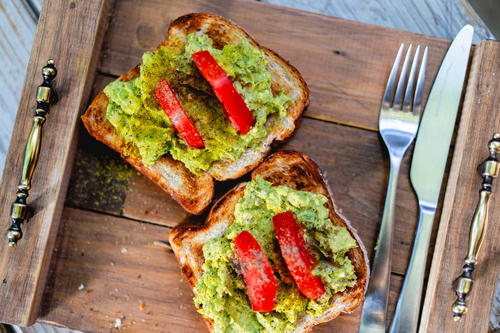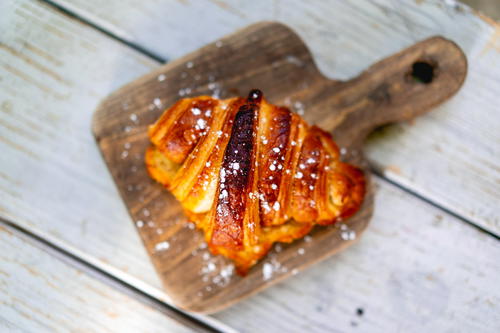 We always try and make dinner on days when we go out for lunch. If we are home to cook lunch, we may consider having dinner out if we haven't had a chance to get new groceries.
We're most likely to eat out in vegetarian-friendly destinations, but for places where it's hard to be vegan or vegetarian, we default to cooking.
Control which types of food you eat when dining out
We also try to control the types of foods we eat when we dine out. We also try to eat healthy alternatives if we want to have a quick snack or a meal when we're away from home.
If we're walking around and craving a snack, we'll opt for fruit smoothies over French fries, and unsweetened tea or coffee rather than beer or wine. This method helps us solve cravings, while not consuming excess fat or calories.
A tip for flying is to bring healthy snacks for the flight. This is so that you don't wind up buying airplane food (cheap budget flight where they have a menu of snacks like chips and junk) or a flight with no food offerings at all, for when you have to find something to eat at the airport.
Pack some fruits and veggies from a local market in reusable containers and you'll be so glad you did. We like the stainless steel EcoLunchbox food containers for travel, which are leak-proof, eco-friendly, reusable and plastic-free food storage solutions for trips.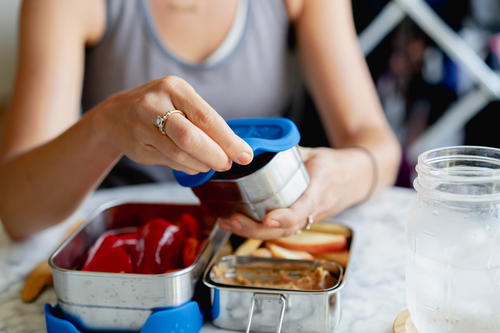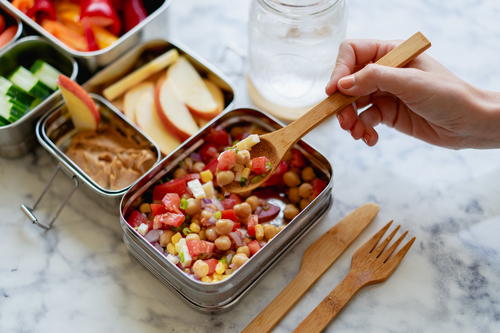 Helpful Tip
Looking for new proven ways to save money on flights and airfare? The easy solution is to sign up for Going, the leading way to find flight deals and mistake fares, directly to your inbox. Use HALFHALF20 to get 20% off!
Make the extra effort to cook meals while traveling
We mention that we cook a lot, so we're going to tell you how we manage this.
We filter our accommodation search with having a kitchen as a priority
We feel most comfortable when we have a kitchen, so we put this at the top of our list when searching for Airbnb apartments, listings on Booking.com or hostels. If we have to, we contact an Airbnb host directly to ask about the components of a kitchen - is there a burner or stove? Is there a rice cooker? Are there pots and pans for cooking?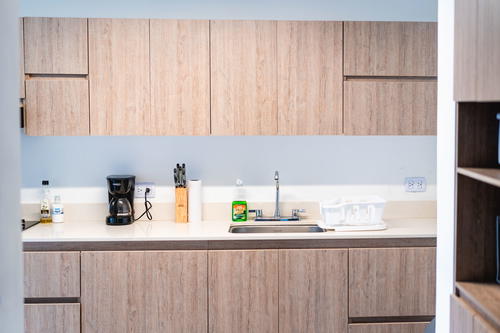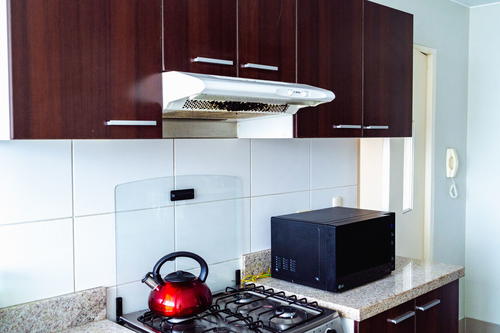 We look up the nearest market so that we can start shopping
In Mexico, it was really hard for us to resist tacos (Becca) and tortas (Dan) for three meals a day, but we made an effort to go to the local market and pick up fresh vegetables.
While traditional produce markets were easy to find in Mexico City's downtown, they were not so prevalent in the Condesa area, which was trendier and did not have these types of markets so accessible to us. We, therefore, had to opt for the nearest modern supermarket.
Determine if you need any extra kitchen tools
Take inventory of the kitchen and see if there's anything that you need. For us, in Hanoi, we had to get a cutting board and some spoons. Most of the places that we visited had a good stock of kitchen items to choose from.
Choose your cooking oils and condiments wisely
The benefit of cooking at home is that you can control your oil, salt and sugar. We prefer to buy olive oil for health reasons, but if we're somewhere where we can't find it, we opt for the next-healthiest type of cooking oil.
For seasonings, we both have our own preferences. Dan prefers cooking with salt and other seasonings, and Becca prefers avoiding salt and using pepper and chili. We both like hot sauce, salsas and chili sauce, so we buy these items (in plastic bottles when possible) and take them with us to a new place if we travel by bus or train.
Snack on fruits and veggies and avoid things like chips, street meat or sugary junk
In most places, from New York to Vietnam, you can find vendors who sell fruit on the street. This seems much more prevalent in warmer places, such as Central and Andean South America, and Southeast Asia, when compared with Europe.
We admin, these street snacks are good, really good. If you make a habit of grabbing a few quick snacks throughout the day, you can find yourself in an unhealthy situation!
We do keep in mind that buying fruit from the street means there may be a layer of pollution or dust on the fruit. For this reason, unless the fruit has a peel, we wait until we get home to wash fruit from the street.
Lots of cities, towns and villages have farmers markets. Look up if a local farmers market exists, or ask around.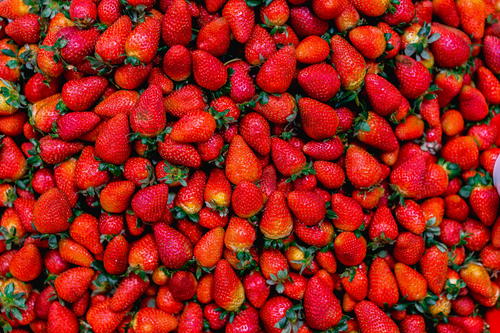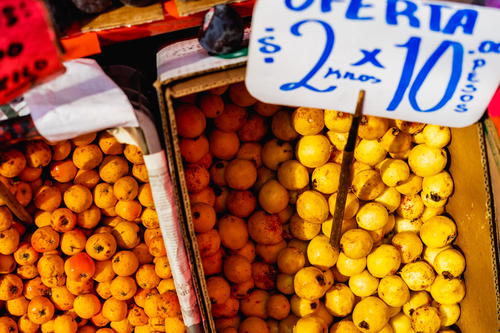 Aside from travel costs, we tend to opt for fruit and vegetables rather than chips and things that come in packages. Eating fruits and vegetables feels better and helps digestion, and you can usually find cut-up fruit in a convenience store or grocery store if you cannot locate a street vendor selling fruits or vegetables in most countries.
Our favorite fruits from places we've been are the mangoes and dragonfruit in Colombia, the guavas in Mexico City and the granadinas in Peru.
We shop at local markets and grocery stores
We love markets and grocery stores! It is wonderful to see how people in other countries shop, and we think this is one of the coolest things about world travel.
In Medellin, our neighborhood of El Poblado did not have a produce market, so we would shop at the local grocery store chain called Carulla. We didn't have any complaints about this, though, as the produce section was gigantic, and we always were able to pick the freshest fruits and vegetables in huge amounts.
In Mexico, once we "moved" across town to Selina Mexico City Downtown, we found ourselves next to Mercado San Juan Arcos de Belen, where we came so often that we got to know a mother and son who sold dried fruit, nuts and fresh juice. They started to know us because we came several times per week.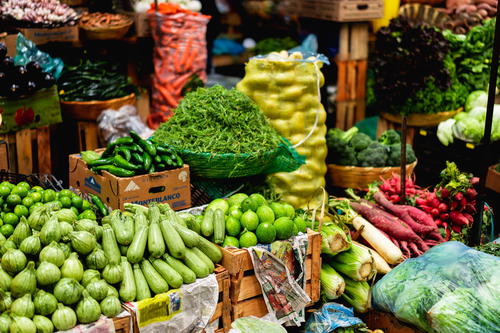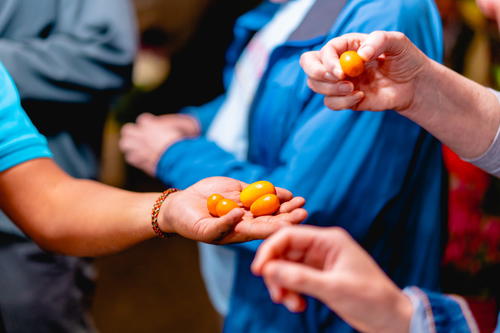 We stay hydrated daily during travel
Staying hydrated is key to a healthy system! Especially in hot climates, it's crucial for our bodies to have enough liquid. This is where drinking enough water and consuming fruits and vegetables that have high water content are great!
If you tend to drink a lot of coffee and tea like we do, staying hydrated is also important to counteract caffeine levels. So, what do we do?
We always carry around water in our water bottles and we fill up whenever possible, in case we won't see a clean water source for a while. Of course, we like to avoid buying plastic bottles (sustainable travel tips!) as much as possible, so we take around our water bottles with us all day.
We aim to sleep eight hours per night while traveling
While we both need different amounts of sleep to function properly, we tend to average on eight hours, which is a healthy and recommended number of hours to sleep. A few things help us sleep this proper amount.
Having blackout shades or curtains
If you luck out with a hostel room, hotel room or apartment rental with blackout shades, congratulations! You will probably be sleeping through the night.
If you like being woken up by the sun, it's sometimes smart to check what time the sun will rise. Cities around the world will have varying sunrise times during different seasons. You can calculate how this will affect you!
A sleeping mask
Becca uses a sleep mask if she's trying to sleep in a room that lacks curtains, or on a plane, train or bus.
The sleep mask came in the most handy in Estonia, where we traveled during the 'longest day of the year.' The sun would come up around 3:30 or 4:00 am, and our room would get leaks of light well before we wanted to be up. Becca used a sleep mask every night to drain out the light and to sleep until she wanted to.
Earplugs
We bonded over the need for earplugs early on when talking about travel. I'm a much lighter sleeper than Dan is, so we handle noise differently. We both sometimes need earplugs if we're in a hostel or any type of property that has noise coming from above, below or outside.
The most challenging noise we've dealt with recently was in Mexico City, where we lived in a first-floor apartment for a month. In addition to overnight construction and street repaving, some types of food vendors would start rolling through the streets around sunrise. The noise was pretty loud, and reverberated off our floors and walls!
Earplugs help drown this type of unwanted distraction out. A good ear product I recommend is the Flare Audio Earshade Pro, which are earplugs with a heat-reactive memory foam fit. They have incredible noise cancellation and block loud annoyances exceptionally better than other earplugs I've tried. (For travel, I take them around in the Flare audio keychain case!)
You can check it out on Amazon or directly on the Flare Audio website!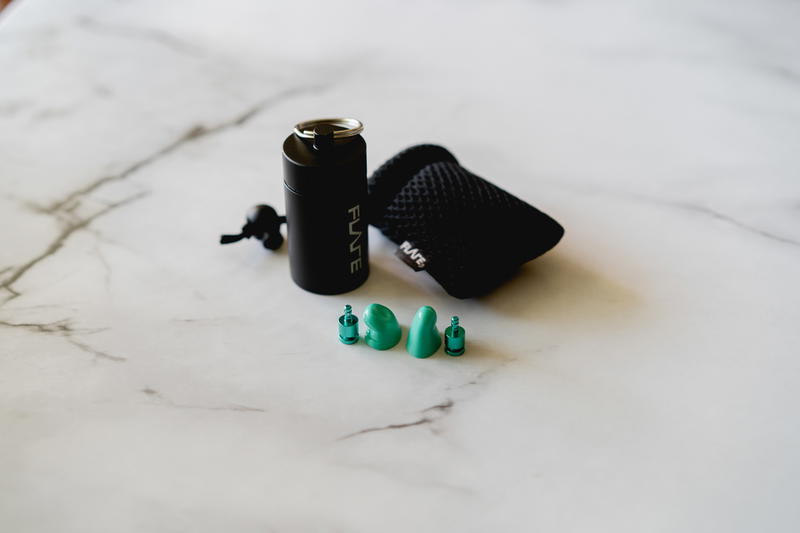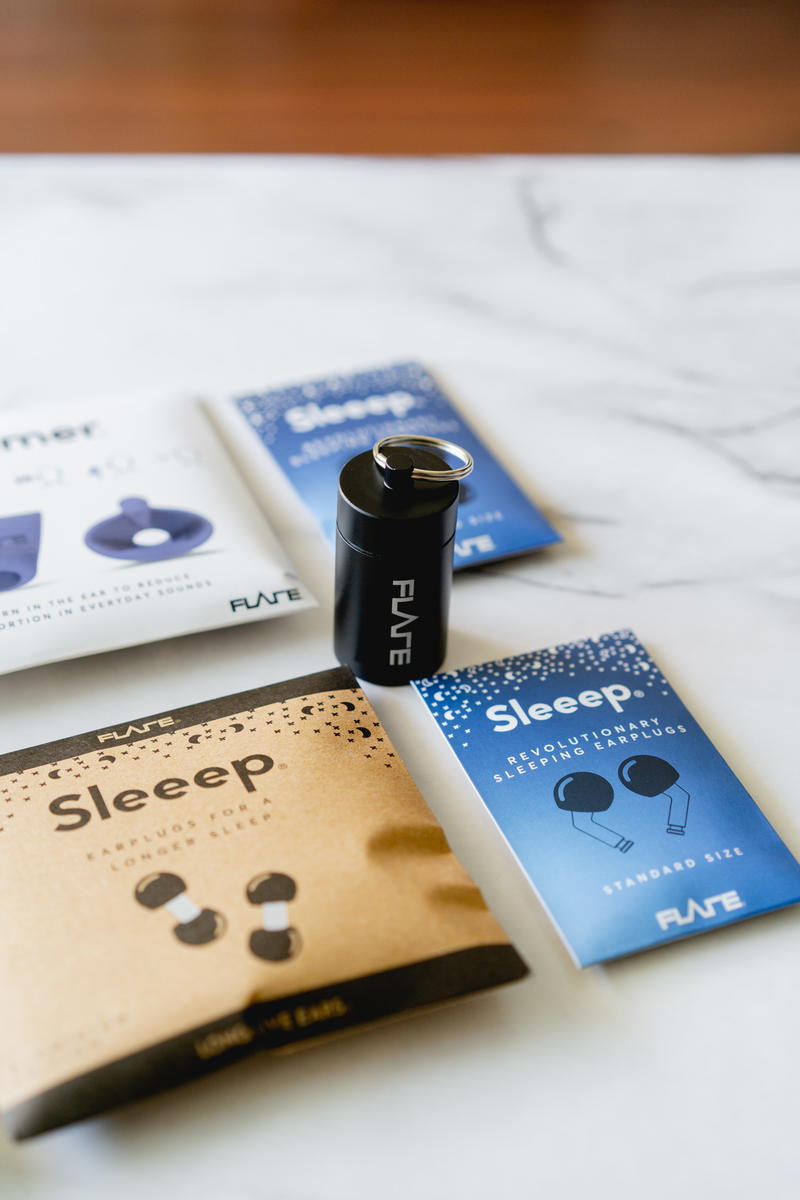 Aim to make time to relax and reset while traveling and working remotely
Not having an office environment all the time can make working any time of day a reality. Especially in Asia with the shifted time zones, we find ourselves working on things in the morning, in the afternoon again, and then at night when our colleagues and clients come online in the US.
It's almost like things are nonstop. To help with the challenges of remote work, we follow these remote work and travel tips to get through the challenges and take a little time off.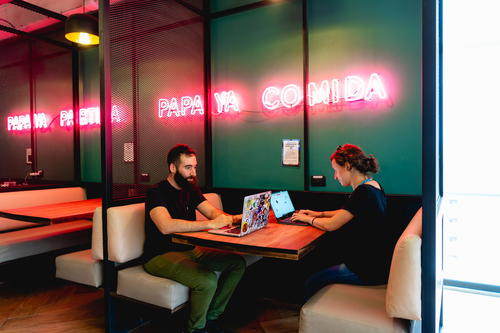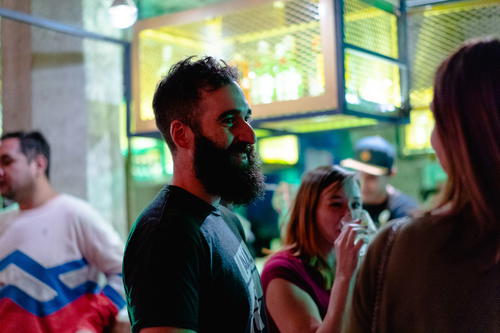 In order to make time for ourselves, we block out time for activities like sightseeing, meeting with friends, cooking and resting. This is almost harder than it seems, but because our laptops are our offices, we can get dragged into all types of work the minute we connect to WiFi.
Our favorite ways to make time for ourselves outside of work are going for runs, going on photo adventures to new places, sitting down for a new type of food and cooking for each other.
We've answered your questions!
Here are some common questions and answers about how to be healthy while you travel!
How do you work out in places that have hot climates?
In Cartagena and Santa Marta, the hot weather completely drained us. Being out in the hot sun and weather that has a real-feel of 90° F with humidity is exhausting. To keep moving, we walked as much as we could before we felt lethargic, and then luckily had a pool to cool off in. We
How do you avoid getting sick?
We try to avoid getting sick as best we can, but sometimes we get sick for unknown reasons. This can happen to anyone traveling anywhere, so we take a few precautions.
We research if we can drink the tap water. We avoid eating fruits and vegetables washed with tap water during our first few days in a new place.
Lastly, we've learned to avoid fish and seafood in some scenarios: in Colombia, we were advised to never eat fish past the afternoon, as it's less fresh and the chances of getting sick are higher.
What do you do about fresh produce and the tap water?
We were strongly advised against washing our fruit and vegetables in Mexico City with the tap water, but it turned out to be fine for both of us. We mostly consumed our vegetables cooked, but we would wash carrots and tomatoes with the tap water and ate them raw.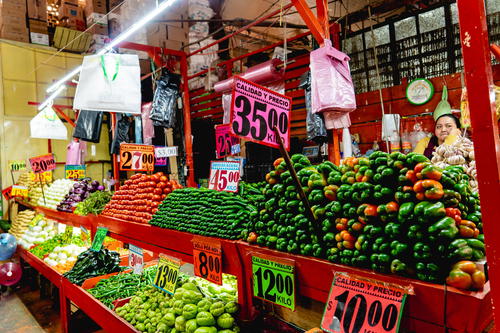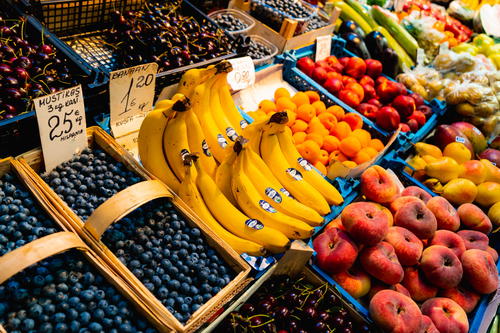 For fruits, we still tried to buy as many fruits as we could that had skin or peels. For drinking, we only drank filtered or purified water safe for drinking.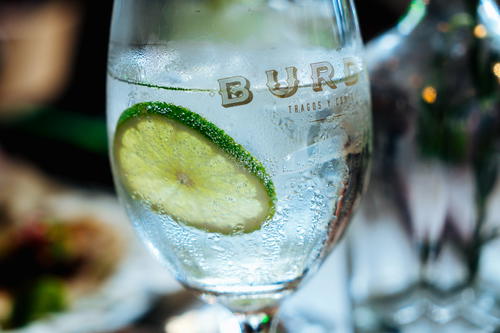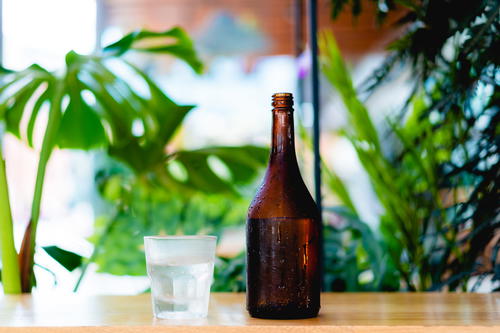 How can you work out at high altitudes?
We are able to start working out at high altitudes only after several days of acclimation. Whenever we get to a new altitude that is higher than the city or town we came from, we take two to three days to take it easy, stay hydrated and avoid strenuous activity.
After a few days, increasing physical activity is fine, but we always listen to our bodies to determine if we're getting exhausted. Don't expect to maintain the same level of fitness right away. It takes time!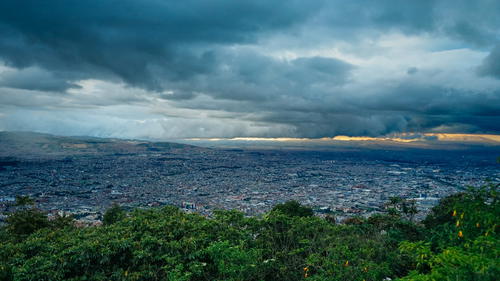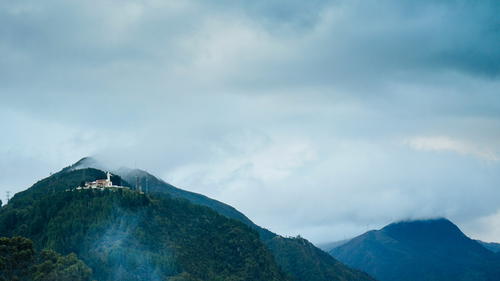 What are our healthy habits on short trips vs. long trips?
It's easier to stay healthy when traveling long-term versus traveling on shorter trips, actually (especially if you're a digital nomad). With long-term travel, you figure out how to live your regular life, complete with chores, errands, having "me" time, keeping in touch with family at home and staying fit and healthy!
On a short trip, you want to pack in all the sights, maybe sleep a bit less, and make the most of every moment. During longer travel, you can get a monthly membership at a gym or at a yoga studio.
You can explore different locations within a city or various types of working out, like biking, tai chi or trail running.
When we're traveling for a weekend, we want to try all the local eats and might be staying somewhere without a kitchen due to proximity or availability. With long-term travel, we make an effort to find accommodation with a kitchen so that we can cook, and we have much more time to try the local foods over several weeks.
This way, we have control over our diets.
Enjoyed our article?
Consider supporting us! We're a 2-person team (learn more about us here) and your support enables us to create quality content. Thank you!