Essential Tips to Know When Planning a Trip to Vietnam
Updated on September 20th, 2023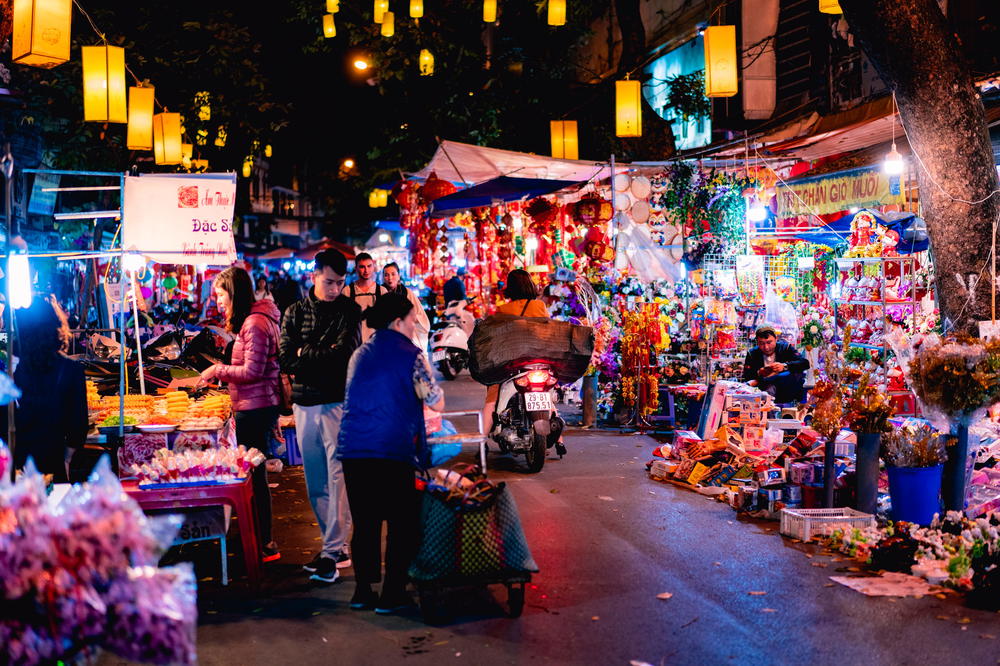 Our tips for how to travel in Vietnam include trip preparation like getting a travel visa, how to get Vietnamese currency and how to get around Vietnam.
This article may contain affiliate links. We earn a small commissions when you purchase via those links — and it's free for you. It's only us (Becca & Dan) working on this website, so we value your support! Read our privacy policy and learn more about us.
Vietnam is a beautiful country with tons of culture, history and eco-tourism to see. Our favorite things about Vietnam is the people, the food, the coffee and the landscapes. Also, did you know that Vietnam contains some of the best safe cities for first-time and solo travelers? Read on!
Where else in the world can you mingle with ethnic minority hill tribes, trek in the rice terraces and then have a cocktail at a rooftop lounge all within the same three days? Vietnam is an incredible mix, and you have to see it to believe it.
A trip spent traveling in Vietnam is for the adventurous traveler who loves to be surprised. In comparison with neighboring countries, Vietnam is special because of its history of outside influences and the experiences that travel here can create.
What should you know before you plan a visit to Vietnam?
Do you need a visa to travel from the USA or other countries to Vietnam?
Yes, you need a travel visa to enter Vietnam as a tourist or foreign traveler. When I traveled to Vietnam in 2011, I went to the Vietnamese Consulate to get an in-person visa. Now, things have changed, and when we traveled to Vietnam in 2019, we received our travel visas online at the Vietnam's Visa Application website. To get a bit more context about what you can expect, read about our experience below!
After our own experience and listening to the experiences of others, one thing is for sure: apply for your Vietnam tourist visa before you arrive, and double-check all your data before hitting submit and paying. The visa application is simple and will ask for all your personal data and reasons for coming to Vietnam.
Double and triple-check your personal information and particulars, so that you do not have to do this process twice and delay your chances of getting an e-visa in time for your travel.
Within three days of applying, you will get a message that you were approved (or rejected). Keep in mind that the system is a dab antiquated, and even though Dan and I applied on the same day, he was approved two days before I was.
Most foreign passport holders will receive 30 days of entry into Vietnam with the tourist visa received by email. Because the visa is an e-visa, this means that the confirmation by email that you receive is not the actual visa. Keep this in mind!
The most important thing is to print your confirmation email about the e-visa. In fact, to be safe, I printed both my and Dan's final confirmations, and the confirmation of payment that we received by email when we applied. Have a screenshot ready in your phone just in case you lose the paper, but the print-out copy is what will be requested when you arrive.
In the airport (which will likely be Hanoi, airport code HAN) upon your entry into Vietnam, you will present your printed e-visa papers to a passport official. The official will give you an entry and visa stamp in your passport. Welcome to Vietnam!
We kept our printed papers with us during the whole trip in case we needed them at any point. In countries where you enter with a visa, you never can be sure who will ask for a confirmation of your entry, whether your hotel, a tour group or, in a rare case, in case you come under any harm or trouble.
One final bonus to keep in mind while applying is to 1000% make sure that all your data is entered properly, especially passport number, spelling of your entire name(s) and date of birth. It also is crucial to enter the correct ports of entry and exit to and from Vietnam, to the best of your ability.
I take special precaution on these ever since messing it up on my India e-visa application and having to re-do it (and pay twice. Bummer!).
We met someone during our trip to Ninh Binh who was detained upon entry due to a switch in only two digits of her passport number. She was held for two hours and finally paid a hefty "fee" in order to leave the airport and pass through immigration into Vietnam. Try to enter your data perfectly in order to avoid any type of bothersome situations!
Get a VPN for your trip to Vietnam
Vietnam currently has some level of censorship from the national government. If you're there, and especially if you are there for working remotely, there may be a case in which you'll have trouble visiting a website here and there. The censorship isn't as aggressive as China's (you'll be able to access Google, your email, all social media sites… for now , but t I think it's still a good idea to get a VPN!
Helpful Tip
If you would like to feel safe about your data and Internet activity, use a VPN like ExpressVPN during your travels in Vietnam.
We like to use a VPN to make sure that we protect our data as much as possible. Plus like I mentioned above, it's a good idea to have a VPN if you need to access a particular website that is blocked. A VPN also comes in handy if you want to instantly time travel and appear that you're browsing the internet from a different country.
We usually choose to 'log in' from locations such as the US or Hong Kong.
Keep in mind that most modern browsers, websites and apps do a good job of keeping your passwords safe. As long as you browse the web from HTTPS (look out for a lock symbol in your address bar), you don't have to worry about someone on your WIFI network stealing your password.
Get to know the street food in Vietnam (some of the best in the world)
If you're down to sit on a tiny plastic chair and lean down to eat at a tiny plastic table, you will have a blast eating all the food that Vietnamese street carts and sidewalk vendors have to offer.
Open your mind and your stomach to all the new and exciting flavors, and the unique way that Vietnamese people enjoy eating their meals out on the street with others.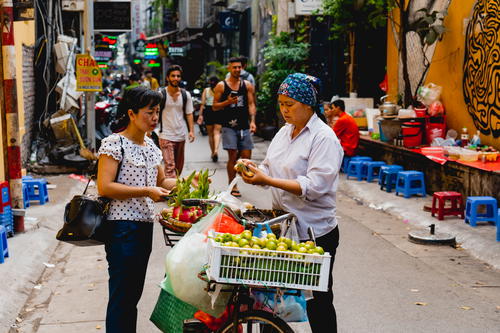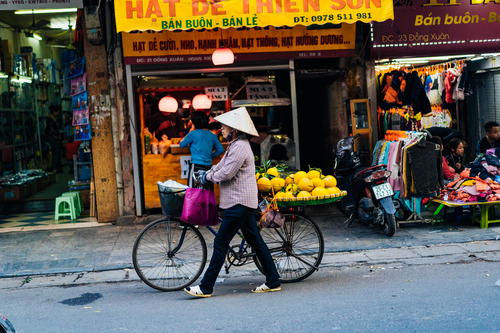 Most street or sidewalk vendors will serve a single type of food, or several that are all related; an example is a sidewalk stand that will serve beef pho, chicken pho and non-meat pho, if you ask for it (and this will be the same broth, because there's one broth available, and they'll omit the meat and charge you less!).
Usually they're very good at a single type of food, and if you see locals crowding somewhere continually, it means it's good.
We've had better food on the streets and sidewalks than in restaurants. Remember: eating from outside vendors will always require cash! Typically haggling is not required, because most meals will cost between 30K and 50K VND.
Make sure to always negotiate and bargain for a price in Vietnam
The ground rule in much of Southeast Asia and especially in Vietnam is that for anything that does not have a marked price, haggling is welcomed and required. This will be how it goes when you're shopping for knock-off jackets, clothes or souvenirs like jewelry, and no prices are marked. It can also work in open-air city markets where you'd buy some food.
For whatever price the shop owner quotes, ask down first to a third of that. You will probably meet at some price in the middle if you both persist. We had mixed reviews of doing this for things like fruit versus clothing.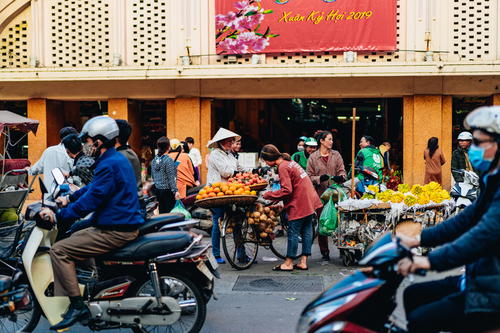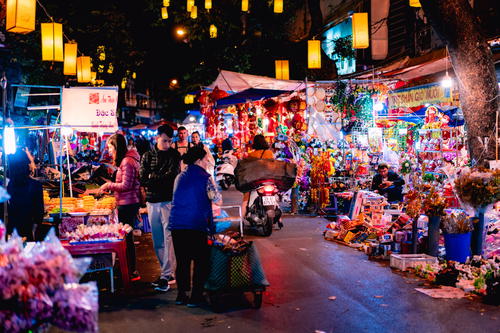 If the price seems fair to you, there is no need to haggle. If you feel you've been wildly over-quoted for something you want, start to walk away and they may call you back with a better offer. Be respectful to the other person and try and have fun with it! Try and get a few different quotes for the same item to get a sense for the actual cost.
Haggling can be tiring, which is why, despite the fact that we want to shop from local street vendors, we also shop at the grocery store, where we can pay by credit card and skip the bargaining.
Beware: Haggling does not work everywhere, and if you choose to haggle for two meals for the price of one, for example, at a sit-down restaurant however casual it may be, this would come as offensive to the owner or server.
The coffee in Vietnam is unbeatable and some of the best coffee in the world
Vietnam is known for great coffee. During our month-long stay, we tried out various cafes and learned how to ask for a black coffee, "ca phe den." Dan takes his iced, and I always take mine hot. If you don't ask for a black coffee, you will probably get it with milk by default.
Many cafes also serve up local specialties like the egg coffee, which was developed during the 1940s when the country experienced a shortage of dairy goods. Vietnamese people started creaming their coffee with eggs!
Now you can enjoy this treat in lots of places that have signs on the sidewalk outside their storefronts listing it on the menu.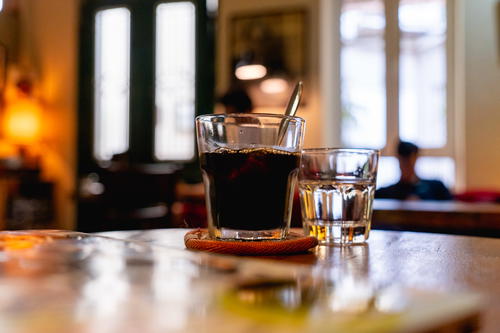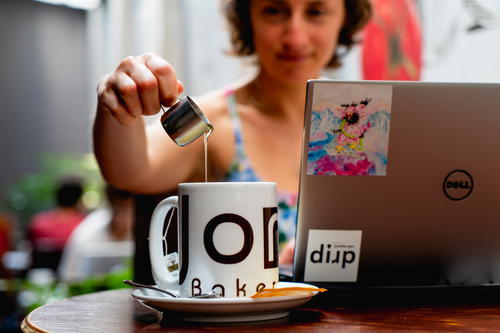 Learn several Vietnamese travel phrases. Locals will love it!
We always try to learn new languages when we travel, and our trip to Vietnam was no different in this way.
Starting on the flight over, Becca started learning the Vietnamese words for different types of foods and numbers from one to ten. She used the app Drops, which has an impressively cute interface that's friendly to the user and feels like playing a game.
Vietnamese is an interesting language because it doesn't fit in with the rest of the Asian languages. Aside from Malay and Indonesian, Vietnamese is the only language in Southeast Asia that is written in the same letters as the letters in the English alphabet.
For this reason, you can sound things out (even though the sounds are very challenging) and identify repeated words like "pho," "bun," "ga" and "bo."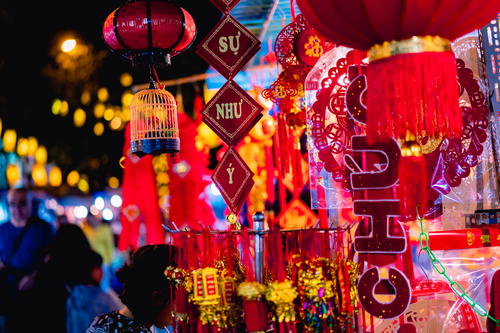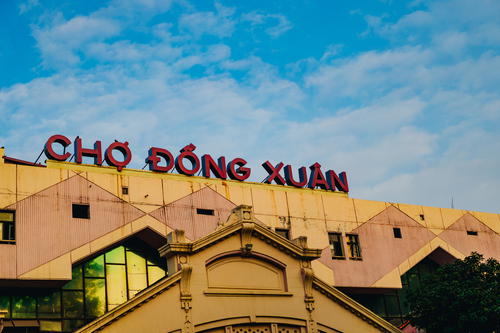 Is Vietnamese tourism growing?
Yes! In fact, local Vietnamese tourism is growing as well as international travel. Because of the growing travel infrastructure, a lot of the country is accessible.
Vietnam is a country where tourism is only about two decades old. This is because the country was in a war until 1975 and had to compensate for losses afterward. As the middle class grew, as technology advanced, and as tourism spread worldwide, tourism was born in Vietnam.
For most types of touristic locations, you'll learn by talking to guides that tourism boomed in the early 2000s. Before then, tourism was small and the rest of the world hadn't really considered visiting Vietnam for vacations and traveling.
As you can now see, the country has a ton to offer, and there are widespread types of tours and destinations for all types of travelers. There is also a wide range of accommodations, so you can choose which type of accommodation to choose for your trip.
If you ever come across any information more than five to ten years old about a place, chances are it may be wildly outdated. For example, before visiting Ninh Binh, we referenced a book from 2009 that detailed Ninh Binh as a town where you may not even see another tourist. Tourism in this region has grown so vastly in a single decade that the number of tourists was overwhelming during our time there!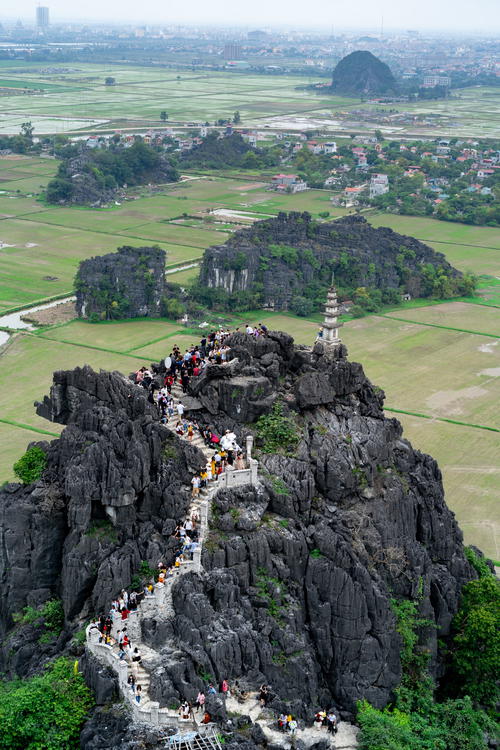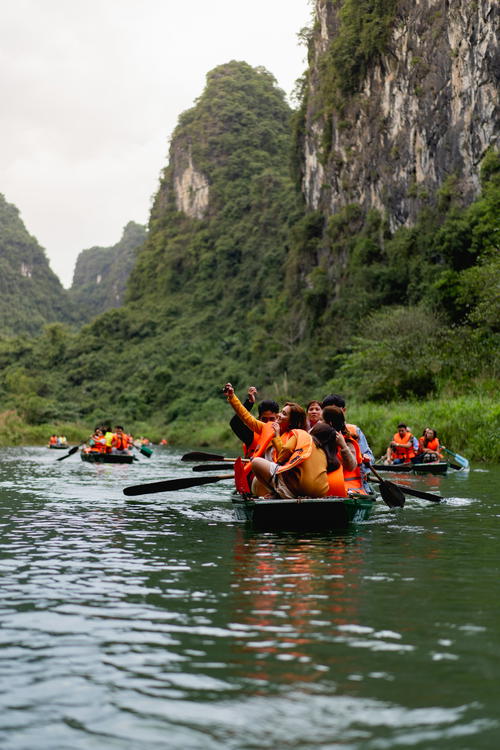 What is "Pho" and is it good?
If you've been to New York City, the dollar slice is to NYC as Pho is to Vietnam. It's a flavorful, rich and heart warming broth with noodles. You can get it with beef, chicken or veggies.
I like pho at any time of day. I figured out that if I could not find the pho section of a menu, I may have missed it in the Breakfast section. That's right - pho may be listed under Breakfast, as people like to start their days with pho noodle soup!
If you don't like pho for breakfast, fear not, because you can eat pho all day long, and most vendors will sell it on the street starting early and until 9 or 10 pm.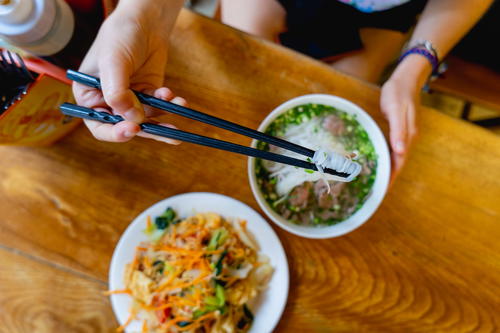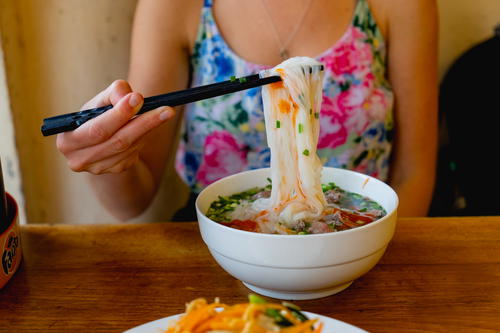 Set your WiFi expectations when traveling within Vietnam
Vietnam today (in its cities) is an impressive place, and we had great luck in Hanoi as a city for working remotely. We were able to find WiFi in most cafes, hotels and restaurants. We didn't find too many city hotspots that worked with any level of reliability.
Keep in mind, data is cheap in Vietnam! If you can, get a local SIM card and tether off your phone if you're in a need to find WiFi for your laptop.
Sometimes we'll work from a cafe with WiFi like Tranquil Books & Coffee, then eat at a small lunch place that has WiFi, get juice at a juice shop that has WiFi and then spend the rest of the afternoon in a second cafe that has WiFi. It's almost like we can always find WiFi!
We found free WiFi at Hoan Kiem Lake in Hanoi and at most cafes, restaurants and bars. Our 'bungalow' in Trang An during our Ninh Binh trip even had its own network!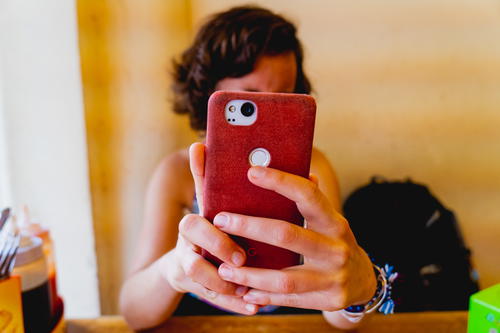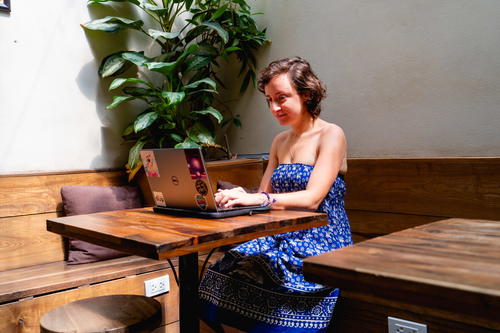 Beer is sometimes cheaper than water in Vietnam
If you are lucky, your accommodation will provide either some starter small-sized water bottles or a large 5-gallon jug to keep you hydrated throughout your stay. If you don't get either of these things, fear not - water is usually 7,000 VND or so in a Circle K convenience store, and you can get 1.5 to 2 liters with a big bottle for 20,000 VND.
Beer, on the other hand, is typically 20,000 to 30,000 for a bottle, but (!!) you can get a cup of beer from a keg on streets like Ma May for only 5,000 Dong. Yes, it's cheaper than water! Is it quality beer? Well, we can't say that for sure, but you can have a drink in your hand for less than a bottle of purified water.
Expect delays and surcharges during the Tet holiday
We were cautious about the Tet (the Vietnamese new year) holiday affecting our travels. Tet is mainly celebrated for three days, typically in late January or February, depending on the lunar calendar, and many people get off from work for an entire business week plus weekends.
What we didn't totally expect was for there to be surcharges for services and even restaurants and bars during Tet. We were aware that the weekend for our Sapa trip coincided with the start of Tet, and we were glad that there were still buses available (we booked in advance).
What we found out when booking for the day of "Tet Eve," so to speak, is that buses were priced up by about 20% as a Tet surcharge. We presume this is to offset the cost of labor, as workers are paid more during Tet, much like working time-and-a-half on Christmas or Thanksgiving Day (as it's undesirable for most).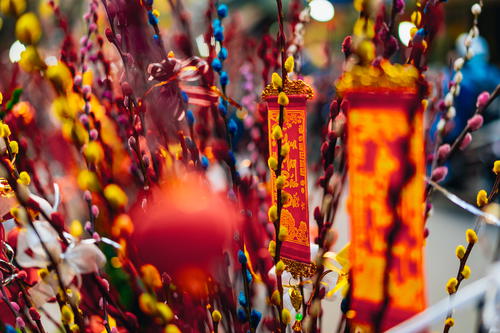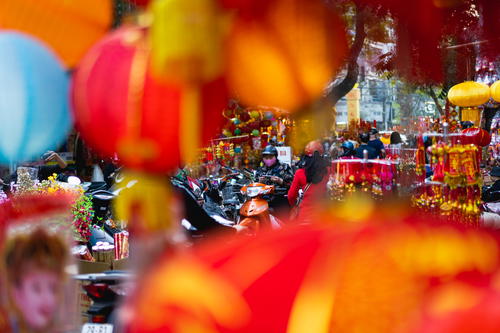 Our favorite cafe reopened four days after Tet and had a special downsized menu, and we found that going out near the Beer Street bar district involved paying premiums on drinks at bars during Tet week.
Tax is always included and tip is not usually required
You will likely never pay any type of added-on tax unless you are at a very fancy restaurant or bar in Vietnam. Similarly, tip is not required in casual eateries, street stalls, markets or casual bars, but if you really like the service, leave a tip and you'll make your waiter happy!
In Western-style hip cafes, you will see a tip jar at the counter, so you may tip 10% of your purchase, if you like.
We also found it appreciated when we tipped guides on treks or tours, as these are people who work long hours and try to give you a wonderful experience to get good reviews.
The average person in Vietnam does not know much English
You will find a large varying degree of English, especially in big cities like Hanoi. You will see that people who work in more Western-style establishments (or Vietnamese people who typically serve Western tourists as customers) may speak very good English, even with minimal accents.
Next, there's people who speak some English - people who work selling souvenirs, simple food on the street, clothing items in stores and Grab drivers. When dealing with people who speak some English, if you have something important to express, like a food allergy, it is best to show a screenshot of your message, translated into Vietnamese.
This helps avoid misunderstandings, as often, if you say something and they understand some of it, they may nod in agreement or tell you that they understand.
Lastly, some people in Vietnam speak no English or other foreign language at all. These people include street peddlers selling fruit, vegetables or snacks, and people in the labor industry like the cleaning staff in our Airbnb apartment building.
If you want to communicate, it pays to learn a little bit of Vietnamese, such as general conversation ("hello," "thank you") and the numbers one through ten.
We've been learning some Vietnamese for travel with an awesome app called Drops, in order to have some handy words.
Bring a shoulder covering for visiting government monuments and Buddhist temples
As is the case with most Buddhist and religious sites in Asia, remember that dressing appropriately is respectful and usually required in visiting cultural sites.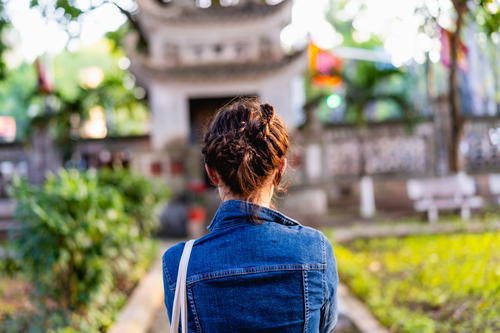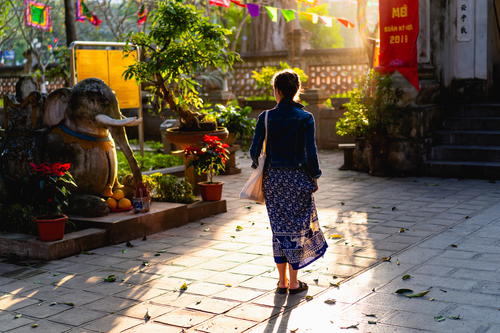 In some parts of Asia, men may not wear shorts inside temples. We found that in Vietnam, shorts were allowed (at least in the north), but for women, covering of shoulders and legs was requested more often.
To be prepared, we suggest carrying a scarf with you during most days when you may visit temples. Covering shoulders is also required at important national sites like Ho Chi Minh's Mausoleum. If you do not have a way of covering your shoulders, you may be denied entry.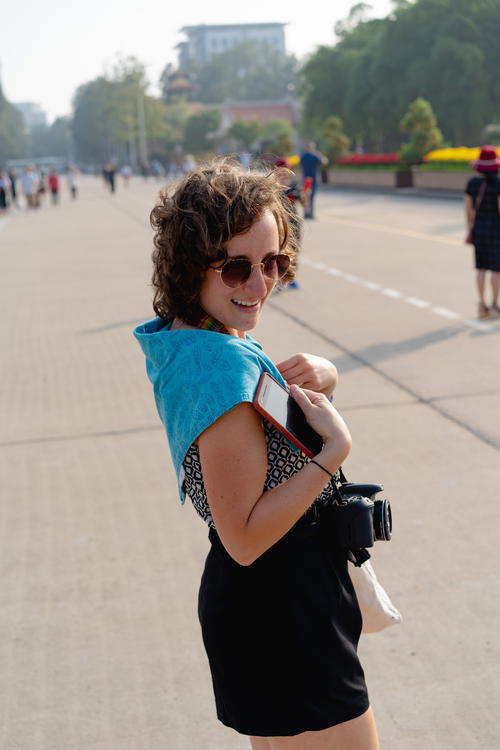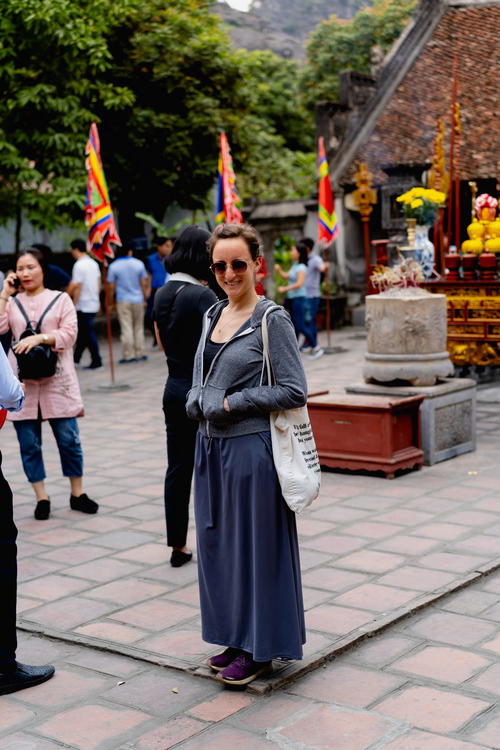 You may get a card for electricity use at your hotel
It's not always the case, but if your hotel gives you a card that goes in a slot near the doorway, this is to control use of electricity! It's good for the environment and we don't mind it at all. When you're in your room, use the card in the slot to use lights, power and A/C. When you leave, remove the card and take it with you, to stay green!
Toilet paper should be thrown in the garbage can
Cafes and restaurants may have signs in their restrooms denoting this reminder, but if not, keep in mind that toilets are more easily clogged in Vietnam due to aging pipes. Put your waste in the bin provided in the restroom in order to avoid clogging.
Try cooking with a rice cooker!
We love cooking with a rice cooker, and it has been one of the best features of our Airbnb. We measure the rice and water, put them both in and then hit the Cook button.
Ta-da! We have rice that's ready to eat in about 20 minutes. We've gotten creative with our healthy at-home cooking and we've steamed things like yams, baby corns and other types of vegetables too.
Crossing the street in Vietnam takes practice
Where else in the world is crossing the street something that everyone talks about? In Vietnam, the number of motorbikes heavily outweighs the number of cars and pedestrians. Crossing the street can initially come as culture shock, but can be mastered within a few days.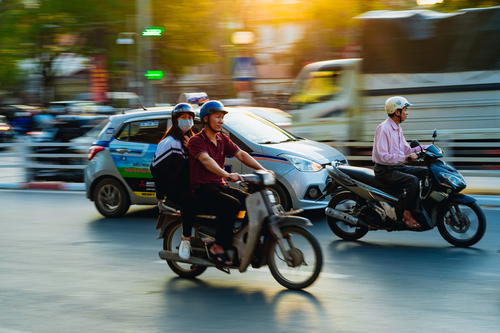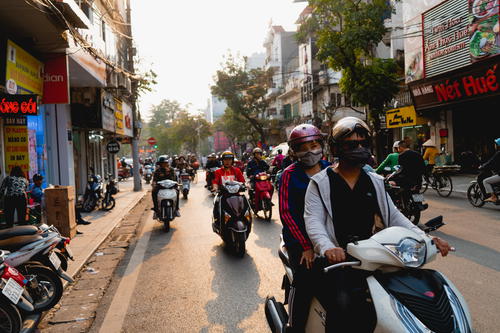 A few top pointers are:
Keep walking and do not stop, as you will confuse the moto drivers.
Make eye contact with people on motos.
Assume that at night, you are less visible. Stay close to sidewalks.
When in doubt, follow a local, or a person with a cart, as they cross the roads more slowly.
For transport in cities, download Grab before you arrive in Vietnam
One of the most helpful travel apps we got this month is Grab.
Grab is like Uber, Uber Eats and more - you can even get a Grab motorcycle ride. Prices are affordable, and there's little need to tip your driver. This is how we go places when it's too far to walk.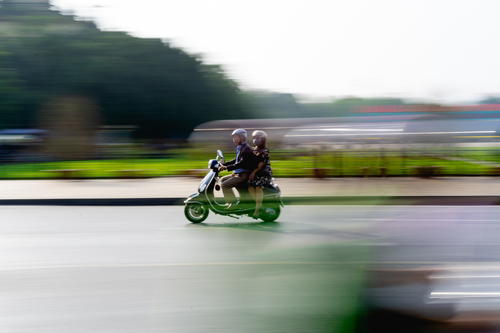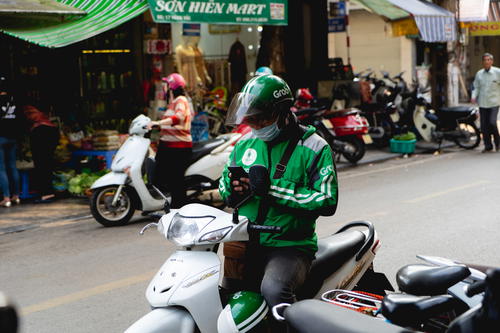 Make sure to set up GrabPay so that you can pay by credit card after using the service. We found that Visa didn't work for us and we had to use a Mastercard to set up a payment method.
Without setting up GrabPay, you'll need to pay in cash. This is useful if you take a Grab taxi and exit the taxi without paying because you're used to Uber. This happened to us by accident. Oops!
Vietnamese tourists may want to take photos with you
I experienced this phenomenon in when traveling through many parts of China in 2010 to 2012. In Vietnam, we did not experience people who wanted to take photos with us because we were foreign until we went to Bai Dinh Temple near Ninh Binh.
This happens because Vietnamese people who come from small towns and non-major cities have never seen foreigners up close. Maybe they have only seen people from the West on TV or in movies. When they see you, they will get excited and if they speak English, they may ask first before coming up to you to take a photo.
If they don't speak English, they will have no way of expressing this except for coming up to you and perhaps touching you first before pointing at their friend's camera.
It can feel a little weird to be approached like this, and it's up to you to take photos with tourists when approached.
You'll want to take photos of everything
Vietnam is a very photogenic place. One of our favorite things about Vietnam was taking pictures. Don't take our word for it, check out our Hanoi photo gallery and our photos from treking in Sapa.
Not all people in Vietnam are Vietnamese
We learned in Sapa all about the ethnic minority tribes and how they see themselves within Vietnam. People like the Red Dao and Hmong tribes consider themselves separate from the mainstream Vietnamese ethnicity, due to culture, language and tradition.
If you want to learn more about the ethnic minorities, you can consider a trek and homestay experience in areas like Sapa in the north.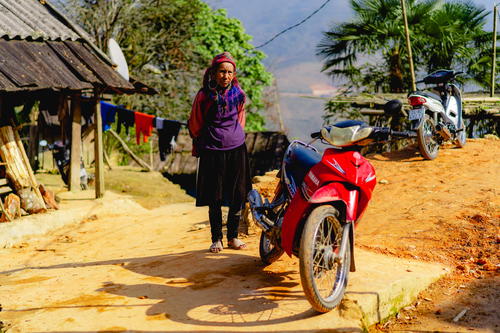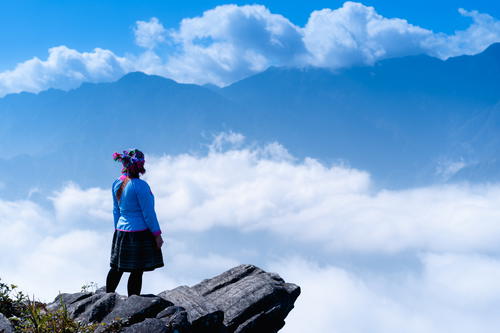 Taking a guided tour can save lots of time
While we typically love doing everything on our own and find it the most rewarding, there are some experiences that are heightened by going with a local guide.
We found that we could never have had the experience we had trekking in the Sapa villages if not for going with our Hmong guide Giang with Sapa Tribal Trekking.
Similarly, our trip to Ninh Binh was convenient and safe with our guide Tiger from Go Asia Travel. In order to see four major sights (and bike to them!) we felt no stress and saved time by not getting lost at any point.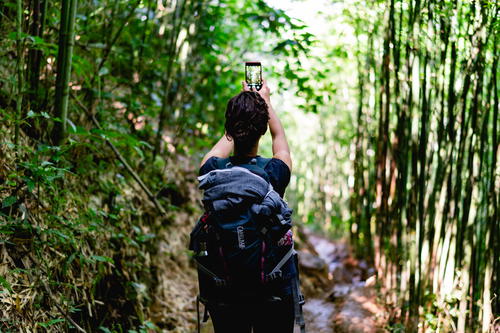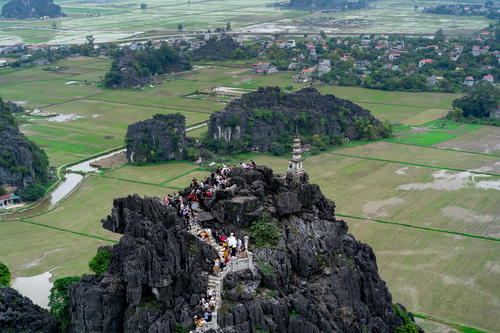 Do your research regarding travel within Vietnam
There are lots of ways to travel in Vietnam, and we've learned from speaking with other travelers about all the types of mishaps you can have. For one thing, first it's smart to take into account exactly how gigantic Vietnam is.
It's hard to tell by looking at a map, but compared to the US, the length of Vietnam from top to bottom is like driving from Colorado to the north of Mexico.
It's about 40 hours by driving from the north of Vietnam to the south.
For this reason, taking flights are a popular mode of transport for going far.
Once you calculate what you can comfortably consider for your itinerary, consider that "VIP buses" are often a great deal, and that sleeper trains can save you a night of accommodation in a place. It should be noted, however, that trains travel at a slower pace on average than buses.
If you want to go a distance of four or five hours, like from Hanoi to Sapa, taking a bus is fine! If you want to go farther, like from Hanoi to Hoi An, this will be a short (and affordable) flight.
Helpful Tip
Looking for new proven ways to save money on flights and airfare? The easy solution is to sign up for Going, the leading way to find flight deals and mistake fares, directly to your inbox. Use HALFHALF20 to get 20% off!
Book as far in advance as you can, especially around holiday times when prices may increase. It also pays to book in advance for buses or trains so that you can plan around departure and arrival times.
It's also responsible to check if your accommodation is in a city center or outside. In Sapa, we chose to stay in hotels so that we could easily access our trek start and meet our guide.
If you are looking for a more rural experience on your own, you could book a hostel that's 5 km or more outside the city and wake up to a view of rice terraces.
Always carry cash (Vietnamese Dong)
Cash is king in Vietnam. You will find that credit is accepted in Circle K convenience stores, some types of accommodations (hostels or hotels, depending on the city), some cafes (not all) and some restaurants that are more on the high end.
There are also chain stores like Miniso (think Uniqlo-style, but for accessories, simple shoes and simple tech products) that accept credit.
For all other things like street food, any type of shop that accepts bargaining, souvenirs at small shops, tipping, entrance to tourist sites and markets, you'll need Vietnamese Dong.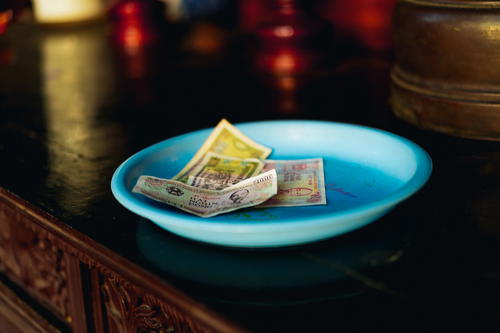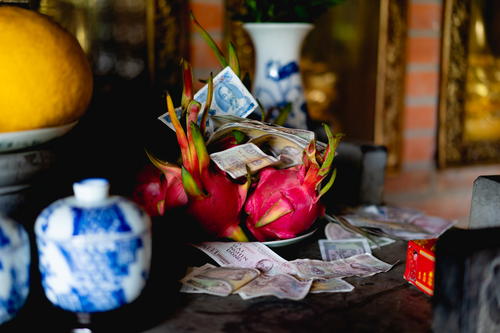 ATMs can be found all around major cities, but consider that if you are leaving a major city for the weekend on an excursion or on your own, you may not see an ATM for days. Keep some emergency cash safely stored with you in order to avoid running out of money.
It's also helpful to be on the lookout for ATM skimmers. We used an ATM that actually reminded us of this, and we appreciated it. ATM skimmers are devices that steal your credit card's number. ATMs may have instructions for how to spot a skimmer in order to help you avoid theft of credit and debit card numbers.
Enjoyed our article?
Consider supporting us! We're a 2-person team (learn more about us here) and your support enables us to create quality content. Thank you!