21 Tips For Taking a Trip to Bagan
Updated on October 26th, 2023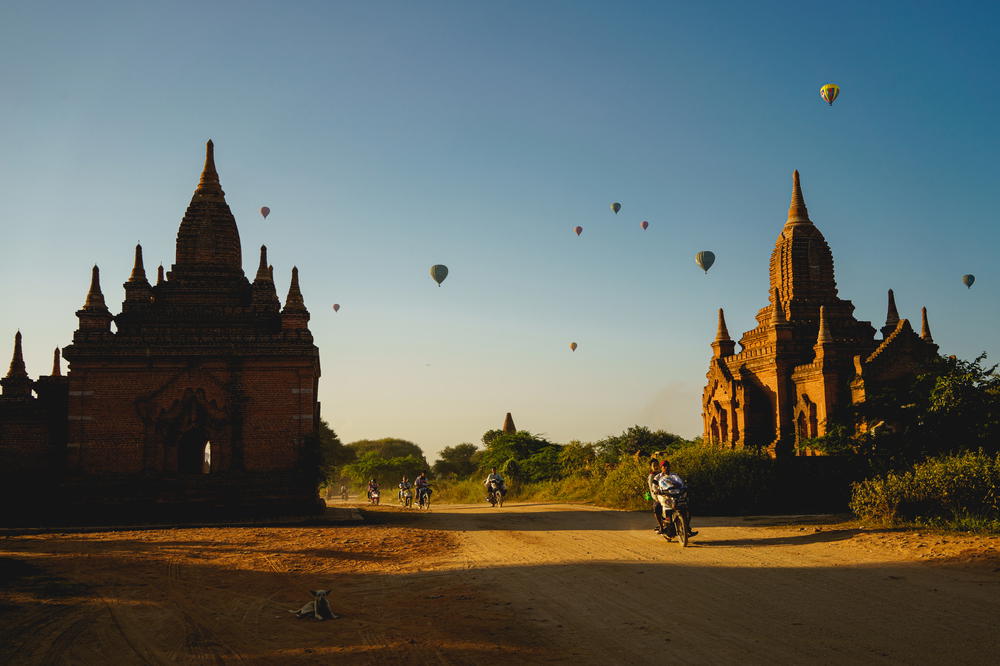 Bagan is a must-see destination during a trip to Myanmar. We'll answer which temples can you still climb in Bagan, where to go for the best sunset and sunrise spots in Bagan (after the climbing ban) and the best ways for how to get around.
This article may contain affiliate links. We earn a small commissions when you purchase via those links — and it's free for you. It's only us (Becca & Dan) working on this website, so we value your support! Read our privacy policy and learn more about us.
2023 update: Myanmar is still going through a period of civil unrest, according to the US State Dept. at travel.state.gov. Travelers are asked to "reconsider traveling to Myanmar (Burma) due to armed conflict and the risk of wrongful detention of foreigners. The Travel Advisory for Myanmar (Burma) was renewed on July 24, 2023, as "Level 4: Do Not Travel." For more information on this topic as well as developments, please visit the US Dept. of State website.
Bagan lives up to its captivating expectation and that's why it's part of any Myanmar trip! We did our research beforehand, somewhat, but it couldn't have even prepared us for the variety of temples and pagodas to see, views for sunset and sunrise and the adventure of getting around the Bagan area.
Things we're glad we had with us during our Southeast Asia trip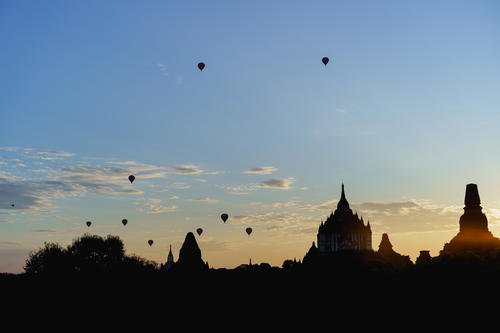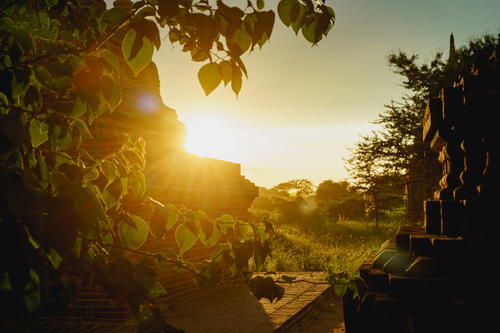 Is Bagan worth visiting?
Bagan is worth visiting if you want to go to the #1 most popular attraction in Myanmar. Bagan is a collection of 2000 Buddhist pagodas, stupas and temples scattered across a flat area near the Irrawaddy River (alternatively spelled as the Ayeyarwady River).
Should I skip Bagan in my Myanmar itinerary?
Bagan is not worth visiting if you do not do well in the heat, if this type of attraction does not interest you or if you'd rather be engaging in adventure sports like hiking, or beaches. From what we saw, the Bagan region does not have much well-known outdoor activity aside from exploring the acres and acres of temples scattered on the plain.
If you choose to go, we do recommend that you visit Bagan first (after your city of entry) in a Myanmar itinerary. It's smart to visit Bagan first and cool off afterward at Inle Lake, for example, as we mention in our Inle Lake travel guide.
Is Bagan popular for tourists?
No longer somewhere where you can actually avoid tourists, Bagan is indeed popular. For visitors to Bagan these days, the first thing you will probably note is that Bagan has experienced a very quick increase in popularity, and for that reason, there is a lot of less-than-charming development.
There's an incredible amount of hotels to choose from, lots of restaurants to eat in, lots of tour options, lots of English and lots of visitors.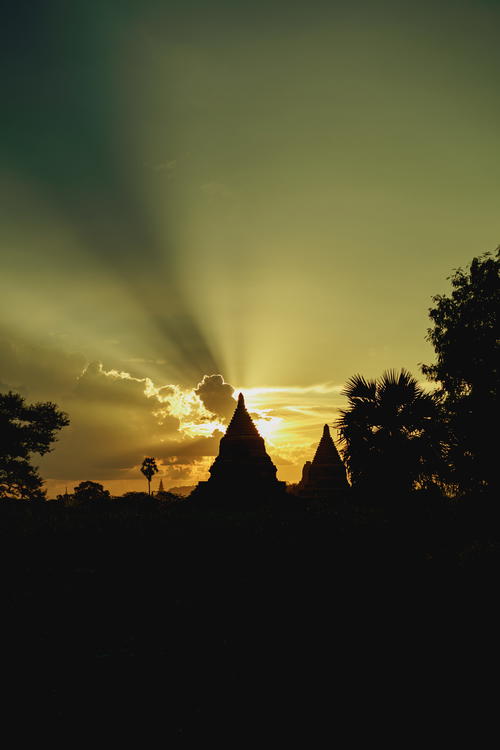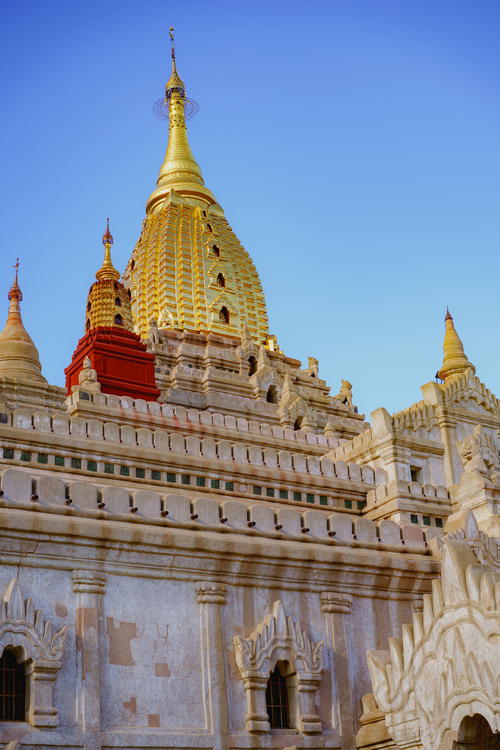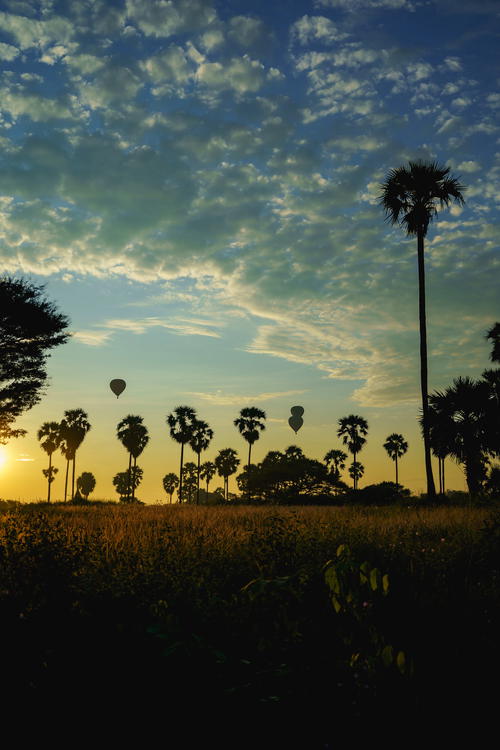 Why should you go to Bagan?
Having seen photos of Bagan on Instagram and online for the past seven or eight years, I knew this is somewhere I wanted to go. Bagan is a very unique place you can visit in Myanmar, and because there's no specific temple to visit or specific way to take your trip, this is a really flexible experience to have.
We did meet travelers who skipped Bagan, for the reason above; they wanted to focus more on hiking, beaches and cities. For this reason, it's up to you.
How do you get to Bagan from Yangon?
In our experience, taking a night bus was ideal! We left Yangon at 8 pm and arrived at 5 am in Bagan. See more about night bus travel at our Myanmar travel guide.
Is there a right way to visit Bagan?
Bagan can be slightly overwhelming due to the sheer number of pagodas, stupas and temples and that their locations are rarely walking distance from one another. From looking at a map, there's no way to logically visit them all, and there's even few ways to logically visit the ones you want without some pre-planning or going with a tour guide.
Helpful Tip
Remember: use minimalism techniques in your travel appetite and keep in mind you don't have to see it all. I found that the best way to avoid being overwhelmed was to figure that there was no way I was going to be able to visit all the pagodas — I wasn't even going to be able to see all the most famous ones.
If you consider Bagan an adventure with no 'right way' of seeing the places, then you'll be fine and enjoy the experience of seeing this unique historical place.
What should I wear in Bagan?
What to wear in Bagan
Bagan is very hot, all year round. By 'very hot,' I mean temperatures of 92-96 degrees F during the day and a real feel of 106 F (this was what my Google Pixel told me). During the day, it's not humid, so you feel kind of fried. At night, there's a slight humidity that comes out, and that lasts until the end of sunrise.
Because Bagan is so hot, you'll want to wear light, airy and breathable clothes. You'll also want to keep in mind that entering the largest temples will require covering shoulders and usually covering legs (both men and women). The temples are places where Buddhist visitors will pray, and where locals go to pray as well. For this reason, it's best to be prepared to respect the Buddhist custom of conservative dress.
What should women wear in Bagan?
So, what should you wear? Every day, I wore a maxi dress that was strapless or spaghetti-strap on top, and hit between my knees and ankles at the bottom. For visiting temples that had a dress code, I simply put on my sarong or shawl that I was carrying around for the day. This is perfectly acceptable.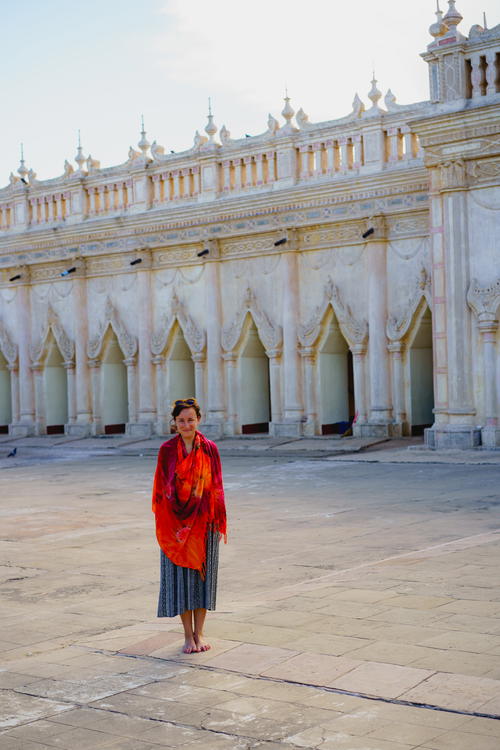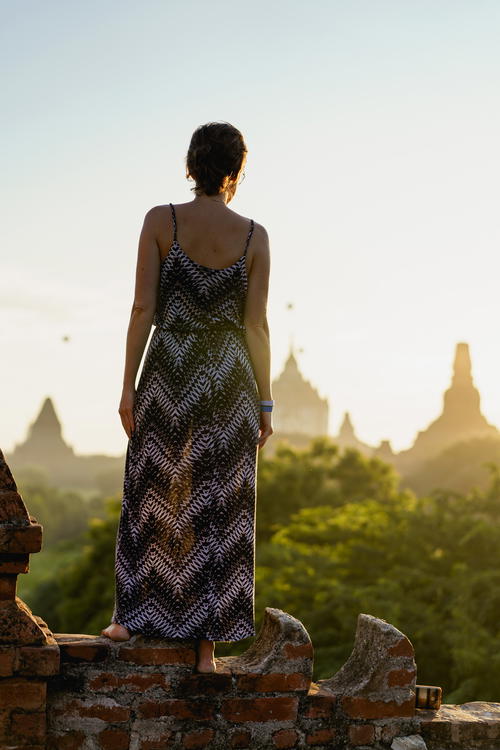 What should men wear in Bagan?
Dan wore shorts and a T-shirt every day, and at temples, he would put on the longyi that we bought at a local shop in Yangon's Chinatown. He kept this in his backpack for when it was required.
As soon as we left the temple grounds, we were able to wear whatever we wanted again, as we rode around the Bagan region either on E-bike, bicycle rentals or with a tuk-tuk driver.
How do you get around Bagan?
Bagan itself is a big region and making walking less of an option than the others we'll list. Among the following options, we tried out three. We found various travelers mentioning the use of Maps.me, which you can learn about in our tools for travelers.
If you choose to go around on your own, note that having downloaded offline maps or a Google Fi plan will help with mobile data.
Rental bicycle
You can rent a bicycle from your accommodation or from a shop and bicycle around Bagan. We tried this, and saw lots of visitors doing it as well.
Pros: it's a great way to be sustainable and to exercise your legs! Also, bicycles are free to take out for a day at most hostels and guesthouses that own 5 to 10 of them.
Cons: Once you're off the main roads that connect the towns, the dirt roads are not so fun when you're on a bicycle, and, if you experience a rental bike that is not maintained and needs a tune-up, it'll make it even less fun. Another con is that you won't be getting around so fast.
E-Bike, moto or scooter
Anywhere else, I'd refer to an E-bike as a scooter, but in Myanmar, they are called E-bikes. You will see signs for E-bike rentals, and this is the preferred word to use for the type of scooter that's similar to a motorbike, but probably goes a little slower and is more usable for someone who's less experienced in riding motorized bikes.
I pictured an E-bike to be an actual electronic bike, which I've seen in NYC, but no — it's what you'd picture to be a scooter.
If you've never ridden a scooter or E-bike before, you'll want to practice before you start driving among the locals on the main roads and dirt roads. For anyone who has done this before, it's simple, but if it is your first time, definitely be cautious and be sensitive to your safety!
Pros: You can go faster than a bicycle. Also, the fees are usually very affordable, like 3000 Kyat ($2) for a few hours. Lastly, you'll be able to explore freely and independently.
Cons: You'll need to trust yourself riding one, and, E-bikes don't do so well going through sand or uneven dirt roads.
Helpful Tip
Planning to ride motos often around Myanmar? Consider getting travel insurance with World Nomads or SafetyWing to save you in case of an accident.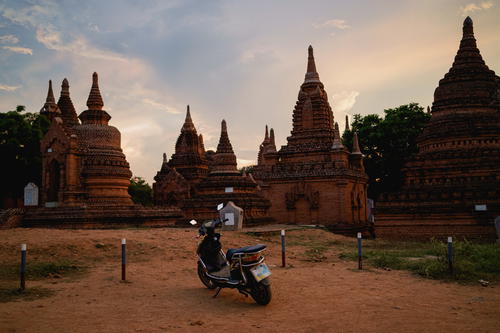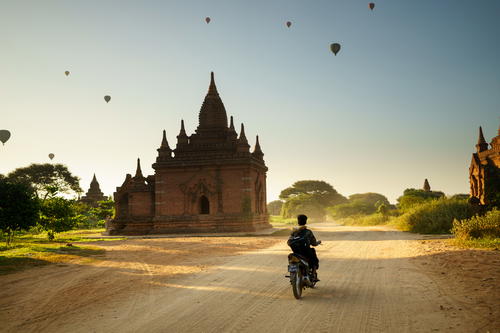 Tuk-Tuk Driver
The morning before we experimented with E-bike rentals, we ordered a tuk-tuk ride to a sunrise spot. The Baobabed Hostel desk staff helped us organize and had a driver in mind.
Pros: We didn't have to worry about navigating and finding our way in the dark, before sunrise, to any spot. Come to think of it, this was really convenient! Also, our driver waited for us while we hung out at the pagoda taking as many photos as we wanted to. Lastly, this was totally safe!
Cons: The fee we had agreed upon was for 'sunrise only, and in visiting a pagoda afterward, the driver charged us additional money. We were able to negotiate.
Guided Tour of Bagan or Tour Package
We did not take any guided tours, so we can't speak to any recommendations or the quality of the tours in Bagan; we did, however, see lots of guides during our time there, and they were speaking German, Spanish, English and French! Wow!
Pros: You will learn way more than you would on your own, and the guides will take you to the best spots, all without you having to do any work to find them or stress over where they are.
Cons: If you're into adventuring on your own, this is not the option for you.
Hot air balloon ride in Bagan
Before we left home, friends said, "OH! You'll HAVE to do the hot air balloon over Bagan! It's unforgettable!" We said sure, yes, sounds great, and then we learned about the price tag.
Completely unaligned with what other things cost in Myanmar (beers for $1, hostel privates for $30, meals for $2 and overnight buses for $22), hot air balloon rides over Bagan, which have a duration of 45-60 minutes, cost between $320 and $400. Yes, you read correctly - this is probably the most expensive thing you can do in the whole country!
Nevertheless, we saw lots of tourists dish out money for this unique experience. If you have it in your trip budget, then take a hot air balloon ride! Lucky for us, we were able to take a hot air balloon ride recently over Teotihuacan outside Mexico City, so we didn't feel like we were missing too much.
Pros: This is a beautiful, unique and exciting way to see the Bagan pagodas from above.
Cons: It might cost you more money than you spend on everything else during your trip. We preferred saving money while traveling and supporting locals.
How many days do you need in Bagan?
We received various tips for how many days we 'needed' to spend in Bagan during our planning, before we left home. Friends who had done speed trips to Myanmar saw Bagan in one day. Some friends recommended two full days. Some recommended three or four.
The 'tourist ticket' that will be charged when you enter the Bagan region at a checkpoint upon arrival by your bus, shared taxi or flight is equivalent to approximately $15 and is good for five days, so we considered that the real limit.
Is three days enough for visiting Bagan?
We found that three days was the perfect amount of time in Bagan, giving us opportunities for three potential sunrises and three potential sunsets. During our time of travel, in October, the sun would set around 5:30 pm and would rise around 6 am.
Lucky for our planning and with our flexible three days, we actually were so tired from having arrived on night bus that we napped and slept through our first opportunity to see a Bagan sunset. Fortunately, we were able to see the sunset from the pagodas on both following days.
What to do during the day in Bagan (because it's so hot)
We were perplexed about what to do during the day in Bagan because it was so hot. What was everyone doing?
Avoid bicycling during the hottest hours
Our first day, in a rookie move, we rented bicycles and figured we should take a ride to the nearby town of Nyaung-U, where I knew there were a bunch of hostels, guesthouses and restaurants. Our free bicycle rentals were not too great, with no gears, flat-ish tires and janky pedals, and biking in the heat was tiring and frustrating.
We were sweaty, riding through clouds of street dust and our sunscreen was dripping off our faces. We found out that this is what you should NOT be doing during the day in Bagan!
Take a nap or enjoy your hostel's AC
The next two days we did one of two things from the hours of 9 am to 3 pm: napped, or hung out in our hostel lobby with WiFi, AC, coffee and the option to order some smoothies. For lunch on one of the days, we walked a short distance to a 'fancy' Thai restaurant, where we had lunch, despite not being so hungry.
It was something to do during these hours of extreme heat. On our last day, we played pool in the hostel lobby with two Burmese guys who were really nice and played a good game of pool as well.
Can you go out during the hottest hours in Bagan?
It seemed like other travelers were either braving the heat and seeing temples despite the high temperatures (maybe they were pressed for time?) or napping in their rooms. Engaging in any type of physical activity in what felt like a desert was too exhausting.
Where to stay in Bagan
Hotel or hostel? Choosing accommodation type is entirely up to you, but then, which town of Bagan do you choose?
Any website will tell you that Bagan has three main regions for accommodations: New Bagan, Old Bagan and Nyaung-U. Without having researched this at all, we went by hostel ratings and went with Baobabed Hostel Bagan.
Upon arriving, we found out that it was located along the side of the road that connects Nyaung-U with Old Bagan, and wasn't really in either town. The hostel property was in a slight dead zone, town-wise, but faced an E-bike rental shop, was next to another hotel and had a restaurant-laundry service-souvenir shop to the other side.
If you got on a bicycle and rode even five minutes, you'd probably see a pagoda in a field, which was pretty cool. Where else in the world can you do that? For this reason, we didn't mind not staying in the center of any of the three towns.
What's the difference between the Bagan towns?
Which is the best Bagan town for travelers? As for the three towns, Old Bagan is the oldest (hence the name), New Bagan was built in order to support more tourism and is built in a grid pattern of small streets and Nyaung-U is a cluster of streets with guesthouses and some shops. All are dusty. All are hot. All have proximity to temples, so you can't go wrong, no matter what you choose.
Best sunset and sunrise spots in Bagan (after climbing ban)
Once upon a time before 2019, you could climb all the pagodas, temples and stupas if you could figure out a way how to. During our visit, we found out that this was no longer the case, and most blogs we read for our research listed heaps of climbable temples and pagodas for wonderful views that were no longer options for us due to new (somewhat enforced) regulations.
We found sunrise and sunset spots by asking hostel staff, who were most aware of the current situation and climbing ban. They were able to recommend a few options, but for times when they ran out of ideas, we ventured off on our own and sometimes lucked out.
The first morning, we went to Sulamuni Manmade Sunset Hill, which was built as a man-made hill to be a tourist viewpoint once the climbing ban was in place. We didn't think the view was so impressive, so we wouldn't recommend it.
The second morning, we went to Mimalaung Kyaung Temple, which was recommended by the hostel staff at Baobabed. This pagoda indeed had a viewing deck, and it wasn't overcrowded or anything. We were the first ones there, at 5:30 am, and got to see the starry sky. Use our guide for how to take photos at night.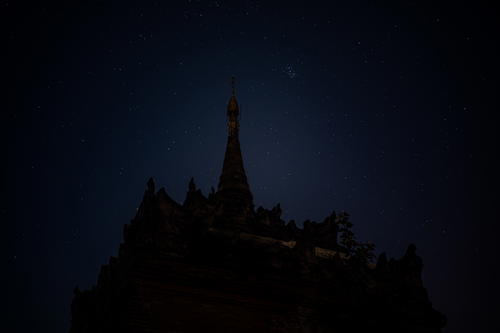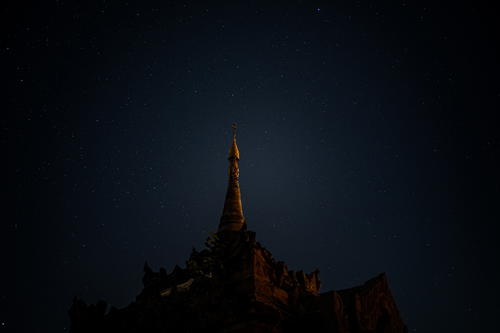 By 6:00 am there were about 15-20 visitors, but not much more. All things considered, this wasn't bad at all.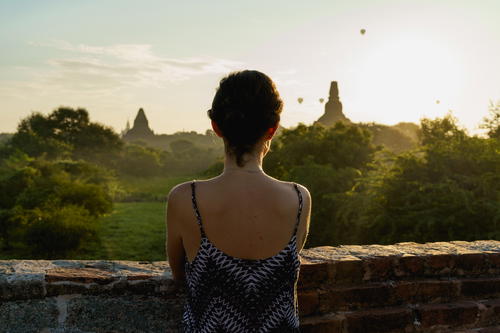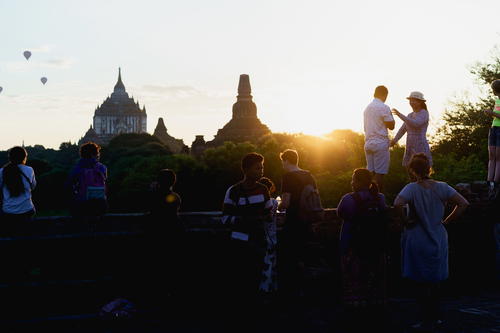 For sunset on day two, we were recommended to get in touch with the father of one of the girls in the hostel in her village, which we did! After giving us a village tour, he took us to a collection of renovated pagodas outside the village, and took us to one we could climb via an internal stone staircase. To our surprise, we were joined by three other travelers who found the same place.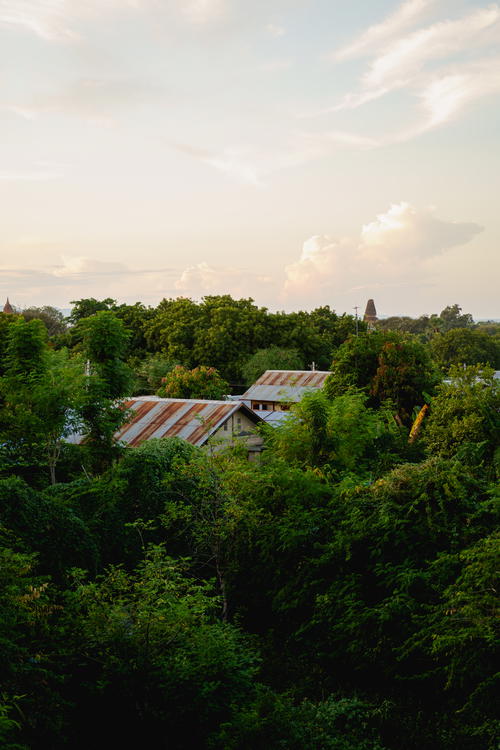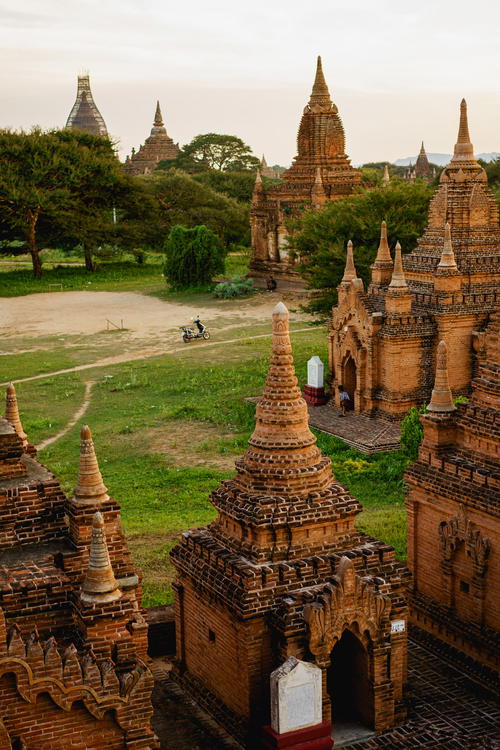 For sunrise on day three, this is when we kinda-sorta got scammed, as we detailed more in our Myanmar travel guide. We had taken a rented E-bike down the dirt road near the hostel and were feeling a dab lost, until a man on a motorbike asked if we wanted a recommendation of a sunrise spot, and we naturally said yes.
He led the way to a cluster of secret pagodas and stupas we never otherwise would have found, and after the sun rose, he brought us into a pagoda and showed us paintings that he was selling, saying, of course, he really wanted us to buy one. We actually did buy one, because they were nice, and we negotiated a price. It's currently hanging in our living room and reminds us of this day.
For sunset on day three, we chose to stay close to the hostel and aimed to find a spot within a 10-minute radius. We had seen a few clusters of pagodas, some more populated with tourists than others, and pulled into the driveway of a collection of pagodas and a larger temple (which turned out to be Khaymingha Pagoda).
Dan and I split up and went to find good photos, and I found a lone pagoda, with a location pin, facing a field with a view toward the West and some stupas that were outlined against the sky. It's here that we saw a fiery sunset with another couple who was on the hunt for this type of view. In conclusion, sometimes you have to find your own views and luck out in your own way.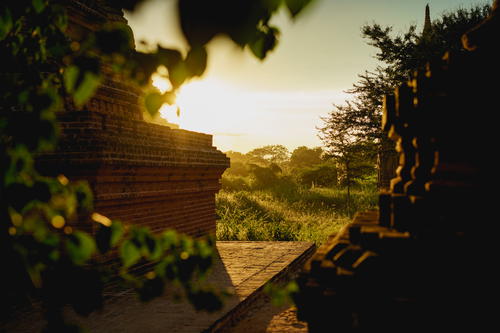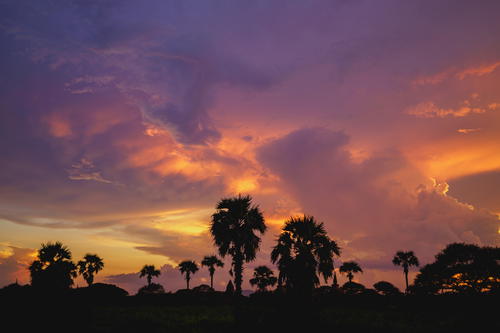 Can you climb the temples and pagodas in Bagan?
Since 2018, you can only climb a select few. Below, we'll share the locations of the pagodas we were able to climb. We saved the locations of them
Which temples have a good view in Bagan?
While we didn't get to climb so many pagodas because of the ban, we did find a small pagoda with no name that was a few feet on a tiny hill above a field, and it was here that we watched an epic sunset with three stupas outlined against the sky. The location in Google Maps is here.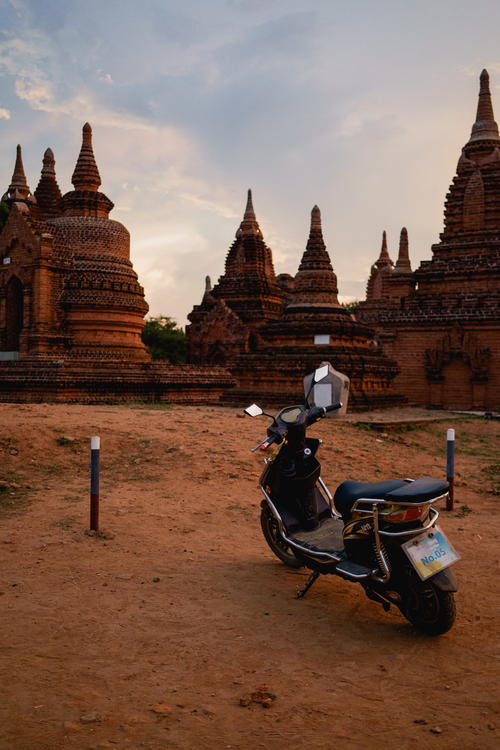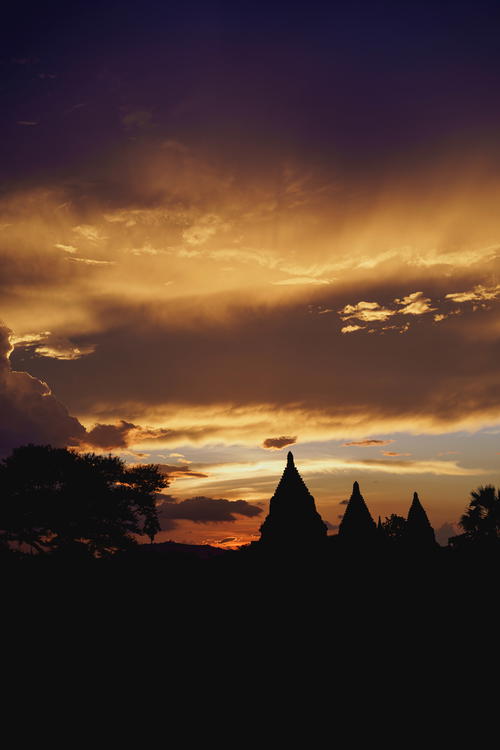 Mimalaung Kyaung was a great place to see sunrise, and because there were only 20 other visitors there by the time the sun was up, it wasn't overwhelming or crowded at all.
Best Instagrammable temples to visit in Bagan
In a combination of avoiding massive tourist groups and seeing a variety of Buddhist temple architecture, we visited three temples that were very much alive with worshipers, and made great photo locations. We'll detail them here.
Ananda Temple
Well worth a visit because it's been renovated in the past few decades and is made of white stone, this temple is pretty big, and built symmetrically, so we had some fun finding our way out. There were some tour groups here, but not so many, and there's parking for your E-bike right outside the entrance. There are no epic views to be had because there's nowhere to climb and no lookout points, but we liked walking around the exterior.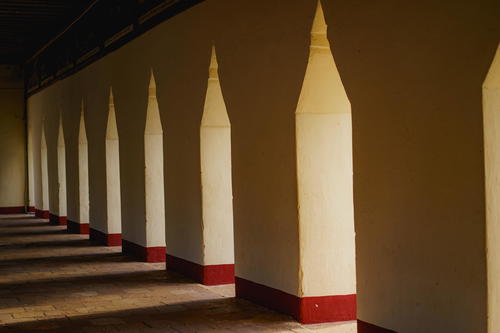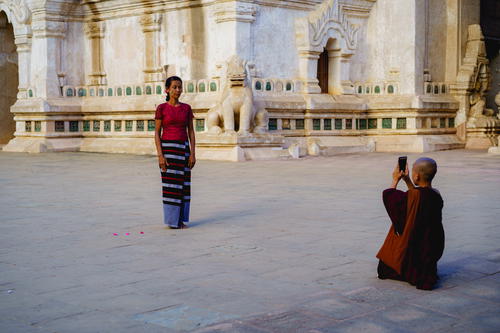 Bu Paya (Bupaya Pagoda)
Bu Paya has a big gold stupa and faces the river. You could alternatively go here for sunset. At the time when we went, it was busy with locals and other Buddhist visitors who were praying.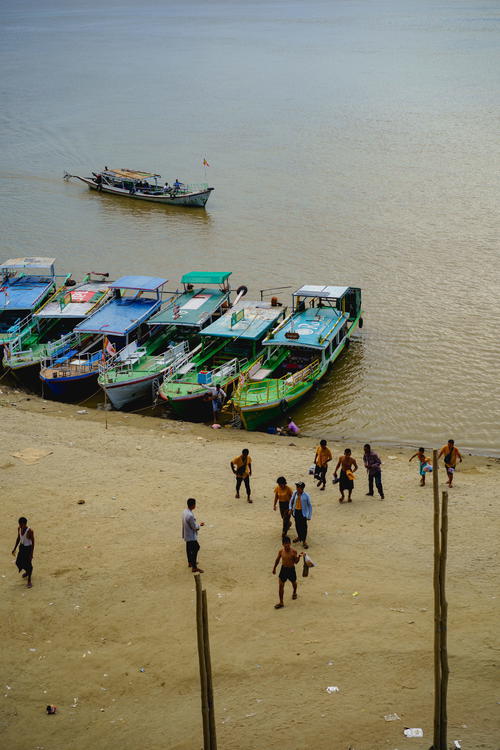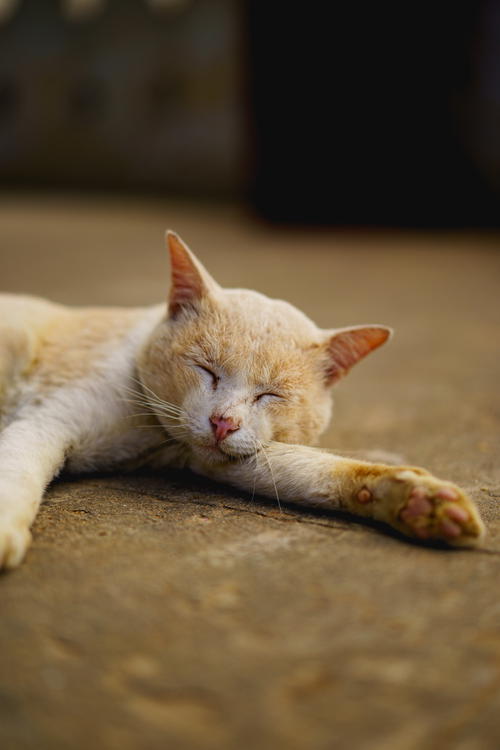 Manuha Temple
Manuha Temple was recommended to us by locals, so you know it's legit! It was really busy with Buddhist worshippers and seemed more authentic than the others, which were rebuilt and renovated to look beautiful for tourism (it seemed).
Shwesandaw Pagoda
Shwesandaw Pagoda was formerly one of the popular pagodas to climb, but alas, no more — all its stairways have been closed off and maybe it's even lost its popularity for that reason. We went here after sunrise and liked being some of the only visitors. This made it a really serene visit. We also liked the pagodas that framed the dirt road, even more as a scene for taking photos.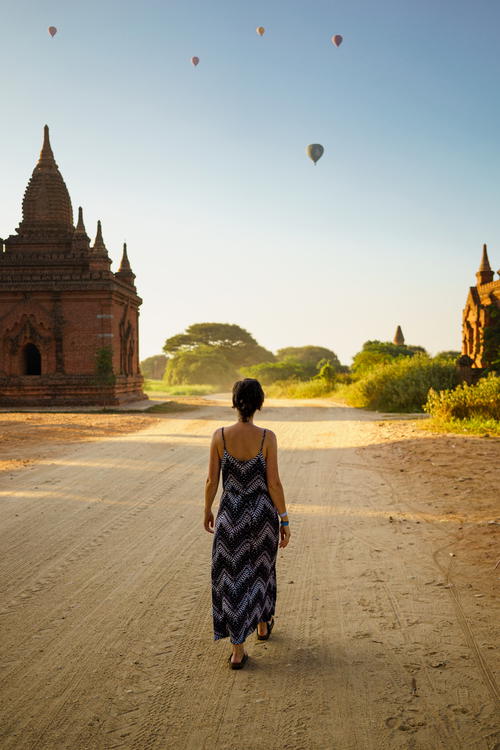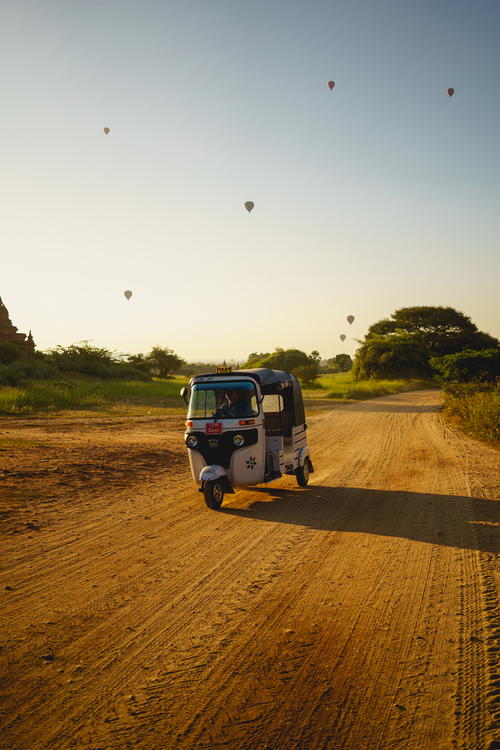 Which temples can you still climb in Bagan?
If you are defining temples as the largest and most famous temples, we did not hear that any are still able to be climbed. We did not climb any. We climbed smaller, shorter pagodas (and got some solid views), which we're mentioning below.
Which pagodas can you climb in Bagan? (Climbing ban update)
Since 2018 (so we heard while were in Bagan), many pagodas are now closed for climbing. We visited Shwesandaw Pagoda, listed as a pagoda to climb from reports before 2018, and it was gated off for climbing. We were the only foreign travelers there.
As mentioned, we did not find so many pagodas to climb because of the ban, but a local brought us to this pagoda that has an inside staircase and you can sit on the top platform (hope you're not afraid of heights!). This pagoda is in a cluster of pagodas outside the village of Myin Ka Bar Village, Sein Gone Quarter, Bagan.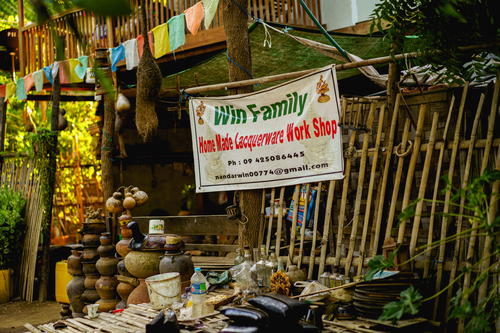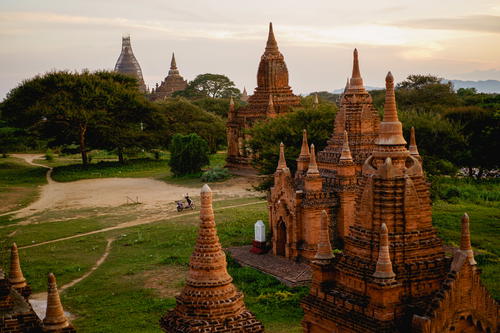 Can you travel solo in Bagan?
You can absolutely travel on your own in Bagan. It's very safe and there is a lot of solo exploring that you're able to do.
---
Map of everything that we mentioned in this article!
Check out more maps!
Unlock more maps like this with your email address! You'll automatically be signed up for more map and location related things from us in the future.
Enjoyed our article?
Consider supporting us! We're a 2-person team (learn more about us here) and your support enables us to create quality content. Thank you!