Tips for Traveling Around the Dominican Republic North Coast
Updated on September 19th, 2023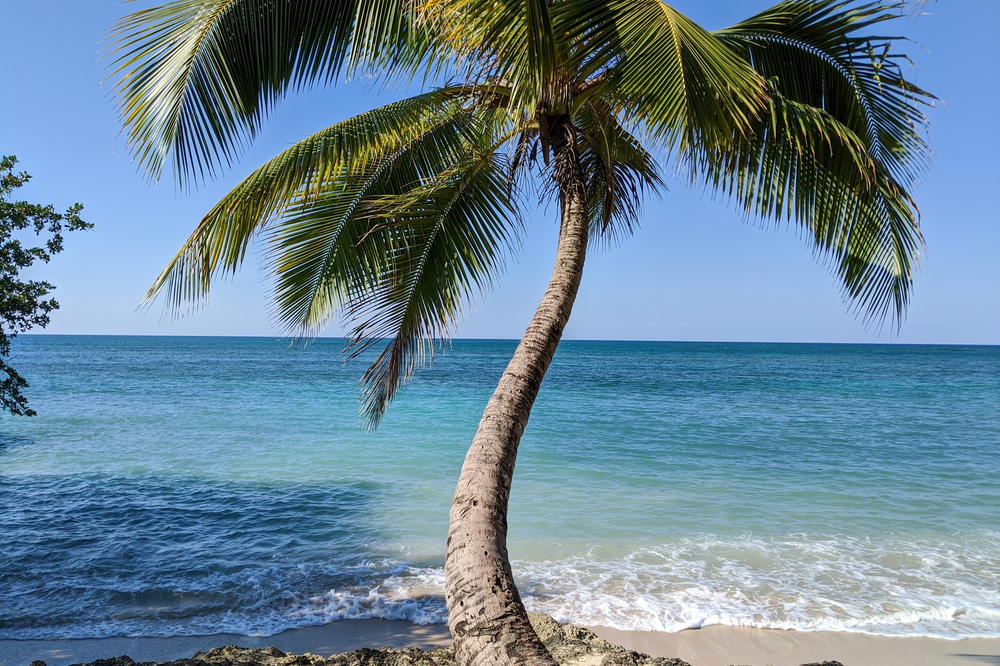 What's there to do in the Dominican Republic North Coast? With a week or two-week itinerary to travel in Puerto Plata, Cabarete and Sosua, here's a list of what to do and where to go, even if you're not into water sports.
This article may contain affiliate links. We earn a small commissions when you purchase via those links — and it's free for you. It's only us (Becca & Dan) working on this website, so we value your support! Read our privacy policy and learn more about us.
We really enjoy exploring Spanish-speaking countries because you can have just a bit more fun when you speak the language.
In past years, we've traveled in Colombia, Mexico, Peru, Spain & the Canary Islands and Argentina, all of which have very distinct Spanish-infused cultures from various parts of Latin America and Europe.
But we hadn't been backpacking in the Caribbean.
The Dominican Republic is one of the best backpacker destinations in the Caribbean region because of the cost of travel, relative safety and many ways to get around.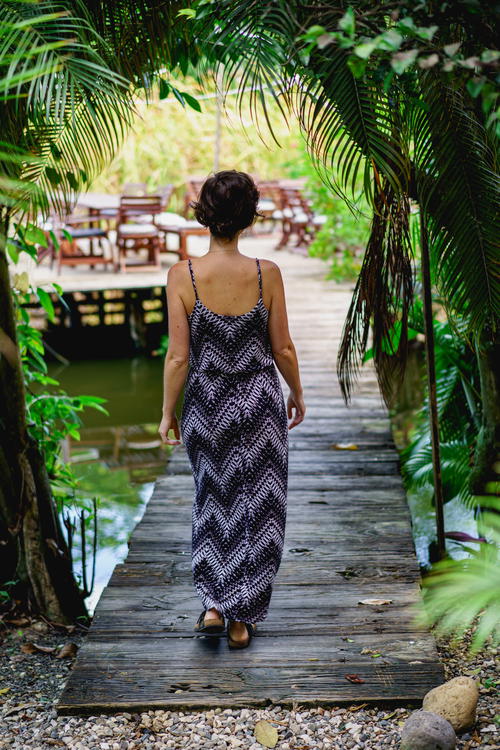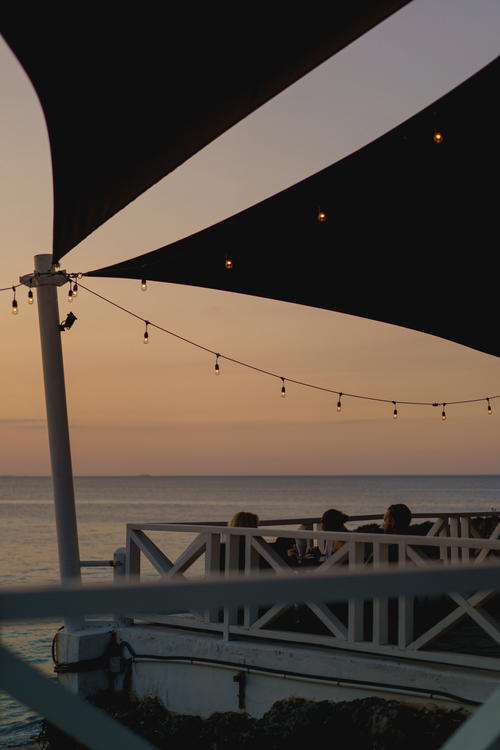 Our trip to the Dominican Republic's North Coast was our first time in the DR for both of us.
What we had heard in general about traveling as backpackers in the DR was generally true, so we had few hesitations about going!
We even heard from two couples in the week before we left that they had immensely enjoyed the North Coast, as there's a lot to do between the culture and natural sites, and it's simple to get around.
As a US passport holder, you don't need a visa, but we suggest checking if you need a tourist visa depending on where you come from.
So, we packed our bags and got ready to travel as a couple for our first trip to this Caribbean nation, which shares an island with Haiti and is located near Cuba and Puerto Rico.
Armed with our favorite ways to be smart about money during travel, we set out to see what the DR was all about.
Helpful Tip
Looking for new proven ways to save money on flights and airfare? The easy solution is to sign up for Going, the leading way to find flight deals and mistake fares, directly to your inbox. Use HALFHALF20 to get 20% off!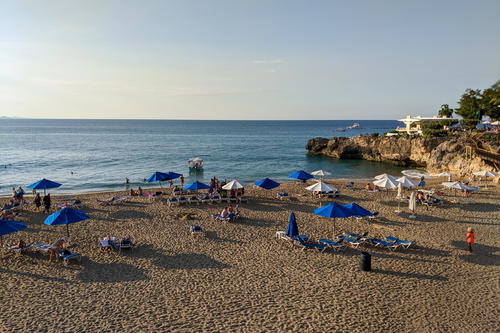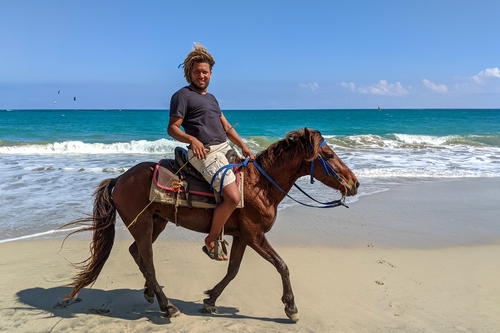 What we brought to the Dominican Republic
When it comes to packing lists, we stick with the same base list every time and add on subtract items based on the climate we're going to. For tropical destinations, our focus is on travel essentials and gear that makes our trip comfortable. Here are a few crucial items to have in your bags:
Maxi-Deet or Deep woods bug spray
Saying there are a few mosquitoes in the DR would be an understatement, as it's surely a tropical island with lots of wildlife. Bring some travel-sized bug spray like Maxi-DEET Insect Repellent Pump Spray, in travel size, as it's pretty over-priced in stores once you land.
Strong water-proof sunscreen in travel size
Sunscreen is another thing that will be overpriced and geared toward tourists once you land in the DR and see it in stores. We recommend a travel-sized high-SPF sunscreen that's waterproof and non-oily for your trip.
Dominican Republic travel guidebook by Lonely Planet
Hard to believe that a book really defined our travels this time, but let's face it — paper-back books are never low in battery and you never need to charge them. Plus, we love reading the history of a country on the flight over, and leafing through destinations while we're in a bus on a day trip.
The Dominican Republic travel guidebook by Lonely Planet was perfect for this trip, and we used the recommended itineraries, especially for the North Coast.
Birkenstock sandals for men and women
One thing we both have in common is that we wear Birkenstock sandals when we travel. Birkenstocks are strong enough to be a walking shoe for the day, and easily kicked on and put back on when we're at the beach. We didn't even bring flip flops on this trip and we were satisfied with how fast the Birkenstocks dried after putting wet feet in them.
Becca uses this women's travel shoes guide when deciding how to optimize footwear for a trip.
Packing cubes for backpack organization
For this trip, Dan used the packing cubes by Peak Design, which he swears by! This machine-washable and expandable packing cube is his main packing cube for his Peak Design 45L backpack, one of the best backpacks for travel photographers.
Learn more about the best packing cubes that you can use on your next trip!
Travel-sized aloe for sunburn
One thing we are lucky we brought was travel-sized aloe vera, which is another item that was very overpriced in stores in the DR. Get a travel-sized aloe vera bottle so that you have it ready when you get too much sun in Cabarete!
World Nomads Travel Insurance for Backpackers
Get some simple travel insurance for your trip, to protect yourself against things that happen on the road that are not covered by insurance at home. World Nomads lets you pick an insurance package based on your age, length of trip and destination, so quotes vary.
A handy travel camera!
If you want to venture past your phone's camera, check out our list of recommended travel cameras for travelers. These range from basic to pro. A mirrorless camera is how I shot these photos of the Dominican Republic!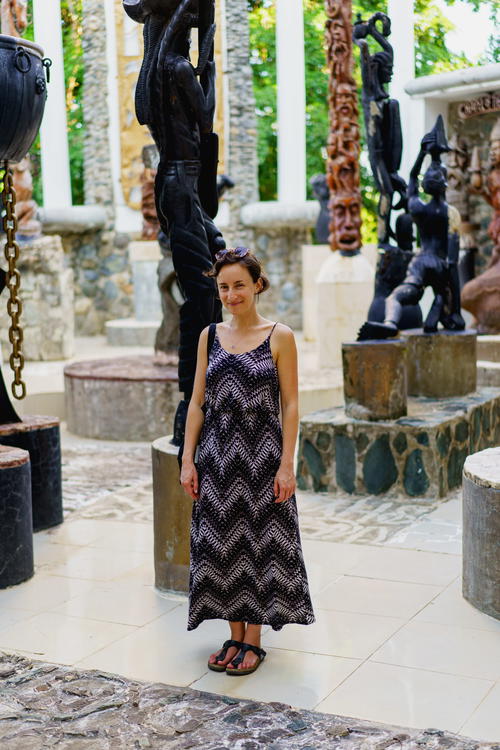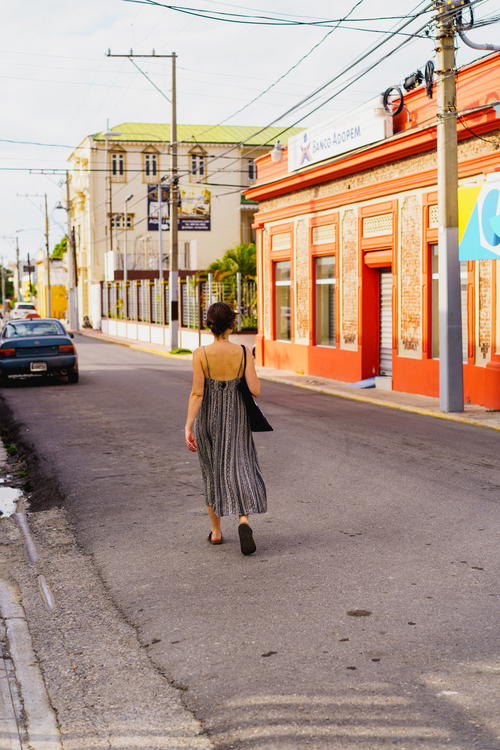 Here are a few things to know about traveling in the Dominican Republic if it's your first time:
---
What to know about money, tipping and tax in the Dominican Republic
The currency: Dominican Peso
The Dominican Peso is between 50 and 53 Pesos to 1 USD. It comes in denominations of 1000, 500, 100, 50 and coins.
Do places take credit cards in the DR?
Yes, there are various establishments that accept credit cards in the Dominican Republic. Among them are hotels, upscale restaurants, big supermarkets and international chain stores. We used our credit card mostly at coffee shops and the supermarket. Most other smaller privately-owned restaurants or fast food cafeterias took cash only.
Do you need to tip in the DR?
We heard that it was typical to leave about 10% of your restaurant bill as tip on top of the 28% government taxes. Honestly, eating out at restaurants in the DR really started to add up, compared with other places we've traveled!
Tips are always left in cash, so have cash handy if you go to a cafe or a restaurant. Tips are left either in a bucket at the register (fast food and cafes) or directly with your server. You can also leave full bills and tell the waiter or waitress to keep the change.
What's up with the 28% tax on everything in the DR?
There's a 28% tax on nearly everything, if you're at a sit-down restaurant, supermarket or other formal store where credit card is accepted. This is completely normal, and the tax is itemized on the bill as two separate 18% and 10% additions to your bill. Don't be alarmed — everyone is taxed with this 28% charge. The only times we didn't have the 28% tax were in guaguas, small bodegas and corner stores and local eateries like 'comedores' and cafeterias.
Helpful Tip
See more about travel and money for considerations before you leave for abroad.
Getting around: Taking taxis vs guaguas vs carritos in the DR
One thing you will notice soon is that local Dominican people do not take taxis. They take guaguas (shared vans, called 'colectivos' in other Latin American countries) and carritos (shared cars — this is the original rideshare!). Here's what to know:
Taxis in the DR
Taxis are overpriced in the DR because they are for tourists and foreigners. For example, an airport cab from Cabarete to Puerto Plata (25-30 min ride) is $35 USD. This is the going rate, and it's hard to avoid it. From Sosua to the Puerto Plata Airport (POP), it's $25 USD, and it's only 3 miles away!
In reading some forums online, if you can speak very good Spanish and are an experienced negotiator, you might be able to get this fee down 10 dollars if you're in Sosua and haggling, but if you're in a rush, forget about it.
For us, taking taxis on the regular was something we aimed to avoid.
Taking the guagua in the DR
There are a few things to know about taking the guaugas in the DR! First, there's no schedule. If you ask locals when the guagua will come, you'll get quotes for 'every 7 minutes,' or 'every 15 minutes.' Second, guaguas typically do not run past dark, so if you plan to be somewhere far away on the guagua route, ask the guagua driver on your way in about how late the guaguas run, or ask a shop owner or restaurant server about timing.
Next, the guaguas are cheap! We went two hours (it should've been one hour, but we had to switch guaguas) from Cabarete to Rio San Juan and paid $2 USD, or 100 Pesos — 50 Pesos per guagua ride with a stop in the middle to change. You cannot negotiate this fee, if you're charged the right fee off the bat by the chofer (driver) or the man taking the money when people exit.
If you feel you were over-quoted, ask other people what fare they are paying and see if you can make a fuss (only if you speak Spanish). If you are about to get ripped off, it might only be for a few dollars.
Lastly, to get off the guagua, you have to make it clear that you want to leave. We felt it was most useful to track our journey through handy location and travel apps like Google Maps. Locals will hiss at the driver, but to be polite, we expressed (from the back seat by telling someone to tell the driver for us) that we wanted to get off at such and such a location. This worked fine.
Overall, riding the guagua was fun. The drivers can be a bit crazy and the music might be loud, and you also might be crammed into a 9-seater van with 20 people, but it's all an experience.
Taking a carrito in the DR
Carritos are shared cars like Uber Pool or Lyft Line, but without the app. Carritos typically have a little sign on top that might say where they come from and where they go. A carrito will be a beat-up sedan from the 90s and will have missing door handles, a broken windshield and windows stuck in place, but that's the charm of it.
We took a carrito, a 5-seater car, and at one point there were 7 people inside: 3 in the front and 4 in the back. We rode from Rio San Juan to Cabarete (a one-hour trip) for around 50-100 Pesos ($1 to $2 USD). This is a great deal, and there are fewer stops than on the guagua. The price is comparable. At some points, you might even have a whole bunch of room to yourself. Remember to tell the driver where you are going and to be communicative.
Taking a motoconcho in the DR
A motoconcho is the Dominican way of saying 'moto taxi,' and it means a person with a motorcycle or motorbike who offers you a ride. Prices can usually be negotiated, and for a 5-10 minute ride, it should run you about 50 Pesos, or $1 USD. If you feel the need for speed and you're up for adventure, this is a cool way to get around as a solo traveler.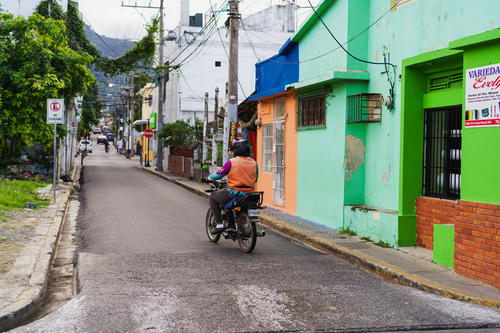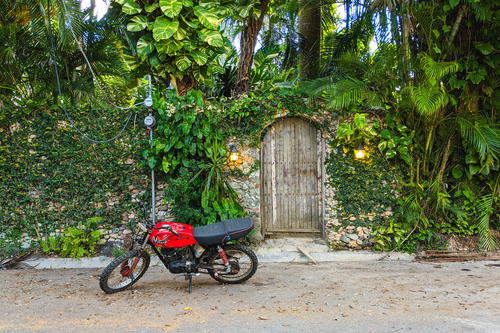 Is it safe to travel in the DR as a backpacker?
Overall, we didn't experience any crime at all in 9 days. Given, we always kept our eyes on our bags, didn't walk around very late in small cities like Puerto Plata and tried to travel light during the day, with only the credit cards and money that we felt we'd need.
In terms of cat calls, this is the most bothersome thing that most female travelers report. I didn't experience this too much at all, likely because I was in the presence of a man (Dan), but when walking around alone, I rarely got more than a, "Hola, preciosa," and ignored it, just as I would in NYC.
One more thing about safety is getting ripped off, but it's more of a money factor. On the beaches, vendors will approach you trying to sell you coconut candy or fresh cacao bars for prices like $10 USD for three. This is their starting rate, and if you bargain right, you can get one coconut ginger treat for 25 pesos, like I did, claiming it was the daily price I paid every day. Have fun, and don't get sucked into any scams by being smart!
Best Dominican Republic North Coast Itineraries
One-week itinerary for DR North Coast
With one week, you can easily see Puerto Plata, Sosua, Cabarete and Rio San Juan by having one or two base locations and seeing the other places with day trips. We'd recommend the following:
Puerto Plata: 1-2 days maximum
Cabarete as a base: 5 days, with the below day trips in any order
Sosua: day trip
Rio San Juan and Playa Caleton or Playa Grande: day trip (or skip)
27 Waterfalls Tour (27 Charcos de Damajagua): half-day trip OR Parque Nacional El Choco Caves trip: half-day trip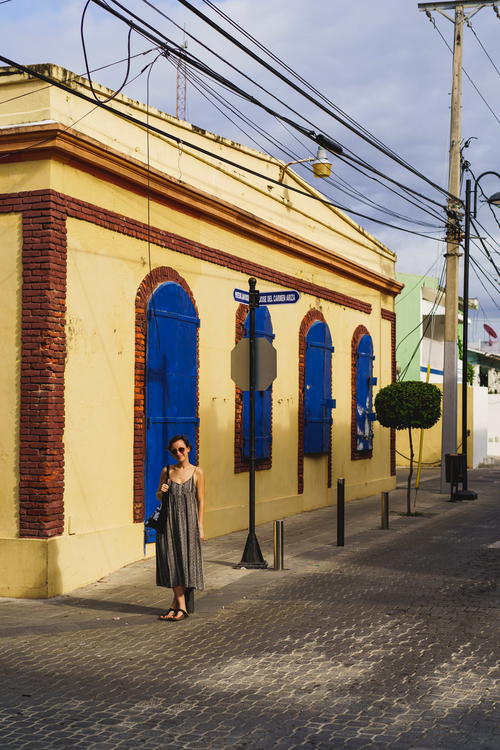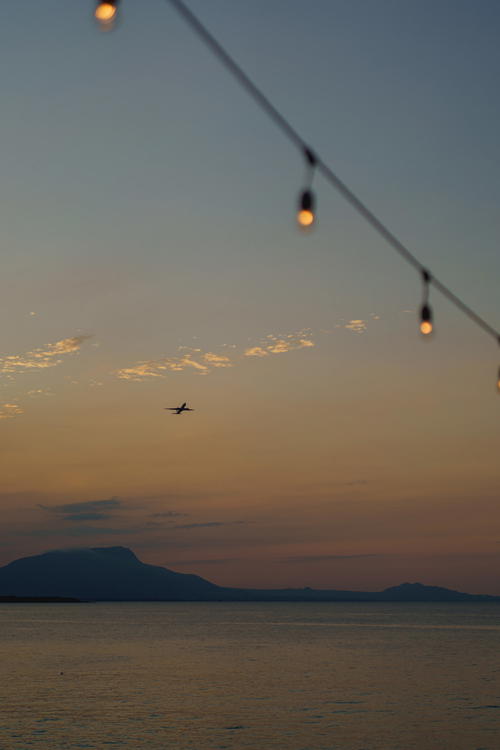 Two-week itinerary for DR North Coast
With two weeks, you can slow down and enjoy a few more mojitos on the beach in Cabarete. :) You can also find time to go surfing, learn to kite surf and take more time to do activities.
Puerto Plata: 1-2 days
Cabarete as a base: 10 days, to allow time for day trips
Sosua: day trip
Rio San Juan and Playa Caleton or Playa Grande: day trip
27 Waterfalls Tour (27 Charcos de Damajagua): day trip or half-day trip
Parque Nacional El Choco Caves trip: half-day trip
Other days to surf, take kite-surfing lessons, horse-back riding trips, boating outings and more… or lay back in a lounge chair on the beach or at a hotel pool, soaking up that Caribbean sun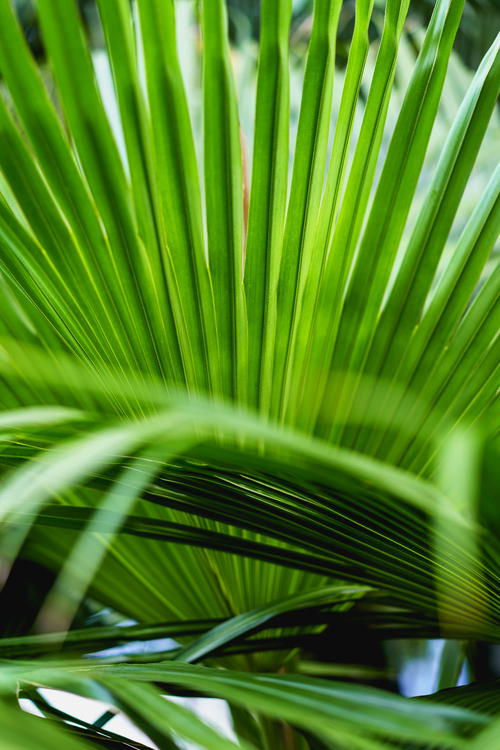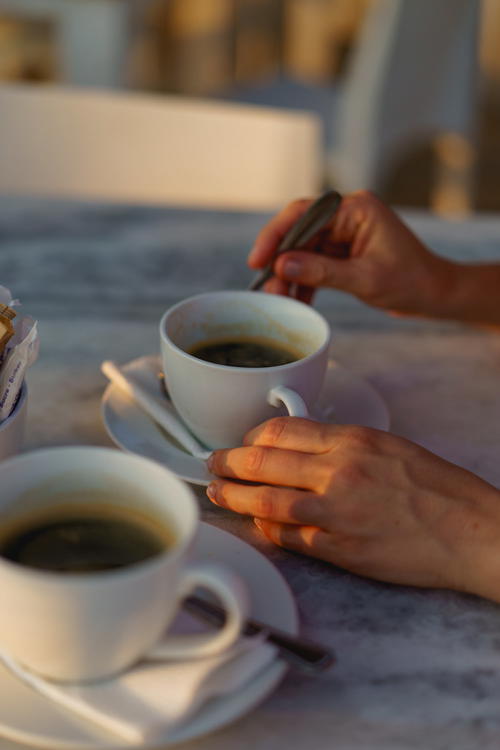 Things to do in Cabarete
We spent a week in Cabarete. We intended to have a relaxing week where we can catch up on some work, see some friends and explore some of the local culture. We wanted to find budget-friendly things to do outside of the water sports that attract most travelers to this region.
During our trip to Cabarete, we wanted to travel in our style. We aren't much for ocean sports or jumping into waterfalls (we've tried, and it's not something we seek out when we're seeing new countries!). We would much rather see local culture, talk to locals, go on a hike, eat at local restaurants and support local businesses.
A lot of the attractions in Cabarete are water-focused (like water sports), and for good reason. Cabarete and Kite Beach get the perfect winds for kite-surfing, making it one of the hottest kite-surfing destinations in the world!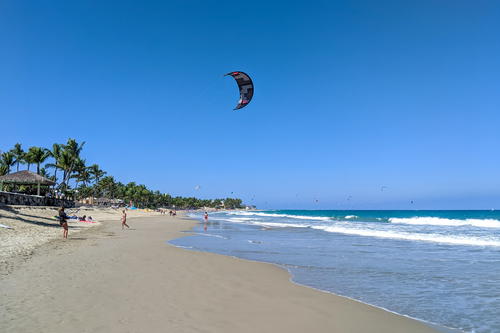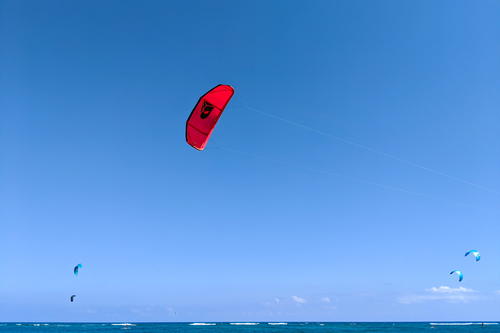 Most people come to Cabarete for surfing or kitesurfing. There's a famous 27 waterfalls activity (Damajaqua Cascades / 27 Charcos). You can scuba dive, snorkel, go on a boat and fish and more.
Any of the water sport alternatives that we found were fairly expensive because they're geared toward foreigners and tourists. You can do an ATV tour, but that will cost around $80-$100 per person. Any boat tour will cost around $75 as well.
This being said, the following suggestions of what to do in Cabarete and the surrounding area are things we did, and things we recommend for anyone who loves the ocean or not.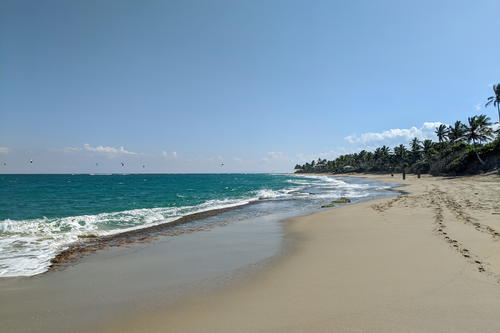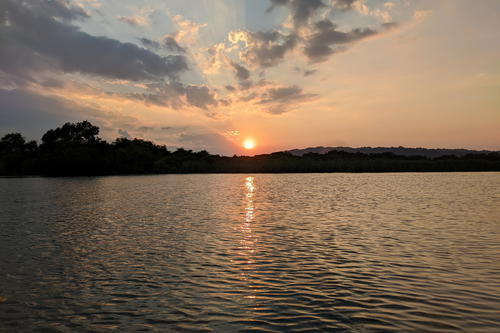 Cabarete Beach
Cabarete is a slight U-shape, and in the middle, you'll find a row of bars and restaurants that everyone will describe as 'serving mostly the same thing.' During the day, some of the restaurants will serve cafe and brunch or lunch, and at night, they'll boast happy hour, music and dancing. There are some we preferred over others, so our suggestions are below.
Best beach open mic night: Voy Voy
Voy Voy is a fun place that has open mic nights at 7 pm on Sundays. This bar attracts an expat crowd (notably in the 50+ age range) and the band that plays every week is stellar, with American rock classics and some true talent. You can get cocktails 2 for 1 starting later in the evening.
Best for working remotely on the beach: Villa Taina Hotel Restaurant
Villa Taina is a hotel with a pretty pool, only a few steps from the beach. Their restaurant opens early for breakfast for hotel guests, but you can pop in and order a coffee or a breakfast as you please. They have WiFi with a code, and all you have to do is ask.
Best volleyball beach bar: Front Loop Cafe
Front Loop Cafe is a fun bar with lots of seating right up against a beach volleyball court. This is nothing fancy, but the service is good and they allow you to pay separate bills if you're with a group.
Kite Beach, Cabarete
Kite Beach is where the pros go to kite surf. We learned this by walking there all the way from Ali's Surf Camp and it is a whole different scene. Here, there are fewer establishments (only a few resorts and their beachfront restaurants) and a few kite surfing schools. You can watch people take lessons, or look farther out to see the experts riding the waves.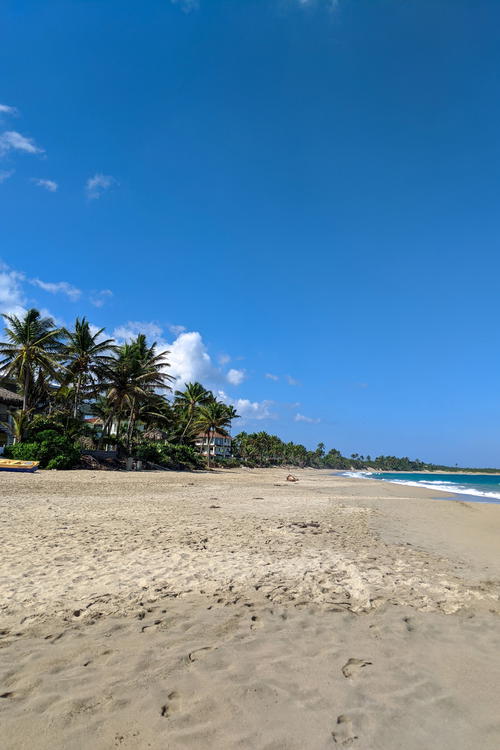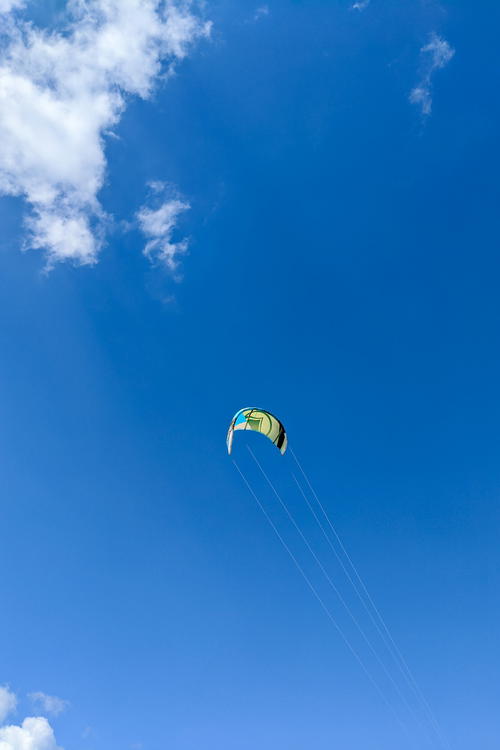 Best third wave cafe: Vagamundo (cafe for digital nomads)
A focus of a trip for us is usually cities where we can work remotely, and in the DR, it came down to finding laptop-friendly cafes or restaurants.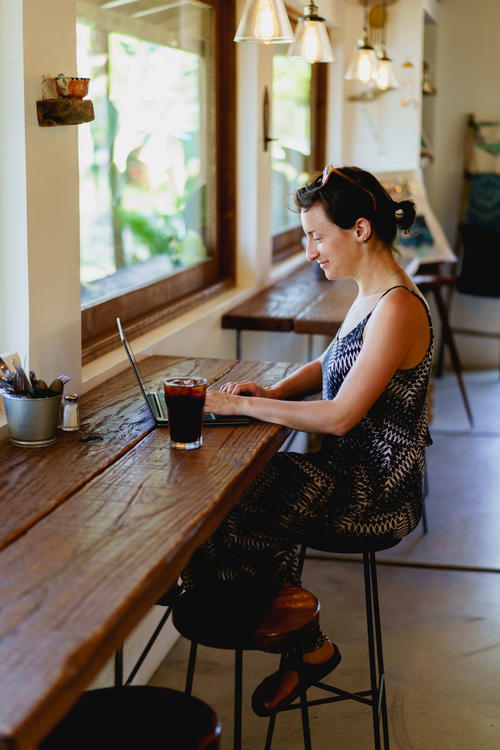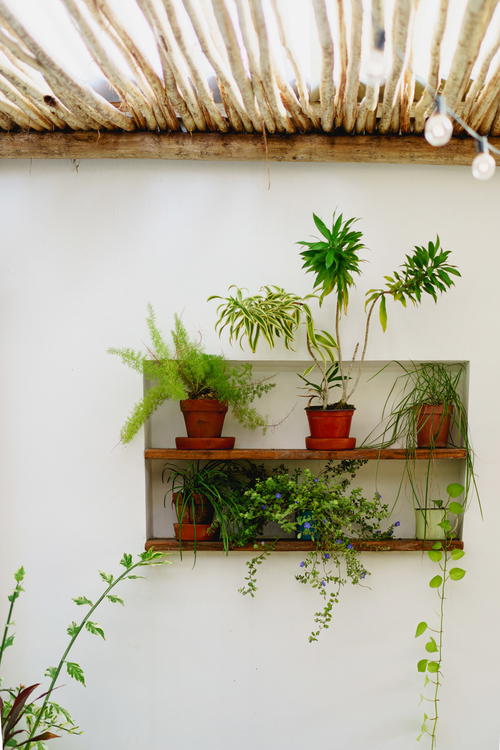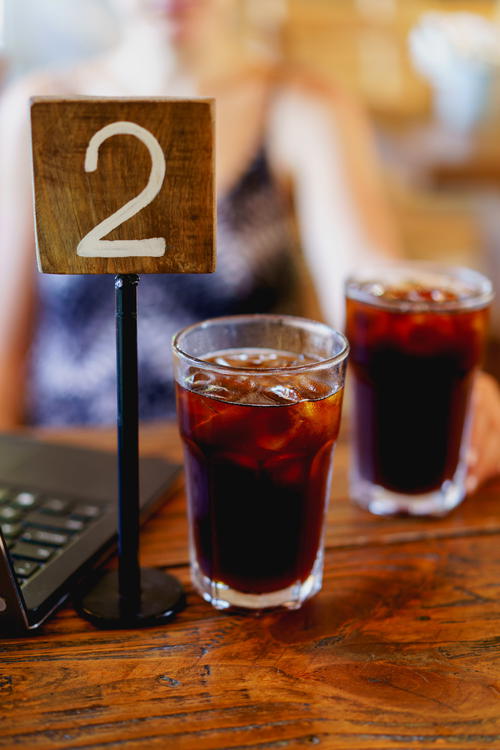 We loved spending mornings at Vagamundo! First, we appreciate that this place knows coffee and serves as a home for the digital nomads that pass through Cabarete, being completely laptop-friendly. Their menu for coffee includes americanos, cold brew, nitro brew, lattes and the works, and for food, there are healthy grain and protein bowls, smoothie bowls and of course, their specialty: waffles, with a variety of toppings to order.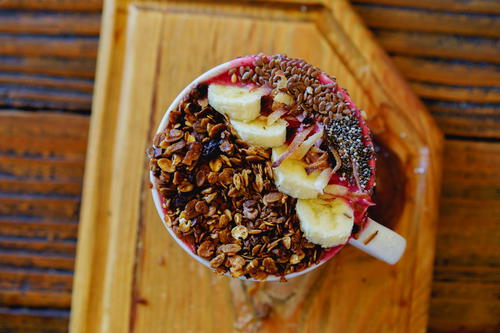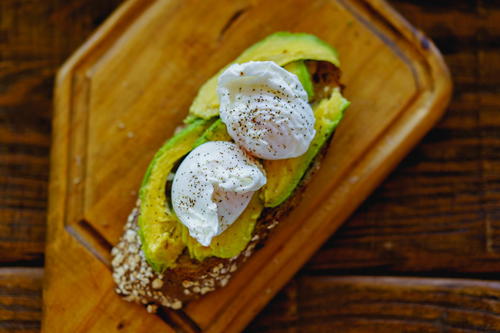 Vagamundo has quite a following on Instagram, and you can get swag at the cafe in their little store in the corner (art, jewelry, branded hats and other items for purchase). They take credit, have outdoor seating (so you can work on your tan) and they don't mind if you stay a while.
Helpful Tip
If you'll be in Cabarete for a week or more, get the loyalty card! The 11th drink is free after getting 10 punches on the card.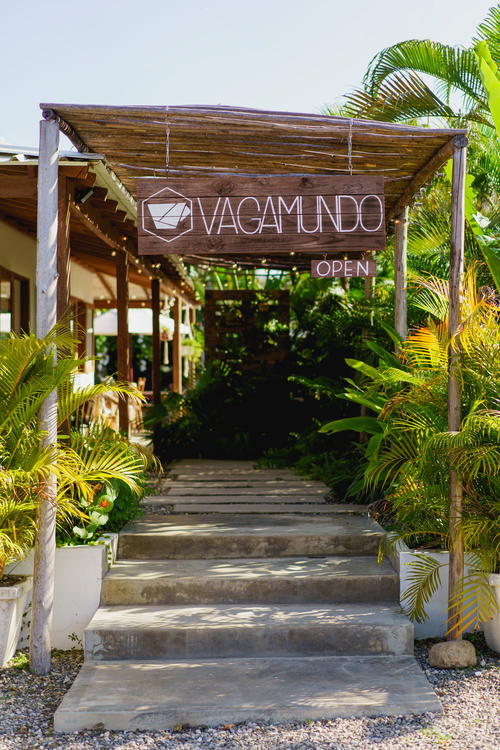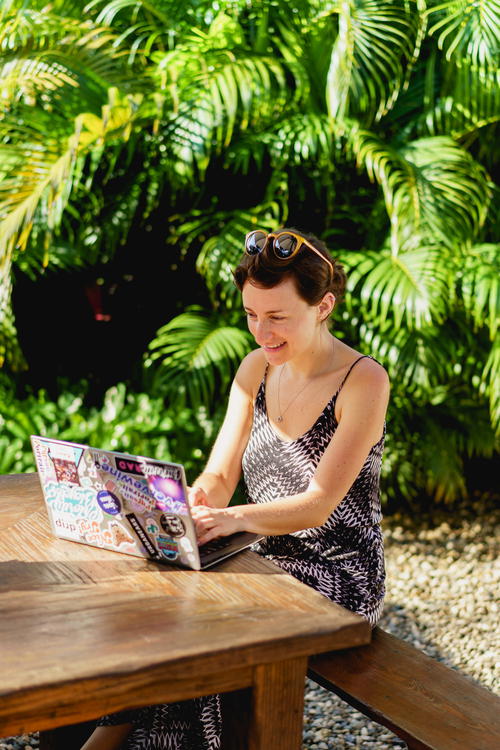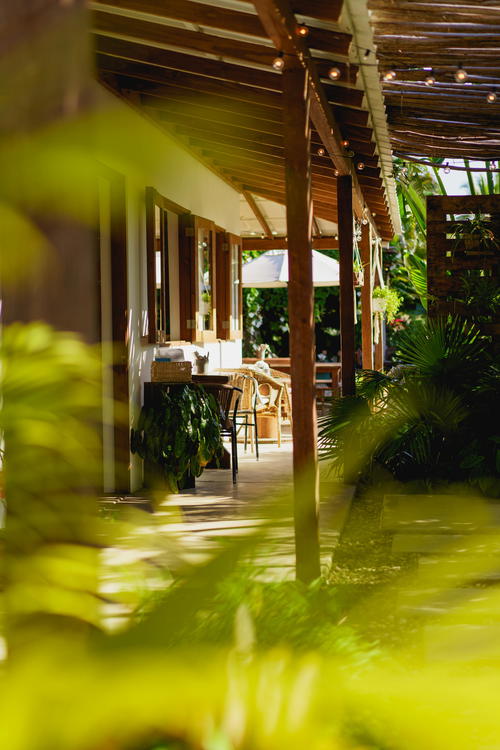 Best off the beaten track: get a group to eat at Wilson's
Wilson's is really something else, and our group of friends heard about it via one person who had read about it online. Later, I found that Wilson's is recommended in the Dominican Republic Lonely Planet Guide as something off the beaten track to do.
To get to Wilson's, you'll have to find the location and then hire a driver to take you and your group there. Also, it is crucial to contact Wlison's over Facebook and let them know you plan to come. Wait for them to confirm.
Once you get there, Wilson's staff will transport you across a tiny river to get to the actual restaurant, which is a collection of wooden structures with picnic tables and a hut that serves as a kitchen. Electricity is via a generator and there might not be running water.
The menu consists of 'seafood,' 'chicken' and the sides, which are fried plantains, a rice-and-beans dish and … drinks. Yep, they make pina coladas right in the fresh pineapple for you, and their coco loco rum drink is in the actual coconut. For other beverages, there's Coke, Sprite, water and Presidente beer.
Eating at Wilson's is a true experience, as you're pretty much in the middle of nowhere outside Cabarete, and on your way back, you can see the nighttime fishermen scene at work. Remember to look up at the clear starry sky on your way out!
Best steak dining experience: Ali's Surf Camp
Ali's Surf Camp (also known as Surf Camp Cabarete) is known for its restaurant, where, starting in the afternoon, you'll hear kitchen staff already at work 'pounding' steaks for grilling later in the day.
Helpful Tip
It's cash-only, so bring a whole bunch, because the nearest ATM is at Janet's Supermarket.
Ali's Restaurant is well-known for its barbecue, and it does not disappoint. There's steak several ways, grilled chicken, and chicken curry, with sides of rice, tostones (fried plantains), potatoes or salad.
Best of all, you can sit out on the dock with your group, with the river and birds as your backdrop to sit back with your cold drink in hand.
Helpful Tip
Bring some OFF! bug spray, but if you don't, Ali's keeps some around for customers!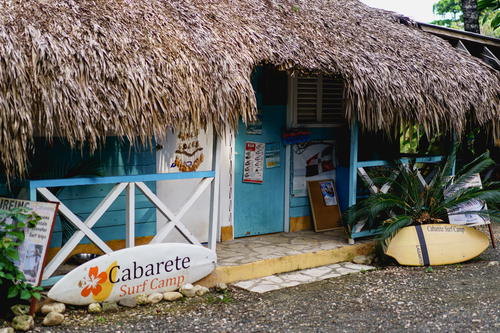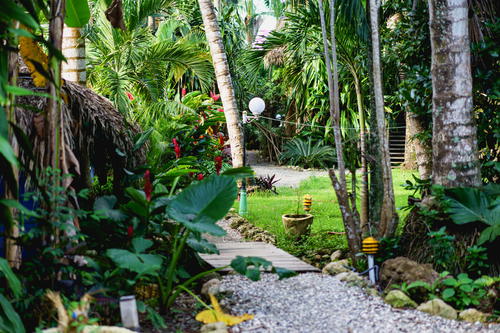 Best Dominican polleria: Pollo Luis
Time to 'get local:' Pollo Luis was one of our favorite meals in Cabarete (Becca ate it twice). The menu is simple: whole chicken, half chicken, or quarter chicken, with your choice of sides: rice, beans, tostones and/or salad.
Pollo Luis is located down by Vagamundo, in what everyone calls the 'local neighborhood' off the main road and commercial Cabarete strip.
Helpful Tip
If you see the bat flying around the indoor-outdoor Pollo Luis restaurant, don't be alarmed. The bat eats mosquitoes (did you know that bats can eat around 2000 mosquitoes per day?) so you can worry less about being bitten. Also, the staff provides bug spray.
Best nearby national park: Parque Nacional El Choco
El Choco National Park is the best nearby way to explore nature during your time on the North Coast of the DR. Join a caving trip and learn all about the caverns in this national park.
Best surfing beach: Playa Encuentro
Playa Encuentro is surfer's paradise, and if you're into surfing, this is where you'll want to go. Note, however, that it's less safe at night (but you won't be surfing at night anyway).
Best supermarket: Janet's Supermarket
We actually enjoy going into supermarkets. We like seeing the local produce and different types of food that you can find inside. We like looking at the local spices and the price different of things like peanut butter and cereal compared to back home. We found a lot of the same items that we would find in New York at a slight discount.
This was surprising. We noticed a lot of German-influenced brands and a surprising amount of gluten-free food in the bread aisle. Could this be a gluten-free travel destination we hadn't thought of?
Best live music: La Chabola open mic night
La Chabola is a fun tropical bar located by Pollo Luis. At 9pm on Wednesdays, enjoy their open mic night with performances by expats with different styles of song. The menu here is simple, too, but it consists of drinks and … pizza!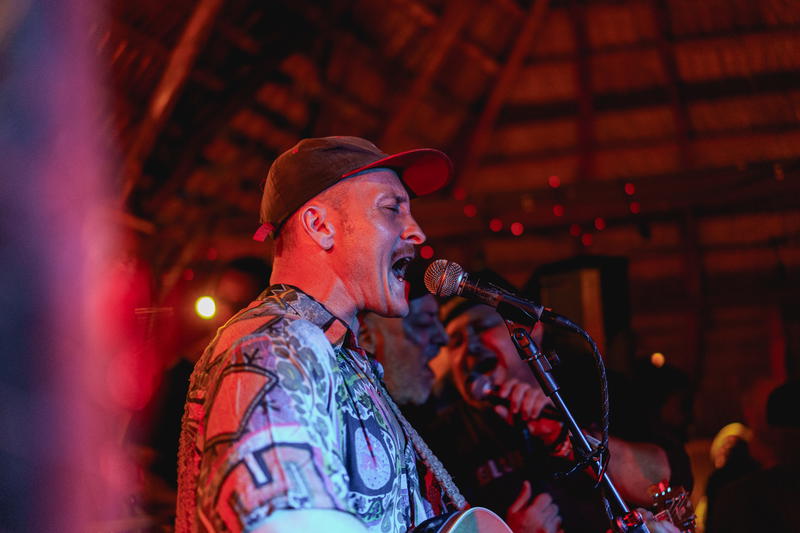 Best budget Dominican: Restaurant Tropico del Mar
Looking for Dominican food for lunch? Restaurant Tropico del Mar is located on the main road and classifies as a comedor or cafeteria, where several meats and sides sit in metal vats under a glass counter all day long. For this reason, we recommend going for lunch instead of dinner (the food will have been sitting out for less time).
We had chicken, beef, mangu (mashed plantains), French fries and rice (don't worry — we split with a friend). It was delicious, and per person, it'll run you about 200 Pesos (4 USD).
Best German-Turkish-style kebab: Doner+
Doner+ is run by an expat couple, a Turkish man and a Czech woman, and the menu is simple — German-Turkish-style doner kebab with a combination of toppings. No complaints here, as it was great!
Best for health food: Fresh Fresh Cafe
Focused on staying healthy while traveling? Fresh Fresh Cafe is where you go after you've been eating carbs for a while and you're looking for vegetables. Health fans will enjoy the menu of healthy bowls at Fresh Fresh. There's wraps and smoothies, and it's also a good option if you are with kids.
Best for brunch: Claro Cafe Cabarete
Claro Claro is known for being the ideal brunch spot. With a nice setting and a lot of delicious food, it's no wonder that Claro Claro is popular! Everyone has great things to say about the menu, and the friendliness of the owner. Put it on your list!
Things to do with a day trip to Sosua
We read and heard multiple times that Sosua changes its personality by day and by night. For this reason, we felt it was a great day trip destination from Cabarete, and less ideal for spending a night.
Sosua has a bunch of culture available and it's perfectly safe to walk around during the day (we left before dark on the guagua). Below are the things to do in Sosua, aside from water sport opportunities you may be chasing.
Off-the-beaten path landmark: Castillo Mundo King Art Museum
Truly one of the more bizarre places we've ever been, the Castillo Mundo King castle is more of an experience than an 'art museum.' Admission is 300 Pesos per person (6 USD) and while there's basically no information available once you enter, walking around is worthy enough of going.
Castillo Mundo was built by artist Rolf Schulz, of Germany, who always had a dream (allegedly) of building a castle in the Dominican Republic. This is exactly what he proceeded to do, starting at age 51.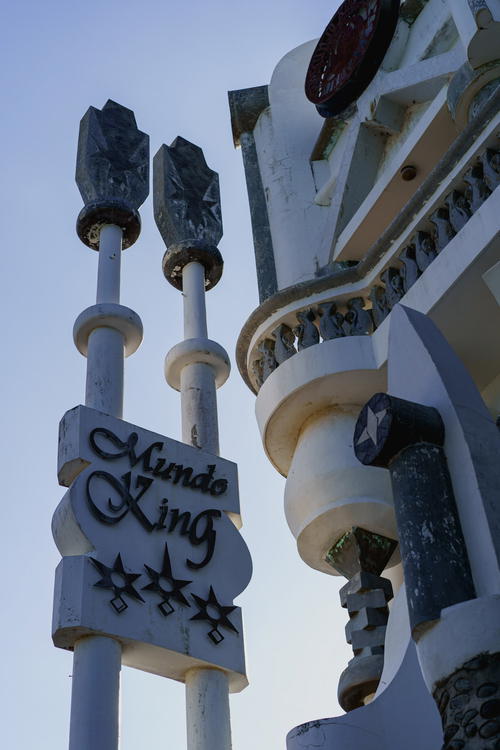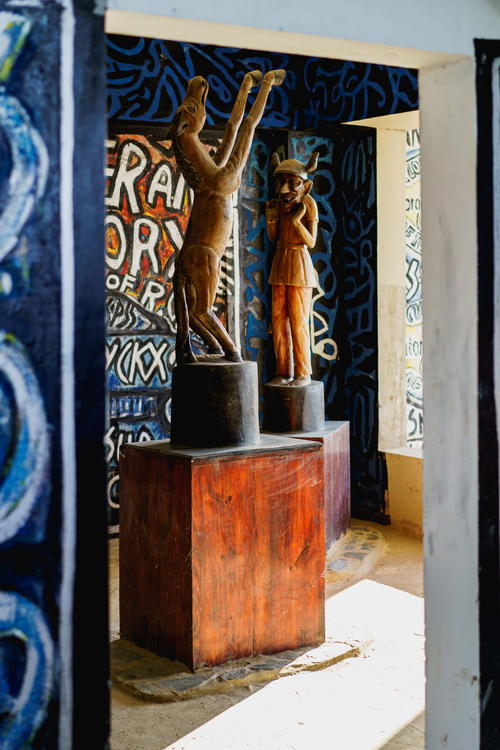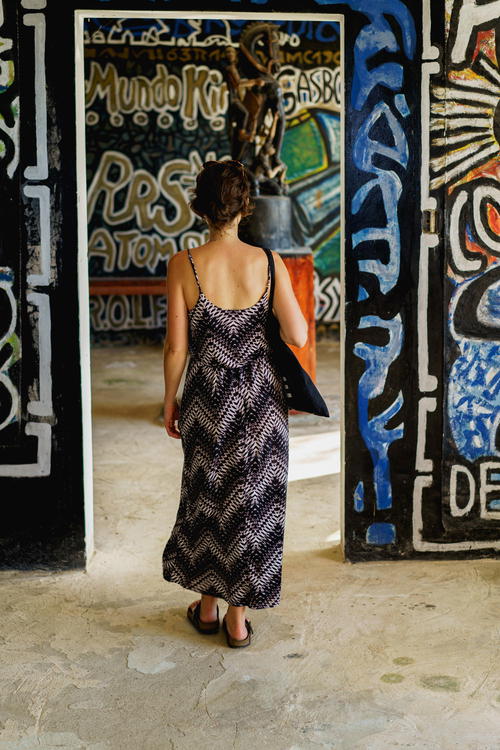 Castillo Mundo King is a castle, but not like any castle you've ever seen. There's alien artwork, 'spaceships,' exotic carved statues from Haiti, staircases that lead to dead-end rooms and lots of terraces from which you get great views of the green hills and the blue sea.
What's more is the fact that Rolf lived in the castle until he died, in 2018. There is no electricity or running water and the entire edifice is completely exposed to the elements.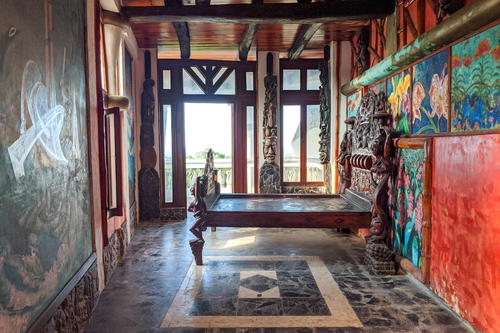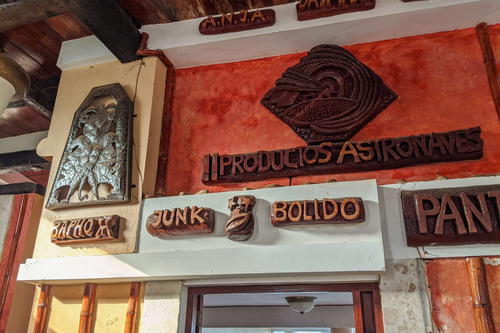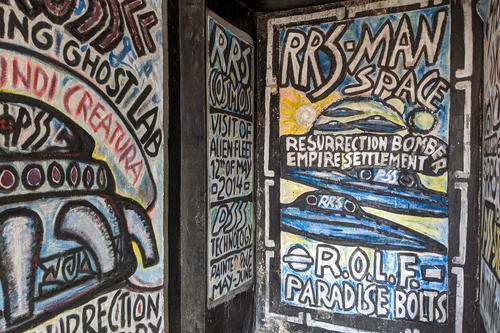 When we went, there were three Haitian men presiding over the property. One followed us and barely talked to us as we took ourselves around, but they did make sure to charge us admission. You can communicate with them in Spanish, French or Haitian Creole.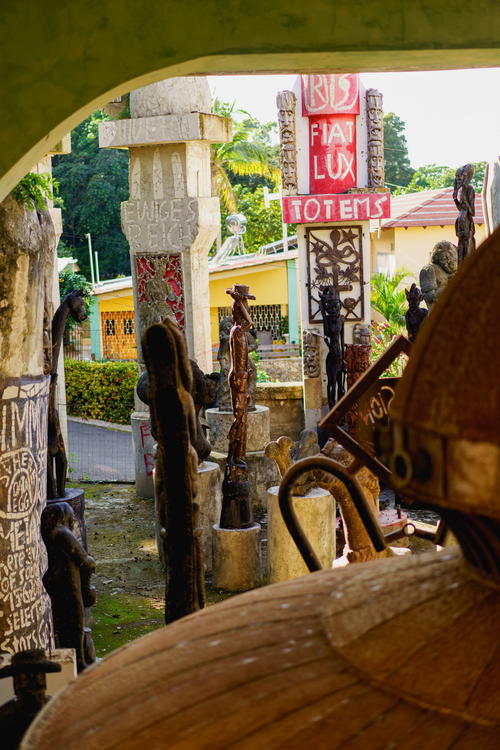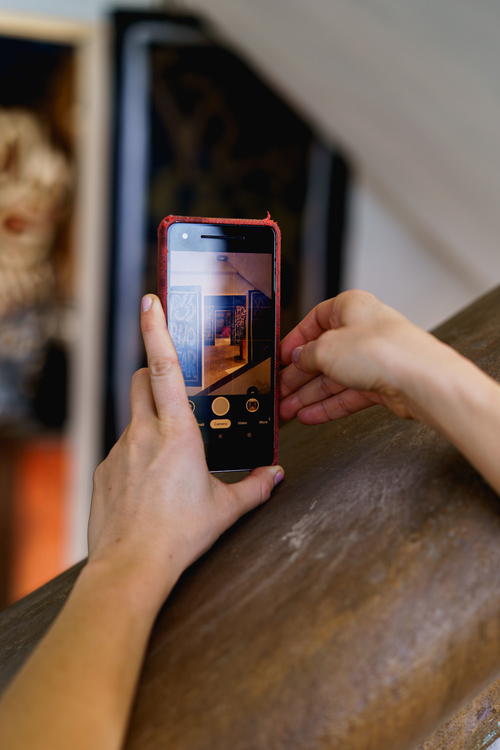 Castillo Mundo can be located in Google Maps and is located on a residential street. We walked the 15 minutes from the main road and it was a pretty walk (completely safe) during daylight.
Helpful Tip
Castillo Mundo is quoted as being open until 8 pm in Google; however, we would not recommend being there close to dark, as (mentioned above), the castle does not have electricity. We recommend leaving at least a half hour before dark so you can walk back down to town.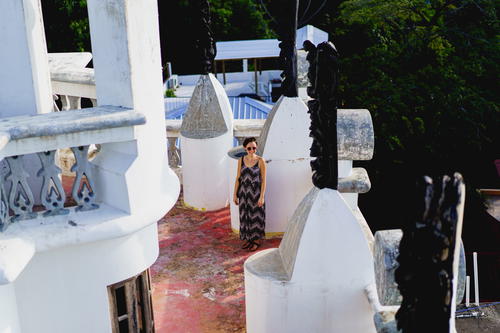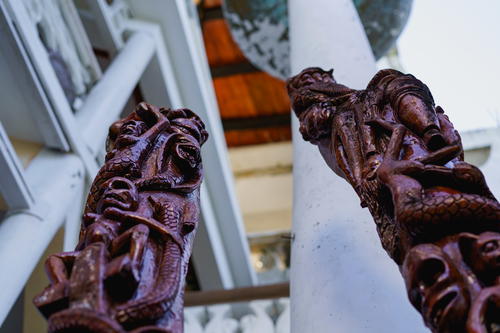 Cultural site: Museum of Jewish Heritage (Sosúa Jewish Museum)
This small museum is something we heard about from our friend (and epic traveler) Dan Herzberg. It's not the easiest to 'actually' get into, but we tried, and were lucky that we had some luck.
There's not so much information about the Sosúa Jewish Museum online, mostly because the website is not well-maintained, and many travelers report not being able to get past the locked gate. Fortunately, as we were eyeing the museum through the fence, another couple came by and were also trying to enter.
They saw that there was a man sitting on the steps of the synagogue itself, and started calling to him to let us in. He had to call someone else, and 5-10 minutes later, we were all let into the property and into the museum, which they had to open for us.
The Sosúa Jewish Museum is incredible because, well, it exists. It commemorates the story of how the Dominican Republic was the only Caribbean country to allow Jews escaping the Holocaust to find safety. Their safety and warm welcome to the DR as refugees came in exchange for their promise to become dairy farmers, and for this, the government gave them loans and land.
This museum has old photos, old documents, a list of names of those who came and those who were born shortly after, and screenshots of the story in newspapers from around the US, finishing with some posters about Israel and in Hebrew. It was a very special experience to see this part of the culture, which is not well-known by the world at all, in such detail.
The synagogue itself, we learned, is open only for 'dias festivos' (holidays) and there is, in fact, a small community who will come to celebrate and use the sinagoga (a separate building, and it seems like it's an original building from the 1940s). We couldn't get much more detail out of the woman who opened the museum for, although we tried.
Helpful Tip
Photos are unfortunately not allowed. Admission is 150 Pesos per person.
Beautiful beach: Playa Alicia
Playa Alicia is a laid-back beach completely accessible from Sosua city. The crowd is mixed between young locals and Dominican vacationers and older European tourists and expats. The beach faces west, so there's a pretty good chance you'll see a nice sunset.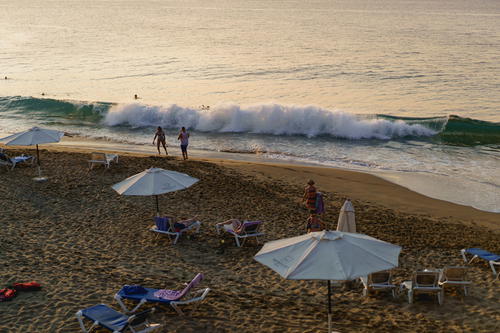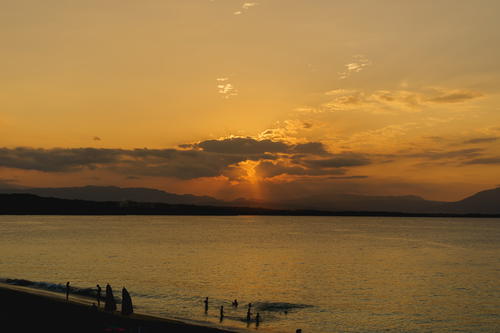 Best sunset-watching spot: Waterfront Bar & Restaurant
Waterfront Bar & Restaurant attracts a tourist crowd, and wait-staff can speak some English. With very pretty deco, tea lights and west-facing views, this is a prime spot for catching sunset. While the menu is decent for drinks, juices, coffees and food, it is a little more on the expensive side. Do expect 28% tax here, and tip separately.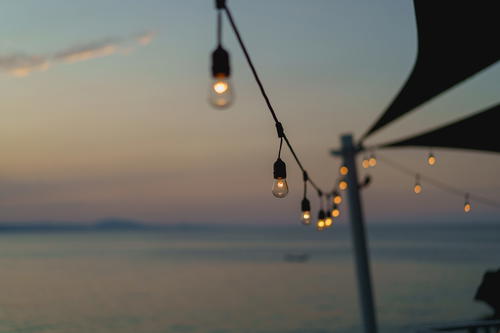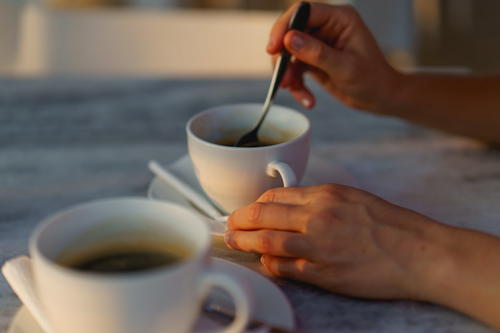 Helpful Tip
We really appreciated the paper straws rather than plastic ones in our drinks, as it showed this bar's commitment to sustainability, something we look for when we travel.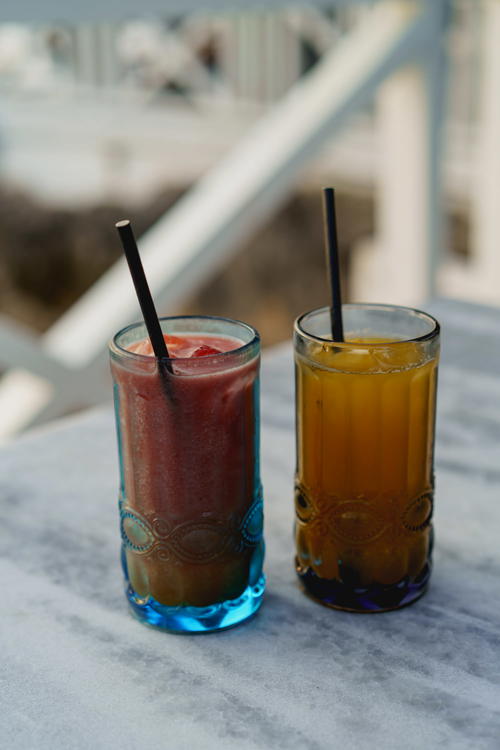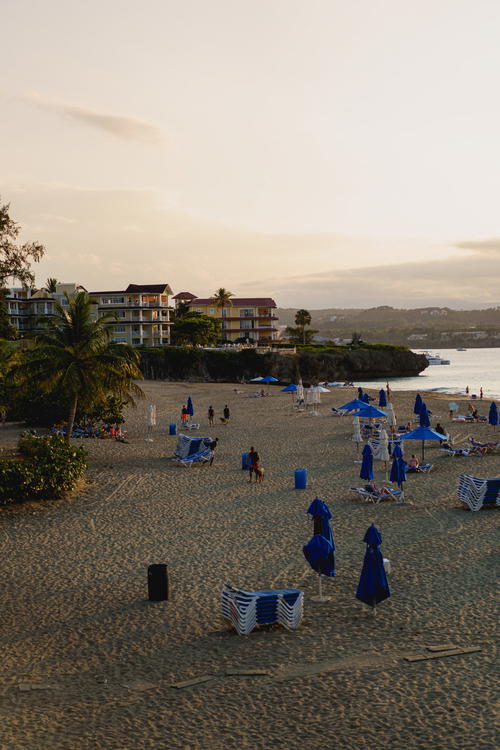 Best ice cream: BOM Helados
BOM is the best place to cool off with an ice cream cone or sorbet during the highest heats of the day. It's on Calle Dr. Rosen.
See the beaches at Rio San Juan
Rio San Juan is a town that once (according to our taxi driver on our way to the airport) had a large resort that employed more than 1000 staff, and has since closed down. Now, Rio San Juan is rather sleepy, and during our time there, various shops were closed and most people looked like they were straight-up chillin.'
Rio San Juan is the end of the North Coast tour unless you head even more eastward toward Cabrera or Samana.
How to get to Rio San Juan in the Dominican Republic North Coast
Getting to Rio San Juan is an easy guagua ride from Cabarete.
From the ProCab turn-off near Janet's Supermarket, we hopped a Rio San Juan eastbound guagua, and then were pushed off in a mid-way town called Gaspar Hernandez in order to wait for a transfer guagua. A nice man there helped us out and made sure we got on the right guagua to Rio S.J. We arrived in under two hours and it cost 100 Pesos total per person (2 USD).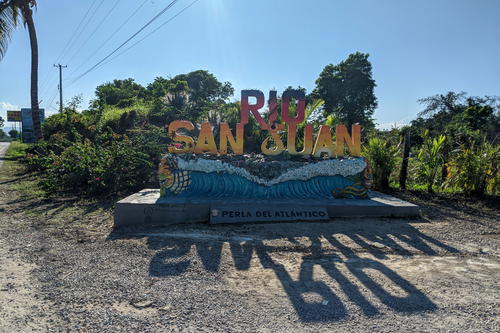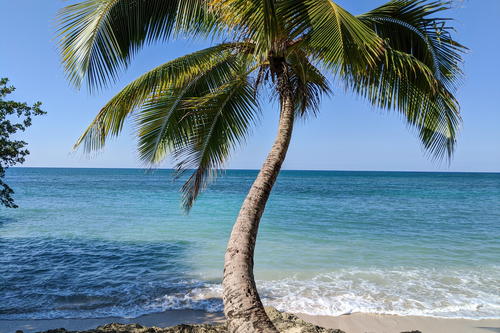 Best in-town white sand beach: Playa los Minos
Playa los Minos has got to be the gem of this town, and it was the highlight for us. If you walk past the lagoon and head toward the right at the fork in the road, you will find a road that leads to a pristine white sand beach with turquoise water.
As you know, we enjoy avoiding the crowds more than anything. Given the amount of people in Rio San Juan (not many), this beach won't be crowded at all (we went on a Friday afternoon, so we can't speak to any weekend crowds). Recommend!
Best budget comedor: La Casona
Recommended duly by Lonely Planet and by us, La Casona is a friendly neighborhood comedor with some nice painted walls featuring jazz icons inside. Food is basic, and when we got there at 1:30 pm, most of the lunch options were sold out. All that was left was fried yam slices and mystery meat. We went with the fried potatoes and got a fresh carambola (starfruit) juice.
Laguna Gri-Gri
Laguna Gri-Gri isn't much to write home about. It's a lagoon within the town, and it's no longer swimmable. Men with boats wait around and kind of try to offer you boating trips. We also saw a sign for boat trips that cost 40 USD, which seemed steep, considering what it looked like you'd be getting. You can pass by, but there's not too much to see here.
Best nearby scenic bay: Playa Caleton
Playa Caleton is off the highway down a charming dirt and gravel road for a five-minute walk. On the highway (it's only two lanes — nothing scary), there's a sign that's somehow hard to miss and it'll say Playa Caleton.
Playa Caleton is popular with both locals and expats. In fact, the locals hang on the left side and the expats hang on the right. We're not sure why. The bay here is swimmable, and there are some cliffs on either side, with a few places to buy food and drinks as you arrive. Bring cash.
Helpful Tip
For leaving Playa Caleton, if you don't have your own car, we walked back to Rio San Juan. Would we recommend this? It's debatable, but we started walking, hoping a guagua would pass us, and none really did. If you choose to walk back to the town center, it's 20 minutes.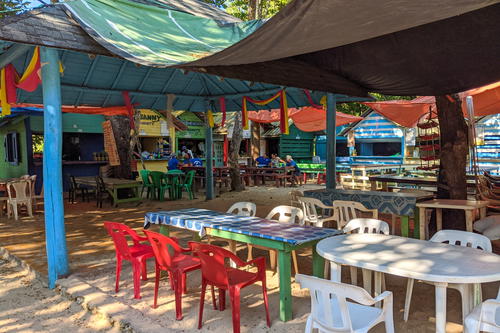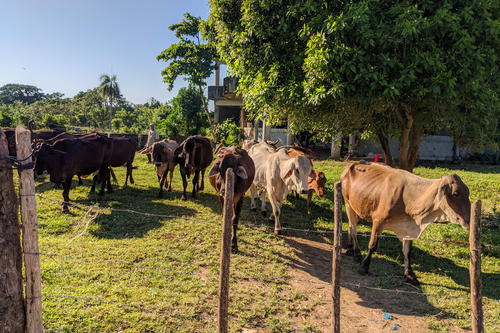 Best scenic beach: Playa Grande
While we did not have a chance to go to Playa Grande, it is supposed to be one of the most beautiful beaches on the entire Dominican side of the island. If you can find a taxi or if you're up for a motoconcho ride, we hope you can get to go!
Spend a day in Puerto Plata City (Ciudad de Puerto Plata)
Puerto Plata is a small city on the North Coast that is the namesake of the international airport (which is located almost closer to Sosua). While most foreigners have not heard of Puerto Plata, it's worth a visit, as it's a manageable city to visit with quite a few things to see, considering its size.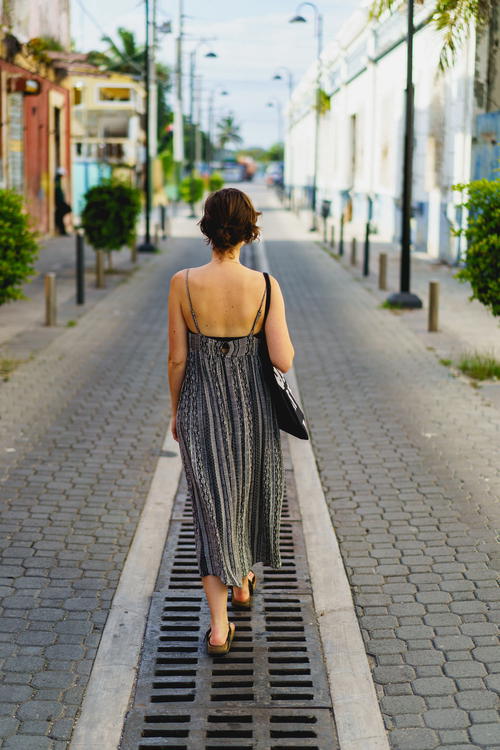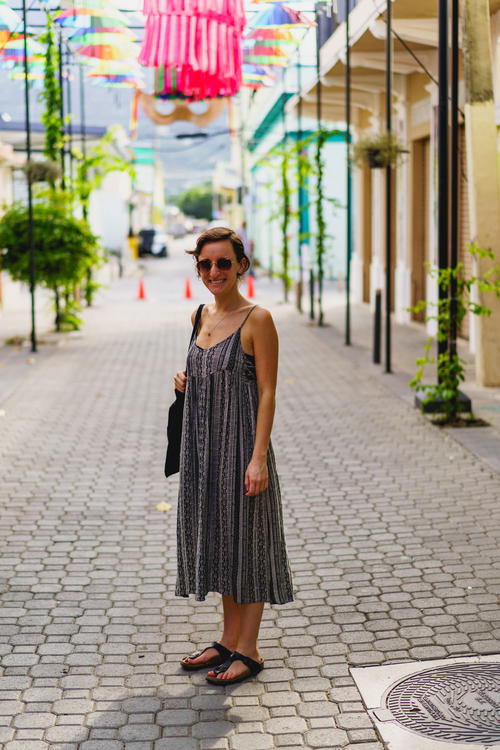 Puerto Plata Historic Center & Parque Central
Puerto Plata has a several-square-block historic center focusing on the main city square. It is called Parque Central (Central Park). The park features a main church, which will be lively at most times (even on a Saturday night, as we saw!).
The park is safe to visit, and on weekends, families will come with children. There are lots of benches to sit at, and a few vendors selling knick-knacks and hot dogs. The park is lined with the old Victorian homes, some of which are nicely kept up and were turned into mid-range restaurants with menus geared toward foreigners.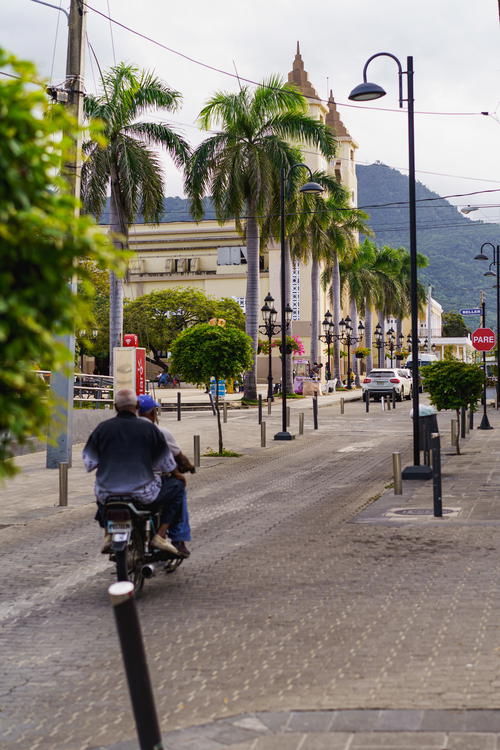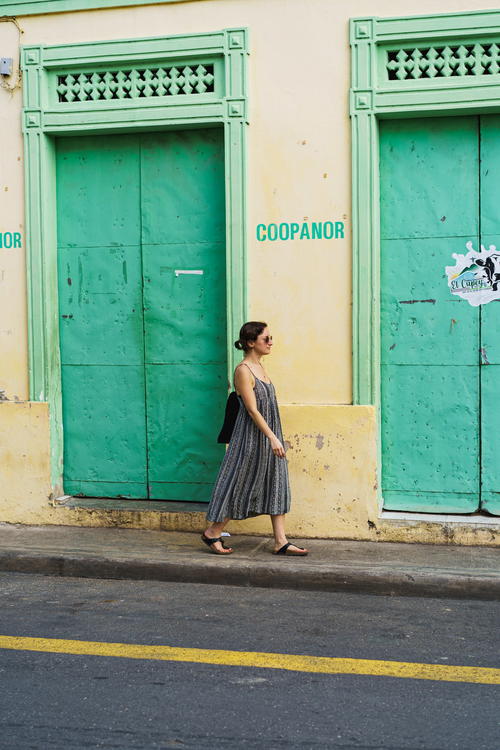 Best for cute photos: Pink Street (Paseo de Doña Blanca)
The Paseo de Doña Blanca is located at Calle Beller No. 30 in the Puerto Plata historic center. It's really cute! Ironically, Doña Blanca means 'white lady.' In any case, she was influential in developing tourism in the city. The street is named for her and is painted pink, so you can imagine how everyone wants a photo. It's thoughtfully thought-out, with bicycles, step-ladders, flowers and mirrors.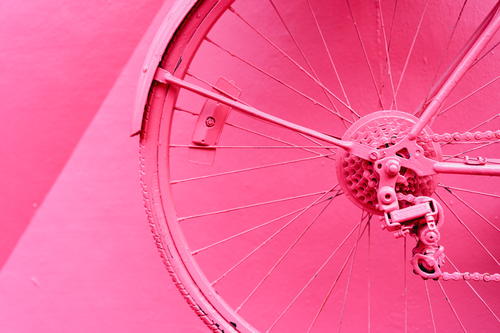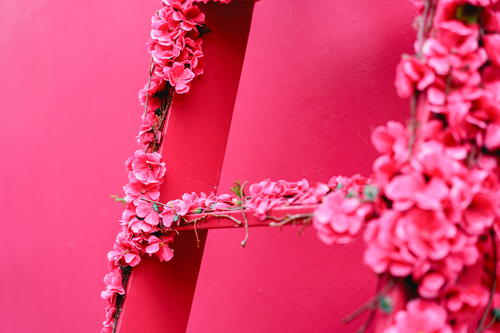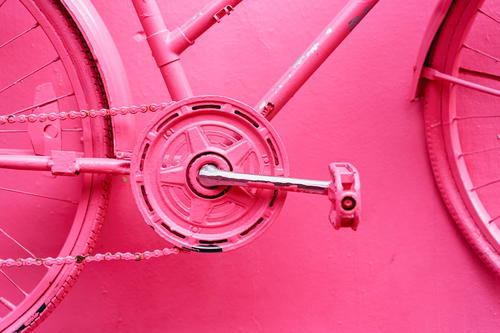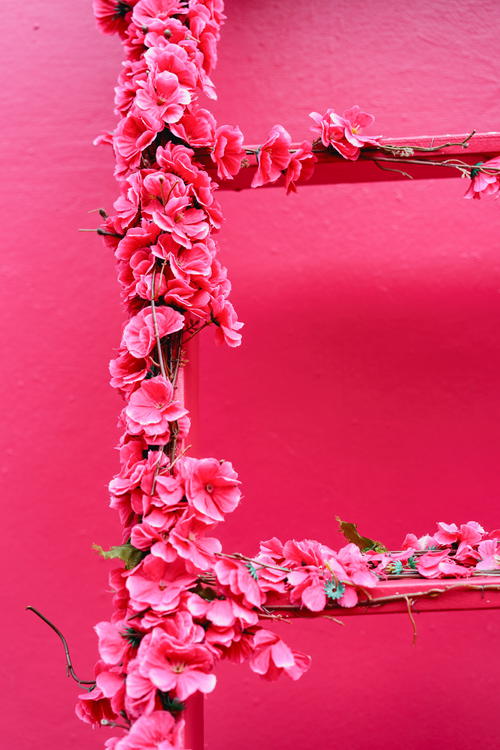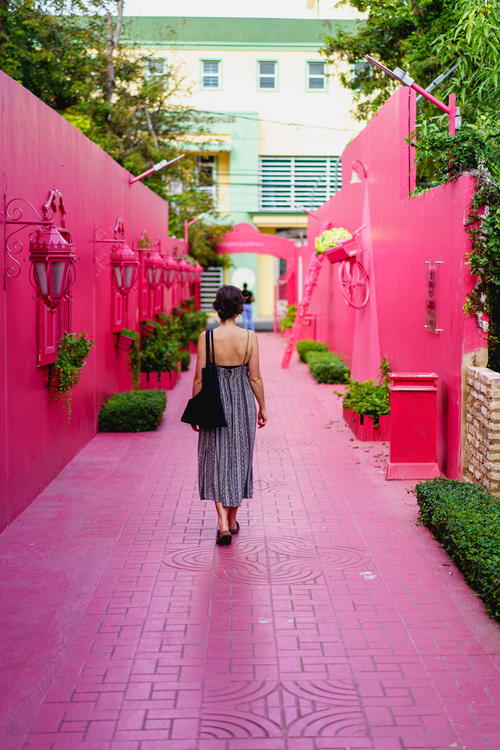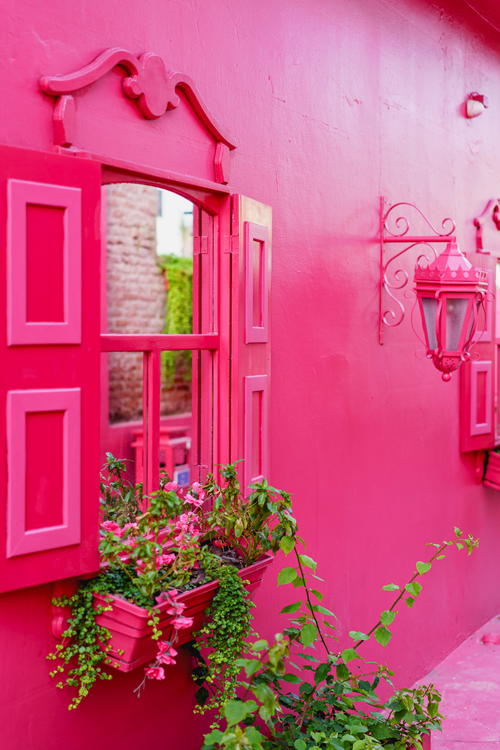 Best Instagram shot: Umbrella Street (Calle de las Sombrillas / Calle de las Paraguas)
Umbrella Street is a great place to get a photo and to look up (rather than down at your phone) at rainbow umbrellas placed in rows on this block of the city. In the middle of the block, there's a cafe where you can sit and have a drink, and a few vendors selling street snacks. It's cute, and completely safe, located at Calle San Felipe in Puerto Plata.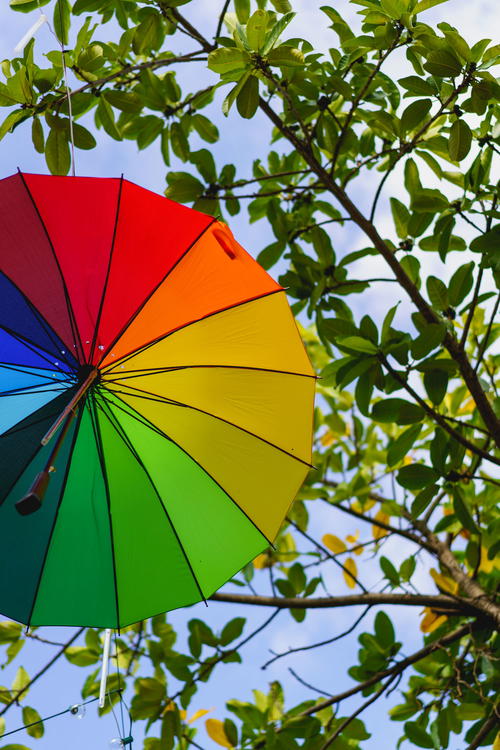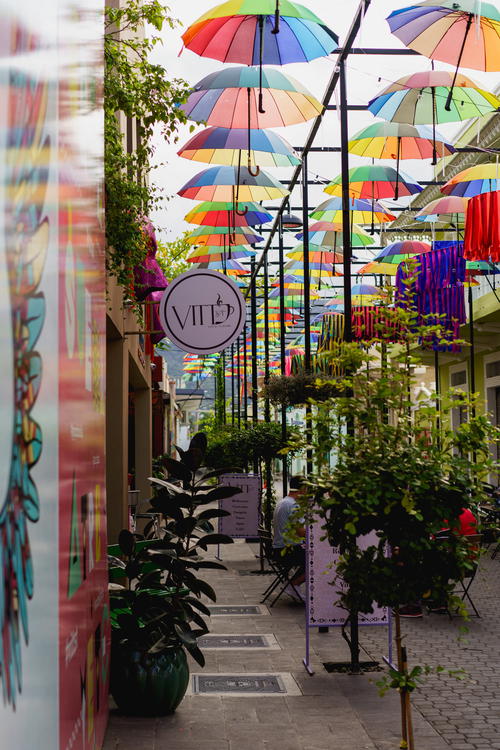 Puerto Plata Malecon
The city has a 'malecon' (boardwalk) that stretches from the Fortaleza San Felipe down for another mile or so. It's OK to walk on during the day, but the beaches aren't too epic. In fact, they're more like fishing spots for fishermen, and there's a bit of trash strewn on the shore (unfortunate). Don't expect too much.
Best budget Dominican food: Tam Tam Cafe
Tam Tam is a place that's popular with locals and expats alike, and the menu has a good bit of Dominican food and more. We went for breakfast and had coffee, fruit salad and a standard Dominican breakfast of toast and eggs. We recommend, for people-watching. Do note that vendors will pass by and try to sell you things like jewelry or mamajuana.
Best Italian: Casa Mia
Casa Mia is located across from the Malecon and is known for Italian food. Most customers are expats, and everyone's eating pizza. We went for mid-day snacks and had tostones and Dominican breakfast, which worked out just fine.
Best ice cream: Heladeria Mariposa (Parque Central)
Do you like local ice cream flavors? Heladeria Mariposa has a great location on the park and has pretty awesome ice cream. I tried the zapote sorbet, and had no regrets. This is the type of thing you can't get at home!
Best views: Anfiteatro Fortaleza San Felipe
The anfiteatro is a big amphitheatre located next to the historic fort itself. From the top, it's a nice view of the rest of the park and the fort.
Helpful Tip
Keep going up the hill, and there's a public restroom. It's the only one in the area.
Best view of the harbor: La Puntilla
La Puntilla is the 'point' (literally!) of the park where Fortaleza San Felipe is located. From here, you can get a quieter side of the park, away from the kids having dance practice and quinceanera photo shoots. At sunset, this point faces west, so it's nice to see the sun go down over the small mountains.
Best upscale cafe: Kaffe
Kaffe is located on Calle Prof Juan Bosch and is a cafe-restaurant in an old Victorian house that has been remodeled into an adorable setting. There are vintage touches like old furniture and phones, and there's a pretty back porch with tables, along with an outdoor garden full of plants. Servers are very friendly and are great for chatting with, and the juices are delicious!
---
Ready to travel? Don't forget our checklist for traveling abroad so that you're completely ready for action!
Enjoyed our article?
Consider supporting us! We're a 2-person team (learn more about us here) and your support enables us to create quality content. Thank you!
Find the Best Things to Do In Dominican Republic North Coast